November 22 - 28, 2015: Issue 241
Vintage Brass Mortar and Pestle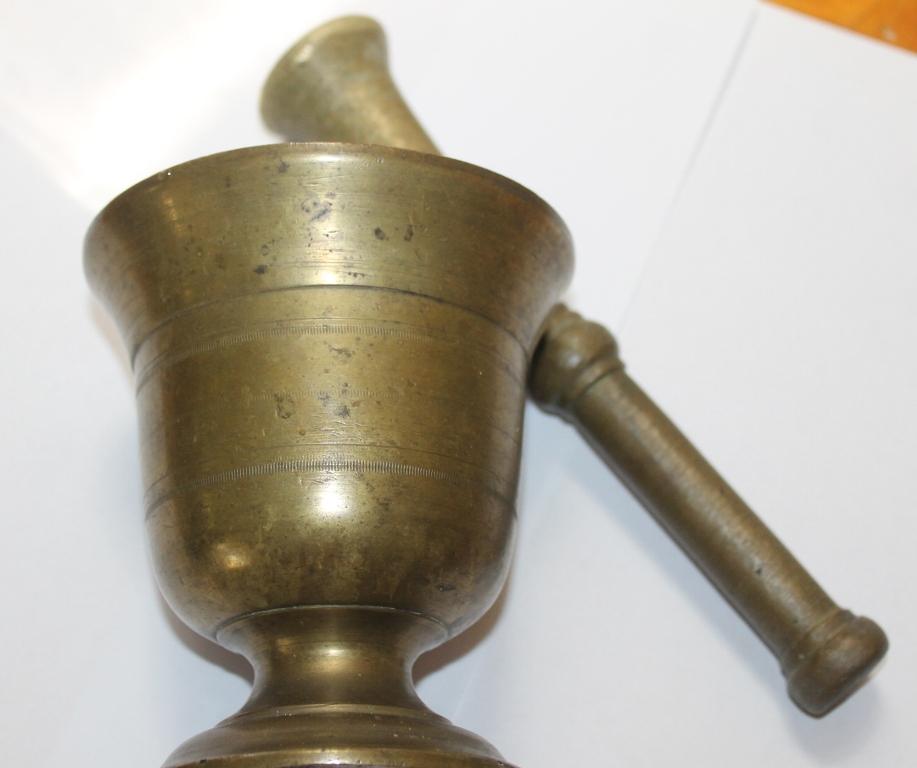 Vintage Brass Mortar and Pestle
This pure brass mortar and pestle weighs at least 4 kilos and has a lovely gold tinge when polished properly. At least over one hundred years old, it shows joins which tell it is 'cast brass' – it has a distinctive sound alike a bell when the pestle is struck against the mortar – a sound which once led people to believe these utensils were the casts offs from bell makers – which is not far from the truth as early versions were made in bell foundries and from a metal known as 'bell metal'!
Bell metal is a hard alloy used for making bells and related instruments, such as cymbals. It is a form of bronze, usually in approximately a 4:1 ratio of copper to tin (e.g., 78% copper, 22% tin by mass). Bell metal ore is a sulfide of tin, copper, and iron called stannite.
Mortar and pestles have been used since around 1600 B.C. (in Egypt) to prepare herbs or other ingredients by crushing them.
They became symbols for the pharmacist, featuring on apothecaries' tokens from the 1600s, on signs for pharmacy shops, as logos and trademarks for pharmaceutical businesses, and also on the coat of arms of the Royal Pharmaceutical Society.
An apothecary was a medical professional who formulated and dispensed materia medica to physicians,surgeons and patients.
The earliest found mortars and pestles date back to around 35,000 years B.C.
The English word mortar derives from classical Latin mortarium, meaning, among several other usages, "receptacle for pounding" and "product of grinding or pounding". The classical Latin pistillum, meaning "pounder", led to English pestle.
The Roman poet Juvenal applied both mortarium and pistillum to articles used in the preparation of drugs, reflecting the early use of the mortar and pestle as a pharmacist's or apothecary's symbol. (1)
The Papyrus Ebers from ancient Egypt, written around 1500 B.C., contain a collection of more than 800 prescriptions, or ancient recipes for the apothecaries of the time. It mentions over 700 different drugs
Apothecary derives from the Ancient Greek word ἀποθήκη (apothḗkē, "a repository, storehouse"), Latin apotheca ("repository, storehouse, warehouse"), Old French apotecaire, from Medieval Latin apothecarius ("storekeeper"), from apotheca ("shop, store"), which eventually came to mean an Apothecary, or Pharmacist.
From the 15th century to the 16th century, the apothecary gained the status of a skilled practitioner, but by the end of the 19th century, the medical professions had taken on their current institutional form, with defined roles for physicians and surgeons, and the role of the apothecary was more narrowly conceived as that of pharmacist (dispensing chemist in British English).
Apothecary, 15th Century - Plate IV of XII "... portrayed by the Swiss illustrator, Warja Honegger-Lavater, from authentic costume
In England, the apothecaries merited their own livery company, the Worshipful Society of Apothecaries, founded in 1617. Its roots, however, go back much earlier to the Guild of Pepperers formed in London in 1180 (responsible for maintaining standards for the purity of spices and for the setting of certain weights and measures).
Elizabeth Garrett Anderson became the first woman to gain a medical qualification in Britain when she passed the Society's examination in 1865.
In Renaissance Italy, Italian Nuns became a prominent source for medicinal needs. At first they used their knowledge in non-curative uses in the convents to solidify the sactity of religion among their sisters. As they progressed in skill they started to expand their field to create profit. This profit they used towards their charitable goals. Because of their eventual spread to urban society, these religious women gained "roles of public significance beyond the spiritual realm (Strocchia 627). Later apothecaries led by nuns were spread across the Italian peninsula.
Apothecaries used their own measurement system, the apothecaries' system, to provide precise weighing of small quantities. Apothecaries also were known to accept special requests for viles and poisons. (2.)
Many recipes included herbs, minerals, and pieces of animals (meats, fats, skins) that were ingested, rubbed on the body, or used as aromatherapy. "Catnip was used to treat throat problems, chamomile was prescribed for indigestions and menstrual cramps, fennel was used to control weight gain, mint was used to treat indigestion, garlic was used to get rid of worms in children and witch hazel was used to get rid of ulcers and haemorrhoids" treatments we sometimes use today and tonics, as teas Naturopaths, Herbalists and Aromatherapists will advise are good for certain conditions - peppermint tea for settling an upset stomach for example - and knowledge so much a part of our culture that you can purchase versions in your local supermarket - harking back to grocers being the first to prepare and mix these ingredients so they may be ingested.
Brass is copper alloy but it has zinc instead of tin and has a yellow gold colour. Brass' melting point is 900-940°C (1652-1724°F) depending on how much of each metal they used. Brass is nonferrous. Because brass is an alloy its density varies. If hit brass vibrates like a bell, and this method can be used to determine if something is brass instead of gold.
James T Wood, in 'How to Identify an Antique Brass Mortar & Pestle' explains:
Valuable brass antiques are those that were cast prior to 1850.
• Examine the color. Antique brass is a golden-yellow color versus a more reddish hue found in faux antiques merely made to look old. You may need to polish (or ask the owner to polish) a section of the mortar and pestle to see the color underneath.
• Study the patina. Antique brass will develop a soft texture and a yellow-brown color. Artificial patina has a rougher texture and a reddish-brown color.
• Search for seams. Mass-produced brass is cast in one piece, but the old, hand-crafted antique brass mortar will have a seam, though it will be only faintly discernible since the craftsman will have ground and polished it away. Look for a thin line indicating the seam of the two pieces joined together.
• Check for the stamp of a brazier (a brass maker), though these are rare, even in antique brass. They can provide some valuable clues to the age and origin of a piece. If you find a mark, you may want to show it to a knowledgeable antique dealer for further information. If, however, the mark indicates something like "Made in China," it is definitely not an antique. (3)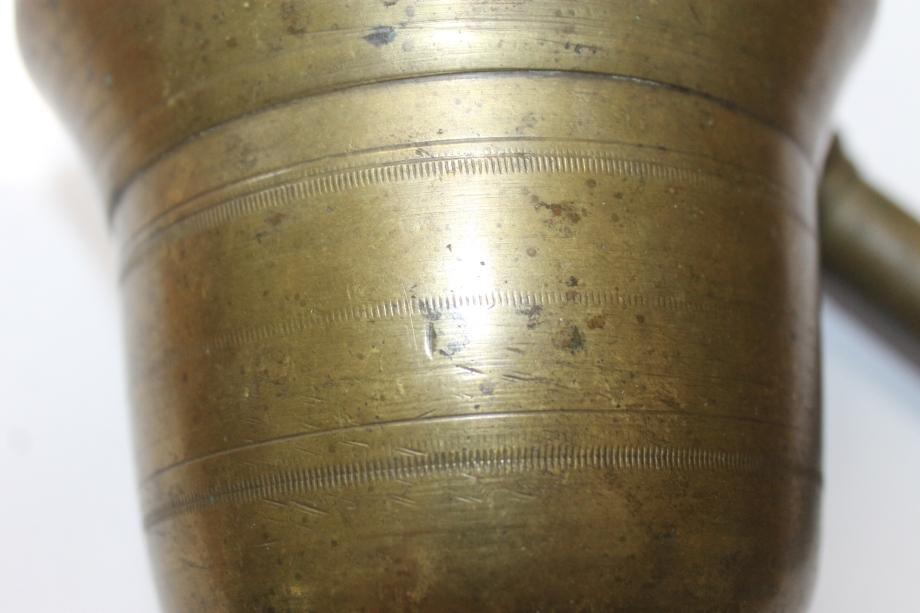 Ours: showing a seam rim below lip
Brass is a material that may taint or contaminate what is placed in it when a mortar and pestle so when Josiah Wedgwood the new 'biscuit ware' porcelain in 1779, it largely took over from bronze and brass. These versions are usually made of porcelain with a wooden pestle.
Stone versions were used by early gold testers in field week in Australia. Earlier still, colonists would on-sell this apparatus and most of these were made of iron or brass once more.
A search around for similar items, not as heavy or large as ours, found prices ranging from $40.00 up to $500.00 - depending on the age and quality, although those that are older have more appeal to collectors of this old medical equipment.
The other mortar and pestles we have are made from stone and marble and used in the kitchen - a place where you will find most of these today and where the 'art of mixing' ingredients has extended into its five thousandth year!
Ours we just sound occasionally - it's a quite old and quite unique 'dinner bell'.
References:
1. Apothecary. (2015, October 31). In Wikipedia, The Free Encyclopedia. Retrieved from https://en.wikipedia.org/w/index.php?title=Apothecary&oldid=688409800
2. Mortar and pestle. (2015, November 6). In Wikipedia, The Free Encyclopedia. Retrieved from https://en.wikipedia.org/w/index.php?title=Mortar_and_pestle&oldid=689286137
James T Wood. 'How to Identify an Antique Brass Mortar & Pestle'. retrieved from Read more :http://www.ehow.com/how_7697189_identify-antique-brass-mortar-pestle.html
Bells and Bell Metal
Bells intended to be rung are usually made by casting bell metal (a high-copper bronze alloy) of a size appropriate for thepitch the bell is intended to produce. Fine tuning of metal bells is achieved on a lathe where a precise amount of material is removed from the inside of the bell in order to produce a true tone with correct harmonics.
The process in East Asia dates to about 2000 BC and in Europe dates to the 4th or 5th century.
In early times, when a town produced a bell it was a momentous occasion in which the whole community would participate. Archaeological excavations of churchyards in Britain have revealed furnaces, which suggests that bells were often cast on site in pits dug in the building grounds. In some instances bells were cast directly in the church. Before the nineteenth century, bellfounders tended to be itinerant, travelling from church to church to cast bells on site. More centralized foundries were established on foundation of railways. There are however examples of foundries producing bells prior to this, such as the Whitechapel Bell Foundry and John Taylor & Co of Loughborough.
Most commonly, and as per its colloquial name, bell metal was used for the casting of bells (see Bellfounding). Functional bells, with the intention of producing sound, are usually made by casting bell metal, a high-copper alloy of bronze, with approximately a 4:1 ratio of copper to tin (78% copper, 22% tin). Both tin and copper are relatively soft metals that will deform on striking (though tin to a lesser extent than copper), but alloying the two elements creates a metal which is harder and less ductile and also one with more elasticity than the use of just one of the metals alone.[1] This metal combination produces a tough, long-wearing material that is resistant to oxidation and subject only to an initial surface weathering. Verdigris forms a protective patina on the surface of the bell which coats it against further oxidation. Bell metal of these ratios has been used for more than 3,000 years, and is known for its resonance and "attractive sound." This allows for a better bell resonance and causes the bell to "vibrate like a spring when struck", a necessary quality as the clapper may strike the bell at speeds of up to 600 miles per hour. The forces holding the tin and copper together cause vibrations rather than cracks when the bell is struck which creates a resonant tone.
In Russia, church bells are commonly cast with a unique mixture of copper and tin, often with silver added, to produce their unique sonority and resonance, mastered early in Russian Christian history.
In esoteric Buddhism (e.g., Vajrayana), bells (both hand bells and singing bells) may be cast with a special 5-Metal alloy. Each of the metals represents one of the 5 Buddhas / Wisdoms:
Metal Buddha Wisdom
Copper Amitabha Discriminating
Tin Amoghasiddhi All-Accomplishing
Zinc Akshobhya Mirror-Like
Iron Ratnasambhava Equality
Lead Vairocana Dharmadhatu
There is no standard proportion to the metals used in this alloy (although it is often around 75% copper and 20% tin with low proportions of the other metals). A 7-Metal alloy containing trace amounts of silver and gold (representing Absolute and Relative Truth) is also sometimes used.
Bellfounding. (2015, July 14). In Wikipedia, The Free Encyclopedia. Retrieved from https://en.wikipedia.org/w/index.php?title=Bellfounding&oldid=671408878
Warja Honegger-Lavater - 2300 years of medical costume : distinctive garb of the medical and related professions from the time of Hippocrates to the Napoleonic era. North Chicago, IL : Abbott Laboratories, [1962?] ; OCLC number 5734427
Apothecary, 15th Century - Plate IV of XII "... portrayed by the Swiss illustrator, Warja Honegger-Lavater, from authentic costume reproductions in the University of Rome's Institute of Medical History."
Vintage Brass Mortar and Pestle - threads for article collected and collated by A J Guesdon, 2015.