December 8 - 14, 2013: Issue 140
Michael Graham Chapman and Joseph Livingstone Sherack – Australian Diesel Marine Engine Innovators
Michael Graham Chapman was born in 1882 to Edward, from Ireland, and Christina (nee Graham). He began building what was to become one of Australia's most famous marine engines in 1908 and graduated one of his apprentices Joseph Livingstone Sherack (1894-1985) to partnership, almost twenty years later.
CHAPMAN—GRAHAM—March 21, at St. Peter's, Campbelltown, by the Rev. R. S. Willis, Edward M. Chapman, late of Queenstown, Ireland, to Christiana Matilda, youngest surviving daughter of the late James Graham, Campbelltown. Family Notices. (1874, April 17). The Sydney Morning Herald(NSW : 1842 - 1954), p. 7. Retrieved from http://nla.gov.au/nla.news-article28411992
DETAILS OF THE COMPANY: This Company was incorporated to purchase, take over and acquire as a going concern the engineering business at present carried on by the firm of Chapman and Sherack, manufacturers of Chapman Marine Engines.It is proposed to intensify, develop and expand the production of the whole range of Chapman products.
Mr Michael Graham Chapman founded the engineering business of Chapman and Sherack in 1908. At this early date the foundations were laid for the production and marketing of the well-known "Chapman Pup" marine engines.
One of Mr Chapman's most outstanding inventions is the feature whereby all modern Chapman engines up to 20 h p multicylinder size can be set in motion by the 'bounce' hand start, no cranking being required
Twenty years later Messrs J L Sherack and W H Glendinning, who served their apprenticeship to engineering in the works of Mr Chapman, became partners, and have been actively engaged in developing and consolidating their engineering business.
At the outbreak of World War II in addition to marine engines various requirements for naval and field guns, Mosquito bombers, high-speed lug boats, bomb scows and small powered craft of many types were produced in their factory
Since the conclusion of hostilities much time has been devoted to re organising, retooling and planning to meet the accumulated demand for marine engines
Mr M G Chapman Managing Director of Chapman and Sherack, in his report states
"With regard to the earning power of the Company, I can state with full knowledge of the facts that never before have our products enjoyed such a huge demand. Because of personal interest we have never been the victims of internal industrial unrest. With the gradual increase in supplies of labour and materials during the past year, I feel confident of maintaining a sufficient output to ensure that the return on capital invested will be well above the average in the years to come.
"Prior to the recent war we were producing over six hundred engines per year. As the demand for our products always exceeded the supply, we increased the size of our factory in 1939, but up to the present moment we have not been able to demonstrate its full manufacturing capacity
"With a very large Australian market and a huge export field constantly demanding supplies, I have every confidence that our ability to produce increasing quantities of engines will be a guarantee of adequate returns to capital investors.
My estimate is that the new company will show a trading profit after providing for deprecation, directors' fees and all usual business charges of at least £ 9,000 per annum, which figure, after providing for taxation and setting aside 20 per cent to reserves, would enable the Company to pay a dividend of 10 per cent pa
Mr. R G. Griffin, consulting engineer, in a report on Production and Profit-earning Capacity of Messrs. Chapman and Sherack, states -
"The methods used for manufacturing the Chapman range of marine engines, having regard for low cost and quality of product are ingenious, economical and technically sound. Many of the special jigs, fixtures and tools designed by Mr Chapman are unique in that the processing of engine parts to a very high degree of accuracy is accomplished by these on standard machine tools in a series of simple operations. The procedures for ensuring accuracy, interchangeably and a minimum expenditure of time on 'setting-up' for production represent the best modern practice for this class of engine work
"I have paid special attention to the plant s production capacity and, provided that labour and material are available as required, I consider that Mr Chapman's estimate of output is correct
"Even if the maximum labour requirements of the factory could not be met an excellent return on an output of 700 to 800 Chapman Master 'Pups' per annum can be made
A detailed examination of the cost of production covering labour, material and total over-head charges shows that Mr Chapman's estimate of profit is reasonably conservative and will increase if production is in excess of that stated above "
The Company will now put into operation its policy to develop and expand the production of the whole range of Chapman products
APPLICATIONS FOR SHARES.
Application for shares must be made on the appropriate form, which is attached to the Prospectus.
All applications should be ac-companied by cheque in full payment of shares applied for and must be forwarded to the Registered Office
The subscription list will close at 5 pm on 9th March, 1949,but the Directors reserve the right to close the list at an earlier date
The Directors may proceed to allotment at any time after 9th March, 1949, or such earlier date as they may decide, provided that the minimum subscription of130,000 shares has been applied for
Copies of Prospectus and Application arc obtainable at the Registered Office of the Company, at Room 44, 133 Pitt Street, Sydney.Advertising. (1949, February 24). The Sydney Morning Herald(NSW : 1842 - 1954), p. 6. Retrieved from http://nla.gov.au/nla.news-article18102766
The biggest or most lauded invention made and patented by this gentleman was lodged with drawings and descriptions in January 1925. by February 1926 he had his patent and launched what is still known as the Chapman 'Pup':
Application for Letters Patent for an invention by Michael Graham Chapman , titled - Improvements relating to magnetos and the mounting thereof for internal combustion engines AND: Improvements in and relating to the installing of motors in ordinary row – boats -1925 (51 Pages) At: http://recordsearch.naa.gov.au/scripts/Imagine.asp?B=4150561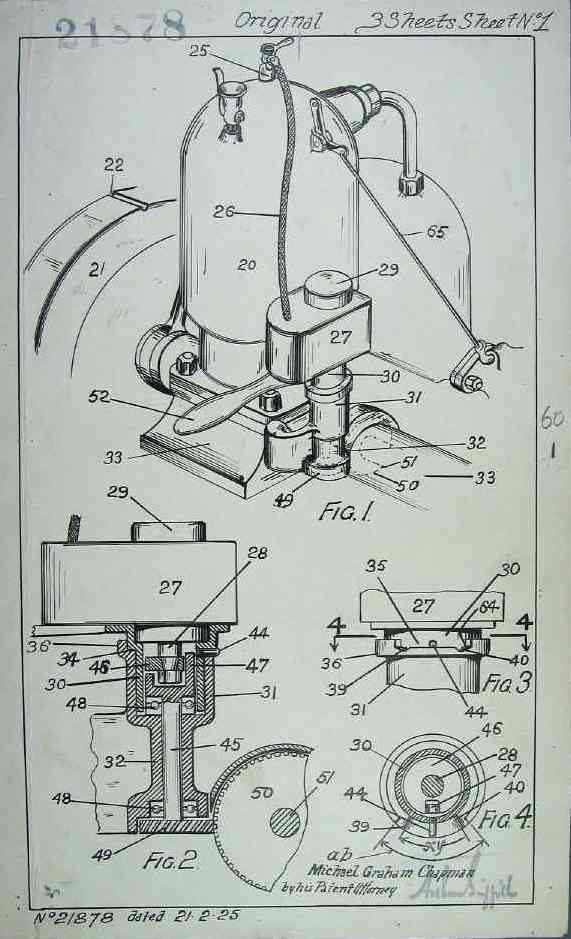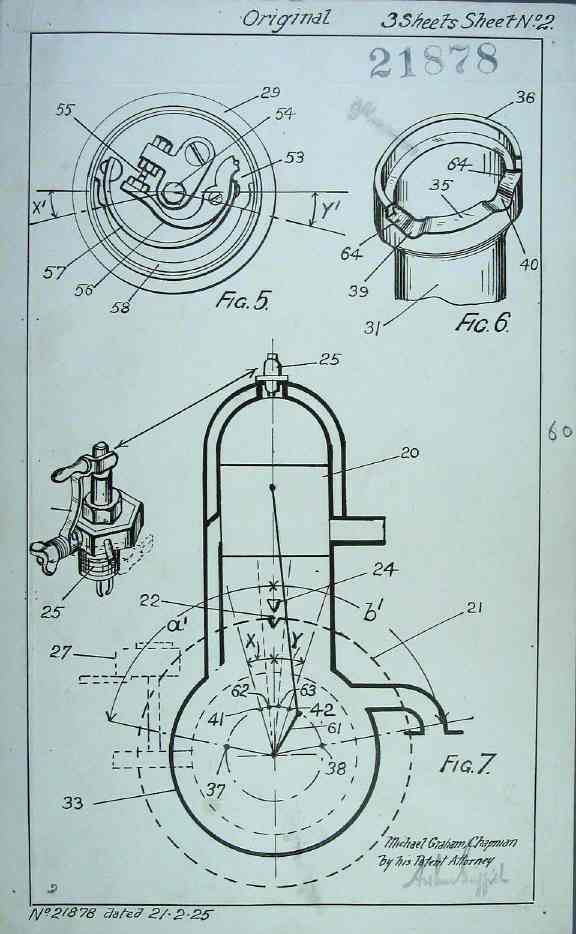 CHAPMAN AND SHERACK.
New inventions in marine oil engines are to be seen on the stand of Chapman and Sherack, engineers, of Ershineville, at 93 See-street A now type of marine motor, which has some novel and clover features, is on view. This engine is capable of running either right or left hand, and is Installed In launches without any gearbox. By rocking the flywheel slightly the motor can be started up in either direction, and while Turning may be instantly reversed in its rotation by altering the position of the Ignition lever. This novel Invention has been brought out by Mr. Graham Chapman, the founder of the firm, who is taking out patents in the principal countries throughout the world. MACHINERY. (1925, April 9). The Sydney Morning Herald(NSW : 1842 - 1954), p. 15. Retrieved from http://nla.gov.au/nla.news-article16214149
MOTOR-BOATING THE CHAPMAN "PUP." Much Interest in aquatic circles has been centred on the Chapman "Pup" marine engine in the showroom of Messrs. F. S. Beauchamp Pty. Ltd., Argyle Street, Hobart, during the last few weeks. This little engine, which is intended for use in dinghies and other small craft, is 2 ½ h.p., and Is of the two stroke principle. It is interesting to note the strides made by the two stroke engine In recent years. This type is now being adopted by leading motor-cycle manufacturers. The chief advantages associated with the two-stroke engine as compared with the more common four-stroke type, are its simplicity and economy. It has only three working parts compared with 27 in the four stroke engine, and develops 60 per cent, more power for the same cylinder capacity.
The Chapman "Pup" is manufactured in Sydney, N.S.W., by Messrs. Chapman and Sherack, who have been building marine engines for the past 20 years. Exclusive features of the "Pup" are the detachable magneto, simple and com-pact eccentric-driven water-pump, renewable valves and seatings, floatless carburettor, and ground and honed cylinders, piston rings, gudgeon and crankpin. The engine is easy to start and economical to run. MOTOR-BOATING. (1928, September 1). The Mercury (Hobart, Tas. : 1860 - 1954), p. 4. Retrieved from http://nla.gov.au/nla.news-article29784137
This was the big one but more modifications and ways to manufacture and distribute affordable engines were to come, some of these insights gained by M G Chapman in WWI;
SWIFT DRILLING.20 Times as Fast as Hands. SYDNEY, March 25.Giving evidence in the Federal Arbitration Court, before Judge Beeby, during the hearing of the Metal Trades claims, Mr. M. Chapman, works manager of Chapman and Sherack, manufacturers or marine motors, Erskineville, said that unskilled labourers and even boys and girls ware carrying out delicate engineering work with the aid of modern machinery. Mr. Chapman produced samples of work done by Juvenile labour, with the aid of machinery that skilled workers could not do by hand. These workers operated drilling machines, which could drill 20 holes while an ordinary mechanic could drill one on an ordinary lathe. No expert hand workers, no matter how fast, could compete with a boy or man who had 10 minutes' experience with a machine. SWIFT DRILLING. (1929, March 25). Townsville Daily Bulletin(Qld. : 1885 - 1954), p. 6. Retrieved fromhttp://nla.gov.au/nla.news-article6023138
MACHINE PRODUCTION. War-time Experience.
SYDNEY, March 21— Evidence was given before Judge Beeby in the Commonwealth Arbitration Court to-day that unskilled labourers — even boys and girls —can perform the most delicate engineering work with the aid of modern machinery. Mr. M. G. Chapman, works manager for Chapman and Sherack, manufacturers of marine motors, of Erskineville, said that during the War he entered into a contract in England with the firm of Vickers, Ltd., to manufacture Maxim machine guns. He was employed in a factory where there were 15,000 hands and of that number there was a very small percentage of skilled mechanics, such as he claimed to be. Most of the work was carried on in various stages by juvenile labour, chiefly girls. He had found that the operators had no knowledge of the fundamental principles of the machine they were working. All they knew was how to move a lever and set a machine in motion and to throw in a feed lever which automatically tripped up when the cutters had passed for the work. Their duty was just to try a gauge which had a very close limit. The work passed from one girl to another, and so right along the line of machines until it reached the end of the line, a completed piece of work. It then went to the inspection department. Strange to say the rejection's, after the work had passed through all these unskilled employees, were only about three per cent. The witness exhibited the feed box of a Maxim gun which, he pointed out, was a very complicated piece of machinery. He said that he would defy any jobbing engineering shop in Australia to produce it in a jobbing manner, yet it had been made by machinery operated by girls. Not even a ten-thousandth part of an inch variation was allowed in certain vital parts of the gun. MACHINE PRODUCTION. (1929, March 22). The West Australian (Perth, WA : 1879 - 1954), p. 21. Retrieved fromhttp://nla.gov.au/nla.news-article32267794
There is a lapse in articles for a few years while M G Chapman and Joseph Sherack are in and out of court due to a messy divorce of Archibald Chapman, M.G's younger brother, which both men got dragged into or got themselves involved in. Soon they were back doing what they do best though and this led to two quite famous voyages, one to Tasmania and one to Thursday Island, the first in 1935 and secod in 1936. These, and the reliability of his engines, produced a boom for him. We have found and re-transcribed the one taken by Mosman old salt Wally Pankhurst (below), who stayed here on his way north, and provide a link to the story of that taken by Gordon Doherty below. Mr Chapman seemed to have the knack for promotions:
CHAPMAN MARINE MOTORS Latest Manufacturing Methods Employed. Established for the past 20 years, the Chapman marine motor factory, at Erskineville, Sydney, is now one of the largest, if not the largest, manufacturers of marine motors in the Commonwealth. The factory covers over 10,000 square feet of floor space, and the latest methods are used in producing all types of marine engines of from 2 ½ to 25 horse power.
All parts are manufactured by the jig and fixture process, resulting in low production costs and accuracy, and embodied in the system is a modern measuring plant to check the various gauges used in checking the measurements of the numerous components contained in the many models of Chapman engines. The Pratt and Whitney machine used is the only one of its kind in the Commonwealth. This, in conjunction with a complete set of Johansen gauge blocks, enables the detection of errors in gauges to within one-tenth of one-thousandth part of an inch. Every Chapman motor is tested under load for eight hours after assembly. When each engine is proved it is then taken down, examined, and finally adjusted. The manufacturer's address is Chapman and Sherack, motor launch and engine builders, Clara-street, Erskineville, N.S.W. MOTORS & MOTORING. (1933, April 9). Sunday Times (Perth, WA : 1902 - 1954), p. 10 Section: Second Section. Retrieved from http://nla.gov.au/nla.news-article58678163
NEW DIESEL ENGINE. Australian Invention.
A Diesel engine of Improved and simplified design is to be placed shortly on the Australian market. The engine is the invention of two Australians, and will be produced by Australian workmen. A demonstration of the engine was given on Saturday afternoon at the works of the patentees, Messrs. Chapman and Sherack, Erskineville. It is claimed that the difficulty of starting, usually associated with Diesel engines, because of the exceedingly high compression, has been overcome. The device employed on the Chapman engine is to lower the compression by allowing a quantity of air to escape into a special container. Then, with the aid of about a thimbleful of petrol and the conventional spark from a detachable magneto, the engine is started by cranking. Sufficient speed is developed to enable the engine to reach normal revolutions, and it then functions as an ordinary Diesel engine. The engine is water-cooled, develops 650 revolutions a minute, and is of 15 horse-power. The makers state that they have been experimenting for four years, the last two of which have been devoted to exhaustive tests of the engine. The running cost, covering fuel and lubrication, is stated to be /4 an hour, approximately one-sixth the cost of running a petrol engine. NEW DIESEL ENGINE. (1933, June 12). The Sydney Morning Herald (NSW : 1842 - 1954), p. 11. Retrieved from http://nla.gov.au/nla.news-article28028465
IMPROVED DIESEL ENGINE. PERFECTED BY SYDNEY ENGINEERING FIRM. EASY STARTING ANO CHEAP RUNNING COSTS
One of the most important improvements to the slow speed internal combustion engine invented by Rudolf Diesel has been devised by an Australian firm-Messrs. Chapman and Sherack, of Clara-street, Erskineville. N.S.W. As is generally known, the Diesel engine differs from other types in consuming heavy oil as a fuel and in the fact that no definite explosion takes place. The descending piston draws in air, the inlet valve closing at the end of the stroke. On the return stroke the air is compressed to about 5001b.per square inch, and its- temperature rises to about lOOOdeg. Fahr., which is sufficient to vaporise and ignite a charge of petroleum, sprayed into the cylinder by an air pump at the top of the-stroke;. The expansion" (which is not an actual explosion) of the ignited charge Impels the piston down-wards again, an exhaust valve opens, and on it a second return stroke the Diston expels the products of combustion- But one disability of the Diesel engine has so far not been overcome until Messrs. Chapman and Sherack concluded their experiments and tests. The difficulty of starting under high compression bas prevented the Diesel from having a universal application in 1industry and transport. The Australian invention, however, has removed this disability.
Recently at the Erskine works Mr. Chapman demonstrated his firm's new and simplified design. The starting device chiefly consists of a small chamber which temporarily lowers the compression to a point where, by using a spoonful of petrol and a detachable magneto, the engine may be started by ordinary cranking. As the engine begins to "rev," the compression is restored to normal by the turning of a cock, and the engine then functions in the ordinary Diesel manner.
The new Diesel is the outcome of experiments and tests conducted over a period of four years. The first two years were devoted to experiments alone. The last two years have been given to exhaustively testing the engine under working conditions. The makers state that their Invention enables the engine to develop 15 h.p. with a speed of 650 revolutions a minute. As the total cost of running is about4d. an" hour, including- lubrication, the advantage over an ordinary petrol engine is substantial. A conservative estimate for running an ordinary petrol engine is set down at about 2/ an hour.
Besides the easy-starting device, the Chapman-Sherack Diesel, which will be put almost Immediately on the market, will embody simplifications and an extraordinarily high standard of tested parts. .Concerning the invention. Mr. Chapman made the following statement:-
"The engine" will be marketed at half the price of similar powered Diesels. A 4oz. bottle of petrol will be sufficient to give one hundred starts. Our research work on the assembled engine during two years resulted in our making various alterations to bring it to perfection. We have no hesitation now in claiming perfection for this Diesel. The last two years have seen it working day in and day out, and we are now completely satisfied that it cannot be faulted. Its extreme simplicity, its reliability and it economical working will surely recommend it to fishermen and men on the land. It is water cooled and differs radically from most engines, in that it has no complicated parts and is not difficult to start. The usual Diesel is started by compressed air and cannot be cranked. You have seen for yourself that this engine can be started by easy cranking-a youth' can start, it - A simple valve brings up compression.. . the magneto can be instantly removed, and the spark-plug, too, if necessary. One of the difficulties In starting Diesels installed in boats, for instance, is thus removed. Generally half the wheel is below the centre line, but the holes you will observe in the well of our engine enable the cranking to be done from any position. You will notice, also, that there is no air-compressor as that is rendered entirely unnecessary."
The parts for the new Diesels are now being produced at the works, and Mr. Chapman explained the details, of manufacture. Only the very finest castings are being used, and no part is rasped for assembly until it has been severely tested, both for tensile and transverse strength.
There can be no doubt that the new Invention will meet a long-felt want. Incidentally, if the new Diesel meets with the approval of the public-and it certainly should on the important grounds of economy and efficiency then Messrs. Chapman and Sherack will have had the honor of beginning an industry that very probably will assume national significance. They invite the fullest investigation from prospective users.
It is such inventions as the Chapman-Sherack Diesel that give the lie to the oft-repeated assertion that Australians are still dependent on over-seas engineering for all highly technical improvements and practice. Australians have shown that they are quite capable of conducting research work and practical applications of the results. That is not to say that we should cut ourselves off from the countries that have had centuries of experience ahead of us. But, given equal opportunities, Australian mechanics and engineers, have proved themselves the equals of their European and American compeers. Full particulars as to price, etc.. will appear in the advertising columns of "The Sunday Times" at an early date. IMPROVED DIESEL ENGINE. (1933, July 30). Sunday Times(Perth, WA : 1902 - 1954), p. 9 Section: Second Section. Retrieved from http://nla.gov.au/nla.news-article5870038
Photograph Contest PRIZE COMES TO PORT LINCOLN Mr. W. B. Tyler, of Port Lincoln, has been awarded first prize in a photographic competition organised by Messrs. Chapman and Sherack, Marine engine manufacturers, of Erskineville, New South Wales. The contest was open to competitors in Australia, New Zealand and the Islands. Mr. Tyler will receive as his prize a Chapman 'Master Pup ' three-horse-power engine valued at £34. The winning photograph was of a group of local bathing girls gathered on the Bubbling Ida, a motorboat' owned by Mr. R. F.Poole. Photograph Contest. (1935, March 8). Port Lincoln Times(SA : 1927 - 1954), p. 6. Retrieved from http://nla.gov.au/nla.news-article96718090
MOTOR BOAT BUILDING BOOM , £30,000 OF ORDERS ONHAND IN SYDNEY Yachts and ' Drive-Yourself 'Boats
THE popularity of motor boating in New South Wales is demonstrated at almost every building yard around Sydney, Broken Bay, and Sans Souci. Many palatial cruisers are under construction. It is estimated that the orders in hand run into £30,000. Most of the boats ordered are of the bridge deck type — handy for racing and pleasure.
SOME of the craft will be ready for, launching at the end of April. Others will be launched during June and July.' It is expected that at least 10 boats will be ready for delivery next September. The work in hand will keep the shipwrights fully occupied for the next nine months. .In addition there is a boom in new yachts. There will be an increase in the fleet of six and eight metre boats.
ANOTHER popular feature is the boom in 'Drive-Yourself boats. More than 100 are to be built for delivery to all the leading pleasure resorts from Clarence Heads to Twofold Bay. The whole fleet are to be powered by Chapman Pup engines, noted for reliability in hard weather.MOTOR BOATING YACHTING ACQUATICS. (1937, March 25).Referee (Sydney, NSW : 1886 - 1939), p. 12. Retrieved fromhttp://nla.gov.au/nla.news-article127609419
TWO-STROKE ENGINES. A Cut-away Model. F0LL0WING upon his letter in last week's Issue of the Mutual Help, Mr. Hal. McKail made a cutaway model of a two-stroke engine available to our photographer, and has sent in the following notes in explanation of the photographs which were taken.-"M."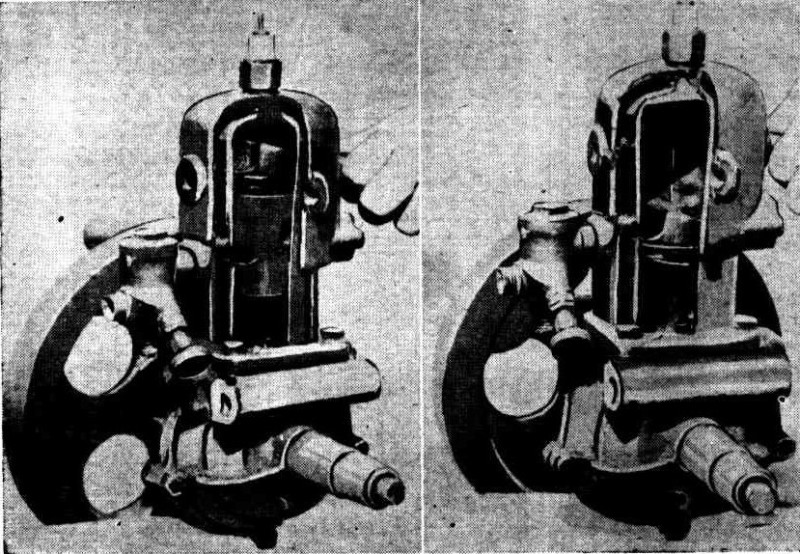 In photograph "A" the piston is at the position of intake and ignition. The piston as the top of its stroke has just uncovered the port shown opposite the carburetter. The raising of the piston has caused a partial vacuum in the crank case, and the mixture now enters the crank case. At the same time, ignition takes place, and the burning mixture forces the piston down.
B.-The piston at the bottom of its stroke has uncovered, first, the exhaust; port (not seen) on the right, and then the transfer- port, on the left, which allows the new mixture, now compressed in the crankcase, or transferred to the cylinder. Note the shape of the top of the piston, which deflects the incoming gas to the top of cylinder, and prevents loss through the still-open exhaust port. In some engines the intake is controlled by a separate port. These are called three-port engines (the Chapman Pup is such), but In this type, known as the two-port, a light valve is necessary in the carburetor to prevent blow-back at the moment of transfer. HAL. McKAIL, Perth. TWO-STROKE ENGINES. (1937, December 16). Western Mail(Perth, WA : 1885 - 1954), p. 50. Retrieved from http://nla.gov.au/nla.news-article37844350

Right: Advertising. (1937, March 11). Referee (Sydney, NSW : 1886 - 1939), p. 18. Retrieved from http://nla.gov.au/nla.news-article127620238
The company then needed to find people who could manufacture their engines elsewhere in Australia to meet demand. Consequently Perth company, Harris-Scarfe and Sandovers Ltd, began making the patented engines in 1930 and by 1938 Blaxland Rae were also building the engines.
The inventor and his working partners also floated a few companies to expand and meet demand in Sydney before selling to Blaxland in 1949:
NEW REGISTRATIONS. The following companies have been registered, shares being of the value of £1 each: CHAPMAN ENGINE DISTRIBUTORS PTY..LIMITED.-Capital: £5000. In £1 shares. Retailers, wholesalers, and distributors of marine engines, etc. Subscribers: Jack A. Whitehead, Graham Chapman, and Frank E. Forster. NEW REGISTRATIONS. (1937, February 20). The Sydney Morning Herald(NSW : 1842 - 1954), p. 19. Retrieved from http://nla.gov.au/nla.news-article17305419
£l 00,000 Company Formed in Sydney
Chapman and Sherack Ltd has been formed in Sydney with nominal capital of £100,000. The company will acquire the business of Chapman and Sherack, manufacturers of Chapman marine engines, for£37,500. This payment will be met with £20,000 cash and the issue of 70,000 fully paid 5/Í shares. The public is invited to sub-scribe for 130,000 5/ shares. The company will use the capital remaining after paying £20,000 vendor's consideration for expansion. £100,000 Company Formed in Sydney. (1949, February 23).The Argus (Melbourne, Vic. : 1848 - 1957), p. 7. Retrieved from http://nla.gov.au/nla.news-article22695542
CHAPMAN ENGINE ISSUE
Chapman and Sherack Ltd., which has been formed to takeover the engineering business of the firm of Chapman and Sherack, makers of Chapman marine engines, is offering a public issue of 130,000 shares of 5/ each at par (£32,500). The purchase price of the business is £37,500, and the vendors are to receive 70,000 shares(£17,500) and £20,000 in cash. This cash payment and £2,000 preliminary expenses would leave £10,500 of the issue proceeds for working capital.
It is proposed to expand the production of the whole range of Chapman products. The prospectus gives the firm's profits, before taxation, for the last five years: June 30, 1948,£3,892; 1947, £3,704; 1946,£4,206; 1945, £1,329; 1944, £6,356. Profit for four months ended October 31, 1948, after providing for public company taxation and reserves, is shown at £2,416,equal to 14 per cent, a year on capital of £50,000. .
The issue has not been underwritten. CHAPMAN ENGINE ISSUE. (1949, February 23). The Sydney Morning Herald (NSW : 1842 - 1954), p. 6. Retrieved from http://nla.gov.au/nla.news-article18089870
BLAXLAND-CHAPMAN MARINE ENGINES , Long Noted for their simplicity, Reliability and Durability.
Blaxland and Blaxland Chapman Engines (embodying all Chapman patents) are now in full production and continue to carry our FIVE-YEAR GUARANTEE
Ideal Power Units for Launches 12ft to 10ft are the Notnble2VÍ1 H P 3 H P AND THE TV4 HP MODEL SXT - These Engines have proved their worth under the hardest of all conditions in
Drive Yourself Launches
These Medium to Heavy Duty Engines designed for Launches from 1 Oft to30ft ore Ideal lor Work Boats or asAuxiliary Power for Sailing Craft andhave won unparalleled acceptance withFishermen because of their Punch and Dependability. THESE MODELS 4"4 HP AND UPWARD ARE REVERSIBLE direction Of rotation being changed by a mere flick of our Patented Magneto
CHAPMAN WONDER LAUNCHES
In 16ft and 18ft Open and Half Cabin models still stand supreme for Style Performance and Seaworthiness and should be inspected by all Intending
OPEN FOR5 INSPECTION-SATURDAY 9AM TO 12 NOON or for all particulars of Engines and Launches apply to
BLAXLAND RAE PTY LTD
Successors to Chapman and Sherack 26 CLARA STREET ERSKINEVILLE Phone LA3351 . Advertising. (1949, October 8). The Sydney Morning Herald(NSW : 1842 - 1954), p. 14. Retrieved from http://nla.gov.au/nla.news-article18133802
LAUNCHES. YACHTS, MARINE ENGINES, ETC. BLAXLAND CHAPMAN MARINE ENGINES.
Famed for Dependability for over 40 Years. For easy starting, simple operation and long, unfailing service under all conditions and in all climates, Blaxland-Chapman stand supreme.
There's a Blaxland-Chapman for all Craft from 9ft to 40ft.2i,i H.P. Standard Pup3 H.P. Master Pup.
3',ii H.P. Blaxland Pup.41/4 H.P. Super Pup.
5/7 H.P. Blaxland Twin.6/8 H.P. Greyhound.
10 and 20 H.P. Scadogs.
Each engine Is completely equipped and fitted with patented, vertically mounted Bounce start magneto. All engines from 4VII H.P.up are reversible for running ahead.
CHAPMAN WONDER LAUNCHES.
Renowned for seaworthiness, performance and workmanship. Available in 16ft open and half-cabin and 18tt half-cabin models.
BLAXLAND RAE PTY. LTD.,(Successors to Chapman and Sherack) 26 Clara Street. ERSKINEVILLE LA3351.
Or at: HUNT'S MARINE CENTRE, 663 Prince's Highway, BLAKEHURST._LU1672. Family Notices. (1952, November 22). The Sydney Morning Herald (NSW : 1842 - 1954), p. 13. Retrieved from http://nla.gov.au/nla.news-article18291884
W. PANKHURST ARRIVES AT THURSDAY ISLAND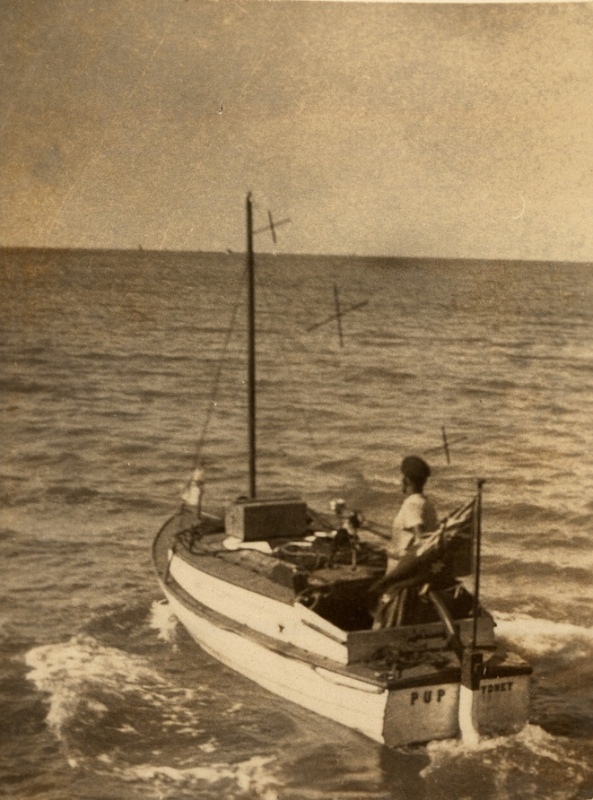 Great Feat in 16ft. Chapman Skiff WORLD'S RECORD FOR SUCH A VOYAGE IS CLAIMED FOR THE PUP
Mr Walter Pankhurst has attained his objective — to steer a 16ft Chapman and Sherack skiff, The Pup, from Sydney Harbor to Thursday Island with a 2 ½ h.p. Chapman marine engine as the sole means of propulsion. He reached Thursday Island on Tuesday. The feat is claimed to be a world's record for such a small craft, the time occupied for the journey being five months 10 days. This beats the schedule that was drafted before Pankhurst's departure from Sydney on May 31 last, as he gave himself at least six months in which to complete the voyage. The journey was one of adventure, but Pankhurst claims to have had one of the most enjoyable trips of his career, despite the fact that he travelled alone. He visited. 26 ports on the New South Wales coast and at least 30 in Queensland.
HE had not previously undertaken such a trip m such a liny craft, in fact, he had not had any previous experience with a small marine engine. Part of his life had been devoted to sea-faring- work. He started out as a sailor and eventually secured an officer's certificate. Next Pankhurst settled in Sydney to become a taxi driver, but that vocation did not appeal to him, as he always felt the call of the sea.
When The Pup was brought back to Sydney after her long voyage to Strahan (Tasmania),Pankhurst made an Inspection as the craft lay on the beach on Watson's Bay. He tested her timbers and found every plank in perfect condition, and then gave the little engine a 'kick-over' to find it running with the regularity of a well timed clock.'
INTERVIEW WITH OWNER
PANKHURST'S next move was to interview Mr. G. Chapman, of Chapman and Sheruck, the owners of The Pup in order to secure a lease of the boat. The first question asked was whether The Pupcould be made available for another long trip? Mr. Chapman listened to a scheme of adventure to take the boat to Thursday Island.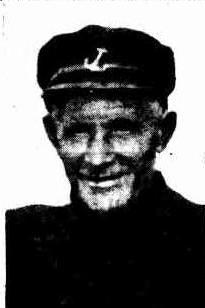 Pankhurst produced a schedule and rough maps to show that he was perfectly acquainted with the routine of the Australian coast. Pankhurst was given commission of the boat, but before Mr. Chapman gave his approval for such a long voyage, the Rose Bay resident had to give a demonstration that the The Pup was suitable for the trip. Alterations were made to certain sections. The mast that Gordon L. Doherty had used for the trip to Tasmania was discarded and the engine bed was brought slightly back. The engine itself was in perfect funning order, and, with the exception of additional tanks tor petrol, storage of food and water, The Pup was practically in its original condition. The trials at sea were a complete success Rough southerly water was chosen outside Sydney Heads, and The Pup was taken out off the coast for more than twenty miles.- She was spotted by passengers on a New Zealand outward steamer, and they received a great surprise to see a small boat mastering a nasty wobble. Several trips were made out to sea, and Pankhurst showed that he was capable of making the trip. One of his first plans in order to keep in touch with the world was, to have a receiving wireless set installed, and it worked well.
VOYAGE STARTS
THE voyage commenced on May 31st and the first port of call on that afternoon gave Pankhurst his first thrill. It was to answer a call by the owner of a cruiser that had met with engine trouble, and was in danger of running ashore. The sea at the time was somewhat choppy and realising that it was impossible to tow the bigger boat, Pankhurst took The Pup alongside and set about to adjust the engine trouble. Success came his way and the bigger boat ended up by towing her smaller friend into The Basin for the night.
That one friendly act, declared Pankhurst afterwards, was an omen of good luck for the long trip that was to follow. The trip along the New South Wales coast was done in easy stages with calls at all the principal ports. Everywhere The Pup called her skipper was received with enthusiasm. It was by no means a pleasure trip as far as Port Macquarie, as the little craft received a severe buffeting, but, nevertheless, the engine never faltered, and Pankhurst's skill was responsible for mastering many difficult breakwaters.
THE PUP was tossed like a cork in mountainous seas, and in addition, she gave her skipper the remarkable thrill of shooting huge breakers over the bars like a surf board. The craft passed, through shark-infested waters, uncomfortably close to spouting whales and nights were spent at sea amid thunder, lightning, and teeming rain. Such were the early experiences of Pankhurst.
ARRIVAL AT. BRISBANE
PASSING into Queensland waters The Pup arrived at Brisbane on Sunday,- July 6 The stay at the northern capital lasted exactly a week and then followed calls at Bribie Island, Mooloolaba, Noosa Heads, Tewantin, Double Island Point, Woody Island., Urangan, Bundaberg, and Gladstone.
SMALLEST VESSEL
When the call was made at Brisbane The Pup was officially registered by the port authorities as the smallest motor vessel ever to enter the Queensland capital travelling from a neighbouring State under her own power. Thousands of people inspected the craft and were amazed to learn that no engine repairs had been necessary. When Bowen was reached The Pup had travelled 1300 miles from Sydney, but, allowing for in and out of port running, the actual distance travelled must-have been 1600.- Pankhurst made long non-stop runs, and one of his longest journeys without making long stays was 130 miles from Bowen to Townsville. The only trouble experienced occurred off Noosa Heads, Queensland, when a couple of days had to be spent at Double Island, where the craft struck long patches of seaweed which damaged the propeller and shaft necessitating beaching to effect repairs.
Enthusiasm greeted Pankhurst at Innisfail, where a most enjoyable week was spent, but while on the journey to Cairns the little boat ran info a fog which the skipper described as the worst he had ever seen. Here a collision with a sugar lighter was narrowly missed.
Calls were made at Fitzroy Island and Cairns. Then followed another long non-stop run of 100 miles to Cooktown. Then followed another 500 miles run which was done in five stages to Thursday Island and this occupied eleven days. It was a strenuous voyage over the last few days, but Pankhurst, though tired and worn out, was delighted to reach the topmost point of Australia before the due date.
IN HOSPITALTELEGRAM received by Messrs. Chapman and Sherack on November 10 stated that Pankhurst had arrived safely at Thursday Island, but had been admitted to hospital. Pankhurst is still under observation and the opinion is that he is suffering from very painful trouble In the kidneys, but otherwise he is physically fit. '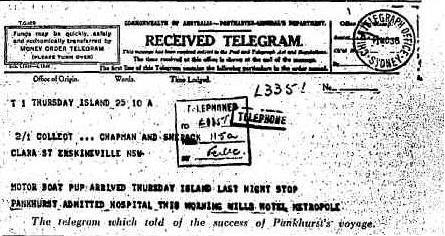 The telegram which told of the success of Pankhurst's voyage.
W. PANKHURST ARRIVES AT THURSDAY ISLAND. (1936, November 12). Referee (Sydney, NSW : 1886 - 1939), p. 1. Retrieved fromhttp://nla.gov.au/nla.news-article135645263
Wally Pankhurst picture _ OCEAN THRILLS IN A SKIFF. (1936, July 4). The Courier-Mail(Brisbane, Qld. : 1933 - 1954), p. 14. Retrieved from http://nla.gov.au/nla.news-article38499615
Wally Pankhurst in The Pup – flickr – courtesy of GeoffD, who states: 'that photo can now be dated to around 17th October 1936 (my grandfather's 49th birthday).
After that long trip, the Chapman & Sherack Company, manufacturers of the engine and owers of "Pup", brought her back to Sydney as deck cargo on the SS Marella.
The trip to Tasmania by Gordon Doherty: www.marinewatchnsw.com/library/pupstory/pupstory.html
Researched by A J Guesdon. Copyright Pittwater Online News, 2013. All Rights Reserved.