February 12 - 18, 2012: Issue 45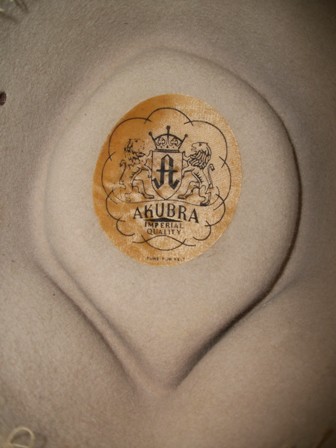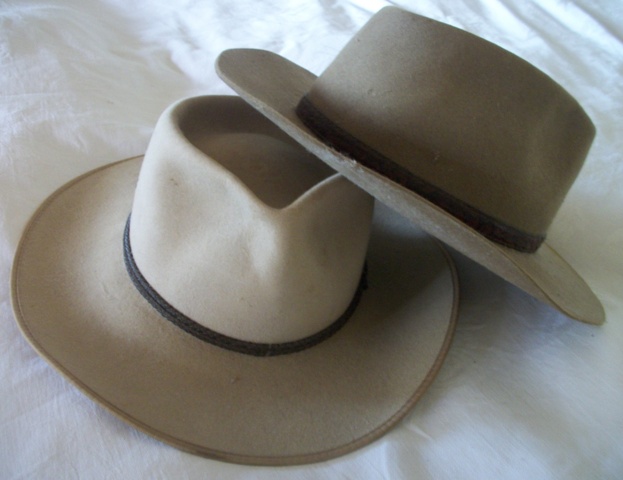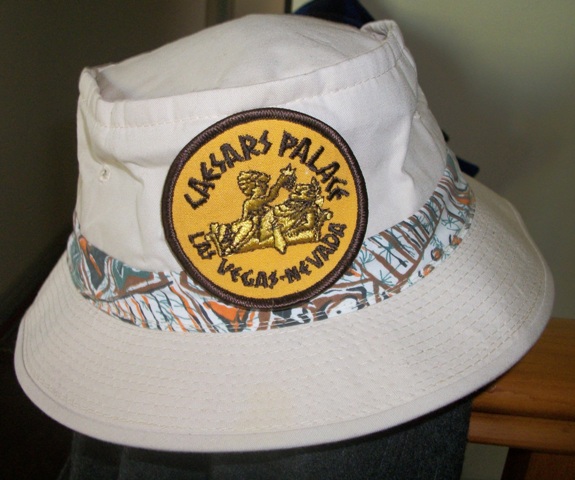 Report and Pictures A J Guesdon, 2012.

Akubra Hats
We may not have needed these as much this summer as in summers past, but an iconic Australian hat, the Akubra, a name said to be from an aboriginal word meaning 'head covering' is essential equipment when outdoors and has become, through its 130 year legacy, incorporated into our culture to the point where some designs hold a proud place in many a collector's corner.
The original hat-making factory, was not called Akubra and founded in the early 1870s by Benjamin Dunkerley. A recent immigrant to Australia, Dunkerley set up shop in Tasmania after inventing a machine that removed the hair tip from rabbit fur, leaving the softer under-fur for use in the making of felt hats.
Dunkerley and his family later relocated to Sydney in the early 1900's and set up a small factory in Crown Street Darlinghurst. IN 1904 where he hired a young man named Stephen Keir. While working for Dunkerley Hat Mills, Keir married Ada Dunkerley, Benjamin's daughter. After Benjamin Dunkerley's death in 1925, Stephen Keir took over the reins of the company, moving to a larger premises and adopting Akubra as a brand name. The trade name "Akubra" came into use in 1912 which makes the Akubra brand name one hundred years young this year.
Akubra is famous for providing many of the Slouch hats used by Australian forces in both World War One and Two with 80% of their production during WWII being for the famous slouch hat. In the 1950s, the Akubra Company expanded its range when it won the licence to produce Stetson hats in Australia. They also supplied hats to all athletes at the 1956 Games held in Melbourne and were part of the uniform for the Australian team at the 1984 Los Angeles Olympic games and were worn at the Opening Ceremony of the 1988 Olympic games in Seoul, Korea, part of uniform at 1992 Games in Spain and 2000 Games in Sydney.
By the 1970s, the business relocated from Sydney to larger premises in Kempsey, on the north coast of New South Wales. In 1991 they became one of the first major sponsors of Women's Surfing in Australia by signing an agreement with then No 1., Australian Pam Burridge. Worn by bushmen as recognizable as Slim Dusty, and even younger bush balladeers alike Lee Kernaghan, who had his own signature brand of the Akubra 'the OutbackClub' launched in 1996, this hat is still being made and the Akubra Hat makers, are still a family run company whose current owners are the great, great-grandchildren of Benjamin Dunkerley.
Over 100 different styles, various colours and brim widths are produced in the Akubra hat range. The ones shown here, a standard and one from The Heritage Collection, this one dubbed 'Banjo Paterson' and named for the Bush Poet of The Man from Snow River, is one of four in this collection, the others being Lawson, Flinders, Burke and Wills who were all explorers and in different colours. These were release in 2008.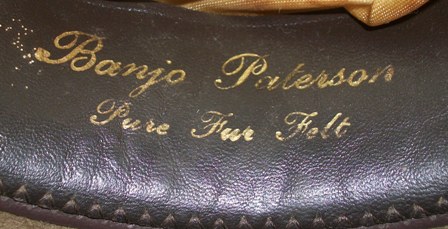 Also of interest, to hat collectors, is this 'bucket hat' (?) brought home to Oz from Caesar's Palace, Las Vegas, Nevada, over 30 years ago. In 1962, Jay Sarno, a cabana motel owner, used US$35 million that had been lent to him by the Teamsters Central States Pension Fund to begin plans for a hotel on land owned by Kirk Kerkorian. Sarno would later act as designer of the hotel he planned to construct. Building of the 14-story Caesars Palace hotel began in 1962. That first tower would have 680 rooms on the 34 acre (138,000 m2) site. On December 31, 1967, Evel Knievel unsuccessfully tried to jump 141 feet (43 m) over the hotel's water fountain with his motorcycle. In 1989, Robbie Knievel successfully completed what his father could not do years before by completing the fountain jump. In 1969, a Federal Organized Crime Task Force accused the casino's financial manager, Jerome Zarowitz, of having ties with organized-crime figures in New York and New England. Although Zarowitz was never tried, the task force pressured Jay Sarno and his other investors to sell the casino. In 1969, Stuart and Clifford S. Perlman, founders of the Lum's chain of restaurants, purchased the hotel for $60 million. On July 15 of that year, executives lay ground on an expansion area of the hotel, and they buried a time capsule in the area, but the time capsule was stolen days later.
In 1973, the Del Webb corporation was contracted to build a 16-story building adjacent to the Palace. The project was finished in 1975. Many top performers, such as Pilita Corrales, Rod Stewart, Celine Dion, Cher, Bette Midler, Liberace, Elton John, George Burns, Pat Cooper, Diana Ross, Paul Anka and Odia Coates, Julio Iglesias, Judy Garland, David Copperfield, Stevie Nicks, Gloria Estefan, Phyllis Diller, Luis Miguel, Frank Sinatra, Jerry Seinfeld, Eric Tsang and Mariah Carey have performed at the hotel.
People collect these hats and caps from Caesar's Palace, some associated simply with the luxury hotel itself and others that have been made for special Events run by the Hotel such as tennis and golf events.
Further:
Akubra website: http://www.akubra.com.au/