October 23 - 29, 2011: Issue 29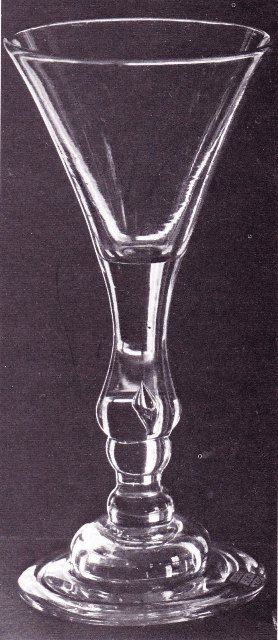 Figure 1
Figure 2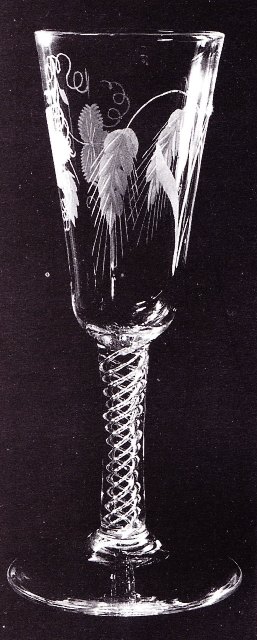 Figure 3
Words and Images Copyright Hans & Jennifer Carlborg 2011. All Rights Reserved.
Drinking: Eighteenth-Century Style
by Hans and Jennifer Carlborg
'Everybody drank, and nobody drank moderately. The vice was common to all, rich and poor alike. At social parties no gentleman ever thought of leaving the table sober; the host would have considered it a slight on his hospitality. Even ladies and clergymen sometimes got drunk and intoxication was so common a thing it passed without remark. The upper classes drank wine, and every man among them liked to boast himself a "two-bottle man"; and even if he could not consume that quantity, he could at least drink till he fell beneath the table.'
DRINK, drunkenness and drink-related illness coloured the Georgian age. Getting drunk on a regular basis was considered dashing and a sign of masculinity. 'Two bottle men' may have even been moderate drinkers by some standards: there were three bottle, four bottle and five bottle men. Politicians Pitt and Sheridan drank six bottles a day but were surpassed by a certain Dr John Campbell who could get through thirteen bottles of port in a day. In fairness to Dr Campbell though, port was a much lighter drink than it is today as it was not until after 1878 that port was fortified. As well, the bottles were smaller, holding half a litre, about two thirds the quantity of a bottle of port today.
The majority of men drank around the clock. They began with ale or claret for breakfast, possibly even a nip of brandy to get things going, or a glass of hock and soda to cure the hangover. By mid morning the fashion was to drink madeira or sherry with biscuits and ratafia for the ladies. A silver flask of brandy was deemed necessary to sustain those engaged in hunting or shooting. At dinner champagne and wines were followed by port, brandy with more champagne served at supper. This quantity was consumed daily until gout, alcoholic poisoning or death intervened. Then, as now, there was a great deal of snobbery about wine and the affluent could search the world for exotic drinks to impress social peers. One sybaritic gentleman drank absinthe and curacao in vast quantities, which was said not to affect the brain, but not surprisingly his health finally gave way.
By the late 18th century there were 50,000 pubs to serve a population of nine million people. They were open all day. Gin parlours were everywhere. Bread may not have been affordable to the working classes but gin was. Less bawdy drinking took place in coffee houses where punch was served, initially made with a rum base but later with brandy. Naval officers engaged in the East Indian trade brought the taste for punch to England towards the end of the 17th century. Negus enjoyed popularity - a beverage originally concocted of wine, water, sugar and nutmeg. Later it became a similar hot drink made specifically with port wine as a base. Beaten eggs were sometimes added to the mixture. And of course London had its clubs for gentlemen where excessive drinking was de rigueur. One such club was the Kit Kat Club. In a portrait by Godfrey Kneller (1646-1723) members of the Club can be seen drinking from a glass now referred to as a Kit Kat glass - a balustroid wine glass with a drawn trumpet bowl and folded foot. [Figure 1]
However, by contrast the very exclusive Almacks, considered the pinnacle of the fashionable world, organised a ball and supper once a week for twelve weeks during 'the Season' (March to June). The mood at the ball was sedate to the point of boredom as far as those members not interested in social climbing were concerned. Only negligible food and the mildest of drinks were served: light wines such as orgeat and ratafia. Orgeat was a non-alcoholic drink made of barley or almonds and orange flower water while ratafia was a very light liqueur flavoured with fruit or almonds. Both were considered ladies' drinks. Ratafia glasses are particularly elegant. They are stemmed glasses with a long narrow bowl and although not easy to find, they can be acquired today - at a price. [Figure 2]
The most popular every-day liquors were ale, beer and cider. Mead and wines such as claret and sack2 were also frequently drunk. The English preferred sweet wine and most wine, including white wine, was sweetened. Ale was considered a necessity of life, especially for the working man, and brewing of sufficient supplies for the populace was a legal requirement. It was heavily spiced before the introduction of hops. Beer was a malt liquor brewed with hops. Small beer was the 'after brew' of the malt and being relatively weak, it was drunk from tankards throughout the day. The average working man drank three to four quarts a day starting in the early morning.
At Carton, the home of the Earl of Kildare (later Duke of Leinster), a pint of strong, dark ale was provided to each servant daily. Small beer could be drunk in limited quantities throughout the day, as being weak it was brewed for refreshment rather than intoxication. Extra rations were given to servants whose duties were hot and demanding. The cook had a quart of ale at 11 am and 2 pm, laundry maids had a quart twice a week, and the wet nurse a pint at night. Ale glasses are very pretty: tall stemmed with long bowls or shorter plain stemmed glasses and sometimes both types were engraved appropriately with ears
of barley and hop blooms. (Figure 3 ). Mr Tom Connolly's home , Castletown in Ireland had its own brewhouse where
both ale and small beer and 85 hogsheads of ale were brewed, but notr all was consumed. The Connollys and their guests also drank imported English beer, porter and wine. The vinter's bill for that year was Pounds 445 or Pounds 26,700 in today's money (about A$80,100).
Other popular brews were Brunswick Mum, brewed from wheat malt flavoured with herbs, and porter, introduced about 1750. and so named because it was said to be hearty nourishing liquor suitable for porters and other hardworking people. It was brewed from a mixture of the beers and ales and drawn from one cask to save the publican the inconvenience of mixing from several casks. Mead and cider were also popular. Mead glasses are tall stemmed with globular bowls often gadrooned and can still be found. The popularity of cider increased after 1763 when the Prime Minister, die unpopular Earl of Bute, introduced a tax on cider. It became a symbol of opposition to the Prime Minister. Cider glasses are very rare and are recognisable by appropriate engraving on the bowls of apples and apple boughs. They often bore the inscription 'No Excise' in reference to the tax.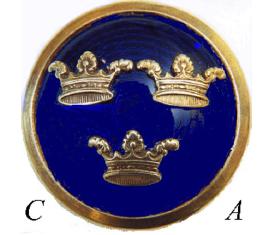 Carlborg Antiques
Carlborg Antiques was established in 1984 and has operated in both Sydney and France with the aim to offer customer satisfaction in every interaction.
HANS & JENNIFER CARLBORG,
Carlborg Antiques 0439 263 808
Email: antiques@carlborg.com
Website At: http://carlborg.com/index.html