November 18 - 24, 2012: Issue 85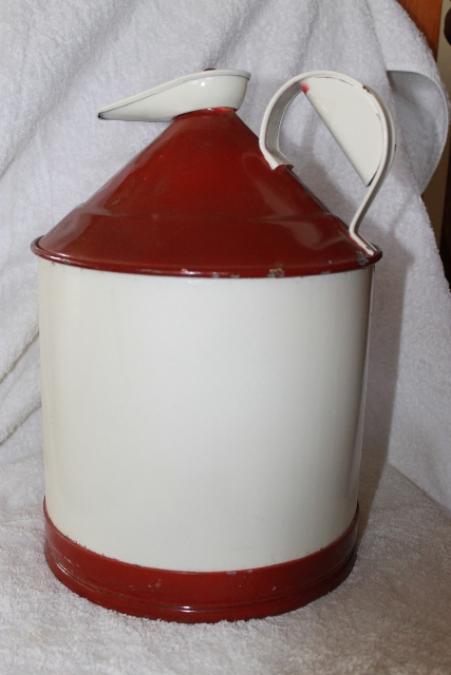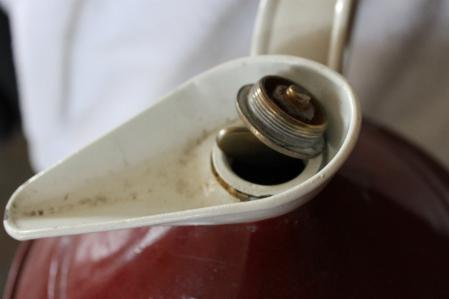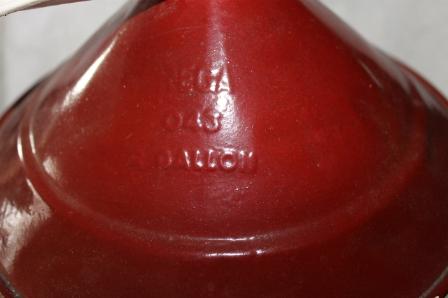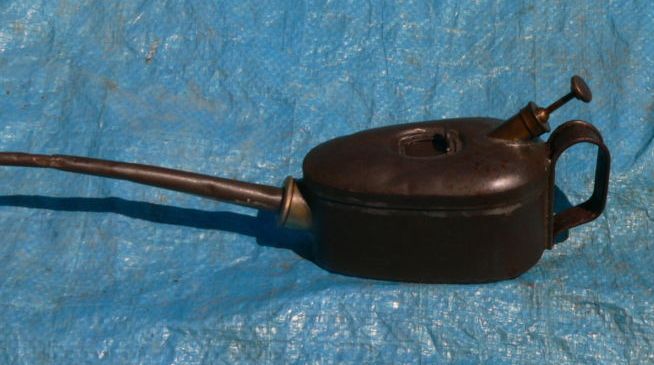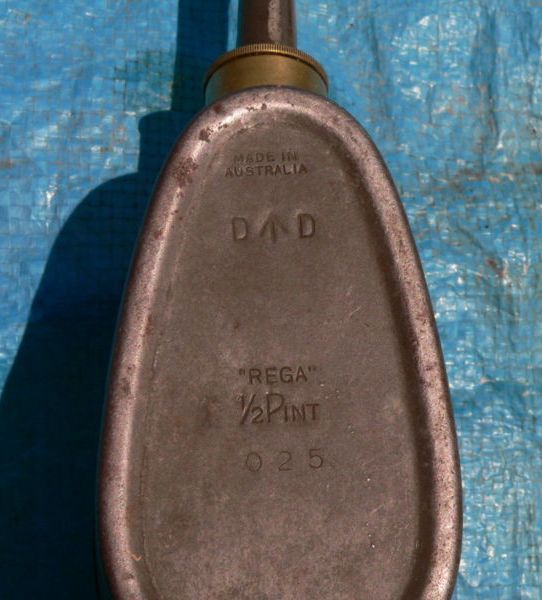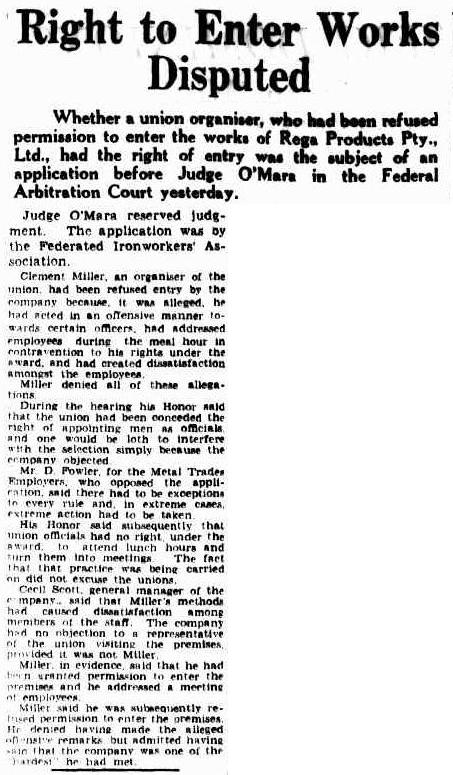 Right to Enter Works Disputed. (1944, October 28). The Sydney Morning Herald (NSW : 1842 - 1954), p. 5. Retrieved from http://nla.gov.au/nla.news-article17925757
REGA Pourer Can
Rega Products Ltd. made and still makes agricultural and horticultural spraying equpiment, machines, atomisers, inflators, lacquer and paint spray equipment for home, garage, factory, veterinary instruments, oil cans and bucket spray water pumps for Australians. The one shown here is a two gallon pourer can according to some who recall such useful items from their childhood. Some state these were used for kerosene a product used for lighting lamps, heaters and also used as aviation fuel. Others say it could have been for storing milk or any of a variety of liquids that could not be contaminated or you didn't want to spill. The solid brass screw in cap empahises this.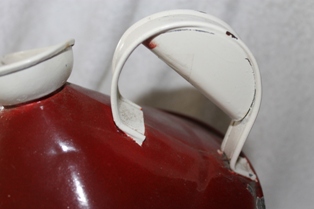 It was made by the company REGA Products Ltd. which was the work of Everitt John Summons, one of nine children of John Richard Summons (born Newcastle 1930) and Elizabeth Ann Sherringham. John Richard Summons's father was pioneer stock and came to Australia on the "Brothers" in 1825.
REGA Products didn't just have a wide use for farm, home and garden, they were also supplying Defence during WWII. One interesting item found during research is a patent for a portable flame thrower listed in Australian Archives during 1941-43.
This may be why these gentlemen visited the factory:
VICE-REGAL. His Excellency the Governor, attended by Lieutenant-Colonel R. O. Wynne, visited the works of Rega Products Pty. Ltd., at Marrickville yesterday morning. PERSONAL. (1941, August 8). The Sydney Morning Herald(NSW : 1842 - 1954), p. 4. Retrieved from http://nla.gov.au/nla.news-article17764362
Commencing in approximately 1928 as both REGA and M S Regal this seems an Australian success story as not only did they flourish and grow through the Depression, they also expanded their product range and invented and improved every aspect of each item;
SPRAY-PUMP INDUSTRY. TARIFF INQUIRY. Methods adopted by British manufacture to retain the market in Australia for spray pumps, atomisers, and vaporisers were described by local manufacturers before the Tariff Board yesterday, when the board began an Inquiry determine whether substantially increased duties on imported spray pumps were necessary.
It was alleged by Mr. E. J. Summons, director of M. S. Regal, Ltd., Leichhardt, that after having condemned the valve system of his company's spray pumps one company In Birmingham, England, obtained a sample of one of Regal's pumps, which was copied, "valve end all." The Imitation pump was afterward sent to Australia and sold here. As soon as Regal, Ltd., had obtained a grip of the local market, overseas manufacturers who had previously supplied Australia's requirements resorted to several of the well-known methods that were usually employed to crush unwelcome competition, chiefly price-cutting, dumping, and laying down of consignment stock in Australia.
Speaking on behalf of members of the Metal Trades Employers' Association of New South Wales, Mr. G. F. Caldwell said that In wages, hours of labour, together with "meddlesome" industrial legislation, the "scales were loaded" against Australia. It was a tribute to the efficiency of the Australian manufacturer that in spite of a difference of more than 100 percent, in labour costs as compared with the United Kingdom, local Industry was enabled even when the tariff was at 20 per cent. British and 30 per cent, general, to obtain a foothold in this trade.
A denial that British firms he represented were antagonistic to the Australian manufacturer was given by Mr. F. G. Carr, who said that one of these firms, W. T. French and Sons, Intended to establish a factory in Australia and make the entire range of their products here. He said he considered that duties of 45 per cent, " and 60 per cent, would be sufficient to protect the local industry. SPRAY-PUMP INDUSTRY. (1931, September 8). The Sydney Morning Herald(NSW : 1842 - 1954), p. 10. Retrieved fromhttp://nla.gov.au/nla.news-article28039162

M S REGAL LTD, have decided to change their name to REGA PRODUCTS LTD COMPANY NEWS. (1934, June 7). The Sydney Morning Herald(NSW : 1842 - 1954), p. 13. Retrieved from http://nla.gov.au/nla.news-article17086356
Let Us Spray - WITH - "REGA" High Class Australian SPRAY PUMPS. Within a period of four years "REGA" PRODUCTS have made a name throughout the Commonwealth. From a small beginning in a factory of only 600 square feet of floor space and three employees, they have grown to a weekly payroll of over 40 employees, occupying 11,000 square feet of floor space and still advancing. Advertising. (1932, September 19). Cairns Post (Qld. : 1909 - 1954), p. 12. Retrieved from http://nla.gov.au/nla.news-article41172457
Mr. E. J. Summons, director of Rega Products Ltd., suggested that the rates of duty on garden and field spray pumps, atomisers, and garden syringes should revert to those recommended by the Tariff Board In 1931, namely, 45 per cent. British preferential and 60 per cent, general tariff. He said that the previous recommendations of the board were rejected by the Federal Government in 1933, and a reduced rate, amounting to 10 per cent below the recommendations, was made law. The inquiry was closed. TYRE GAUGES AND MOTOR-HORNS. (1936, March 3). The Argus(Melbourne, Vic. : 1848 - 1956), p. 11. Retrieved fromhttp://nla.gov.au/nla.news-article11018658
BUILDING AND CONSTRUCTION £20,000 FACTORY.
PLEASING DESIGN.. Marrickville Building. A pleasing architectural effect has been achieved in the design of a factory to cost between £20,000 and, £25,000, which is nearing completion for Rega Products, Ltd., at Marrickville. The site is bounded on three sides by, Carrington-road, Warren-road, and , Ruby street The accompanying Illustration shows the Carrington-road elevation, The company which is a young one, manufactures. Many types of pumps and sprays.
Materials selected for the exterior of the building include hand-made bricks and stone. The building is bounded by lawns and gardens,. Southern lighting for the interior has been obtained by the 'construction , of saw-tooth roofs. The floor area of the factory is about 25,000 square feet. In addition, there are rooms for polishing and plating, lacquering, testing, spraying, tool-making and for the factory management, as well as large rooms for stocks and stores.
The foundry has been specially designed for comfortable working, and is well lit and ventilated. It is fitted with furnace, pattern, and core rooms. Modern dining and restrooms and bathing accommodation have been provided for the operatives.
Executives' offices, private offices, general office and caretaker's quarters will be located on the first floor These rooms will be fitted with Queensland walnut flush panelling and sound absorbing ceilings, and will be well ventilated and centrally heated. The architect is A, M. Bolot, and the contractors Coleman and Kirk, Ltd., O'Connell street, city. BUILDING AND CONSTRUCTION. (1937, January 19). The Sydney Morning Herald (NSW : 1842 - 1954), p. 5. Retrieved from http://nla.gov.au/nla.news-article17295696
REGA PRODUCTS T/TD., from £6000 to £30.000 by the creation of 24000 new £1 shares. INCREASE OF CAPITAL. (1939, November 30). The Sydney Morning Herald (NSW : 1842 - 1954), p. 6. Retrieved from http://nla.gov.au/nla.news-article17644020
FIGHT AGAINST BUSHFIRES. BRIGADES LACK EQUIPMENT.
Restriction on Brass. Bushflre brigades in many parts of New South Wales will be unable to obtain fire-fighting equipment, until almost the end of the summer, chiefly because defence orders of brass are met before civilian requirements.
Another reason for the difficulty In obtaining equipment, It was stated yesterday, was that brigades had delayed lodging orders with manufacturers until the bushfire season had begun.
It is reported from Goulburn that between30 and 40 orders from that district have been held up, and in view of the dry conditions prevailing, the situation Is causing concern. Manufacturers have also received orders from other districts, and are fulfilling them as quickly as practicable.
Mr. H. I, Gregory, managing director of Rega Products, Ltd., Marrickville, manufacturers of portable bushfire pumps, said yesterday that representations had been made to the Minister for Customs for the release of further quantities of brass. Some of this was now coming to hand, but most of the orders from New South Wales bushfire brigades could not be fulfilled before the end of February.

We have sent thousands of pumps to other States, chiefly to South Australia," Mr. Gregory added. "Orders from other States came in as early as July, before restrictions on brass were imposed. The New South Wales bushfire brigades have been lax in not get-ting their orders in early. We did not get them until December. Then we were held up owing to the difficulty in getting brass. Now that we can get It, we will start manufacturing the equipment, but several weeks must elapse before it can be delivered, and by that time the fire danger may have passed. "Unfortunately, we cannot get the brass we would like, otherwise we would work over-time, and through the night, to fulfil orders promptly." FIGHT AGAINST BUSHFIRES. (1940, January 12). The Sydney Morning Herald(NSW : 1842 - 1954), p. 13. Retrieved fromhttp://nla.gov.au/nla.news-article17655417
STIRRUP PUMP ORDERS. The State Government has asked manufacturers to Increase production of A.R.P. stirrup pumps to 100.000 a month. Manufacturers state that they cannot meet this request be-cause of a shortage of brass tubing.
The managing director of Rega Products Pty., Ltd., Mr. H. I. Gregory, said yesterday that his company was now concentrating on A.R.P. requirements, and was turning out 2,000 pumps a week. Orderson hand for 15 000 pumps would be completed in eight weeks. Every-body would get pumps eventually.
For the last 12 months, said Mr Gregory. the supply of brass tubing had been behind orders. There was enough last month for only a third of the orders on hand. At present the amount of brass tubing held was enough for only 14 days' work. After that, unless a further simply was obtainable, work would cease.
It is likely that the Department of Supply will authorise the supply of Diffident brass to enable a large number of pumps, say 30.000 to be produced, and afterwards distributed STIRRUP PUMP ORDERS. (1941, December 25). The Sydney Morning Herald(NSW : 1842 - 1954), p. 7. Retrieved fromhttp://nla.gov.au/nla.news-article17780422
Everitt John Summons died in Hornsby (he is listed as having a residence at Epping in 1943). His son took over his affairs
IN the Estate of EVERITT JOHN SUMMONS late of Randwick in the state of New South Wales Company Director deceased the Application will be made after 14 days from the publication hereof that administration of the Estate of the above named deceased may be granted to Perpetual Trustee Company(Limited) of Number 11/31 Hunter Street Sydney the duly constituted attorney of Thomas Charles Summons the son of the deceased for the use and benefit of the said Thomas Charles Summons limited until he hall apply for and obtain a grant of administration and all Notices may be served at and all creditors In the Estate of the said deceased are hereby required to send In particulars of their claims to the under-signed Ellitt &. Law Solicitors 72 King Street Sydney. Advertising. (1944, February 9). The Sydney Morning Herald(NSW : 1842 - 1954), p. 11. Retrieved from http://nla.gov.au/nla.news-article17871328
There is still REGA Products being produced today and these older ones are now collectors items or put to use in many men's shed's around the country. They range from around $5.00 for vintage Defence stamped oil cans up to almost $200.00 for rarer pieces in good condition.
Copyright Pittwater Online News, 2012. All Rights Reserved.