August 4 - 10, 2013: Issue 122
Frank Clune Books - for Australians about Australia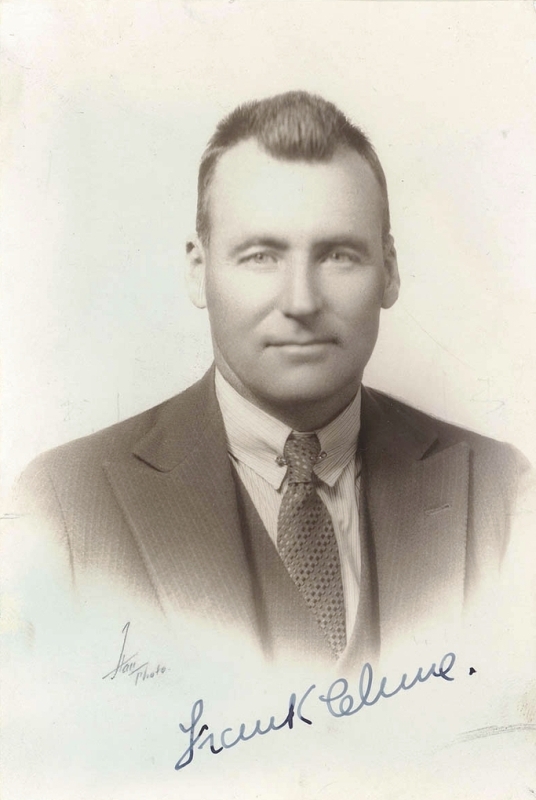 Francis Patrick Clune, OBE, (27 November 1893 – 11 March 1971) was a best-selling Australian author, travel writer and popular historian. Although criticised for embroidering facts with fiction through many 'historical novels', his ability to convey to a ready audience much of our Australian history, and his championing of our aboriginal peoples, particularly Albert Namatjira as well as the photographs included in some works, are in some cases the only record of legends both past and in the near present, we have. With over 70 titles to his credit, some clearly written in part by helpers, his style according to biographer Julian Croft was
"From 1933 to 1936 Clune developed the formula which he was to use for many other books:Rolling Down the Lachlan (1935) and Roaming Round the Darling (1936) were speedily-written accounts of his travels as a tax-consultant in western New South Wales and of an expedition to Coopers Creek, Queensland. His combination of historical detail, narratives of explorers and contemporary political observations found an eager market. Following the example of Ion Idriess, Clune used a rough-and-ready prose style and expressed his sense of nationalism. His travel books, again employing his trusted formula, covered Europe, the Pacific, the Middle East, Asia and North America. By 1952 he estimated that his twenty-three books had sold over a half a million copies.
Clune (and his supporters) took his writing seriously, seeing it as an expression of simple Australian virtues and unvarnished Australian speech." (1.)
Mr Clune himself stated "I talk the lingo of the people. I use words like 'moniker' and 'sheila'. I write that way. And it sells. My literary critics have university degrees, but they're working for bosses. I'm my own boss".
And he said, "I am not writing for intellectuals but for the great mass of people. I want to tell them of the country they live in".
Either way, most homes in Australia will have one or two or most of these volumes. His works, in the leaves of these books, are listed as Travel, Exploration, Biography, Historical Novels, Adventure Stories and Autobiography. With dedications, in the case of Dig – A Drama of Central Australia (1937) 'To My Sons Tony and Terry – Fifth Generation Australians' Frank Clune makes it clear his object is to catalogue and celebrate the Australian spirit through accounts of Australia's formation.
Despite his detractors Frank Clune was appointed an Officer of the Order of the British Empire (OBE) in 1967 for services to Australian literature.
He is a great point in case of how important it is to tell our stories in our voices, that this translates to people we may never meet, never see, where we have come from and how all these threads together have woven the fabric of Australia itself.
Collecting these works, noting that dust jackets (the colourful outer leaves that used to adorn all hardback books) in good or perfect condition make them more valuable and are different for subsequent editions or that a signed by the author copy or First Edition ranks amongst those most wanted by Collectors, it is seen that works range from a few dollars up to almost fifty dollars currently. Most people just keep them for the story inside the pages though, the photos, illustrations and originally sourced materials that in sheer volume show a passionate pursuit of making and keeping a record by following in the footsteps of those he speaks of. He took his own photographs, drew his own maps, raised his own capital for expeditions like that written of in The Fortune Hunters (1957) and ultimately, found his own way.
Frank Clune has a Pittwater connection. In the 1950's he purchased a block of land in Ruskin Rowe (No.: 28) and had a shack and studio here. His next door neighbour was Bill Dobell, the artist and the large block was sold to him by Jan Robert's father Mr Frank Coleman, then a real estate agent with Stapletons.
Vale Frank Clune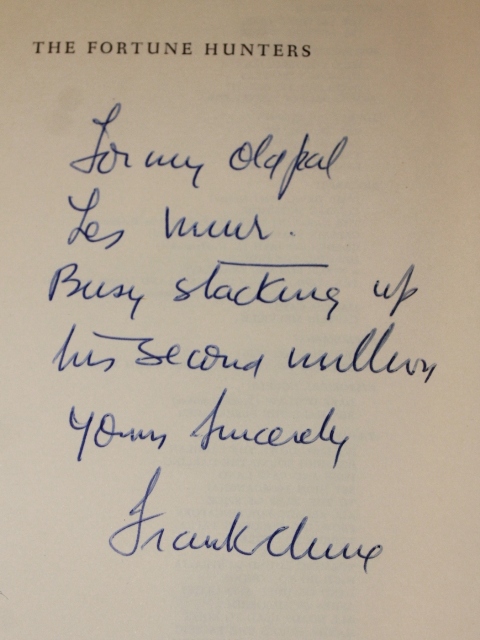 WHEN Frank Clune died on Thursday I lost the last hero of my boyhood. I met Frank Clune first in one of his volumes of autobiography. It was a paperback with the letters TNT exploding on .the front cover and an explanation on the title page: Try Nothing Twice', the story of two dozen jobs.
The recollections of reading the book are still vivid. I had bought it secretly against the orders of my father. I wanted it for a birthday present but he said, "Frank Clune is trash. I met him once and he talked in slang".
At school I appealed to my teacher. "Your Dad's right", he said. "Clune is trash. He writes in slang".
Slang or not, I was determined to have Clune. I resubmitted my birthday order, but on the day I turned 12 I got 'The Complete Works of William Shakespeare'.
William flamin' Shakespeare! That fixed it. I piously thanked my parents for the Bard, then dug up a pound note I had hidden in a Laxette tin in the back yard. I hurried off lo buy 'TNT'.
I read the book sccretly over Easter, sitting under a pepper-tree on a vacant block near home. I can still remember laughing aloud page after uproarious page. By Easter Sunday I was hooked — a Frank Clune fan forever.
I was still two years too young at the time to borrow from the adult section of the municipal library but I went to the librarian to ask could I join.
"What's wrong with the children's section?" he said.
"I want to read Frank Clune", I said. He burst out laughing. "You're a boy after my own heart," he said. "Here, sign this". Five minutes later I was walking home with 'Sky High to Shanghai and To the Isles of Spice' under my arm.
My great Clune day came a year or two later. In the local paper there was a small par saying that the great Australian writer, Frank Clune, would be autographing copies of his books in a department store. I got into that shop as soon as it opened. There were only shop assistants there, and in the book corner, flicking idly through 'The Wild Colonial Boys', Frank Clune himself.
I could hardly get the words out. "Mr Clune", I said, "I want a copy of 'Dig'. I've read 24 of your books".
"A little bloke like you!" he said. "You must be a bloody bookworm".
I didn't know what to say. He was my first live author.
He got me a copy of 'Dig', pulled out a fountain pen, and asked my name.
"Hell!" he said. "I know your old man. Filthy-mouthed bludger. Can't say two words unless one of them is a swearword".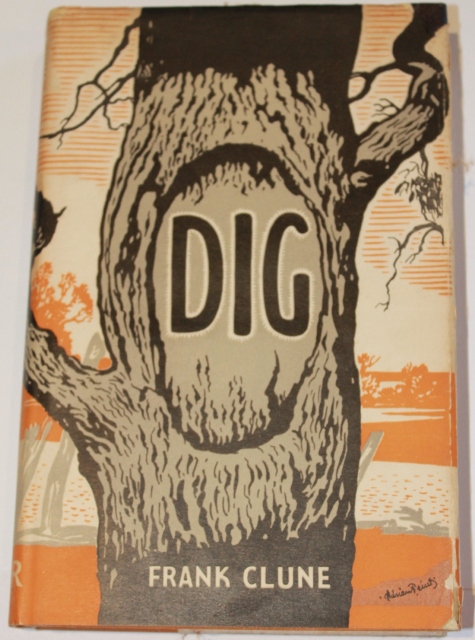 I was too overcome to reply. I watched in awe as he wrote on the fly leaf of 'Dig': "Best wishes for the future and best of luck, Frank Clune". They were among the noblest words ever written. He could have been inscribing them upon my heart.
Frank Clune died of cancer in St Vincent's Hospital, Sydney, at the age of 78. For three decades his name had been a household word in Australia, although his reputation slipped during the 1960s. He wrote about 70 books and most went through many editions. His newspaper column Frank Clune in Smith's Weekly used to draw mountains of mail.
Frank Clune was born in Woolloomooloo in 1893, the son of an Irish gold prospector and an Irish washerwoman. At six he began to sell newspapers in the Sydney streets and before he was 14 he was working at the Government Printing Office.
As 'TNT' records, he drifted from job to job and in the process travelled around Australia and around the world before he was 20. Destitute in Chicago, he enlisted in the US Cavalry but was demoted to a cook because he couldn't ride and demoted again because he couldn't cook.
He deserted to join the AIF and in 1915 was wounded at Gallipoli. In World War II he was an honorary major with the Australian forces in the Middle East and New Guinea.
He wrote his first book. Try Anything Once' while being treated for a stomach ulcer in 1932. It launched him on a career during which about 70 books poured from his pen, mainly travel books and historical works. His style was bright, breezy and atrocious. His historical research was supported by an immense library of Australiana, but it, too, was often atrocious. As an anecdotist he was unrivalled. People all over Australia worshipped him as an entertainer.
The critics never thought so highly of him. He is not mentioned in the standard histories of Australian literature. No one has taken him seriously for years. But he had a word for the critics and I agree with him:
"I talk the lingo of the people. I use words like 'moniker' and 'sheila'. I write that way. And it sells. My literary critics have university degrees, but they're working for bosses. I'm my own boss".
And he said, "I am not writing for intellectuals but for the great mass of people. I want to tell them of the country they live in".
Vale Frank Clune. (1971, March 13). The Canberra Times (ACT : 1926 - 1995), p. 12. Retrieved from http://nla.gov.au/nla.news-article110342653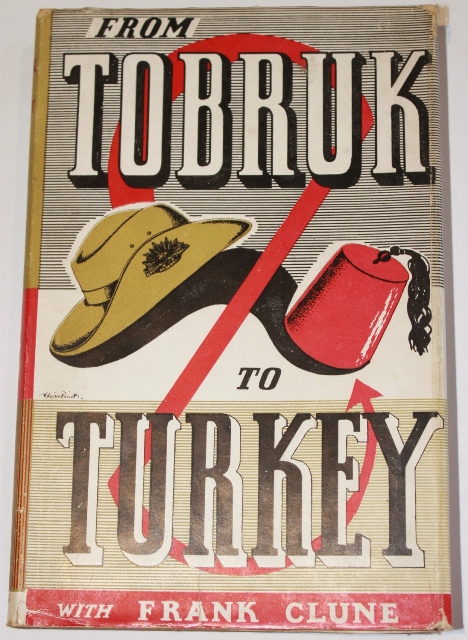 Clune joined the AIF in 1915 during World War I and was soon with the 16th Battalion at Gallipoli. He was wounded in action and repatriated a year after being wounded in both legs. He married Maud Roy in 1916; they divorced in 1920. He married again in 1923 to artist and sculptor Thelma Cecily Smith (1900-1992), established himself as a tax consultant and by 1930 had settled in Vaucluse. Frank Clune and Son, Chartered Accountants, the firm founded by this gentleman still exists today.
His first book was published in 1933 : Try Anything Once, an account of his adventures. Some of his subsequent books were written in collaboration with P R 'Inky' Stephensen, notably The Viking of Van Diemen's Land and The Pirates of the Brig 'Cyprus'.
He was fascinated by the 'outsiders' of Australian history such as Captain Melville, Captain Starlight, Martin Cash, Edward Hargraves, Bully Hayes, Jørgen Jørgensen, Chinese Morrison, Ben Hall, Ned Kelly, Frederick Bailey Deeming and Louis de Rougemont
Clune also wrote for magazines such as Smith's Weekly and ABC Weekly. He broadcast "Roaming Round Australia" regularly on The ABC from 1945–1957.
In the 1940s, Frank and Thelma Clune opened an art gallery in Kings Cross which was subsequently to house works by many of Australia's best known painters, including Sir Russell Drysdale, John Passmore and John Olsen.
In the 1950s and 1960s, together with his wife Thelma and youngest son Terry, he opened the Terry Clune Art Galleries on the corner of Challis Avenue and Macleay Street, and at 58 Macleay Street in Kings Cross. The gallery became the home for Sydney's young expressionists, such as John Olsen, Stan Rapotec, Robert Klippel and Robert Hughes. The gallery later became the home of noted artist, Martin Sharp and was then known as Yellow House. Frank and Thelma Clune were great friends and supporters of artist William Dobell for many years.
Frank Clune's portraits were painted by Sir William Dargie and by Sir William Dobell for the 1950 Archibald Prize.
Some sources state Clune's 1959 book Jimmy Governor was the inspiration for Thomas Keneally's 1972 novel The Chant of Jimmie Blacksmith. (2.)
His influence on using our own voices to tell our own stories cannot be underestimated and follows the traditions set by earlier scribes of Australiana tales in being honest, forthright and inciting others to live their lives to the full.
His published books:

Try Anything Once 1933 (Autobiography)
Rolling Down the Lachlan 1935
Roaming Round the Darling 1936
Dig (about Burke and Wills) 1937
Free and Easy Land 1938
Sky High to Shanghai 1939
To the Isles of Spice 1940
Chinese Morrison 1940
All Aboard for Singapore 1941
D'Air Devil 1941
Last of the Australian Explorers: the story of Donald Mackay 1942
Prowling through Papua 1942
Tobruk to Turkey 1943
The Red Heart 1944
Captain Starlight 1945
Pacific Parade 1945
The Forlorn Hope 1945
The Greatest Liar on Earth 1945
Captain Melville 1945
Pacific Parade 1945
Dark Outlaw (about Frank Gardiner) 1945
Try Nothing Twice 1946 (second Autobiography)
Golden Goliath 1946
Song of India 1946
Roaming around Australia 1947
Ben Hall the Bushranger 1947
A Noose for Ned 1948
High Ho to London 1948
Wild Colonial Boys 1948
The Demon Killer 1948
Sky High to Shanghai 1948
Land of My Birth (short stories) 1949
Land of Hope and Glory 1949
Ashes of Hiroshima 1950
All Roads Lead to Rome 1950
Hands across the Pacific 1951
Somewhere in New Guinea 1951
Gunman Gardiner 1951 (new edition of Dark Outlaw)
Castles in Spain 1952
Flying Dutchmen 1953
Land of Australia 1953
Roaming round Europe 1954
The Viking of Van Diemen's Land (about Jørgen Jørgensen) 1954
Roaming round Europe 1954
The Kelly Hunters 1954
Bound for Botany Bay 1954
Korean Diary 1955
Martin Cash 1955
Overland Telegraph 1955
Roaming round New Zealand 1956
Captain Melville 1956
Scandals of Sydney Town 1957
The Fortune Hunters 1957
Flight to Formosa 1958
A Tale of Tahiti 1958
Murders on Maunga-tapu 1959
The Blue Mountains Murderer 1959
Jimmy Governor 1959
Journey to Canberra 1960
Saga of Sydney . Halstead Press, 1961
Across the Snowy Mountains 1962
The Pirates of the Brig 'Cyprus' 1962
Bound for Botany Bay 1964
Journey to Kosciusko 1964
Search for the Golden Fleece 1965
Journey to Pitcairn 1966
The Norfolk Island Story 1967. Angus & Robertson Books. (ISBN 0 207 14537 7).
King of the Road 1967
Serenade to Sydney 1967
Scallywags of Sydney Cove 1968
The Scottish Martyrs 1969
Captain Bully Hayes 1970
Rascals, Ruffians and Rebels of Early Australia (collection) 1987
1. Julian Croft, 'Clune, Francis Patrick (Frank) (1893–1971)', Australian Dictionary of Biography, National Centre of Biography, Australian National University, http://adb.anu.edu.au/biography/clune-francis-patrick-frank-9769/text17263
2. Frank Clune. (2013, July 18). In Wikipedia, The Free Encyclopedia. Retrieved from http://en.wikipedia.org/w/index.php?title=Frank_Clune&oldid=564730763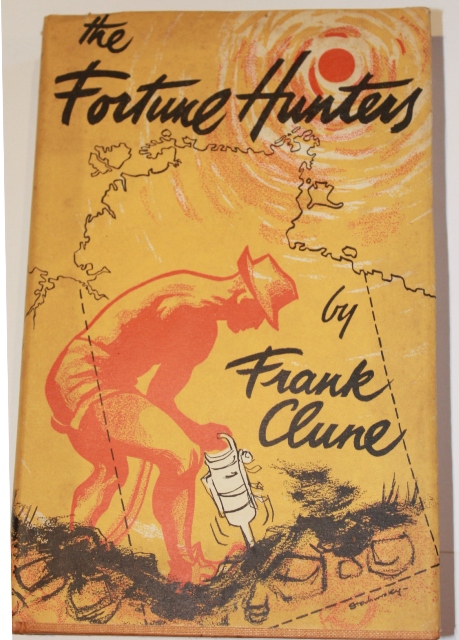 Francis Patrick Clune (1893-1971), by unknown photographer, 1930-33 Courtesy State Library of New South Wales, Original : P1/C (BM) image no.: a128501
Frank Clune Talks About Frank Clune
ONE half of the world knows not how the other half lives. Those of us who were born with silver spoons in our mouths may be pleasantly entertained with the story of one whose spoon was wooden, if there was any spoon at all. The autobiography of Frank Clune, told in Clunese Australian, colloquial, humorous, and delightfully frank, should make an excellent serial. It may or may not be of value to other boys who meditate running away from home to see the world. Frank Clune has seen the world, mostly from the underside. He will tell his story in the 'Digger's Session" on Tuesday and Thursday, at6.30 p.m. Frank Clune Talks About Frank Clune. (1939, September 9).The Mail (Adelaide, SA : 1912 - 1954), p. 8 Supplement: THE MAIL Magazine. Retrieved from http://nla.gov.au/nla.news-article55773597
FRANK CLUNE PASSES THROUGH
Frank Clune, the travel-talk word machine, passed through Darwin last night by Qantas flying boat on his way from London back to Sydney. He's covered more miles in the last few years than the Queen Mary, and he is still going. We can only assume that there is another book coming up. FRANK CLUNE PASSES THROUGH. (1947, June 13).Northern Standard (Darwin, NT : 1921 - 1955), p. 1. Retrieved from http://nla.gov.au/nla.news-article49981329
FRANK CLUNE'S 2Ist BOOK
The Australian author, Mr. Frank .Clune, returned to Sydney yesterday after having visited 21countries in the last six months. He also finished writing his 21stbook yesterday, on the flight from Bowen to Rose Bay in a Hythe flying-boat. FRANK CLUNE'S 21st BOOK. (1947, June 14). The Sydney Morning Herald (NSW : 1842 - 1954), p. 15. Retrieved from http://nla.gov.au/nla.news-article18030331
AUTHOR FRANK CLUNE DIES
SYDNEY, Thursday.— Noted Australian author Frank Patrick Clune died today at St Vincent's Hospital, Sydney, after an operation for cancer of the stomach. He was 78. After the operation he went into a coma and doctors did not expect him to recover.
Mr Clune, described as one of Australia's most successful writers, had 67books published. His first book, 'Try Anything Once', was published in 1932. He was born in 1893 at Woolloomooloo and was of Irish descent. He leaves a wife and two sons. AUTHOR FRANK CLUNE DIES. (1971, March 12). The Canberra Times (ACT : 1926 - 1995), p. 1. Retrieved from http://nla.gov.au/nla.news-article110342408
AIF Men Reply
Strong resentment at Frank dune's reported criticism of the British was expressed yesterday by a number of A.LF. and R. A.A.F. men recently returned from abroad. Within a few minutes of the appearance of The Daily News they were in the office making their protest.' They said that they had been abroad two years or longer, described Clune's criticism of the British as 'ludicrous.'' At a time like this when unity is essential, it is a matter for deep regret and concern that such views tending to create dissension should be expressed by anyone,' one said. 'Our observation over the long period we have been abroad convinces us that the views Frank Clune has expressed are not based on fact as we know it. 'Our experience and close contact with the British in Libya, Greece', Crete, and Syria, leaves no doubt in our minds that the British are anything but 'playing at war.'' Although we as Australians are not particularly interested in polo, we see no reason why the British should not play any sport they wish in their spare moments just as Australians are encouraged to utilise their spare time or leisure in various forms of healthful recreation.'
Point missed by those criticizing noted writer Frank Clune is that he referred, 'particularly to 'base wallahs,' did not intend a 'general application of his remarks to the British as a whole. Said he: 'While fighting men bore the heat and discomforts of the desert, 'base wallahs' in Egypt knocked off at noon 'to play polo and other games at the Gezireh Club.' AIF Men Reply To Frank Clune. (1942, May 16). The Daily News(Perth, WA : 1882 - 1950), p. 21 Edition: LATE CITY. Retrieved from http://nla.gov.au/nla.news-article78275966
Copyright Pittwater Online News, 2013. All Rights Reserved.