October 9 - 15, 2011: Issue 27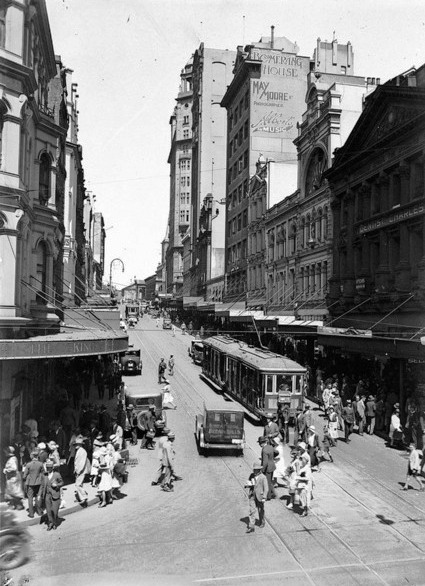 Above: Title 102-139 King Street; The King's Hotel, Albert's Music Store, Boomerang House, May Moore photographer. 1932. Creator Hall & Co. Image No: 35059. Courtesy State Library of NSW. See our May Moore History.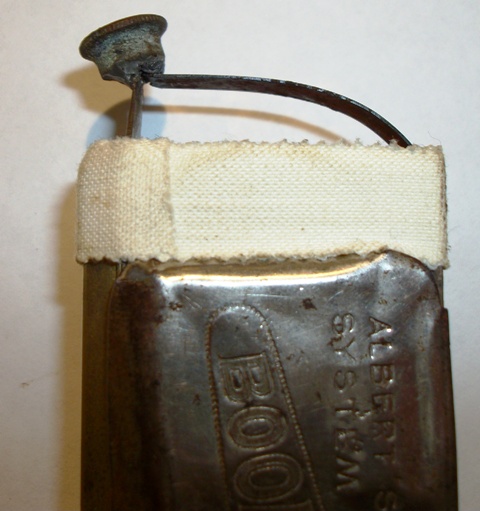 Copyright Pittwater Online News, 2011. All Rights Reserved.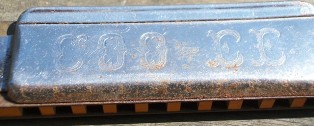 Boomerang Australian Harmonicas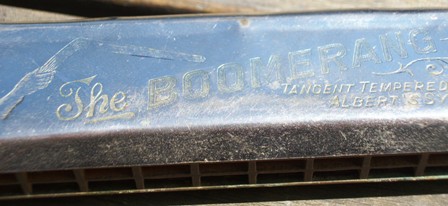 One of our focuses this Spring, apart from birds, waves and other seasonal inspirations, is that of music. This week in Collector's Corner we look at an instrument that may not have a lot of practical uses in terms of tools from bygone days, but does have that Spring quality of bringing music to our ears and harmony to our souls.
Harmonicas were first developed in Europe around 1821, appearing in Vienna. Richter tuning, invented by Joseph Richter, also credited with inventing the blow and draw mechanism, was created in 1826 and adopted nearly universally. In Germany, violin manufacturer Mr. Meisel from Klingenthal bought a harmonica with chambers (Kanzellen) at the Exhibition in Braunschweig in 1824. He and the ironworker Langhammer in the 3-mile-away Graslitz copied the instruments; by 1827 they had produced hundreds of harmonicas. Many others followed in Germany and also nearby in what would later become Czechoslovakia
In 1857, Matthias Hohner, a clockmaker from Trossingen, started producing harmonicas. He became the first person to mass-produce them using machine-cutting firms. By 1868, he was supplying the United States. By the 1920s, the diatonic harmonica had largely reached its modern form. Other types followed soon thereafter, including the various tremolo and octave harmonicas.
Boomerang harmonicas, made by German Seydel, first appeared in Sydney in 1897 and were sold by Jacques Albert and his son Frank. Those pictured here from our collection are a Boomerang C (1920) 10 hole with 20 reeds and the Boomerang Chromorgan (1936) with external spring. These humble instruments helped to found one of Australia's first and foremost music empires.
Albert Family History and Information
From : http://en.wikipedia.org/wiki/Albert_Music; Swiss horologist Jacques Albert migrated to Sydney in 1884 with his family and established a clock, watch and violin repair business in Newtown, Sydney the following year.
Albert and his son Frank began importing and selling a wider range of musical instruments including a Boomerang mouth organ. The company trademarked the word 'boomerang' and stamped it on German manufactured mouth organs. The distinctive instruments were a run away success selling at a rate of 800 a week by 1897.
By 1902 J. Albert & Son diversified into music retail and publishing, opening a shop-front in King Street in central Sydney. Later still J. Albert & Son struck deals with American and British music publishers, purchasing the copyright for songwriters such as Irving Berlin and George Gershwin. In 1926 J. Albert & Son co-founded the Australasian Performing Right Association (APRA)
Frank Albert was a founding member and director of the Australian Broadcasting Company, which ran the Commonwealth Government's eight nationalradio stations. When the government resumed the licence three years later, Alberts used the proceeds to establish Radio Station 2UW. During the heyday of radio, broadcasts of harmonica competitions were staged in town halls.
Frank's son Alexis, assumed the role of Managing Director of J.Albert & Son in 1931. Over the next 50 years the J. Albert & Son empire gradually acquired interests in a network of eight stations in what later became the Macquarie Radio Network. The stations included 4BC in Brisbane, 3DB in Melbourne and 2CC in Canberra. Later still in the 1950s the company became a major shareholder in ATV Channel Seven.
In 1964 the Albert family founded Albert Productions, Australia's first independent record label devoted exclusively to signing and recording Australian pop artists. The 'Easybeats' are the most successful artists to sign to the recording label. The label was very successful during the 1970s when the stable of artists and in particular AC/DC brought Australia to international prominence in popular music.
In 2007 Albert Music acquired the Origin Network Company which manage the copyrighted work and music catalogues of the Australian recording artists Lee Kernaghan, Richard Clapton, Rogue Traders, Mike Brady, Paul Grabowsky, Joe Dolce, Chris Neal, Cezary Skubiszewski, Parrish Muhoberac, and Paul Wiltshirshire. Albert Music, formerly J Albert and Son is an Australian company with an estimated worth in 2009 of more than A$209 million. The company has major interests in music publishing and production and it currently earns significant royalties through its subsidiary, Albert Productions which manages the music catalogue of the Australian rock band AC/DC. More recently Alberts has formed an alliance with Stuart & Sons to manufacture handcrafted pianos
Current activities
Alberts has longstanding community partnerships in the form of the McDonald's Performing Arts Challenge; working with disadvantaged youth through Mission Australia; and research and treatment through Nordoff-Robbins Music Therapy Australia.
References
1. Albert J. (2009) 'House of Hits ', Hardie Grant
2. http://www.albertmusic.com/company