January 8 - 14, 2017: Issue 295

Australian Vinyl Singles: 1950-1960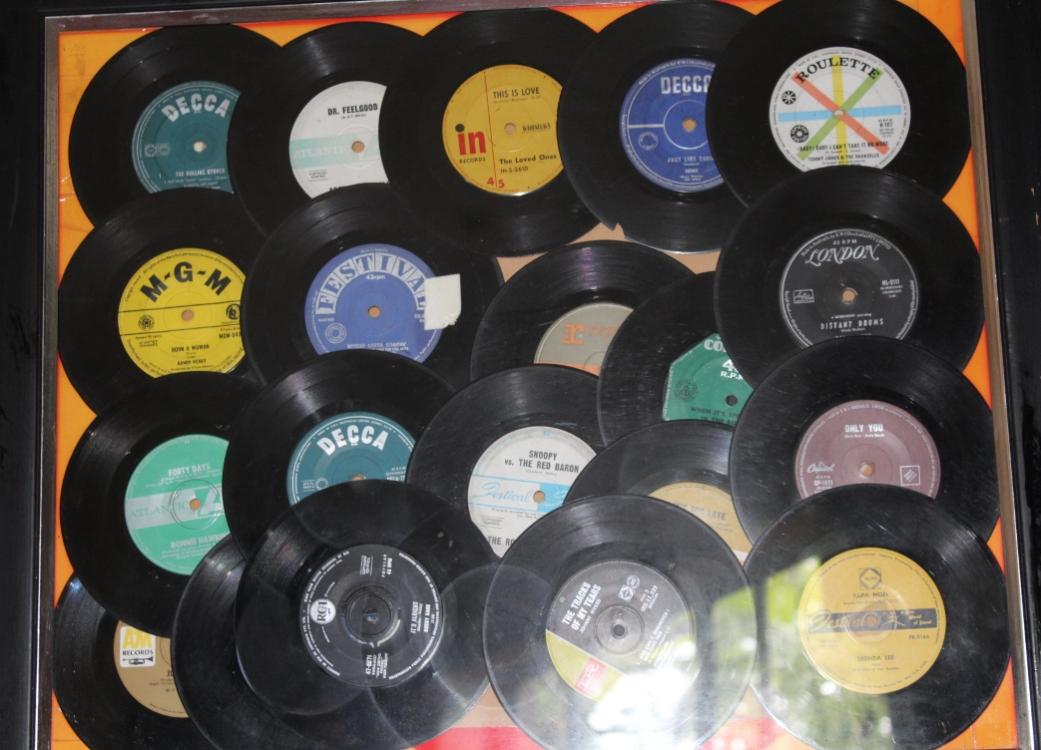 In
His Masters Voice, Old 78's and Australia's Love of Music
the leap from playing your piano to playing records on your gramaphone was shared through a few insights.
These early disc records (1889–1894) were made of various materials including hard rubber. Around 1895, a shellac-based compound was introduced and became standard.
The formulas for this compound varied by manufacturer and over the course of time, but it was typically composed of about one-third shellac and about two-thirds mineral filler, which meant finely pulverized rock, usually slate and limestone, with an admixture of cotton fibers to add tensile strength, carbon black for color (without this, it tended to be a "dirty" gray or brown color that most record companies considered unattractive), and a very small amount of a lubricant to facilitate mold release during manufacture. Some makers, notably Columbia Records, used a laminated construction with a core disc of coarser material or fiber. Many of these versions were stated to be 'unbreakable' when in fact they can be quite fragile and easily broken.
The production of shellac records continued until the end of the 78 rpm format (the late 1950s in most developed countries), but increasingly less abrasive formulations were used during its declining years and very late examples in truly like-new condition can have as low noise levels as vinyl.
In 1931, RCA Victor introduced their vinyl-based Victrolac compound as a material for some unusual-format and special-purpose records. By the end of the 1930s vinyl's advantages of light weight, relative 'unbreakability' and low surface noise had made it the material of choice for prerecorded radio programming and other applications. When it came to ordinary 78 rpm records, however, the much higher cost of the raw material, as well as its vulnerability to the heavy pickups and crudely mass-produced steel needles still then used in home record players, made its general substitution for shellac impractical.
During the Second World War, when shellac supplies were limited, the United States Armed Forces produced thousands of 12-inch vinyl 78 rpm V-Discs for use by the troops overseas. After the war, the wider use of vinyl became more practical as new record players with relatively lightweight crystal pickups and precision-ground styli made of sapphire or an exotic osmium alloy proliferated.
In late 1945, RCA Victor began offering special transparent red vinyl De Luxe pressings of some Red Seal classical 78s, at a De luxe price. Later, Decca Records introduced vinyl Deccalite 78s, while other record companies came up with vinyl concoctions such as Metrolite, Merco Plastic and Sav-o-flex, but these were mainly used to produce "unbreakable" children's records and special thin vinyl DJ pressings for shipment to radio stations.
Beginning in 1939, Dr. Peter Goldmark and his staff at Columbia Records and at CBS Laboratories undertook efforts to address problems of recording and playing back narrow grooves and developing an inexpensive, reliable consumer playback system. It took about eight years of study, except when it was suspended because of World War II. Finally, the 12-inch (30 cm) Long Play (LP)  33 1⁄3 rpm microgroove record album was introduced by the Columbia Record Company at a New York press conference on June 18, 1948. At the same time, Columbia introduced a vinyl 7 inch  33 1⁄3 rpm microgroove single, calling it ZLP, but it was short-lived and is very rare today, because RCA Victor introduced a 45 RPM single a few months later, which became the standard.
Unwilling to license Columbia's system, in February 1949 RCA Victor, in cooperation with its parent, the Radio Corporation of America, released the first 45 rpm single, 7 inches in diameter with a large center hole. The 45 rpm player included a changing mechanism that allowed multiple discs to be stacked, much as a conventional changer handled 78s. The short playing time of a single 45 rpm side meant that long works, such as symphonies, had to be released on multiple 45s instead of a single LP, but RCA claimed that the new high-speed changer rendered side breaks so brief as to be inaudible or inconsequential. Early 45 rpm records were made from either vinyl or polystyrene. They had a playing time of eight minutes.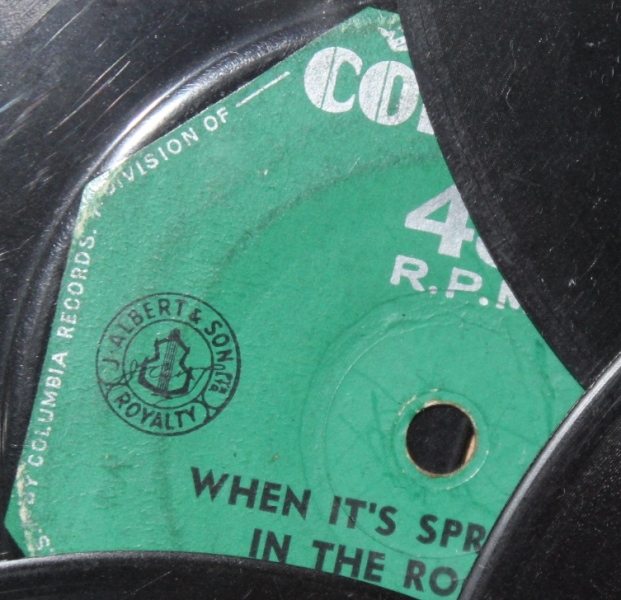 All these 'Groove recordings', first designed in the final quarter of the 19th century, held a predominant position for nearly a century—withstanding competition from reel-to-reel tape, the 8-track cartridge, and the compact cassette. In 1988, the compact disc surpassed the gramophone record in unit sales and vinyl records experienced a sudden decline in popularity when the major label distributors restricted their return policies, which retailers had been relying on to maintain and swap out stocks of relatively unpopular titles. First the distributors began charging retailers more for new product if they returned unsold vinyl, and then they stopped providing any credit at all for returns. Retailers, fearing they would be stuck with anything they ordered, only ordered proven, popular titles that they knew would sell, and devoted more shelf space to CDs and cassettes. Record companies also deleted many vinyl titles from production and distribution, further undermining the availability of the format and leading to the closure of pressing plants. This rapid decline in the availability of records accelerated the format's decline in popularity, and is seen by some as a deliberate ploy to make consumers switch to CDs, which were more profitable for the record companies. These too were touted by many as being 'unbreakable' and fairly scratch-proof.
In spite of their flaws, such as the lack of portability, records still have their enthusiastic supporters though and some have never rid themselves of their records and turntables. Vinyl records continue to be manufactured and sold today, especially by independent rock bands and labels for a market composed of audiophiles, collectors, and DJs. Old records and out-of-print recordings in particular are in much demand by collectors the world over.
For collectors it's condition, rarity and desirability
that are the key factors.
Many popular new albums are given releases on vinyl records and older albums are also given reissues, sometimes on audiophile-grade vinyl.
In the United Kingdom, the popularity of indie rock caused sales of new vinyl records (particularly 7 inch singles) to increase significantly in 2006, briefly reversing the downward trend seen during the 1990s.
In the United States, annual vinyl sales increased by 85.8% between 2006 and 2007, and by 89% between 2007 and 2008.
In 2015 the sales of vinyl records was up 32% to $416 million, their highest level since 1988, with a reported 31.5 million vinyl records sold.
Many electronic dance music and hip hop releases today are still preferred on vinyl as for disc jockeys ("DJs"), vinyl has an advantage over the CD: direct manipulation of the medium. DJ techniques such as slip-cueing, beatmatching, and scratching originated on turntables. [1.]

Take that manipulators!!
Record collecting can encompass formats; albums and singles, music genres, artists, record labels, periods from 1910's through to 1980's (sometimes also referred to as 'music scenes'; 'Early Motown') and even specialisms - one off colours or sizes.
First Pressings
in records, alike First Editions in books, if in pristine condition, will always have a high value, especially if the record went n to become very popular. Known as a
test pressing
, these were usually 5-10 copies made to test the sound (the mix or levels).
Similarly, but not worth quite as much, are
Promotional versions
sent out to radio stations and the like to announce a forthcoming release - these were marked as such and usually have 'Not For Sale' on them. Some 'promo' copies were pressed for records that were never released. These records are extremely rare and obtain a very high value for the most sought-after artists or music.
Similarly 'artistic differences' over
album art
can be noted as another niche where an earlier version of something more well-known can have a high value to fans of the band or collectors. As with all things collectible, educate yourself. Work out what you like and whether you're collecting as an investment, for the pure joy of it, or to play the music really really loud (with suitable protection gear of course).
Those shown here came out of the singles framed and formerly part of the Palm Beach Store opposite the ferry wharf, which is undergoing a few decorative updates at present. Our own on-staff collector brought it here just before Christmas; 'they were throwing this out!'
It features all-Australian pressings and many all Australian hits among them, some from 1957 when 'singles' hits sales preceded the May 1966 commencement of Top 40 listings. As it's going into the onsite Boys Own Adventure area intact we won't be pulling it apart to see the full labels of those slightly hidden but a few notables are:
The Loved Ones This Is Love
Australian release from 1966 B side of The Loved One
The Loved Ones were formed in Melbourne, Victoria, in October 1965 by Gerry Humphrys (originally from London) on vocals and harmonica, Kim Lynch on bass guitar and Ian Clyne on organ and piano. They were all former members of a trad jazz group, The Red Onion Jazz Band, in which Humphrys played clarinet, and sang, and Lynch played tuba. Red Onions Jazz Band was released as an eponymous album in 1964 on W&G Records blue label. Following the British Invasion, led by the Beatles' tour of Australia in mid-1964, the band split as the three members wanted to switch to R&B and felt they had drifted towards more mainstream 1940s jazz. The Loved Ones were named after Evelyn Waugh's short and darkly satirical novel The Loved One. To round out the line-up, Humphrys, Lynch and Clyne recruited former Wild Cherries guitarist Rob Lovett. Their first drummer, Terry Nott, was soon followed by Gavin Anderson.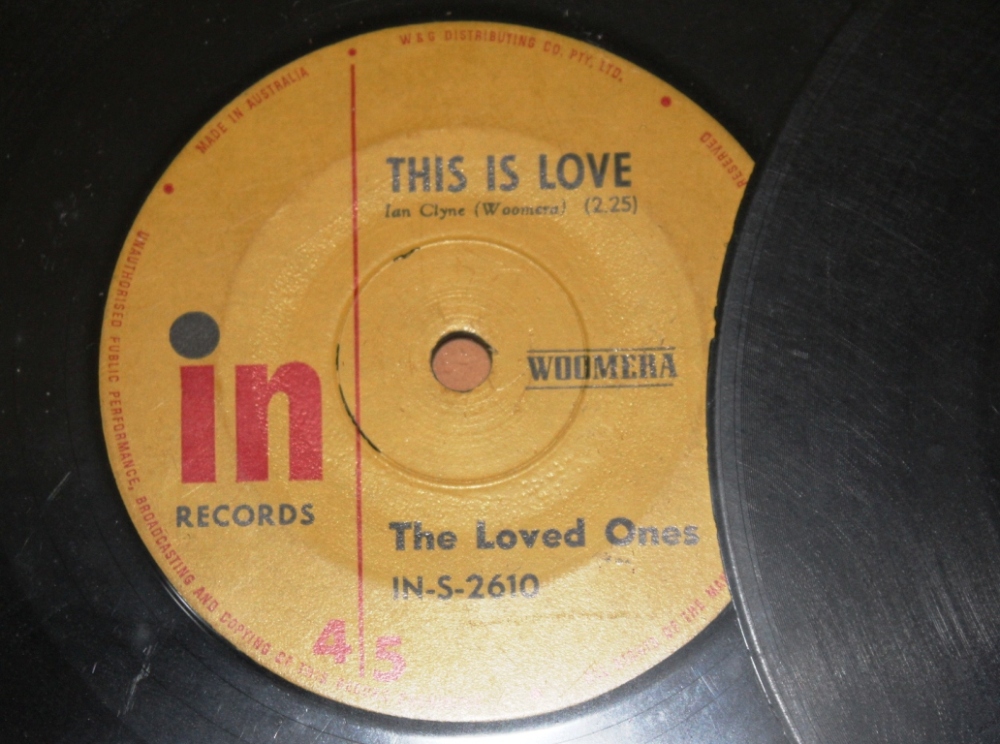 The Loved Ones became renowned as an exciting, if erratic, live act in a Rolling Stones/Animals mould and rose to prominence in the local club and dance scene. The group's visual impact was heightened by their striking mod stage attire and the band had a strong focal point thanks to the charismatic stage presence, saturnine good looks and growling blues-influenced baritone voice of Humphrys, who is widely acknowledged as one of Australia's finest male pop-rock vocalists. The Loved Ones were also one of the first Australian pop bands to use the electric piano (a Hohner pianet) as part of their regular stage set-up and their distinctive keyboard-based sound set them apart from most of their contemporaries.
Early in 1966, they signed to the In Records label, a subsidiary of W&G Records. Their debut hit was "The Loved One", which reached number two on the Sydney Top 40 singles charts in May. The song was later
covered by INXS
. In 2001 it was selected as number six on the APRA's list of Top 30 Australian songs of all time. Their debut album, The Loved Ones' Magic Box was released late in 1967, which included other hit singles, "Ever Lovin' Man" and "Sad Dark Eyes". They disbanded in October and, although the band's main career lasted only two years, they are regarded as one of the most significant Australian bands of the 1960s. They reformed for a short tour in 1987 which provided the album, Live on Blueberry Hill. Humphrys lived in London from the mid-1970s until his death on 4 December 2005. On 27 October 2010, The Loved Ones were inducted into the Australian Recording Industry Association(ARIA) Hall of Fame.
In Records (Australia)
was an Australian record label of the 1960s. It was the subsidiary label of the Melbourne-based W&G Records company and best known for the recordings by renowned Sixties
'beat'
group The Loved Ones.
In 1967, In Records released a 7" record by "The Elois" (pronounced Elys), I'm A Man / By My Side.
W&G Records was an Australian recording company that operated from the early 1950s to the 1970s. It was a subsidiary of the Melbourne precision engineering company White & Gillespie.
W&G released many significant recordings by Australian popular artists of the 1960s and also issued recordings of popular American artists, notably releases from the ABC-Paramount (Ampar) label, which W&G distributed from 1955 until 1960, when the Australian distribution was taken over by Festival Records. [2]
The Rolling Stones - She Said Yeah
written by Sonny Bono/ Roddy Jackson
December's Children (And Everybody's) is the fifth American studio album by The Rolling Stones, released in late 1965. Drawn largely from two days of sessions recorded in September to finish the British edition of
Out of Our Heads
and to record their new single—"Get Off of My Cloud"—December's Children (And Everybody's) also included tracks recorded as early as 1963.
Half of the songs appearing on the album were written by Mick Jagger and Keith Richards; they penned album cuts such as "I'm Free" and "The Singer Not the Song" as well as such major hits as "As Tears Go By" and "
Get off of My Cloud
".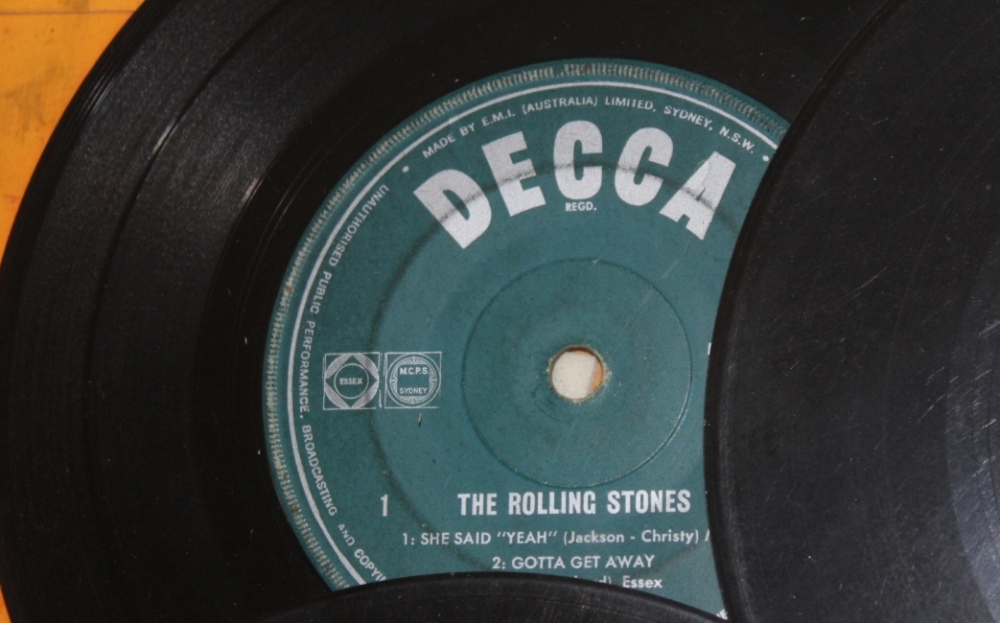 December's Children (And Everybody's) reached No. 4 in the US and went gold. Bassist Bill Wyman quotes Jagger in 1968 calling the record "[not] an album, it's just a collection of songs."
In August 2002 December's Children (And Everybody's) was reissued in a new remastered CD and SACD digipak by ABKCO Records with "Look What You've Done" again being the album's only cut issued in true stereo.
The title of the album came from the band's manager, Andrew Loog Oldham (who facetiously credits it to "Lou Folk-Rock Adler" in his liner notes on the back cover).
According to Jagger, it was Oldham's idea of hip, Beat poetry.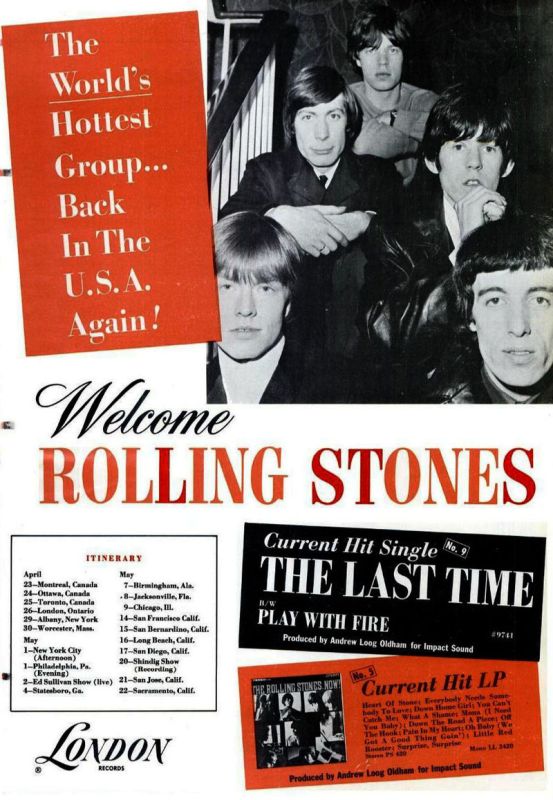 Decca Records
began as a British record label established in 1929 by Edward Lewis. Its U.S. label was established in late 1934 by Lewis along with American Decca's first president Jack Kapp and later American Decca president Milton Rackmil. In 1937, as a result of anticipating Nazi aggression leading to World War II, Lewis sold American Decca and the link between the U.K. and U.S. Decca labels was broken for several decades.
The British label was renowned for its development of recording methods, while the American company developed the concept of cast albums in the musical genre. Both wings are now part of the Universal Music Group, which is owned byVivendi, a media conglomerate headquartered in Paris, France. The US Decca label was the foundation company that evolved into UMG.
The name "Decca" was coined by Wilfred S. Samuel by merging the word "Mecca" with the initial D of their logo "Dulcet" or their trademark "Dulcephone." Samuel, a linguist, chose "Decca" as a brand name as it was easy to pronounce in most languages.
The name dates back to a portable gramophone called the "Decca Dulcephone" patented in 1914 by musical instrument makers Barnett Samuel and Sons. That company was eventually renamed the Decca Gramophone Co. Ltd. and then sold to former stockbroker Edward Lewis in 1929. Within years, Decca Records Ltd. was the second largest record label in the world, calling itself "The Supreme Record Company".
Decca bought the UK branch of Brunswick Records and continued to run it under that name.
In the 1950s the American Decca studios were located in the Pythian Temple in New York City. [3]
London Records
is a record label in the U.K. that marketed records in the U.S, Canada, and Latin America from 1947 to 1979 before becoming semi-independent.
London arose from the split in ownership between the British and American branches of Decca Records. The American branch released British Decca records in the U.S. since it could not use the "Decca" name there. The label was noted for classical albums made in then state-of-the-art stereophonic sound, and such artists as Georg Solti, Joan Sutherland and Luciano Pavarotti.
The London name was also used by British Decca in the UK market for releases taken from American labels which British Decca licensed, such as Imperial, Chess, Dot, Atlantic, Specialty and Sun, and the first two UK releases from Motown. By the 1960s more licensing deals had been made with Big Top, Monument, Parrot, Philles, and Hi, and subsidiary labels were London Atlantic, London Dot and London Monument (the last featuring Roy Orbison, who remained with London in the UK even after he signed for MGM Records in the U.S.).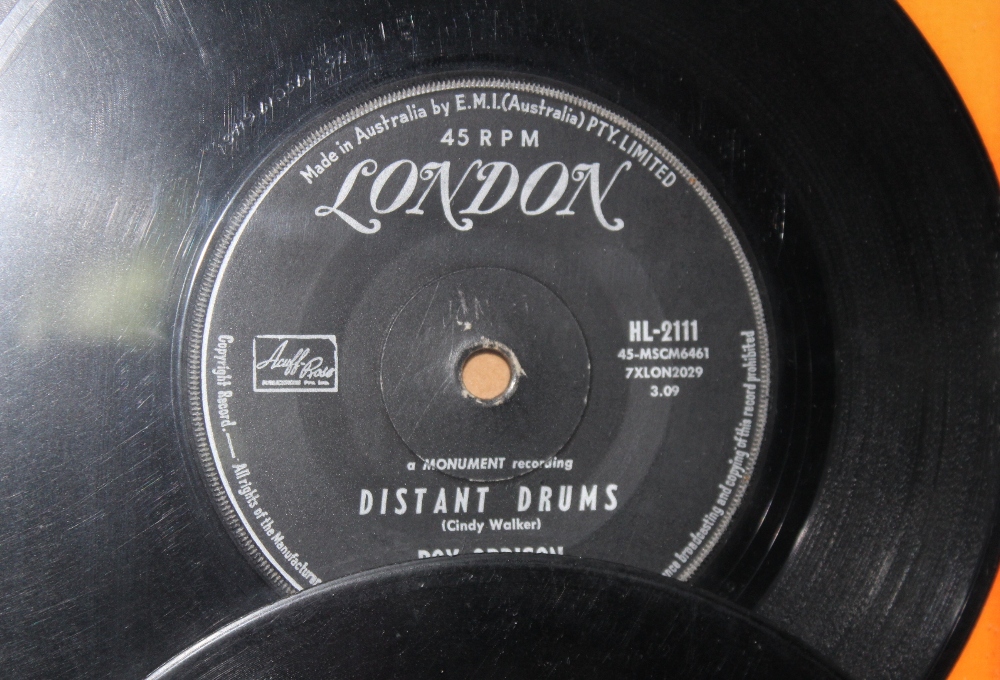 An unusual feature was the letter code in the numbering system. From the late 1950s until 1973, the label bore the logo "London American Recordings", and on Radio Luxembourg it was known as "London American".
In America, the label was best known as the American imprint of the pre–1971 recordings of the Rolling Stones (currently owned byABKCO). The label also originally issued some early LPs and singles by Texas-based band ZZ Top (whose catalog went to Warner Brothers when the band moved there). [10]
In text: 1965 London Records trade ad for the Rolling Stones London Records. - Appeared in Billboard page 25 1 May 1965
The Rolling Stones - Get Off of My Cloud (1967)
The Tracks of My Tears – Johnny Rivers
Johnny Rivers (born John Henry Ramistella; November 7, 1942) is an American rock 'n' roll singer, songwriter, guitarist, and record producer. His repertoire includes pop, folk, blues, and old-time rock 'n' roll. Rivers charted during the 1960s and 1970s but remains best known for a string of hit singles between 1964 and 1968, among them "Memphis" (a Chuck Berry cover), "Mountain of Love", "The Seventh Son", "Secret Agent Man", "Poor Side of Town" (a US #1), "Baby I Need Your Lovin'" (a Motown cover), and "Summer Rain".
Rivers recorded more hits covering other artists, including "Baby I Need Your Lovin'" released by the Four Tops, and "The Tracks of My Tears" by the Miracles, both going Top 10 in 1967.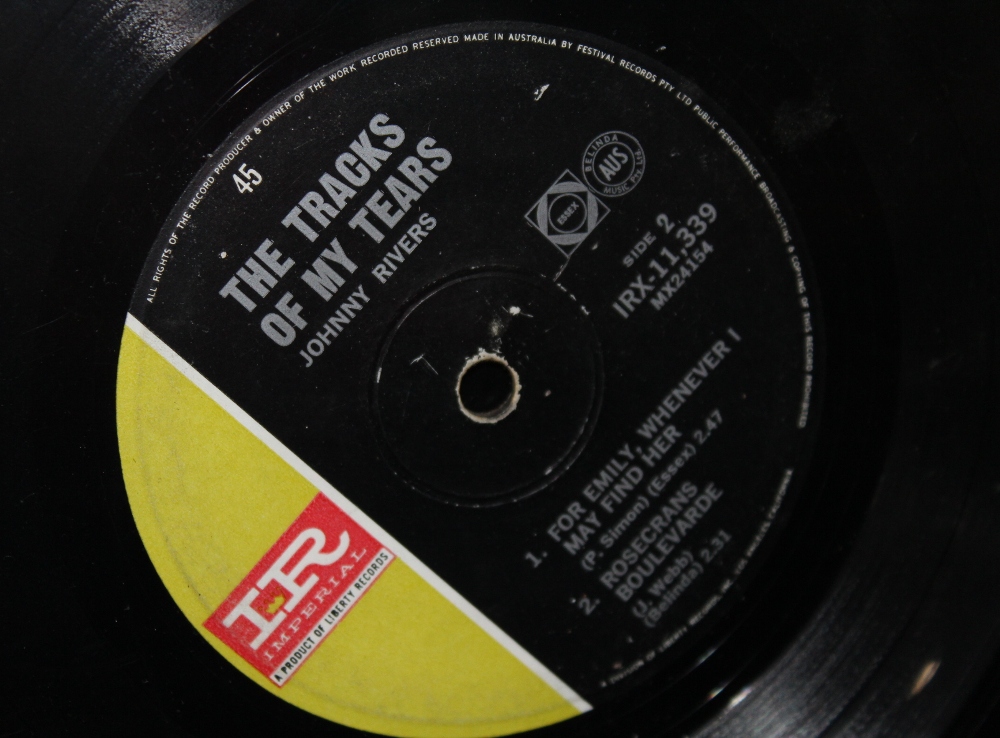 Imperial Records
is an American record company and label started in 1947 by Lew Chudd (1911–1998) and reactivated in 2006 by EMI, which owned the label and back catalogue at the time. The current owner is Universal Music Group.
When Imperial was founded in 1947, it concentrated on rhythm and blues (R&B) and country music: Fats Domino,Frankie Ford, Ricky Nelson, and Slim Whitman. In the UK Imperial was distributed by London Records.
Imperial bought Aladdin Records in 1960 and Minit Records in 1963 (having distributed Minit since 1960). During the 1950s, Imperial was one of the primary labels issuing a vast quantity of R&B from New Orleans, through their involvement with the producer and writer Dave Bartholomew, and in the 1960s, with their distribution (and purchase, a few years later) of the independent label Minit Records.
In 1963, after Imperial lost Fats Domino and Ricky Nelson to rival record companies, Chudd sold the label to Liberty Records. Under Liberty's management, the label enjoyed success with Irma Thomas, Johnny Rivers, Jackie DeShannon, Classics IV, and Cher.
During the British Invasion, Liberty (whose recordings were distributed by EMI in the UK) licensed The Hollies, Billy J. Kramer, the Dakotas, and the Swinging Blue Jeans from EMI.
Liberty Records
was a United States-based record label. It was started by chairman Simon Waronker in 1955 with Al Bennett as president and Theodore Keep as chief engineer. It was reactivated in 2001 in the United Kingdom and had two previous revivals.
Liberty's early releases focused on film and orchestral music. Its first single was Lionel Newman's "The Girl Upstairs." Its first big hit, in 1955, was by Julie London singing her version of the torch song, "Cry Me a River", which climbed to #9 in the Billboard Hot 100. It helped Liberty sell her first album, Julie Is Her Name. She was to record 32 albums in her career.
In 1956 Liberty signed the little-known Henry Mancini. They released two singles and several albums for him, but he left in 1959 when he gained in popularity.
In 1963 the Liberty Records label was sold to Avnet (an electronics corporation) for $12 million. Avnet also bought Blue Note Records, Imperial Records, Dolton Records, Aladdin Records and Minit Records. After two years of losses, Avnet sold the labels back to Al Bennett for $8 million.
Liberty recordings were first distributed in the UK by the Decca group on London Records, then by EMI on its new Liberty label. Liberty established a branch office in London, which signed acts such as the Bonzo Dog Band, Idle Race and the Aynsley Dunbar Retaliation. Liberty also signed the Searchers for a short time in 1968 and, in 1967, they issued the first single by Family. Ron Kass, onetime president of Liberty Records, later became the head of the Beatles' record label, Apple Records, and Ron Bledsoe, assistant to Al Bennett, was picked by Clive Davis to run the Nashville arm of Columbia Records. [8] [9]
The Tracks of My Tears – Smoky Robinson and the Miracles
"The Tracks of My Tears" is a song written by Smokey Robinson, Pete Moore, and Marv Tarplin. It is a multiple award-winning 1965 hit R&B song originally recorded by their group, The Miracles, on Motown's Tamla label. In 1967, Johnny Rivers covered the song and his version was a number 10 hit on the Billboard Hot 100. Linda Ronstadt recorded a hit cover of her own in 1975 that reached number 25 on the Hot 100 chart. Numerous other artists have recorded the song over the years.
The Miracles (also known as Smokey Robinson and the Miracles from 1965 to 1972) were an American rhythm and blues vocal group that was the first successful recording act for Berry Gordy's Motown Records, and one of the most important and influential groups in pop, rock and roll, and R&B music history.
Formed in 1955 by Smokey Robinson, Warren "Pete" Moore, and Ronnie White, the group started off as the Five Chimes, changing their name to the Matadors two years later. The group then settled on the Miracles after the inclusion of Claudette Robinson in 1958.
The most notable Miracles line-up included the Robinsons, Moore, White, Bobby Rogers and Marv Tarplin. After a failed audition with Brunswick Records, the group began working with songwriter Berry Gordy, who helped to produce their first records for the End and Chess labels before establishing Tamla Records in 1959 and signing the Miracles as its first act. The group eventually scored the label's first million-selling hit record with the 1960 Grammy Hall of Famesmash, "Shop Around", and further established themselves as one of Motown's top acts with the hit singles "You've Really Got a Hold on Me", "What's So Good About Goodbye", "Way Over There", "I'll Try Something New", "Mickey's Monkey", "Going to a Go-Go", "(Come 'Round Here) I'm the One You Need", "Just A Mirage", "If You Can Want", "More Love", "I Don't Blame You at All", "Ooo Baby Baby", "The Tracks of My Tears", "Special Occasion", "I Second That Emotion", "Baby Baby Don't Cry", the number-one Pop smashes "The Tears of a Clown" and "Love Machine", "Do It Baby", and "My Girl Has Gone",among numerous other hits.
Referred to as Motown's "soul supergroup", the Miracles recorded 26 Top 40 Pop hits, sixteen of which reached theBillboard Top 20, seven top 10 singles, and a number one single ("The Tears of a Clown") while the Robinsons and Tarplin were members. Following the departure of Tarplin and the Robinsons, the rest of the group continued with singer Billy Griffin and scored two final top 20 singles, "Do It Baby" and "Love Machine", a second # 1 hit, which topped the charts before the group departed for Columbia Records in 1977, recording as a quintet with Billy's brother Donald Griffin replacing Marv Tarplin, where after a few releases, they disbanded in 1978. In all, the group had over fifty charted hits by the time they disbanded. [11]
Our favourite Smokey Robinson and the Miracles song?
Tears of a Clown –
'Tears of a Clown' - Smokey Robinson & The Miracles
Whole Lotta Shakin', an EP by Johnny O'Keefe & The Dee Jays.
Released in December 1957 on Festival
"Whole Lotta Shakin' Goin' On" (sometimes rendered "Whole Lot of Shakin' Going On") is a song written by Dave "Curlee" Williams and usually credited to him and James Faye "Roy" Hall. The song was first recorded by Big Maybelle, though the best-known version is the 1957 rock and roll/rockabilly cover by Jerry Lee Lewis.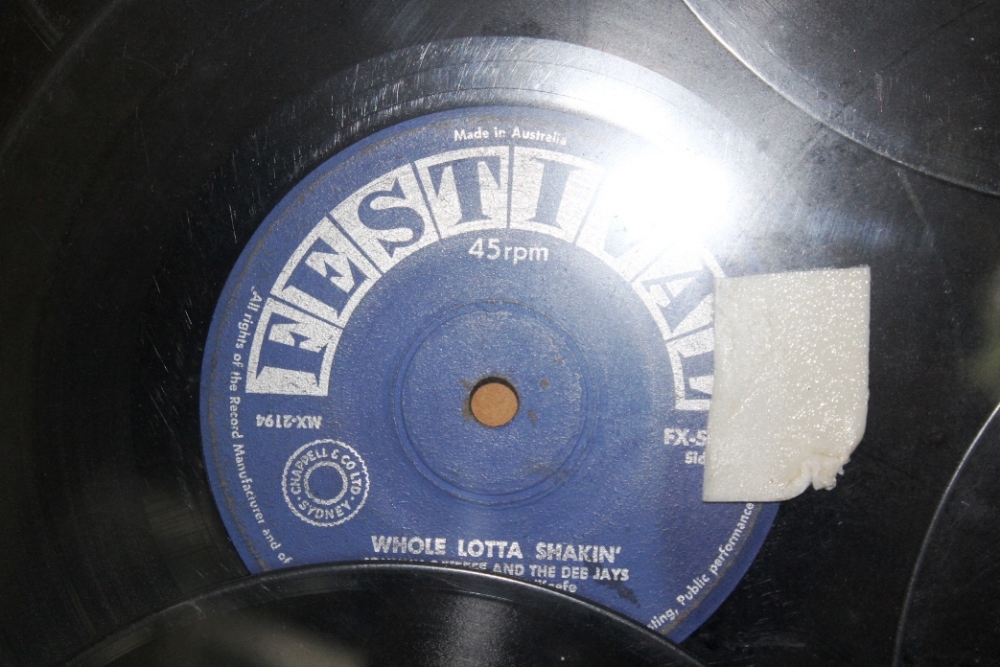 Preceded by Australian Col Joy and the Joy Boys in November 1959 with their "Oh Yeah Uh Huh" (Number 1 for four weeks), Johnny O'Keefe was the first Australian to have a number 1 with that 'new fangled rock and roll' in the 1960's with "She's My Baby" holding the Number 1 spot for one whole week in February. As crooners such as Dean Martin, Bing Crosby and Doris Day were holding sway over the 'charts' then, the emergence and holding position in record sales of songs by Elvis Presley, Bill Haley & the Comets, folkists The Kingston Trio and The Platters in sales showed a new market and a new generation were edging out all that had come before.
One we should note is the Number 1 of 6 September,
1958
- Slim Dusty's "A Pub With No Beer" which held that spot for one week and a place in our hearts forever.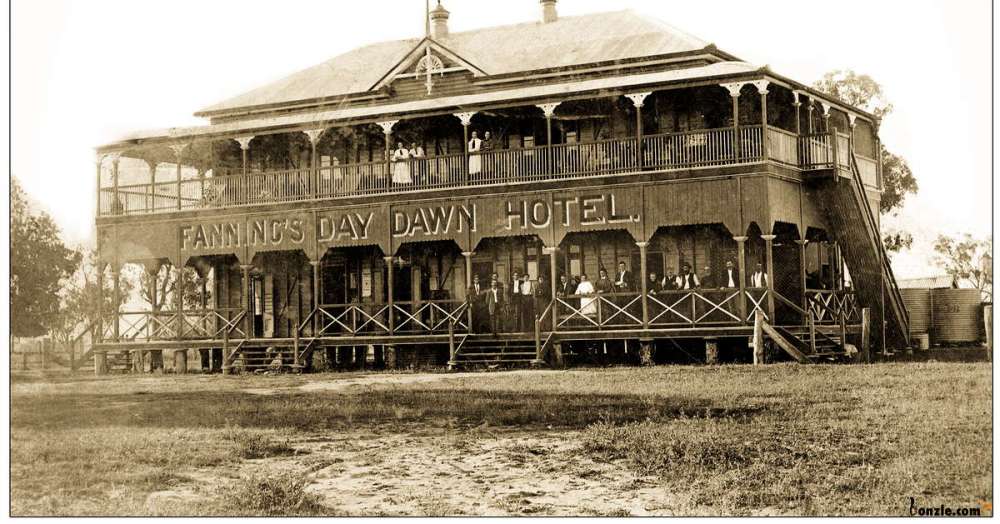 Adapted by Gordon Parsons, writer for slim Dusty, from the original poem "
A Pub Without Beer
" by Dan Sheahan of Ingham, North Queensland (originally from Newmarket, Ireland) in the Day Dawn Hotel (named after a
gold mine company
and demolished in the late 1950's), now known as Lees Hotel (built on same site), Ingham, Queensland, the original dates back even further to 1943 and beer rations or visiting American service people 'drinking the place dry'. According to the website of the Lees Hotel the poem made publication on January 1st 1944, in the
NQ Register
when the poem ran in Ben Bowyangs column.
Beer rationing - to wit, by a local wit:
It's Still A Dash; With No Beer
YESTERDAY I decided to have a beer in the workers hour. I am still looking for the other worker. I did see some beer, but not in front of me.
I walked down Queen Street early in the afternoon to pick the pub
with the least crowd waiting at the door. That was a big mistake. I did a quick mental tally at the first hotel— 50 odd— all servicemen. That was no good. I thought that must be the pub where the boys from camp gather. On to the next. Seventy here and not one man in civvies. Couldn't stop there. At the third the policemen who should have been keeping at least half the footpath clear must have been taken suddenly ill. This one would do me. I joined the surge and swept in. Two months ago I tried this and I did get a 'wet.' A fellow on the bar side passing out six pots from someone he gladly hailed as 'Ollie' split most of one on my shoulder. Yesterday I only got - in the t
hird row and I had no one to pass the pots out to me. But I did watch the clock as I vainly held out 8 1/2d.— yes, that Is the correct change— and in 17 minutes flat I heard a blithe voice say:

'Quota sold.'
I lingered just in case. But a much nastier voice said. 'That means you, brother.' Still, they tell me that is better than the one where they blow a police whistle in your ear. Now I am looking for the fellow who told me that things were a lot easier now.'
'Most of the Yanks up north.' he told me, 'and it is like old times.'
Once a sucker always a sucker. I am sure to try again when the 'summer' quota comes in next month. By that time I will have forgotten all the warnings that the breweries can't produce any more
beer. I will have recalled my prewar enthusiasm for a nice cool facer and try again. Wish me luck, fellows!
But although I missed out in the beer rush yesterday, my chief regret is that I did not have Mr. Gledson, the Attorney-General with me.
This week in Parliament a member had the cheek to suggest to him that as he was the Minister in charge of liquor laws he might do something about having beer quotas fixed on a sliding scale to make some adjustment which would provide for a sliding scale to vary with population changes. But he gave a very dry answer. It was a Federal matter, he said, and rather than he should approach the Federal Government, anyone, he declared, could approach his own Federal member and make a complaint.
It's Still A Dash; With No Beer (
1944, September 16
).
The Courier-Mail
(Brisbane, Qld. : 1933 - 1954), p. 3. Retrieved from
http://nla.gov.au/nla.news-article48975017
And this, from earlier that year, may have frightened a few!:
NO NEED TO SERVE SCHOONERS
'Seven ounces of beer is quite enough, for anybody,' Mr. Justice Starke told Mr. J.' V. Barry, K.C., in the Full High Court last week. To which Mr. Barry lamented: 'I hope that, will 'not go forth as an official pronouncement. The last civil liberty will be gone if that becomes law.' .
Argument was proceeding on the
return of an order nisi to review the decision of Mr. Nicholas, P.M., in what was known as 'the Pot test case.' ' The Court discharged the order, with costs against the Commonwealth. Mr. Barry argued that Charles Loaney, licensee of the Britannia
Hotel, Swanston Street, Melbourne, had been guilty of a breach of National Security (Prices) Regulations,when his barman refused to supply 11oz. mugs of beer to Commonwealth officers. The magistrate had dismissed the information.
Mr. Barry said the magistrate was wrong in holding that Loaney had a wide discretion on how he Could' carry on his business. Mr. Barry said the barman said, to the customers: 'No pots, only glasses.' The applicant for the liquor then purchased a 7oz. and a 4oz. glass of beer— 11oz. of beer in two containers, instead of one.
The publican, who would have been entitled to charge 8 1/2 d. for 11oz. of beer in a pot, got 11d. when he supplied he same quantity of beer in two separate containers— 7oz. glass for 7d. and 4oz. glass for 4d. The High Court disagreed with the magistrate's finding that a publ
ican had a wide discretion on how he should dispense his beer,' but held that the licensee had served a reasonable quantity of beer. Effect of the decision is that it is for a Court, and not for a publican, to determine whether a reasonable quantity of liquor has been served to a customer, having regard to the dearth of beer at the time it was ordered.
NO NEED TO SERVE SCHOONERS (
1944, June 1
).
Mudgee Guardian and North-Western Representative
(NSW : 1890 - 1954), p. 9. Retrieved from
http://nla.gov.au/nla.news-article156235000
Some sources state the song version was first performed in public by Gordon Parsons in 1954 at the 50th birthday of George Thomas, a resident of Creek Ridge Road, Glossodia (near Windsor in Sydney). That version was performed with an extra verse that was dropped from Slim Dusty's recorded version because it contained elements of blue humour. In 1957, "A Pub With No Beer" became the first Australian single to go gold and was the biggest-selling record by an Australian at that time. It was the first single by an Australian artist to make the British charts (#03).
Slim's effort was followed by Lucky Starr's "I've Been Everywhere" in May 1962 and one much loved around here, still, Maroubra formed The Atlantics with their September 1963 'hit' - Bombora.
Col Joy (Colin Frederick Jacobsen AM - born 13 April 1936 in Sydney) a solo artist and with his backing band, The Joy Boys, which included brothers Kevin and Keith, enjoyed a string of hits on the local and national singles charts of Australia beginning in 1959. They used to make the timbers shake at the old Sydney Stadium.
The Sydney Stadium was a sporting and entertainment venue in Sydney, New South Wales, which formerly stood on the corner of New South Head Road and Neild Avenue, Rushcutters Bay. Built in 1908,
on the site of a former Chinese market garden that was leased by boxing promoter Hugh Donald Macintosh as a venue for sporting events. I
t was demolished in 1970 to make way for the construction of the Eastern Suburbs Railway.
Macintosh originally built a temporary open-air stadium to promote a World heavyweight boxing championship title fight between Canadian world heavyweight champion Tommy Burns and Australian champion Bill "Boshter" Squires on 24 August 1908, which Burns won by a knockout in the 13th Round. It also hosted the biggest sporting event in Australia's history up till then, where over 20,000 crammed in the stadium on 26 December 1908 to see Tommy Burns fight the African-American Jack Johnson. This fight captivated the world because it was the first time that a 'black' man fought for the prestigious World Heavyweight Boxing Championship, with Johnson winning to take the title.

The Jack Johnson-Tommy Burns boxing match at Sydney Stadium, Rushcutters Bay, on December 26, 1908. Photo by Charles Henry Kerry, courtesy State Library of New South Wales

The Stadium was roofed in 1911. Later, a large octagonal permanent building with a roof was built some distance away from the 1911 structure, with raked wooden seats facing towards the central stage. The venue seated between 10,000 and 12,000 people. It was mainly used as a venue for boxing matches until the mid-1900s.
From 1954 onwards and through the 1960s, the stadium was frequently used to
host concerts
by visiting overseas performers — notably the groundbreaking "The Big Show" package tours promoted by expatriate American entrepreneur
Lee Gordon
— as it was the only large-capacity indoor venue in Sydney at that time. It colloquially became known by performers as "The Old Tin Shed" and was so big that Bob Hope purportedly said it was "like Texas with a roof on it".
The stadium hosted nearly every major Australian and United States star, including Ella Fitzgerald, Buddy Rich, Artie Shaw, Johnnie Ray, Judy Garland, Frank Sinatra, Cliff Richard, The Beach Boys, Gerry and the Pacemakers, Peter, Paul and Mary, The Beatles, Bob Dylan, Johnny Devlin, Johnny O'Keefe, Col Joye and the Joy Boys. [12]
Younger readers may be interested in seeing/hear for the first time this very famous clip of Mr. O'Keefe - our youngest son certainly was; 'what is that!?' when deciding what to put in(and how much we had to leave out!!) for this and listening to what our parents were dancing to as part of the fun.
Rock & Roll legend Johnny O'Keefe singing live at the old Stadium, Rushcutters Bay, with the Deejays and the Delltones...
The Atlantics - Bombora (1963)
1. Gramophone record. (2016, December 31). In Wikipedia, The Free Encyclopedia. Retrieved from https://en.wikipedia.org/w/index.php?title=Gramophone_record&oldid=757529150
2. The Loved Ones. (2017, January 1). In Wikipedia, The Free Encyclopedia. Retrieved from https://en.wikipedia.org/w/index.php?title=The_Loved_Ones&oldid=757730527
3. Decca Records. (2017, January 3). In Wikipedia, The Free Encyclopedia. Retrieved 14:47, from https://en.wikipedia.org/w/index.php?title=Decca_Records&oldid=758106767
4. Atlantic Records. (2017, January 2). In Wikipedia, The Free Encyclopedia. Retrieved from https://en.wikipedia.org/w/index.php?title=Atlantic_Records&oldid=757860259
5. MGM Records. (2016, December 12). In Wikipedia, The Free Encyclopedia. Retrieved from https://en.wikipedia.org/w/index.php?title=MGM_Records&oldid=754329210
6. Distant Drums (song). (2016, December 14). In Wikipedia, The Free Encyclopedia. Retrieved from https://en.wikipedia.org/w/index.php?title=Distant_Drums_(song)&oldid=754694152
7. Cindy Walker. (2016, September 21). In Wikipedia, The Free Encyclopedia. Retrieved fromhttps://en.wikipedia.org/w/index.php?title=Cindy_Walker&oldid=740482250
8. Imperial Records. (2016, December 30). In Wikipedia, The Free Encyclopedia. Retrieved from https://en.wikipedia.org/w/index.php?title=Imperial_Records&oldid=757420446
9. Liberty Records. (2017, January 2). In Wikipedia, The Free Encyclopedia. Retrieved from https://en.wikipedia.org/w/index.php?title=Liberty_Records&oldid=757927190
10. London Records. (2017, January 4). In Wikipedia, The Free Encyclopedia. Retrieved from https://en.wikipedia.org/w/index.php?title=London_Records&oldid=758303489
11. The Miracles. (2016, December 31). In Wikipedia, The Free Encyclopedia. Retrieved from https://en.wikipedia.org/w/index.php?title=The_Miracles&oldid=757619713
12. Sydney Stadium. (2016, October 27). In Wikipedia, The Free Encyclopedia. Retrieved from https://en.wikipedia.org/w/index.php?title=Sydney_Stadium&oldid=746391152
Australian Singles of the 1950's and 1960's by A J Guesdon, 2016.