May 17 - 23, 2015: Issue 214
B.B. King - King of the Blues Goes Home: a Timely look into Photographs and Autographs and Being Buyer Aware
Above: B.B. King & U2 - When Love Comes To Town by Zycopolis TV: Published on Dec 23, 2013; Produced by: Zycopolis Productions, B.B. King & U2 Directed by: Patrick Savey
BB King Going Home – a Timely look into Photographs and Autographs and Being Buyer Aware
Above the collection of old and new guitars here is a photographic portrait of one BB King signed in blue ink. It's a fake autograph but a genuinely rare photograph of the king of the blues, very 1970's with ruffled shirt and bow tie and holding the guitar nicknamed '˜Lucille' . The news this legendary musician had passed away, or 'gone home'™ as some prefer to call it, especially in the region Riley B. King hailed from, the Mississippi, has made this icon over musical corner collection more treasured.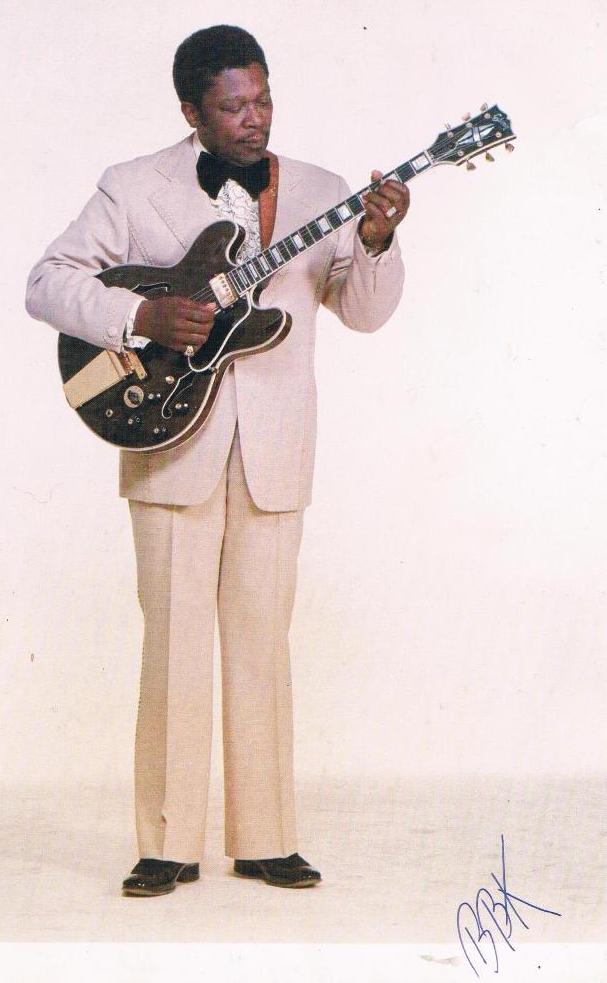 When we first researched this item a few years ago, Mr. King's autograph and photographs were not commanding the prices they have attained this week.
Right: Our photo of B.B. King, a portrait with his Gibson hollowbody electric guitar nicknamed "Lucille" in circa 1970.
With platforms like Ebay selling everything, including autographs from photos to books to simple slips of paper, as well as retailers and galleries offering the same, what was and always has been is these items are only as reliable as their seller, and seeking those from reputable dealers is advised. Certificates of authenticity are not guarantee the item is authentic; stick with those who are registered dealers, members that can be checked in Association records which deal with each kind of autograph (sport through famous peoples to arts) and do a bit of research on the dealers and authenticators themselves.
In doing some research you will find that the auto-pen has been used by many since the early 1950's so don't pay more for something than you should ask some questions, check the claims and what was actually happening in the years they were issued.
The same goes for those who like to collect old documents due to the handwriting and signature. There is a lucrative forgers market in this, some going to great lengths to research paper types and inks once used.
If you' re seeking such pieces, and collecting autographs or autographed items as an investment, it would be best to purchase them from reputable Auction Houses who employ trained specialists to make sure what is offered at one price or another is actually not a fake. Books bring more value when autographed by their author if First Editions, Rare Editions and of course, something that is popular, classic and of a limited print run, meaning there is less likelihood of lots of pristine copies out there, bringing down the price for anyone who wishes to resell.
An autograph (from the Greek: auts, "self" and graph, "write") is a document transcribed entirely in the handwriting of its author, as opposed to a typeset document or one written by an amanuensis or a copyist; the meaning overlaps with that of the word holograph.
Autograph can also refer to a famous person's artistic signature. This term is used in particular for the practice of collecting autographs of celebrities. The hobby of collecting autographs is known as philography.
What might be considered the oldest "autograph" is a Sumerian clay table from about 3100 BC which includes the name of the scribe Gar. Ama. No ancient written autographs have been found, and the earliest one known for a major historical figure is that of El Cid from 1098.
The most expensive autograph by someone famous is reputed to be hat of James Dean, fetching around 36 thousand dollars Australian while Admiral Lord Nelson's scrawl will cost over 20 thousand. Both these legends of very different ilk are surpassed by some that may be viewed in poor taste - a newspaper signed by President John F. Kennedy who placed his signature on it two hours before he was assassinated worth almost $40,000? Apparently President Kennedy' s last known autograph.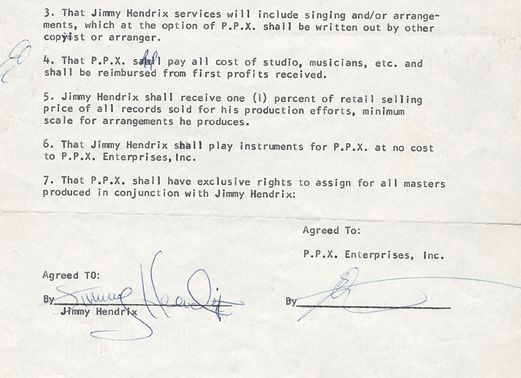 Or a contract signed by Jimmi Hendrix dated October 15, 1965 which shows he was to receive a whole 1% in royalties, a clear rip off, but which sold for 200 hundred thousand at auction.
A place in history or rarity does not always mean a low price for those who have signed many autographs either " Paul McCartney, now Sir, still commands a whooping 5 thousand.
It is the sports arena where big prices are made though a 2006 news item states. The highest amount of money paid for an autographed baseball is $191,200 (£103,766), when Heritage Auction Galleries sold a baseball signed in 1961 by legendary baseball player, Joe DiMaggio, and film star, Marilyn Monroe, (both USA) at an auction in Dallas, Texas, USA on 5 May 2006.
In literature history rules once more in one form or another a specific event or a brilliant and worldwide loved author, especially if the signature involves yet another author, command big prices. One of the most valuable pieces of literature in American history, Acts of Congress, was George Washington's personal copy of the Constitution, Bill of Rights, and the First Congress. The first page contains Mr. Washington's signature. In 2012, Sotheby put the book to auction and bidder Ann Bookout immediately bid $9.8 million to secure the book. The auction was over in five minutes. This lady served as a Mount Vernon Ladies™ Association Regent of the Board at the time of auction. Mount Vernon is the estate originally owned by George Washington. the Book was placed in the president's library, back where it belongs.
Charles Dickens's signed copy of A Tale Of Two Cities was offered for sale in August 2014 for a record-breaking £275,000 around 540 thousand dollars in our little cents. This book was all the more valuable to collectors as it was inscribed to fellow writer George Eliot real name Mary Ann Evans. Dickens is a great case in point for signed literature and rare editions This Is Money, one place we found news about Mr. Dicken's current worth, states after interviewing Mr. Brain Lake, UK president of the Antiquarian Booksellers™ Association, ˜a genuine 1839 cloth-bound first edition of Nicholas Nickleby can fetch £4,000 " and as much as £120,000 if it has been inscribed by Dickens.™ (2.)
So only 232 thousand dollars difference really, not much at all...
To return to Mr. King; born on September 16, 1925, on a cotton plantation called Berclair, near the town of Itta Bena, Mississippi, the son of sharecroppers Albert and Nora Ella King, he considered the nearby city of Indianola, Mississippi to be his home. When Riley was 4 years old, his mother left his father for another man, so he was raised by his maternal grandmother, Elnora Farr, in Kilmichael, Mississippi.
While young, King sang in the gospel choir at Elkhorn Baptist Church in Kilmichael. Some claim he purchased his first guitar for $15.00 at age 12, other sources state he was given his first guitar by legendary Bukka White, one of the most celebrated blues performers of his time, who schooled King further in the art of the blues. Bukka was his mother's first cousin,his grandmother and White's mother were sisters.
In 1943 he enlisted was rejected as he was working as a tractor driver and needed more on the home front, and played guitar with the Famous St. John's Quartet of Inverness, Mississippi, performing at area churches and on WGRM in Greenwood, Mississippi.
In 1946 he followed Bukka White to Memphis, Tennessee. White took him in for the next ten months. He returned to Mississippi shortly afterward, where he decided to prepare himself better for the next visit, and returned to West Memphis, Arkansas, two years later in 1948. He performed on Sonny Boy Williamson's radio program on KWEM in West Memphis, and began to develop an audience. King's appearances led to steady engagements at the Sixteenth Avenue Grill in West Memphis and later to a ten-minute spot on the Memphis radio station WDIA. The radio spot became so popular that it was expanded and became the Sepia Swing Club.
Initially he worked at WDIA as a singer and disc jockey, gaining the nickname "Beale Street Blues Boy", which was later shortened to "Blues Boy" and finally to B.B. It was there that he first met T-Bone Walker.
King said, "Once I'd heard him for the first time, I knew I'd have to have [an electric guitar] myself. 'Had' to have one, short of stealing!
In 1949, King began recording songs under contract with Los Angeles-based RPM Records, many of these early recordings being produced by Sam Phillips, who later founded Sun Records.
The recording contract was followed by tours across the United States, with performances in major theaters in cities such as Washington, D.C., Chicago, Los Angeles, Detroit, and St. Louis, as well as numerous gigs in small clubs and juke joints of the southern United States. During one show in Twist, Arkansas, a brawl broke out between two men and caused a fire, after evacuating with the rest of the crowd he returned to retrieve his guitar. He said he later found out that the two men, who died in the blaze, were fighting over a woman named Lucille. He named this guitar Lucille as a reminder not to fight over women or run into any more burning buildings.
Following his first Billboard Rhythm and Blues charts number one, "3 O'Clock Blues" (February 1952), B.B. King became one of the most important names in R&B music in the 1950s, amassing an impressive list of hits including "You Know I Love You", "Woke Up This Morning", "Please Love Me", "When My Heart Beats like a Hammer", "Whole Lotta Love", "You Upset Me Baby", "Every Day I Have the Blues", "Sneakin' Around", "Ten Long Years", "Bad Luck", "Sweet Little Angel", "On My Word of Honor", and "Please Accept My Love". This led to a significant increase in his weekly earnings, from about $85 to $2,500, with appearances at major venues such as the Howard Theater in Washington and the Apollo in New York, as well as touring the entire "Chitlin' circuit". 1956 became a record-breaking year, with 342 concerts booked and three recording sessions. That same year he founded his own record label, Blues Boys Kingdom, with headquarters at Beale Street in Memphis. There, among other projects, he produced artists such as Millard Lee and Levi Seabury.
In 1962 he signed to ABC-Paramount Records, later absorbed into MCA Records, and itself later absorbed into Geffen Records. In November 1964, King recorded the Live at the Regal album at the Regal Theater in Chicago, Illinois.
He won a 1970 Grammy Award for the song "The Thrill Is Gone"; his version became a hit on both the pop and R&B charts. It also gained the number 183 spot in Rolling Stone magazine's 500 Greatest Songs of All Time.
Mr. King's favourite singer was Frank Sinatra apparently. His autobiography spoke of how he was a "Sinatra nut" and how he went to bed every night listening to Sinatra's classic album In the Wee Small Hours. Old Blue Eyes, Sinatra, had gotten King into the main clubs in Las Vegas during the 1960s, and B.B. credited Sinatra for opening doors to black entertainers who were not given the chance to play in "white-dominated" venues. (3.)
B.B. King continued touring and playing, was the opening act on the Rolling Stones' 1969 American Tour, maintaining a punishing playing and touring schedule of at least 300 nights a year, appearing both in television and on film (Blues Brothers 2000) and worked with contemporary musicians as well, recording with U2 "When Love Comes to Town" in 1988 and recording Riding With the King with Eric Clapton in 2000, an album which won a Grammy Award for Best Traditional Blues Album as well as continuing to attend and play alongside the best in the business at concerts and festivals in the UK and US of A, Holland as well as a 2012 concert at the Byblos International Festival in Lebanon.
His final live performance came in October 2014 at the House of Blues in Chicago, Illinois, an evening not finished as Mr. King was not too well.
On May 1, 2015, after two hospitalizations caused by complications from high blood pressure and diabetes, King announced on his website that he was in hospice care at his home in Las Vegas, Nevada. He died in his sleep on May 14, 2015 from a series of small strokes caused by Type 2 diabetes. He was 89 years young and must have been singing and playing music for others for around 80 of those years.
________________________
References:
1. Autograph. (2015, April 14). In Wikipedia, The Free Encyclopedia. Retrieved from http://en.wikipedia.org/w/index.php?title=Autograph&oldid=656371075
2. Charles Dickens collectors see prices rise as signed book fetches £275k, here's how to invest from just £100
By TOBY WALNE, FINANCIAL MAIL ON SUNDAY - PUBLISHED: 07:01 +10:00, 7 September 2014, retrieved from:www.thisismoney.co.uk/money/investing/article-2746105/Hard-Times-Not-collect-works-Charles-Dickens.html
3. B.B. King. (2015, May 16). In Wikipedia, The Free Encyclopedia. Retrieved from http://en.wikipedia.org/w/index.php?title=B.B._King&oldid=662568251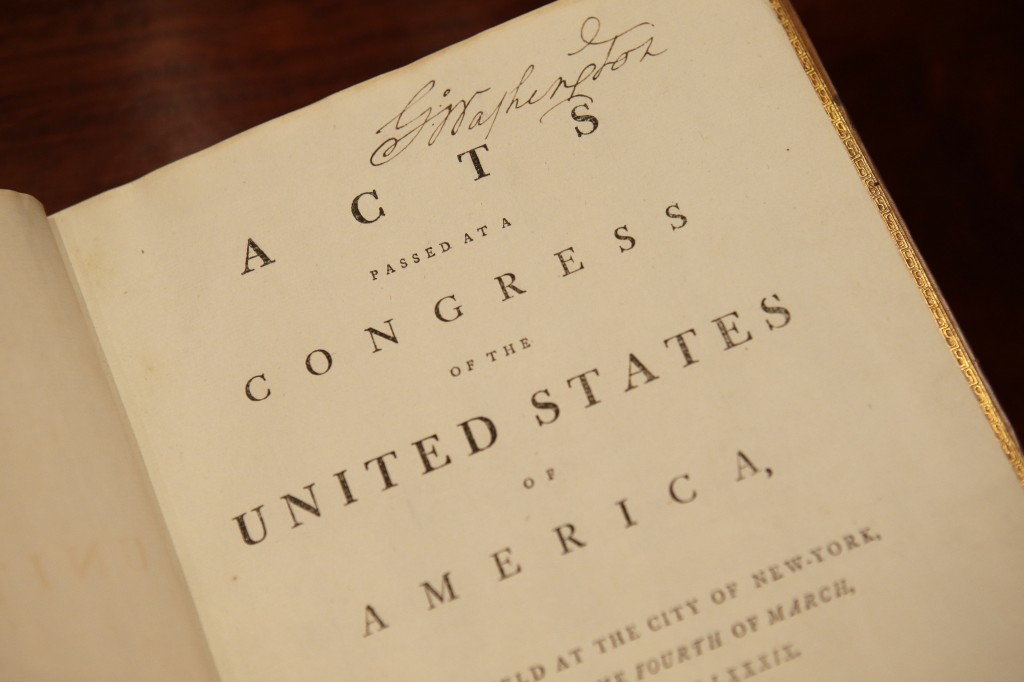 Front page of Washingtomn's personal copy of Acts of Congress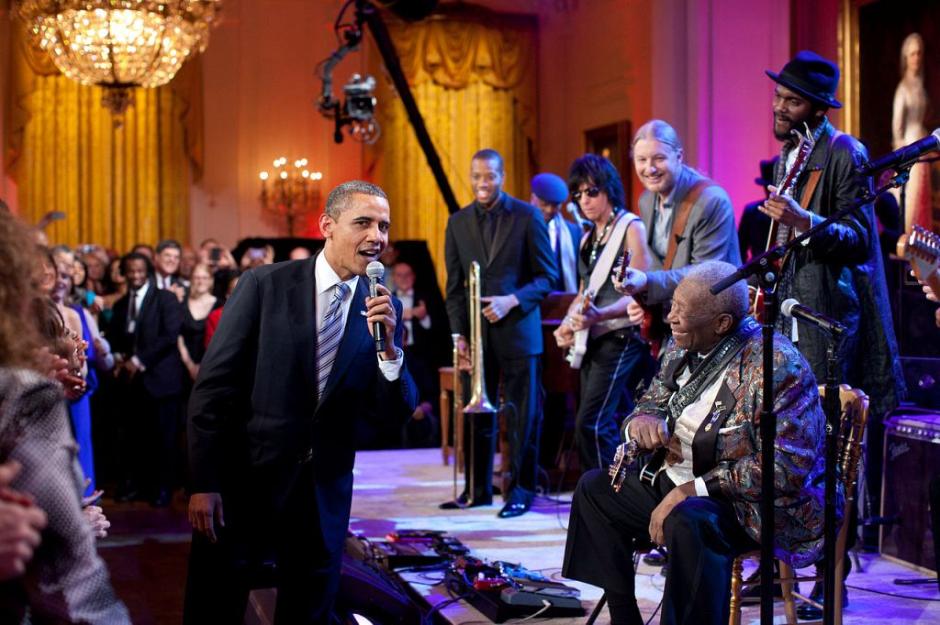 United States President Barack Obama joins in singing "Sweet Home Chicago" during the In Performance at the White House: Red, White and Blues concert for the Black History Month celebration of blues music in the East Room of the White House on 21 February 2012. Participants include, from left: Troy "Trombone Shorty" Andrews, Jeff Beck, Derek Trucks, B.B. King, and Gary Clark, Jr. -
This official White House photograph is being made available only for publication by news organizations and/or for personal use printing by the subject(s) of the photograph. The photograph may not be manipulated in any way and may not be used in commercial or political materials, advertisements, emails, products, promotions that in any way suggests approval or endorsement of the President, the First Family, or the White House.
Video Credit: B.B. King & U2 - When Love Comes To Town - Zycopolis TV: Published on Dec 23, 2013; Produced by: Zycopolis Productions - B.B. King & U2, Directed by: Patrick Savey
We're a TV production company, created in 2002 with a unique goal - filming live shows and musical documentaries. Fully independent, we are praised for a custom made approach to each project, constantly seeking the highest possible quality for each artist in order to reveal their unique talents. Zycopolis is trusted by some of the most world's demanding artists like Herbie Hancock, Marcus Miller, Sonny Rollins, Melody Gardot, Coldplay, Maroon 5, Francis Cabrel, Trust, Kassav, Dee Dee Bridgewater and Youssou N' Dour. We've filmed shows in many venues including Zenith, l'Olympia, Bercy, La Cigale, Le Bataclan, The New Morning, and the Stade de France.