June 1 - 7, 2014: Issue 165
Jolly Drover Sugar Bowl and English Pottery – A Means to Gaze into the Past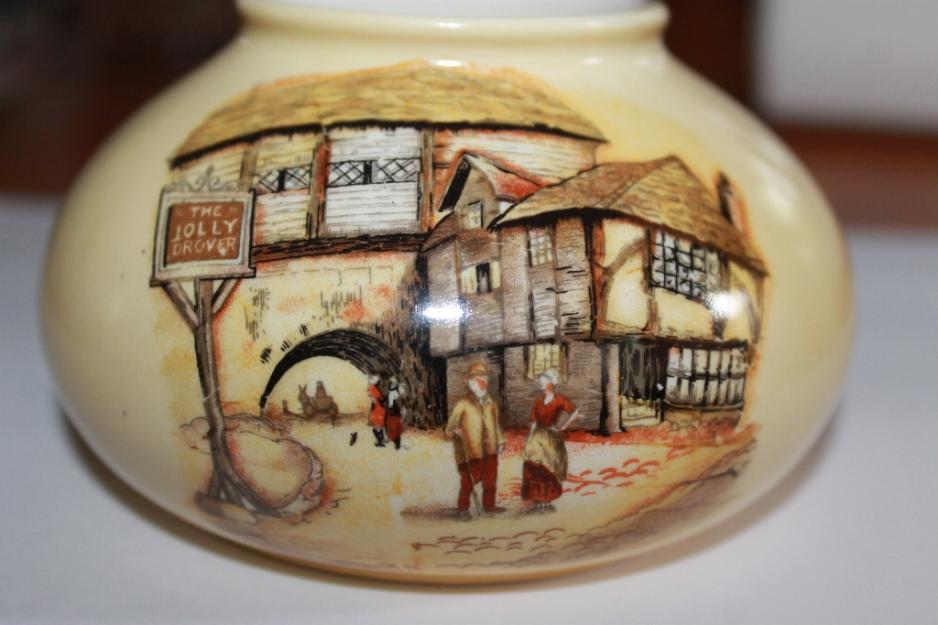 Jolly Drover sugar bowl and English Pottery – A Means to Gaze into the Past
In the strictest of terms antique pottery is pottery that is at least 100 years old. Porcelain younger than this is termed, nowadays, 'vintage'. The Jolly Drover theme, from Hanley's pottery merchants now defunct Lancaster and Sons and Lancaster and Sandland, although relatively cheap to collect for those who like decorative and useful items, and so may be a good starting point should you wish to begin collecting porcelain, also harks back to the beginnings of large scale pottery making in England.
Studying antique and vintage pottery gives you an insight into the times, tastes and cultures of peoples. To accurately date pottery you must look for a makers mark or crest on the underside and refer to these when dating pottery, the crests and marks change over time. There are books and websites that list makes marks and crests. Many of these pieces will have transfers on them and thinking, perhaps correctly, that this makes them younger precludes that the transfer printing process began in 1756. Developed by John Sadler and Guy Green of Liverpool, it was then adopted by Josiah Wedgwood who used it on his ivory based "Creamware".
Transfer printing is a process by which a pattern or design is etched onto a copper (or other metal) plate. The plate is then inked and the pattern is "transferred" to a special tissue. The inked tissue is then laid onto the already bisque fired ceramic item, glazed, and fired again. Initially patterns were transferred to the ceramic items after glazing, but the ink often wore off, thus "underprinting" was born.
As with collecting anything of course you are better off buying from reputable dealers who can authenticate items invested in.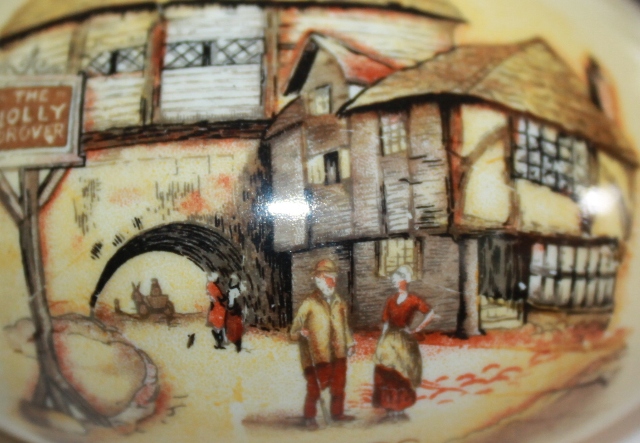 The Jolly Drover, in just about everything you could dream of for tableware – jugs, sugar bowls, plates, marmalade canisters, is from L and Sons Ltd - Lancaster & Sons (Ltd) .(1900-1944) , subsequently Lancaster and Sandland Ltd (1944-1968) were Manufacturers of earthenware at the Dresden works in Hanley, Stoke-on-Trent. Formerly W. Harrop & Co (1880-1894) this line and place of manufacture can trace its origins back to Edward Raby in 1843!
The Dresden Works, Hanley, Stoke-on-Trent, were situated at what was called Tinkersclough - a place whose name is said to be 'derived from the fact of its being frequented in the olden times as a place of rendezvous by gipsies and travelling tinkers'. - Jewitt's Ceramic Art of Great Britain 1800-1900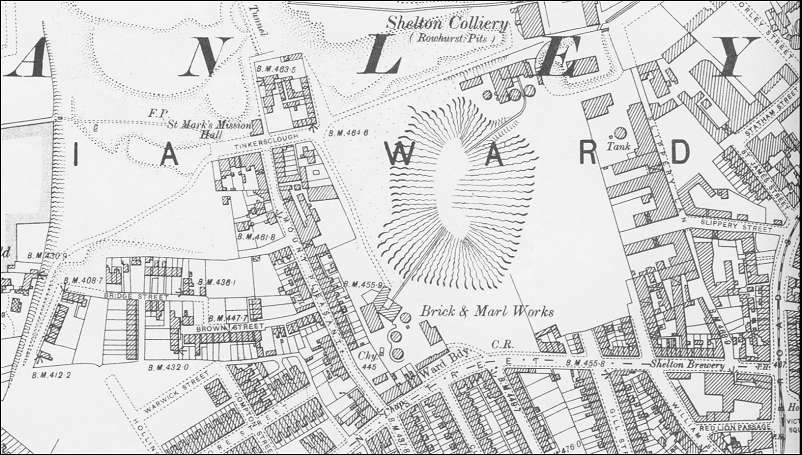 1898 OS map of the Tinkersclough area of Hanley
Manufacturer of parian and earthenware at the Dresden works, Hanley, Stoke-on-Trent continued through one form or another for 125 years. .
Parian is a type of bisque porcelain. It was named after Paros, a Greek island renowned for its fine-textured, white marble of the same name. Invented byThomas Battam, Parian was essentially designed as imitation carved marble, with the great advantage that it was prepared in a liquid form and cast in a mould, enabling mass production.
Earthenware is the general term for pottery that is not porcelain or some other specific types such as fritware or stoneware. It is, or can be, fired at relatively low temperatures and vitrification does not take place, leaving the body (if notglazed) slightly porous. Until porcelain became very widely used in the modern period, the great majority of pottery from the earliest times onwards was of types classed as earthenware. Pit fired earthenware dates back to as early as 29,000–25,000 BCE.
Hanley, in Staffordshire, England, is one of the six major towns that joined together to form the city of Stoke-on-Trent in 1910. Hanley was the only one of the six towns to be a county borough before the merger; its status was transferred to the enlarged borough. Hanley was incorporated as a municipal borough in 1857 and became a county borough with the passage of the Local Government Act 1888.
It now acts as the city's main city-centre and shopping centre, the principal attraction being the Potteries Shopping Centre containing many high street chain stores. Some sources state the name Hanley comes from "haer lea", meaning "high meadow". or 'Heah Lea' meaning Rock Meadow, others state it means either a high wood, or a clearing in that wood; 'Hanlih'.
Garden Festival
The 1986 Stoke-on-Trent Garden Festival led to the reclamation of large areas of land west of the city centre area – including the former Shelton steelworks, which had been derelict since 1978. Ironically, when the Garden Festival closed, the land remained derelict for some time, before being re-developed partly into public parkland and partly for retail and leisure.
Hanley in old Trade Journals
"HANLEY a large modern town and chapelry, in the parish of Stoke, is about two miles east by north of Newcastle [under-Lyme], and ranks next to Burslem in size, extent and opulence. The town is in an elevated situation, and the streets forming which are irregular, but many of the houses are well built. The chapelry contained, in 1821, 5,622 inhabitants." - 1828 journal
"Hanley, the most populous town in North Staffordshire, is generally described as the capital of the Potteries, a title to which it has certainly the greatest pretensions; ........ it has during the present century made such strides in the art, as to overtake and pass all competitors. At the census of 1891, the population of the municipal borough reached the total of 54,846; and such is the prosperity of the district, that at the present time this number has been very largely increased."
The Potteries Museum & Art Gallery is in Hanley, one of the six towns of Stoke-on-Trent in Staffordshire. Admission is free.
One of the four local authority museums in the City, the other three being Gladstone Pottery Museum, Ford Green Hall and Etruria Industrial Museum, The Potteries Museum & Art Gallery houses collections that bring together the identities that went into forming the area known as the Potteries. Most notably, the Museum holds one of the finest and most extensive collections of Staffordshire ceramics.
'At Hanley, Staffs, one of the original Five Towns made famous by Arnold Bennett's novels, kilns and smokestacks are seen working at full blast in this scene observed from above by the camera in 1930. Hanley was an important manufacturer of china and earthenware from the 18th century onwards.
Since 1910 with the other Potteries towns, it has been subsumed in the borough of Stoke on Trent, but is still an important commercial and ceramics centre'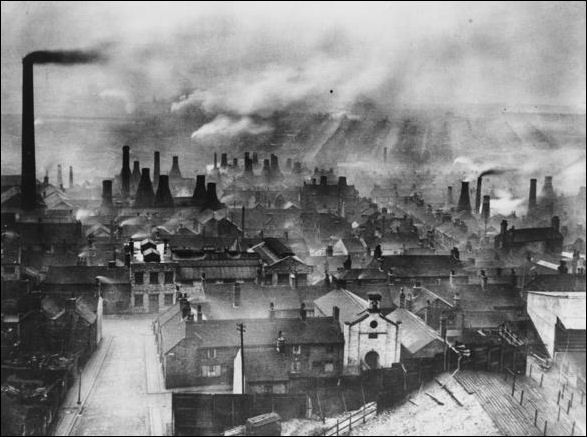 Bottle Kilns in Hanley - 1930 - photo: Times Online Archive.
So although this little item is only a mere 72 years or older, there is a fair path to wend should you choose to begin collecting decorative and useful items for the table or to brighten up your shelves.
References:
Hanley, Staffordshire. (2014, May 6). In Wikipedia, The Free Encyclopedia. Retrieved from http://en.wikipedia.org/w/index.php?title=Hanley,_Staffordshire&oldid=607299003
Dates in the history of Hanley
1297 - References to coal mining at Shelton.
1685 - Thomas Miles of Shelton was producing white stone ware.
1766 - Josiah Wedgwood I purchased the Ridgehouse Estate and built a new factory there (opened on 13 June 1769). This factory was the nucleus of an industrial village which he called Etruria.
1769 - Josiah Wedgwood I opened his factory in Etruria (on the side of what was to be the Trent and Mersey Canal).
1770 - Josiah Wedgwood I completes the building of Etruria Hall.
1825 - Earliest gas works in the Potteries opened in Shelton's Lower Bedford Street, under the ownership of the British Gaslight Company, to supply Hanley and Stoke.
1857 - The townships of Hanley and Shelton, forming a portion of the parish of Stoke-upon-Trent, were incorporated to constitute the municipal borough of Hanley.
1869 - The Queen's Hotel in Albion Street Hanley build to the design of Robert Scrivener. It was acquired by the Hanley County Borough in 1888 and became the new Town Hall.
1888 - The Queen's Hotel in Albion Street, Hanley converted by Hanley County Borough for use as Hanley's Town Hall. The Victoria Hall, built on the rear was opened. Victoria Hall was built to the designs of Hanley's Borough Surveyor, Joseph Lobley to commemorate Queen Victoria's Golden Jubilee.
1891 - The population of the municipal borough of Hanley was 54,846.
1905 - Birches Head and part of Sneyd Green were added to Hanley.
1911 - Population- Hanley: 66,255.
1986 - National Garden Festival held at Etruria on the site of the old Shelton steel works.
Researched and compiled by A J Guesdon, 2014.