December 25 - 31, 2011: Issue 38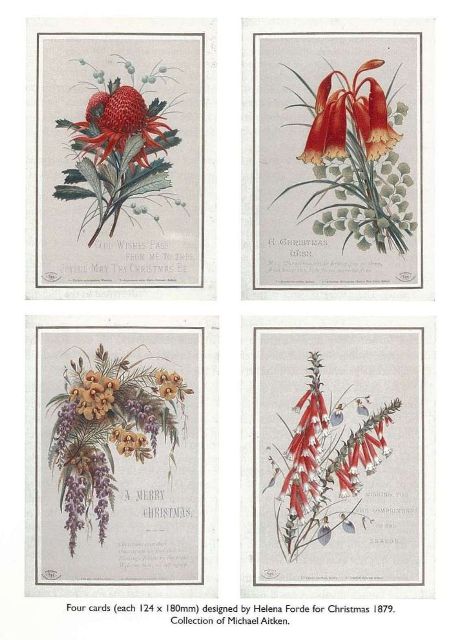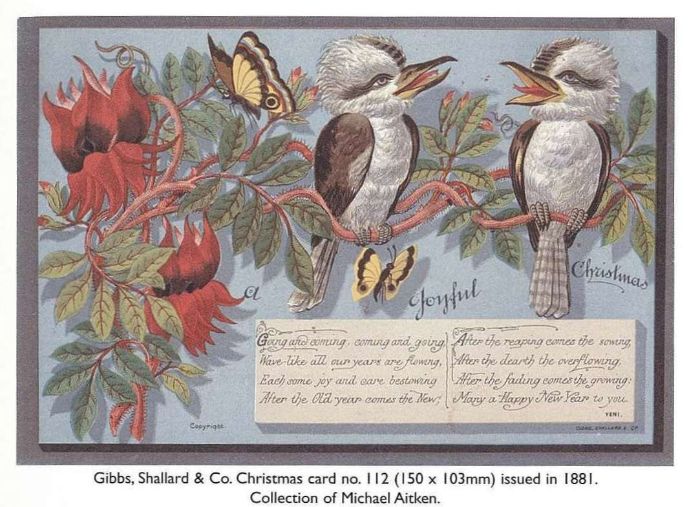 Above: Australian Christmas Cards courtesy of Victorian State Library.
Copyright Pittwater Online News, 2011. All Rights Reserved.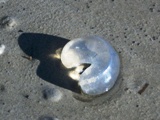 Christmas Postcards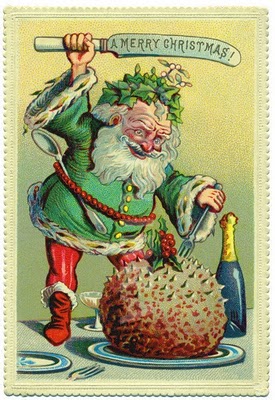 Above: Father Christmas circa.1870 postcard, English
If you like keeping all your Christmas Cards for the messages contained therein, or the colourful pictures on their fronts, here's an added incentive to store them. Initially these 'cards' stemmed from children at boarding schools in England writing home to parents at Christmas time. Sir Henry Cole, who had helped introduce the Penny Post in England in 1840, and sought a way to make using this facility more accessible to folk who weren't rich, commissioned an illustration from John Callcott Horseley in 1843. The cards sold for a shilling each with 2,050 being distributed.
By 1870 the postcard became another version as it could be sent unsealed and the cost had dropped to half a penny. The cost for posting cards was the same. Theodore Hook, man of letters and practical joker, is touted by some sources to have sent the first postcard, in 1840, to himself as a joke upon the newly launched public Post. Printing methods improved and meant more and more could easily and affordable be produced. By the 1900's the sending of cards became more and more popular in Europe.
The first Australian Christmas Card, printed in Australia, was issued in 1881 by John Sands. Others refer to the wildflower images created by Sydney artist Helena Forde (nee Scott) in 1879 and advertised by the Sydney Mail in November of that year. The following year her sister Harriet Scott offered a set of twelve cards. These were printed in England.
Collectors items (from Wikipedia)
From the beginning, Christmas cards have been avidly collected. Queen Mary amassed a large collection that is now housed in the British Museum. The University College of London's Slade School of Fine Art houses a collection of handmade Christmas Cards from alumni such as Paula Rego and Richard Hamilton and are displayed at events over the Christmas season, when members of the public can make their own Christmas cards in the Strang Print Room. Specimens from the "golden age" of printing (1840s–1890s) are especially prized and bring in large sums at auctions. In December 2005, one of Horsley's original cards sold for nearly £9,000. Collectors may focus on particular images like Santa Claus, poets, or printing techniques. The Christmas card that holds the world record as the most expensive ever sold was a card produced in 1843 by J. C. Horsley and commissioned by civil servant Sir Henry Cole. The card, from Cole to his grandmother, one of the world's first, was sold in 2001 by UK auctioneers Henry Aldridge to an anonymous bidder for a record breaking £22,250. From Wikipedia: Christmas card. (2011, December 21). In Wikipedia, The Free Encyclopedia. Retrieved from http://en.wikipedia.org/w/index.php?title=Christmas_card&oldid=467019907
Further:
Harriet and Helena Scott: http://australianmuseum.net.au/Harriet-and-Helena-The-Scott-Sisters/
For Collectors: Vintage Christmas Postcards: http://www.cardcow.com/c/65495/christmas-santa-christmas/