December 16 - 22, 2012: Issue 89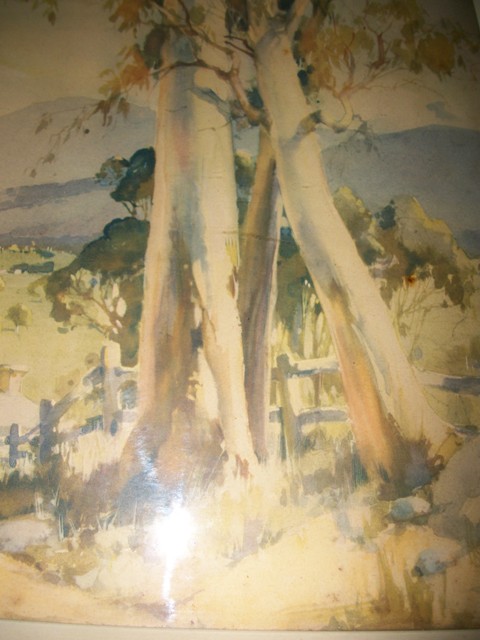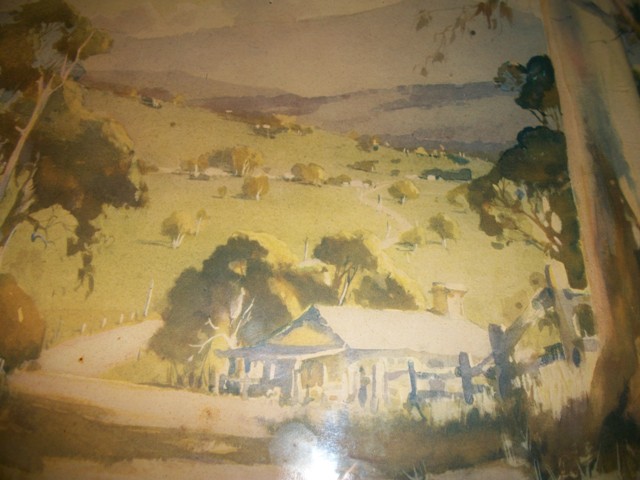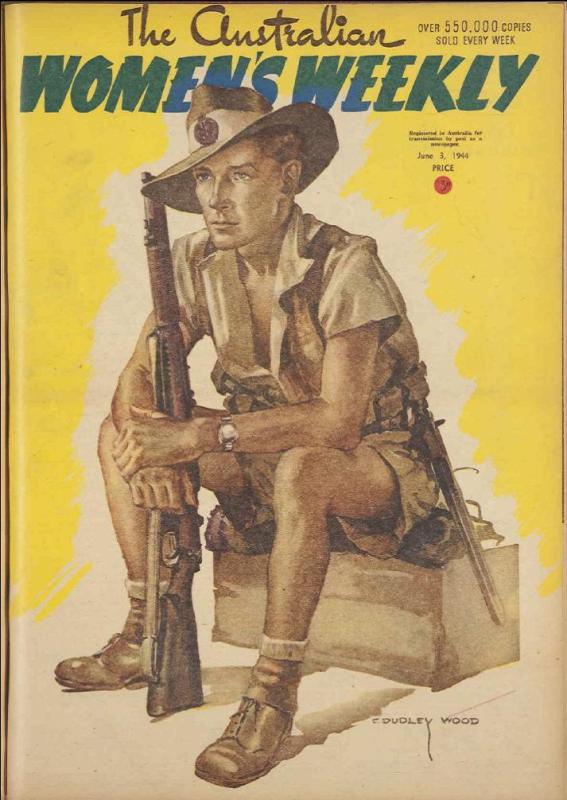 OUR COVER. Melbourne artist C. DudleyWood painted this week's cover picture. His model was Corporal S. L. Burgess, R.A.A.F., who comes from Berri, j South Australia. The painting was done when Mr. Wood was attached to a medium bomber R.A.A.F. squadron in a northern operational area. OUR COVER. (1944, June 3). The Australian Women's Weekly(1933 - 1982), p. 10. Retrieved from http://nla.gov.au/nla.news-article47219267
Copyright Pittwater Online News, 2012. All Rights Reserved.
C Dudley Wood – Morning Shadows - Watercolour
Australian Artist, 1905-1980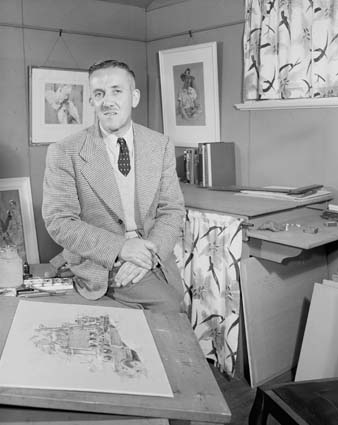 Born in Geelong, C. Dudley Wood (Clifford) began his career by studying art, design and composition at Swinburne Technical College in the early twenties and then at night classes at Swinburne and the Victorian Artists Society. He started exhibiting works in a variety of styles in the Depression years, while at the same time rapidly becoming one of the country's foremost commercial artists. A book Illustrator, Commercial artist for such products as Nugget polish or hotels, the list of works created by this gentleman fills several catalogues.
A finalist in the 1941 Archibald prize for two portraits; Miss E. M. Christensen, M.A. and a Self Portrait, as well as a Wynne Prize finalist in 1944 for Winter Sunlight he was renown for his ability to capture both the form and the atmosphere of any subject. By the end of the 1940's he was established as both an exquisite water-colourist and oil painter. C Dudley Wood was drawn to depicting the beauty of the Australian wilderness, its flowers and all moods of landscape. He also worked well in capturing the human form and condition. C Dudley Wood also undertook a wide variety of industrial commissions, travelling from Newcastle to Wittenoom, from Hobart to Whyalla, to illustrate Australia's post-war reconstruction. Later , in the 1960's, he became fascinated by Australia's Red Centre and it's Aboriginal inhabitants, illustrating three works by Madeleine Brunato in the Worra series and one by Robert Edwards, 'Australian Aborigines'.
"This survey of the works of Dudley Wood fills an important gap in the history of Australian Art, a period in which fine artists of the calibre of Dudley Wood turned, for mere financial survival to the practice of commercial art.... Like all true artists, Wood continuously experimented with his materials, culminating in the diluted or transparent oil medium he used to striking effect in capturing the radiant colours of the Outback"
Sir William Dargie (one of Wood's contemporaries and well known Australian portrait painter.)

Peers state this man disdained publicity and painted for the sheer enjoyment of creating as much as for producing works that would be loved and accepted into the homes of other Australians. His career spanned almost fifty years.
C. Dudley Wood's Exhibition
By. EL FULLER
An exhibition of pictures by C. Dudley Wood, which is to be opened this afternoon by Lady Sowden, is a comprehensive collection of both oils and watercolors. covering a' big range of subjects—seascapes, landscapes, animal and birdlife, figure work: and flowers. He is a self-taught artist hailing from Victoria, and has been well before the art loving public in recent years, having held several successful exhibitions in the eastern States. His work as a camouflage artist with the RAAF in Queensland in1942-43 gave him much experience, and his paintings are now well known in England, China and the US. His work is entirely pleasing and attractive, his watercolors in particular having an easy flow. and softness. He has also devised a means of inducing oil to flow like watercolor and thus become a transparent medium, with the depth and brilliance, however, of oil.
The portrait, "Retrospection." is a delightful and sensitive handling of two elderly men, well drawn and modelled: the faces fully of sympathy and expression, and very pleating in its flesh tints. Next in importance Is a large oil. 'The Three Sisters, Blue Mountains," with the bold foreground standing out in: strong contrast to the haziness of the district. "The Cathedral" recall 'pleasing memories of Continental architecture. "Egrets"' and "White Hares"" are well modelled and dainty in pale tones, and are rather unusual in type. "Phlox," a fine mass of rich color, stands out as a good example of flower painting, and some WA wild flowers—"Kangaroo Paws' and "Lambs" Tails" are unusual and intensely interesting. For his watercolors especially Dudley Wood has chosen veil, in both landscapes and seascapes. "Narooma. NSW" has an artistic layout with a sort distance and a quiet water stretch. "Above the Tide." "Gippsland Valley" and "Native Pines" are very attractive studies, land there Is especially good work in—"River Pool" and "High Cliff Port Campbell" ;The exhibition, which will remain open until December 18, should attract many art lovers. C. Dudley Wood's Exhibition. (1948, December 7). The Advertiser (Adelaide, SA : 1931 - 1954), p. 6. Retrieved from http://nla.gov.au/nla.news-article43794429

This landscape, 'Morning Shadows' is from his 1930's era. In 1988 C Dudley Wood works were selling from $5000.00 Australian dollars although we did discover on ebay, during research, a watercolour offered for a mere $200.00. Buying paintings for pleasure or for investment has a serious side and you should only purchase either directly from the artist or through a reputable dealer who can provide certification.
C Dudley Wood photo, 1945, Courtesy National Archives of Australia.