Inbox and environment news: Issue 604
November 5 - 11, 2023: Issue 604
Manly Junior Class NSW - Round 1 Regatta
The RPAYC welcomes competitors in the 2023 Manly Junior NSW State Tiles to Pittwater for Regatta 1.
Racing will be held over the

weekend of 25 and 26 of November, 2023.
The NSW State Titles are held across 2 weekends by the NSW Manly Junior Association and host clubs.
Round 1 will be hosted by Royal Prince Alfred Yacht Club (RPAYC) on 25 & 26 November 2023.
Round 2 will be hosted by Hornsby Ku-ring-gai Sailing Club (HKSC) on 10 & 11 February 2024.
There will be Open, Novice and Rookie divisions this season.
The Rookie division is a fantastic opportunity to get out on the water and practise racing against other boats with similar experience levels. There will be an option for children who complete the Rookie course to go on and race in the Novice State Titles if they would like (additional fees apply).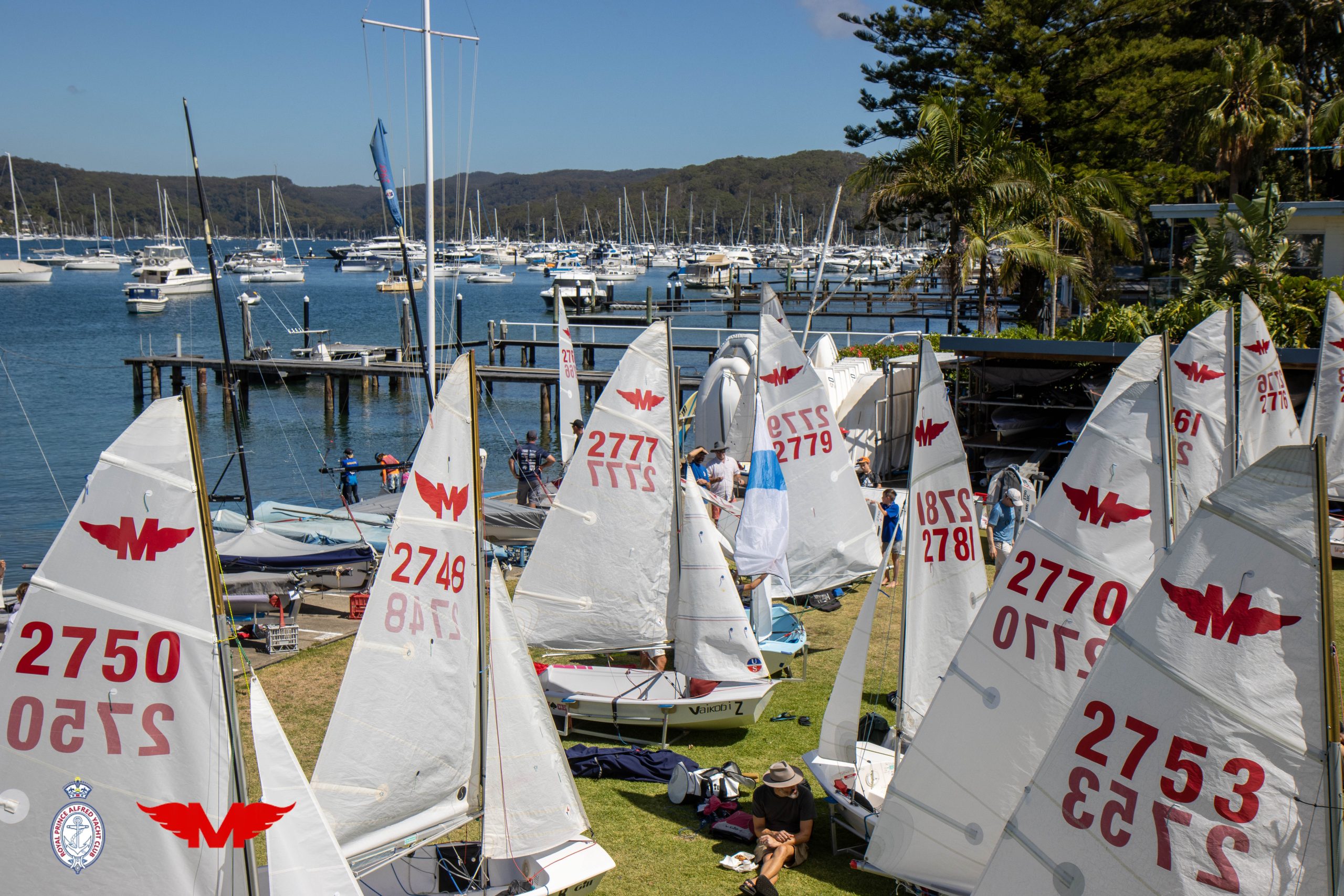 Australian Flowers: Impromptu For The Piano Forte / By Miska Hauser. From The Australian Album, 1857
Museums of History NSW tells us:
One of the many musical treasures at Rouse Hill Estate is the 'Australian Album' for 1857, published by JR Clarke. It was the third and most accomplished music album dedicated to Australian composition in the 1850s and an expensive production. The pristine copy owned by the Rouse family is bound in red cloth with gilt decorated tooling, and the pages of music and illustrated scenes were engraved in Sydney. Unlike some of the other scores in the collection, this book's immaculate state suggests that its demanding contents may have been too difficult for its original owner.
The 'Australian Album' provides a snapshot of the colonial concert scene with most of the pieces provided by performing musicians who had toured or settled in Australia by the 1850s, and includes French piano virtuoso Edouard Desiree Boulanger, pianist
William Stanley
, harpist Stephen Marsh, and locally raised pianist and composer Frederic Ellard.
We have chosen 'Australian Flowers, impromptu no. 2 for piano' from the album by Hungarian virtuoso violinist Miska Hauser for this House Music at Your House contribution. Hauser toured Australia between 1854 and 1858 and two of his publications were published in the 'Australian album' along with his portrait.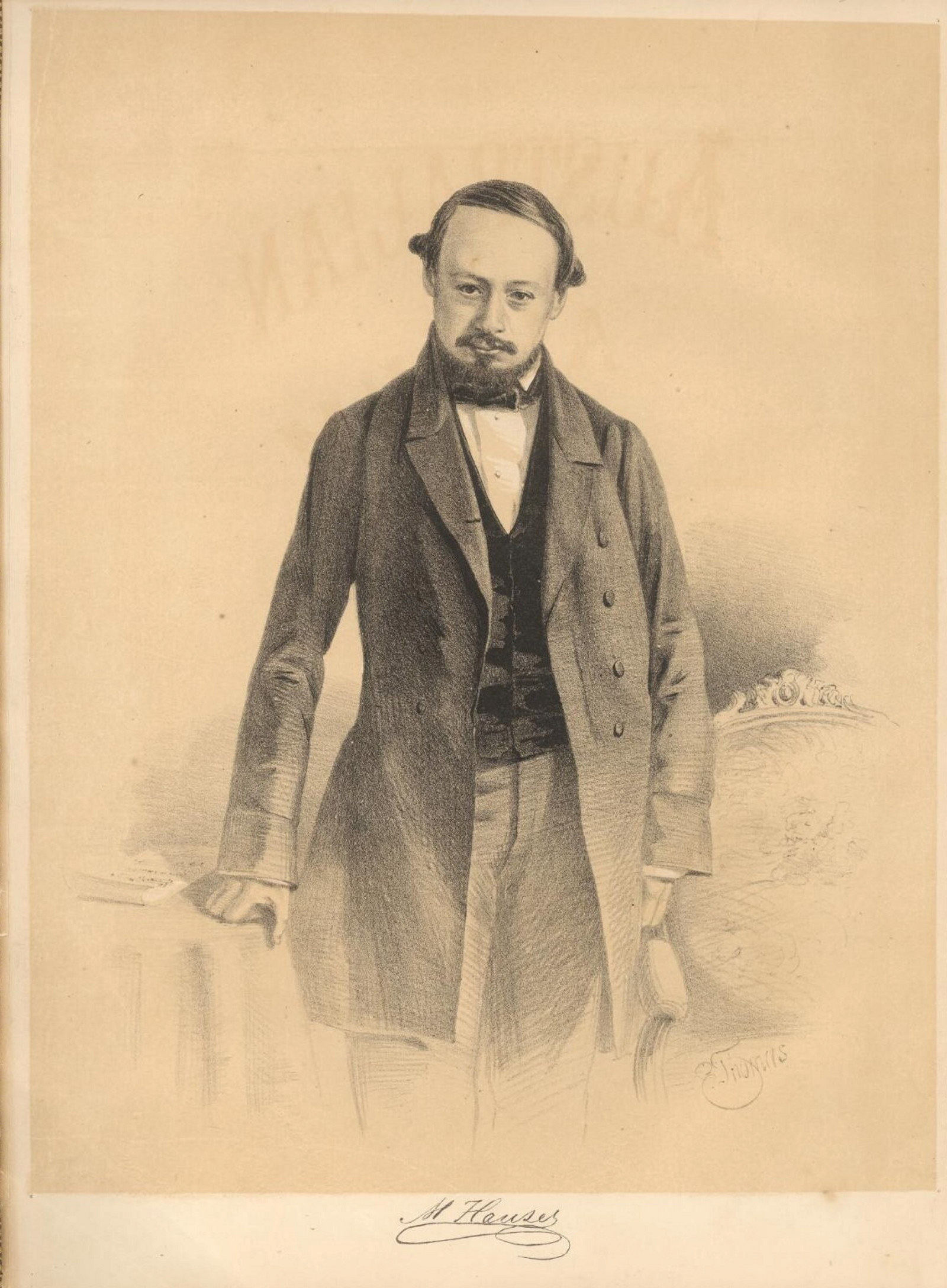 Miska Hauser

So how 'Australian' is Hauser's composition? These publications certainly reflect an Australian pride in local cultural pursuits and achievement, and we'll leave the last word to English journalist, Frank Fowler, who touches on this question in his introduction to these musical works:
'They are all new–all colonial. Here–in this city–they were played, printed, and published. True, some of the composers are foreigners; but still this book is as much an Australian production as a cluster of grapes from the German vineyards at Kissing Point. We can send the work home as a specimen of what we can do out here at Botany Bay – as an index of our education, refinement, art-feeling.'

- Frank Fowler, preface to the 'Australian Album', Sydney: Clarke, 1857.
Available to download at:
Hauser, Miska & Thomas, Edmund & Allan & Wigley. (1857).
Australian flowers impromptu for the piano forte
Retrieved from
http://nla.gov.au/nla.obj-181855844
Museums of History NSW continues:
Listen to James Doig perform 'Australian Flowers' at Vaucluse House, Sydney, and then have a go yourself! There are few clues to the musical tastes of the Wentworth family at Vaucluse House in the 19th century, so we have chosen this piece to help imagine the soundscape at an historic house contemporary with Rouse Hill Estate.
We have also provided a link to the film
'Sweet Noise'
which features James discussing his approach to historical music making at Vaucluse House, Sydney. This is the only available recording of this piece so we've provided links to other pieces by Miska Hauser and some of William Stanley's 'The Rose Bay Quadrilles'. Why not help us share more versions with the world.
You can find links to the music on the 'Australian Flowers'
Museums of History NSW
webpage and perform and share your own interpretation. Visit:
Miska Hauser, Australian Flowers (1857)
Published by the Museums of History NSW, October 9, 2020
Sweet Noise - Making Music at Vaucluse House
Published by the Museums of History NSW, April 4, 2016
'Sweet Noise: Making Music at Vaucluse House' documents the musical preparation for a major public event at Vaucluse House Museum with Matthew Stephens, research librarian at Sydney Living Museums, Ron Overs, piano technician, and James Doig, pianist.
Matthew talks about how and why he selected two Australian piano pieces from the 1850s, 'The City of Sydney Polka' and 'Australian Flowers', while Ron demonstrates his conservation technique on an 1860s Collard & Collard grand piano, and James discusses and performs the two pieces on the newly restored piano as he prepares for the performance.
History For You: Bilgola Beach Rockpool Safety Works In October 1968
Do you go swimming at Bilgola Pool with the Avalon Bilgola Swimming Club or just for fun?
Then this may interest you!
Have you seen those photos
John Stone
took the day they brought down the cliff face to keep the pool safe in October 1968? Possibly not, it was a long time ago and we haven't run that here in your page yet as a history insight just for you.
Now we will!
Mr. Stone used to run a brilliant music shop in Avalon village, he still does photographic work there now, giving some space in the shop to the Avalon Beach Historical Society, of which he is Patron. He has always had a big interest in photography, and was very good at it when he was capturing local events or just taking photos because he liked to.
John explained to us a few years ago, ''
When I first began in Avalon I did quite a bit of photography for the
Pittwater News
. This was a little weekly paper that worked out of offices at 345 Barrenjoey Road, Newport, and began in 1965 under Manly and Pittwater Newspapers Ltd. It had absorbed the previous Peninsula News (1957 to 1965). Rick looked after this for its first 15 years. It was eventually taken over, I think, by
The North Shore Times
. I have kept the clippings from this of both where we advertise the shop/s and those where the photos I took were used.''
One set
of
photos he took was about the council doing some work to make the cliff face above the pool safer - there was a concern that some of the rocks may fall. You have probably seen that those rock pools at Bilgola and Avalon still have a metal mesh fence between the pools and cliff faces still.
One of the founders of Bilgola SLSC,
David Lyall
, explained;
''Yes. That was a bit of a fuss over nothing. We sat up on the north headland at Bilgola to watch it, expecting something big and dramatic, a large explosion, and it was a bit of a fizzer.''
Rocks on cliff face cleared at Bilgola pool clipping from John's work; – "they blasted the cliff to clear away any loose rocks. I took the photographs of them doing that."
"They then put up a permanent fence behind Bilgola pool in case any further rocks fell, prior to this fence there had only been a net, which didn't work or wasn't safe enough.."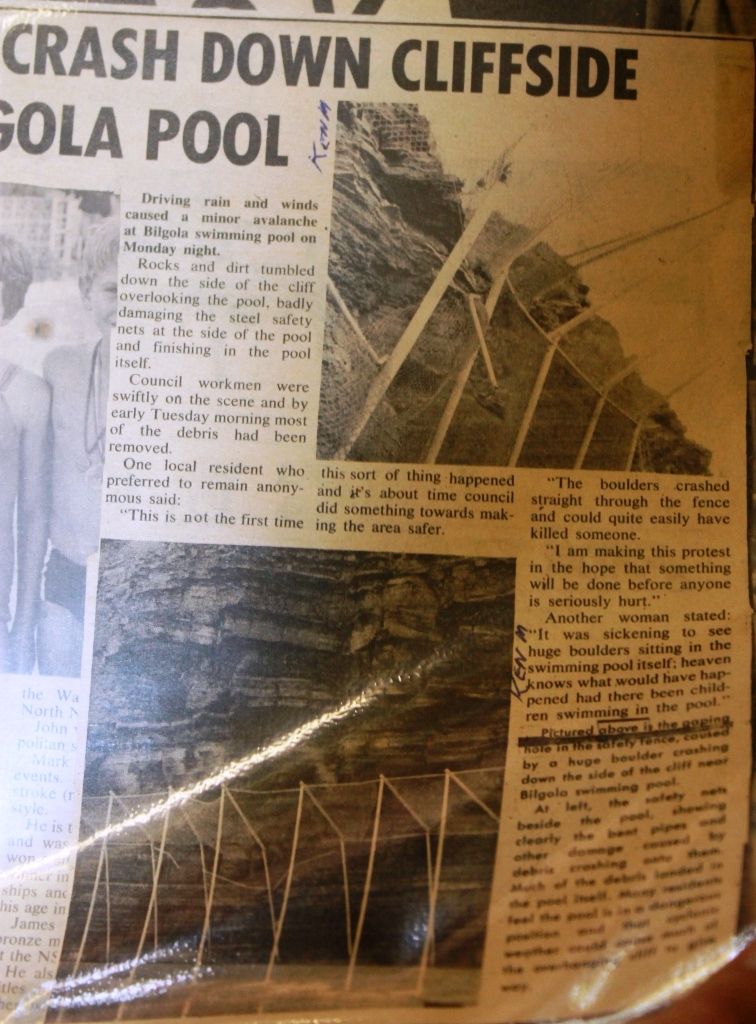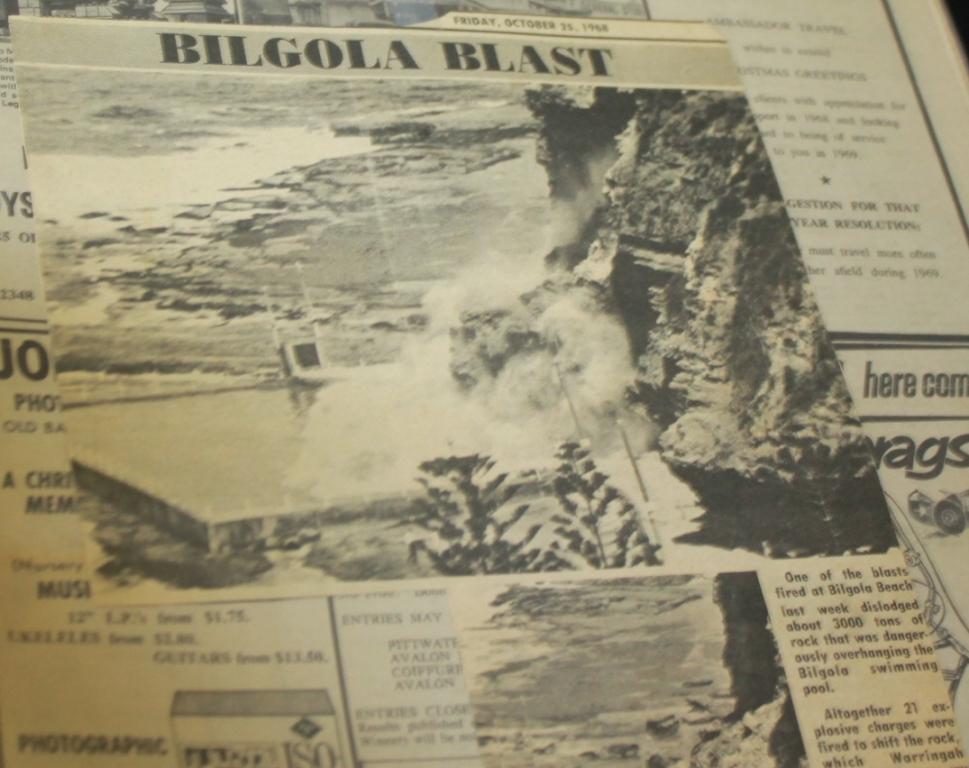 Above: Earlier article and then article with John's photograph from Pittwater News, Friday October 25, 1968 -
following this (below) - some of the sequence of photographs John Stone took recording the Bilgola Beach cliff face blasts - in the 3rd one down you can see a person on the edge of the pool surveying the rubble and signalling to those on the cliff face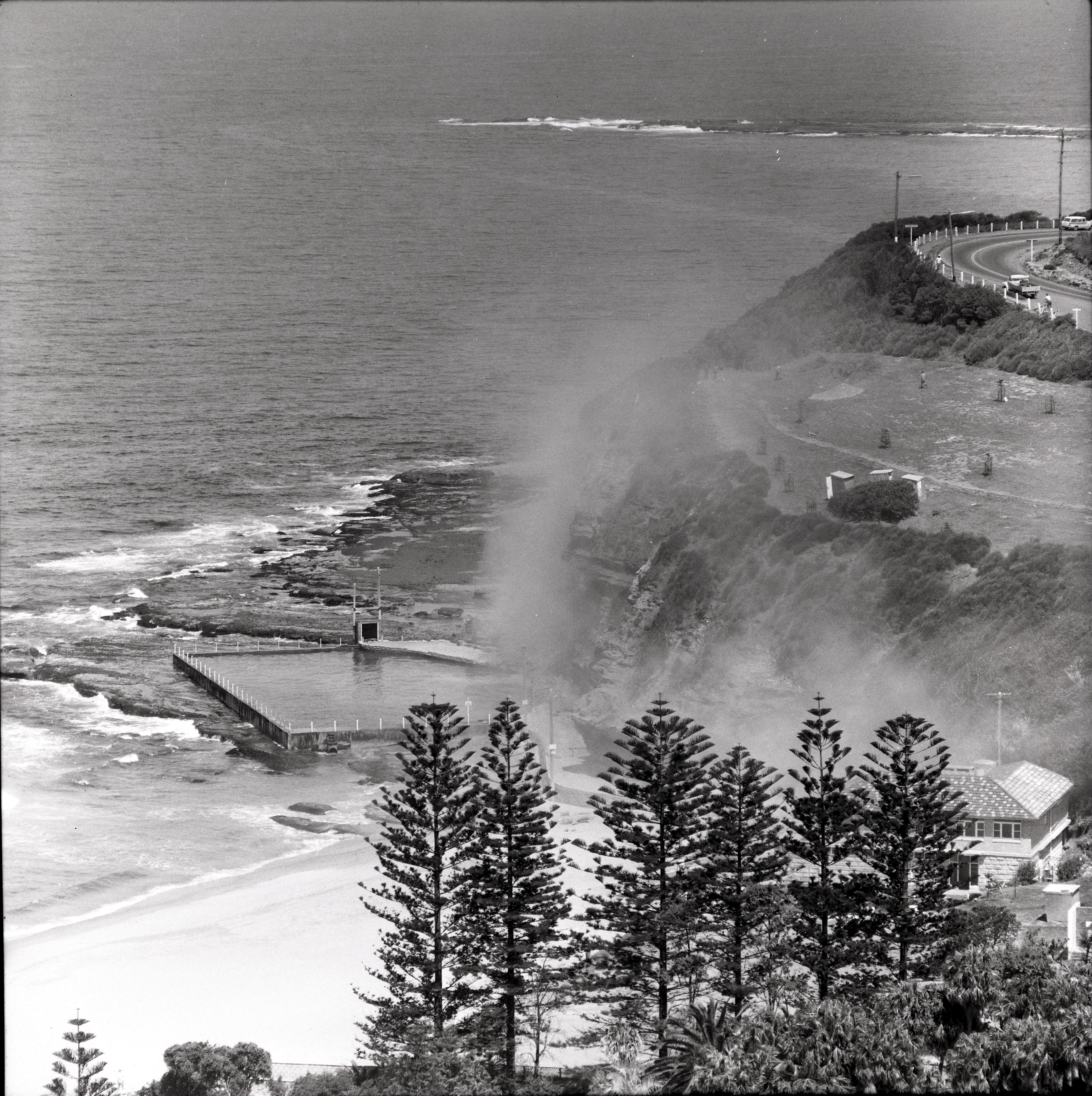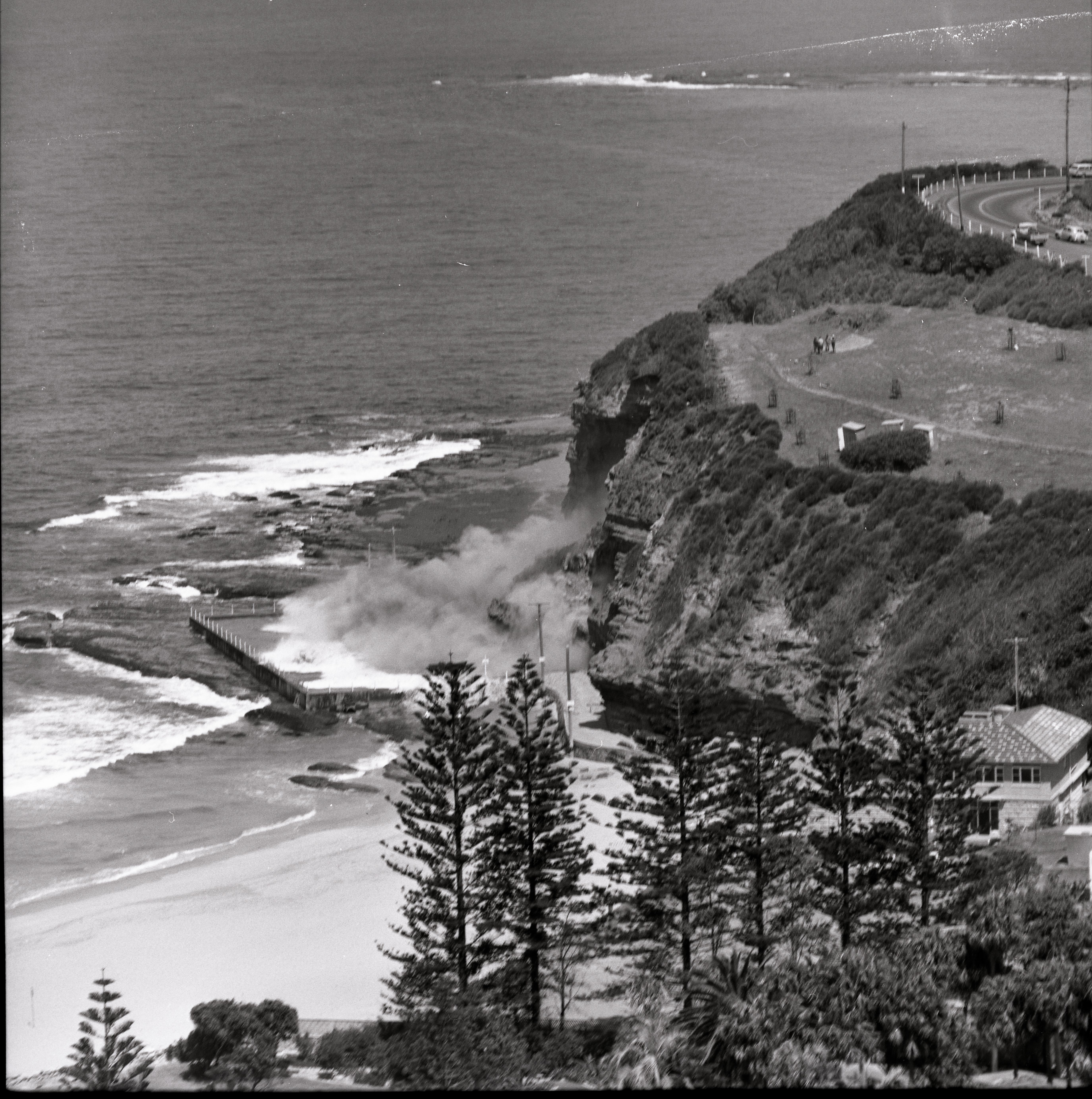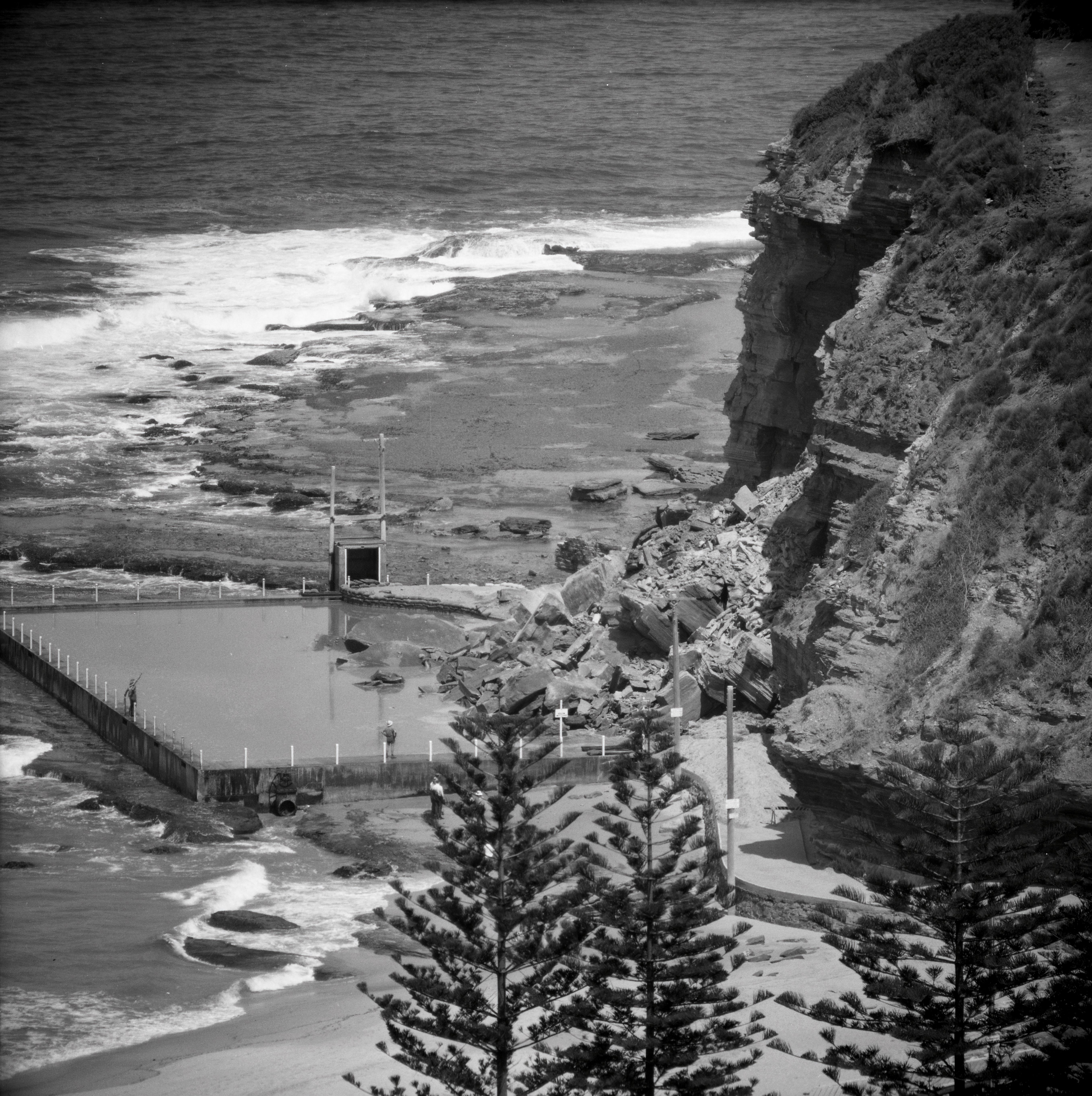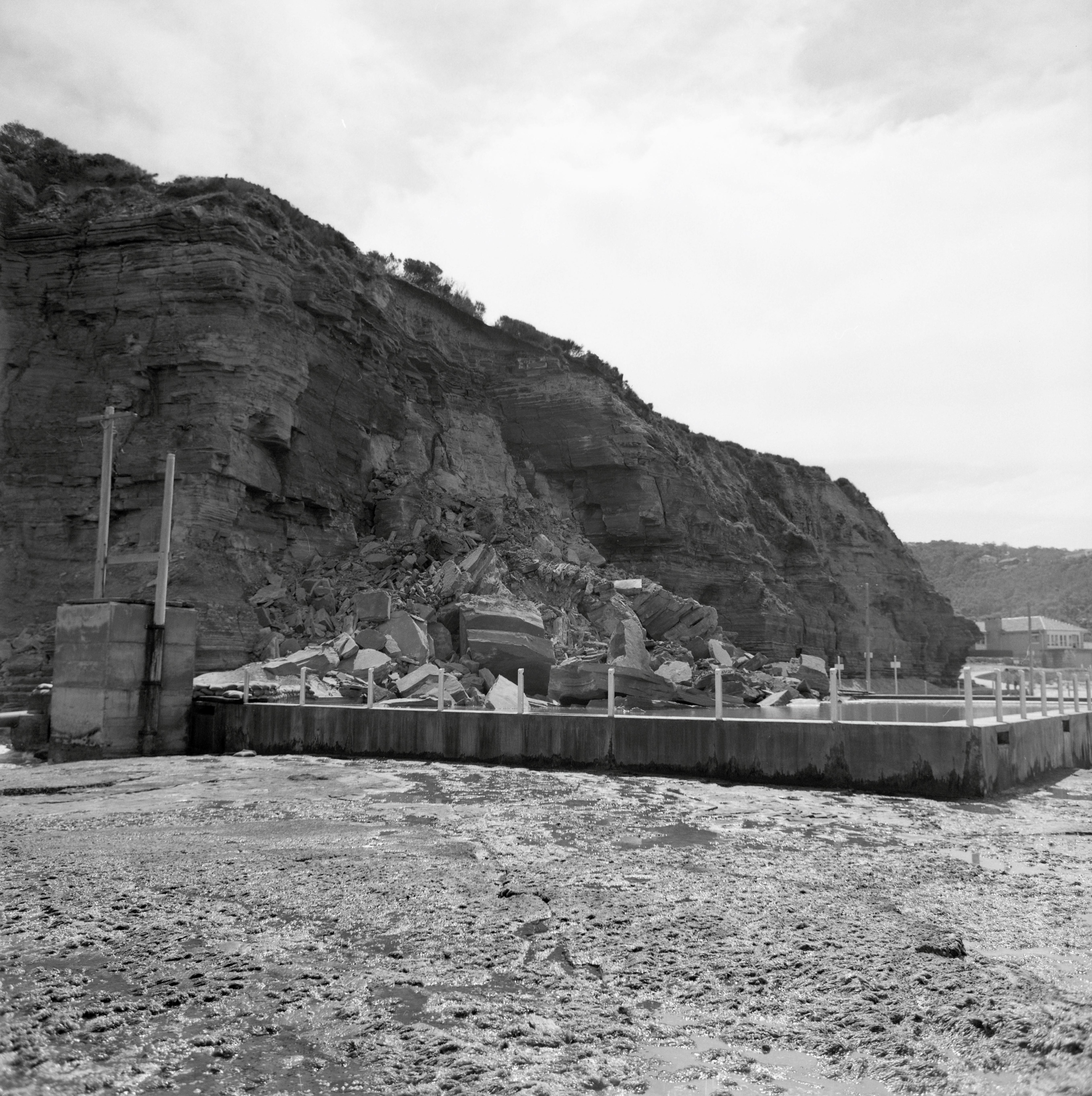 They sure made a mess - BIG chunk out of the cliff - would have taken a lot of work to clean that up so people could swim again.
Well Done HSC Class Of 2023!
HSC exams concluded at 12.30pm, Friday 3 November
Congratulations to the 76, 839 students who have collectively sat 400,00 exams over the past 4 weeks, especially local HSC students.
Finishing the Higher School Certificate is the culmination of 13 years of schooling and a major achievement for the tens of thousands of students who sit the 124 exams each year.
This year, 68,689 students are finishing school with their HSC. Another 8150 students, many not yet in Year 12, completed at least one HSC course.
Over the last 18 days, close to 400,000 exams were successfully conducted, thanks to a major preparation effort by principals, teachers, school-based support staff and exam staff.
Today, nearly 4000 students will sit the final Food Technology exam, beginning shortly after 9am.
Feedback from teachers and students say exams were fair and gave students the opportunity to show what they know.
Marking of HSC exams has already begun as 5500 HSC markers pore over more than 1.2 million response booklets, before HSC and ATAR results are released on 14 December.
Deputy Premier and Minister for Education and Early Learning Prue Car said:
"The hard work is done, and today our Year 12 students can celebrate everything they have achieved.
"Reaching the end of a 13-year schooling career is a major accomplishment, and today all Year 12 students deserve to feel proud.
"I also want to tell all Year 12 students that they are not defined by their results.
"There are many pathways to success, and multiple ways to achieve your dreams.
"What matters is that you are leaving school proud of who you are, and ready to move on to the next phase of your life."
The 2023 HSC results will be released on Thursday 14 December 2023. For now it's time to exhale, do a cartwheel or handstand and relax!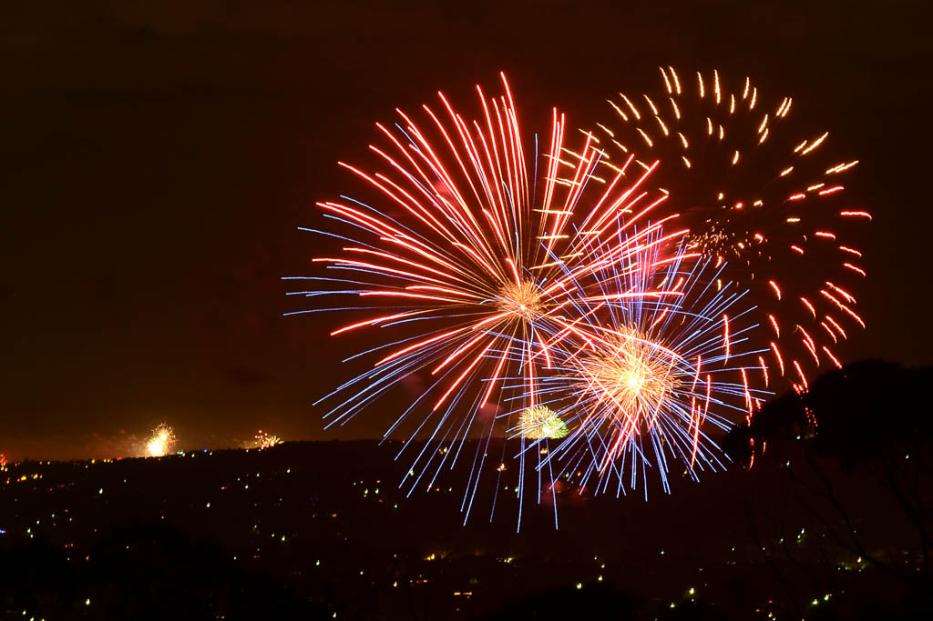 Photo: fireworks over Bilgola Plateau. Photo Michael Mannington OAM
Warning: Multiple Types Of High-Dose MDMA Tablets (Ecstasy) Circulating In NSW
​NSW Health is warning the public of high-dose MDMA tablets (ecstasy) currently circulating in NSW.
Three types of high dose MDMA tablets have recently been found in NSW:
blue diamond shaped tablet with 'punisher' logo contained 216 mg MDMA
blue skull shaped tablet with 'MYBRAND' logo and text contained 216 mg MDMA
yellow square tablet with 'SpongeBob' smiley face markings contained 160 mg MDMA.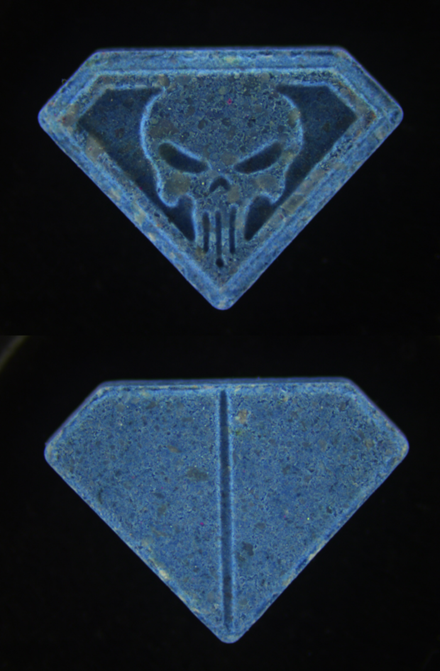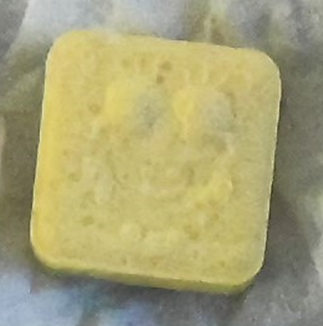 These tablets contain up to twice the average amount of MDMA usually contained in tablets circulating in NSW.
Other drugs including cathinones, ketamine and ketamine analogues have recently been detected in some MDMA tablets and capsules.
Medical Director of the NSW Poisons Information Centre, Dr Darren Roberts, said consuming high doses of MDMA has been linked to recent cases of serious illness and death in NSW.
"MDMA can cause severe agitation, raised body temperature, seizures or fits, irregular heart rhythm and death," Dr Roberts said.
"The amount of MDMA in a tablet or capsule can vary a lot, even within the same batch. The health risks from MDMA are greatly increased if high amounts (including multiple doses) are consumed over a short period.
"Other risks include taking MDMA in combination with other stimulants, such as amphetamines, cocaine or cathinones.
"Hot environments, such as at music festivals, increase the risk of harm from MDMA. Taking a break from dancing, seeking shade, and drinking water are important measures to reduce the risk of overheating.
"It is very important to remember, if you or a friend has taken drugs and feel unwell, you won't get into trouble for seeking medical care. If you or a friend feels unwell, please seek help immediately by calling Triple Zero (000).
"There are teams of well-trained peer volunteers from programs such as DanceWize NSW and medical providers who are ready to support you at many major festivals. Other event staff are also trained to help patrons."
For information about the potential adverse effects of MDMA, please contact the NSW Poisons Information Centre on 13 11 26.
For support and information with alcohol, MDMA and other drugs, please contact the Alcohol and Drug Information Service on 1800 250 015. This is a 24/7 service offering confidential and anonymous telephone counselling and information. NUAA also provides a range of harm minimisation resources and advice and can be reached on 1800 644 413.
TEDxSydney Youth 2023
As we head into the last months of 2023, and some of you may be leaving school and looking towards what you want to do next, a few insights from others journeys, as shared at the TEDxSydney Youth 2023 held earlier this year.
Organisers, Sydney University, stated;
The world is waiting to be redefined by the most connected, creative and technically literate generation yet. Young people have the biggest, boldest, quirkiest, bravest, most inspiring and brilliant ideas on how to reshape, rewire, inhabit and reimagine our world. Let's listen to our future leaders today.
〉THIS YEAR'S THEME IS FUTURE CREATORS
Young people aren't inheriting the future — they're creating it. They know how great ideas spread, and can connect us all. What future will be created by the next generation?
Below runs one which shares how a simple idea can produce amazing results.
Jack was 10 years old when he started a charity to help drought-stricken farmers in Australia. With over $2.2 million now raised, Jack shares the surprising advantages of being a kid when you're trying to make a difference. Jack Berne is the founder of the Jack's Mate's Foundation and the campaign A Fiver for a Farmer. Since launching the campaign in 2018, Jack has continued to use his small but mighty voice to continue raising awareness. This talk was given at a TEDx event using the TED conference format but independently organized by a local community.

School Leavers Support
Explore the School Leavers Information Kit (SLIK) as your guide to education, training and work options in 2022;
As you prepare to finish your final year of school, the next phase of your journey will be full of interesting and exciting opportunities. You will discover new passions and develop new skills and knowledge.
We know that this transition can sometimes be challenging. With changes to the education and workforce landscape, you might be wondering if your planned decisions are still a good option or what new alternatives are available and how to pursue them.
There are lots of options for education, training and work in 2022 to help you further your career. This information kit has been designed to help you understand what those options might be and assist you to choose the right one for you. Including:
Download or explore the SLIK here to help guide Your Career.
School Leavers Information Kit (PDF 5.2MB).
School Leavers Information Kit (DOCX 0.9MB).
The SLIK has also been translated into additional languages.
Download our information booklets if you are rural, regional and remote, Aboriginal or Torres Strait Islander, or living with disability.
Support for Regional, Rural and Remote School Leavers (PDF 2MB).
Support for Regional, Rural and Remote School Leavers (DOCX 0.9MB).
Support for Aboriginal and/or Torres Strait Islander School Leavers (PDF 2MB).
Support for Aboriginal and/or Torres Strait Islander School Leavers (DOCX 1.1MB).
Support for School Leavers with Disability (PDF 2MB).
Support for School Leavers with Disability (DOCX 0.9MB).
Download the Parents and Guardian's Guide for School Leavers, which summarises the resources and information available to help you explore all the education, training, and work options available to your young person.
School Leavers Information Service
Are you aged between 15 and 24 and looking for career guidance?
Call 1800 CAREER (1800 227 337).
SMS 'SLIS2022' to 0429 009 435.
Our information officers will help you:
navigate the School Leavers Information Kit (SLIK),
access and use the Your Career website and tools; and
find relevant support services if needed.
You may also be referred to a qualified career practitioner for a 45-minute personalised career guidance session. Our career practitioners will provide information, advice and assistance relating to a wide range of matters, such as career planning and management, training and studying, and looking for work.
You can call to book your session on 1800 CAREER (1800 227 337) Monday to Friday, from 9am to 7pm (AEST). Sessions with a career practitioner can be booked from Monday to Friday, 9am to 7pm.
This is a free service, however minimal call/text costs may apply.
Call 1800 CAREER (1800 227 337) or SMS SLIS2022 to 0429 009 435 to start a conversation about how the tools in Your Career can help you or to book a free session with a career practitioner.
Word Of The Week: Vandal
Word of the Week returns in 2023 simply to throw some disruption in amongst the 'yeah-nah' mix.
Noun
1. a person who deliberately destroys or damages property belonging to others or everyone. 2. someone who deliberately damages things, especially public property. 3. A person who needlessly destroys, defaces, or damages things - for example; environmental vandalism.
Vandal, member of a Germanic people who maintained a kingdom in North Africa from 429 to 534 CE and who sacked Rome in 455.
Etymology
1660s, "wilful destroyer of what is beautiful or venerable", from Vandal, referring to a member of an ancient Germanic people, the Vandals, who are associated with senseless destruction as a result of their sack of Rome under King Genseric in 455. During the Enlightenment, Rome was idealized, while the Goths and Vandals were blamed for its destruction. The Vandals may not have been any more destructive than other invaders of ancient times, but they did inspire English poet John Dryden to write, Till Goths, and Vandals, a rude Northern race, Did all the matchless Monuments deface (1694). However, the Vandals did intentionally damage statues, which may be why their name is associated with the vandalism of art. The coining of French Vandalisme by Henri Grégoire in 1794 to describe the destruction of artwork following the French Revolution popularized the idea further, and the term was quickly adopted across Europe, including as English vandalism.
The ethnonym for Vandal is attested as Wandali and Wendilenses by Saxo, as Vendill in Old Norse, and as Wend(e)las in Old English, all going back to a Proto-Germanic form reconstructed as Wanđilaz. The etymology of the name remains unclear. According to linguist Vladimir Orel, it may stem from the Proto-Germanic adjective wanđaz ('turned, twisted'), itself derived from the verb wenđanan (or winđanan), meaning 'to wind'. Alternatively, it has been derived from a root wanđ-, meaning 'water', based on the idea that the tribe was originally located near the Limfjord (a sea inlet in Denmark). The stem can also be found in Old High German wentilsēo and Old English wendelsǣ, both literally meaning 'Vandal-sea' and designating the Mediterranean Sea

Environmental Vandalism: an example
Did you know that many of the native orchids that grow only in our area are underground for much of the year as tubers and cannot be seen? They only appear when it is their time to bloom - first you will see the stem, then the leaves, then finally, the flower.
These plants underline the first principle of Bush Regeneration, which is; "Minimal soil disturbance".
What goes on underground drives the whole community and is a very fragile mechanism. It is difficult to see the results of disturbance, such as decline of the Purple Copper Butterfly (Conservation status in NSW: Endangered, Commonwealth status: Vulnerable) that depends on a species of ant to protect its caterpillars, while both ant and caterpillar depend on the Bursaria spinosa plant which depends on a micro fungi for its nutrition and communication. No Bursaria – no Butterfly. There are flowers that depend on a wasp for pollination that must lay its eggs into Christmas beetle larvae, while the Christmas beetle depends on a large Eucalypt that also needs soil micro fungi for its nutrition. No fungi - no wasp - no beetle -no tree. There are plants that need ants to carry their seed underground and pay them with little edible attachments to the seed. No ants – no seedlings. Nearly every plant needs a friendly soil fungus (mycorrhiza) to help its roots take up food.
All of the systems in the ecology depend on the agents of decay in the soil and litter to break down the fallen organic mater to provide their food - and so the cycles are connected. Without expert observation we cannot assess the state of the micro-organisms and the complex relationships in the under- world that drive the whole community.
The Pittwater Spotted Gum Forest, is another example, and listed as Endangered. This occurs on shale-derived soils with high rainfall on lower hillslopes on the Narrabeen group - Newport Formation, on the Barrenjoey Peninsula and western Pittwater foreshores. The major remnants on the Peninsula are within Council reserves; McKay Reserve, Angophora Reserve and Stapleton Park.
Another is the endangered Angus's Onion Orchids that grow here, these occur on soils in the restricted ridgetop lateritic soils in the Duffys Forest - Terrey Hills - Ingleside and Belrose area. There are also remnants of the Duffys Forest vegetation community, also listed as an Endangered ecological community in the NSW Threatened Species Conservation Act, further north in Pittwater too.
Is there really that much left that we can continue destroying it without thought or feeling? No, there isn't.
Guess what else needs thriving and cared for ecological communities to exist?;
Without a flourishing plant community driving the world through photosynthesis there is no oxygen for us.
The digging, mounding, compacting, introduction of weed seed and erosion of soil in the creation of tracks has damaging repercussions that are not immediately visible. What happens in the reserves can be described as a web of life, like a spider's web: if you destroy it anywhere, the whole structure trembles and parts may collapse.
That collapse snowballs outwards, degrading and destroying all around it too.
You too can help save the world, not just leave it up to others to defend and guard these places and restore them for our benefit and for all those who come after us, simply by treading lightly in these places.
After all, our place here, just the way she is - and where she has been torn to pieces she may repair, if we all help her.
Book Of The Month November 2023: The Useful Native Plants Of Australia, (Including Tasmania)
by Maiden, J. H. (Joseph Henry), 1859-1925
Publication date 1889. Publisher Sydney, Turner and Henderson.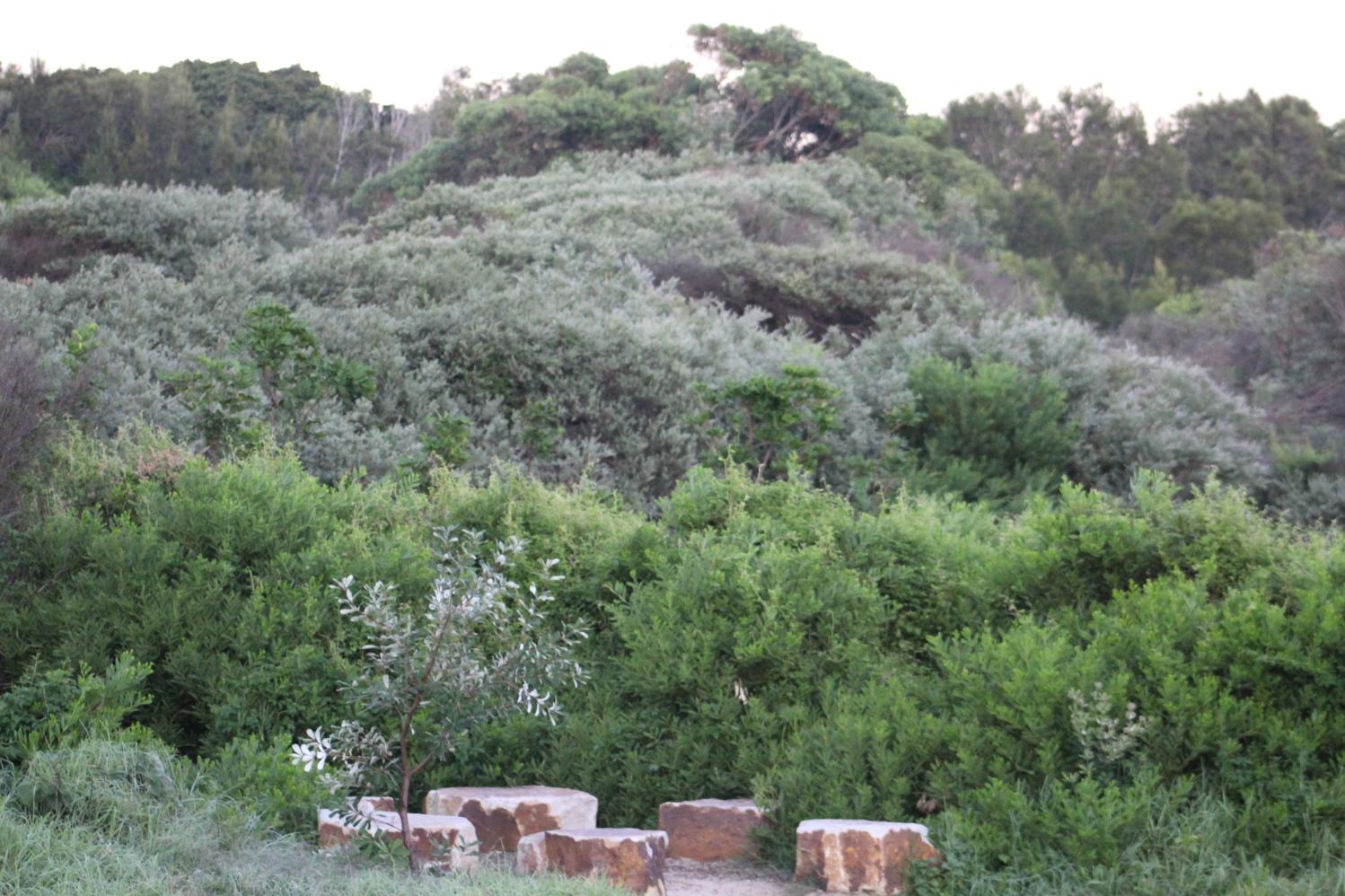 Capability Review: Department Of Health And Aged Care
The capability review of the Department of Health and Aged Care is the second to be published under the Australian Government's re-instated pilot Capability Review program.
The Health Capability Review was led by a Senior Review Team, comprising independent reviewers Andrew Tongue PSM and Larry Kamener and senior APS reviewer Dave Hallinan, Deputy Secretary, Department of Infrastructure, Transport, Regional Development, Communications and the Arts. Staff from the Australian Public Service Commission supported the senior reviewers with their work.
The Australian Public Service Commissioner endorsed the final report on 19 July 2023.
In response to the 2023 capability review, the Department of Health and Aged Care has developed an action plan. The action plan outlines how the department will lift its capability over the coming years. The department will report on progress against their action plan through their corporate plan and annual report available at
https://www.transparency.gov.au/publications
The Department stated on November 2 2023 the capability review helped:
understand the story – the health, aged care and sporting settings we operate in
tell the story – what we do well and where we can improve
shape the story – what the future of health, aged care and sporting policy and programs looks like.
Their response to the capability review details how the Department will:
further improve the policies and programs we develop and deliver
deepen our engagement with the community and stakeholders
empower our staff to have a clear understanding of their role, greater autonomy and a strong feeling of contribution.
Medicare Bulk Billing Strengthened
From today, the incentive that general practitioners receive to bulk bill children under 16, pensioners and other Commonwealth concession cardholders will be tripled for most common GP consults
.
It will be easier to find a bulk billing doctor for around 5 million children and their families and 7 million pensioners and other concession cardholders.
Together, these patients account for around 3 out of 5 visits to the GP.
At the 2023-24 Budget, the Australian Government also announced a $1.5 billion indexation boost to Medicare payments, with the increase also taking effect today.
Together, the indexation boosts in July and November have delivered the largest increase to Medicare payments since Paul Keating was Prime Minister, delivering a larger increase in one year than the former government delivered over seven years.
The indexation boost and tripling of the bulk billing incentive provides a significant increase to the Medicare payments that GPs get to bulk bill eligible patients.
In our major cities, a doctor will get 34% more for a standard bulk billed consultation of under 20 minutes (a Level B consultation), taking the Medicare payment for eligible patients to $62.05.
In regional and rural Australia, a doctor will get around 50% more for the same visit, taking the Medicare payment to between $72.80 and $81.10, depending on location.
A new Medicare rebate for GP consultations of 60 minutes or longer will also commence today, giving patients a rebate of $191.20 and doctors the time to provide better care for people with complex physical and mental conditions.
Patients registered with MyMedicare will now be able to access Medicare rebates for longer telephone consultations from their registered practice.
MyMedicare is the foundation upon which a stronger, more personalised Medicare will be built, with patients to get more tailored quality care from their regular general practice, doctor and primary care team.
Since voluntary registration for MyMedicare opened to patients on 1 October, more than 150,000 people have registered with their preferred general practice and will now get access to longer telehealth consults.
Prime Minister Anthony Albanese stated:
"We're delivering the biggest investment in Medicare in over 40 years, with more incentives for bulk billing and 58 new Urgent Care clinics across Australia.
"These changes to the Medicare bulk billing incentive will make it easier, and cheaper for more than 11 million Australians to visit a doctor.
"Combined with our cheaper medicines policy, electricity bill relief, cheaper child care and increased rent assistance, we're continuing to deliver targeted cost of living relief without adding to inflation."
Health Minister Mark Butler said:
"The tripling of the bulk billing incentive will help over 5 million children and their families, and more than 7 million pensioners and concession card holders to see a bulk billed GP.
"Doctors' groups have called this a 'game-changer' and GPs right around the country have said this will help them maintain and even shift back to bulk billing.
"Peter Dutton froze the Medicare rebate when he was Health Minister 10 years ago - a freeze that remained in place for six long years and led to a very substantial decline in bulk billing in general practice.
"Bulk billing is the beating heart of Medicare and Labor will always strengthen it."
A New Men's Table At Narrabeen
Even with 6 Men's Tables on the northern beaches, we keep on getting requests for more ... so we are having an Intro Dinner or an Entree on
November 13, Monday at the Mind Cafe (thank you to Guy Morel).
The Men's Table is a community of men who get together for dinner monthly to talk about what's going on in their lives, both good and bad and everything in between.
If you are keen or curious or one of the many men who have already called us but were told that all Entrees and Tables were full, do sign up for these newly scheduled intro dinner.
You'll find out everything you want to know about this fast-growing community of men, get a chance to meet other men from the area, and get a taste of the Table experience. No fee, you pay only for your own meal.
6:30 pm arrival for 7:00 pm sharp kick off – 9:00 pm
1356 Pittwater Rd, Narrabeen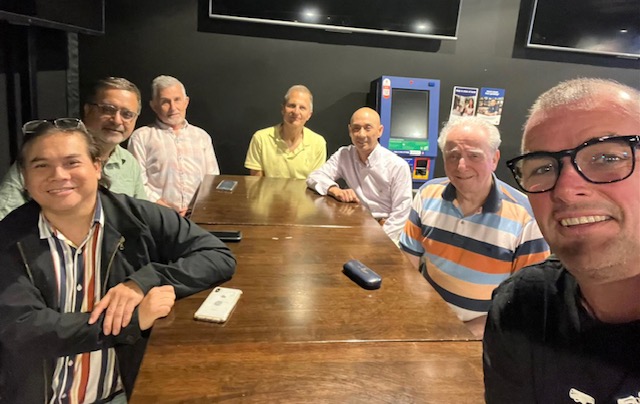 Improving Deep Sleep May Prevent Dementia: Study Finds
As little as 1 per cent reduction in deep sleep per year for people over 60 years of age translates into a 27 per cent increased risk of dementia, according to a study which suggests that enhancing or maintaining deep sleep, also known as slow wave sleep, in older years could stave off dementia.
The study, led by Associate Professor Matthew Pase, from the Monash School of Psychological Sciences and the Turner Institute for Brain and Mental Health in Melbourne, Australia, and published today in JAMA Neurology, looked at 346 participants, over 60 years of age, enrolled in the Framingham Heart Study who completed two overnight sleep studies in the time periods 1995 to 1998 and 2001 to 2003, with an average of five years between the two studies.
These participants were then carefully followed for dementia from the time of the second sleep study through to 2018. The researchers found, on average, that the amount of deep sleep declined between the two studies, indicating slow wave sleep loss with ageing. Over the next 17 years of follow-up, there were 52 cases of dementia. Even adjusting for age, sex, cohort, genetic factors, smoking status, sleeping medication use, antidepressant use, and anxiolytic use, each percentage decrease in deep sleep each year was associated with a 27 per cent increase in the risk of dementia.
"Slow-wave sleep, or deep sleep, supports the ageing brain in many ways, and we know that sleep augments the clearance of metabolic waste from the brain, including facilitating the clearance of proteins that aggregate in Alzheimer's disease," Associate Professor Pase said.
"However, to date we have been unsure of the role of slow-wave sleep in the development of dementia. Our findings suggest that slow wave sleep loss may be a modifiable dementia risk factor."
Associate Professor Pase said that the Framingham Heart Study is a unique community-based cohort with repeated overnight polysomnographic (PSG) sleep studies and uninterrupted surveillance for incident dementia.
"We used these to examine how slow-wave sleep changed with ageing and whether changes in slow-wave sleep percentage were associated with the risk of later-life dementia up to 17 years later," he said.
"We also examined whether genetic risk for Alzheimer's Disease or brain volumes suggestive of early neurodegeneration were associated with a reduction in slow-wave sleep. We found that a genetic risk factor for Alzheimer's disease, but not brain volume, was associated with accelerated declines in slow wave sleep."
Jayandra J. Himali, Andree-Ann Baril, Marina G. Cavuoto, Stephanie Yiallourou, Crystal D. Wiedner, Dibya Himali, Charles DeCarli, Susan Redline, Alexa S. Beiser, Sudha Seshadri, Matthew P. Pase.
Association Between Slow-Wave Sleep Loss and Incident Dementia.
JAMA Neurology, 2023; DOI:
10.1001/jamaneurol.2023.3889
RSL NSW State Congress Congratulations
On 22-24 October, delegates from the Northern Beaches District Council (NBDC) attended the RSL NSW State Congress in Newcastle.
Four Local members received some prestigious awards;-
1. Bob Durbin President of War Vets sub-Branch Narrabeen was awarded the Meritorious Service Medal. There were only two people in the whole of NSW who received this award at Congress.
2. Deborah Carter President of Pittwater sub-Branch and Vice President of NBDC was awarded Life Membership of the League. (only 10 awarded)
3. Mrs Pamela Hansen Hon. Secretary Harbord RSL sub-Branch was awarded a Civilian Merit Medal.
4. Forestville Auxiliary were the 2nd best in NSW.
The Citation for Mr Durbin reads:
The Meritorious Service Medal is the highest honour which can be bestowed upon a Service Member of the RSL. All recipients must have at least 25 years continuous RSL membership, and given at least 25 years outstanding service to the League;

The first Meritorious Service Medal is presented to Mr Robert Durbin from the War Veterans Village (Narrabeen) RSL sub-Branch.




Mr Durbin served in the Royal Australian Navy for 20 years after enlisting in 1970. After discharge from the Navy, he joined the City of Blacktown RSL sub-Branch in 1990, were he remained a member for 27 years. During this time he held various positions including pensions officer, secretary, welfare officer, chaplain, president and far western metropolitan district council secretary, welfare officer and pensions officer. Mr Durbin also served at secretary of the City of Parramatta RSL sub-Branch from 2000 to 2010.




In 1996, Mr Durbin became the Operations Manager at ANZAC House, a position he held until 2000. He then went on to be a State Councillor at RSL NSW for 14 years, where he was also the RSL Corps of Guards Chaplain during this time.




Now a member of the War Veterans Village (Narrabeen) RSL sub-Branch, Mr Durbin has been the President since transferring in 2017 and is also one of two chaplains at this sub-Branch. It is estimated Mr Durbin has delivered over 800 tributes at funerals during his time as a member of the League.




Mr Durbin has always had a passion for the motto of "Mates Helping Mates" and would ensure not only were his tributes delivered within the RSL protocol but also by honouring the wishes of the family. Such is his commitment to delivering funeral tributes, he started offering RSL funeral workshops for other sub-Branches, something he continues to do.




Mr Durbin also serves as Chaplain to the Guardians of the Korean War Memorial New South Wales, HMAS Sydney Association, Tingara Australian Association and the Friends and Family of the First AIF Association.




Not only has Mr Durbin been instrumental delivering local commemorations during his time as a secretary of the City of Parramatta RSL sub-Branch, he has also been involved in other local community events including Australia Day.




In 2006, Mr Durbin was awarded Life Membership of the League and received an Australia Day Medal in 2008.
Bob has been interviewed for a Profile of the Week, which will run this November. Our thanks to Bob for sharing his time this past week for the interview process.
Our Remembrance Day 2023 Profile, running this Issue, shares the war memoirs of Lindsay Dufty, as compiled by fellow
War Vets sub-Branch Narrabeen member and Secretary, John Sowden.
Lindsay, who is now 100 years young, enlisted as an 18 year and was in Darwin on February 19, 1942.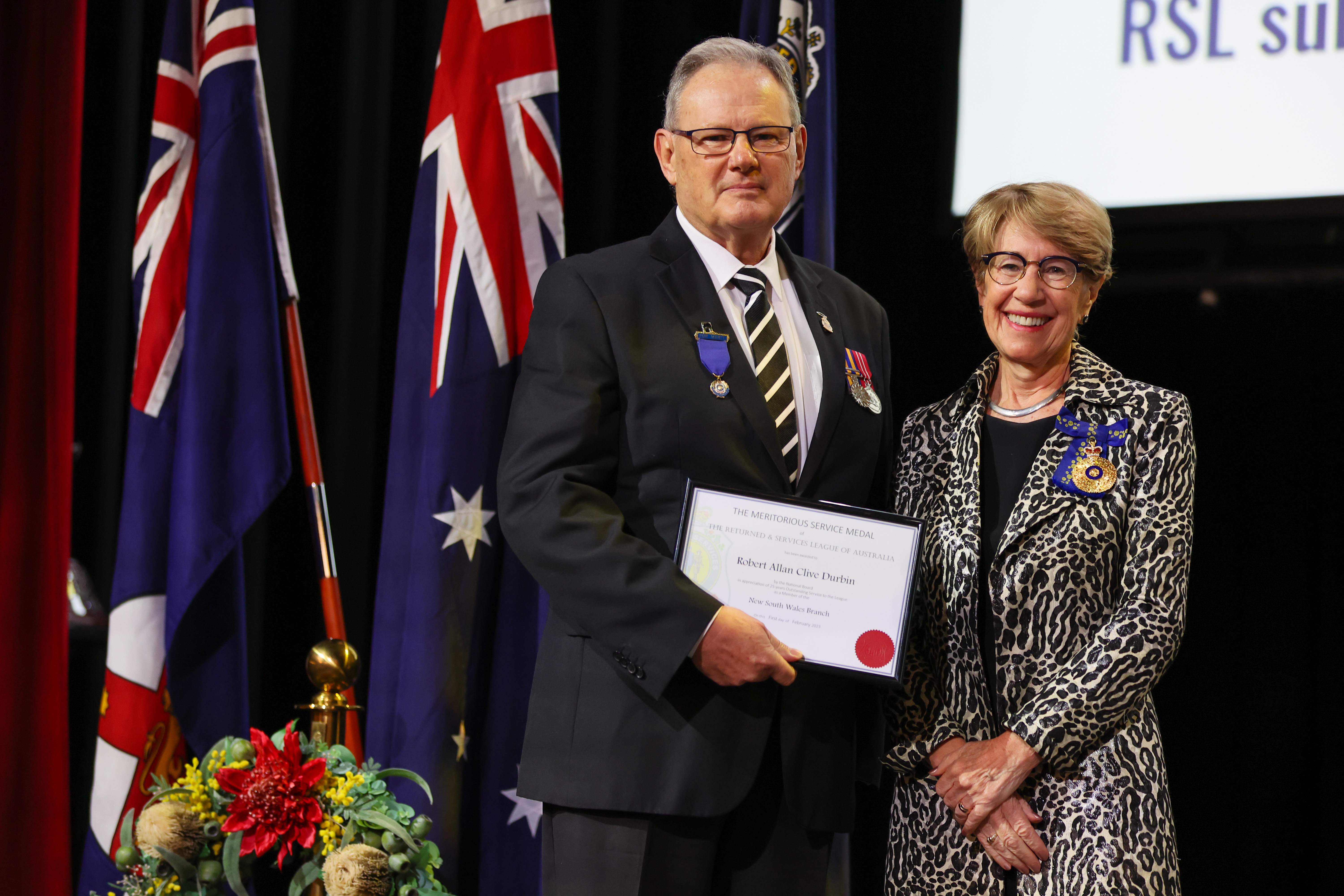 Photo: Bob with Her Excellency the Honourable Margaret Beazley AC KC, Governor of New South Wales, RSL NSW Annual State Congress 2023 © Salty Dingo
Ecotherapy Walks Available In Warriewood - Narrabeen
Many of you would know about the Japanese term for it: shinrin-yoku or "forest bathing". The Germans call it Waldeinsamkeit, the enlightened feeling of solitude in the woods.
Us Australians may know it as eco-therapy or, perhaps disparagingly, "tree hugging". Although personally, I don't go for a walk anywhere each morning without saying 'G'day' to the trees along the way and giving them a nice friendly pat and some even get the aforementioned hug. It sets you up for the day!
Currently CCNB (Community Care Northern Beaches) are offering Guided Ecotherapy Walks through the Warriewood Wetlands and at Narrabeen on alternate weeks.
Ecotherapy is the healing and nourishing effect of being in nature. Science is catching up with this free, age-old practice of looking to nature for improved health and wellness.
Learn how to deeply experience nature and build your mindfulness muscle on this slow wander and reap the mind and body benefits.
Your ecotherapy guide, Sarah Freeman, will take you on a mindful wander through nature to help you connect with yourself, you senses and the natural world around you.
The location alternates between Warriewood Wetlands and the rainforest section of the Narrabeen Lagoon.
During the activity there will be periods of silent mindful walking to practice connection with nature and opportunities to reflect on and share your experiences.
The benefits of Ecotherapy include:
Connect with nature to feel grounded and calm
Increase your ability to access creative thinking to help with important decision making
Understand the science – calming the nervous system and accessing the brains prefrontal cortex
Connecting to place and understanding that we are 'a part' of the earth not 'apart' from it
Mindful connection to the earth helps reduce feelings of anxiety, stress, fear, and depression
Mindful connection promotes feelings of joy, creativity, strength, and resilience
Totally free and easily accessible form of (self-guided) therapy to increase wellbeing
The Wetland walk goes slowly. The route is under 2km in total and the group will stop and start along the route.
Please note that the Warriewood location is not wheelchair friendly. To enjoy ecotherapy from a wheelchair, please attend our Narrabeen Lagoon location on an alternate date.
When: 10am – 12pm Wednesdays
Where: Warriewood Wetlands, Jacksons Rd, Warriewood NSW 2101. Meet on the footpath in front of the Wetlands Sign, Next to Warriewood Square Service Entrance.
Cost: Free
What to bring: Water, hat, sunscreen, mozzie repellent; and wear good footwear and clothing to keep you warm when sitting outside.
Contact information:
CCNB, Harriet Buddo; 0406 690 984
Narrabeen Ecotherapy walk:
Wednesday, 15 November 2023
- 10:00 am to 11:30 am
Where: Jamieson Park, The Esplanade, Narrabeen - Meet on the grass area to the right of the boat ramp at Jamieson Park.
Warriewood again on Wednesday, 22 November 2023 - 10:00 am to 11:30 am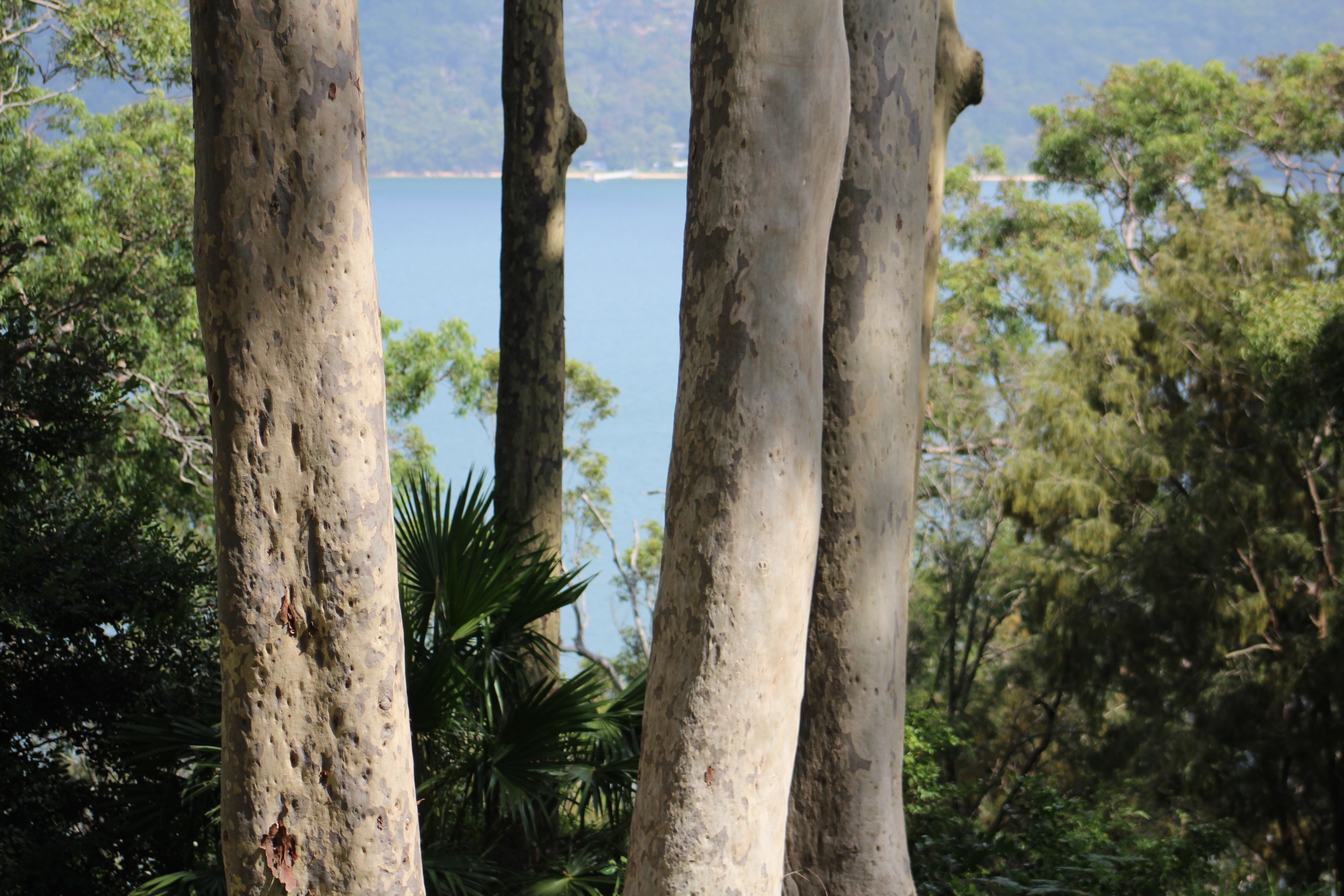 The Beatles - Now And Then - The Last Beatles Song (Short Film)
Now and Then's eventful journey to fruition took place over five decades and is the product of conversations and collaborations between the four Beatles that go on to this day. The long mythologised John Lennon demo was first worked on in February 1995 by Paul, George and Ringo as part of The Beatles Anthology project but it remained unfinished, partly because of the impossible technological challenges involved in working with the vocal John had recorded on tape in the 1970s.
For years it looked like the song could never be completed. But in 2022 there was a stroke of serendipity. A software system developed by Peter Jackson and his team, used throughout the production of the documentary series Get Back, finally opened the way for the uncoupling of John's vocal from his piano part. As a result, the original recording could be brought to life and worked on anew with contributions from all four Beatles.
This remarkable story of musical archaeology reflects The Beatles' endless creative curiosity and shared fascination with technology. It marks the completion of the last recording that John, Paul and George and Ringo will get to make together and celebrates the legacy of the foremost and most influential band in popular music history.
Video Director: Oliver Murray
Producers: Jonathan Clyde and Sophie Hilton
Original score: Paul Englishby
Sound Designer: Alastair Sirkett
Audio Restoration: Park Road Post Production
Now And Then: The Beatles
Why Seniors Need To Know About Gaslighting
It's been in the headlines in recent years, to the point where it was word of the year in 2022. But what does it mean?
The term "gaslighting" dates back a long time, but it has regained currency recently, generally in the context of violence against women.
The Merriam-Webster dictionary defines it as:
"Psychological manipulation of a person usually over an extended period of time that causes the victim to question the validity of their own thoughts, perception of reality, or memories and typically leads to confusion, loss of confidence and self-esteem, uncertainty of one's emotional or mental stability, and a dependency on the perpetrator."
Its origin is the 1938 play Gas Light, by British horror writer Patrick Hamilton, in which a husband tries to convince his wife that she is insane.
There were two film adaptations, the second and most famous in 1944 starring Charles Boyer and Ingrid Bergman. The recent focus on violence against women has given "gaslighting" a new lease on life – and Merrian Webster made it word of the year in 2022.
It is sometimes used to refer to a form of elder abuse, where it's aimed at older people to make them unsure, unconfident, and ultimately vulnerable to mental and emotional control and manipulation.
Catriona Davis-McCabe, president of the Australian Psychological Society, told the ABC that gaslighting can happen in all kinds of relationships and settings where one person wants to gain power over another.
"This might include intimate relationships, friendships, professional [relationships] with a boss or co-worker, even parent to child," she said.
Another form is "medical gaslighting", when a patient's concerns are unfairly dismissed or incorrectly labelled as psychological by their doctor.
The term is most commonly used in the context of intimate partner violence as a deliberate strategy to gain control over a victim.
Respect Victoria acting CEO Serina McDuff told the ABC that abusers often use "flat-out denial tactics" – often in response to claims of inappropriate behaviour.
Gaslighting can be difficult to spot – especially when you are the victim. People who use this as a form of abuse and control are adept at doing so in ways that happen over time.
The person using gaslighting may present very different to other people in their lives, as is often the case with men who use violence against women and could be well liked in the broader community.
Examples of gaslighting older people may include them being told:
"Your memory is starting to go."
"You're going mad in your old age."
"That never happened, you're crazy."
Manipulation is when the abuser makes their victim feel as if their only choice is to do whatever the abuser wants them to do.
The victim is made to feel that:
They owe something to the abuser.
They cannot live without the abuser.
They should feel guilty for doing something or not doing something.
Everyone except the abuser is against them.
Victims can feel that they have no option but to do what the abuser tells them to do.
With elderly people, this sort of gaslighting can be a strategy used by someone who wants control over their money. More than 60% of elder-abuse victims experience financial abuse.
This may involve the abuser:
Spending the victim's money without permission.
Misusing an Enduring Power of Attorney.
Making important financial decisions without consulting the victim.
Telling the victim they are too old to manage their own finances.
Ms McDuff says it's a red flag if you're feeling uncertain and made to feel confused or doubt yourself.
If you suspect that you are a victim of gaslighting, talk to someone you trust, or call 1800 RESPECT;
1800 737 732
"It can be important to pick up early, as it can also be an indication of some serious safety issues," Ms McDuff says.
If you suspect someone you know is a victim of gaslighting, Dr Davis-McCabe recommends talking to the person about what you are witnessing and letting them know you are concerned about them.
She suggests helping them make a safety plan, including things they can do to protect themselves if they feel unsafe, and encouraging them to seek professional help.
"Gaslighting is not part of any healthy relationship. The impact on victim-survivors can be devastating," Dr Davis-McCabe says.
Bulk Billing Incentives Commence From November 1: Will Provide Crucial Support For GPs And Patients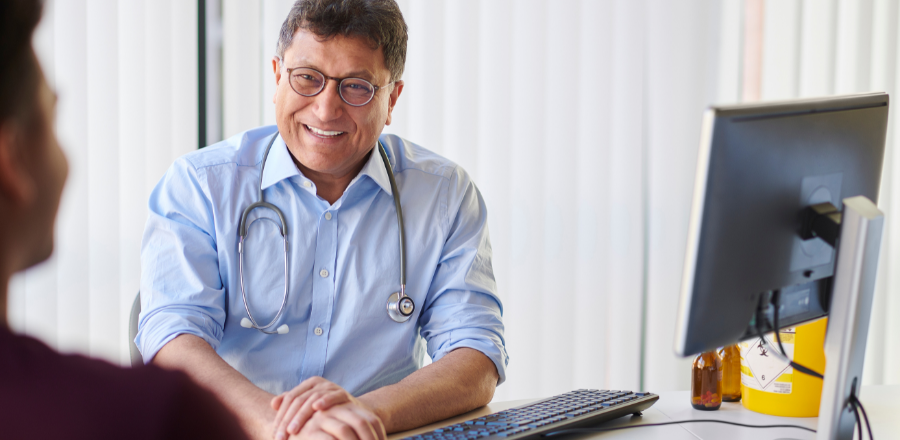 The Australian Medical Association welcomes significant increases to Medicare bulk billing incentives coming into effect today, providing much needed cost-of-living relief for millions of Australians.
AMA President Professor Steve Robson said the decision to triple the bulk billing incentive for most standard GP consultations, announced in the May budget, was evidence of the government's real commitment to providing more support for patients who need to see a GP.
"The AMA campaigned strongly for this extra funding, and we are pleased the federal government is taking a positive step towards investing in general practice to improve access to care," Professor Robson said.
"This significant investment, equalling $3.5 billion over five years, is the starting point for improving the sustainability of general practice in Australia and was part of a significant package of measures in the federal budget designed to reform and support general practice.
"But we know more work can be done. We will continue working with the government on developing new programs and initiatives that strengthen primary care and ensure GP-led care is affordable and accessible for all patients."
From today, GPs will receive triple the incentive to bulk bill vulnerable patients for most standard GP consultations. In metro areas, the incentive for a standard consultation will rise from $6.85 to $20.65 and in very remote areas it will rise from $13.15 to $39.65.
It will deliver an additional estimated $3.5 billion over five years to support affordable access to GP care for a range of patients, including some of the most vulnerable.
Bulk billing incentives are available for concession card holders and children under 16.
AMA Vice President Dr Danielle McMullen said increasing the bulk billing incentives would provide vital funding support for general practice after years of neglect from successive governments.
"Tripling the bulk billing incentives is a good place to begin restoring affordable access to primary care, as it will provide targeted cost-of-living relief for patients who need it most," Dr McMullen said.
"While GPs remain free to determine their own fees, these changes will go some way to addressing the growing social inequities as Australia's GP bulk billing rates continue to decline."
Dr McMullen encouraged all practices to ensure their software systems are up to date as the AMA works with the Health Department to ensure a smooth rollout of the increased incentives.
Two Australian Native Bee Species Become One As Researchers Solve Identity Puzzle
A new study by Curtin and Flinders Universities has found that what were thought to be two different species of native Australian bee are in fact one.
Lead researcher Dr Kit Prendergast from the Curtin School of Molecular and Life Sciences said the study, based on native bee surveys at Perth locations of Wireless Hill, Shenton Park and Russo Reserve, fundamentally alters previous thinking.
"Essentially the research team used DNA sequencing to show that what we used to think of as two different species of bees are actually just the males and females of one, single species," Dr Prendergast said.
"For many native bee species in Australia, their descriptions were based on only one sex. Identifying males and females as belonging to the same species solely through observation can be challenging, as both sexes of the same species often display noticeable differences.
"In this study, I collected what appeared to be the female of a bee species that has been described only from the male -- a species at the time called Xanthesma (Xenohesma) perpulchra. The team then used DNA analysis to confirm these female bees were in fact the same species as the male.
"Surprisingly, their DNA also matched another species, that had only ever been described from the female -- the Xanthesma (Xanthesma) brachycera, so we were able to prove that the two were in fact the same species.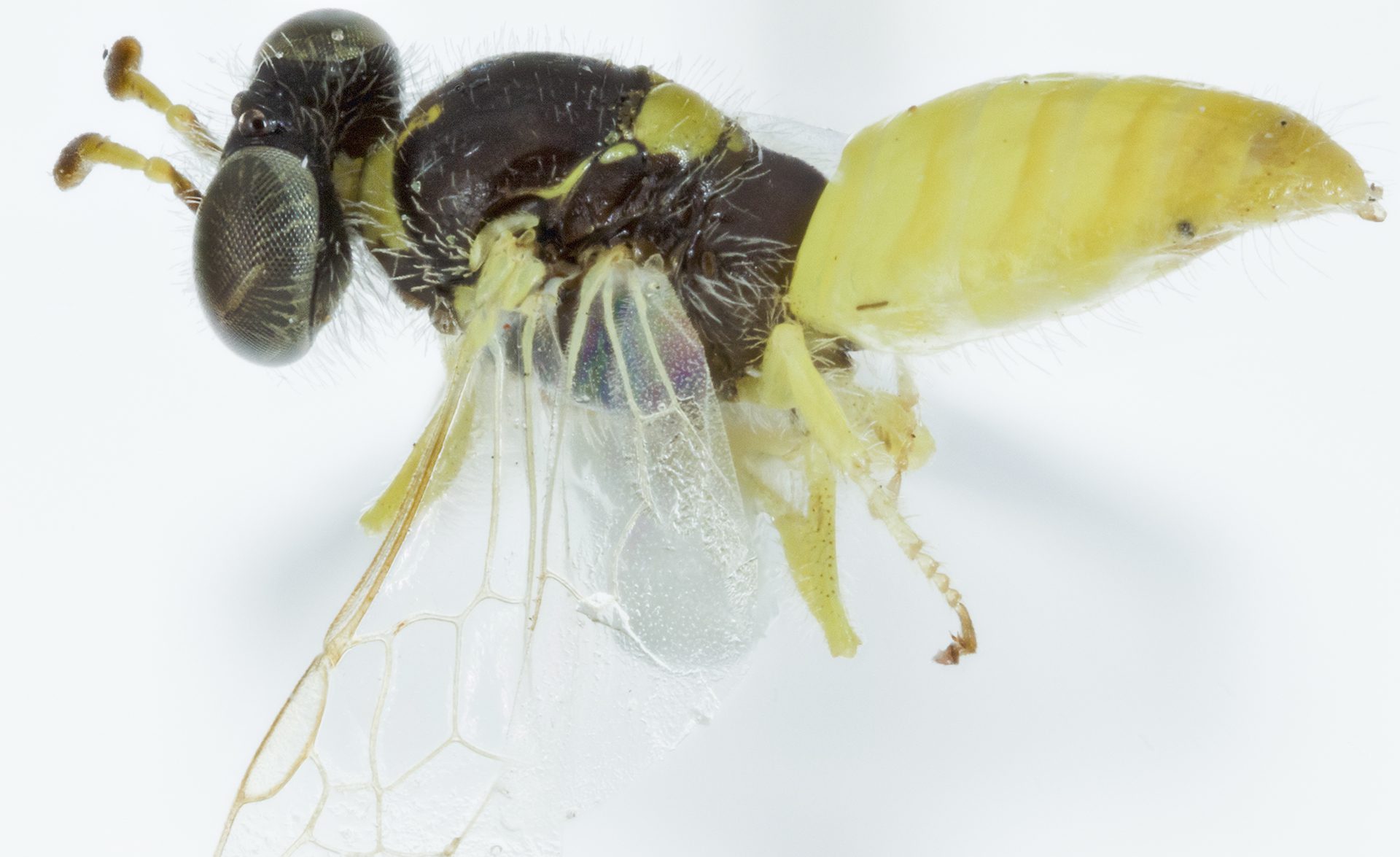 The male Xanthesma (Xenohesma) brachycera. Photo: Curtin University

"It appears both sexes had never been collected in the same place at the same time, and both were described in the early 1900s, well before the advent of DNA analysis."
Dr Prendergast said the findings showed the value of DNA barcoding in accurately identifying males and females that belong to the same species. This is particularly crucial because males and females of the same species may have distinct appearances, while different species of the same sex can appear quite similar.
"Our findings are significant because being able to correctly identify species is fundamentally important to virtually every aspect of biological sciences," Dr Prendergast said.
"Accurate species identification enables us to determine how many species are present in an area, helps us understand the evolution of life on earth, and how species are related. It also allows us to assess conservation needs.
"We hope this research is just the tip of the iceberg when it comes to the taxonomy of Australian native bees, and that it inspires agencies and government to invest in more taxonomic work, especially on the Euryglossinae, which is an important, yet understudied group of bees native to Australia."
Kit Prendergast, James Dorey.
Xanthesma (Xenohesma) perpulchra and Xanthesma (Xanthesma) brachycera are conspecific based on DNA barcodes.
Australian Journal of Taxonomy, 2023; 39: 1 DOI:
10.54102/ajt.df83w
Microplastics' Shape Determines How Far They Travel In The Atmosphere
Micron-size microplastic debris can be carried by the jet stream across oceans and continents, and their shape plays a crucial role in how far they travel.
Just like the land and the ocean, the atmosphere is marred by a variety of pollutants. In recent years, a new form has been identified: micron-size microplastic debris that can be carried by the jet stream across oceans and continents.
A Cornell collaboration has developed a model to simulate the atmospheric transport of microplastic fibres and found that their shape plays a crucial role in how far they travel. While previous studies assumed these fibres to be spherical, the research shows that flat fibres are more prevalent and travel farther in the lower atmosphere.
The modelling has the potential to help scientists determine the sources of the pervasive waste – which could inform policy efforts to reduce it.
The group's paper, "Long-Distance Atmospheric Transport of Microplastic Fibres Influenced by Their Shapes," published Sept. 25 in Nature Geoscience. The lead author is former postdoctoral researcher Shuolin Xiao.
Atmospheric microplastics result from a range of sources, from shredded tires and road dust to soda bottles bobbing along in the ocean. If the plastic disintegrates or gets ground up, it can become tiny enough to be carried by the wind.
The project began when Qi Li, assistant professor in the Department of Civil and Environmental Engineering in Cornell Engineering and senior author of the paper, reached out to Natalie Mahowald, the Irving Porter Church Professor in Engineering. Li's lab explores environmental fluid mechanics and hydrology, primarily as they relate to Earth's lower atmosphere, and she was intrigued by Mahowald's recent research, along with co-author Janice Brahney of Utah State University, into the movement of airborne microplastics. Li also consulted Donald Koch, professor in the Smith School of Chemical and Biomolecular Engineering, who had studied the fundamental fluid dynamics of how fibers settle in turbulence.
"I realized, with my postdoc, that the current global climate models have been assuming that the shape of these fibres are spheres," Li said. "We do not have, to date, a computationally feasible way of representing the settling velocity of these elongated fibres."
By combining Koch's theoretical insights with the extensive measurement data Mahowald and Brahney had collected, Li and Xiao set out to create a more rigorous system of analysis.
The result was a theory-based settling velocity model that could incorporate large-scale climate models, which revealed two key findings. Essentially, by treating flat fibers as spherical or cylindrical shaped, prior studies had overestimated their rate of deposition. Factoring in the fibres' flat shape means they spend 450% more time in the atmosphere than previously calculated, and therefore travel longer distances.
The researchers also found that flat fibres comprised the majority of the microplastic particles Mahowald and Brahney had collected.
In addition, the modeling suggests the ocean may play a larger role in emitting microplastic aerosols directly into the atmosphere than previously known, according to Li.
"We can now more accurately attribute the sources of microplastic particles that will eventually come to be transported to the air," she said. "If you know where they're coming from, then you can come up with a better management plan and policies or regulations to reduce the plastic waste. This could also have implications for any heavy particles that are transported in the lower atmosphere, like dust and pollen."
Doctoral student Yuanfeng Cui was a co-author.
The research was supported by the National Science Foundation, and computational resources were provided by the National Center for Atmospheric Research.
Shuolin Xiao, Yuanfeng Cui, Janice Brahney, Natalie M. Mahowald, Qi Li.
Long-distance atmospheric transport of microplastic fibres influenced by their shapes
. Nature Geoscience, 2023; 16 (10): 863 DOI:
10.1038/s41561-023-01264-6
Specific Gut Bacteria Increase Risk Of Severe Malaria
Indiana University School of Medicine researchers have identified multiple species of bacteria that, when present in the gut, are linked to an increased risk of developing severe malaria in humans and mice. Their findings, recently published in Nature Communications, could lead to the development of new approaches targeting gut bacteria to prevent severe malaria and associated deaths.
Malaria is a life-threatening infectious disease caused by parasites transmitted through the bite of infected mosquitoes. According to the World Health Organization's latest World Malaria Report, an estimated 619,000 people died from malaria globally in 2021, with 76% of those deaths occurring in children age 5 or younger.
IU School of Medicine's Nathan Schmidt, PhD, an associate professor of paediatrics with the Ryan White Center for Paediatric Infectious Disease and Global Health and the Herman B Wells Center for Paediatric Research, said previous efforts to combat the disease have led to several advancements in malaria treatment and prevention, including new vaccines and antimalarial drugs, insecticides to manage mosquito populations and improved health care processes. However, he said new developments are desperately needed because the gains made in decreasing malaria-related deaths between the early 2000s and late 2010s have plateaued over the last five years.
"This plateau highlights the need for novel approaches to prevent malaria-related fatalities," said Schmidt, whose research lab is focused on investigating this global health crisis and its critical impact on children. "Presently, there are no approaches that target gut microbiota. Therefore, we believe that our approach represents an exciting opportunity."
In a pivotal 2016 article published in PNAS, Schmidt and his colleagues made a ground-breaking discovery in their experimental models: the gut microbiota has the capability to influence the severity of malaria. This revelation ignited their determination to pinpoint the precise microorganisms, called "Bacteroides," within the intestinal tract that orchestrate this effect.
In their latest study, the researchers found mice harbouring particular species of Bacteroides were notably associated with an elevated risk of severe malaria. A similar correlation was also observed in the intestinal tracts of children afflicted with severe malaria.
Most of the Schmidt lab's research has been conducted using mouse models of malaria. Thanks to collaboration with several colleagues in the field, the research team was able to extend its observations by studying approximately 50 children with malaria in Uganda. They plan to continue their clinical observations by working with a cohort of over 500 children with malaria.
This collaboration was made possible by the joint efforts of Chandy John, MD, MS, of IU School of Medicine; Ruth Namazzi, MB ChB, MMEd, of Makerere University; and Robert Opoka, MD, MPH, of Global Health Uganda. Together, they are evaluating how severe malaria may affect child neurodevelopment by studying children from households with a history of severe malaria. While these children may not display any symptoms of illness, some carry the malaria parasite in their blood, allowing researchers to explore risk factors associated with the development of severe malaria, including variations observed in the microbiome.
"Dr. Namazzi, Dr. Opoka and I aren't experts in the microbiome, so we collaborated with Nathan [Schmidt] on this part of the study since he is an expert," said John, who is the Ryan White Professor of Pediatrics at IU School of Medicine. "I believe Nathan's findings are important because they point to the possibility that certain bacteria or combinations of bacteria in the gut may predispose a child to severe malaria. This opens the way to thinking about how we might alter those combinations in the gut to try to protect children from severe malaria."
In addition to studying the expanded cohort in Uganda, Schmidt and his team will also collaborate with researchers in Malawi and Mali to get a broader sense of trends present between gut microbiota and malaria across Africa.
"Beyond our efforts to assess the contribution of gut bacteria towards severe malaria in diverse African populations, we have initiated pre-clinical efforts to target gut bacteria that cause susceptibility to severe malaria," Schmidt said. "Our long-term aspiration is to move a treatment into the clinic."
Rabindra K. Mandal, Anita Mandal, Joshua E. Denny, Ruth Namazii, Chandy C. John, Nathan W. Schmidt.
Gut Bacteroides act in a microbial consortium to cause susceptibility to severe malaria.
Nature Communications, 2023; 14 (1) DOI:
10.1038/s41467-023-42235-0
Humans Are Disrupting Natural 'Salt Cycle' On A Global Scale New Study Shows
The planet's demand for salt comes at a cost to the environment and human health, according to a new scientific review led by University of Maryland Geology Professor Sujay Kaushal. Published in the journal Nature Reviews Earth & Environment, the paper revealed that human activities are making Earth's air, soil and freshwater saltier, which could pose an "existential threat" if current trends continue.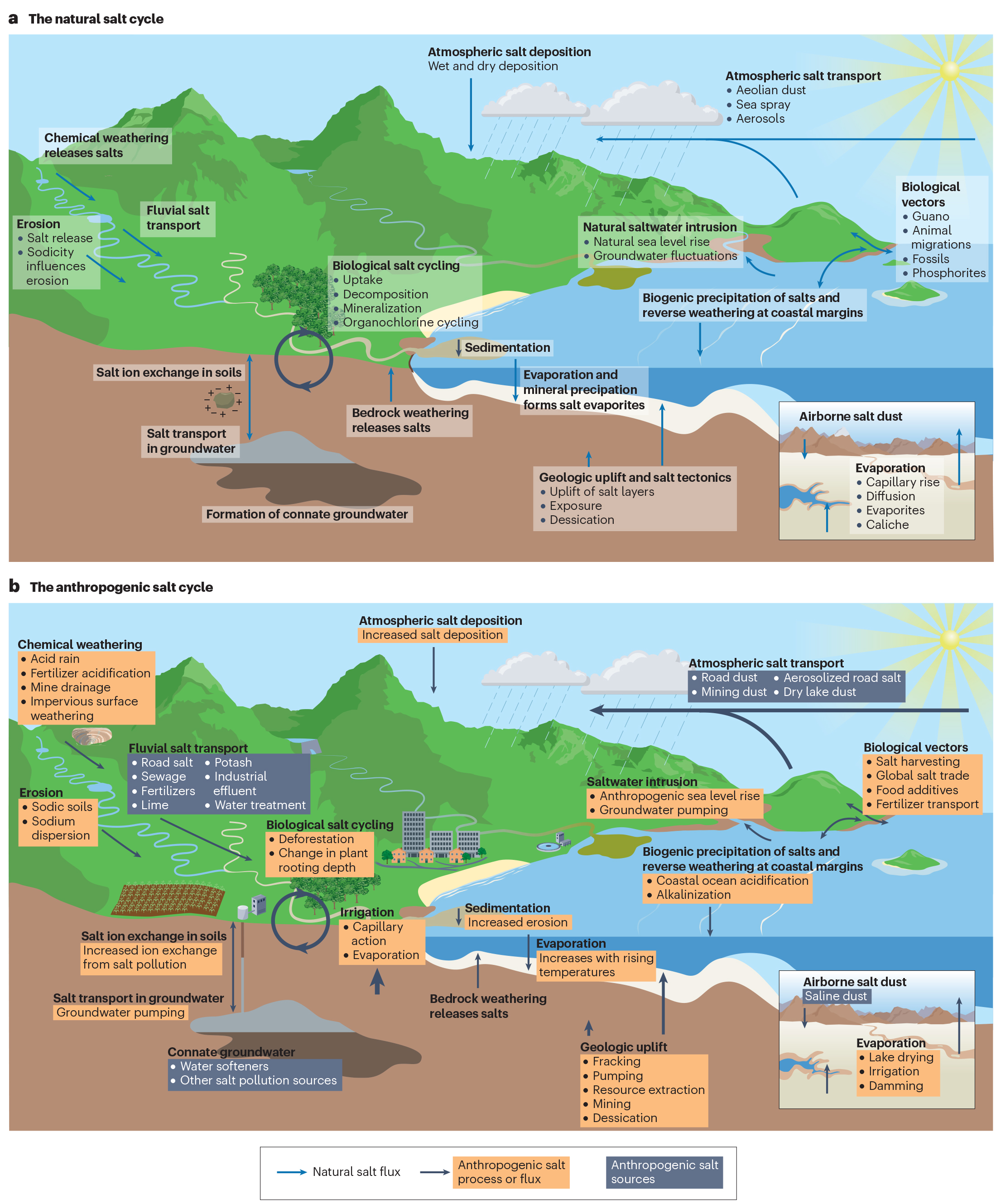 Image: The natural salt cycle is characterised by the uplifting of salts to Earth's surface and the weathering and transport of salts to the oceans. Humans accelerate these natural processes through mining and resource extraction, which also sends more saline dust into the atmosphere. Image:
University of Maryland
Geologic and hydrologic processes bring salts to Earth's surface over time, but human activities such as mining and land development are rapidly accelerating the natural "salt cycle." Agriculture, construction, water and road treatment, and other industrial activities can also intensify salinization, which harms biodiversity and makes drinking water unsafe in extreme cases.
"If you think of the planet as a living organism, when you accumulate so much salt it could affect the functioning of vital organs or ecosystems," said Kaushal, who holds a joint appointment in UMD's Earth System Science Interdisciplinary Center. "Removing salt from water is energy intensive and expensive, and the brine byproduct you end up with is saltier than ocean water and can't be easily disposed of."
Kaushal and his co-authors described these disturbances as an "anthropogenic salt cycle," establishing for the first time that humans affect the concentration and cycling of salt on a global, interconnected scale.
"Twenty years ago, all we had were case studies. We could say surface waters were salty here in New York or in Baltimore's drinking water supply," said study co-author Gene Likens, an ecologist at the University of Connecticut and the Cary Institute of Ecosystem Studies. "We now show that it's a cycle -- from the deep Earth to the atmosphere -- that's been significantly perturbed by human activities."
The new study considered a variety of salt ions that are found underground and in surface water. Salts are compounds with positively charged cations and negatively charged anions, with some of the most abundant ones being calcium, magnesium, potassium and sulfate ions.
"When people think of salt, they tend to think of sodium chloride, but our work over the years has shown that we've disturbed other types of salts, including ones related to limestone, gypsum and calcium sulfate," Kaushal said.
When dislodged in higher doses, these ions can cause environmental problems. Kaushal and his co-authors showed that human-caused salinization affected approximately 2.5 billion acres of soil around the world -- an area about the size of the United States. Salt ions also increased in streams and rivers over the last 50 years, coinciding with an increase in the global use and production of salts.
Salt has even infiltrated the air. In some regions, lakes are drying up and sending plumes of saline dust into the atmosphere. In areas that experience snow, road salts can become aerosolized, creating sodium and chloride particulate matter.
Salinization is also associated with "cascading" effects. For example, saline dust can accelerate the melting of snow and harm communities -- particularly in the western United States -- that rely on snow for their water supply. Because of their structure, salt ions can bind to contaminants in soils and sediments, forming "chemical cocktails" that circulate in the environment and have detrimental effects.
"Salt has a small ionic radius and can wedge itself between soil particles very easily," Kaushal said. "In fact, that's how road salts prevent ice crystals from forming."
Road salts have an outsized impact in the U.S., which churns out 44 billion pounds of the deicing agent each year. Road salts represented 44% of U.S. salt consumption between 2013 and 2017, and they account for 13.9% of the total dissolved solids that enter streams across the country. This can cause a "substantial" concentration of salt in watersheds, according to Kaushal and his co-authors.
To prevent U.S. waterways from being inundated with salt in the coming years, Kaushal recommended policies that limit road salts or encourage alternatives. Washington, D.C., and several other U.S. cities have started treating frigid roads with beet juice, which has the same effect but contains significantly less salt.
Kaushal said it is becoming increasingly important to weigh the short- and long-term risks of road salts, which play an important role in public safety but can also diminish water quality.
"There's the short-term risk of injury, which is serious and something we certainly need to think about, but there's also the long-term risk of health issues associated with too much salt in our water," Kaushal said. "It's about finding the right balance."
The study's authors also called for the creation of a "planetary boundary for safe and sustainable salt use" in much the same way that carbon dioxide levels are associated with a planetary boundary to limit climate change. Kaushal said that while it's theoretically possible to regulate and control salt levels, it comes with unique challenges.
"This is a very complex issue because salt is not considered a primary drinking water contaminant in the U.S., so to regulate it would be a big undertaking," Kaushal said. "But do I think it's a substance that is increasing in the environment to harmful levels? Yes."
Sujay S. Kaushal, Gene E. Likens, Paul M. Mayer, Ruth R. Shatkay, Sydney A. Shelton, Stanley B. Grant, Ryan M. Utz, Alexis M. Yaculak, Carly M. Maas, Jenna E. Reimer, Shantanu V. Bhide, Joseph T. Malin, Megan A. Rippy.
The anthropogenic salt cycle.
Nature Reviews Earth & Environment, 2023; DOI:
10.1038/s43017-023-00485-y
High Engagement, High Return: The Secret To Student Success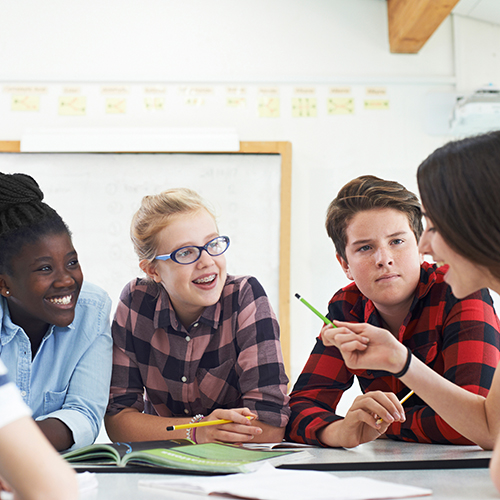 High engagement, high return. That's the advice from education experts at the University of South Australia for teachers looking to improve student outcomes.
In a new study conducted in partnership with Flinders University and Melbourne Graduate School of Education, researchers found that less than a third of teachers are engaging students in complex learning, limiting student opportunities for building critical thinking and problem solving.
Filming and assessing the content of classrooms across South Australia and Victoria, researchers found that nearly 70% of student tasks involved superficial learning -- simple question and answers, taking notes, or listening to teachers -- rather than activities that engage students on a deeper level.
UniSA researcher, Dr Helen Stephenson, says teachers need more support to plan interactive and constructive lessons that promote deep learning.
"When we look at learning, the greater the engagement, the deeper the learning. But too often students are doing low-engagement, passive work," Dr Stephenson says.
"In our study, around 70% of classroom content was considered 'passive' (where students had little observable input) or 'active' where they may have been doing something simple, like answering questions on a fact sheet.
"While there is certainly a place for such tasks in a classroom, student learning is much improved when students spent more time engaging in complex activities that promote deep and conceptual learning.
"Deep learning requires the organisation of knowledge into conceptual structures, which we know improves the retention of information and therefore improves learning outcomes. Deep learning also supports knowledge that's needed for innovations.
"Small changes to teachers' existing lesson plans and teaching can significantly increase student engagement and consequently their overall results.
"At a base level, teachers need to consider how they can adjust their existing classroom activities so that more tasks are on the deeper end of the learning scale.
"Take for example, watching a video. Students can silently watch a video (which is 'passive'); watch a video and take notes using the presenter's words (which is considered 'active'); write questions that arise for them while watching the video (which is 'constructive'); or watch a video and discuss it with another student to generate different ideas (which is 'interactive').
"Interactive engagement in classrooms is where students are involved in activities with other students that stimulate them to develop deeper understanding. They're making judgements, proposing and critiquing arguments and opinions, and working out solutions to problems. These activities can also help them to develop critical thinking and reasoning skills…all of which are predictors of improved learning."
Interestingly, one of the main findings of the research was that many teachers seemed not to know or fully appreciate the importance of how their lesson tasks could stimulate different modes of student engagement.
"Even changing class activities from 'active' to 'constructive' can go a long way towards improving student learning," Dr Stephenson says.
"Teachers should be supported to undertake professional development to shift their thinking towards practices that support deeper learning and better outcomes for students."
Stella Vosniadou, Michael J. Lawson, Erin Bodner, Helen Stephenson, David Jeffries, I Gusti Ngurah Darmawan.
Using an extended ICAP-based coding guide as a framework for the analysis of classroom observations.
Teaching and Teacher Education, 2023; 128: 104133 DOI:
10.1016/j.tate.2023.104133
Disclaimer: These articles are not intended to provide medical advice, diagnosis or treatment. Views expressed here do not necessarily reflect those of Pittwater Online News or its staff.