September
15 - 21, 2019: Issue 421
Bilgola SLSC Celebrates 70 Years: Some Anecdotes From Early Members

Bilgola SLSC 70th Anniversary Celebration
Hosted by Bilgola Surf Life Saving Club Inc
Saturday, September 21, 2019 at 6 PM – 9 PM
Bilgola Beach Surf Club
Tickets: $20
Festivities start from 6.00pm
Speeches from 7.30pm
Dress: Beach Cocktail
Limited Complimentary Bar
Entertainment by the Walking Canes
Finger food by Silver Spoon Service
We hope you can join us on this special occasion - this is a child friendly event! With a magic show for the kids...
Celebrate 70 years of Bilgola SLSC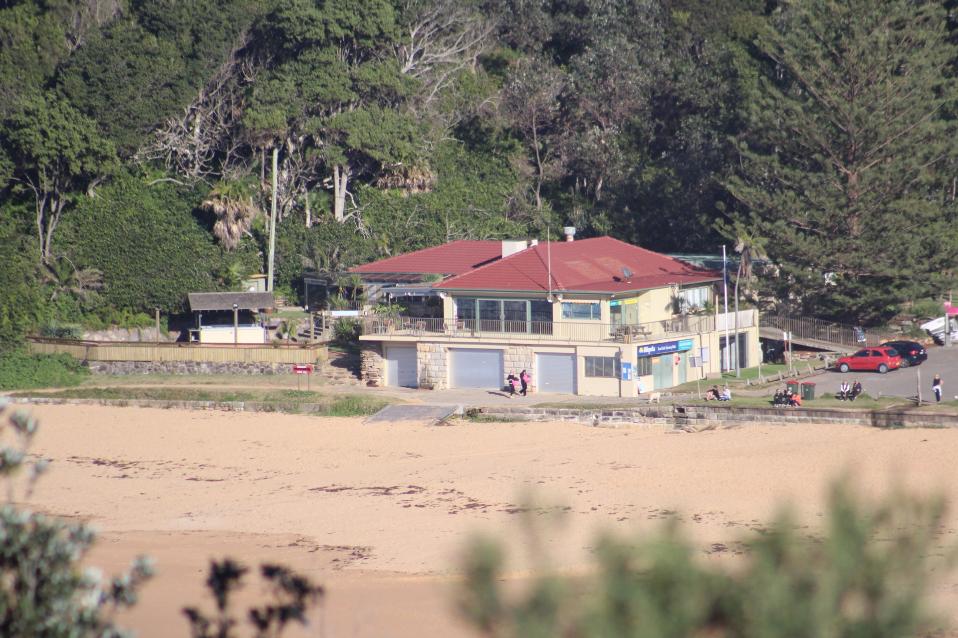 Next weekend Bilgola SLSC celebrates 70 years of saving lives at Bilgola and the formation of a club marked for its focus on family. Bilgola is known as an initiator of new ways to save lives, being one of the local places the trials for Unmanned Aerial Vehicles (UAVs) or "Drones", also called
Little Ripper
.
This is a long way from the Summer of 1949 when Life Member and past President David Lyall PSM ESMM FAIB, who first came to Palm Beach during WWII and then, afterwards, to Bilgola.
As David said in his 2018 interview:
In 1949, due to my friends at Shore, I ended up at Bilgola Beach for the school holidays at Christmas. In December we were on the beach and were approached by a couple of locals; 'do you want to join a surf club?'.
So instead of going to Palm Beach I became a foundation and original member at Bilgola.
Bilgola started in 1949.
I started off as a junior, then Gear Steward, Captain, President and Life Member.
Bilgola SLSC's 1st annual report
David at Bilgola - surf ski riding!
At Coolangatta in 1954
When I first started we ran a lot of functions at Bilgola. We would close off Allan Avenue. We held concerts to raise money. We even sold hot water on the reserve to people coming in for the day for picnics – all to raise money for the club.
The gear at the club was at that stage stored in the garage of the Dr. Oag family, one of the families who had a house on the beach. Their sons Colin and Ian were original members.
After that we had a tent for storage in the laneway that went down between Bilgola House and the beach. Then Avalon surf club gave us a surf boat, which we affectionately called 'Irene' and it was decided we needed a clubhouse. An architect was engaged, pro bono.
In 1952 the lady who owned Bilgola House offered that premises and its site, plus the land all the way back to the Serpentine, for 18 thousand pounds. The committee of then decided 'why should we spend all the money we've made, plus borrow more, when the council is going to give us some land over on the reserve and we can build a clubhouse there.'
So the then Warringah Shire Council of those days very graciously put two pegs in where the clubhouse could be built. The pegs were placed right against where the club's barbecue currently is, on that lawn, and along the cliff-face. Luckily, two members, unknown, got slightly inebriated one night and went and quietly moved the pegs to something that wasn't under the cliffs.
One of the members, Jim Robinson Scott, then borrowed a bulldozer from his firm and bulldozed the site of the present clubhouse.
At that stage there were two tradesmen in the club, Syd Fischer and myself. Fortunately all the other members were so enthusiastic we built the bottom half of that clubhouse ourselves with the help of Midge Gonsalves, the stonemason from Palm Beach.
For the second part we let a contract, which was the top floor, and then it was duly opened – which you have published the newspaper records of.
In those days a night at Bilgola on New Years Eve was big. Over a thousand people would turn up.
There were some funny occasions among these. As mentioned, we would close off the reserve and collect money from people coming in. A lot of people would still try and get in without paying, gate-crashing, and would come down the drain that ran beside Bilgola House. We had a couple of, shall we say 'larger' type of members, at the end of the drain ready to greet them. You could hear them coming.
The club had always held the premise in all of its fundraising works that it would do something for the club and it would do something for the community. We knew we must always have an interest going forward, or ahead, to keep members occupied and engaged in what we stand for.
So we decided to build a swimming pool.
We looked into that and decided that the rocks above where we wanted to place it were unstable. We decided we could knock down those rocks and use these to build a wall around the pool without even having to touch the bottom of the pool.
The council then got involved and instead of taking that easy way out they let a contract for a firm who decided to use the rubble from the expressway approaches to the Harbour Bridge to build it. The club helped finance the pool.
So this was another achievement of club and community working to get something in place that would work going forward.
The other thing we did when we started that club was to put the facilities in that enable the Avalon-Bilgola Swimming Club to commence. This great club still exists and still have their premises within the club building.
Yes. That was a bit of a fuss over nothing. We sat up on the north headland at Bilgola to watch it, expecting something big and dramatic, a large explosion, and it was a bit of a fizzer.
The next extension for the clubhouse went out the southern side and this was financed by the council, and pushed through by one of the councillors who then spent a little bit of holiday time out at Long Bay.
I designed this. You may know it has a very obtuse angle at one side. This was put in place so that we could then go out to the east and make a full horseshoe structure for the clubhouse. Those plans are still in everybody's mind and we hope to get around to it one day.
David Lyall
Although there was a weekender used by Mr. Watts at Bilgola, he didn't own all the lands and people would come to camp, including motorcyclists. Arthur Billerwell is associated with the Kookaburra Motorcycle Club, inaugurated in 1910, which had camping ground on Bilgola Beach thanks to him. A little more about him:
THE KOOKABURRA'S SECRETARY,
MR. A. BILLERWELL.
Mr. Arthur 'Billerwell is another motor-cyclist ,who graduated from the ranks of the amateur racing cyclist. A few years ago, he was a prominent North Sydney rider, and occupied a position very near scratch in the company of such riders as A. Biden, who, for several years, held the N.S. Wales record for 20 miles on the road, and was always a competitor with whom no liberties could be taken. Mr. Billerwell, however, was one of the less fortunate riders as a cyclist, for, in spite of his abilities, very few prizes came his way.
Taking up motor-cycling a few years ago, Mr. Billerwell was one of the moving spirits in forming the Kookaburra Club, and was, at its first meeting, elected secretary, a position he has filled ever since. Like many of his club mates, Mr. Billerwell has not confined his athletic energies to one branch, having taken part in a number of swimming events as a member of the Mosman Club ; he is also a skilful surfer. Not long ago, after a long period of motor-cycling, he demonstrated that he had not entirely forgotten how to pedal by riding a hard pursuit match — in which two cyclists start at opposite sides of a track, and ride in pursuit of each other until the agreed on distance is covered — with Mr. F. S. Roberts at St. Ives, on a rough pony track. He is also credited by those who know him with a leaning towards naturalistic studies, being quoted as something of an authority on the habits of ants. THE KOOKABURRA'S SECRETARY, (1913, February 9). Sunday Times (Sydney, NSW : 1895 - 1930), p. 18. Retrieved from http://nla.gov.au/nla.news-article126460786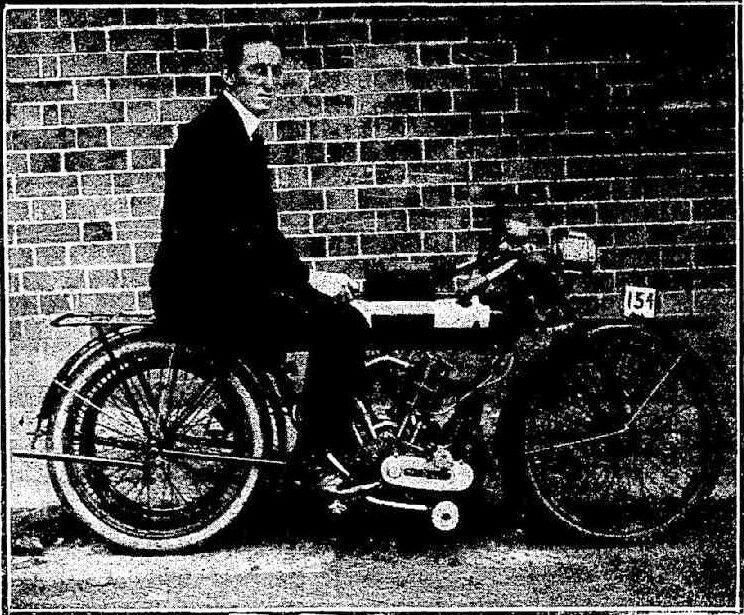 MR. ARTHUR BILLERWELL, Hon. Sec. of the Kookaburra Motor-Cycle Club.MOTORS & MOTORING. (1913, February 9). Sunday Times (Sydney, NSW : 1895 - 1930), p. 18. Retrieved from http://nla.gov.au/nla.news-article126460708
KOOKABURRA MOTOR-CYCLE CLUB. This club has made an important move recently by securing a site for a permanent clubhouse at Newport, where 7 ½ acres of land have been purchased by the camping section at Bilgola, having easy access to the beach. The property purchased is described as picturesque, and possessing many attractive features for those motor-cyclists who have a leaning towards Nature, and its extent will permit of its being made particularly valuable in the future. It is intended to erect a bungalow club-house at once, the building having two rooms and a kitchen, as well as wide verandahs on each side for 'sleeping out.' In addition there will be a smoke room, separated from the main building, in a position where Nature has already almost provided a room. The dining-room and outdoor kitchen are also to be situated a little distance away from the club house, in a beautiful palm grove, close beside the banks of a creek of pure, freshwater. Besides these buildings, the plans include these of a garage with a suitable work bench to permit of members overhauling their motorcycle engines on wet days. The club-house will no doubt be the rendezvous of the Kookaburras during the Summer months. The Kookaburra Club's committee has decided, on account of the bad state of the roads, to make a centre to which the majority of club runs will be held. The plan selected, has not been divulged at present, but it is stated it offers facilities for football, cricket, or other outdoor games, as well as motorcycle frolics; and two out of every month's week-end runs are to be to it. The other runs will include a week-end tour and a visit to such old motor-cycling haunts as Windsor, Appin, Springwood, etc.-
The migration of Kookaburras from their present Summer quarters is promised for April 13 and once again the birds find themselves connected with mystic 13. It has frequently been commented on how this club flirts with the supposedly unlucky number. The club will hold the opening run of its touring season on April 19 and 20.
ON TOUR. Messrs. A. G. Biden and R. Readford are away at present on a holiday, at Oberon. They rode up on their motor-cycles, and report having found a 'teaser' of a new hill on the way up. At present they are enjoying great relaxation among the rabbits and other game.
A NEW MOTOR-CYCLE CLUB.
At a meeting held on Wednesday evening, a new motor-cycle club, called the Britannia, was formed successfully, about 25 members being enrolled. Mr. A. A. Levi was appointed Hon. secretary, and Mr. d. A. Zink Hon. treasurer/ both pro 'tern. A further meeting is to be -held on Wednesday evening at the Volunteer Hotel, George-street, when other office bearers will be elected. The club's opening run is to take place to-day, leaving the Glaciarium for Newport via Manly at 9.30 a.m. KOOKABURRA MOTOR-CYCLE CLUB. (1913, April 6).Sunday Times (Sydney, NSW : 1895 - 1930), p. 21. Retrieved from http://nla.gov.au/nla.news-article126462062
Following on from placing Newport Beach in public hands Warringah Shire Council sought to ensure other beaches were also part of the public's lands.
BILGOLA BEACH.
PROPOSED RESUMPTION OF FORESHORES.
GEAR INSPECTIONS.
After WWII Pittwater provided an affordable means for newly married couples, kept apart for so long by this conflict, to purchase a block of land, construct a dwelling of some kind from hard won materials in post-war scarcity, and begin to have the families they had dreamed of. This generation, after having served for so long, then began serving Australia anew by building the infrastructure of community. Part of this building, in this case of Bilgola, was to construct a life saving team that began its first official patrol in the summer of 1949.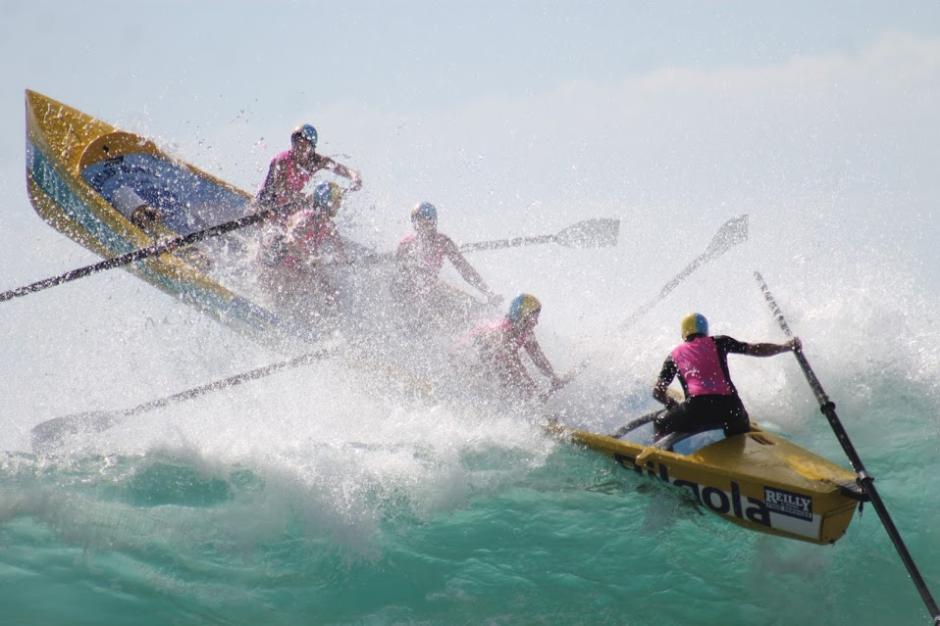 Bilgola SLSC in surf boat action - local SLS SNB Preimership - photo by A J Guesdon.