inbox and environment news: Issue 559
October 23 - 29, 2022: Issue 559
Impacting Pittwater - Have Your Say + Discussions + new works:
You Are Invited: Youth Congress This November
Are you passionate about the environment? Want action on climate change? And social justice? Join a group of like-minded young people and register for the award-winning environmental congress "Youth Leading the World". The three-day event on the Northern Beaches provides great leadership opportunities for students.
"YOUth LEADing the World" informs and inspires young people to step up and actively create solutions for the big issues of our times while connecting with like-minded peers.
When:
5th & 6th November (Congress) and 13th November 2022 (Community Forum)
Where:
The Coastal Environment Centre, Garigal Country – Narrabeen
Vanessa Moskal
is passionate about the environment has been a part of OzGreen for over 10 years since the first YOUth LEADing the World in 2009. She loves how the award-winning program has grown. In addition to OzGreen, in 2008 Vanessa represented Australia at the Youth Precursor to the G8 Delegation in Hokkaido, Japan. Following this, she became the youngest person elected to Warringah Council at 21 years old, serving for five years in local government. Now a compliance officer in Carbon abatement with National Carbon Bank of Australia, Vanessa is dedicated to emmissions targets to reduce the impacts of Climate Change. Vanessa is committed to supporting young leaders and believes in the YOUth LEADing the World program to inspire.
Kylie Hitchman
is a systemic psychologist and family therapist with 35 years of experience as a workshop facilitator, counsellor, supervisor, clinical trainer, and university ethics tutor Kylie has run deep ecology workshops at international Bioethics conferences, activist support networks, in high schools and bushland retreats. She has spent time working with students experiencing eco-anxiety at Headspace, Relationships Australia, RNSH Child, Adolescent Family Service and the Royal Far West Health Service. Her work is focussed on supportive regenerative wellbeing practices.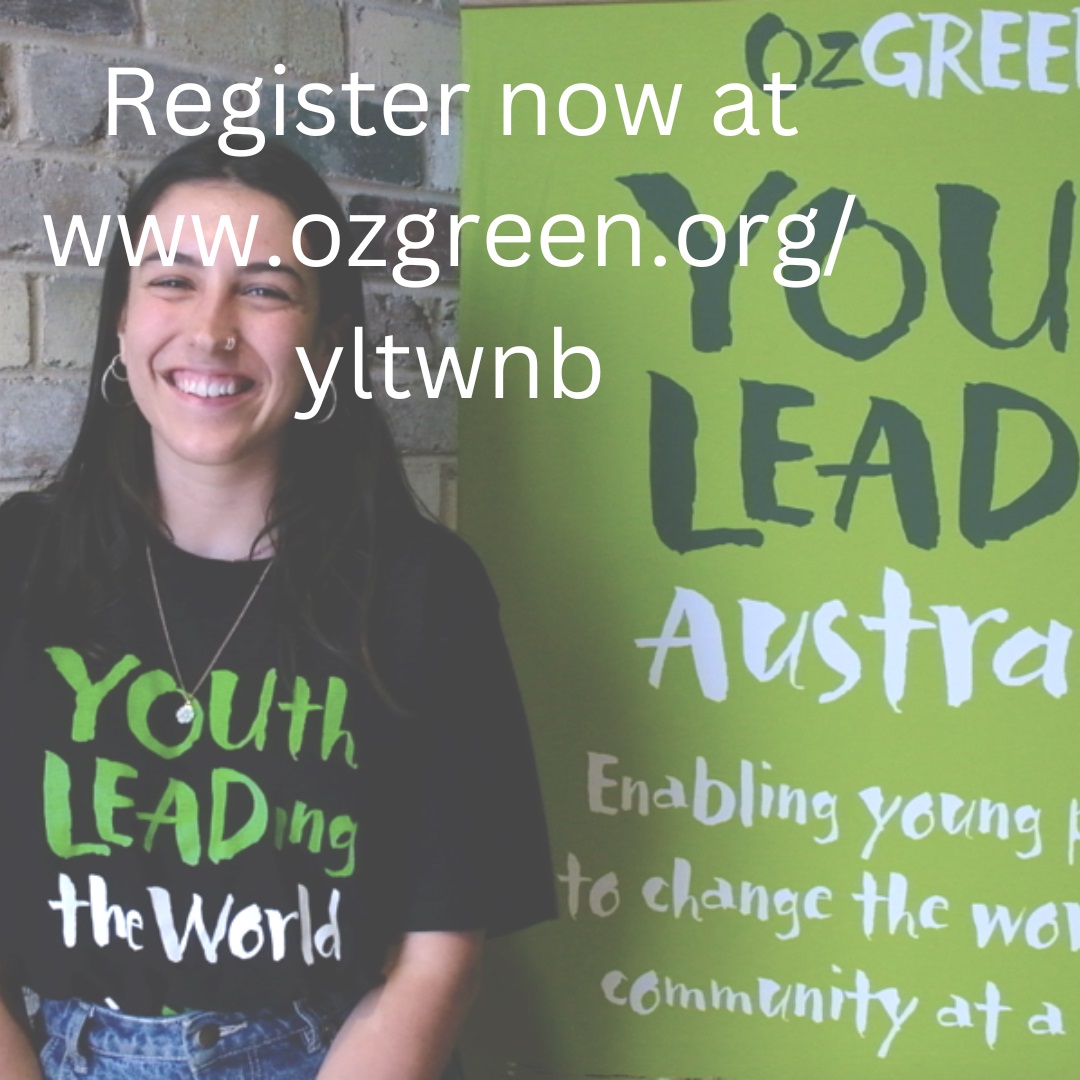 Northern Beaches Eco Awards 2022 Award Winners Shows Next Generation Have Protection Of Wildlife Firmly In Their Sights
Congratulations to the young men who are known as the Alpine Odyssey group on receiving a Special Commendation in this year's Eco Awards.
Readers may recall our earlier Profile on these young men and their aims to help our native wildlife, visit: Alpine Odyssey - Trekking For Wildlife
Earlier this year six local men trekked 680km over six weeks, through rugged terrain, across three states and raised $20,000 to purchase a Search and Rescue ATV (all- terrain vehicle) for Sydney Wildlife. This vehicle will assist rescuers on the Northern Beaches to reach distressed wildlife in difficult locations, especially after flooding and fires. The Alpine Odyssey group included: Connor Greig, Ben Harris, Yannick Muller, Harry Peters, Alex Burton and Jonty Earp.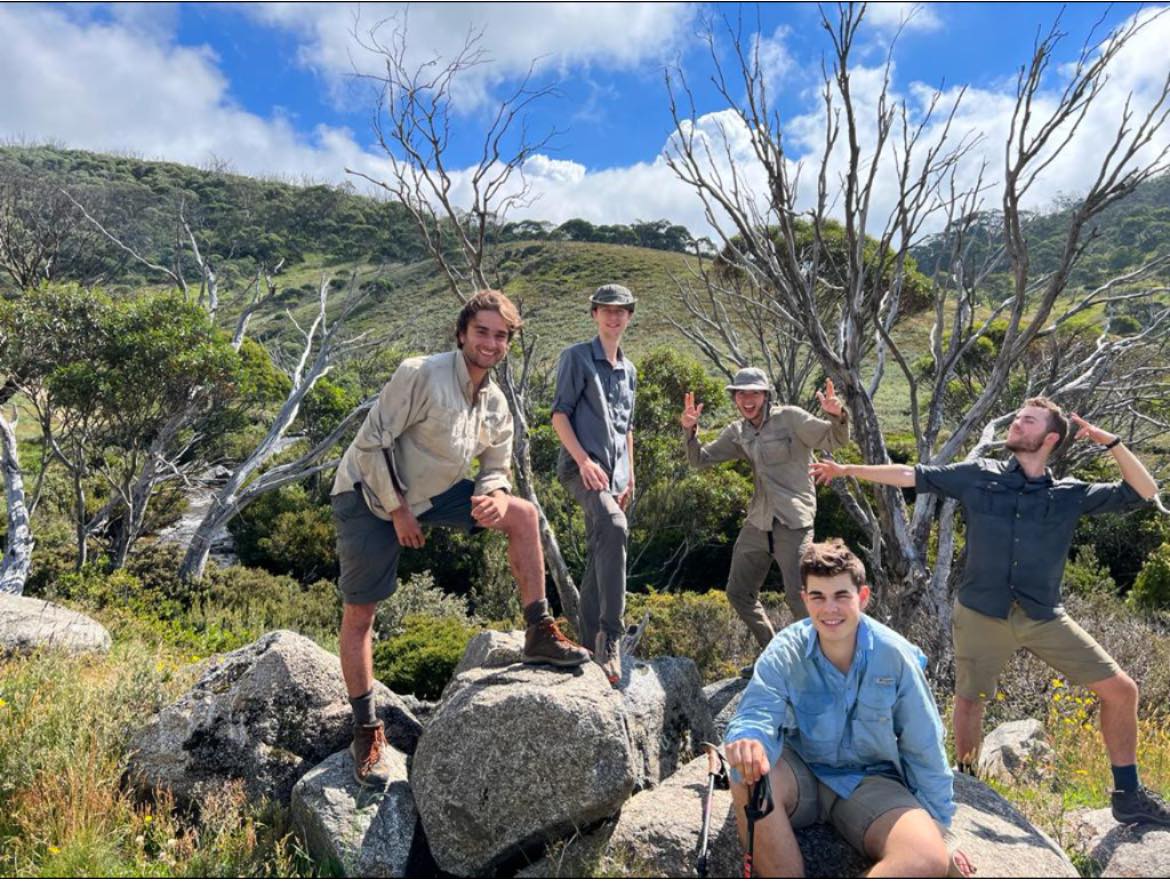 We'd also like to recognise Little Penguin Warden volunteer with National Park & Wildlife Service (NPWS)Taylor Springett who won this years' award in the Youth category
Taylor became involved in the volunteering program through her high school, Mosman High, and the school environment committee which frequently collaborated with Mel Tyas from NPWS. She participated in the annual Penguin Warden training day when in Year 7 and then became a volunteer at Manly Wharf and then in the National Park.
The Penguin Wardens monitor and keep safe the Little Penguins in Spring Cove (including Collins Flat and Store Beach) as well as at Little Manly.

Thank you Taylor!
Did you know that we once had Little Penguins right along coast - that they would come ashore on every beach to make nests and raise young? Yes - we did. You may even see some offshore when surfing - they're still around, although increasingly at risk from predators such as introduced foxes or those who take their dogs offleash into their homes. This si the prime reason we need Penguin Wardens.
A few insights from just a few years ago.
In June 2019 we brought you some news about a project to put fireproof burrows on Lion Island for the colony that lives there - these penguins are seen in the Pittwater estuary and right along the coastal beaches. They used to have nests and colonies on the beaches all along our coast as well - at Turimetta Beach, Narrabeen and Long Reef in particular.
Here's some at Narrabeen in 1955 - and reports of them at Long Reef as well:
When summer comes . . .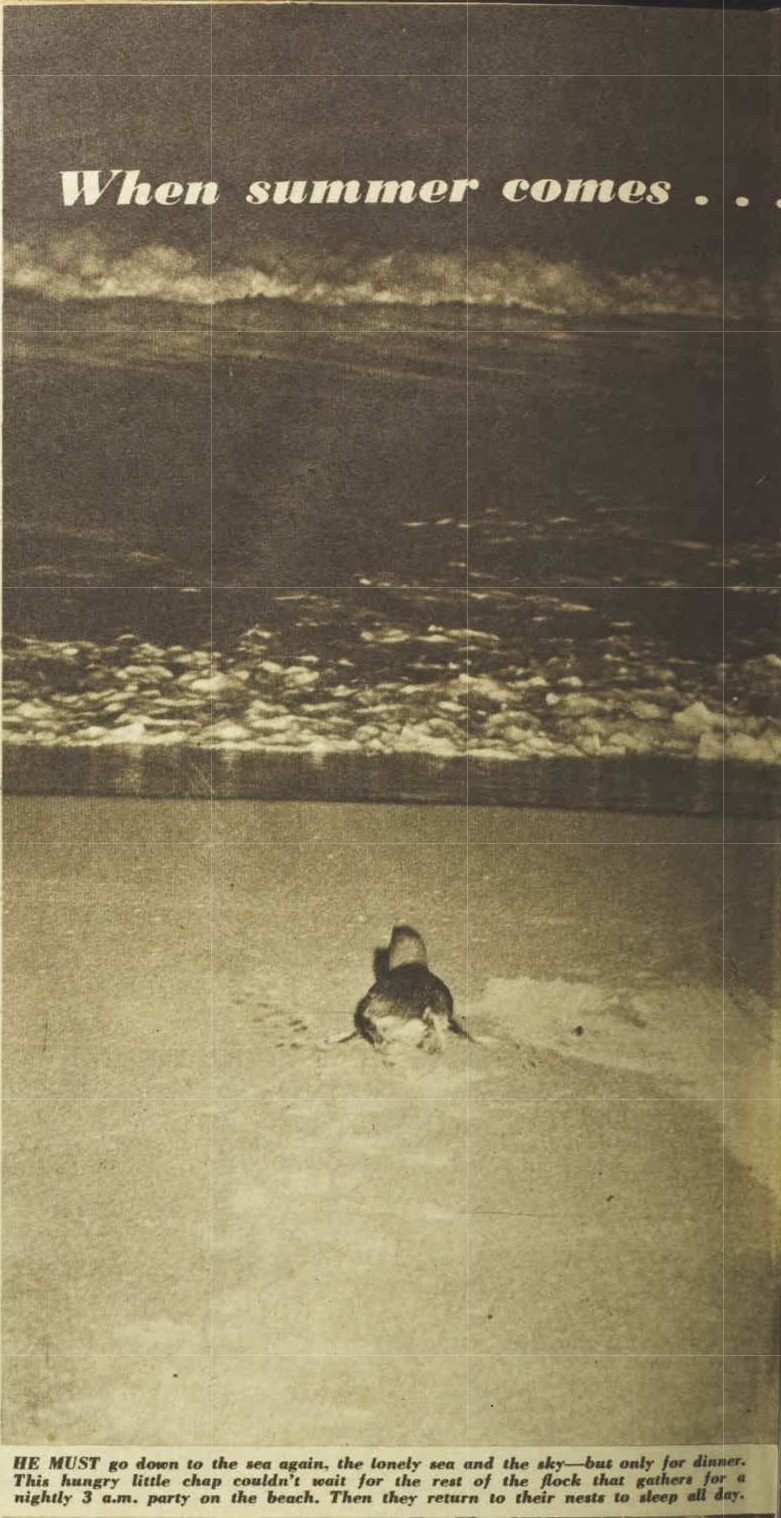 HE MUST go down to the sea again, the lonely sea and the sky- but only for dinner. This hungry little chap couldn't wait for the rest of the flock that gathers for a nightly 3 a.m. party on the beach. Then they return to their nests to sleep all day.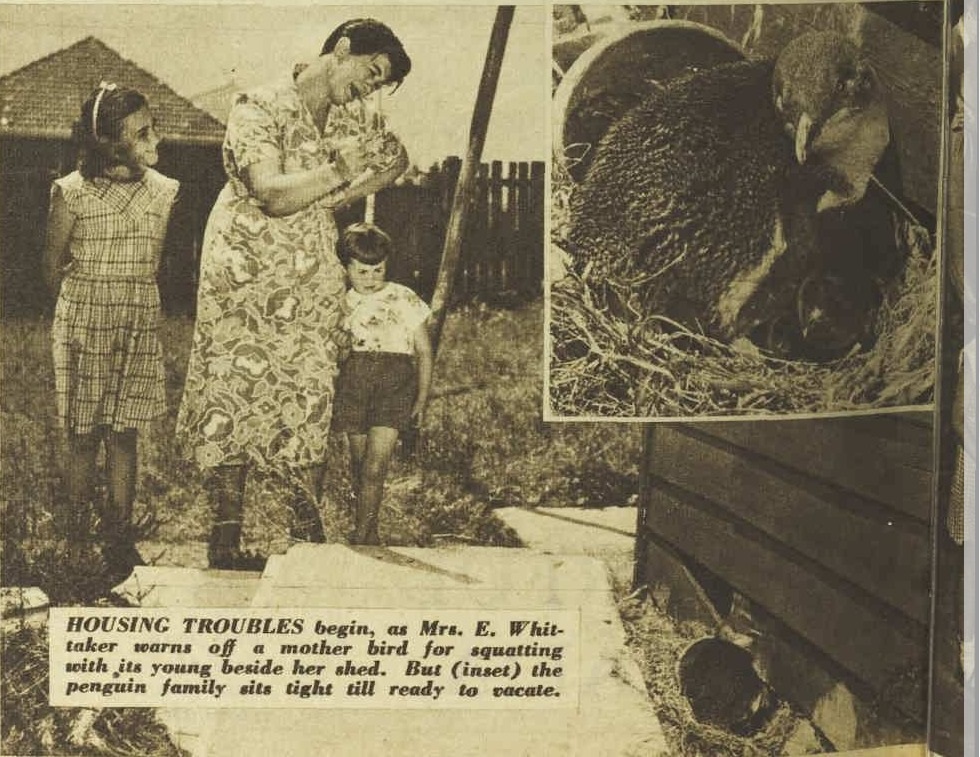 HOUSING TROUBLES begin, at Mrs. E. Whittaker warns off a mother bird for squatting with its young beside her shed. But (inset) the penguin family sits tight till ready to vacate.
PENGUINS at the bottom of their garden
Spring comes with a difference to the gardens of waterfront homes in Ocean Street, Narrabeen, north of Sydney. It brings flocks of fairy penguins-the smallest of the breed-sauntering in from the sea to take up residence for their nesting season. As daytime guests they're welcome, but at nightfall they head down to the sea for food-making noises that keen everyone else awake, too. They stay for a few months.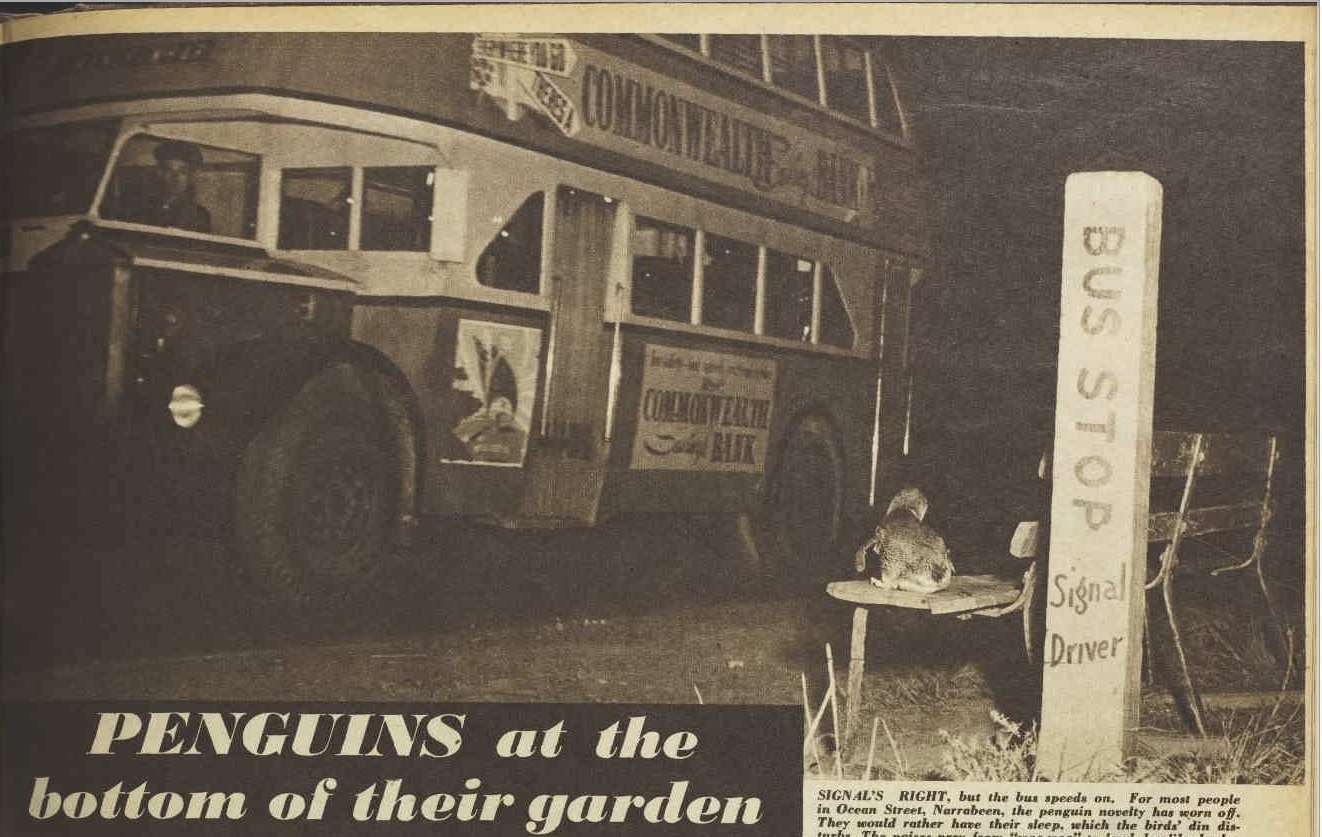 HUNTING for invaders under the house, this family is helped by neighbors. Householders have M tried fencing and boarding around their houses, but still the penguins come to nest each year.
SIGNAL'S RIGHT, but the bus speeds on. For most people in Ocean Street, Narrabeen, the penguin novelty has worn off. They would rather have their sleep, which the birds' din disturbs. The noises vary from "woo-woo" to loud dog-like barks.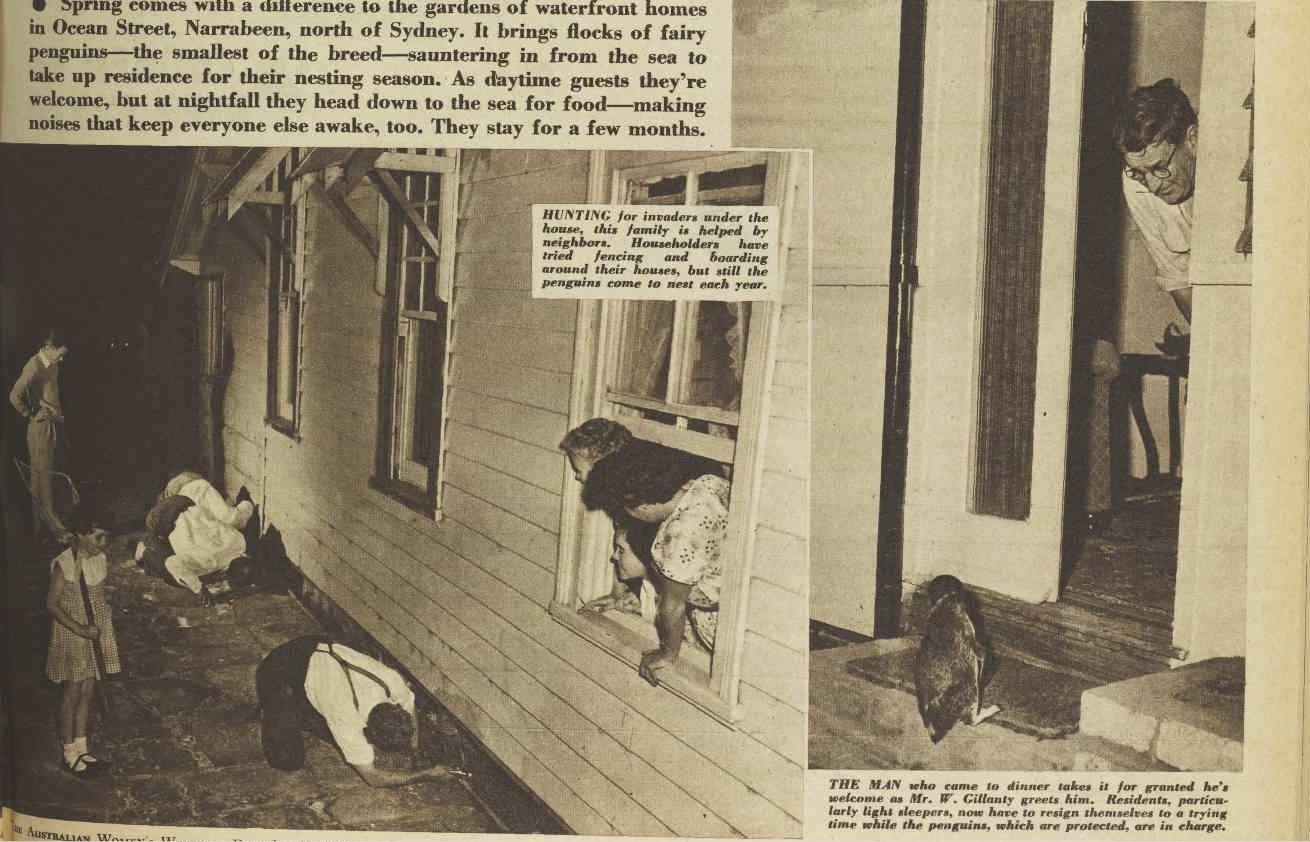 THE MAN who came to dinner takes it for granted he's welcome as Mr. W. Gillanty greets him. Residents, particularly light sleepers, now have to resign themselves to a trying time while the penguins, which are protected, are in charge. PENGUINS at the bottom of their garden (1956, December 12). The Australian Women's Weekly (1933 - 1982), p. 23. Retrieved from http://nla.gov.au/nla.news-article41852332
Marine Parade North Avalon resident and ornithologist Neville Cayley is mentioned in this one:
Two Little Penguins
AS Mr. Neville Cayley mentions in the 'Mail' that there is very little known regarding the length of time these penguins care for their young before turning them out, I thought the following account would be of especial interest to readers of 'Outdoor Australia.'
At a crowded Museum lecture Mr. Kinghorn told us this unusual incident. One morning towards the end of August, 1921, the peace and serenity of some dwellers at Collaroy Beach were disturbed by extraordinary noises and weird cries at the back door. When the astonished owner of the house opened the door in rushed two little penguins, which with loud voices announced their intentions of staying. Then they danced about and waved their little wings in a most ingratiating way. After a short time these noisy visitors were shown the door, and they disappeared for a while. But, having chosen their home, Mr. and Mrs. Penguin returned later, and as they could not get inside the house they went underneath as far as they could get, and there made their nest of seaweed. The noise every night was almost unbearable; they would scream and cackle, and later, after about six weeks their songs of joy were terrific, for two youngsters were hatched.
About four months after their arrival the penguin family suddenly departed. Where they wintered is their own secret: but late in the following August a terrible cackling outside advised these householders that they were back. When the door was opened Mr. and Mrs. Penguin marched triumphantly in, followed by two grown chicks, which were inquisitive and rather shy. Then followed extravagant dances of greeting and vociferous songs of 'Here we are again,' etc., in which the young ones also joined.
They could not be quietened, and the neighbours hastened across to see if someone had gone mad. The owners of the house put the whole family down on the beach and drove them away. It was then that the parents sent off the chicks to fend for themselves, and they themselves returned later and went under the house to their old nest. The celebrations were so overpowering that the householders took down some boards next day, got the noisy pair out, and drove them at night by car to Palm Beach, about twelve miles distant, and there left them. But next morning saw them back.
They were taken a second time, but returned, and were allowed lo stay; but a home was made for them in the far corner of the garden. The house side was netted off and a hole cut in the fence to allow them free access to the beach. They made a nest of seaweed, and later two eggs were laid. The birds look it in turn to sit on them, and there was always much shouting and scolding when one returned from the sea at night.
After about six weeks two sooty-brown chicks appeared, and the noise that night and the next few days while the celebrations lasted was tremendous. The parents took it in turn to fish and swim during the day that followed, but at night they often went out together to find a suitable supper, and about 9 p.m. would return, arguing together as they came up the beach. The following summer my father saw a young penguin land on the rocks at Coogee. I think it quite likely that it was one of the young ones turned out at Collaroy. It was evidently not very used to fending for itself, for a patch of feathers was torn from its shoulder, possibly through not being an adept at landing.
At the time of the lecture these queer visitors were still in residence at Collaroy, and what became of them I do not know. It is likely enough that the nesting-place on North Head mentioned by Mr. Cayley is occupied by these little penguins or their descendants. Outdoor Australia (1925, March 18).Sydney Mail (NSW : 1912 - 1938), , p. 10. Retrieved from http://nla.gov.au/nla.news-article159721727
It is recorded that two Fairy penguins for a number of years made seasonal visitations to Collaroy, near Sydney, and often laid their eggs under the floor of one of the houses there. — F.J.B. Quaint and Beautiful Sea Birds (1934, October 31). Sydney Mail (NSW : 1912 - 1938), , p. 56. Retrieved from http://nla.gov.au/nla.news-article166107257
The Lion Island colony was officially first protected 65 years ago - although they had been protected decades prior to then:
PROTECTION OF PENGUINS.
Mr. Oakes (Chief Secretary), who is in charge of the Act relating to wild life, desires it to be generally known that all species of penguins are absolutely protected by law, and that anyone interfering with the birds is liable to a penalty. Apart from this he says citizens are requested to refrain from molesting this interesting bird, or driving it back to the sea, as, naturally, no water fowl liked getting wet when half-feathered.
Mr. Oakes remarked yesterday that fairy penguins, which were frequently seen off the coast, came ashore at this period of the year for moulting purposes for about three weeks. During that time they had not been observed to feed or enter the water. Many persons had offered specimens of the birds as exhibits to the Taronga Zoological Gardens, while others had made inquiries how to keep them alive in captivity. As this species of penguin only lived on live fish they could not be kept alive away from the sea. PROTECTION OF PENGUINS. (1923, December 18). The Sydney Morning Herald (NSW : 1842 - 1954), p. 8. Retrieved from http://nla.gov.au/nla.news-article16127509
PENGUINS ON COAST ARE PROTECTED
A penguin caught to-day near Palm Beach v/as refused' by Zoo authorities. The birds are common along the coast at present, are protected by law, and do not live in captivity.
The secretary of the Zoo (Mr. H. B. Brown) said today that the public had been warned against molesting the birds. PENGUINS ON COAST ARE PROTECTED (1936, December 30). The Sun (Sydney, NSW : 1910 - 1954), p. 12 (COUNTRY EDITION). Retrieved from http://nla.gov.au/nla.news-article230907746
Surfers and people on boats report seeing them on an almost daily basis in our area. There is also a Fairy Penguin Colony at Manly.
The ladies from the Fix It Sisters community group have extended their project beyond Lion Island to the South Coast of NSW. In March 2021 they reported that:
Success at Snapper Island!
(This is part of the Eurobodalla Shire Council - which is on the South Coast of NSW)
Update on our Penguin Burrow project. Since installation of the first burrows at Snapper Island (Batemans Bay), some of the penguins have taken up residence and in 2020, gave birth to chicks. Exciting development for our burrow project.
In the meantime, FiS has been working hard in partnership with Pink Cactus on improving the design of the original burrows.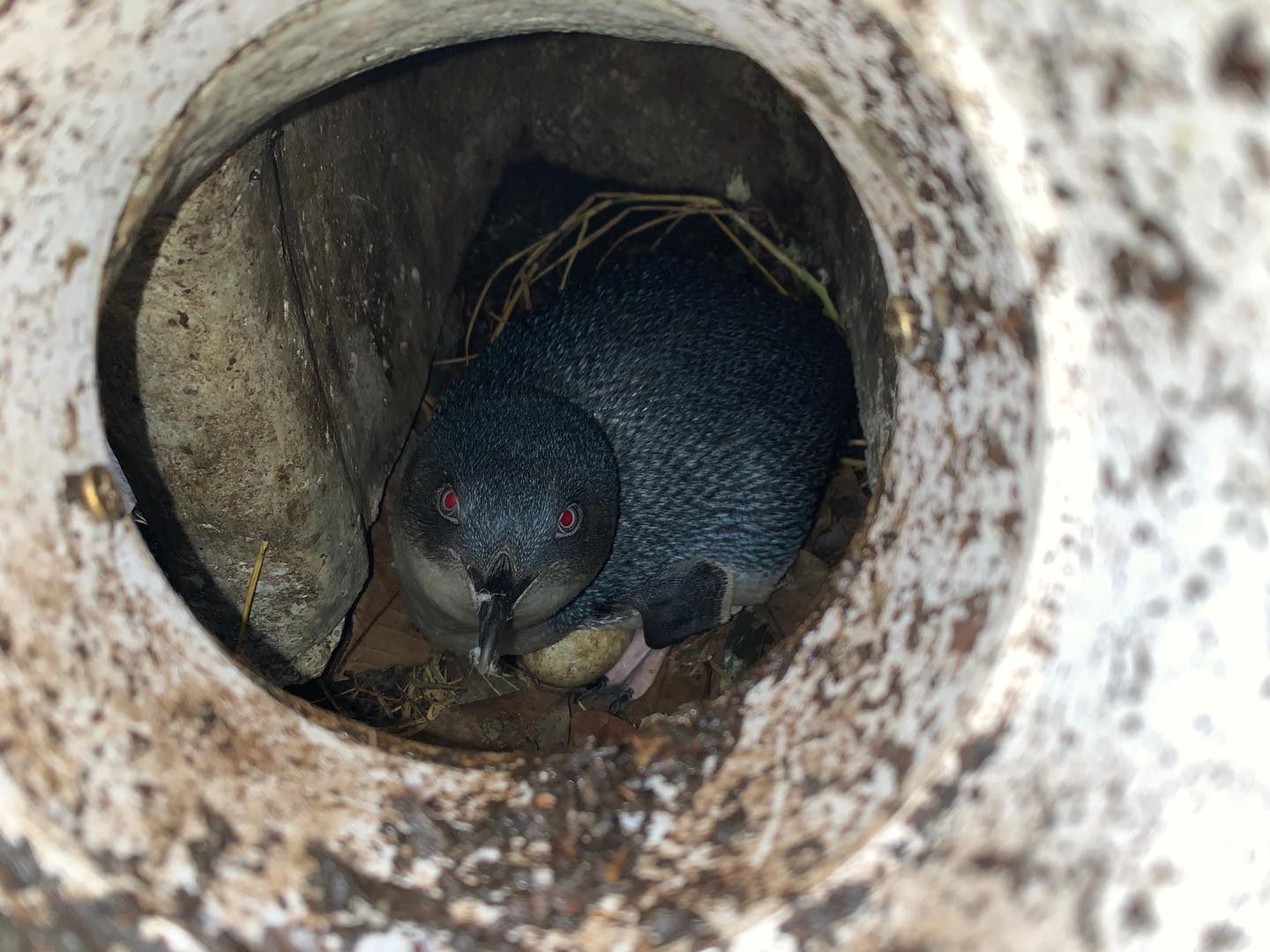 Fix It Sisters photo, March 16, 2021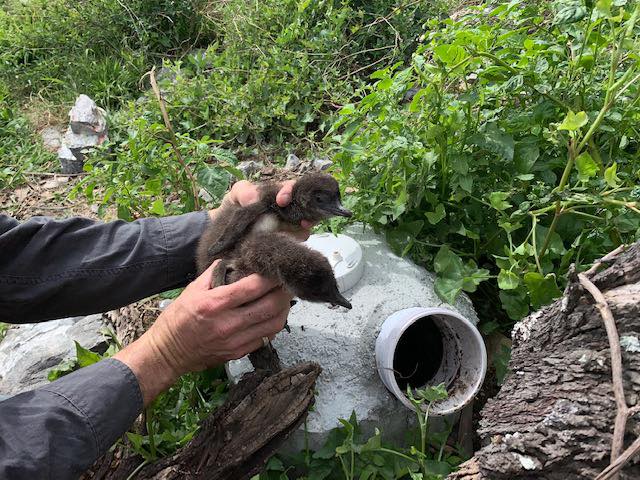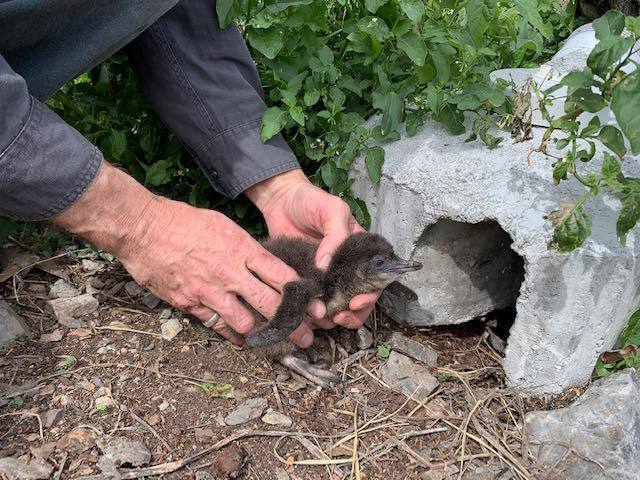 Fix It Sisters photos, March 16, 2021

In 2019 the Eurobodalla Shire Council said:
The Snapper and the Tollgate Islands add scenic beauty to the idyllic seascape of Batemans Bay. Aside from their aesthetic value they hold another surprise which even locals are often unaware – breeding colonies of little penguins.
Eurobodalla Council's invasive species supervisor Paul Martin said little penguins were the world's smallest, up to 30cm tall, with an iridescent blue back, snow-white belly, and pink legs and feet.
Paul said the birds could spend days or even weeks at sea before returning to recover and enjoy island time between fishing trips.
"The penguins scrape out their love pads among the low-lying vegetation in early September. Mating, laying eggs, hatching chicks and teaching young penguins the way of the ocean takes until the end of summer," Paul said.
"Because the eggs and chicks, hidden in vegetation, are so vulnerable to being stepped on, there is a no landing policy on these islands."
Paul said the penguins local to Batemans Bay were found only on islands, where there were no cats, foxes, dogs or humans.
"About 15 percent of the this population live on Snapper Island, just a stone throw away from the Batemans Bay CBD, so we're putting a lot of our efforts there," he said.
"It's not only the penguins at risk from visiting humans. Sooty oystercatchers – with their black plumage and bright orange bills – also nest on Snapper Island.
Paul said the 'sooties' were a threatened species that typically lay two eggs on a flat area just above the high water mark.
"The eggs look exactly like surrounding rocks and are easily stepped on when people walk the tideline around the island," Paul said.
"The other big risk to both penguins and other shorebirds is entrapment; by plastic pollution like fishing line and drinking bottles or by weeds like kikuyu and turkey rhubarb. These vine-like weeds form loops and birds get entangled and eventually starve to death. That's not a good way to go in anyone's book."
Paul said Council's sustainability team and Landcare volunteers had commenced work on Snapper Island, clearing environmental weeds and plastic pollution and providing additional nesting opportunities for the little penguins.
"During the summer months, there is nothing better than a kayak paddle around Snapper Island," Paul said. "However, to ensure our penguins and oystercatchers continue to breed here, Snapper Island is definitely a look but don't land affair – take your binoculars for a closer view."
NASA's Webb Takes Star-Filled Portrait Of Pillars Of Creation
October 20, 2022: NASA
NASA's James Webb Space Telescope has captured a lush, highly detailed landscape – the iconic Pillars of Creation – where new stars are forming within dense clouds of gas and dust. The three-dimensional pillars look like majestic rock formations, but are far more permeable. These columns are made up of cool interstellar gas and dust that appear – at times – semi-transparent in near-infrared light.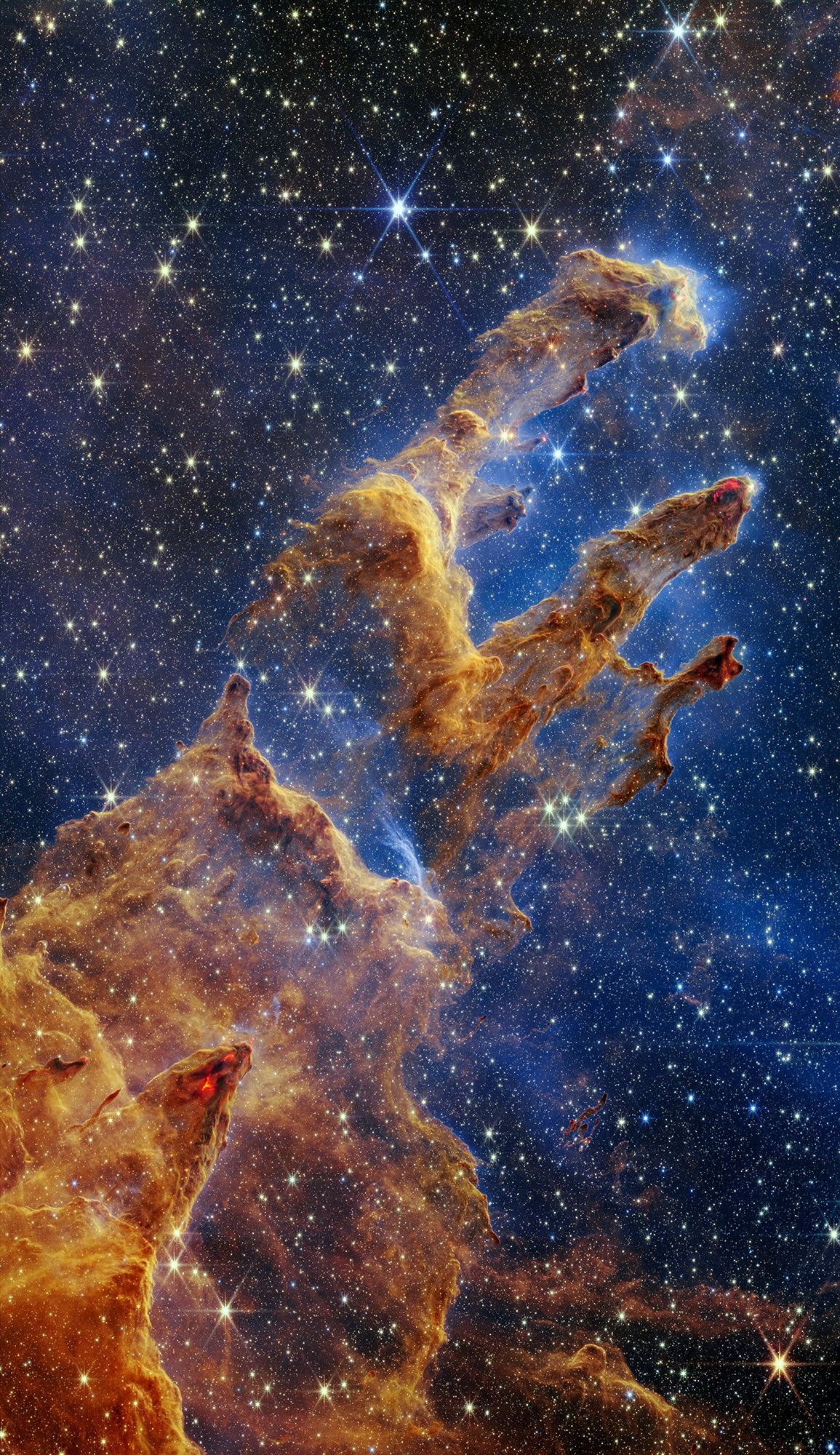 Image: The Pillars of Creation are set off in a kaleidoscope of colour in NASA's James Webb Space Telescope's near-infrared-light view. The pillars look like arches and spires rising out of a desert landscape, but are filled with semi-transparent gas and dust, and ever changing. This is a region where young stars are forming – or have barely burst from their dusty cocoons as they continue to form. Credits: NASA, ESA, CSA, STScI; Joseph DePasquale (STScI), Anton M. Koekemoer (STScI), Alyssa Pagan (STScI).

Webb's new view of the Pillars of Creation, which were first made famous when imaged by NASA's Hubble Space Telescope in 1995, will help researchers revamp their models of star formation by identifying far more precise counts of newly formed stars, along with the quantities of gas and dust in the region. Over time, they will begin to build a clearer understanding of how stars form and burst out of these dusty clouds over millions of years.
Newly formed stars are the scene-stealers in this image from Webb's Near-Infrared Camera (NIRCam). These are the bright red orbs that typically have diffraction spikes and lie outside one of the dusty pillars. When knots with sufficient mass form within the pillars of gas and dust, they begin to collapse under their own gravity, slowly heat up, and eventually form new stars.
What about those wavy lines that look like lava at the edges of some pillars? These are ejections from stars that are still forming within the gas and dust. Young stars periodically shoot out supersonic jets that collide with clouds of material, like these thick pillars. This sometimes also results in bow shocks, which can form wavy patterns like a boat does as it moves through water. The crimson glow comes from the energetic hydrogen molecules that result from jets and shocks. This is evident in the second and third pillars from the top – the NIRCam image is practically pulsing with their activity. These young stars are estimated to be only a few hundred thousand years old.
Although it may appear that near-infrared light has allowed Webb to "pierce through" the clouds to reveal great cosmic distances beyond the pillars, there are no galaxies in this view. Instead, a mix of translucent gas and dust known as the interstellar medium in the densest part of our Milky Way galaxy's disk blocks our view of the deeper universe.
This scene was first imaged by Hubble in 1995 and revisited in 2014, but many other observatories have also stared deeply at this region. Each advanced instrument offers researchers new details about this region, which is practically overflowing with stars.
This tightly cropped image is set within the vast Eagle Nebula, which lies 6,500 light-years away.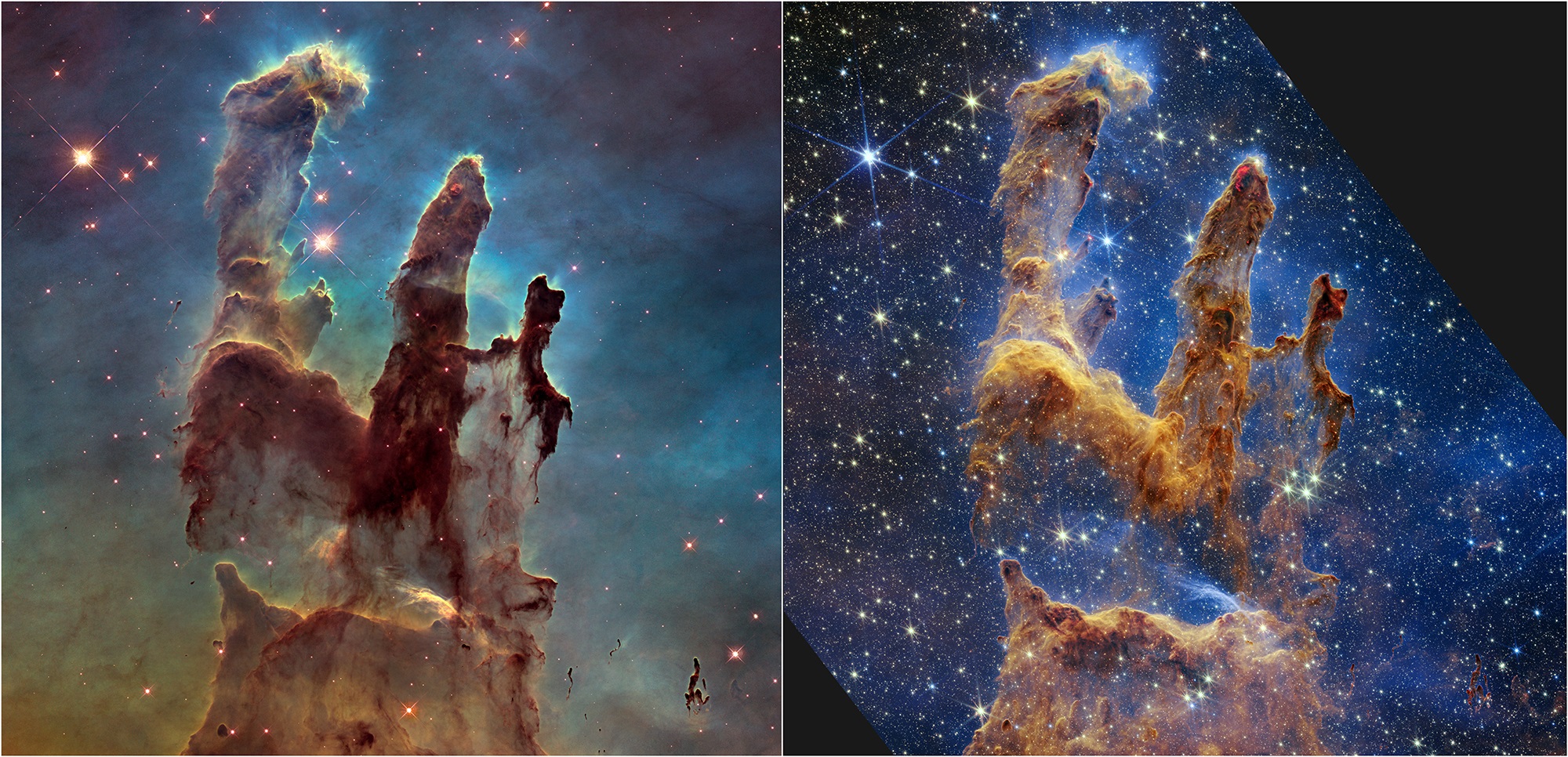 Image: NASA's Hubble Space Telescope made the Pillars of Creation famous with its first image in 1995, but revisited the scene in 2014 to reveal a sharper, wider view in visible light, shown above at left. A new, near-infrared-light view from NASA's James Webb Space Telescope, at right, helps us peer through more of the dust in this star-forming region. The thick, dusty brown pillars are no longer as opaque and many more red stars that are still forming come into view. Credits: NASA, ESA, CSA, STScI; Joseph DePasquale (STScI), Anton M. Koekemoer (STScI), Alyssa Pagan (STScI).
Comedy Wildlife Photography Awards 2022 - Have Your Vote!
It's that time of year again - thank goodness! We have just released the amazing 2022 Finalists to the media and hopefully you have managed to catch them and they made you smile A LOT. It's been a brilliant competition so far with some cracking entries, and it's going to be really, really hard to pick the winners. Yep, this is where we need your help!
Once again, the incredible team at Affinity Photo are sponsoring the People's Choice Award. You can enter via the website www.comedywildlifephoto.com, have fun voting for your favourite finalist, (which in itself is a great way to spend a few minutes with a brew and a biscuit) and you might win the prize draw and a tip top £500 in cash!! Just think what you could do with that?!
What are you waiting for? Terms and conditions apply. Voting closes on November 27th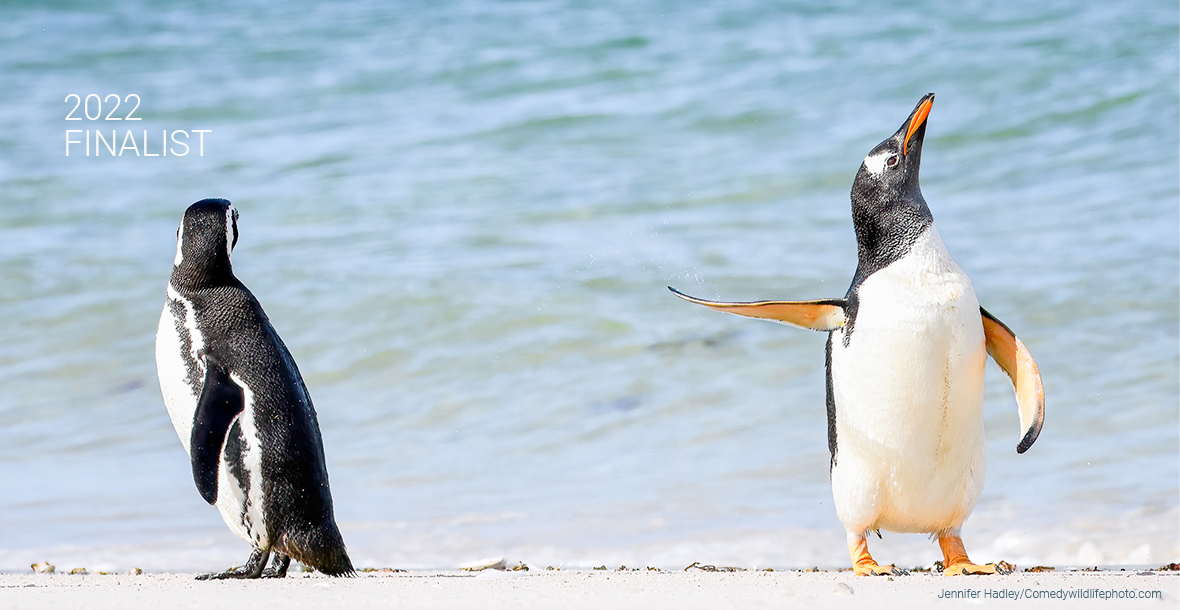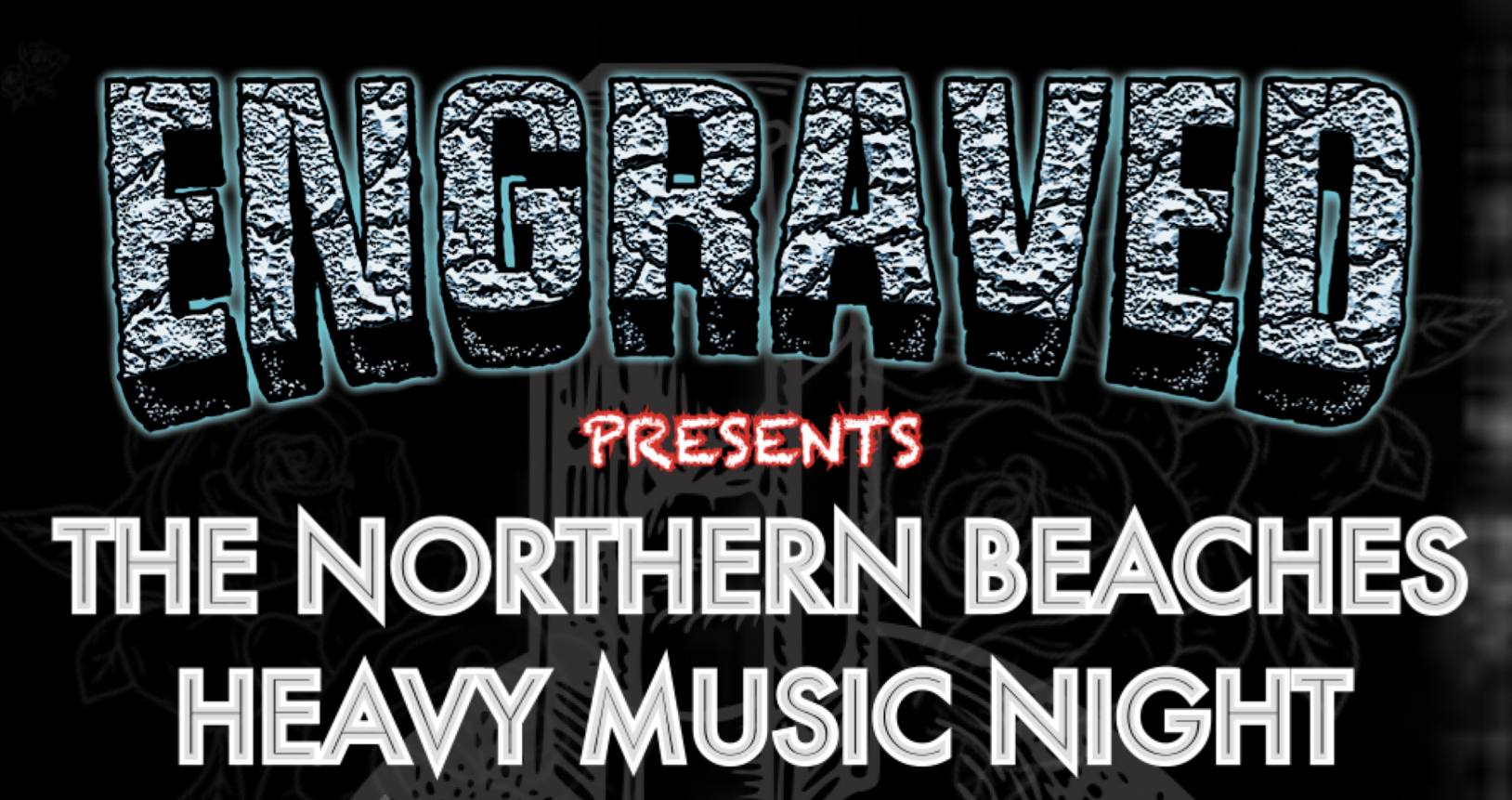 Northern Beaches Metal locals ENGRAVED are hosting the first ever ALL AGES Heavy Music Night! On Friday the 25th of November, a catalogue of talented artists come to together for a night of metal at Ararat Cultural Centre in Frenches Forest.
The line up includes: ENGRAVED with special guests; Russian Novel, Bridge Left To Burn, Inpha One, Ben Challenger and Huntsman.
Venue: Ararat Cultural Centre,
3 Grattan Cres, Frenches Forest, NSW 2086
Doors open at 5pm, bands start from 5:30.
Tickets: $5 online pre-sale, $10 at the door.
Food will be sold at the venue.
The Anne Kantor Young Women Environmentalist Fellowship 2023:
Applications Now Open
The Anne Kantor Young Women Environmentalists Fellowship program provides on-the-job training to equip and encourage new voices in Australia's future policy and democratic debates.
The Australia Institute runs two Fellowship programs: The Anne Kantor Fellowship (General) and the Anne Kantor Young Women Environmentalists Fellowship.
In 2023 there will be three Young Women Environmentalist Fellowships available. Two Fellowships will be with the Australia institute undertaking research and advocacy work in our Canberra office.
The third Fellowship is delivered in partnership with the Tasmanian Independent Science Council and located in our Tasmanian Office. This role provides secretariat duties for the Science Council in addition to the work of the Tasmanian branch of the Australia Institute. Our work in Tasmania focuses on democracy and accountability, marine governance, climate change, environmental and economic policy.
The objectives of the program are to:
provide Fellows with a unique opportunity to gain on the job training in research, advocacy, and media and communications with research, environmental, climate change or other advocacy-based organisations
create an experienced pool of Fellows with the skills and experience to effectively advocate for change
establish a pipeline of new voices to contribute to Australia's future policy and democratic debates
build relationships and drive future collaboration with partner organisations and other stakeholders
Applications for the 2023 Anne Kantor Young Women Environmentalist Fellowship program close on 31st October.
For further information on how to apply please visit annekantorfellowship.org.au.
Anne Kantor Fellows receive:
Support to develop skills and gain experience in public policy and advocacy at both the Australia Institute and/or at a partner organisation.
Mentoring from Australia Institute staff who will offer their knowledge and experience and provide advice to guide and support the Fellow during the program.
On the job training in areas such as economics, advocacy, media and communications, and NFP governance.
Networking opportunities and membership of the Australia Institute Alumni.
Applications for the 2023 Anne Kantor Young Women Environmentalist Fellowship are open until 31st October 2022. For further information on how to apply please visit annekantorfellowship.org.au.
The Anne Kantor Fellowship program will ensure Anne's legacy endures long into the future through the terrific young leaders supported by this program. ~ the Australia Institute team
School Leavers Support
Explore the School Leavers Information Kit (SLIK) as your guide to education, training and work options in 2022;
As you prepare to finish your final year of school, the next phase of your journey will be full of interesting and exciting opportunities. You will discover new passions and develop new skills and knowledge.
We know that this transition can sometimes be challenging and the COVID-19 pandemic has presented some uncertainty. With changes to the education and workforce landscape, you might be wondering if your planned decisions are still a good option or what new alternatives are available and how to pursue them.
There are lots of options for education, training and work in 2022 to help you further your career. This information kit has been designed to help you understand what those options might be and assist you to choose the right one for you. Including:
Download or explore the SLIK here to help guide Your Career.
School Leavers Information Kit (PDF 5.2MB).
School Leavers Information Kit (DOCX 0.9MB).
The SLIK has also been translated into additional languages.
Download our information booklets if you are rural, regional and remote, Aboriginal or Torres Strait Islander, or living with disability.
Support for Regional, Rural and Remote School Leavers (PDF 2MB).
Support for Regional, Rural and Remote School Leavers (DOCX 0.9MB).
Support for Aboriginal and/or Torres Strait Islander School Leavers (PDF 2MB).
Support for Aboriginal and/or Torres Strait Islander School Leavers (DOCX 1.1MB).
Support for School Leavers with Disability (PDF 2MB).
Support for School Leavers with Disability (DOCX 0.9MB).
Download the Parents and Guardian's Guide for School Leavers, which summarises the resources and information available to help you explore all the education, training, and work options available to your young person.
School Leavers Information Service
Are you aged between 15 and 24 and looking for career guidance?
Call 1800 CAREER (1800 227 337).
SMS 'SLIS2022' to 0429 009 435.
Our information officers will help you:
navigate the School Leavers Information Kit (SLIK),
access and use the Your Career website and tools; and
find relevant support services if needed.
You may also be referred to a qualified career practitioner for a 45-minute personalised career guidance session. Our career practitioners will provide information, advice and assistance relating to a wide range of matters, such as career planning and management, training and studying, and looking for work.
You can call to book your session on 1800 CAREER (1800 227 337) Monday to Friday, from 9am to 7pm (AEST). Sessions with a career practitioner can be booked from Monday to Friday, 9am to 7pm.
This is a free service, however minimal call/text costs may apply.
Call 1800 CAREER (1800 227 337) or SMS SLIS2022 to 0429 009 435 to start a conversation about how the tools in Your Career can help you or to book a free session with a career practitioner.
George Pittar And Rosie Smart Win Bondi Open Grand Final
Congratulations to Manly's George Pittar who last weekend (Saturday 15 October, 2022) won the 2022 Australian Open of Surfing (AOS) Tour Bondi Open Grand Final, presented by Volkswagen Commercial Vehicles, in three-to-four foot surf at the iconic Bondi Beach.
The sun was shining and the waves were pumping for the third and final stop of the 2022 AOS Tour. It was an epic day of action as some of Australia's best surfers battled to claim the $10,000 winners' cheque.
The one-day finale showcased the top 16 men and women qualifiers from the combined two event series and local Bondi Boardrider Club wildcards. The Bondi Open was the first major surfing competition to be held at Bondi Beach in more than a decade.
The day started with the men's quarterfinals and ran alternative divisions to conclude with the women's final.
The men's final was a hotly contested battle as anticipated between George Pittar (North Manly), Lennix Smith (Barrack Point) Grayson Hinrichs (Bondi Beach) and Dom Thomas (Swansea Heads). AOS standout performer, George Pittar put on a solid performance to narrowly claim the crown ahead of Lennix Smith by 0.10.
"I'm over the moon right now - so stoked," said Pittar. "This is the most money I've ever won in a competition, and it's going to be such a massive help to support my travel and qualifying campaign in 2022/23. This has been such a fun tour to be apart of and all of us surfers have really appreciated the opportunity to compete and win some solid cash."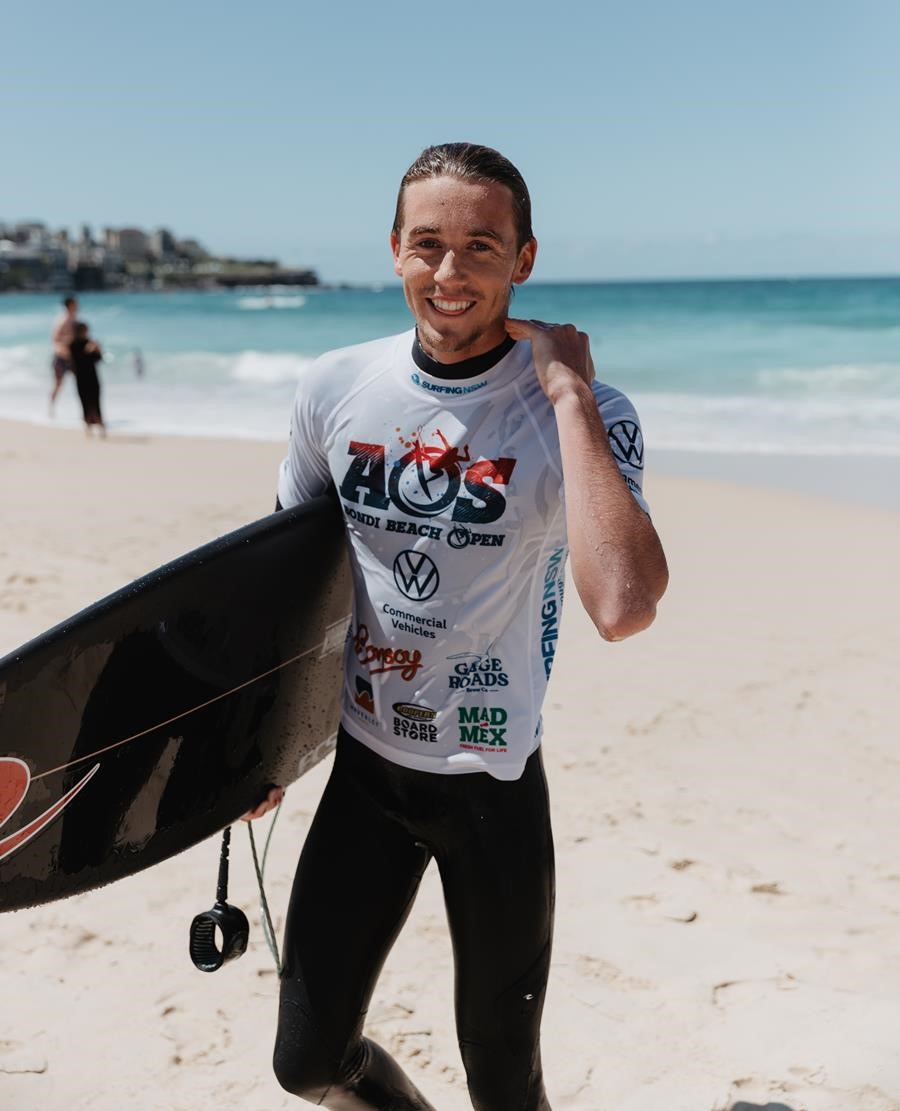 The women's final was the last hoorah for the 2022 AOS Tour and did not disappoint, coming right down to the wire and providing plenty of action for thousands of spectators lining Bondi Beach to watch some of Australia's best aspiring women surfers.
Winner of the Bonsoy Coffs Harbour Open Pres. by Gage Roads, Rosie Smart (Sawtell) took the winnings ahead of Raya Campbell (Coolangatta), Lucy Brown (Bungan), and Oceana Rogers (Shell Cove) respectively.
"I cant believe I just won $10,000, I'm so happy," said Smart. "I had so much fun out there, the waves were good and I really enjoyed surfing at Bondi. A huge thanks to everyone for making this event happen and my Mum for bringing me down and supporting."
The 2022 AOS Tour hosted by Surfing Queensland and Surfing NSW, inaugurated a non-traditional heat-format with surfers best single-wave score making up their final heat placing rather than two-waves. The tour also saw a huge prize pool of $50,000 cash, a significant amount provided to support professional and aspiring Australian surfers in their campaign to qualify for the World Championship Tour.
Surfing NSW Chief Executive Officer, Luke Madden said today was an exceptional finale to the 2022 AOS Tour and was stoked to see the event held at Bondi Beach.
"It's been incredible to see the community get around the return of competition to Bondi in more than 10 years," said Madden. "The goal of this tour is to provide more opportunities and prize money for Australian surfers aspiring to qualify for the World Championship Tour. The 2022 AOS Tour has been a huge success. We really appreciate the support from all the local communities, partners, and everyone who's worked hard to make this tour come to fruition, from the Sunshine Coast to Bondi Beach. We look forward to watching the AOS grow for years to come."
Surfing Queensland Chief Executive Officer, Adam Yates said the 2022 AOS tour has been rewarding to be a part of and a great collaboration with fellow state body, Surfing NSW.
"It's been a great partnership with Surfing NSW, working together to establish the AOS as a prominent tour on the calendar with the inaugural single-wave format and a huge prize pool on offer," said Yates. "The series has exceeded all expectations and we can't wait to see a bigger and better tour to support Australian surfers next year."
The AOS tour included two qualifying events, The Bonsoy Coffs Harbour Open presented by Gage Roads (24-25 September) and the Sunshine Coast Open (1 October), with the top qualifiers from the two events being invited to compete at the Volkswagen Commercial Vehicles Bondi Open Grand Final.
The afternoon activities will continue across the road at the Bondi Beach Road Hotel from 2pm onwards to crown the champions and celebrate the conclusion of the 2022 AOS Tour.
The 2022 Australian Open of Surfing Tour presented by Volkswagen Commercial Vehicles is supported by Gage Roads, Bonsoy, Mad Mex (official webcast partner), Coffs Harbour Council and Waverly Council.
MEN'S FINAL RESULTS

George Pittar (North Manly)
Lennix Smith (Barrack Point)
Grayson Hinrichs (Bondi)
Dom Thomas (Swansea Heads)
WOMEN'S FINAL RESULTS

Rosie Smart (Sawtell)
Raya Campbell (Coolangatta)
Lucy Brown (Bungan)
Oceanna Rogers (Shell Cove)
Report and photos by Surfing NSW
National Bird Week + Aussie Bird Count 2022
National Bird Week 2022 will take place between Monday 17 October and Sunday 23 October
. The celebration of National Bird Week has its origins back in the early 1900s when 28 October was first designated by BirdLife Australia's predecessor, the Royal Australasian Ornithologists Union, as the first 'Bird Day'. BirdLife Australia organises and promotes Bird Week with the goal of inspiring Australians to take action and get involved in bird conservation efforts.
BirdLife Australia brings you the Aussie Bird Count, one of Australia's biggest citizen science events! Celebrate National Bird Week by taking part in the Aussie Bird Count — you will be joining thousands of people from across the country who will be heading out into their backyards, local parks or favourite outdoor spaces to take part.
To get involved all you need is 20 minutes, your favourite outdoor space (this can be your yard, local park, beach, or anywhere you can see birds), and some keen eyesight. And it doesn't matter if you're a novice or an expert — we will be there to help you out. Simply record the birds you know and look up those you don't on our 'Aussie Bird Count' app or our website. You'll instantly see live statistics and information on how many people are taking part near you and the number of birds and species counted in your neighbourhood and the whole of Australia. Not only will you get to know your feathered neighbours, but you'll be contributing to a vital pool of information from across the nation that will help us see how Australian birds are faring.
So get your friends and family together during National Bird Week, head into the great outdoors and start counting.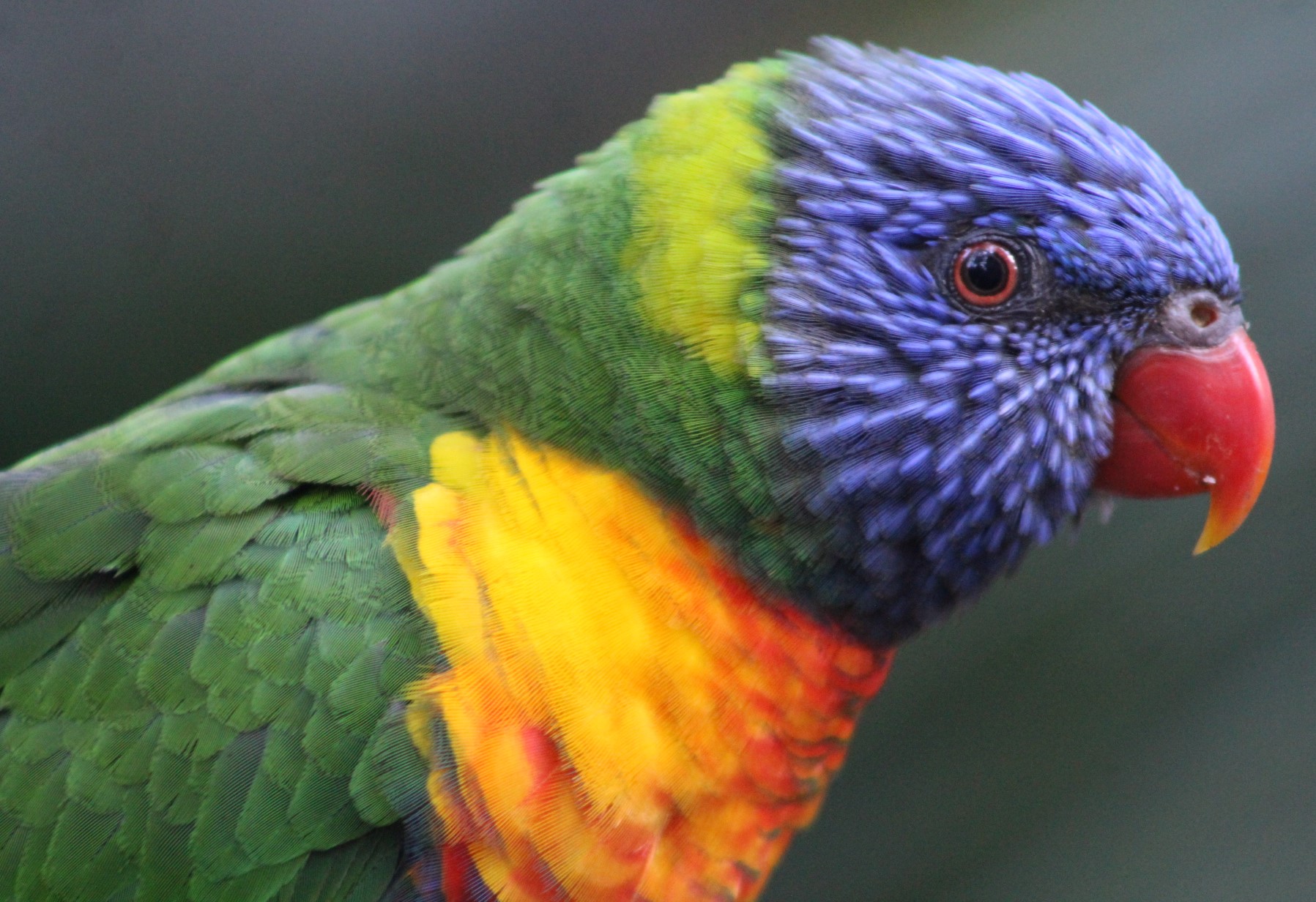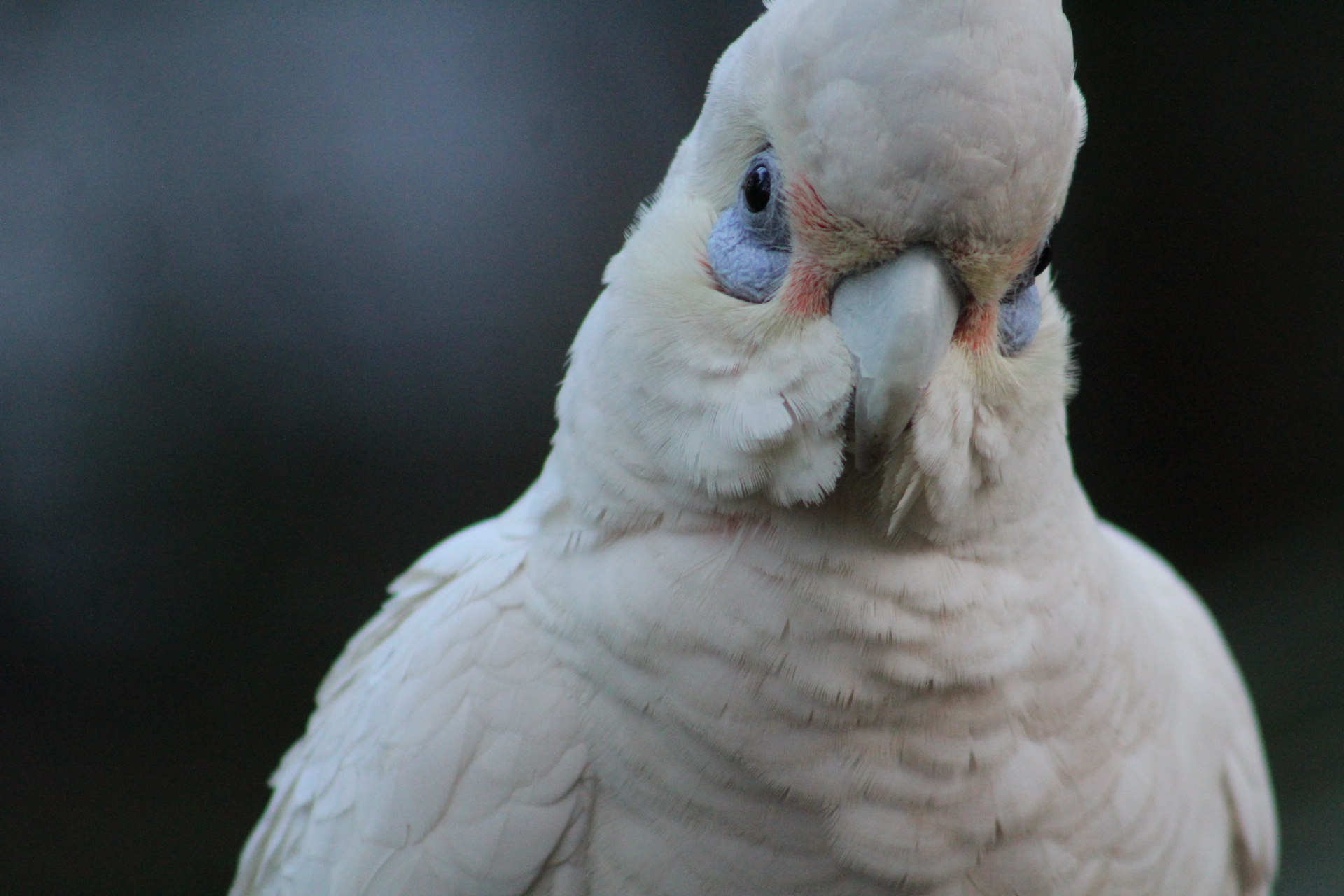 Photos: Rainbow Lorikeet and Little Corella in Pittwater on September 29, 2022. Photos taken by A J Guesdon.
Stay Healthy - Stay Active: HSC 2022
Stay active, keep connected and look after yourself during the HSC this year!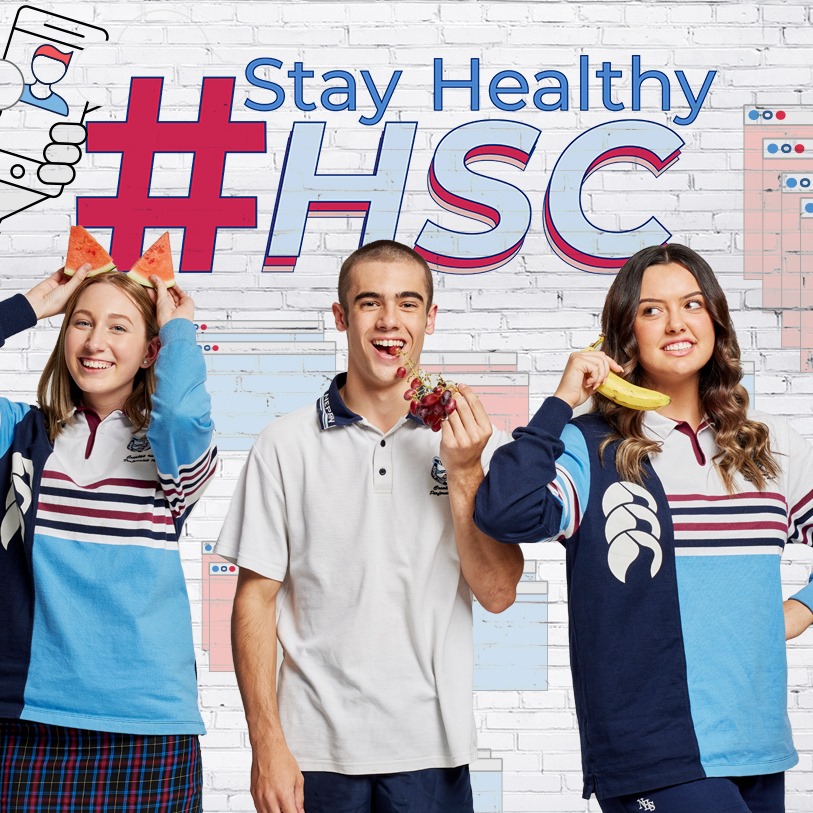 2023 Year 12 School Scholarship Program Now Open: DYRSL
Dee Why RSL is pleased to announce the 2023 School Scholarship Program, open to local students going into year 12 for the 2023 year of study.
A total of ten students will receive $2000 each, to assist them in achieving their utmost potential while completing the Higher School Certificate.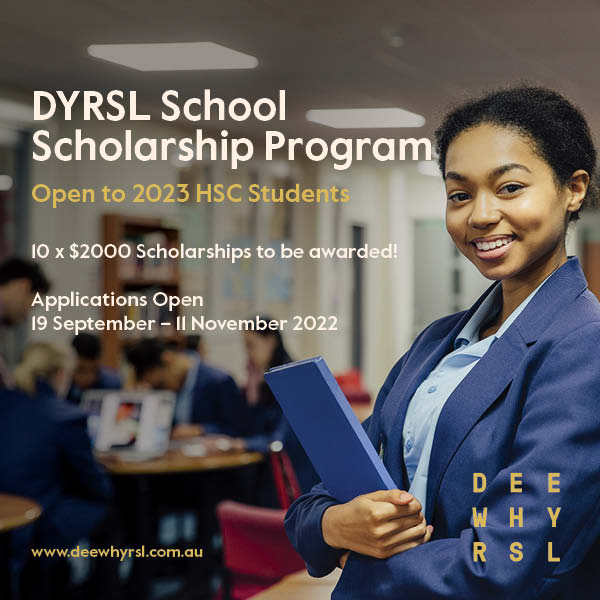 Securing A Brighter Future For Disadvantaged Youth
Eligible students from Years 10 to 12 or TAFE equivalent can now apply for a $1000 scholarship to help meet the cost of studying.
The future goals of some of the state's most vulnerable young people are a step closer to being achieved thanks to the NSW Government's Youth Development Scholarships program.
Minister for Families and Communities and Minister for Disability Services Natasha Maclaren-Jones is calling for eligible students from Years 10-12 or TAFE equivalent to apply for the $1000 scholarships.
"The scholarships aim to remove some of the financial burdens that students face so they can focus on achieving greater results and finish their studies," Mrs Maclaren-Jones said.
"From textbooks to internet access, the scholarships will ensure our young people are well-equipped to reach their full potential."
Minister for Education and Early Learning Sarah Mitchell said that a quality education is a strong foundation for a brighter future.
"The NSW Government wants to support our students in achieving their goals and these scholarships provide them with the necessary financial support to get them started," Ms Mitchell said.
"I know these scholarships will be greatly appreciated by our young people and will help them have a bright start in life."
To be eligible for the scholarship, students must be living in social housing or on the housing register, receiving private rental subsidy from DCJ, or living in supported accommodation or out-of-home care.
More than 4700 students have been supported by the scholarship program since it was established in 2017.
For new and returning high school students
, applications will close
Wednesday 30 November 2022 at 5:00pm.
For returning tertiary students
, applications will
close Friday 3 March 2023 at 5:00pm
.
Be The Boss: I Want To Be A Horticulturalist
A Horticulturist cultivates, propagates and maintains plants using scientific knowledge and gives advice to farmers on fruits, vegetables and flowers.
If you'd rather work outdoors than in an office then a career in horticulture might be the right choice for you.
As well as working as a Gardener or Nursery Hand, there are plenty of options available in the horticulture industry. And like most other industries, you could find yourself working as part of a small, tight-knit team or part of a large-scale company. You could also work directly for a local council, or you could even begin your own business and work for yourself.
Following a career in horticulture goes beyond landscaping and gardening, and there are a range of diverse working opportunities in Australia. Are you more interested in the science behind plant cultivation and propagation, or would you prefer a more hands-on role amongst nature?
A budding career in horticulture could allow you to branch out in many different directions.
Most people will begin their career in horticulture as a Gardener or Nursery Hand.
To work as a Gardener or Nursery Hand, you will need to be able to deal with the physical demands of the role (such as working on your feet, heavy lifting and working outdoors in different climates) and also have a reliable, enthusiastic attitude. Having a green thumb sure helps, too!
The difference between these two roles is that a Gardener will primarily assist in maintaining private or public gardens, while a Nursery Hand will assist in propagating and maintaining plants in a horticultural nursery.
According to the Australian Government's Job Outlook website, the job outlook for Gardeners and Nursery Hands is predicted to remain steady over the next few years. There is no down-turn predicted for people employed in these areas, and Australian horticulture is a large industry with 32,200 jobs predicted by 2023.
While a formal qualification is not required to begin a career in horticulture, a
Certificate II or III in Horticulture
will provide you with the fundamentals of the industry and teach you specialist skills. It can give you a head start when applying for jobs, or, if you already work in the industry, will allow you to further expand your skill set.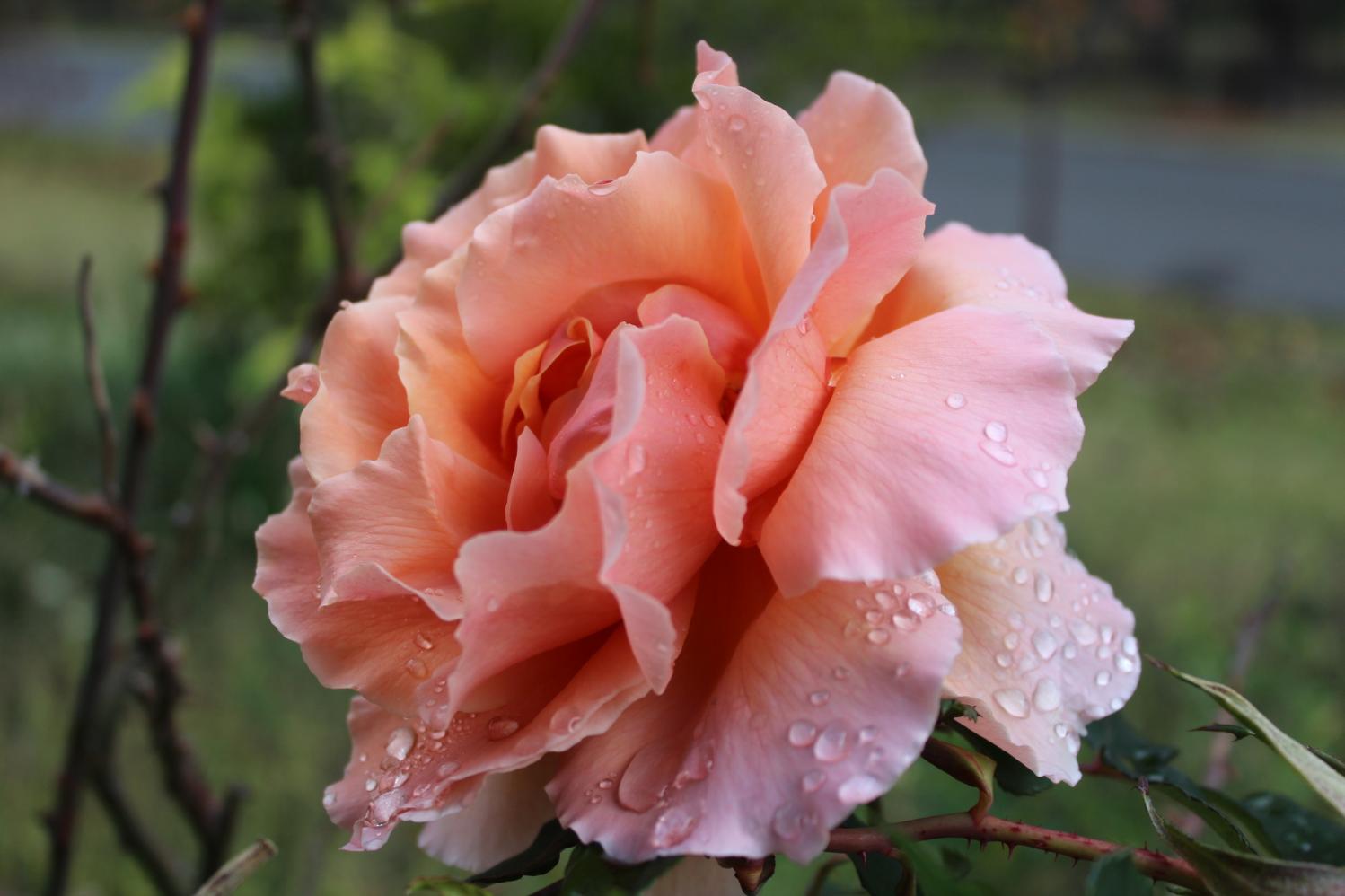 A qualification in horticulture could lead to careers involved with landscaping, nursery work, plant breeding, pest control, farming and more.
There are many varied career opportunities available for those interested in horticulture. Examples are:
Landscaping Gardener
The role of a Landscaping Gardener involves designing and maintaining outdoor spaces such as gardens and parks with the goal of creating an aesthetically pleasing environment. This could be for a private space, such as a backyard garden, or a public space, such as a municipal park.
Floriculture Assistant
Floriculture is all about propagating, growing and harvesting cut flowers for the commercial market. It also involves nursery operation and storage of harvested plants. As a Floriculture Assistant, you'll work to pick and choose plants for harvest, while also grading and sorting.
Crop Worker
As a Crop Worker, your job would involve planting various types of plants (trees, seeds, roots, bulbs, vines, etc) using hand tools or machines, as well as cultivating and maintaining these crops. You'll also need a keen eye to select and sort produce ready for sale.
Arboriculture Assistant
Arboriculture is the specialised work of caring for trees. This could be in both private and public areas. An Arborist's work involves maintaining, transplanting and removing trees, and they also evaluate the health of trees.
Horticulturist Assistant
As a Horticulturist Assistant, you will find yourself working under a professional horticultural tradesperson, and your work will take place outside and in greenhouses. It can involve some heavy lifting, as well as work such as planting seeds, bubs, etc, maintaining plant growth, and preparing plants for sale.
Plant Pathologist
Plant pathologists study the health of plants and work to identify plant diseases . They may also work on mechanically inoculating bacteria, fungi, virus and other pathogens in greenhouse or in field growth chambers.
Horticultural Consultant
Horticultural consultants sell advice on everything to do with horticulture. They specialise in plant nurseries, home gardens and soil among other fields in horticulture.
Ornamental Horticulturist
Ornamental Horticulturists study growth, arrangements and tending of decorative plants and flowers. It deals with floriculture and landscape horticulture.
Horticultural Technician
Horticultural Technicians grow plants and herbs for research, educational , aesthetic or medicinal purposes. They also help to cultivate and market plants to customers.
Plant care worker
Plant care workers perform a variety of horticultural tasks including planting, sod laying, trimming, mowing, fertilizing and watering. They could be pursing a career in Landscaping and Grounds keeping.
Nursery Worker
Nursery Workers work outdoors on greenhouses and their job is to plant, water, prune, transplant and grow plants, shrubs and trees. They look after stages from initial planting to harvest.
Parks and Gardens Team Member
This is the kind of role best suited to people who love being outdoors. As a Parks and Gardens Team Member, you will be responsible for the maintenance of residential and public parks and gardens, which could include trimming and pruning plants, weeding, hedging, mowing, and weed eradication, among other things.
If you're not sure what you want to do as a career, visit Careers NSW Interactive Explorer and explore the whole world of ideas available, at: careers.nsw.gov.au or explore the fee free options available through TAFE NSW at: www.tafensw.edu.au/jobtrainer
Also Available:
Word Of The Week: Blue
Word of the Week returns in 2022 simply to throw some disruption in amongst the 'yeah-nah' mix.
Adjective - 1. Having blue as its colour. 2. (health care) Having a bluish or purplish shade of the skin due to a lack of oxygen to the normally deep red blood cells. 3. sad. 4. (politics) Supportive of, run by (a member of), pertaining to, or dominated by a political party represented by the colour blue. 5. (astronomy) Of the higher-frequency region of the part of the electromagnetic spectrum which is relevant in the specific observation. 6. (of steak) Extra rare; left very raw and cold. 7. (of a dog or cat) Having a coat of fur of a slate grey shade.

Blue is one of the three primary colours in the RYB colour model (traditional colour theory), as well as in the RGB (additive) colour model. It lies between violet and cyan on the spectrum of visible light. The eye perceives blue when observing light with a dominant wavelength between approximately 450 and 495 nanometres. Most blues contain a slight mixture of other colours; azure contains some green, while ultramarine contains some violet. The clear daytime sky and the deep sea appear blue because of an optical effect known as Rayleigh scattering. An optical effect called Tyndall effect explains blue eyes. Distant objects appear more blue because of another optical effect called aerial perspective.
Blue has been an important colour in art and decoration since ancient times. The semi-precious stone lapis lazuli was used in ancient Egypt for jewellery and ornament and later, in the Renaissance, to make the pigment ultramarine, the most expensive of all pigments. In the eighth century Chinese artists used cobalt blue to colour fine blue and white porcelain. In the Middle Ages, European artists used it in the windows of cathedrals. Europeans wore clothing coloured with the vegetable dye woad until it was replaced by the finer indigo from America. In the 19th century, synthetic blue dyes and pigments gradually replaced organic dyes and mineral pigments. Dark blue became a common colour for military uniforms and later, in the late 20th century, for business suits. Because blue has commonly been associated with harmony, it was chosen as the colour of the flags of the United Nations and the European Union.
Surveys in the US and Europe show that blue is the colour most commonly associated with harmony, faithfulness, confidence, distance, infinity, the imagination and being cold. In US and European public opinion polls it is the most popular colour, chosen by almost half of both men and women as their favourite colour. The same surveys also showed that blue was the colour most associated with the masculine, just ahead of black, and was also the colour most associated with intelligence, knowledge, calm, and concentration.
The modern English word blue comes from Middle English bleu or blewe, from the Old French bleu, a word of Germanic origin, related to the Old High German word blao (meaning 'shimmering, lustrous'). In heraldry, the word azure is used for blue.
In Russian, Spanish and some other languages, there is no single word for blue, but rather different words for light blue and dark blue. Several languages, including Japanese and Lakota Sioux, use the same word to describe blue and green. For example, in Vietnamese, the colour of both tree leaves and the sky is xanh. In Japanese, the word for blue (ao) is often used for colours that English speakers would refer to as green, such as the colour of a traffic signal meaning "go". In Lakota, the word tȟó is used for both blue and green, the two colours not being distinguished in older Lakota.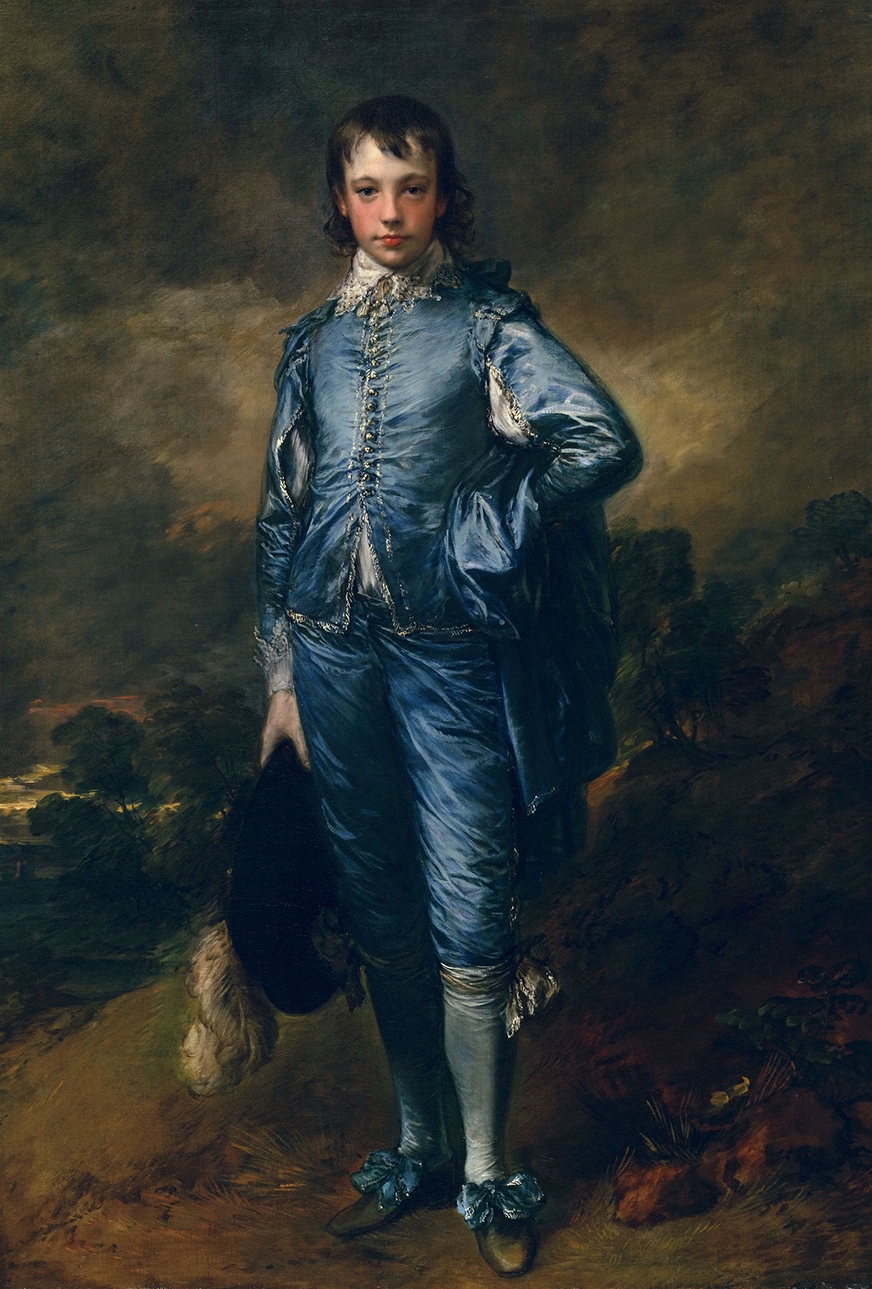 The Blue Boy (1770), featuring lapis lazuli, indigo, and cobalt colourants - by Thomas Gainsborough - courtesy The Huntington Library, Art Collections.
The Blue Boy (c. 1770) is a full-length portrait in oil by Thomas Gainsborough, owned by The Huntington in San Marino, California. One of Gainsborough's best known works, The Blue Boy was long thought to be a portrait of Jonathan Buttall (1752–1805), the son of a wealthy hardware merchant, because of his early ownership of the painting. This identification has never been proven and as Susan Sloman argued in 2013, the likely sitter is Gainsborough's nephew, Gainsborough Dupont (1754–1797). It is a historical costume study as well as a portrait; the youth appears in clothing from the 17th century as the artist's homage to Anthony van Dyck and is very similar to Van Dyck's portraits of young boys, especially his double portrait of brothers George Villiers, 2nd Duke of Buckingham and Lord Francis Villiers. Gainsborough had already drawn something on the canvas before beginning The Blue Boy, which he painted over. The painting is about life-size, measuring 48 inches (1,200 mm) wide by 70 inches (1,800 mm) tall.
Eiffel 65 - Blue (Da Ba Dee) [ Originally Released In October 1998]
Bob Dylan - Tangled Up In Blue (1975)
Neil Diamond - Song Sung Blue (1972)
Elton John - I Guess That's Why They Call It The Blues (1983)
John Williamson - True Blue (1986)
Midnight Oil - Blue Sky Mine (1990)
U2 - Beautiful Day (2000)
Photo-Taking Helps Students Remember Slide Content
October 17, 2022
Students often take camera-phone photos of slides during an instructor's presentation. But the question has lingered whether this practice helps students remember information.
A first-of-its-kind study answers the question, finding that taking pictures of PowerPoint slides during an online presentation helped students remember the slide content better than for slides they did not photograph. The study was recently published in the Journal of Applied Research in Memory and Cognition by UC Riverside psychology professor and researcher Annie Ditta.
In both experiments of the two-part study, students were asked not to study the photographs before testing. Does the act of taking the photograph itself help students better remember the content?
Other experiments have considered whether people retain information better when they photograph information. In those studies, many of them conducted in museum galleries to mimic photo-taking outside of a classroom, photograph-taking hindered peoples' ability to remember the photographed content when they were later tested.
But Ditta's is the first study that specifically considered the lecture slides students photograph as part of their academic studies. Not only did students remember content better when they photographed it, but students also better remembered complementary spoken-word-only content.
"Given that the floodgates have already opened regarding the use of technology in the classroom -- particularly with the proliferation of online courses offered due to COVID-19 -- it is wise to study how best to support learners' use of technology in the classroom so we can understand how best to support their learning with these devices," Ditta and her fellow researchers concluded.
In the first experiment, 132 university students were asked to take photographs of alternate PowerPoint slides on their computer screens. Half took photos of the even-numbered slides; half took photos of the odd-numbered slides. The presentations they were shown involved subjects with which it was assumed the mostly psychology students would have little familiarity -- printmaking, fencing, and cheese-making.
For the 60-question fill-in-the-blank test that followed, students were asked to recall information from both the slides and the spoken-word-only portion of the teacher's presentation.
The first experiment found participants remembered the slide information significantly better when they took a photo than when they did not. However, there was no difference in memory for the spoken-word-only information.
In the second experiment, half of the 108 study participants could photograph their choice of slides, as long as they photographed about half. The other half of participants were "yoked" to the first set of students, instructed to photograph only the slides the others chose to photograph.
Whether the students chose the slides they photographed, or whether they were instructed to mimic others' photo-taking, both sets of students remembered slide-photographed content better than non-photographed content. This time, however, they also experienced a benefit for remembering spoken-word-only content.
"Overall, we found evidence for a photo-taking benefit in an online lecture," Ditta and her colleagues wrote. "The results were surprising, given that most prior research has found a photo-taking impairment effect."
Additionally, the researchers wrote: "Students who take photos in lectures could enjoy the benefits of taking photos for on-slide information without much cost to information that is only said."
Before both experiments, students expressed a belief that photo-taking would help them remember slide information -- but they felt it would not help them remember spoken-word-only content. "They were wrong about that," Ditta said regarding the spoken content findings of the second experiment.
The study did not determine why the photo-taking helps ; Ditta said that will be addressed in a planned follow-up study. But Ditta and her colleagues surmised regarding the first experiment's findings: "It's possible that the predictability of taking a photo every other slide enabled participants to pay more attention to the upcoming to-be-photographed slides in experiment 1 ."
Previous experiments found note-taking was superior to photo-taking in terms of remembering content. Ditta's study did not compare note-taking with photo-taking; she said the interaction of note-taking and photo-taking will also be the subject of a future study.
In addition to Ditta, who is an assistant professor of psychology, study authors for the article, "What happens to memory for lecture content when students take photos of the lecture slides?" included Julia Soares, a faculty member at Mississippi State University and Benjamin Storm, a faculty member at UC Santa Cruz.
Annie S. Ditta, Julia S. Soares, Benjamin C. Storm. What happens to memory for lecture content when students take photos of the lecture slides? Journal of Applied Research in Memory and Cognition, 2022; DOI: 10.1037/mac0000069
Histoire Du Tango For Flute And Guitar By Astor Piazzolla
Here's wonderful flautist and Bilgola resident Bridget Bolliger with Vladimir Gorbach at last weekend's Sydney Chamber Music Festival 2022 -
Live recording 16th October 2022 at Manly Art Gallery and Museum
Histoire du Tango for Flute and Guitar by Astor Piazzolla
Bordel 1900
Café 1930
Nightclub 1960
Freshie Masters Carnival - Saturday 19 November
We're on! Come and join us at Australia's premier Master's Carnival on Freshwater Beach, hosted by Freshwater SLSC.
Briefing on the sand at 7:45am, Team events commence at 8am, Dash For Cash commences 10am, Brunch & Presentation 11am. No Individual SLSC Events. This is a 'Teams' Only Carnival.
Club Entries via SEMS
If you're a Master, come join us!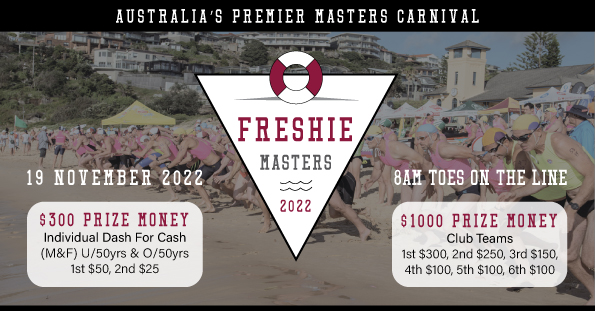 Seniors And Teens Bridge The Digital Divide
The eSafety Commissioner has launched an innovative program that brings older people and teens together to share and improve their digital skills and comfort with technology.
Through the intergenerational Young Mentors program, seniors can gain the skills, knowledge, and confidence to navigate the online world.
"Technology has a wonderful ability to connect, enable and empower individuals. The importance of this connection was especially evident during the COVID-19 pandemic," eSafety Commissioner Julie Inman Grant said.
"For those who use digital technology in our daily lives, we may not realise how novel it can be to older people who have lived much of their lives without it.
"It is difficult for anyone to stay on top of the continually evolving digital landscape as modern technologies emerge. Ensuring we do not leave older Australians behind as society continues to move online is essential."
Any organisation with a connection to older Australians or young people, looking to build the skills of their community, is encouraged to register. Mentoring sessions take place over the course of several weeks, and are one-to-one and self-paced.
School coordinator looking for a Service in Community, volunteering awards, work experience or leadership program for their students
School Community Service Program Coordinator
School ICT (Information Communication Technology) or DT (Digital Technologies) lead looking for a program that ties in with an ICT or DT elective
Duke of Edinburgh's International Award
Coordinator or Award Leader looking for a program for their students to undertake in the Service section of the Award.
If you are a community program lead in a library, you can connect with a local school and enhance program offerings for older visitors to the library.
For coordinators in a Community Centre or Computer Club, you can connect with a local school to help build confidence in technology and reduce feelings of isolation for older visitors across the organisation's offered programs.
COTA Australia Announces Appointment Of New Chief Executive
COTA Australia, the peak body for older Australians, has today announced the appointment of Patricia Sparrow as its next Chief Executive, to succeed Ian Yates.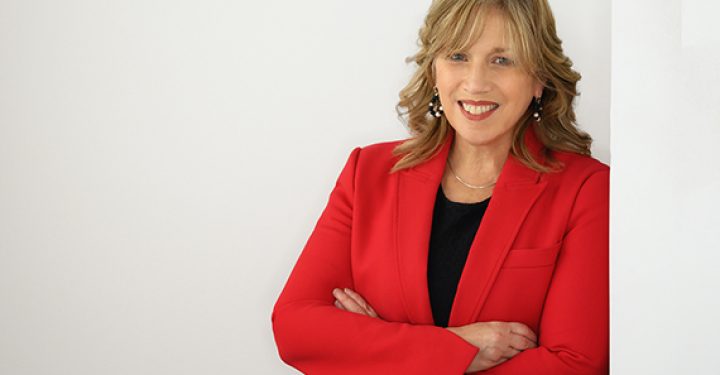 Ms Sparrow returns to COTA Australia with extensive experience in human services over a long career including in local and state governments and the non-government sector, and as an aged care advisor to Federal Ministers. She is an experienced and very successful Chief Executive Officer having fulfilled that role at Vision 2020 Australia and the peak body for non-profit aged care providers, Aged and Community Services Australia (ACSA) for five years.
Ms Sparrow will replace Ian Yates AM, D Univ (Flinders) who has played pivotal roles in Councils on the Ageing for over 33 years, including 20 years at the helm of COTA Australia.
COTA Australia Chair, Professor Jane Halton AO PSM, said the appointment of Patricia Sparrow would ensure great continuity in the organisation's vital role as the peak policy and advocacy body representing older Australians.
"Patricia Sparrow has a wealth of experience and brings with her a great passion for the rights and wellbeing of older Australians," Professor Halton said.
"She has already been instrumental in achieving important changes for older Australians in her previous roles and will bring a level of knowledge, enthusiasm and experience to COTA Australia that makes her an ideal successor to Ian Yates.
"While Australia has come a long way when it comes to understanding and respecting the rights and needs of older Australians, there is still a long way to go, and Patricia is the ideal person to help us navigate the challenges ahead."
Patricia Sparrow said: "I am truly excited to be taking up the reins at COTA Australia. Age discrimination, employment, cost of living, retirement incomes and secure housing, especially for older women – as well as aged care – are amongst the nation's biggest challenges for the next few decades and ones that I am passionate about addressing. My priorities will be to improve equality in the delivery of all services and harness the power of the new generation of older Australians for good.
"It will be a big challenge to fill Ian's shoes but I'm confident that with the talented COTA Australia team and my background across consumer advocacy, government and business we have the right tools to take COTA Australia forward and improve outcomes for older people.
Professor Halton also paid tribute to the outgoing Chief Executive, saying the contribution Ian Yates has made cannot be overestimated.
"Ian Yates has been at the forefront of advocating for the rights of older Australians for over three decades and in that time has been instrumental in pushing for and achieving crucial reforms such as the increase to the aged pension, superannuation reform and especially major aged care reforms, as well as countless other measures which have helped improve the lives of older Australians.
"Ian hasn't just made an important contribution to COTA Australia as an organisation, he's played a pivotal role in shaping the way older people are seen and heard in our country. While of course there are still many big challenges ahead, there's no doubt we've come a long way as a country when it comes to the roles and welfare of older Australians and Ian has been at the centre of that.
"Ian has achieved great things at COTA Australia, but all good things must come to an end. Ian will work with the incoming Chief Executive to ensure a smooth transition in leadership. He will continue to contribute to the welfare of older Australians in other roles such as Chair of the Council of Elders."
Patricia Sparrow will take up her new role in December.
Scams Awareness Week 2022
Scams Awareness Week 2022 takes place 7-11 November. This Scams Awareness Week we're encouraging you to learn ways to identify scams and take the time to check whether an offer or contact is genuine before you act on it.
With scammers continually developing new ways to catch people out, we need to increase our vigilance in checking for those little clues that can alert us that something is a scam.
Scams cost Australian consumers, businesses, and the economy hundreds of millions of dollars each year and cause serious emotional harm to victims and their families.
In 2021 Australians made more than 286,600 reports to Scamwatch and reported losses of around $324 million. By the end of August this year, Australians had lost even more with reported losses of over $381 million.
As alarming as these numbers are, we know that around one third of people who are scammed never tell anyone, so the true numbers are probably much higher.
Visit
this page
during Scams Awareness Week for more information and tips on how to protect yourself from scams.
Scamwatch tools and resources
The Scamwatch and ACCC websites contain a range of tools and resources about scams.
Remote access scams try to convince you that you have a computer or internet problem and that you need to buy new software to fix the problem.
Attempts to gain your personal information
Scammers use all kinds of sneaky approaches to steal your personal details. Once obtained, they can use your identity to commit fraudulent activities such as using your credit card or opening a bank account.
Identity theft is a type of fraud that involves using someone else's identity to steal money or gain other benefits.
Phishing scams are attempts by scammers to trick you into giving out your personal information such as your bank account numbers, passwords and credit card numbers.
Hacking occurs when a scammer gains access to your personal information by using technology to break into your computer, mobile device or network.
Learn how to protect against scams
Being aware of scammers is necessary to avoid becoming the victim of one. Once you know their tricks, you are more likely to be able to spot a scam.
October is Cyber Security Awareness Month. The Australian Government's free Be Connected training program holds free online presentations to help you navigate the online world safely.
The online presentations help build your digital skills and keep you safer online. Presentation topics include how to protect yourself against scams and how to use smart home technology.
Topics include:
Protect yourself against scams
Online shopping and banking
Helpful apps for your smart device
How to use home smart technology
Selling safely online

AvPals Training Term 4 2022 At Newport
Avpals are proud to present our training schedule for Term 4 at the Newport Community Centre. You can enroll online, make inquiries online, even pay online. Spaces are limited. We are complying with every aspect of Covid Care.
Avalon Computer Pals (AVPALS) help seniors learn and improve their computer and technology skills. Avpals is a not-for-profit organisation run by volunteers. Since 2000, we have helped thousands of seniors from complete beginners to people who need to improve or update their skills. We offer "one to one" personal tuition or special short courses. Small class workshops are run at the Newport Community Centre on Tuesday afternoons.
One-to-one training is provided at our rooms in Avalon, under the Maria Regina Catholic Church, 7 Central Road, Avalon.
The Term 4 timetable is below: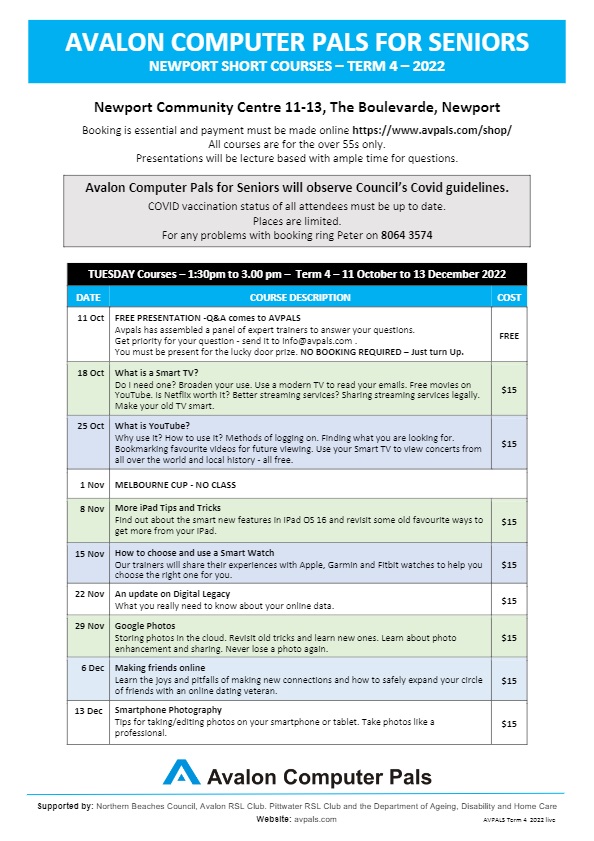 Tobias Breider & Grace Kim Perform Forgotten Romance
On Sunday 6th November at 4:00pm at OLGC Catholic Church, Sydney Symphony Orchestra's Principal Violist, Tobias Breider performs a captivating recital "Forgotten Romance", with acclaimed Sydney concert pianist, Grace Kim, for Wyvern Music Forestville.
The concert opens with the charming Romance by Max Bruch and ends with a Viola Da Gamba Sonata by JS Bach, with the well-known Rebecca Clarke Sonata, Franz Liszt's Romance Oublilée and Paul Hindemith's Trauermusik Suite as the central works of the program.
Tobias Breider, Principal Violist of the Sydney Symphony Orchestra since 2011, has established himself as one of Australia's most sought-after violists in chamber music. Winston Churchill Fellow, concert pianist, artistic director and music educator Grace Kim, believes that quality live music should be accessible to everyone with a desire to hear it. Ensuring that it is, her Sensory Concerts® and Mountain Concerts series are performed by her internationally-recognised peers.
When: Sunday 6th November at 4:00pm
Where: Our Lady of Good Counsel Catholic Church, 9 Currie Rd, Forestville
Tickets: Full: $25 Concession: $20 Students: $15 Children under 16 Free
Enquiries: Wyvern Music Forestville Tel: 9416 5234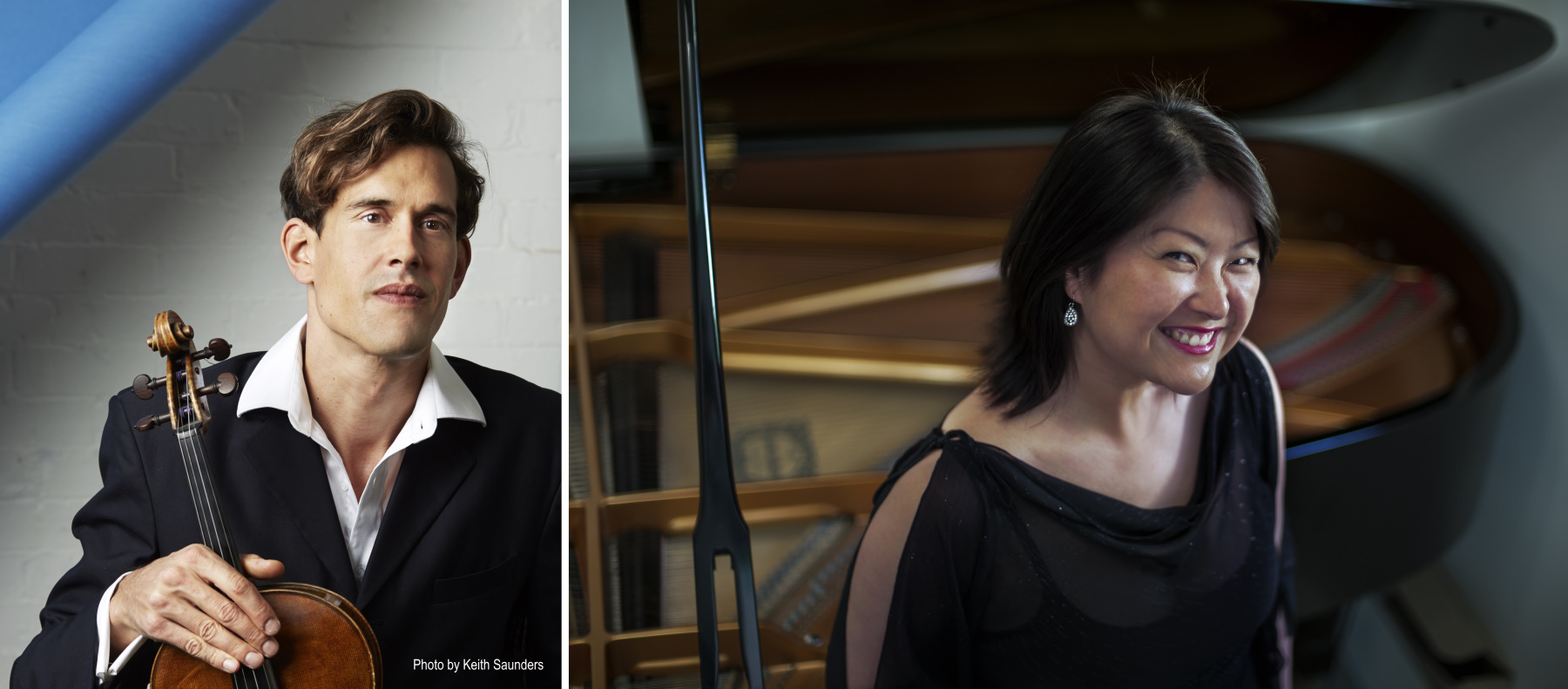 Bilgola Probus Club Commences
The Bilgola Probus Club had its inaugural meeting last month and the Committee is now on a membership drive to secure interested people to join our club. Membership is open to males and females who are currently retired or semi-retired.

We meet on the first Friday of each month at 10am at the Newport Bowling Club; 2 Palm Road Newport.
To find out more, please contact our President, Patricia Ryan on 0438 281 573.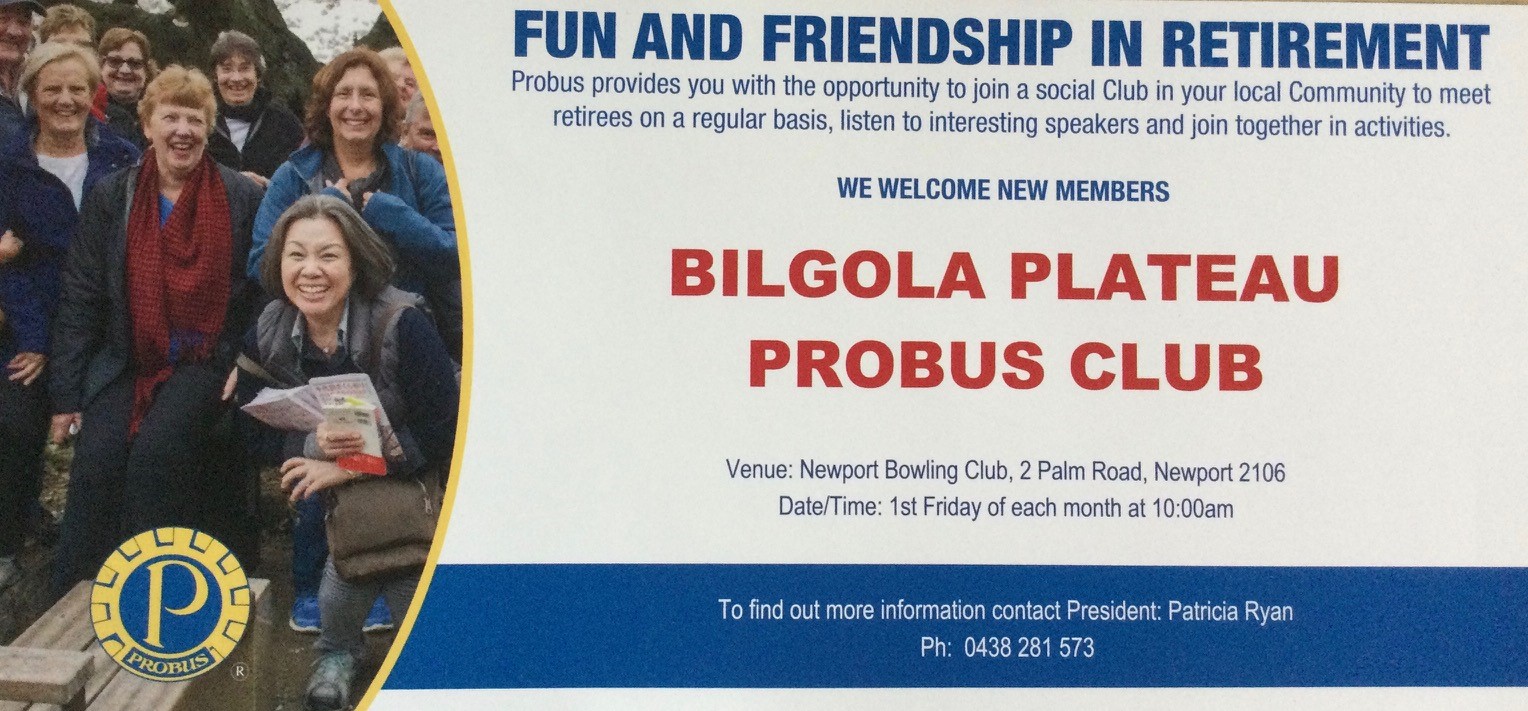 Keep On Dancing Is What The Science Says!
ABC Catalyst is presenting a 2 part special studying the many benefits of dance for the over 65s. Improvements in memory, movement and the creation of new neural pathways in the brain are some of the benefits found in recent studies.
Nia is a combination of 52 moves drawn from dance arts, martial arts and healing arts. Within one class we combine flexibility, agility, mobility, strength and stability (FAMMS) in order to improve balance and fitness. By incorporating FAMMS within the movements, Nia is an integrated way to condition the entire body. People who regularly practice Nia open to a new awareness of their bodies, their internal energies, and their feelings – all of which help them move more efficiently, effectively, and safely in their workouts and in life.
Come along and give it a try. There's no performance pressure.
Avalon Nia Classes are held at the Recreation Centre.
6pm Thursdays Classic Nia
9.30am Fridays Gentle Nia
Call or text Mandy Loveday 0411 645 389 - Profile
Nia's 9 movement forms embrace the 5 Sensations of Fitness:
Flexibility

Agility

Mobility

Strength

Stability
Dance for health. Avalon Recreation Centre Thursdays 6pm and Fridays 9.30am.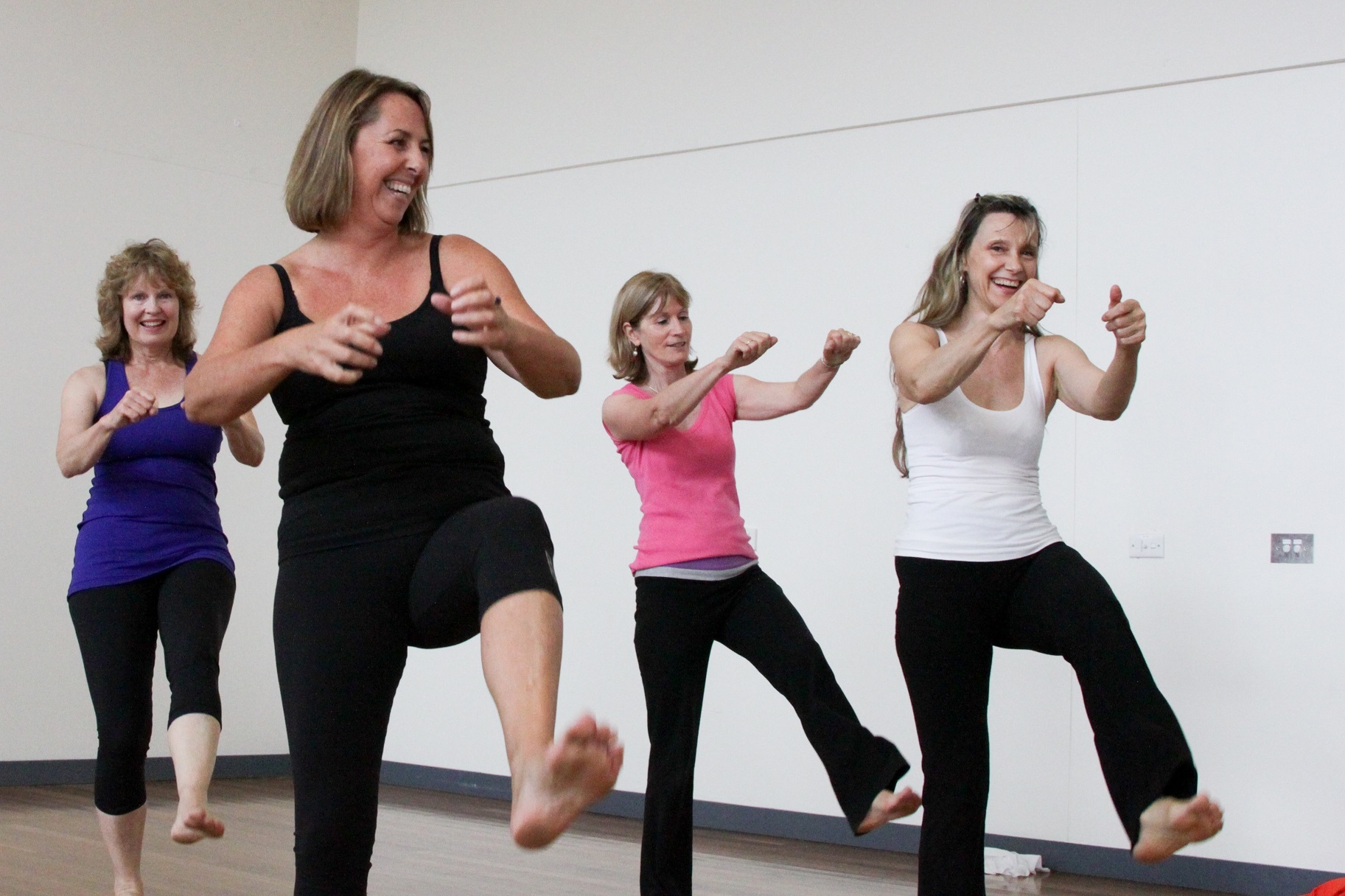 Home Instead Sydney North Shore & Northern Beaches
We are a provider of quality home care and companionship services for seniors in the Northern suburbs of Sydney.
To you, it's about finding trustworthy care for your ageing loved one. To us, it's about providing the highest-quality in-home care services to fit you and your family's needs.
To Us, It's Personal.
We provide services to all areas and suburbs in the North Shore and Northern Beaches of Sydney.
Telephone: (02) 9144 2322
Sharkies Masters Oldest Member Represents Australia In NZ Game
Brian Friend OAM has just returned from playing five games with the Central Coast Bulldogs and one representing Australia against the Kiwis in Masters Rugby League.
As he turned 79 during the competition those who know him will realise that liniments post-games were not the only painkillers for bruised limbs.
Happy Birthday Friendly and congratulations and yet another great Masters of Rugby League particpaton record.
Now - back to those touch footy rounds for 730 kids and 33 referees.
Pictures of Friendly (No.: 32) Photo credit: Cynthia McInally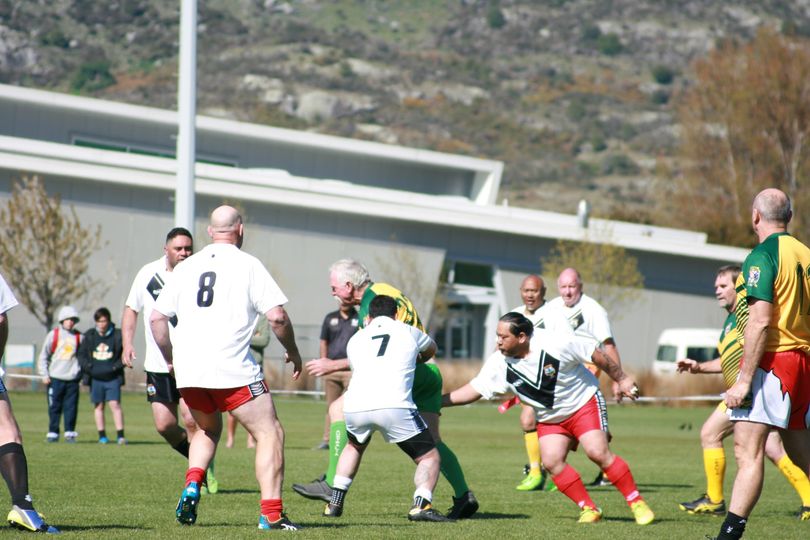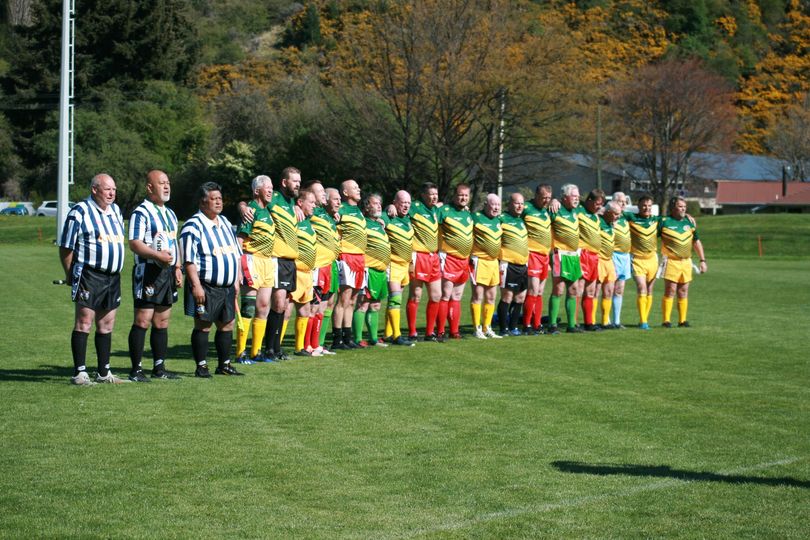 HammondCare Opens Respite Centre At Terrey Hills
HammondCare are excited to announce the opening of HammondCare's new Overnight Respite Cottage – right in the heart of the Terrey Hills community!
The official opening took place on Thursday October 20th.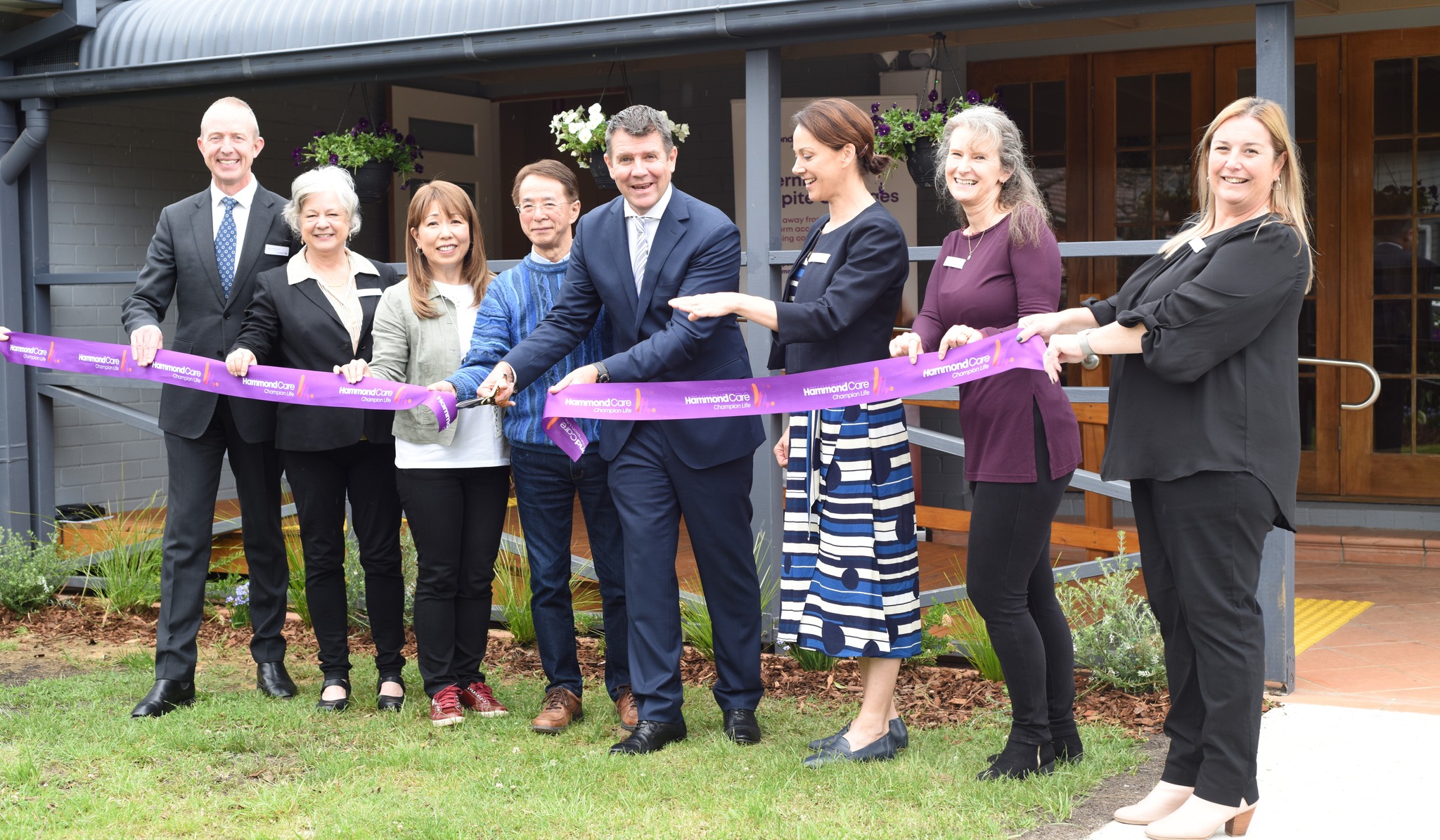 Bugari Cottage offers a comfortable home-like environment, where guests are supported with daily tasks, a wide range of social activities and delicious meals prepared on site.
''Offering older guests short-term accommodation, carers can take time out, knowing their loved one will receive professional and compassionate support from a small, qualified team.'' HammondCare states
''Recognising no two people are the same, our care teams adopt a personalised approach when it comes to supporting the people we care for. They take the time to get to know each person, to fully understand their individual unique needs.''
''HammondCare is an independent Christian charity that champions life for the people we serve, specialising in dementia care and palliative care.''
Have Your Say On Strengthening Quality In Aged Care
Minister for Aged Care Anika Wells is encouraging older people, their family, friends, carers and aged care providers to share their views on strengthening quality in aged care through the Aged Care Quality Standards.
he review responds to the recommendations of the Royal Commission into Aged Care Quality and Safety (Royal Commission). This includes strengthening key areas such as food and nutrition, diversity, dementia, clinical care and governance.
The content and structure of the current Quality Standards have been revised following significant targeted consultation with key stakeholders including consumer representatives, the sector, peak bodies and experts.
"The Aged Care Quality Standards are more than just a document. They provide a shared understanding of what is expected in aged care. They are being urgently reviewed so we can strengthen requirements and embed high quality in the aged care system. '' Minister for Aged Care, Anika Wells said
"I want to ensure all older people receive high quality care that is best suited to them and meets their individual needs, which is why it's so critical that as many people engage as possible and have their say.
"We heard what the Royal Commission said and are raising the bar for quality and safety.
"We are doing this by strengthening governance and clinical care in the Quality Standards and ensuring the diversity of older Australians and people living with dementia are better understood and considered."
$25 Million In Funding For Australian Dementia, Ageing And Aged Care Research
The Australian Government has announced it will provide $25 million for dementia, ageing and aged care research. A total of 18 grants, provided through the Medical Research Future Fund, will go to Australia's best and brightest researchers.
Their research will look at new ways to extend older Australians' healthy, active, years of life.
New approaches will reduce the stigma associated with ageing and lead to better outcomes for older people, including those in vulnerable populations.
Consistency and quality of care for older Australians will be improved across all care settings.
Better data will be used to develop more effective, evidence-based, care for older Australians.
The projects will view a range of ways to improve support for older Australians.
These include developing an app for older people to recognise early signs of dementia; and increasing dementia diagnosis and early treatments through primary care and awareness programs.
Researchers will look at reducing the risk of dementia, cardiovascular disease and falls through healthy lifestyle and diet changes, including a specific exercise and falls prevention program for older culturally and linguistically diverse Australians.
"We need to have ambition for aged care and research is critical to advancing the sector.'' The Hon Anika Wells MP Minister for Aged Care said in making the announcement.
"These research projects have the potential to provide real, on-the-ground, benefits to our older Australians, and usher in a new era of aged care.
"It is crucial our best and brightest minds are helping advance the tools the aged care industry can use to provide better environments and resources for older Australians."
People's fitness to drive when they have been diagnosed with dementia will be better assessed and managed.
Older people will be encouraged to communicate their aged care needs, provide their views on screening for age-related health conditions, and engage in physical activity for better health.
Health providers will be helped to better recognise and respond to elder abuse.
Researchers will also trial the use of metformin medication to treat blocked leg arteries; and use informatics to improve medication management in nursing homes.
The full list of projects and intended outcomes:
A Preventative Care Program to optimise mental health during transition into residential aged care
The transition from living in the community to residential aged care (a nursing home), is a stressful experience for the person and their family that can lead to poor mental health. We designed a program to assist the new resident (PEARL), the family (aSTART), and to provide additional training for staff. We expect the combination of programs will reduce and prevent symptoms of depression in the resident. We will evaluate the impact of the program to guide national rollout. -
University of Newcastle:
$200,000.00
Better Environment, Healthier Ageing
"Better environment, Healthier Ageing" project aims to measure major environmental risk factors comprehensively, to evaluate their health impacts in older Australians, and to develop, evaluate and implement intervention strategies that can mitigate the adverse impacts. The project will clarify the environmental enablers and barriers for achieving healthy ageing, and provide older Australians, aged care and health service providers with effective strategies to improve environmental health. -
Monash University:
$200,000.00
EMBED: A stepped wedge cluster randomised trial of a tailored, integrated model of care to reduce symptoms of depression in home aged care
Older people who receive aged care services at home are at a high risk of depression but lack access to effective treatments. Aged care staff are mostly not trained to recognise or manage symptoms of depression. This research will evaluate Enhanced Management of home-Based Elders with Depression (EMBED)—a new model of care that is expected to reduce symptoms of depression, address stigma and enable older Australians to access evidence-based, tailored treatment at home. -
Monash University:
$1,997,775.71
Evaluation of primary care and help-seeking promotion programs to increase dementia diagnosis and early treatment
This project will test whether a public health-seeking campaign and a primary care practice change program increase dementia diagnosis and treatments and supports after diagnosis. The interventions will target dementia knowledge, stigma, and motivations. Interventions will be delivered in three regions. We will measure change through routinely collected health administration data, surveys and interviews. Results will be used to improve dementia training, public campaigns and policy. -
University of Sydney:
$1,999,814.75
Frailty KIT: An Australian Frailty Network to Create Knowledge, Implement Findings and Support Training
Programs to promote healthy ageing and reduce frailty work in research trials, but these are not widely available and where they are, people do not always join in. This study will compare ways to support older people to participate in frailty programs (e.g. health coach, online portal) to inform national implementation. We will form an Australian Frailty Network to oversee this and ensure all future work is coordinated and informed by the needs of older people, their families and caregivers. -
The University of Queensland:
$4,993,238.54
Getting to the heart of healthy ageing: a behaviour change program to promote dietary pattern changes
Blood vessel disease is linked with risk of dementia, cardiovascular disease and falls. A large clinical trial will determine if a novel, low-cost, behaviour change program (knowledge of level of blood vessel disease, its links with risk of dementia, cardiovascular disease and falls, and the benefits of and how to follow a Mediterranean diet) will motivate an individual to make healthy lifestyle changes and will improve measures of risk for dementia, cardiovascular disease and falls. -
Edith Cowan University:
$506,834.96
IMPAACT: IMproving the PArticipation of older Australians in policy decision-making on Ageing-related CondiTions
In the future, more Australians will live with health conditions that are related to getting older. Some experts recommend that older people be screened for these conditions, yet many questions remain about how best to do this. Together with older people, we will conduct a process to incorporate older people's views into screening for ageing-related conditions. Our project will provide recommendations on how such screening should be offered within the community. -
Torrens University Australia Limited:
$584,430.14
Implementation of a co-designed exercise and fall prevention program for older people from CALD backgrounds.
There is strong evidence that exercise reduces falls in older people. Most older people do not meet physical activity guidelines and there are limited resources to support people from culturally and linguistically diverse (CALD) backgrounds. We will i) codesign an exercise and falls prevention program with older people from three culturally and linguistically diverse backgrounds and stakeholders and ii) evaluate the program in 630 older people from CALD backgrounds. -
University of Melbourne:
$200,000.00
Implementing innovative technology promoting self-awareness of brain health and self-determination in obtaining a timely dementia diagnosis
To delay decline, dementia needs to be diagnosed early. However, up to 76% of Australians diagnosed with dementia have advanced beyond the early stage. The Brain Health Journey app is designed to increase awareness of brain health and promote help-seeking for cognitive concerns. This research into the app use and influence on help-seeking, knowledge and beliefs about dementia will underpin widespread use of an evidence-based app by vulnerable older people to facilitate timely dementia diagnosis. -
Deakin University:
$1,052,176.56
MEtformin for treating peripheral artery disease Related walking Impairment Trial (MERIT)
MERIT is a randomised controlled trial to assess whether a cheap repurposed medication can treat blocked leg arteries (peripheral artery disease), a condition which adversely affects the quality of life and reduces the functional ability of over 1 million older Australians. Given the substantial prevalence of this disease in older people and the current absence of effective treatments, the findings of MERIT will have important implications for older people worldwide. -
James Cook University:
$1,215,182.04
Navigating Fitness to Drive with Patients with Dementia in Primary Care: Delivering an innovative Online Driver Safety Assessment and Management Package to Practitioners
We will deliver critical resources for primary care management of driving in patients with dementia. These resources include a validated off-road assessment of fitness to drive and protocols. These resources will empower GPs to begin a driving conversation early, assess confidently, and encourage their patients to plan early for eventual driving cessation. An approach that GPs and people living with dementia endorse as the optimal outcome in the inevitable transition to driving retirement. -
The University of Queensland:
$1,316,765.43
No more shame: Changing health providers recognition and response to elder abuse to reduce associated stigma
Elder abuse is stigmatised. Older people feel shame disclosing it; health providers struggle to detect it. By improving health providers' recognition and response, the stigma of elder abuse can be reduced. Using co-design and trial methods, we evaluate our intervention's effectiveness in improving: (i) health providers' knowledge of elder abuse and ageist attitudes; (ii) sub-acute care sites' detection and responses; and (iii) older people's sense of safety, quality of life, and mental health. -
University of Melbourne:
$1,561,144.75
Residential Aged Care - Enhanced Dementia Diagnosis
The Royal Commission into Aged Care Quality and Safety found that 1 in 5 people have undiagnosed dementia. Our program provides education to residents, staff and families to address dementia stigma and uses blood tests and digital cognitive assessments to indicate which residents need a referral to specialists for a formal dementia diagnosis. This program will improve dementia knowledge and care leading to improved health and wellbeing for vulnerable people living in residential aged care. -
Monash University:
$200,000.00
The Australian Consortium for Aged Care - Quality Measurement Toolbox (ACAC-QMET): Improving Quality of Care through Better Measurement and Evaluation
The Australian Consortium for Aged Care (ACAC) will improve the quality of care provided to older Australians by defining what constitutes high quality care and the tools needed to monitor this across care settings. ACAC will generate the best quality evidence to inform the key components needed to provide high quality person-centred care. Our work will help care providers and the government understand the delivery of care quality and drive quality improvement to improve health and wellbeing. -
University of South Australia:
$2,999,445.80
The ENJOY Seniors Exercise Park IMP-ACT project: IMProving older people's health through physical ACTivity: a hybrid II implementation project design
The ENJOY IMP-ACT program is a translation research project built on an evidence based physical and social activity program. It aims to expand its impact on the community by incorporating an implementation framework to support local governments and the community to further engage older people in physical activity for better health. The program aims to enhance the physical and mental wellbeing and social connectedness of older people and build capacity and community engagement. -
University of Melbourne:
$2,011,748.53
The right to rehabilitation for people with dementia: tackling stigma and implementing evidence-based interventions
People with dementia are often denied treatments to help them maintain their everyday activities. This can be due to stigma and a lack of knowledge by health professionals. The overall aim of our project is to work with people with dementia, their care partners and service providers to develop and test resources and strategies to improve access to treatments that will assist people living with dementia maintain independence and wellbeing in the community for as long as possible. -
Monash University:
$1,015,820.66
Transforming residential aged care through evidence-based informatics
Poor medication management is a critical and, to date, intractable problem in aged care, impacting residents' wellbeing. Informatics approaches have enormous potential to improve medication management, reduce the workload of aged care staff, & support residents and families access timely information. This project will demonstrate how informatics can support monitoring of medication quality, provide decision support to guide decision-making & provide consumers with real-time information. -
Macquarie University:
$992,386.00
Unspoken, Unheard, Unmet: Improving Access to Preventative Health Care through Better Conversations about Care.
Communication is important. We use it to express our needs, to connect with other people, to make choices, and to tell someone when something is wrong. Many older Australians who receive aged care services have difficulty communicating, but their care workers do not have the tools or resources to support them to express their needs, choices, or concerns. We will co-design and evaluate the "Better Conversations" program: resources and training to support important conversations about aged care. -
The University of Queensland:
$2,014,394.33
Brain Discovery Holds Key To Boosting Body's Ability To Fight Alzheimer's, MS
UVA Health researchers have discovered a molecule in the brain responsible for orchestrating the immune system's responses to Alzheimer's disease and multiple sclerosis (MS), potentially allowing doctors to supercharge the body's ability to fight those and other devastating neurological diseases.
The molecule the researchers identified, called a kinase, is crucial to both removing plaque buildup associated with Alzheimer's and preventing the debris buildup that causes MS, the researchers found. It does this, the researchers showed, by directing the activity of brain cleaners called microglia. These immune cells were once largely ignored by scientists but have, in recent years, proved vital players in brain health.
UVA's important new findings could one day let doctors augment the activity of microglia to treat or protect patients from Alzheimer's, MS and other neurodegenerative diseases, the researchers report.
"Unfortunately, medical doctors do not currently possess effective treatments to target the root causes of most neurodegenerative diseases, such as Alzheimer's, Parkinson's or ALS [amyotrophic lateral sclerosis, commonly called Lou Gehrig's disease]. In our studies, we have discovered a master controller of the cell type and processes that are required to protect the brain from these disorders," said senior researcher John Lukens, PhD, of the University of Virginia School of Medicine and its Center for Brain Immunology and Glia (BIG), as well as the Carter Immunology Center and the UVA Brain Institute. "Our work further shows that targeting this novel pathway provides a potent strategy to eliminate the toxic culprits that cause memory loss and impaired motor control in neurodegenerative disease."
Many neurodegenerative diseases, including Alzheimer's and MS, are thought to be caused by the brain's inability to cleanse itself of toxic buildup. Recent advances in neuroscience research have shed light on the importance of microglia in removing harmful debris from the brain, but UVA's new discovery offers practical insights into how this cleaning process occurs -- and the dire consequences when it doesn't.
Using a mouse model of Alzheimer's disease, the UVA researchers found that a lack of the molecule they identified, spleen tyrosine kinase, triggered plaque buildup in the brain and caused the mice to suffer memory loss -- like the symptoms seen in humans with Alzheimer's. Further, the neuroscientists were able to reduce the plaque buildup by activating this molecule and microglia in the brain, suggesting a potential treatment approach for human patients, though that would require significantly more research and testing.
"Our work has described a critical element of microglial function during Alzheimer's disease and MS," said researcher Hannah Ennerfelt, the first author of a new scientific paper outlining the findings. "Understanding the underlying biology of these cells during neurodegeneration may allow for scientists and doctors to develop increasingly informed and effective therapeutic interventions."
A lack of the molecule in a mouse model of MS, meanwhile, led to the buildup of damaged myelin, a protective coating on nerve cells. When myelin is damaged, the cells cannot transmit messages properly, causing MS symptoms such as mobility problems and muscle spasms. The UVA researchers conclude in a new scientific paper that the molecule they identified, abbreviated as SYK, is "critically involved" in the crucial removal of myelin debris. "If boosting SYK activity in microglia can decrease the amount of myelin debris in MS lesions, developing new drugs to target SYK could stop the progression of MS and help to reverse the damage," said Elizabeth L. Frost, PhD, a critical researcher on the project. "This is an especially promising option given that most of the currently available drugs for MS treatment dampen adaptive immunity. These immunosuppressive drugs lead to susceptibility to infection and higher risk of potentially fatal side effects like progressive multifocal leukoencephalopathy. Additionally, some forms of MS do not have a strong involvement of the immune system, and therefore there are currently very limited treatment options for those patients."
"Targeting SYK in microglia," she noted, "would circumvent multiple limitations of present-day therapeutics for MS."
Based on their promising results, the researchers report that targeting the molecule to stimulate the brain's immune activity could offer a way to treat not just Alzheimer's and MS but a "spectrum" of neurodegenerative diseases.
"These findings are especially exciting because they point to a treatment avenue in which we could alter the behavior of these native brain cells, microglia, to behave in a more neuroprotective way," said researcher Coco Holliday, a UVA undergraduate working in the Lukens lab. "It could potentially be applied to a variety of different neurological diseases that all share the problem of a buildup of toxic waste in the brain. It's been a very exciting project to be a part of."
Hannah Ennerfelt, Elizabeth L. Frost, Daniel A. Shapiro, Coco Holliday, Kristine E. Zengeler, Gabrielle Voithofer, Ashley C. Bolte, Catherine R. Lammert, Joshua A. Kulas, Tyler K. Ulland, John R. Lukens.
SYK coordinates neuroprotective microglial responses in neurodegenerative disease.
Cell, 2022; DOI:
10.1016/j.cell.2022.09.030
Aboriginal Languages Revitalised In NSW Schools
Students in NSW will soon be able to learn from the highest quality Aboriginal languages syllabus in the country with the release of a new Aboriginal Languages syllabus.
Minister for Education and Early Learning Sarah Mitchell said NSW is proudly home to more than 35 Aboriginal Language groups, and more than 100 dialects of those languages.
"This is the first major redevelopment of how Aboriginal languages are taught in our schools in 20 years," Ms Mitchell said.
"The new syllabus gives students valuable opportunities to learn the language of their local area and develop an understanding of Aboriginal languages and cultures.
"For the first time students who speak an Aboriginal Language or Torres Strait Islander Language at home will be able to progress the study of that language at school."
Importantly, the new Aboriginal Languages Kindergarten to Year 10 syllabus includes guidance for schools on involving Aboriginal communities and knowledge holders when introducing and teaching the syllabus.
"This provides Aboriginal communities greater flexibility around how their languages are taught."
Minister for Aboriginal Affairs Ben Franklin said Aboriginal students have a right to learn their own language in school.
"Creating more opportunities for Aboriginal students to communicate in an Aboriginal language not only strengthens their connections to country, culture and their identity but it promotes the importance of language revitalisation and the continuation of learning," Mr Franklin said.
"Empowering young Aboriginal people to maintain a strong sense of identity, belonging and culture and learn more about Aboriginal languages is also hugely beneficial to their overall educational and social outcomes."
The syllabus was developed following extensive consultation with Aboriginal communities and education stakeholders.
NSW Aboriginal Education Consultative Group (AECG) Inc President Catherine Trindall said the they are pleased to support the launch of the co-designed K-10 Aboriginal Languages syllabus.
"This syllabus has been developed from the support of our Aboriginal Community members. This allows schools to formally implement, engage and deliver Aboriginal Languages across NSW and it supports the NSW Aboriginal Languages Act," Ms Trindall said.
"As President, I encourage everyone to take this opportunity to learn the first languages of Australia and to engage with and form positive working relationships with our local and regional AECGs."
The syllabus includes guidance on how to involve Aboriginal communities when introducing and teaching the syllabus in schools, which research shows is vital to the sustainability of Aboriginal Languages programs.
Key features of the new syllabus include:
Content is now available in two language pathways: the Language Revival pathway for students with no prior learning, and the First Language pathway for students who use the language at home. It is the first time in the NSW Curriculum, that students whose first language is an Aboriginal Language or Torres Strait Islander Language, will have the opportunity to continue their language learning at school.
Students develop communication skills in an Aboriginal Language and understand the relationships between language, Country and culture.
Students learn about how languages are built, and techniques used by Aboriginal Language communities to do this.
Students learn about how Aboriginal languages are being revived, maintained, and strengthened.
New evidence-based support materials and resources are available on the Digital Curriculum to assist schools and teachers to implement the syllabus.
The new Aboriginal Languages syllabus will be available for teachers to plan during 2023. The syllabus will be available to be taught in NSW schools from 2024.
All teachers have one year to familiarise themselves and prepare before each new syllabus is mandatory under the NSW Curriculum Reform, and a detailed implementation timeline has been published.
NSW remains on track to deliver a new curriculum for Kindergarten to Year 10 from 2024, with all Year 11 and 12 syllabuses delivered by 2025.
NSW Closing The Gap Commitments: State-First Report On Aboriginal Expenditure
NSW has become the first state to publish a landmark report identifying the NSW Government's spending on Aboriginal people and communities and where commitments under the National Agreement on Closing the Gap were exceeded.
The Comprehensive Indigenous Expenditure Report (IER), the first of its kind in Australia, goes beyond the State's commitments under the National Agreement.
The report identifies funding that is specifically targeted at Aboriginal people and general funding that benefits community.
NSW Treasurer Matt Kean said the report will assist the State to make effective policy reforms and tailor funding to improve the lives of Aboriginal people in NSW.
"NSW is the first state in Australia to outline its targeted spending across the NSW Government, as well as non-targeted funding in three pilot clusters related to Aboriginal people. We're exceeding our commitments under Closing the Gap, but we still have a long way to go to meet targets," Mr Kean said.
"This report will assist our ongoing work in genuine partnership with Aboriginal communities to enact reforms to improve outcomes and empower Aboriginal and Torres Strait Islander people.
"Outlining funding apportioned to Aboriginal people in our three pilot clusters will assist us to tailor future spending to programs and services that demonstrate improved outcomes for Aboriginal and Torres Strait Islander people."
Minister for Aboriginal Affairs Ben Franklin said the report will help inform effective allocation of funds, with a focus on Aboriginal Community-Controlled Organisations.
"Aboriginal Community-Controlled Organisations are proven to provide important delivery of culturally appropriate and critical services to improve outcomes for Aboriginal people in NSW," Mr Franklin said.
"The NSW Government is committed to ensuring Aboriginal people are at the centre of policy funding, decision-making, design and evaluation of programs and services to ensure outcomes are improving."
In 2020-21, it is estimated the NSW Government spent $5.48 billion on Aboriginal communities. This includes $4.5 billion of non-targeted expenditure in the Education ($1.5 billion), Health ($1.1 billion) and Stronger Communities ($1.9 billion) clusters.
The Comprehensive IER details 28 new budget initiatives in health, wellbeing, education, justice, land rights and housing security, designed in partnership with Aboriginal communities to assist the NSW Government in meeting its commitments under Closing the Gap.
Targeting Enzyme Could Alleviate Muscle Wasting For Cancer Patients
Targeting a specific enzyme in the muscle could help cancer patients preserve muscle mass and potentially prolong their survival, according to research from UTHealth Houston.
A study led by Yi-Ping Li, PhD, professor in the Department of Integrative Biology and Pharmacology with McGovern Medical School at UTHealth Houston, found that an enzyme known as UBR2 plays a critical role in cancer-induced muscle wasting, also called cancer cachexia.
The results were published today in the scientific journal PNAS.
"The findings will fill a key gap in understanding how cancer causes muscle mass and function loss," said Li, senior author of the study and a faculty member with The University of Texas MD Anderson Cancer Center UTHealth Houston Graduate School of Biomedical Sciences.
Cancer cachexia is a complication developed in the late stages of cancer in roughly 60% of all cancer patients. Cachexia patients waste away by losing body weight, primarily due to progressive loss of muscle mass, causing respiratory and heart failure. Approximately 30% of all cancer patients die of cachexia, making the complication a major determinant of cancer survival.
Historically, there has been no treatment of cancer cachexia due to poor understanding of its origins. Therefore, a key focus of Li's lab over the past two decades has been to decipher the molecular mechanisms through which cancer causes cachexia.
Building upon a series of discoveries in mice, his lab recently identified the role of the enzyme UBR2. This is the key enzyme in muscle that seeks out subtypes of the contractile protein myosin heavy chain, a critical component for sustaining muscle contraction, for destruction in response to cancer.
Cancer causes an increase of UBR2 in muscle, and blocking the increase of or removing UBR2 spares mice from tumor-caused muscle mass and function loss. By examining the muscle of cancer patients, researchers obtained evidence that UBR2 is increased, which is associated with loss of the specific subtype of myosin heavy chain preferentially lost in cachexia.
Li said this discovery is significant for the future of cancer cachexia therapy.
"We have learned in animal studies that muscle wasting in cancer hosts can be ameliorated by blocking UBR2 increase through repurposing some existing drugs," he said. "Based on the findings, we plan to conduct clinical trials for the therapy of cancer cachexia."
Song Gao, PhD, former postdoctoral research fellow with McGovern Medical School, was the first author of the study. Co-authors with the Department of Integrative Biology and Pharmacology at McGovern Medical School included Yong Zhou, PhD, assistant professor, as well as former faculty members Guohua Zhang, PhD; Zicheng Zhang, MD, PhD; James Z. Zhu; and Li Li, PhD.
Other co-authors were George G. Rodney Jr., PhD, and Reem S. Abo-Zahrah, PhD, both with Baylor College of Medicine in Houston; Lindsey Anderson, PhD, and Jose M. Garcia, MD, PhD, both with VA Puget Sound Health Care System in Seattle; and Yong Tae Kwon, PhD, with Seoul National University in South Korea.
Song Gao, Guohua Zhang, Zicheng Zhang, James Z. Zhu, Li Li, Yong Zhou, George G. Rodney, Reem S. Abo-Zahrah, Lindsey Anderson, Jose M. Garcia, Yong Tae Kwon, Yi-Ping Li.
UBR2 targets myosin heavy chain IIb and IIx for degradation: Molecular mechanism essential for cancer-induced muscle wasting.
Proceedings of the National Academy of Sciences, 2022; 119 (43) DOI:
10.1073/pnas.2200215119
High Exposure To Glyphosate In Pregnancy Could Cause Lower Birth Weights In Babies
Indiana University School of Medicine researchers are learning more about the effects of herbicide exposure during pregnancy, finding glyphosate in 99 percent of the pregnant women they observed in the Midwest. In the study, published recently in Environmental Health, higher glyphosate levels were associated with lower birth weight and may also lead to higher neonatal intensive care unit admission risk.
This is the second small-scale study the researchers have conducted with significant findings. The team's previous study, published in 2018, was the first study to confirm glyphosate in 93 percent of pregnancies which found associations with shortened pregnancies. Other recent studies have also confirmed their findings.
"Pesticide exposure in pregnancy, especially in early pregnancy, can imprint DNA and alter gene expression," said Paul Winchester, MD, professor of clinical pediatrics and the study's lead author. "But little is known about how these chemicals can impact foetal development in humans."
Glyphosate is a chemical, commonly found in Roundup, used to kill weeds. It is used by farmers and homeowners across the United States, but especially in the Midwest on corn and soybeans. Previous studies have shown people can be exposed to glyphosate in all the foods they eat, even packaged or organic foods.
Over the course of several years, researchers observed a cohort of 187 pregnant women in Indiana, collecting urine samples in the first trimester of their pregnancies. All but one of the women had glyphosate detected in their urine.
Winchester said previous studies have shown a variety of negative effects of pesticide exposure in animal models, but not much is known about the impact on fetal development in humans.
"As a neonatologist, I'm seeing more and more infants with problems like low birth weight as well as mothers with issues like obesity or gestational diabetes," Winchester said. "We need to keep studying these herbicides long term to find out how they could be causing these issues and what we can do to prevent them."
Researchers hope to study glyphosate exposure in a larger group of pregnant women over time.
This study was a collaborative effort with Franciscan Health in Indianapolis, University of California San Francisco, University of Arkansas for Medical Sciences and King's College London School of Medicine.
Roy R. Gerona, Jill L. Reiter, Igor Zakharevich, Cathy Proctor, Jun Ying, Robin Mesnage, Michael Antoniou, Paul D. Winchester.
Glyphosate exposure in early pregnancy and reduced foetal growth: a prospective observational study of high-risk pregnancies.
Environmental Health, 2022; 21 (1) DOI:
10.1186/s12940-022-00906-3
Disclaimer: These articles are not intended to provide medical advice, diagnosis or treatment. Views expressed here do not necessarily reflect those of Pittwater Online News or its staff.