September 4 - 10, 2022: Issue 553
Be The Boss: I Want To Be An Automotive Mechanic
If you have always loved tinkering with vehicles then becoming a Mechanic may be the perfect job-for-life for you. Although you will have to do an Apprenticeship, once you have completed that you will be able to work in the motor vehicle and associated industries, while this is, once again, work where you will have a certain degree of autonomy, whether you set up in business as a sole trader or even when working for someone else.
A Mechanic is a tradesperson who uses tools to build and repair machinery. Most Mechanics specialise in a particular field, such as motor mechanics, air-conditioning and refrigeration, or bicycle mechanics.
For the purposes of this week's 'I want to be the Boss' we focus on Automotive Mechanics.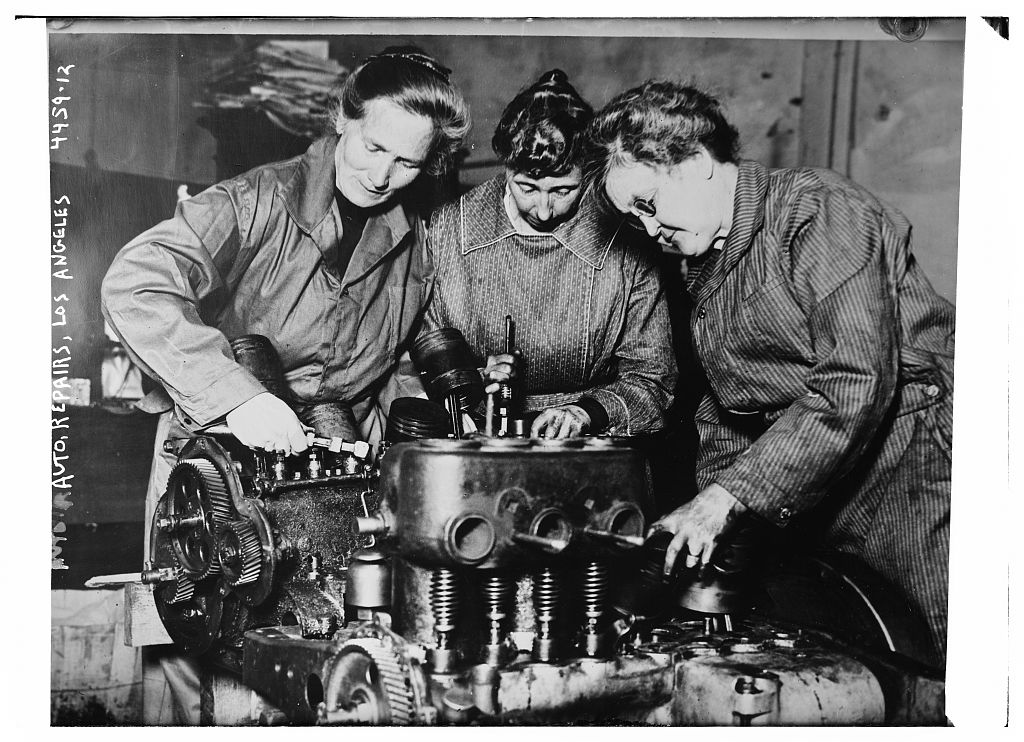 Automobile mechanics at work, USA, 1910s

Automotive Mechanics (also known as Auto Mechanics) are qualified to maintain, test and repair petrol engines and the mechanical parts of motor vehicles. This may include identifying faults and ensuring the smooth function of transmissions, suspension, steering and brakes.
To become an Automotive Mechanic you need to complete an apprenticeship and some formal training. If you want to specialise in automotive air-conditioning or be certified to give roadworthy assessments you'll require additional licensing and need to complete further study.
When looking to start your apprenticeship, an Apprenticeship Network provider or Group Training Organisation in your area can help you find a host employer. Or get out there and ASK - there are plenty of local businesses looking for someone to start a Mechanic apprenticeship - or use a search function platform such as
Indeed
or
Seek
to find one in your area.
While completing your apprenticeship, there are a number of formal training options to supplement your on-the-job training. The Certificate III in Light Vehicle Mechanical Technology (AUR30616) has a particular focus on light vehicles.
In order to give roadworthy assessments you need to function as a Licenced Vehicle Tester (LVT), which requires you to complete further accredited training.
TAFE Automotive Repair and Maintenance courses will set you up for a wide range of careers, from painting, repairs or motor mechanics with any automotive organisation.
TAFE specialist facilities, industry events and relationships, and courses for everyone from high school students to tradespeople, put you in pole position in this area of skills shortage.
TAFE automotive courses equip you with the practical and theoretical knowledge you need to become qualified as a car mechanic, motor mechanic, or automotive specialist.
You'll learn mechanical and electrical fundamentals including servicing, diagnostic and repairs on things like the engine, steering, suspension, driveline, brakes, body control and vehicle communication systems.
You'll also use your communication skills and attention to detail to learn how to successfully run your own business and create safe work environments in the automotive industry.
Cars, trucks, and agricultural machinery are the backbone of Australia, with 19.5 million vehicles being registered at the beginning on 2019. Evolving industries, sustainable environmental standards and automotive technology advancements mean that you need to be skilled to meet what the future has in store with 23,000 job openings until 2024. There's no better time to get into gear with a TAFE NSW automotive qualification.
Whether you want to restore a vintage vehicle, work on modern SUVs or get out in the agriculture field, there are many exciting opportunities in the automotive industry, including:
Automotive electrician
Automotive mechanic
Automotive salesperson
Car mechanic
Heavy vehicle mechanic
Light vehicle mechanic
Marine trimming technician
Mobile plant mechanic
Motorcycle mechanic
Vehicle refinishing technician
Vehicle spray painter
Start with a foundational Certificate II in Automotive Vocational Preparation, kick-start your career as a qualified car mechanic with a Certificate III in Light Vehicle Mechanical Technology, and then rev it up with a Certificate IV in Automotive Mechanical Diagnosis.
In Australia, the average weekly salary for a motor mechanic is $1,436 per week. Requirements of a mechanic include the completion of an apprenticeship and relevant qualifications, such as the Certificate II in Automotive Body Repair Technology, or the Certificate III in Light Vehicle Mechanical Technology.
TAFE NSW courses in this area are offered in various specialties, such as:
Automotive Body Repair Technology
Automotive Servicing Technology
Light Vehicle Mechanical Technology
Automotive Electrical Technology, Engineering (Mechanical)
Mobile Plant Technology
Heavy Commercial Vehicle Mechanical Technology
Also Available: