October 23 - 29, 2022: Issue 559
motion to have Fauna Management Plans in Local Council comply with the NSW Code of Practice for Injured, Sick and Orphaned Protected Fauna to be presented at LGNSW 2022 Conference - Some FMP's passed allow for wildlife to be killed where their homes are felled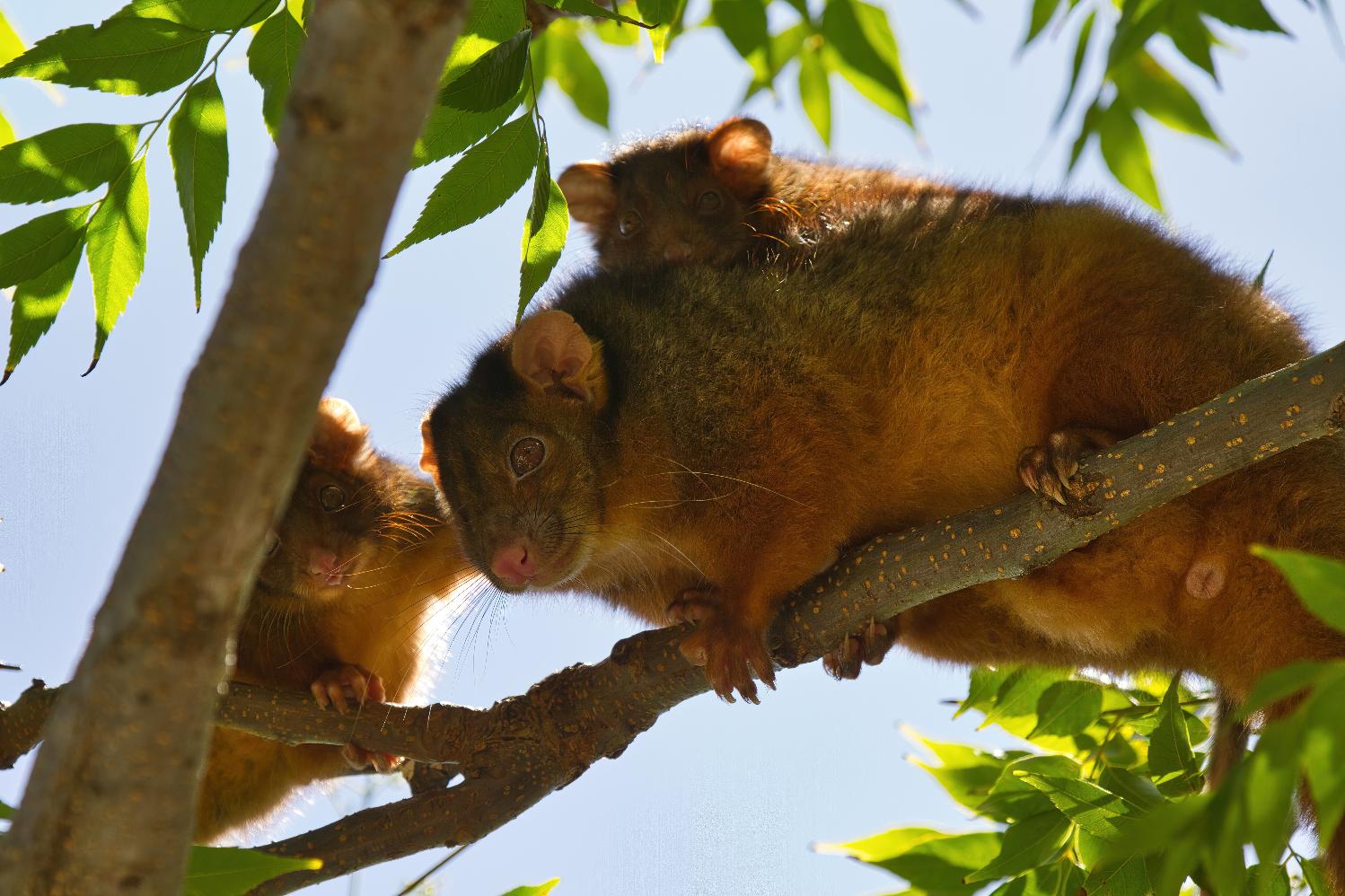 A Family of ringtail possums, with the mum carrying her young. Photo: Andrew Mercer
From 23 to 25 October 2022, Councillors from across NSW will come together at the LGNSW Annual Conference. This annual event provides an opportunity to share ideas, seek inspiration, and help determine this sector's policy directions for the coming year.
At the Hornsby Council Meeting held on August 10th 2022 a Motion was presented that that Council submit a motion dealing with the Protection of Native Wildlife for consideration at the 2022 Local Government NSW Annual Conference. The wording of the motion is as follows:
That Local Government NSW lobby the NSW Government to:
In conjunction with industry associations, introduce enforceable standards for the preparation of flora and fauna management plans.
Consider Codes of Practice and Guidelines for handling native wildlife and other best practice and animal welfare laws in development of the standards.
Consult with Councils, National Parks and Wildlife Service, Ecological Consultants Association of NSW, wildlife rescue organisations and other relevant agencies in the preparation of standards.
This was subsequently passed, after research was done by Hornsby Council, at their September Meeting.
Item 2 of that motion clarified:
Such a standard should include requirements for:
Pre-clearance surveys to be carried out to establish which species are present on the site, including identification of any threatened and native species.
The identification of suitable nearby areas where wildlife could possibly be relocated.
The provision of possum, glider and bat boxes sufficiently in advance of vegetation clearing to allow wildlife time to discover the boxes and become familiar with them.
Compliance with the NSW Code of Practice for Injured, Sick and Orphaned Protected Fauna and the licencing requirements contained in the Biodiversity Conservation Act 2016.
Best practice for wildlife handling and care (including contact with local wildlife rescue groups).
Reporting of injured or killed fauna to the NSW Department of Planning, Industry and Environment to enable the data to be used in statewide biodiversity monitoring programs.
The premise of this is that mandatory pre-clearance surveys to establish what wildlife lives there before works commence, and to document this in a formal way, should be required on any site that has vegetation and for which a DA has been approved. The experience is that often vegetation is removed before an application is submitted, often leaving wildlife with no home. Wildlife then ends up on roads dead or dies after being displaced/evicted.
One carer cited a Pittwater case of a powerful owl pair that had had vegetation removed to make the development more likely to proceed – the nest and two babies were destroyed.
'It's hard to prove wildlife is/was present after the clearing as they aren't there.'
'Once trees and vegetation are removed the problem is where do these animals go?'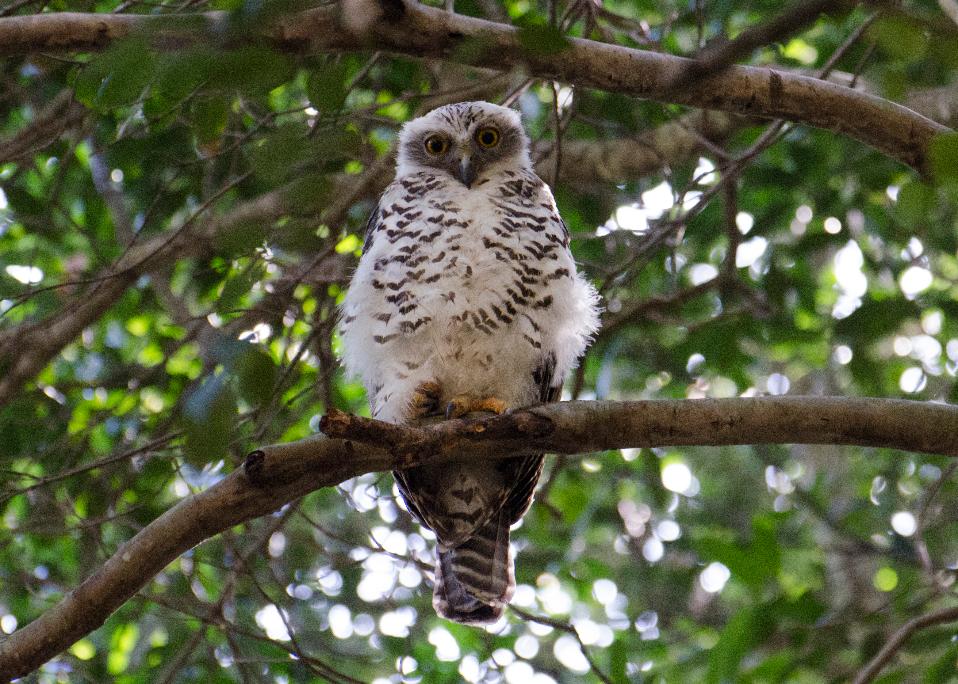 There is a growing community support across the Sydney area for ensuring Fauna Management Plans should be made to comply with the NSW Code of Practice for Injured, Sick and Orphaned Protected Fauna, that, as one example, wildlife carers must comply with. That means on site management in accordance with the legislated codes not just what is written in an FMP. Some FMPs bear no resemblance to the codes. Some FMPs passed by councils allow for wildlife injured as a result of their homes being cut down to be euthanised on site.
Wildlife not being managed in a correct manner appears to be more and more prevalent as the push to raze greenfield sites or introduce medium density into areas with a lot of canopy cover and flora and fauna corridors threaded between places. This is putting a strain on volunteer services that are neither funded nor properly supported. It is also leading to localised extinctions of these species and, as a result, other species reliant on them, along with the crash of the ecosystems they are a vital part of.
The ringtail possum is one example - although called the 'common ringtail possum' in many areas across this city, this is no longer the case as trees are removed. In some areas they have disappeared, and with them, the species their lives are interlinked with.
This is occurring right here, in our area. Already each dawn is quieter where once there was a chorus of song.
Council-submitted motions to the LGNSW 2022 Conference will be debated and resolved to set the advocacy priorities for the year ahead.
Hornsby Councillor Tania Salitra, who introduced the successful Motion, spoke to Pittwater Online News this week, stating that having standards for best-practice handling of wildlife will go a long way to giving them the best possible chance of survival when their homes and food sources are being taken away.
''This is an opportunity for the entire state of NSW to do better for our wildlife and help reverse the horrific reality of Australia having the highest rate of mammal extinction in the world. Here in NSW, 4.9 million native animals are killed each year from land clearing alone.
On Monday, councillors across NSW can vote to be at the forefront of protecting our wildlife by filling a gaping hole in our legislation. Including enforceable standards in fauna management plans will give native wildlife found on development sites a greater chance of survival through best-practice handling, care and relocation.'' Ms Salitra said
Councillor Salitra's speech to Hornsby Council on her Motion states:
''We have Australian Standards for how many operations are carried out on development sites, like heritage, waste, soil contamination, but we don't have standards for what happens to the animals living in the trees and vegetation that is being cleared on these sites.

This motion is very simple – we are asking our local government body to lobby the state government for standards to ensure native wildlife found on development sites are given the best possible chance of survival.

Fauna Management Plans explain how wildlife will be treated on development sites. They are written by ecologists, who are hired by developers to get their DA approved.

Currently they are dependent on individual interpretation on how to handle and what to do with native wildlife found on site; and range in quality from really poor to really good because they are dependent on the experience and knowledge of the author along with developer expectations.

Legislating standards for wildlife on development sites will provide certainty for all stakeholders – the developer, ecologists, tradespeople, wildlife carers and our community.

Certainty in procedure will provide clarity on who and what these standards apply to, for all stakeholders in a currently grey-area. And they'll result in more efficiency on development sites, where these repeatable actions become the norm.

Standards remove personal opinion and subjective analysis. They provide certainty and consistency in the assessment process for applicants and community. By removing ambiguity, these standards will assist council planning departments when assessing applications.

For this reason alone, the motion makes sense and I hope my fellow councillors will get behind it, for the good of our wildlife and for the benefit of our planning department in streamlining the DA process.

Some top tier developers and government departments are already working with best-practice fauna management plans, as you'll find on the internet. They know current legislation does not meet the expectations of their shareholders and the community.

I am so grateful for the incredible tree protection we have here in Hornsby Shire however, development will continue to happen, and vegetation will need to be removed to facilitate it.

But we know there is a problem - I've circulated two articles to my fellow councillors – on the Mirvac site in West Pennant Hills, 200m away from our border and in Cammeray where residents are being faced with dead possums and birds all over the roads around the sites; and I have given you examples of good and bad fauna management plans to show how widely they can vary in quality.

The 2006 State of the Environment Report states when land is cleared, "everything that lives in it is killed" either quickly through injury or slowly by being poorly relocated and starving.

But extinction is not inevitable, it's a choice. Let's choose to do better.''
The Mirvac development in West Pennant Hills has been the focus of much opposition, with 12 community groups joining under together as 'Forest in Danger' to oppose the development's destruction of habitat. The chief concern was the initial clearing of 1253 trees and the wildlife that would perish as a result.
Here too a Motion has been presented to The Hills Shire at the October 11 2022 council meeting by Councillors Dr Mila Kasby and Ryan Tracey for the protection of wildlife that. Specifically it asked that The Hills Shire Council lobby the NSW State Government to - 1; Introduce enforceable, consistent standards for the preparation of fauna management plans that includes the Code of Practice for handling native wildlife and 2; Develop these standards based on current best practice and animal welfare laws, in consultation with councils, National Parks and Wildlife Service, wildlife rescue organisations, Ecological Consultants Association of NSW Inc, and other relevant agencies.
''Fauna Management Plans are written by an ecologist employed by the developer. Unsurprisingly these plans vary greatly in quality.'' Cr. Kasby stated.
This was voted down by the Liberal Councillor majority controlled council.
There was a disagreement as to whether most of this area can be classified as Blue Gum High Forest, another endangered ecological community. Mirvac argued that they were planted as part of the creation of the IBM corporate park. Council documents indicted many of the trees had naturally regenerated.
When IBM left the site staff member Sharon Tunley penned an appreciation:
"Back in the 1980's IBM's Cumberland Forest location was born. The building design won several architecture awards. The office environment idyllic. The buildings surrounded by an extensive tree canopy including Blue Gum High Forest that is now 25 to 30 years old. IBM worked with the National Trust to establish a bush regeneration plan and 40,000 native plants were planted."

"The State Forest and surrounding bush attracted cockatoos, rainbow lorikeets, owls, snakes, lizards, bush turkeys, magpies, ravens, the occasional koala, and I'm sure much more that we did not see."
Since then residents have seen powerful owls and koalas in the site.
However, Mirvac referred the decision to then federal Environment Minister Sussan Ley in July last year. Ms Ley approved the trees' removal on September 15th, 2021, Spring baby wildlife time.
Further community protest saw the clearing of the land delayed until April of this year. Then the site was razed, during powerful owl breeding season, with a black wall installed around the site which took over the public pavement. Forest in Danger stated this was to stop scrutiny of wildlife being mishandled, maimed or killed. The Group contacted their council, and state the council said no permission was sought to place the wall over the footpath and up to the road kerb.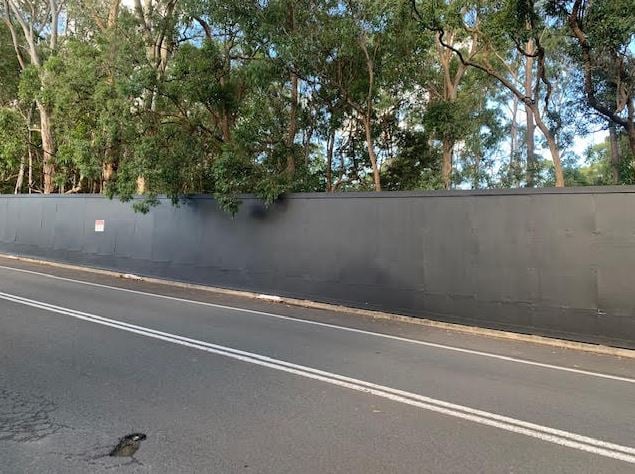 The wall that covers the public pavement. Photos: Forest in Danger group, Facebook

A September 2022 Sydney Morning Herald report shows the site after the clearing, from above. The black wall is still in place.
An August 2022 report by Kurt Johnson, 'Bulldozing trust: when the big build back tramples on communities and wildlife' through MWM, pointed out that the FMP for this site proposed;
'protocols such as: "Trees will be gently shaken by machinery prior to clearing to encourage any animals remaining to leave". Yet of the entire Fauna Management Plan, it is the Euthanasia Protocol that provokes the greatest consternation. It includes a provision that allows injured wildlife to be euthanised if "deemed unlikely to survive travelling to the vet".

Wildlife veterinarian Gabbi Tobias states that ecologists "shouldn't make an assessment of the animal's health." The FMP includes "six vet clinics and two of them are open 24 hours and so there's absolutely no reason for an ecologist to euthanise anything." The closest, West Pennant Hills Veterinary Hospital is just 800 metres away. "There just seems to be this huge exemption for development compared to the rest of the people in NSW," Tobias says.

Cumberland Ecology's David Robertson responds: "Our ecologists are scientifically trained biologists and environmental scientists and always seek veterinary support and assessment if animals are unwell or injured. Injury response is guided by a vet."

Yet the Fauna Management Plan makes no mention of consulting a vet prior to bringing an injured animal in. Instead the plan states: "A judgement is required on injured animals as to whether they are suitable for release, transport to a vet or euthanised onsite in accordance with protocols of animal ethics approval that authorise the ecologist to perform this action if required."
The 'Forest in Danger' group states, ''We understand there were fourteen echidna burrows located within that demolition area. There is no written record that Mirvac removed the echidnas from their burrows before demolition commenced. Were they buried alive? If not, why is there no record of their relocation?''
This came after the site was cleared and after the council imposed a condition that; 'Any injured fauna is to be placed into the hands of a wildlife carer (please note only appropriately vaccinated personnel are to handle bats). Any fauna that is injured due to vegetation removal must be reported to Hills Shire Council within 24 hours.'
The 'trees can be shaken' FMP modelling is one Mirvac has used in a Queensland development - to clear koala habitat.
Mirvac has since lodged DAs seeking approval to remove a further 1877 trees, which The Hills Shire Council has recommended approval for, and also seeks a height variation for the structures of apartment buildings A, B, C and D are 26.4m, 27.1m, 24.9m and 26.6m respectively. The represents a variation of 4.4m (20%), 5.1m (23.2%), 2.9m (13.2%) and 4.6m (20.9%) to the height standard. The council found that 'strict compliance with the development standard is unreasonable and unnecessary in this instance and the variation can be supported'. This increases the original 6 storey apartment buildings to 8 storeys.

That document also states that no wildlife being injured has been reported during the clearing of the site.
A NSW Planning Panel public meeting will take place this week, October 27, on the amended proposal.
In 2019 Mirvac had submitted to the council an application to amend the Height of Buildings Map to facilitate building heights of up to 9m, 12m and 22m.

As part of the development Mirvac dedication land, a total of 10.282 hectares is subject to a State Voluntary Planning Agreement. As part of 1414/2022/ZB there is a condition of consent requiring, prior to the issue of a Subdivision Certificate, the lots are to be dedicated to the Forestry Corporation NSW. The Forestry Corporation is a state-owned corporation appointed to land management and timber production across two million hectares of public land on behalf of the NSW Government.
This proposal was approved under the NSW State Government's Fast-tracked Assessments Tranche Two: announced on 22 May 2020, with 24 projects determined by 18 June 2020. The council had rejected the proposal in 2019.
Fast-tracked Assessments were announced by the NSW Government to redirect resources within the Department of Planning, Industry and Environment to accelerate the assessment and determination of projects that inject investment into the NSW economy and keep people in jobs during the COVID-19 pandemic.
More recently, the NSW Government announced on September 16th it is entering into an agreement with Mirvac for a ''Harbourside redevelopment to transform Sydney's Darling Harbour''.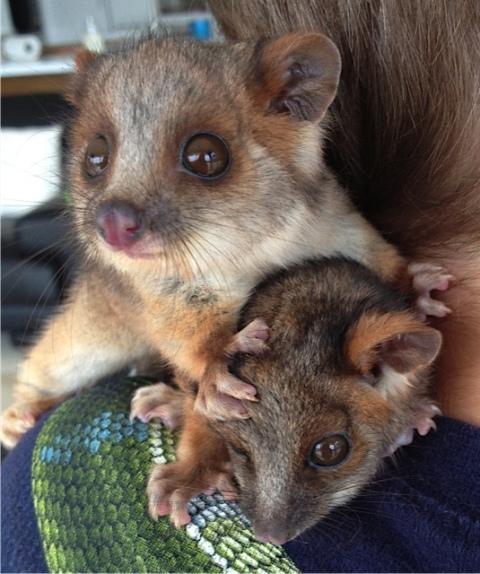 Ringtail Possums in care - photo supplied