inbox and environment news: Issue 551
August 21 - 27, 2022: Issue 551
Cuttlefish
When you're having a walk on the beach you may sometimes find one of these - we saw this one on Whale Beach: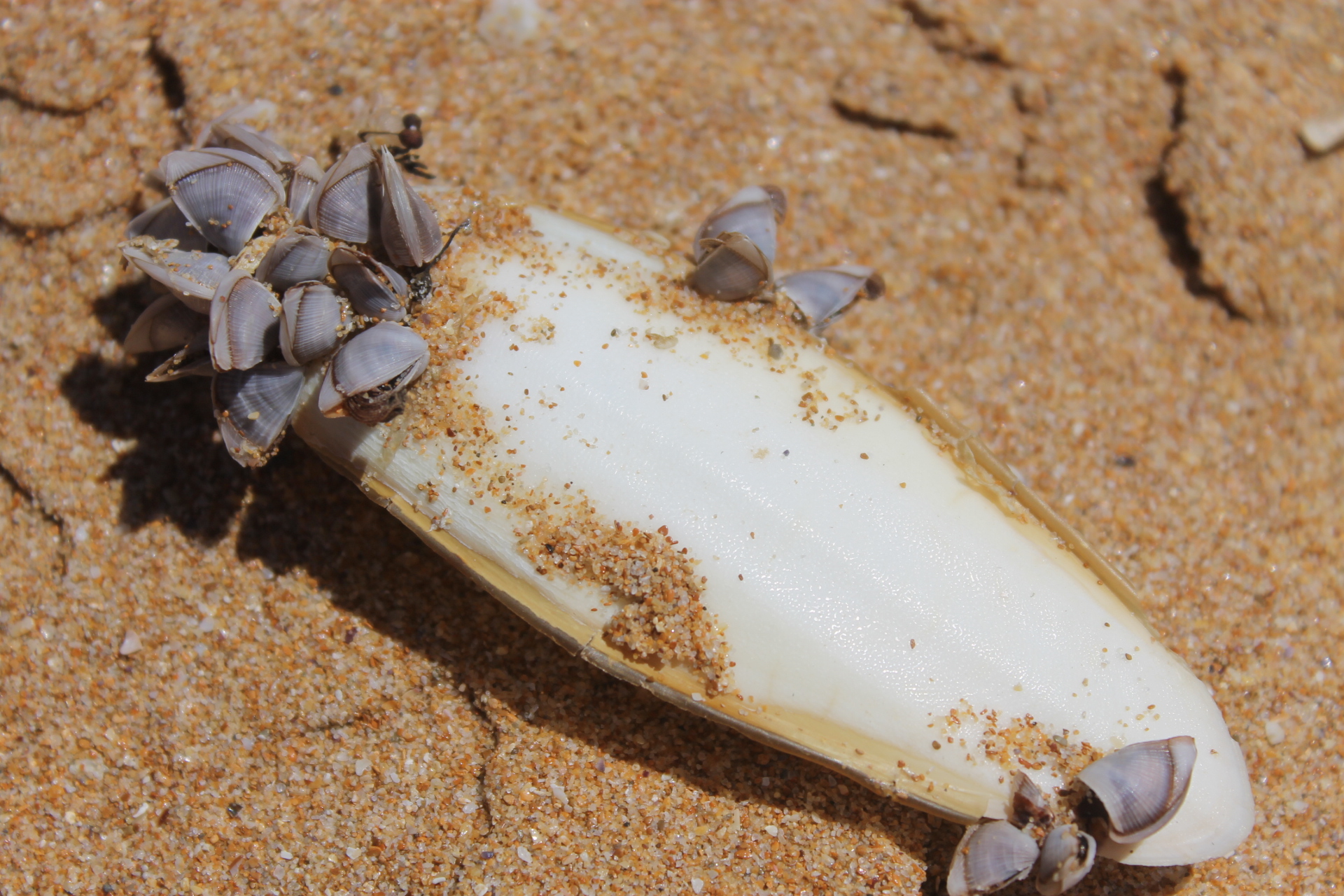 Do you know what is it?
That's right - it's a cuttlefish bone. You may have seen these in pet shops too as they are good for pet birds. For birds Cuttlefish bone serves as a source of calcium, which is lacking in seed. It also provides your bird with a hard surface to gnaw on, which should help to prevent their bill from becoming overgrown.
But what is a cuttlefish?
Cuttlefish or cuttles are marine molluscs of the order Sepiida. They belong to the class Cephalopoda which also includes squid, octopuses, and nautiluses. Cuttlefish have a unique internal shell, the cuttlebone, which is used for control of buoyancy.
Cuttlefish have large, W-shaped pupils, eight arms, and two tentacles furnished with denticulated suckers, with which they secure their prey. They generally range in size from 15 to 25 cm (6 to 10 in), with the largest species, the giant cuttlefish (Sepia apama), reaching 50 cm (20 in) in mantle length and over 10.5 kg (23 lb) in mass.
Cuttlefish eat small molluscs, crabs, shrimp, fish, octopus, worms, and other cuttlefish. Their predators include dolphins, sharks, fish, seals, seabirds, and other cuttlefish. The typical life expectancy of a cuttlefish is about 1–2 years. Studies are said to indicate cuttlefish to be among the most intelligent invertebrates. Cuttlefish also have one of the largest brain-to-body size ratios of all invertebrates.
The "cuttle" in cuttlefish comes from the Old English name for the species, cudele, which may be cognate with the Old Norse koddi (cushion) and the Middle Low German Kudel (rag). The Greco-Roman world valued the cuttlefish as a source of the unique brown pigment the creature releases from its siphon when it is alarmed. The word for it in both Greek and Latin, sepia, now refers to the reddish-brown colour sepia in English.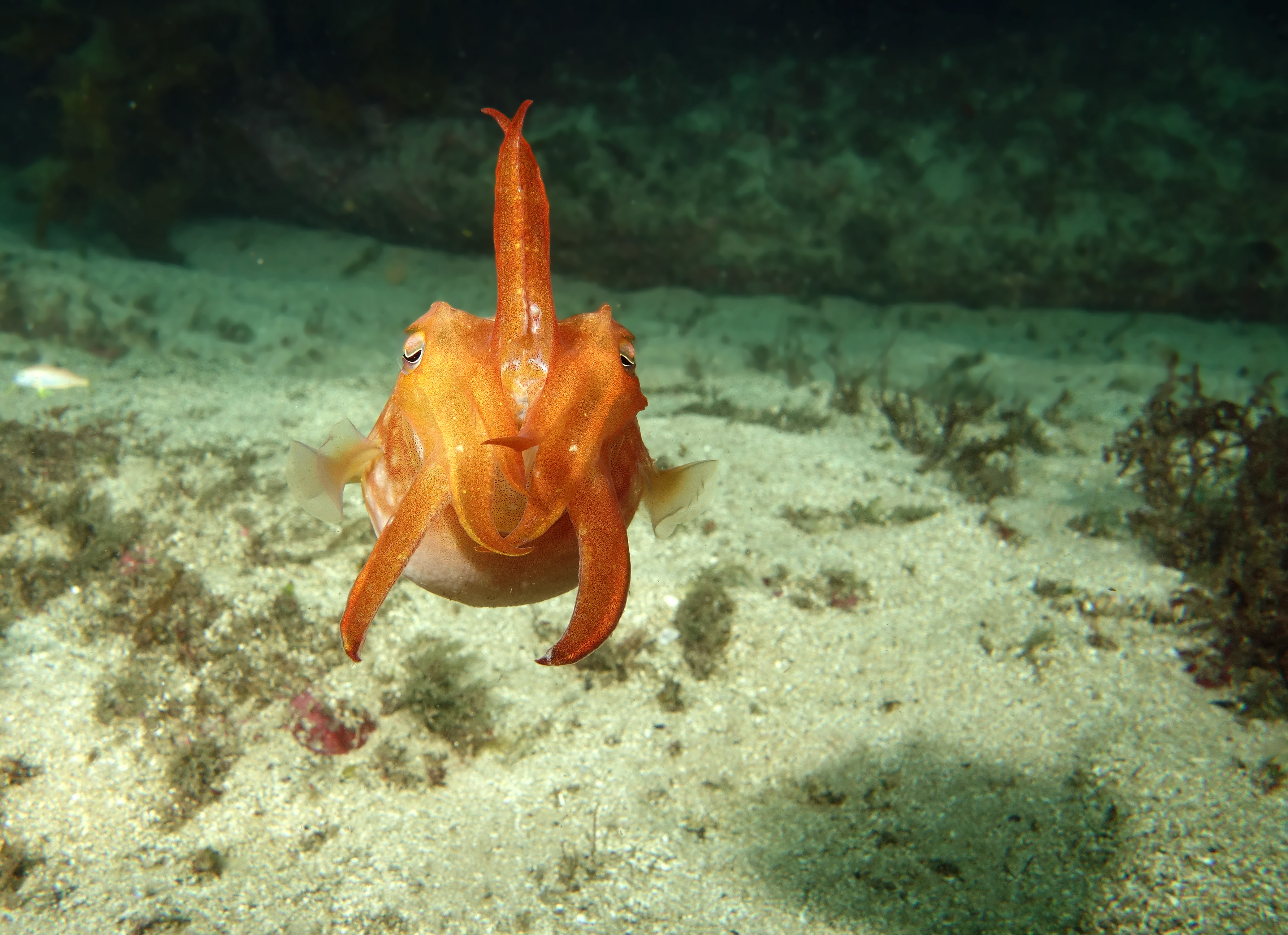 Sepia mestus swimming (Australia). Photo: John Turnbull

The earliest fossils of cuttlefish are from the Cretaceous period, so 145 million to 66 million years ago.
The family Sepiidae, which contains all cuttlefish, inhabits tropical and temperate ocean waters. They are mostly shallow-water animals, although they are known to go to depths of about 600 m (2,000 ft).[10] They have an unusual biogeographic pattern; they are present along the coasts of East and South Asia, Western Europe, and the Mediterranean, as well as all coasts of Africa and Australia, but are totally absent from the Americas. By the time the family evolved, ostensibly in the Old World, the North Atlantic possibly had become too cold and deep for these warm-water species to cross.
Cuttlefish, like other cephalopods, have sophisticated eyes. The organogenesis and the final structure of the cephalopod eye fundamentally differ from those of vertebrates such as humans. Superficial similarities between cephalopod and vertebrate eyes are thought to be examples of convergent evolution. The cuttlefish pupil is a smoothly curving W-shape. Although cuttlefish cannot see colour, they can perceive the polarization of light, which enhances their perception of contrast. They have two spots of concentrated sensor cells on their retinas (known as foveae), one to look more forward, and one to look more backward. The eye changes focus by shifting the position of the entire lens with respect to the retina, instead of reshaping the lens as in mammals. Unlike the vertebrate eye, no blind spot exists, because the optic nerve is positioned behind the retina. They are capable of using stereopsis, enabling them to discern depth/distance because their brain calculates the input from both eyes.
The cuttlefish's eyes are thought to be fully developed before birth, and they start observing their surroundings while still in the egg. In consequence, they may prefer to hunt the prey they saw before hatching.
Cuttlefish possess an internal structure called the cuttlebone, which is porous and is made of aragonite. The pores provide it with buoyancy, which the cuttlefish regulates by changing the gas-to-liquid ratio in the chambered cuttlebone via the ventral siphuncle. Each species' cuttlebone has a distinct shape, size, and pattern of ridges or texture. The cuttlebone is unique to cuttlefish, and is one of the features that distinguish them from their squid relatives.

As can be read above, cuttlefish are relatives to octopus.
A few weeks back Joe Mills, who send in great photos each week to share with you, sent in some images of an octopus at North Narrabeen. Joe says;
''The octopus is back again. This little one is hard to spot with great camouflage. The grey material is scooped soil to make space under the rock. I think the occy is a small female.''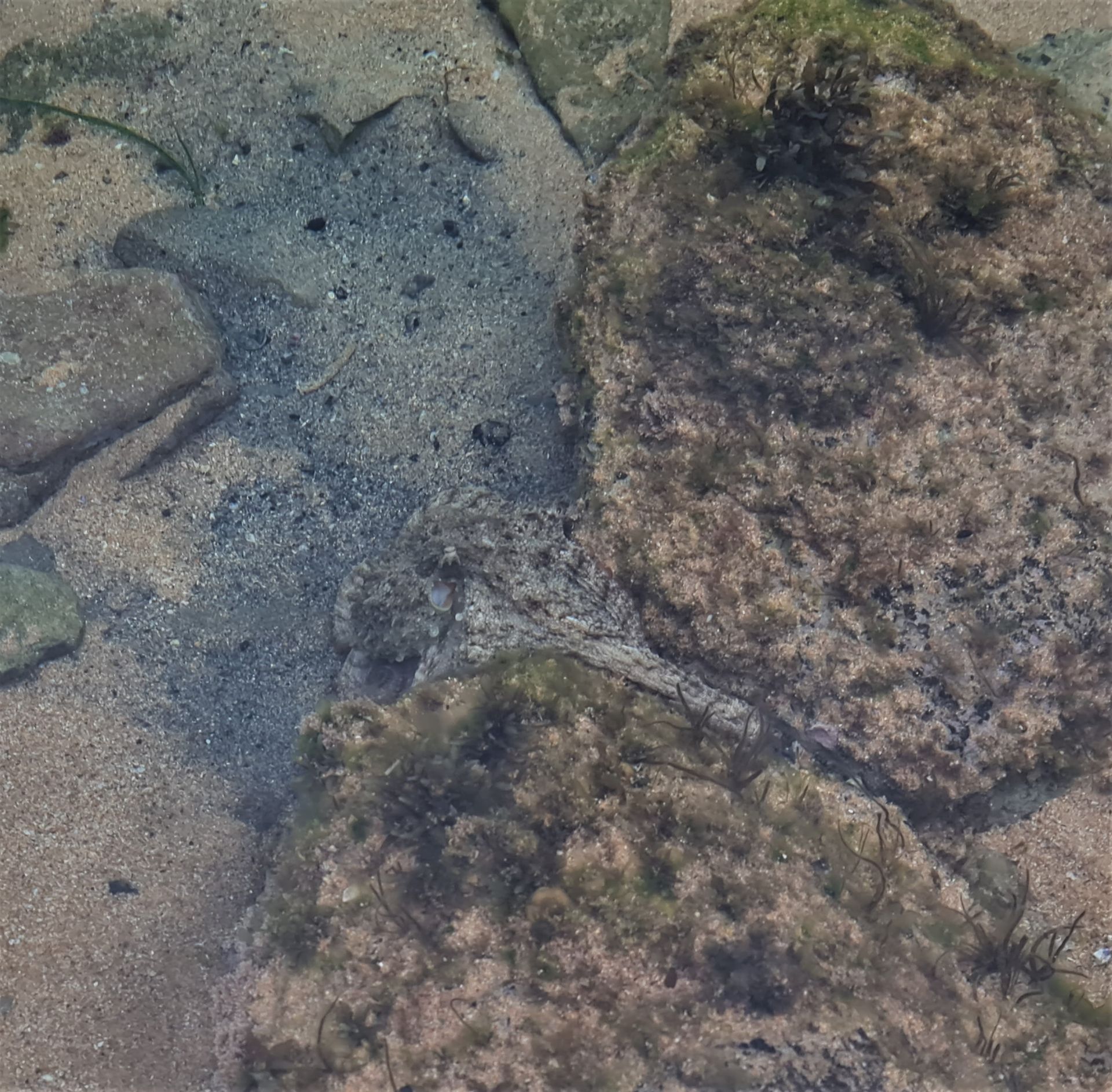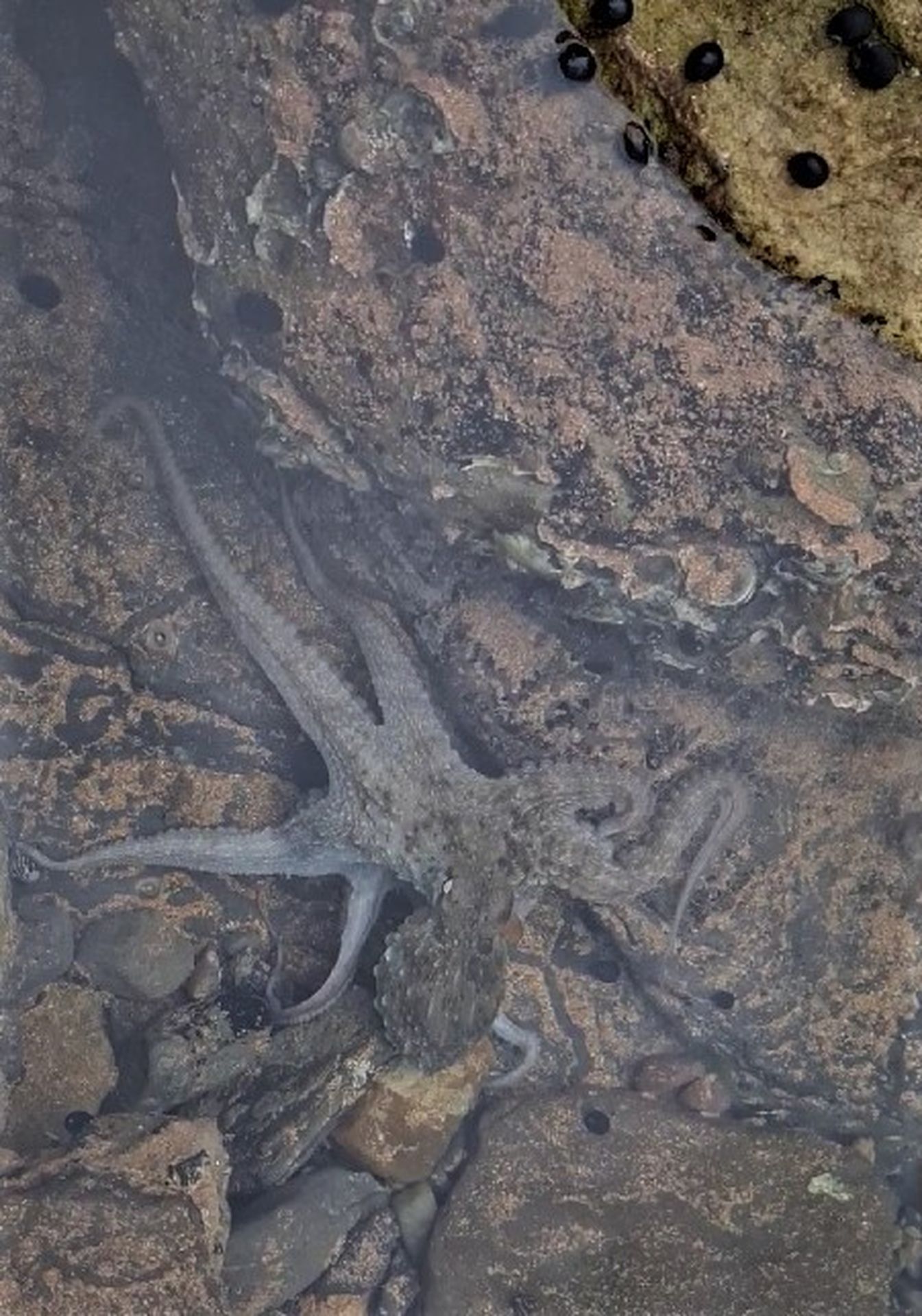 How To Win When You Don't : Lea Davison
TEDx Talks: August 14, 2022
Wouldn't it feel better to win even when we lose? Lea Davison, a two-time Olympian and professional cyclist, knows that mountain bike racing is an individual sport, yet she lends insight on how collaboration and building a team can lead to success. This is a story of how Lea worked together with Team USA racers, like World Champion Kate Courtney, even though they potentially stood between her and her lifelong dream of an Olympic medal.
Collaboration is winning, and there is opportunity for collaboration to enhance everyone's life. This concept can help in the business and political arenas and build bipartisanship to solve climate change and human rights issues. There is immense power in lifting each other up, building a team, and working together. Find out how you can win here and now. Two Time Olympian and Professional Cyclist This talk was given at a TEDx event using the TED conference format but independently organized by a local community.
Be The Boss: I Want To Be A Pilot
If you love travelling, or the sensation of freedom that comes with being up in the blue sky, or fiddling with knobs and dials, a career as a pilot may be for you.
Pilots are trained to operate aircraft, including airplanes and helicopters, in order to transport passengers and goods between locations. Flying aircraft includes takeoff and landing, staying in touch with the control tower on departure, and requesting permission to land on approach to destinations.
A commercial airline pilot is usually assisted by a Co-pilot, but in smaller aircraft, the Pilot must navigate in addition to monitoring engines, fuel, and aircraft systems throughout the flight.
Pilots also file flight plans, perform maintenance checks and ensure the craft is ready for departure.
To become a Pilot you need a licence, which requires many hours of practical and theoretical training. Specific training requirements vary depending on the type of licence you want.
Complete high school. While a high school certificate isn't always a formal requirement, secondary education will teach you math and English skills that are important for Pilot roles.
Choose the licence type you want to pursue and a flight school that aligns with your goals. Two common licence types are Private Pilot Licences (PPL) and Commercial Pilot Licences (CPL).
Hold a current medical certificate. There are different types of medical certificates required depending on the licence you're pursuing.
Complete the training required for your chosen licence type. A PPL usually involves 55–60 hours of flight training over 2–12 months. A CPL usually requires at least 150 hours of flight training over 12 months.
Pass an exam and flight test to earn your licence and fly solo.
While most people think of pilots flying passengers around the world
on commercial airlines, there are many more diverse career paths in
aviation. Some of these are:
› instructing people to become pilots or learn new skills
› charter flying to carry people for business or tourism
› agricultural flying
› aerial photography and survey work
› helicopter mustering
› military flying in some of the world's most expensive and advanced aircraft.
Aviation is also critical in medical evacuations, firefighting and other emergency operations to help save people's lives, livelihoods, and homes.
Professional pilots must be able to physically control an aircraft, as well as make accurate decisions in complex, time-critical situations.
You will need to be in good health, have good eyesight and hearing, and typically have an education in English to become a commercial pilot. Most people who succeed in aviation have above-average initiative, self-discipline, common sense, patience and perseverance.
This guide will help you decide if flying is a good career for you. You should also do as much research as possible. Contact or visit flight training organisations and talk to people in the industry.
The amount of training required can seem daunting at first, but with drive and dedication, you can turn your love of flying into a highly satisfying career.
Download (PDF) PILOT CAREER GUIDE 2021 by CASA (Civil Aviation Safety Authority - Australian Government).
The Civil Aviation Safety Authority (CASA) does not require you to have any formal educational qualifications to train for an Australian pilot licence.
You can pass CASA's private pilot licence examination with a standard education and ability to speak, read, write and understand the English language.
For commercial or higher licence levels, a good background in maths and physics is useful, but not essential. If you don't have this background, you could consider theory training with a reputable theory training centre or theory provider.
It is also a good idea to contact employers in your area of aviation interest to check their requirements. Many airlines generally require passes at high school certificate level in physics and maths, although this may vary between companies. Some may suggest you investigate aviation diplomas or degrees offered by some universities.
Information courtesy Australian Government Apprenticeships Guide (Your Career), Australian Open Colleges, Australian Careers HQ and The Good Universities Guide, Australia.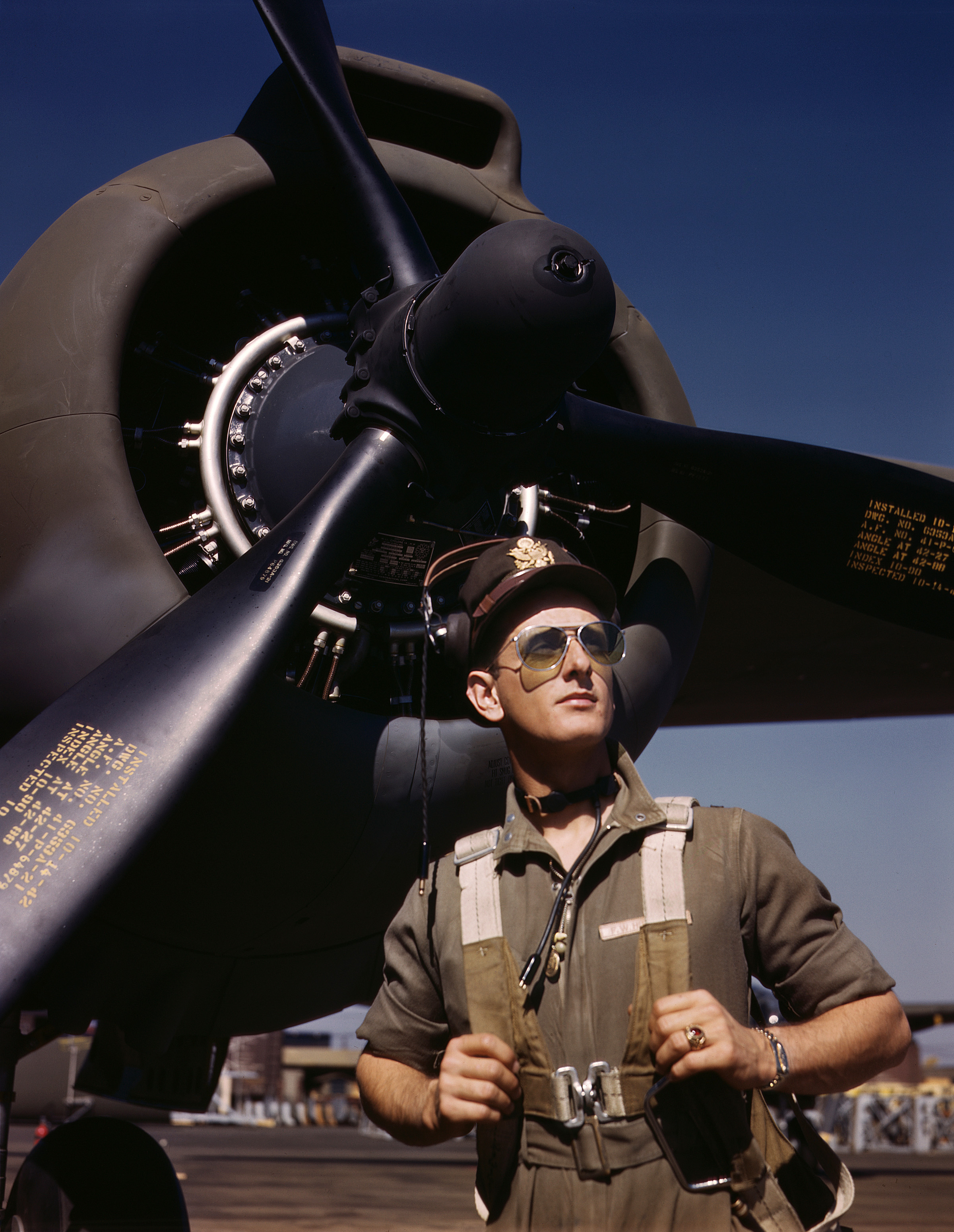 U.S. Army Air Forces test pilot Lt. F.W. "Mike" Hunter wearing a flight suit in October 1942. Photo by Alfred T. Palmer

Also Available
Fee-Free Training To Supercharge NSW's Early Learning Workforce
The NSW Government committing 25,000 fee-free training places to bolster the pipeline of skilled and job-ready workers for the early learning and care sector.
Minister for Skills and Training Alister Henskens said the fee-free courses will help people upskill and boost budgets by removing barriers to accessing quality vocational education and training.
"This investment in fee-free courses enables you to get a job in an incredibly rewarding industry, study for free and earn while you learn," Mr Henskens said.
"People who are already working in the industry can also upskill if they enrol in courses this year, and bolster their qualifications so they can take on new roles as early learning educators."
A wide range of full and part qualifications are available, including Certificate III in Early Childhood Education and Care and Diploma in Early Childhood Education and Care.
These courses provide pathways to employment including early childhood educator and educator in before and after school care programs.
Last year more than 11,000 people undertook early childhood education training, supporting the sustainable pipeline of educators and teachers for tomorrow.
Minister for Education and Early Learning Sarah Mitchell said the NSW Government's revolutionary Early Years Commitment will create jobs growth and opportunities for people to explore a career in early childhood education.
"Our investment in early learning will transform the education system, create jobs and secure a brighter future for NSW families," Ms Mitchell said.
"Parents know the value of a high quality and reliable early childhood service for their child's future, and this government is leading the country in delivering that for all NSW families."
Art Competition To Remember Our ANZACS
Students across NSW are encouraged to get creative as the NSW Government together with RSL NSW launches an art competition to commemorate the 70th anniversary of the RSL and Schools Remember ANZAC Commemoration next year.
Minister for Education and Early Learning Sarah Mitchell is encouraging students to speak to their school and submit a design that will feature on the 2023 program and at an exhibition at the Anzac Memorial in Hyde Park.
"The NSW Government and the Department of Education has co-hosted this service with RSL NSW for 70 years, and we want to acknowledge this anniversary with a commemorative program to which the students in New South Wales can contribute," Ms Mitchell said.
"I invite any student across all three education sectors to participate and have the opportunity to be selected to have their artwork featured on the 2023 service program."
Minister for Transport and Veterans David Elliott said the annual commemoration at the Anzac Memorial in Hyde Park aims to educate and encourage younger Australians to learn about Australia's military history, whilst paying respect to the service and sacrifice of servicemen and servicewomen.
"This art competition is a great way for students in New South Wales to learn about our military history and design an artwork that reflects what it means to them. It could be about a family member who served in World War One, or a symbol of their service to our nation," Mr Elliott said.
"The annual RSL and Schools Remember ANZAC proceedings are incomparable, as they're delivered entirely by school students including the Master of Ceremonies, keynote address, readings, and musical accompaniment."
RSL NSW President Ray James said it was critical for the RSL to work with the Department of Education to ensure school students understood why Australians commemorated the service and sacrifice of those who have served in the Australian Defence Force.
"Commemorating significant moments in our military history is vital to Australia, as a people, a community, and a nation. RSL NSW takes this responsibility incredibly seriously as the custodians of the Anzac spirit. Future generations should never forget that the freedom they enjoy in Australia has been protected by the men and women who served in our armed and allied forces." Mr James said.
The RSL and Schools Remember ANZAC Commemoration was first held in 1953, co-hosted by RSL NSW and the Department of Education. Over the years the service has expanded to Catholic Schools NSW and the Association of Independent Schools NSW.
16 September 2022: Submissions close
Word Of The Week: Warriewood
Word of the Week returns in 2022 simply to throw some disruption in amongst the 'yeah-nah' mix.
From the middle family name of the Macpherson family who owned much of the land in Warriewood.
Wharrie' is a very old Scottish name that may even date back to the Dalriadan tribe of Scotland's western coast and Hebrides islands. It comes from Guaire, an old Gaelic personal name
meaning noble or proud
.
Clan MacQuarrie (also MacQuarie, McQuary, MacQuaire, MacGuarie, Macquarie) is an ancient Highland Scottish clan which
owned the islands of Ulva, Staffa and Gometra as well as large tracts of land on the Isle of Mull
, which are all located in the Scottish Inner Hebrides.
Clan MacQuarrie
(Scottish Gaelic for: son of Guaire)
is one of the seven Siol Alpin clans descended from the Kings of the Picts
and Dál Riata. Clan MacQuarrie is one of the four oldest Highland clans and can trace its ancestry to 9th century Kenneth MacAlpine, the first King of Scots.
The Scottish Gaelic surname for Macpherson is Mac a' Phearsain which means son of the parson. The Celtic church allowed priests to marry and the progenitor of the chiefs of Clan Macpherson is believed to have been a man named Muireach or Murdo Cattenach who was the priest of Kingussie in Badenoch. The Clan Macpherson is part of the Chattan Confederation (Clan Chattan). In 843 the chief of Clan Chattan was Gille Chattan Mor and one of his sons, the first chief of Clan Macpherson was forced to resettle in Lochaber by Kenneth MacAlpin, first king of Scots. The chief may have been the lay prior of Ardchattan and he seems to have been named in honor of Saint Cathan.
Macpherson clan traditions is that in 1309 Robert the Bruce offered
the lands of Badenoch
to the chief of Clan Macpherson on the condition that they destroyed the Bruce's enemies, the Clan Comyn, and the Macphersons carried out the king's wishes. The Clan Macpherson is sometimes known as the Clan of the Three Brothers owing to the fact that chief Ewan Ban Macpherson had three sons: Kenneth Macpherson of Clunie, Iain Macpherson of Pitman and Gillies Macpherson of Invereshie.
The clan motto is
Touch not the cat but a glove
. But means without. The 'glove' of a wildcat is the pad. If the cat is 'ungloved', its claws are unsheathed. The motto serves as a warning that one should beware when the wildcat's claws are 'without a glove'. It is a reference to the historically violent nature of the clan and serves as a metaphorical warning to other clans that they should think twice before interfering with Macpherson business.
Badenoch
(from the Scottish Gaelic
Bàideanach
meaning drowned land
) is a traditional district which today forms part of Badenoch and Strathspey, an area of Highland Council, in Scotland,
bounded on the north by the Monadhliath Mountains, on the east by the Cairngorms and Braemar
,
on the south by Atholl and the Grampians
, and on the west by Lochaber. The capital of Badenoch is Kingussie.
Apart from
the strath of the Spey and the great glens
, it
consists almost entirely of wild mountainous country
, many hills exceeding 3,000 feet (910 m) in height, and
contains in the forests of Alder, Drumochter, Gaick and Feshie
some of the best deer country in the Highlands.
Some photos that ran in an article, published in 1900, these images were taken by E. A. Macpherson: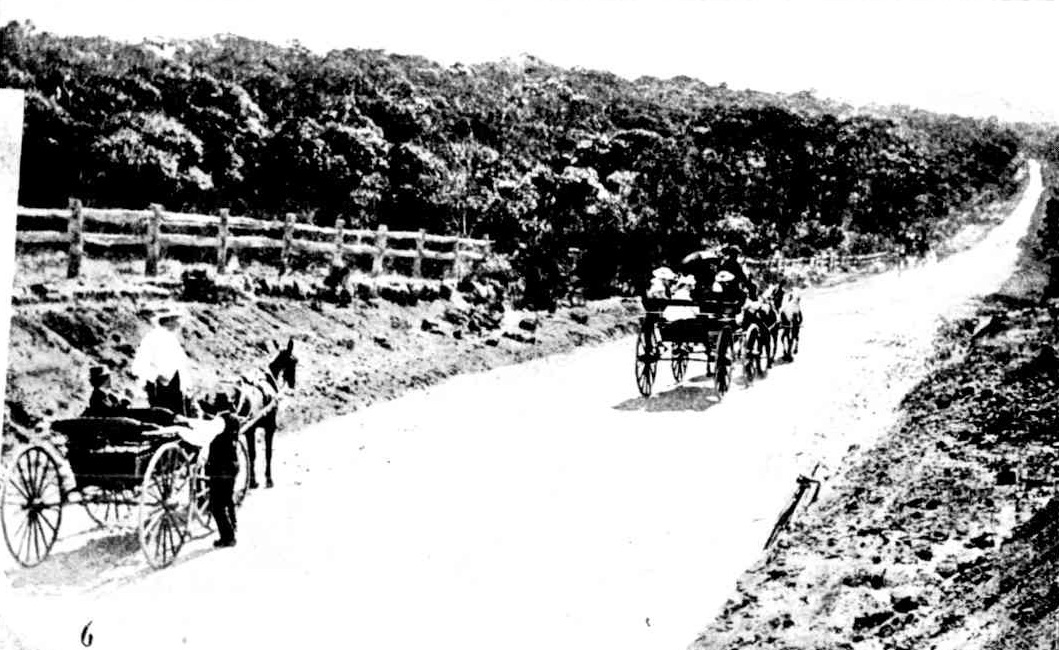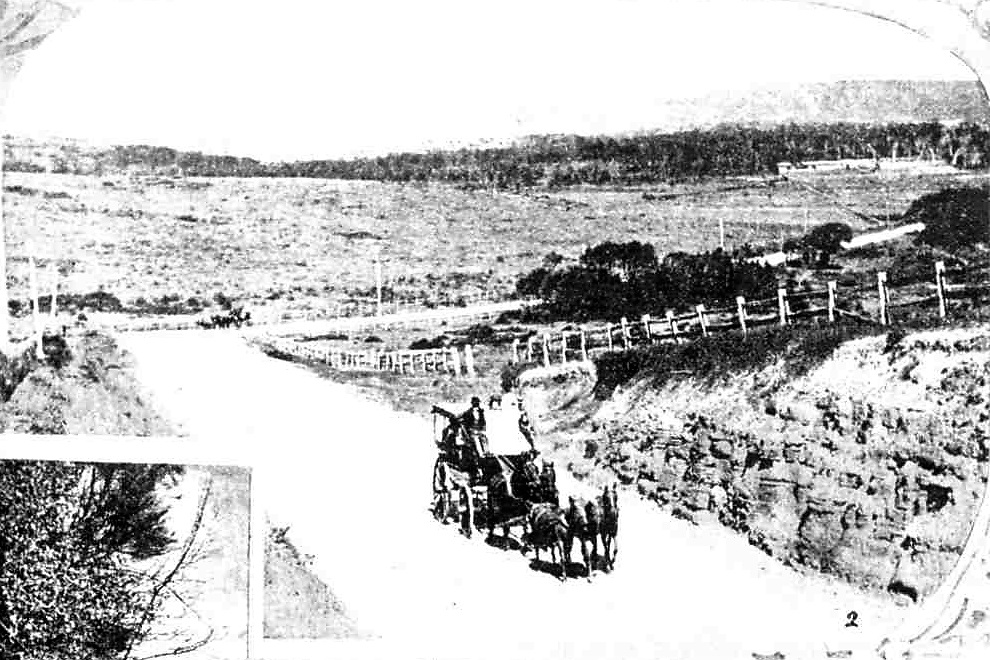 1. On the Narrabeen Lagoon. 2. View from Sheepstation Hill, looking south. 3. Bay View. 4. A dip in the surf at Narrabeen. 5. Near Long Reef. 6. Approaching Narrabeen. 7. One of the creeks. The distance from Manly to Bay View is about 15 miles. The road is by the Narrabeen-road past Rocklily. A proposal to put down a tram line is now being considered, and a member of the ministry was recently driven over the country, which in many parts is remarkably picturesque. MANLY TO BAY VIEW—A POPULAR EASTER RESORT BY ROAD. (1900, April 14). The Sydney Mail and New South Wales Advertiser (NSW : 1871 - 1912), p. 878. Retrieved from http://nla.gov.au/nla.news-article165297416
Warriewood at this time was still very wooded - although men such as Leon Houreux, of the Rock Lily, was one of the woodcutters who may have worked for fellow Frenchman Gustave Lix who owned the land housing the failed Ingleside Powder Works are stated to have been woodcutters in the valley, even as late as the 1950's and 1960's the valley and its hill surrounds were still very alike the hills above and part of the Narrabeen Lagoon State Park we see today.
So - 'Noble Wood' in Gaelic or early Old Scots was an extra original meaning for 'Wharriewood' - Warriewood. The family names are carried through in the naming of the valley itself and show in the 1906 Subdivision map below in the names of the Warriewood road and Macpherson street.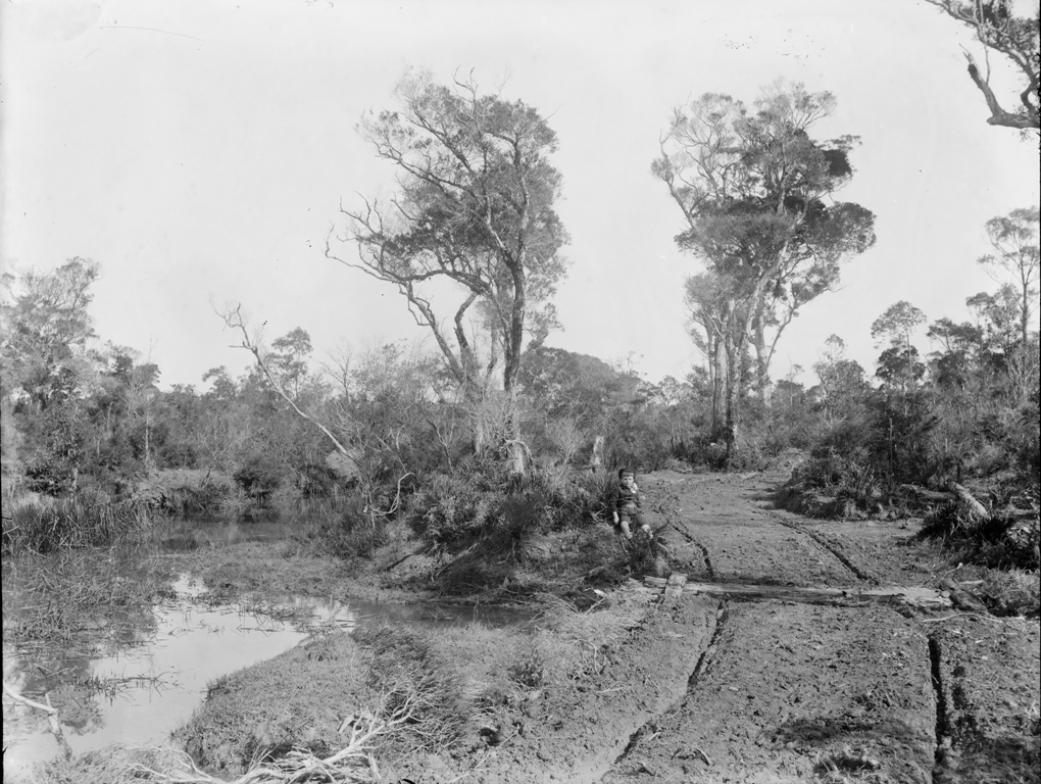 Roy or Jack (?) out with his dad on way to uncle's Narrabeen farm - Image No.: c071400009 and enlarged sections from - from Box 04, Glass negatives including images of the Sydney and Manly areas, ca 1890-1910, by William Joseph Macpherson, courtesy State Library of NSW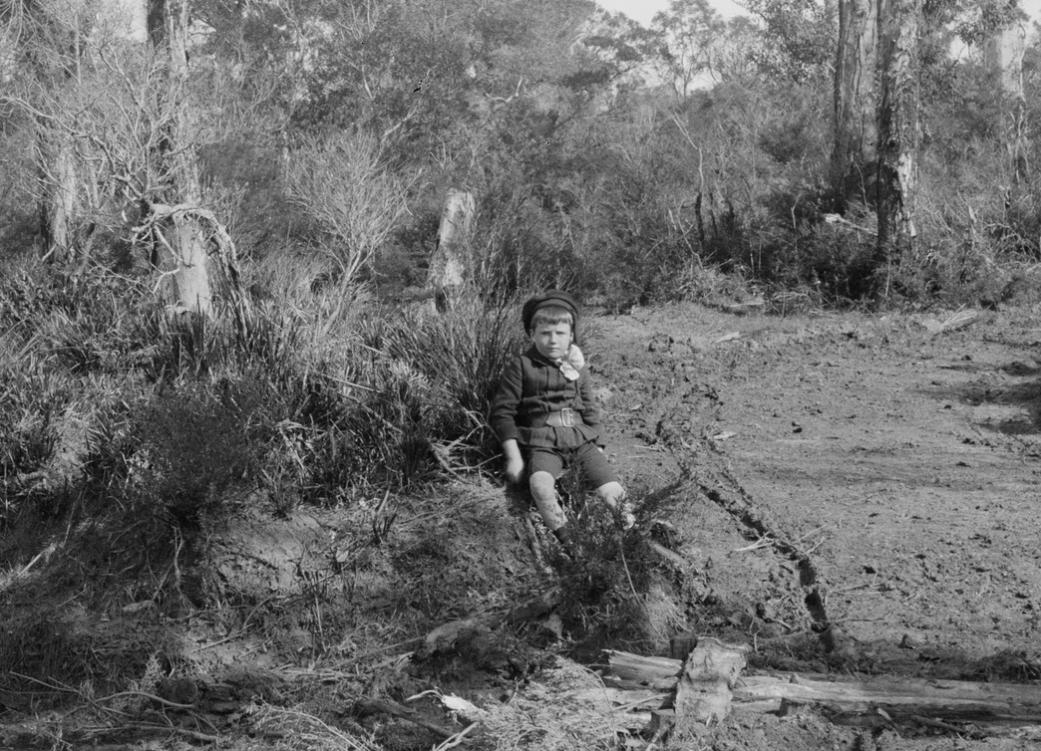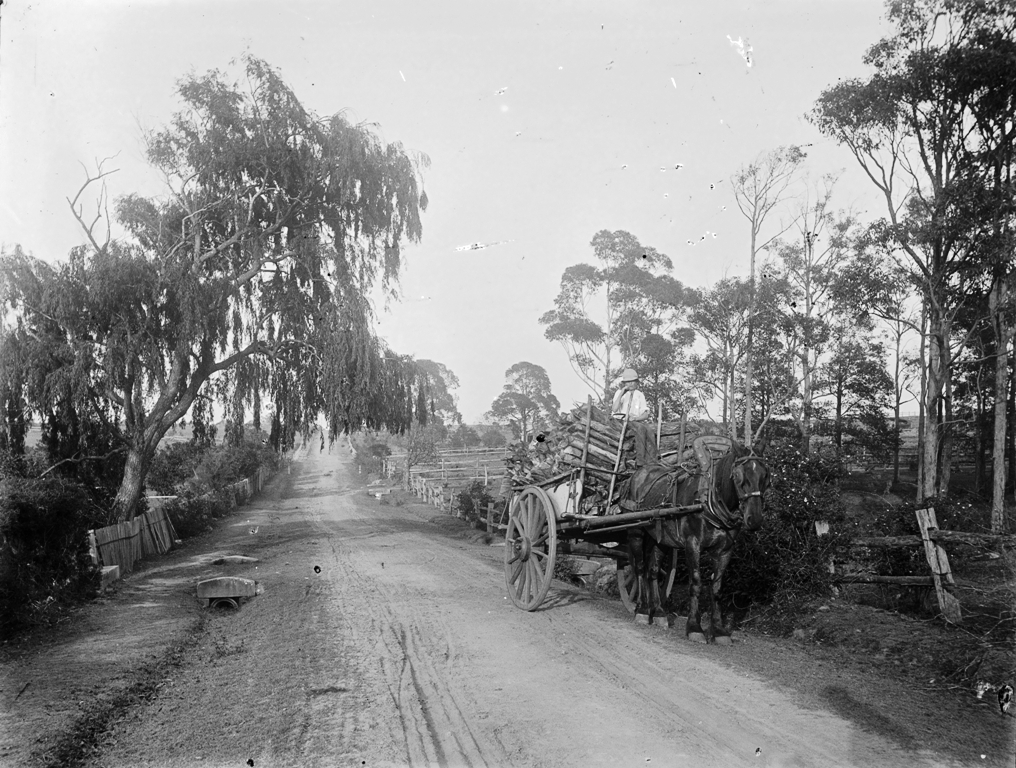 Warriewood, Image No.: c071860047 From Box 21:
Glass negatives including views of New Zealand farms, Sydney Harbour, Narrabeen
, ca 1890-1910, Photographs of William Joseph Macpherson, courtesy State Library of NSW.
At Last - Etta James
"At Last" is a song written by Mack Gordon and Harry Warren for the musical film Sun Valley Serenade (1941). Glenn Miller and his orchestra recorded the tune several times, with a 1942 version reaching number two on the US Billboard pop music chart.
In 1960, rhythm and blues singer Etta James recorded an arrangement by Riley Hampton that improvised on Warren's original melody; this rendition would go on to become known as the song's standard version over subsequent decades. Etta James' rendition was the title track on her debut album At Last! (1960) and was eventually inducted into the Grammy Hall of Fame in 1999. Most recently, Celine Dion and Beyoncé have also had chart successes with the song.
Nina Simone - Feeling Good
"Feeling Good" (also known as "Feelin' Good") is a song written by English composers Anthony Newley and Leslie Bricusse for the musical The Roar of the Greasepaint – The Smell of the Crowd. It was first performed on stage in 1964 by Cy Grant on the UK tour and by Gilbert Price in 1965 with the original Broadway cast.
Nina Simone recorded "Feeling Good" for her 1965 album I Put a Spell on You. The song has also been covered by Sammy Davis Jr., Traffic, Michael Bublé, John Coltrane, George Michael, Victory, Eels, Joe Bonamassa, Eden, Muse, Black Cat Bones, Bassnectar, Sophie B. Hawkins, Leslie West, Avicii, Chlöe and Lauryn Hill among others. It was also performed by John Legend as part of the Celebrating America performance marking the inauguration of Joe Biden and Kamala Harris on 20 January 2021.
Joan Armatrading-Drop The Pilot
"Drop the Pilot" is a song written and originally performed by Joan Armatrading. It was the first single to be released from Armatrading's 1983 album The Key, and was her third and (to date) final UK top 40 hit. It reached number 11 in the UK Singles Chart, and spent a total of ten weeks in the Top 40.
The song was a major hit in Australia and New Zealand, peaking at number 6 on both charts.
Alicia Keys - Empire State Of Mind (New York)
The Return Of Joni Mitchell
On Sunday July 24, 2022 at the Newport Folk Festival, Joni Mitchell made a surprise appearance.
After Brandi Carlile's set a shocked and delighted crowd roared as Joni Mitchell came on stage and participated in what was pre-billed as the 'Coyote Jam' with Brandi and many others.
The last time Joni performed with guitar in hand in front of a paying audience was 8,660 days ago, on her 55th birthday. She is now 78 years young.
Wheelchair-bound since 2015 and retired from touring, Joni's appearance
brought fans, critics and other musicians to tears.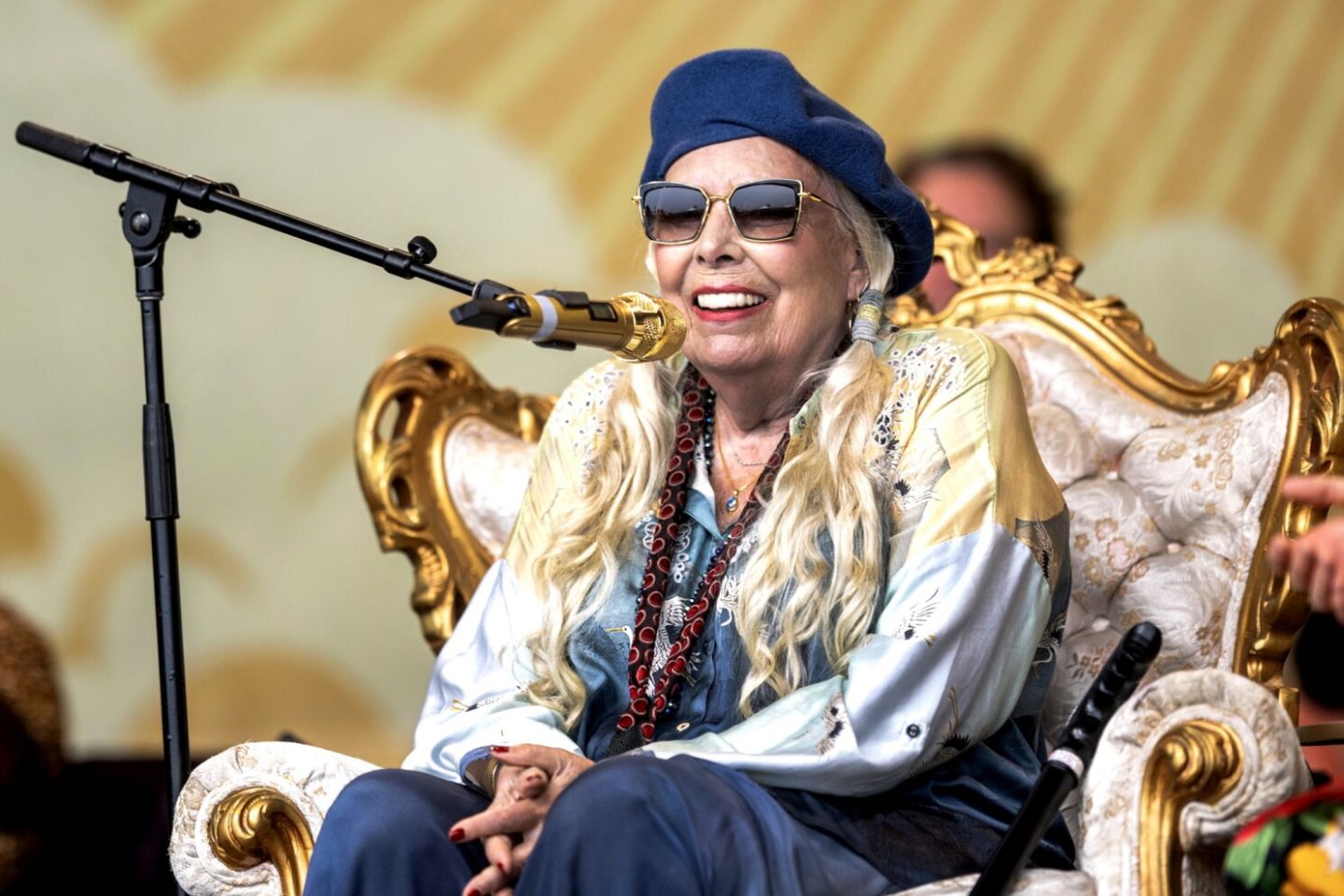 The set list:
Joni enters
Carey
Come in From The Cold
Help Me
A Case of You
Big Yellow Taxi
Just Like This Train (Joni on guitar!)
Why Do Fools Fall in Love
Amelia
Love Potion #9
Shine
Summertime
Both Sides Now
The Circle Game
Joni is featured on the cover of the new (October) issue of UNCUT, in UK stores from August 18 and available to buy now from their online store. This features an 11-page spread focusing on Joni's Newport appearance and the upcoming Asylum Albums box set.
More information here
.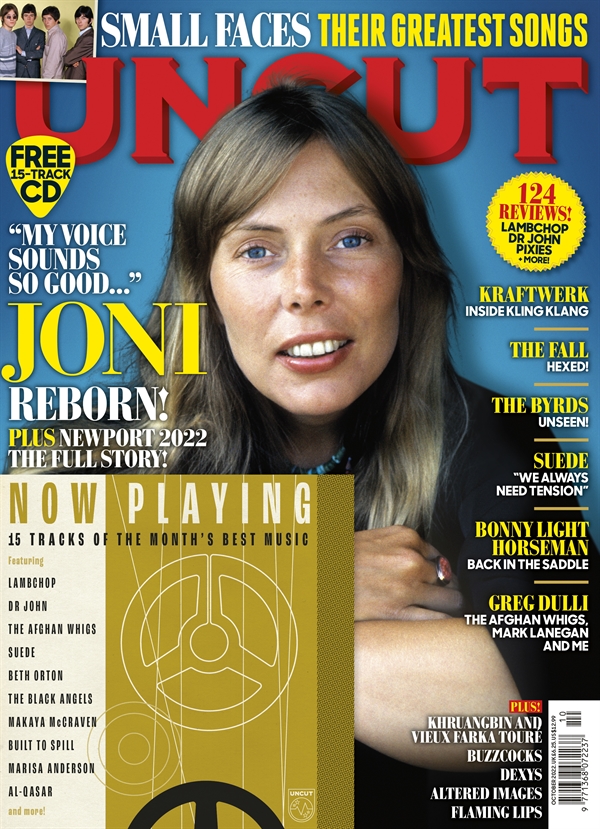 Below runs a video from this year's
Newport Folk Festival.
Men's Sheds Grants And Movember Improving Men's Health
The Australian Government is providing much needed funds to our men's sheds.
A total of $500,000 will be provided through the latest round of National Men's Sheds Programme (NSDP) funding.
Across Australia, 153 men's sheds will receive up to $10,000.
Funds will be used to buy computers, host health and wellbeing events, make shed improvements, or purchase tools to use in the shed.
Men's sheds seeking funding to purchase a defibrillator will also be able to apply at any time under a special category.
The Government is also providing $400,000 over the next 18 months to charity organisation Movember to conduct a targeted review of health professional education on male health issues.
Movember will lead a group of subject matter experts to identify gaps and improvement opportunities for the education of clinicians. This work will assist in removing barriers for men in accessing timely and appropriate health care.
This work will assist in remove barriers for men in accessing timely and appropriate health care.
Applications for the next round of NSDP open on Friday 19 August,
with interested sheds encouraged to
apply by Tuesday 27 September
.
Health and Aged Care Minister Mark Butler said;
"Men's sheds across Australia create a place of belonging for over a thousand local communities.
"The Albanese Government is providing this funding to men's sheds so they can continue their important work.
"Movember is synonymous with highlighting men's health issues.
"The Movember review continues efforts to realise improved health outcomes for Australian males through the implementation of the National Men's Health Strategy 2020-2030."
Record Numbers Access Government Home Equity Scheme
August 18, 2022: National Seniors
More older people are tapping into a government home equity scheme for more retirement income. Giving seniors an even better rate to fund additional home care could be a winner.
Traditionally, retirees have viewed the family home as an asset. They live in it, watch it appreciate in value, and hope to one day pass it on to the children, or sell to pay for their own entry into an age care home.
The home was an asset for the future.
However, there's been a dramatic change, driven by new financial products, uncertain retirement income investments, the need to bolster traditional retirement income, and the mounting cost of living pressures.
Increasingly, the family home is seen as an asset to draw on to meet or enhance current retirement needs. The kids can wait.
To service that need, commercial lenders introduced reverse mortgages, enabling eligible retirees to borrow against their property and derive a regular income in addition to other retirement income sources.
The loan, plus interest, was paid back after the property was sold.
While private lenders had the highest profile in the reverse mortgage market, the Australian Government led the way in the 1980s with the government-backed Pension Loan Scheme.
That product,
the Pension Loans Scheme
, was not well known. It has since been renamed the Home Equity Access Scheme and is now available to all people of pension age, not just pensioners, provided they own property to put up as equity.
The number of older homeowners taking out this government-backed scheme has soared and is expected to surge further following changes since 1 July 2022, allowing them to borrow a lump sum rather than just a fortnightly income stream.
More than 6000 people now participate in the scheme, owing a combined $138 million, compared with 768 three years ago.
Commentators attribute the rise in popularity to burgeoning living costs and withdrawal from the reverse mortgage market by commercial lenders.
How does the Home Equity Access Scheme work?
Through the scheme, homeowners borrow money secured against their property. If they don't make payments, the debt compounds and is paid when the property is sold or the borrowers die.
Commercial loans taken out since 2012 have a no negative equity guarantee, meaning borrowers cannot owe more than the value of their stake in their home. A safeguard that has only recently been added to the government scheme.
The current interest rate for the Home Equity Access Scheme is 3.95% per annum. This rate compounds each fortnight on the loan balance until you repay the loan in full. Keep in mind, that the longer you take to repay the loan, the more interest will accumulate.
National Seniors was successful in campaigning for this lower interest rate.
On 1 January 2020, it fell from 5.25% to 4.5% per annum. On 15 December 2021, it was announced that the interest rate would drop from 4.5% to 3.95% per annum from 1 January 2022 - a reward for our consistent campaigning.
On the back of the success of the scheme, we want the federal government to create a dedicated Home Care Loans Scheme to help older people unlock their equity to help them remain at home.
Under our Budget recommendation, the government would use the existing Home Equity Access Scheme to unlock equity at a lower interest rate, but only for older Australians approved for a home care package.
We are not proposing that home equity be used to contribute to the cost of an approved home care package. The basic care cost should be met by the government. This should be for additional care over and above what government provides.
This would give older Australians access to a better quality of life and increase the chances they won't end up in residential care.
With around 80 per cent of 80-year-olds owning their own home, the take-up of such a scheme could be significant, resulting in more and more people getting help in their own homes.
The National Seniors Budget submission on the Home Care Loans Scheme can be
found here
.
Lying down, sitting, leaning over? What science says about the best way to take your medicine
Elise Schubert
,
University of Sydney
;
Nial Wheate
,
University of Sydney
, and
Tina Hinton
,
University of Sydney
When pharmacists dispense tablets or capsules they commonly advise when and how often to take them, and if this needs to be with or without food.
You generally don't hear them tell you to lean to one side when swallowing. But preliminary research from Johns Hopkins University in the United States suggests this might improve how fast your medicine is absorbed and gets to work.
The results are based on a computer simulation, rather than in actual patients, and may not equate to the real world. So it's too early to suggest you strike a yoga pose when taking your medicine.
But your posture can be important when taking pills or capsules, for comfort or safety.
What Happens When You Swallow Your Medicine?
Once you swallow a tablet or capsule, it moves down the throat to the stomach. There, a tablet swells and disintegrates, or a capsule breaks open. The drug can then dissolve and your body can absorb it.
Most drugs do not start being absorbed until they reach the small intestine. However, some drugs, such as aspirin, are likely to be absorbed in the stomach because of its acidic environment.
A number of other factors can also affect where and how a drug is absorbed.
These include how fast the tablet disintegrates to release the drug, how fast the swallowed contents move from the stomach to the small intestine, the amount of food and drink consumed before taking the medicine, and how easily the drug is absorbed across the gut lining.
How About This Latest Study?
The US researchers used computer simulations to investigate how posture affects how drugs are absorbed.
The researchers used software they developed to simulate several ways of taking a pill: staying upright, leaning to the left or right, or leaning backwards.
They showed leaning 45 degrees to the right favoured a faster movement of stomach contents into the duodenum (the first part of the small intestine). This would allow the pill to be absorbed more quickly and start to take effect.
The results could be important for medicines that you'd want to act quickly, such as pain medicines, or ones used to treat a heart attack.
There is already some earlier evidence from real patients suggesting posture may influence how medicines are absorbed. This includes the option of leaning to the right. But the authors acknowledge many factors influence absorption, not just posture.
When Is It Best To Sit Or Stand?
Sometimes your pharmacist may advise you to swallow your medicine sitting, standing, or lying down for reasons other than speeding up absorption.
For example, certain drugs are more likely to cause side effects such as heartburn, where stomach acid leaks from the stomach and moves up into the oesophagus (food pipe).
These include non-steroidal anti-inflammatory drugs, such as ibuprofen (Nurofen), diclofenac (Voltaren), and iron supplements.
So if this is a problem for you, it may help to take these medicines sitting or standing, and not lying down straight away afterwards. That's because your stomach acid is less likely to leak back up into your oesophagus.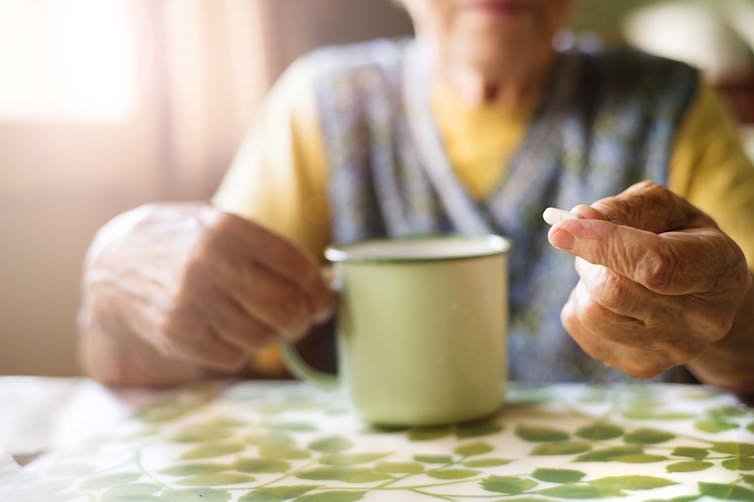 Some medicines can irritate the throat if they become stuck. This is because they damage the protective mucosal barrier that lines your oesophagus and stomach, causing irritation and inflammation.
For these medicines it is important to take these sitting up or standing, and remaining upright for 30 minutes afterwards.
These include the antibiotic doxycycline, and drugs known as bisphosphonates (for osteoporosis), such as risedronate (Actonel) and alendronate (Fosamax).
How About Lying Down?
Glyceryl trinitrate (Nitrolingual) is an under-the-tongue spray. It's prescribed to people with angina, a type of chest pain caused by an underlying heart problem.
Pharmacists advise patients to sit or lie down before using this spray as it can cause a sudden drop in blood pressure, making you feel very dizzy.
Other heart medicines, such as diuretics, are also known to cause dizziness. Although you don't usually need to take these medications lying down, if you do become dizzy it is best to sit or lie down, and ensure you stand up slowly afterwards.
There are also medications that can cause drowsiness or make you feel "woozy". These can include strong pain killers (such as opiates), sleeping tablets, some epilepsy medications, or drugs for certain mental health conditions, such as anxiety or schizophrenia.
These don't need to be swallowed while lying down, but lying down can help if you become dizzy or drowsy.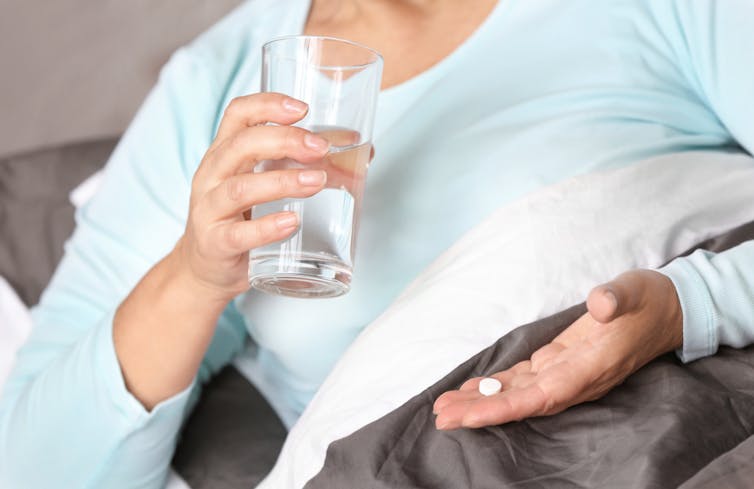 What If I'm Not Sure?
Next time your pharmacist dispenses your medicine, unless they provide specific guidance about sitting, standing or lying down, you are generally safe to take it whichever way is most comfortable.
So how about this latest evidence suggesting leaning to the right might help? At this stage, you likely won't hear your doctor or pharmacist recommend you should lean over to take your medicines until further research is done.
But next time you need to take a medicine for pain, as long as it is not uncomfortable, feel free to try this to see if your pain is relieved faster.

Elise Schubert, Pharmacist and PhD Candidate, University of Sydney; Nial Wheate, Associate Professor of the Sydney Pharmacy School, University of Sydney, and Tina Hinton, Associate Professor of Pharmacology, University of Sydney
This article is republished from The Conversation under a Creative Commons license. Read the original article.
Aged Care Roundtable Advances Practical Solutions
The Australian Government has held an Aged Care Workforce Pre-Jobs Summit Roundtable with more than 20 stakeholders in Parliament House, to better understand the practical solutions needed in the aged care sector.
The Aged Care Workforce Pre-Jobs Summit Roundtable was attended by universities, unions, advisory councils, providers, community services, and advocate groups.
Minister for Aged Care, Anika Wells, led the roundtable with Morris Iemma facilitating.
The event provided an opportunity for the sector to contribute to the Government's Jobs and Skills Summit and the Employment White Paper.
Major topics discussed in the three-hour session included how to boost job security, making aged care an attractive place to work, access to education and training, the role of migration in aged care and creating innovation in the industry.
Minister for Aged Care Anika Wells said the event advanced discussions on critical topics that will lead Labor's reform measures in aged care.
"Aged Care reform needs to be done once and done well and that's why consultations like today's Aged Care Workforce Pre-Jobs Summit Roundtable are crucial," Minister Wells said.
"It was great to see such healthy dialogue among a wide array of stakeholders.
"We must work together to improve the lives of aged care workers and care recipients who have been neglected after successive liberal governments ignored their plight.
"We need ambition for aged care. We need to be innovative and have thought leadership."
Feeling Frail? Here's How To Beat It
The pandemic has a lot to answer for. One lesser known effect has been the drop in older people, exercising, attending sports, and generally keeping active. The impact of this is especially seen in those who live alone.
Older people are prone to frailty, and not exercising or taking sufficient care can bring it on or make it worse.
The great news is frailty can be managed and even reduced. But withdrawing from social activities and exercise is not helpful as they are a way of combatting the condition.
A frail person experiences a physical and cognitive decline. This then makes them vulnerable to poor health and loss of independence.
USA Johns Hopkins School of Medicine has developed the following criteria to identify frailty. Someone with three or more may be considered frail.
Shrinking:

You've unintentionally lost 10 or more pounds in the past year.

Feeling weak:

You have trouble standing without assistance or have reduced grip strength.

Feeling exhausted:

Everything you do takes a big effort, or you just can't get going for three or more days most weeks.

Activity level is low:

This includes formal exercise plus household chores and activities you do for fun.

Slow walking:

Your pace is considered slow if the time it takes you more than six or seven seconds to walk 15 feet.
Discuss frailty with your doctor if you have concerns.
Unexpected falling can be a symptom of frailty, and conditions such as these increase the risk:
A history of falls

: If you have fallen more than once in the past six months, you are more likely to fall again.
Low blood pressure: Older people with naturally low blood pressure may feel light-headed, dizzy or unsteady while moving.

Postural (orthostatic) hypotension

: With this condition, blood pressure drops when changing positions, such as sitting to standing. Older people with postural hypotension, whether natural or due to a medication's side effect, are at increased risk of having a fall.
Incontinence: You may need to hurry to the toilet often, increasing the risk of a fall, particularly at night.
Stroke, Parkinson's disease and arthritis: These conditions change how you move. They make it harder to react quickly and stop yourself if you stumble.
Diabetes: Changes in blood sugar levels can make you feel faint. Diabetes can also affect your eyesight and reduce the feeling in your feet and legs.
Depression: Older people with depression may take a medicine that can increase their risk of falling.
Alzheimer's disease and other dementias: Older people with dementia can become less aware of their surroundings and less able to react quickly.
While osteoporosis is characterised by thin, weak bones, it is not a risk factor for falls. If someone does fall, there's a higher chance of breaking or fracturing a bone.
Researchers have found that muscle strength training and protein supplementation can delay or reverse frailty.
Also, older people who interact with the local environment or community are more likely to live longer, have fewer falls and have a higher quality of life.
University of Adelaide researchers have identified the geographic differences in neighbourhoods and regions where mortality and entry into permanent residential aged care are high or low. The research produced the frailty web map based on neighbourhood characteristics, such as the location of medical services, the amount of green space and the number of people involved in volunteer activities.
The interactive map shows population estimates of the number of frail and pre-frail people within all Australian suburbs for 2016 and looking ahead to 2032. The number of frail people in some suburbs around capital cities is projected to double.
Examples include:
Sydney - Padstow, Chatswood, Bexley, Hurstville.
Melbourne - Epping, Mulgrave, Keilor East.
Canberra - Monash, Florey, Rivett.
Brisbane - Eagleby, Raceview, Birkdale.
Adelaide - Hallett Cove, Happy Valley, Mount Barker, Golden Grove.
Perth - Armadale, Canning Vale, Bassendean, Kingsley.
Darwin - Fannie Bay, Rapid Creek, Wanguri.
Hobart - Risdon Vale, Brighton, South Hobart.
For more information about what you can do about frailty, watch this 3-minute video.
Seniors Left Out In The Cold – Here's How To Help
As rents rise and the cost of living eats into incomes, here's a plan to end homelessness.
It's estimated one in six people aged 55+are currently homeless, which is described as having an unstable or inadequate housing situation.
The 2016 Census found that older people made up 16 per cent of all people experiencing homelessness.
The federal government has initiatives that ensure older people are protected and not left without accommodation or somewhere to live.
People who are eligible include:
Older people aged 50 years or older and are prematurely ageing.
Aboriginal and Torres Strait Islander people aged 45 years and older.
Those on a low income.
One type of free government support includes accessing aged care services earlier or being assisted when finding accommodation. The person must be experiencing homelessness or at risk of homelessness to access aged care services earlier, which will help them find suitable accommodation and support.
For those needing aged care services, like a nursing home, the government can assist with appropriate placement in a facility, including one service which specialises in care for homeless people.
For those who are still mobile and independent and don't need full-time care but need stable accommodation, there are services available through the Commonwealth Home Support Programme (CHSP).
For people in need, the government and providers will help link to additional services.
People with very low incomes can access state or territory public housing.
Those accessing this service will likely need to pay rent at a reduced rate, and there are other rules and regulations to follow.
Additionally, each state and territory has individual charitable services that provide support, housing and information services to people experiencing homelessness. If you need assistance or services, contact your local homelessness service.
A new report on homelessness has outlined how Australia can end homelessness within a decade if the government acts now.
Halve the number of households experiencing rental stress by 2027 and end rental stress by 2032;
End homelessness for women, children and young people;
End homelessness for Aboriginal and Torres Strait Islander Australians;
Halve the numbers of people returning to homeless services by 2027, and halve the numbers again by 2032.
The report says homelessness can be solved by providing more safe and affordable housing, ensuring people's incomes allow them to afford housing and other essentials, and providing support where needed for people to get into and sustain a home.
Key recommendations in the report include:
Building 25,000 social housing properties a year.
Providing a housing guarantee to women and children fleeing family violence.
Providing homes and support to people who have been homeless multiple times to help them stay housed.
Providing young people who can't live at home with the support they need to succeed.
Increasing JobSeeker to at least $70 a day and boosting Commonwealth Rental Assistance by 50 per cent.
Homelessness Australia Chair, Jenny Smith, said, "We don't have to take homelessness for granted – we can end it within a decade."
She said housing was at the forefront of Australia's cost-of-living crisis, pushing more people into homelessness.
"Rents are skyrocketing while we have a social housing shortfall of 433,000 properties.
"While the situation is dire, the challenge is not insurmountable. That's why we're releasing a plan to cut rental stress in half within five years and end it for good by 2032," she said.
Dementia Action Week
19 – 25 September 2022
Dementia impacts close to half a million Australians and almost 1.6 million Australians are involved in their care. The number of people living with dementia is set to double in the next 25 years. With so many people impacted now and into the future, it is vital we clear up some of the prevailing misconceptions about dementia.
People living with dementia can live active and fulfilling lives many years after diagnosis. Despite this, they often experience discrimination. In a Dementia Australia survey, more than 70 per cent of people believed discrimination towards people with dementia is common or very common.
The concept for Dementia Action Week was developed in consultation with Dementia Advocates, who have a lived experience of dementia. The 'A little support makes a big difference' campaign demonstrates that many people living with dementia can continue to live well for many years after their diagnosis. In 2021, the focus was also on supporting and celebrating carers of people living with dementia.
The campaign provides information and tips to encourage all Australians to increase their understanding of dementia and learn how they can make a difference to the lives of people around them who are impacted – and to help eliminate discrimination. These include simple and practical tips to:
Give a little support to a person living with dementia.
Give a little support to a carer, friend or family member of a person living with dementia.
Help healthcare professionals make their practice more dementia-friendly.
This awareness-raising campaign continues to lead the discussion about discrimination, which we know has a big impact on people living with dementia, their families and carers. The good news is, there is a lot that can be done to improve their experiences. To find out how you can make a difference please visit our campaign site by clicking the link below:
We encourage community organisations, partners and supporters to
register your interest
to receive further information about Dementia Action Week 2022, discrimination and dementia.
Vitamin D Supplementation Seems To Alleviate Depressive Symptoms In Adults
An extensive meta-analysis suggests that vitamin D supplementation may alleviate depressive symptoms in adults with depression. Conducted by an international team of researchers, the meta-analysis includes dozens of studies from around the world.
Depressive symptoms cause a significant disease burden worldwide. The therapeutic efficacy of current antidepressants is often insufficient, which is why further ways to alleviate the symptoms of depression have been sought, for example, from nutritional research.
Vitamin D is believed to regulate central nervous system functions the disturbances of which have been associated with depression. In addition, cross-sectional studies have observed an association between depressive symptoms and vitamin D deficiency. However, previous meta-analyses on the effects of vitamin D supplementation on depression have been inconclusive. In a meta-analysis, results from several different studies are combined and analysed statistically.
The new meta-analysis on the association of vitamin D supplementation with depression is the largest one published so far, including results from 41 studies from around the world. These studies have investigated the efficacy of vitamin D in alleviating depressive symptoms in adults by randomised placebo-controlled trials in different populations. The studies included those carried out in patients with depression, in the general population, and in people with various physical conditions. The results of the meta-analysis show that vitamin D supplementation is more effective than a placebo in alleviating depressive symptoms in people with depression. There were major differences in the vitamin D doses used, but typically the vitamin D supplement was 50-100 micrograms per day.
"Despite the broad scope of this meta-analysis, the certainty of evidence remains low due to the heterogeneity of the populations studied and the due to the risk of bias associated with a large number of studies," Doctoral Researcher and lead author Tuomas Mikola of the Institute of Clinical Medicine at the University of Eastern Finland says. The meta-analysis is part of Mikola's PhD thesis.
"These findings will encourage new, high-level clinical trials in patients with depression in order to shed more light on the possible role of vitamin D supplementation in the treatment of depression," Mikola concludes.
The meta-analysis was carried out in international collaboration between Finnish, Australian and US researchers.
Tuomas Mikola, Wolfgang Marx, Melissa M. Lane, Meghan Hockey, Amy Loughman, Sanna Rajapolvi, Tetyana Rocks, Adrienne O'Neil, David Mischoulon, Minna Valkonen-Korhonen, Soili M. Lehto, Anu Ruusunen.
The effect of vitamin D supplementation on depressive symptoms in adults: A systematic review and meta‐analysis of randomized controlled trials.
Critical Reviews in Food Science and Nutrition, 2022; 1 DOI:
10.1080/10408398.2022.2096560
Prehistoric Podiatry: How Dinos Carried Their Enormous Weight
Scientists have cracked an enduring mystery, discovering how sauropod dinosaurs -- like Brontosaurus and Diplodocus -- supported their gigantic bodies on land.
A University of Queensland and Monash University-led team used 3D modelling and engineering methods to digitally reconstruct and test the function of foot bones of different sauropods.
Dr Andréas Jannel conducted the research during his PhD studies at UQ's Dinosaur Lab and said the team found that the hind feet of sauropod had a soft tissue pad beneath the 'heel', cushioning the foot to absorb their immense weight.
"We've finally confirmed a long-suspected idea and we provide, for the first time, biomechanical evidence that a soft tissue pad -- particularly in their back feet -- would have played a crucial role in reducing locomotor pressures and bone stresses," Dr Jannel said.
"It is mind-blowing to imagine that these giant creatures could have been able to support their own weight on land."
Sauropods were the largest terrestrial animals that roamed the Earth for more than 100 million years.
They were first thought to have been semi-aquatic with water buoyancy supporting their massive weight, a theory disproved by the discovery of sauropod tracks in terrestrial deposits in the mid-twentieth century.
Monash University's Dr Olga Panagiotopoulou said it had also been thought sauropods had feet similar to a modern-day elephant.
"Popular culture -- think Jurassic Park or Walking with Dinosaurs -- often depicts these behemoths with almost-cylindrical, thick, elephant-like feet," Dr Panagiotopoulou said.
"But when it comes to their skeletal structure, elephants are actually 'tip-toed' on all four feet, whereas sauropods have different foot configurations in their front and back feet.
"Sauropod's front feet are more columnar-like, while they present more 'wedge high heels' at the back supported by a large soft tissue pad."
UQ's Associate Professor Steve Salisbury said this was because sauropods and elephants had different evolutionary origins.
"Elephants belong to an ancient order of mammals called proboscideans, which first appeared in Africa roughly 60 million years ago as small, nondescript herbivores, " Associate Professor Salisbury said.
"In contrast, sauropods -- whose ancestors first appeared 230 million years ago -- are more closely related to birds.
"They were agile, two-legged herbivores and it was only later in their evolution that they walked on all fours.
"Crucially, the transition to becoming the largest land animals to walk the earth seems to have involved the adaptation of a heel pad."
The researchers now plan to use the 3D modelling and engineering methods to make further discoveries.
"I'm keen to apply a similar method to an entire limb and to include additional soft tissue such as muscles, which are rarely preserved in fossils," Dr Jannel said.
"We're also excited to study the limbs and feet of other prehistoric animals.
"This should allow us to answer different questions about the biomechanics of extinct animals and better understand their environmental adaptations, movement and lifestyle."
Andréas Jannel, Steven W. Salisbury, Olga Panagiotopoulou.
Softening the steps to gigantism in sauropod dinosaurs through the evolution of a pedal pad.
Science Advances, 2022; 8 (32) DOI:
10.1126/sciadv.abm8280
Not All In The Genes: Are We Inheriting More Than We Think?
A fundamental discovery about a driver of healthy development in embryos could rewrite our understanding of what can be inherited from our parents and how their life experiences may shape us.
The new research suggests that epigenetic information, which sits on top of DNA and is normally reset between generations, is more frequently carried from mother to offspring than previously thought.
The study, led by researchers from Walter and Eliza Hall Institute (Melbourne, Australia), significantly broadens our understanding of which genes have epigenetic information passed from mother to child and which proteins are important for controlling this unusual process.
Epigenetics is a rapidly growing field of science that investigates how our genes are switched on and off to allow one set of genetic instructions to create hundreds of different cell types in our body.
Epigenetic changes can be influenced by environmental variations such as our diet, but these changes do not alter DNA and are normally not passed from parent to offspring.
While a tiny group of 'imprinted' genes can carry epigenetic information across generations, until now, very few other genes have been shown to be influenced by the mother's epigenetic state.
The new research reveals that the supply of a specific protein in the mother's egg can affect the genes that drive skeletal patterning of offspring.
Chief investigator Professor Marnie Blewitt said the findings initially left the team surprised.
"It took us a while to process because our discovery was unexpected," Professor Blewitt, Joint Head of the Epigenetics and Development Division at WEHI, said.
"Knowing that epigenetic information from the mother can have effects with life-long consequences for body patterning is exciting, as it suggests this is happening far more than we ever thought.
"It could open a Pandora's box as to what other epigenetic information is being inherited."
The study, led by WEHI in collaboration with Associate Professor Edwina McGlinn from Monash University and The Australian Regenerative Medicine Institute, is published in Nature Communications.
The new research focused on the protein SMCHD1, an epigenetic regulator discovered by Professor Blewitt in 2008, and Hox genes, which are critical for normal skeletal development.
Hox genes control the identity of each vertebra during embryonic development in mammals, while the epigenetic regulator prevents these genes from being activated too soon.
In this study, the researchers discovered that the amount of SMCHD1 in the mother's egg affects the activity of Hox genes and influences the patterning of the embryo. Without maternal SMCHD1 in the egg, offspring were born with altered skeletal structures.
First author and PhD researcher Natalia Benetti said this was clear evidence that epigenetic information had been inherited from the mother, rather than just blueprint genetic information.
"While we have more than 20,000 genes in our genome, only that rare subset of about 150 imprinted genes and very few others have been shown to carry epigenetic information from one generation to another," Benetti said.
"Knowing this is also happening to a set of essential genes that have been evolutionarily conserved from flies through to humans is fascinating."
The research showed that SMCHD1 in the egg, which only persists for two days after conception, has a life-long impact.
Variants in SMCHD1 are linked to developmental disorder Bosma arhinia microphthalmia syndrome (BAMS) and facioscapulohumeral muscular dystrophy (FSHD), a form of muscular dystrophy. The researchers say their findings could have implications for women with SMCHD1 variants and their children in the future.
A drug discovery effort at WEHI is currently leveraging the SMCHD1 knowledge established by the team to design novel therapies to treat developmental disorders, such as Prader Willi Syndrome and the degenerative disorder FSHD.
Natalia Benetti, Quentin Gouil, Andres Tapia del Fierro, Tamara Beck, Kelsey Breslin, Andrew Keniry, Edwina McGlinn, Marnie E. Blewitt.
Maternal SMCHD1 regulates Hox gene expression and patterning in the mouse embryo.
Nature Communications, 2022; 13 (1) DOI:
10.1038/s41467-022-32057-x
Curtin Enabling Better Lives Through Consumer-First Health Research
A new institute based at Curtin University will be a hub for innovative research that, in partnership with communities, industry and government, will enable consumer-first solutions that promote health and wellbeing across a person's lifespan.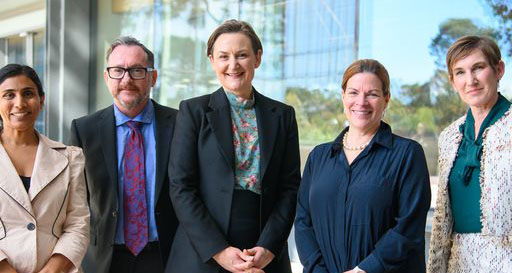 Zaneta Mascarenhas MP; Prof Archie Clements; Health Minister Amber-Jade Sanderson; Professor Harlene Hayne; Professor Bronwyn Myers
Officially launched today, the
Curtin enAble Institute
is a new collaborative venture en-Abling people of all ages and abilities to live healthy and flourishing lives in their communities. It is aligned with the WA Sustainable Health Review's eight enduring strategies and its aim to prioritise the delivery of patient-centred, high quality and financially sustainable health prevention, promotion and care across the State.
Curtin University Vice-Chancellor Professor Harlene Hayne said she was delighted to welcome both State Health Minister, the Hon Amber-Jade Sanderson and Ms Zaneta Mascarenhas MP, Federal Member for Swan to Curtin's Bentley campus to mark the occasion.
"The Curtin enAble Institute is a true embodiment of Curtin's values, because part of its core collaborative mission is to recognise the courage of those with healthcare needs, and treat them with respect and preserve their dignity as it searches for solutions that will improve their lives," Professor Hayne said.
"From how the design of housing can facilitate better health and quality of life, to how technology can be harnessed to deliver health services and to enhance quality of life, the Institute will work across disciplines and agencies to make people's lives happier and healthier throughout their lifespan.
"I am incredibly excited to see how this dedicated and passionate team can make a difference in the lives of many."
Director of the Curtin enAble Institute Professor Bronwyn Myers said the Institute's strong partnerships meant the translation of research into practice could be fast-tracked.
"Our research is for the community and with the community. Our focus on embedding consumers in research teams and researchers within health services and industry partners, means we can more quickly and easily create change and provide real benefits," Professor Myers said.
"Partnering with key industry organisations such as the WA Country Health Service and University Departments of Rural Health highlights our ongoing commitment to service all patients, including those living regionally and remotely."
Beginning after a $10 million Federal Government grant was secured in 2019 under the Community Health and Hospitals Program, to establish a Dementia Centre for Excellence, now the Curtin enAble Institute's research program spans four pillars:
Child and Family Health

– Research endeavours to improve the physical and mental health of children and their families for a promising future. It focuses on the first 1000 days of life and how to pave a way for a healthy and happy future;

Mental Health

– Research will help identify the mental health priorities in WA and ensure everyone has a voice in that process, with a mission to help care providers understand how to keep people well and flourishing.

Optimising Health & Wellbeing

– Multidisciplinary and collaborative research to optimise health and wellbeing recognising that these are influenced by the physical, environmental, emotional and social experiences of our unique lives.

Dementia and Ageing

– Working with community, people living with dementia and those providing care to help them live their best lives. This research will help answer questions that the most affected by dementia and ageing feel are important.
Workers Left Behind By Australia's Changing Retail Sector
Workers in Australia's retail sector are being left behind as a wave of rapidly-changing technologies reshape the industry, according to research led by experts at The Australian National University (ANU) and the University of Sydney.
A survey of workers in the industry, which comprises 11 per cent of the Australian workforce, found that increased surveillance, a lack of training and the impact of online shopping were just some of the issues having a detrimental effect on retail workers.
Lead researcher Professor Ariadne Vromen, from the ANU Crawford School of Public Policy, said the COVID-19 pandemic has profoundly transformed retail work.
"Rapid changes including digitisation, the collection and use of big data, and automation are reshaping the retail industry and the skills required to work within it," Professor Vromen said.
"We found there is a real tension between some of the senior stakeholders in the retail industry, such as employers, industry association leaders and consultants, and the retail workers on the ground.
"Workers are less concerned about automation and are more concerned about being replaced by other workers who will be paid less. They also see customer service and people skills, such as communicating well and managing conflict, as more important than technical skills for being successful in their jobs.
"Retail stakeholders also identified the growth of online shopping as a key transformation in the retail business model, which has prompted a rethink of the role of traditional 'bricks and mortar' stores."
Professor Vromen said the study's findings will help shape broader debate of Australia's retail sector ahead of the Federal Government's job summit in the first week of September.
The report contains insights from in-depth interviews with 30 senior stakeholders in the retail industry and retail-adjacent sectors and industries, including food and beverages, home and lifestyle, finance and technology, and logistics. The study also surveyed 1,160 retail workers.
About two-thirds of retail workers said they were not concerned about automation or online shopping having a negative impact on their job or working arrangements. However, one quarter of retail workers were concerned they would lose work if they did not keep up with the technical skills required.
By comparison, 35 per cent of retail workers were concerned about by being replaced by cheaper labour.
Two in five retail workers said their employer used technology to surveil them at work, and nearly half thought customer feedback was used in their performance evaluation, placing them under near constant scrutiny by management and customers.
Professor Vromen said many retail workers were vulnerable, low paid members of the Australian economy.
"A majority of retail employees are women and it is the third most feminised industry in Australia," Professor Vromen said.
"Younger workers are over-represented in retail and more than half of the retail workforce are employed on part-time or casual contracts.
"The vast majority of retail and fast food workers cannot work from home. There are those in the frontline with customer-facing jobs, and others working in logistics and warehouses, organising delivery of food and consumable products. Only a very small proportion work in an office with predominantly desk work that can be undertaken at home.
"The disruption wrought by COVID-19 is not going away in 2022."
A Digital Tool Is Helping Cancer Survivors Cope With Fear Of Recurrence
A self-guided digital intervention is showing promise for helping cancer survivors manage their post-treatment uncertainty.
One of the most common worries cancer survivors have after treatment ends is that their cancer will return. For many, this fear can be debilitating and can significantly affect their wellbeing and ability to enjoy life. Now, a team led by UNSW Sydney researchers is investigating ways to increase access to much-needed treatment for fear of cancer recurrence through e-health.
Dr Ben Smith, Cancer Institute NSW Career Development Fellow and Senior Research Fellow at South West Sydney Clinical School, UNSW Medicine & Health, and Dr Adeola Bamgboje-Ayodele at the Ingham Institute for Applied Medical Research led a national team of clinicians, researchers and cancer survivors to develop a digital intervention to help survivors manage their post-treatment fears.
The program, iConquerFear, is a self-guided online tool for managing fear of cancer recurrence.
It is an adaptation of ConquerFear, a therapist-delivered treatment for fear of recurrence – originally developed by the Psycho-Oncology Co-operative Research Group, a national cancer clinical trials group – which has been shown to be effective in reducing psychological distress.
The goal of iConquerFear is to empower survivors with different strategies and techniques to manage the fear of recurrence and develop actions that align with their values. Throughout five bite-sized modules, participants complete interactive exercises about goal setting, attention training and mindfulness, giving them a range of practical tools to assist in reducing unhelpful thoughts about recurrence.
"Worries about recurrence are rational and normal, and it's important to understand that they can't just be eliminated," says Dr Smith. "The iConquerFear approach is about changing how people engage with their thoughts about recurrence. It's about helping them to not get caught up in the negative thoughts that impact their wellbeing."
Helping cancer survivors fear less
More than 50 million people are living with and beyond cancer worldwide. Approximately half of all cancer survivors experience clinically significant fear of recurrence associated with psychological distress, poorer quality of life and greater healthcare use.
"Getting help to cope with a fear of cancer recurrence is a cancer survivor's top unmet need, above pain, fatigue and other physical symptoms," Dr Smith says. "This fear causes considerable distress and impacts quality of life, disrupting their ability to engage with day-to-day activities, loved ones and planning for the future."
Various therapist-delivered interventions for fear of recurrence have demonstrated effectiveness in helping survivors manage their worries. However, such services can have many barriers, including distance and resourcing.
"Existing interventions, while effective, are inaccessible to many Australian cancer survivors, particularly those in rural and remote areas," Dr Smith says. "The health system is also under a lot of strain to address the mental health burden with insufficient resourcing."
In addition, face-to-face isn't always a treatment model all patients like to, or are able to, engage in, Dr Bamgboje-Ayodele says. "So, there's a growing need for more scalable digital interventions to address this significant gap."
According to Dr Smith, self-guided digital interventions have significant promise to address unmet fear of recurrence-related needs and deliver timely, accessible treatment unconstrained by patient location. But many existing digital interventions have demonstrated limited engagement and efficacy to date.
"It's an emerging field, but current digital interventions for fear of recurrence either don't use the cognitive behavioural strategies that we know are particularly effective in reducing fears or haven't been designed with as much input or feedback from cancer survivors," he says.
'Getting help to cope with a fear of cancer recurrence is a cancer survivor's top unmet need, above pain, fatigue and other physical symptoms.'
Dr Bamgboje-Ayodele says, with its focus on user experience, interactive exercises and personalised feedback, iConquerFear has the potential to service fear of recurrence-related needs, be more accessible and more scalable than existing treatments.
"Participants feel like they're managing their fears and are being supported to do that as they go through these activities and get tailored feedback," Dr Smith says. "The program is designed with relatable examples to engage users while supporting behaviours such as self-examination and follow-up that could help minimise the risk of their cancer coming back."
The team recently conducted a study to investigate the potential of the iConquerFear intervention. It found that most of the 54 breast cancer survivors who participated showed a decrease in fear of recurrence severity immediately after participating in the program and three months post-intervention. About a quarter of the participants also reported clinically significant improvements in their reduction of fear of recurrence.
Although participation in later modules of the program declined somewhat, Dr Smith says the initial uptake and engagement with iConquerFear demonstrated its promise as an effective intervention tool for fear of recurrence.
"We saw strong initial uptake and engagement and promising reductions in fear recurrence – equivalent in size to what we saw in the face-to-face," Dr Smith says. "It suggests that digital interventions can actually improve access to psychosocial support and facilitate self-management by survivors."
In their next study, the team is partnering with Ovarian Cancer Australia to conduct a pilot randomised control trial to investigate iConquerFear's effectiveness further before embarking on a full-scale rollout.
The project is also attracting international interest from therapeutics companies. Blue Note Therapeutics, a US-based digital therapeutics prescription company, recently licensed the iConquerFear and ConquerFear programs to develop a product for the North American market.
"We are open to exploring commercial models with partners that would maximise the accessibility and impact of iConquerFear in Australia and beyond," Dr Smith says.
Report: Ben Knight, UNSW
Multiple Shots Of The BCG Vaccine Protect Type 1 Diabetics From COVID-19, Study Finds
Researchers at Massachusetts General Hospital (MGH), published a new paper in Cell Reports Medicine demonstrating the protective potential of multiple doses of the Bacillus Calmette-Guerin (BCG) vaccine against COVID-19 and other infectious diseases.
In a double-blind, placebo-controlled study of patients with type 1 diabetes conducted at the start of the pandemic (before COVID-specific vaccines were available), the researchers found that 12.5% of placebo-treated individuals and 1% of BCG-treated individuals met criteria for confirmed COVID-19, yielding a vaccine effectiveness of 92%.
The BCG-vaccinated group also displayed protective effects against other infectious diseases, including fewer symptoms, lesser severity and fewer infectious disease events per patient. No BCG-related systemic adverse events occurred.
BCG's broad-based infection protection suggests that, in addition to COVID-19, may potentially provide protection against new SARS-CoV-2 variants and other pathogens.
The researchers are hoping the results will spur a larger scale study of the effects of the BCG vaccine in patients with type 1 diabetes, considered among the most vulnerable groups to COVID-19.
The BCG vaccine is an avirulent tuberculosis strain Mycobacterium bovis historically given to protect against tuberculosis and, since its introduction in 1921, has been the most widely administered vaccine in the history of medicine.
Considered to be extremely safe, BCG is on the World Health Organization's List of Essential Medicines and is given to roughly 100 million children per year globally. BCG is also one of the most affordable medicines, costing less than a dollar a dose in many parts of the world.
"Multiple studies have shown that adults with type 1 diabetes who are diagnosed with COVID-19 are at increased risk of severe illness.
We found that three doses of BCG administered prior to the start of the pandemic prevented infection and limited severe symptoms from COVID-19 and other infectious diseases.
Unlike the antigen-specific vaccines currently in use to prevent COVID-19, BCG's mechanism of action is not limited to a specific virus or infection," says Denise Faustman, MD, PhD, director of the Immunobiology Laboratory at Massachusetts General Hospital.
The participants in the COVID trial had previously enrolled in a clinical trial testing the effectiveness of the BCG vaccine for type 1 diabetes. Participants in the test group had received multiple vaccinations prior to the onset of the pandemic in early 2020.
"This data set is unique and exciting because the patients were all vaccinated with multiple doses of BCG prior to the onset of the epidemic. Prior to the trial they had no known exposure to tuberculosis or prior BCG vaccination. This eliminates the major confounding factors that have limited other trials.
The results support the idea that BCG needs time to have a clinical effect, but its effects may then be very lasting and durable" says Hazel Dockrell, London School of Hygiene & Tropical Medicine, an infectious diseases expert who was not officially involved in the study.
The 144 adult type diabetics (96 BGC treated and 48 placebo) analysed in the COVID-19 trial were part of an ongoing Phase IIb clinical trial testing BCG as a treatment for adults with established type 1 diabetes. Patients were followed for COVID-19 related outcomes for 15 months.
Outcomes for the COVID-19 trial included: COVID-19 infection rate, COVID-19 related symptoms, reduction overall infections disease and SARS-CoV-2 antibody-level presence and intensity. The type 1 diabetes outcomes were not unblinded as part of this study and will be unblinded at the completion of the trial in 2023.
Denise L. Faustman, Amanda Lee, Emma R. Hostetter, Anna Aristarkhova, Nathan C. Ng, Gabriella F. Shpilsky, Lisa Tran, Grace Wolfe, Hiroyuki Takahashi, Hans F. Dias, Joan Braley, Hui Zheng, David A. Schoenfeld, Willem M. Kühtreiber.
Multiple BCG vaccinations for prevention of COVID-19 and other infectious diseases in Type 1 diabetes.
Cell Reports Medicine, 2022; 100728 DOI: 10.1016/j.xcrm.2022.100728
Exercise Answer: Research Shows It's How Often You Do It, Not How Much
So… should I exercise a little bit every day, or exercise for longer once a week?

It's a dilemma faced by many health-conscious people -- and new research from Edith Cowan University (ECU) is answering the question.
This latest research indicates a little bit of daily activity could well be the most beneficial approach, at least for muscle strength.
And happily, it also suggests you don't have to put in a mountain of work every day.
In collaboration with Niigata University and Nishi Kyushu University in Japan, the four-week training study had three groups of participants performing an arm resistance exercise and changes in muscle strength and muscle thickness were measured and compared.
The exercise consisted of 'maximal voluntary eccentric bicep contractions' performed on a machine which measures muscle strength in each muscle contraction you would do at the gym.
An eccentric contraction is when the muscle is lengthening; in this case, like lowering a heavy dumbbell in a bicep curl.
Two groups performed 30 contractions per week, with one group doing six contractions a day for five days a week (6x5 group), while the other crammed all 30 into a single day, once a week (30x1 group).
Another group only performed six contractions one day a week.
After four weeks, the group doing 30 contractions in a single day did not show any increase in muscle strength, although muscle thickness (an indicator of increase in muscle size) increased 5.8 per cent.
The group doing six contractions once a week did not show any changes in muscle strength and muscle thickness.
However, the 6x5 group saw significant increases in muscle strength -- more than 10 per cent -- with an increase in muscle thickness similar to the 30x1 group.
Frequency, not volume
Importantly, the increase in muscle strength of the 6x5 group was similar to the group in a previous study that performed only one three-second maximal eccentric contraction per day for five days a week for four weeks.
ECU Exercise and Sports Science Professor Ken Nosaka said these studies continue to suggest very manageable amounts of exercise done regularly can have a real effect on people's strength.
"People think they have to do a lengthy session of resistance training in the gym, but that's not the case," he said.
"Just lowering a heavy dumbbell slowly once or six times a day is enough."
Professor Nosaka said while the study required participants to exert maximum effort, early findings from current, ongoing research indicated similar results could be achieved without needing to push as hard as possible.
"We only used the bicep curl exercise in this study, but we believe this would be the case for other muscles also, at least to some extent," he said.
"Muscle strength is important to our health. This could help prevent a decrease in muscle mass and strength with ageing.
"A decrease in muscle mass is a cause of many chronic disease such as cardiovascular disease, type 2 diabetes, some cancers, dementia, plus musculoskeletal problems such as osteoporosis."
It is not yet known precisely why the body responds better to resistance exercises with eccentric contractions in smaller doses rather than bigger loads less frequently.
Professor Nosaka said it may relate to how often the brain is asked to make a muscle perform in a particular manner.
However, he stressed it was also important to include rest in an exercise regimen.
"In this study, the 6x5 group had two days off per week," he said.
"Muscle adaptions occur when we are resting; if someone was able to somehow train 24 hours a day, there would actually be no improvement at all.
"Muscles need rest to improve their strength and their muscle mass, but muscles appear to like to be stimulated more frequently."
He also highlighted if someone was unable to exercise for a period, there was no value in trying to "make up" for it with a longer session later.
"If someone's sick and can't exercise for a week, that's fine, but it is better to just return to regular exercise routine when you're feeling better" he said.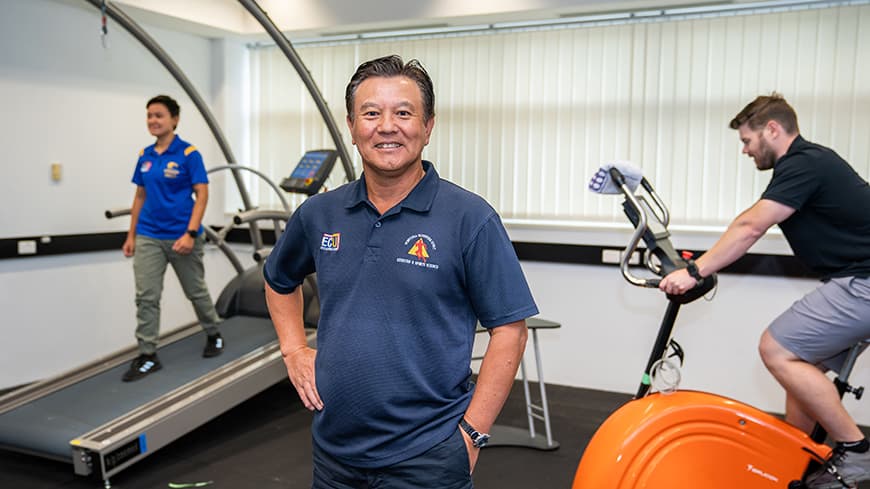 Professor Ken Nosaka.

Current Australian Government guidelines already indicate adults should try to be active every day and perform 2.5-5 hours of moderate physical activity per week.
Professor Nosaka said there needed to be more emphasis on the importance of making exercise a daily activity, rather than hitting a weekly minute goal.
"If you're just going to the gym once a week, it's not as effective as doing a bit of exercise every day at home," he said.
"This research, together with our previous study, suggests the importance of accumulating a small amount of exercise a week, than just spending hours exercising once a week.
"We need to know that every muscle contraction counts, and it's how regularly you perform them that counts."
'Greater effects by performing a small number of eccentric contractions daily than a larger number of them once a week' was published in the Scandinavian Journal of Medicine and Science in Sports.
Riku Yoshida, Shigeru Sato, Kazuki Kasahara, Yuta Murakami, Fu Murakoshi, Kodai Aizawa, Ryoma Koizumi, Kazunori Nosaka, Masatoshi Nakamura.
Greater effects by performing a small number of eccentric contractions daily than a larger number of them once a week.
Scandinavian Journal of Medicine & Science in Sports, 2022; DOI:
10.1111/sms.14220
Disclaimer: These articles are not intended to provide medical advice, diagnosis or treatment. Views expressed here do not necessarily reflect those of Pittwater Online News or its staff.