July 3 - 16, 2022: Issue 545
Council push for dogs off leash on family beaches among wildlife habitat
KANGAROO'S SWIM FOR LIFE

An "old man" kangaroo found fighting desperately for his life in the surf at Mona Vale on Monday afternoon was assisted ashore by bathers, only to be attacked immediately by dogs. The dogs were beaten off by surfers, and the kangaroo hopped unsteadily into the bush and disappeared.
For more than a quarter of an hour those on the beach could not make out what it was bobbing up and down with a peculiar motion in the far line of breakers. As it drew nearer it was identified, and the sight was so unusual that soon a crowd was assembled on the edge of the water to watch its progress. This nearly proved the kangaroo's undoing. Becoming aware of his "gallery," he stopped in fright, and was in danger of drowning.
Bathers went out, however, and eventually persuaded him to continue towards the shore.
He was too exhausted adequately to deal with the dogs which immediately attacked him. The surfers again had to come to his assistance before he escaped to the security of the bush.
It was suggested by a bushman that the kangaroo might have been chased from his usual haunts by dogs, and when cornered on the seashore jumped into the water as a last desperate resort. KANGAROO'S SWIM FOR LIFE. (1940, October 8). The Sydney Morning Herald (NSW : 1842 - 1954), p. 7. Retrieved from http://nla.gov.au/nla.news-article17707829
The council has stated it will publicly exhibit a Review of Environmental Factors (REF) for proposals for trial dog off-leash areas at Palm Beach (North) and Mona Vale Beach (South).
There has been a mixed reaction to the news, with those who have taken on large dogs and have small yards ecstatic, and those who use these spaces as families with small children or those who must attend call outs for wildlife mauled or killed by dogs are outraged and wondering which century the council is living in.
A draft REF was prepared as the next stage in a process to explore the potential for trial dog off-leash areas in these locations after the same failed at Station Beach, not just because dog owners were doing whatever they liked whenever they liked, but because the council's process was poor to begin with.
The council states the new REF for new locations has a purpose to identify, analyse and evaluate the direct, indirect and cumulative impacts of the proposed activity in accordance with the relevant legislation.
The council states that 'The draft REF concludes that the activity is unlikely to have a significant impact on the environment, including threatened species and their habitats and ecological communities in these areas. The draft REF contains mitigation measures in respect of the trial, including a requirement for dogs to be on-leash when using access points to the beach area. Exhibiting the draft REF will give the community an opportunity to have their say. Further consultation will also be undertaken with relevant Government agencies.'
CEO Ray Brownlee said the council is following the relevant legislative requirements, including new guidelines released by the Department of Planning and Environment.
"Our initial consultation with the community on the possibility of introducing these trial dog off-leash areas suggested that there is support for a 12-month trial to proceed," Mr Brownlee said.
"However, some in the community raised concerns with issues like waste and water quality.
"The draft REF looks at these and other factors such as biodiversity, noise, traffic, Aboriginal heritage and more. It concludes the activity is unlikely to have a significant impact on the environment and includes mitigation measures to address potential risks.
"Signage, dog waste collection bags, increased Ranger patrols and on-leash requirements at access points are some of the measures. I encourage anyone interested to review the document and provide your feedback," Mr Brownlee said.
Use of the word 'wildlife' by respondents occurs a total of 153 times in the feedback to council, with many stating they were opposed to the notion due to the impact on wildlife. The council, in its responses to this, does not mention the word 'wildlife' once.
The proposal is for a 12-month off-leash trial at Palm Beach (North) and Mona Vale Beach (South) within the following times:
5.30am – 10am and 5pm – 9pm, every day (during daylight savings)
6am - 10am and 4pm – 7pm, every day (outside daylight savings)
Just as with the Station Beach 'trial' the times selected are when wildlife is either waking up to eat or settling to roost, safely, for the night.
The Draft REF states several times that when those commissioned to write this report were conducting their field surveys for shorebirds dogs were observed within the proposed Mona Vale beach area and dog faeces found within the proposed Palm Beach area and no birds seen.
Birds do their utmost to get away from dogs, which are hunters.
Residents regularly witness dogs off leash on every beach in Pittwater, as well as off leash throughout every playing field, every park, every street, and at every café, all day every day and into the evening, unchallenged with any compliance and requirement to have dogs on leash in public spaces shared by all.
This little one is regularly seen emerging from a home on Snapperman beach, having a gallivant, running along the beach, and then disappearing back in - fortunately not going near, this time, the toddlers that play on the same stretch of sand (the lady in the light blue top is not the owner of this pet):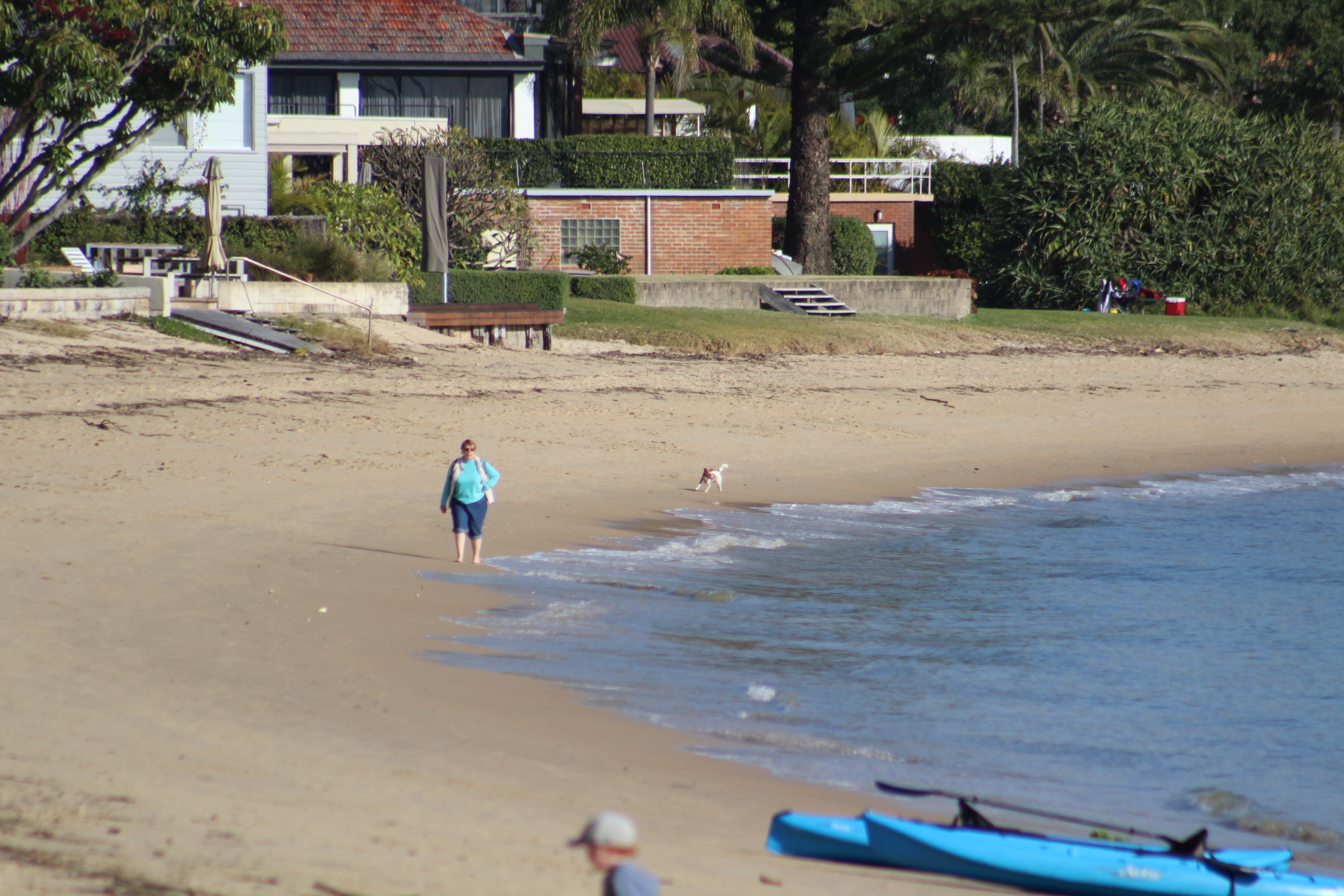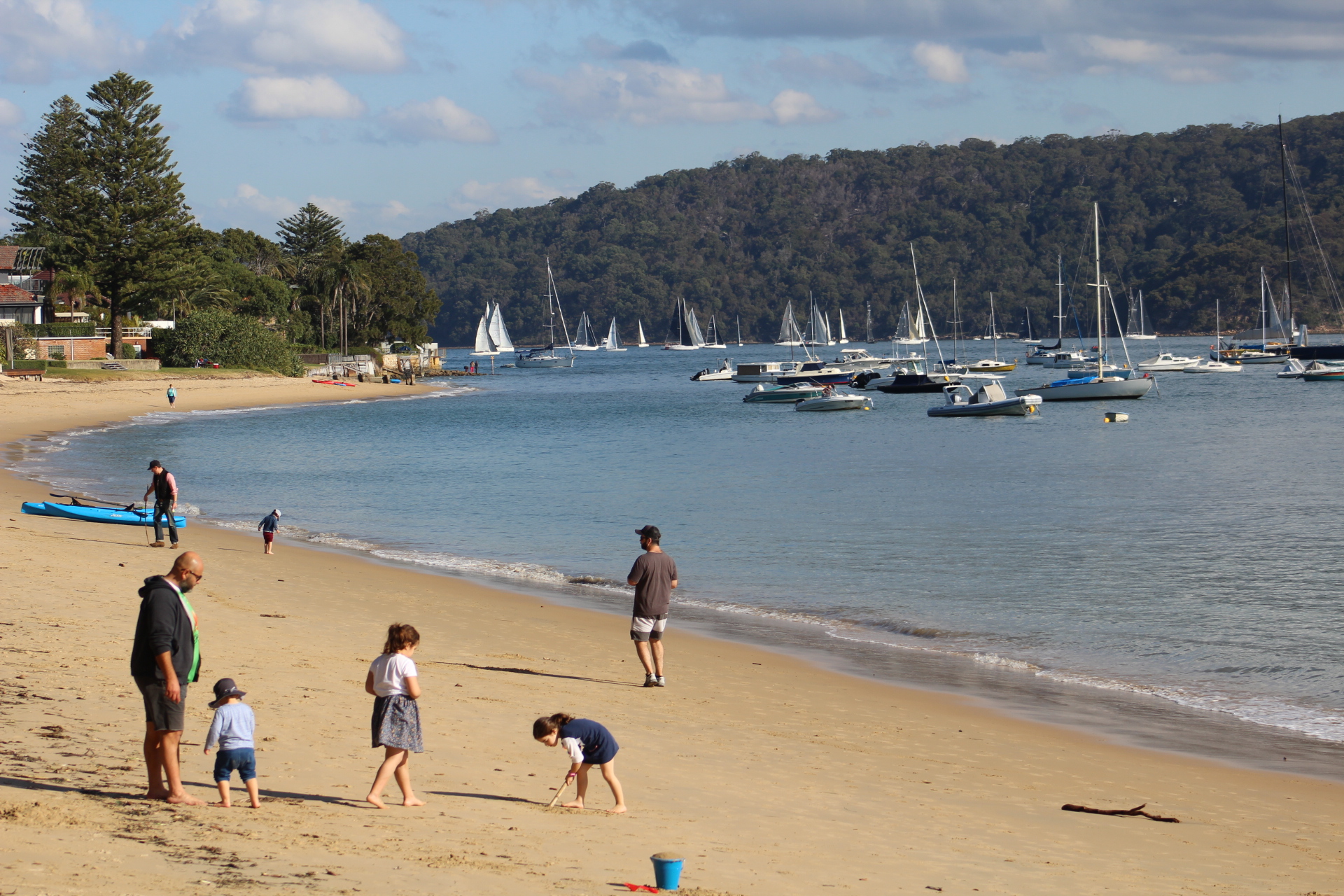 Before a trial can proceed the council will need to amend or make Plans of Management for Palm and Mona Vale beaches, which currently prohibit dogs on beaches under Pittwater Council documents, which are still in place. The input of relevant Government agencies is required in relation to these matters.
The Central Coast Council, in the same week, has released for feedback its Dogs in Open Space Action Plan. The Central Coast regularly tops the number of dog attacks in its LGA each quarter, although our own LGA, statistically, and with only half the number of registered with council dogs, equals their dog attack numbers.
Our LGA has had 141 reported dog attacks since July 2021 until the end of the March quarter 2022 and 58 in the reported statistics to 30 June 2021 quarter.
Central Coast Council's Dogs in Open Space Action Plan notes that '15% of reported attacks occurred in parks or off-leash areas and accounted for 6% of human and animal victims. Anecdotal feedback from respondents however, indicates significantly more 'dog off-leash' incidents (in both off-leash and on-leash areas) occur than are reported.'
Central Coast Council has drafted a 10 year plan for dogs in their LGA, addressing the needs of pet owners and those who also use these spaces. That council recognises that around 40% of pet owners are now shifting towards living in units and need access to spaces to exercise their pets, although their draft document also includes a note that education on the size of pets would help pet owners choose a dog that would be more suitable to their dog's and their own chosen circumstances.
The Dogs in Open Space Action Plan proposes a winding back of dogs having off leash access (OLA) to decommission/relocate 6 OLAs, designate 13 additional OLAs in places where they will not impact on others, and modify the boundary of 10 OLAs.
That council does not allow dogs on sportsfields because of the conflict between sporting activities and dogs off leash, damage to the sports surface caused by dog urine and digging, dog litter not being picked up by dog owners, and general wear associated with dogs running to and from owners gathered on the sports field.
The decommissioning of some access to beach areas by dogs off leash is to mitigate what has evolved, specifically in off leash unfenced areas, research has shown that they have 'Dog owners who are of the opinion that they and their dogs have priority access to the space, and other people are a secondary user'.
In October 2021 Pittwater Online spoke to a mum whose toddler had been run over by a wet off leash dog at the proposed south Mona Vale beach site, one of numerous large dogs present. She was told that ''if she didn't like it to stay away, this is a dog beach''.
Another suggested she take her toddler to the north end of Mona Vale beach, a place too far for a toddler to walk to.
As well, Mona Vale residents find dogs off leash right along that beach now. Instances of dogs running up to and jumping on people, strangers, emerging from a swim are common and frequent at the north end of the beach and in the Mona Vale Basin, resulting in scratches, bites and taking away that place as a safe place for small children as well.
Menzies Institute for Medical Research states that 'injuries due to dog bites are a largely unrecognised and growing public health problem' and estimates that over 100,000 people are bitten by dogs in Australia each year. Twelve to fourteen thousand incidents require medical attention, and 1,200-1,400 incidents require hospitalisation.

The Central Coast Council's extensively researched document on what is occurring in their own LGA lists among the Challenges with on leash only areas:
Owners letting their dogs off the leash in breach of leashing regulations resulting in the (same) additional challenges associated with off-leash areas
Dog owners not being respectful of other users on trails and footpaths and appropriately controlling dogs (e.g use of extension leads)
Their DIOSAP also proposes that in line with the CAA (NSW Companion Animal Act, 1998), and to preserve public amenity and address risk management issues, that:
dogs be excluded from patrolled beach areas and for 20m either side, including sand dunes extending to the waterline as a minimum
That Council is also responding to their residents calls to address the impacts on wildlife off leash dogs are having in their LGA. The word 'wildlife' is responded to - on the Central Coast.
The first benefit, the number one, listed for their proposed Dog Exclusion Areas is:
Significantly reduces the impact of dogs on sensitive flora and fauna habitats. In particular on foreshore bird nesting sites where vulnerability to nest disturbance and potential predation is high.
Remember when Pittwater had birds nesting on our foreshores? Birds in the trees alongside all our playing fields until just a few years ago? Wallabies bounding through the bush? Koalas in the trees?
This poor pelican, a not endangered but still having a right to live peacefully species, underlines why the Central Coast council is addressing 21st century illegalities and challenges: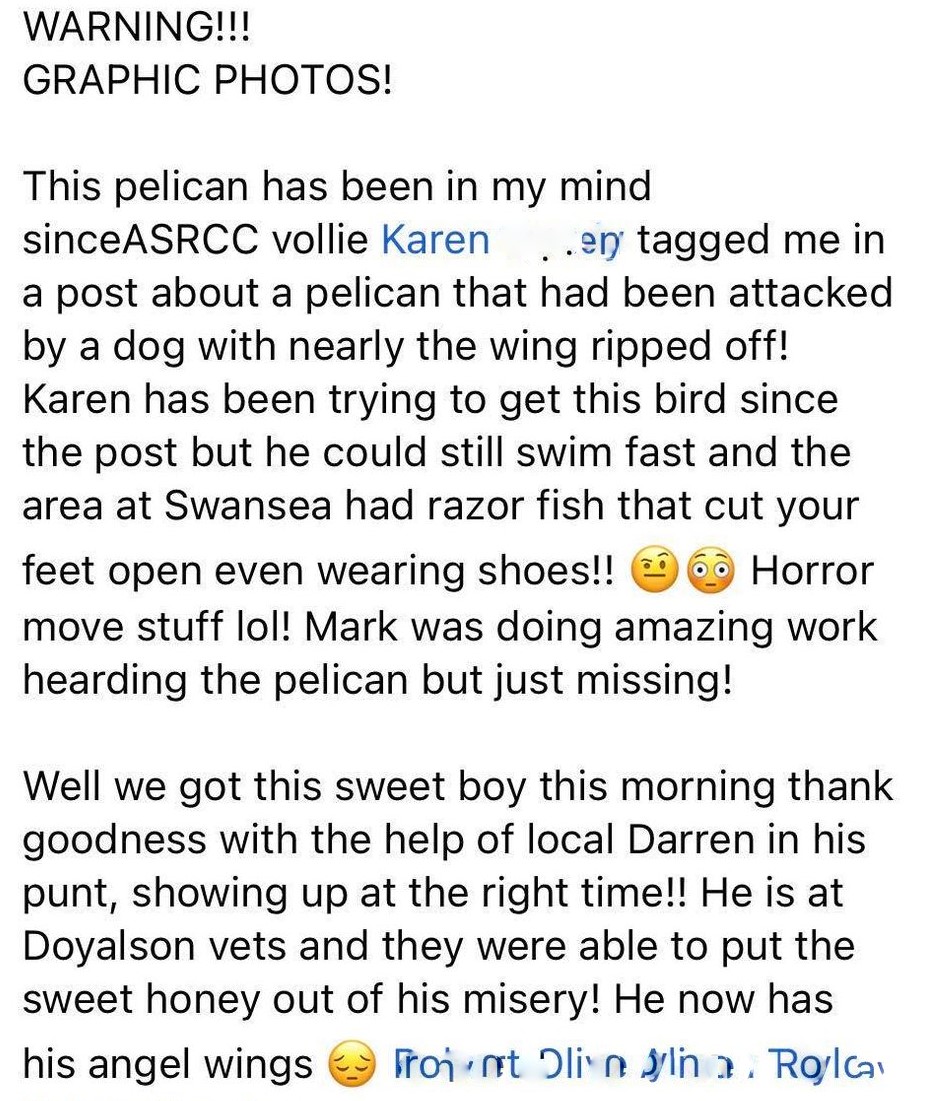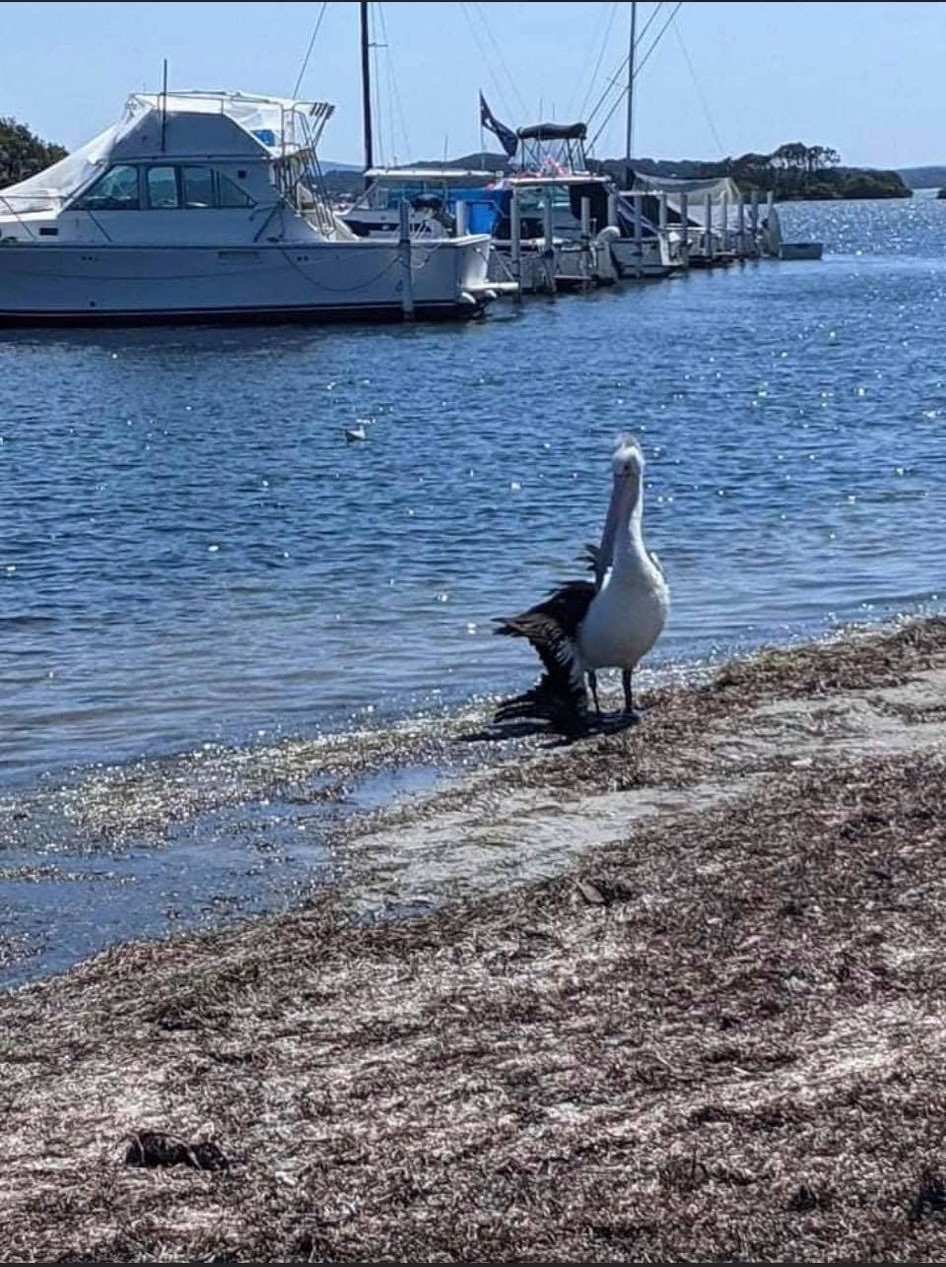 September 21, 2021 - screenshots supplied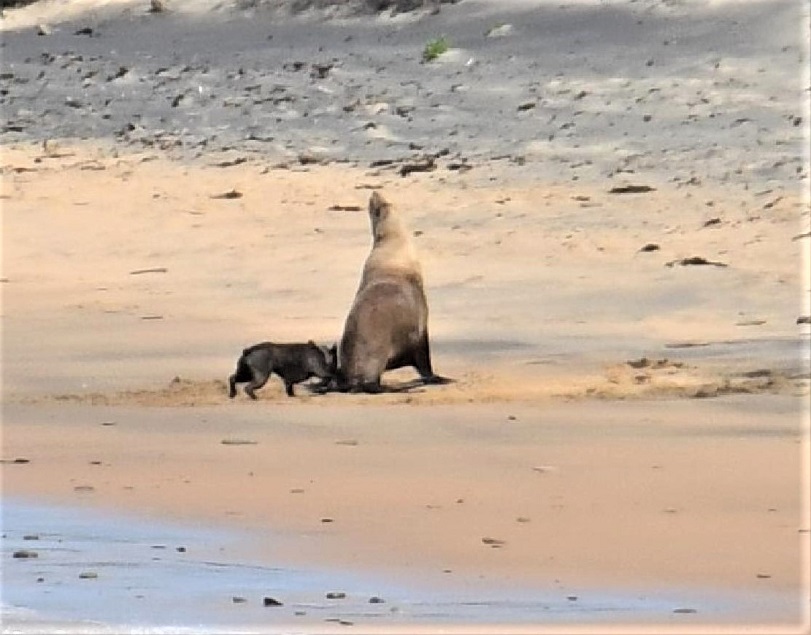 Pittwater Councillor Miranda Korzy stated after the June 2022 council meeting:
FROM THE COUNCIL CHAMBER:
'For everyone who wants to keep dogs off Pittwater's two most unspoilt beaches, get your keyboards ready! Northern Beaches Council has voted to place on public exhibition its environmental report into the proposed trial of off-leash dog areas at North Palm Beach and Mona Vale South.

I was not one of the 13 (from 15) councillors who voted for it at the meeting on Tuesday night.

The motion was moved by Pittwater Liberal Councillor Rory Amon and seconded by the ward's other councillor, Michael Gencher, a member of the Your Northern Beaches group.

The assessment, commissioned by council and carried out by Niche Environment and Heritage, concluded that the trials would not be likely to have a "significant environmental impact" if the council followed its proposed mitigation measures. These include: new signs, bins for dog faeces and council monitoring.

It was a problem for me that the motion also granted power to council staff to carry on with preparations for the trials before the exhibition and community consultation were finished. I moved an amendment calling for no further work to be carried out by the staff until the completion of the trial - however, this was voted down by all except Curl Curl Greens Councillor Kristyn Glanville.

I am a great believer in transparency and would have voted for the exhibition if my amendment had passed - although the assessment was already publicly available in the papers for the council meeting. However, given that staff revealed at the meeting that the council had already spent more than $800,000 on the quest towards off-leash dog beaches in Pittwater, I believe we should follow the process step by step to avoid any further legal action. Further, Curl Curl Greens Councillor Kristyn Glanville moved an amendment that would have ameliorated the impact of the dog trial but that was also voted down - by all councillors other than the pair of us.

We also know from the Niche report that starting a dog beach trial won't be as simple as putting up a few signs, installing some bins and employing more rangers. The council will have to weave between legal requirements under three acts (Companion Animals Act, Environmental Planning and Assessment Act and Local Government Act) amending multiple plans of management and the Pittwater dog policy. And despite all that work, insurance and civil claims could still be brought against the council.

However, I also believe the recommendations to ameliorate the impact of dogs have not worked elsewhere. For example, I noticed in papers for another motion at the meeting - for the council's delivery program - that rangers had already carried out 75 dog patrols, registering 300 observations over 60 hours at the North Curl Curl Beach off-leash dog area this year. They had also issued 30 fines for dogs not under control and dogs in prohibited places. That averages one fine every two hours of patrol time. You can do the arithmetic to work out the level of non-compliance even when a ranger is present.

And for anyone concerned about plastic pollution at the beach, Councillor Amon noted that the council dispenses 4 million poo bags per year to deal with the poo problem.

He also noted that the "human impact on beaches is much greater but we don't ban people from beaches".

We do know, however, that our local environment is under enormous pressure and we should be looking for ways to relieve rather than increase it. Adjacent to the proposed dog beach at Palm Beach is a National Park, and a Marine Reserve extends from Station Beach around Barrenjoey Headland to North Palm Beach. Just a week or so ago, a resident contacted me about an off-leash dog they saw attacking a seal pup at Avalon Beach. I have also spoken to a local ecologist who says that they would the oppose dog beach proposal outright.

We know there is a vocal lobby group that whipped up support for off-leash dog beaches. So I hope the many residents who want to retain these two in their relatively peaceful and unspoilt state will let the council know what they think during the exhibition period - I'll let you know when it begins.'
The local council states its commissioned draft REF will be on exhibition at their 'Your Say' webpages in coming weeks.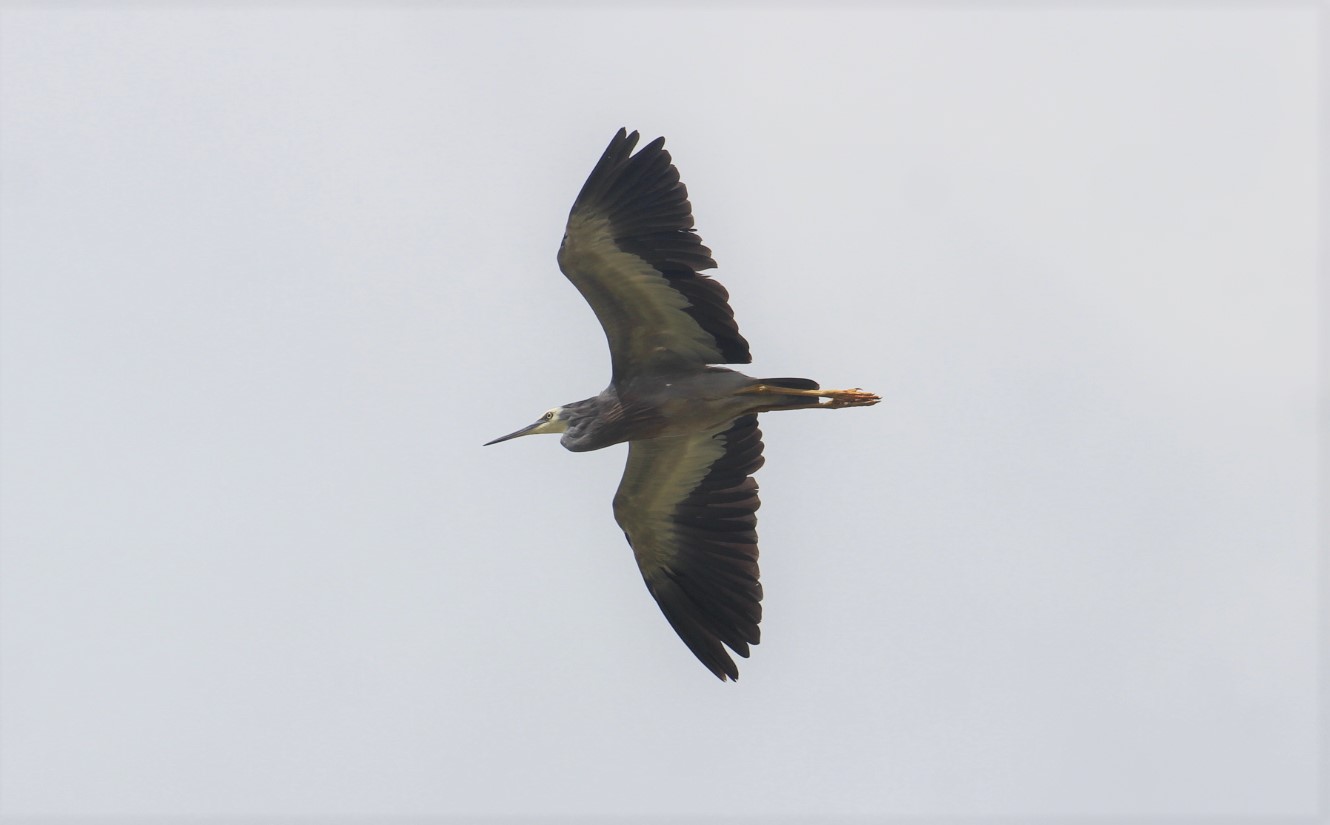 White faced heron landing at north Palm Beach, March 7th, 2022 during storm event. All native birds, reptiles, amphibians and mammals (except the dingo) are protected in New South Wales by the Biodiversity Conservation Act 2016 (BC Act).
Sick Koala Had Left Baby Safe
An emaciated koala, found with a broken leg which the ants were already attacking, in the deserted bush at Palm Beach, is thriving at Koala Park where it was taken.
After the leg was placed in splints, the bear was thoroughly examined and experts stated that its pouch had recently been occupied. There was no sign of the baby. Immediately a search of Palm Beach was organised and the baby was located in a low tree, just outside the reach of dogs.
Kidnapper
He also was taken to the Park, but when his mother was too weak to nurture him. was handed over to Boorabee, the Park's recognised foster mother. Despite her 17 years, Boorabee has keen maternal instincts, as is evidenced by the fact that this is her second foundling for the year. When she has no baby, Boorabee sets herself out' to steal one. She was formerly In a circus, where she learned to Imitate a monkey's shriek, and attendants know there is trouble when they hear her imitating a monkey. The mother Is now quickly regaining her strength. The director of the park (Mr. Noel Burnet) said yesterday that in ordinary circumstances koalas could never break their legs. In this case, he believed a dog had bitten it, or that it had been broken when the tree she was in was felled. Sick Koala Had Left Baby Safe (1938, February 27). The Sun (Sydney, NSW : 1910 - 1954), p. 1. Retrieved from http://nla.gov.au/nla.news-article231114754
Alsatian Dog Attacks Boy
An 11 year-old boy was savaged by an Alsatian dog at Narrabeen this afternoon. Nell Woodhouse, …. was attacked in Clark-street and before passers- by could come to his assistance the dog had bitten his left leg. Alsatian Dog Attacks Boy (1945, December 31). The Sun (Sydney, NSW : 1910 - 1954), p. 3. Retrieved from http://nla.gov.au/nla.news-article229032864
Mrs. Helena Cooper, 49, of Allambie Road, North Manly, was attacked by a large blue cattle dog near her home, receiving a deep bite on her left leg which required several stitches. MANLY AMBULANCE HAS BUSIEST DAY (1944, October 29). The Daily Telegraph (Sydney, NSW : 1931 - 1954), p. 5. Retrieved from http://nla.gov.au/nla.news-article248070394
Barrenjoey Birds - Saturday 6th Of September, 2014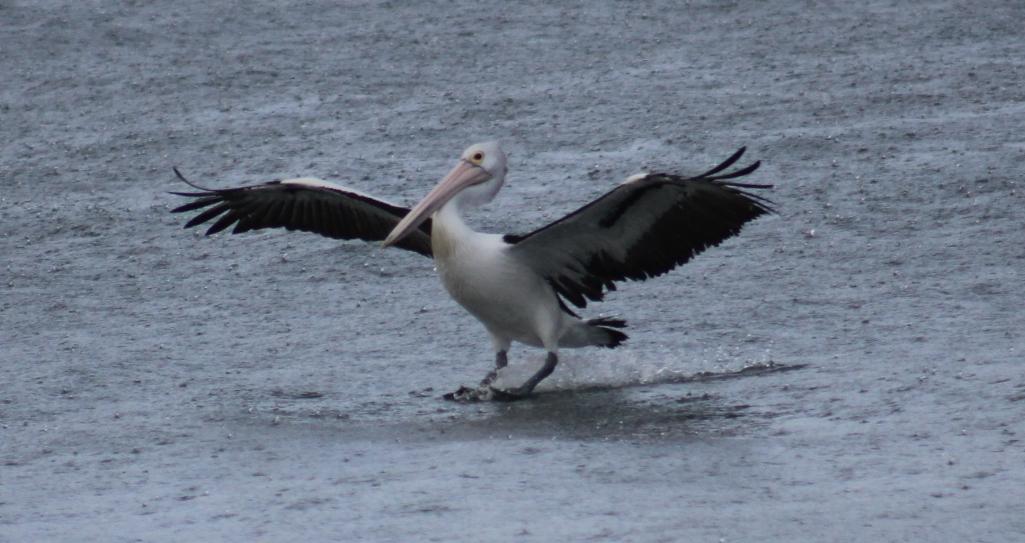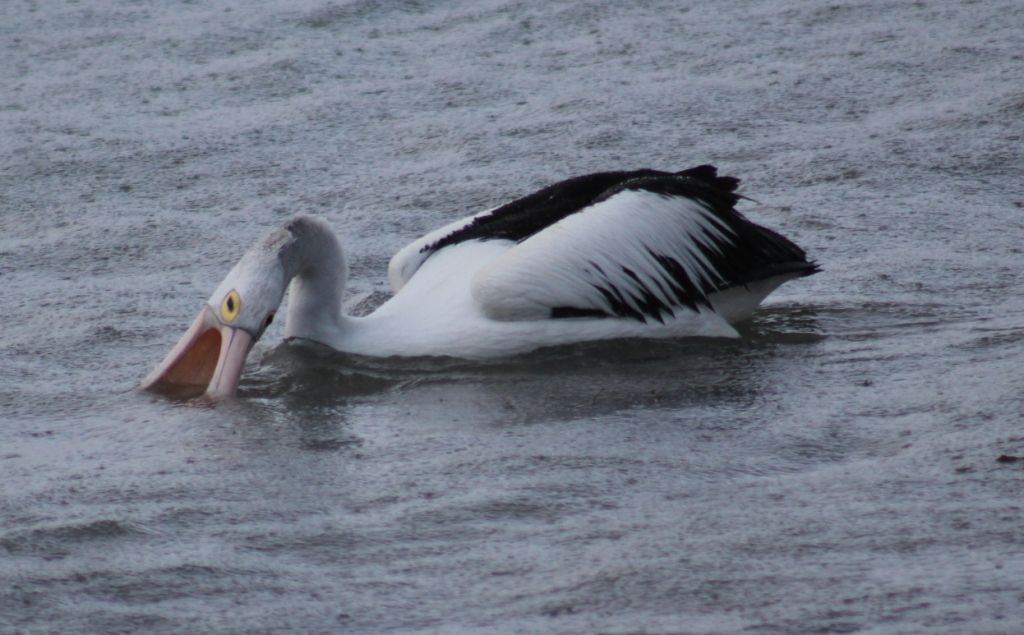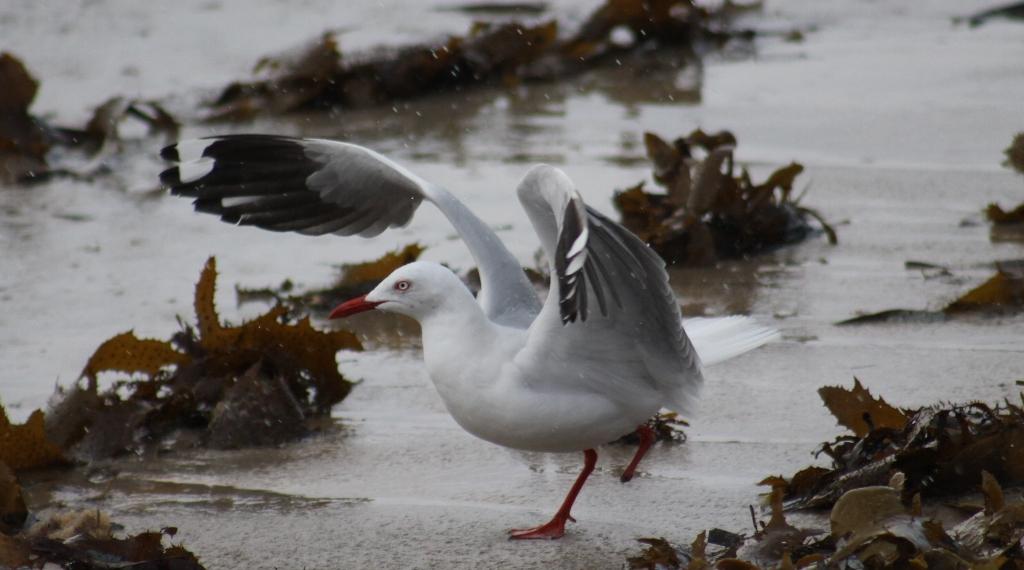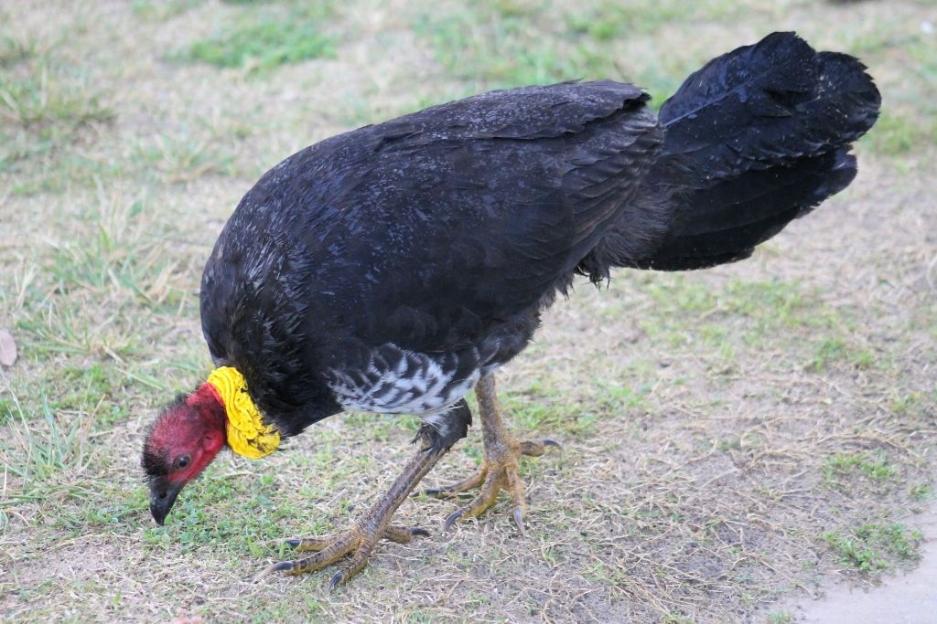 Young Bush Turkey on lawn beside Station Beach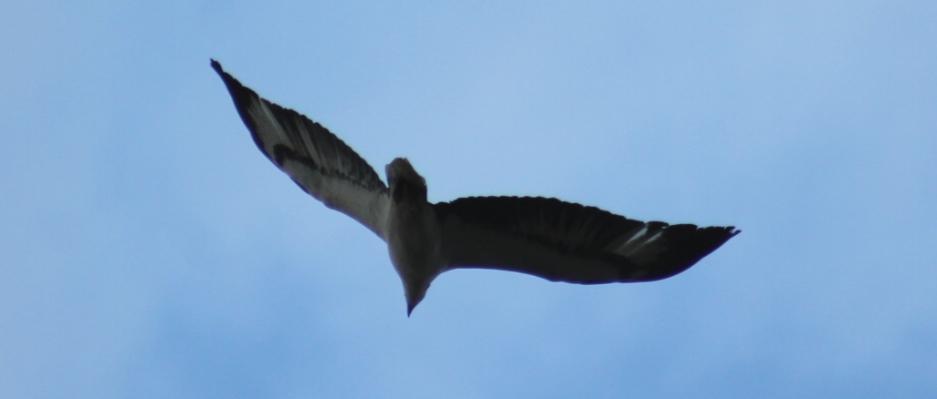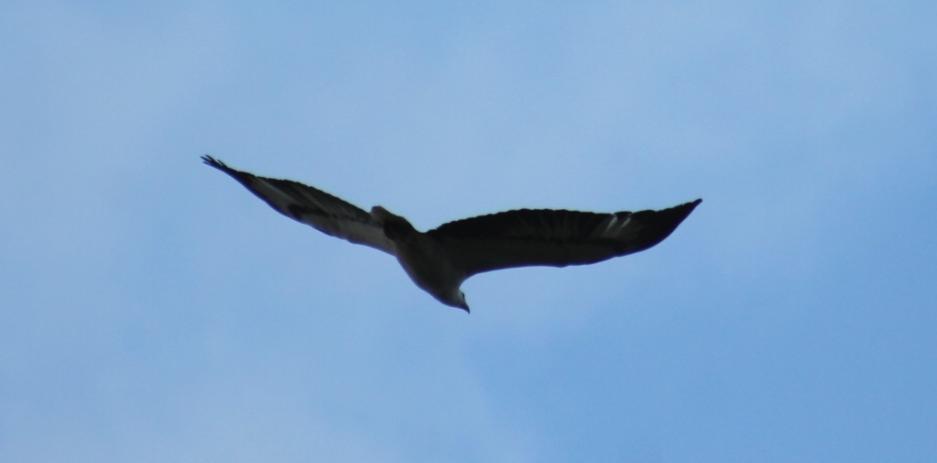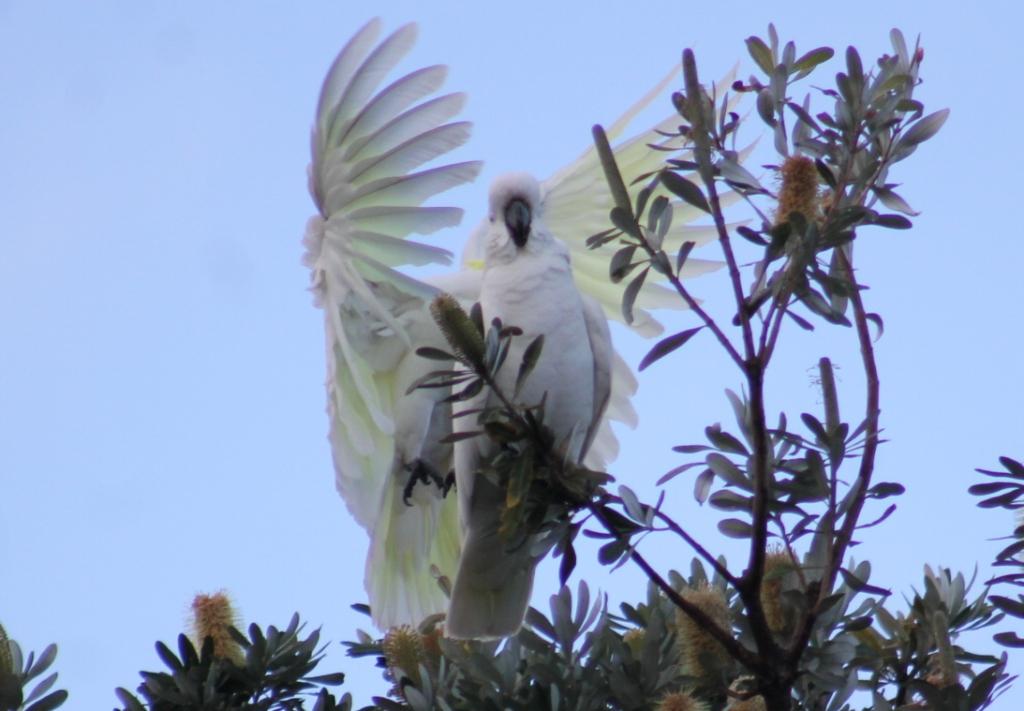 Sulphur-crested Cockatoos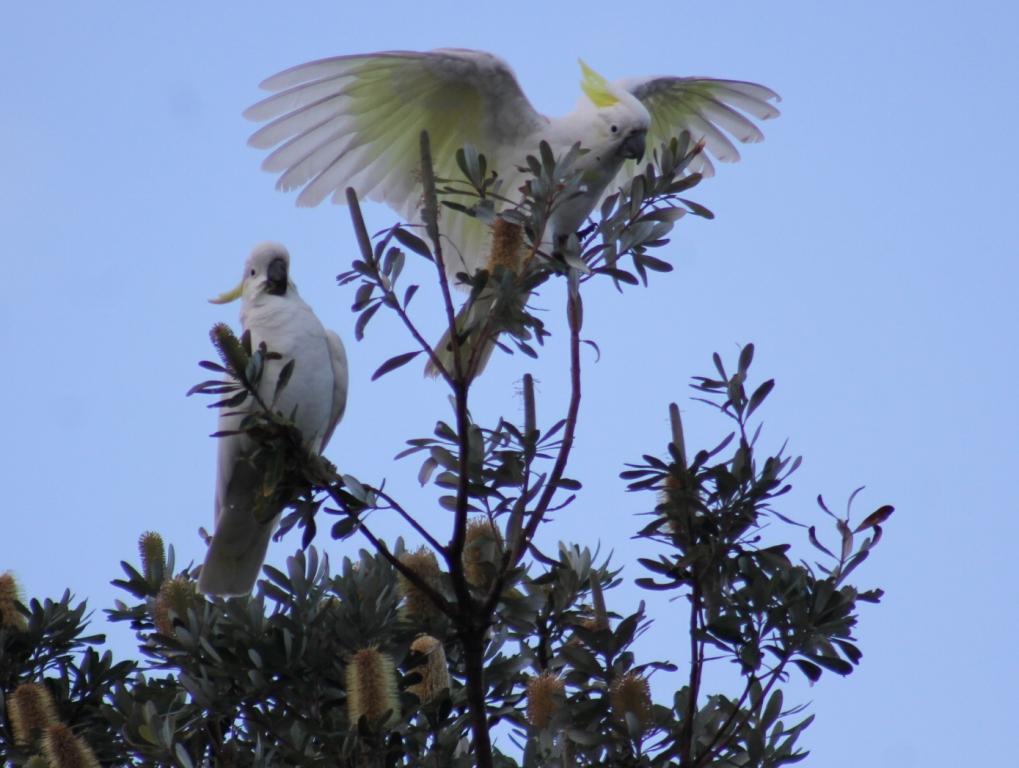 More to come!