November 17 - 23, 2019: Issue 429
Water Activists United Call at newport meeting for Greater Flows in the Baaka –
the Murray-Darling Basin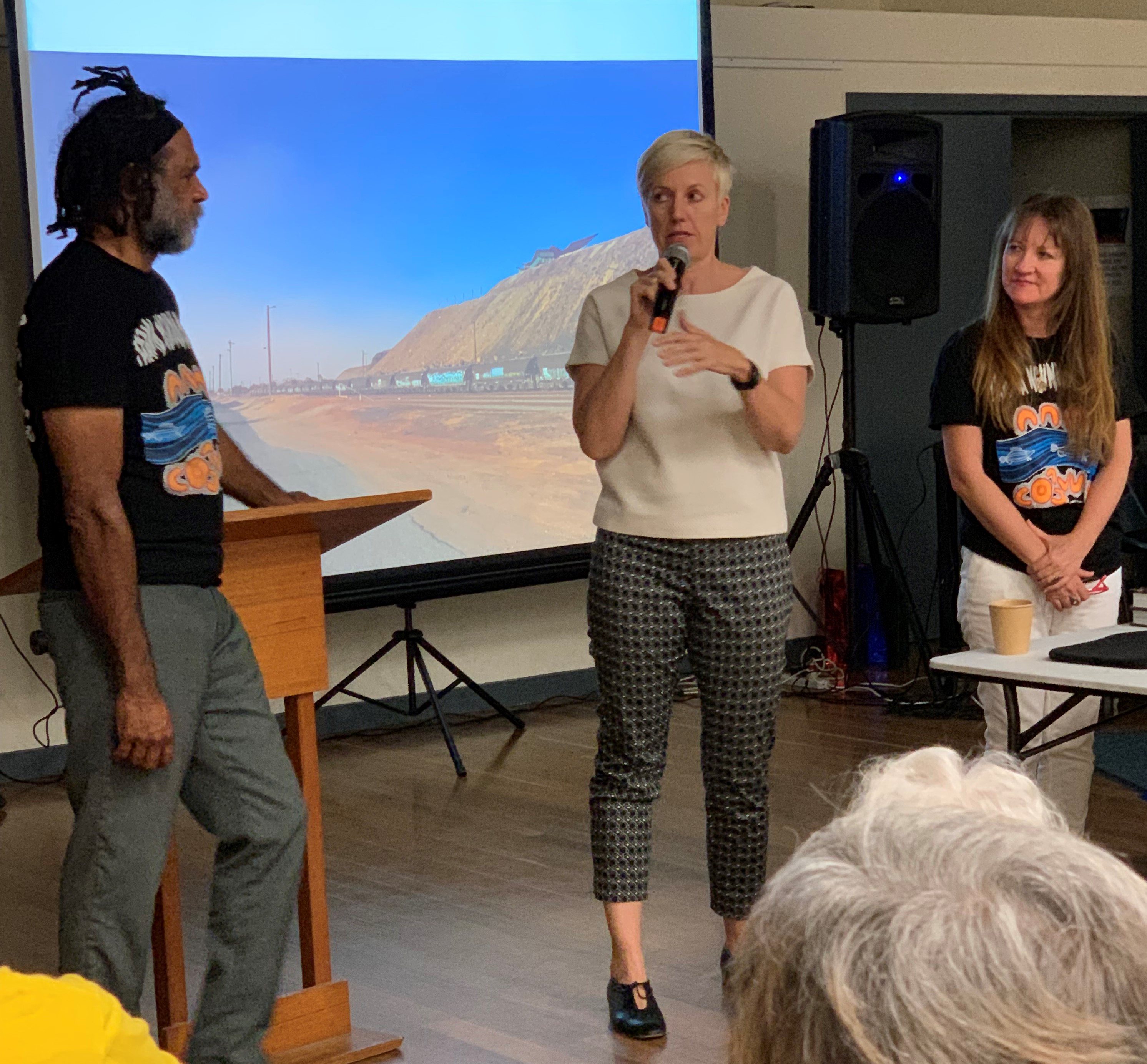 R to L: Uncle Bruce Shillingsworth, Cate Faehrmann MLC and Louise Whelan - photo supplied
Aboriginal and other water activists will unite and civil disobedience break out over lack of clean drinking water in the Murray-Darling Basin, campaigners told a Newport meeting on Friday night.

The meeting followed last month's Yamma Ngunna Baaka Corroboree tour to the towns of the Baaka – the Murray-Darling Basin –to see the dry rivers and learn about the impact on communities of damming upstream for cotton farms.
Tour organiser Bruce Shillingsworth told the gathering of more than 100 people at Newport Community Centre that indigenous people of the Baaka were suffering a range of health problems because of the lack of clean water.
A Murwari and Budjiti man, Uncle Bruce said the absence of water in the rivers of the Murray-Darling – where he comes from - was caused by big agribusinesses damming flows in southern Queensland and Northern NSW as well as water ownership and trading by multinational companies.
"First Nations feel the brunt," he said.
"They lived on their lands for thousands of years. Now they've been forced to move off their traditional lands by the corporate greed and capitalism in this country."
Uncle Bruce, who is an artist and educator, said there "is a plan to get rid of those communities" and he believed the corporates would then control the river system.
However, he called on indigenous and non-indigenous communities to work together to build a grassroots movement against the dams.
"We will unite to stop the greed in this country," Uncle Bruce said.
"My people will now stand up and say: enough's enough.
"The second wave of genocide - the killing of my people - and the moving off of their traditional lands are now going to stop."
The meeting was jointly organised by members of Water for Rivers Water for Rivers (W4R) and Northern Beaches Greens to launch a Christmas appeal for presents for the kids of Brewarrina – sister city to the Northern Beaches – and for donations for Christmas hampers for their families.
W4R is a state-wide campaign for clean drinking water for communities - particularly those in the Murray-Darling Basin - and an end to damming of water upstream for cotton growing.
NSW Greens Environment spokesperson Cate Faehrmann also condemned removal of the water upstream from the Murray-Darling Basin.
Ms Faehrmann, an Upper House MP, said dams, levies and a range of illegal structures had been taking water out of the rivers for generations but it would be difficult to stop it under the current government.
She agreed with Uncle Bruce that changes would only come if non-indigenous people started campaigning with First Nations people.
"At some point, I think there's going to be civil disobedience in certain parts of this state -around and where that water is coming from," she told the meeting.
"… We've been polite for too long. We're facing a planetary emergency, the whole environment is collapsing around us and we've been polite for like, three decades.
"So stop writing to us (politicans), stop lobbying us and make some noise out there."
Award winning photographer Louise Whelan, who has exhibited nationally and internationally and has her work in the collections of the NSW State Library and National Library in Canberra, showed a selection of her images from the Baaka.
Her photos were taken during trips along the rivers this year as part of a project for the NSW State Library and as a member of the Yamma Ngunna Baaka Corroboree Tour.
Her images, portraying a sense of desolation and death, included dry river beds, dead kangaroos and emus as well as members of local Aboriginal communities and farmers.
"When I went out to Menindee and was talking to the locals out there, there was a story that was repeated to me a couple of times, that the water was gone from the lakes," Ms Whelan said.
"At one stage there were emus everywhere searching for water. They'd gone into the lake which was empty and there were only little bits of grass there.
"And the locals were going down and they said there were hundreds and hundreds of these emus, and it was like the dance of the emus. And about two hundred had died.
"You know we saw those images of the fish but I couldn't stop thinking about those emus," she said fighting back tears.
"… Each time I drove back through Lithgow and over the mountains I cried. It's just so broken out there. It's really broken."
By Miranda Korzy
Convenor of Northern Beaches Greens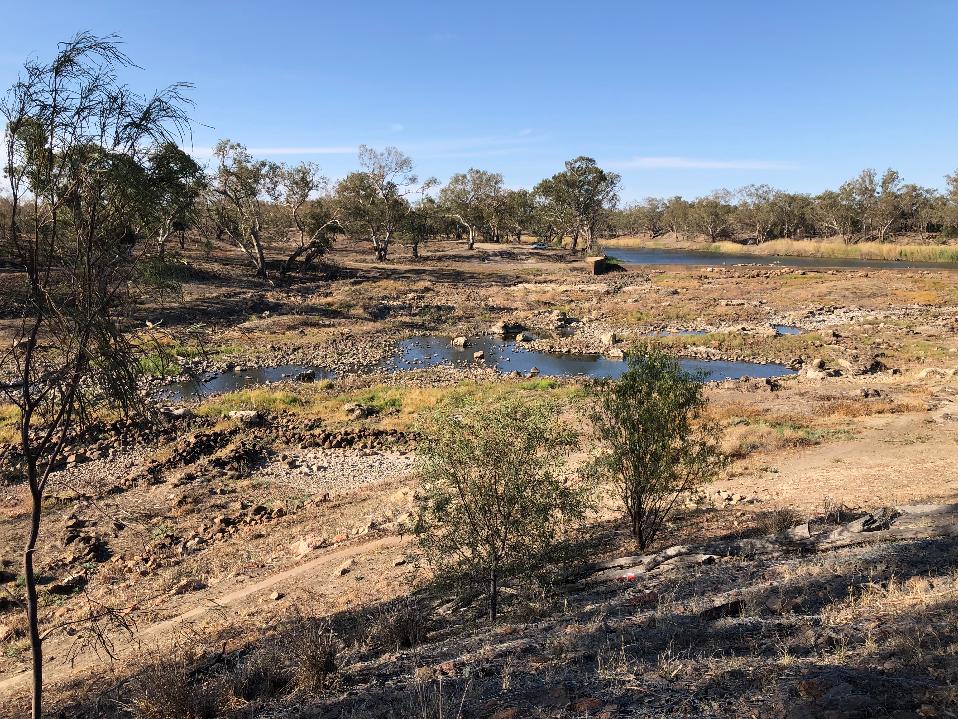 Barwon River at Bewarrina, October 2019