inbox and environment news: Issue 602
October 22 - 28, 2023: Issue 602
Sydney Opera House 50th Anniversary Film: Play It Safe
"I like to be on the edge of the possible," Jørn Utzon once said, and his design marked a daring leap in 20th-century architecture.
Celebrating 50 years of brave creativity at Sydney Opera House, our new film pays tribute to those who defy that nervous little voice inside us that tells us to play it safe and keep it simple.
Starring Tim Minchin, Sydney Symphony Orchestra, The Australian Ballet, Sydney Philharmonia Choirs, Ziggy Ramo, Zahra Newman - Sydney Theatre Company, John Bell - Bell Shakespeare, Australian Chamber Orchestra, Elma Kris - Bangarra Dance Theatre, Kira Puru, Cathy-Di Zhang - Opera Australia, William Barton, Courtney Act, Jimmy Barnes, Sydney Dance Company Pre Professional Year Students and Associate Artists, Lucy Guerin Inc dancers, and DirtyFeet dancers.
Music and lyrics: Tim Minchin
Director: Kim Gehrig
Executive Music Producer/Arranger: Elliott Wheeler
Cinematographer: Stefan Duscio
Creative Agency: The Monkeys, part of Accenture Song
A Revolver X Somesuch Production
Archival footage and photography courtesy of National Film and Sound Archive, Australian Broadcasting Corporation, British Broadcasting Corporation, Nine Entertainment Co., 10X Media Group, State Library of NSW and Utzon Family.
Presented by Sydney Opera House in partnership with Australia.com.
NSW Government To Host Vaping Roundtable
Wednesday October 18, 2023
The NSW Government is today announcing it will hold its Vaping Roundtable on 16 November as the next step in its commitment to curbing the growing issue of vaping in NSW schools.
This week, invitations were extended to key stakeholders to take part in the NSW Government's first Vaping Roundtable.
The roundtable will hear from principals, students, health experts, and other key stakeholders about the community-wide issue of vaping.
The Vaping Roundtable will:
Hear evidence on how vaping is affecting young people and schools
Discuss effective school-based vaping interventions
Those invited to the roundtable include NSW Chief Health Officer Dr Kerry Chant, Manager of the Cancer Council NSW's Tobacco Control Unit Alecia Brooks, University of Sydney School of Public Health Associate Professor Becky Freeman, leaders from the NSW Department of Education, along with the NSW Teachers Federation, NSW P & C Federation and the NSW Advocate for Children and Young People.
A number of NSW public, independent and Catholic primary and secondary school principals have also been invited to the roundtable to discuss their experiences of dealing with vaping and vape-related incidents in their schools.
Information and findings gathered at the roundtable will be used to inform future NSW Government policies and interventions into combatting the issue of vaping in schools.
This work comes in addition to $6.8 million invested by the NSW Government in cracking down on the sale of illegal vapes, to support young people addicted to vaping.
This work will also complement measures implemented by the Australian Government, including its commitment to restrict the sale of vapes and e-cigarettes.
Premier of New South Wales Chris Minns said:
"We're committed to addressing the prevalence of vaping in NSW schools."
"The evidence suggests that vaping is now becoming a gateway for an increase in smoking rates in young people.
"This is a way to hear directly from schools, health expers and other key stakeholders on how we can begin to address this serious health issue in our schools."
Deputy Premier and Minister for Education and Early Learning Prue Car said:
"Many principals, teachers, parents and schools are struggling with the growing issue of vaping, and how best to deal with it.
"Vaping is a community-wide issue, and the Minns Labor Government is committed to addressing it with an evidenced-based approached.
"It is important we take on board what we are hearing form health experts, and we listen to what our teachers and principals are telling us."
Minister for Health and Minister for Regional Health Ryan Park said:
"The Minns Labor Government is committed to doing all we can to protect our students from the dangers posed by vaping.
"We know the number of young people vaping is growing, and it's important we move ahead with an evidenced-based measures to tackle this concerning issue.
"It's important we take the time to consult with experts as we formulate the best step forward as we look to curb the issue of vaping within our schools."

TGIF! Passengers Tap Into Cheaper Public Transport On Fridays
From today, public transport passengers will enjoy savings when traveling on Fridays, with prices now matching the discounted weekend fares.
As part of the Opal changes that came into effect this week, Friday fares are now slashed by 30% on all metro, train, bus and light rail services across the entire network.
This means a Friday train ride from Parramatta to Central drops from $5.72 to $4.
The Friday travel cap will also be halved, meaning passengers can have unlimited travel on Friday for no more than $8.90, and $4.45 for child/youth and concession passengers. Seniors can still access their $2.50 maximum daily fare.
The new discount is being applauded by Sydney's business community, with hopes it will encourage people to visit the CBD on Fridays for work, food and drink, shopping, and socialising.
The latest Opal data shows last month there was an average of 480,000 trips into Sydney's CBD on Fridays across all modes, down 25% compared with September 2019.
Cheaper Fridays are available to all Opal passengers across the network. Daily fare caps will automatically be applied. Passengers using a contactless card or device to pay their fare are reminded to always tap on and tap off with the same card or device for each trip to ensure they unlock the $8.90 all-day travel cap as well as other Opal benefits like transfer discounts.
On Monday 16 October, the annual Opal fare update came into effect, with an average increase of 3.7%, which will see an out-of-pocket difference of around $1 per week.
Transport Minister Jo Haylen said:
"Fairer fare Fridays start today, meaning every weekend will be a long weekend for passengers on the Opal network."
"Last month there was an average of half a million trips into Sydney's CBD on Fridays, down 25% on pre-pandemic patronage. We want to see that number grow to enliven our city and deliver a bump to businesses that have been calling for help.
"This this will benefit the 1.9 million commuters who travel across our network on Fridays. With this discount, we hope to see even more passengers tapping into cheaper fares and making public transport their mode of choice.
"No matter where you're coming from or going to, from Newcastle to the South Coast or Blue Mountains, your travel on the Opal network will be capped at $8.90."
Minister for Small Business Steve Kamper said:
"This is a great initiative which will provide a much-needed boost for businesses, by encouraging more people to work from the office and kick their weekend off in the CBD.
"We want to see Sydney at it's vibrant best, and to do that we need to have the customer base to support our fantastic hospitality, retail and tourism businesses."
Business Sydney Executive Director Paul Nicolaou said:
"Anything that encourages people to come into the city for work, entertainment and retail is a fantastic initiative.
"The many CBD businesses desperate for the return of foot traffic will be among the first to applaud the Friday fare savings. It will certainly help restore Sydney's mojo.
"We have endured a situation where Sydney has become a 3 days a week city with Mondays and Fridays agonisingly quiet.
"It was always going to take an incentive to encourage workers to come back to the office and the Friday Opal card saving is a great step in that direction."

Postcards From The Past: Palm Beach
Palm Beach, circa 1924-26 - The Ocean Beach, Palm Beach
Sepia photographic postcard titled "THE OCEAN BEACH, PALM BEACH". The Rose Series. The postcard is unused. Courtesy National Museum of Australia
NB: the original change sheds on the sand, first erected in 1924 to stop 'indecency in the bushes' - apparently it was beginning to stink, and first 'weekenders' along the beachfront.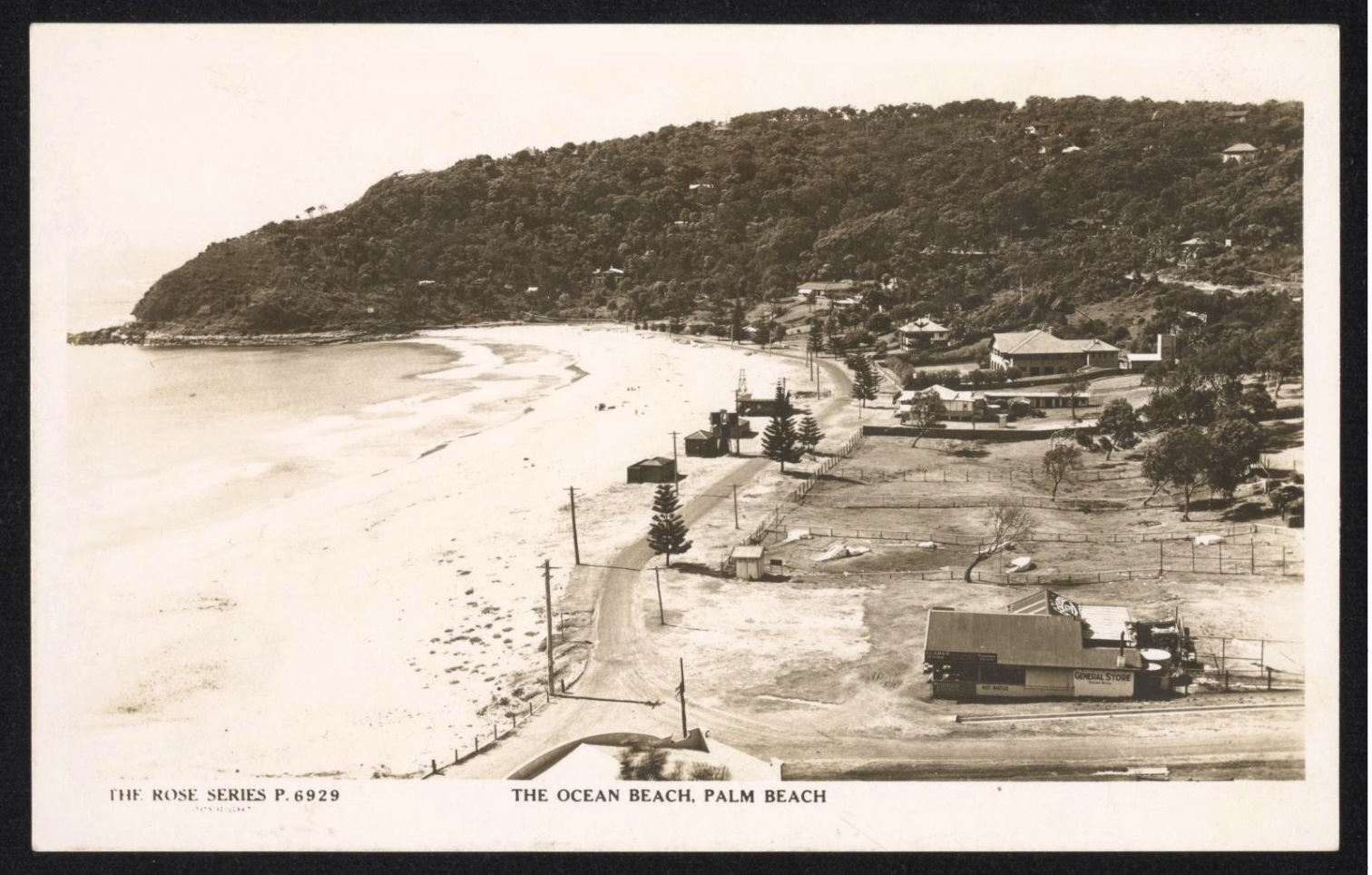 Camping area, Palm Beach, circa 1946
Physical description: Unused black and white photographic postcard of the 'CAMPING AREA, PALM BEACH, N.S.W.'. Courtesy National Museum of Australia
North Palm Beach Surf Lifesaving Club was officially founded in 1946 although those camping in Governor Phillip Park during the early 1930's had already formed themselves into Patrols of sorts to look after the campers using the north end of Palm Beach as the ''Barrenjoey SLSC''. The club was started by local families and regular holiday makers at the northern end of Palm Beach. In those days the area near the base of Barrenjoey Headland was a public camping ground and it was popular destination for people living on the northern beaches and families and tourists traveling the 40 kilometres from the centre of Sydney each weekend.
The first clubhouse was very small and was located where the public amenities block now stands. A little further north in the hollow of the dunes was the boat shed and the bunkhouse.
The North Palm Beach Surf Life Saving Club reformed after WWII and by 1946 the Old Avalon Cricket Club Building was moved from Hitchcock park to a location near the present site of the club (located where the current public toilet facilities are today) and the club added verandahs. In these early days the club shared the facility with the Palm Beach Kindergarten.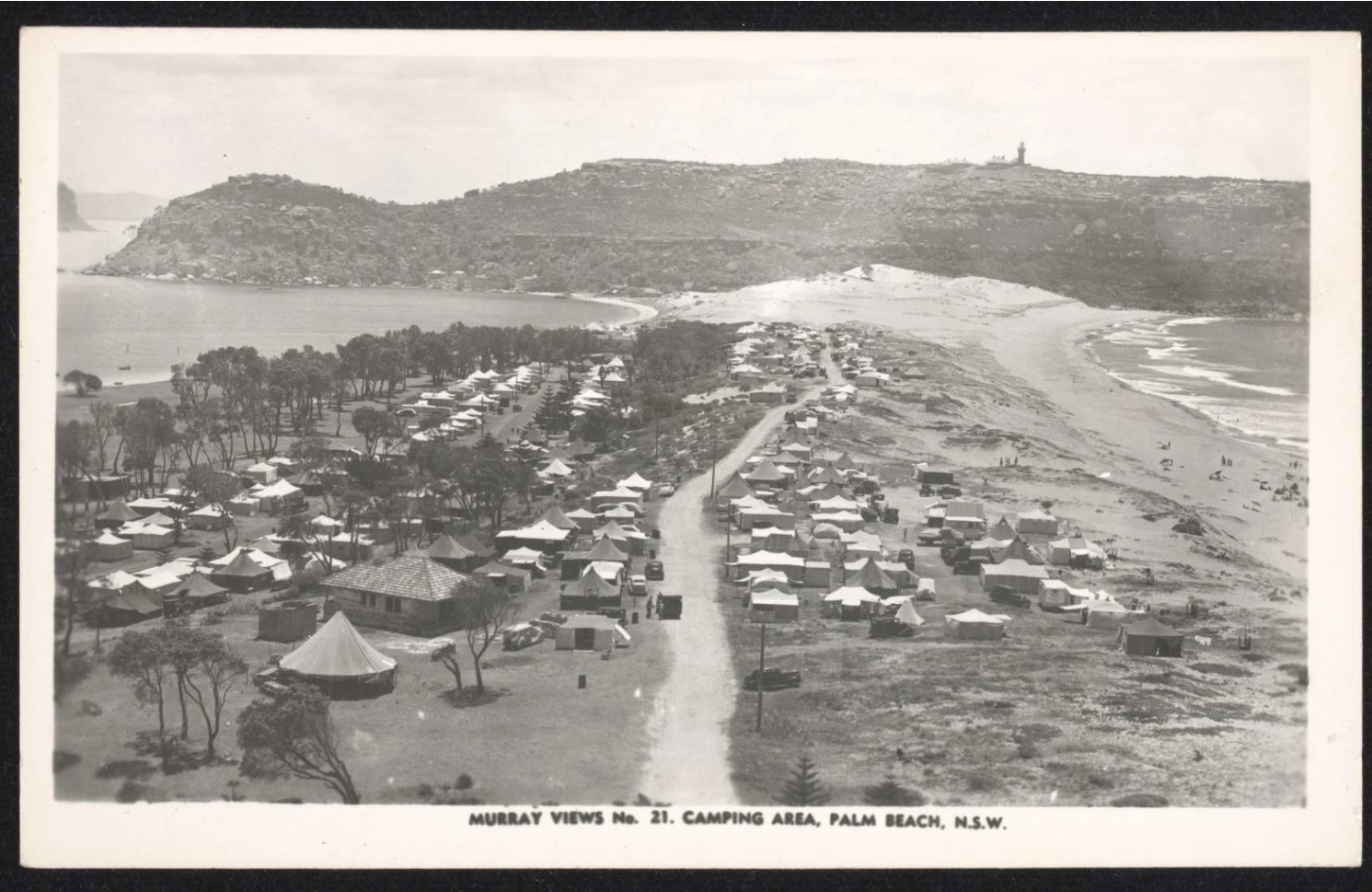 Exhibition Spotlights Film Behind And Beyond The Front Line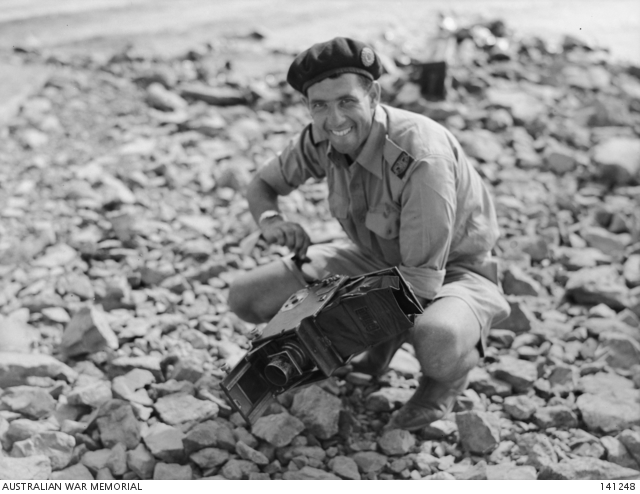 A new touring exhibition from the Australian War Memorial,
Action! Film and War
, opened in Sydney at the State Library of New South Wales on Friday 6 October.
More than 200 objects from our filmic and military past – including Australia's first Oscar – will be on show as part of a journey from before the First World War until today.
"This exhibition explores the long and storied connection between film and war and how history is framed and remembered," Australian War Memorial Senior Curator Daniel Eisenberg said.
"There is a tension between fact and fiction in this exhibition – exploring that desire for moving images to truthfully record history while also telling the best story.
"Film has shaped our understanding of the Australian experience of war, and movies have always provided comfort to those serving far from home."
Australian War Memorial Director Matt Anderson, said: "The exhibition takes visitors behind the front lines to see Australia's real and imagined wartime experiences."
It features objects from behind the scenes of major Australian movies, shares the personal experiences of veterans staring in feature films, along with stories of notable Australians who have worked behind the camera –
Frank Hurley, Damien Parer, Neil Davis, David Brill and more.
The exhibition also features a newly commissioned documentary by Neale Maude, Behind the Camera, that explores the stories and experiences of 11 Australian war cinematographers.
"This exhibition shows us the power of the moving image and how it is linked to our military history to shape the stories or our past and our nation," Mr Anderson said.
Objects, technology, artworks, posters, paper records, photographs and oral histories will be on show at the State Library of New South Wales from 6 October 2023
until 28 April 2024
.
New Research By ReachOut Highlights Links Between Study Stress And Poor Sleep In The Lead Up To Year 12 Exams
The 2023 HSC exams commence October 11 - very best wishes and good luck to all those sitting exams this year. Bear in mind you have done very very well to have reached this far and there are many roads, and sidetracks, to reach where you think you want to go right now to do what you want to do in the future. Remember that Lifelong Learning is yours to have and is defined as 'the "ongoing, voluntary, and self-motivated" pursuit of knowledge for either personal or professional reasons as this enhances an individual's competitiveness and employability, along with your social inclusion, active citizenship, and personal development'.
The Park Bench Philosopher's page is this news service's own permanent reminder of our own commitment to lifelong learning and all that may be known outside of schools and universities - the 'stuff' you get a deep insight and personal experience of through joining in or pursuing an unanswered question. It is a one foot in front of the other approach that has helped us trudge slowly up that hill and then stand there with that sweet cooling breeze blowing into the face and a great view to all horizons.
The childhood chant of that little train engine that would/could changes from 'I think I can, I think I can' to 'You got this, you got this! YOU GOT THAT!!', and during the quiet after-pauses to reflect on what sticks out from that knowledge and experience found, ' I think I'll have a swim now, eat a whole punnet of strawberries while watching comedy shows, and then take a nap.'
However, in the lead up to Year 12 exams across the country, new research by youth mental health organisation ReachOut has been released and found that over 50 per cent of students are having trouble sleeping as a direct result of study stress.
The survey, of over 1000 young people aged 16 - 25 years conducted in August 2023, also looked at the specific impacts study stress was having on students' sleep. The data found that of the students who indicated that their sleep was impacted by study stress: 65 per cent reported sleeping less, 59 per cent had difficulty waking up, 57 per cent said they were staying up late to study and 22 per cent said they were sleeping more. These figures indicate that many students are experiencing a number of these impacts on their sleep.
In line with the research findings, ReachOut has released new support materials for young people to help them get a good night's sleep. And, there is also new information and tips for parents and carers of students too.
Jackie Hallan, Director of Service at ReachOut, said that now was an important time for Year 12 students to focus on their wellbeing, including their sleep.
"ReachOut's new research highlights the real impacts that study stress can have on the lives of students. Sleep, in particular, can be an important indicator of how the stress associated with Year 12 might be impacting a student's wellbeing and mental health.
"Without a proper night's sleep it may become even harder for Year 12 students to deal with stress and challenges. For example, although staying up late cramming before an exam can be well intentioned it can have the opposite effect on exam results.
"With final Year 12 exams approaching, we want to remind young people to take a proactive approach to getting a good night's sleep and to seek support if they need it. Simple things like waking up at the same time each day can make a big difference.
"Unfortunately, sleep isn't always something that comes to mind when we think about getting support for our mental health and wellbeing. However if sleep is a concern, ReachOut is a good place to start to get information, tips and hear about the experiences of students and parents. There is also a range of other support options for students including making an appointment with a mental health professional," she said.
Other key findings of the research included that 88 per cent of students reported that they had felt stressed about study at some time over the previous 12 months and 55 per cent of students reported that they felt extremely or very stressed about study in the past two weeks. In terms of causes of study stress, worry about not being able to live the life they had planned for themselves and worry about how they will compare to other students were the concerns most commonly expressed by students.
If you are experiencing negative thoughts or feelings, there are services out there to listen and help you out. They are free, confidential, and available 24/7.
Lifeline – 13 11 14

Kids Helpline – 1800 55 1800

13YARN – 13 92 76 to speak with an Aboriginal & Torres Strait Islander crisis supporter

If you are in immediate danger dial 000
Links To ReachOut Support Content
ReachOut
is the leading online mental health service in Australia supporting young people during tough times.
ReachOut helps young people feel better about today and the future, no matter what challenge they're facing. They provide a safe place where young people can openly express themselves, explore what's happening in their lives, connect with people who understand their situation, and find the resources to help them manage their challenges now and in the future.
Anonymous, free and 100% online, ReachOut has been designed specifically for – and with – young people. From one-to-one support from experienced peer workers, to online forums, as well as tips, stories and resources, ReachOut offers a wide range of support options that allow young people to engage in the ways they want to, when they want to, and has been doing so for more than 20 years.
And, ReachOut Parents and ReachOut Schools provide valuable information, resources and advice to help parents, carers and educators to better understand the young people in their lives and to play an active role in their wellbeing.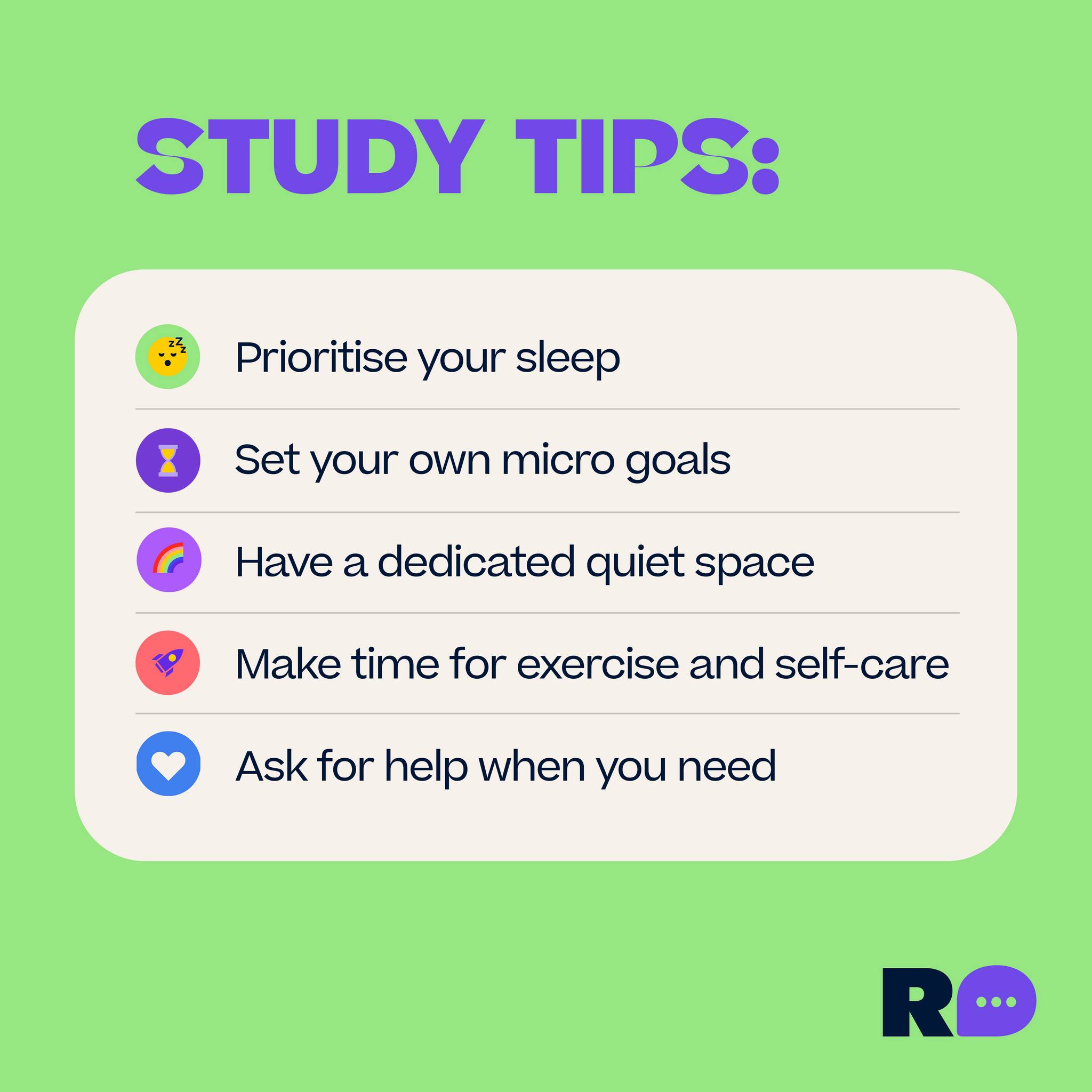 8 Student-Backed Study Tips To Help You Tackle The HSC
By University of Sydney: Last updated 6 July 2023
Our students have been through their fair share of exams and learned a lot of great study tactics along the way. Here they share their top study tips to survive and thrive during exam time.
1. Start your day right
Take care of your wellbeing first thing in the morning so you can dive into your day with a clear mind.
"If you win the morning, you can win the day," says Juris Doctor student Vee Koloamatangi-Lamipeti.
An active start is a great way to set yourself up for a productive day. Begin your morning with exercise or a gentle walk, squeeze in 10 minutes of meditation and enjoy a healthy breakfast before you settle into study.
2. Schedule your study
"Setting up a schedule will help you organise your time so much better," says Master of Teaching student Wesley Lai.
Setting a goal or a theme for each study block will help you to stay focused, while devoting time across a variety of subjects will ensure you've covered off as much as possible. Remember to keep your schedule realistic and avoid over-committing your time.
Adds Wesley, "Make sure to schedule in some free time for yourself as well!"
3. Keep it consistent
"Make studying a habit," recommends Alvin Chung, who is currently undertaking a Bachelor of Arts and Bachelor of Laws.
With enough time and commitment, sitting down to study will start to feel like second nature rather than a chore.
"Do it every day and you'll be less likely to procrastinate because it's part of your life's daily motions," says Alvin.
4. Maintain motivation
Revising an entire year of learning can seem like an insurmountable task, which is why it's so important to break down your priorities and set easy-to-achieve goals.
"I like to make a realistic to-do list where I break down big tasks into smaller chunks," says Bachelor of Arts and Advanced Studies student Dannii Hudec.
"It's also really important to reward yourself after you complete each task to keep yourself motivated."
Treat yourself after each study block with something to look forward to, such as a cup of tea, a walk in the park with a friend or an episode of your latest Netflix obsession.
5. Minimise distractions
With so many distractions at our fingertips, it can be hard to focus on the task at hand. If you find yourself easily distracted, an "out of sight, out of mind" approach might do the trick.
"What helps me is to block social media on my laptop. I put my phone outside of my room when I study, or I give it to my sister or a friend to hide," says Bachelor of Commerce and Bachelor of Laws student Caitlin Douglas.
While parting ways with your phone for a few hours may seem horrifying, it can be an incredibly effective way to stay on task.
"It really helps me to smash out the work and get my tasks done," affirms Caitlin.
6. Beware of burnout
Think of the HSC period as a marathon rather than a sprint. It might be tempting to cram every single day but pacing out your study time will help to preserve your endurance.
"Don't do the work for tomorrow if you finish today's work early," suggests Daniel Kim, who is currently undertaking a Bachelor of Commerce and Advanced Studies.
"Enjoy the rest of your day and save the energy for tomorrow," he recommends.
Savouring your downtime will help you to avoid burning out before hitting the finish line.
7. Get a good night's sleep
Sleep is one of your greatest allies during exam season.
"I've found that a good night's sleep always helps with concentration and memory consolidation," says Bachelor of Science (Medical Science) student Yasodara Puhule-Gamayalage.
We all know we need to be getting around 8 hours of sleep a night to perform at our best, but did you know the quality of sleep also matters? You can help improve the quality of your sleep with some simple tweaks to your bedtime routine.
"Avoid caffeine in the 6 hours leading up to sleep, turn off screens an hour before going to bed, and go to bed at the same time every night," suggests Yasodara.
8. Be kind to yourself
With exam dates looming and stress levels rising, chances are high that you might have a bad day (or a few!) during the HSC period.
According to Bachelor of Arts and Advanced Studies student Amy Cooper, the best way to handle those bad days is to show yourself some kindness.
"I know that if I'm in a bad state of mind or having a bad day, I'm not going to be able to produce work that I'm proud of," she says.
For Amy, the remedy for a bad day is to take some time to rest and reset.
"It's much more productive in the long run for me to go away, do some things I love, and come back with a fresh mind."
Immerse yourself in a mentally nourishing activity such as going for a bushwalk, cooking your favourite meal, or getting stuck into a craft activity.
If you feel completely overwhelmed, know you're not alone. Reach out to a friend, family member or teacher for a chat when you need support.
There are also HSC Help resources available at: education.nsw.gov.au/student-wellbeing/stay-healthy-hsc

Wednesday 11 October, 2023: HSC written exams start. Friday November 3, 2023: HSC exams finish.
School Leavers Support
Explore the School Leavers Information Kit (SLIK) as your guide to education, training and work options in 2022;
As you prepare to finish your final year of school, the next phase of your journey will be full of interesting and exciting opportunities. You will discover new passions and develop new skills and knowledge.
We know that this transition can sometimes be challenging and the COVID-19 pandemic has presented some uncertainty. With changes to the education and workforce landscape, you might be wondering if your planned decisions are still a good option or what new alternatives are available and how to pursue them.
There are lots of options for education, training and work in 2022 to help you further your career. This information kit has been designed to help you understand what those options might be and assist you to choose the right one for you. Including:
Download or explore the SLIK here to help guide Your Career.
School Leavers Information Kit (PDF 5.2MB).
School Leavers Information Kit (DOCX 0.9MB).
The SLIK has also been translated into additional languages.
Download our information booklets if you are rural, regional and remote, Aboriginal or Torres Strait Islander, or living with disability.
Support for Regional, Rural and Remote School Leavers (PDF 2MB).
Support for Regional, Rural and Remote School Leavers (DOCX 0.9MB).
Support for Aboriginal and/or Torres Strait Islander School Leavers (PDF 2MB).
Support for Aboriginal and/or Torres Strait Islander School Leavers (DOCX 1.1MB).
Support for School Leavers with Disability (PDF 2MB).
Support for School Leavers with Disability (DOCX 0.9MB).
Download the Parents and Guardian's Guide for School Leavers, which summarises the resources and information available to help you explore all the education, training, and work options available to your young person.
School Leavers Information Service
Are you aged between 15 and 24 and looking for career guidance?
Call 1800 CAREER (1800 227 337).
SMS 'SLIS2022' to 0429 009 435.
Our information officers will help you:
navigate the School Leavers Information Kit (SLIK),
access and use the Your Career website and tools; and
find relevant support services if needed.
You may also be referred to a qualified career practitioner for a 45-minute personalised career guidance session. Our career practitioners will provide information, advice and assistance relating to a wide range of matters, such as career planning and management, training and studying, and looking for work.
You can call to book your session on 1800 CAREER (1800 227 337) Monday to Friday, from 9am to 7pm (AEST). Sessions with a career practitioner can be booked from Monday to Friday, 9am to 7pm.
This is a free service, however minimal call/text costs may apply.
Call 1800 CAREER (1800 227 337) or SMS SLIS2022 to 0429 009 435 to start a conversation about how the tools in Your Career can help you or to book a free session with a career practitioner.
Word Of The Week: Volunteer
Word of the Week returns in 2023 simply to throw some disruption in amongst the 'yeah-nah' mix.
Noun
1. a person who freely offers to take part in an enterprise or undertake a task. 2. a person who works for an organization without being paid. 3. Volunteering is time willingly given for the common good and without financial gain.
Verb
1. freely offer to do something. 2. work for an organization without being paid.
From the Latin word voluntarius, meaning willing or of one's own choice. Originally of feelings, later also of actions. This Latin verb originated from the Latin noun voluntas, meaning will or desire - late 16th century (as a noun, with military reference): from French volontaire 'voluntary'. The change in the ending was due to association with -eer. The first English language use of the word, "Volunteer," was in a poem titled, "Of Arthour and of Merlin," which originated around 1330.
Of Arthour and of Merlin, also known as just Arthur and Merlin, is an anonymous Middle English verse romance giving an account of the reigns of Vortigern and Uther Pendragon and the early years of King Arthur's reign, in which the magician Merlin plays a large part. It can claim to be the earliest English Arthurian romance. It exists in two recensions: the first, of nearly 10,000 lines, dates from the second half of the 13th century, and the much-abridged second recension, of about 2000 lines, from the 15th century. The first recension breaks off somewhat inconclusively, and many scholars believe this romance was never completed. Arthur and Merlin's main source is the Estoire de Merlin, a French prose romance.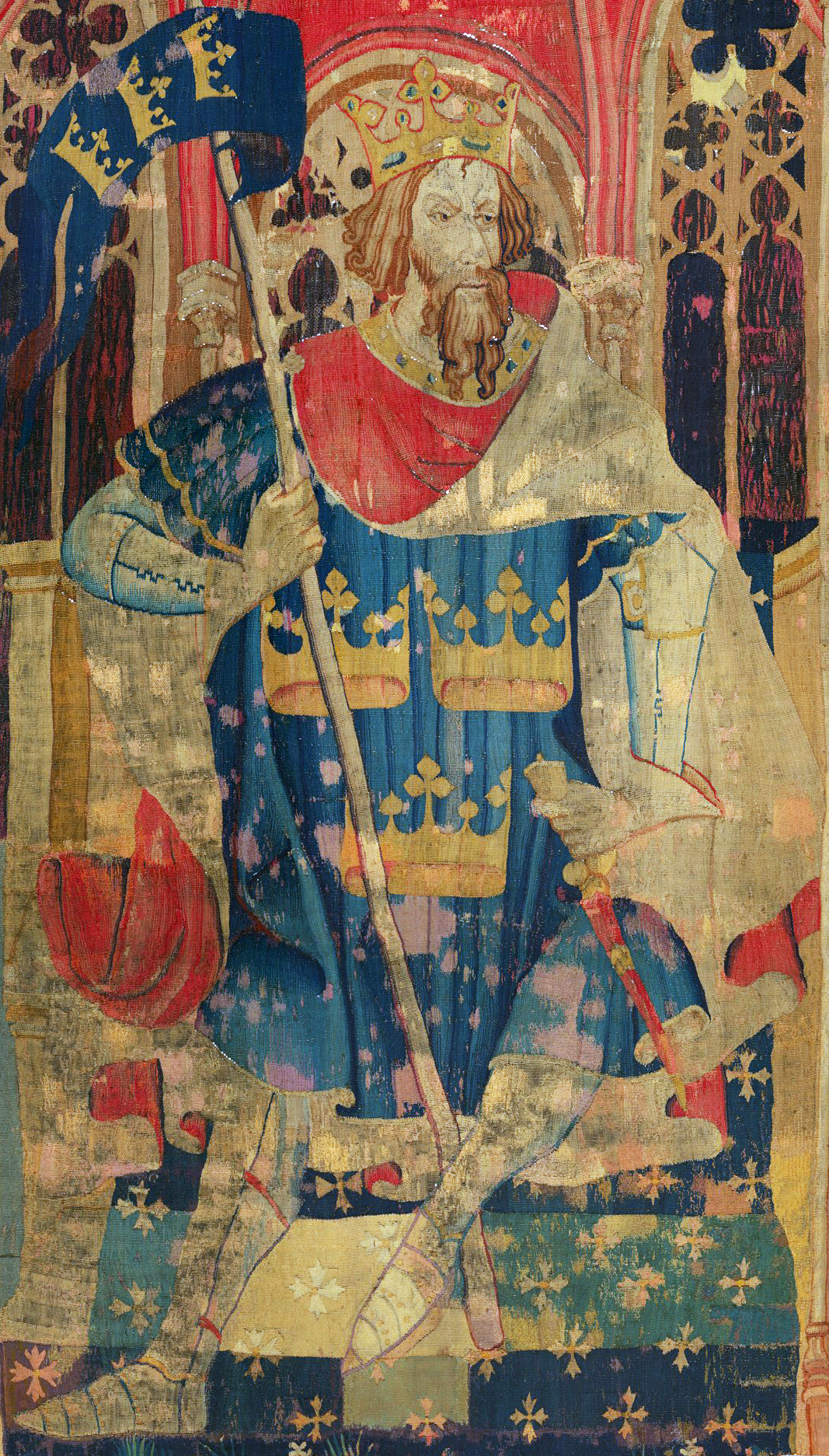 Tapestry showing Arthur as one of the Nine Worthies, wearing a coat of arms often attributed to him, c. 1385 - unknown creator.

King Arthur (Welsh: Brenin Arthur, Cornish: Arthur Gernow, Breton: Roue Arzhur, French: Roi Arthur) is a legendary king of Britain, and a central figure in the medieval literary tradition known as the Matter of Britain. In Welsh sources, Arthur is portrayed as a leader of the post-Roman Britons in battles against Anglo-Saxon invaders of Britain in the late 5th and early 6th centuries. He first appears in two early medieval historical sources, the Annales Cambriae and the Historia Brittonum, but these date to 300 years after he is supposed to have lived, and most historians who study the period do not consider him a historical figure. His name also occurs in early Welsh poetic sources such as Y Gododdin. The character developed through Welsh mythology, appearing either as a great warrior defending Britain from human and supernatural enemies or as a magical figure of folklore, sometimes associated with the Welsh otherworld Annwn.
Merlin (Welsh: Myrddin, Cornish: Marzhin, Breton: Merzhin) is a mythical figure prominently featured in the legend of King Arthur and best known as a magician, with several other main roles. The familiar depiction of Merlin, based on an amalgamation of historic and legendary figures, was introduced by the 12th-century British pseudo-historical author Geoffrey of Monmouth and then built on by the French poet Robert de Boron and their prose successors in the 13th century.
The name Merlin is derived from the Brythonic term Myrddin, a bard who was one of Merlin's chief sources. Brythonic was a Celtic language spoken in Britain and Brittany, North France.
Geoffrey seems to have combined earlier tales of Myrddin and Ambrosius, two legendary Briton prophets with no connection to Arthur, to form the composite figure that he called Merlinus Ambrosius. His rendering of the character became immediately popular, especially in Wales. Later chronicle and romance writers in France and elsewhere expanded the account to produce a fuller more multifaceted image, creating one of the most important figures in the imagination and literature of the Middle Ages.
Merlin's traditional biography casts him as an often-mad cambion, born of a mortal woman and an incubus, from whom he inherits his supernatural powers and abilities.[6] His most notable abilities commonly include prophecy and shapeshifting. Merlin matures to an ascendant sagehood and engineers the birth of Arthur through magic and intrigue.[7] Later stories have Merlin as an advisor and mentor to the young king until his disappearance from the tale, leaving behind a series of prophecies foretelling the events yet to come. A popular version from the French prose cycles tells of Merlin being bewitched and forever sealed up or killed by his student, the Lady of the Lake after falling in love with her. Other texts variously describe his retirement or death.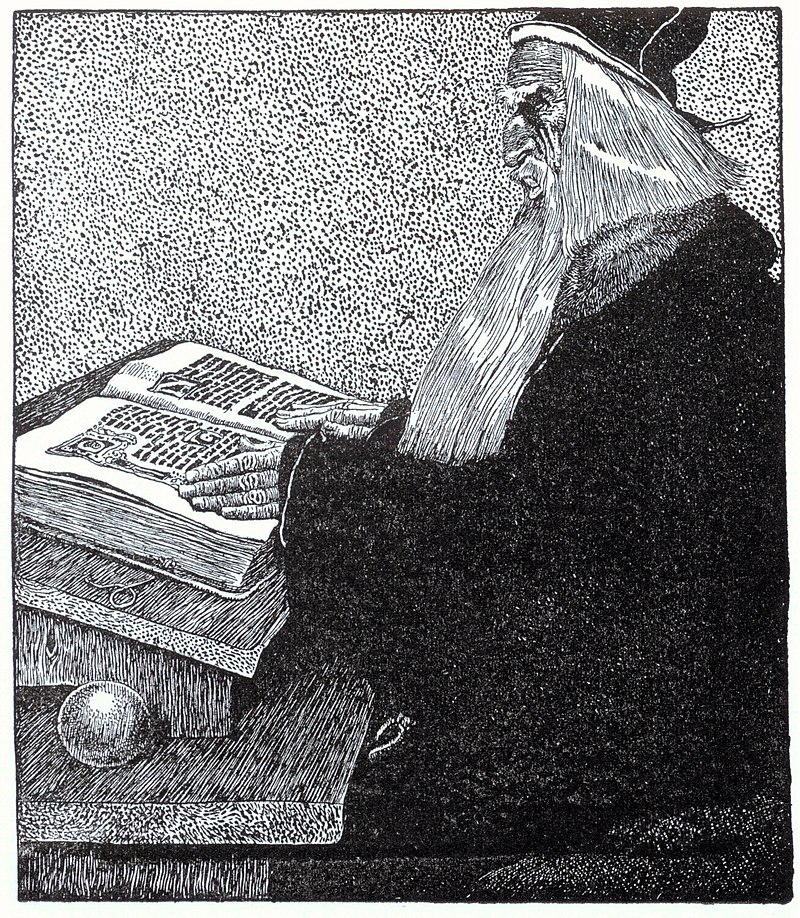 Howard Pyle illustration from the 1903 edition of The Story of King Arthur and His Knights
Volunteerism

Of course Volunteerism didn't need a word to mark when people first started helping each other without expecting anything in return. The oldest books we have, and prior to that artefacts, record caring about your fellow humans. That has persisted in the form of institutions such as hospitals, through churches' tending the sick, to more current forms of volunteering which sees people commit their time and knowledge in any area that they have a passion for; P and C members at schools, surf lifesaving, wildlife, pets that no longer have a home, sailing, cooking meals for people, delivering meals to people, restoring the environment where you actually get to see your contribution grow - literally, reading to others, connecting with older generations - in fact, whatever your interest, how ever much time you have to give, there's a way for you to learn new skills, expand your knowledge base, connect with like-minded others and build community ion your area of interests at a local, state and global stage nowadays.
This opportunity, for those who want to acquire some skills in a larger scale music event, is currently on offer - great for the c.v. and great for those who want to find out a little more about what goes into putting a music festival together.
The Northern Beaches Music Festival 2023: Volunteers needed

The Northern Beaches Music Festival 2023, like a magical musical phoenix rising from the ashes of Covid closure, is once again raising our live music banner high.
On November the 4th and 5th we will be presenting 50 acts on five stages over the weekend. The festival will once again be located at the Tramshed Community Arts Centre and The Berry Reserve by the beautiful Narrabeen Lake. It includes fabulous, multi genre world music on three ticketed stages and one free stage (free to the general public), set amidst our festival village of world food and merchandise stalls.
Our festival is a not-for-profit event produced by the Northern Beaches Music Alliance composed of:
The Shack
Humph Hall
The Manly Fig
Fairlight Folk
Songs on Stage
Acoustic Picnic
With a definite focus on the Northern Beaches, our common goals are to:
To produce and present musicians and other performing artists including up and coming young artists.
To provide, maintain and help create venues at which artists can be presented.
To invite, involve and include our diverse community including the disabled and indigenous, especially with regard to music, performing arts, food, dance, costume and culture.
We are keen to hear from all potential volunteers to help us with the presentation and production of our festival. We need people to:
work on the gate
help with administration
help on stage (including compering)
help with waste management
help with musical instrument storage and retrieval as well as a whole range of other more skilled activities!
A "four hour shift " gets you a day's free entry! Two "four hour shifts" gets you a free weekend pass. If you've got the skills and would like to be involved please contact us!!!
Paul Robertson
Executive Producer
You can contact them at via the numbers listed in the poster below - this is a 'give-get given' opportunity: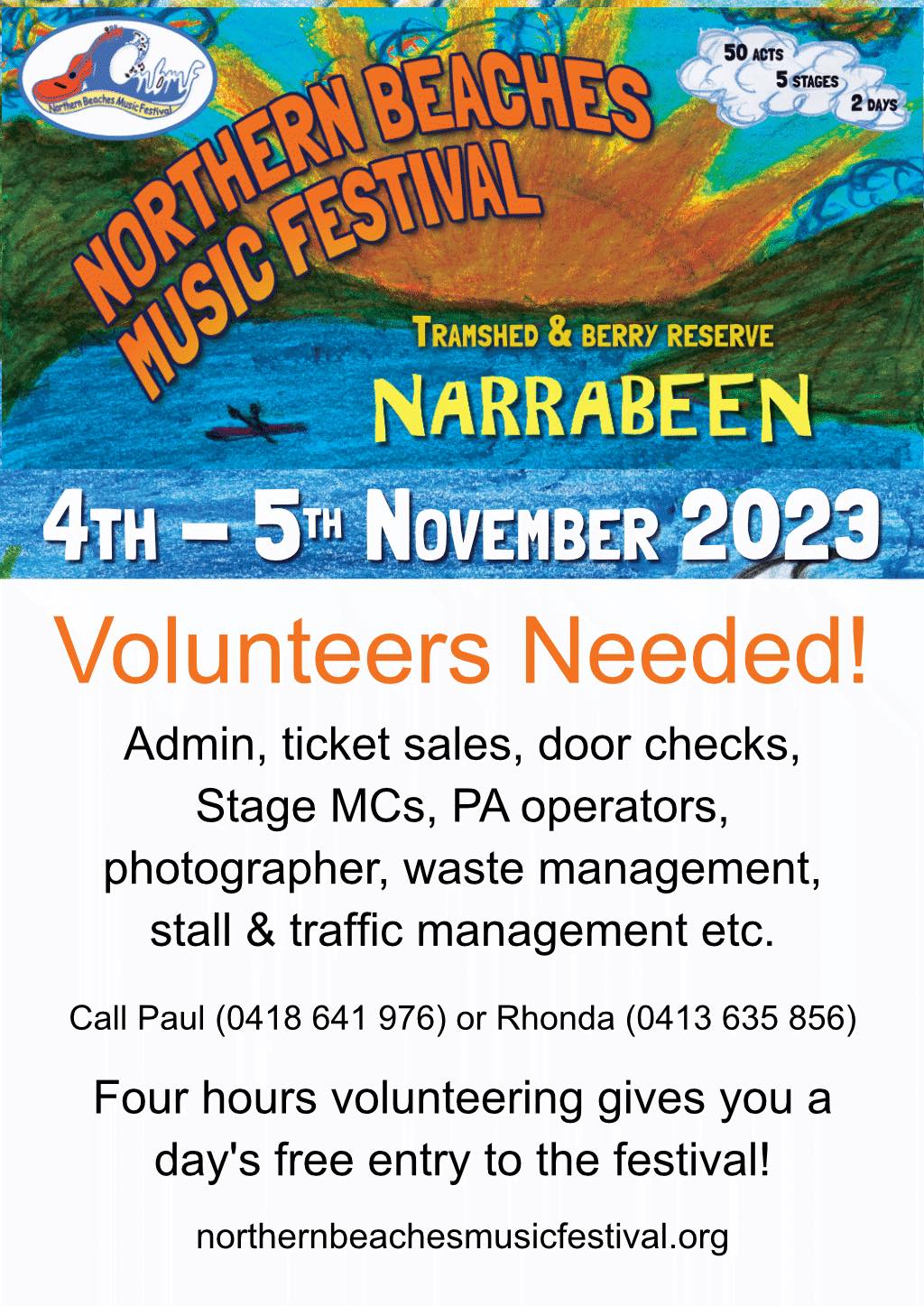 Beach Without Sand Celebrates 40th Year
David Watson, 'Wato' opened the first Beach Without Sand (BWS) store at North Avalon in 1983 as the surf culture on the Northern Beaches was booming. He has had Chris 'Kong' Friend by his side for pretty much the entire time. The shops are still run today by Wato and Kong, with the help of Sam and Bec (Wato's kids) and Abbey.
The outfit has been a strong supporter of many local events and clubs, including the North Avalon Surfriders Association (
NASA)
.
On Sunday October 15 the BWS Team hosted a BBQ and fundraiser at North Avalon shops.
Their message via social media afterwards:
Wow! What an incredible weekend. We want to thank our incredible community for helping us celebrate 40 years with the most amazing day!
With your help we raised over $2000 for
Fletch Crowley and his family
, so thank you to everyone who bought raffle tickets for making that possible!
The day couldn't have gone ahead the way it did without the help of so many of our incredible brands, with whom we share decades of great relationships, along with the generosity of locals and their businesses.
A huge thank you to the below:
🎂 Tammy! For your amazing cake
🍹 Tom for keeping everyone hydrated with your epic kombuchas
🍺 Balter for keeping the good times rolling with beers galore
🚀 NASA for lending us the tents and BBQ
🌶️ Volcom for putting on an epic chilli eating competition that the grooms will be talking about for years to come
🛍️ Volcom, Quiksilver, Roxy, Ocean & Earth, Rip Curl, Sun Bum, We Are Feel Good, Creatures of Leisure, FCS, Otis and Oneill for providing epic prizes and giveaways for the day along with all the goodies that filled the show bags
So thank you again to our epic community, here's to the next 40 years! ❤️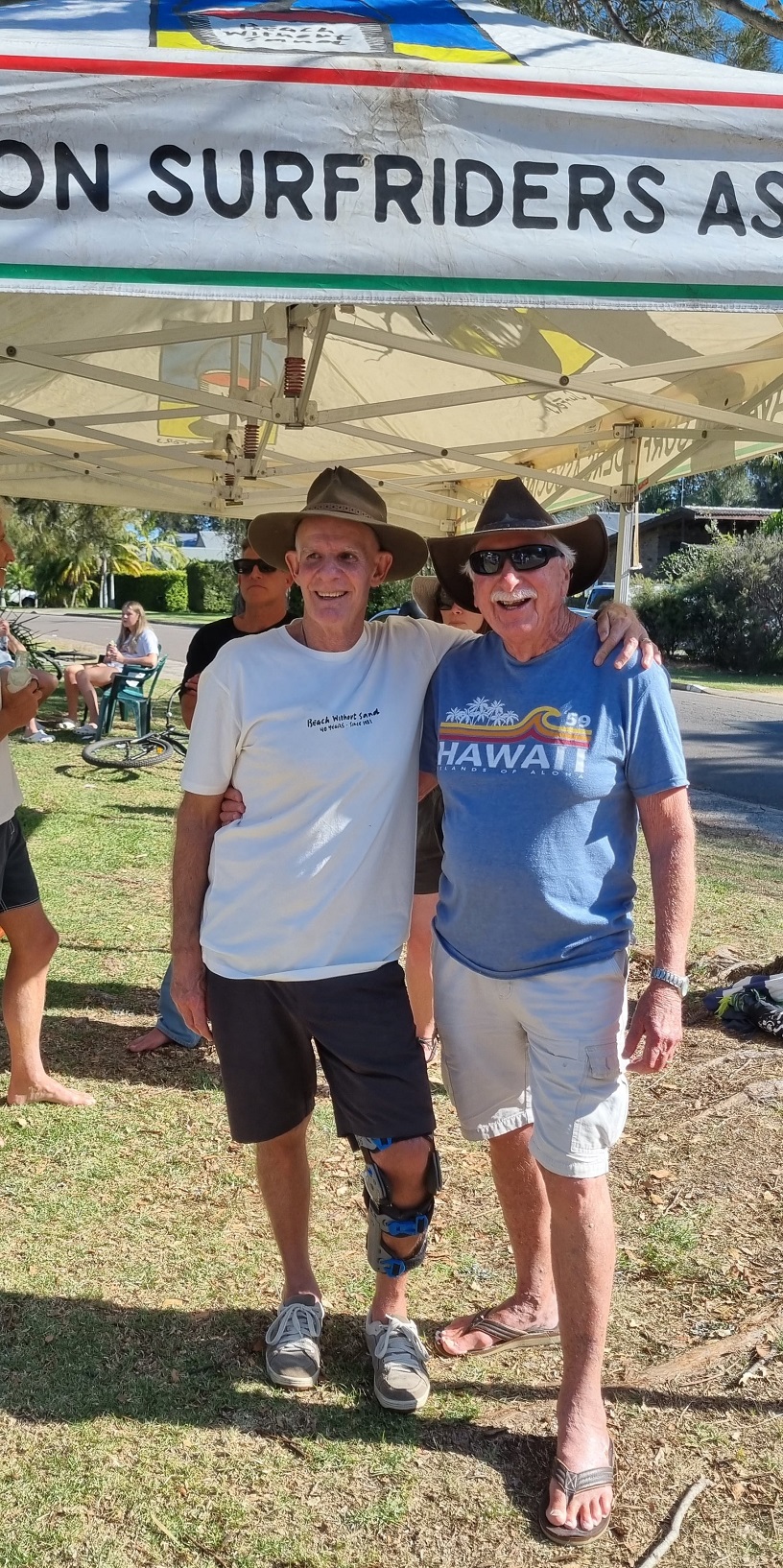 Wato and Roger Sayers OAM on Sunday October 15 2023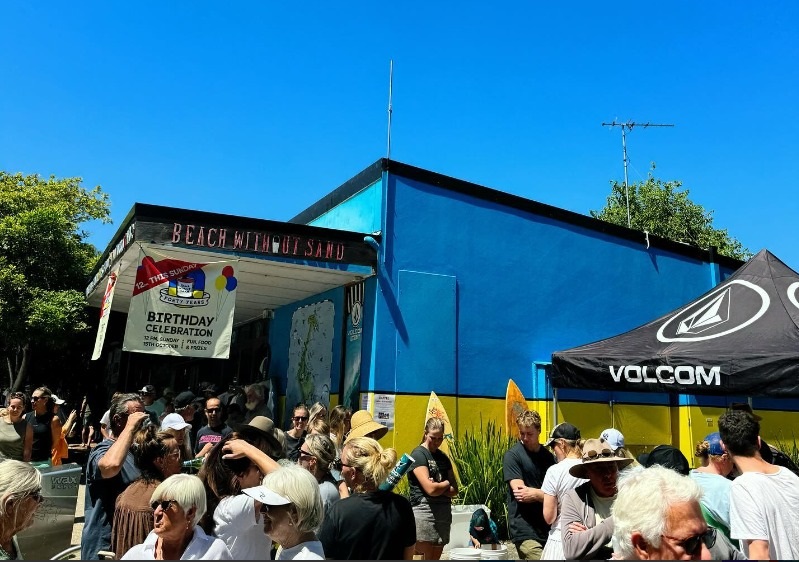 Big crowd attended to congratulate the boys
New Statutory Agency To Investigate Systemic Issues In Aged Care
October 16, 2023: Australian Government Department of Health and Aged Care
This new authority will help improve the aged care system so older people can get the care they need. It will do this by calling out problems and identifying areas for improvement, through reports to the Australian Parliament.
The Act gives the Inspector-General powers to:
investigate systemic issues across the aged care system, including complaints management processes
report on the Government's implementation of the recommendations from the Royal Commission's final report.
The Inspector-General will report findings and recommendations on systemic aged care issues to the Australian Government, parliament and public.
The government is currently going through a selection process to appoint the Inspector-General. Until this happens, Mr Ian Yates AM is the acting Inspector-General.
For more information on the Inspector-General, visit
igac.gov.au
.
National Centre To Improve Health Outcomes For People With Intellectual Disability
The Federal Government has announced it is establishing a National Centre of Excellence in Intellectual Disability Health – which fulfils an election commitment made in 2022.
Compared with the general population, the 450,000 Australians who have an intellectual disability experience more than twice the rate of avoidable deaths, higher rates of physical and mental health conditions, and lower rates of preventive healthcare.
The Government is working to improve the nation's health system to better serve people with intellectual disability, who have the right to the same quality of health care as everybody else.
The Centre will include staff members who have intellectual disability, as well as family members and carers, to ensure the lived experienced of intellectual disability is a part of the way the Centre is run.
The Centre is funded with an initial grant of $22 million for its first four years from the 2022-23 Budget and will be run by a consortium of 9 organisations,
led by the University of New South Wales.
The Centre is a key priority under the National Roadmap for Improving the Health of People with Intellectual Disability.
The Centre will be vital in helping to achieve this. The National Centre will:
be a leader in intellectual disability health
identify gaps in research on intellectual disability health
improve health services for people with intellectual disability
help people with intellectual disability and their families to find the right health services and access health information
provide expert advice for implementing other measures under the Roadmap.
The consortium that will set up and run the Centre includes:
the University of New South Wales
the Council for Intellectual Disability
First Peoples Disability Network
Down Syndrome Australia
the Centre for Disability Studies at the University of Sydney
Queenslanders with Disability Network
the University of Melbourne
the Telethon Kids Institute in Perth, and
the Mater Intellectual Disability and Autism Service in Brisbane.
The Government has also provided $6.7 million to improve access to annual health assessments for people with intellectual disability. Annual health assessments help identify unmet health needs in people with intellectual disability and improve their access to primary care.
In November 2022, the Government acquired a permanent licence to publish and develop the best practice tool for annual health assessments for people with intellectual disability, the Comprehensive Health Assessment Program.
This tool helps people with intellectual disability – often with the support of their families or carers – to provide important health information to their doctor. It also guides doctors in doing an annual health assessment and alerts them to commonly missed health issues in this population.
Assistant Minister Kearney stated:
"There are 450,000 Australians who have an intellectual disability and they deserve access to excellent, tailored and empathetic healthcare that fits their needs."
"My sister has an intellectual disability and I have seen first hand the challenges she has experienced accessing healthcare. This Centre will lead best-practice and help to make our health system more accessible for everyone."
"The lived experience and skills of people with a disability will be central to the success of this Centre."
Can The Perception Of Neighbourhood Environments Influence Active And Healthy Ageing?
October 10, 2023: UNSW Ageing Futures Institute
A recent study has highlighted an important link between how older people perceive their neighbourhood and their levels of physical activity.
Research has long established the importance of physical activity to better health outcomes and optimal ageing. However, it has been found that a significant proportion of older people do not meet the physical activity guidelines for health and their physical activity levels decline over time. Finding ways to promote active living (i.e., increase physical activity and reduce sedentary time) in older populations is a public health priority.
Whilst older people spend most of their day in their neighbourhood, the extent to which neighbourhood characteristics influence sedentary time remains unclear due to the limited research. The aim of this research was to therefore examine the associations of perceived neighbourhood environmental attributes with physical activity and sedentary time in older people.
The study, carried out in Hong Kong neighbourhoods, collected and analysed various facets of the perceived neighbourhood environment, including factors like residential density, aesthetics, accessibility, and safety.
"What we have found are not only direct associations but also indirect effects on physical activity, highlighting a fascinating interdependence between the perception of neighbourhood environments and active ageing," says lead author Professor Ester Cerin, Program Leader for the Behaviour, Environment and Cognition Research Program at Australian Catholic University (ACU) and UNSW Ageing Futures Institute member.
"One striking revelation was that extreme levels of residential density may not necessarily be conducive to an active lifestyle for older people. This suggests a need for balance, ensuring neighbourhoods provide ample space for essential amenities and green spaces while maintaining accessibility."
"Neighbourhoods that are also perceived as aesthetically pleasing encouraged more physical activity, particularly recreational walking and non-walking activities. This underscores the significant influence of visual appeal on how older people choose to engage in physical activities."
This ground-breaking research provides invaluable insights into the complex dynamics between older adults and their neighbourhood environment and has potential applications to the Australian context.
"By understanding these insights, urban planners and policymakers can create appropriate environments that foster healthy and active aging."
Read the study online
HERE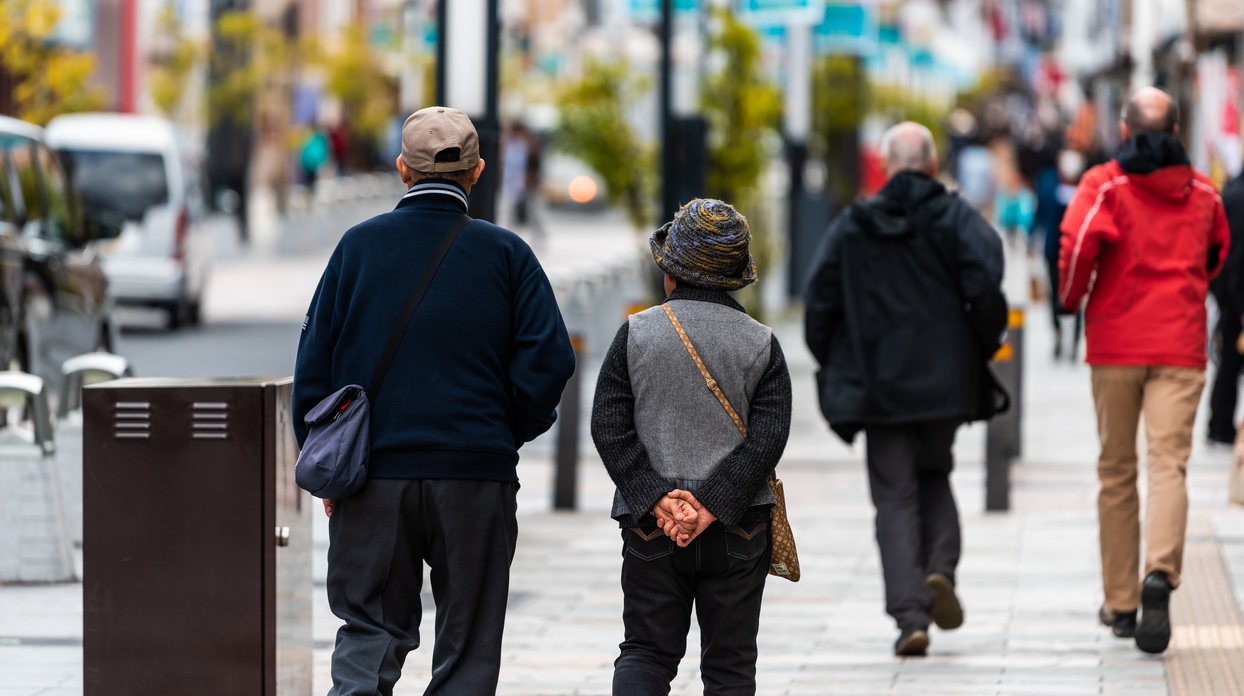 New Study Sheds Light On Health And Wellbeing Of Carers
October 10, 2023: UNSW Ageing Futures Institute
A new study into the health service use of carers have has offered valuable insights into the unique challenges faced by this group.
Carers constitute a significant portion of the Australian community and play a critical yet often overlooked role in the nation's care system. Deloitte estimated in 2020 that the cost to replace all carers $77.9 billion. Although carers provide support to a range of people – including those who are frail aged, living with disabilities and certain chronic illnesses – they face significant challenges and pressure in their daily lives which can affect their health and wellbeing. There is currently a lack of understanding of the impact of being a carer on a person's health and wellbeing compared to non-carers.
The study, led by Dr Ben Harris-Roxas (Senior Lecturer at UNSW and Associate Investigator at the UNSW Ageing Futures Institute) as part of the Central and Eastern Sydney Primary and Community Health Cohort, aimed to identify the effect of carer status on the health status, health risks, and health service use of carers, and the association between GP use and hospitalisations for carers and non-carers. Data was linked from the 45 and Up Study, Medicare Benefit Scheme claims, hospitalisations and deaths data for carers across the Central and Eastern Sydney region.
Carers were more likely to be female, married, and to speak a language other than English. They also reported higher rates of health risks such as smoking, higher psychological distress, and having anxiety or heart disease. Despite these challenges, carers did not show significantly worse hospitalisation rates or mortality rates compared to non-carers. Importantly, carers were found to have significantly higher General Practitioner (GP) use compared to non-carers.
"This study shows GPs play a crucial role in identifying and supporting carers. Given their high level of engagement with primary care, general practitioners can serve as a crucial point of contact for carers." says Dr Harris-Roxas.
"People often become carers suddenly, and it's a significant transition. This research is an important step forward in understanding how caring roles change and what the impact is on health services. We're fortunate with this study to have our partnership with South Eastern Sydney Local Health District, Sydney Local Health District, and the Central and Eastern Sydney Primary Health Network. This guides our research to make sure we're addressing practice relevant questions, and provides a clear pathway for informing planning and clinical services.
The number of carers is increasing at the same time that our health and social care systems are becoming more complex and fragmented. We need to develop effective mechanisms to identify and support carers, and general practice plays a critical role."
Read the full publication
HERE
NSW Residents Reminded To Put Their Heart Health First
With heart disease being the leading cause of death in Australia, NSW residents aged 45 and over, or 30 and over for Aboriginal or Torres Strait Islander people, are reminded to book in for their regular heart health check.
Health Minister Ryan Park joined fellow Members of Parliament at an event hosted by the Victor Chang Cardiac Research Institute in NSW Parliament to promote 10-minute Heart Health Checks.
"Heart disease, as we well know, is the leading cause of death in Australia. Simple initiatives like this one by the Victor Chang Cardiac Research Institute are an ideal opportunity for early intervention – and they are literally saving lives," Mr Park said.
"The Heart Health Check is really easy and it takes just 10 minutes and included tests for blood pressure, cholesterol, and blood sugar levels.
"Picking up on problems early means you and your doctor can better manage and prevent other health issues from occurring further down the line.
"Nearly 40 per cent of the disease burden in Australia is due to risk factors such as the ones being measured in Heart Health Checks."
"Anyone looking for check-up on their heart health can book in with their GP for a Heart Health Check, who will help you better understand your risk of a heart attack or stroke and support you to lower this risk."
CEO and Director of the Victor Chang Cardiac Research Institute, Professor Jason Kovacic, said the good news is that all three of these early indicators of possible heart disease can be changed by making improvements to your lifestyle.
"Making even small positive changes to your lifestyle, including your diet and activity levels can make a big difference to these risk factors and a person's overall heart health," Professor Kovacic said.
"The results of the test are presented to the person and if any measure is outside the normal range, they are recommended to make an appointment to see their GP."
Along with keeping physically active, the World Health Organisation recommends:
quitting smoking or not smoking at all
eating a healthy diet
drinking alcohol in moderation
looking after your weight.
The
NSW Healthy Eating and Active Living Strategy 2022-2032
outlines steps for achieving better health outcomes for all. The Strategy sets the foundation for collaboration between NSW Health, partner organisations and agencies to support keeping people healthy and well over the next decade.
The strategy includes a range of initiatives that support healthy living, including the
Get Healthy Service
,
a free phone and online health coaching service, staffed by qualified health coaches.
It provides personalised support to anyone 16 years and over to maintain healthy eating habits, get active, reduce alcohol, and reach a healthy weight.
Fresh Light Shed On Mystery Of Infant Consciousness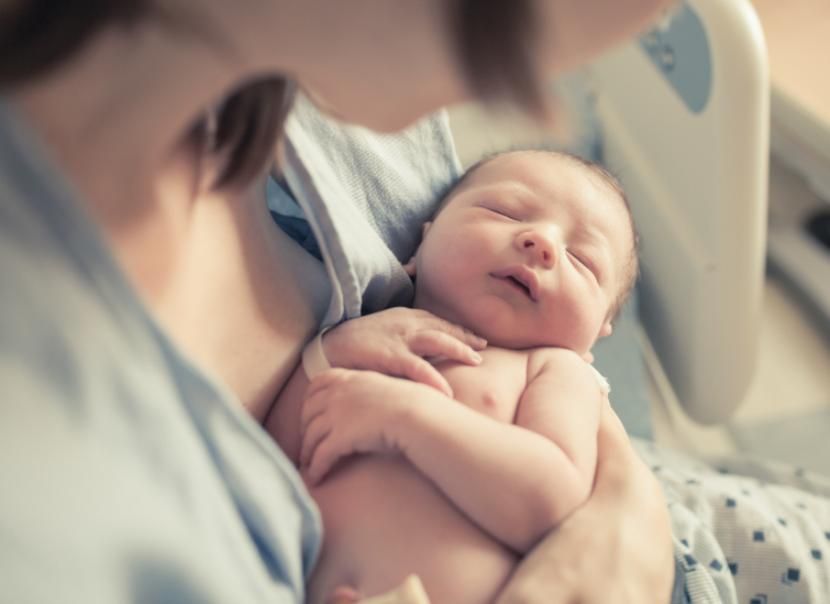 There is evidence that some form of conscious experience is present by birth, and perhaps even in late pregnancy, an international team of researchers from Trinity College Dublin and colleagues in Australia, Germany and the USA has found.
The findings, published today in the peer-reviewed journal Trends in Cognitive Science, have important clinical, ethical and potentially legal implications, according to the authors.
In the study, entitled 'Consciousness in the cradle: on the emergence of infant experience', the researchers argue that by birth the infant's developing brain is capable of conscious experiences that can make a lasting imprint on their developing sense of self and understanding of their environment.
The team comprised neuroscientists and philosophers from Monash University, in Australia, University of Tübingen, in Germany, University of Minnesota, in the USA, and Trinity College Dublin.
Although each of us was once a baby, infant consciousness remains mysterious, because infants cannot tell us what they think or feel, explains one of the two lead authors of the paper Dr Tim Bayne, Professor of Philosophy at Monash University (Melbourne).
"Nearly everyone who has held a newborn infant has wondered what, if anything, it is like to be a baby. But of course we cannot remember our infancy, and consciousness researchers have disagreed on whether consciousness arises 'early' (at birth or shortly after) or 'late' - by one year of age, or even much later."
To provide a new perspective on when consciousness first emerges, the team built upon recent advances in consciousness science. In adults, some markers from brain imaging have been found to reliably differentiate consciousness from its absence, and are increasingly applied in science and medicine. This is the first time that a review of these markers in infants has been used to assess their consciousness.
Co-author of the study, Lorina Naci, Associate Professor in the School of Psychology, who leads Trinity's 'Consciousness and Cognition Group, explained: "Our findings suggest that newborns can integrate sensory and developing cognitive responses into coherent conscious experiences to understand the actions of others and plan their own responses."
The paper also sheds light into 'what it is like' to be a baby. We know that seeing is much more immature in babies than hearing, for example. Furthermore, this work suggests that, at any point in time, infants are aware of fewer items than adults, and can take longer to grasp what's in front of them, but they can easily process more diverse information, such as sounds from other languages, than their older selves.
Tim Bayne, Joel Frohlich, Rhodri Cusack, Julia Moser, Lorina Naci.
Consciousness in the cradle: on the emergence of infant experience
. Trends in Cognitive Sciences, 2023; DOI:
10.1016/j.tics.2023.08.018
Link Between Seasons And Eating Habits
The number of hours of light exposure we experience affects how we eat and how we burn energy. This may help us understand the link between seasons and metabolism.
You might imagine that you're healthier in the summer. The sun is shining, we get plenty of vitamin D, and the days are long.
However, recent research from the University of Copenhagen suggests that eating habits in winter may be better for our metabolic health than eating habits in summer, at least if you're a mouse. Researchers have examined the metabolism and weight of mice exposed to both 'winter light' and 'summer light'.
"We found that even in non-seasonal animals, differences in light hours between summer and winter do cause differences in energy metabolism. In this case, body weight, fat mass and liver fat content," says Lewin Small, who carried out the research while a postdoc at Novo Nordisk Foundation Center for Basic Metabolic Research at the University of Copenhagen. He adds:
"We found this mostly in mice exposed to winter light hours. These mice had less body weight gain and adiposity. They have more rhythmicity in the way they eat over a 24-hour period. And this then led to benefits in metabolic health."
The study is the first of its kind to examine light hour's influence on metabolism in mice, that are not considered seasonal animals as like humans they do not only breed in specific seasons. Animals breeding in specific seasons gain weight before the breeding season to save energy supplies.
Light hours affect the metabolism
The researcher's inspiration for initiating the study stemmed from the significant variation in daylight hours across various regions of the world.
"We study the influence of the time-of-day on aspects of metabolism such as exercise, obesity and diabetes. However, most studies that investigate this link do so assuming an equal length of day and night all year round," says Lewin Small.
Therefore, they wanted to find out what the seasonal light differences meant for the metabolism. Most people in the world live with at least a two-hour difference in light between summer and winter.
"I come from Australia, and when I first moved to Denmark, I was not used to the huge difference in light between summer and winter and I was interested in how this might affect both circadian rhythms and metabolism," says Lewin Small and adds:
"Therefore, we exposed laboratory mice to different light hours representing different seasons and measured markers of metabolic health and the circadian rhythms of these animals."
Because the research was conducted using mice as the experimental subjects, it is not possible to assume that the same thing goes for humans.
"This is a proof of principle. Do differences in light hours affect energy metabolism? Yes, it does. Further studies in humans may find that altering our exposure to artificial light at night or natural light exposure over the year could be used to improve our metabolic health," says Juleen Zierath, Professor at the Novo Nordisk Center for Basic Metabolism Research (CBMR) and senior author of the study.
Lewin Small adds that the new knowledge is important to understand how eating patterns are affected by the light and seasons which might help us understand why some people gain more weight or if people gain more weight in a specific time of year.
"Differences in light between summer and winter could affect our hunger pathways and when we get hungry during the day," he says.
Lewin Small, Leonidas S. Lundell, Jo Iversen, Amy M. Ehrlich, Morten Dall, Astrid L. Basse, Emilie Dalbram, Ann N. Hansen, Jonas T. Treebak, Romain Barrès, Juleen R. Zierath.
Seasonal light hours modulate peripheral clocks and energy metabolism in mice.
Cell Metabolism, 2023; 35 (10): 1722 DOI:
10.1016/j.cmet.2023.08.005
Sexism And Poorer Parenting: Study Suggests A Link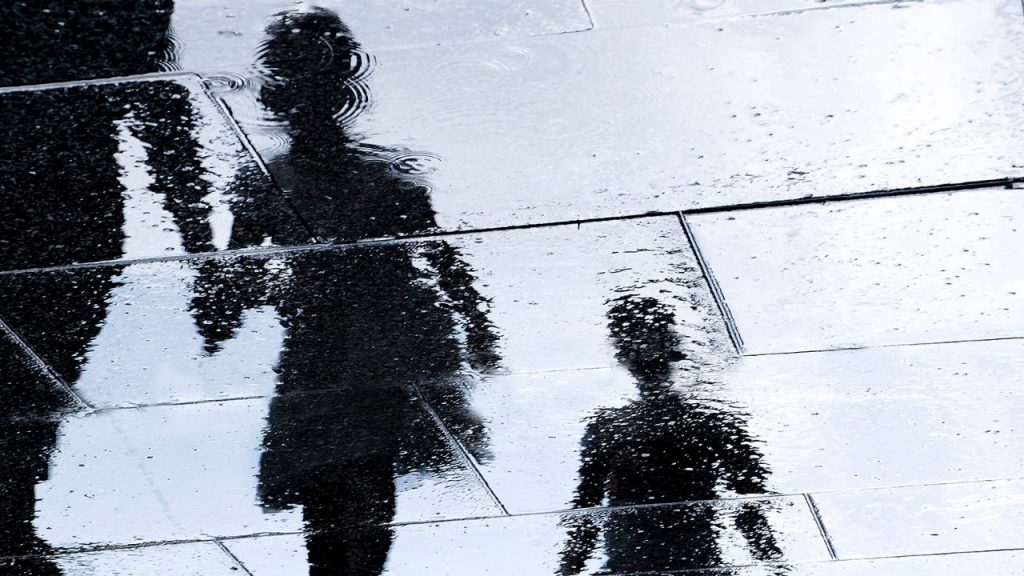 Fathers and mothers who believe men should hold the power and authority in society and the family were less responsive to their children during family interactions, according to University of Auckland research.
The study was the first of its type.
"For decades, sexism has been known to predict negative behaviours toward women, from discrimination to violence," says lead author Professor Nickola Overall, of Waipapa Taumata Rau, University of Auckland. "Our study suggests the effects flow through to poorer parenting."
Video-recording family groups in the laboratory, researchers assessed parents' responsiveness, including warmth, involvement, engagement, and sensitivity toward their children.
The less responsive parents -- both mothers and fathers -- had disclosed higher levels of "hostile sexism," an academic term for attitudes favouring male authority and antagonism toward women who challenge men's social power.
The results for fathers were expected and highlight that the harmful effects of men's sexist attitudes may also involve poorer parenting, says Overall.
The discovery that mothers who agree with hostile sexism were likely to be less responsive parents was unexpected. "It could be that these mothers follow the father's lead in family interactions, which leads to less engaged parenting," she says. "Another possibility is that mothers guard their traditional role as caregiver by restricting the father's parental involvement, which detracts from being responsive to the children."
Responsive parenting is pivotal to healthy child development, and its absence can lead to behavioural issues, emotional difficulties, and lower academic achievement.
There's no proof of causality in the University of Auckland research and alternative causes can't be ruled out. In addition, the laboratory setting will have altered participants behaviour, cutting for example the likelihood of displays of the most punitive parenting.
"Despite these caveats, the current studies emphasize the importance of understanding how, why, and when sexist attitudes affect parenting -- a pivotal and overlooked domain that is intricately connected to the power-differentiated gender roles that reinforce gender inequality," Overall and her co-authors wrote in the journal Social Psychological and Personality Science.
"The novel results offer new directions in understanding the broader impact of sexist attitudes on children across generations," says Overall. "There is also more to understand about why women continue to agree with sexist attitudes despite the harm they have for women and children."
The link with less responsive parenting didn't exist for mothers and fathers classed as disclosing "benevolent sexism," a term for attitudes romanticizing traditional gender roles by emphasizing the virtues of men as providers and protectors and women as caregivers, Overall says.
The first part of the research featured 95 mixed-gender couples with their five-year-old children. Observing families undertaking a collaborative task of building a cardboard tower, the researchers uncovered the statistical association between hostile sexism and less responsive parenting. A second study of 281 couples and their children observed in two different family tasks replicated the link.
To establish levels of sexism, parents had answered questions such as:
Most women fail to appreciate fully all that men do for them
Women seek to gain power by getting control over men
Women exaggerate problems they have at work
Once a woman gets a man to commit to her she usually tries to put him on a tight leash
Women are too easily offended
Both men and women can hold these beliefs and some women agree strongly with them.
Across 19 countries, nations such as Chile and South Africa were ranked high for "hostile sexism" while the likes Australia and the Netherlands were ranked lower, according to research published in 2000, which did not include New Zealand.
"Improving child health and wellbeing is connected to improving the attitudes that confine women and men to specific roles, and vice versa," says Overall.
The study co-authors were Dr Valerie Chang, Dr Annette Henderson and Dr Caitlin McRae, all from the University of Auckland, Dr Emily Cross of the University of Essex, and Dr Rachel Low of Victoria University of Wellington.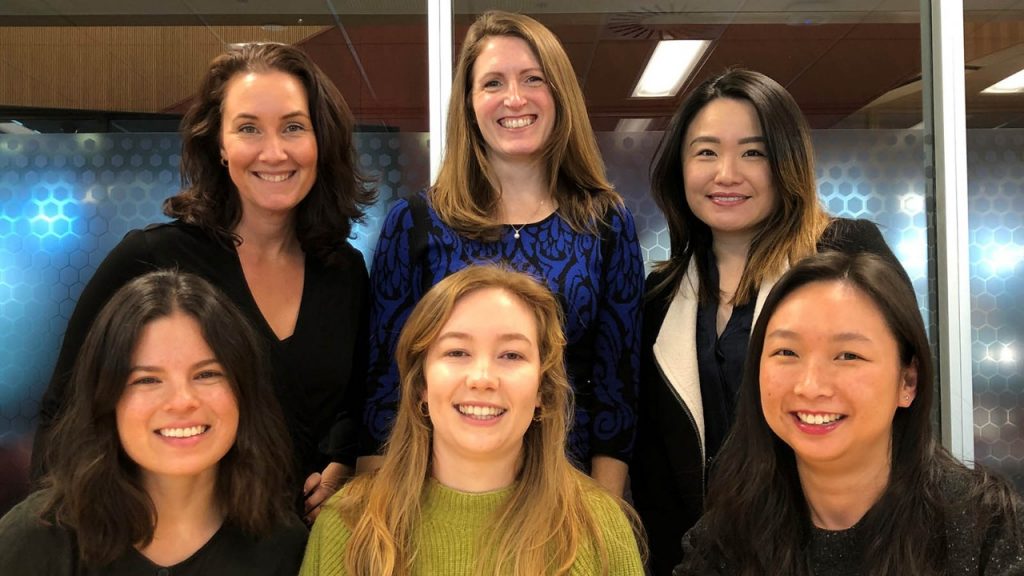 Professor Nickola Overall (top left) with researchers Dr Annette Henderson, Dr Rachel Low, Dr Valerie Chang, Dr Caitlin McRae and Dr Nina Waddell. Photo: University of Auckland

Nickola C. Overall, Emily J. Cross, Rachel S. T. Low, Caitlin S. McRae, Annette M. E. Henderson, Valerie T. Chang.
Fathers' and Mothers' Sexism Predict Less Responsive Parenting Behaviour During Family Interactions.
Social Psychological and Personality Science, 2023; DOI:
10.1177/19485506231200296
Researchers Capture First-Ever Afterglow Of Huge Planetary Collision In Outer Space
A chance social media post by an eagle-eyed amateur astronomer sparked the discovery of an explosive collision between two giant planets, which crashed into each other in a distant space system 1,800 light years away from planet Earth.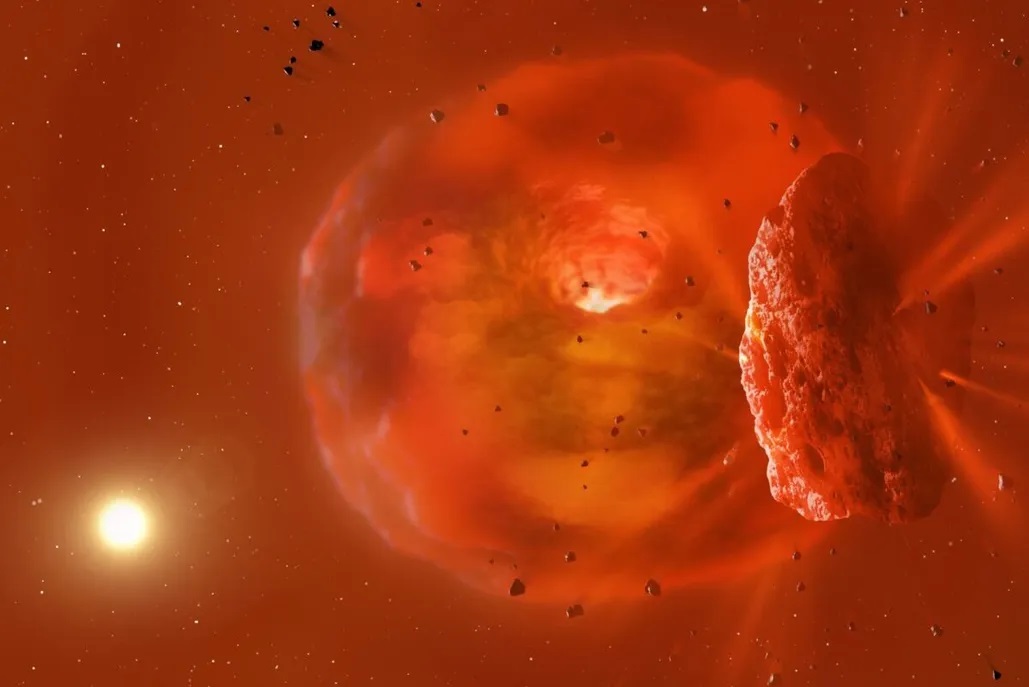 Image shows a visualisation of the huge, glowing planetary body produced by a planetary collision. In the foreground, fragments of ice and rock fly away from the collision and will later cross in between Earth and the host star which is seen in the background of the image. Image credit: Mark Garlick

The study, published today in Nature, reports the sighting of two ice giant exoplanets colliding around a sun-like star, creating a blaze of light and plumes of dust. Its findings show the bright heat afterglow and resulting dust cloud, which moved in front of the parent star dimming it over time.
The international team of astronomers was formed after an enthusiast viewed the light curve of the star and noticed something strange. It showed the system doubled in brightness at infrared wavelengths some three years before the star started to fade in visible light.
Co-lead author Dr Matthew Kenworthy, from Leiden University, said: "To be honest, this observation was a complete surprise to me. When we originally shared the visible light curve of this star with other astronomers, we started watching it with a network of other telescopes.
"An astronomer on social media pointed out that the star brightened up in the infrared over a thousand days before the optical fading. I knew then this was an unusual event."
The network of professional and amateur astronomers studied the star intensively including monitoring changes in the star's brightness over the next two years. The star was named ASASSN-21qj after the network of telescopes that first detected the fading of the star at visible wavelengths.
The researchers concluded the most likely explanation is that two ice giant exoplanets collided, producing the infrared glow detected by NASA's NEOWISE mission, which uses a space telescope to hunt for asteroids and comets.
Co-lead author Dr Simon Lock, Research Fellow in Earth Sciences at the University of Bristol, said: "Our calculations and computer models indicate the temperature and size of the glowing material, as well as the amount of time the glow has lasted, is consistent with the collision of two ice giant exoplanets."
The resultant expanding debris cloud from the impact then travelled in front of the star some three years later, causing the star to dim in brightness at visible wavelengths.
Over the next few years, the cloud of dust is expected to start smearing out along the orbit of the collision remnant, and a tell-tale scattering of light from this cloud could be detected with both ground-based telescopes and NASA's largest telescope in space, known as JWST.
The astronomers plan on watching closely what happens next in this system.
Co-author Dr Zoe Leinhardt, Associate Professor of Astrophysics at the University of Bristol, added: "It will be fascinating to observe further developments. Ultimately, the mass of material around the remnant may condense to form a retinue of moons that will orbit around this new planet."
Matthew Kenworthy, Simon Lock, Grant Kennedy, Richelle van Capelleveen, Eric Mamajek, Ludmila Carone, Franz-Josef Hambsch, Joseph Masiero, Amy Mainzer, J. Davy Kirkpatrick, Edward Gomez, Zoë Leinhardt, Jingyao Dou, Pavan Tanna, Arttu Sainio, Hamish Barker, Stéphane Charbonnel, Olivier Garde, Pascal Le Dû, Lionel Mulato, Thomas Petit, Michael Rizzo Smith.
A planetary collision afterglow and transit of the resultant debris cloud.
Nature, 2023; 622 (7982): 251 DOI:
10.1038/s41586-023-06573-9
Disclaimer: These articles are not intended to provide medical advice, diagnosis or treatment. Views expressed here do not necessarily reflect those of Pittwater Online News or its staff.