Inbox and environment news: Issue 568
January 22 - 28 2023: Issue 568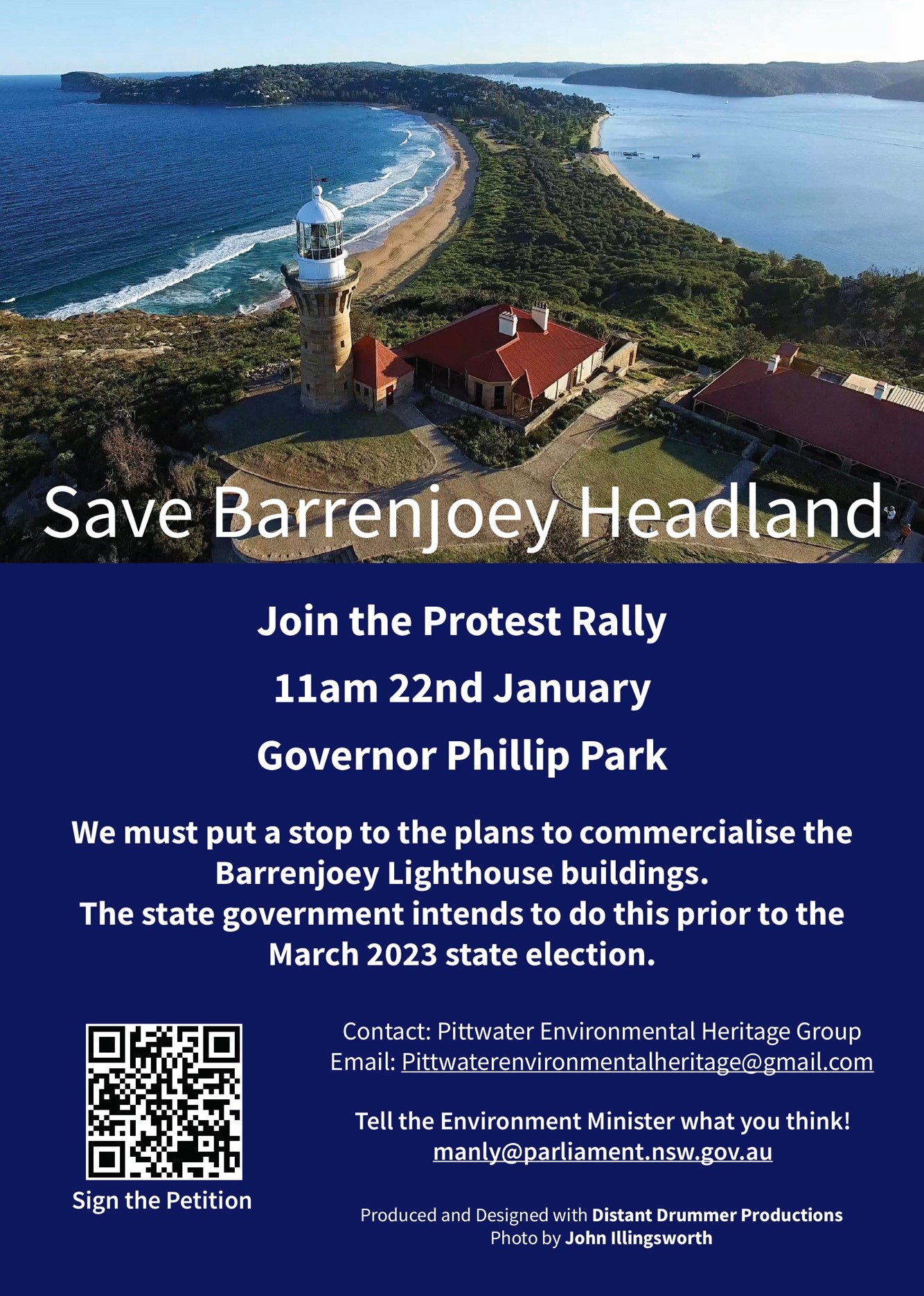 Newly Installed Synthetic 'Soft' Pad At Newport Beach Outdoor Youth Space Already Deteriorating: The Holes In Choosing A Poison Over The Natural More Apparent In 2023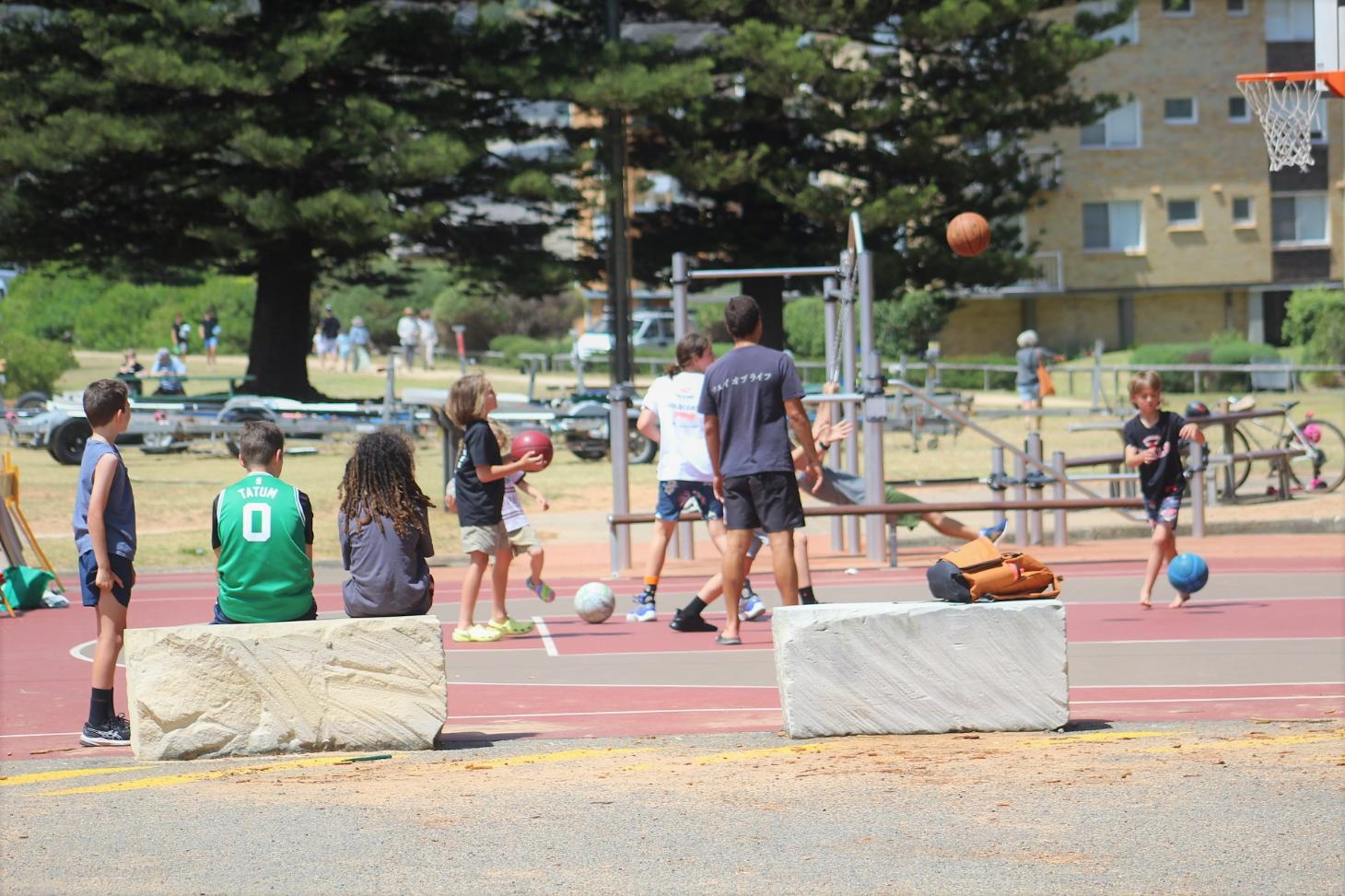 In December 2019 the council stated it was 'looking at an opportunity to modify a part of the Newport Beach car park (adjacent to the Newport Surf Life Saving Club) to potentially provide a new outdoor space for our youth.'

By March 2020 the council had feedback from residents which included main themes of:
alternative location

natural materials

anti-social behaviour
impact to the surf life saving club
other elements not included in the design (i.e. lighting, netball court, table tennis table).
By December 2020 council announced they had a revised plan. However using natural materials was ignored, as was an alternative location.
In late March 2021 construction had commenced and was quickly completed with concrete, a new outdoor gym, half basketball court and handball court installed by May 2021.
By November 2022 it was evident that the 'soft-fall' area, a synthetic pad installed as part of the gym equipment underlay, was deteriorating - this has since enlarged.
Toxic pollutants and plastics introduced into the beach environment is the result of this deterioration.
Paradoxically, the enlarging pit is catching the 'soft' in the natural beach sand that comprises Newport Beach.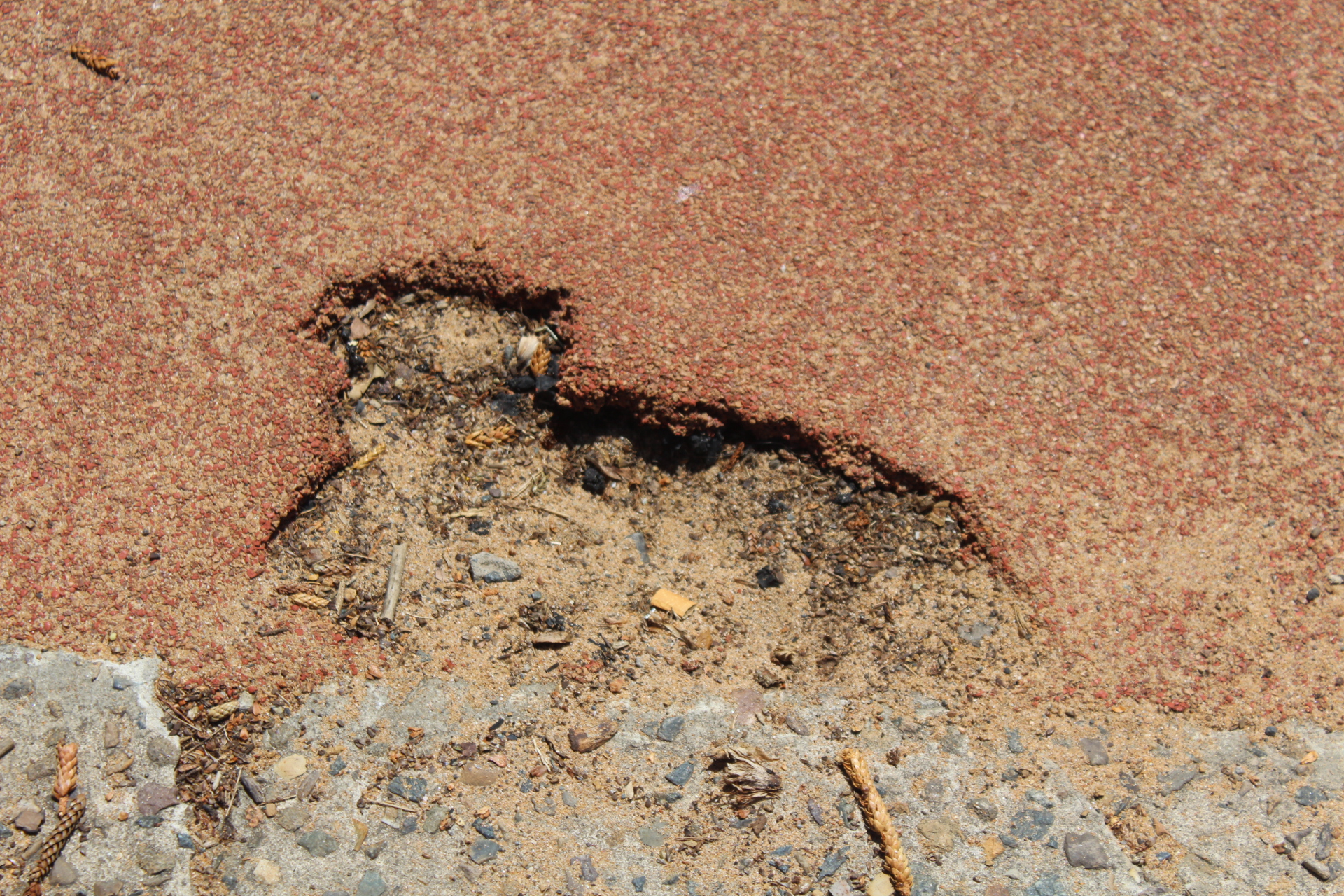 November 2022 a year and a half on from installation
In 2021 a concerned resident contact Pittwater Online about the council's plans to install synthetic turf next to another area beside a waterway after the failure of a synthetic turf installation at Forestville.
Melwood Oval at Forestville has had a synthetic field installed and during heavy rains Julia Walsh witnessed "pulverised rubber" washing off and down pathways.
"It's not just the plastics that you can see, it's the plastics you can't see," Julia stated in 2021.
"The biggest concern is that we're putting these fields in water catchment zones."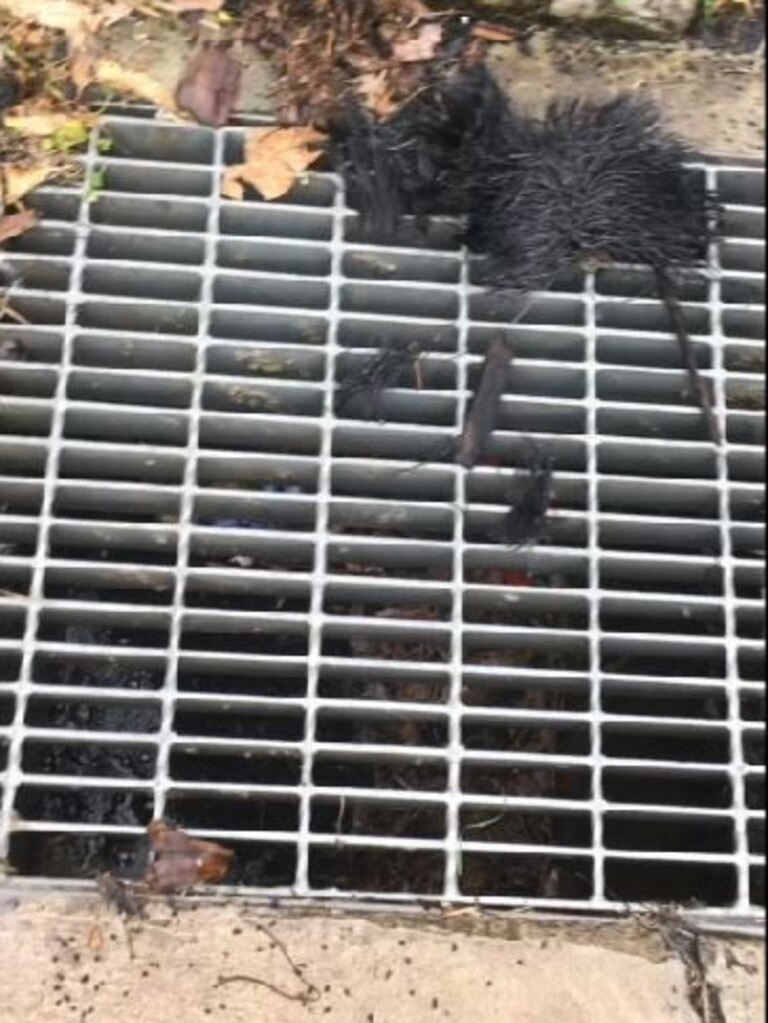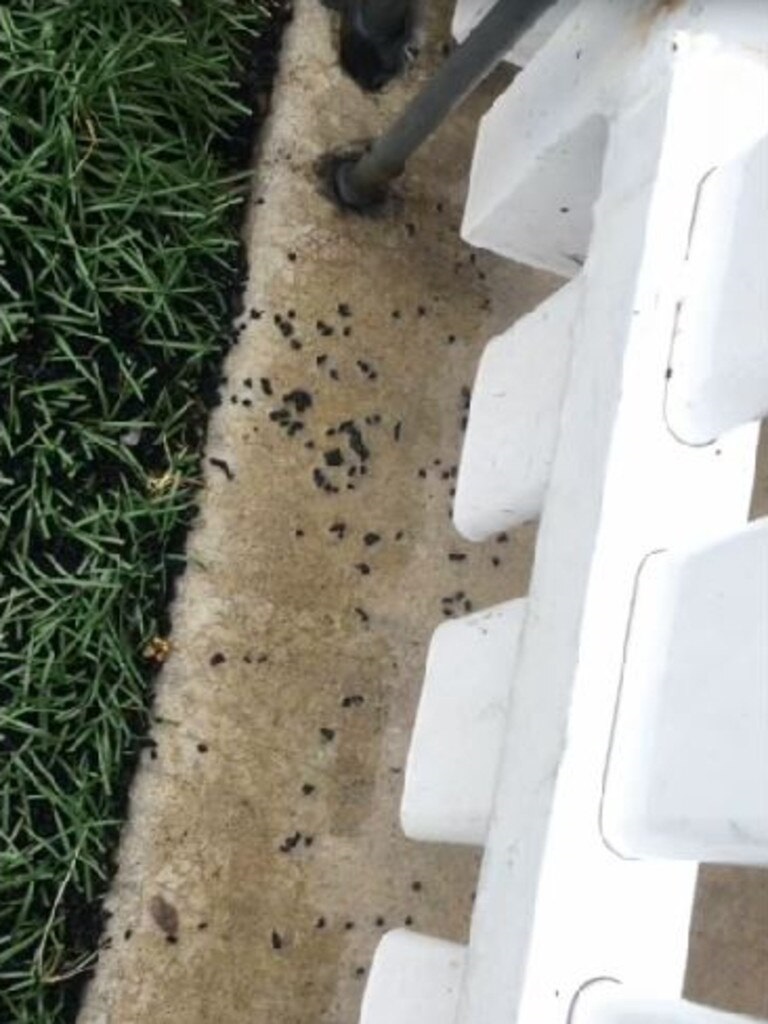 Melwood Oval - synthetic field fragmenting. Images: supplied.
At the March 2021 council meeting, councillors Stuart Sprott and Roslyn Harrison called for council to halt approvals of synthetic fields pending a NSW Government investigation into sustainable alternatives, which was called for by then Planning Minister Rob Stokes. Their response was not supported by other councillors.

The Independent review into the design, use and impacts of synthetic turf in public open spaces by the NSW Chief Scientist and Engineer tabled an initial report in February 2022, with the final report due mid-year. This has not as yet been made public if it has been completed. The February 2022 interim report may be accessed at: www.chiefscientist.nsw.gov.au/independent-reports/synthetic-turf-in-public-spaces
On December 22nd 2022 the NSW Department of Planning and Environment stated it 'is working closely with councils, industry and government agencies to create guidelines to assist decision making on the use of synthetic turf, which will be released in 2023.'
Julia Walsh sent in a video update on one of the grassed areas for which synthetic fields is proposed, alongside Manly Creek, taken after rains in February-March 2022.
Millers Reserve at Manly Vale is among seven greenspaces across the LGA that will be "upgraded" to a synthetic surface, with a $203,000 tender already awarded for the works. Millers Reserve is located beside Manly Creek, which flows to Manly Dam, and Ms Walsh is concerned about run-off there.
Seven new synthetic ovals are planned for our area, including one being touted for Careel Bay, which floods during rain events with refuse carried into the wetlands alongside these. Careel Bay is a Wildlife Preservation Area (WPA) due to its importance to resident wildlife as well as migratory birds, many of which are endangered species.
Pittwater Council installed a watering system at the 'mini soccer' fields to keep the grass green at the Careel Bay playing fields just prior to being amalgamated into the NBC LGA. This system has not been seen in operation during drier periods since.
Football players across the state like synthetic surfaces as these are always available and not susceptible to the dry times that make much used surfaces dust bowls, or the mud that can come with too much rain.
However, the synthetic fields not only permanently eliminate these green spaces as habitat for birds and other wildlife foraging, they heat up areas and when deteriorating, pollute environment and are ingested by species living in these environments.
There are also problems during flood events, as seen in these images: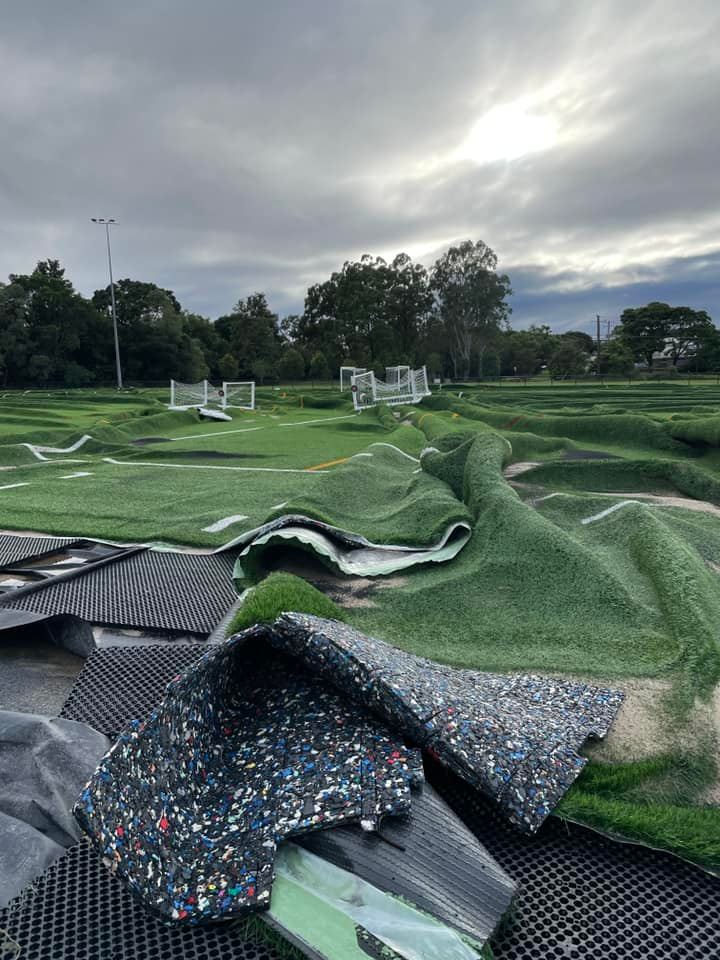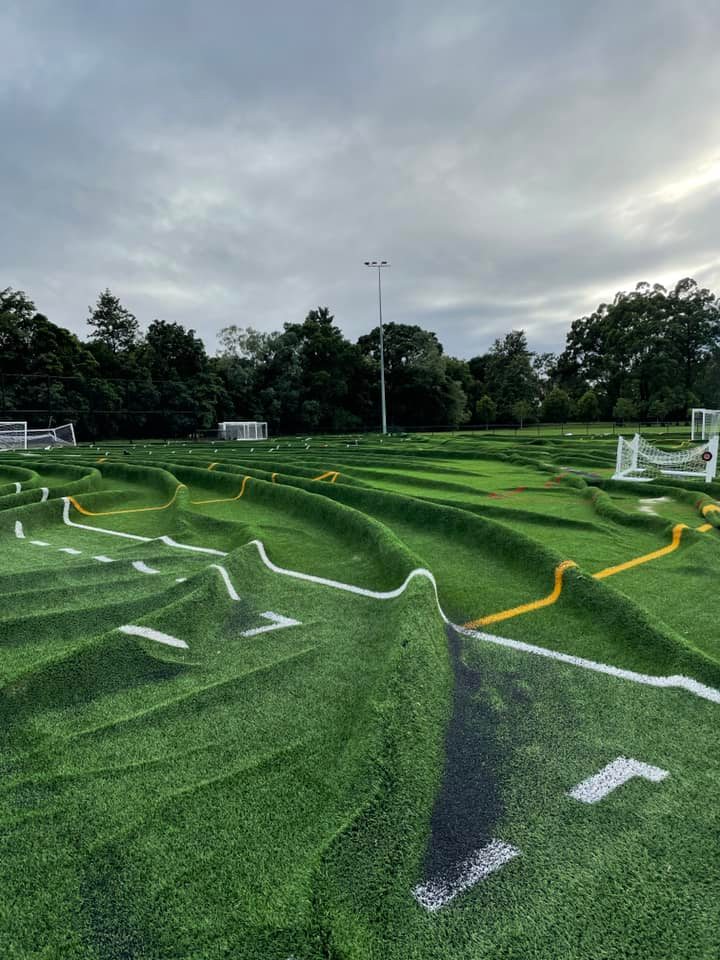 Mitchelton football field No 2 in Everton Park Brisbane after rains there - February 28, 2022. The rest of their fields are grassed areas and these were quickly restored/cleaned to allow commencement of their Season in March. From the Mitchelton football Club Facebook page.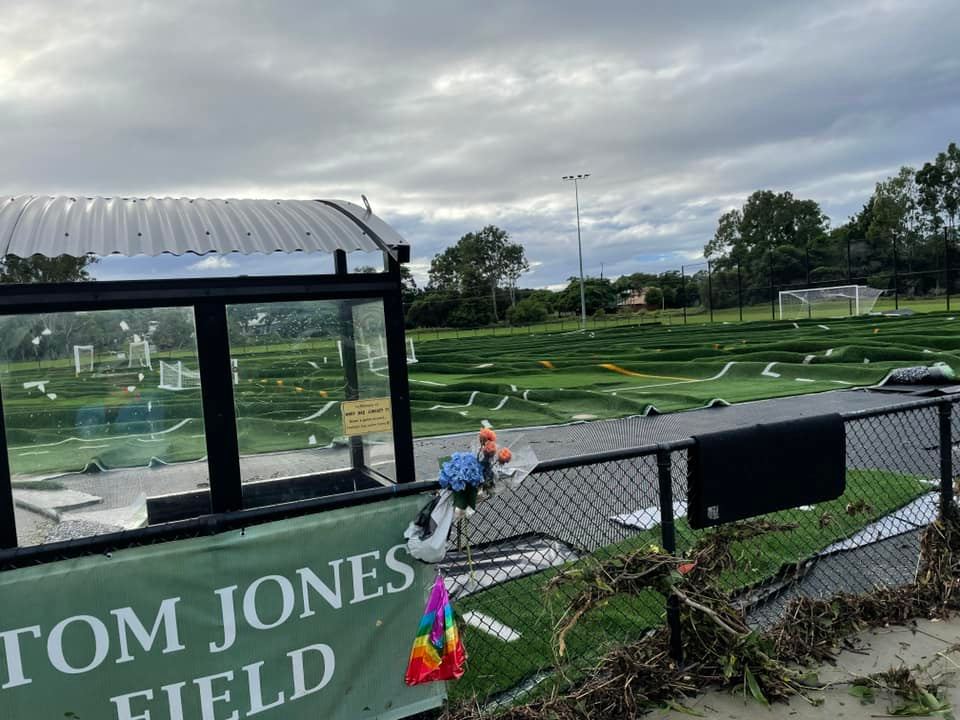 Mitchelton football field No 2 in Brisbane after rains there - February 28, 2022. From the Mitchelton football Club Facebook page.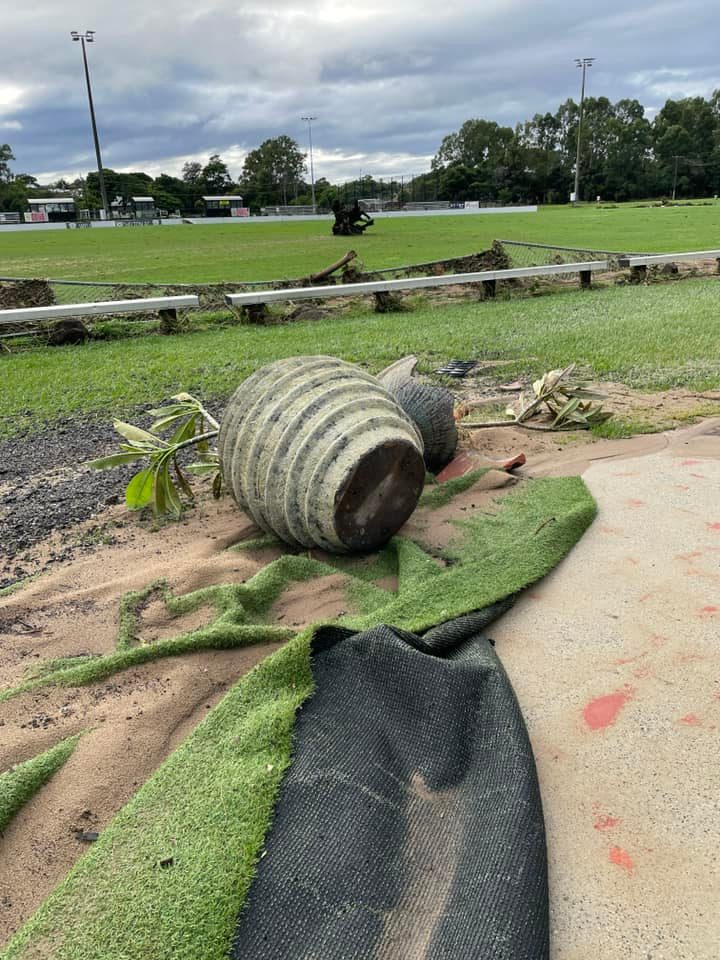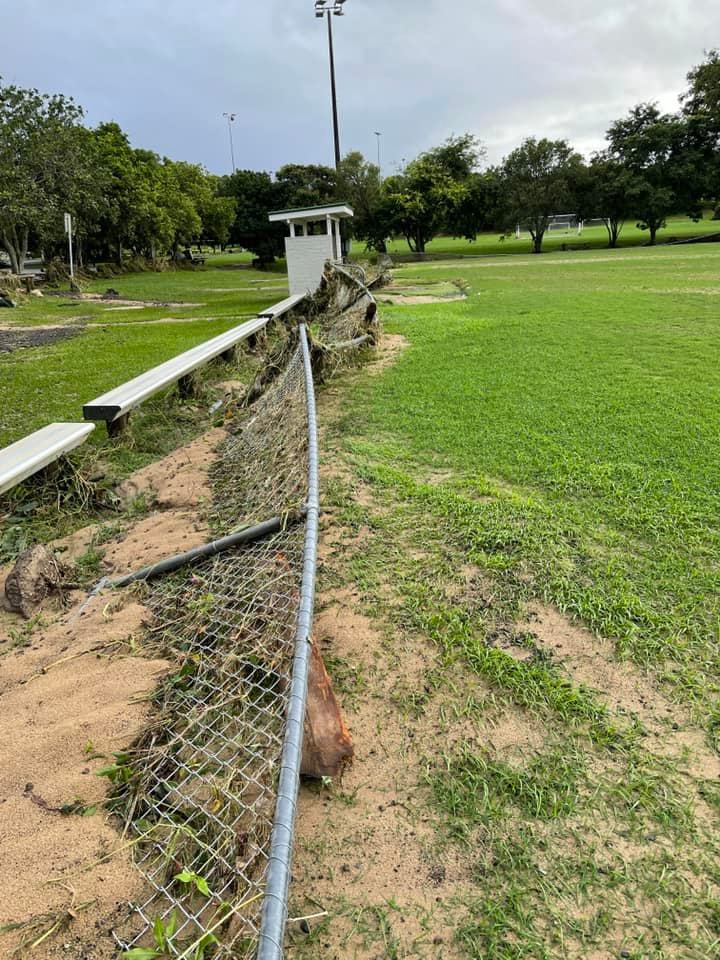 Mitchelton football club - Fields 1, 3-4 in Brisbane after rains there, and perimeter's - February 28, 2022. From the Mitchelton football Club Facebook page.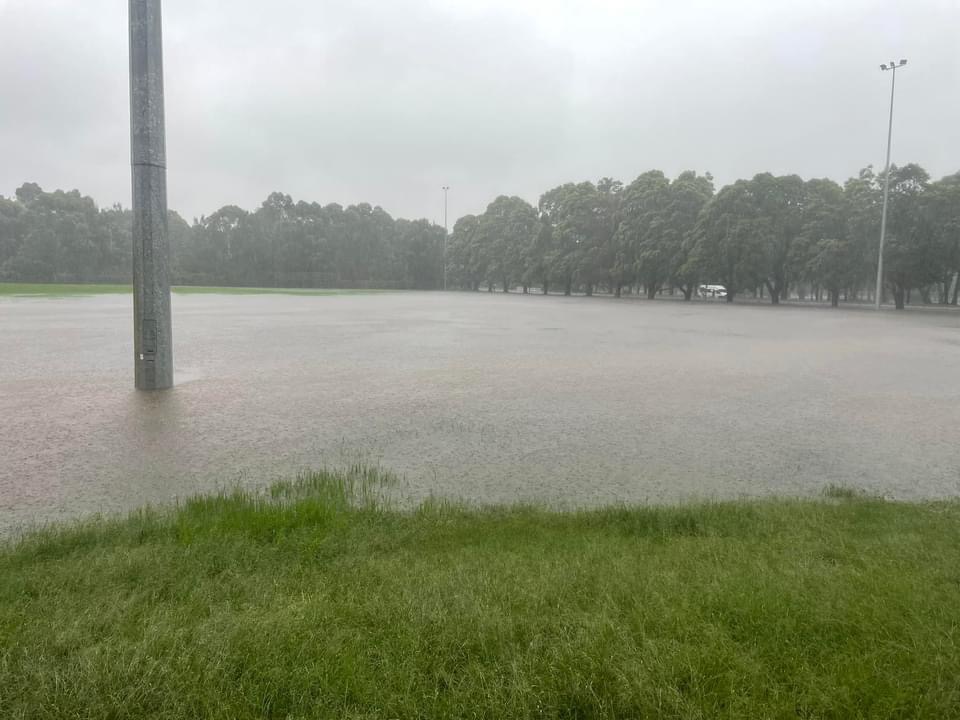 Millers Reserve submerged by water after the heavy rains, March 2022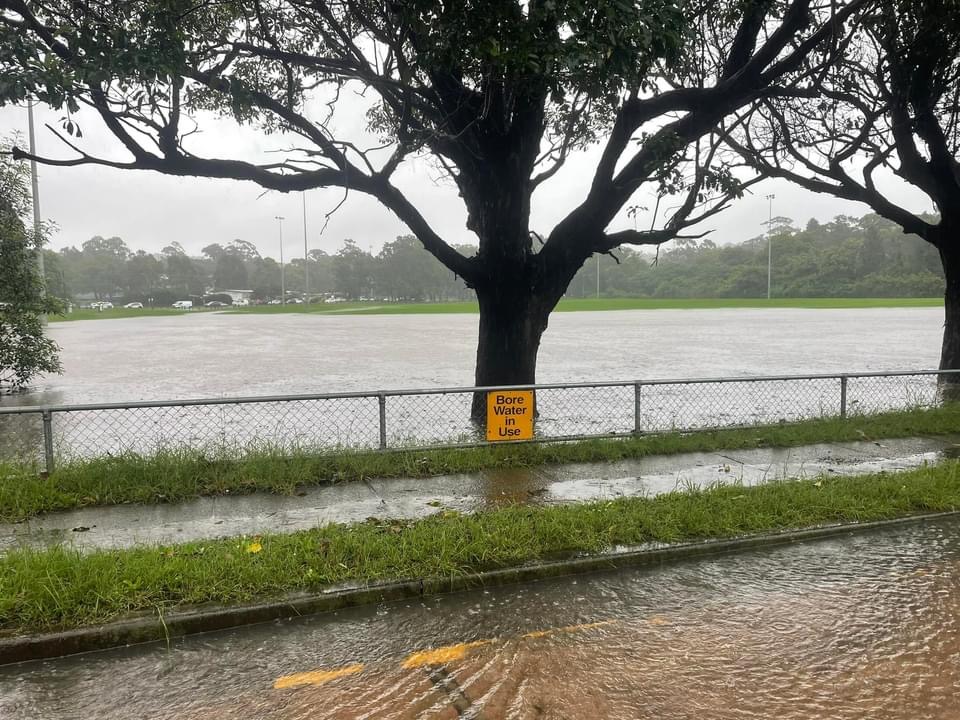 Millers Reserve submerged by water after the heavy rains, March 2022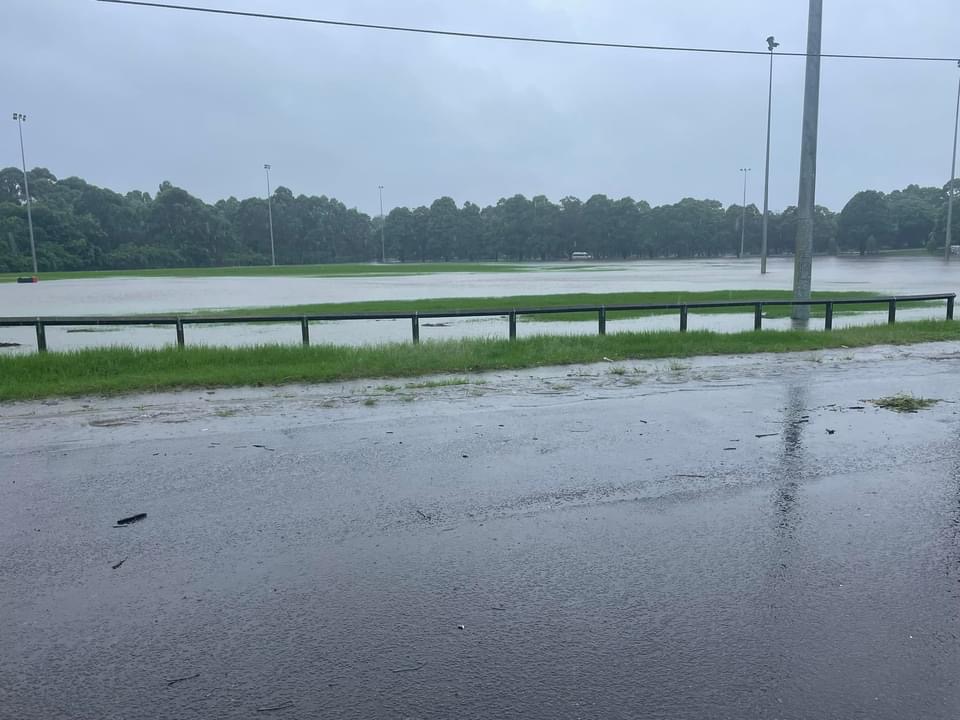 Millers Reserve submerged by water after the heavy rains, March 2022

More on this once the final report is released. Julia's latest video runs below.
Reinstalled Synthetic Field At Cromer Costs 1.3 Million - Field 2 1.45 Million
In May 2022 the council announced the re-opening of Cromer Park's field 1 at a cost of 1.3 million dollars.
The first installation of synthetic turf on field 1 was officially opened on July 1st 2012.
In 2022 cork has been used for the infill, instead of rubber, to reduce the urban heat island effect and provide cooler conditions for players on hot days.
There is also more storage for six-a-side goals, an additional pump to recycle water draining from the field and boot scrapers at every entrance to mitigate the infill from leaving the ground.
This project received a $814,442 grant from the NSW Government's Office of Sport Greater Cities Sport Facility Fund 2021.
Part of the project cost included exporting the old surface to Denmark for recycling.
In April 2018 the council announced the conversion of field 2 at Cromer Park to a synthetic field at a cost of $1.45 million. This was finished six months later.
There are 122 sportsfields in the NBC LGA. Grassed sportsfields are mowed every week from September to March and as required during the cooler months from April to August.
Councils Operational Expenditure for
all
Maintenance and Servicing, which would include mowing of grass fields
,
was $5,590, 000 in 2019/2020, $6,103,000 in 2020/21, was forecast to be $5,158,000 in 2021/22 and had 5,216,000 budgeted for 2022/23 at that stage.
User Charges and Fees apply for all sportsfields.
The Sportsfield renewal program had $1,100,000 allocated in the 2022/23 Draft budget.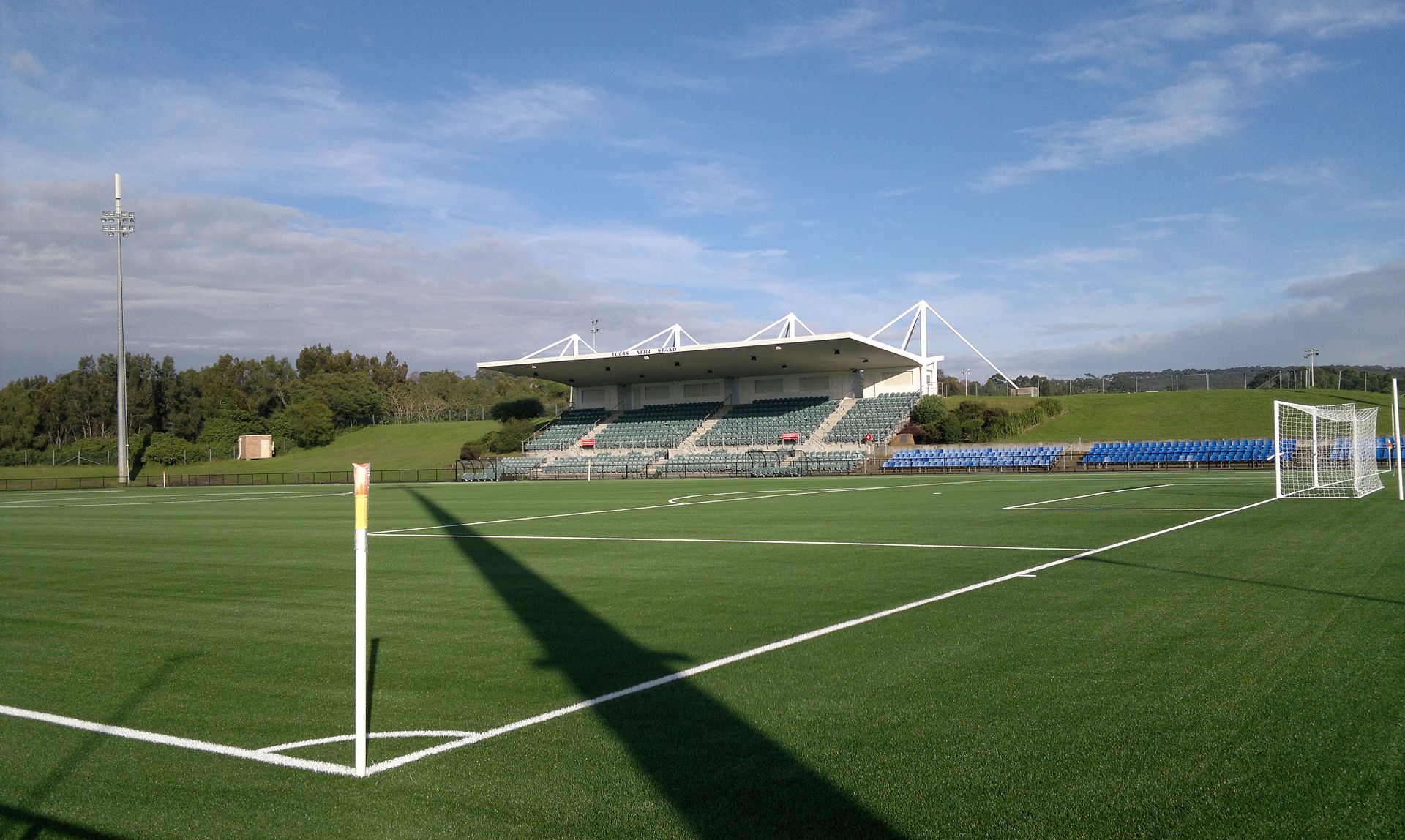 Cromer Park Synthetic Playing Surface completed. Photo June 2012 by CamV8
On Thursday January 19 2023 NSW Minister for Sport Alister Henskens announced more than $3.1 million will be invested in projects and programs to ensure the FIFA Women's World Cup 2023TM leaves a lasting legacy for football across the State.
"Having the World Cup on home soil is a once-in-a-lifetime opportunity that will inspire young girls and boys to lace up the boots and emulate their football heroes," Mr Henskens said.
"With six months to go before the tournament kicks off, there is already an enormous buzz around football and this program will help local clubs capitalise on excitement by running programs that will boost participation in the sport.
"It will also deliver funding to improve infrastructure, creating more modern and accessible facilities for communities across NSW."
Examples of eligible project types and project components included are listed as:
New or upgraded

synthetic

or turf pitches, including improvements to pitch drainage, irrigation or resurfacing.
Amenity buildings such as kiosks, club rooms, gender neutral change rooms, grandstands, seating, lighting, shade/shelter, or storage spaces that are universally designed.
Staged components of a larger facility development are eligible, providing the stage being applied for meets the fund eligibility criteria.
A Participation Stream forms part of the NSW Football Legacy Fund - Infrastructure Fund.
Synthetic Turf Health - Environment Hazards: EC To Implement Ban On Microplastic Infill For Synthetic Turf Systems
In America city after city is banning the use of synthetic turf or rubber (soft fall) due to the chemical components in these poisoning the environment or the heat they create where installed. A report by 9 News in February 2022 found one field in Sydney reaches up to 88C despite the weather at the time only being 28C.
In the US ground-up tyres used in synthetic turf or rubber 'soft fall' can contain heavy metals, benzene, VOCs and other carcinogens that can present a health threat. The material emits high levels of methane, a potent greenhouse gas, and sheds microplastics and other chemicals into waterways.
This 'soft fall' materials are installed as squash and tennis courts or as the base of children's playgrounds.
The same product of ground up tyres is also being sold in Australia and recommended by installers for use as 'rubber flooring' in children's playgrounds 'to keep them safe'.
In Australia, passenger vehicle tyres contain approximately 16% natural rubber, 30% synthetic rubber, 23% carbon black, 16% metal and 6% textile.
In January 2022 University of Queensland scientists published 'Concentrations of Tire Additive Chemicals and Tire Road Wear Particles in an Australian Urban Tributary'. They had taken water samples from the middle of Cubberla Creek beside Brisbane's M5 motorway after four storms in late 2020 and found the tyre-derived compound 6PPD-quinone. This same substance has been linked to massive die-offs of coho salmon across the U.S. West Coast.
The levels of 6PPD-quinone in the creek, which feeds into the Brisbane River, peaked at concentrations comparable to those found to be killing Seattle's salmon. As much as 700kg of tiny tyre particles, up to 0.2mm wide and some much smaller, were estimated to wash off the roads and into the catchment after each storm.
Study lead author, Dr Rauert said they found elevated levels of the chemical for two days after storms.
"The aquatic species living there are going to be exposed [to the chemical] over this period. The amount of tyre wear we found was also very surprising.
"We have no idea of the effect of these particles or if fish are ingesting them. There are so many unknowns in this field. We should be worried, but we need to know more."
Dr Rauert and colleagues were planning to take samples at other sites throughout Queensland. That research was published in December 2022 as 'Tyre additive chemicals, tyre road wear particles and high production polymers in surface water at 5 urban centres in Queensland, Australia'
Abstract for Concentrations of Tire Additive Chemicals and Tire Road Wear Particles in an Australian Urban Tributary
Tire road wear particles (TRWPs) are one of the largest sources of microplastics to the urban environment with recent concerns as they also provide a pathway for additive chemicals to leach into the environment. Stormwater is a major source of TRWPs and associated additives to urban surface water, with additives including the antioxidant derivative N-(1,3-dimethylbutyl)-N′-phenyl-p-phenylenediamine-quinone (6PPD-quinone) demonstrating links to aquatic toxicity at environmentally relevant concentrations. The present study used complementary analysis methods to quantify both TRWPs and a suite of known tire additive chemicals (including 6PPD-quinone) to an urban tributary in Australia during severe storm events. Concentrations of additives increased more than 40 times during storms, with a maximum concentration of 2760 ng/L for ∑15additives, 88 ng/L for 6PPD-quinone, and a similar profile observed in each storm. TRWPs were detected during storm peaks with a maximum concentration between 6.4 and 18 mg/L, and concentrations of TRWPs and all additives were highly correlated. Contaminant mass loads to this catchment were estimated as up to 100 g/storm for ∑15additives, 3 g/storm for 6PPD-quinone, and between 252 and 730 kg of TRWPs/storm. While 6PPD-quinone concentrations in this catchment were lower than previous studies, elevated concentrations post storm suggest prolonged aquatic exposure. [1.]
Abstract from Tyre additive chemicals, tyre road wear particles and high production polymers in surface water at 5 urban centres in Queensland, Australia
Plastics pollution is a global issue impacting every part of our environment. Tyre road wear particle (TRWP) plastics pollution is thought to be one of the largest pollution sources in urban environments. These plastics are also of concern due to the presence of additive chemicals, incorporated during manufacture, that can be released into the surrounding environment. This study aimed to provide information on concentrations of a range of anthropogenic plastics related pollutants in the Australian environment through a scoping study of surface water in 5 key urban centres around Queensland, Australia. Samples were analysed for a suite of 15 common tyre additive chemicals, TRWPs and 6 common high production polymers, and included the new transformation product of concern 6PPD-quinone which has recent reports of causing mass mortality events in certain aquatic species. The additives were ubiquitously detected (2.9-1440 ng/L) with 6PPD-quinone concentrations lower than in previous studies (<0.05-24 ng/L) and TRWPs detected at 18 of the 21 sites (<MDL to between 690 and 1990 μg/L). Of the high production polymers, polyethylene and polypropylene were detected at the highest concentrations (16-1750 and <0.7-37 μg/L respectively) with profiles highly variable between sites. A traffic related additive profile was determined at 7 sites, which all had nearby traffic related sources. Concentrations of additive chemicals were significantly correlated with average daily traffic volumes (p = 0.006), although concentrations of TRWPs were not correlated. Generally, concentrations were in line with or lower than concentrations in other geographical regions, although it is noted samples were collected during the dry season and further sampling during the tropical wet season would be of interest. [2.]
In September 2022 the European Commission (EC) recommendations for restrictions for the placing of intentionally added microplastics onto the European market (Annex XVII REACH1) recommended a ban on the future sale of microplastic infill for synthetic turf systems as the most effective way to reduce microplastic emissions.
The EC's findings follow research published earlier in 2022 that, for the first time, detected microplastic pollution in human blood, with scientists from the Vrije Universiteit Amsterdam in the Netherlands finding the tiny particles in almost 80% of people tested.
The impact of microplastic pollution in on the body's health is as yet unknown, but researchers found microplastics cause damage to human cells in the laboratory. The effect of microplastics on wildlife has been well documented; a decline in feeding behaviour and fertility, a slow and painful death - even worms change their behaviour when microplastics are present in soil, leading to deterioration of the same and all dependent on it, all that grows from soil.
While the EC legislation will only apply to member nations in Europe, it is expected to impact the use of recycled rubber and plastic as an infill in synthetic sports and playgrounds worldwide.
The deterioration of the recently installed synthetic turf safety surface at Newport Beach show appropriate siting should be considered for these products. If residents prefer their children to fall onto soft sand and grass, and respond in feedback that 'natural' materials be used, they realise or know which may be better for their health, for the environment, for keeping the place cooler and their children safer.
The use of synthetic materials that need to be renewed or reinstalled is expensive. The growing evidence presented through research of the impact on people's health, the environment they live in and the flora and fauna also present, appends another costing in discussions of the use of, and siting for products such as cement and synthetic turf or rubber 'soft-fall' matting in public spaces, especially if this is made from old tyres.
Newport's Outdoor Youth Space is popular with youngsters and oldsters, a great facility for these 'us too' residents and a credit to the work council has accomplished. The few holes now apparent, in the view of what is already here due to our careless disregard for the environment, and the hole now visible in one of the materials used, could easily be mitigated. More trees and less concrete and sandstone blocks would cool it down, more grass and sand to remove the poisons and keep the 'soft' safety element in would fit back in with the natural whole cycles.
There's a hole in the bucket...

Rauert, Cassandra; Charlton, Nathan; Okoffo, Elvis D.; Stanton, Ryan S.; Agua, Alon R.; Pirrung, Michael C.; et al. (2022):

Concentrations of Tire Additive Chemicals and Tire Road Wear Particles in an Australian Urban Tributary.

ACS Publications. Collection. https://doi.org/10.1021/acs.est.1c07451
Rauert C, Vardy S, Daniell B, Charlton N, Thomas KV.

Tyre additive chemicals, tyre road wear particles and high production polymers in surface water at 5 urban centres in Queensland, Australia.

Sci Total Environ. 2022 Dec 15;852:158468. doi: 10.1016/j.scitotenv.2022.158468. Epub 2022 Sep 6. PMID: 36075411. DOI: 10.1016/j.scitotenv.2022.158468
Saving Pittwater From The Chainsaws: Community Forum At Warriewood - Thursday February 2nd 2023, At 7pm + 'Concreting Our Coast: The Developer Onslaught Destroying Our Coastal Villages And Environment' Report Released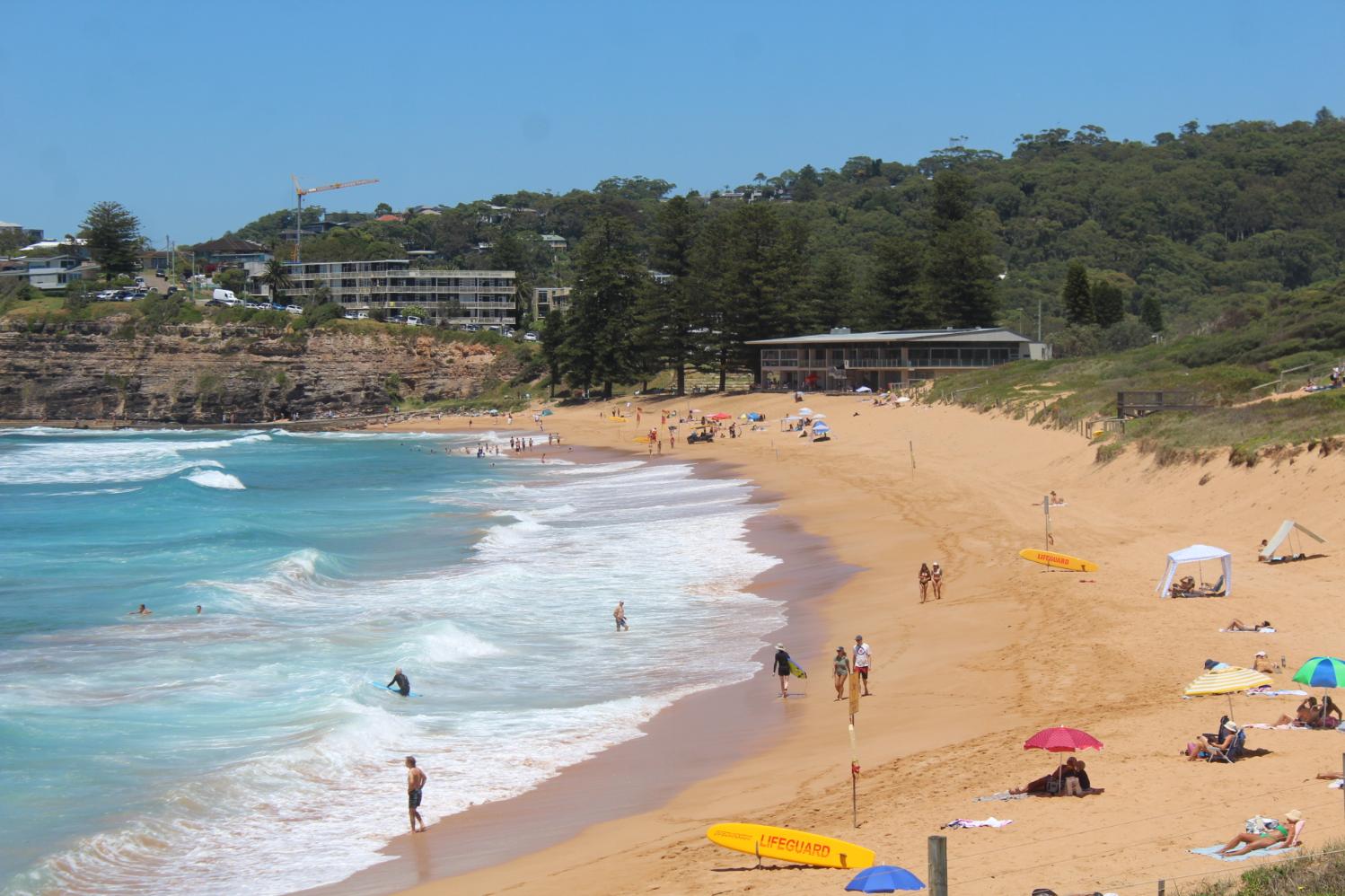 Protecting Pittwater's spectacular environment from inappropriate development will be the focus of a public forum featuring Greens NSW MP Cate Faehrmann on February 2nd.
Pittwater Greens Councillor Miranda Korzy said the forum will look at how we can strengthen and enforce local planning and development rules.
"Many of us in Pittwater are distressed by the all too common sound of chainsaws destroying our trees and massive excavations for modern mansions," Ms Korzy said.
"This forum is for those of us who still treasure the vision of Pittwater as a collection of villages connected by the bush, beach and water," Ms Korzy said.
Speakers, including Environment and Planning lawyer James Ryan, will discuss problems with NBC's Conservation Zones Review, its new Local Environment Plan, Development Applications and the NSW government's planning regime.
It will take place on February 2, 7pm - 9pm, in the Angophora Room, Nelson Heather Centre, at 5 Jacksons Rd, Warriewood.
The Council's recent Conservation Review ignored the Pittwater Council's 60/40 ruling for Environmentally sensitive blocks in Pittwater, and 50/50 for all others, as in the Pittwater 21 Development Control Plan (DCP). Planners told councillors they estimate that in the former Pittwater LGA, 3,613 properties will move from a Conservation zone to an R (residential) zone, and 1,328 from an R zone to a C zone, resulting in an overall loss of 2,285 properties from C zones.
The former Manly LGA will lose just 54 properties from the C zone while the former Warringah will lose just 1.
Residents state this document has been drafted so a new DCP will fit in with what occurs in the former Warringah Council area.
''The 'Warringah methodology and formulas' are already being seen in over the height limit and filling the whole block developments being passed by council show little knowledge of or respect for what was formulated by residents and adopted for Pittwater by Pittwater Council. It's as though this approach commenced as soon as the amalgamated councils did and everything else other than Warringah council practice and approach was thrown out.''
Residents state that DA breaches have had a very detrimental effect, including:
an accumulative loss of local native flora and fauna, many of it endangered (one report suggests a devastating loss of 19,650 trees from DAs alone since 2018, many mature local natives); and
an addition of ugly, monster homes (many breaching the 8.5 metre height, some by more than a whopping 40%) - and other developments which do not fit the local character of the area.
Many of the breaches concern clear cut rules such as the 60:40 rule under C1.1 Landscaping, 4.3 Building Height, 7.6 Biodiversity, B4 Controls Relating to Natural Environment, B3 Hazard Controls and B5 Water Management, along with breaches of not blocking out the view of the public along our coasts and waterways, C1.3.
Trees that are required to be retained suddenly die, some poisoned deliberately, some with their roots flooded until they fall over.
In every suburb and every street plans with height breaches, to fill the whole block with concrete, to remove all vegetation or hillside, are passed by the council.
Along with the required by State Government housing densification, drafted and passed by the Northern Beaches Council, the destruction of what many love about Pittwater is already taking place and scheduled to be increased.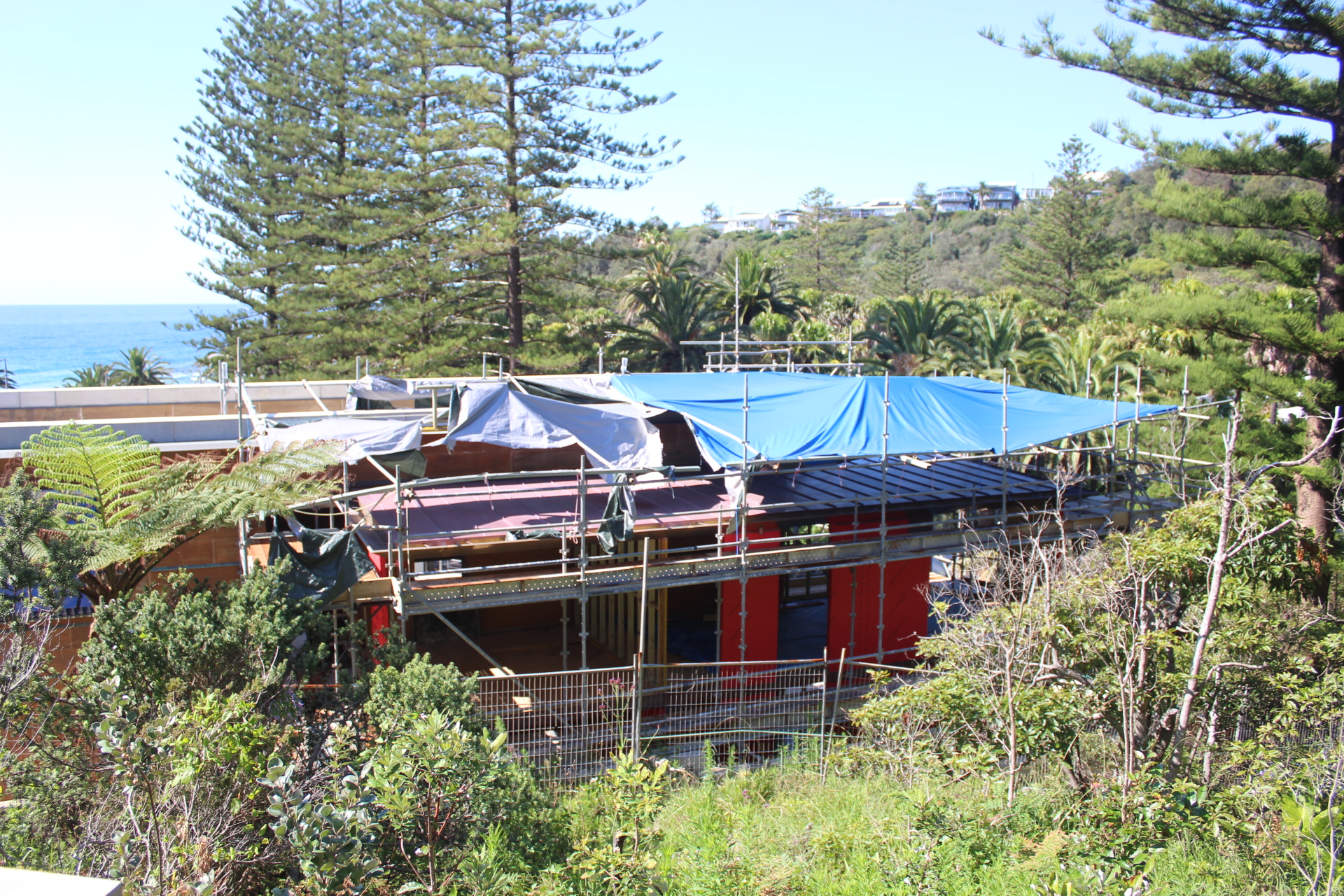 filling the block at Bilgola - photo taken January 2023. Photo supplied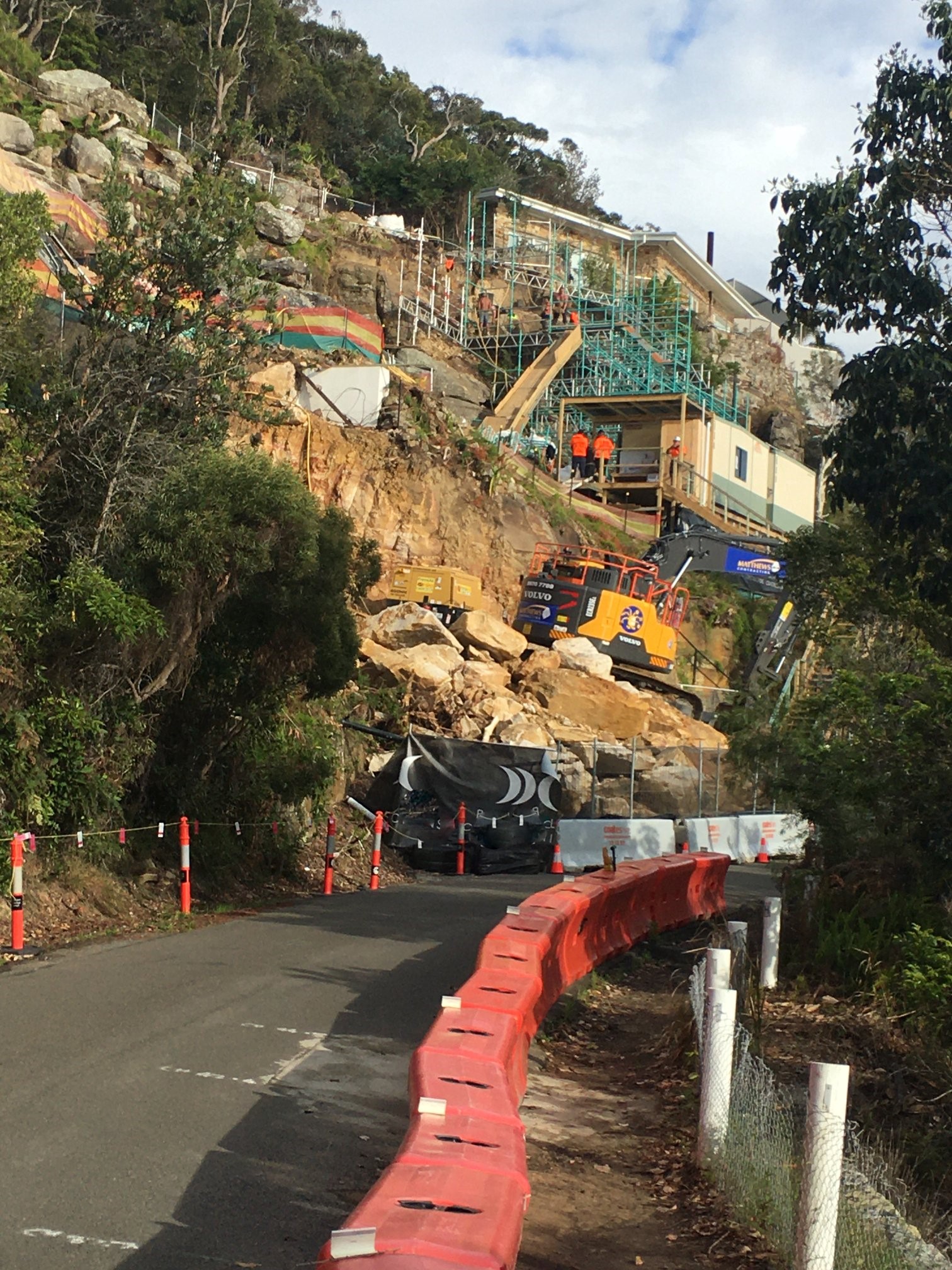 razing the hillside at Palm Beach. Photo supplied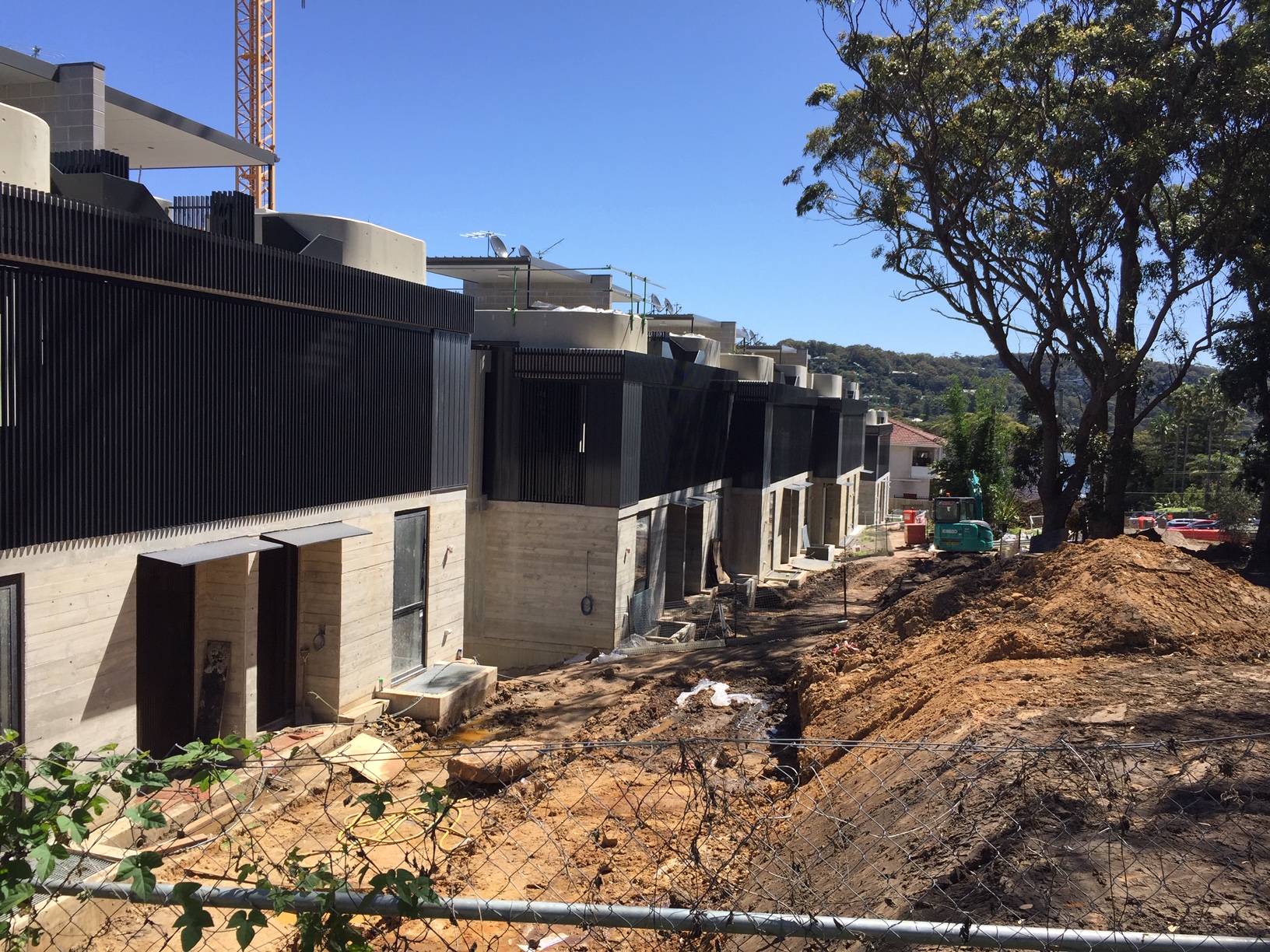 every single tree removed from this site of a 3-storey development at Newport. Photo supplied
The 'Desired character of Pittwater' in the finalised 21DCP states:
Any future growth of Pittwater must conserve, protect and enhance the natural environment and beauty of the area. Development will need to be ecologically sustainable and considerate of the natural hazards of the area that have helped to shape the region, which will ensure a safe and good quality of life for the community and future generations.

Pittwater will remain water orientated with recreational use of the waterways and public access to these waterways being actively promoted. Improved access by both pedestrian and cycle paths needs to be provided around the waterways and through the area. The built environment shall not extend above existing ridgelines, and shall remain below existing tree canopy levels.
The environmental objectives of this DCP are to:
a)conserve and enhance the ecological integrity, biodiversity, wildlife corridors, aquatic habitats, water quality, environmental heritage and environmental significance of Pittwater;

b) maintain the natural beauty of the area by retaining natural landforms, minimising land excavation and fill, and by minimising erosion, pollution and other forces that may impact on the landscape;

c)prescribe limits to urban development having regard to the potential impacts of development on the natural environment, natural hazards, and the provision, capacity and management of infrastructure; and

d) plan, design and site development to achieve the principles of ecologically sustainable development
As well;
Future development will maintain a building height limit below the tree canopy, and minimise bulk and scale.

Natural scenic views from the Bicentennial Walkway will be preserved.





Pittwater 21DCP - updated in 2015 to include heritage conservation areas like Ruskin Rowe, Avalon Beach




Pittwater 21DCP 2014 - wildlife and spotted gums





Pittwater 21DCP 2014 - the 60/40 and 50/50 plan and rules

The phrase 'enhance wildlife corridors' is repeated for each location throughout the document. Fences, where needed, are also to enable wildlife to pass through them as a place steeped in so much retention of native vegetation across urban blocks makes these wildlife corridors as well, at tree canopy level and at grounded shrub and grass level.
At the 2022 LGNSW a Motion to address the loss of wildlife in blocks submitted for development was passed - but has not, as yet, been ratified at NSW State Government level. In fact, the incumbent government is still passing approvals to raze Listed critically endangered woodlands and species - such as Sydney's Koalas. An overview of that long overdue structure is available in the October 2022 report:
'Motion To Have Fauna Management Plans In Local Council Comply With The NSW Code Of Practice For Injured, Sick and Orphaned Protected Fauna To Be Presented At LGNSW 2022 Conference - Some FMP's Passed (By Councils) Allow For Wildlife To Be Killed Where Their Homes Are Felled'
Such a standard would include requirements for:
Pre-clearance surveys to be carried out to establish which species are present on the site, including identification of any threatened and native species.
The identification of suitable nearby areas where wildlife could possibly be relocated.
The provision of possum, glider and bat boxes sufficiently in advance of vegetation clearing to allow wildlife time to discover the boxes and become familiar with them.
Compliance with the NSW Code of Practice for Injured, Sick and Orphaned Protected Fauna and the licencing requirements contained in the Biodiversity Conservation Act 2016.
Best practice for wildlife handling and care (including contact with local wildlife rescue groups).
Reporting of injured or killed fauna to the NSW Department of Planning, Industry and Environment to enable the data to be used in statewide biodiversity monitoring programs.
The premise of this is that mandatory pre-clearance surveys to establish what wildlife lives there before works commence, and to document this in a formal way, should be required on any site that has vegetation and for which a DA has been approved. The experience is that often vegetation is removed before an application is submitted, often leaving wildlife with no home. Wildlife then ends up on roads dead or dies after being displaced/evicted. More in: Ringtail Posse 2023: The Generation Witnessing An Extinction Of Urban Wildlife
The 2014 Pittwater 21 Development Control Plan (DCP) itself has been modified since Pittwater Council was subsumed into what many residents now call the 'Greater Warringah' council. Some of these changes were made prior to the first election for Northern Beaches Councillors on September 9th 2017, when Pittwater's representation was reduced to 3 Councillors for a 'Pittwater Ward' out of 15 overall, after Pittwater Council was dismantled by the State Government and forcibly amalgamated with Warringah and Manly in March 2016.
Those changes to Pittwater Council's DCP include:
Date Adopted - Date in Effect
27 June 2017 8 July 2017: Removal of Preliminary Section and Repeal of Notification Policy (Appendix 1)
26 July 2017 7 August 2017: Harmonisation of Flood controls across all three DCP's. Removal of Appendix 8 and Appendix 15.
22 8 August 2017 28 August 2017: Harmonisation of Tree and Bushland Vegetation control across all three DCP's. Addition of Appendix 16-19.
19 Dec 2017 13 Jan 2018: Changes made to Control C6.11
25 Sept 2018 20 Oct 2018: Tree and Waste Management amendments made to A1, A5 B4.22, C1.12, C2.9 and C3.10
26 Nov 2019 1 Dec 2019: Removal of Section A.5 Exhibition, Advertisement and Notification of Applications to give effect to the Northern Beaches Community Participation Plan
These changes to the do not include, as yet, include amendments by the State Government to the Pittwater Local Environmental Plan 2014:
Standard Instrument (Local Environmental Plans) Amendment (Land Use Zones) Order 2021 (650) (amended by Standard Instrument (Local Environmental Plans) Amendment (Land Use Zones) Order 2022 (726)), Sch 3 (not commenced — to commence on 26.4.2023). See also: Planning Legislation Amendment Bill 2019.
The response to the Northern Beaches Council allowing serious breaches of the LEP, DCP and EP&A Act has seen community groups such as the Pittwater Environmental Heritage Group launched, and the Ku-Ring-Gai GeoRegion: A New Concept In Landscape Conservation and UNESCO Proposal being advanced.
At the October Pittwater Community Forum regarding the proposed 'one size fits all Rezoning' a number of Resolutions were passed that would see a lot more trees left standing and a lot less overdevelopment in inappropriate areas, such as known flood zones, or oversized and over height limit concrete filling the whole block with every skerrick of habitat razed from the same.

Mona Vale Residents Association member Marcia Rackham spoke to the Northern Beaches Council Meeting held in October 2022, presenting the Resolutions that stemmed from that Community Forum. That address was:
Presentation of Resolutions to Council. Draft Review Conservation Zones Pittwater LGA.

I would like to begin by acknowledging the Garigal people on whose land we are conducting this meeting this evening and pay my respects to ancestors past, present and emerging.

On Sunday 16th October a planning forum was held in the Memorial Hall in Mona Vale to high light and discuss the proposed changes to land zoning in the Pittwater local government area. This was a very well attended meeting and was supported by the following 11 Pittwater interest groups:
Bayview and Church Point Residents Assoc
Canopy Keepers
Church Point Friends
Clareville and Bilgola Plateau Residents Assoc
Mona Vale Residents Assoc
Palm Beach Protection Group
Pittwater Environmental Heritage Group
Pittwater Community Alliance
Pittwater Natural Heritage Assoc
West Pittwater Community Association
and the Palm Beach/ Whale Beach Assoc.
The purpose of the forum was to try and get a better result for Pittwater from the review in terms of nature conservation, protection of visual quality and scenic character of the natural and built environment, into the future for the Pittwater LGA.

We had several speakers and had some distinguished guests for our Q and A panel. What was evident during the meeting was just how confused people are about the proposal to re-zone vast parcels of land throughout the suburbs of Pittwater from a conservation zoning into an R? zone. I have used the term R? purposefully as it is unclear what R zoning, we have the potential to move into if reclassified. Many in the Pittwater community have no idea this is happening. Only seven years out from a very up to date LEP council is wishing to change the rules again. It was very evident when comparing mapping for the now three combined councils that Pittwater was rich in conservation zones. These proposed changes to conservation zoning will tip the balance heavily into residential zoning along ridgelines, steep sloping land, canopied forests all contributing to areas that possess bucket loads of scenic beauty. Scenic beauty that has been completely omitted from the review yet is the very essence of the Pittwater LGA.

We understand that residents can book an onsite visit from council to inspect their property prior to the review being finalised but it is unclear on the "your say" page as to how this can be arranged, surely an oversight on council's part.

The criteria that council has set for conservation zones is also hotly contested by the community. We consider the methodology to be flawed. Has council really considered what the implications could be for the community of Pittwater if things that we value so highly are downgraded to the degree that they have been in the draft review. And why change a zoning from Environmental living to conservation when the former classification in many instances is a much better fit.

Out of our forum the following three resolutions were recorded all with an overwhelming majority.

Resolution 1.

That the medium Environmental value criteria that form the basis of the conservation zones review should be changed as follows:
Biodiversity Corridor and urban tree canopy be given a High Environmental Value.
Ridgeline or Escarpment given a High Environmental Value
Geotechnical Planning Class: C3 Hawkesbury Sandstone with slope >25 degrees or C5 Narrabeen Group with slope >15 degrees be included in Hazard criteria.
Resolution 2.

We the residents of the Northern Beaches Council area, believe the bushland landscape of the former Pittwater Local Government area is its predominant feature. With the built form secondary, and that this must be maintained in the future local environmental plan and development control plan.

We therefore call on NBC, in the former Pittwater area, to:
Rule out rezoning of C4 land to residential.
Apply conservation zonings to properties where any significant environmental values or hazards are present.
Create scenic foreshore protection areas from shorelines to ridges.
Retain all heritage conservation areas and investigate those proposed- but not yet implemented- by the former Pittwater Council.
Resolution 3.

This meeting strongly objects to the proposed reduction in the numbers of properties in Conservation Zones in the area of Pittwater ward within Northern Beaches Council LGA.

Such rezoning will enable a greater level of development and consequent reduction in native flora and fauna, green space and the unique natural character of the Pittwater area.

We ask that all candidates for Pittwater in the coming State election declare their position on:
The proposed changes to conservation zones.
The establishment of a scenic foreshore protection area.
What planning controls they will support to address our concerns.
Thank you.
On Thursday February 2nd 2023, at 7pm the public forum titled 'Saving Pittwater from the Chainsaws' will be held in the Angophora Room, Nelson Heather Centre, 5 Jackson Road Warriewood.
The organisers ask; ''Do you want Pittwater to remain "a series of villages connected by bush, beach and water"? If so, please join us for a discussion about how we can strengthen and enforce our local planning and development rules.
Join Greens MP Cate Faehrmann, planning and environmental lawyer James Ryan and Northern Beaches Councillor Miranda Korzy to learn more about issues related to the new Northern Beaches Local Environment Plan, Development Applications and the NSW government's planning regime.''
This is a Free event. Residents can reserve their spot: www.eventbrite.com/e/saving-pittwater-from-the-chainsaws-tickets-517387408667
Concreting our coast: New report released
In related news, on Thursday January 19th Greens MP and planning spokesperson Cate Faehrmann released a report, 'Concreting our Coast: The developer onslaught destroying our coastal villages and environment'.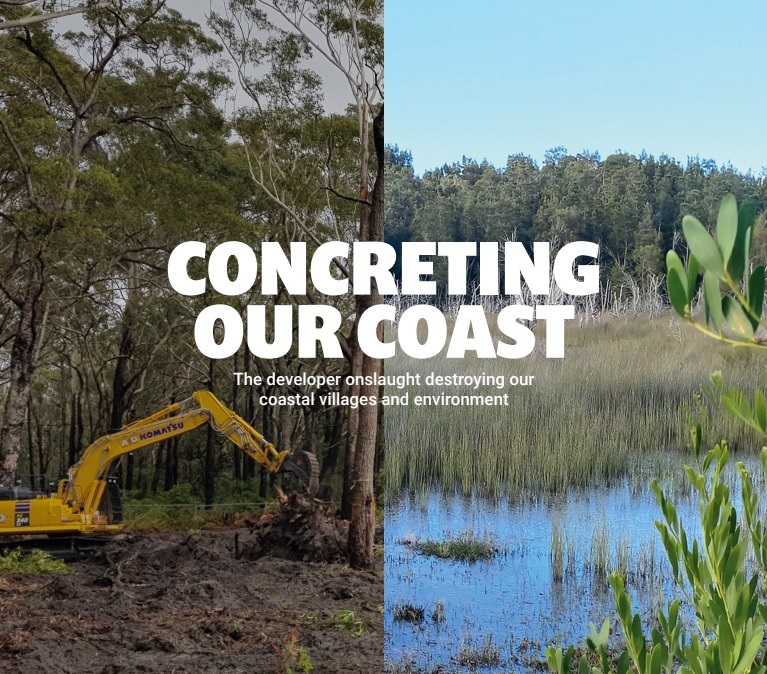 The 40-page report documents 20 case studies from the length of the NSW coast. of new housing developments that pose a serious cumulative threat to bushland, wildlife and coastal villages.
"In town after town, community groups are fighting damaging and inappropriate developments that threaten to overwhelm their already struggling local services and infrastructure, and wipe out much of the precious bushland that surrounds them," said Cate Faehrmann.
"This report shows just how scary the big picture is. The NSW Liberal-National government has given developers the green light to bulldoze thousands of hectares of bushland for development. Everywhere you look, our precious coast is about to disappear under a layer of concrete and houses crammed together like sardines.
"We're not talking about a couple of small bush blocks here. We're talking about the destruction of very environmentally sensitive areas, as well as Aboriginal cultural heritage, on a massive scale. If it's not stopped, our beautiful NSW coast will be unrecognisable in a matter of a few short years.
"Much of the bushland destined to be clearfelled on the South Coast is the last remaining habitat for wildlife after the Black Summer fires. Greater gliders, glossy black cockatoos, swift parrots, powerful owls - these animals have nowhere left to go, and the sheer scale of all of these developments could well push them to extinction.
"The report also shows that many of the new developments are planned on floodplains and wetlands, or in areas of high bushfire risk.
"There is no way we should be building homes in these risky locations. The last four years have shown just how much the climate crisis is affecting our homes, with more and more extreme weather events."
"Many of these proposed developments are off the back of 'zombie DAs' that were approved decades ago avoiding any need to undertake the type of environmental or cultural heritage impact scrutiny required today," said Ms Faehrmann.
More than 25 local community groups, many which formed to fight these developments, have signed onto a set of Framework Principles to Save our Coast.
Claire Haywood from the Culburra Residents & Ratepayers Action Group said,
"There is other already cleared land available in the Shoalhaven region that is not prone to flooding and closer to existing infrastructure that could and should be developed to assist with the housing shortage.
As a coastal village, Culburra does not have the infrastructure in terms of roads and facilities to support a permanent threefold increase in population.
When you have 80 per cent of Shoalhaven bushland burnt to the ground, any future coastal land development must be done in a responsible and respectful manner to everyone who shares that land.''
Cat Holloway from the Callala Environmental Alliance has said
''The 40ha in Callala Bay slated for development is diverse Coastal Lowland Forest, a habitat type designated as "critically endangered".
More than 1000 submissions opposed the development plan on environmental grounds - more than 97% of the community spoke out against this destruction of Greater Glider and other threatened species habitat.
People need affordable homes, near jobs, transport, health facilities and infrastructure. We don't more overpriced real estate and expensive rentals. We don't need more dangerous traffic, more polluted waterways or more properties at risk from bushfire.''
Coupled with the pre-Christmas 2022 announcement by the State Government of the NSW Reconstruction Authority Corporation Formally Announced - Has Powers To Acquire and Develop Land: Potential Local Implications, it becomes clear that Pittwater is not standing along in trying to protect what attracts so many visitors and why so many choose to live here.
Image: Concreting our Coast report cover.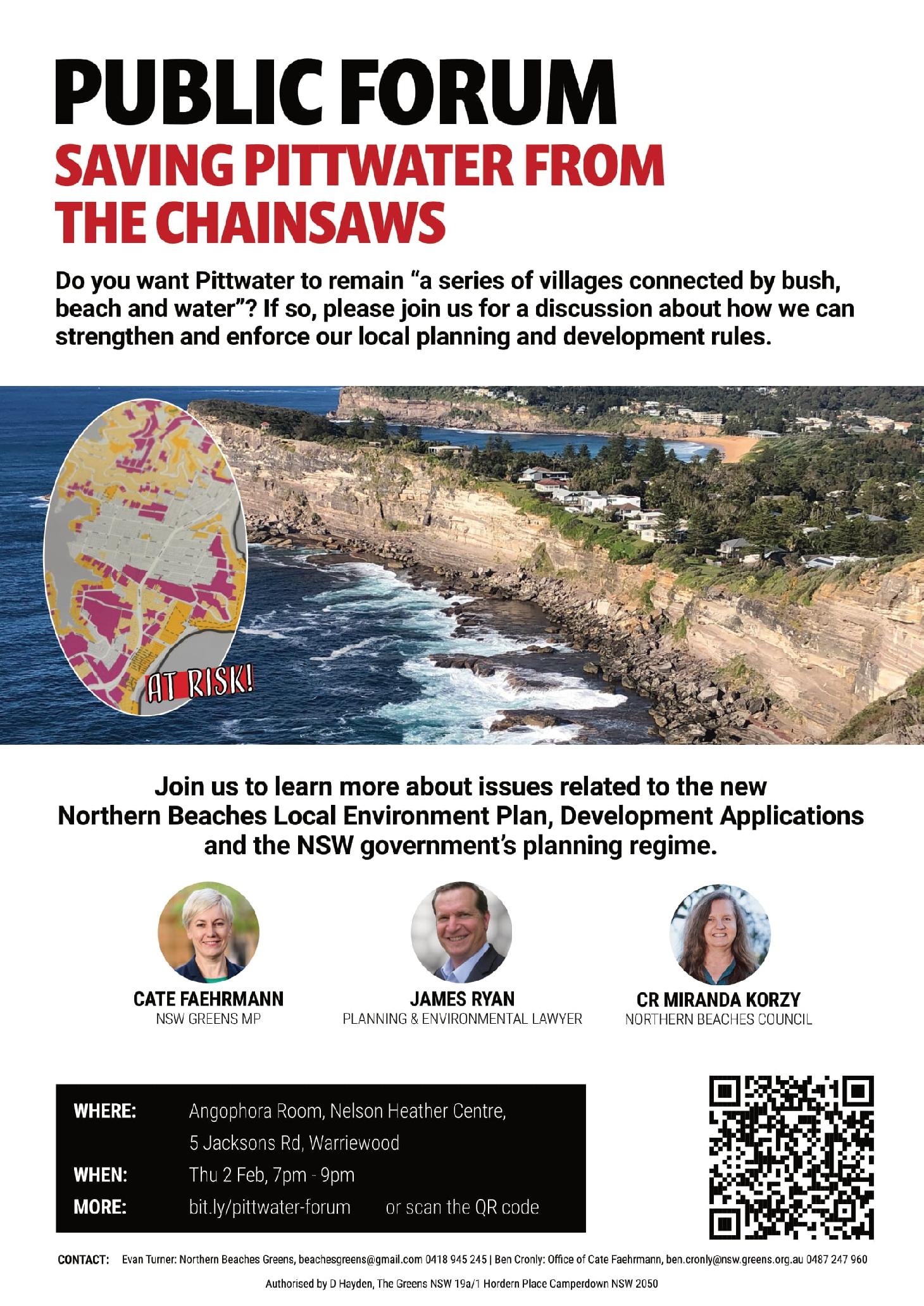 NSW Labor - Independents Commit To Serious Koala Protection: Candidate For Manly Visits Forests-Candidate For Pittwater States We Must Save Habitat
Friday January 20, 2023
Key independent MPs and candidates took to NSW State Forests today to shine a light on the need for forest protection ahead of the upcoming New South Wales election.
MPs Justin Field (MLC) and Sue Higginson (MLC) were joined by candidates Joeline Hackman (Independent for Manly), Karen Freyer (Independent for Vaucluse) and Liza Butler (Labor - South Coast) on a visit to native state forests which are earmarked for logging.
The tour included logged and unlogged parts of the biodiversity rich Boyne, Benandarah and Brooman state forests, which are home to large populations of endangered species including the swift parrot and the southern greater and yellow-bellied gliders.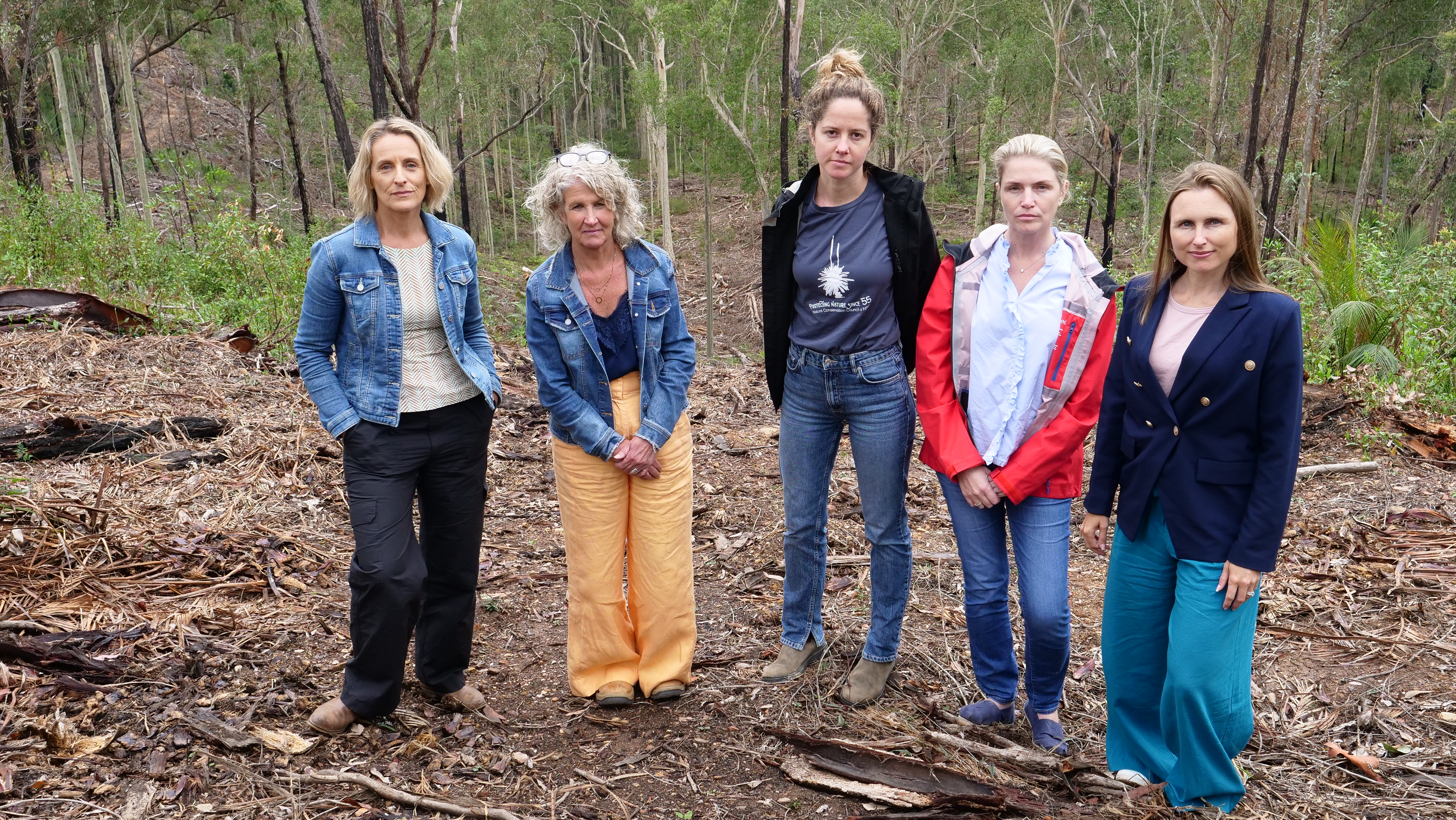 (From L to R) Sue Higginson, Liza Buttler, Jacqui Mumford, Karen Freyer and Joeline Hackman in Benandarah Compartment 109. Photo supplied

The field trip was organised by the Nature Conservation Council of NSW to draw attention to the 14,000 hectares of incredible native state forest which are destroyed each year by government approved logging.
NCC Chief Executive Jacqui Mumford says forest protection will be a defining issue at the election on March 25.
"Voters want an end to native forest logging. They don't want to live in a state where iconic wildlife like the koala and the Gang-Gang Cockatoo are driven to extinction by political inaction.
"Nor is there any economic argument to continue native forest logging, given plantation forests already provide 90% of New South Wales timber production."
Manly independent Joeline Hackman says the major parties are on notice not to ignore the wishes of voters.
"What we saw today in the great forests of the South Coast are areas of outstanding environmental value.
"No matter where people live in New South Wales, they want these beautiful forests preserved for generations to come," said Ms Hackman.
Independent candidate for Pittwater Jacqui Scruby has voiced her opposition to the continued destruction of wildlife habitat since announcing her bid for the local seat.
Vaucluse independent Karen Freyer says today's visit reinforced the urgent need to protect our ancient native forests.
"The community cares deeply about the destruction of forests and the clearing of important koala habitat.
"If we learned one thing from last year's federal election, it's that voters are sick and tired of being taken for granted. They want an end to logging and a much better deal for our precious wildlife.
"We have no more time to waste," said Ms Freyer.
The Nature Conservation Council of NSW, the state's peak environment organisation, has also welcomed Labor's Plan to Save Koalas, announced on Thursday January 19th.
''After 12 years and six environment Ministers this Government has overseen the decimation of our Koala population.
We will take the action needed to turn this grim trajectory around, creating a Great Koala National Park that will home 20% of our state's koalas, while also protecting the places koalas live, and working closely with all stakeholders to ensure we bring these incredible creatures back from the brink.'' NSW Labor leader Chris Minns stated
NCC Chief Executive Jacqui Mumford says the plan represents serious and overdue action to address the most pressing threat facing koalas in our state.
"Loss of habitat is the number one reason koalas are being driven towards extinction in NSW.
"This plan is what koalas need, because it contains concrete actions to address that threat."
The NCC is demanding the Coalition match Labor's commitments, namely the establishment of the Great Koala National Park and reigning in excessive land clearing.
"Treasurer Matt Kean said he would double koala populations, yet koala habitat continues to be logged and cleared at a terrible rate, says Ms Mumford.
"Labor and independent candidates are presenting strong environmental commitments to voters, so the Coalition can't afford to take a koala policy written by the Nationals to this election."
Nature Conservation Council is calling on all parties to deliver:
An end to native forest logging and transition to a 100% plantation-based timber industry, and
Assessment, mapping, and protection of koala habitat across the state on public and private land.
The announcements on Friday came the same day community group Save Sydney's Koalas were notified NSW Planning Minister Anthony Roberts had responded to their petition, signed by over 20 thousand NSW residents.
''The NSW Government has issued a response to our 20,000+ E Petition. We note that they did not allow time for it to be debated in the NSW Parliament.
They are not saving the Koalas of south west Sydney.
They are not following the advice of the NSW Chief Scientist but instead have watered it down to a meaningless form. Instead of 6 east west corridors there will be just one or two, neither will be 350 metre wide minimum, despite him being able to rezone to deliver the widths.
Anthony Roberts disinterest is reflected in the opening paragraph where he states that Koalas are Vulnerable in NSW. Koalas have been listed as Endangered in NSW since February 11th 2022.'' a spokesperson for the group states.
''We have had to fight for any improvements to corridor number, widths, undercrossings on Appin Rd - its been relentless for us and we are grateful for the wide public support we ( the Koala) receives as we continue to advocate for habitat.
This picture is perhaps the easiest way for people to see what is going to happen in south west Sydney, this is the critical east west wildlife corridor between the Georges and Nepean Rivers at Mount Gilead also known as the Lendlease development.
Developers include the NSW Government, Landcom at Airds cutting the Smiths Creek corridor, Walkers at Appin, Inghams at Tahmoor and Appin, Country Gardens at Wilton etc. etc.
This is just the beginning of the land clearing and habitat loss the Koala and over 278 Threatened Species will face in areas such Campbelltown, Appin, Liverpool, Wilton.
It is not too late but clear that the NSW Government has failed the Koala of SW Sydney, all the green towards the Blue Mountain will be cleared unless significant changes are made.''
Australian Ethical has echoed Saving Sydney's Koalas findings.
In December 2022 they stated ''Australian Ethical has been working hard behind the scenes to ensure that the native koala colony is not negatively impacted. But we've hit a roadblock. If Lendlease proceeds with the Mount Gilead Phase 2 development as currently proposed, we will sell our shareholdings in Lendlease.''
The $8 billion investment fund states, ''On 21 November 2022, the NSW Government exhibited plans for Phase 2 development as part of its public consultation, which closes on 19 December.
The NSW Government had foreshadowed that it would publish mapped koala corridors for the Gilead development, showing how the average widths were calculated, but it has failed to include this information as part of its public consultation. Without this key information, there is no way for Australian Ethical or conservation groups to assess with any confidence whether the corridors will allow koalas safe passage through the site.
The corridors are needed to ensure koalas have east to west connection across the site; and to ensure the Nepean River koala corridor does not become a functional dead end at Mount Gilead.
While our engagement with Lendlease to date has been largely constructive we continue to be concerned that the development will have a net negative impact on koalas.
Today, we have made a public statement calling on the NSW Government and Lendlease to be transparent about their calculations of the width of the koala corridors, to give AE and others the ability to take part in a genuine consultation on this important issue.
Our statement makes clear that unless this information is provided, we cannot have assurance that the koalas will be sufficiently protected. If Lendlease proceeds with the Mount Gilead Phase 2 development as currently proposed, we will sell our shareholdings in Lendlease.'
In reply Lendlease has stated, 'We have engaged with Australian Ethical over a number of years to share our plans for the project, which fully adhere to the independent and expert recommendations of the NSW Chief Scientist.
Our $35 million investment into conservation at Gilead includes creating koala corridors that have been independently assessed as meeting the recommendations of the Chief Scientist in terms of width and connectivity.
A map outlining the corridors has been published on the NSW Department of Planning and Environment's website. In addition, the Department has published the scientific recommendations and policy that support these corridors, and the methodologies for how they are calculated and mapped.
Our conservation investment also includes plans to increase core koala habitat by 70 hectares – 30 per cent more than what's there today. And it includes improving road safety on Appin Road, a known blackspot for koala fatalities.
Every conservation measure we have proposed is fully funded and follows the advice of the Chief Scientist's panel of independent koala experts. By following this advice and investing in conservation, local koalas will have the best opportunity to thrive at Gilead. At no time during project delivery will there be less core koala habitat than there is today.
Australian Ethical's inference that the public exhibition lacks transparency for koala corridor calculations is demonstrably incorrect given the extensive information that has been published.
The fragility of Australia's biodiversity is an issue of national significance, and we are acutely aware of our ethical and environmental responsibilities. We remain steadfast in our plans to meet and where possible exceed all of the Chief Scientist's recommendations for koala conservation as we help address the critical shortage of new and affordable homes in Sydney.
Lendlease recently responded to Australian Ethical's concerns and our response can be viewed here. The NSW Department of Planning & Environment advice is publicly available here. The full documentation submitted with the rezoning proposal can be found at this website: https://pp.planningportal.nsw.gov.au/ppr/under-exhibition/gilead-stage-2 '
However, as many groups as well as individuals have pointed out, including Australian Ethical regarding this single development; 'The NSW government has confirmed that the corridors will meet the minimum requirements, but we do not think Government endorsement of Lendlease's plans gives sufficient certainty. There is some ambiguity in how the Panel's recommendations should be interpreted and applied. And successive governments have failed to prevent the decline of native species, including koalas.'
With so many others tabled by the current State Government as both proposer and approver, it is clear that thousands of hectares of habitat are slated for destruction, action that will kill all that lives there and calls these places 'home'.
More in previous reports:
Paradise Beach: Pittwater
January 16, 2023, 9.30 am - low tide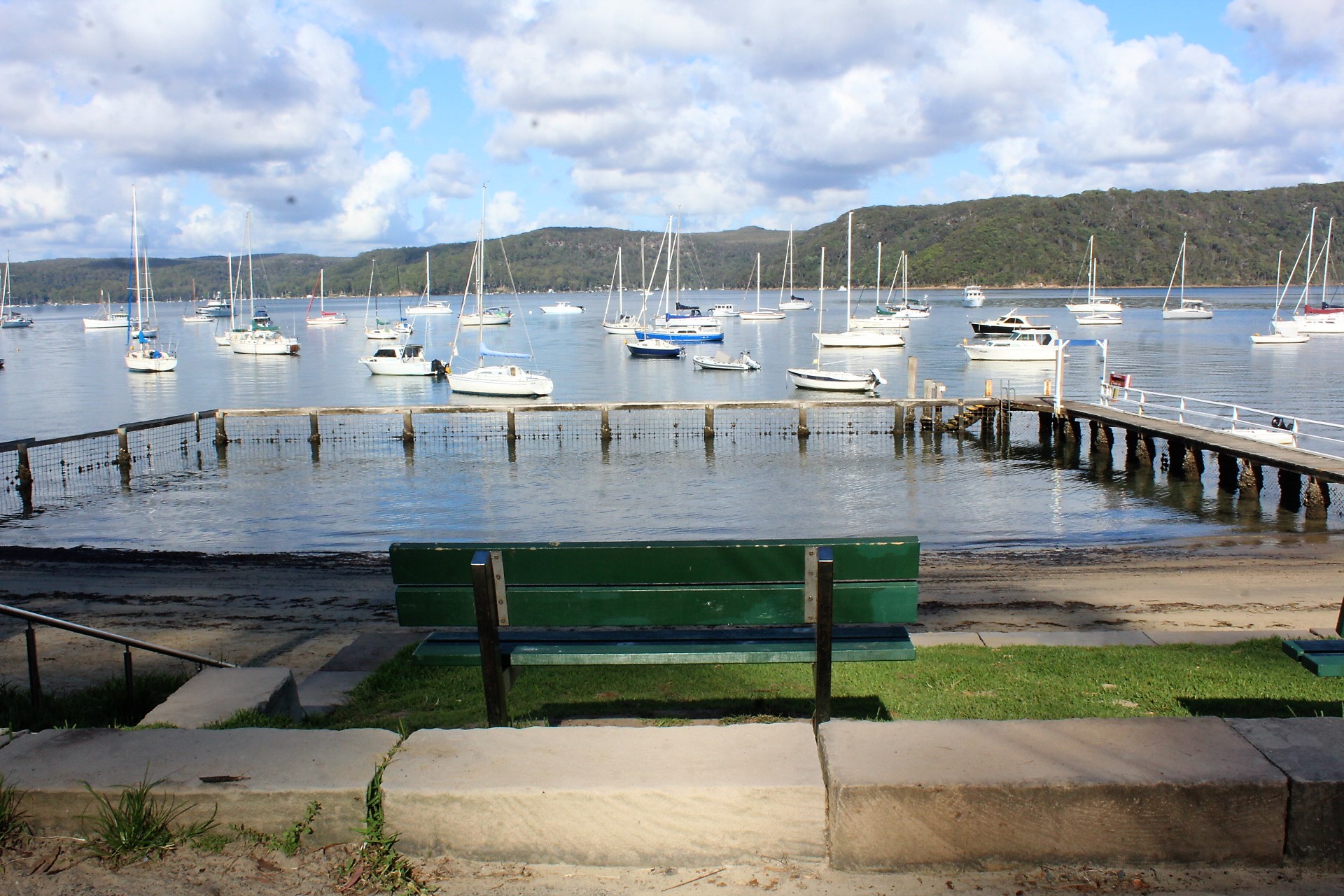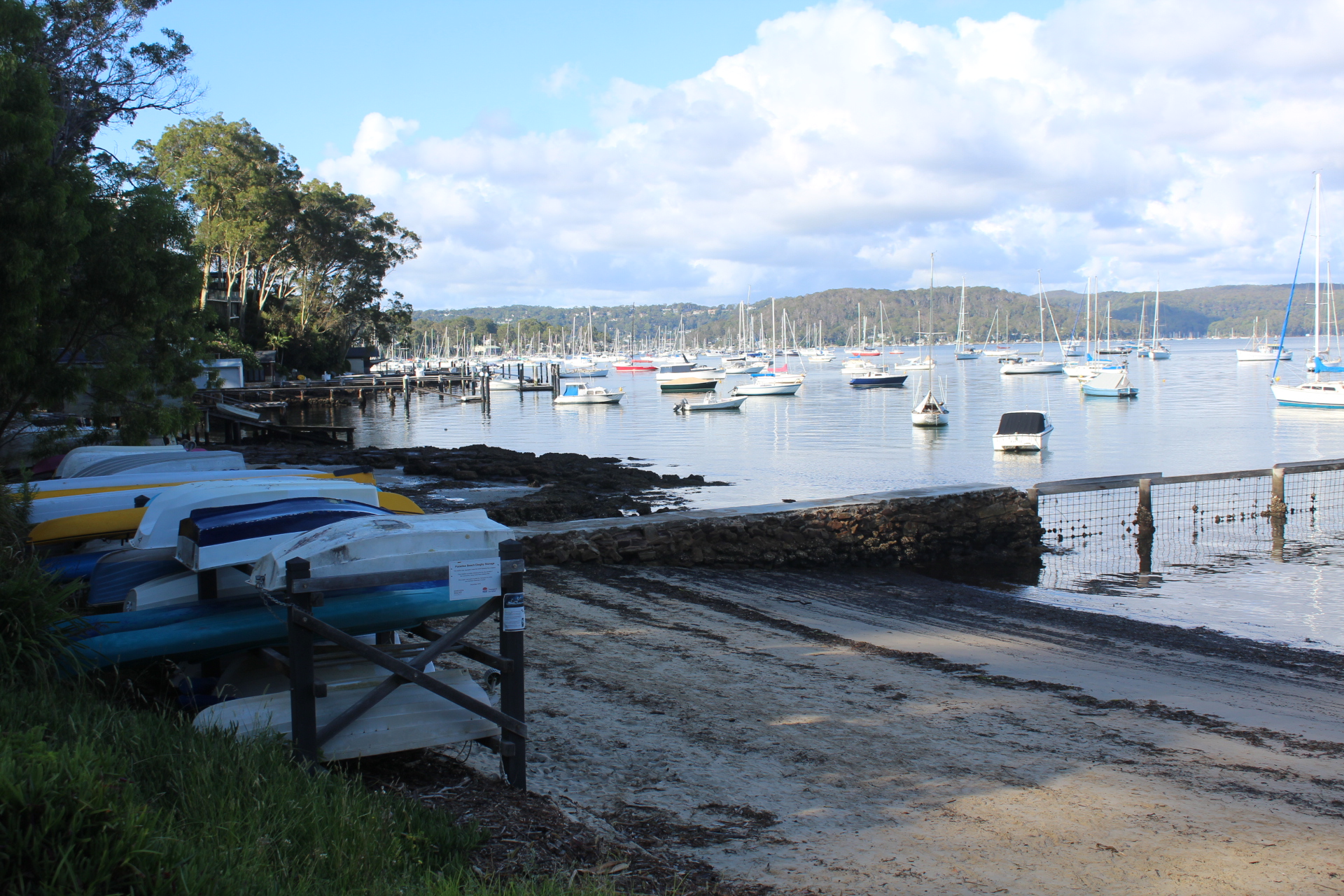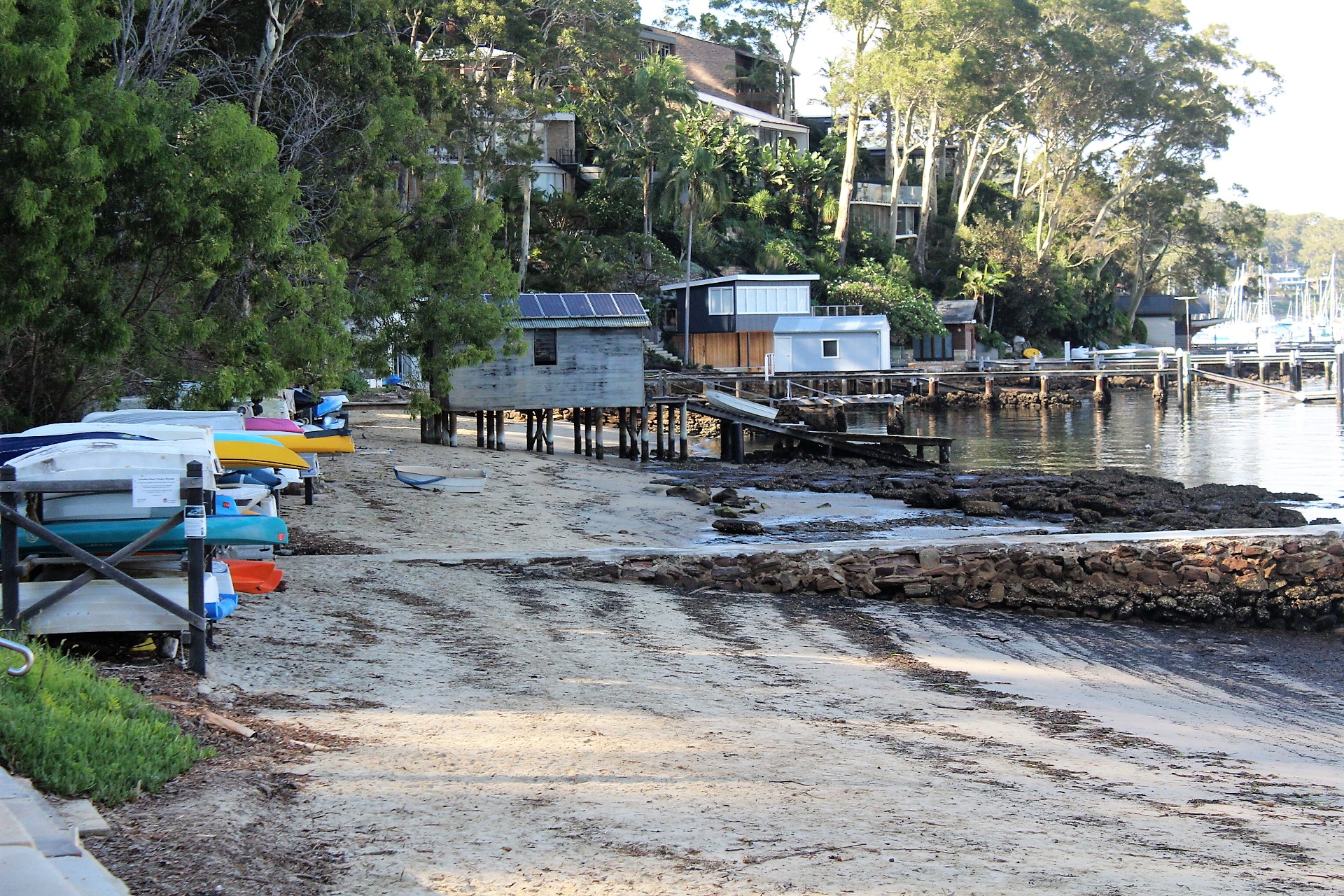 Great Mackerel Beach: Pittwater
January 18, 2023, 9.30 am - low tide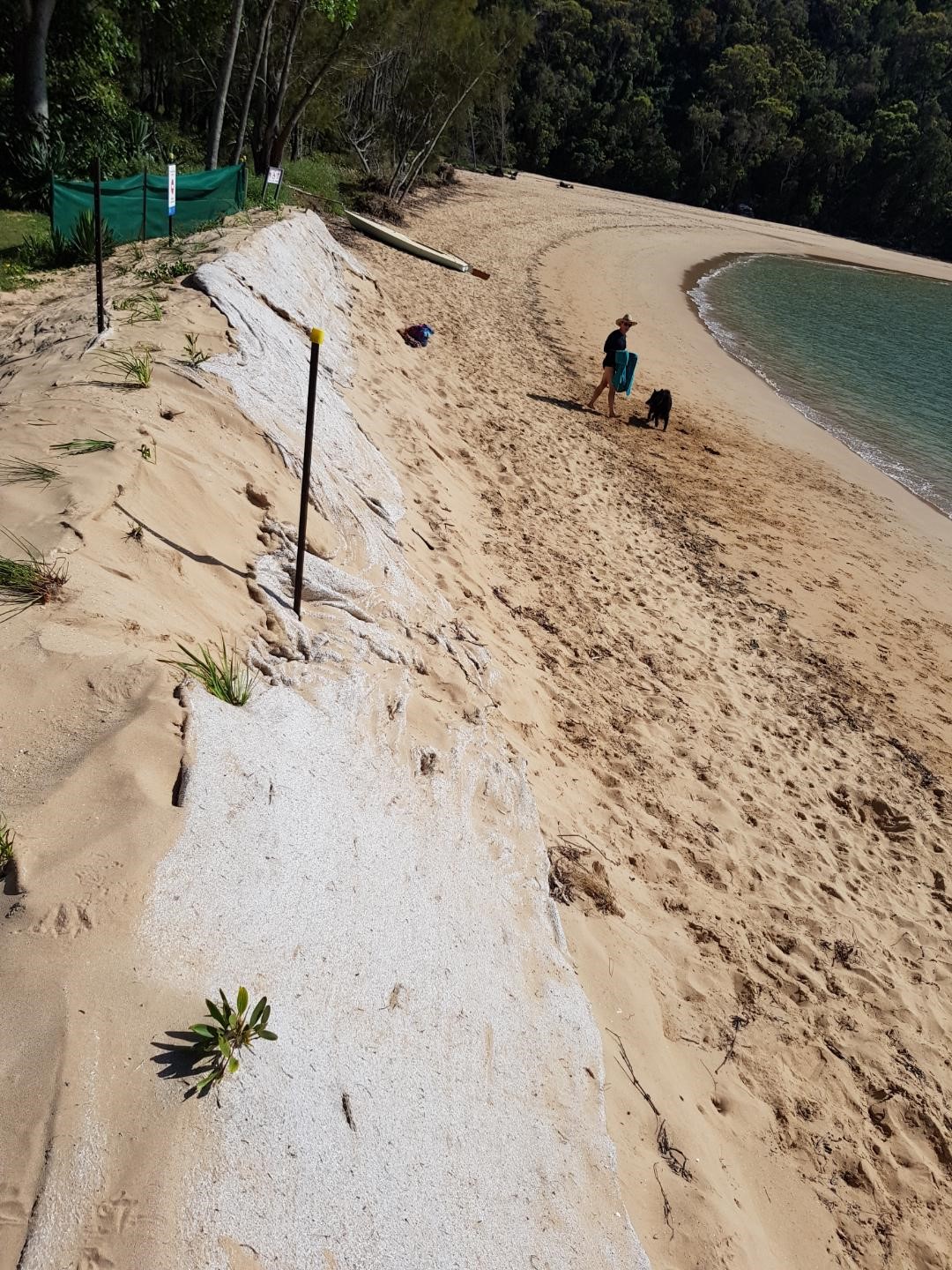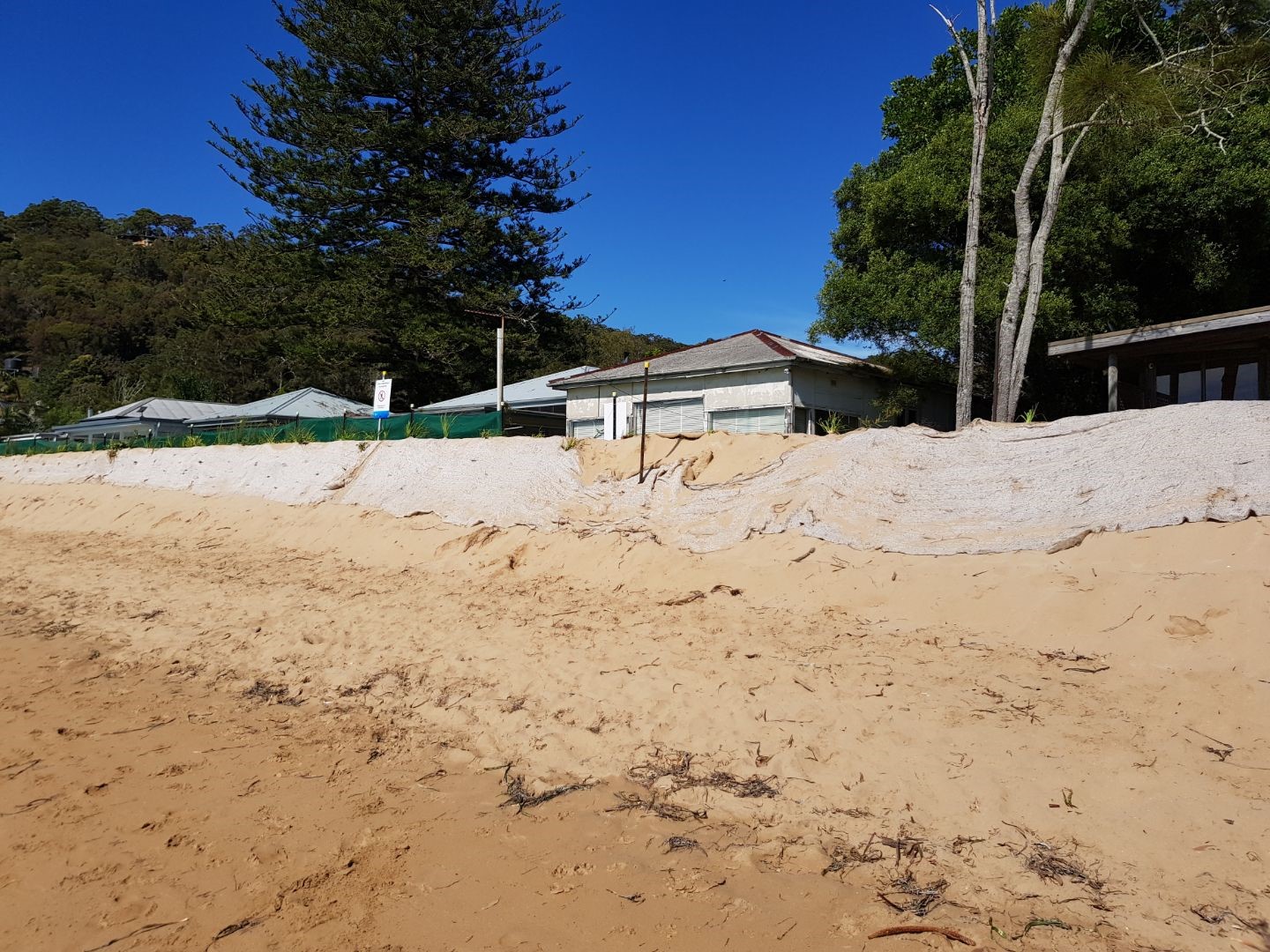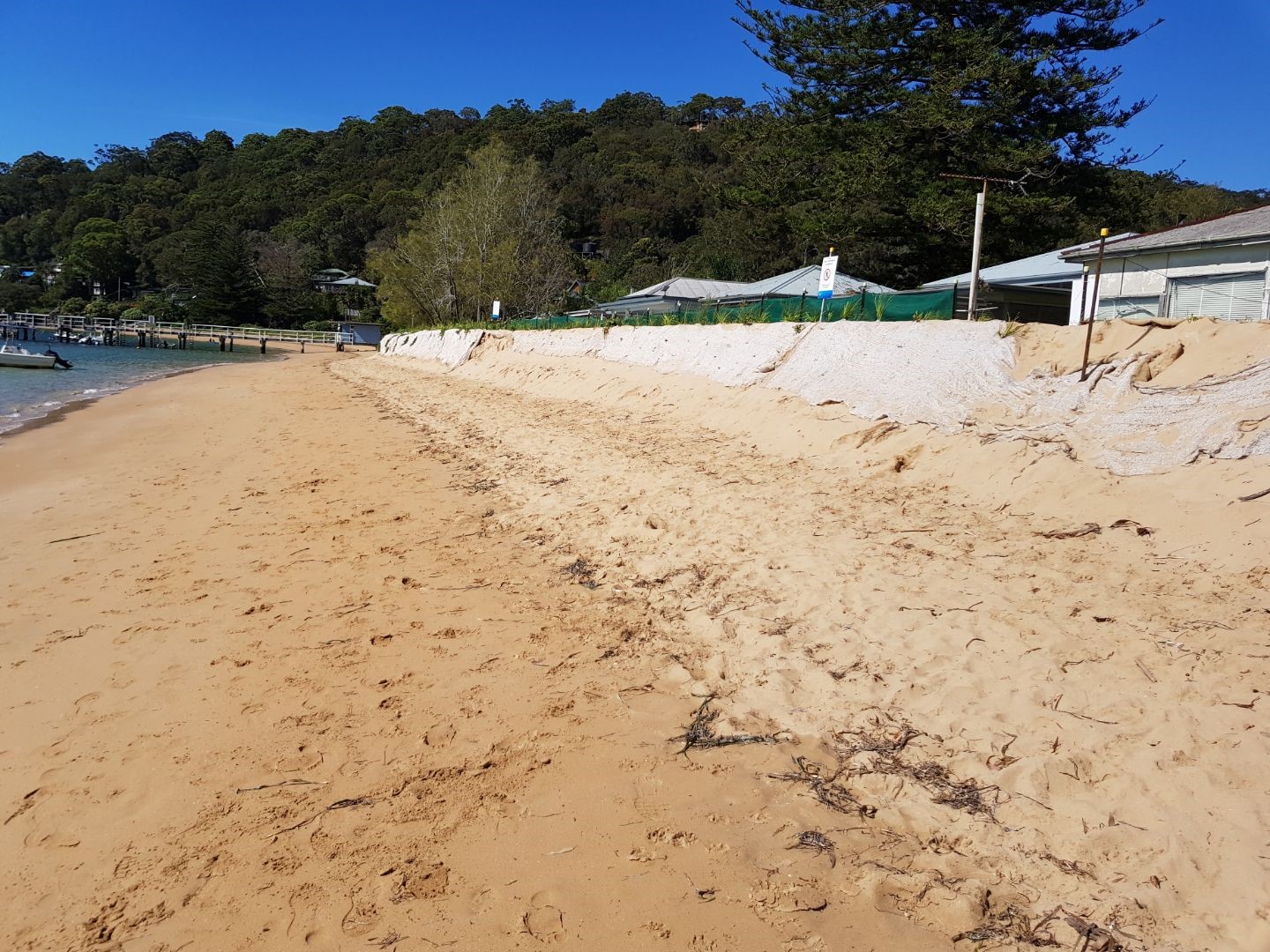 Mackerel after 2020 to 2022 storms, sandbags still in place.
Photos: MB resident.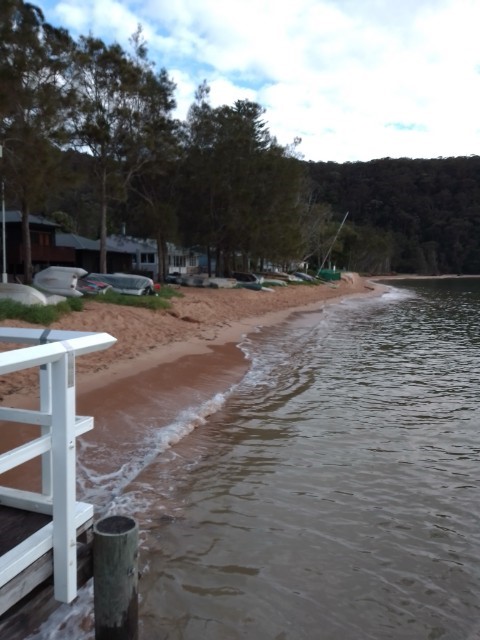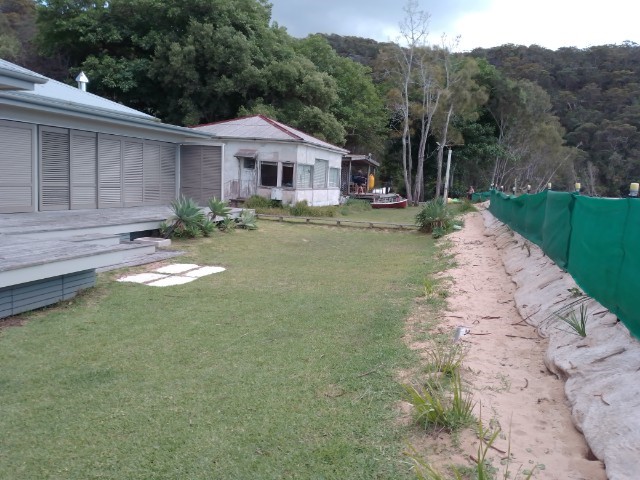 Prune Viburnum Hedge Agapanthus Flowers To Prevent Spread Into Bush Reserves
PNHA: January 11, 2023
Now is the time to prune the berries off the Viburnum hedge and dehead those old Agapanthus flowers. Put these prunings into your green waste bin. Both are now weeds of bushland as their seeds travel.
Photos: Pittwater Natural Heritage Association (PNHA)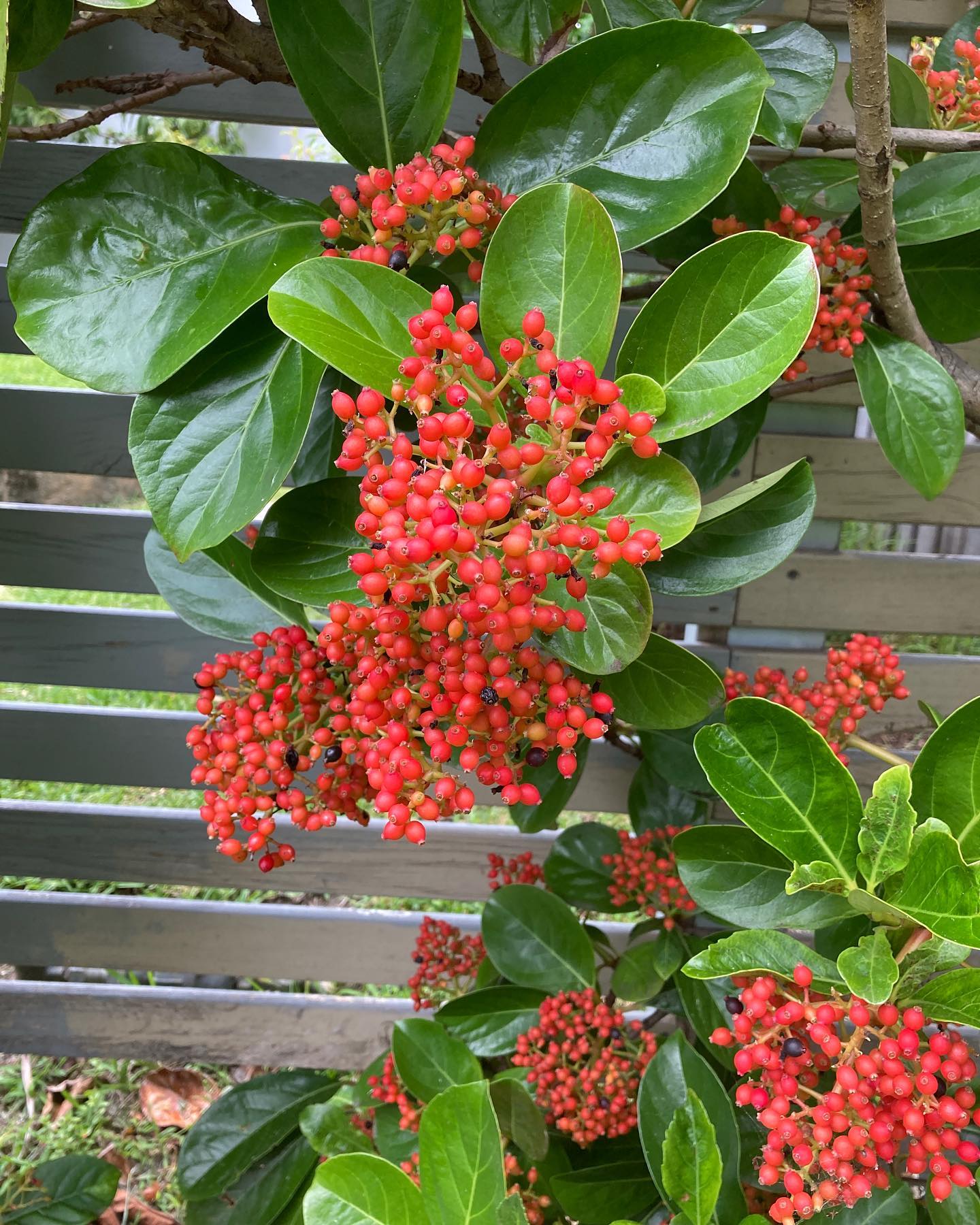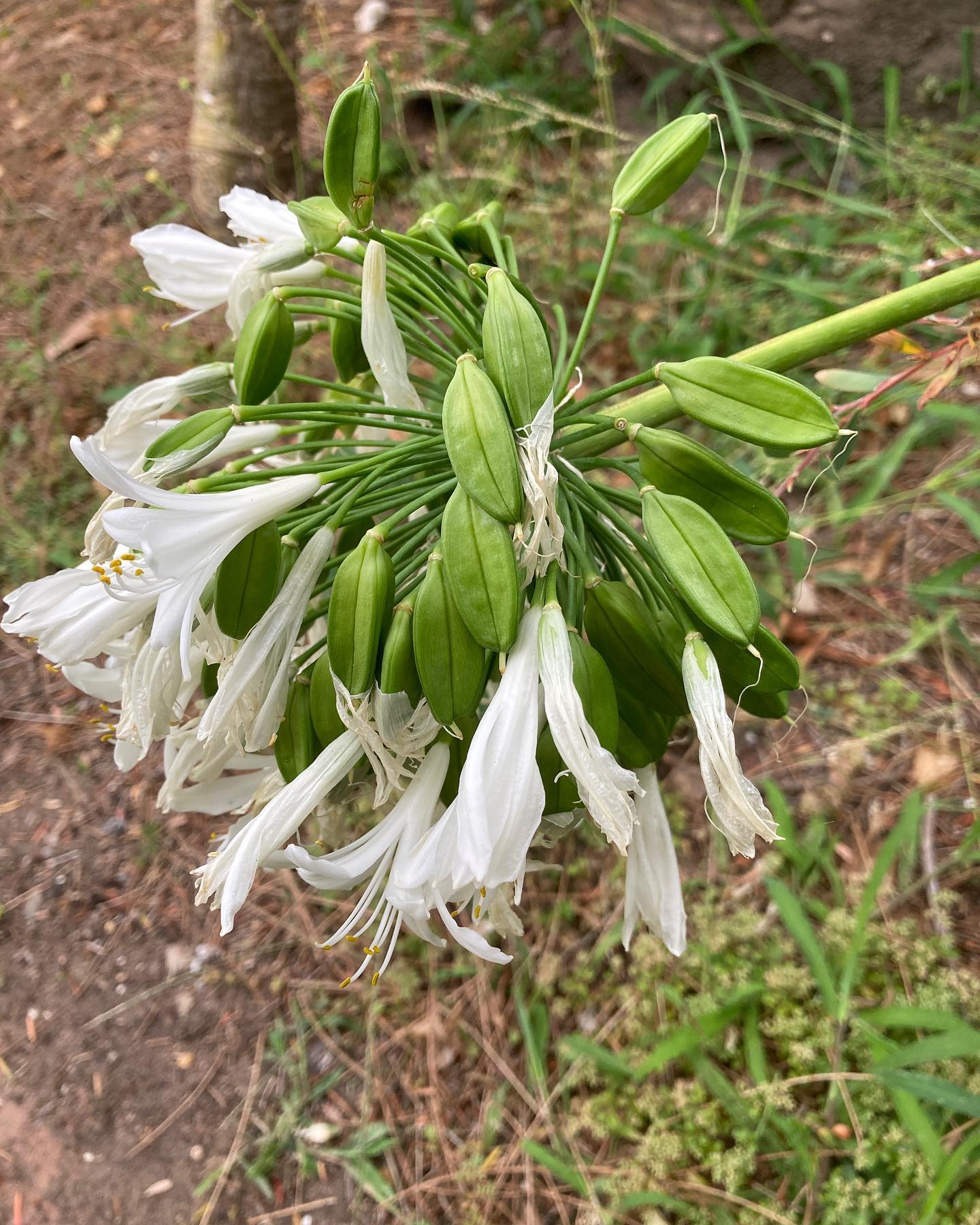 Sydney Wildlife (Sydney Metropolitan Wildlife Services): Rescue Care Course - February 2023
Our next course starts on the 4th of February. It runs for 3 weeks in a self-paced format online and then a 1 day practical session at the end on the 26th February. Both sessions must be passed to join Sydney Wildlife Rescue and rescue and care for our native wildlife.
Visit the sign on page for full details: https://smws.wildapricot.org/RCC-Trainee-Application-Form
The cost of the course is $120 and you will receive membership, manuals and equipment to help you. All new members are fully supported with a mentor when they join. Join us and make a difference to the wildlife in your area.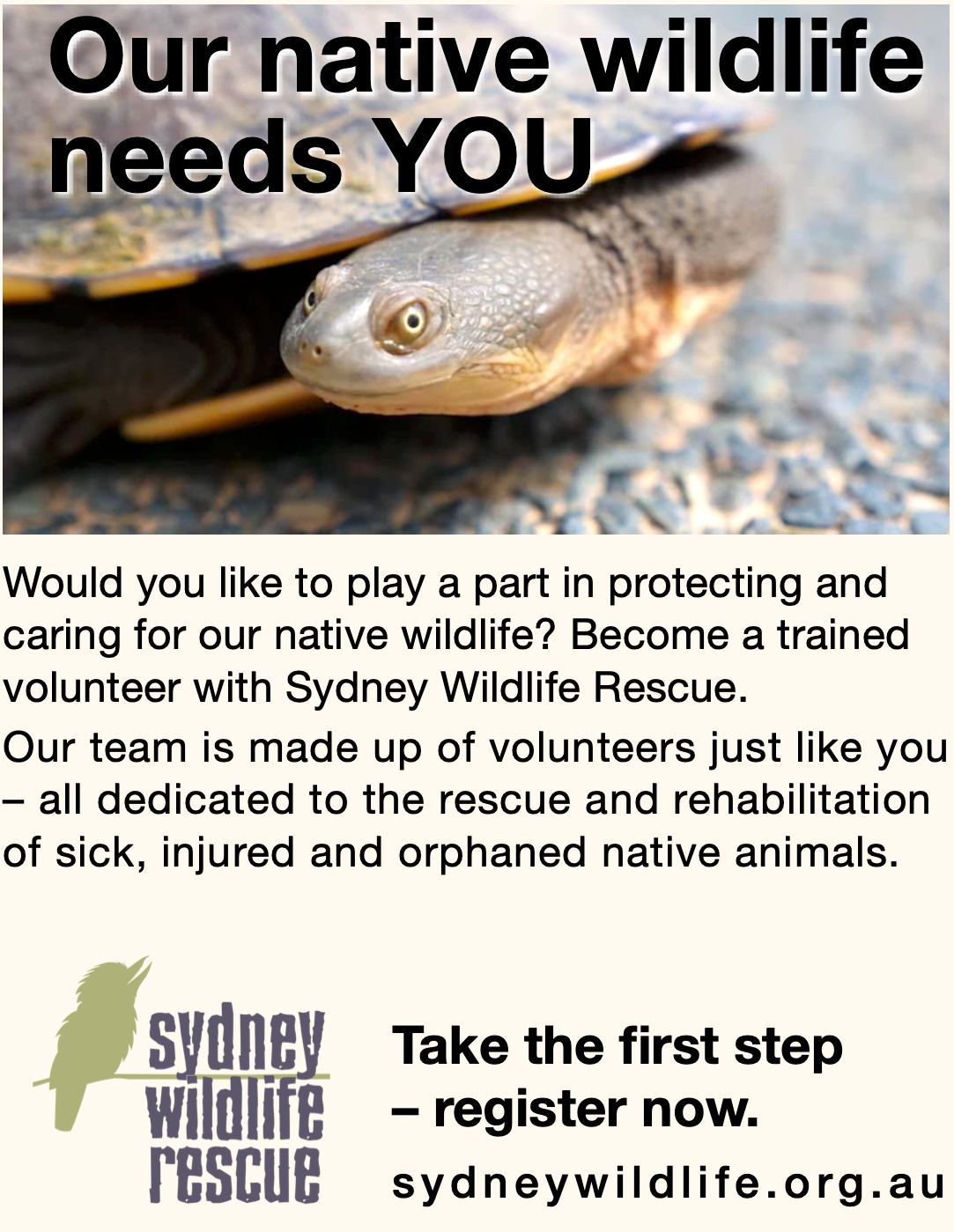 New Marine Wildlife Rescue Group Launched On The Central Coast
A new wildlife group was launched on the Central Coast on Saturday, December 10.
Marine Wildlife Rescue Central Coast (MWRCC) had its official launch at The Entrance Boat Shed at 10am.
The group comprises current and former members of ASTR, ORRCA, Sea Shepherd, Greenpeace, WIRES and Wildlife ARC, as well as vets, academics, and people from all walks of life.
Well known marine wildlife advocate and activist Cathy Gilmore is spearheading the organisation.
"We believe that it is time the Central Coast looked after its own marine wildlife, and not be under the control or directed by groups that aren't based locally," Gilmore said.
"We have the local knowledge and are set up to respond and help injured animals more quickly.
"This also means that donations and money fundraised will go directly into helping our local marine creatures, and not get tied up elsewhere in the state."
The organisation plans to have rehabilitation facilities and rescue kits placed in strategic locations around the region.
MWRCC will also be in touch with Indigenous groups to learn the traditional importance of the local marine environment and its inhabitants.
"We want to work with these groups and share knowledge between us," Gilmore said.
"This is an opportunity to help save and protect our local marine wildlife, so if you have passion and commitment, then you are more than welcome to join us."
Marine Wildlife Rescue Central Coast has a Facebook page where you may contact members. Visit: https://www.facebook.com/profile.php?id=100076317431064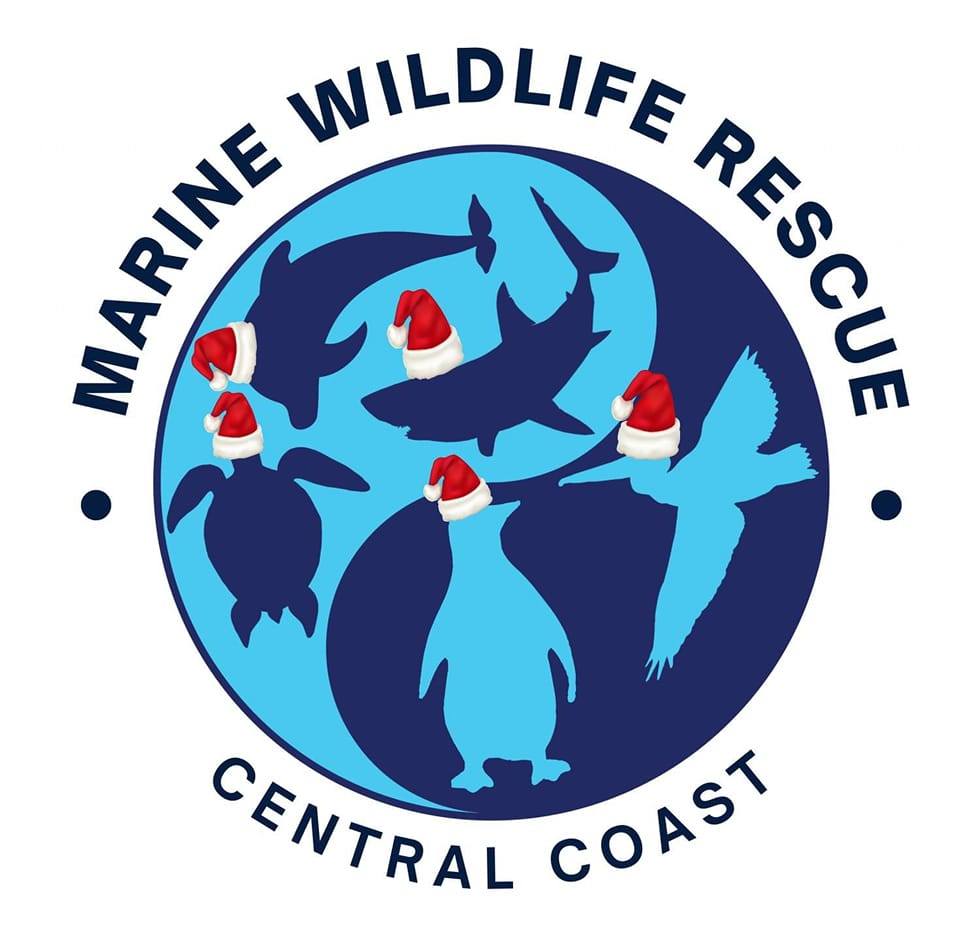 Watch Out - Shorebirds About
Spring is here so watch your step because beach-nesting and estuary-nesting birds have started setting up home on our shores.
Did you know that Careel Bay and other spots throughout our area are part of the East Asian-Australasian Flyway Partnership (EAAFP)?
This flyway, and all of the stopping points along its way, are vital to ensure the survival of these Spring and Summer visitors. This is where they rest and feed on their journeys. For example, did you know that the bar-tailed godwit flies for 239 hours for 8,108 miles from Alaska to Australia?
Not only that, Shorebirds such as endangered oystercatchers and little terns lay their eggs in shallow scraped-out nests in the sand, NSW National Parks and Wildlife Service (NPWS) Threatened Species officer Ms Katherine Howard has said.
Even our regular residents such as seagulls are currently nesting to bear young.
What can you do to help them?
Known nest sites may be indicated by fencing or signs. The whole community can help protect shorebirds by keeping out of nesting areas marked by signs or fences and only taking your dog to designated dog offleash area.
Just remember WE are visitors to these areas. These birds LIVE there. This is their home.
Four simple steps to help keep beach-nesting birds safe:
1. Look out for bird nesting signs or fenced-off nesting areas on the beach, stay well clear of these areas and give the parent birds plenty of space.
2. Walk your dogs in designated dog-friendly areas only and always keep them on a leash over summer.
3. Stay out of nesting areas and follow all local rules.
4. Chicks are mobile and don't necessarily stay within fenced nesting areas. When you're near a nesting area, stick to the wet sand to avoid accidentally stepping on a chick.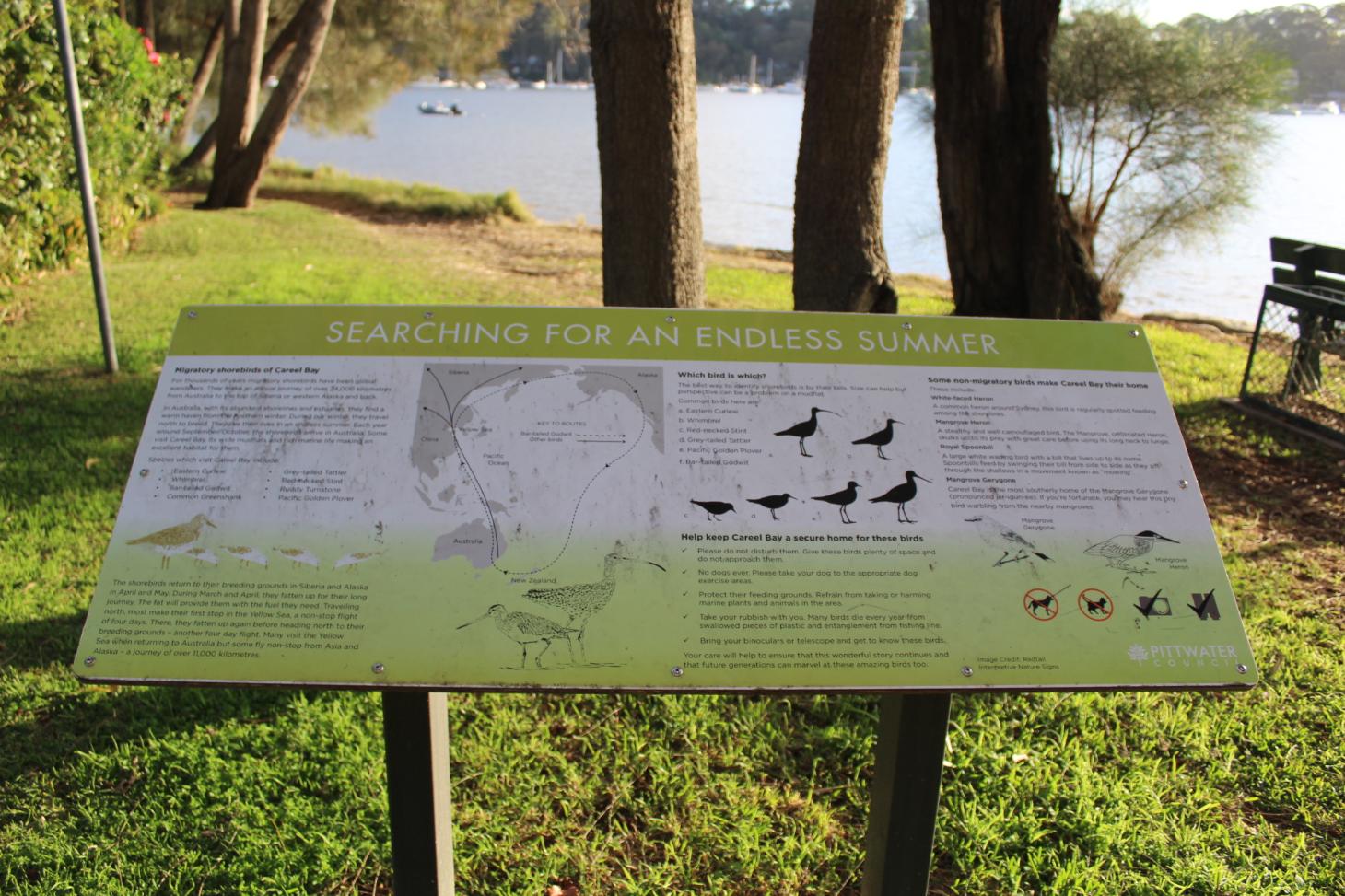 Possums In Your Roof?: Do The Right Thing
Possums in your roof? Please do the right thing
On the weekend, one of our volunteers noticed a driver pull up, get out of their vehicle, open the boot, remove a trap and attempt to dump a possum on a bush track. Fortunately, our member intervened and saved the beautiful female brushtail and the baby in her pouch from certain death.
It is illegal to relocate a trapped possum more than 150 metres from the point of capture and substantial penalties apply. Urbanised possums are highly territorial and do not fare well in unfamiliar bushland. In fact, they may starve to death or be taken by predators.
While Sydney Wildlife Rescue does not provide a service to remove possums from your roof, we do offer this advice:
✅ Call us on (02) 9413 4300 and we will refer you to a reliable and trusted licenced contractor in the Sydney metropolitan area. For a small fee they will remove the possum, seal the entry to your roof and provide a suitable home for the possum - a box for a brushtail or drey for a ringtail.
✅ Do-it-yourself by following this advice from the Department of Planning and Environment:
❌ Do not under any circumstances relocate a possum more than 150 metres from the capture site.
Thank you for caring and doing the right thing.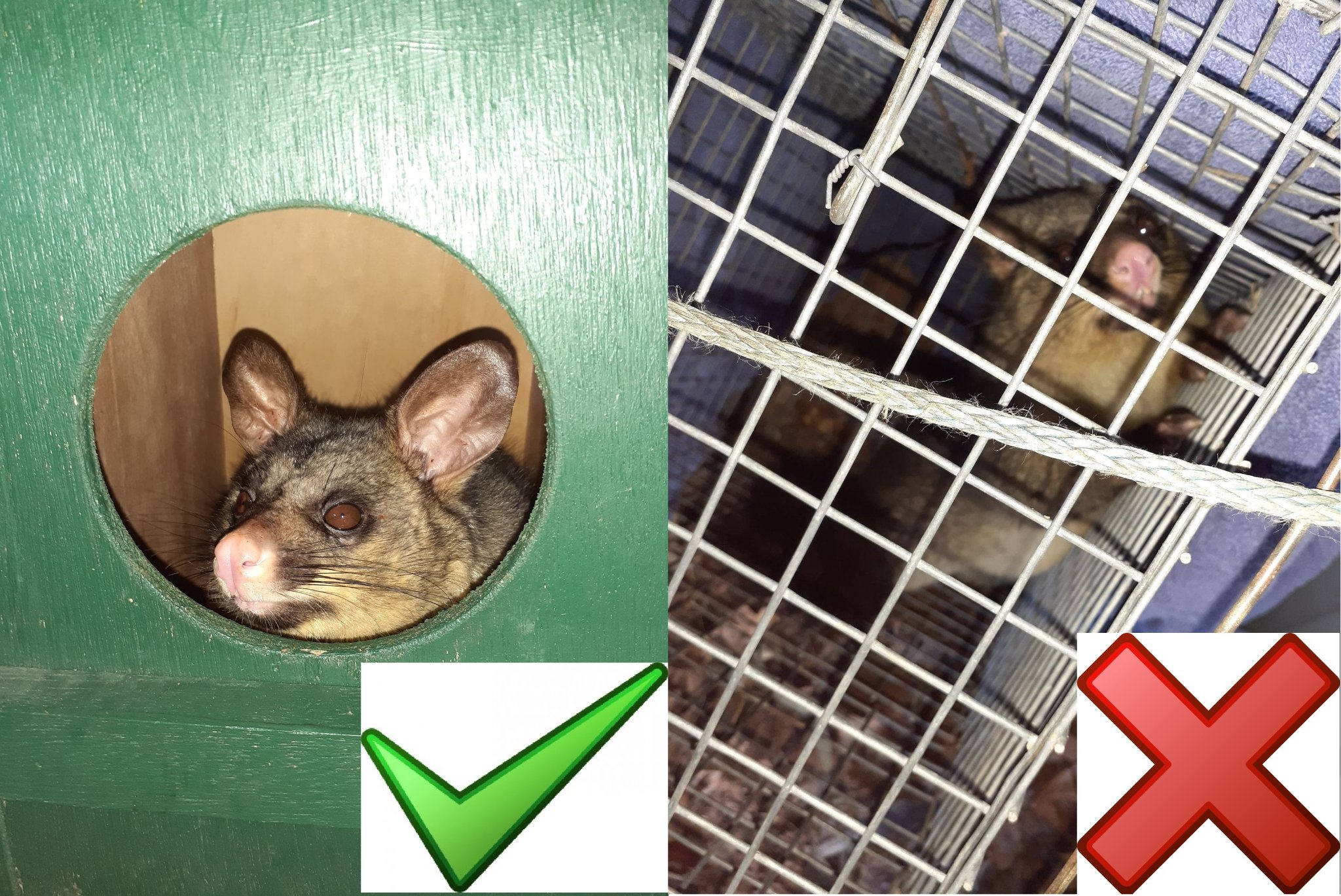 Sydney Wildlife photos
Aviaries + Possum Release Sites Needed
Pittwater Online News has interviewed
Lynette Millett OAM
(WIRES Northern Beaches Branch)
needs more bird cages of all sizes for keeping the current huge amount of baby wildlife in care safe or 'homed' while they are healed/allowed to grow bigger to the point where they may be released back into their own home.
If you have an aviary or large bird cage you are getting rid of or don't need anymore, please email via the link provided above.
There is also a pressing need for release sites for brushtail possums - a species that is very territorial and where release into a site already lived in by one possum can result in serious problems and injury.
If you have a decent backyard and can help out, Lyn and husband Dave can supply you with a simple drey for a nest and food for their first weeks of adjustment.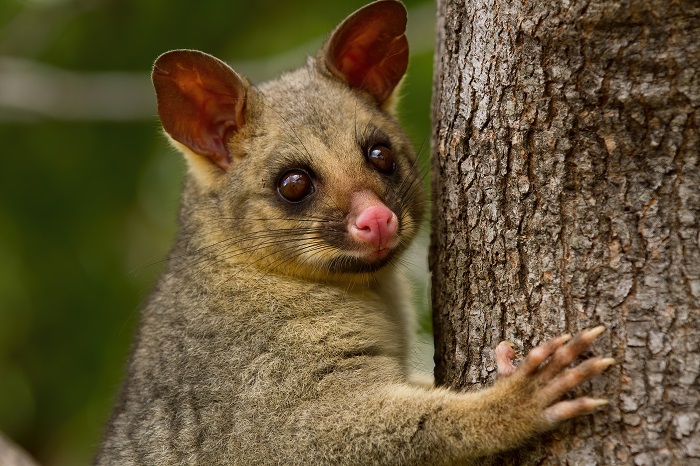 Bushcare In Pittwater
For further information or to confirm the meeting details for below groups, please contact Council's Bushcare Officer on 9970 1367 or visit Council's bushcare webpage to find out how you can get involved.
BUSHCARE SCHEDULES
Where we work Which day What time
Avalon
Angophora Reserve 3rd Sunday 8:30 - 11:30am
Avalon Dunes 1st Sunday 8:30 - 11:30am
Avalon Golf Course 2nd Wednesday 3 - 5:30pm
Careel Creek 4th Saturday 8:30 - 11:30am
Toongari Reserve 3rd Saturday 9 - 12noon (8 - 11am in summer)
Bangalley Headland 2nd Sunday 9 to 12noon
Bayview
Winnererremy Bay 4th Sunday 9 to 12noon
Bilgola
North Bilgola Beach 3rd Monday 9 - 12noon
Algona Reserve 1st Saturday 9 - 12noon
Plateau Park 1st Friday 8:30 - 11:30am
Church Point
Browns Bay Reserve 1st Tuesday 9 - 12noon
McCarrs Creek Reserve Contact Bushcare Officer To be confirmed
Clareville
Old Wharf Reserve 3rd Saturday 8 - 11am
Elanora
Kundibah Reserve 4th Sunday 8:30 - 11:30am
Mona Vale
Mona Vale Beach Basin 1st Saturday 8 - 11am
Mona Vale Dunes 2nd Saturday +3rd Thursday 8:30 - 11:30am
Newport
Bungan Beach 4th Sunday 9 - 12noon
Crescent Reserve 3rd Sunday 9 - 12noon
North Newport Beach 4th Saturday 8:30 - 11:30am
Porter Reserve 2nd Saturday 8 - 11am
North Narrabeen
Irrawong Reserve 2nd Saturday 2 - 5pm
Palm Beach
North Palm Beach Dunes 3rd Saturday 9 - 12noon
Scotland Island
Catherine Park 2nd Sunday 10 - 12:30pm
Elizabeth Park 1st Saturday 9 - 12noon
Pathilda Reserve 3rd Saturday 9 - 12noon
Warriewood
Warriewood Wetlands 1st Sunday 8:30 - 11:30am
Whale Beach
Norma Park 1st Friday 9 - 12noon
Western Foreshores
Coopers Point, Elvina Bay 2nd Sunday 10 - 1pm
Rocky Point, Elvina Bay 1st Monday 9 - 12noon
Friends Of Narrabeen Lagoon Catchment Activities

Bush Regeneration - Narrabeen Lagoon Catchment
This is a wonderful way to become connected to nature and contribute to the health of the environment. Over the weeks and months you can see positive changes as you give native species a better chance to thrive. Wildlife appreciate the improvement in their habitat.
Belrose area - Thursday mornings
Belrose area - Weekend mornings by arrangement
Contact: Phone or text Conny Harris on 0432 643 295
Wheeler Creek - Wednesday mornings 9-11am
Contact: Phone or text Judith Bennett on 0402 974 105
Gardens And Environment Groups And Organisations In Pittwater
NSW EPA Releases First Climate Change Policy And Action Plan
January 20, 2023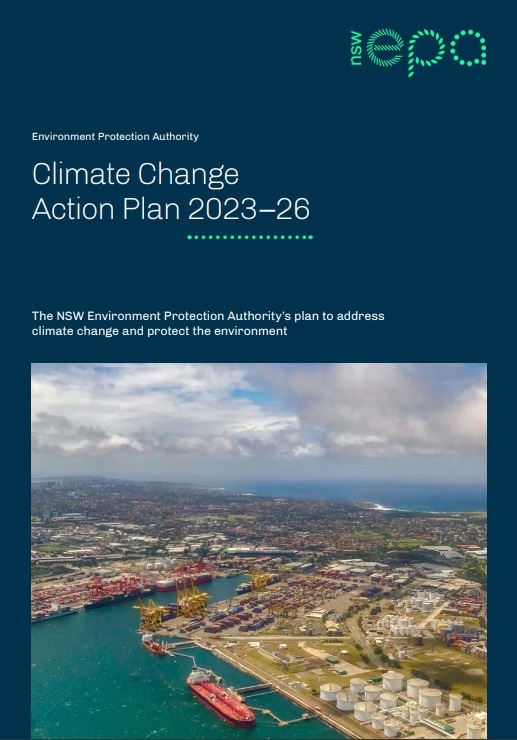 The NSW Environment Protection Authority (EPA) has released its historic Climate Change Policy and Action Plan 2023-26, outlining a bold set of actions that will help NSW reach net-zero emissions by 2050.
NSW EPA Chief Executive Officer Tony Chappel said the plan provides a roadmap for how the state's environmental regulator will address the causes and consequences of climate change.
"This plan means for the first time in Australia, there will be a comprehensive approach around emissions reduction pathways," Mr Chappel said.
"Using our robust framework, we will treat greenhouse gas emissions like any other pollutant that we regulate and by doing so, support the decarbonisation, transformation and growth of the NSW economy.
"In every corner of the state, we are already feeling the very real, costly and devastating impacts of climate change.
"From unprecedented fires through to recent extensive flood events across regional NSW, each of these disasters is a sobering reminder of the escalating consequences of rising greenhouse emissions.
"We must improve our resilience to the impacts of climate change and this plan will see significant work led by the EPA to achieve this."
Crucial to the success of the plan will be a collaborative, staged and systematic approach to ensure actions are evidence-based and government programs are joined-up. It's also important to allow industry sufficient time to adjust to any sector-based emission reduction targets and enforceable licence limits.
As we operationalise climate policy across the economy, the EPA will establish advisory groups for various industry sectors to help inform and co-design actions and subsequent targets.
Mr Chappel said the organisation would not take a 'one size fits all' approach to setting targets because no two industries are the same, nor are the climate challenges they face.
"Our focus is on enabling and supporting best practice and building collaborative processes which ensure any actions taken by the EPA are meaningful, feasible and cost-effective," Mr Chappel said.
"To seriously combat climate change, we cannot do it alone and these groups will provide valuable information on gaps, risks and the opportunities that need to be solved or considered.
"They'll also help NSW capture the immense opportunities that come with a net-zero economy, such as growth in hydrogen, green steel and metals, green ammonia, clean energy, the circular economy and regenerative agriculture.
"The EPA is committed to supporting industry, business, our regulatory partners and the community in transitioning to a more sustainable and prosperous future."
The final EPA Climate Change Policy and Action Plan are available here.
Friday Night Bowls For Youngsters At Newport - Avalon
Bowling clubs, traditionally speaking, are community centres where families meet to engage in social interaction and entertainment. But now there is a 'new-wave' interest in lawn bowls as a sport for kids. A game for senior primary and high school students, a game where 10-16 year old boys and girls can learn important skills. Skills we all value like self-discipline, concentration and learning to play with team mates of varying abilities - and all within a club's supportive environment.
Newport and Avalon Bowling Clubs are delighted to announce that together with "Lets Play Bowls," they will be introducing "Friday Night Bowls for Kids" to the our peninsula. The concept, developed by a group of retired teachers, a headmaster and bowlers, follows a particular format, timeline and tried and tested rules.
Starting on Friday 3 February, 'Friday Night Bowls' involves four weeks of coaching from 17h30 - 19h00 each Friday, followed by four competition Fridays in March. The programme will be repeated in October and November with the 'final competition' taking place in December 2023. All bowls will be provided by the clubs.
President of Newport Bowling Club, Fred Murray-Walker, believes that growing interest among junior bowlers could lead to the development of a Junior League with inter-club and even inter- state competitions. "We may even have a Northern Beaches Commonwealth bowler one day," says Fred.
'Friday Night Bowls' is already achieving enormous success in rural NSW. Dubbo Bowls club recently had over 60 primary school children competing in teams of three against each other. Warren Boyd, LPB coordinator, says "The kids loved it and parents too, have been very excited to get involved in supporting this quality after school activity."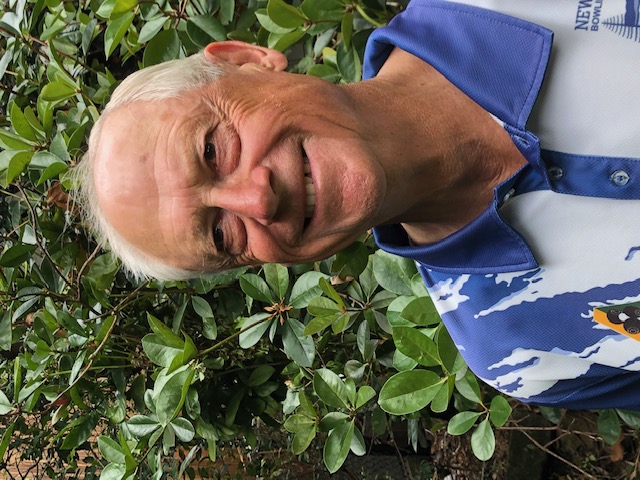 Fred Murray-Walker,

The cost per child is $10 per year and this is payable at your local bowling club. All fees go to "Lets Play Bowls" for the further development of the program. Registration must be done on the Lets Play Bows website: www.letsplaybowls.com
Dennis Heath, head coach at Avalon Bowls, has been working with High School students for some time. He says "Bowls is becoming a cool sport to play. Once kids are playing they come to love the game, this has been proven many times over. It's a sport they can play with their friends, their parents and even their grandparents."
Come on down to Newport or Avalon and give bowls a go!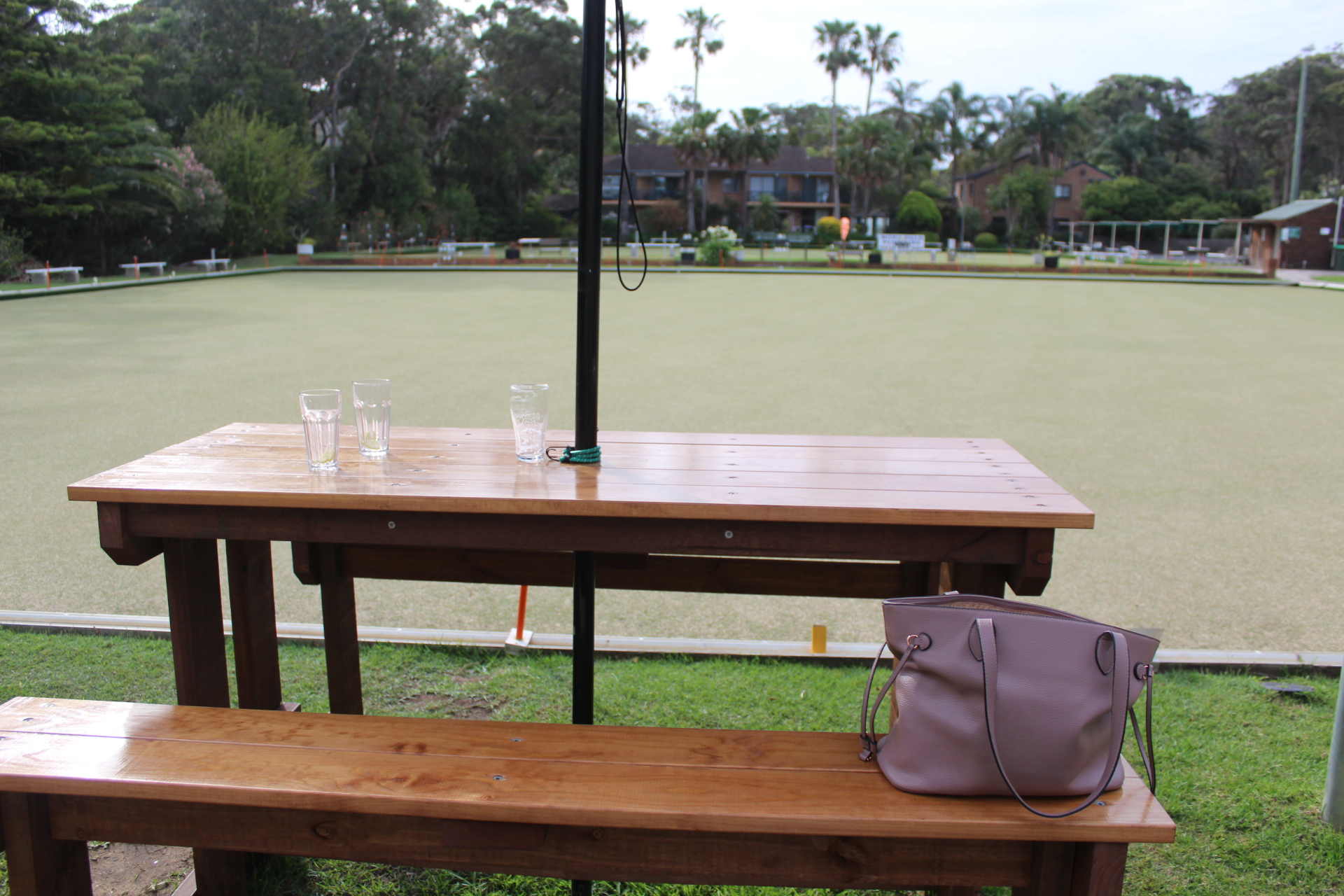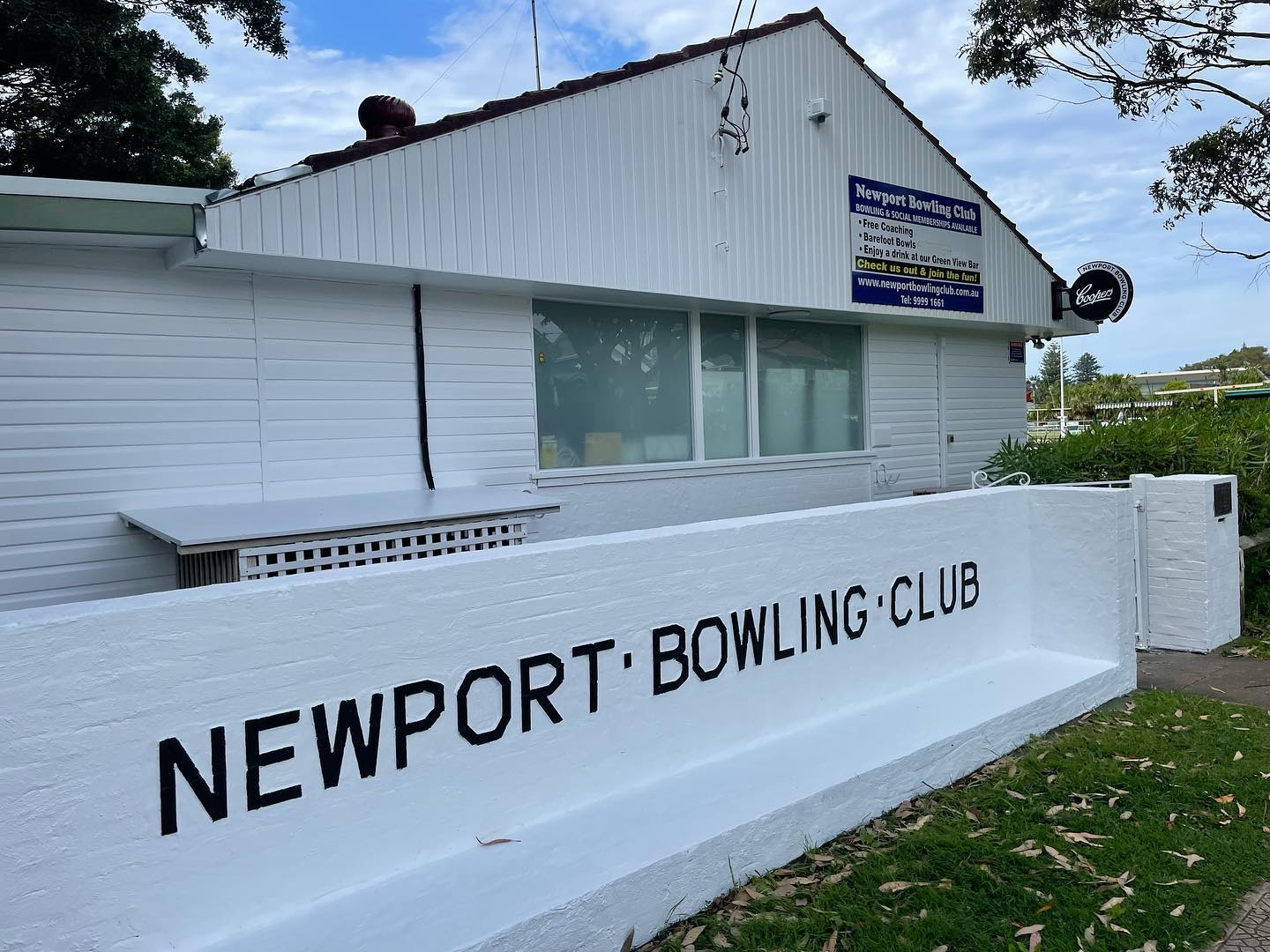 Getting Some Air At South Av.
Saturday January 21, 2023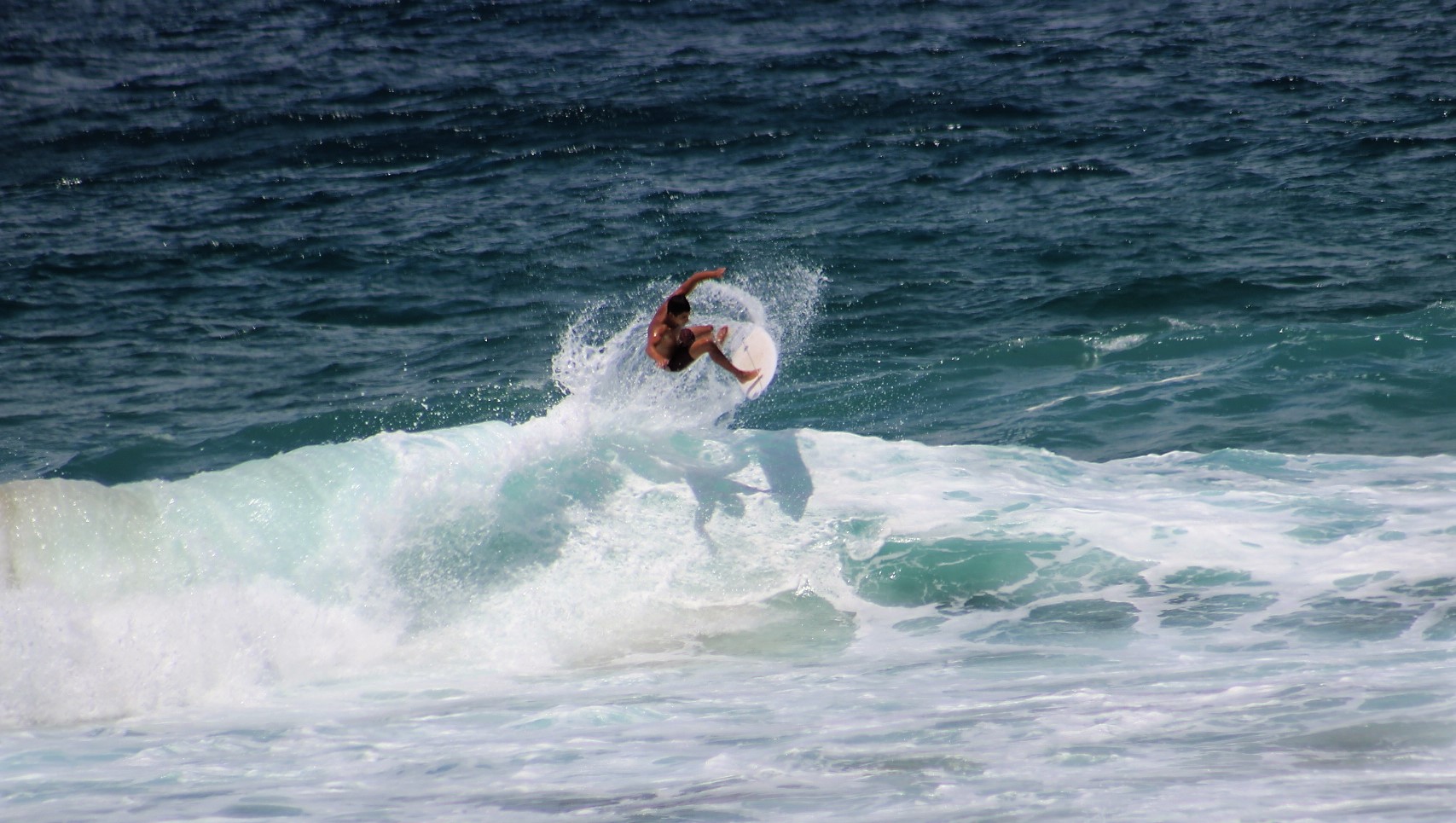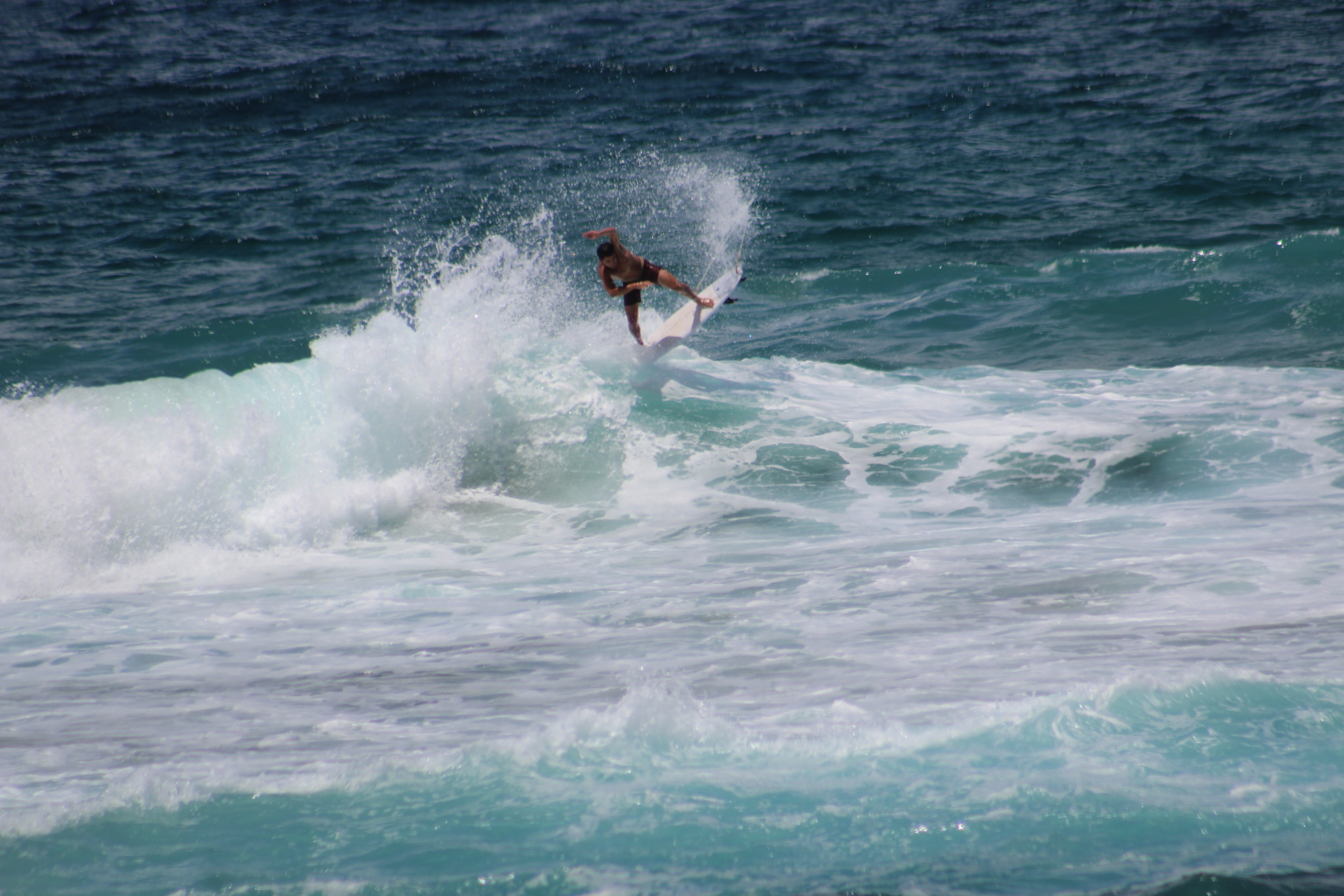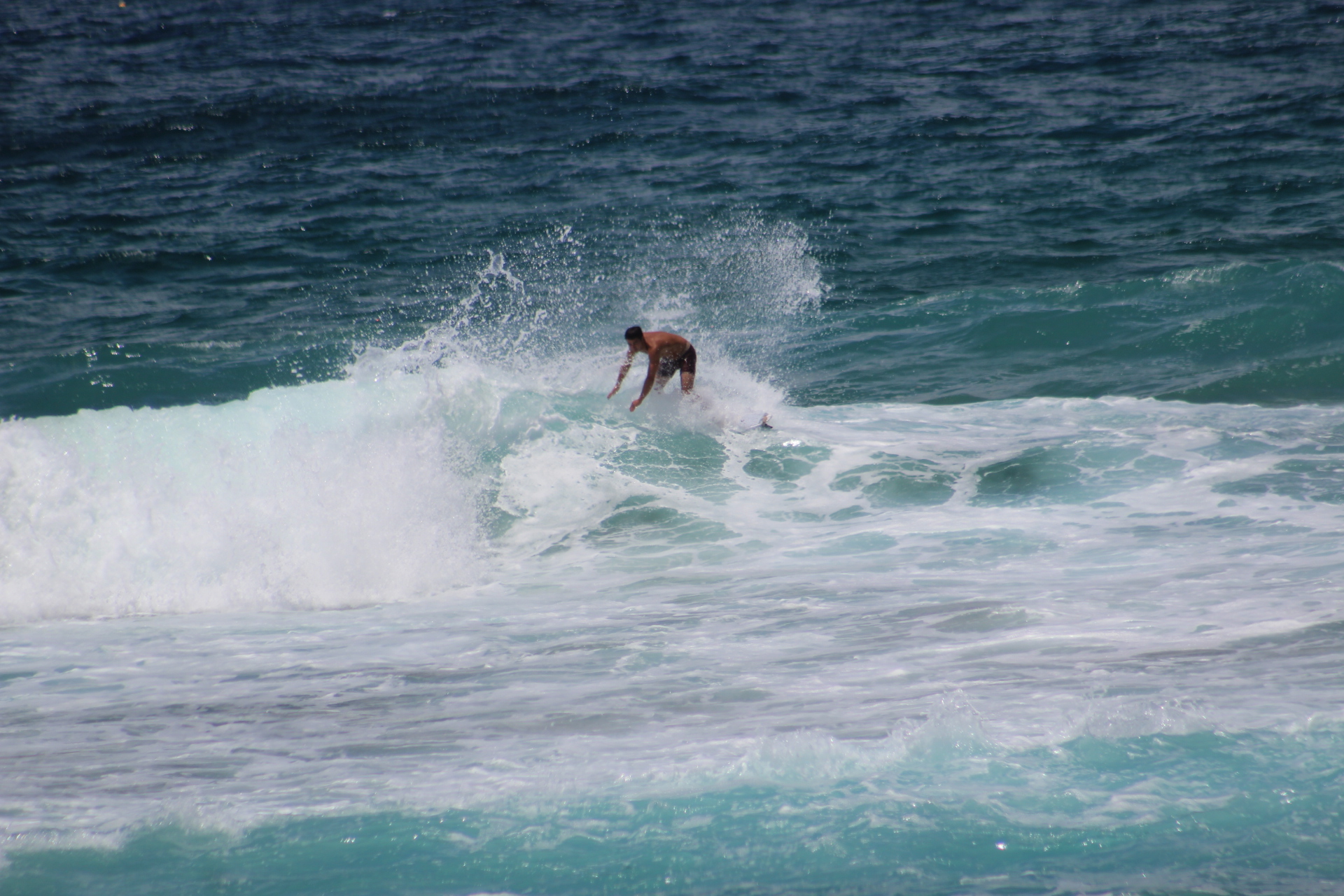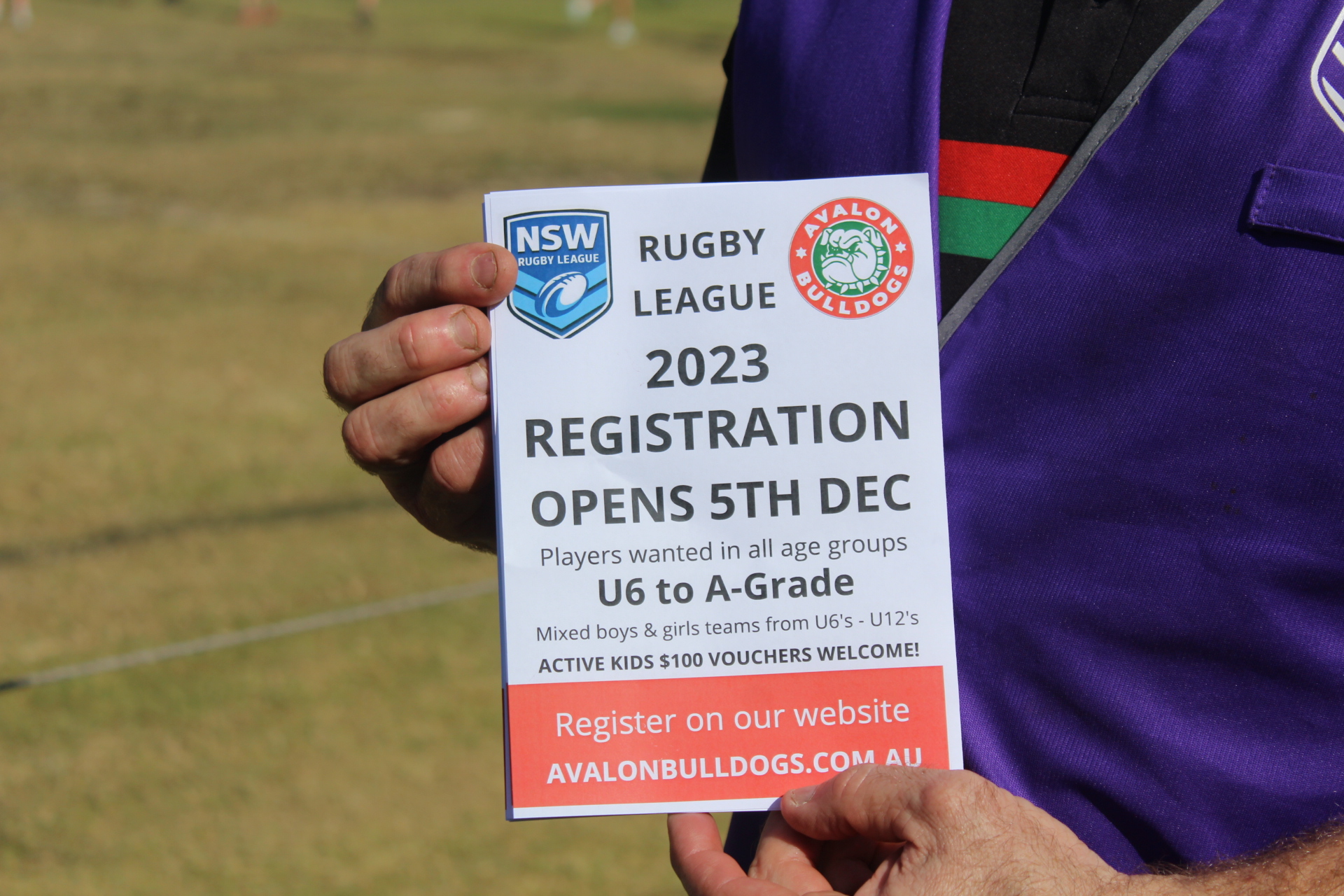 School Leavers Support
Explore the School Leavers Information Kit (SLIK) as your guide to education, training and work options in 2022;
As you prepare to finish your final year of school, the next phase of your journey will be full of interesting and exciting opportunities. You will discover new passions and develop new skills and knowledge.
We know that this transition can sometimes be challenging and the COVID-19 pandemic has presented some uncertainty. With changes to the education and workforce landscape, you might be wondering if your planned decisions are still a good option or what new alternatives are available and how to pursue them.
There are lots of options for education, training and work in 2022 to help you further your career. This information kit has been designed to help you understand what those options might be and assist you to choose the right one for you. Including:
Download or explore the SLIK here to help guide Your Career.
School Leavers Information Kit (PDF 5.2MB).
School Leavers Information Kit (DOCX 0.9MB).
The SLIK has also been translated into additional languages.
Download our information booklets if you are rural, regional and remote, Aboriginal or Torres Strait Islander, or living with disability.
Support for Regional, Rural and Remote School Leavers (PDF 2MB).
Support for Regional, Rural and Remote School Leavers (DOCX 0.9MB).
Support for Aboriginal and/or Torres Strait Islander School Leavers (PDF 2MB).
Support for Aboriginal and/or Torres Strait Islander School Leavers (DOCX 1.1MB).
Support for School Leavers with Disability (PDF 2MB).
Support for School Leavers with Disability (DOCX 0.9MB).
Download the Parents and Guardian's Guide for School Leavers, which summarises the resources and information available to help you explore all the education, training, and work options available to your young person.
School Leavers Information Service
Are you aged between 15 and 24 and looking for career guidance?
Call 1800 CAREER (1800 227 337).
SMS 'SLIS2022' to 0429 009 435.
Our information officers will help you:
navigate the School Leavers Information Kit (SLIK),
access and use the Your Career website and tools; and
find relevant support services if needed.
You may also be referred to a qualified career practitioner for a 45-minute personalised career guidance session. Our career practitioners will provide information, advice and assistance relating to a wide range of matters, such as career planning and management, training and studying, and looking for work.
You can call to book your session on 1800 CAREER (1800 227 337) Monday to Friday, from 9am to 7pm (AEST). Sessions with a career practitioner can be booked from Monday to Friday, 9am to 7pm.
This is a free service, however minimal call/text costs may apply.
Call 1800 CAREER (1800 227 337) or SMS SLIS2022 to 0429 009 435 to start a conversation about how the tools in Your Career can help you or to book a free session with a career practitioner.
Word Of The Week: Umpteen
Word of the Week returns in 2023 simply to throw some disruption in amongst the 'yeah-nah' mix.
adjective

very many : indefinitely numerous, a large unspecified number.
From: blend of umpty (such and such) and -teen (as in thirteen), first known use was 1898
Used in:
"I'll go to bed and I'll not get up for umpty-eleven months."
The speaker here is war-weary Bill, a character in Patrick MacGill's early 20th-century novel The Great Push.
His "umpty" originated as military slang around 1905 and stood for an indefinite number, generally largish. (It was probably created by analogy to actual numbers such as "twenty.") Soon, there followed "umpteen," blending "umpty" and "-teen."
'Umpteen' usually describes an indefinite and large number or amount.
Derived term
Adjective; umpteenth
(informal, often slightly derogatory) Occurring in a relatively large but unspecified position in a sequence.
That's the umpteenth time I've had to tell you not to swear in front of the children.
Summer In Pittwater Is: Having Fun With Dad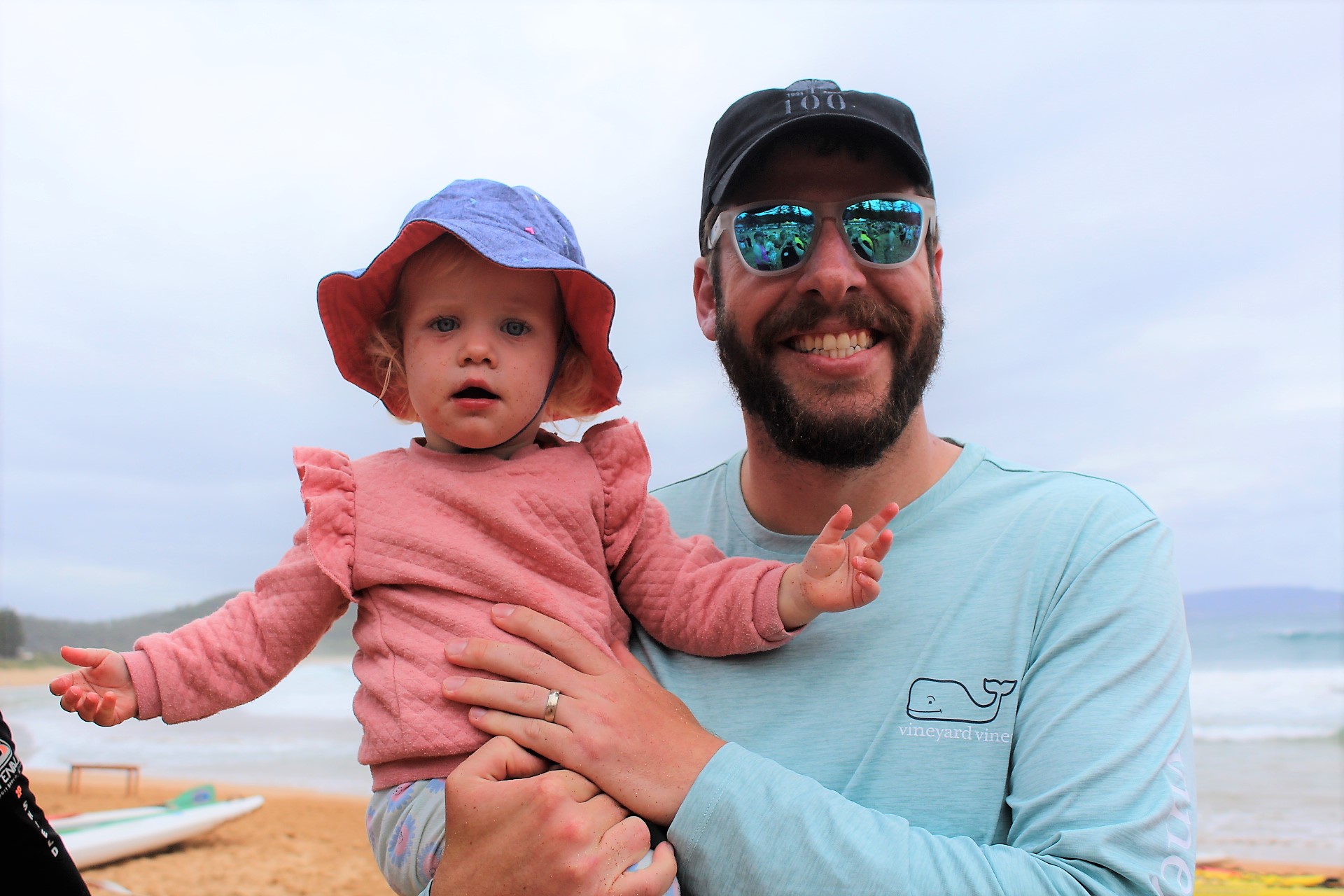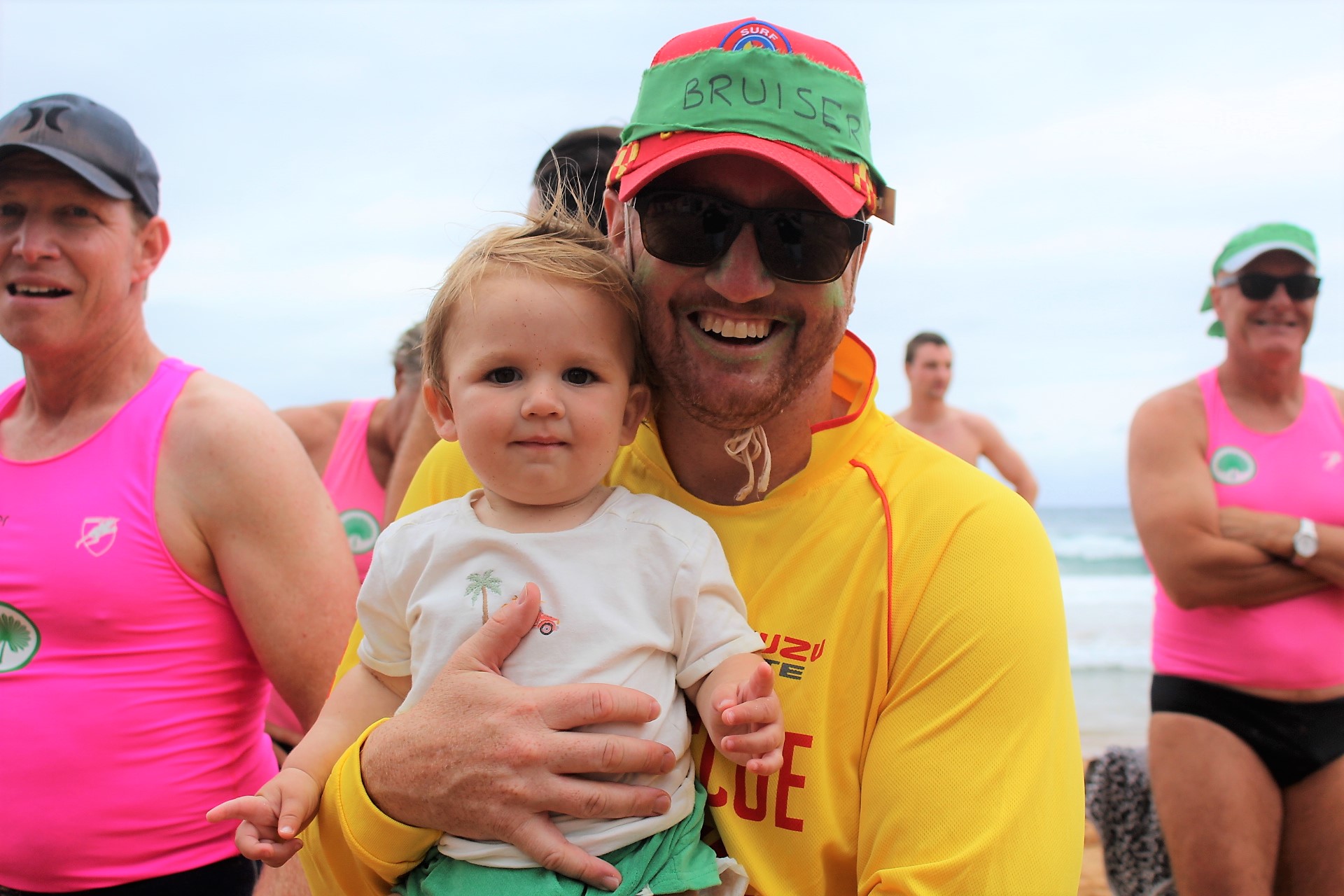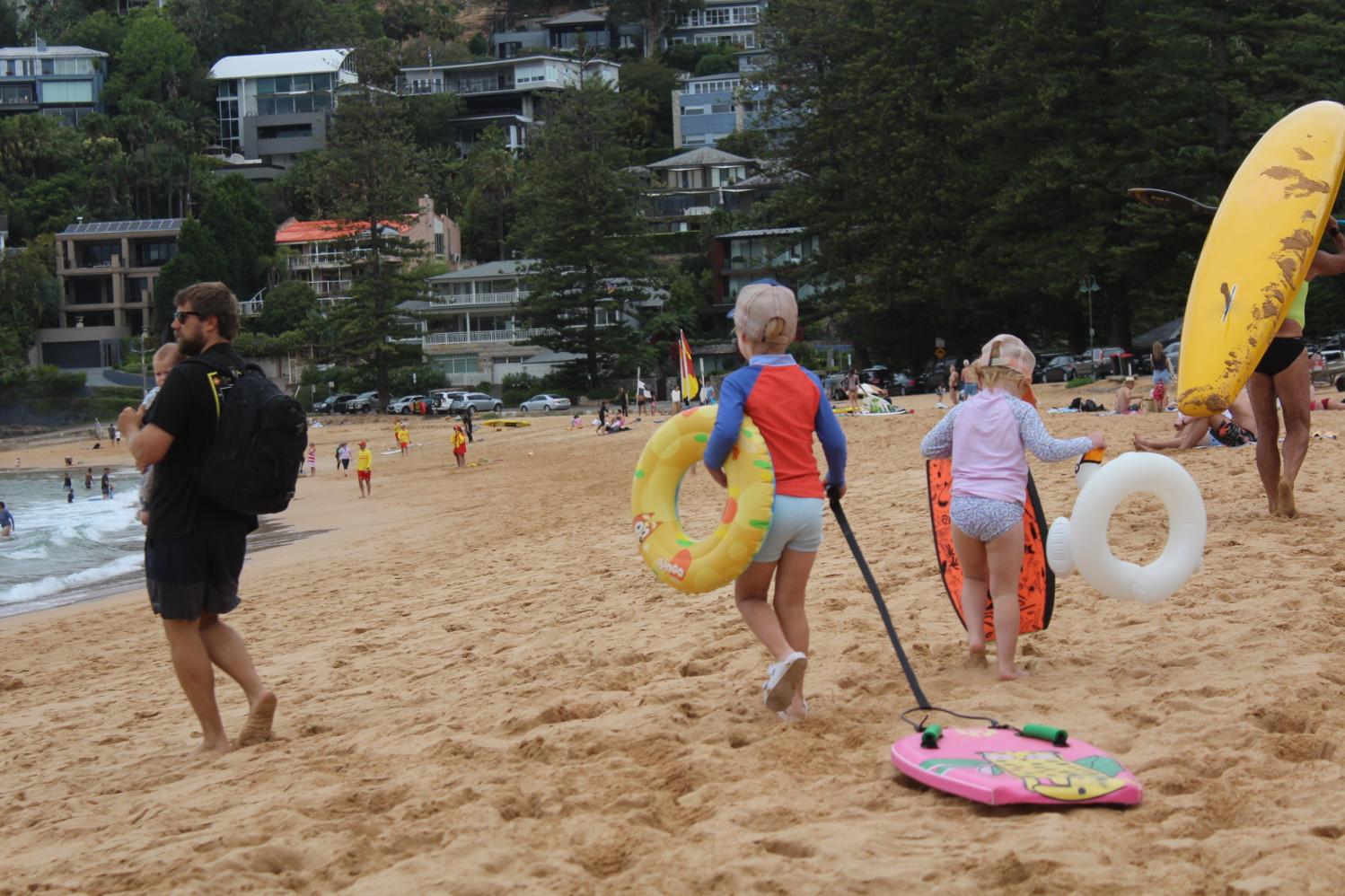 Off to Swim Between the Flags at Kiddies Corner, Palm Beach
National Seniors Welcomes New Chief Operating Officer
National Seniors Australia embraces new leadership following the retirement of CEO and Director of Research Professor John McCallum.
After five years of leading National Seniors Australia with distinction, CEO Professor John McCallum has retired. His last day was on Friday 13 January 2023.
Professor McCallum joined National Seniors as Research Director in December 2016 and was appointed CEO in April 2018. During this time, he successfully led our organisation through internal radical organisational change, a royal commission and a global pandemic. His commitment to improving the lives of older Australians is unwavering and highly regarded.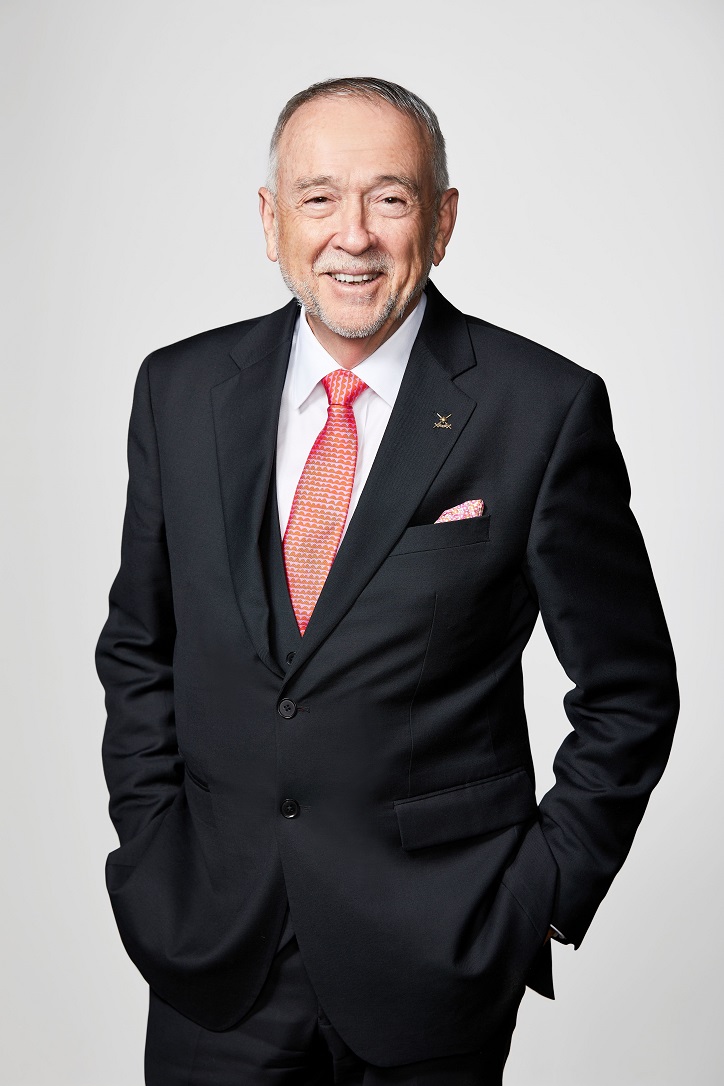 Under Professor McCallum's astute leadership, National Senior achieved many successes and made a significant difference to the day-to-day lives of our members, supporters, and older Australians. Some of these include:
Presented eight submissions to the Royal Commission into Aged Care Quality and Safety and was a significant contributor to the recommendations in the Royal Commission's Final Report in 2021, with National Seniors Australia referenced in 50 instances.
Influenced government from the first day of the Royal Commission to reduce the home care wait list by 25 per cent in twelve months by releasing tens of thousands of home care packages in September 2021, to help ease an unacceptable wait time for 41,000 older Australians.
Influenced retirement income policy with National Seniors consumer research reports being referred to 10 times in the Report of the Treasury Retirement Income Review.
Launching a successful Older Persons COVID-19 Support Line to reach out to older Australians particularly those living in the most isolated communities and people in COVID-19 'hot spots' during the many lockdowns and restrictions.
National Seniors was one of 142 participants invited to the Jobs and Skills Summit in September 2022 at the Great Hall of Parliament, and the only organisation representing older Australians, resulting in the announcement of the $4,000 income credit – an important first step in addressing jobs and skills shortages in the workforce.
Achieved wins with the advocacy team to improve the lives of older Australians including extending eligibility for concessions, freezing deeming rates for two years, extending the Pension Loan Scheme, opposing the scraping of franking credits.
Appointed by the Prime Minister to the new 14-member, independent Council of Elders to advise the Minister and Government on aged care reform.
Former National Seniors General Manager, Chris Grice has been appointed to the role of Chief Operating Officer. He has been with National Seniors Australia for ten years, overseeing the day-to-day operations of the organisation, including membership, commercial, services, and business operations.
Chris is deeply passionate about National Seniors Australia and our mission to support the contribution of older Australians. Many members will have met Chris at events and branch meetings across Australia.
"One of the great pleasures of working with the team at National Seniors, along with its branch leaders and members, is being able to promote the positive contribution that older Australians make towards the broader community. Being a senior should be acknowledged and respected - a long life of learning and experience should be genuinely celebrated.
"The contribution and general value to society that older Australians make both caring and or volunteering – the physical, emotional, and economic contribution that older Australians make in this space is immense and should not go unnoticed by government, industry, and the broader community," he said.
In considering the broad scope of National Seniors members and their experiences, Chris expressed an interest in better supporting members aged over 50 who can feel 'sandwiched' by competing pressures on their lives (and finances) as they are often still actively engaged in raising their children, while also offering support to their ageing parents.
Chris has been instrumental in supporting the Policy team with its advocacy work, notably with the recent Let Pensioners Work campaign. "The work over the past year on the campaign was extraordinary. Our Chief Advocate Ian Henschke, supported by policy manager Brendon Radford, exceeded expectations in raising awareness of the economic benefits of letting older Australians have fairer access to ongoing work.
"I don't remember a day where Ian wasn't on the radio or TV fighting to keep the issue in the media. It has been great for the campaign and really kept up awareness of National Seniors."
In taking on the role of Chief Operating Officer, Chris is adamant that the success of National Seniors is built on community support: "There is outstanding work happening every day within the organisation.
"Our work fighting for older Australians advocating on your behalf is vital and doesn't just happen without the community backing us. Join as a member, use one of our products or services, or donate to our cause – everything you do to support us in this area helps us maintain our independence, and importantly creates better outcomes for older Australians now and in the future."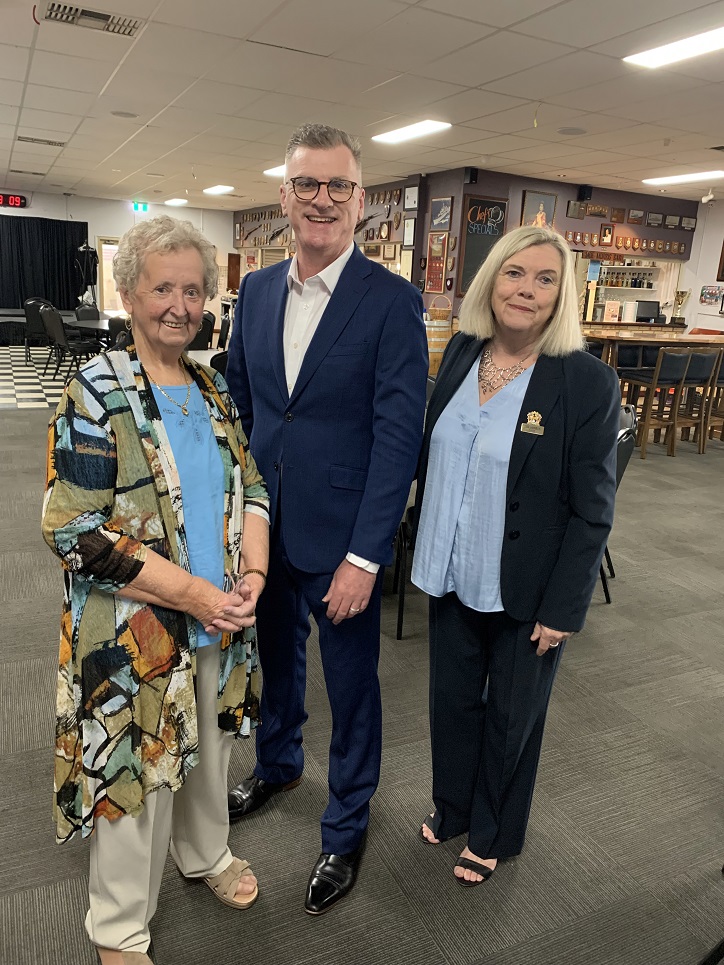 Chris Grice, new CEO at National Seniors. Photo: NS
Oxfam Report States Richest 1% Bag Nearly Twice As Much Wealth As The Rest Of The World Put Together Over The Past Two Years: They Are Also The Highest Carbon Polluters - One Million Times More Than Average Person
Super-rich outstrip their extraordinary grab of half of all new wealth in past decade.

Billionaire fortunes are increasing by $2.7 billion a day even as at least 1.7 billion workers now live in countries where inflation is outpacing wages.

A tax of up to 5 percent on the world's multi-millionaires and billionaires could raise $1.7 trillion a year, enough to lift 2 billion people out of poverty.
The richest 1 percent grabbed nearly two-thirds of all new wealth worth $42 trillion created since 2020, almost twice as much money as the bottom 99 percent of the world's population, a new Oxfam report states. During the past decade, the richest 1 percent had captured around half of all new wealth.
"Survival of the Richest" is published on the opening day of the World Economic Forum in Davos, Switzerland. Elites are gathering in the Swiss ski resort as extreme wealth and extreme poverty have increased simultaneously for the first time in 25 years.
"While ordinary people are making daily sacrifices on essentials like food, the super-rich have outdone even their wildest dreams. Just two years in, this decade is shaping up to be the best yet for billionaires —a roaring '20s boom for the world's richest," said Gabriela Bucher, Executive Director of Oxfam International.
"Taxing the super-rich and big corporations is the door out of today's overlapping crises. It's time we demolish the convenient myth that tax cuts for the richest result in their wealth somehow 'trickling down' to everyone else. Forty years of tax cuts for the super-rich have shown that a rising tide doesn't lift all ships —just the superyachts."
Billionaires have seen extraordinary increases in their wealth. During the pandemic and cost-of-living crisis years since 2020, $26 trillion (63 percent) of all new wealth was captured by the richest 1 percent, while $16 trillion (37 percent) went to the rest of the world put together. A billionaire gained roughly $1.7 million for every $1 of new global wealth earned by a person in the bottom 90 percent. Billionaire fortunes have increased by $2.7 billion a day. This comes on top of a decade of historic gains —the number and wealth of billionaires having doubled over the last ten years.
Billionaire wealth surged in 2022 with rapidly rising food and energy profits. The report shows that 95 food and energy corporations have more than doubled their profits in 2022. They made $306 billion in windfall profits, and paid out $257 billion (84 percent) of that to rich shareholders. The Walton dynasty, which owns half of Walmart, received $8.5 billion over the last year. Indian billionaire Gautam Adani, owner of major energy corporations, has seen this wealth soar by $42 billion (46 percent) in 2022 alone. Excess corporate profits have driven at least half of inflation in Australia, the US and the UK.
At the same time, at least 1.7 billion workers now live in countries where inflation is outpacing wages, and over 820 million people —roughly one in ten people on Earth— are going hungry. Women and girls often eat least and last, and make up nearly 60 percent of the world's hungry population. The World Bank says we are likely seeing the biggest increase in global inequality and poverty since WW2. Entire countries are facing bankruptcy, with the poorest countries now spending four times more repaying debts to rich creditors than on healthcare. Three-quarters of the world's governments are planning austerity-driven public sector spending cuts —including on healthcare and education— by $7.8 trillion over the next five years.
Oxfam is calling for a systemic and wide-ranging increase in taxation of the super-rich to claw back crisis gains driven by public money and profiteering. Decades of tax cuts for the richest and corporations have fueled inequality, with the poorest people in many countries paying higher tax rates than billionaires.
Elon Musk, one of the world's richest men, paid a "true tax rate" of about 3 percent between 2014 and 2018. Aber Christine, a flour vendor in Uganda, makes $80 a month and pays a tax rate of 40 percent.
Worldwide, only four cents in every tax dollar now comes from taxes on wealth. Half of the world's billionaires live in countries with no inheritance tax for direct descendants. They will pass on a $5 trillion tax-free treasure chest to their heirs, more than the GDP of Africa, which will drive a future generation of aristocratic elites. Rich people's income is mostly unearned, derived from returns on their assets, yet it is taxed on average at 18 percent, just over half as much as the average top tax rate on wages and salaries.
The report shows that taxes on the wealthiest used to be much higher. Over the last forty years, governments across Africa, Asia, Europe, and the Americas have slashed the income tax rates on the richest. At the same time, they have upped taxes on goods and services, which fall disproportionately on the poorest people and exacerbate gender inequality. In the years after WW2, the top US federal income tax rate remained above 90 percent and averaged 81 percent between 1944 and 1981. Similar levels of tax in other rich countries existed during some of the most successful years of their economic development and played a key role in expanding access to public services like education and healthcare.
"Taxing the super-rich is the strategic precondition to reducing inequality and resuscitating democracy. We need to do this for innovation. For stronger public services. For happier and healthier societies. And to tackle the climate crisis, by investing in the solutions that counter the insane emissions of the very richest," said Bucher.
According to new analysis by the Fight Inequality Alliance, Institute for Policy Studies, Oxfam and the Patriotic Millionaires, an annual wealth tax of up to 5 percent on the world's multi-millionaires and billionaires could raise $1.7 trillion a year, enough to lift 2 billion people out of poverty, fully fund the shortfalls on existing humanitarian appeals, deliver a 10-year plan to end hunger, support poorer countries being ravaged by climate impacts, and deliver universal healthcare and social protection for everyone living in low- and lower middle-income countries.
Oxfam is calling on governments to:
Introduce one-off solidarity wealth taxes and windfall taxes to end crisis profiteering.
Permanently increase taxes on the richest 1 percent, for example to at least 60 percent of their income from labor and capital, with higher rates for multi-millionaires and billionaires. Governments must especially raise taxes on capital gains, which are subject to lower tax rates than other forms of income.
Tax the wealth of the richest 1 percent at rates high enough to significantly reduce the numbers and wealth of the richest people, and redistribute these resources. This includes implementing inheritance, property and land taxes, as well as net wealth taxes.
Download "
Survival of the Richest
" and the methodology document outlining how Oxfam calculated the statistics in the report.
Oxfam's calculations are based on the most up-to-date and comprehensive data sources available. Figures on the very richest in society come from the
Forbes billionaire list
.
All amounts are expressed in US dollars and, where relevant, have been adjusted for inflation using the US consumer price index.
According to the World Bank
, extreme poverty increased in 2020 for the first time in 25 years. At the same time, extreme wealth has risen dramatically since the pandemic began.
The report shows that while the richest 1 percent captured 54 percent of new global wealth over the past decade, this has accelerated to 63 percent in the past two years. $42 trillion of new wealth was created between December 2019 and December 2021. $26 trillion (63 percent) was captured by the richest 1 percent, while $16 trillion (37 percent) went to the bottom 99 percent. According to Credit Suisse, individuals with more than $1 million in wealth sit in the top 1 percent bracket.
The billionaire class is $2.6 trillion richer than before the pandemic, even if billionaire fortunes slightly fell in 2022 after their record-smashing peak in 2021. The world's richest are now seeing their wealth climb again.
In the US, the UK
and Australia,
studies have found that 54 percent,
59 percent
and 60 percent
of inflation
, respectively, was
driven by increased corporate profits
. In
Spain
, the CCOO (one of the country's largest trade unions) found that corporate profits are responsible for 83.4 percent of price increases during the first quarter of 2022.
The World Bank announced that the world has
almost certainly lost its goal of ending extreme poverty by 2030
and that "global progress in reducing extreme poverty has grind[ed] to a halt" amid what the Bank says was likely to be the largest increase in global inequality and the largest setback in global poverty since WW2. The World Bank defines extreme poverty as living on less than $2.15 per day.
The $6.85 poverty line was used to calculate how many people (2 billion) an annual wealth tax of up to 5 percent on the world's multi-millionaires and billionaires could lift out of poverty.
Polling consistently finds that most people
across countries
support raising taxes on the richest. For example, the majority of people in the US, 80 percent of Indians, 85 percent of Brazilians and 69 percent of people polled across 34 countries in Africa support increasing taxes on the rich.
Separation Leads To Significant But Temporary Gender Differences In Parent-Child Time
Separation leads to a significant but temporary increase in gender inequalities in parent-child time, according to new research from sociologists in Trinity College Dublin and UNED Madrid, Spain.
The international study found that after parental split up mother-child time doubles, two-parent time declines threefold, and father-child time remains low. It also found that parental break-up negatively affects children's time use, especially among boys, with an increase in children's time spent in unstructured activities and moderate decline in educational activities.
These effects, particularly the dramatic increase in mother-child time, are however temporary, with strong effects in the short run, and a return to pre-separation levels after 2-4 years.
This finding supports set-point theory, which predicts that major life events impact on an individual's behaviour in the short term but the individual adapts back to their pre-event baseline over time. This return toward pre-separation levels of parent-child time could be related to a reduction in the incidence of stress, a rearrangement in time-use patterns or the starting of new partnerships in the years after divorce or separation occurred.
How divorce and separation influences parents' and children's time use has received very little scientific attention. This study, published recently in the European Journal of Population, sheds new light on how parental separation shapes parent-child time and children's daily activities.
The study used unique time-diary data from six waves of the Longitudinal Study of Australian Children. It is the first time that the effects of parental separation on parental involvement and children's time use has been examined with longitudinal data across multiple waves.
Key findings:
Parental separation leads to strong increases in gender inequalities in childcare time. After separation, mother-child time doubles, two-parent time declines threefold, and father-child time remains low.
Parental separation also leads to a decline in children's time allocated to educational activities (e.g., studying, reading) and an increase in children's time in unstructured activities (e.g., TV watching, video gaming, smartphone use).
The effect of separation on children's time use is twice as large for boys than for girls, with gender gaps in children's unstructured time increasing over time.
These effects of separation, particularly regarding mother-child time, is temporary, with strong effects in the short run, and a return to pre-separation levels after 2-4 years.
Pablo Gracia, Assistant Professor of Sociology, Trinity commented:
"We show that parental separation can lead to declines in children's engagement in developmental activities, particularly among boys. But also, we critically show that separation can bring important additional 'time penalties' to women that contribute to existing gender inequalities in society.
"In our research we wish to avoid simplistic debates on whether divorce is a good or a bad thing. Separation can lead to both positive and negative outcomes, and this depends very much on each case. Our study simply highlights some risks that parents and children can face in everyday life after separation and will be of great interest to policy makers and the general public seeking to mitigate some of the negative outcomes of the separation process."
Tomás Cano, Assistant Professor of Sociology, UNED, Madrid added:
"Our findings have strong policy implications. Separation not only leads mothers to experiencing a motherhood wage penalty, but also a time penalty. Promoting gender equality in caring responsibilities after separation and divorce could bring improvements in mother's career advancements, with separated fathers potentially working more on caring for children.
"Equally, the findings that boys' educational activities, reading and studying, are disproportionally harmed by separation will need to be taken into account by educational policy makers."
Tomás Cano, Pablo Gracia.
The Gendered Effects of Divorce on Mothers' and Fathers' Time with Children and Children's Developmental Activities: A Longitudinal Study
. European Journal of Population, 2022; 38 (5): 1277 DOI:
10.1007/s10680-022-09643-2
Australian Breakthrough In Fighting Legionnaires' Disease
A new study of domestic and hospital drinking water systems found Legionella in 41% of samples -- with Flinders University researchers making a key connection between the pathogen's co-existence with a 'host' microorganism in all samples tested.
The study found Legionella bacteria "infect the amoeba host and then once inside these hosts are protected from disinfection strategies," says Flinders University Associate Professor of Environmental Health Harriet Whiley, a co-author of the new journal article in Water Research.
Researchers tested for Legionella and its likely amoebae hosts in 140 samples of water or biofilm (the slime found on showerheads and end of faucets) to understand how the potentially dangerous bacterium colonises andproliferates in both domestic and hospital plumbing and poses a threat to human health.
Legionnaires' disease is a severe pneumonia-like infection that can be fatal. Globally the number of Legionnaires' disease cases is increasing, with elderly and immunocompromised people at the highest risk.
"It is vital that we strive to improve the management of our water distribution systems, particularly in high risk setting such as hospitals, to protect vulnerable populations," says Associate Professor Whiley, from the Flinders College of Science and Engineering.
"Having a better understanding of the relationships between these amoebae and Legionella is an important step in improving future water treatment processes aimed at controlling Legionella and preventing Legionnaires disease."
L. pneumophilia is the main cause of Legionnaires' disease and is not transmitted from person to person but caused by inhalation or aspiration of contaminated water.
Maintenance and monitoring of water systems is a common preventive step to reduce public risk.
"To our knowledge, this is the first time the amoebae Allovahlkampfia and Stenamoeba have been demonstrated as hosts of L. pneumophila in Australian drinking water," says Flinders University PhD candidate Muhammad Atif Nisar, who conducted the study.
Associate Professor Harriet Whiley and Dr Muhammad Atif Nisar in the Environmental Health Laboratory. Photo:
Flinders College of Science and Engineering
The findings support the need further research to investigate the prevalence of Legionella as well as free-living amoebae in domestic and commercial water systems and to improve guidelines to better control water systems and safeguard the public health.
"Free-living amoebae are ubiquitous in the environment and cause both opportunistic and non-opportunistic infections in humans. Some amoebae are the natural reservoirs of opportunistic plumbing pathogens, such as Legionella pneumophila," says Mr Atif Nisar.
"There is a need for future research to improve disinfection strategies against amoeba to reduce their colonisation within building drinking water systems."
Up to 75% of the drinking water or biofilm samples tested positive for free-living amoebae. This included V. vermiformis which was present in 55% of samples and Acanthamoeba was present in 11%.
As well as being hosts for Legionella, Acanthamoeba and V. vermiformis are pathogens that can cause severe eye infections, with contact lens users and immunocompromised individuals at greatest risk.
The water samples were collected from showers and hand basins located in domestic houses and hospitals across New South Wales and South Australia.
These results demonstrate the importance of amoebae in engineered water systems, both as a pathogen and as a reservoir of Legionella.
"Future water management protocols should incorporate improved treatment strategies to control amoebae to reduce the risk to end-users," adds Mr Atif Nisar.
Muhammad Atif Nisar, Kirstin E Ross, Melissa H Brown, Richard Bentham, Jason Hinds, Harriet Whiley.
Molecular screening and characterization of Legionella pneumophila associated free-living amoebae in domestic and hospital water systems.
Water Research, 2022; 226: 119238 DOI:
10.1016/j.watres.2022.119238
Disclaimer: These articles are not intended to provide medical advice, diagnosis or treatment. Views expressed here do not necessarily reflect those of Pittwater Online News or its staff.