January 15 - 21, 2022: Issue 567
Residents Call On Everyone In Sydney To Join Community Protest Against The Commercialisation Of Barrenjoey Headland - Sunday January 22, 11am At Station Beach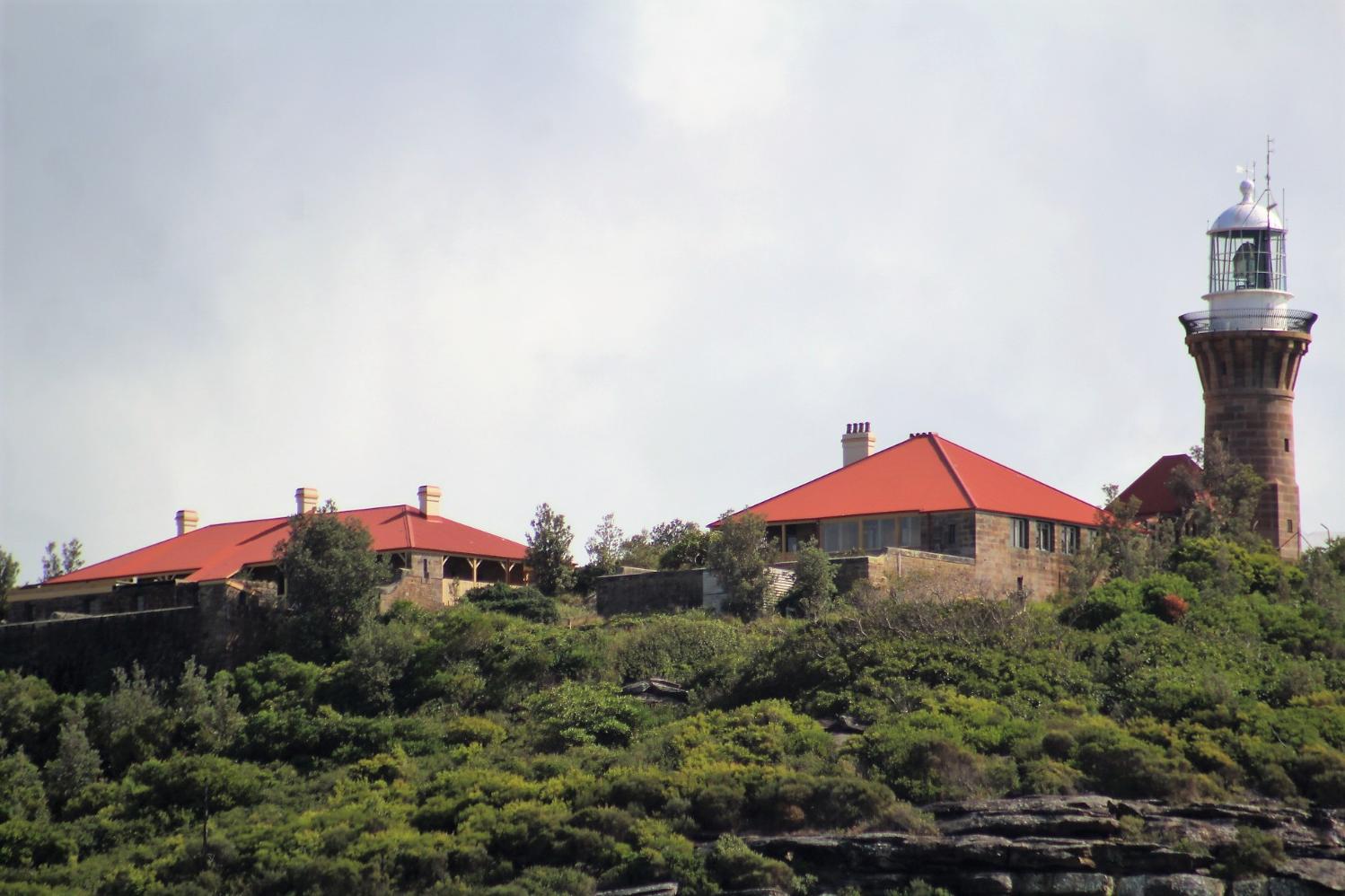 The Palm Beach Whale Beach Association members once again find themselves having to oppose the commercialisation and exclusion of the public from a publicly owned asset, Barrenjoey Headland and its historic buildings, and have organised the second Barrenjoey Rally for next Sunday, January 22nd at 11am at Station Beach in Governor Phillip Park, Palm Beach. They are calling on residents, visitors and supporters from across the Sydney Basin to join them and send a clear message to the State Government that the NSW community is vehemently opposed to the excise of public assets into private hands through the commercialisation of National Parks and historic buildings.
Along with the rally, the Association has launched a petition: www.change.org/p/save-barrenjoey
Barrenjoey and Ku-ring-gai Chase National Park are just one of a series of plans the government has pushed through recently in these pristine and heritage areas, running 'have your say' changes to Plans of Management for National Parks to insert commercial activities or build tracks for cyclists, followed soon after by that same government approving their own plans, despite opposition, and then a short period for 'feedback' for private leases of the same that reek of done deals, and offer scant details of what will occur. Some instances of these that have happened in just the last few weeks run below, all completed while residents were 'clocked off' for end of year holidays.
Many people consider National Parks to be the last bastions or arks for our native flora and fauna and exist to preserve the same - that was certainly the case for the National Park that runs adjacent to and crowns Pittwater, as Eccleston Frederick Du Faur stated in 1894:
KURINGGAI CHASE.
TO THE EDITOR OF THE HERALD.
Sir,-When on 6th October, 1892, I first submitted officially to the Minister for Lands the proposal to "dedicate the waters of Cowan Creek, and lands adjacent to same, as a national park for North Sydney, one of the principal arguments adduced was that "steps could be taken to prevent the reckless destruction of native flowers .eg, the rock-lily, formerly so abundant, is becoming scarcer every year, and must soon become extinct it not to some extent protected."
Two flowering seasons passed away before my suggestion was adopted by the preliminary notification of Kuringgai Chase in the Government Gazette of 20th June, 1894. During that interval of over 20 months wholesale depredations had been committed, not by the tourist but for trade purposes which left the foreshores for miles denuded of the special vegetation which had made them attractive in former years- the last tree ferns had been cut down, the rocklilies almost extirpated. The cutting of their flowers did no permanent harm, but almost every accessible plant had been torn away by the roots, and hundreds of Christmas bush trees of fifty growth and upwards had been felled, merely to lop off the top branches for decoration of the butchers shops &c. in Sydney. The removal of a few cartloads or boatloads of such vegetation each year would not have done any irremediable damage, but many of the depredators made a practice of camping on the creek for a week or two before Christmas and ruthlessly destroying everything they could find in accessible places, which they did not want for themselves, in order that others might not join in their harvest and cheapen the market against them at Christmas time.
Against this state of things the trustees have hitherto been unable to act owing to certain formal matters in connection with the dedication of the Chase not having been completed , but, seeing that the anticipated destruction during this season (the third) would put back the place for years a strong effort has been made, and being courteously backed by the department the dedication of the Chase was finally secured by gazette notice of the 11th instant and, after overcoming further obstacles the publication of the bylaws was obtained in a supplement Gazette of the same date.

Full arrangements having been made, in anticipation, linen posters of notice of bylaws, &.c , were delivered the same evening at a distant camp at Cowan Creek, where two men had been retained to post them along the foreshores of the Chase on Saturday. Similar posters were distributed on Saturday morning at the stations along the North Shore line, and accompanied by a constable and special constable I left for Pittwater the same morning on similar duties, and to establish a repressive force there, and to interview various residents who had promised to assist the trustees as far as lay in their power.
This morning (Monday) a strong body of special constables, under the authority and instructions of the trustees and the guidance or the local constable, commence a daily patrol in a steam launch from the head of Cowan Creek down to the Hawkesbury. Under such prompt and repressive measures the trustees feel confident that they will be able to put a stop to any piratical practices on the Chase during this season and that if the necessary support is afforded them by the Government, and the moral support of the general public is on their side, such practices will become impossible for the future and that both the flora and fauna of this large tract of country, abutting on the 10-mile circuit of Sydney, will be protected for future generations in Kuringgai Chase, although probably they will have utterly disappeared from most other places.
It is to be regretted that a section of our legislators, in ignorance, I presume, of the circumstances should by their recent vote have crippled the action of the trustees. On the evening after that vote I was obliged to discharge a road party at work (uncompleted) on the Chase, and other working men, who were anxiously awaiting the commencement of other works proposed to be carried out for the convenience of the public, were advised that they could not be commenced. Thus, as all administration by the trustees is performed gratuitously, the whole weight of that adverse vote falls on the working men of the Lane Cove and Hornsby districts, of whom, I am sorry to say too many able and worthy men are unemployed, while, furthermore, the proposed increase of convenience to the public, which would have largely increased our railway receipts, must stand in abeyance.
…. E. DU FAUR, trustee. December 17. KURINGGAI CHASE. (1894, December 18). The Sydney Morning Herald (NSW : 1842 - 1954), p. 6. Retrieved from http://nla.gov.au/nla.news-article14000128
The NSW public has the same stance when it comes to historic buildings. Although some government websites state these are 'owned by the state government' incumbent governments are only the custodians with the real owners being the NSW, the Australian and International public, those alive now, and those still to be born.
These publicly owned assets are then modified irreversibly to install bathrooms, lighting and kitchens, roads and tracks are put in, carparks built where greenspace was.
The destruction of these heritage items is just the first blow. Plans to erect new installations quickly follow.
People from across Australia have been opposing the follow on of modifying the heritage Green Cape Lightstation Keepers' Cottages in the form of erecting two luxury "eco lodges" in the formerly named Ben Boyd National Park (Beowa National Park NSW), at Hegarty's Bay and Mowarry Point since 2018.
In response The Beowa - Light to Light Walk - Community Action Group was established to co-ordinate efforts to share information and protest against newly proposed privatisation and commercial developments within the Beowa National Park NSW and the existing Light to Light walk. Along with a petition, already signed by thousands, they have been disseminating what the state government propose.
''These developments are aimed at high-paying users and many of the so-called improvements are likely to be beyond the means of most people. This and a ban on camping at the proposed sites effectively locks Australians out of our National Park. This is a growing issue in Australia and across the globe and if we don't take a stand, these areas will be unavailable for us and for future generations.'' the founders of the group state.
The main points of concern with this development proposal are:
1 - Construction of two large accommodation facilities within the national park at Mowarry Point and Hegarty's Bay. These are each capable of catering for 36 walkers per site and include communal kitchen/dining/seating area, work area and storage, helipads, toilets, hut officer accommodation. Note that accommodation facilities are already provided at two established campsites (Saltwater and Bittangabee Bay) and at Green Cape Lighthouse, along with other local businesses.
2 - No estimates provided on costs associated with staying in the proposed accommodation
3 - Opening up the park to "privately owned" commercial tour operators. Based on information provided on the Great Walks of Australia website, these walks will cost about $600-900 per night.
4 - Restricted access to beaches, walking tracks, surfing and fishing areas.
5 - 'The Light to Light Walk Strategy' and accompanying amendment have been proposed whilst environmental impact assessments are 'being conducted' and no information on the associated environmental impacts have been released.
6 - No information regarding the impacts on cultural heritage has been released, this includes the cultural heritage assessment.
7 - The development proposal does not explicitly provide local Aboriginal people with employment or training opportunities.
8 - Restricting backpack camping within Beowa NP forcing hikers to stay either at established, drive-in sites, or pay an undisclosed amount to stay at the accommodation at Hegarty's Bay or Mowarry Point.
9 - 10km of new and realigned tracks to be built with associated clearing and other environmental impacts.
10 - $7.9 million dollars spent on this project could be better spent in the broader community rather than this project which is targeted at a small number of high paying guests.
More recent information states the cost of this publicly-funded proposal has increased to $14.5 million.
The NSW Government press release claims the new developments are about 'how best to make the Light to Light walk accessible to everyone'. However, when you find out that many Light to Light campsites are currently free, and eco-glamping retreats can cost upwards of $795 per night, the spin is cast in a different light.

In an August 2022 report '' 'Stealth privatisation' in national parks threatens mental health boosts'' Griffith University researchers point out that;
''If we let the tourism industry take greater control over park access for private profit, we risk turning famous natural places into exclusive havens for people with money. This is not to say tourist ventures have no place. Commercial nature tourism businesses can benefit, and contribute, by guiding inexperienced visitors to visit national parks. But the parks themselves, and all their facilities, should remain publicly owned and accessible to all.
National parks are a major tourism drawcard. Commercial enterprises benefit from visitor spending along access routes, in gateway settlements outside park boundaries, and by operating mobile guided tours inside parks under similar conditions to independent visitors. Private lodges inside parks compete with these existing businesses.''
Further:
''We don't have to give private interests everything they ask for. While some other countries do allow private lodges in national parks, the models are very different from those in Australia.
In Botswana, for example, private leases in protected areas are short, facilities are fully removable, and private tour operators pay 80% of the parks agency budget. For comparison, proposals for a private island heli lodge in Tasmania's Lake Malbena offered only A$4,000 a year. *
In the US, the National Parks Service subcontracts visitor services to private concessionaires, but owns the facilities, requires bonds equal to 100% of capital value, and sets all conditions and prices.
In India, luxury lodges must generally be located outside park gates, while private hotels inside parks in China have been removed by the parks agency.''
* The ABC reported in 2020 that documents released by the proponents of one Tasmanian eco-tourism proposal showed they would pay about $6,000 a year in rent to the state government while planning to charge $4,500 per person per trip.
And this is what is planned for Barrenjoey Headland and Ku-ring-gai Chase National Park.
A December 12, 2022 update of the State Government's NSW Department of Planning and Environment website and webpage 'Park visitor survey' shows there were 50,085,238 visitors to National Parks in NSW in 2020. This occurred during the pandemic lockdowns and while many were impacted by the horrific bushfires that raged at the opening of that year.
Ku-ring-gai Chase is listed as the 3rd most popular National Park for visitors, with 3,099,270 individuals visiting in 2020 and the bulk of these visitors were residents of NSW.
Barrenjoey Headland and Palm Beach attract thousands of visitors on a daily basis.
This all begs the question - is the State Government not making enough money from us visiting our own National Parks? Ku-ring-gai Chase National Park entrance fees are $12 per vehicle per day - Vehicles over 8 seats are charged $4.40 per adult, $2.20 per child (per day), Students on educational programs: $1.10 per student.
Richard West AM, President of the Palm Beach & Whale Beach Association stated this week,
''If these cottages are used for short-term rental, only a select few will have access to these beautiful buildings, and needless to say, the renovation will destroy their heritage features.

If this plan is approved, safe access to the headland will have to be radically upgraded and this will result in great destruction to the natural environment.

We believe the money that would be spent on renovations for short-term rentals should be spent on restoring the cottages to their original heritage state and making them available for use by all.

We believe there should no commercial development on this beautiful heritage site.

If you want Barrenjoey Headland to remain as it is, with access available to all, please attend the protest rally.''
Mackellar MP Dr. Sophie Scamps said
''It's crucial to our community that Barrenjoey Headland remains free from over development and retains its unique heritage, character and environmental beauty.

The Headland must remain accessible to all who wish to visit and enjoy it.''
Miranda Korzy, Greens Councillor for Pittwater said,
"The state government needs to properly finance our national parks, rather than slashing their budget so they are now forced to pawn the Crown jewels to pay for their upkeep.

Similarly, the overseers at the National Parks and Wildlife Service must recognise it is a service and not a commercial operation. Its purpose is to conserve our biodiversity and cultural heritage, not to hawke it to those who can afford to pay.

It must not restrict public access to the Barrenjoey lighthouse cottages, one of Pittwater's significant heritage sites, to a wealthy minority.

Instead, it could improve and extend the cottages' historical displays relating to the site's maritime heritage - both indigenous and later - to foster a greater understanding of its past and current role in the community."
Rory Amon, Liberal Councillor for Pittwater and the Liberal Candidate for Pittwater in the March 2023 State Election stated;
''I have made enquiries regarding National Parks and Wildlife Services (NPWS) draft plan of management for Barrenjoey headland.

I am advised that under the exhibited draft plan, any short stay accommodation would be run by NPWS, as occurs in several locations in parks around Sydney.

However, the community made it clear through the public consultation process that they do not support short term accommodation on Barrenjoey Headland.

I note that when NPWS made a similar proposal in 2013, it was the NSW Liberal Government and Liberal State MP Rob Stokes who ensured the proposal did not proceed.

On behalf of the community, I will be speaking directly with the Minister for Environment, James Griffin MP, to strongly convey the community's position (and a position I share) that this proposal does not proceed."
However, as seen in so many other instances, the State Government approves it's own modifications to National Park Plans of Management and then promptly advertises who they propose to lease these public assets to and for how long they will hand these places over.
It is worth bearing in mind that under the National Parks and Wildlife Regulation 2019, section 24 'Commercial activities', (1) A person must not in a park—
(c) compete with or hinder the commercial operations of any person, business or corporate body possessing a lease, licence, occupancy or franchise from the Minister or the Secretary for a specific purpose or purposes
Jacqui Scruby, Independent Candidate for Pittwater in the 2023 State Election has stated;
''Pittwater is spectacularly beautiful and rich in heritage - and Barrenjoey Headland holds a special place in the heart of everyone who lives and has lived here. Today, I stand with our community to oppose and fight the proposed changes to the use of Barrenjoey Headland's historic buildings. which risks the pristine environment of the headland, the heritage value of its buildings and the journey to the lighthouse - over the beach and up the Smugglers' Track - that creates a sense of enigmatic nostalgia. It must be stressed that Barrenjoey Headland's environment is recognised at a state and federal level - including a special area of critically endangered Littoral Rainforest. It must be protected.
Fighting development at Barrenjoey starts with fighting the inclusion of short term accommodation and mobile food and beverage uses in the new management plan for Kuring-gai Chase National Park. We simply cannot leave the door open to these uses that will inevitably require significant development, particularly access roads and paths - clearing trees and vegetation, destroying the heritage features of the lighthouse buildings and changing the face of a place which must be preserved.
I call on the Minister for the Environment, James Griffin, to modify the draft plan to exclude these uses and call on his Liberal party colleagues to publicly lobby him to do so.The Pittwater community fought the potential for commercialisation of Barrenjoey Headland by National Parks and Wildlife in 2013 and we can do it again in 2023.''

Jeffrey Quinn, Pittwater Candidate for Labor in the 2023 NSW State Election, has stated:
''National Parks and the precious places within them are for conservation, not commercial opportunity. After 12 years of the Liberals and Nationals, National Parks are being squeezed at every opportunity to become money-making enterprises. This results from savage funding cuts and efficiency dividends, forcing Parks staff to find funding for vital work elsewhere.
Labor stands with the community on this issue and calls on Environment Minister James Griffin not to sign off on this proposal [to modify the POM for Ku-ring-gai Chase National Park] before the election. ''
Michael Gencher, our third Councillor for the 2016 created Pittwater Ward, said;
"It would seem straight forward enough that the Barrenjoey Headland site, being a heritage site – is under State legislation which mandates its complete preservation. The priority should be on preservation and not privatisation. Surely there are other opportunities and considerations to utilise these historic and unique assets for the benefit of the community - rather than a privatised commercial operation of short-term accommodation".
January 19 update
The Palm Beach & Whale Beach Association met with Minister Rob Stokes, Minister for Cities and Active Transport and James Griffin, Minister for the Environment and Heritage on Thursday 19 January.
Members of the Association state, ''They were unresponsive to our request to remove the possibility of commercial letting of the two Assistant Lighthouse Keepers' Cottages and the Boatman's Cottage from the draft Ku-ring-gai Chase Plan of Management. ''
''Commercial letting would mean:
* Drastic alterations to the 1881 buildings, destroying much of their heritage value
* Safety issues for visitors accessing the cottages at night
*Difficult access across a beach (sometimes through water) and up a slope with luggage
*OR Constructing a road to carry people, goods, rubbish etc up and down completely altering the pristine environment of the Headland
* Alienating the general public both financially and physically from these cottages''.
The second Barrenjoey Rally is on Sunday January 22nd at 11am alongside Station Beach, where the first occurred in 2013, just north of where the Boat House was in Governor Phillip Park, Palm Beach.

Previously:

Plan To Commercialise Barrenjoey Lighthouse Precinct On Timetable To Be Pushed Through Prior To 2023 State Election - December 2022 report
Proposal For Barrenjoey Lighthouse Cottages To Be Used For Tourist Accommodation Open For Feedback - Again - October 2022 report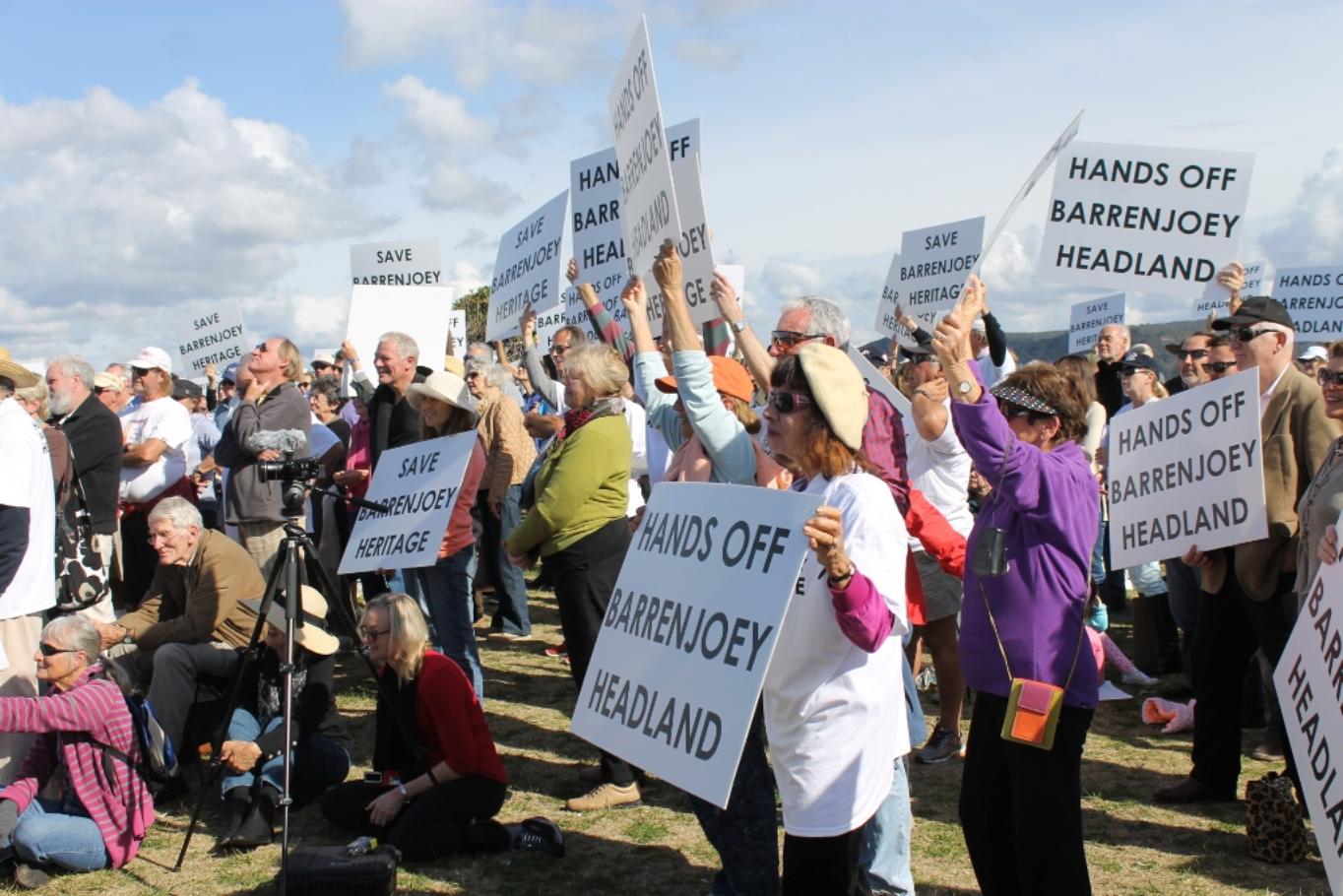 2013 Barrenjoey Rally. Photo: Pittwater Online News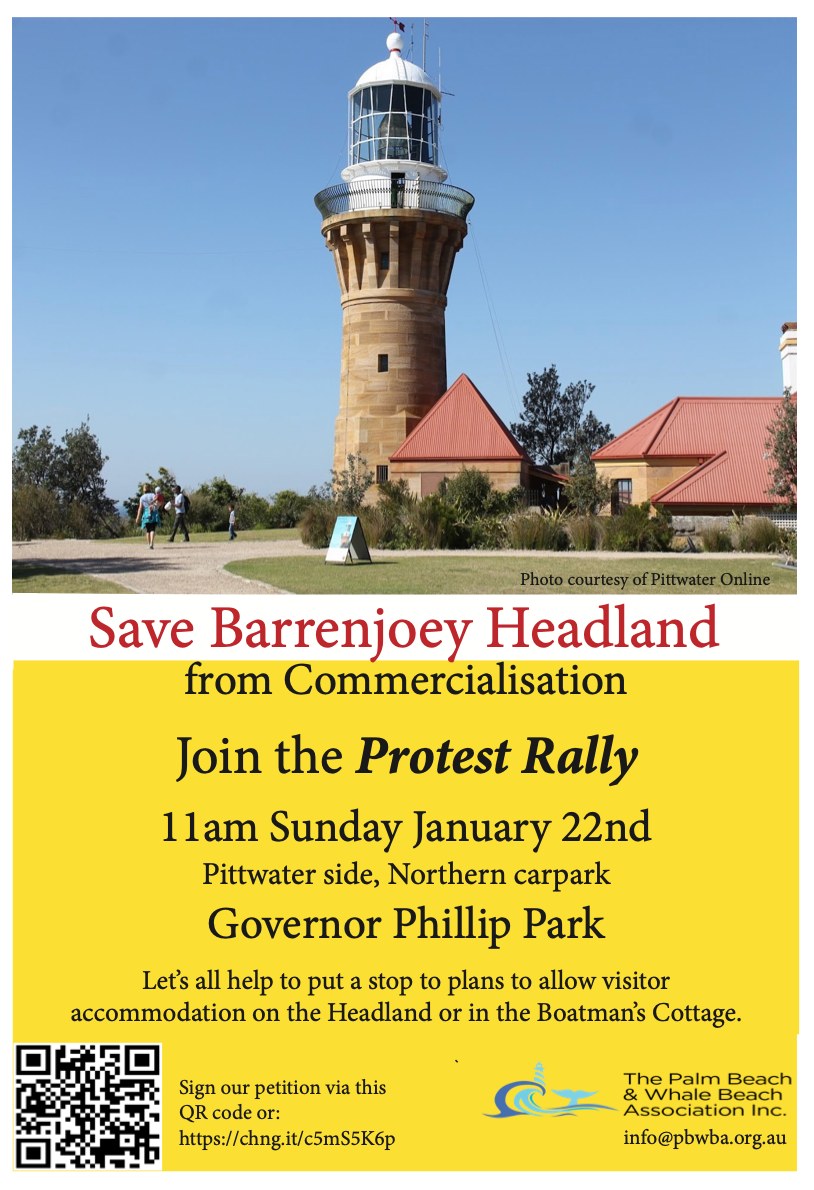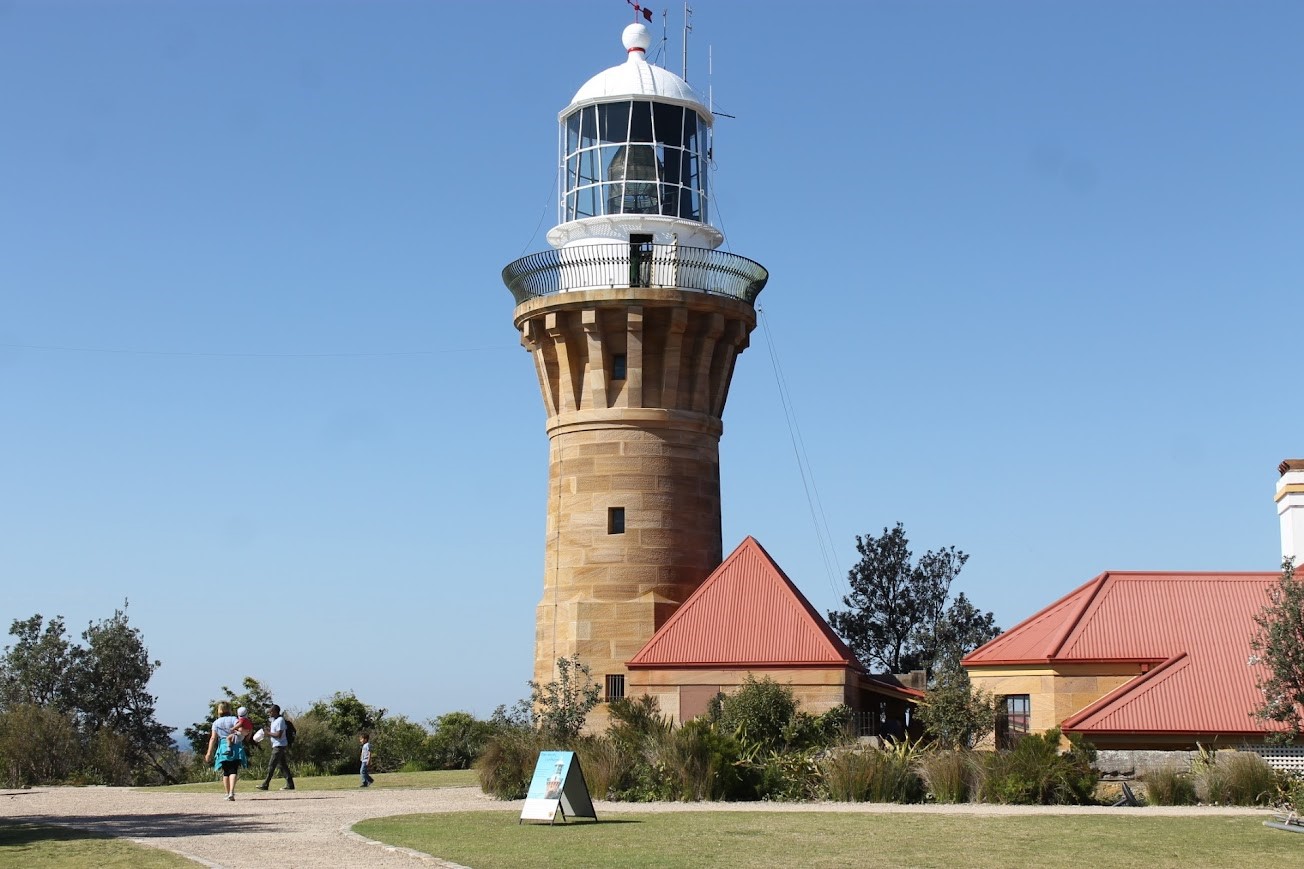 NSW Government Lists 99-Year Lease For Historic Cadman's Cottage Consultation During End Of Year Break: Closes Same First Week Of New Year
The NSW Government's Department of Environment and Heritage listed historic Cadman's Cottage as open for a 99 year lease on December 14th, 2022, with public submissions on their proposal closing on January 4th 2023, a 21 day 'consultation' period.
The webpage listing the 'Have your say' details states;
'Pursuant to Section 151 of the National Parks and Wildlife Act 1974, the Minister administering the National Parks and Wildlife Act proposes to grant Place Management NSW ABN: 51 437 725 177 (PMNSW) a lease to use Cadmans Cottage Historic Site for the purposes of:

heritage interpretation

provision of tourist information for the lessee and lessor

use as a museum

use as an Aboriginal cultural centre

provision of food and beverage facilities and amenities for visitors and tourists

event activation

provision of facilities to enable the hosting of conferences or functions ancillary to facilities and amenities for visitors and tourists in accordance with all applicable building codes, safety regulations and laws

any purpose that enables the adaptive reuse of an existing building or structure or the use of a modified natural area as mutually agreed between the parties in writing.

The proposed term of the lease is 99 years.'
Opponents of the proposal state this is just another example of the Liberal-National Government excising a public owned property from the public, and point to the timing of the consultation as flawed and yet another instance of the incumbent government making announcements or conducting consultations when the community has effectively 'clocked off' from politics and politicians for the year.
''Yet another 'done deal' snuck through by this government under their usual tick a box modus operandi, and as usual, it wouldn't matter how many people oppose this, they will push it through anyway ''.
Cadmans Cottage or Cadman's Cottage is a heritage-listed former water police station and sailor's home and now visitor attraction located at 110 George Street in the inner city Sydney suburb of The Rocks in the City of Sydney local government area of New South Wales, Australia. The property is overseen by the NSW Office of Environment and Heritage, an agency of the Government of New South Wales. It was added to the New South Wales State Heritage Register on 2 April 1999.

Free guided tours of the grounds and bottom level of the house were available. They ran on the 1st and 3rd Sunday of each month from 9.45am to 10.15am, excluding public holidays.
However, NSW National Parks and Wildlife Service advises on their Cadmans Cottage webpage that these are currently suspended and will resume later in 2023.
Place Management NSW is a State Government Entity. Place Management NSW (part of Place Design & Public Spaces) is responsible for managing Sydney's most historically and culturally significant waterfront locations, including Sydney's heritage and cultural precincts at The Rocks and Darling Harbour.
Place Management NSW was also responsible for the management of the Public-Private Partnership delivering the new ICC Sydney convention, exhibition and entertainment venues in Darling Harbour.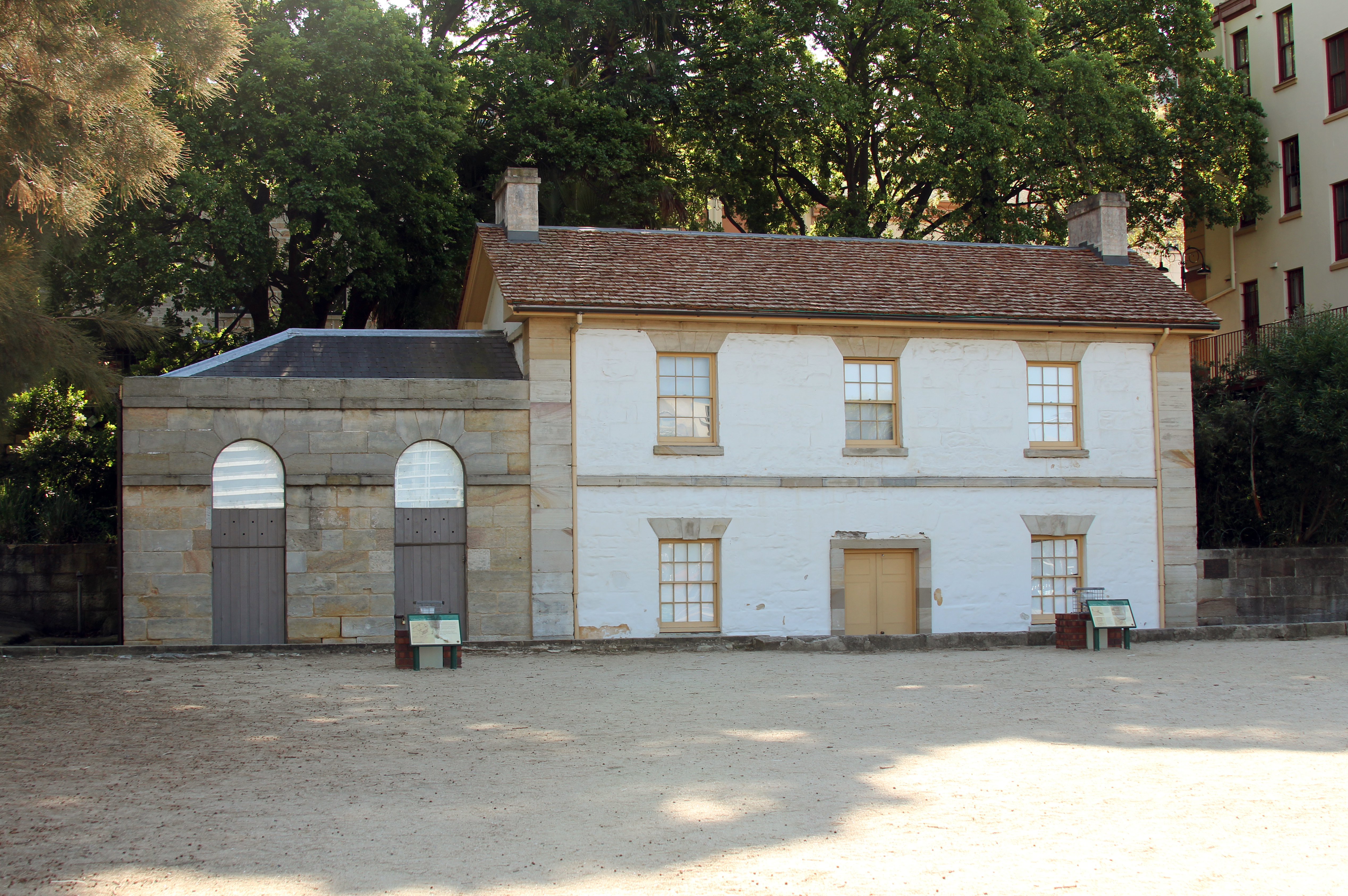 Front view of Cadman's Cottage at The Rocks. Photo: Julioenrekei

A 20+ Years Of Excluding The Public From A Public Asset?: Gardens Of Stone Leases To Privatise Yet Another NSW National Park 'Consult' Listed Over Christmas-New Years Break By State Government - Same Announces Tourism Company For 'Lost City' Tourist Accommodation In Gardens Of Stone
The new Gardens of Stone State Conservation Area Plan of Management was adopted by the Minister for Environment and Heritage, Manly MP James Griffin on 7 November 2022 - this included 'proposed' Commercial activities of a lease of 4 of the 5 areas identified as supported accommodation AND the development and operation of elevated walkways, zip-lines (the 'longest one in Australia'), rope swings, high ropes, via ferrata and flying-fox infrastructure in the Lost City adventure activity precinct.
On December 21st 2022 the incumbent State Government listed a 'Have your Say' page Notice of intention to grant a 20 year lease to Wild Bush Luxury Pty Ltd and Trees Adventure Holdings for what was in that PoM ticked off just weeks before. The 'consultation' closes January 18th 2023 - while residents of NSW are coming back from having clocked off.
Under the National Parks and Wildlife Regulation 2019, section 24 'Commercial activities', (1) A person must not in a park—
(c) compete with or hinder the commercial operations of any person, business or corporate body possessing a lease, licence, occupancy or franchise from the Minister or the Secretary for a specific purpose or purposes
This instance points to the 'step by step' process of those following the incumbent government's policies, as instructed, and shows what could/or is planned to happen at Barrenjoey. That too lists 'Commercial Activities' for the Barrenjoey Headland precinct.
In November 2021, the Liberal-National Government declared 31,500 hectares of the Gardens of Stone north of Lithgow would become a state conservation area, with Premier Dominic Perrottet stating their plan the "most important environmental announcement this government has ever made".

The new reserve were established by legislation introduced that same month by
Gardens of Stone State Conservation Area (total 28,944 ha) created by the transfer of Newnes, Ben Bullen and Wolgan State forests and Crown land
additions to Gardens of Stone National Park (342 ha) from Crown land
additions to Wollemi National Park (2259 ha) from Newnes State Forest.
The coalition government's plans differed from what had originally been proposed by the group, called the Gardens of Stone Alliance, which wanted low-impact eco-tourism ventures, like bushwalking and camping. In a bid to campaign for the full protection of the Gardens of Stone The Blue Mountains Conservation Society has joined forces with two other prominent environmental organisations, Colong Foundation for Wilderness and Lithgow Environment Group.

"[The government] is thinking that will generate more people, more money into the area at a quicker rate," Julie Favell from the Lithgow Environment Group told the ABC

Listed as critically endangered koalas, spotted-tailed quolls and regent honeyeaters are some species which call the area home.

The Gardens of Stone Alliance is asking NSW residents to object to these lease proposals, stating:
''When the Gardens of Stone State Conservation Area was announced on November 13, 2021, the NSW Government also announced an adventure theme park at Lost City and exclusive accommodation in association with a Great Walk.
The National Parks and Wildlife Service is seeking public comments on its intention to grant 20 year leases for these two proposals in parts of the Gardens of Stone State Conservation Area. The period for comments is in the holiday period closing on 18 January. The parent company involved with these proposals is Experience Co, the same company that has plans to develop the Tasmanian Wilderness World Heritage Area.
[we ask people to ]Object to these leases, that will privatise parts of this conservation reserve, [and this being done so] before the public has an opportunity to comment on the details of these developments.
The proposed locations and extent of the accommodation are only approximate and not clearly defined on the simple map provided. Likewise the location of "ziplines, via ferrata and suspension bridges" and other requirements for the Lost City Adventure Precinct. This means that the possible environmental impacts of the proposed lease are hard to identify, let alone avoid them and protect the area.'' the group states
''Ticking the consultation box without information is a sham process. Very limited information is available in the public exhibition of the notice to grant leases.
[Please] Express your concerns about the development threat to this important Blue Mountains reserve before close of business, 18 January 2023.
For more information and assistance with making a submission, go to the gardensofstone.org.au website''. the Gardens of Stone Alliance states
You can provide your written submission via email to: Commercial.Enquiries@environment.nsw.gov.au

On November 16th 2022 the State Government announced it had adopted its Gardens of Stone State Conservation Area (SCA)Plan of Management. This includes drive-in camping facilities in the former Forest Camp, including 100 plus tent sites, toilets, camp kitchen shelter, access to adjoining walking and a MTB track network.
It also includes 'parking and a varied range of other facilities (toilets, picnic tables) at relevant trailheads, to 'Improve facilities to lookout points generally', NSW's first Via Ferrata rock-climbing opportunity, a protected climbing route employing steel cables, rungs or ladders fixed to the rock, Australia's longest zipline and an elevated canyon walk'.
On December 21st 2022 the coalition government announced the Lost City precinct was now ready to move forward through a partnership between the NSW National Parks and Wildlife Service (NPWS) and Experience Co.
The government states ''the partnership follows a competitive Expressions of Interest (EOI) process which will see Experience Co working with NPWS to bring to life plans for the park's new multi-day walk including overnight accommodation and the Lost City zipline adventure experience.''

Head of NSW National Parks Atticus Fleming said the 31,500 hectare Gardens of Stone reserve will deliver diverse experiences catering for all visitors, alongside dedicated conservation programs to protect the exceptional values of the new reserve.
"Thanks to a $50 million dollar investment from the NSW Government, the new reserve will host an array of nature-based options including accessible family-friendly camping areas, bushwalks, lookouts and four-wheel driving routes.
"There will be something for everyone as the reserve will also feature a network of mountain bike tracks catering for all abilities, canyoning and rock climbing.
"The Gardens of Stone's ancient sandstone pagoda formations and canyons will be showcased by the Great Walk, which will link the new State Conservation Area to Wollemi National Park, providing visitors an opportunity to take in outstanding views of this special place, which is home to over 80 rare and threatened species, including koalas and regent honeyeaters."
The first stages of the multi-day walk will be open in mid-2024, the government states.
The zip line and via ferrata experiences at Lost City are projected to open in December 2023.
The planned 'low impact eco-accommodation and public campsites' are also part of this announced private-government partnership.
Experience Co Chief Executive Officer John O'Sullivan said the company was delighted to be selected to partner with NPWS to help deliver 2 exciting new tourism experiences.
"Building on our expertise developing sustainable tourism products in sensitive locations, we are looking forward to creating new experiences that elevate the region and engage with this unique area of NSW as well as recognise the importance of this ancient landscape to Wiradjuri people," he said.
The Government states the Gardens of Stone SCA is expected to attract up to 200,000 new visitors, create around 190 local jobs and generate up to $30 million in regional economic activity each year.
It also states all visitor infrastructure will be subject to rigorous environmental and cultural approvals to ensure effective protection of ecological and cultural values.
The '$50 million dollar investment from the NSW Government' is, of course, from the pockets of taxpayers, despite these announcements keyed to sound as though the government has given the money from the pockets of the politicians who make these announcements.
One resident of the area has stated, ''This is an environmental disaster in the making. All the result of grubby political deals done behind closed doors. The government should hang its head in shame if this is what it calls protecting the unique conservation values of this special place.''
In Tasmania, the only state or territory other than NSW where a Liberal government is still in power, there has been widespread opposition to that incumbent government's privatisation of National Parks.
On June 8th 2022 the Wilderness Society coolly welcomed proposed minor changes by the Tasmanian Government to its discredited 'tourism expressions of interest' process that lets commercial tourism developers into the national parks there.
"Given the near-universal unpopularity of and widespread public opposition to the Hodgman, Gutwein and now Rockliff Government's continued parks privatisation push, business as usual wasn't really tenable although these changes don't go far enough," said Tom Allen, Tasmanian campaign manager for the Wilderness Society.
"Thanks to the public standing up for their public national parks, these proposed changes are the result of strong, sustained and near-universal public opposition to the parks privatisation push and show the need for stronger Community Rights.
"While everyone else has to abide by the state planning laws and environmental assessment requirements, the tourism EOI process creates a low-bar loophole, through which can waltz commercial tourism operators to exploit some of the most ecologically-important lands anywhere, with minimal obligations or oversight. This makes a mockery of the Tasmanian Government's aspirations to be a global 'ecotourism' leader. They should be raising not lowering the bar for these special places.
"It continues to be unacceptable that the Tasmanian Government solicits commercial tourism proposals that breach the Statutory Management Plan for the world's highest-rated World Heritage wilderness.
"As Experience Co/Wild Bush Luxury's current plans to commercialise the South Coast Track show, until the Rockliff Government takes the parks privatisation policy and the tourism EOI 'process' off the table, the threat to the ecological integrity – and to that of palawa/Aboriginal cultural values – of national parks and World Heritage wilderness remains," said Mr Allen.
The privatisation and excluding the NSW public from the Gardens of Stone is not the only 'development' proposed of NSW National Parks. On June 19th 2022 the State Government announced upgrades to Dorrigo National Park which will encompass a brand-new Arc Rainforest Centre featuring a huge boardwalk and a new multi-day walk along the escarpment edge through Gondwana World Heritage rainforests, with hut and camping accommodation.
The November 4th 2022 update on same announces 'Planning has commenced on a new multi-day walk and a spectacular new visitor centre as part of a $56 million investment on Gumbaynggirr Country in Dorrigo National Park.'

The Dorrigo Escarpment Great Walk project webpage states it proposes 2 main components to be constructed in stages:
The Dorrigo Arc Rainforest Centre – a new visitor centre and treetop walkway on the footprint of the existing Dorrigo Rainforest Centre, that will provide an improved rainforest experience and accessible access to the existing Balaminda welcome platform and Wonga Walk.
The Dorrigo Escarpment Great Walk – a 46-kilometre multi-day walk ''with 4 purpose-built communal low impact walkers' huts and camping areas'', including a number of additional shorter walking options.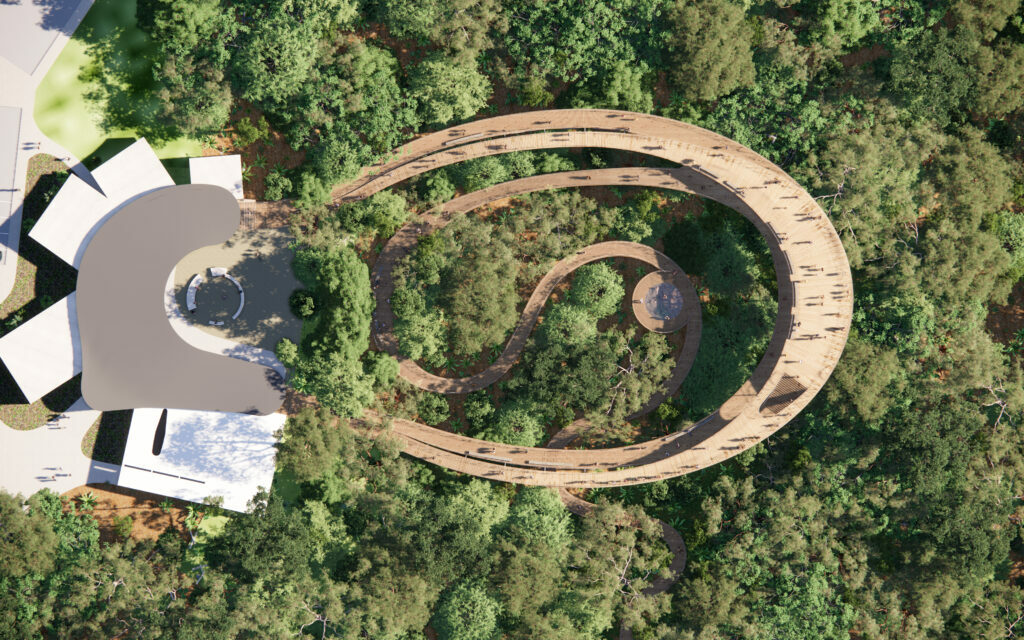 Artistic render of draft plan for the proposed Arc Rainforest Centre. Credit: Studio Hollenstein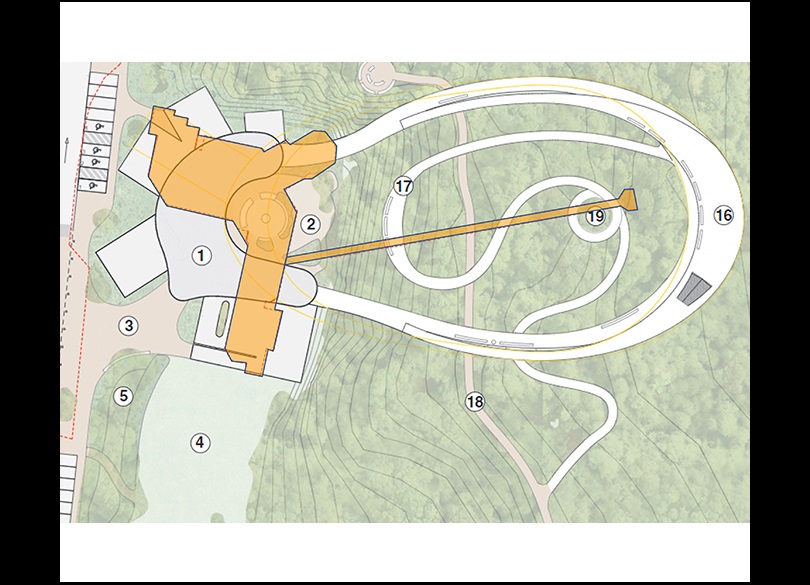 Concept drawing for the proposed new Dorrigo Arc Rainforest Centre, with an overlay of the footprint of the existing rainforest centre existing footprint Credit: DPE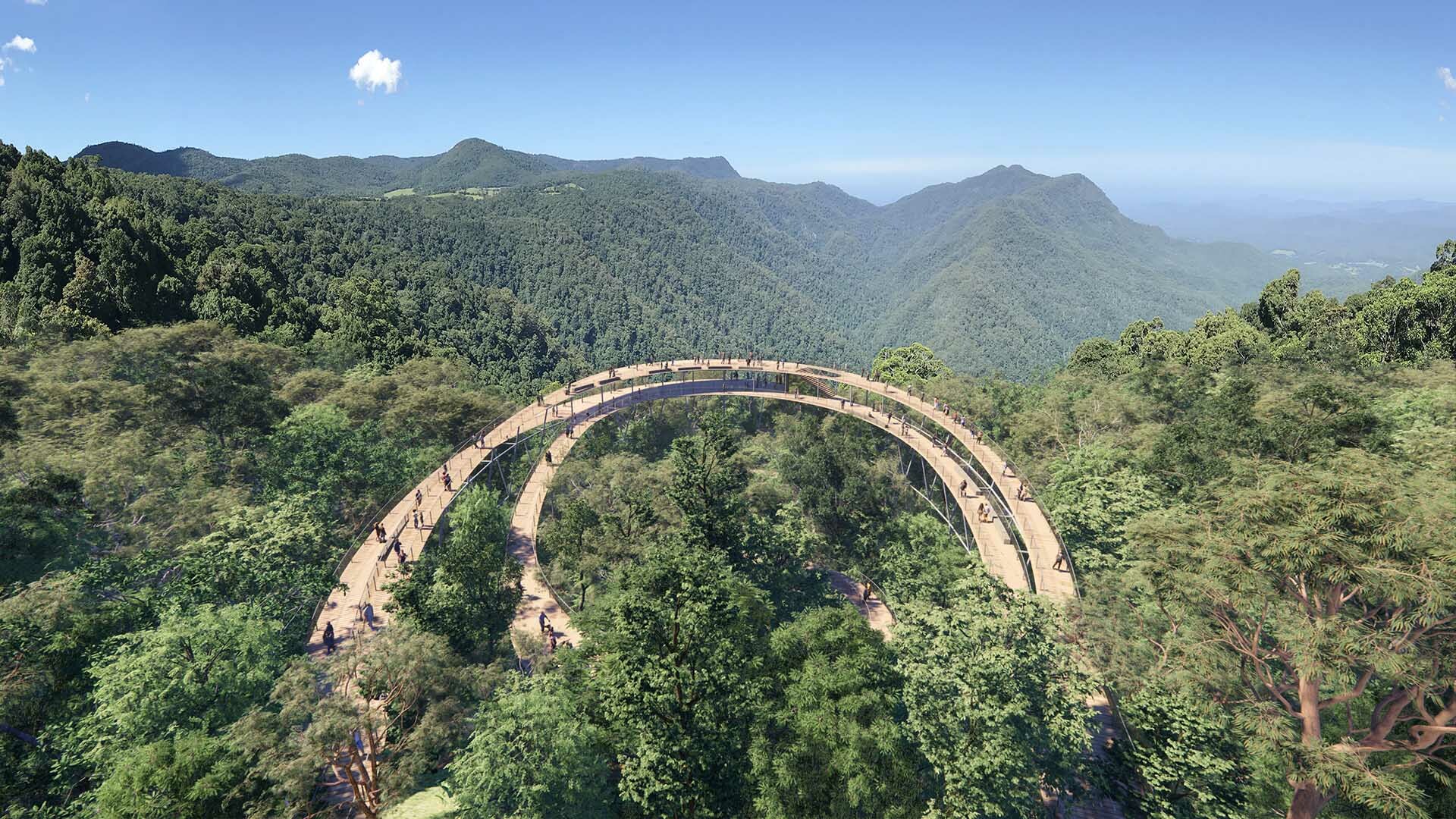 Artistic render of proposed Arc Rainforest Centre with elevated lookout platform. Credit: Studio Hollenstein
Preparation of a new plan of management for Dorrigo National Park, Bindarri National Park and Bindarri State Conservation Area is underway, the NSW Department of Environment states. Once a draft plan of management has been prepared, it will be placed on public exhibition for community feedback.
''We will keep you informed of an opportunity to 'have your say' on the draft plan of management, with public exhibition planned for 2023. We are also planning to exhibit the draft project master plans with the draft plan of management.''
An August 29, 2022 article 'Stealth privatisation' in iconic national parks threatens public access to nature's health boost' by Ralf Buckley, International Chair in Ecotourism Research, Griffith University and Alienor Chauvenet, Senior Lecturer, Griffith University stated;
'The public almost always opposes permanent accommodation in parks, whoever owns it, based on the belief private lodges and camps should be on private land.

But state governments in New South Wales, Queensland, Tasmania and South Australia have enabled this regardless. Think of the pristine Ben Boyd National Park near Eden in NSW, slated for eco-tourism cabins at the expense of campers.

The examples go on: ecotourism cabins in Main Range National Park in Queensland, Tasmania's private Three Capes walk in Tasman national park and a resort in Freycinet National Park, as well as Kangaroo Island in South Australia.

Private developments exclude the wider public, both physically and financially.'
Heritage Listed Walka Water Works To Provide Tourist Accommodation State Government Announces
On January 11, 2022 the Liberal-National Government announced the historic Crown land reserve at Maitland, Walka Water Works, will receive a $10 million boost via Round Two of the NSW Government's Regional Tourism Activation Fund.
Parliamentary Secretary for the Hunter Taylor Martin said Maitland City Council, Reflections Holiday Parks and Crown Lands had partnered on a joint bid for the funding.
"Walka Water Works is one of the state's most unique public sites serving the Hunter since 1887 as a source of water, then power and now recreation and heritage," Mr Martin said.
"This plan aims to restore Walka Water Works to its former glory and invest in additional improvements that can make it a tourism magnet for the Hunter Valley."
CEO of Reflections Holiday Parks Nick Baker said Reflections would also contribute a further $1.6 million to the project.
"Reflections is excited to partner with Maitland City Council on this successful grant application which will deliver new accommodation options for visitors to Maitland, while enhancing community access and amenity," Mr Baker said.
"We look forward to working with Council and the community to develop plans for a mix of accommodation offerings, including cabins and powered caravan and camping sites.''
Reflections is a Crown Land Manager and Australia's only social enterprise holiday park group, reinvesting profit into Crown Land across New South Wales.
Walka Water Works is a heritage-listed 19th-century pumping station at 55 Scobies Lane, Oakhampton Heights, City of Maitland. Originally built in 1887 to supply water to Newcastle and the lower Hunter Valley, it has since been restored and preserved and is part of Maitland City Council's Walka Recreation and Wildlife Reserve.
It was added to the New South Wales State Heritage Register on 2 April 1999.
The complex had been classified by the National Trust in 1976.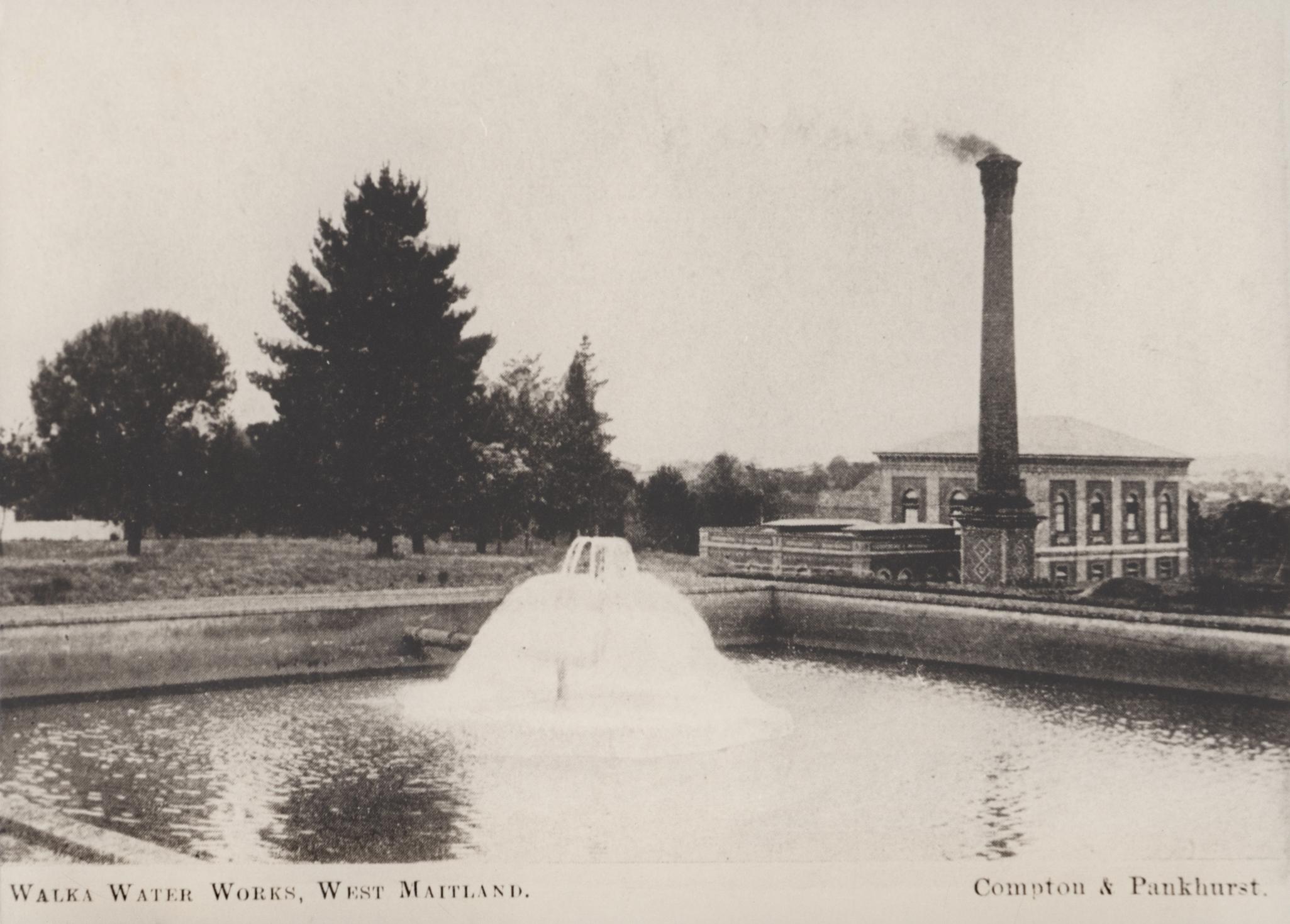 Walka Water Works, West Maitland, NSW, Australia [c1893], courtesy University of Newcastle Living Histories node

Presently the area is open as a free public reserve, with barbecues, picnics areas, a playground, walking trails and a 7 1/4 inch gauge miniature railway that operates passenger rides each Sunday.
The reservoir and surrounding bush make it a unique environment for birds and animals in the area.
The proposed works include:
Restoring the 1885 pumphouse building and chimney back to their original condition to preserve their heritage and allow tourism and hospitality businesses to flourish, such as an interpretive centre, cafés, restaurants, craft brewery or distillery, and event functions.
Establishing overnight visitor accommodation starting with 10 eco-cabins, 12 glamping tents and 40 powered caravan sites, as well as a camp kitchen and barbecue area.
Upgrading the Eastern Lawn with landscaping and infrastructure for weddings and other events.
Redeveloping the miniature train railway station as an improved visitor experience.
Upgrading walking trails to improve accessibility and include interpretive information.
Developing a centralised amenities building, upgrading car parking to meet accessibility standards, and other infrastructure improvements.