March 7 - 13, 2021: Issue 486
Proposal for housing Densification of Pittwater Unpopular with Residents: Protest organised for march 21st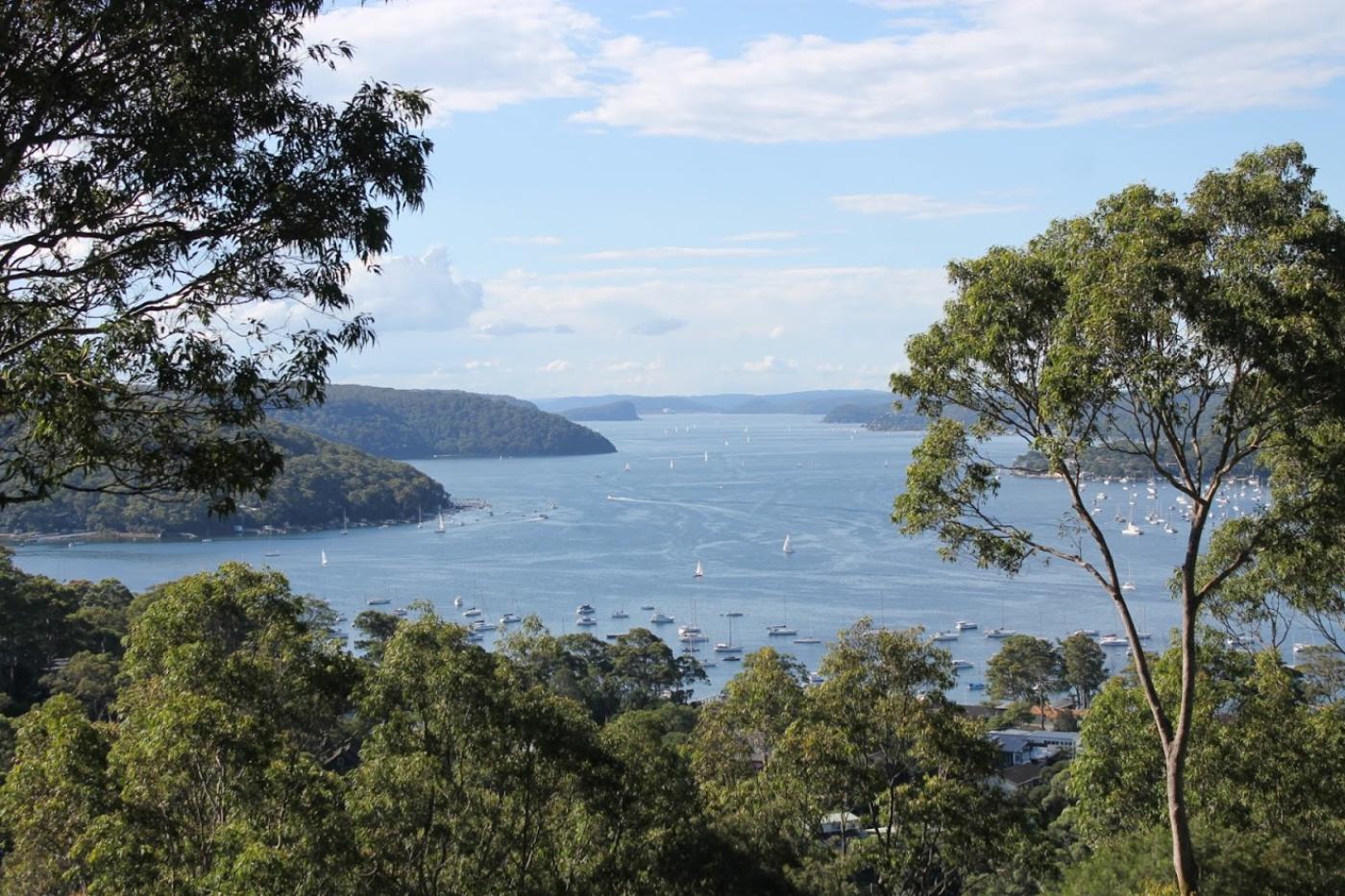 The Required Local Housing Strategy
- feedback to council closing March 7, has been the subject of community discussions in past weeks.
The housing strategy calls for High Density at Mona Vale and Medium Density at all suburbs south and north to respond to meeting the projected housing needs for Sydney and New South Wales to 2036, and is part of a raft of bigger changes, including the State Environmental Planning Policy (Sydney Region Growth Centres) 2006, the 2015 Housing Diversity Finalisation Report , the 2018 Sydney Metro Northwest: Proposed SEPP Amendment (which proposed an amendment to the State and Regional Development SEPP aims to ensure a state-led, consistent and transparent planning pathway for the development of government land within the eight station precincts along Australia's largest public transport infrastructure project; the $8.3 billion Sydney Metro Northwest)and Planning for Place, Design and Public Spaces, and the current Design and Place State Environmental Planning Policy (SEPP).
Smaller changes have taken place as well. The NSW government adopted a translocation policy in May 2019 in regards to koalas which states its key objective [is to] increase good practice in translocation initiatives by ensuring they:
are only undertaken where necessary or beneficial for conservation of the species

or as part of an approved offset arrangement [for a state significant development]
The NSW Government's Translocations for offsets is moving koalas in the way of development. Unfortunately, the approval of mass felling of trees, and plans to raze 100% more of some kola habitats, means translocation, even if it did work, cannot occur as there is nowhere to move them to.
The International Union for the Conservation of Nature has guidelines for translocations. Two are listed:
1. Conservation Translocation - To improve the status of the species or
2. Conservation Introduction - To avoid population extinction at any scale.
This is all to meet the 725,000 additional homes the NSW Government states will be needed by 2036 to meet demand based on current population projections. By 2056, it is anticipated that significant further housing supply will be required to meet Greater Sydney's continued strong population growth. The Plans include activating housing needs along lines currently being built or those already in place, creating Education and Employment precincts linked to housing be green space. This is an incredible amount of work being done on a scale not seen before in New South Wales.
The current North District Document drafted by the Great Sydney Commission, itself formed to oversee meeting future growth in population will be met with all it needs locally through good planning, states the NSW Department of Planning and Environment's projections of population and household growth in the North District translate to a need for an additional 92,000 homes in the period 2016 to 2036.
The Northern Beaches was required to supply 3,400 of these in the 2016-2021 period.
On December 16, 2020 the Greater Sydney Commission launched its second annual Pulse of Greater Sydney (2020) report, tracking the impacts of COVID-19 across the region and updating key indicators of change. The now Chief Commissioner Geoff Roberts AM, said the challenges the people of Greater Sydney face, and the opportunities they present, make monitoring and reporting even more important this year.
"The Pulse of Greater Sydney 2020 expands on the inaugural report in 2019, established to measure the implementation of the Greater Sydney Region Plan, A Metropolis of Three Cities, and the five District Plans," Mr Roberts said.
New data and ways of measurement have been introduced for the four indicators launched in the first Pulse report in 2019: jobs, education and housing, the 30-minute city, walkable places and addressing urban heat. The Pulse also covers reporting on the implementation of district plans, showing how Greater Sydney is changing on a district by district level. The report includes mapping the status of projects and programs to deliver a metropolis of three cities.
Mr Roberts said the insights in the 2020 report will shape the updating of the Greater Sydney Region Plan and District Plans through 2021.
That document states the North District Plan Implementation Update provides that;
The North District comprises the nine LGAs of Hornsby, North Sydney, Ryde, Lane Cove, Hunters Hill, Ku-ring-gai, Mosman, Northern Beaches and Willoughby. This update overviews the projects and programs that support the district plan's implementation.

The 6–10 year housing targets: As part of their LHSs, councils are to show how they can meet an indicative draft range for 6–10 year housing targets (2021/22–2025/26) of 3,800–4,200 dwellings in Hornsby, 8,400–8,900 dwellings in Ryde, 150–200 dwellings in Hunters Hill, 3,350 dwellings in Ku-ring-gai, 3,000–3,500 in Lane Cove, 250–300 in Mosman, 3,000–3,500 dwellings in North Sydney, 3,500–4,000 dwellings in Northern Beaches and 1,600–1,800 dwellings in Willoughby.

On District Arts, Culture and Sport: The final Newport and Avalon sections of The Coast Walk from Manly to Palm Beach is scheduled for completion in early 2021, and that it is part of a $32.6 million a Connected Communities Program, funded by the NSW Government.

On the Ingleside Release Area: Bushfire evacuation study, that's still 'underway' – Planning
You can download the Pulse of Greater Sydney 2020. It's available at: www.greater.sydney/pulse-of-greater-sydney-2020
This underlines that the 'Plan' is always changing. The short term impact of COVID-19 and reduced migration on Sydney's overall population growth.
The main sticking point is Pittwater people do not want Mona Vale, Ingleside or Warriewood (possibly a bit late) being turned into Dee Why. Equal with that is any potential destruction of the environment so that it may be replaced with a 'squaring off' of the landscape.
However, the Greater Sydney Commission's North District Plan states:
Housing strategies are to be prepared by councils for a local government area or district and given effect through amendments to local environmental plans. To deliver coordinated outcomes the development of housing strategies are to be aligned with councils' community strategic planning and to inform local strategic planning statements and local environmental plans.
Residents now have a complete mistrust around this process is further emphasised when Readers recall the 2018 Sydney North Planning Panel's First Determination here: For Pittwater LEP To Be Amended To Facilitate Crystal Bay Seniors Housing Development To Proceed To Gateway and also Change E4 Zone To R2 For All Adjacent Blocks Of Land
Council's documents state the peninsula of the northern beaches (Manly to Palm Beach) needs to plan for approximately 12,000 new dwellings by 2036.
Section 4 (The right locations for new housing) states that Brookvale, Dee Why and Mona Vale are classified as strategic centres in State level planning, and Manly Vale and Narrabeen, while smaller, offer many opportunities to build on their existing characteristics, along the existing B-Line, are all suited to medium to higher density development in the medium term.
Low to medium density housing will be investigated in the one kilometre radius around other local centres including Avalon, Newport, Warriewood, Terrey Hills, Belrose, Forestville, Beacon Hill, Freshwater, Balgowlah and Manly, excluding areas with environmental and other constraints.
In the longer term, if a second B-Line to Chatswood goes ahead, centres such as Forestville and Beacon Hill could also be a focus for medium to higher density housing.
Local centres suited to low to medium density housing such as dual occupancies, seniors accommodation and boarding houses include

the strategic, town and village centres that are not on the existing B-Line or not proposed for significant housing renewal. These include:

Avalon, Newport, Warriewood, Terrey Hills, Belrose, Forestville, Beacon Hill, Freshwater, Balgowlah and Manly.
The
Low Rise Housing Diversity Code
(Code) -
formerly the Low Rise Medium Density Housing Code
- facilitates a diverse range of housing. The Low Rise Housing Diversity Code allows well-designed dual occupancies, manor houses and terraces (up to two storeys) to be carried out under a fast-tracked complying development approval pathway.
Amendments to the Code (June 2020) have been made to clarify the intent and operation of the Code as well as provide certainty for councils, developers and the community, and ensure that any changes made to Council Local Environmental Plans will have the desired effect.
Low rise medium density residential development is development that contains more than one dwelling and has a height of less than 10m. Typically, it results in a net density of 25-45 dwellings per hectare. This includes:

• terrace style housing on torrens or strata titled lots

• dual occupancies and semi-detached dwellings

• villa and townhouse developments

• community titled, master-planned and medium density developments

• manor houses and 'one on top of other' dual occupancies - buildings of between 2-4 dwellings
Gross densities around 25 -30 dwellings / ha are achievable. Net density is typically 30-40 dwellings per hectare.

Landscaped area required is 20 - 50% increases with lot size

Building height 8.5m (2 storey) - 10m (3 storey)
The NSW Planning Department has prepared a
Low Rise Housing Diversity Design Guide for Development Applications
(July 2020: PDF, 16.8 MB) to assist councils when assessing manor houses and terraces as a DA until they develop their Development Control Plan (DCP). The Department states that this Design Guide for DAs provides councils with best practice controls and design standards to ensure developments are well designed and will fit into the local character of the area.
The Code has now become operational across all local government areas since July 1st 2020. In consultation with their communities, councils can decide the housing types they want in their R2 Low Density Residential zone as part of their strategic planning.
The NSW Planning Department requires homeowners to be notified if you are the occupier of a dwelling that is located on a lot that has a boundary within 20 metres of the boundary of the lot on which the development is proposed to be carried out.
The predominant residential land use zones in the Northern Beaches LGA are currently R2 Low Density Residential and R3 medium Density Residential.

Section 2 of Council's Draft Housing Strategy, 'Planning and Policy' states existing maximum dwelling density (under current controls) for Mona Vale is 25 and that the 'Potential future density across investigation area (dwellings per hectare) could be increased to 27-28, and that the Potential additional dwelling capacity generated could be 240-520'.
Narrabeen, maximum dwelling density (under current controls) is 88 but that the 'Potential future density across investigation area (dwellings per hectare) could be increased to 90-98' and that the Potential additional dwelling capacity generated could be 50-320'.
Dee Why and Brookvale are also listed but with increases so minimal that it is Narrabeen and Mona Vale looking most promising for 'additional dwelling capacity' through this document.
Mona Vale could also become a high density precinct, with residential flat buildings alike Dee Why as it is named as a Strategic Centre - with the document identifying industrial areas as a potential site for high density developments.
Section 2 of Council's Housing Strategy states:
The theoretical capacity assessment suggests that if all available areas are fully developed, the LGA could accommodate around 8,300 additional dwellings in addition to the maximum of 4,360 dwellings identified for Frenchs Forest, which is not factored into current planning controls.

Combined, this suggests an overall capacity for around 12,600 dwellings. Much of the existing capacity is for multi-unit housing, residential flat buildings and shop-top housing.
Multi-dwelling housing and residential flat buildings are calculated at 4,802 to make this total, while Shop-top housing is 2,838. Council also wants to adopt a target to plan for 1,880 new social and affordable housing dwellings by 2036.

In a place that treasures the landscape's smooth runs of green into blue into green and blue again, all hills and water and sky, as well as unique homes and buildings designed by brilliant local architects, the ideation of introducing medium density cookie-cutter dwellings alike that seen on your right as you drive south from just over the Narrabeen bridge to Dee Why, is not popular.
As there is also a plan to try and commence reducing parking for new developments, see
Design and Place State Environmental Planning Policy (SEPP) below, suburban streets and commercial centres already choked with parked cars, along with the increase of these travelling on the one road in and one road out is being responded to with another 'Scale and
Capacity
' echo - residents state 'we have reached
capacity'
.
Cars owned by residents are not the only contributor to choked roads. Visitors to our area also contribute and that is set to grow. As an example, a February 26, 2021 media release by Transport for NSW stated that the COVID-19 pandemic has seen a
92 per cent spike in new jetski licences
.
"Since May (2020) we've seen more than 9076 new jetski licences issued, that's up more than 90 per cent for the same period in the previous year. We understand riding a jetski is a lot of fun, but we've also got a lot of new riders out on the water and we need to make sure it's a safe place for everyone," Mr Constance said.
As well, boats and trailers parked on urban streets continue to frustrate the safe passage in and out of their homes by residents.

Sydney's population growth had been slowing even before the coronavirus outbreak. In the 2019 financial year the city's population increased by 1.7 per cent, the lowest rate in seven years.
Recent population estimates showed Sydney's population reached 5.3 million in June 2019. Prior to the coronavirus epidemic the baseline forecast was for the city's population to reach 5.84 million by 2025. That will fall to 5.63 million in the event of a prolonged economic downturn according to the predictions of an SGS Economics and Planning report.
Over the past two decades, population growth has been an important driver of Australia's economic growth. Immigration is the largest component of this, comprising about 64% of our population growth in 2016-17 (with the rest coming from natural increase).
In 2020 immigration was down because of COVID-19, but also because of reductions in permanent migration numbers set by the government for 2019-20. Immigration levels will be low well into 2021, with net overseas migration expected to be -72,000 (from previous highs near 300,000).
This is the first time since the second world war it has fallen to negative levels.
According the October 2020 Federal budget, Australia's overall population growth is expected to be just 0.2% in 2020-21 and 0.4% in 2021-22, the slowest growth in over a century.
If this persists the GSC housing targets would also need to be reduced.
Residents aren't waiitng for that though.
On Friday
Pittwater Online
received the flyer below along with a call out, as 20 thousand were being delivered that day, for walkers to distribute them.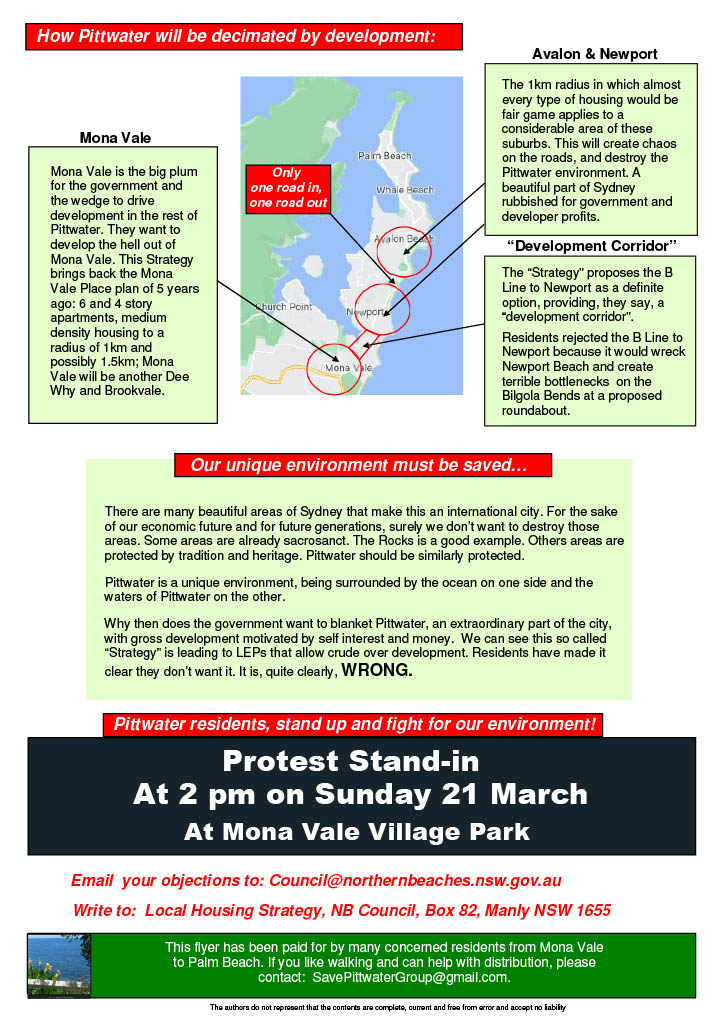 The Housing Diversity for Sydney's Growth Areas (2015 Finalisation Report) amends the Growth Centres State Environment Planning Policy (Growth Centres SEPP) and Growth Centre Precinct Development Control Plans (DCP) to provide consistent planning controls for the assessment and delivery of small lot housing. These apply to North West and South West Growth Centres.
The Housing Diversity Package aligns permissible housing types and lot sizes with minimum density requirements. The amendments do not increase the minimum density requirements; they introduce more flexibility to enable developers to meet the density requirements using more dwelling types.
For the R2 zone minimum densities are typically either 15 or 20 dwellings per hectare. Dual occupancies, dwelling houses, secondary dwellings, semi-detached dwellings and studio dwellings are permitted.
Design And Place State Environmental Planning Policy (SEPP): Open For Feedback Until March 31
The new Design and Place State Environmental Planning Policy (SEPP) is part of a broader review of all NSW SEPP in line with the state government's aim to simplify and consolidate how to deliver good design in NSW.
The consult introduction webpage states that
'The Design and Place SEPP puts place and design quality at the forefront of development. Our shared responsibility to care for Country and sustain healthy, thriving communities underpins the policy. The SEPP spans places of all scales, from precincts, significant developments, and buildings to infrastructure and public space. '




'The public exhibition will allow us to work closely with state government, local councils, industry peak bodies and communities. This process will inform the development of the Design and Place SEPP and safeguard our shared values for future development in NSW. We will draft the policy in 2021, following the review of the formal submissions and feedback. Submissions are open from now until 31 March 2021. '




The final Design and Place SEPP will go on public exhibition later in 2021 to provide more opportunities for feedback. We will also develop supporting guidance and tools alongside the policy. These include a revision to the Apartment Design Guide, improvements to the Building Sustainability Index (BASIX) tool and the development of a new Public Space and Urban Design Guide. '
Elements of the document include (read in full at 'View the explanation of Intended Effect)
Options for revising guidance on car parking rates:
The prescribed minimum number of parking spaces could be reduced for apartments in defined circumstances, such as:
—being in a specified location where there is an oversupply of parking; methodology for establishing oversupply to be confirmed, potentially a map, list of areas, or applicant-led analysis
—being in a measurable location (e.g. within 800 m of a train station with a service pattern of a number of services per hour or similar); any development that satisfies the criteria would be eligible.
Maximum parking requirements
could be mandated for new apartments (possibly subject to criteria such as proximity to specified transport). Developers cannot provide levels above this threshold (but are free to provide spaces below this level).
Ownership of parking could be required to be separated from the housing
(and therefore from rents or initial housing sale prices).
Parking spaces could be centrally managed, or leased or sold separately to residents, thus spaces become a tradeable commodity.
Proposed changes to the Apartment Design Guide
in relation to urban design and site planning:
- Increase min. deep soil zones as a % of site area (a fixed minimum % within the range being considered below):
< 650 m2 min. 14–18%
650–1500 m2 min. 14–18%
1500–3000 m2 min. 14–18%
> 3000  m2 min. 21–25%
Allow a pro-rata reduction in the targets
if retail, commercial and entrances on the ground floor > 85% of the building footprint
- Building Form; Introduce a new criterion for towers (including any part of buildings of nine or more storeys) of: —maximum gross floor area (GFA) of 700 m2. —adjust existing design criteria and guidance to a maximum eight units per core per floor. Note: 8–12 units per core per floor to remain permissible below nine storeys.
Slender towers
reduce building footprint to improve urban and public space amenity: open space; sky view; solar access; reduced bulk, scale, and wind impacts. Incorporation of tower footprints into design criteria provide clarity for a consideration that is already in the ADG but has no numerical criteria, and improves residential amenity, cross-ventilation, natural light, and reduces the number of singleorientation units.
Mixed use development and street activation
: Allocate 40% of ground floor space for non-residential use in R3 and R4 zones, and centres.
________________________________________________________________________
Worth Noting: Australian Car Sales Statistics 2020
There were 1.06 million new vehicles sold in Australia during 2019.
There were 1,062,867 new vehicles sold in Australia 2019
New car sales in Australia dropped 8% down from 2018, making it the lowest since 2011
Toyota was the top-selling car brand in 2019, with 205,766 total sales
SUVs accounted for 45.5% of new car sales in 2019
It is anticipated that new car sales will continue to decline. A new report shows that the number of Australians planning to buy a new vehicle in the next four years is down 19.1% on a similar report released the previous year1 around car buying intentions in Australia. The chief executive of the Federal Chamber of Automotive Industries in Australia attributed the decline in sales to a tougher economy, a slowing house market, the drought and a tightening of money lending. One study10 suggests that for every 10 per cent drop in houses a corresponding 10 per cent drop in car sales could be expected, given that people will have less equity in their homes to refinance against.
New South Wales

saw the most new car sales in Australia with 33.5% of all sales
. Given that New South Wales is home to 31.9% of the population, on average,
t
hey are buying more cars than other states with 50.4 new car sales per 1,000 people, or

398, 010 new vehicles purchased

in the reported period.
The average age of motor vehicles in New South Wales is 9.5 years, below the Australian average of 10.1 years.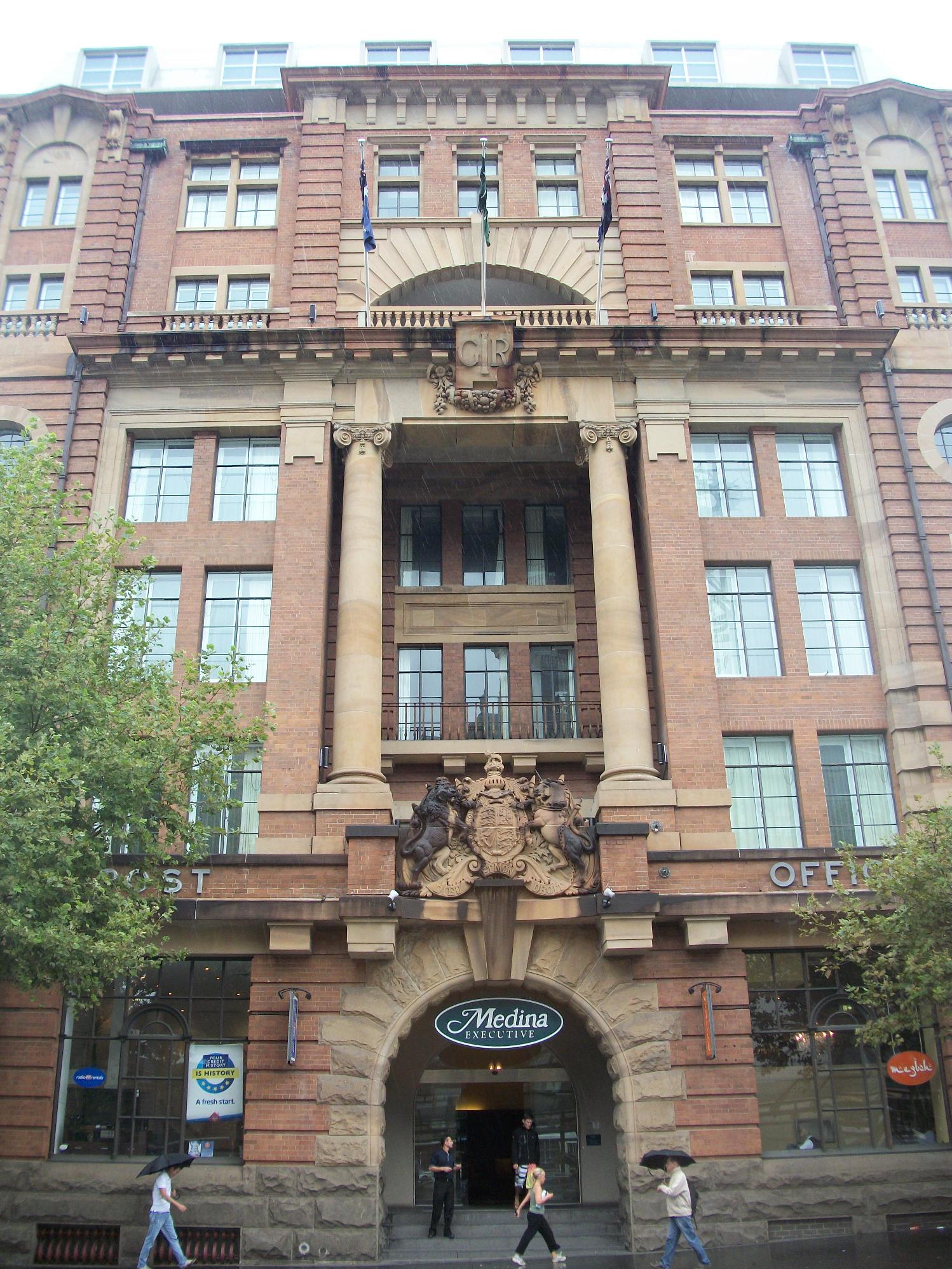 The former Parcel Post Office was built in 1913, having been designed by George McRae, the government architect. It was later restored and converted to the Medina Hotel. NB: Building façade - great example of materials mixes/skills with contemporary addition on top with setback - Railway Square, Sydney CBD, January 1st, 2009. photo by A J Guesdon (an Architect's child).