February 13 - 19, 2022: Issue 526
Koalas Now Listed As Endangered in NSW - Qld - ACT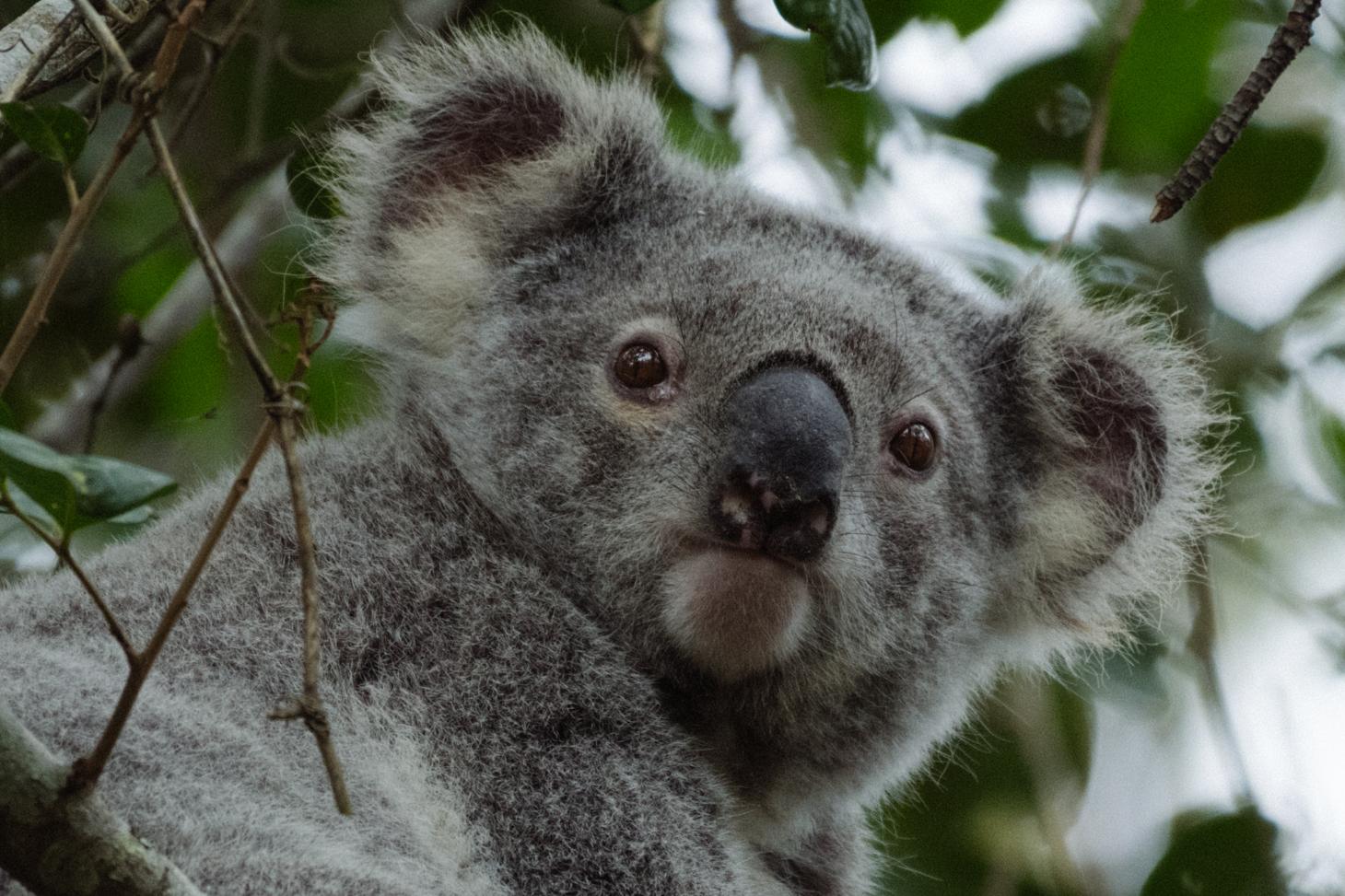 A koala spotted in a tree in Ballina, northern New South Wales. Photo Olivia Katz © IFAW
The Federal Government is boosting the level of protection for Koalas under National Environmental law, and will this week seek agreement from Queensland, New South Wales and the Australian Capital Territory on the National Recovery plan. On Friday February 11th 2022 their listing was changed from 'vulnerable' to 'endangered'.

The decision is welcomed by Pittwater residents, who witnessed their local population become extinct by the late 1980s, through dog attacks, habitat destruction and placing unsurmountable obstacles such as, in one instance, building a retirement village to block their passageway from food trees at south Avalon to north Avalon.
Minister for the Environment Sussan Ley said "We are taking unprecedented action to protect the koala, working with scientists, medical researchers, veterinarians, communities, states, local governments and Traditional Owners," Minister Ley said.
"As part of our $200 million bushfire response, I asked the Threatened Species Scientific Committee to consider the status of the Koala.
"Today I am increasing the protection for koalas in NSW, the ACT and Queensland listing them as endangered rather than their previous designation of vulnerable.
"The impact of prolonged drought, followed by the black summer bushfires, and the cumulative impacts of disease, urbanisation and habitat loss over the past twenty years have led to the advice.
"Together we can ensure a healthy future for the koala and this decision, along with the total $74 million we have committed to koalas since 2019 will play a key role in that process.
"The new listing highlights the challenges the species is facing and ensures that all assessments under the Act will be considered not only in terms of their local impacts, but with regard to the wider koala population.
"The National plan developed through scientific advice and public consultation will now go to the relevant states for their final adoption and will help guide state and local government strategies."
The decision follows a joint nomination by the International Fund for Animal Welfare (IFAW), Humane Society International (HSI) and WWF-Australia in April 2020 to Australia's Threatened Species Scientific Committee.
Koalas in Queensland, New South Wales and the Australian Capital Territory will now be classified as Endangered under national legislation and will gain elevated protections. The decision also recognises the koala is one step further along the pathway to extinction.
"Koalas are an international and national icon, but they were living on a knife edge before the Black Summer bushfires with numbers in severe decline due to land-clearing, drought, disease, car strikes and dog attacks. The bushfires were the final straw, hitting at the heart of already struggling koala populations and critical habitat," IFAW Oceania Regional Director Rebecca Keeble said.
"This decision is a double-edged sword. We should never have allowed things to get to the point where we are at risk of losing a national icon. It is a dark day for our nation. If we can't protect an iconic species endemic to Australia, what chance do lesser known but no less important species have?
"This must be a wake-up call to Australia and the government to move much faster to protect critical habitat from development and land-clearing and seriously address the impacts of climate change."
The nomination was submitted on the basis of two scientific reports which revealed Queensland's koala population crashed by at least 50% since 2001 and up to 62% of the NSW koala population has been lost over the same period.
IFAW also welcomed the federal government's recent $50AUD million pledge for koala recovery and habitat restoration.
"These actions are vital to ensure the survival of the species into the future, but without addressing the root cause of their decline which is habitat loss and climate change, we are just plugging holes in a sinking ship. We must do everything possible to implement the plan and save this iconic species," Ms Keeble said.
In January 2022, the Australian Government announced an additional $50 million over 4 years to maintain and support the recovery and conservation of the Koala through monitoring, the protection of Koala habitats, and the improvement of Koala health and care in response to natural disasters such as bushfires and diseases including Chlamydia.
This funding injection builds upon the $18 million Koala conservation package announced in 2020, which includes $14 million in bushfire recovery funding, given the impact of the 2019-20 bushfires on the species and its habitats.
The additional $50 million Koala investment includes:
$20 million in grants and procurements for larger projects led by Natural Resource Management groups, NGOs, and Indigenous groups, as well as state and territory governments to build on existing work, guided by the outcomes and findings of the National Koala Monitoring Program.
$10 million to extend the National Koala Monitoring Program to fill critical knowledge gaps and increase the use of citizen scientists
$10 million in grants for small-scale community projects and local activities such as habitat protection and restoration, managing threats, health and care facilities, and citizen science projects
$2 million in grants to improve Koala health outcomes through applied research activities and the practical application of research outcomes to address fundamental health challenges such as Koala retrovirus, Koala herpes viruses and Chlamydia
$1 million to expand the national training program in Koala care, treatment and triage
The $18 million Koala Conservation package (to June 2022) includes:
$10 million to support habitat restoration and threat mitigation in bushfire-affected regions of New South Wales and south-east Queensland
$2 million for Koala protection and recovery at additional sites identified from the Investment Framework for Environmental Resources (INFFER) workshops held in northern New South Wales (funded under the Environment Restoration Fund)
$2 million for habitat restoration and threat mitigation in other non-bushfire affected regions of central and western New South Wales and central Queensland(funded under the Environment Restoration Fund)
$2 million for a Koala Health Initiative to support coordination and delivery of more effective health research and to support Koala veterinary activities
$2 million for a National Koala Monitoring Program to produce a robust estimate of the national Koala population and fill key data gaps identified through the Koala re-assessment and recovery plan development process.
In addition, Australian Government commitments to the Koala under the Environment Restoration Fund include:
$3 million to support Koala hospitals in south east Queensland (announced in December 2019)
$3 million to support habitat restoration in northern New South Wales and south east Queensland (announced in November 2019).
The Save Sydney's Koalas group, which has a focus of trying to save the south-west Sydney's koalas population, the only chlamydia-free Koala population of any significant size in NSW, asked, on hearing of the announcement;
''Will this be a game changer for Campbelltown Council, NSW Government, developers including Lendlease , Walkers, and super companies Australian Ethical Investments who continue to participate and invest in Koala destruction?''

''Despite the draft national koala recovery plan describing the Campbelltown koala population as one of only two large, expanding, and Chlamydia free populations left in NSW and the second one now being in decline because of drought and Chlamydia, bulldozers are still destroying their habitat and wildlife corridors here.
Neither Sussan Ley nor the NSW government has done anything to protect them and in fact, BioCertification credits from Mount Gilead were sent to west Appin near Douglas Park and Fernhill near Mulgoa. Landcom, Lendlease, and Walkers are systematically eliminating koalas and other native species from the landscape.''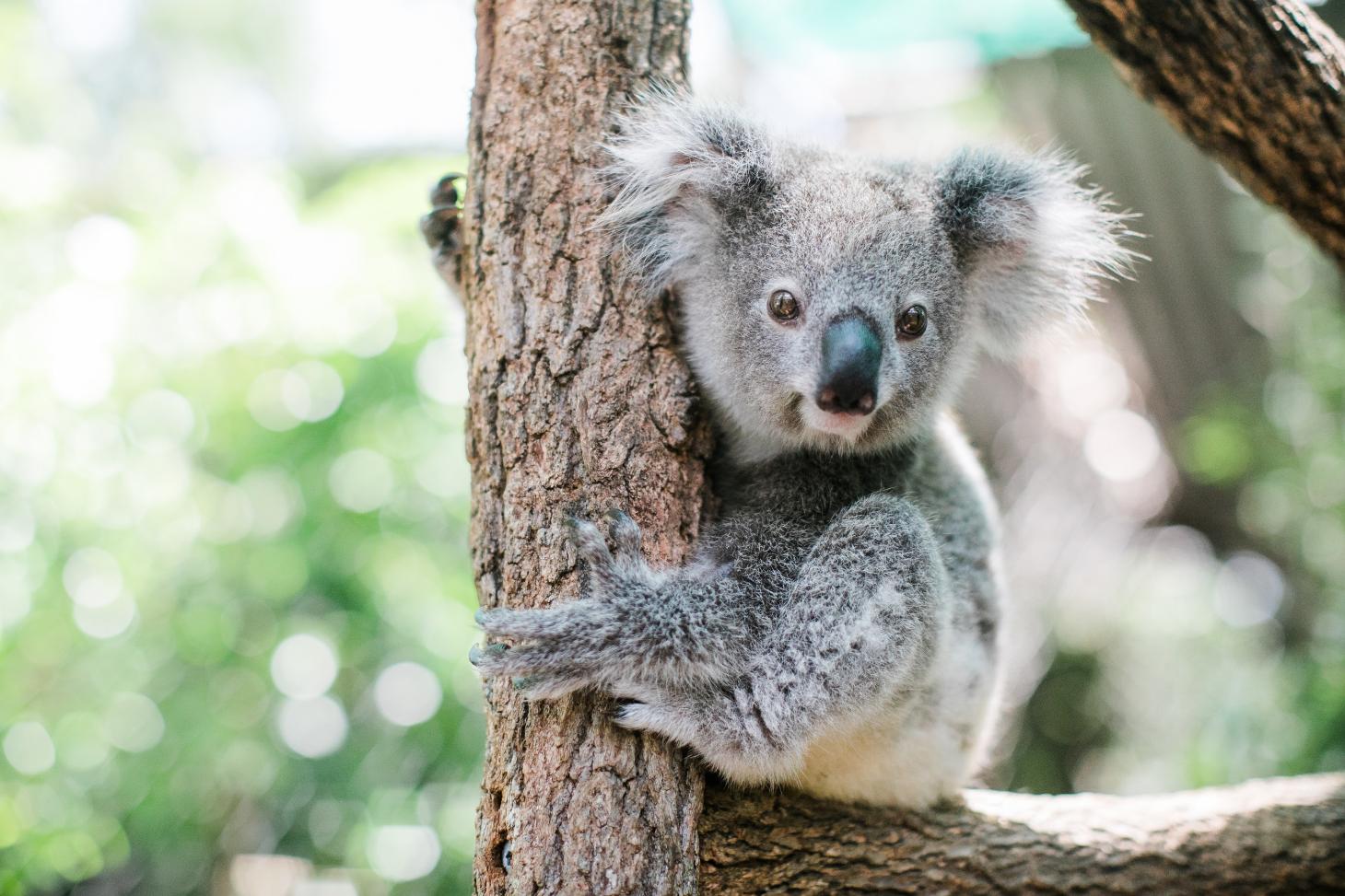 Image: Koala named 'Dimples' in rehabilitation at Friends of the Koala in East Lismore, NSW. Photo (c): IFAW
January 2020 Pittwater Online Environment News: Koala Spotted In Belrose Area
The Northern Beaches still has koalas!!! Sighted recently in the Belrose area; (exact location withheld as per NPWS policy).
Please help to keep koalas safe. Their biggest threats are:
dog attacks - please keep your pets away from wildlife
vehicles - slow down for wildlife particularly on Wakehurst Parkway, Mona Vale Road and Forest Way
habitat destruction - over development on the NB is a major threat to our koalas and could eventually wipe them out.
In a sad era for our native wildlife it's an exciting time for us at WIRES to learn that there are in fact koalas still living amongst us.
Here are some photos courtesy of @lisa.spinks1
WIRES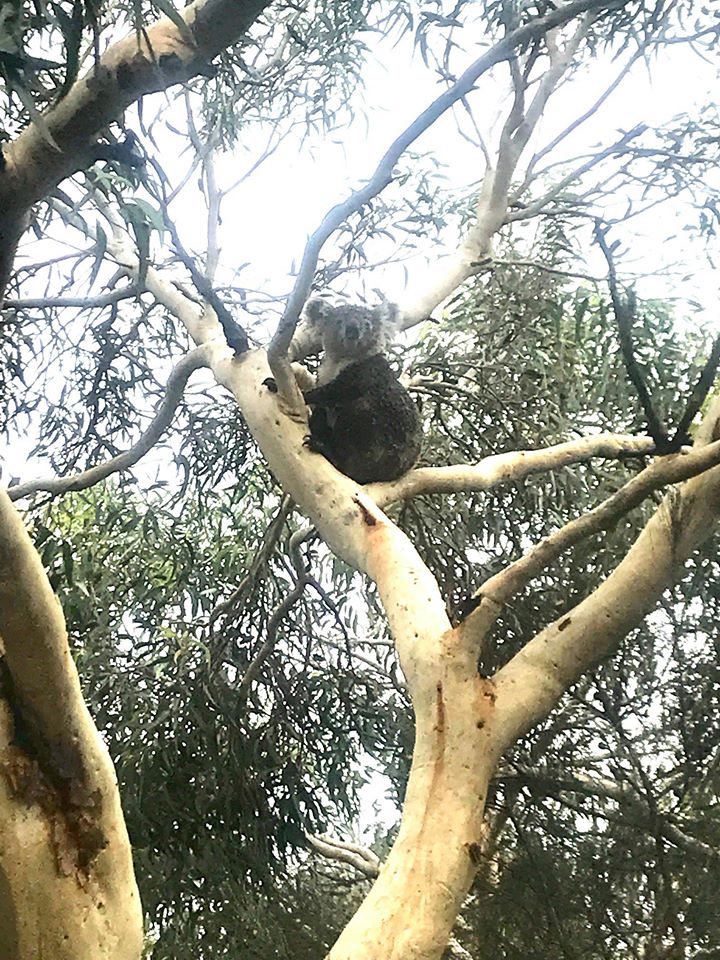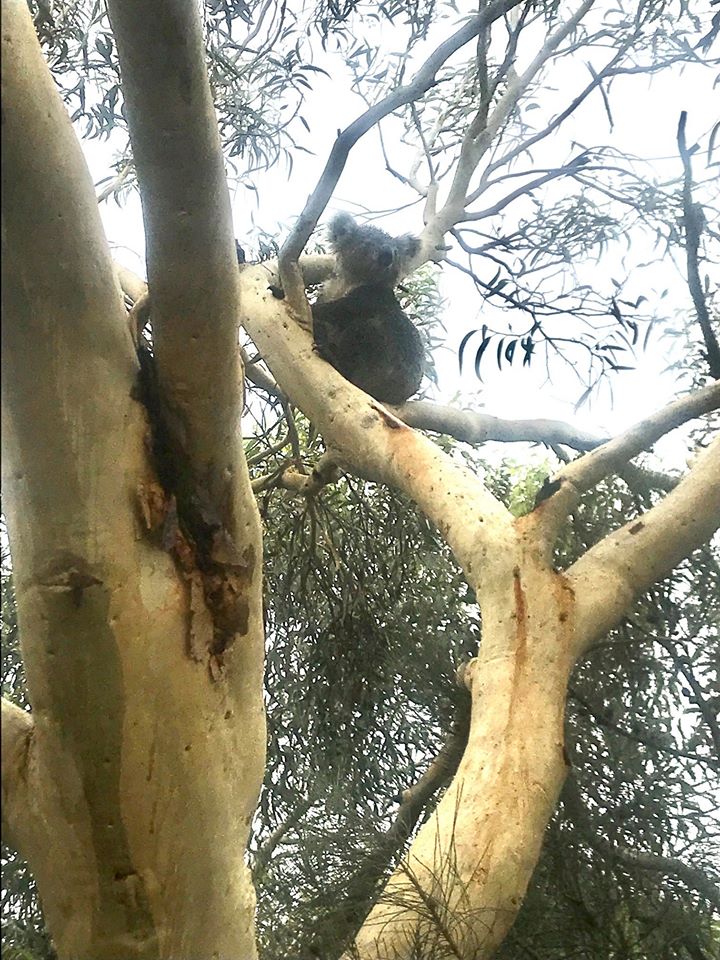 Bangalley Head - Careel House Koala Loves Music: 1937
The owners of Careel House, Bangalley Head, the Grieves had a Caesar and as the location of the home was one the local koalas moved to during their annual shifts from food trees in Angophora Reserve to that atop Careel Head- Bangalley Head, they also had koalas:
DOG wire haired Terrier white black markings (Caesar) Lost from Careel House Whale Beach. Reward Phone Palm Bench 77 or MA5076 GRIEVE 170 Elizabeth Street, City. Advertising. (1937, October 13). The Sydney Morning Herald(NSW : 1842 - 1954), p. 23. Retrieved from http://nla.gov.au/nla.news-article17415938
KOALA LIKES MUSIC
Koala Visits Guest House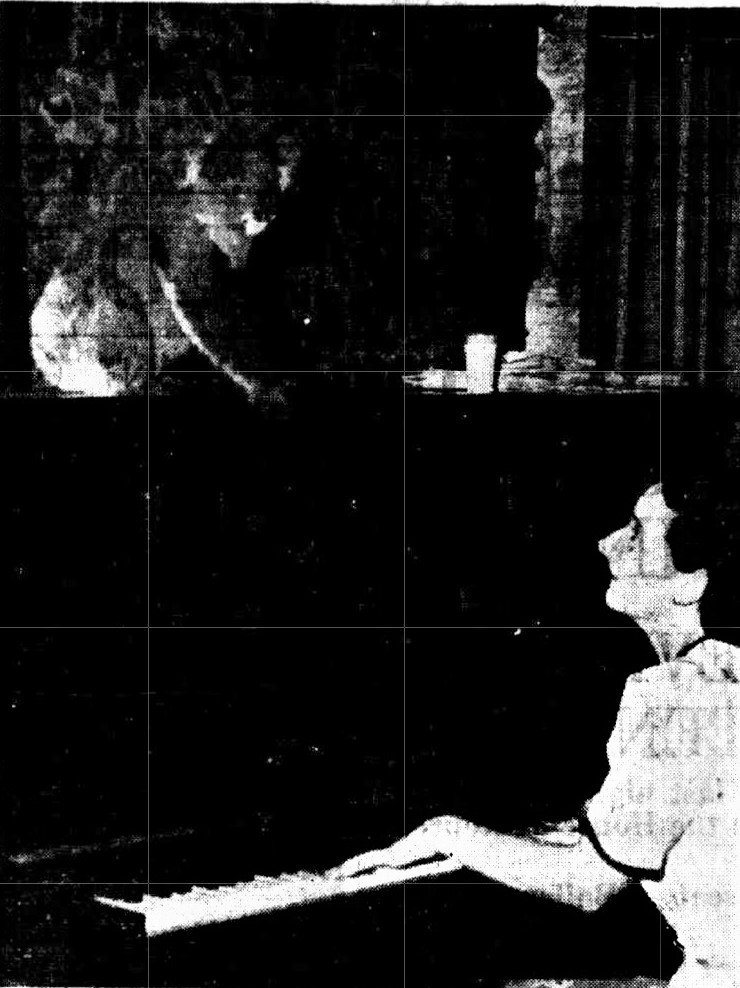 A koala bear last night paid a visit to Careel House, Whale Beach, near Avalon. In answer to persistent knocking shortly after 7 o'clock, the front door was opened, and guests were surprised to find the koala outside. Without inducement the animal entered the lounge, and immediately made itself at ease on one of the chairs. The picture above shows the bear quite at home on top of the piano, which is being played by a guest.
Mrs. C. B. Grieve, the proprietress, obtained a bunch of gum leaves, which the bear ate, unperturbed by the pattings and pettings of its admirers. Twice the "intruder" was placed on the terrace so that it might return to the gum trees which surround the house, but twice it demanded re-admittance. After a "visit" of nearly three hours, the bear consented to leave. KOALA LIKES MUSIC (1937, October 25). The Daily Telegraph (Sydney, NSW : 1931 - 1954), p. 2. Retrieved from http://nla.gov.au/nla.news-article247228753
More in Careel House
previously
Call For Pittwater Support To Save Koalas: august 2020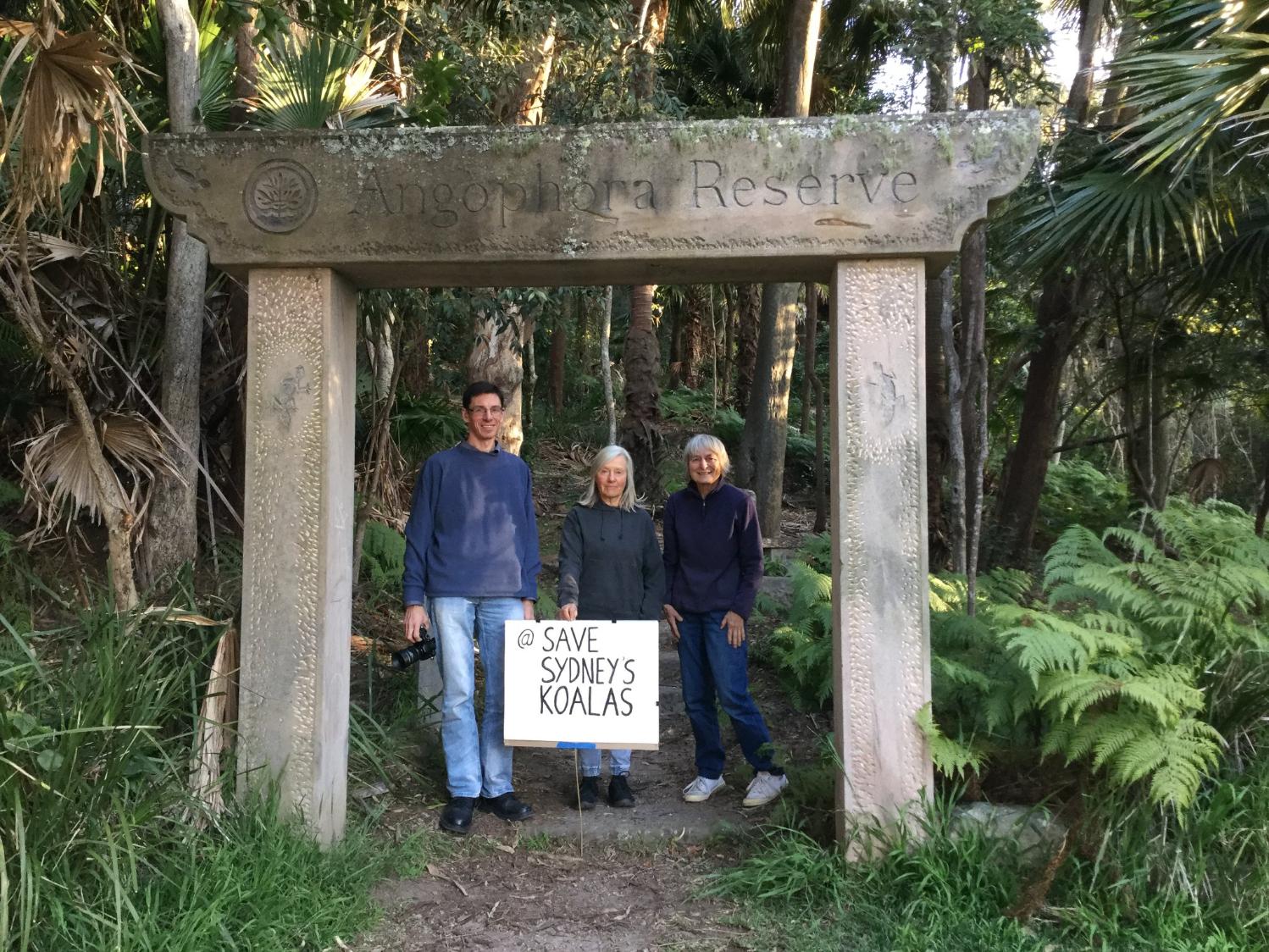 Environmentalists are calling on the Pittwater community to join today's state-wide actions to save koalas from extinction in NSW - a fate experienced by our local population.
The protests follow a recent Parliamentary Inquiry into Koala Populations and Habitat in NSW, which found that koalas will be extinct by 2050 unless urgent action is taken to protect them.
The report states that the biggest threats to the koala's survival in this state is loss and fragmentation of habitat and it made 42 recommendations to safeguard them.
To put pressure on the NSW government to protect that habitat from development and logging, one of the actions staged by koala activists and environmental organisations will be a COVID-safe rally outside NSW MP Rob Stokes' office at 11am today.
Local residents are encouraged to join the protest to reinforce the message for Mr Stokes, Premier Gladys Berejiklian and Environment Minister Matt Kean.
Environmentalist and former koala handler John Illingsworth is supporting the day of action, having already joined a protest targeting Mr Stokes in Mona Vale on Friday.
Mr Illingsworth, who grew up in Pittwater at a time when koalas were "relatively common", was an animal handler for the Skippy television program based at the former Waratah Park at Terrey Hills. He cared for a number of koalas during that time.
"There's no more iconic animal in Australia than the koala," Mr Illingsworth told Pittwater Online News.
Mr Stokes, as Planning Minister and former environment minister, should understand how koalas became extinct on the Barrenjoey peninsula, and would also be old enough to remember when koalas lived here, Mr Illingsworth said.
"It's my opinion that Rob Stokes would not want to be the person who saw the extinction of the koala in NSW – which is going to happen by 2050 unless he protects all the land with viable colonies in NSW.'' Mr Illingsworth stated.
Mr Illingsworth was particularly concerned about a chlamydia-free colony at Campbelltown, in south-west Sydney, which is threatened by the NSW government's plans associated with development of the new Western Sydney Airport.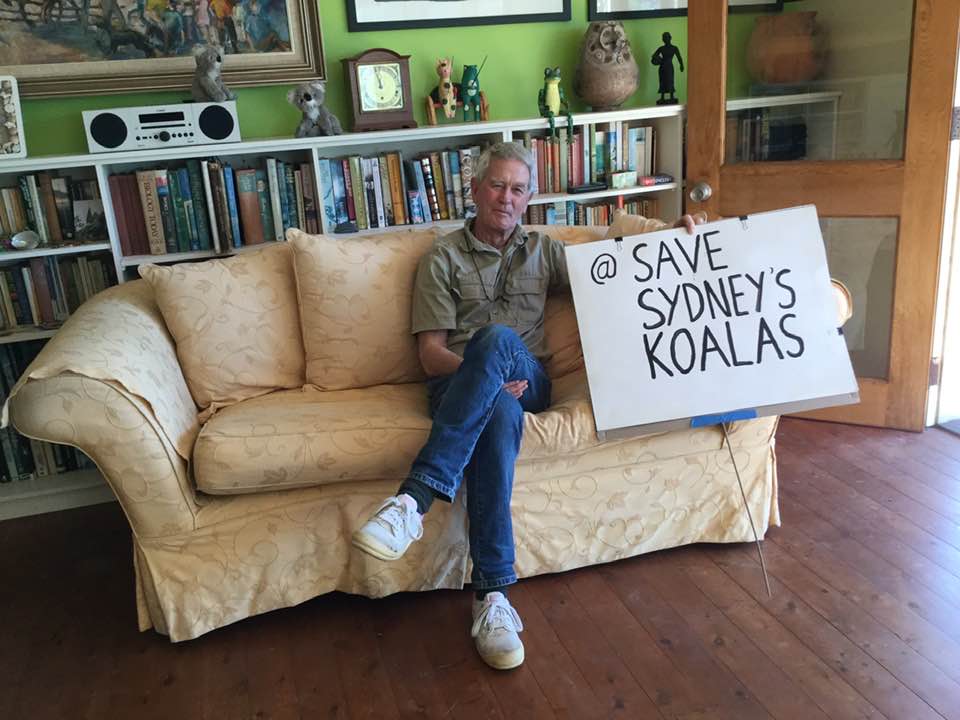 John Illingsworth - photo supplied
Greens environmental activist Pru Wawn said that the recent bushfires have pushed koala populations to the brink, with 80 per cent of their habitat destroyed in some areas.
"We lost our last few koalas in Pittwater some years ago after traffic and introduced species like dogs hastened their demise," Ms Wawn said yesterday.
"Once again, urban growth and logging in regional areas is threatening this treasured species.
"Unless some serious measures are put in place like wildlife corridors and a designated NSW koala park, by 2050 they will be lost forever."
Koala survival is a poignant issue for many in Pittwater, where long-time residents can remember the marsupials living in their gardens.
However, a 1970 survey discovered the population had declined to 123 animals and only about six were recorded in 1989. The last known sighting was in Avalon in 2006.
Ecologists say their demise was due to increasing development fragmenting their habitat and forcing them to face dangers on the ground - such as cars and dogs – while they moved between trees.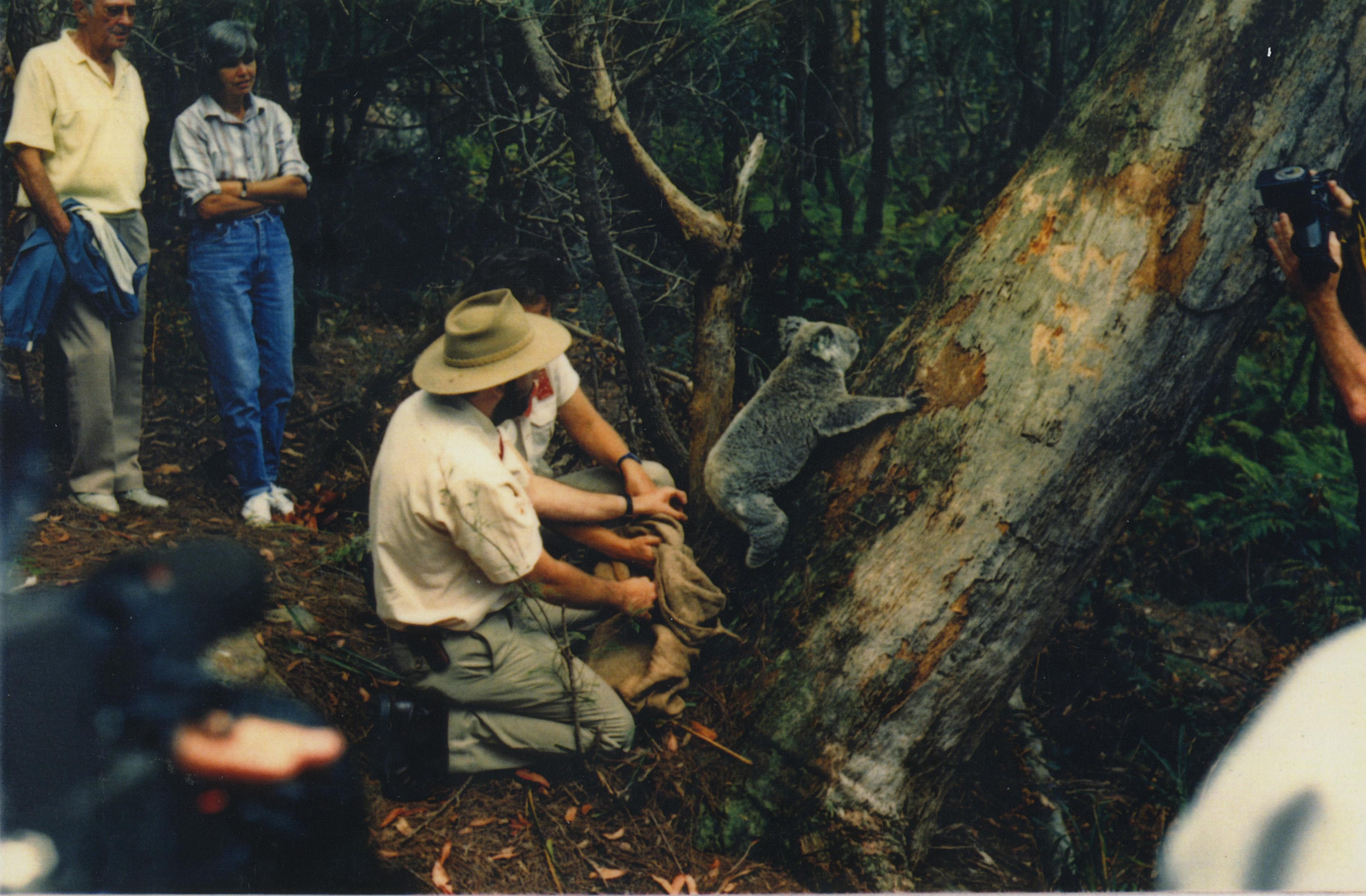 The release of an 8 years old female back into Angophora Reserve after she had been bombarded by magpies. Taronga Zoo picked her up and nursed her back to health before the release on November 5th, 1989. Doug Bladen and Marita Macrae are in the background representing the Avalon Preservation Trust (now APA). Photo by Geoff Searl OAM
Pittwater community members on Wednesday suspended a sign across the Seaforth approach to the Spit Bridge, encouraging motorists to contact Mr Stokes as Planning Minister, asking him to take action.
On Friday morning, Mr Illingsworth, Ms Wawn and others conducted a small COVID-safe rally near Mr Stokes office at Mona Vale, with four people in koala suits and the same banner.
For anyone joining the Mona Vale protest outside 1,725 Pittwater Road, Mona Vale, please bring your own face mask to wear and ensure you stay two metres away from others. Optional: Wear brown and green clothes to symbolise trees. Locals are also invited to join a social media storm today (Sunday) from 10am to 6pm.
The following article by Mr. Burnet is the most vital which "The Sunday Sun" has published for many months. It is so important that it replaces on this page to-day Tom Glover's cartoon and the Editor's "Out of The Basket" column.
IT tells a story of destruction; something which has meant a lot to Australia. It brings forcibly before the eyes of 300,000 readers and the Government the problem which has to be faced. "The Sunday Sun" is heartily in support of any scheme to retain Koala Park.
By NOEL BURNET, Of Koala Park
In 1927 the Queensland Government declared an "open season" for Native Bears resulting in the slaughter of 584,738 innocent Koalas, whose skins were exported mainly to America for making up fine leather goods
— ladies' bags, belts and shoes. Now, strangely enough, few American visitors would fail to give everything they possess to take back to the States a
real live "Teddy-bear," but, alas, that cannot be. As a national asset, the importance of the Koala is constantly being drummed into us by almost every visitor to our shores. What is a grateful country doing to save the Native Bear with that "plaintive face" which has so completely "sold" Australia to the rest of the world?
The answer is — NOTHING. Travel interests are not alone in the almost ruthless exploitation of the Native Bear, yet nothing is done this end — except talk — for the benefit of this dying genus.
'Gumleaf" was the name of that fascinating little Bear with boot-button eyes whose photograph was used by the National Travel Association
to produce an oversea poster. He was allowed to die — without a sob by anybody — because money was not available for medical research upon an eye complaint he was suffering, although n number of Sydney doctors voluntarily assisted. So passed the most charming Koala ever seen at Koala Park.
ANOTHER famous Bear, "Taringa," who made the world smile, died on the Park hospital floor (with six others) from pneumonia
— erstwhile dreaded scourge of Koalas — because the taxation commissioner had dragged the last penny from Park funds, leaving me without cash or credit to buy sufficient oxygen or supplies to fight the disease. The State has since relieved the Park from commercial basis taxation, but the Federal Government, after making some concessions, will continue to tax my work as a business enterprise. Nothing, however, can replace seven beautiful native Australians whose pelts are now deteriorating in poor preservative because I cannot obtain from the Customs Department pure spirit free of excise duty (55s per gallon) as other institutions can.
Following nine years of personal labor on behalf of the Koala, and assisted by several capable scientists, I say definitely, that failing immediate practical measures for its retention, this strange creature will be a thing of the past within a few years. Little is being done elsewhere. The Government is slow to realise that in this State, 30 years of "office chair" administration of the Birds and Animals Protection Act has seen the Koala reduced to vanishing point. Koala Park, in face of many difficulties, has made some attempt to save the Koala. It has lifted it from obscurity and despair; secured for it public affec
tion the world over, but now Koala Park itself is dying. Known but to a few only, this institution has for years struggled on — -now only to a point of collapse. ' I volunteered to save a dying race. To this end six years ago a suitable sanctuary was secured, fenced, equipped, thousands of eucalyptus trees planted, a staff was trained, and considerable biological research has since been conducted. Measure;: have been evolved to control several Koala diseases by preventive methods, and I demonstrated for the first time that the Koala can be successfully bred in modified captivity — all this at a 'cost of something like £10,000. Healthy stock being difficult to acquire, I had to he satisfied in many cases with degenerate stock and endeavor to build up from that. Having accomplished this much, the work is collapsing because of lack of capital, also lack of material, viz. Bears. It is impossible for me to provide for the future and pay now. Every penny I possess has been spent in the cause. Capital cannot be raised as few tangible assets have been created. Plainly, the Park revenue is insufficient to .maintain it owing to limited . means of obtaining funds. Transport interests alone, who convey people to the Park, jointly, gain three times more revenue than the Park itself; lliey carve off the lion's share, leaving me the crumbs. Mr. T. H. Kelly, the Park benefactor, has done more than his share and is not expected to do more.
FURTHER, there is no heed for, nor can I meet competition in Bears from Taronga Park, where the discrepancy over some years between the birth and death rates is dreadful. Feeding the Koalas within the Park is a problem, and now costs over £600 a year. Daily, suitable food in the bush becomes scarcer. Landowners are being paid to save their gum-trees for reserve food supply. No trees have been planted in the Park for 3 years; now, trees are dying in drought conditions because I cannot afford to, water, them. Preventive vaccines, obtained by years of. careful research at heavy cost, have been lost- as payment for incubator cultures cannot be met. ' " The laboratory is closed. Depreciation presents its ugly head— fences arc in disrepair and the grounds shabby; half my staff is on the dole. Koala Park is sick, but fortunately the health of the Bears is excellent. ; I have begged on several occasions for a little relief labor for small works to improve' the conditions for Bears,' and to permit my oversea visitors access to the animals in distant parts of the Park, but gangs of men chipping up grass and weeds along roads all over the district is apparently far more important.
FIFTEEN months ago, I placed the plight of Koala Park before the Premier, who, at my request, promptly appointed an investigation committee.- Following investigations, I understand, a majority report in very favorable terms was submitted —to which Cabinet, later, gave sympathetic consideration. Measures for relief were approved. Those referred back to the Premier's Department were put into effect immediately; that saved the Park collapsing all the time. Those provisions in the hands of the Chief Secretary's Department have dragged on for nine weary months without materialising. Fortunes have, ere this, been spent upon expeditions to the lands of the extinct to recover a few ugly bones or fragments of an ancient egg; taxpayers in other countries to-day are forking-out" millions for restoration and conservation; here, large sums can be outlayed for embellishments lo local and national parks of doubtful tourist interest, whilst the National Travel Association spends thousands of pounds of public and private money to "push" the Koala oversea — and the quaint Native Bear perishes at our very door. Koala Park, the background of this publicity, is unable to present the national pet under congenial conditions or, carry on its rehabilitation work. Oversea visitors come, having been "sold" the Koala by enterprising shipping lines over and over again. The Bears are mauled; these visitors do not realise that handling is the worst possible thing for a dying primitive race, nor do they understand my difficulties, but they expect me to justify their trip to Australia at the equivalent of n lean tip to a cabin steward. Everywhere, hundreds of thousands of people have keenly watched this Park grow up from a mere hobby, but its inhabitants belong to the nation. It is high time, therefore, that the public know of the sad plight of Australia's own "Teddy-bear,"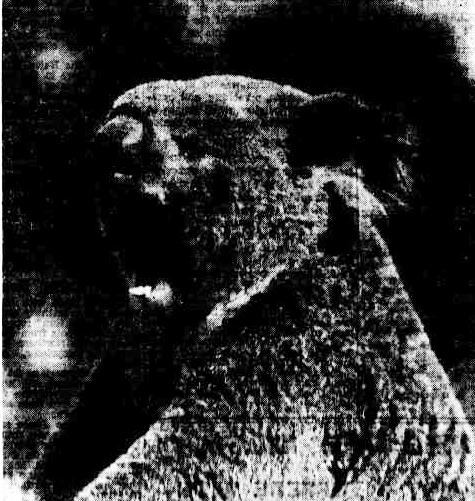 " Taringa " — the Koala that made the world smile-and perished for lack of attention.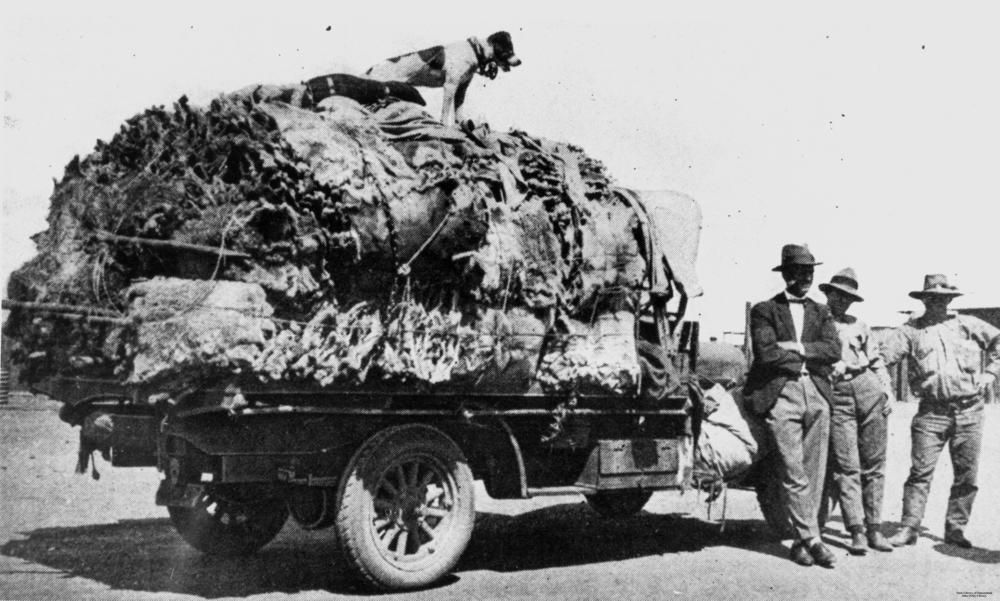 A lorry load of 3000 Koala skins obtained, by a party of men in the Clermont district ( Queensland ) in thirty days.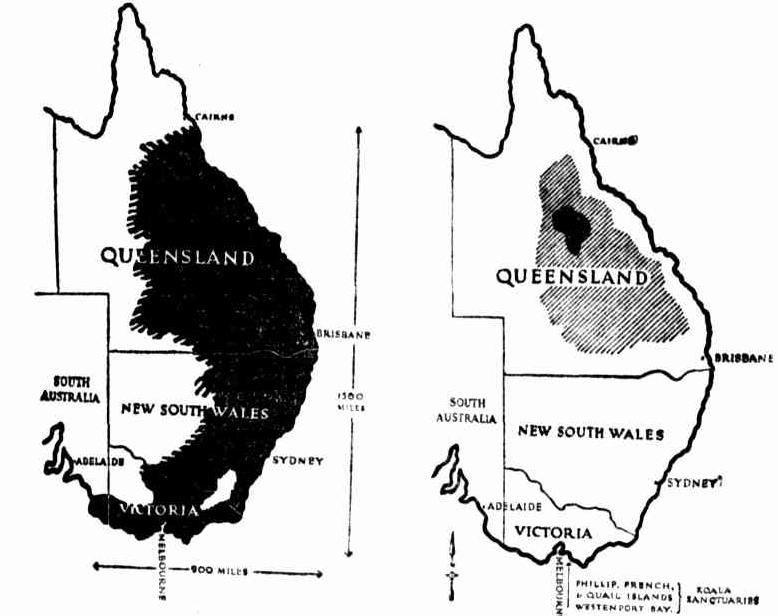 Map showing (left) approximate general former distribution of the Koala, and (right) present distribution.
THE KOALA DISAPPEARS! (
1936, September 13
).
The Sun
(Sydney, NSW : 1910 - 1954), p. 4. Retrieved from http://nla.gov.au/nla.news-article230016599
Decades on:
PROTECT KOALA FROM EXTINCTION
Koalas have been proclaimed "rare fauna" under the New South Wales Fauna Protection Act.
Announcing this, the Chief Secretary, Mr. Clive Evatt said:
This course appears to be the only way to protect the koala from extinction.
The koala population in New South Wales has fallen to 5000.
Yet i
n 1924, 2,000,000 koala skins were exported from the eastern States."
The declaration of animals or birds as "rare fauna" provides, in addition to the usual penalty of a fine not exceeding £50 for taking or killing a protected bird or animal, a term of imprisonment not exceeding six months.
"Take or kill" as defined in the Act includes hunting, shooting, killing, poisoning, netting, soaring, pursuing, disturbing, or injuring, Mr. Evatt explained.
One of Australia's greatest attractions to overseas tourists is the
koala. These little native hears live in coastal forests from the south
eastern corner of South Australia to Cairns in North Queensland. Sure footed climbers, they come down to the ground only to move clumsily from one tree to another for their staple diet, the juicy tips of a dozen species of gum tree. In spring the young koala emerges after five or six months in his mother's pouch; the next
few months are spent clinging on to her back. Koala junior is about a year old before he ventures out on his own. Australia's koala population has been ravaged by disease and bushfires and exploited by trappers; in 1924, 2,000,000 koala pelts were exported from the eastern States. Now they are totally protected, and efforts are being made, especially in Victoria, to re-establish the species.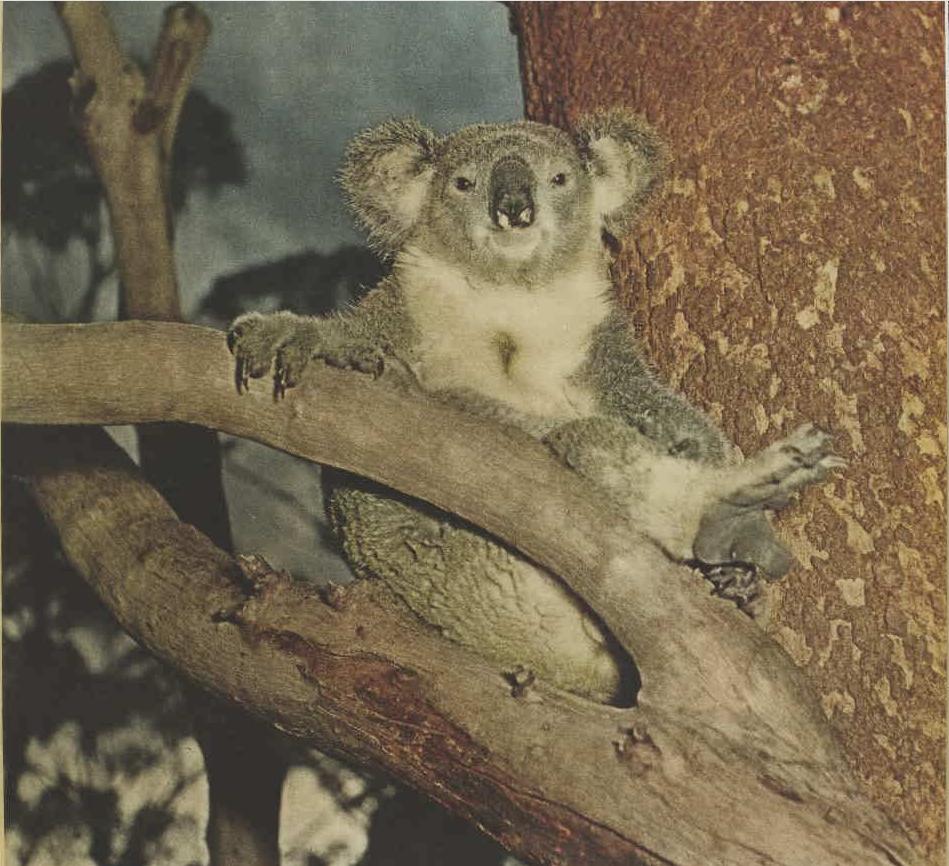 This young koala was photographed by Dr. Allen Keast at Mona Vale, N.S.W.
THE AUSTRALIAN YEAR (
1958, September 24
).
The Australian Women's Weekly
(1933 - 1982), p. 11. Retrieved from http://nla.gov.au/nla.news-article46231193