inbox and environment news: Issue 567
January 15 - 21 2023: Issue 567
Summer Cicadas – The Noise You Can Hear Coming From Our Local Trees Right Now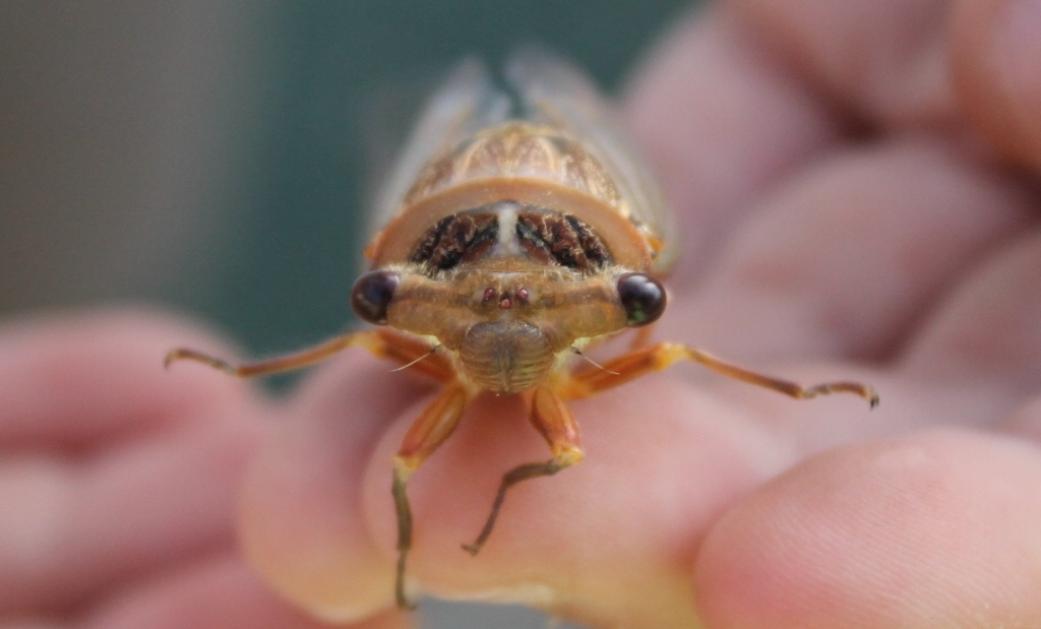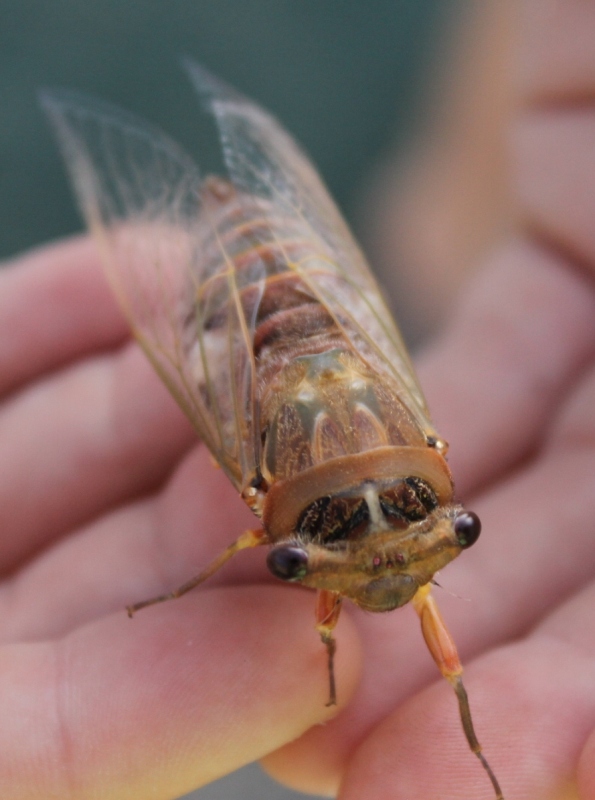 Since at least 1840 our resident cicadas have been described for their song, or noise as some prefer to call. This is an eternal symphonic orchestra played during Summer and quite loud at present.
For our first Issue of 2023 we'd like to share some old insights written for youngsters with you so you can see what those noisemakers look like.
Disappearance of Cicada (Locusts).
A LOCAL contemporary says that the noisy insect generally known as "locust" or "Australian Canary" is being rapidly exterminated, and suggests that the cause is to be found in the English house sparrow pest. We have noticed that during the present summer the terrible song of the locust in the suburbs of Sydney has been unusually absent; but we have frequently observed, in years previous to the insane introduction of the irrepressible bird, similar absence of the handsome but noisy locust during several, not successive, summers. We do not think the sparrow is accountable for the diminished noise, although he does at times annoy the insect and in play destroys some few individuals. We cannot give a reason for the absence or diminished number of "locusts" during occasional summers, but we have observed Summers when not even the song of a solitary cicada was to be heard. During the present summer the song has been much more rare than usual, still it has been heard. Whether the peculiar state of the weather in the spring months of some years affects the number, or there are certain cycles during one year of which the eggs, larvae, or grubs remain dormant under ground, we cannot say, but we incline to the former as the cause of diminished numbers, and the latter of the total absence of the characteristic songster. Disappearance of Cicada (Locusts). (1884, March 8).Australian Town and Country Journal (NSW : 1870 - 1907), p. 19. Retrieved from http://nla.gov.au/nla.news-article71009215
Although we found instructions dated from 1838 on 'Of the Code of Directions accompanying the., Correspondence between the Trustees of the British Museum and Lord Glenelg. DIRECTIONS FOR COLLECTING ZOOLOGICAL SPECIMENS.'
For collecting and preserving cicadas in Tasmania, it is our children who have been ascribed as the authors of the many names we have for species of cicada in Australia, and rightly so. Who did not turn over rocks when young to dance away from scorpions, or squat over an ants nest to watch that fervid activity? Who does not, still, catch their breath a little at a lilting by butterfly and, as they grow in years, know what the sight of each in time in each season signifies?

Black Princes(Psaltoda plaga), Yellow Mondays, Green Grocers (called 'Green Monday' and 'Green Tuesday' earlier on, Blue Moons, (Cyclochila australasiae), Cherrynose(Macrotristria angularis), Floury Baker(Abricta curvicosta) Redeye (Psaltoda moerens) and Double Drummers(Thopha saccata) – what wonderful names to describe the colouring and variations as much as perhaps when and where they were first discovered by little hands.
Ancient cicada myths and legends
To the ancient Greeks the cicada symbolised resurrection, rebirth and immortality and is mentioned as being sacred to the ancient Greek sun god Apollo. Homer mentions cicadas in the Iliad around 900 BC and compares the discourse of "sage chiefs exempt from war" to the song of the cicada.
Ancient Greeks and Chinese made a habit of keeping male cicadas in cages for the pleasure of hearing them sing. One Greek ode to the cicada says: "We call you happy, O cicada, because after you have drunk a little dew in the treetops you sing like a queen".
Cicadas also had a powerful effect on artists as they feature on numerous coins both before and after the time of Christ. A number of beautiful gems have also been found from around 300 BC carved in the likeness of the cicada. The cicada's emergence from the earth was a powerful symbol for ancient Romans with members of the nobility taking to wearing a gold brooch featuring a cicada to hold back their hair.
In Taoism the cicada is the symbol of the hsien, or soul, disengaging itself from the body at death. Cicadas also feature in Japanese carvings on small medicine boxes and they are mentioned in ancient Hindu law as long ago as 200 BC in India.
CICADA TIME.
(BY CANOPUS.)
Cicada time is rapidly approaching, and soon their shrill song will be ringing out from the gums on a sunny day. Children of Australia have conspired to call the cicadas "locust," but it belongs to a totally different order, and is quite a different creature from the grasshoppers and true locusts.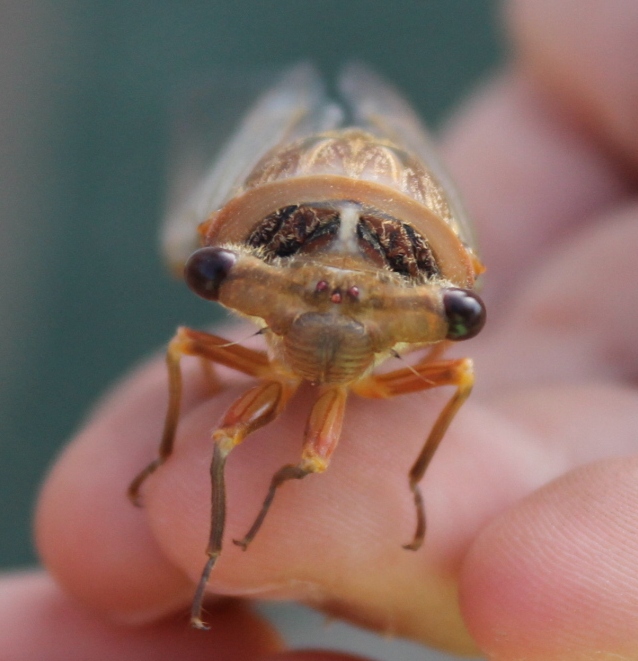 The cicada has a most interesting life history. The eggs are laid by the female during the summer in a thin dry twig. She is provided with a peculiar ovipositor at the end of the abdomen; it is toothed, like a double-edged saw, and is just over a quarter of an inch in length. With this the female punctures the wood, sawing It until the requisite depth is reached. Then the eggs are deposited. A series of these punctures is made, and as the cicada follows the sun while at her work, the punctures are usually arranged in a spiral track around the twig.
When the eggs hatch, which they do in a month or two, according to the weather, the young cicadas are small creatures, somewhat resembling fleas. They drop to the ground, and burrow underneath, staying there until ready to assume their final form. The Australian cicada is supposed to spend about three years underground in this way, but there is one species in America whose subterranean period is supposed to last for no less than 17 years
As an engineer, the cicada is at the head of the profession In the insect world. Its tunnel leads down to the root of a tree, and this supplies It with food and moisture. As the Insect grows its underground chamber is enlarged, and at length it changes to a pupa. At the end of the pupal period it begins to bore upwards to the ground surface, kneading the loose soil which it has dug away into a mud with moisture from its body, and forcing this into the earth at the sides of the tunnel. Thus, when the pupa emerges, the entrance to the tunnel appears as a clean hole, without debris at the sides. These holes are often visible in hard tracks through bush country.
The pupa usually emerges at night, for the fierce sunlight is at first too powerful for eyes long used to the darkness underground. Having left its former home, the insect, still in the pupal condition, slowly makes its way to a neighbouring tree trunk, and climbs up for a short distance When the warmth of the day arrives, the hard skin at the back of the wingless pupa splits, and through the opening the winged cicada slowly draws itself out from its prison. The wings at first are more shapeless, flabby muscles, but after an hour or two they become firm and transparent, and the cicada flies off to enjoy the brief period of life remaining to it.
The song of the cicada is produced from two chambers or soundboxes, one on each side of the body behind the wings. It is only the male insect which sings; the female is silent.
The cicada has for long been looked upon as a typical example of light-hearted idleness. Is there anyone who has not heard the fable of the poor cicada, starving in winter, who begged for food from the industrious ant, and was reproved for not having laid in a store for the cold months. In sober fact, the real position is rather the reverse: in the hot summer, when the ants are unable to obtain moisture from the ground, they gather around the female cicada as she punctures the trees during her egg-laying, and eagerly sip the drops of sap which ooze from the incisions. And long before the cold of winter arrives the cicada is dead.
It is curious to note that the ancient Greeks kept cicadas in cages, as we do canaries, for the pleasure of listening to their song. CICADA TIME. (1925, November 14). The Sydney Morning Herald (NSW : 1842 - 1954), p. 11. Retrieved from http://nla.gov.au/nla.news-article16254966
THE CICADA.
The air is vibrant with the song of the Cicada. We do not half appreciate this wonderful little creature. He is the chief Instrument In our summer symphony, yet. Like every prophet, he has no honor in his own country. For many years he works underground. For one brief summer he flutters in the sun— If he is lucky enough to escape the evil machinations of the boy. He does no one any harm, carries no germs, does not bite or sting or scratch, yet. because of his little musical legs and wonderful abdominal drum, he is caught and forced to sing out of tune and out of joint.
Certainly he has his little day. Were not the ancient Greeks so attached to cicadas that they used to fasten golden images of them in their hair? Said to live on dew, and addressed by many endearing names. 'the Nightingale of the Nymphs' and 'the Sweet Prophet of the Summer.' Cicadas were favourites of every Grecian bard, from Homer to Theocritus. A Great story tells of two rival musicians contending upon the harp. A cicada, flying to the most artistic, sat upon his instrument, supplied the place of a broken string, and so secured to him the victory. Perhaps the ancient Greek cicadas had gentler voices than ours, or was It the poetical imagination that heard in their song the music of the harp? The Poets of the South of France have the cicadas as their badge, with the motto 'The sun makes me sing.'
Only the male insect can be heard. Isn't he described as the happiest and most Innocent of creatures?
'Happy the cicadas' lives.
Since they all have voiceless wives.'
THE CICADA. (1911, December 2). Evening News (Sydney, NSW : 1869 - 1931), p. 8. Retrieved from http://nla.gov.au/nla.news-article115290845
_________________________________________
A Cicada Story and Poem for Children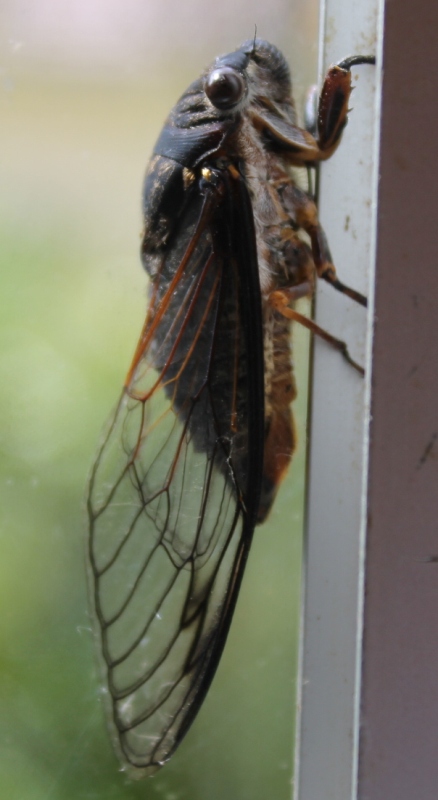 THE CICADA CATCHERS.
By Mary Fuller.
(This is a story specially written for the Little People's Page by one of your own. I hope you will like it, and that she will often write another.)
It was early morning in the bushlands, with the sun just peeping through the gum leaves. It was that magic hour, when the indescribable fragrance of Australian plants fills the balmy air, when the breeze is delightfully fresh and invigorating, and when in shady nooks tiny sparkling dew-drops hang on leaf and petal. In such a sheltered nook under a clump of Christmas bush lay Petals and Floret on their moss beds. Mr. Kookaburra suddenly broke into a loud chuckle. Petals and Floret awoke from their slumbers and immediately sprang out of their soft mossy couches.
After bathing in the dew on the grass blades the little fairies put on their best dresses, for they were going .to spend the day with Gum blossom and Honeydew. But as their friends lived high up in Leafy-avenue with the Gumnut babies and the beetles and bees, the two little fairies decided to wait for a 'cicada-bus.' In a few minutes a big cicada flew down to 'them, and Petals and Floret jumped on to his back. He spread his glittering wings, and soon they were speeding through the leaves and blossoms till they arrived at Greysten-street, where the cicada-bus stopped.
They climbed off and ran along to the cluster of blossoms where Gumblossom and Honeydew lived. Presently they were sitting around with Lacewing, Mr. Swallowtail, King Beetle, and many others, who were present as guests. The fairies all sipped nectar and exchanged news, and were spending a very pleasant time with Gum blossom and Honeydew, when suddenly something heavy flew past their branch and fell with a thud on the ground.
'Nearly had him, Tom.'
'Give us another, and I'll try again.'
'No, I'll climb up and get him.'
These were a few of the remarks that floated up to the little fairies who had been so rudely disturbed.
'I wonder who they are, and what they want,' Petals whispered, timidly.
But King Beetle knew.
'They are boys,' he replied.- 'And they want your cicada-bus'.
Gumblossom sent a little flower-beetle to warn the cicada, but he returned in a minute squeaking:
'Oh! there's something big and fat coming up Iron-bark Parade.'
Presently the fairies heard the loud and persistent 'gurk-gurk' of the cicada bus, mingled with the triumphant shouts of Tom.
'Hooray, Jack, I've got him — a double drummer.'
'Come down and let's see him,' shouted back Jack.
So Tom descended with the cicada-bus in his pocket, and the fairies gathered round again to discuss the strange happenings.
'Oh, dear! There won't be any buses left soon,' said King Beetle. 'Every week the boys come to this valley to catch them, but I've thought of a good plan to punish them now.'
So King Beetle set abut his plan to punish the bad boys. He sent Mr. Swallowtail to tell all the cicadas on the surrounding gums to commence shrilling at once.
'My word, Tom'! Look at that big greengrocer!'
'And here's another brown squeaker!' yelled Tom.
'Oh, bother,' grunted the perspiring Jack after a while. 'Let's have a rest.'
'Righto,' answered Tom. So they sat down on the moss near Petal's and Floret's beds. That was just as the fairies had wanted.
'Come on,' whispered Floret, and they crept nearer to the boys, sprinkling a strong, drowsy perfume, made from scented ti-tree, as they moved.
'It's nice and comfy here,' said Jack.
'Rather,' answered Tom quite drowsily, and before they realised it they were asleep. '
'Right turn,' ordered Commander Bull Ant to his battalion.
'Halt,' as they reached the boy's boots.
'Single file,' and they crawled one by one along their legs.'
'Buzz-buzz,' exclaimed Billy Blue Wasp.
'This way,' as half-a-dozen blue wasps landed on Tom's and Jack's shoulders.
'Szz-z-z,' piped a swarm of mosquitoes as they settled on their coat sleeves.
'Help!' squealed Tom, 'There's ants on my legs!'
'Oh, gee!' roared Jack. 'A wasp's on my neck.'
And the boys jumped round and yelled like mad things.
'I wonder why they attacked us/' sighed Tom, but before Jack could suggest a reason a tiny voice piped: 'And I wonder why you took our cicada buses?!'
'What!' Tom began, when Jack chimed in, 'Oh! those locusts!'
'Because everybody has them, and those bush ones squeak awfully well. Who are you, anyway?'
'I'm King Beetle, and these are my subjects. We ride on the cicadas, and how would you like a giant to grab the buses out of your streets?'
'It would be pretty rough,' agreed Tom. 'But we didn't know,' and he transferred the unfortunate cicadas from his pockets to the tree.
Tom and Jack returned home wondering whether it was true or a dream, but they brought no 'double drummers' with them. And they never, went to the bush to catch locusts again, for the simple reason that there were too many bull-ants and wasps there. THE CICADA CATCHERS. (1925, June 25). Freeman's Journal(Sydney, NSW : 1850 - 1932), p. 46. Retrieved from http://nla.gov.au/nla.news-article116792077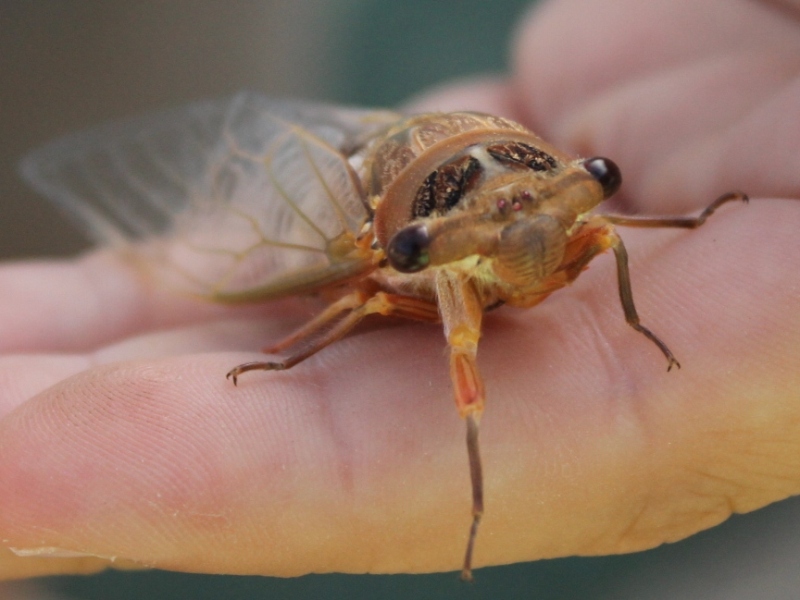 The Children's Page
CONDUCTED BY ERICA
Goody Gossamer's Rhymes.
THE CICADA ORCHESTRA.
When the gum leaves all hang drooping,
And every bird is still,
There comes from each leafy covert,
A droning loud and shrill.
'Zum, zum, zum, I'm a Floury Baker!
Hark to my double-drum;
I can drone by the hour with ceaseless power,
And a zum, zum, zum, zum, zum.'
The hot air seems to quiver
Beneath that steady drone,
And aching heads grow wearier,
With that ceaseless monotone;
"Zum, zum, zum, I'm a real Greengrocer!
Hark to my double drum;
I can make it go for an hour or so,
With a zum, zum, zum, zum."
When the still, hot day is over,
And the west wind drops at length,
The loud cicada chorus Wakens to double strength:
"Zum, zum, zum, I'm a Yellow Monday!
Hark to my double drum;
I can make it drone in its monotone,
With a zum, zum, zum, zum, zum.'
As the slow, slow hours are dragging
Through the hush of a still, hot night;
The full bush band keeps playing,
Right up to the morning light.
"Zum, zum, zum, I'm a Black Prince gorgeous!
Hark to my double drum;
All the long night through I shall play to you,
With a zum, zum, zum, zum, zum."
From the first grey light of the morning,
Till the sun sinks down in the west,
And all through the long night-watches,
The droning knows no rest:
"Zum, zum, zum, I'm a Floury Baker;
Zum, zum, zum, I'm a fat Greengrocer;
Zum, zum, zum, I'm a Yellow Monday;
Zum, zum, zum,
I'm a Black Prince gorgeous.
And each has a double drum.
So with ceaseless tone we just drone, drone, drone,
With a zum, zum, zum, zum, zum."
The Children's Page. (1926, November 18). The Catholic Press(NSW : 1895 - 1942), p. 46. Retrieved from http://nla.gov.au/nla.news-article106276154
References:
1. Owen Craig. Summer of singing cicadas. ABC Science. 17th February, 2001. Retrieved from: http://www.abc.net.au/science/articles/2001/02/17/2822486.htm
CONTINUATION Of the Code of Directions accompanying the Correspondence between the Trustees of the British Museum and Lord Glenelg. (1838, April 13). The Hobart Town Courier(Tas. : 1827 - 1839), p. 4. Retrieved from http://nla.gov.au/nla.news-article4165899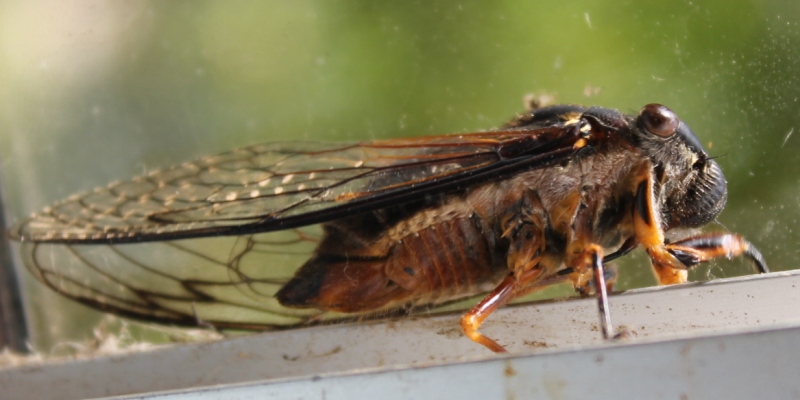 ________________________________________
THE NATURAL HISTORY OF THECOLONY.—No. 4.
ENTOMOLOGY. —LEPIDOPTERA. NO. II.
The largest butterfly that the neighbourhood of our city can produce, is, as before states, about the size of the English Vanessa 10; it is seldom seen except at the warmest season of the year, and is at all times scarcer than the Tortoise-shell; it was by far more numerous than I have ever since seen it in December,1839, keeping principally to the Mount Lofty range, where on fine days literally a dozen or more arose at every step of the pedestrian. In the vicinity of the North Para River, about 27miles N.E. of Adelaide, a still larger species at present may be seen, and of more lively and diversified colors, similar in many respects to the English Fritillary butterfly, but on a larger scale; this last mentioned species I believe rather exceeds in size any of our British butter-flies.
Our most beautiful native species of Diurnais by no means rare at some seasons of the year. It is difficult to distinguish it from another native species, from the upper, that is, the side of the winks most frequently presented to view, being very similar, as both are white variously lined or clouded with black. The most common of these two has but little variation in the upper and under sides, the latter having faint yellow spots round the edges of the lower wings, but the under side of the wings. The former are scalloped round with bands of scarlet, and it is in many respects the much smaller in size, very much like the handsome Papilio Egens of New Holland. I will give a farther description of these Diarcae in some future number.
The ones are here more remarkable for their size than their coloring, though many there are professing the latter quality to some extent; the largest I have seen, and which I have now in my possession, measures from tip to tip of the wings, eight inches; the body is about two and two-thirds inches in length, and three-fourths of an inch broad, and the antennae are pectinated; the color is a light brown, and the upper wings are faintly traced with double lines of a darker color, forming large spots or clouds, and presenting a very handsome and regular appearance when closely examined; the wings are thin, but at their base are, like the body, thickly clothed with down. The latest of the British species, is, I believe, the Privet Hawkmoth (Sphinx Ligustri), which measures in the extent of the wings about five and a-half inches, being therefore but little more than two-thirds the size of the one just mentioned.
Another species no doubt of the same family, measures between the extension of the wing tips five and four-fifths inches, the body being half an in inch broad and two inches long; its markings are much handsomer than in the last described species, the lower wings are very similar, but the upper ones have several bands or streaks of a silvery appearance, extending from the base of the wings about half way towards the opposite margin, down which runs a chain of spots of the same silver-like tint; the ground color of the upper wings is rather darker than in the last, but with the same faint waving lines and angles dispersed over their surface; in all other respects this moth resembles the last, with the exception of having the antennae much more strongly pectinated in all those I have found. Both these species vary much in size, but those just described are as large as I have ever seen them. I have, for the sake of a distinguishing English name called the former of these the Goliath and the latter the Achilles moth. I have but little doubt that it is the Chrysalis of the former insect which may be seen in such great numbers in the month of May allover the country, left by its late inhabitant buried in the holes, from beneath which, in this state, it has worked its way, to undergo its final and most surprising change.
The largest of the empty Chrysalides, or cast-off clothing of the liberated moth, is in length four inches, and in breadth at the broadest part not quite an inch, of a find dark polished brown or mahogany color on the upper side as far as the abdomen, each segment of which is divided into three distinct bands by raised lines, the second and third of which are much lighter than the other. Lying near this large Chrysalis may often be discovered, though it is not so common, the deserted tenement, I sup-pose, of the smaller or silver-streaked species, only differing in the length, which is about two-thirds of the other, with proportionate breadth. These different-sized Chrysalides perhaps produce the male and female of the same species, though I should think the two species above described are not so. If these late receptacles of still life are found soon after their tenants have issued from them, they maybe drawn to their full length, displaying distinctly the rings or segments of which they are composed, being mostly left in a crampled upstate by the insect in its efforts to liberate itself. The action of the sun soon turns them to a paler color. One of the commonest of our twilight moths, so often flying into our rooms at sunset, must be well known to all by the large ocelli on the upper wings; this moth is seldom found in a perfect state, as the wings are very thin, and being swift of flight, and, no doubt, as fond of liberty as its companions, on seeing itself con fined its wings are soon torn in its struggles to get free. Short must be its period of enjoyment in each day, for like many of its species, it retires before night quite closes in. That strange infatuation of flying towards the light,(and which has yet not been satisfactorily accounted for) of these insects, that wait for its disappearance to come forth, seems peculiar among the Lepidoptera, almost entirely to the smaller species of Nocturnae.
I am much indebted to a friend for the information that the noisy insects I mentioned in my last are all species of Cicada, which belong to the order Hymenoptera, which was, indeed, a mistake of some consequence. This arose from not having had one in my possession for more than a year, and therefore, speaking of it merely from recollection, the size and notes of this species being the only things I remarked at the time. This insect has for ages been known to the world; it is the fabled lyre of the ancients, and has been often celebrated in song. In Brazil it is remarkable for the almost stunning noise it makes in the trees.
The residence of those organs by which it is able to sound its powerful notes, and which I was unable to discover, are not unknown to naturalists, and are said by Reanmur to be quite internal, and in appearance not unlike to the strings of a harp, producing a similar effect when pulled; the male only possesses the power of song. Their manner of flight alone, if particularly observed, would, in a great measure, distinguish them from the Hymenoptera. On being touched, they launch themselves into the air with the assistance of a spring, as their hind legs are formed for leaping, and their light is then direct, and most like that of the Coleoptera, though slower.
The last mentioned circumstance is rather against their escaping from their foes. I once observed one of the middle sized species met, while on the wing, by a swallow, and as might be expected, instantaneously snapped up, the action not causing the bird to pause, even for a moment, in its rapid flight.
Turn we now to the Orthoptera (grasshoppers, locusts, &c.), an order of insects which here produces astonishing numbers. They are remarkable for the great variety of their forms, and in several of the tribes, for the beauty of their colors, and are generally placed in classification next to the Coleoptera. Under this head are included the various species of grasshoppers, crickets, and other insects similar in make or habits, and which, at a first glance, seem almost innumerable. In this, as in other warm climates, they literally swarm during the summer months, especially in those parts where the long sheltering grass or thick bushes afford them a retreat. Of this order we possess a very large species, which belongs also to one of its principal families, the Phasmidae, some of which are denominated spectre insects. It is certinaly the largest species of this class I ever saw. I obtained possession of it in May 1839; it was a female, and quite perfect, and was caught by a man (from whom I purchased it) with his hand, while flying in the Park Lands near Adelaide.
From the full notes I made at the time on the color and different parts of this extraordinary insect, I will give a description of the size and shape of the principal members. The length of the entire insect from the top of the small, round, and exposed head, which principally denotes the family, to the end of the body, is exactly six inches, and is comparatively narrow, being, at the broadest part, the base or commencement of the abdomen, but six and a half tenths of an inch; the head is four tenths, and the eyes one tenth of an inch in length; the latter are oval, and of a light grey color; the antennae are short, seven tenths of an inch, and composed of twenty-four segments or divisions. The wing covers, (tegmina), which but partially cover the wings, are one and four-fifths inches long, and six tenths of an inch in breadth, in shape like a broad leaf.
The under, or true wings, are rather more than four inches in length, and the outer parts of these, which meet down the abdomen when the insect is at rest, and quite cover the subjoined or gauze like parts, are coriaceous, like the wing covers, and of the same color. The two fore-most legs, which are a little longer than the others, are three and three-tenths inches long, very thin, and nearly the same through their whole length, but the four others have the femur remarkebly flat, smooth, and broad, viz; about three and a half tenths of an inch. With regard to this peculiarity in the last mentioned joint, it does not seem to appertain in particular to any of the legs of these insects, even in this family alone; the color of the whole of the upper side of the body, with the wings, and wing covers, is a dull green, like a partially withered gum tree leaf, and the under side and legs are somewhat paler, the under parts of the tegmina are a pale rose pink, as also all of the wings concealed by them.
This Insect which I before said was a female, laid two eggs soon after I obtained it; they were of the same color and oval shape as its eyes, and also like them, highly polished, butlarger, being less in size than the seed of the sweet garden pea. I have been thus particular in the description of the principal parts of this curious specimen of insect life, both on account of its large size and of its being a member of a family but little seen except between the tropics. The unobtrusive color given by Providence to this species, as well as to many other Orthopterous insects of its tribe, no doubt for its defence and protection from its watchful and quick-sighted feathered enemies, displays in a wonderful manner the Almighty's care of all his creatures, however humble their condition. The above species, when motionless on the trees, in which state many of the Phasmidaeremain for long periods, is exactly the color of the foliage around it. One other species of this insect I have since seen in possession of a gentleman in Adelaide, rather different in color and much smaller in size. Another remarkable insect, which this country also produces, is the Preying Mantis of the South of Europe, which I will describe in my next.
Naturae Amator
December 29th, 1840.
THE NATURAL HISTORY OF THE COLONY.—No. 4. (1841, January 2). South Australian Register (Adelaide, SA : 1839 - 1900), p. 4. Retrieved from http://nla.gov.au/nla.news-article27442150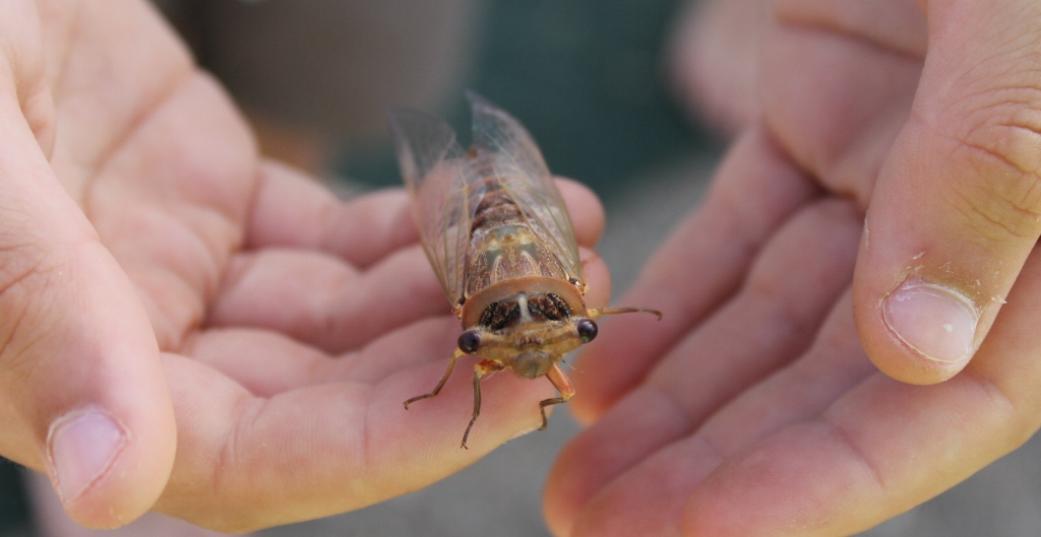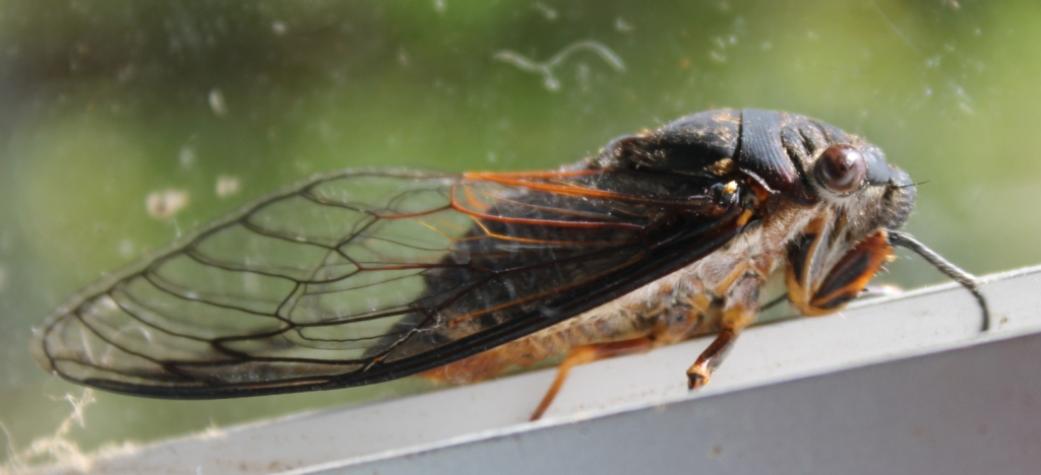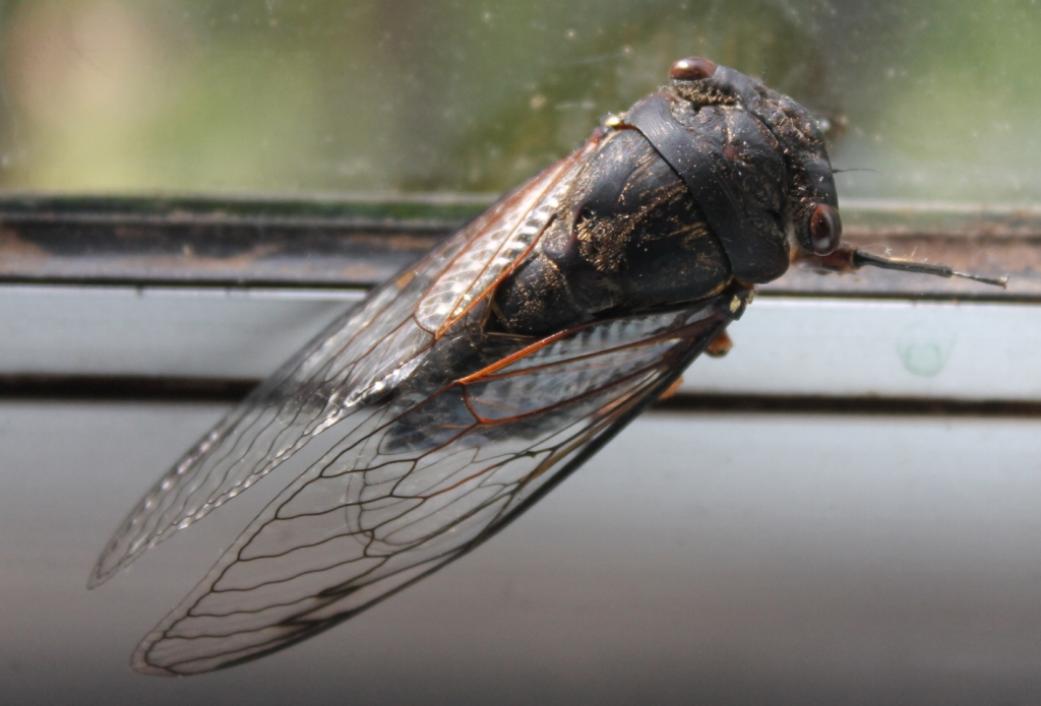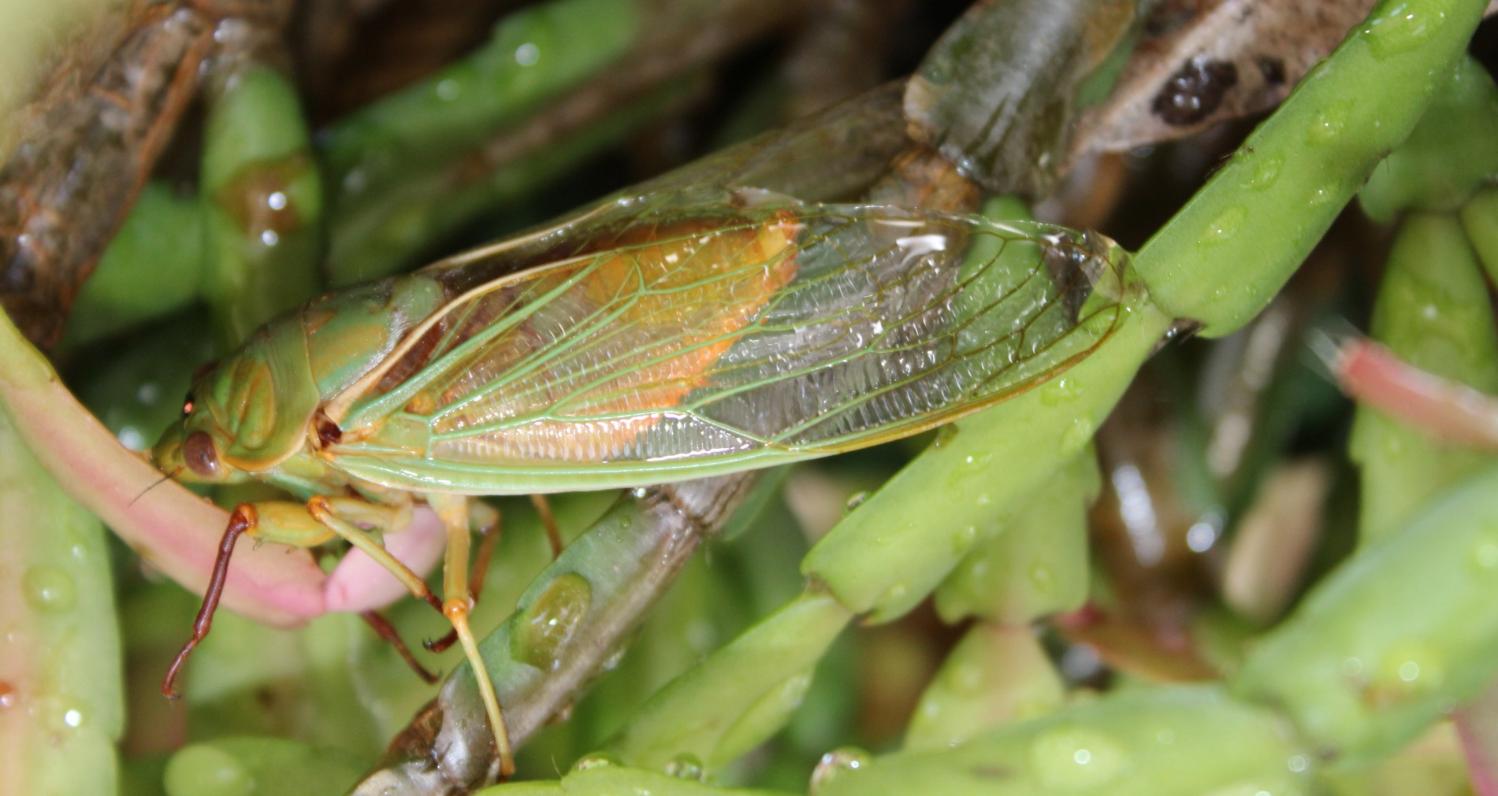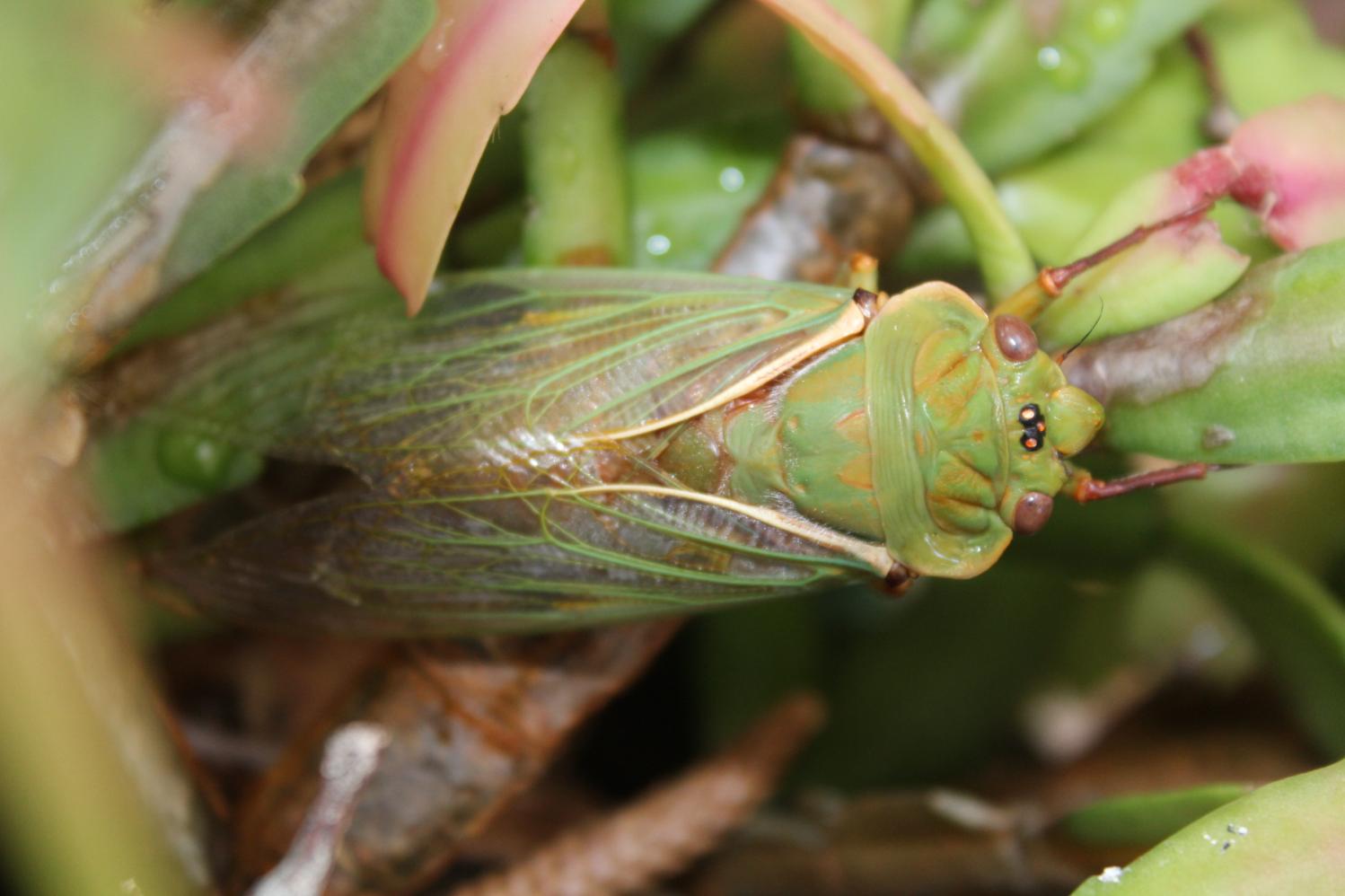 Greengrocer Cicada
(
Cyclochila australasiae
) - This Greengrocer cicada was in my dog's water bowl, showing how thirsty it was. I fished it out and put it in a plant - a good reminder that we need to put shallow dishes of water out for insects and small lizards on hot days. He/she eventually flew off again.
The Australian Museum tells us that 'the Greengrocer cicada is probably the most commonly encountered in the Sydney area. The two common names of Greengrocer and Yellow Monday refer to different colour forms of the same species. The origin of the names is unclear but they are known to have been in use as early as 1896. Other names for different colour forms include Chocolate Soldier (dark tan form) and Blue Moon (turquoise form).
Dusk is the usual time to hear the male Greengrocers calling for females, but they also sing in the morning on warm days. The harsh song may be continuous or delivered in short bursts, and can be extremely loud and penetrating.
Adult Greengrocer cicadas live for around six weeks. Females deposit eggs into dead or dying branches of a food plant. The eggs hatch after about four months into spidery-looking, long-legged nymphs that burrow into the soil. Here they suck sap out of plant roots and grow for up to seven years, emerging as adults between September and November on warm nights often following rain.'
We have also had a large and loud symphony coming from all the Black Prince Cicadas (Psaltoda plaga) in the Spotted Gums around our home these past two Summer months. Matilda, our dog, loves chasing them and we have to get them off her before she bites them! This can be a little difficult when they fly in through open windows at night as she will catch them then run as we try to catch her and save them - she is pretty fast and loves playing chasings - naughty puppy!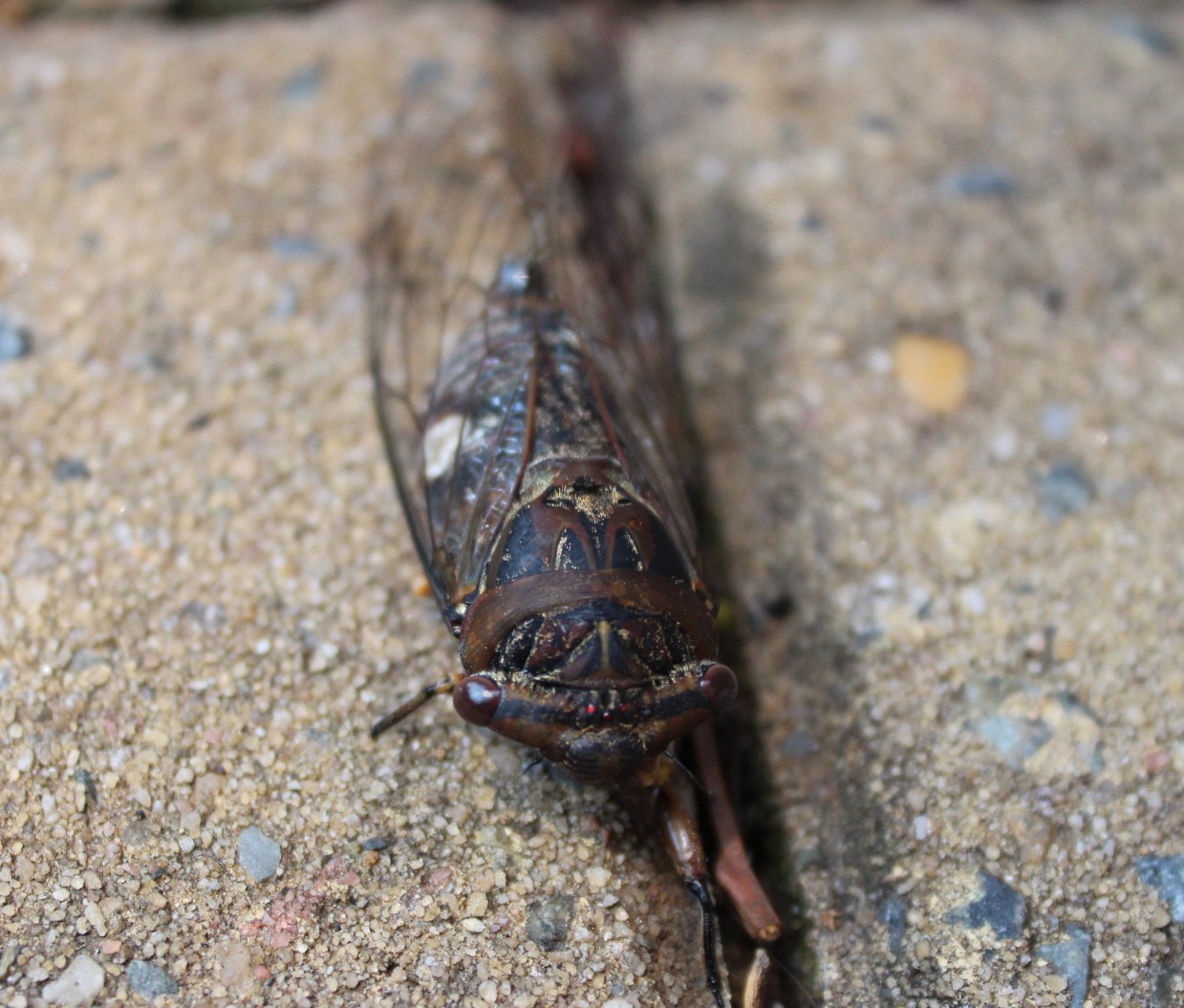 The black prince was originally described by German naturalist Ernst Friedrich Germar in 1834 as Cicada argentata, the species name derived from the Latin argentum "silver". Swedish entomologist Carl Stål defined the new genus Psaltoda in 1861 with three species, including the black prince as Psaltoda argentata. Francis Walker described Cicada plaga in 1850 as well as querying further specimens as Cicada argentata. He noted in 1858 that the binomial Cicada argentata had been used by a European species, and declared that Germar's cicada needed a new name. The name black prince was in popular use by 1923. It was reported by McKeown in 1942 as referring to a dark form of the green grocer (Cyclochila australasiae forma spreta), but was later linked to Psaltoda plaga.
Photographs by A J Guesdon.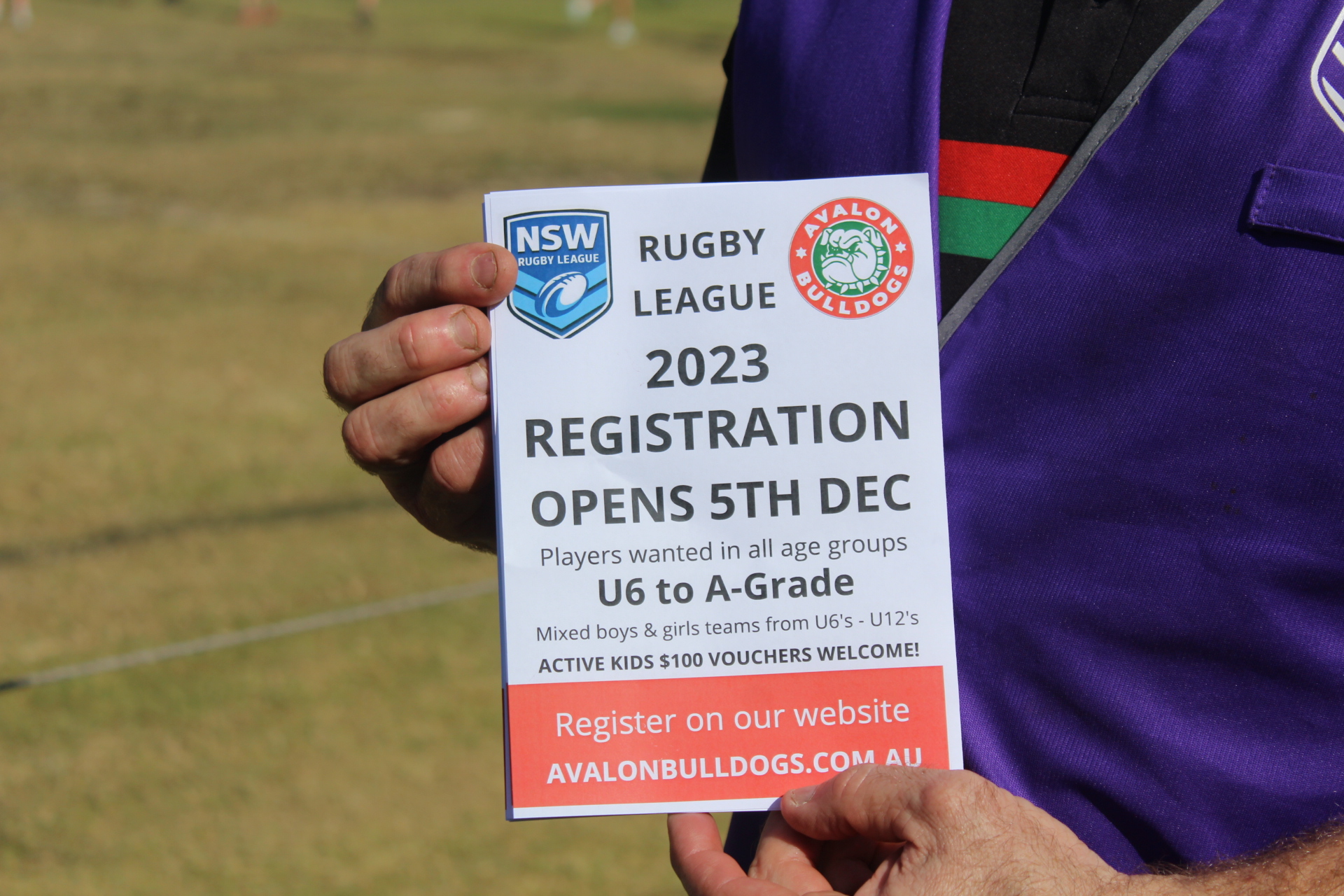 School Leavers Support
Explore the School Leavers Information Kit (SLIK) as your guide to education, training and work options in 2022;
As you prepare to finish your final year of school, the next phase of your journey will be full of interesting and exciting opportunities. You will discover new passions and develop new skills and knowledge.
We know that this transition can sometimes be challenging and the COVID-19 pandemic has presented some uncertainty. With changes to the education and workforce landscape, you might be wondering if your planned decisions are still a good option or what new alternatives are available and how to pursue them.
There are lots of options for education, training and work in 2022 to help you further your career. This information kit has been designed to help you understand what those options might be and assist you to choose the right one for you. Including:
Download or explore the SLIK here to help guide Your Career.
School Leavers Information Kit (PDF 5.2MB).
School Leavers Information Kit (DOCX 0.9MB).
The SLIK has also been translated into additional languages.
Download our information booklets if you are rural, regional and remote, Aboriginal or Torres Strait Islander, or living with disability.
Support for Regional, Rural and Remote School Leavers (PDF 2MB).
Support for Regional, Rural and Remote School Leavers (DOCX 0.9MB).
Support for Aboriginal and/or Torres Strait Islander School Leavers (PDF 2MB).
Support for Aboriginal and/or Torres Strait Islander School Leavers (DOCX 1.1MB).
Support for School Leavers with Disability (PDF 2MB).
Support for School Leavers with Disability (DOCX 0.9MB).
Download the Parents and Guardian's Guide for School Leavers, which summarises the resources and information available to help you explore all the education, training, and work options available to your young person.
School Leavers Information Service
Are you aged between 15 and 24 and looking for career guidance?
Call 1800 CAREER (1800 227 337).
SMS 'SLIS2022' to 0429 009 435.
Our information officers will help you:
navigate the School Leavers Information Kit (SLIK),
access and use the Your Career website and tools; and
find relevant support services if needed.
You may also be referred to a qualified career practitioner for a 45-minute personalised career guidance session. Our career practitioners will provide information, advice and assistance relating to a wide range of matters, such as career planning and management, training and studying, and looking for work.
You can call to book your session on 1800 CAREER (1800 227 337) Monday to Friday, from 9am to 7pm (AEST). Sessions with a career practitioner can be booked from Monday to Friday, 9am to 7pm.
This is a free service, however minimal call/text costs may apply.
Call 1800 CAREER (1800 227 337) or SMS SLIS2022 to 0429 009 435 to start a conversation about how the tools in Your Career can help you or to book a free session with a career practitioner.
Word Of The Week: Opportunity
Word of the Week returns in 2023 simply to throw some disruption in amongst the 'yeah-nah' mix.
noun
1. a time or set of circumstances that makes it possible to do something. 2. a favourable, appropriate, or advantageous combination of circumstances. 3. a chance or prospect.
From Middle English opportunite, Old French opportunité, Latin opportunitas, opportunus: opportune
opportune - adjective
1. occurring at a time that is suitable or advantageous. 2. fit or suitable for a particular purpose or occurrence
Word origin: C15: via Old French from Latin opportūnus, from ob- to + portus harbour (originally: coming to the harbour, obtaining timely protection). Word origin: ME from MFr, from L opportunus, lit., at or before the port.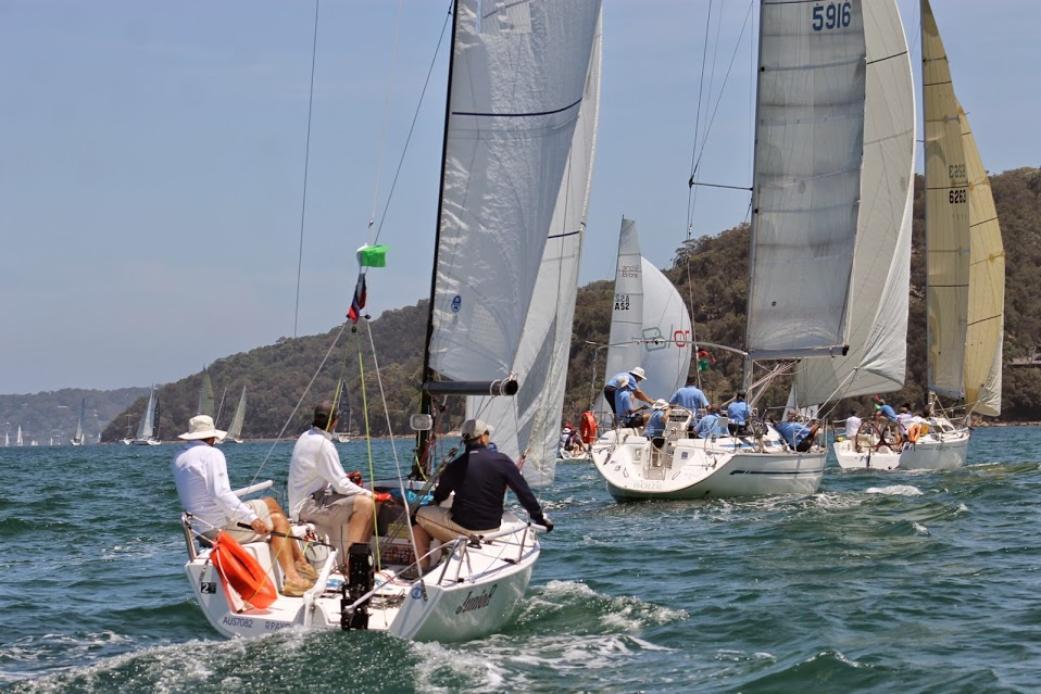 Summer Reading 2022-2023: We Of The Never Never
We of the Never Never is an autobiographical novel by Jeannie Gunn first published in 1908. Although published as a novel, it is an account of the author's experiences in 1902 at Elsey Station near Mataranka, Northern Territory in which she changed the names of people to obscure their identities. She published the book under the name Mrs Aeneas Gunn, using her husband's first and last name. Over the years, newspapers and magazine articles chronicled the fortunes of the Elsey characters. Jeannie outlived all but Bett-Bett.
Jeannie Gunn was the first white woman to settle in the Mataranka area. Her husband Aeneas was a partner in the Elsey cattle station on the Roper River, some 483 km (300 miles) south of Darwin. On 2 January 1902 the couple sailed from Melbourne for Port Darwin so that he could take up a job as the station's new manager. In Palmerston, Gunn was discouraged from accompanying her husband to the station on the basis that as a woman she would be "out of place" on a station such as the Elsey. However, she travelled south and her book describes the journey, settling in, and the difficulties of life in the bush. Jennie Gunn lived on the cattle station for about a year before her husband, Aeneas, died of malarial dysentery on March 16th 1903. Jeannie returned to Melbourne shortly afterwards and never returned to the Northern Territory.
The book is regarded as being significant as a precursor of the 1930s landscape writers. Already in 1908 Australia was a significantly urbanised country and the book was seen to provide symbols of things that made Australia different from anywhere else, underwriting an Australian legend of life and achievement in the outback, where "men and a few women still lived heroic lives in rhythm with the gallop of a horse" in "forbidding faraway places".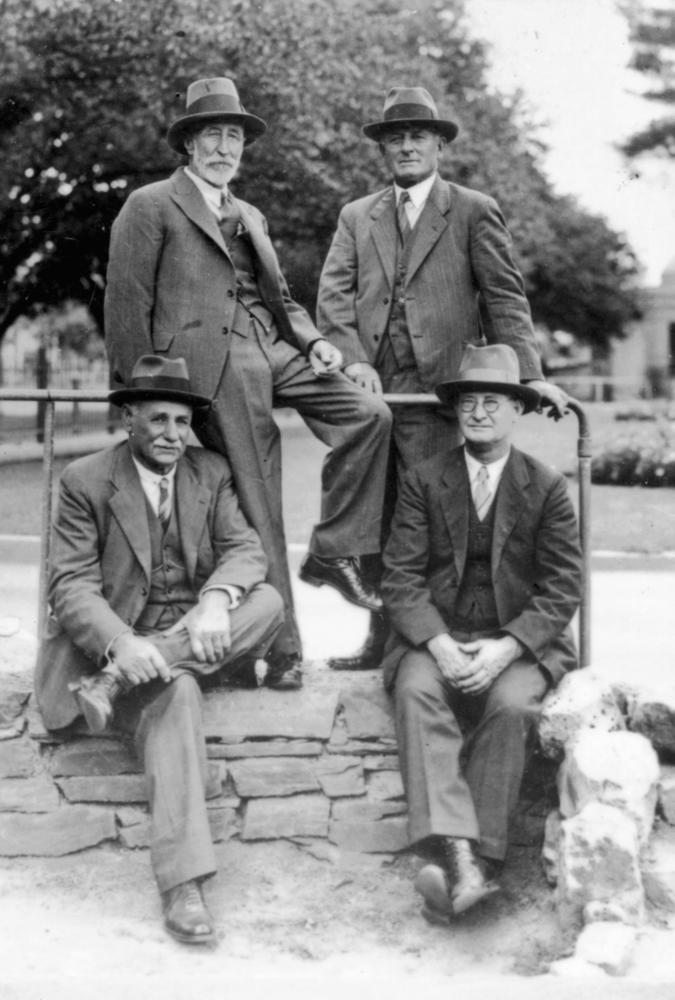 Four of the stockmen from Elsey Station in 1933 who were characterised in "We of the Never Never"
Characters from Aeneas Gunn's book 'We of the Never Never', 1933
Caption: Do you know the men in the above photograph? Probably not, yet thousands of boys and girls throughout Queensland during the past week have had the quartet intimately in their thoughts. They are the originals of characters in 'We of the Never Never', Mrs. Aeneas Gunn's classic tale of early Australian days, which was a textbook for the State scholarship examinations. They worked together on Elsy Station and had the first reunion since those days in 1933 when 'Truth's' photograph was taken. From left to right they are: Irish Mac, The Dandy, Mine Host and The Quiet Stockman. The first-named has since died. The other three are residents of South Australia. (Description supplied with photograph). Photo courtesy State Library of Queensland.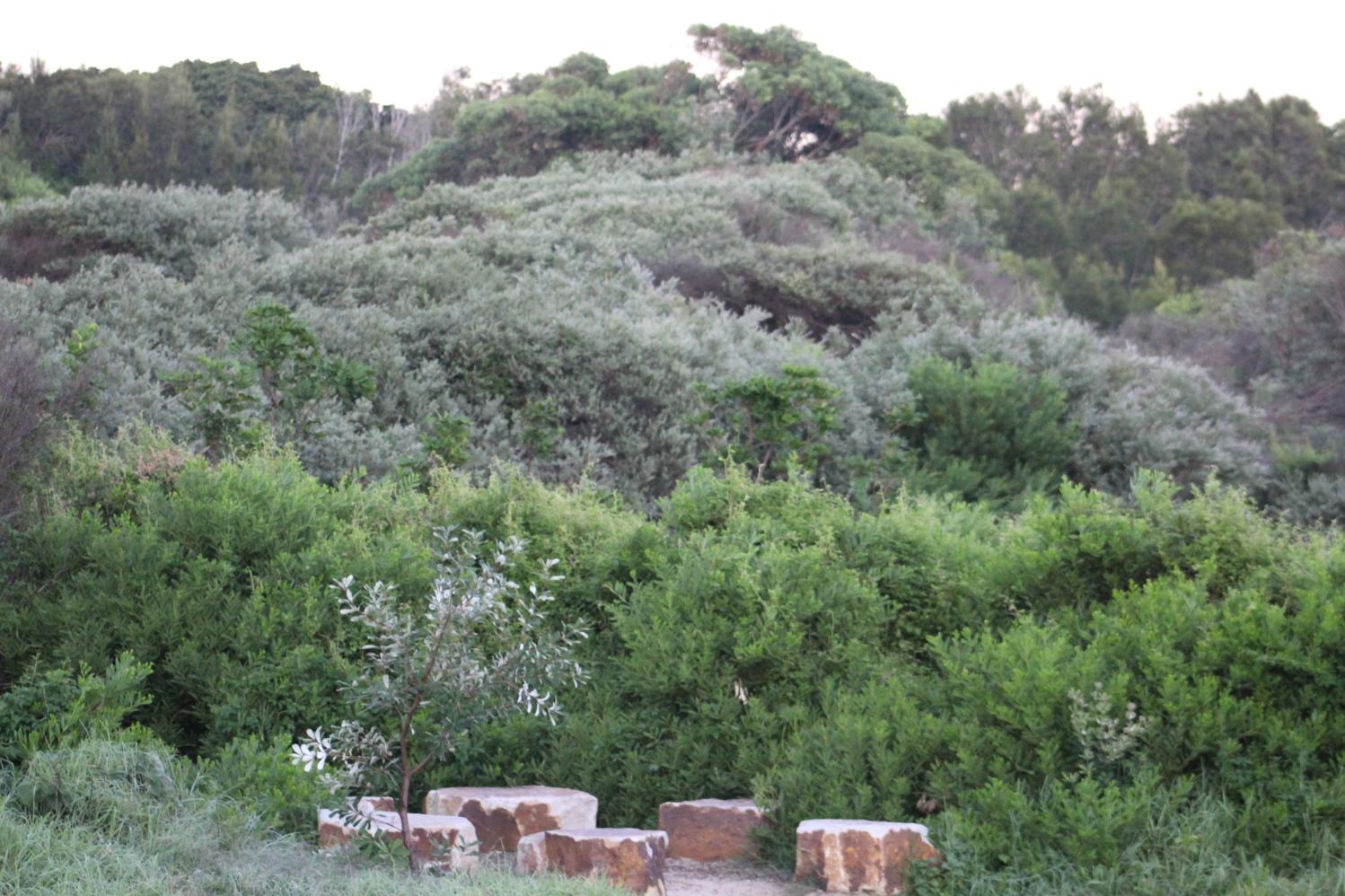 Local Seniors State They 'Are Invisible'
Older residents tell us they are 'the invisible' people in our local population - Are you a Senior? Do you feel the same? Are there enough multi-generational connection events happening in our area? How can services and connections be improved?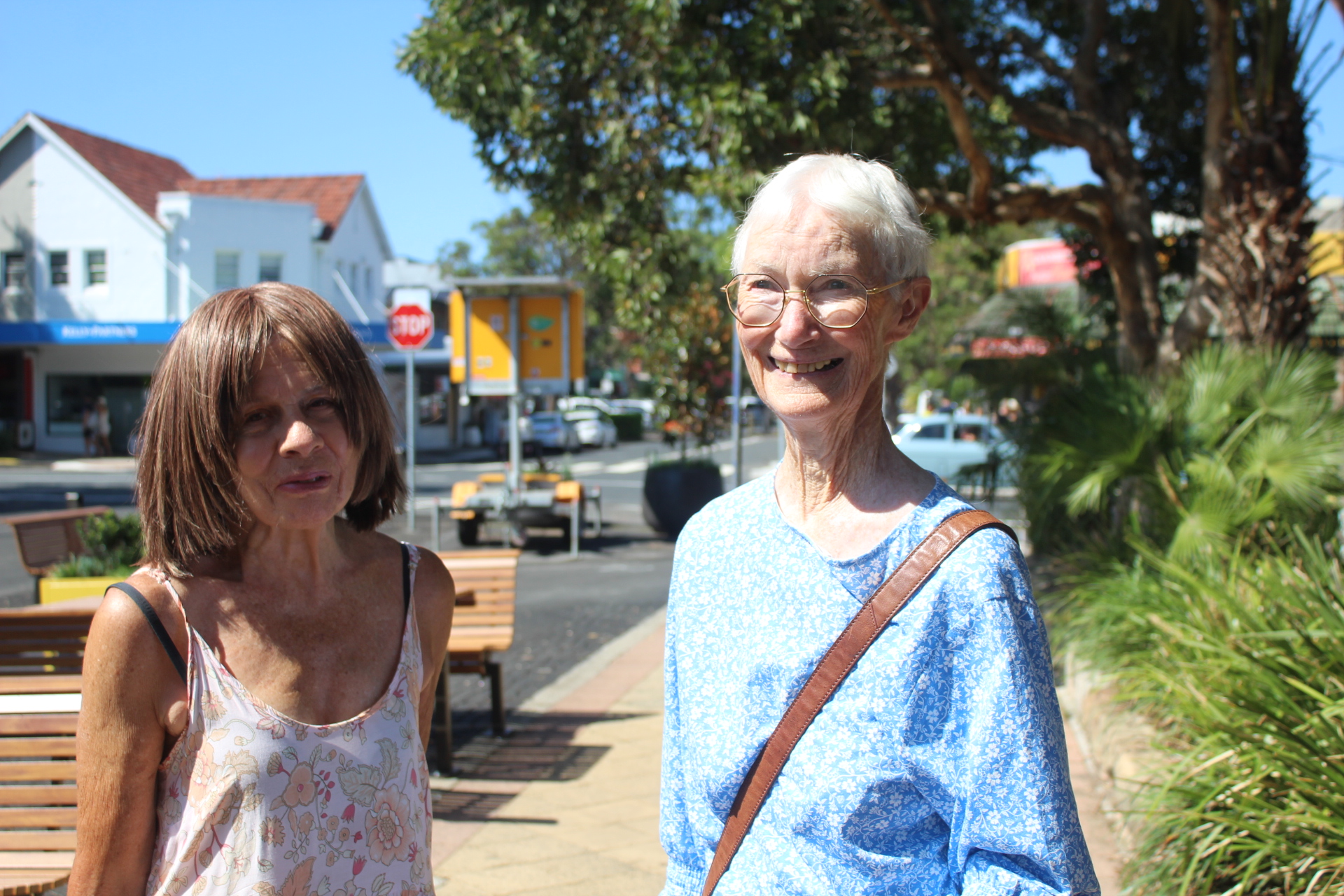 AvPals One To One Training At Avalon 2023: Register Now Or In Person
Add your name to the list of others interested in one-to-one training at Avalon for future school terms. Please complete the form at the link below.
Remember to click the Submit button after completing the form. You will not be enrolled or be required to pay until you hear from our coordinator.
ONE TO ONE registration mornings at the Avpal training rooms beneath the Maria Regina Catholic Church in Central Road, Avalon.
Friday January 20th, 2023, 9.30am-11am
Friday April 14th, 2023, 9.30am-11am
Friday July 7th, 2023, 9.30am-11am
Friday 29th September 2023, 8.30am-11am
Safer Internet Day 2023
Safer Internet Day is a global event that brings together communities, families, schools and organisations from more than 200 countries to help create safer online spaces.
This worldwide initiative is celebrating 20 years in 2023, making it a great time to reflect as well as look forward. This year SiD will be on
Tuesday February 7th
.
Technology has evolved dramatically in the past two decades and the benefits have been huge. These developments have also exposed us to many risks with real-world impacts, making online safety awareness even more important.
That's why we are calling on Australians to
Connect. Reflect. Protect.
Connect
safely and with purpose – by keeping apps and devices secure and using social media in positive ways.
Reflect
before we act – by taking a moment to consider how what we do and say online may affect others.
Protect
ourselves and others by taking action – by telling family, friends or colleagues about eSafety and how we can help.
By doing these simple things, we can work towards making every day a Safer Internet Day.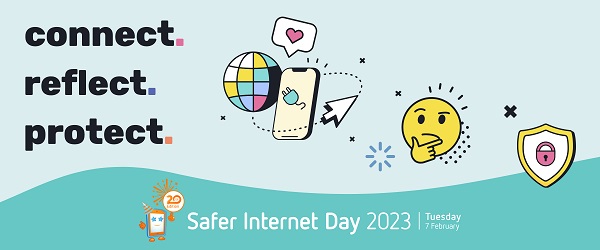 2023 Seniors Card Discount Directory
Seniors right across the state can now pick up the latest copy of the NSW Seniors Card Directory from hundreds of locations across the state or access it online.
Minister for Seniors Mark Coure said the directory details more than 2,000 businesses providing significant discounts off products and services available through the NSW Seniors Card program.
"This directory lists all the savings that can be accessed, from supermarkets, retail and boutique stores, health and fitness, travel, utilities and professional services," Mr Coure said.
"The Seniors Card is the largest program of its kind in Australia, and has been helping keep more money in seniors pockets and easing the cost of living for 30 years."
The 2023 Seniors Card Directory is available in five regional areas, including Sydney and Surrounds, Central Coast and Hunter, Northern NSW, Southern NSW and Western NSW.
Mr Coure encouraged more businesses to sign up to the NSW Seniors Program and join the more than 6,000 businesses that have opened their door to more than 1.9 million seniors across the state.
"The more businesses that sign up can potentially get more people through their door and seniors have more choice to shop and use services, so it is a win-win," Mr Coure said.
Seniors Cards are available for permanent NSW residents who are 60 years of age or over and are working no more than 20 hours per week in paid employment.
NSW Seniors Card is pleased to provide members with the 2023 Seniors Card Directory, your guide to the best discounts and special offers from thousands of participating businesses across the state.
Each year five directories are released, one for each region in NSW. The regions are: Sydney & Surrounds, Central Coast & Hunter, Northern NSW, Southern NSW and Western NSW.
To download your copy, please click the link below:
Copies of the 2023 directory are also available for pickup from Australia Post Outlets, Service NSW Centres, MP Offices as well as participating local Councils and Libraries across the state. Please click
here
to find a location near you.
Also available:
Central Coast & Hunter
Northern NSW
Southern NSW
Western NSW
Good Hydration Linked To Healthy Aging
Adults who stay well-hydrated appear to be healthier, develop fewer chronic conditions, such as heart and lung disease, and live longer than those who may not get sufficient fluids, according to a National Institutes of Health study published in eBioMedicine.
Using health data gathered from 11,255 adults over a 30-year period, researchers analyzed links between serum sodium levels -- which go up when fluid intake goes down -- and various indicators of health. They found that adults with serum sodium levels at the higher end of a normal range were more likely to develop chronic conditions and show signs of advanced biological aging than those with serum sodium levels in the medium ranges. Adults with higher levels were also more likely to die at a younger age.
"The results suggest that proper hydration may slow down aging and prolong a disease-free life," said Natalia Dmitrieva, Ph.D., a study author and researcher in the Laboratory of Cardiovascular Regenerative Medicine at the National Heart, Lung, and Blood Institute (NHLBI), part of NIH.
The study expands on research the scientists published in March 2022, which found links between higher ranges of normal serum sodium levels and increased risks for heart failure. Both findings came from the Atherosclerosis Risk in Communities (ARIC) study, which includes sub-studies involving thousands of Black and white adults from throughout the United States. The first ARIC sub-study started in 1987 and has helped researchers better understand risk factors for heart disease, while shaping clinical guidelines for its treatment and prevention.
For this latest analysis, researchers assessed information study participants shared during five medical visits -- the first two when they were in their 50s, and the last when they were between ages 70-90. To allow for a fair comparison between how hydration correlated with health outcomes, researchers excluded adults who had high levels of serum sodium at baseline check-ins or with underlying conditions, like obesity, that could affect serum sodium levels.
They then evaluated how serum sodium levels correlated with biological aging, which was assessed through 15 health markers. This included factors, such as systolic blood pressure, cholesterol, and blood sugar, which provided insight about how well each person's cardiovascular, respiratory, metabolic, renal, and immune system was functioning. They also adjusted for factors, like age, race, biological sex, smoking status, and hypertension.
They found that adults with higher levels of normal serum sodium -- with normal ranges falling between 135-146 milliequivalents per liter (mEq/L) -- were more likely to show signs of faster biological aging. This was based on indictors like metabolic and cardiovascular health, lung function, and inflammation. For example, adults with serum sodium levels above 142 mEq/L had a 10-15% associated increased odds of being biologically older than their chronological age compared to ranges between 137-142 mEq/L, while levels above 144 mEq/L correlated with a 50% increase. Likewise, levels of 144.5-146 mEq/L were associated with a 21% increased risk of premature death compared to ranges between 137-142 mEq/L.
Similarly, adults with serum sodium levels above 142 mEq/L had up to a 64% increased associated risk for developing chronic diseases like heart failure, stroke, atrial fibrillation and peripheral artery disease, as well as chronic lung disease, diabetes, and dementia. Conversely, adults with serum sodium levels between 138-140 mEq/L had the lowest risk of developing chronic disease.
The findings don't prove a causal effect, the researchers noted. Randomized, controlled trials are necessary to determine if optimal hydration can promote healthy aging, prevent disease, and lead to a longer life. However, the associations can still inform clinical practice and guide personal health behavior.
"People whose serum sodium is 142 mEq/L or higher would benefit from evaluation of their fluid intake," Dmitrieva said. She noted that most people can safely increase their fluid intake to meet recommended levels, which can be done with water as well as other fluids, like juices, or vegetables and fruits with a high water content. The National Academies of Medicine, for example, suggest that most women consume around 6-9 cups (1.5-2.2 liters) of fluids daily and for men, 8-12 cups (2-3 liters).
Others may need medical guidance due to underlying health conditions. "The goal is to ensure patients are taking in enough fluids, while assessing factors, like medications, that may lead to fluid loss," said Manfred Boehm, M.D., a study author and director of the Laboratory of Cardiovascular Regenerative Medicine. "Doctors may also need to defer to a patient's current treatment plan, such as limiting fluid intake for heart failure."
The authors also cited research that finds about half of people worldwide don't meet recommendations for daily total water intake, which often starts at 6 cups (1.5 liters).
"On the global level, this can have a big impact," Dmitrieva said. "Decreased body water content is the most common factor that increases serum sodium, which is why the results suggest that staying well hydrated may slow down the aging process and prevent or delay chronic disease."
Natalia I. Dmitrieva, Alessandro Gagarin, Delong Liu, Colin O. Wu, Manfred Boehm.
Middle-age high normal serum sodium as a risk factor for accelerated biological aging, chronic diseases, and premature mortality.
eBioMedicine, 2023; 104404 DOI:
10.1016/j.ebiom.2022.104404
You Can Get Sick From Gardening: Please Wear A Mask When Handling Potting Mixes
On January 6, 2023 National Seniors Australia urged Seniors to take care and avoid Legionnaires' disease while gardening.
Home gardeners should wear a face mask and gloves while handling potting mix and compost and wash their hands thoroughly to avoid contracting Legionnaires' disease.
Legionella longbeachae bacteria can be present in potting mix and soil and cause lung infection Legionnaires' disease if dust is inhaled.
The warnings come after a spike in garden-related Legionella cases in NSW and Queensland.
A Sydney woman in her 60s died recently from the disease after handling potting mix.
NSW Health said there had been 96 cases of Legionnaires' disease this year from the type of bacteria found in potting mix and soils.
Queensland has recorded 88 cases so far this year – more than three times the 2017-21 average for this time of the year. Two of this year's cases have died.
NSW Health advises that most people who breathe in the bacteria do not become ill, but the risk of infection increases if you are older, a smoker, or have a weakened immune system. Symptoms of Legionnaires' disease develop up to 10 days after exposure to the bacteria and include fever, chills, a cough, shortness of breath, aching muscles, headache, tiredness, loss of appetite and diarrhoea.
Harriet Whiley, associate professor in environmental health at Flinders University, stressed the importance of wearing a mask when using potting mix.
"Legionnaires' disease is not transmitted person to person, but through inhalation or aspiration of the Legionella bacteria," Dr Whiley said.
"This is why it is important to wear a mask, wet down soil and wear gloves/wash hands when handling potting mix."
People should wear gloves and masks when working with garden soil or potting mix.
Wetting the potting mix first helps prevent any contaminated potting mix dust from blowing up into the air and being inhaled.
Even if you have been wearing gloves, wash your hands thoroughly with soap before eating or drinking, as the bacteria could still be there.
Premier's Gala Concerts: Last-Minute Ticket Release
A last-minute ticket release for the Premier's Gala Concerts will occur
at 9am, Wednesday 18 January, 2023.
A limited number of tickets will be available:
Phone Bookings on 02 9215 7500 (Mon – Fri 9am to 3pm) 
If you know anyone who can't use their tickets, please encourage them to return the tickets so they can be used by someone who missed out.
New Year, New Devices:
Be Connected And Make Online Safety A Priority This Year
Giving family members tech gifts like home assistants and smart phones may be very welcome and well intentioned, but these electronic devices can also be overwhelming and risky for older Australians if not set up securely.
This New Year, the eSafety Commissioner is encouraging everyone to support older relatives and friends by taking the time to check their device settings and reinforce the importance of online safety, with help from Be Connected.
"Technology and electronic devices can help open up a wide and wonderful new world for older Australians – from facilitating video calls and connection on social media, to introducing new hobbies like listening to podcasts or playing online games," eSafety Commissioner Julie Inman Grant said.
"Access to services and social connection through digital technology and the internet is empowering. However, we know that it can also be overwhelming to an older person who may not feel confident online and doesn't know what to look for when setting up a new device or signing up for a digital service.
"Even those of us who use technology on a daily basis can find it challenging to create strong passwords and review privacy settings across our devices and accounts. For those older Australians who haven't had as much exposure to the online world, this can be an even more intimidating process full of confusing tech jargon.
"Make it your New Year's resolution to improve the digital skills of those around you by taking time to share the importance of online safety."
The Be Connected initiative provides a wide range of self-paced courses to help improve online safety and security settings, including how to spot scams and create strong passwords, an introduction to smart homes, and resources on getting started with laptops, desktops, tablets and mobile phones.
The courses include easy-to-follow instructions with short videos and summary sheets to download and use as helpful reference tools.
Keep these online safety tips front of mind to start 2023 securely, by making the most of the security features available on devices and building good habits to keep you and your loved ones safe online:
Make your passwords strong and unique, and set up multi-factor authentication on accounts.
Don't share more information than you need to: when signing up for online services or registering an account, remember that you can choose to skip fields marked as optional.
Adjust your privacy settings on social media platforms to help protect your personal information and be mindful about how much information is in the photos or videos you share.
Be aware of scams: there are many online, email and phone scams out there, so it's important to stay vigilant. Remember, if something looks too good to be true, it probably is.
"No matter our age or digital skill level, we all need to be careful about the amount of personal information we disclose online, especially as technology evolves and new devices have the potential to collect extensive location and biometric information including fingerprint logins," Ms Inman Grant said.
"In connecting our loved ones through new devices and online services, we need to make sure devices and accounts are set up securely, so we don't unintentionally open them up to scams and other vulnerabilities.
"Be Connected provides everything you need to learn on how to set up devices, prioritise secure passwords and enjoy what the online world has to offer."
Find a wide range of Be Connected resources to improve your online skills, including resources for families, friends, peers and local community organisations, to help older Australians learn about the benefits of being online: www.beconnected.esafety.gov.au
Be Connected is an Australian Government initiative implemented in partnership by the Department of Social Services, the eSafety Commissioner and Good Things Foundation Australia, committed to improving the online confidence, skills and safety of older Australians.
The eSafety Commissioner is Australia's independent regulator for online safety. Our purpose is to help safeguard all Australians from online harms and to promote safer, more positive online experiences.
eSafety acts as a safety net for Australians who report cyberbullying, serious online abuse or image-based abuse. We can also investigate and remove seriously harmful illegal and restricted content including online child sexual exploitation material. For more information visit
eSafety.gov.au
.
Avalon Scottish Country Dancing
Most Saturdays 2pm to 4pm
(contact Margot Fenelon 0419 122 455 to confirm Saturday class)
COST: $5 - first visit free
WHAT TO WEAR: Casual clothes and soft soled shoes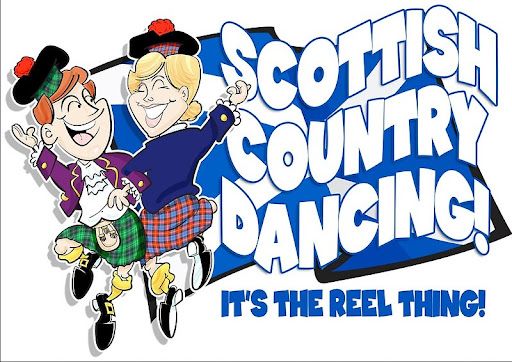 The Australian Carers Guide: Download Your Copy Free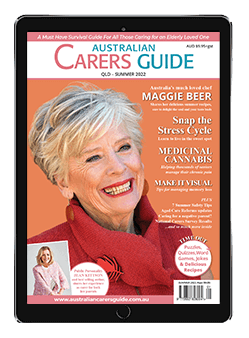 If you care for an elderly loved one, we have some good news. The new Australian Carers Guide has been specifically created for you. Its purpose is to assist you in all areas within the care-giving journey. It provides you with information, education, and where you can obtain practical support. This is what carers have been asking for years. It is produced every 3 months and the summer edition features our very own Maggie Beer. It is free to download, so get your copy now.
Every edition of the Australian Carers Guide is packed full of practical and helpful information to support carers along their journey. We also deliver content geared towards improving the physical, emotional, mental, spiritual and financial well-being of carers which includes available resources and lists of all the service providers who offer practical hands-on assistance.
We have the best and most experienced contributors writing for our publication. They are all experts in their respective fields and provide unique insights, helpful perspectives and creative solutions to the most common challenges carers face, and much more.
Some of our popular contributors include Jean Kittson, Maggie Beer and Ita Buttrose, to name just a few. There is also a popular Eat well-Live well-Age well recipe section with quick and healthy meals to prepare and enjoy. You are not alone. The Australian Carers Guide sees you, appreciates you and supports you with practical content and where to find help and resources to ease the burden. Its free to download so get you copy now. If you prefer to read in print, you can pick up the latest edition at most reputable newsagents.
Have Your Say: National Dementia Action Plan
The Federal Government are seeking feedback on the draft National Dementia Action Plan.
The plan is a 10-year initiative between the Australian Government and state and territory governments. It will mean
a coordinated approach to risk reduction
early diagnosis
better support for carers
It is designed to:
provide a national vision – for greater inclusion of people living with dementia, their carers and families
guide action by governments – so health, acute and aged care systems work more seamlessly and broader policies and programs consider dementia
drive mainstream services and systems – to improve outcomes for people living with dementia, their carers and families
develop an accountability framework – so we can measure progress
engage, inform and involve the whole community – to achieve a society that's more understanding and more inclusive of people living with dementia.
The government want the voices of people with lived experience of dementia reflected in Australia's priorities for action on dementia over the next 10 years. This includes:
people living with dementia
their carers, families and friends
people who work in primary care, health, acute or aged care
researchers and academics.
Post your feedback to National Dementia Action Plan, MDP 765, GPO Box 9848, Canberra ACT 2601.
Call 1800 565 789 to provide feedback over the phone or request a hard copy.
Consultation is open until 31 January 2023.
Pittwater-Narrabeen Parkinson's Support Group
The purpose of our group is to support seniors (55yrs +) living with Parkinson's, their carers, relatives and those who have lost a partner to Parkinson's, who live on the northern beaches of Sydney.
This support Group has been meeting for around 30 years on the Northern Beaches. Our meetings aim to help reduce the social isolation, and increase community connectedness for our members. Through guest speakers, discussions, and group activities, our meetings will support and promote mental health, healthy lifestyles and well-being.
Our Facebook webpage will be used to store resources and links, and provide another way to safely keep in touch, for those who want to use Facebook. We also have a website that is regularly updated
https://wheresdot.wixsite.com/nbpdsupportgroup
We meet regularly and due to Covid we have been meeting at Jamieson Park, The Esplanade, Narrabeen.
Researchers Identify Protein That Helps Skin Cancer Spread Throughout The Body
Research led by Queen Mary University of London, King's College London and the Francis Crick Institute has identified a protein that makes melanoma, the most serious type of skin cancer, more aggressive by giving cancer cells the ability to change the shape of their nucleus -- a characteristic which allows the cells to migrate and spread around the body.
The study, published today in Nature Cell Biology, modelled the behaviour of aggressive melanoma cells that are able to change the shape of their nucleus to overcome the physical constraints that cancer cells encounter when they migrate through tissues. The study found that these aggressive melanoma cells harboured high levels of a protein called LAP1 and that increased levels of this protein were linked to poor prognosis in melanoma patients.
Melanoma is a type of skin cancer that can spread to other organs in the body. Cancer spread or 'metastasis' is the leading cause of cancer-related deaths. While metastasis has been extensively studied, the mechanisms by which it occurs are poorly understood. The findings from the study shed new light on a mechanism of melanoma progression and could pave the way for the development of new ways to target melanoma spread.
The study was co-led by Professor Victoria Sanz-Moreno from Queen Mary's Barts Cancer Institute and Dr Jeremy Carlton from King's College London and The Francis Crick Institute, and primarily funded by Cancer Research UK, the Wellcome Trust and Barts Charity.
In the study, the team challenged aggressive and less-aggressive melanoma cells in laboratory experiments to migrate through pores in an artificial membrane that were smaller than the size of their nucleus. The aggressive cells were from a site of metastasis in a patient with melanoma, and the less-aggressive cells were from the original or 'primary' melanoma tumour of the same patient.
To metastasise, cancer cells need to break away from the primary tumour, travel to another part of the body and start growing there. However, the dense surroundings of a tumour make this physically difficult for cancer cells.
Cells contain a large, stiff structure called the nucleus that stores the cell's genetic information, but which also restricts the ability of a cell to move through the tight gaps in the tumour's environment. For cancer cells to squeeze through these gaps, they need to make their nucleus more malleable.
Imaging conducted after the migration experiments showed that the aggressive cells were able to move through the pores more effectively than the less-aggressive ones by forming bulges at the edge of their nucleus called 'blebs'. Genetic analyses of the melanoma cells revealed that the aggressive cells that formed the blebs contained higher levels of the LAP1 protein, which sits within the membrane that surrounds the nucleus (called the nuclear envelope).
Dr Jeremy Carlton, whose laboratory is interested in understanding the dynamics of membrane-bound structures within cells, said:
"The nuclear envelope is tethered to the underlying nucleus, and our investigations show that the LAP1 protein loosens this tethering, allowing the nuclear envelope to bulge away and form blebs that make the nucleus more fluid. As a result, the cancer cells could squeeze through gaps that would normally stop them."
When the team blocked the production of the LAP1 protein in aggressive cells and re-challenged them to migrate through pores in laboratory experiments, they found that the cells were less able to form nuclear envelope blebs and less able to squeeze through these gaps.
The team also observed the same pattern of LAP1 expression in melanoma samples from patients. LAP1 levels were higher in tissue samples taken from sites of metastasis in melanoma patients compared to the levels found in primary tumours. The patients that had high levels of LAP1 in the cells around the edge of the primary tumour had more aggressive cancer and poorer outcomes, suggesting that the protein could be used to identify subpopulations of melanoma patients that may be at higher risk of aggressive disease.
Professor Sanz-Moreno, whose research group is interested in understanding how cancer cells communicate with their environment to promote their growth and spread, said:
"Melanoma is the most aggressive and deadly type of skin cancer. By combining the expertise of my laboratory with that of Dr Carlton's, we have gained new mechanistic understanding of how LAP1 contributes to melanoma progression, and have shown that LAP1 is a key regulator of melanoma aggressiveness in laboratory and patient models."
"Because LAP1 is expressed in such high levels in metastatic cells, interfering with this molecular machinery could have a big impact on cancer spread. There are currently no drugs that target LAP1 directly, so looking to the future we would like to investigate ways to target LAP1 and nuclear envelope blebbing to see if it is possible to block this mechanism of melanoma progression."
The team would like to investigate whether nuclear envelope blebbing driven by LAP1 occurs in other cells that make up and move through a tumour's environment, such as immune cells, to determine if this process in other cells helps or hinders the progression of cancer.
Dr Iain Foulkes, Executive Director of Research and Innovation at Cancer Research UK, which partly funded the study, said:
"Studies like this one are a perfect example of why Cancer Research UK is passionate about funding research that furthers our knowledge of what cancer does to the biology of our bodies, in addition to research that focuses on what's happening in the clinic.
This new understanding of how the nucleus of a melanoma cell can become more fluid to move around the body is useful for building our knowledge of how cancer works and opens up a new avenue of investigation into ways to make it harder for cancer to spread."
The first author of the study, Dr Yaiza Jung, conducted the work as part of her PhD funded by The Francis Crick Institute and King's College London.
Jung-Garcia, Y., Maiques, O., Monger, J. et al.
LAP1 supports nuclear adaptability during constrained melanoma cell migration and invasion.
Nat Cell Biol, 2023 DOI:
10.1038/s41556-022-01042-3
Another Step Toward An Insulin Tablet
For the millions of people living with diabetes, insulin is a life-saving drug. Unlike many other medicines, though, insulin cannot be easily delivered by swallowing a pill -- it needs to be injected under the skin with a syringe or pump. Researchers have been making steps toward an insulin pill, and now, a team reports in ACS Nano that they've delivered insulin to the colons of rats using an orally administered tablet powered by chemical "micromotors."
Patients with diabetes have trouble regulating their blood glucose levels because they produce little or no insulin. Synthetic insulin has existed for over a hundred years, but it is often administered with an injection or an implanted pump. People affected by diabetes often take insulin multiple times per day, so frequent injections can be painful, and as a result, some patients do not take the recommended dose at the correct times.
An oral form of the drug would be ideal, but the harsh environment of the stomach breaks down and neutralizes the hormone before it can be absorbed by the intestines and get into the bloodstream. Previous attempts at oral administration protected the hormone from stomach acids with micro- or nanocarriers but relied on insulin to passively diffuse into the cells that line the colon, which isn't very efficient. A better approach could be actively moving the medicine around the body instead, such as with a recently reported robo-capsule that delivers its cargo by drilling itself into the thick, mucosal layer of the small intestine. Yingfeng Tu, Fei Peng, Kun Liu and colleagues wanted to achieve a similar effect with their an insulin-loaded mini-tablets, which featured tiny, chemical "micromotors" that could deliver insulin to the colon safely and effectively.
To make these tablets, the researchers covered magnesium microparticles with a layer of an insulin-containing solution and a layer of liposomes. They then mixed these particles with baking soda, pressed them into mini-tablets that were about 3 mm long then covered them with an esterified starch solution. The starch protected the tablets from stomach acid, allowing them to reach the colon intact. As they broke down, the magnesium microparticles reacted with water to generate a stream of hydrogen gas bubbles, which acted as micromotors that propelled insulin toward the colon's lining to be absorbed. The team also tested their mini-tablets in rats and found that they could significantly reduce the animals' blood glucose levels for over five hours. In fact, they could maintain a glucose level almost as low as injection-delivered insulin. Though more work is needed, the researchers say that this is a concrete step toward creating more oral formulations of traditionally injection-only medications.
The authors acknowledge funding from the National Natural Science Foundation of China, the Guangdong Basic and Applied Basic Research Foundation and the Key Research and Development Project of Lishui.
Kun Liu, Qiuyue Liu, Jiarong Yang, Chen Xie, Shuanghu Wang, Fei Tong, Junbin Gao, Lu Liu, Yicheng Ye, Bin Chen, Xiaoying Cai, Zhendong Liu, Zeqi Li, Fei Peng, Yingfeng Tu.
Micromotor Based Mini-Tablet for Oral Delivery of Insulin.
ACS Nano, 2022; DOI:
10.1021/acsnano.2c07953
Newly Discovered Anatomy Shields And Monitors Brain
From the complexity of neural networks to basic biological functions and structures, the human brain only reluctantly reveals its secrets. Advances in neuro-imaging and molecular biology have only recently enabled scientists to study the living brain at level of detail not previously achievable, unlocking many of its mysteries. The latest discovery, described today in the journal Science, is a previously unknown component of brain anatomy that acts as both a protective barrier and platform from which immune cells monitor the brain for infection and inflammation.
The new study comes from the labs of Maiken Nedergaard, co-director of the Center for Translational Neuromedicine at University of Rochester and the University of Copenhagen and Kjeld Møllgård, M.D., a professor of neuroanatomy at the University of Copenhagen. Nedergaard and her colleagues have transformed our understanding of the fundamental mechanics of the human brain and made significant findings to the field of neuroscience, including detailing the many critical functions of previously overlooked cells in the brain called glia and the brain's unique process of waste removal, which the lab named the glymphatic system.
"The discovery of a new anatomic structure that segregates and helps control the flow of cerebrospinal fluid (CSF) in and around the brain now provides us much greater appreciation of the sophisticated role that CSF plays not only in transporting and removing waste from the brain, but also in supporting its immune defenses," said Nedergaard.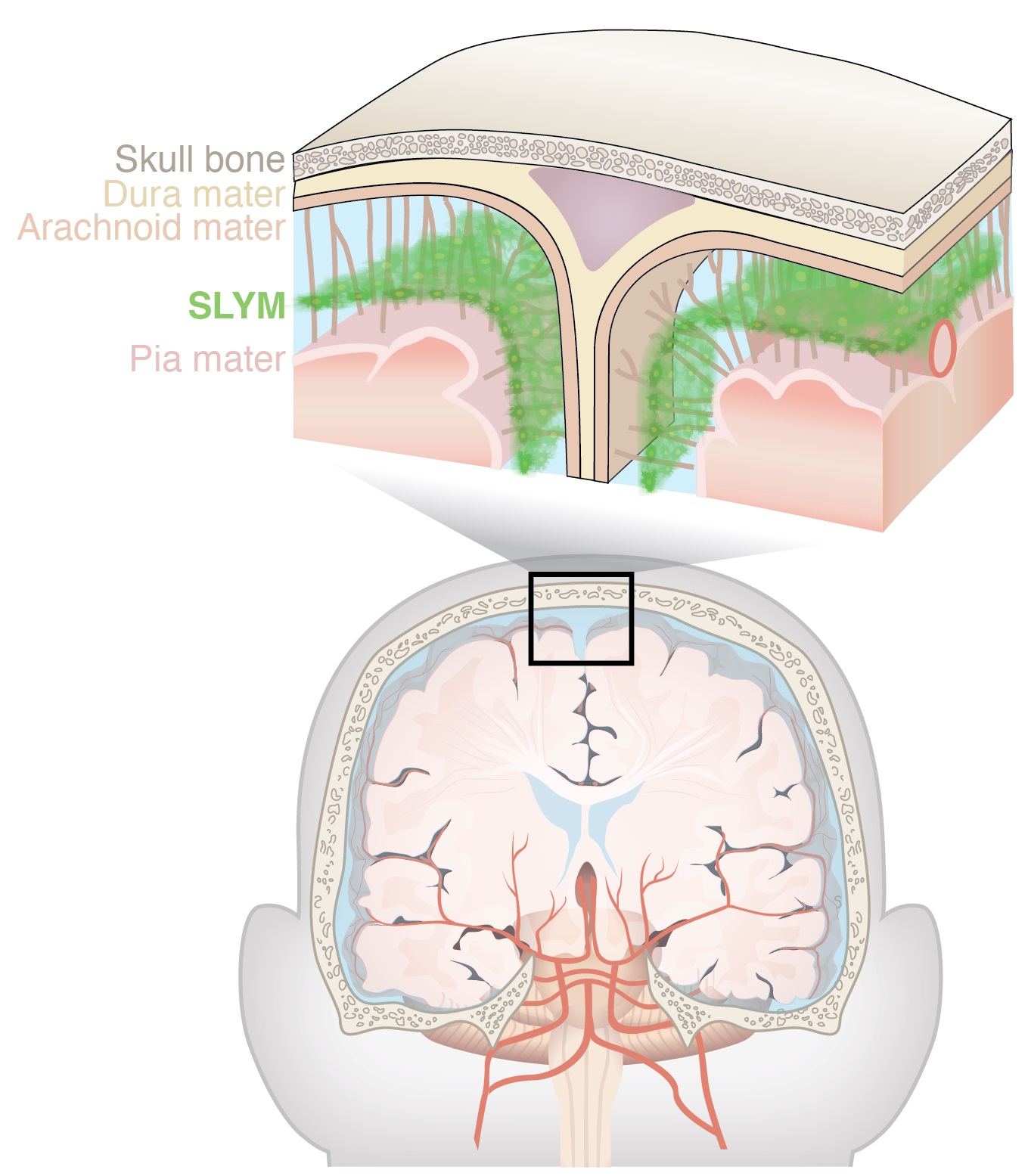 Newly discovered membrane in the brain called SLYM is a thin but tight barrier that appears to separate "clean" and "dirty" CSF and harbors immune cells. Image: University of Rochester Medical Center

The study focuses on the membranes that encase the brain, which create a barrier from the rest of the body, and keep it bathed in CSF. The traditional understanding of what is collectively called the meningeal layer, a barrier comprised of individual layers known as the dura, arachnoid, and pia matter.
The new layer discovered by the U.S. and Denmark-based research team further divides the space below the arachnoid layer, the subarachnoid space, into two compartments, separated by the newly described layer, which the researchers name the SLYM, an abbreviation of
S
ubarachnoidal
LY
mphatic-like
M
embrane. While much of the research in the paper describes the function of SLYM in mice, they also report its actual presence in the adult human brain as well.
The SLYM is a type of membrane called mesothelium, which is known to line other organs in the body, including the lungs and heart. Mesothelia typically surround and protect organs, and harbor immune cells. The idea that a similar membrane might exist in the central nervous system was a question first posed by Møllgård, the first author of the study. His research focuses on developmental neurobiology, and on the systems of barriers that protect the brain.
The new membrane is very thin and delicate, and consists of only one or a few cells in thickness. Yet the SLYM is a tight barrier, and allows only very small molecules to transit; it seems to separate "clean" and "dirty" CSF. This last observation hints at the likely role played by SLYM in the glymphatic system, which requires a controlled flow and exchange of CSF, allowing the influx of fresh CSF while flushing the toxic proteins associated with Alzheimer's and other neurological diseases from the central nervous system. This discovery will help researchers more precisely understand the mechanics of the glymphatic system, which was the subject of a recent $13 million grant from the National Institutes of Health's BRAIN Initiative to the Center for Translational Neuromedicine at the University of Rochester.
The SLYM also appears important to the brain's defenses. The central nervous system maintains its own native population of immune cells, and the membrane's integrity prevents outside immune cells from entering. In addition, the SLYM appears to host its own population of central nervous system immune cells that use the SLYM for surveillance at the surface of brain, allowing them to scan passing CSF for signs of infection.
Discovery of the SLYM opens the door for further study of its role in brain disease. For example, the researchers note that larger and more diverse concentrations of immune cells congregate on the membrane during inflammation and aging. When the membrane was ruptured during traumatic brain injury, the resulting disruption in the flow of CSF impaired the glymphatic system and allowed non-central nervous system immune cells to enter the brain.
These and similar observations suggest that diseases as diverse as multiple sclerosis, central nervous system infections, and Alzheimer's might be triggered or worsened by abnormalities in SLYM function. They also suggest that the delivery of drugs and gene therapeutics to the brain may be impacted by SLYM function, which will need to be considered as new generations of biologic therapies are being developed.
Kjeld Møllgård, Felix R. M. Beinlich, Peter Kusk, Leo M. Miyakoshi, Christine Delle, Virginia Plá, Natalie L. Hauglund, Tina Esmail, Martin K. Rasmussen, Ryszard S. Gomolka, Yuki Mori, Maiken Nedergaard.
A mesothelium divides the subarachnoid space into functional compartments.
Science, 2023; 379 (6627): 84 DOI:
10.1126/science.adc8810
Disclaimer: These articles are not intended to provide medical advice, diagnosis or treatment. Views expressed here do not necessarily reflect those of Pittwater Online News or its staff.