August 6 - 12, 2017: Issue 324
Aboriginal Engravings Vandalised at The Basin: NPWS undertakes Program of 'highlighting' engravings to Protect Them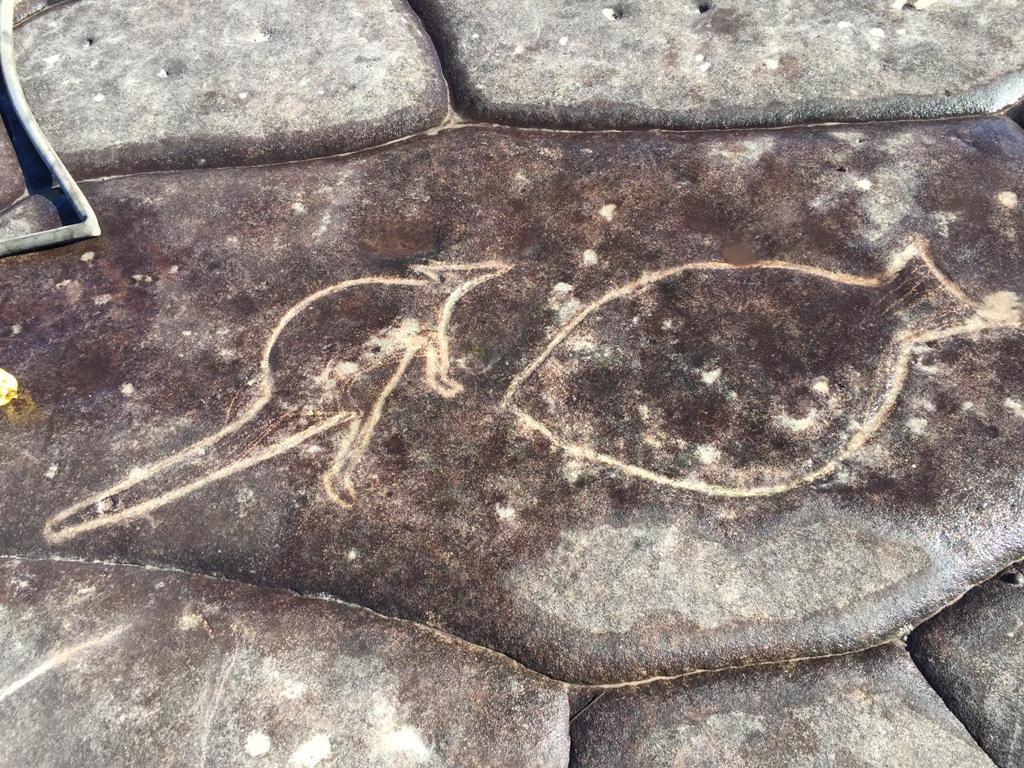 Photo of the 'highlighting' work - courtesy NSW NPWS.
In June damage to an engraving at the Basin Aboriginal art site in Ku-ring-gai Chase National Park was reported. This site is home to some of the best examples of rock engravings by the Garrigal people of the Guringai Nation.
In response, NPWS has undertaken a program of 'highlighting' the engravings so they're more easily seen and less prone to vandalism.
'Highlighting' is specialist work involving the careful removal of natural occurring lichen on the rock surface that over time grows in the engraving grooves but does not involve deepening the grooves by removing any rock material. The lichen is removed using soft brushes and water.
"This work is done by indigenous staff trained in this method and approved to undertake the work by the Metropolitan Local Aboriginal Land Council (MLALC) and should not be attempted by the general public." A spokesperson for the National Parks and Wildlife Service (NPWS) told Pittwater Online this week.
" This work is done to make the engravings more visible, and one benefit of this is to discourage people marking the engravings themselves in an attempt to make them more easily seen, and subsequently damaging them."
The Basin Aboriginal art site is a significant site found along The Basin track and best viewed in the early morning or late afternoon, when the shadows give an edge to the faint, yet impressive engravings. Here, you'll make out the outlines of animals and human figures.
After exploring the extensive range of engravings, continue along the walking track to The Basin picnic area and enjoy a swim.
There are further examples of Aboriginal heritage with axe grinding grooves and rock paintings and stencils within the park. Middens are also found near rock caves and shelters and contain shells, tools and animal bones.
To preserve the art for future generations, visitors are asked to please not touch Aboriginal sites.
Any visitors to national parks who see vandalism and damage are asked to report this to the local NPWS office on (02) 9451 3479.
Ku-ring-gai Chase National Park is home to over 800 sacred aboriginal carving sites, including the Elvina Track Engraving site, one of the largest in Australia.
Those who cannot access these areas so easily may take a virtual tour of the Basin Aboriginal art site captured with
Google Street View Trekker
.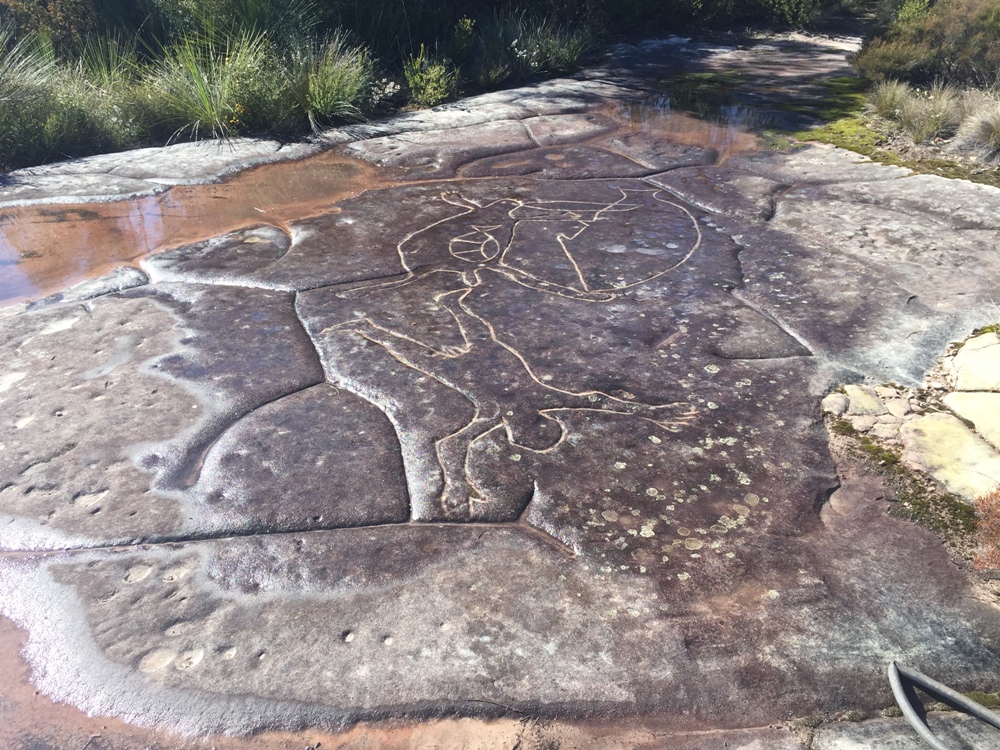 Photo of the 'highlighting' work - courtesy NSW NPWS.
Those who would like a guided tour can join an Guringai Aboriginal Tours, accompanied by Guringai descendant Laurie Bimson and Les Mcleod experienced Aboriginal guide hailing from Yuin country.
While visiting Aboriginal sites you will learn how these traditional styles of art were created over the generations and hear stories our ancestors possibly told their children a long time ago. One site
Guringai Aboriginal Tours
visits is an education site .
Special games available if 10 or more children are booked or on request.
Remember to bring appropriate clothing, including comfortable walking shoes, water, hat, sun screen and be prepared for a great experience.
The tour is a little bumpy but wheel chair friendly. It's about 250 metre walk each way to the carving so not very far.
Laurie says "We have had a lot of schools do the tour and loved it so come along."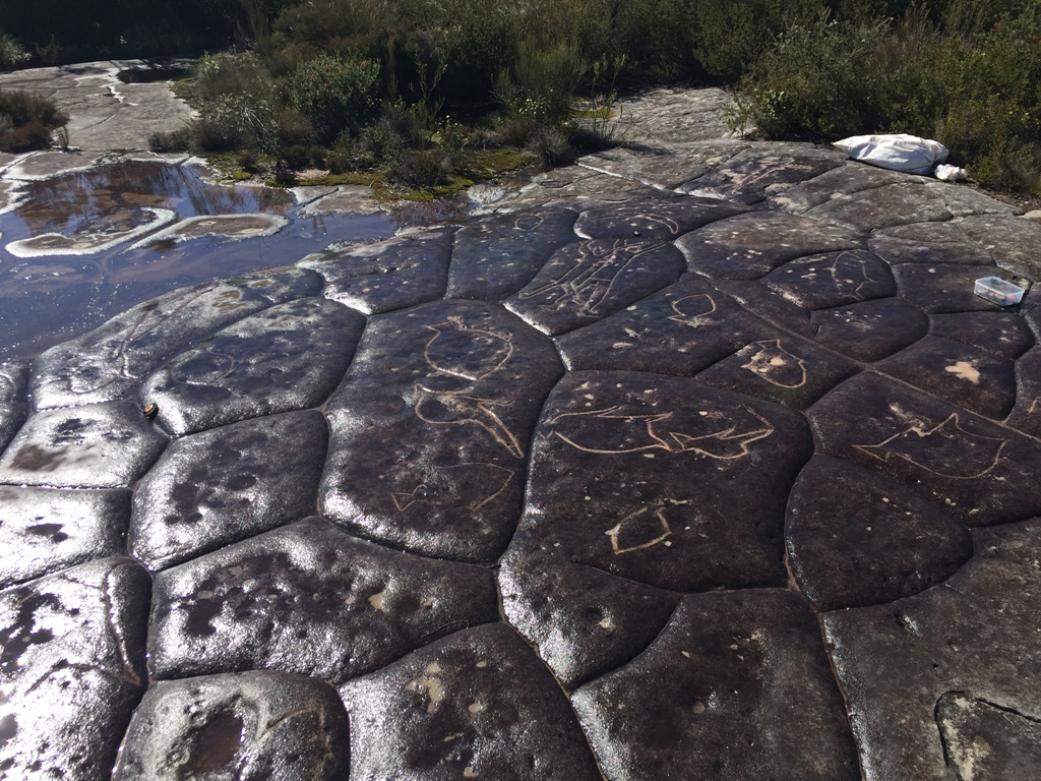 Photo of the 'highlighting' work - courtesy NSW NPWS.