August 6 - 12, 2017: Issue 324

2017 SLSNSW Awards Of Excellence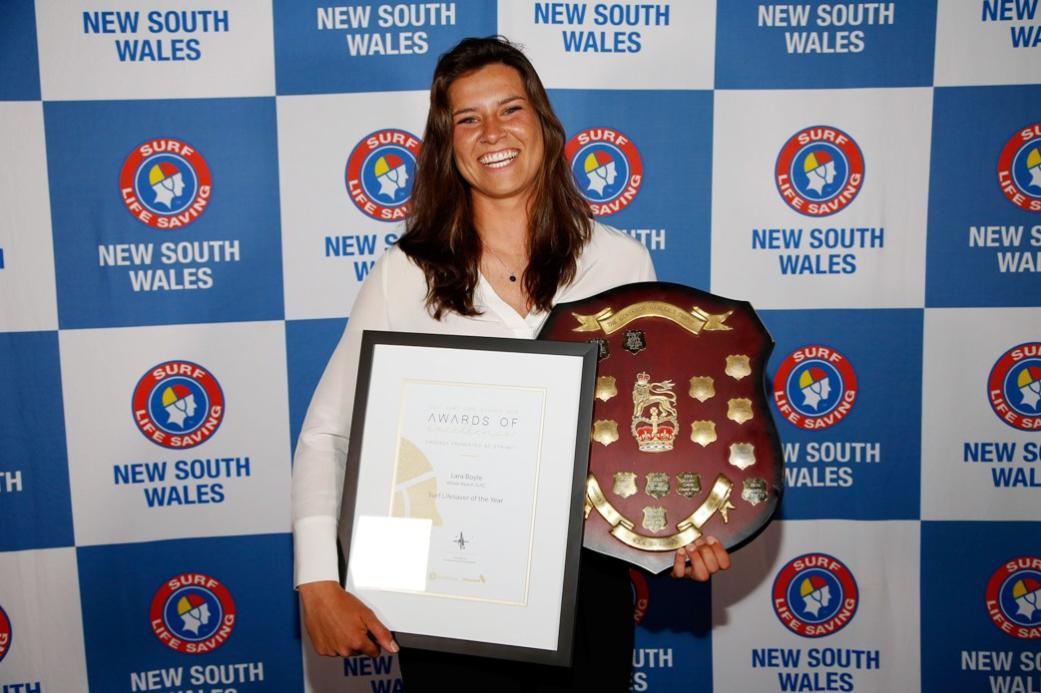 Lara Boyle from Whale Beach SLSC crowned the prestigious Surf Lifesaver of the Year at SLSNSW Awards of Excellence - Saturday night, August 5th, 2017 - photo courtesy Surf Life Saving NSW

Lifesavers Scrub Up For Awards Of Excellence
Saturday 5 August, 2017
by Surf Life Saving NSW
Over 300 of the state's finest surf lifesavers took time out away from the ocean on Saturday night to celebrate a successful season at a glittering ceremony in Sydney.

Central Coast clubs enjoyed a very successful night, taking home six awards including Community Education Program of the Year and Young Lifesaver for the 2016/17 season.

The Far North Coast Branch earned two awards while lifesavers from the Mid North Coast returned home as the winners in three categories including Rescue of the Year (Camden Haven SLSC).

Sydney and Sydney Northern Beaches clubs had plenty of reasons to smile, picking up eight awards between them while the Lower North Coast, North Coast, and Far South Coast branches also earned awards on the evening.

After volunteering more than 200 hours this season and impressing the panel with her knowledge of Surf Life Saving, Lara Boyle from Whale Beach SLSC was crowned the prestigious Surf Lifesaver of the Year.

"I'm so thrilled and honoured to receive this award. My club has been an amazing support and I'm forever grateful for the opportunities that I've been able to pursue," Lara Boyle said.

"I was privileged enough to achieve so much this year from being Club Captain to being part of NSW development programs and travelling to Japan for the Surf Life Saving Australia Lifesaving Exchange."

It was a fantastic achievement by the young lifesaver who wears many hats at her club.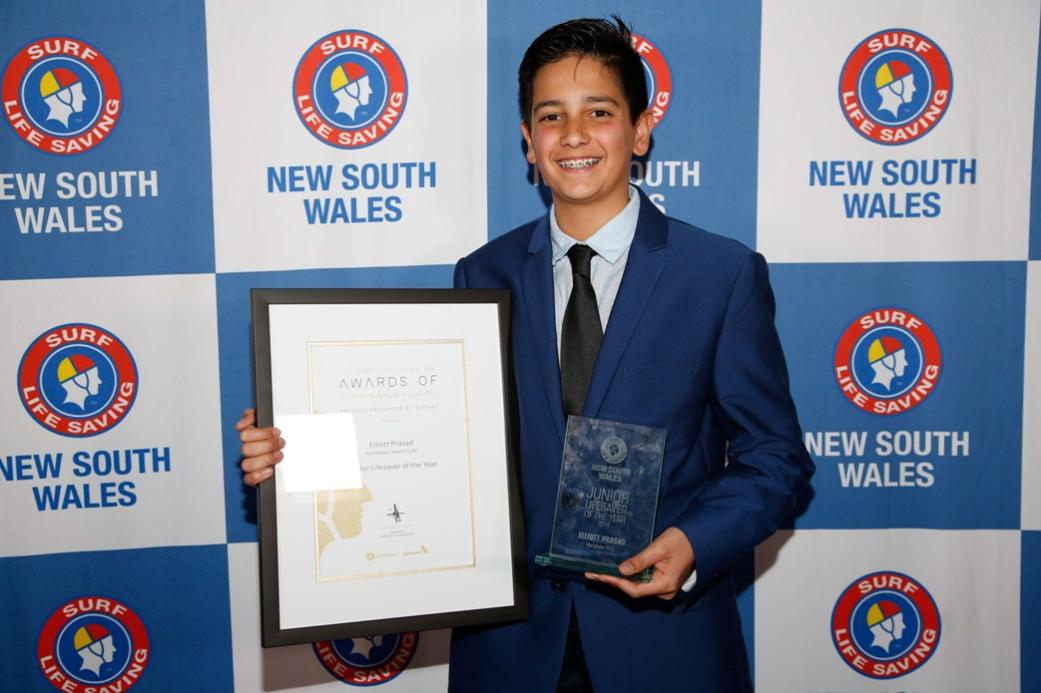 Junior Lifesaver of the Year - Elliott Prasad (Narrabeen Beach),
photo courtesy
Surf Life Saving NSW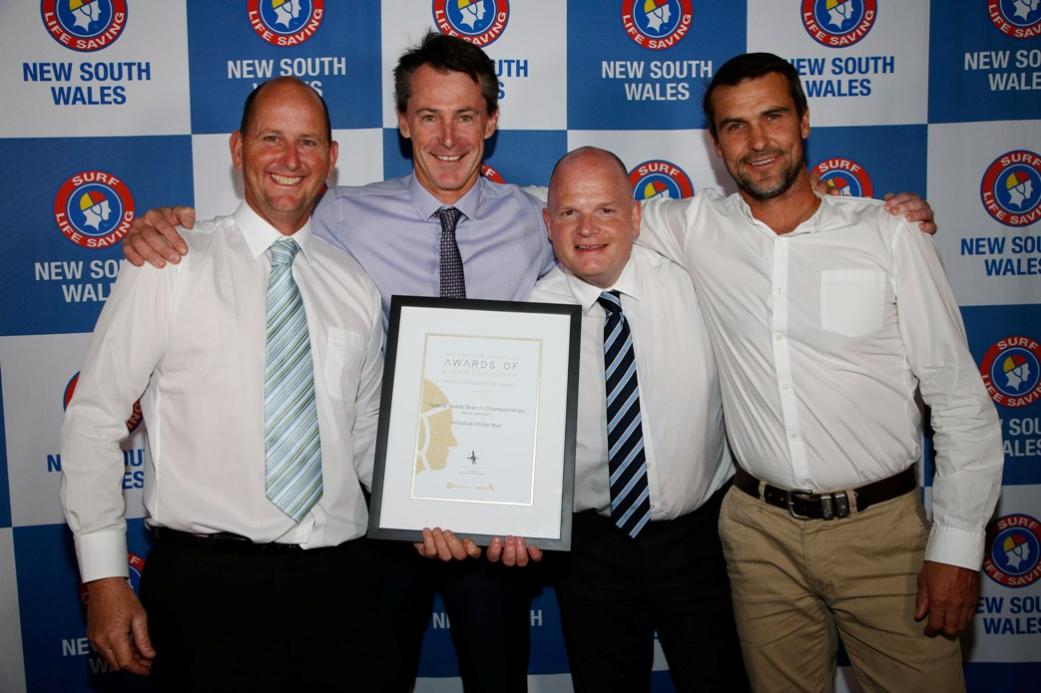 Initiative of the Year - Special Needs Branch Championships (Mona Vale)L to R:
Michael Wasley, Rob Fry, David Moreton and MVSLSC President Bryce Munro
- photo courtesy
Surf Life Saving NSW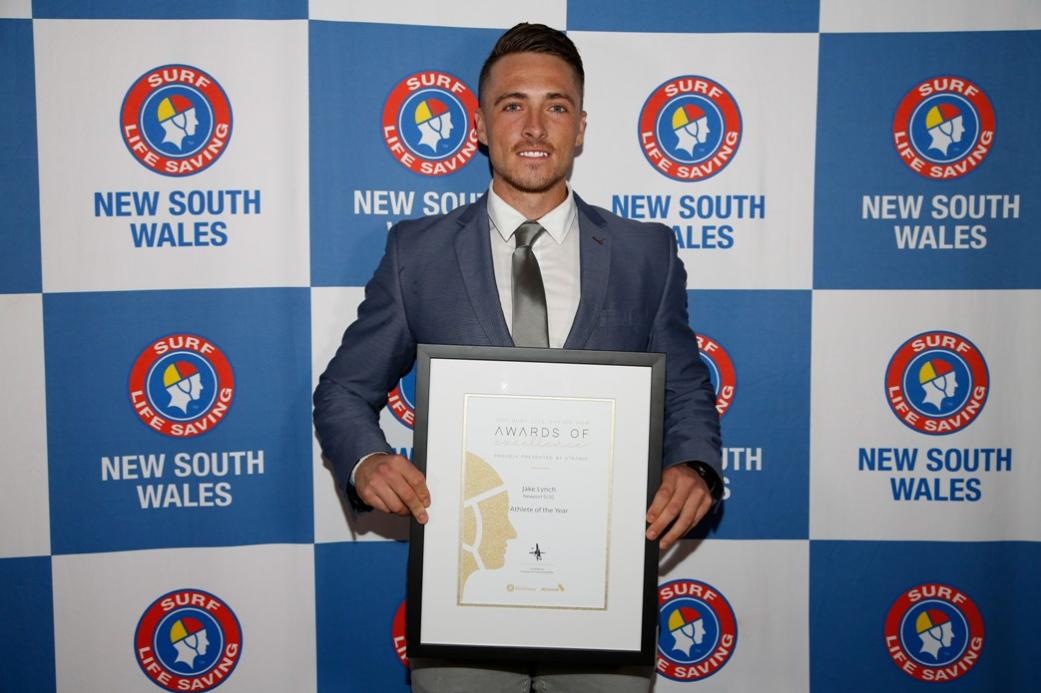 Athlete of the Year - Jake Lynch (Newport),
photo courtesy Surf Life Saving NSW
RPAYC Named Club Of The Year! - Marina Industry Association Award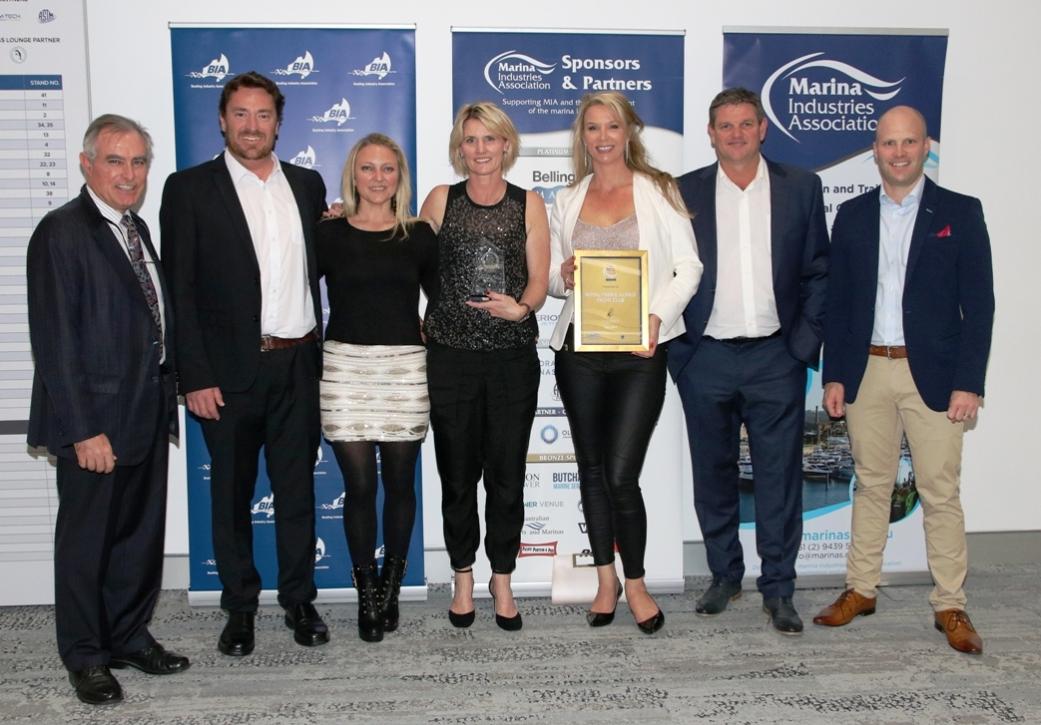 From L to right: Andrew Chapman (Chairman of the Marina Industries Association), Gary Moon (RPAYC Boatyard Operations Manager), Monique Mobbs (RPAYC Boatyard Services Manager), Suzanne Davies (RPAYC General Manager), Kylie Brown (RPAYC Marina Services Manager), David Randall (RPAYC Facilities Manager), Simon McLean (CEO Club Marine).Photo courtesy MIA
August 1st, 2017

The RPAYC was awarded the MIA 'Club of the Year' at the Marina17 International Conference last night.
The RPAYC is proud to have been a Club of the Year finalist at the last two conferences and this year, show casing its efforts to excel in the marine industry, was honoured once again along side the Royal Perth Yacht Club as a finalist and ultimately awarded the accolade for 2017.
The Club was recently nominated as a finalist along with The Royal Perth Yacht Club for "Club of the Year" for the Marina Industries Association's Australasian biennial awards.
"I am thrilled that the Club has been won such a prestigious industry award, it's a credit to members and all the staff that have made this possible, this award is particularly special with the Club celebrating its Sesquicentenary" said Suzanne Davies, General Manager RPAYC.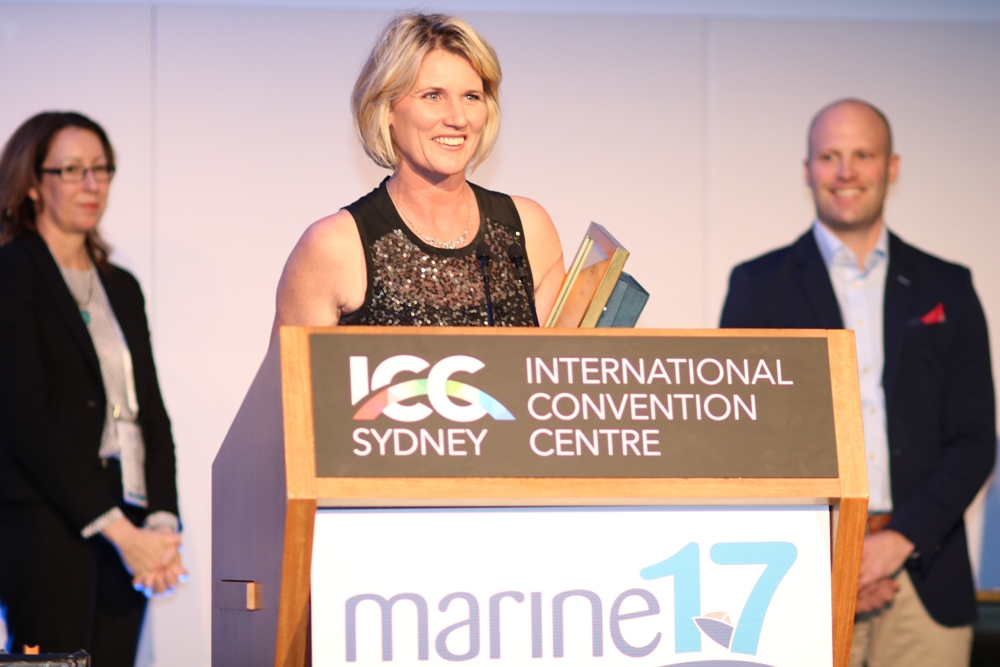 Suzanne Davies (RPAYC General Manager) accepting MIA Award on behalf of the RPAYC - photo courtesy MIA
The MIA's biennial 'Club of the Year' award recognises excellence and celebrates industry best practice and provides a benchmark for other businesses to aspire to.
The judging criteria is based on the Club's goals and objectives, marketing, customer service including evidence from customer feedback; environment, risk management, staff training, industry participation, community involvement and involves a comprehensive on site audit. The Club submitted a comprehensive submission and an audit of the Club and facilities was undertaken some months ago.

Finalists for the Marina Industries Association (MIA) Club Marine Marina of the Year Awards were announced in May for the 2017/18 period with presentations to category winners and finalists a highlight of the Gala Dinner at Marine 17, July 30-August 1.

MIA President, Andrew Chapman CMM said in congratulating all the finalists as well as the entrants that "the awards celebrate industry best practice and provide a benchmark for other businesses to aspire to."
Aboriginal Engravings Vandalised At The Basin: NPWS Undertakes Program Of 'Highlighting' Engravings To Protect Them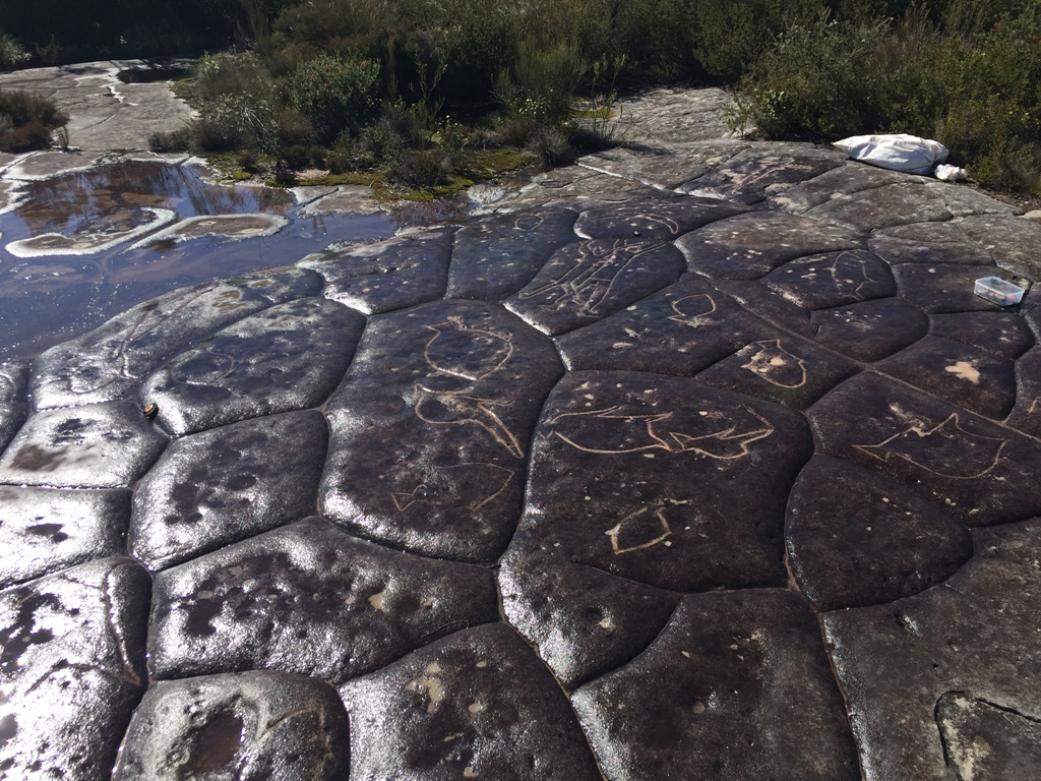 Photo of the 'highlighting' work - courtesy NSW NPWS.

n June damage to an engraving at the Basin Aboriginal art site in Ku-ring-gai Chase National Park was reported. This site is home to some of the best examples of rock engravings by the Garrigal people of the Guringai Nation.
In response, NPWS has undertaken a program of 'highlighting' the engravings so they're more easily seen and less prone to vandalism.
'Highlighting' is specialist work involving the careful removal of natural occurring lichen on the rock surface that over time grows in the engraving grooves but does not involve deepening the grooves by removing any rock material. The lichen is removed using soft brushes and water.
"This work is done by indigenous staff trained in this method and approved to undertake the work by the Metropolitan Local Aboriginal Land Council (MLALC) and should not be attempted by the general public." A spokesperson for the National Parks and Wildlife Service (NPWS) told Pittwater Online this week.
" This work is done to make the engravings more visible, and one benefit of this is to discourage people marking the engravings themselves in an attempt to make them more easily seen, and subsequently damaging them."
The Basin Aboriginal art site is a significant site found along The Basin track and best viewed in the early morning or late afternoon, when the shadows give an edge to the faint, yet impressive engravings. Here, you'll make out the outlines of animals and human figures.
After exploring the extensive range of engravings, continue along the walking track to The Basin picnic area and enjoy a swim.
There are further examples of Aboriginal heritage with axe grinding grooves and rock paintings and stencils within the park. Middens are also found near rock caves and shelters and contain shells, tools and animal bones.
To preserve the art for future generations, visitors are asked to please not touch Aboriginal sites.
Any visitors to national parks who see vandalism and damage are asked to report this to the local NPWS office on (02) 9451 3479.
Ku-ring-gai Chase National Park is home to over 800 sacred aboriginal carving sites, including the Elvina Track Engraving site, one of the largest in Australia.
Those who cannot access these areas so easily may take a virtual tour of the Basin Aboriginal art site captured with
Google Street View Trekker
.
Local Surf Clubs Annual General Meetings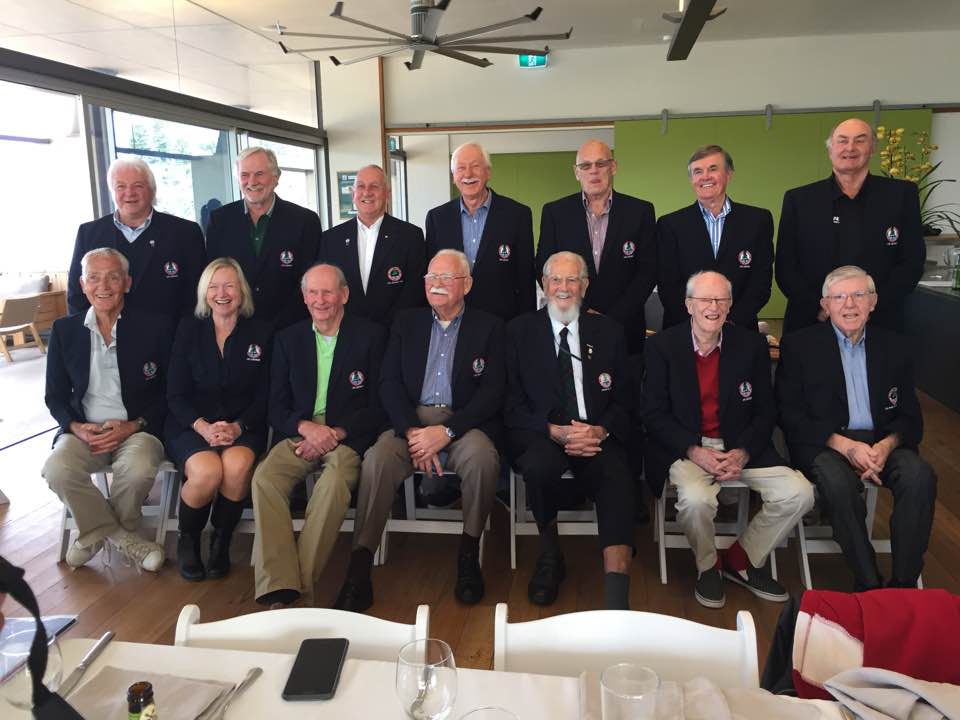 Avalon Beach SLSC Life Members
Front row left to right: Jack Watt, Christine Hopton OAM, Peter Akehurst, Bob Head, Ken Davidson, Don Imeson, Michael Byrnes OAM.
Back row continuing on, right to left: Roland Luke, Bruce Muston, Bill Wall, Roger Sayers, Warren Young OAM, Steve Jacek, Kevin Veale.
Apologies Warren Mitchell OAM, Peter Carter, Rick Millar.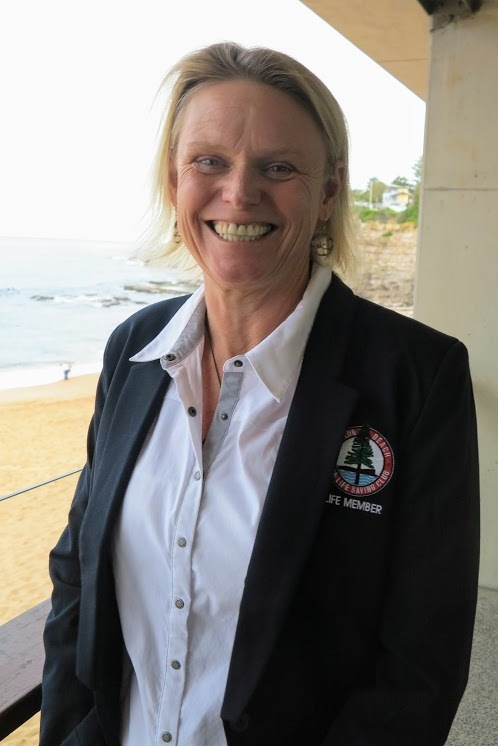 New Life Members 2017: Louise Lindop, Mark Heffernan.
Life Membership of Avalon Beach SLSC is only awarded to long serving members who have made sustained outstanding service to the club and community for a minimum of 15 years. It is a privilege of not automatically awarded.
Nominations for new Life Members each year may be submitted by any member together with supporting material, to the Life Members Committee (Michael Byrnes OAM Chair, Bob Head, Warren Young OAM, Roger Sayers, Bruce Muston, and exofficio members, the current club president and club captain). The committee makes its recommendations for any new Life Members, and passed by resolution of members at the AGM.
Reports from surf club AGMs are beginning to come in with Mona Vale, Bilgola, Newport and Avalon Beach clubs all holding theirs to recognise the huge amount volunteer members contribute to these clubs during the season and all year round on July 30th.
Warriewood SLSC holds theirs today, Sunday August 6th, while Whale Beach SLSC will hold theirs on Sunday August 13th. Having been provided with a hard copy of Whaley's Annual report - more after their meeting - we'd like to quote from their inside cover:
'Whale Beach Surf Life Saving Club exists to save lives, create great Australians and build a better community at Whale Beach'.
This is echoed in every President's report - available on their websites - and well worth reading in full - and clearly illustrated in Mona Vale SLSC winning Initiative of the Year - Special Needs Branch Championships and Lara Boyle, Whale Beach SLSC, winning Surf Lifesaver of the Year, while surf sports as a key to maintaining excellence in fitness is shown through the Athlete of the Year being won by Newport's Jake Lynch in last night's, August 5th, Surf Life Saving New South Wales Awards of Excellence.
Our local volunteers in these clubs are saving lives, they are building great Australians and they are creating much better communities everywhere they work either within their clubs and engaging in and creating community events outside of these.
Some extracts provided this Issue: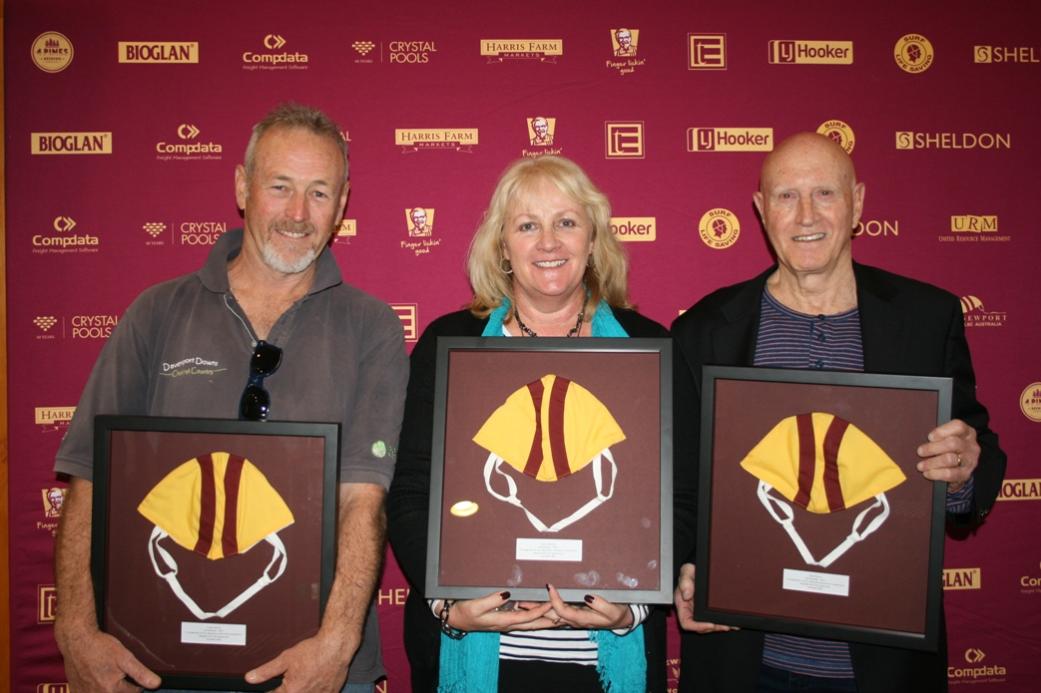 Newport SLSC new Life Members L to r:
Craig Holland,
Sandy Menzies and
John Guthrie - photo by Julie Hegarty
Adriaan Van Der Wallen's Pittwater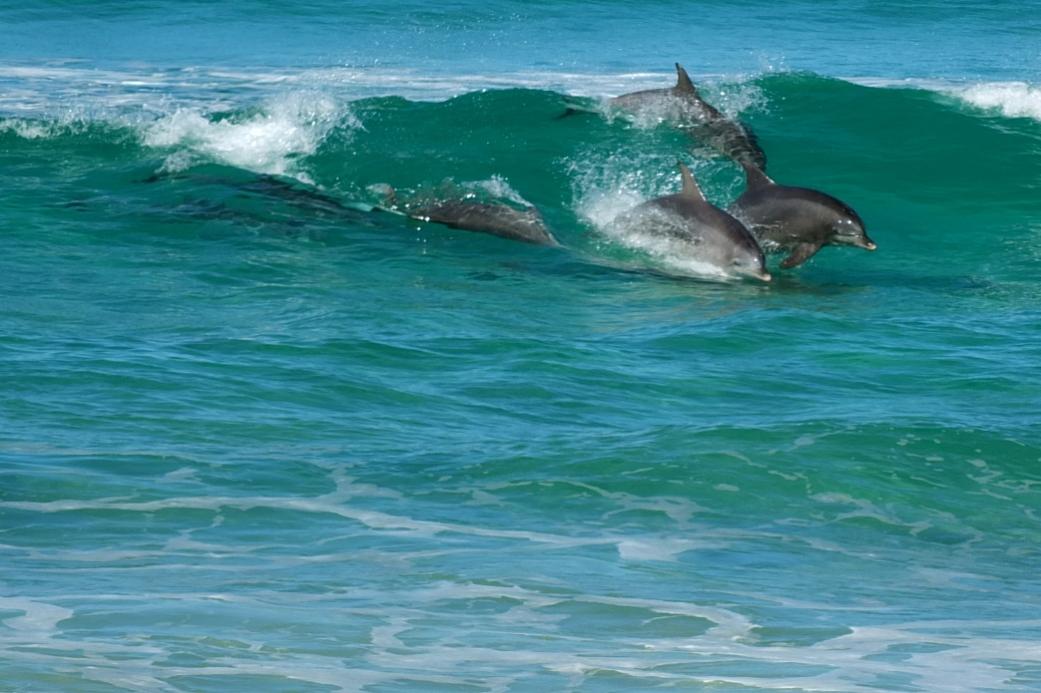 Aquatic Life by Adriaan van der Wallen
Most people know Adriaan van der Wallen as a great surfer on short or long boards or logs, or even one of his numerous collectors boards inherited from legends such as Midget Farrelly or Jack McCoy, or as the gentleman who teaches their Nippers as a Member of Avalon Beach SLSC or a part of the Masters Team at Palm Beach SLSC, or as the teacher who educates their children.
Others will have seen his great photographic skills featured here as one of our regular contributors.
A brilliant photographer who likes the shots that capture 'energy, fire and life' or those beautiful 'quiet reflections' of this place, we've finally convinced him to share some of his favourites and share his love of here - or anything he turns his eye to for that matter.
Past Features Archives (pre 2014)
Pittwater Online News was selected for preservation by the State Library of New South Wales and National Library of Australia. This title is scheduled to be re-archived regularly.
Archived Issues (2014 on) may be accessed here: pandora.nla.gov.au/tep/143700