August 20 - 26, 2017: Issue 326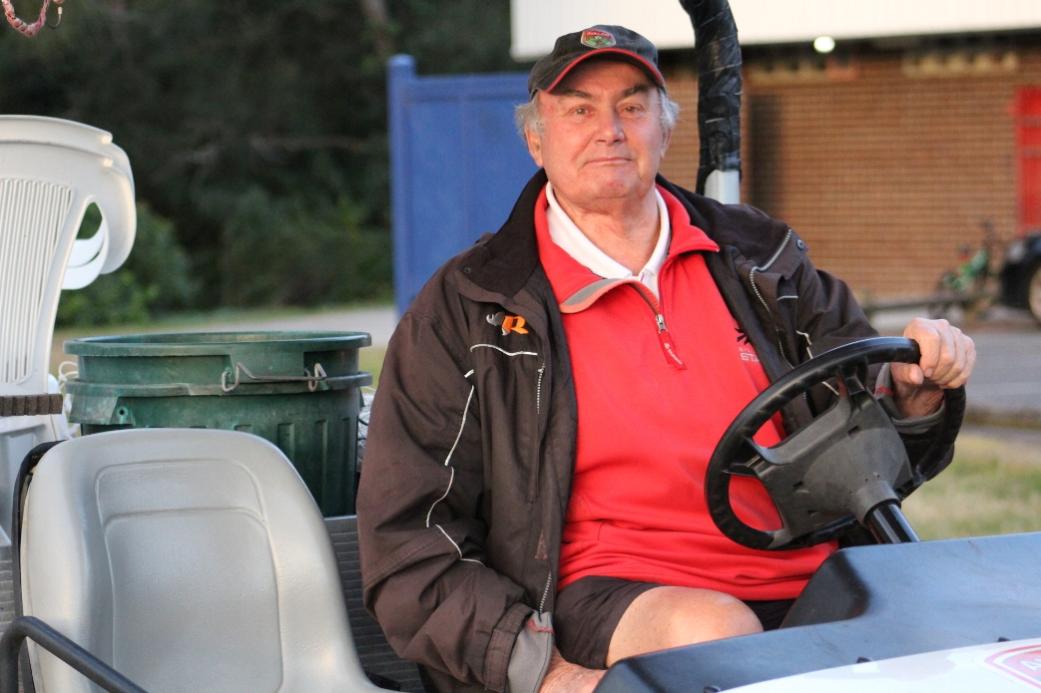 Roland Luke, winner of the NSW Premier's award in 2011 for Community Service, is really really great at looking out for and doing for others, and is known for getting on with it. There is so much this gentleman has done for our community and continues to do, and he keeps it so quiet, that many don't realise this humble man is that bloke behind a lot of great things that have happened here.
He's a straight talker who clearly believes actions speak louder than words, generous with his time and knowledge but still, is just getting on with it.
For all those who think they know this gentle giant, and have requested this small insight, a slightly deeper look - the extra bits are for you sir, and for the record/s - thank you very much!
When and where were you born?
I was born at the Mater Hospital at North Sydney in July, 1945. That was the old Mater Hospital, which has since been rebuilt. My parents, at that stage, were living in Cremorne.
LUKE.-July 30, at Mater Hospital, to Betty and Peter-the gift of a son (Roland Montague). Family Notices (
1945, August 4
).
The Sydney Morning Herald
(NSW : 1842 - 1954), p. 24. Retrieved from
http://nla.gov.au/nla.news-article27925722
Not long after that my parents bought a house at Church Point. There weren't many houses there then. I can remember as a young person attending Loquat Valley school for the first few years. Prior to that I recall spending a lot of time down on the water – my father had a yacht, Wayfarer, which he used to moor at Church Point.
Wayfarer was a 41 foot yawl – a yawl being a sailing vessel where the stern mast is mounted behind the tiller as opposed to something like a sloop where the mast is mounted in front of the tiller. It was a deep keeled boat, had a massive steel keel.
He took this yacht out in the Sydney to Hobart Yacht Races and was one of the original organisers of that race. Dad, Peter Luke, was Secretary of the CYC – the Cruising Yacht Club.
He and a couple of other fellows got together and formed that first race – which I think had 9 boats in it. He has the record for getting there in the slowest time in that first race – a record which still stands.
(laughs)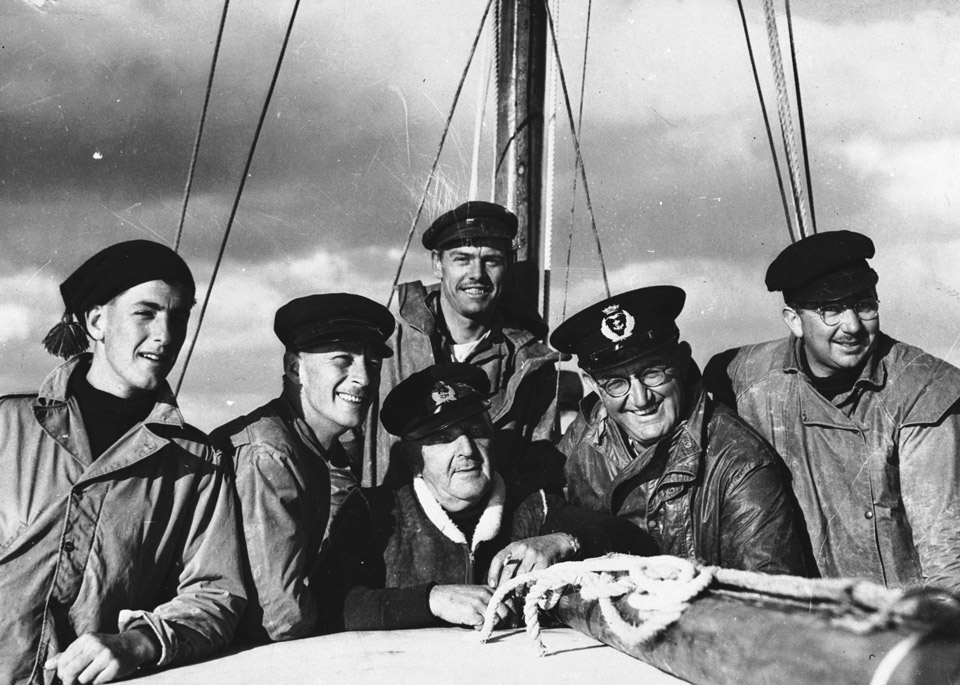 Crew of the yacht Wayfarer in 1945
Members of the crew are: Mr Peter Luke (owner and helmsman), Brig Mills, Messrs L. Willisford (cook), P. Harris (chief mate), W. Lieberman (navigator), and G. Ruggles (for'ard hand).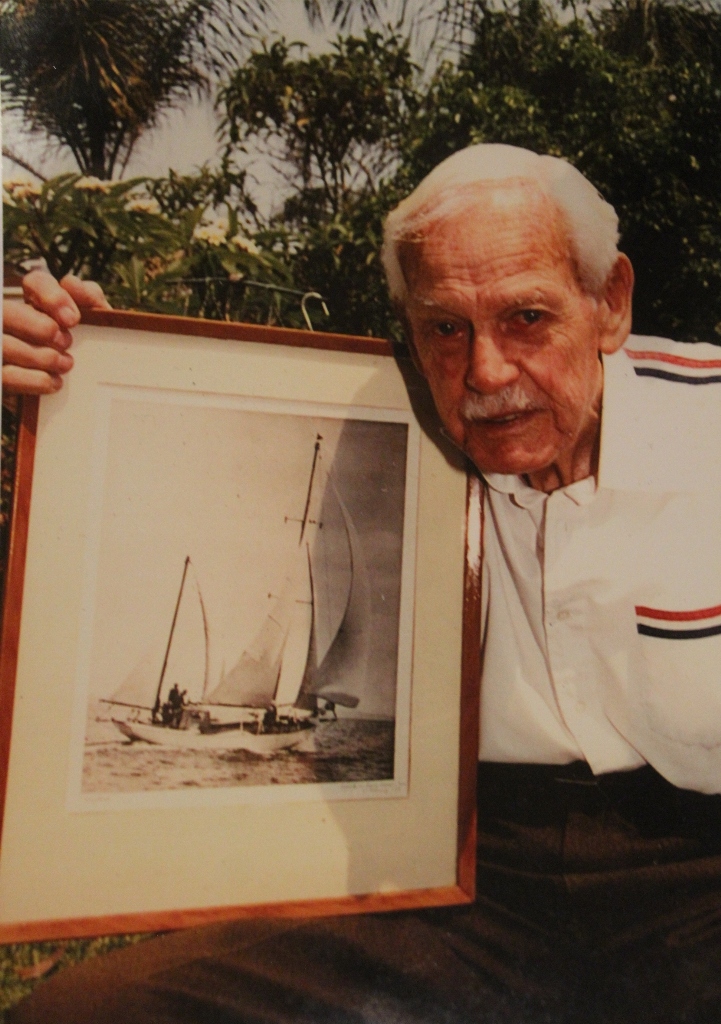 Peter Luke with his Wayfarer in later years.
Few people lived at Church Point permanently then, there were a lot of weekenders. The Moody family lived at the end of our road, whose father ran the local marina – the son was Ted Moody, he later became a tow-truck driver and I think the father was Charles Moody.
One thing I do remember is looking out, we were on the high side of our street, and seeing this massive tree goanna – that sticks in my memory, I may have been only 3 or 4 years old then, but it stayed.
Loquat Valley at that stage was just two wooden classrooms and I think the headmistress was a Mrs. Day. My sister stayed there and went through to Year 6.
We moved to Collaroy Plateau, to Edgecliffe Boulevard and I transferred to Narrabeen Infants School, which was in Ocean street Narrabeen in those days, and then afterwards to Narrabeen Primary School.
I played in a Grand Final winning ruby league competition. I was in Year 5, of which there were two, and the rest of the team were Year 6ers. We won, beating Harbord Primary School in the Grand Final on Brookvale Oval. I remember Harbord had John Bucknall in their team, who later went on to play for Manly, and made himself infamous by knocking John Sattler's jaw in the Manly – South Sydney 1970 Grand Final and breaking it and he played on.
After that I went on – there were only two boys high schools then; Manly Boys High and Balgowlah. In those days boys and girls didn't go to the same high school, they went to separate schools. Balgowlah only used to go up to third year of high school whereas Manly went to five years and in that first year at Manly High School the classes went from 1A down to 1N, that's how many students there were, each class sometimes had 40 kids in it, and how big it was.
I enjoyed my first year there. In that year we played ruby union and then you didn't play so much locally but would play against teams from everywhere; we played Randwick Boys High, Cleveland Street, there was a boys high school at Crows Nest, North Sydney Boys, North Sydney Tech. High had a team. We would also play Drummoyne High School.
One of the highlights of that year was going out to play St. Josephs at Hunter's Hill. Public schools weren't considered good enough to play their top team so we ended up playing their second team in that age group who were probably equally as good.
I remember going swimming in their pool after the game – which was great.
While I was at Manly Boys High they were in the process of building what would become Narrabeen Boys High School and we were transferred down there at the end of our second year, what would be Year 8 now. Anyone that was living north of Collaroy had to attend Narrabeen once that was open.
We also had year of girls there too as they were building their high school, which is the current Freshwater campus, at that time too. So that was a pretty important year as most of us didn't have anything to do with girls up until that point in time. I probably had my first girlfriend then, a girl who when she left school became quite a good tennis player.
I remember going with her and her older sister to the Manly Seaside Tennis Championship. Her sister had hooked up with John Newcombe who went on to play for Australia and became quite a famous tennis player.
The other fellow in that group was Geoff Pollard who later became the head of Tennis Australia – they were only 15 or 16 then and I was 13 or 14. So that was an interesting weekend.
I enjoyed my time at Narrabeen High and continued laying rugby there, with good results for our team, too.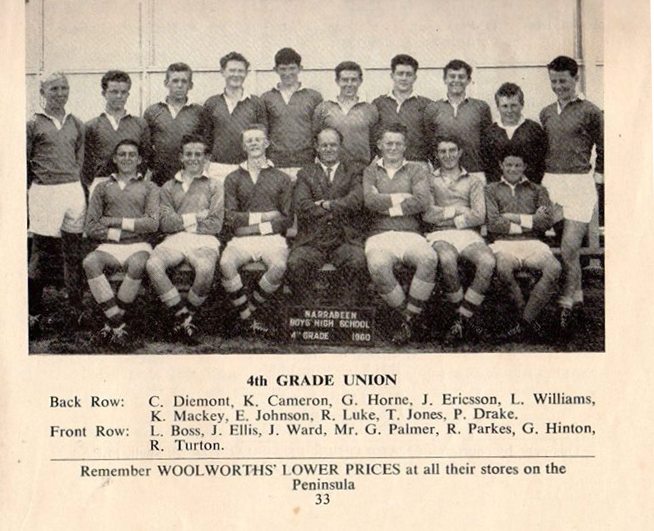 1959 4th Grade RU
NBHS
- photo courtesy
Ron Turton
We formed the first ever Cadet Unit there. I was a Cadet Underofficer, we had three platoons.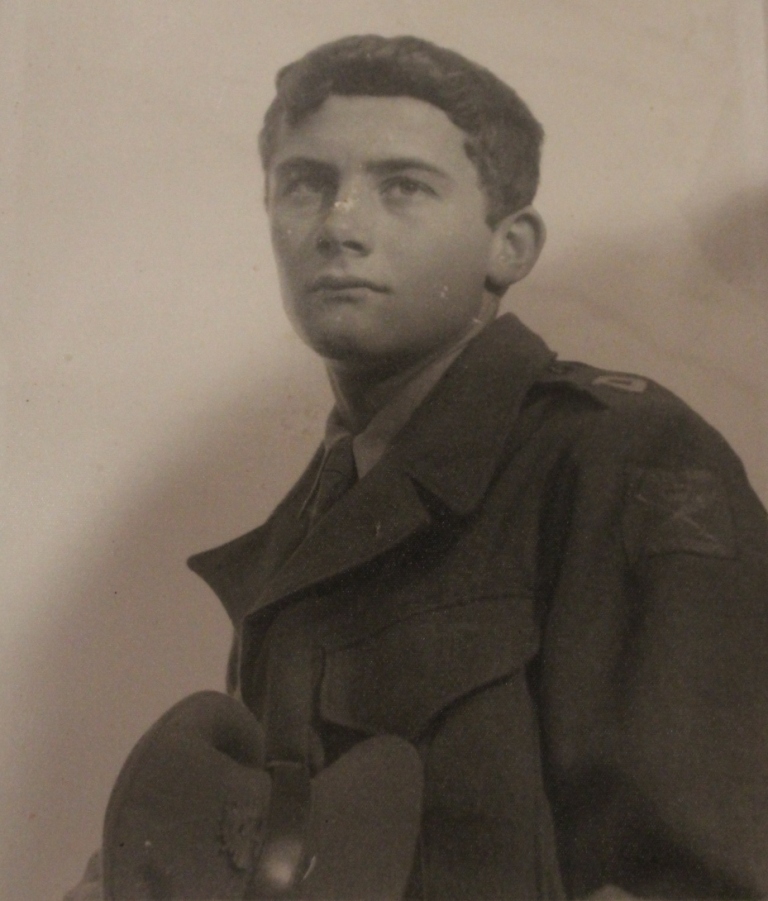 Roland, 1961 - Cadets Uniform
We saw lots of development where they put in the school oval and sat for the Leaving Certificate in the school hall which was built a couple of years after we'd started going to school there. That school hall still stands there today.
What did you do after getting you Leaving Certificate?
Our family business. My father and grandfather worked in the family business, which was called Monte Luke Photography (More below)
That business is still going, although we don't own it any more. It was sold to a fellow who worked there called Frank Froud.
They specialised in country weddings and I remember my sister and I going with my father to some of these. We'd go to Scone and Cessnock, all sorts of places.
My grandfather and father were renowned photographers. My grandfather would also take a lot of the royal pictures; when a new governor was elected or royalty was visiting Australia. There weren't colour films in those days, the pictures were taken in black and white and they had ladies who were called 'colourists' who'd do this – my mother was actually a Photographic Colourist. They'd colour in the photo son the black and white and would also have retouchers fixing other parts of them – so that was a big part of our life.
One of the things I did associated with Cadets was apply to go to the Royal Military Academy at Duntroon.
I passed all the initial exams and they called me back to Eastern Command Headquarters out at South Head where I had to go through a series of laying a table for a General and Colonel as well as another set of full exercises which I apparently passed. They offered me a position where instead of going to Duntroon where you come out a First Lieutenant they offered me a position to go to Victoria where you come out a Second Lieutenant.
While that was going on, and having said yes, I'll go, Kodak who was one of my grandfather's connections, offered me a cadetship at Kodak, working in the city, so, under some family pressure, I took the Kodak Cadetship. My Army career, at that stage, was put on hold.
They then introduced Conscription and the marbles were spun. For a long time, up until I went for my Driver's Licence, I celebrated my birthday on the 31st of July. I went to get my Birth Certificate, or my parents did, only to find that my father had registered my birth on the wrong day, the 30th of July instead of the 31st. So I had to change my birthday from the 31st to the 30th. When the marbles were spun the 31st did come up for Conscription but not the 30th so I didn't end up having to do Military Service or go to Vietnam, although a lot of my friends did. Fortunately they all came back.
Were they changed when they came home?
A couple of them. Graham Griffiths had caught Malaria and he had that for quite some years but he ended up staying in the Regular Army and making a career of it. Another fellow, John Erickson, was secondered to work with the Americans and he had a fantastic time flying in helicopters – he really enjoyed himself.
Other people who were conscripted didn't even leave Australia; they spent their whole time at Holdsworthy but of the 3 or 4 that did get called up, they all seemed to be better for the experience. We were all in the First Conscription roll too.
I worked at Kodak for around two or three years and then ended up doing a variety of jobs, working for builders etc. until I ended up working for the ANZ Bank. I was working at Manly and then the city and remember guys returning from the later intakes and some of them coming back to work in the bank. Most of them seemed to have reasonably positive experiences although some did have some degree of hallucinations or injuries from their Service, but the majority seemed fine.
My father, Peter Montague Luke, probably hated the photograph business, he was forced into it. When my grandfather passed away the first thing he wanted to do was get out of the business, but he kept an interest in it and sold it to Frank Froud and went into the Marine Industry, which was something closer to what he was wanting to do, and had for a while due to his sailing background.
He did that or something similar to that until he passed away. He ended up working for timber hardware merchants up in Nelson's Bay called EWB Timber and Hardware but up until the day he died in 2007 he kept totally involved with sailing and his yacht, which he'd built in 1939 and had until the day he died. The yacht actually outlived him!
It has been taken over by the Disability Sailing Group in Sydney Harbour and is moored not far from where it was constructed. It was built up the Parramatta River, at Gladesville. My sister tells me it is used most weekends teaching people who are disabled how to sail – so it's still going – and has been restored to some degree as well. Apparently it goes on the Harbour for the start of every Sydney to Hobart Yacht Race.
How did you end up in Avalon?
We lived at Collaroy Plateau for all the time I was at Manly Boys high, and then the house at Edgecliffe Boulevard was sold, a lovely house that looked straight up the coast over the Narrabeen Lagoon and over Warriewood and Mona Vale. We went to live with my mother's father at Cremorne for a while, my sister and I used to travel down; me to Narrabeen Boys High and her to Loquat Valley school before she went on to Narrabeen Girls High. My mother then bought a house in Palmgrove road at Avalon and I went there when I was about 14 or 15.
This was easier travelling as it was just a bus to Narrabeen and back again. I remember the old double decker Atlantean buses of a morning and one instance when a Southern Right Whale was of Newport with its calf for around three or four weeks. We'd all peer out the upstairs windows to see the mother and its calf cruising up and down the beach.
Another highlight while waiting for the bus at Avalon was seeing around 50 dolphins surfing the waves and cracking the waves – a spectacular sight with the sun behind them and shining through the waves.
So you went to work at ANZ?
I'd been working for my girlfriend's father as a Plumber for a while and was under pressure to do something a bit more along the lines of that. So I joined the bank and the first thing they got me to do was join the competitive swimming team – I'd been a swimmer all this time. We did quite well there – the carnivals were held at the Olympic swimming pool.
Hold on a moment – competitive swimmer – how did that start?
From my years at Collaroy. I trained under a fellow called Percy Russo, had had an Olympic Training Squad going at Dee Why which covered Dee Why and Collaroy pools. We also went to Manly as well.
I ended up swimming in the State Championships from the age of 13 through to about 16 years.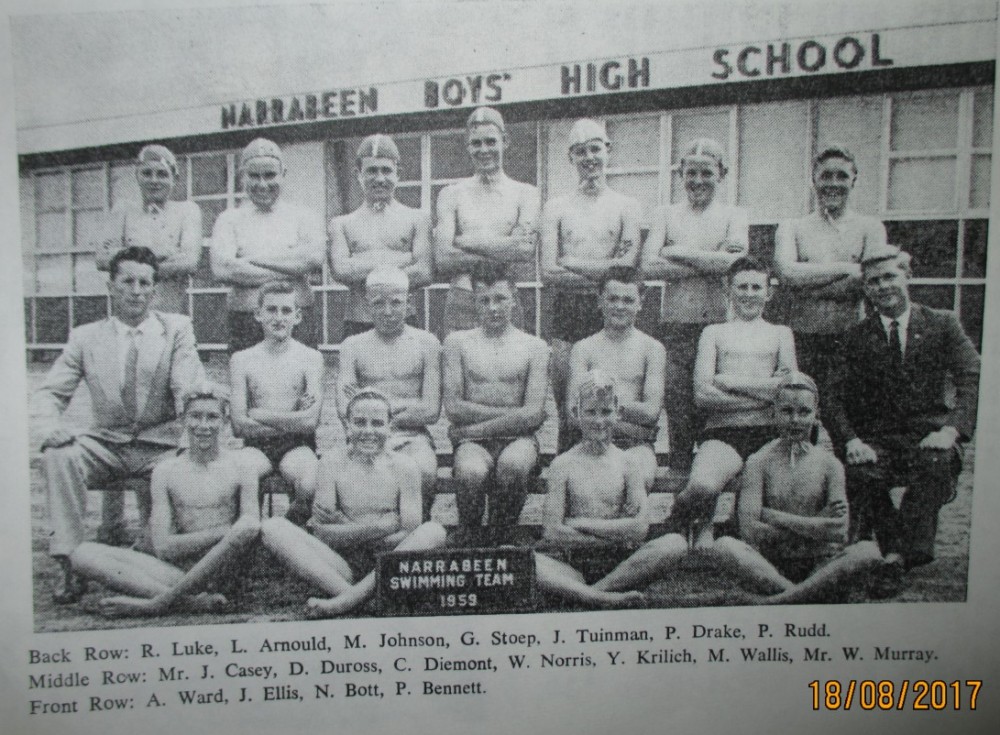 One thing I regret to this day was I was given lane 4 when I was an under 14 swimmer, and in those days the cossies had what we called a modesty curtain, alike a flap on the front of the swimmers, and the blocks on the North Sydney pool were very high and if you didn't do your cossie up, when you dived in they could come off. My first race in lane 4 I dived in and my cossie came off and I had to stop and do it up.
I also remember seeing the likes of John Konrads swimming there and John Devitt – he was in our swimming club at Manly. Garry Hamilton was another one from Manly that went on to swim in the Olympics.
There were a couple of swimmers from Manly that didn't progress in the field of swimming but excelled elsewhere. One was Glen Ritchie who became a really good board rider and as Manly developed what remains a really prominent surfing culture he was big in that.
There is also one of the guys who was at Manly Boys High School with us who we were all in contact with until recently was Bernard or Midget Farrelly. He wasn't at school too much because he was surfing most of the time.
He married Bev Carter, the daughter of the Secretary Manager at Avalon Beach RSL, so when he came to Avalon I used to see him a lot in the surf – a friendship that had been kept going all those years, or decades really.
I was in the first board riding club, the Peninsula Boardriders Club – we held a meeting at Palm Beach and formed this. Some of those guys are still around today; Ken Mackey is still here and still surfing, John Brixie who was the doorman at Avalon RSL for a long time was in that club, as was Ron Turton. We were based at North Avalon and this was the forerunner of NASA (North Avalon Surfriders Association).
We then ran the first big surfing contest on the eastern seaboard at Avalon Beach in 1963.
I think the first titles we ran there were around 1960 to 1961. There was a big carnival at Collaroy that year and ours was a secondary one.
Scott Dillon was the big surfboard manufacturer then and he came 3rd in the Open Mens but the juniors was won by our local surfer, Rodney Sumpter, who now lives in the U.K. Nat Young was 2nd and a young guy from the Easter Suburbs, Bobby Brown, was 3rd who has since, sadly, passed away.
The Women's was won by one of our local girls, Stephanie MacDonald. Her father ran the local store, which was called MacDonald's store although it's not called that now.
At that stage no one was surfing at South Avalon, that was the surf club's domain and they surfed down there. All the board riding was at North Avalon, although we did start to venture out to Little Avalon. You have to remember that there were no leg ropes then. The first boards we had were made of balsa with cedar stringers. If you fell off your board you had to swim after it and get it. So you developed things called 'kick outs' or 'pull outs'.
I remember one of the expressions was 'I did a standing island pull out' which was, if you were a natural foot, you stomped down on your right foot, swung your left foot and spun your board out of the wave and let it land beside you, which was quite a feat doing it on your backhand or your natural side.
There were a few board riding contests. I remember Mona Vale had a club, which I can't remember the name of. We ran a couple of surfing contests against them at Palm Beach.
The gun club at that stage was a group from Manly called 'Wind and Sea', a follow on from the big Wind and Sea club in America. One of the local personalities from here was actually in that club; Mick Dooley. Mick went on to win a Bell's contest and was a top level board rider, another one who is still around today and a gentleman I'm still friends with.
One thing we suffered in common was we both ended up with a little bit of cancer each. He and I were both seeing the same cancer specialist during the last year at St Vincent's so hopefully both of us (taps on wood table) are cancer free and remain so.
When did you join Avalon Beach SLSC?
The culture then was fairly accented towards surf clubs so as well as being involved in board riding I later on joined the surf club. I did my Bronze Medallion in 1961 or '62.
I did R and R and competed in the R and R Team in a couple of the local surf carnivals, which in those days were called 'Restricted Carnivals' which were between clubs from North Narrabeen to Palm Beach and made it a lot fairer; you didn't have to compete against the big clubs like Freshwater and Manly who had all the top quality competitors. I remember Whale Beach had quite a few top competitors.
In the off season I played Beach Football, which was an organised competition then. I was one of the young ones, 17 or 18, on our team. There were some really old hardheads in our team though, including the infamous or famous Tim Bristow, who would say to me 'Son, I'll hit them, you do the running.'
So we actually did quite well against the Northern clubs, in fact I don't think we lost to any of the northern clubs. However, we met our match when we came up against teams like Dee Why who had a lot of tough policemen in their team and Collaroy, who had Pogo Morgan and a few other top notch ruby league players. I think we ended up coming 4th in our best year behind those clubs; so we did quite well.
Even North Palm Beach, which was only a small club back then in the 1960's, had a Beach Football team.
We used to play in the traditional Avalon colours of white, red and green.
In fact one of the things I hold dearest is that nearly every organisation in Avalon, be it the school, the surf club, the league, soccer and netball clubs, as there was an Avalon Netball Club for a long time, all play in white, red and green colours. The colour of the green varies a little bit between dark green and light green but it's still; white, red and green.
This stems from these colours being brought over from the police boys club by members who patrolled Avalon Beach during World War II.
Prior to that, from what I can gather from Geoff Searl of the Avalon Beach Historical Society, we played in two different colours, a red and a blue colour with a corded cap.
One of the jobs I have in the surf club at the moment, besides being the Competition Manager, is ordering the competition caps. The people who don't get in the water so much, the beach sprinters and the rowers, prefer the cotton lined caps with the red and green stripes in the center whereas the swimmers and those doing ironman and those sorts of events prefer the lycra caps which are much more stretchy and suited to what they're doing as they don't come off. The rules were if you didn't finish your event with your cap on your head you got disqualified. That's why the lycra was popular with those diving under waves and getting bounced around.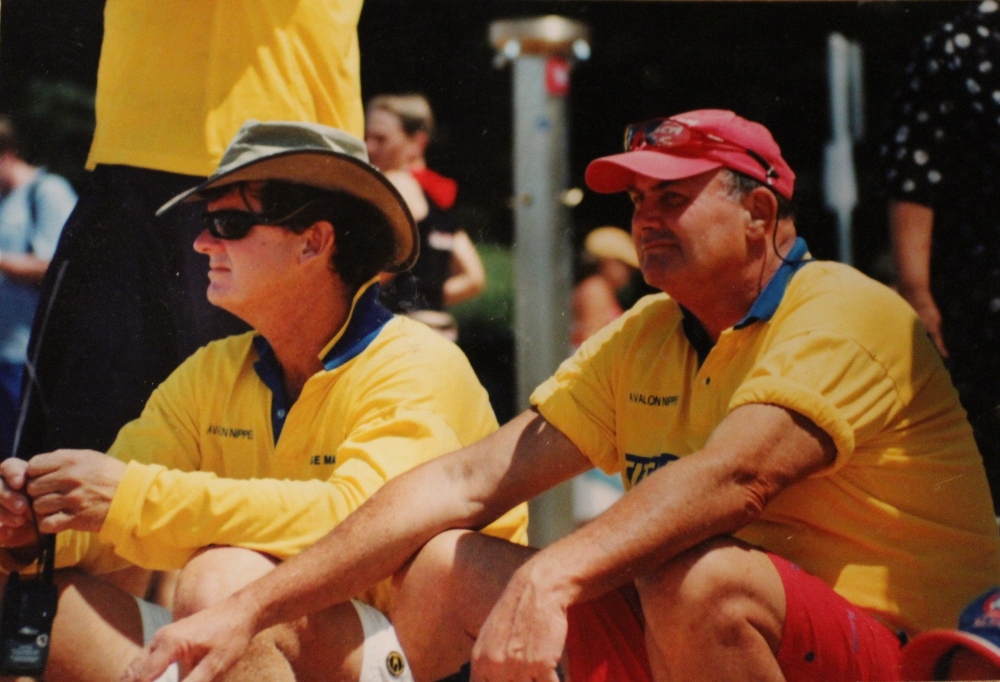 You are a Life Member at Avalon Beach?
Yes, Life Member of Avalon Beach Surf Club, Life Member of Avalon Soccer Club.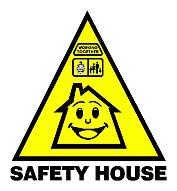 I was also a founding member of the local Safety House Program which covered all the way from Bilgola to Palm Beach.
We held the initial meetings in Avalon Primary school when my kids were going there. We went around and put little yellow symbols on everybody's letterbox after they were vetted and then of course made sure the same people were still living there regularly too.
That scheme ran successfully for a long time. Later on they introduced Neighbourhood Watch, which was not the same thing, but was closely aligned to it, and often people had Safety House and Neighbourhood Watch on their letterboxes. Both of these seem to have died a slow death and don't seem to exist anymore.
Avalon Soccer Club – you're first in every week, all season, – setting up, fixing everything for the teams ..
I'm a bit of an early starter. When I was a bit younger I used to start around 5 to 5.15 a.m., these days I'm about 5.30 to a quarter to six. I do it every Saturday and Sunday. Mostly my day consists of a 13 hour day on Saturday and a similar time on Sunday, so it takes up the whole weekend.
I really enjoy it. I've seen so many boys and girls go through, as well as seeing them become men and women.
Yes, my son. I was working in the city and when he was 5 I said, 'we'll go down and join the local rugby league club'. He went and did the training and played a few games and I came home and the wife said 'he's not playing rugby league anymore, it's too rough, I'm enrolling him in soccer'.
She didn't like it, it was too rough for her son. She came from a European, German background so he ended up playing soccer. Suddenly I went from being a ruby league parent, which I'd played when younger, to being a soccer parent.
I noticed when they were playing, back then all the Juniors played at Dunbar Park, that nobody was really setting up the fields properly. I started marking them out properly every Saturday morning, putting all the gear out.
Next thing I know there's someone form the Senior club at Careel Bay knocking on my door; 'can you come down and set up the fields? – we're getting fined because we're not setting up our nets or marking our fields out…'
I've been doing it ever since, along with a lot of really good people helping me out over a long period of time.
Did your daughter play? – you're so proud of the girl's teams…
No, she played Netball and Hockey and was in the surf club for a while. No, it was just something I kept going even when my son stopped in Under 16's and became a surf boat rower. I kept going because I really enjoyed it and it was so close to home.
Did your son row for Avalon?
Yes, he won a number of State and Aussie medals – Michael Peter Montague Luke – he scored the 'Montague' – even his son, my grandson, has Montague in his name as well. My great-grandfather and my grandfather have the 'Montague' in their name – except for my grandfather it's always been the second or third name, whereas my grandfather's first name was Montague Luke, shortened to 'Monte'.
What is the best part about being part of both these clubs?
Well I enjoy it obviously but my main focus has been the competition. I was the Competition Manager at the surf club for a long time and am still doing all the entries for the teams at the surf club. We've done quite well over the years, particularly in the Womens and Girls in both the surf club and the soccer club. Our Women and Girls tend to come up with better results over a longer period of time.
I'm not quite sure what it is but we've ended up with a few State Representatives in the Womens and the Girls.
We've had a few notable boys too though; Dylan Macallister was in both our surf club and the soccer club and went on to play for Australia in the Under 19's in the World Cup and scored a penalty shootout against Brazil. He went on to play overseas and currently plays for Manly United.
Some of our girls have gone on to big things too; Kate Hensman, who played with the boys for a long tie when she was younger, went on to play W League with Newcastle in that competition.
More recently our current coach of the WPL's second daughter Bronte Bates has also played with Newcastle in the W League. Unfortunately a bad knee injury curtailed here career there but she's back playing with Avalon in the Women's Premier League.
He has three daughters playing at Avalon. Our Manager has three daughters all playing in the one team. So six players in the Premier League are from two parents.
2017 is probably our best year so far with quite a few teams playing semis and finals as this comes out.
(In fact: 15 semi-finals, and 3 Grand Finals!!- so far…)
Just one of the Avalon Soccer Club's Girls Teams - photo courtesy Peta Wise
It's a very strong club but it also has a very strong sense of family about it too…
Yes, it's a strong family based community club. There have been a few firsts in innovation; we're probably one of the first to have a vehicle to drive around the fields for setting up with all the gear – which is good as every second week we have to setup Hitchcock Park where you have to get gear, nets, posts and benches down there. We've also done other projects where we've gone in 50/50 with the council, things like putting in drainage or installing sprinkler systems or field services where we've gone in 50/50 or sought a grant where it becomes a third each – we find that works really well.
So yes, I really enjoy my Winter soccer time and have seen a lot of young ladies and young gentlemen go on to big careers through their grounding in this and like organisations.
Are the girls back from Vanuatu?
They are, probably one of our best tours ever. This coming season will be a record tour as we have around 30 girls and 30 parents going, so about 70 people will be representing the club at Vanuatu. That was an initiative started by one of our local fathers, Mike Kerr took his eldest girl over there with another chap John Ross, both of whom are still actively helping with each tour going. We donate a hue amount of clothing, equipment and balls over there each year, it's a great way of promoting the sport and sharing the culture of our two places. It's just going from strength to strength.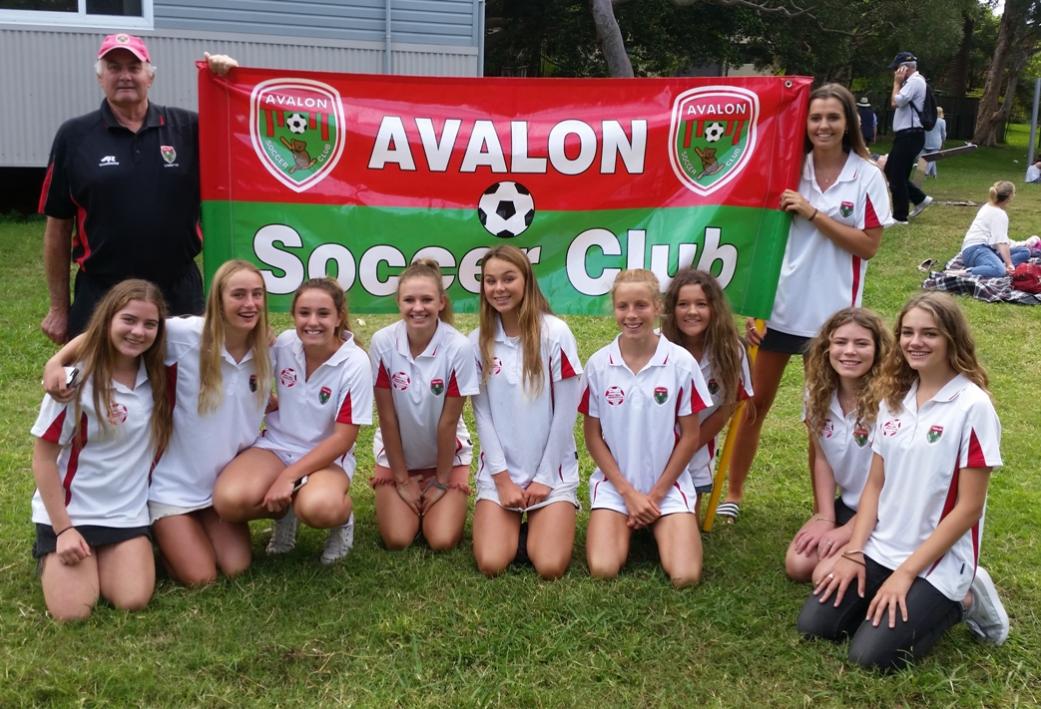 Roland Luke with the Vanuatu bound Avalon Soccer Club team – photo courtesy Vince Simonetti
Yes, I have five grandchildren, the last born is around 7 months old now. My son and his wife have three children; girl-boy-girl, and my daughter Melinda has two boys including one who is now playing soccer/football on the Central Coast.
What's the best thing about being part of Avalon Beach surf club?
I've found, because our surf club is on the far end of the Northern Beaches, most of our members are local, in fact 90% of them. When I first joined the surf club there were no women, it was all men, nor was there Nippers, so the youngest you went in was in the Under 18's.
There were women in what was called the Ladies Auxiliary which was about fundraising and service. There are records of women serving on the beach during WWII with all the men away and pictures of women doing the March Past etc.
Geoff Searl
has a lot of that material – in fact Geoff, although he was the year behind me, was also a student at Narrabeen Boys High, and in fact his son and mine started playing for the Avalon Soccer Team from around the Under 6's or so and went right through together – Geoff's son was our number 1 goalie. That was the first year that Avalon was in what was called the Cromer Cup. We ended up playing Seaforth in the Final.
In those days there was no Junior football played on small fields, the Under 9's, which that cup was for, was played on full sized fields; that was their first year on a full sized field then. Ours were actually Under 8's playing in the Cromer Cup. It is still called the Cromer Cup but now has a different set of rules attached to it.
In mentioning Geoff and a score of other people who you've actually spent decades with you give an insight into what has always been and remains a community here – why do you think that happens?
I'm not sure – I know from my point of view I've always enjoyed being part of and getting involved in community organisations out this way.
I was a Cub Leader at Avalon for about 10 years, we had two Cub Packs. In fact, years ago, I was a Cub myself down at what they called 2nd Narrabeen in Collaroy, so I had a bit of experience in knowing what Cubs was about. My mother had been a Girl Guide back in the 1920's, so we had a history of this.
When I went to join my son up at 7 years of age when you went in at 8 they said, 'there's such a waiting list the only way you'll get him in is to become a Leader'.
So I progressed from being an Assistant Leader to being the Arkela of my pack until my son finished at 11 years of age.
There were two halls where we used to meet – the Avalon Guide and Brownie Hall, which was there until recently, whereas the Boy Scouts and Cubs met in the Scout Hall, which is still there and now used as a community hall for various events.
We even formed a new thing which was called 'Joey Scouts' where kids from 6 to 8 years of age could get involved. This went for a while, and was still there when I left, but gradually, through lack of Leaders, all the Cub Packs and Scout Troops around here have just about disappeared.
We once had these at Bilgola, Careel Bay, Avalon and Newport. The only one left now is at Mona Vale and there is one that operates as part of the Sea Scouts at Bayview.
All the Brownie packs have likewise disappeared from the area. They're now all in together at Mona Vale – although still under Scouts Australia.
One of the highlights for me doing that was taking my daughter as a Brownie and my son as a Cub as part of the Avalon Scout Pack to the World Jamboree at Cataract Park. It was so good we went back every day, even though it was a long drive from Avalon out there.
What major changes have you seen in the landscape here?
I remember when I was younger and we lived in Palmgrove road, where the Angophora reserve is, we'd go as kids up there. There were a lot of aboriginal carvings in a cave there then. In fact, when I became a Cub Leader I used to do some investiture of Cubs around Angophora Reserve – we also did these on the Avalon Headland as well as Bangalley Headland, the lighthouse at Palm Beach and the Scout bunker up at Ingleside by firelight.
I remember that when I first came to Avalon the road structure was quite different from what there is now. The road that goes down to the surf club wasn't there – you came through Avalon into the shopping centre. That area where Dunbar Park is now was all marshlands and would flood. The shops didn't go past where the little laneway is now. There was no Post Office building here, the Post Office was in Old Barrenjoey Road.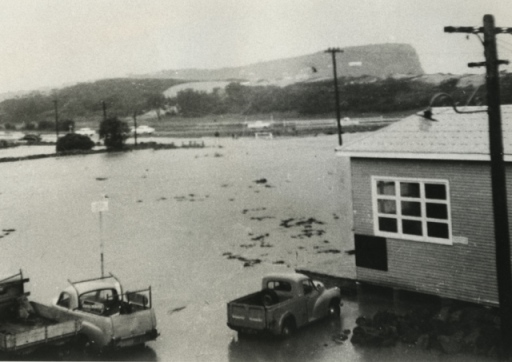 Dunbar Park in flood, 1961 - picture courtesy Avalon Beach Historical Society
There was a famous store where Barefoot Boulevard is now called 'Le Clerc's' which was a really long low store – everyone went there. There were no supermarkets, no Johnson Brothers – so I've seen Avalon change quite a bit.
Bilgola Plateau was virtually virgin bushland – I remember you could buy land up there for a couple of hundred pounds per block, and even after decimal currency it was still 2-3 thousand dollars.
We had koalas in our property at Palmgrove road, we were in and part of the nature corridor where they travelled as we had red gums in our yard. The last one disappeared from Bilgola – that was the last bastion for them.
WILD FLOWERS AND NATIVE PLANTS PROTECTION ACT, 1927-1945.
Appointment of Honorary Rangers.
THE undermentioned persons have been appointed as Honorary Rangers for the purposes of this Act:—
...
Ronald Arthur Searl, 42 Avalon-parade, Avalon Beach; Charles Herbert Milnes, Chisholm-avenue, Avalon Beach; Mary Brigid Milnes, Chisholm-avenue, Avalon Beach.
(2940) J. B. RENSHAW, Minister for Local Government.
WILD FLOWERS AND NATIVE PLANTS PROTECTION ACT, 1927-1945. (
1955, August 19
).
Government Gazette of the State of New South Wales
(Sydney, NSW : 1901 - 2001), p. 2387. Retrieved from
http://nla.gov.au/nla.news-article220386559
There's not much change in the physical appearance of the beaches but I can remember when North Avalon still had the remnant of what was once the Hole in the Wall before that collapsed.
I remember when we used to go into St. Michael's Cave and there were bat colonies in there.
When we became teenagers we used to climb from the end of Whale Beach down the cliff face on a rope to the grotto to take your girlfriends there. This was a drop of about 25 feet and you had to help your girlfriend down – which was lovely. As you got a bit older you realise this is a bit dangerous but when you're younger you do such things without any qualms.
The other thing I remember was at Collaroy where the government had put all the concrete anti-tank pylons to stop an invasion during WWII. They were right along Collaroy for years. All the surf clubs had air raid sirens and were to be the first warning for possible landings – I remember these going off and they were really loud; they stayed in the surf clubs for a long time before they replaced them.
I also recall, from living at Collaroy Plateau, that we used to have a lot of blackouts or what they called 'brownouts'; it depended on how quickly the colliers could come from Newcastle bringing the coal down to the coal-fired power stations in Sydney. You used to be able to see them making their way down the coast from our house at Collaroy Plateau; so if you got a brownout you knew the colliers were on their way to try and fire up the power station.
Everyone had a wood fire and fireplace in their house, and lots of candles. Hot water came from a gas-fired boiler which was a tank placed beside your bath. Washing machines weren't around, they had coppers, which were usually gas operated too. People had hand wringers while the clotheslines were all poles with lines between where you put another pole up to lift the clothes and the line upwards. Everyone had these until someone invented the Hill's Hoist. I have fond memories of seeing all those clothes blowing in the wind at every house down the hill for years.
Everyone had chooks – we had chooks at Collaroy Plateau, chooks at Avalon – and we had 50 ducks at Avalon and Collaroy Plateau as well. They used to fly to the Lagoon and come back. So everyone had their own supply of eggs. Everyone had dogs and cats.
There was none of this feeling unsafe after school – everyone played in the streets, caught frogs and tadpoles, played marbles, built cubby houses, climbed cliffs – we used to climb over the cliff at Collaroy, we'd walk down to Narrabeen, use the back tracks to walk to school with no adult accompanying you; it was just a much freer lifestyle then.
Where did you get your milk from?
That was delivered, in glass bottles with a bit of cream on top – all silver tops, there were no other varieties, it was all one type. Dairy Farmers had a monopoly on that – there was a base at Balgowlah in Balgowlah road, and there was one at Mona Vale for a long time too, a depot.
When we were at school everybody got a bottle of milk in the morning. Often the magpies would try and put their beak through the cap before anyone got to school. We had milk monitors in every class. I don't remember anyone ever being allergic to milk then.
What are your favourite places in Pittwater and why?
I've always had a bit of a soft spot for the Western Foreshores of Pittwater; Mackeral and Little Mackeral and The Basin. As a kid we used to go on holidays to The Basin a lot and camp there. My father used to bring the boat over.
We also used to camp at Palm Beach every year with my uncle and his family when I was in primary school. We used to have entertainment tents there and the ice man would deliver ice and milk; you would spend weeks there. In fact my father told me that prior to the Second World War he and his family camped at the back of the Avalon sandhills.
LE "MOTOR CAMPING OUT.'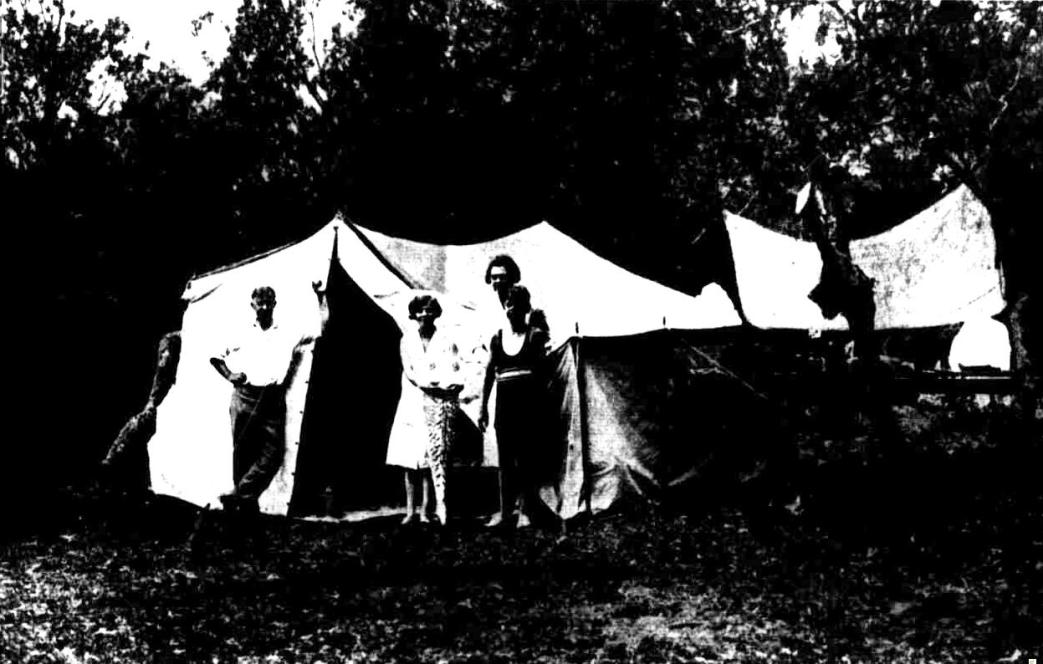 Monte Luke, le célèbre artiste photographe de Sydney, Madame Monte Luke et leur famille à Avalon Beach, près Sydney. LE "MOTOR CAMPING OUT." (1928, October 26). Le Courrier Australien (Sydney, NSW : 1892 - 2011), , p. 3. Retrieved from http://nla.gov.au/nla.news-article161724364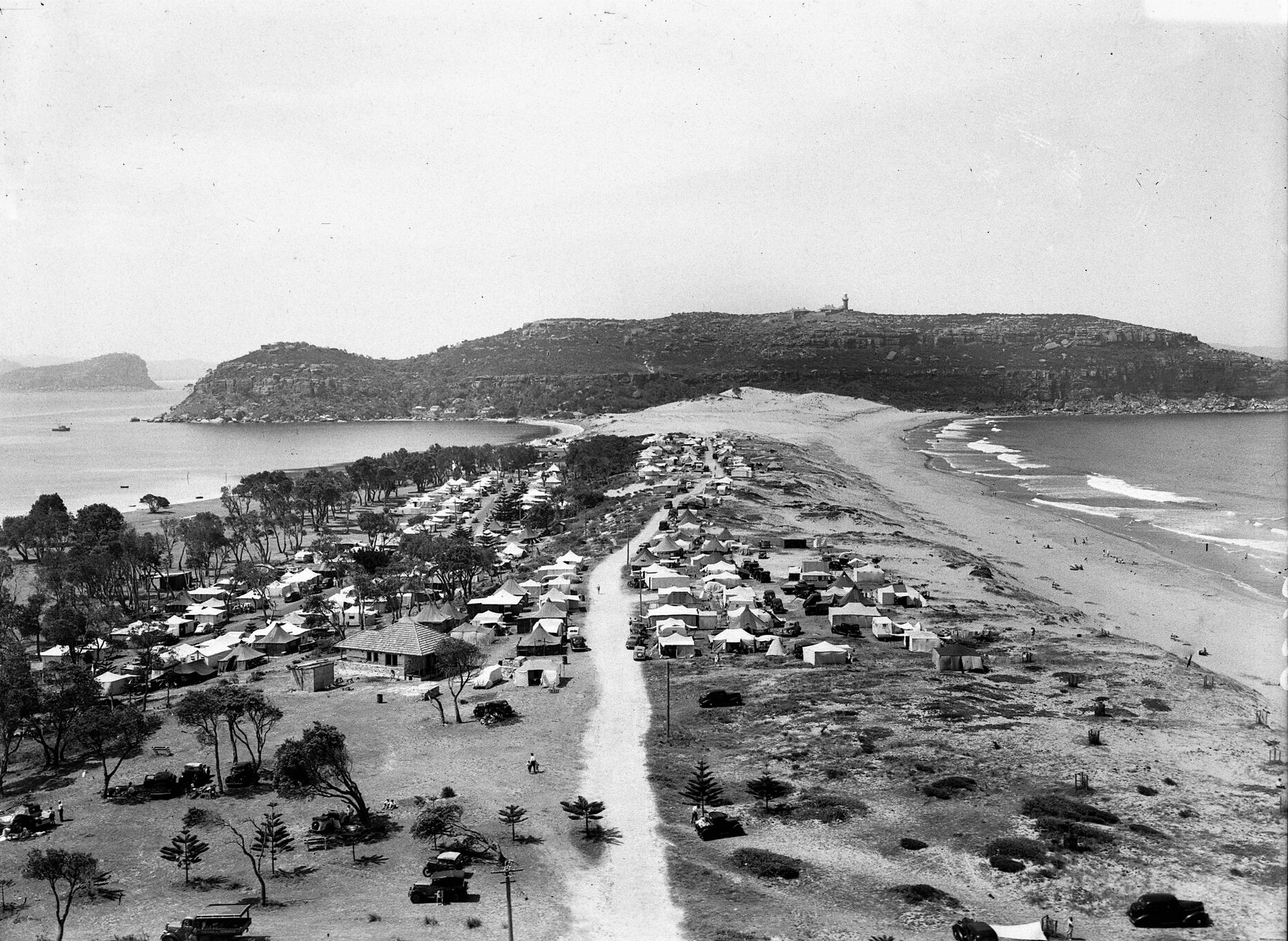 Palm Beach Camping area in 1946. - photo courtesy NSW State Records and Archives
What is your 'motto for life' or a favourite phrase you try to live by?
I try to just enjoy each day as it comes. I don't think too far ahead and think if you try to plan things too much you may sometimes be disappointed, although these days life seems to be about forward planning.
I prefer things that happen on the spur of the moment, things you weren't expecting can be enjoyable.
I also enjoy things that just pop up in front of you, good or bad, my approach has been 'we'll go with it and try and cope with it'. That happens a lot to everyone – sometimes, for me, it's surf clubs sometimes soccer club – sometimes you get to a surf carnival which you think is going to be massive and you get there and find the surf has come up overnight so you have to move everything and reallocate or cancel it all together to ensure you're keeping everyone safe. It's the same with soccer; sometimes you get down there in the morning and find a vehicle has gone onto the grounds and done big wheelies which you have to try and fix up, or repair posts that have been damaged you need to make workable.
So I say, 'Enjoy each day as it comes.'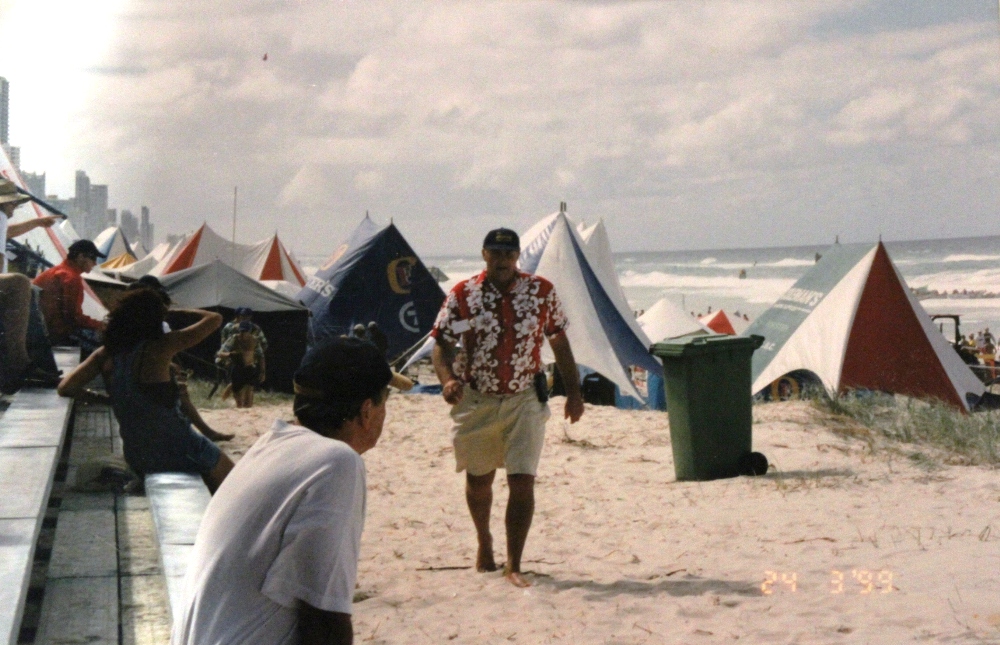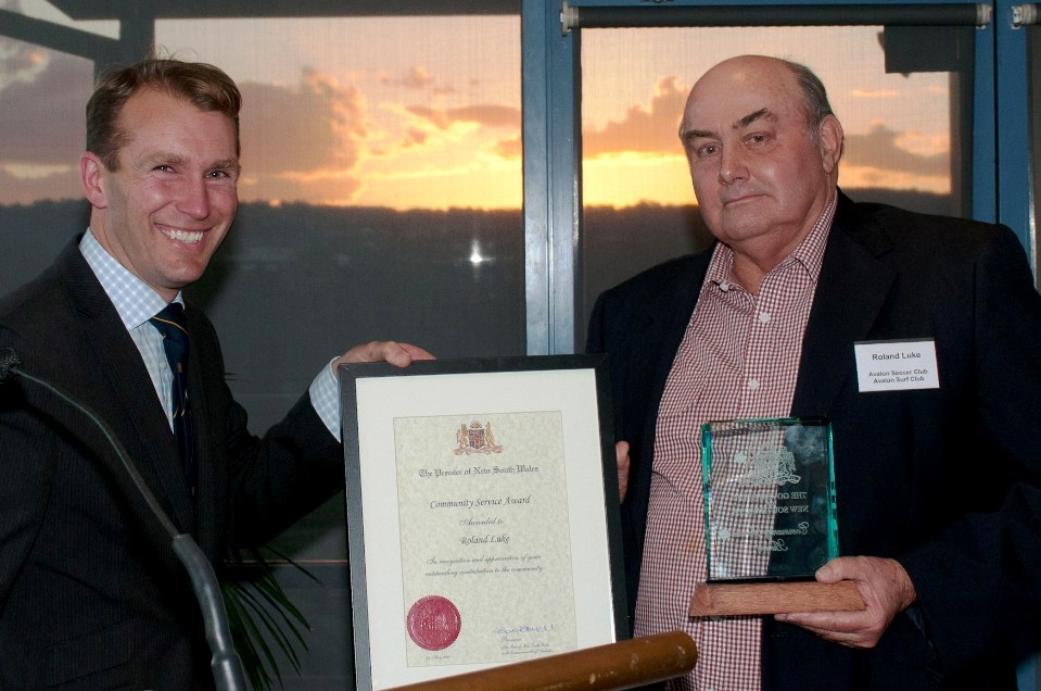 2011 NSW Premier's Award for Community Service - Roland Luke and Pittwater MP Rob Stokes photo by
Michael Mannington
Premier's Community Service Award Winner Announced
August 2011: Member for Pittwater Rob Stokes today announced Avalon resident Roland Luke as the recipient of the Premier's 2011 Pittwater Community Service Award. The award was presented at a reception for Pittwater's community leaders at Mona Vale Golf Club, and acknowledges exemplarily service to the Pittwater community by a local volunteer.
"With more than 30 years of service with the Avalon Soccer Club and Avalon Surf Club, Roland has made an outstanding contribution to the Pittwater community. Roland's ongoing commitment to the Avalon Soccer Club and Avalon Surf Club is remarkable", Rob Stokes said today. "Whether it's setting up soccer fields at daybreak or leading nippers events at Avalon Beach - Roland is always willing to lend a hand.
"Through his decades of service – Roland has gone above and beyond to help ensure the local sporting opportunities we often take for granted are available. Roland's efforts are a wonderful example of the enormous contributions that are made every week by our local volunteers."
"We're enormously fortunate to have Roland as a member of our community and this award is a fitting tribute to his outstanding efforts", Rob Stokes concluded.
We called Roland to ask him how he felt on receiving the award.
"It came as a complete surprise. I was totally knocked out. " he said, adding, "It's not just me, other people have contributed a lot as volunteers to these Organisations. To me it is a recognition of all of these people. We work hard to ensure the safety of others by our surf patrols of the beaches during the summer months. A large part of that is training the 13-15 year olds to come into the organisation and to do their Bronze Medallion."
Mr Luke has assisted the Avalon Beach SLSC with cadets, nippers, competitions and patrolling duties for decades. During winter he gives up his Sunday mornings to set up the soccer fields at Careel Bay.
Notes
Sir,-Being ignorant of the possible effects to the harbour bridge in the event of a loaded petrol waggon becoming ignited while under the arch, I was hop-ing to read some sensible answers to Mr Doig's sincere enquiry ("Herald," May 30).
Mr. Charles Lee's reply ("Herald," June 1) is suggestive of typical official inertia towards such problems, and is completely repudiated by the tragic accident in America very recently, when a petrol waggon collided with a tram.
An example of unsuspected danger literally on our doorstep is the fact that, a few days ago, a quantity of explosive was stored aboard a wooden vessel in Double Bay, and being in the midst of a dense residential area, could have caused untold damage in the event of some unexpected accident.
I invite some expert opinion on Mr. Doig's queries.
At Bayview, 1950 - photo by Peter Luke
The inaugural race, like all those that have followed, began on Sydney Harbour, at noon on Boxing Day (26 December), before heading south for 630 nautical miles (1,170 km) through the Tasman Sea, past Bass Strait, into Storm Bay and up the Derwent River, to cross the finish line in Hobart, Tasmania.
The 1945 fleet comprised 9 starters. Of the 9 starters, 8 yachts completed the race. Illingworth's own vessel, Rani, won the inaugural race in a time of 6 days, 14 hours and 22 minutes.
Peter Luke's record for longest-ever time to finish the course stands to this day: 11 days, 6 hours, and 20 minutes.
Wayfarer is a racing and cruising yacht that was built at Gladesville, Sydney in 1940 by Charlie Larson for Peter Luke. 12.2m (40ft) Alden Bermudan wooden ketch, built for owner Peter Luke, also a founding father of the CYCA and Sydney to Hobart Race.
1945 Fleet
9 yachts registered to begin the 1945 Sydney to Hobart Yacht race. They are:
WINDS of gale force made the going tough for Wayfarer, Sydney-owned yawl, which crossed the finishing line at Hobart at 5.21 pm yesterday, last of the eight boats which completed the course in the Sydney-Hobart ocean race.
"It was great fun, and we would like to have it all over again," said Brig A. J. Mills-he was the ship's sail-mender, and had a busy time, as the mainsail was ripped twice, the mizzen once, and staysail once.
"We had gales every second day," said Mr Luke, "and when it wasn't i blowing a gale it was almost a flat calm."
Wayfarer lost sight of other yachts in the race the first night out from Sydney, and did not sight another craft of any kind until she passed a river steamer coming up the Derwent Estuary yesterday.
Wayfarer on the Derwent - photo courtesy CYCA
Passing out of sight of land off Gabo, Wayfarer stood well out to sea and made her Tasmanian land-fall off St. Patrick's Head on Thurs-day, Jan. 3. Navigator W. Lieberban had done a good job, as he was less than an hour out in his calculations on the trip down from Gabo.
The yacht drifted nearly all New Year Day; at noon the navigator "shot the sun," and found that the ship's position was exactly at the intersection of the 40th parallel of Latitude and Longitude 150 deg. E.
On Thursday afternoon the wind became too strong for the yawl to stagger under, and the skipper sheltered under Schouten Island for the night.
Wayfarer rounded Tasman Island on Friday night, but could make little progress into Storm Bay against the fierce north-westerly.
No mention had been made of Wayfarer's progress in news broad-casts picked up on the ship's radio receiver, and the skipper decided to make for Port Arthur. As soon as the crew got ashore at Port Arthur on Saturday afternoon, they rang their relatives and friends in Sydney and relieved them of the anxiety which many must have felt in the absence of news of the yacht's whereabouts.
Licensee of the Hotel Arthur (Mr T. Pitman) put on a barrel of beer specially for Wayfarer's crew, and they enjoyed their first drink of draught, beer since they left Sydney on Boxing Day. A local resident (Mr Derwent Martin) treated the ship's company to a crayfish supper, which was the gastronomic highlight of their voyage.
Wayfarer put to sea again early yesterday morning, and after a strenuous beat up Storm Bay against a squally north-wester, came up the estuary in the afternoon and crossed the line at Castray Esplanade.
There was no shortage of provender aboard Wayfarer, and the crew had a hot meal every day, some-times twice a day. Coming down I the East Coast they caught some barracouta, but after the fish had been cleaned, a big sea swept them overboard.
Off Maria Island a barracouta made a vicious lunge at the ship's log, trailing astern. It severed the log-line and the yacht finished the voyage minus a log.
The sailing committee of the Royal Yacht Club will meet today for the purpose of declaring the result of the race, after full consideration of any infringements of rules that may have rendered any of the competing yachts liable to disqualification.
Mr. Luke may have been slowest in the first Sydney to Hobart but did much better in this race:
POLICE are faced with a harbor mystery following the discovery, early to-day, of a 28-ft. yacht, abandoned, with all sails set, between the Heads. The incoming liner Mooltan narrowly missed running it down, and it was drifting towards South Reef when an Italian fisherman clambered on board and prevented a crash.
The police are investigating the possibility that the case may be one or harbor piracy, what happened to the persons who may have been on board is unexplained. Owned by Peter M. Luke, of Iluka-road, Clifton Gardens, son of Mr. Monte Luke, city photographer, the yacht, the Nereid, had been left at its moorings In Taylor Bay 011 Sunday. There was then no petrol on board, but police investigations to-day revealed petrol in the tank, as well as a full four-gallon tin.
When Luke left the yacht on Sunday he carefully put away the Jib and mizzen sails, and tied the mainsail In position. He then rowed ashore in the dinghy, which was still tied up this morning. The maid at Mr. Luke's home saw the yacht late yesterday afternoon. At 0.48 a.m. to-day the Mooltan was entering the Heads when the pilot saw, looming through the fog, the yacht with all sails set. The lib was partly dragging In the water.' The Mooltan was brought almost to a standstill, and, caught by a breeze, the yacht was swept clear just in time. Dr. McCann, one of the port doctors, was being taken out to the Mooltan by Nat Brown in a launch.
and he and Brown witnessed the incident. Cabin In Disorder Guiseppe Puglisi, of Madlin-street, Hunter's Hill, and P. Bianchinl were entering the Heads just behind the Mooltan, with a large haul of snapper. The direction of the wind changed slightly, and the Nereid headed for the reef. Puglisi yelled, but received no answer. While hl3 companion steered their launch closer, he leaped on board the yacht and fixed a rope to it.
When it was only about 20 yards from the reef, the yacht was steered clear and towed to the Watson's Bay wharf, where it was boarded by Constable Lawless (Vaucluse), he found the cabin in a state of disorder. A looker had been broken open and the contents scattered over the floor. Some charts were not in their usual position, and two overcoats were missing.
Greasy matches were found on the floor of the cabin, suggesting that someone on board had tried to start the engine in matchlight. An unsuccessful attempt had also apparently been made to light the navigation lamp, which contained kerosene. Several pieces of charred newspaper appeared to indicate that those on board had lit a flare, possibly with the intention of seeking assistance. No unusual light was seen by other persons on the harbor, however. Luke told Sergeant Selwyn later that he was certain that there was no petrol on board when he left the yacht on Sunday. "Whoever took my yacht obviously intended to go on a sea voyage," said Luke, "but perhaps the fog frightened them, causing them to abandon the vessel."
One theory is that the persons who took the yacht fell overboard, and another that, having failed to start the engine, they dived overboard and swam ashore. Detective-Sergeant Dunnett is making inquiries.
Yacht Found Between Heads
The yacht Nereid, which was today found abandoned, with all sails set, between the Heads.
Mr. Peter Luke, owner of the yacht, Nereid, which was to-day found abandoned.
Born in Geelong he worked as an actor on stage before developing an interest in stills photography. He was appointed official photographer for J.C. Williamson, taking portraits of stage stars and publicity shots of plays in production. In 1915 he was placed in charge of film production for J.C. Williamson Ltd after Fred Niblo left the country, and directed three features for them. He then set up a photography studio and became one of the leading photographers in the country.
Select Filmography
A Member of the Julius Knight Co., now appearing in "A. Royal Divorce" at the Princess's. Mr. Luke is one of the younger members of the Julius Knight Co., and has been on tour with the company for the last couple of years. Like Oscar Asche, he was born at Geelong, but graduated to Melbourne, where he was well known in amateur circles before joining the "prof."
Photo by Lafayette, Collins-st., Melbourne.
Harold Cazneaux, Sydney Camera Circle, 1924. First Australian Salon of Photography meeting in Sydney, 1924.
From left to right: W. White holding print, Monte Luke at easel, J. Paton, H. Cazneaux, S. Eutrope, C. Wakeford, Webster with pipe, A. Smith in front: J. McColl, C. Bostock Image No.: .a4260030r, courtesy State Library of NSW.
That a photograph may be an expression of personality as much as is a painting or a pianoforte sonata is one of the things demonstrated by Mr. Monte Luke's exhibition of camera pictures, which was opened to the public by the Minister for Education (Mr. Bruntnell) at the Strand studio yesterday.
It is a comprehensive, collection, specially strong on the side of portraiture. In this section, one of the most outstanding exhibits is, "O Solo Mio," a vigorously toned and convincingly posed study of an Italian serenader, which has been exhibited at the London, Canadian, and Batavia salons. Restfulness of treatment characterises "Benno Moseiwitsch," a picture of Eve Grey shows effective contrast in tone, and there is much else of interest. One of the best of the landscape studies is "Gaunt Sentinels of the Marsh," in which the row of trees outlined against a grey sky calls up thoughts of bleak wind and threatening storm.
The wonderful progress of photography as a branch of the fine arts will be shown at the exhibition, promoted by the Newcastle Photographic Society, which will be opened in Messrs. W. Winn and Cm, Ltd.'s new exhibition hall to-morrow afternoon.
The catalogue has been compiled, and it shows that there are 231 pictures. Of the total number of pictures 160 represent the work of members of the society and although the society is modest in its claims, and only exists for educational purposes, it is confidently hoped that many of the local prints will rank as really artistic. At the same time it has been felt desirable, as far as possible, to include work by most of the members as an indication of the progress made during the past 12 months.
POPULAR PRINTS
Mr. Monte Luke.
REMEMBERING more than 5,000 brides he himself has photographed on their wedding day, Monte Luke-who has been a photographer for nearly 50 years-still thinks they are the easiest of all camera subjects.
"But," he adds, "I have never known one wedding where there wasn't a panic in the bride's household.
"I always seemed to arrive on the scene at the height of the panic when everybody for-got I was just a photographer.
"Once I had to iron the bride's dress because her mother was too upset. Another time I had to button a bride into her dress, and fix her veil.
"One bride was in tears because the wrong flowers were put in her bouquet. So I set off for the nearest nursery, bought the flowers, remade the bouquet, took my pictures, and she went happily to the altar."
"I LIKE THIS portrait of Charles Lloyd Jones, because it gives a picture and a satisfactory rendering of character-again, a portrait which is not merely a photograph. A critic said that this portrait was 'an alert, forcible presentation of a business executive-it shows the subject to be a man of personality.' "
Brides are always tense, nervous, and excited, but, says Monte Luke, they don't mind going to any trouble to make sure their photographs will be flattering ones.
In contrast are the members of the Royal Family who, according to Mr. Luke, are the hardest people of all to photograph-"It is a real trial for them. They rarely relax in front of the cameras, and never allow more than a few minutes for sittings."
The King and Queen, the Duke of Windsor, the Duke and Duchess of Gloucester have all "sat" for Mr. Luke.
"The Duke of Windsor was then only a young lad on a tour of Australia as the Prince of Wales, and he was more nervous than I was," said Mr. Luke.
Perhaps the best key to the amazing variety of personalities he has crowded into the years of his career are his scrapbooks. They are full of portraits, faded proofs, clippings, and letters, which represent a great cross-selection of Australian people as well as nearly every world famous personality of the day.
Asked to name the most beautiful woman he has ever photographed, Mr. Luke shook his head.
"Wouldn't do, you know; and anyhow it would be a very hard thing to do," he said. "Personality, charm, character, and that little 'extra something' in a person can make up for anything that is lacking in a woman's face.
"Features are most important, but a woman should never worry if her features are not perfect."
"I LIKE THIS picture of a child be-cause I think it is a good example of how far the camera can go in making a picture of a child much more than just a photograph. The tone Quality and com-positional arrangement are pleasing."
He has, however, no difficulty in recalling the most temperamental woman to face his camera.
"Pavlova-that little bit of thistle-down; she expected, and demanded, excellent pictures but would never allow time for a sitting," he said. "If she consented to hold a pose for a few short seconds, it was get it then, or else."
One of his most unassuming subjects was Amy Johnson, the first woman to fly solo from England to Australia. She sat for her portrait with Mr. Luke at Sydney's Government House only a few hours after completing her record breaking flight.
"She refused to be photographed in her overalls, and wore a very simple little feminine dress," Mr. Luke remembers. "There was nothing at all about Amy Johnson to indicate the courage she must have had."
Before taking up seriously the profession from which he has now retired, Mr. Luke was on the Australian stage for about five years, and also appeared in some of the earliest Hollywood films.
He was acting with J. C. Williamson's when he was selected to go to Hollywood as a "spy." The firm was then thinking of going into 'the movie field, and young Mr. Luke was to come back with all the latest ideas on production.
Devitt was initially trained by Tom Penny at the Clyde Swim Club, based at the Granville Pool, until it disbanded in 1947 and he moved to Manly Swim Club along with Penny. Devitt remains a member of the Swim Club. Penny often allowed his swimmers to train in warm waters by having them swim against the current of discharged water from a power plant. Devitt believed that such training gave him an advantage as it taught him to be unaffected by "rain, heat, currents or any other natural or unnatural variables".
Devitt's first forays into national competition were at the 1952 Australian Championships, where he was continually in the shadow of club-mate Barry Darke, who set five Australian records in their age group. Devitt trailed Darke again at the 1953 championships, but Darke retired afterwards to become a mechanic, leaving Devitt to dominate his age group. However, in the open ranks, he was often beaten by Jon Henricks in the sprint events, and Gary Chapman and Murray Rose in the longer events. Rose and Henricks went on to claim individual gold at the 1956 Summer Olympics. At the age of 18, with Henricks initially sidelined by injury, Devitt was named as the captain of the New South Wales team for the 1955 Australian Championships. However, Henricks recovered and relegated Devitt to silver in the 110-yard freestyle. He claimed silver in the 220-yard freestyle, behind Rose. Devitt's decision to concentrate on sprinting led to conflict with Penny, and he then left Penny and began self-coaching. After beginning to regress, Devitt considered retirement, until he joined Sam Herford at the Spit Baths alongside Murray Rose.
At the 1956 Australian Championships, Devitt finished third in the 110-yard behind Henricks and Chapman, and fifth in the 220-yard behind Chapman to gain Olympic selection. After a ten-week national training camp at the Tobruk Pool in Townsville, Queensland, Devitt was named as the national captain for the 1956 Summer Olympics in Melbourne. Devitt's first event was the 100-metre freestyle, where he won his heat and then his semi-final to qualify in second place for the final, where he matched Henricks for the first 80 metres, before Henricks surged to claim gold. Chapman completed an Australian sweep by finishing third. For the 4×200-metre freestyle relay, Devitt had clocked the fourth fastest time at the Australian Championships. After swimming the fastest leg in the heats of the relay, he was selected along with Rose, Henricks and Kevin O'Halloran for the final. The Australians won the gold medal in a world record time, with Devitt clocking the fastest leg in the whole race.
In January 1957, Devitt set a world record in both the 100-metre and 110-yard freestyle, and lowered the 100-metre freestyle world record to 54.6 seconds later that month at the Queensland Championships. He then won his first individual Australian title in the 110-yard freestyle. With Henricks and Rose swimming and studying in the United States, Devitt became the dominant Australian freestyler, and decided to continue his career until the 1960 Summer Olympics, supporting himself as a health inspector for the Townsville City Council. In 1958, after claiming the Australian 110-yard title, he claimed three golds at the 1958 British Empire and Commonwealth Games in Cardiff, Wales in the 110-yard freestyle, and the 4×110-yard freestyle and medley relays. In 1959, Devitt again lowered the 110-yard freestyle, but was later defeated at the Australian Championships by John Konrads, who won every freestyle title from the 110-yard to 1650-yard events.
In 1960 Devitt reclaimed his 110-yard Australian title, and at the pre-1960 Summer Olympics camp in Townsville, broke the 4×100-yard freestyle relay along with Henricks, Geoff Shipton and David Dickson. At the 110-yard freestyle trial, he came third behind Henricks and Shipton, and was controversially selected as the second Australian representative, by selectors who ignored Shipton. He also finished fifth in the 220-yard freestyle and was initially left out of the 4×200-metre freestyle relay team. Devitt was again named the national captain.
On arrival in Rome, Henricks was forced to withdraw from competition after falling ill. Devitt held a solid lead until the last 10-metre when Larson surged and both appeared to have touched the wall together. Of the three judges who determined the first-place winner, two awarded Devitt as the winner. However, of the three judges assigned to allocate the second-place winner, two believed Devitt to have come second. Moreover, the three timekeepers assigned to the contest all believed Larson had won, noting times of 55.0, 55.1 and 55.1 seconds, while recording three times of 55.2 seconds for Devitt. Nevertheless, the chief judge overruled the timekeepers, setting Devitt and Larson's times to 55.2 seconds each and allocating the gold to Devitt on the evidence of the first-place judges. Multiple protests by the Americans continued for several years, to no avail. Devitt also competed in the 4×200-metre freestyle relay with Rose, Konrads and Dickson, winning a bronze medal.
Sydney Olympic
As a youth, Macallister played for his local Manly Warringah Dolphins before moving on to Sydney Olympic(then known as the Olympic Sharks). He marked his professional debut for the club in 1999 by scoring in his first appearance.
Dylan Macallister has made several appearances for Australia's various age-specific teams. He participated in the 1999 FIFA U-17 World Championship, scoring three goals for his national side. Australia would go on to finish as runners-up behind Brazil. He later played for the U-20 team in the 2001 FIFA World Youth Championship. In the qualifiers for the 2004 Olympic Football Tournament he became Australia's top scorer with six goals in seven matches.
Macallister earned his first call-up to the Socceroo squad in 2009. He was an unused substitute in an Asian Cup qualifier against Indonesia in Jakarta on 28 January 2009.
Photo Macallister playing for Central Coast Mariners in 2008
Cataract Scout Park was given to the Scout Association of Australia N.S.W. Branch by The Government of New South Wales in 1978. The Minister for Lands, The Hon. Bill Crabtree Declared 103 Hectares of Wedderburn State Forest to be a reserve for Scouts for a permanent Jamboree site. Additions in 1985 increased the total area to 160 hectares.
This park was developed by a committee appointed by Chief Commissioner Ron Pate O.B.E., (14th October, 1981).
Cataract Scout Park was dedicated to the Youth of Australia by The Hon. Frank Walker, Q.C., M.P., Minister for Youth & Community Services on 11th May 1985
Australian Jamborees Held at Cataract Scout Park
14th Australian Jamboree held in 1984-1985
19th Australian Jamboree held in 2001
22nd Australian Jamboree held in 2010
24th Australian Jamboree to be held here in 2016
World Jamborees Held at Cataract Scout Park
16th World Jamboree held in 1987-1988
Cataract Scout Park is a 160 hectare bush camping area located just 70 km south of Sydney.
The site is divided into 10 sub-camps each with toilets and hot and cold showers. Most of the sub-camps have their own BBQ area and dinning facilities. There is plenty of space for your group to run around, and room for games to be set up in your free time.
The Warringah Shire Council and the Education Department are to negotiate about a High school site at Narrabeen.
PURSUANT to section 34 of the Public Instruction Act of 1880, it is notified for general information that approval has been granted for the establishment of a High School at Pittwater Road, Narrabeen, to be known as Narrabeen High School.
NEIL PICKARD, Minister for Education.