July 30 - August 5, 2017: Issue 323
Mermaids Of Palm Beach Ready To Rock And Roll In 2017 Belmore To Buffalo creek variety - the Children's Charity Bash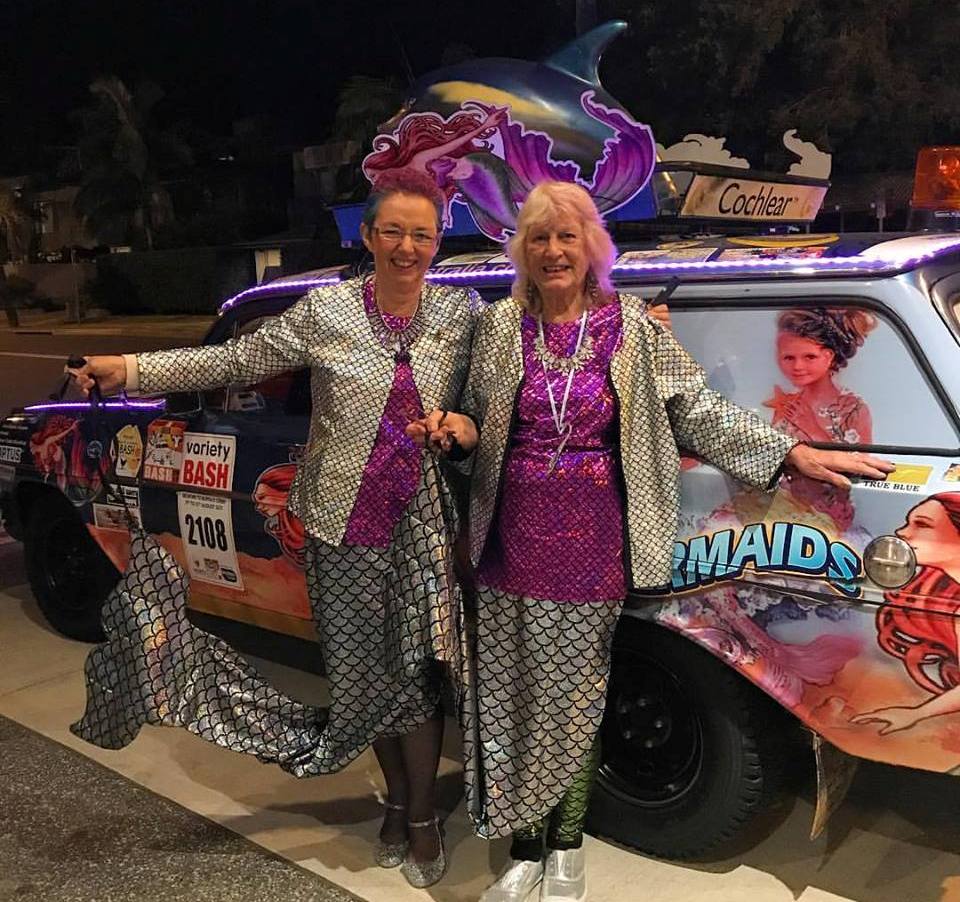 Beryl Driver, and Elyse Cole in Elyse's 2017 Mermaids of Palm Beach created costumes -
Viktorija McDonell had transport problems and didn't arrive until later on - which won't happen on the road of course! Photo courtesy Sallymae Bailey.
Mermaids of Palm Beach Ready to Rock and Roll in 2017 B to B Bash
For Variety – the Children's Charity
On Monday July 24th the Mermaids of Palm Beach hosted their annual fundraising dinner to Club Palm Beach (Palm Beach RSL) with attendees raving about what a great night the ladies put on again this year.
"One of the best nights ever had." seems to be the general consensus of guests.
The food was excellent, red and white Variety Balloons complemented the red and white cloths laid on by the club and set the scene for a party.
The Endless Strummers were great and a dance floor allowed guests to shake it, groove and glide to their heart's content.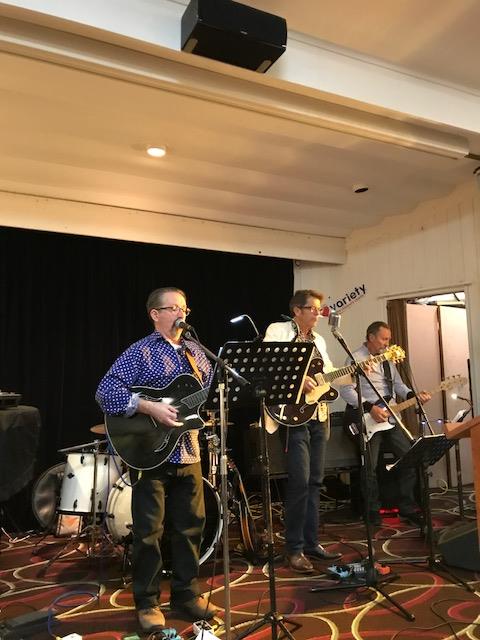 Beryl added a few party games this year one of which she has dubbed 'Wine Bowls'.
In Wine Bowls Beryl had 24 bottles of decent Australian wine in brown paper bags and one bottle of Grange which someone had donated (worth $1150.00) arranged in a circle on the dance floor. Guests were asked to bid $50.00 for the chance to 'bowl' a gold coin at a bottle and yes, you guessed right, the Mermaids were inundated and each place quickly taken.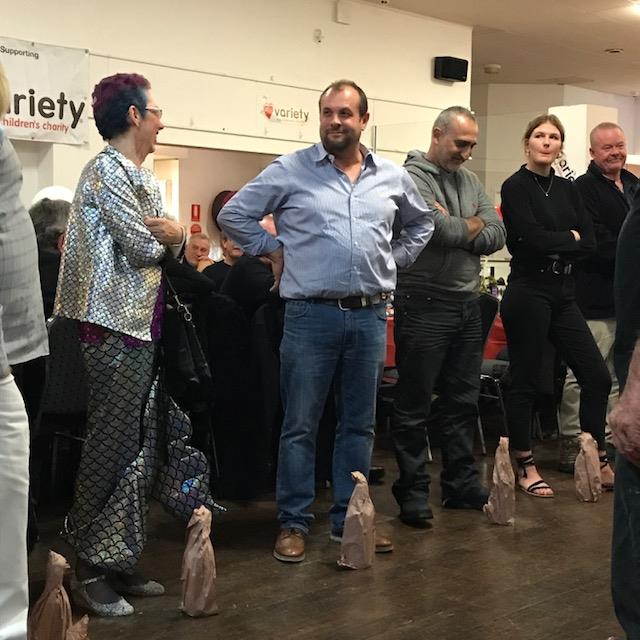 The gentleman who won the Grange was absolutely delighted.
"He attends the dinner each year," Beryl explained, "A lovely quiet gentleman. You should have seen the smile on is face when he saw his bottle."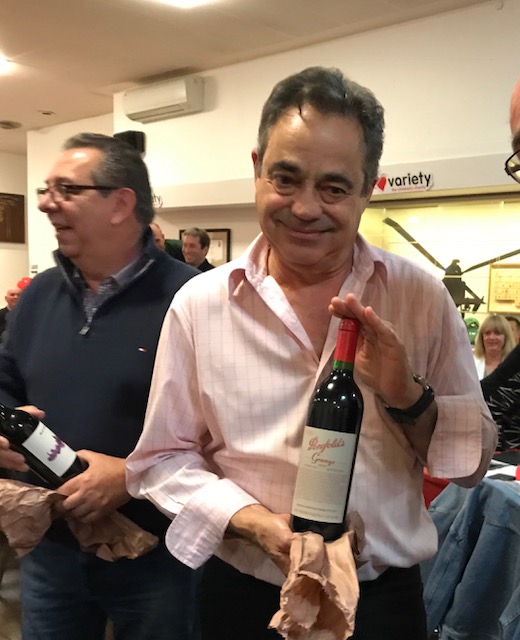 The Grange winner's partner is an expert cake maker and this lady had donated a dream cake, replete with transparent slivers of hand-spun toffee and this too was auctioned – the bids going up and up until $300 became the final bid for all the slices of something excellent.
All up the Mermaids raised over ten thousand at this event and more as they held their annual Currawong Beach event again this year too:-
"All the lovely familiar faces having a great time playing golf, and bridge and enjoying this great offshore paradise nook." Viktorija and Beryl pronounced of this day.
"It's so wonderful to have the support of the great ladies from Palm Beach Golf Club and all our regulars come and enjoy a day with us at Currawong each year – thank you all very much."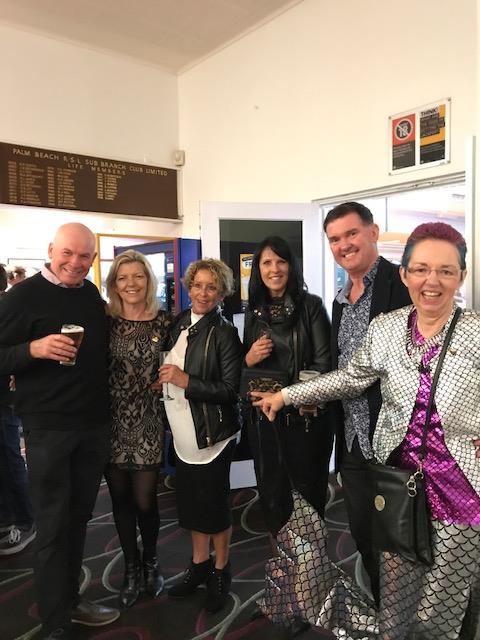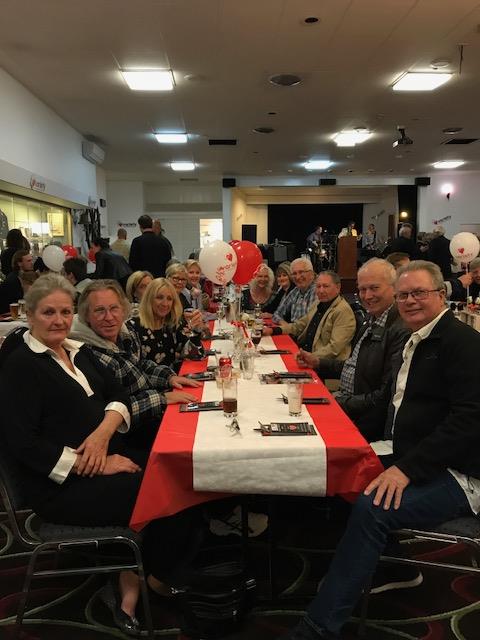 The 2017 B to B Bash commences this coming Thursday, August the 3rd , with Channel 7's Sunrise weather crosses coming from the start. Tune in and watch out for Beryl, who should be on around the 8 a.m. cross.
2017 marks Beryl's 19th Bash and she's determined to make it 20 – no mean feat for someone 84 years young.
The tour was scheduled to be starting from Belmore (now St Mary's League Club per NSW Police advice about early morning traffic), and is heading north into the Sunshine State of Queensland before taking a twist and navigating to the Northern Territory aiming for Buffalo Creek.
Highlights, apart from some sensational Bash dirt tracks, include having a day off in Mount Isa to take in the mining history of this Outback town. Another is visiting Kakadu for the first time where those in their wonderful cars will stay at Jabiru and join their fellow Bashers on an exciting crocodile tour and see them face-to-face!
Beryl tells us they'll be visiting 11 schools along the way this year – the children are the favourite part of each year's Bash with the Mermaids of Palm Beach, their car usually chockfull of extra treats to pile on the littlies.
The 4871 kilometre journey itself will also take 11 days.
The Mermaids 2017 B to B Itinerary and Route:
Thursday 3 August
BELMORE - WELLINGTON – BOURKE: 765KM
Friday 4 August
BOURKE - HUNGERFORD – THARGOMINDAH: 386KM
Saturday 5 August
THARGOMINDAH - ADAVALE – BLACKALL: 522KM
Sunday 6 August
BLACKALL - WINTON: 599KM
Monday 7 August
WINTON - MOUNT ISA: 557KM
Tuesday 8 August
LAY DAY
Wednesday 9 August
MOUNT ISA - AVON DOWNS - TENNANT CREEK: 773KM
Thursday 10 August
TENNANT CREEK - SPELL PADDOCK BORE – KATHERINE: 711KM
Friday 11 August
KATHERINE – JABIRU: 302KM
Saturday 12 August
LAY DAY AND CROCODILE WATCHING
Sunday 13 August
JABIRU TO CITY PARADE TO BUFFALO CREEK: 256.1KM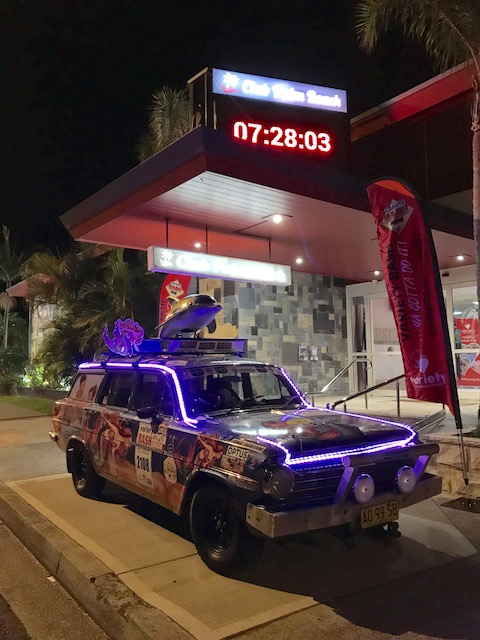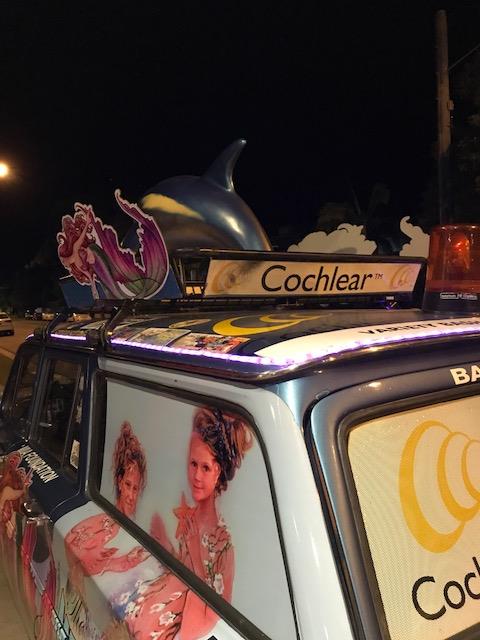 Entrants aka. 'Bashers' raise a minimum of $8,500 per car for Variety – the Children's Charity to enter the Variety Brydens Lawyers B to B Bash. The Bash is a celebration of a year's fundraising to help Aussie kids in need. Bashers get to see the direct impact of their fundraising efforts along the way, with a range of educational, health and mobility equipment provided local schools and organisations enroute.
The girls and their fellow travellers will be celebrating the finish of this Bash with the annual Presentation Dinner being held under the stars at the Sage Resort where the waters of Buffalo Creek run alongside.
Around 14 of Beryl's, Elyse's and Viktorija's friends are travelling north to spend a further four days, one lady flying in fro the United States to spend some great time with her children's champion friend.
Good luck Beryl Driver, Viktorija McDonell and Elyse Cole, our Mermaids of Palm Beach – everyone in Pittwater hopes you have a safe journey and see sides of Oz not yet seen and meet some great people all along the way.
We look forward to running the 2017 Mermaids of Palm Beach Pictures From the Road as soon as we know you're across that line!
Photos courtesy Elyse Cole and Sallymae Bailey – thank you Sallymae and Elyse!
Variety – the Children's Charity is a national not-for-profit organisation
Committed to empowering Australian children who are sick, disadvantaged or have special needs to live, laugh and learn. By giving practical equipment, programs and experiences, Variety helps children in need to overcome whatever obstacles they face and live life to the fullest – simply put, we help kids be kids.
AT VARIETY WE...
Variety Supports Kids with over 193 different conditions




Granting an average of $1M per month nationally




Providing tangible equipment and services




To help Aussie kids be kids