July 30 - August 5, 2017: Issue 323
Pittwater Calls for Pittwater to be Restored: We're not Backing Down - Not Going Away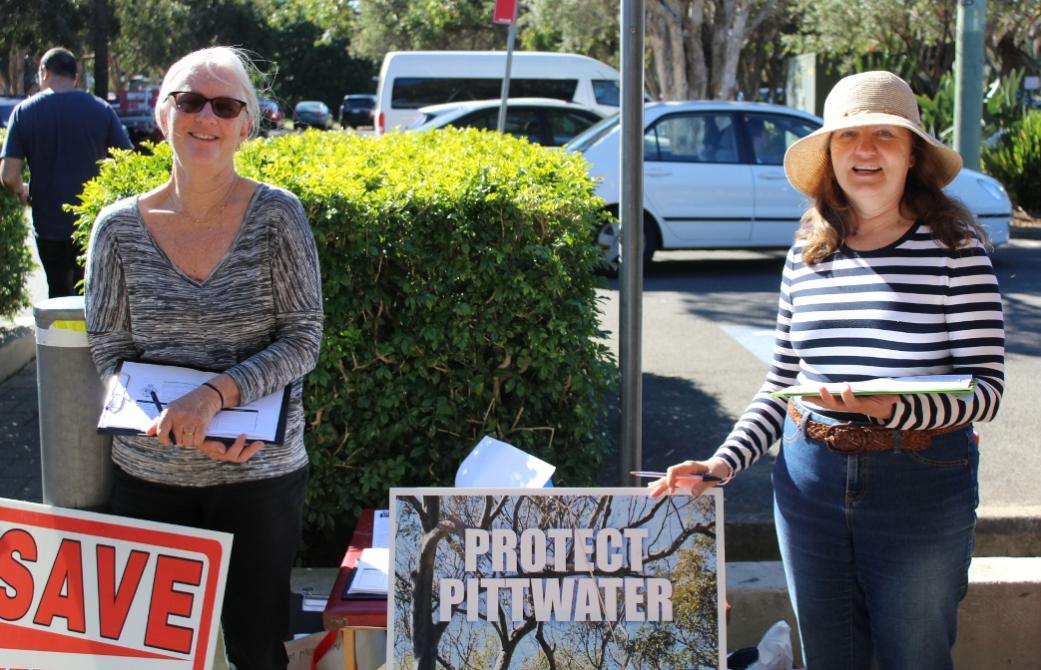 Sacked Pittwater Councillor Sue Young and Protect Pittwater Association Member Miranda Korzy gathering signatures yesterday at Avalon Beach.
In
Issue 260
, published April 24th, 2016, we ran the news that five Pittwater Councillors,
Cr.s Bob Grace, Sue Young, Selena Griffith, Julie Hegarty and Kay Millar,
had voted to support a Motion to commence legal action to Save Pittwater alike that which has successfully retained the councils that this week
received
the news the NSW Government will cease
legal challenges of those councils still fighting against forced amalgamations in courts
.
The Motion, as retrieved then from: www.pittwater.nsw.gov.au/council/meetings/council_meetings/council_meetings/2016/18_apr_-_council_meeting
April 18, 2016
Notice of Motion - Legal Action - Council Boundary Review (Submitted by Cr Grace, Cr Griffith and Cr Young)
Meeting: Extraordinary Council Meeting Date: 18 April 2016
NOTICE OF MOTION BACKGROUND Nil
MOTION
1. That Pittwater Council join with Woollahra Council in its current action against the Minister on the same or similar grounds, namely:
a) A lack of procedural fairness
b) No full public inquiry
c) Denial of natural justice
d) Failure to release the full contents of the State Government's KPMG report and such other grounds that may become relevant to the hearing.
2. That Pittwater Council's legal counsel be authorised to seek to join Woollahra Council in its current action.
3. That Pittwater Council's legal counsel brief Council in respect of such action.
4. That this be actioned immediately due to the urgency.
Cr Bob Grace Cr Selena Griffith Cr Sue Young
The Motion was subsequently reworded through the ECM due to a perception that the time to join Woollahra Council's legal action had elapsed.
The Motion was then passed.
For: Cr.s Bob Grace, Sue Young, Selena Griffith, Julie Hegarty and Kay Millar.
The passed Motion, 'to immediately institute legal proceedings in the Land and Environment Court with respect to forced amalgamations', put forward by Councillors Grace, Griffith and Young on April 6th, along with a request for an ECM, and not listed until the Council Meeting of the 18th, was overturned at a subsequent ECM, called with less than 24 hours notice and held on Thursday April 21st, during the absence of Councillors Griffith and Hegarty.
Councillor Griffith was overseas meeting a week of work commitments, departing Tuesday afternoon. Councillor Hegarty also left Pittwater on Tuesday to attend the 2016 Aussies (Australian Surf Life Saving Championships) in Queensland and support her daughter, a competing member in the surf boat arena for Newport SLSC.
The same Tuesday a media report quoted former Pittwater Mayor Townsend as having 'slammed the idea as a waste of money which would cost $60k'.

From Pittwater Council's website – April 21st, 2016 Meeting documents; www.pittwater.nsw.gov.au/council/meetings/council_meetings/council_meetings/2016/21_apr_-_council_meeting
Committee of the Whole Business
COMMITTEE RECOMMENDATION 1.
1. That Council notes its resolution of Monday, 18 April 2016 to immediately institute legal proceedings in the Land and Environment Court with respect to forced amalgamations, on the grounds of:
a) A lack of procedural fairness
b) No full public enquiry
c) Denial of natural justice, and
d) Failure to release the full contents of the State Government's KPMG report, or any other matter that becomes relevant.
2. That Council notes the advice from Council's Legal Representatives that there is no substance to the grounds raised by the Council in its resolution of 18 April 2016.
3. That Council notes the General Manager's Memorandum to Council dated 20 April 2016.
4. That Council no longer seeks to immediately institute legal proceedings as resolved on 18 April 2016.
This Document is available here: pittwater.nsw.gov.au/common/Output/DataworksAccess.aspx?id=t7dw7QfeHlg%253d&ext=docxn
The Agenda – under "Confidential Items", defining why this Meeting was closed to the public (NB: ii: The grounds on which a meeting is closed to the public must be specified in the decision to close the meeting and recorded in the minutes of the meeting.) is here: pittwater.nsw.gov.au/common/Output/DataworksAccess.aspx?id=jW6OI3ejKz8%253d&ext=docx
Councillors Grace and Young, who could attend, voted against the 'Committee's Whole Business' but were obviously outnumbered.
The Councillors applied to have the Motion reinstated at the next Council Meeting they could only to find that:
16 May Council Meeting - CANCELLED
Notice of Motion - Second Legal Advice - (Submitted by Cr Grace)
Meeting Council Date: 16 May 2016
NOTICE OF MOTION
BACKGROUND
Nil.
MOTION
1. That Council seek a second legal advice from Dr C Birch, SC, or Mr Peter King, Barrister, as a matter of urgency, as to whether Council has a case to initiate legal action against the Minister for Local Government in respect of the proposed mergers. Such advice to give an indication of the chances of success and grounds for such action.
2. If advice is that Council has a reasonable chance of success, then court documents be prepared as a matter of urgency to initiate proceedings.
3. That interim court proceedings be commenced as a matter of urgency to seek undertakings from the Minister that no action be taken against Pittwater Council before such legal proceedings are determined.
4. In the event that present proceedings by other councils are determined adversely for such councils then Council reconsider whether to continue its action or withdraw.
What also ran as part of that week's new service reports, Issue 263, was:
Deputy Mayor of Mosman Council Carolyn Corrigan, a spokesperson for
Save Our Councils Coalition
, stated that on Thursday May 19th groups from Waverly and Woollahra would be picketing Malcolm Turnbull's office, all welcome, that they had commitments to Local Democracy from candidates in his electorate and urged everyone to keep up the pressure.
Mosman's Deputy Mayor said Premier Baird was now 'rubber stamping his own cabinet' as advertisements for the merged councils commenced on Wednesday May 11th, appearing prior to the
Thursday May 12th morning meeting
of the Executive Council (informally and more commonly, the Cabinet of New South Wales) at Government House with His Excellency General The Honourable David Hurley AC DSC, Governor of New South Wales, and prior to the announcement of council dismissals and administrations.

Local Government NSW President Keith Rhoades said on Friday, "We all know the reform process has been one of ever-moving goalposts,"

"Each time councils cleared a barrier - whether it was to prove they were financially fit for the future, to show amalgamations were vehemently opposed by their community, or to submit their own merger proposals - the requirements were hastily changed.

"Promises of no forced amalgamations were broken, the scheduled election date for merged councils has now been pushed back, and financial support for mergers has been cut - so it's past time that the Government live up to its commitments and do what it has told the sector and community it would."
The jubilation expressed for those councils who have won through this week and stayed as they wanted has been met with an equal measure of anger in those communities who reiterated over and over and over they did not wish to be merged with others - especially those, in Pittwater's case, they had finally freed themselves of, after a 20+ year battle, just a few decades prior to May 12th, 2016.
Pittwater community groups, Save Pittwater and the Protect Pittwater Association have quickly called for Pittwater to be demerged in one case and for a plebiscite, restricted to Pittwater residents within the original boundaries of Pittwater Council.
What is most telling is that everywhere the Protect Pittwater Association members stand to gather
petition signatures is that the people in the street are readily doing so. They want Pittwater back along her original boundaries - stating the same message over and over and over again - "we're not standing for this, and we're not going away."
What is clearly apparent is this week's announcements have only strengthened the resolve of our community to have their own day, finally, in court.
Media releases issued regarding this subject run below.
Protect Pittwater Calls on Rob Stokes to Support Demerger Bill
July 29, 2017: Media Release – Protect Pittwater Association

Protect Pittwater President Bob Grace said Mr Stokes should vote for the bill, which would prevent any future amalgamations without a referendum and also ensure plebiscites are held in areas where councils have been forcibly merged.
"Rob Stokes now has a chance to stand up and speak on behalf of his community," Mr Grace said.
"The overwhelming majority of the community was opposed to the forced amalgamation of Pittwater, with 89 per cent voting against it in a council poll.
"We call on Mr Stokes to honour his duty to represent the people of his electorate and to vote for the bill, even if it means he must cross the floor in Parliament.
"We must have a plebiscite in Pittwater to allow the people a say on the shape of our future."
The bill, which passed the Upper House in June and was supported by all parties except the Coalition, would set up plebiscites in all areas forcibly merged last year.
If passed, it ensures that the plebiscite must be held within a month of the act coming into force.
The bill is expected to come to the Lower House on Tuesday.
Mr Grace also encouraged Pittwater residents to email or telephone Mr Stokes before Tuesday, asking him to support the bill.
Mr Grace said Protect Pittwater welcomed Premier Gladys Berejiklian's announcement on Thursday that the government has abandoned the forced amalgamations of councils involved in legal action.
"The government has recognised the anger of those communities in court and we are delighted for residents in those areas who will retain their democratic rights," Mr Grace said.
"However, we hope the government will also recognise the democratic rights of residents in all other forcibly merged councils remaining across the state.
"We will fight on to regain the power to determine our own destiny."
Before the mergers, Pittwater had nine representatives on a stand-alone council, however, after elections on September 9 will have only three representatives on a council of 15.
Protect Pittwater has engaged lawyers and is circulating a petition which under the Local Government Act would require the Local Government Minister to refer the amalgamation to an inquiry.
PREMIER BACKS DOWN ON MERGERS
July 27, 2017: Media Release – Pittwater Forever
Today Premier Gladys Berejiklian walked away from her government's policy on forced Council mergers, abandoning plans to merge Councils in litigation against her government on this vexed issue. Last February, the NSW Government walked away from regional council mergers, saying that municipalities challenging the policy in court would no longer be forced to merge.

Unfortunately, she still has not taken the final step to bury this undemocratic policy by demerging Councils forced to merge against the will of their ratepayers.

This means that Pittwater and many other areas of the state similarly affected will fight on until the policy is completely dismantled.

It is only due to a failure in Pittwater Council (before its forced termination) to follow through on a motion to seek legal advice with a view to joining in that litigation that sees Pittwater residents in their current dire state.

The Premier said, "Perhaps up to two years ago when we entered into this process, with the benefit of hindsight we should have done things differently. Perhaps we should have listened earlier on in the process."

Or at all.

The Premier's comment applies to Pittwater as well as many other communities, whose strong objections to merging with other councils have in many cases been ignored by the NSW government.

Opposition Leader Luke Foley MP today called for the Premier to complete the demolition of this failed policy by allowing plebiscites in all LGAs affected by forced amalgamations. These plebiscites must be held in the former council areas to be fair.

Pittwater Forever, its community group members, and many others are determined to carry forward the fight until we have achieved a demerger from Northern Beaches , as 89% of residents originally indicated as their preference

Pittwater Forever is a federation of 18 of the major Resident Associations within the Pittwater area. We assist in representing their interests to protect and preserve the unique environment of Pittwater. Pittwater Forever is independent and has no political allegiance or bias.
PO Box 292 Avalon Beach 2107
Proposed council mergers before the courts will not proceed
27th July, 2017: Media Release – NSW Premier, The Hon. Gladys Berejiklian and Minister for Local Government The Hon. Gabrielle Upton
Due to the protracted nature of current legal challenges and the uncertainty this is causing ratepayers, those council amalgamations currently before the courts will not proceed.

Premier Gladys Berejiklian said while the amalgamations program had been successful and ratepayers in the merged councils were benefitting, the NSW Government had decided to end the uncertainty with the remaining proposed mergers.

"The Government's merger policy has always been about putting ratepayers first and it has become increasingly clear that certain councils were happy to continue lengthy and costly legal proceedings," Ms Berejiklian said.

"We want to see councils focusing on delivering the best possible services and local infrastructure to their residents. That is why we are drawing a line under this issue today and ending the uncertainty.

"We are proud of what we have already achieved for local communities in the 20 merged councils, where significant savings and improvements to services and infrastructure have been delivered."

Local Government elections for all merged councils and the 14 affected by today's announcement will be held on Saturday, 9 September.

The following proposed mergers will not proceed:
• Burwood, City of Canada Bay and Strathfield Municipal councils
• Hornsby Shire and Ku-ring-gai councils
• Hunter's Hill, Lane Cove and City of Ryde councils
• Mosman Municipal, North Sydney and Willoughby City councils
• Randwick City, Waverley and Woollahra Municipal councils

Minister for Local Government Gabrielle Upton said it was important for local communities to have certainty in the lead up to the September local government elections.

"The Government remains committed to reducing duplication, mismanagement and waste by councils so communities benefit from every dollar spent," Ms Upton said.

"Since becoming Local Government Minister I've spoken to councillors, administrators, and ratepayers. We all share a commitment to improving our councils and providing better value for ratepayers.

"The NSW Government wants to support what communities care about, which are parks, local roads, footpaths, services and value for their rates."

New councils have reported overall savings of more than $50 million between their establishment and March this year. This is almost three times more than original expectations.

LGNSW applauds Government announcement on amalgamations
July 27, 2017: Media Release - LGNSW
Local Government NSW (LGNSW) has applauded the announcement today from Premier Gladys Berejiklian and Minister Gabrielle Upton that the Government has abandoned the forced amalgamation of 14 metropolitan councils.

LGNSW President Keith Rhoades said: "It is a great day for local democracy and we commend this eminently sensible decision.

"Premier Gladys Berejiklian has really listened to the people."

Clr Rhoades said the Premier had inherited a difficult situation.

"LGNSW has always supported reform, and this decision gives us the opportunity to get on with the job." he said.

"We need to address the very real financial sustainability issues councils face - fixing the rating system, ending cost-shifting and getting a better share of tax revenue to support the local services communities depend on every day."

"We remain keen to work in partnership with the Government and today's announcement gives us a solid foundation to move forward."

Clr Rhoades noted that 20 councils had already been forcibly amalgamated. Communities will have the opportunity to have their say at council elections in September this year.

At the same time, he also commended the people working in these new councils to ensure they deliver for their communities.

"Local democracy and delivery for communities is what it's all about," Clr Rhoades said.

Previously:
Pittwater - Amalgamation Proposal
+ NSW Government's White Paper + Proposed Local Government Reforms + Fit For the Future
Pittwater Council Community Forum on Amalgamation and Planning - May 2013
Pittwater - To Be Or Not To Be?
Hands Off Pittwater !! - Media Releases on the Dee Why Community Consultation on the Future Directions for Local Government proposals
Transcription of Speakers at Independent Local Government Review - Dee Why, 4th of June, 2013
Front Page Issue 115 - Amalgamation and Transcription of Community Consultation by ILG
NSW Government's White Paper - Issue 116
Hon Rob Stokes Hosts Roundtable Discussion On Council Mergers from Hon. Rob Stokes and People for Pittwater
Pittwater Council submissions on the White Paper – A new planning system for NSW and the Draft Metropolitan Strategy for Sydney and Future Directions for NSW Local Government – Twenty Essential Steps
Presentation by Better Planning Network at Mona Vale Memorial Hall on the NSW Government's White Paper
Bigger is Better Theory on Council Amalgamations De-bunked by Mayors Townsend and Hay of Pittwater and Manly (New Report: AN ASSESSMENT OF SGS REPORT LOCAL GOVERNMENT STRUCTURAL CHANGE: OPTIONS ANALYSIS) - published 6 September 2013 - Professor Brian Dollery
ONE NORTHERN BEACHES COUNCIL OUT OF THE QUESTION: At its 13 October, 2014 meeting, Pittwater's councillors reviewed the NSW Government's local government reform package 'Fit for the Future' (FFTF), which was released in September 2014. The proposal, reconfirming the Independent Local Government Review Panel's recommendations that Pittwater be merged with Manly and Warringah to form one council, was rejected.
One 'mega council' Would Be A Disaster for Pittwater - Pittwater residents are satisfied with Council - NSW government's Fit for the Future package includes amendments that make it harder for councils to prove they are financially viable, write Professor Brian Dollery and Joseph Drew - Front Page Issue 189
Artspot 2015 Opened with Aplomb
Pittwater Council to Purchase Avalon Beach Bowling & Recreation Club's Green 3 - Keeping our Community's Future 'Fitting' + Front Page Issue 211
Pittwater Uprising Again by 'Pittwater Scout' + Front Page Issue 212
Community News Issue 212 - May 2015: Local Government Reform - Have your say
NSW Government's "Fit For The Future" process erodes democracy and local lifestyle by 'Pittwater Scout'
Public Meeting on Proposed Local Government Reforms Indicates Forthcoming Backlash Against NSW State Government - Community Votes 'No' Amalgamation Again
SHOROC Shenanigans - Amalgamation Ploy to Undermine 'Scale and Capacity'? + Community News Issue 216
New Data Proves Overwhelming Support for Pittwater to Stay As We Are + Fit for the Future timeline makes mockery of fair process from Pittwater Council and LGNSW
Save Our Councils Coalition Launched – State MP's Join their the Ranks Against Forced Amalgamations from SOCC
Community News Archives - June 2015
Pittwater Declares Autonomy: FFTF IPART Required Documents Lodged
NO Amalgamation Chant Becomes Louder in Pittwater: Rally at Local MP's Office + Front Page Issue 234
Pittwater Residents attend NO Amalgamation Rally in Hunters Hill - Front Page Issue 235
Front Page Issue 236: Pittwater Residents Maintain NO Amalgamation Stance at Rosehill...
Keeping Pittwater Independent Stance Persists: Media Releases Monday 12th October to Friday 16th October, 2015 relating to FFTF Reforms by LGNSW, IPART, State and Pittwater Council
Front Page Issue 237: NO FORCED AMALGAMATION RALLY at Winnererremy Bay Park Thursday 29 October 5pm
FFTF Facilitators Found Faulty: 'No Amalgamation' Chant Continues: + Front Page Issue 238
A Greater Pittwater Option Discussed at Public Meeting on Proposed Council Amalgamations: Some Attendees Suggest A Statewide Referendum
Two Council Model Option Preferred to Mega Council Pittwater and Manly Mayors Announce: Mosman Stands Firm
Pittwater Prefers to Remain Pittwater: Greater Pittwater Option Forwarded as Second Preference: Cr. Hegarty's Address at Council Meeting of November 16, 2015
NSW Government Announces Amalgamation Proposal Plans: Reactions and What's Next in Process - 2016
Having Your Say on Local Government and Council Proposals: Written Submissions and Public Inquiry at Mona Vale Feb. 2nd, 2016
Community News February 2016: VOICES of PITTWATER - community leaders on amalgamation
Pittwater Residents Urged to Have Their Say on Proposed Council Changes - Passionate residents speak out at Public Inquiry Meetings
Pittwater's Future Down to A Numbers Game? Warringah Council's Bid to Have it ALL Revives New/Old One Council Proposal -Community News March 2016
Pittwater Asked to Have Its Say On Council Amalgamations AGAIN
Pittwater Residents Reject Mega Council Proposal at Public Inquiry Meetings - Written Submissions To Close on April 8th
Front Page Issue 257 Community Have Their Say on Proposed Amalgamation
Front Page Issue 258: Community Have Their Say on Proposed Amalgamation
Front Page Issue 259: Community Voices on Amalgamation
Front Page Issue 260 - Pittwater Councillors Passed Motion to Commence Legal Proceedings Against Forced Amalgamation Overturned Due to 'No Substance' to Grounds Raised
Pittwater is STILL Pittwater: Residents - Sacked Councillors Discuss Options: Legal action and second Secession to begin discussed
Mona Vale Place Plan: Have You Say By November 13, 2016 - community dismayed at draft slating six storey buildings for Mona Vale

Mona Vale Place Plan Meeting Discloses Salient Points And Communitys' Objections

Administrator's Message: draft Mona Vale Place Plan

Community News Issue 291 - Administrators Minute November 22nd, 2016
Mona Vale Rally on Mona Vale Place Plan Reopens Recent Wounds - Pittwater Council's MVPP List echoes Greater Sydney Commissions List for Mona Vale

Renewed Calls To Return Pittwater Council To Pittwater By Pittwater People in Wake of Recent Retirement Announcements: Issue 298

Community News Issue 299 : Council Amalgamations Windback: Community Feedback This Week: Issue 299
Calls To Restore Pittwater Council Persist: Issue 300

Community News Issue 304: Interview with Hon. Rob Stokes on Mona Vale Hospital
Save Mona Vale Park Protest against B-Line Destruction of The Village Green space reignites calls for Protection of Pittwater
Resident Birds Baffled By B-Line Sleight Of Hand: Where Did All Our Trees Go?
Forced Amalgamations Hit "Procedural Fairness" Snag That May Bring Every Imposed Merger Completely Undone
'Don't Be Developed Out Of Pittwater' Rally At Mona Vale's Memorial Hall: Motion to Fight to Restore Pittwater Council Passed Unanimously

Protect Pittwater Community Forum: 7 P.M. Tuesday May 16 At Pittwater RSL - What impact will the new government body - the Greater Sydney Planning Commission – have on Pittwater? How will development approvals be carried out? How can we recover our local Pittwater Council?

One Year On: Amalgamation STILL Rejected: May 2017 Issue 312 + Front Page Issue 312

Pittwater Community Forum Supports Legal Action To Restore Council - Protect Pittwater launched + Front Page Issue 313

Crowd-funding Appeal for Legal Action to Protect Pittwater Launching on Tuesday - contact points fixed + Front Page Issue 314

Huge Response To Pittwater Crowd-Funding Campaign To Reinstate Pittwater and Demerge + Front Page Issue 315

Protect Pittwater Campaign Grows and Prepares to Join Careel Bay Marina Winter Festival Next Weekend by Miranda Korzy + Front Page Issue 316

Careel Bay Marina Winter Festival 2017: + Community News Issue 317

The Local Government Amendment (Amalgamation Referendums) Bill 2017 Passes Upper House: gives residents in councils that have been forcibly amalgamated the right to a binding vote on de-amalgamation - goes to Lower House first week of August + Front Page Issue 318

Community Expresses Dissatisfaction With B-Line To Newport Proposal and Reduction of L90 Service - Newport SLSC carpark to meet Mona Vale shortfall and be used as bus terminus, 100 buses a day turning through Newport + changing from L90 to B-Line services will make a longer commute for current longest bus run in Sydney + Front Page Issue 318
Protect Pittwater Community Backed Group Engages Lawyers For Action On Council Restoration