August 20 - 26, 2017: Issue 326
Friends of Pittwater
Local Government Election 2017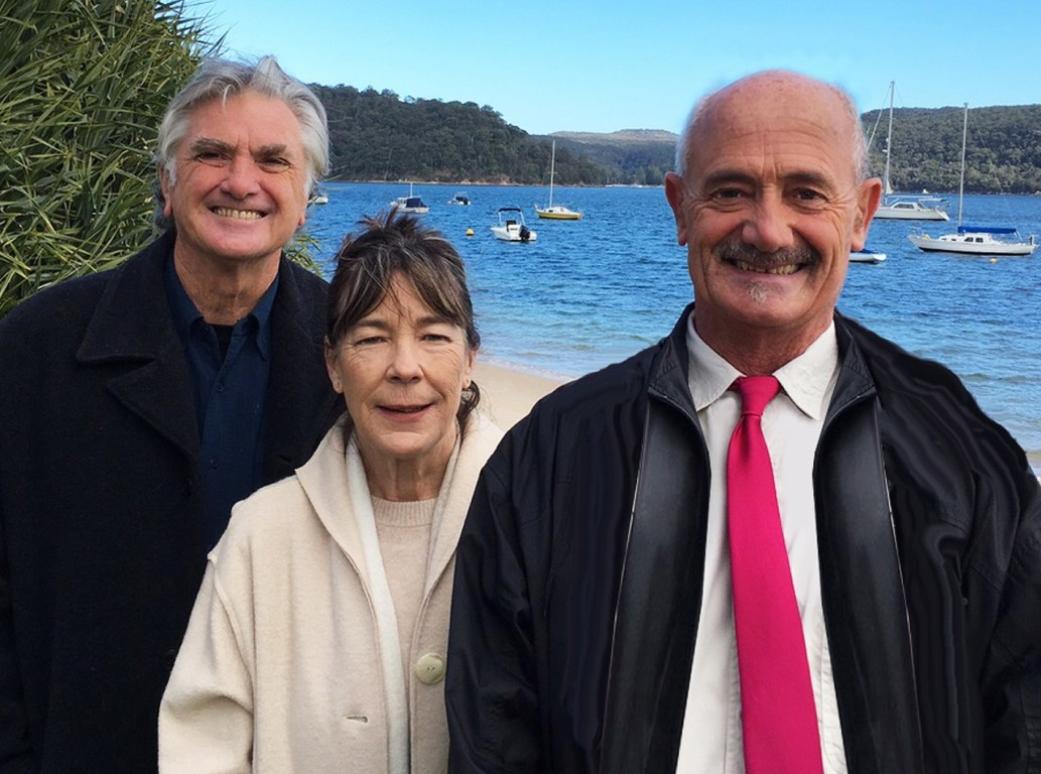 L to r: Peter Bosley Jenny Stone John Lettoof
FRIENDS OF PITTWATER
The Friends of Pittwater has grown from Friends of Mona Vale. Among its objectives is to focus on residents concerns for Pittwater as a whole following Amalgamation and NSW Government plans to grossly overdevelop the area.
It is running its own INDEPENDENT CANDIDATES at the coming Council Elections.
Peter BOSLEY, Jenny STONE and John LETTOOF if elected will seek to:
Limit building heights throughout the Ward to no greater than 4 storeys, 13 metres.

Actively support a community-based alternative to the "Mona Vale Place Plan" and affordable housing

To welcome and support community involvement in matters to do with Pittwater.

Reject any development in Pittwater's diminishing wildlife

corridors including Bayview Golf Course.

Support the retention of emergency, maternity, theatre and other

critical public facilities at Mona Vale Hospital.

Oppose any further development of Mona Vale Village Park,

Kitchener Park and other Crown Lands in Pittwater Ward.

Retain the B-Line bus service in public hands.

Support the campaign to re-establish Pittwater Council
WHO ARE THE FRIENDS OF PITTWATER ?

The Friends of Pittwater developed out of Friends of Mona Vale to better represent a broader focus on the concerns of people of the Local Government Area once known as Pittwater.
It has been set up by concerned citizens of the old Council area to prevent the loss of Pittwater
to idealogical forces which favour its development on a much greater scale than currently exists. It is fighting plans of the GREATER SYDNEY COMMISSION, to increase building heights in Mona Vale and points north from 3 or 4 storeys to 6 and 7 storeys.
The Greater Sydney Commission was set up by the Baird Government with the express purpose of increasing the population of Sydney. In Pittwater it has attempted to add gloss to its project by offering us the highly questionable B-Line Bus System. At the same time it has proposed the construction of 3,400 dwellings at Ingleside while Warriewood is still developing, the intensification of Mona Vale's development and the construction of 7 x 4 storey housing units
ON Bayview Golf Course.
We conservatively estimate that these proposals alone will add 13,000 more residents and their cars (3,000 or more?) to the already choked roads of the area.
Aided by the then Mayor of Pittwater, its General Manager and other Staff, the plan for development was approved by the Council with the slogan "Enliven Mona Vale". Within two days of approval the Council was dissolved and Amalgamation of Manly, Warringah and Pittwater Local Government Areas was announced. Fait accompli. No consultation, no meaningful discussion, just handed to us whether we asked for it or not. We were not even defended by our MP, Mr.Rob Stokes, then Minister for Planning !
Now, back to Friends of Pittwater. It's simple. We reject the process and we reject overdevelopment of our narrow little peninsula and the further choking of its roads.
We demand a new community developed "Plan" for Mona Vale with maximum building heights there and throughout Pittwater of 4 storeys, 13 metres.
Now that the NSW Govt has dropped its policy of Amalgamation, we reject Dick Persson and
the Premier's claims that Northern Beaches Council can't be unglued as poppycock. We seek to have the return of Pittwater Council forthwith and the cancellation of the upcoming Council Elections immediately.
This Government has done enough damage, it must stop now.
And who are the Friends candidates ?
I
n case
the Government refuses to cancel the elections set down for September 9th,
The Friends of Pittwater is running the INDEPENDENT CANDIDATES, Peter BOSLEY,
Jenny STONE and John LETTOOF, all long-term residents of Pittwater, in an effort to
ensure our area is represented INDEPENDENTLY from the developers groups.
We seek your support at the elections to see that Pittwater is saved.
Thank you.
PETER BOSLEY
I have been a resident of the Northern Beaches for the last 35 years living in Freshwater for 5 years and then in Avalon for 30 years. I am 66 and have been married for 39 years. My wife's family have resided in Avalon since the late 1920's with my father in law being a founder of Avalon Sailing Club. We have two wonderful girls, one with two children and a 3rd on the way is still living in Avalon. Iam passionate about protecting Pittwater for our grandchildren's future.
I have been a committed boys high school teacher on the Northern Beaches for 35 years and am now in retirement. I taught as a careers advisor, in design and technology as well as implementing a remedial learning program. I was also involved with Pathways, a program that brought Fathers and sons together to get a better understanding of this relationship. My wife and I have always been activists.
As president of Myocum-Tyagarah Progress Association near Byron Bay, we headed a successful campaign that stopped an international airport being built at Tyagarah. My wife and I were also involved in initiating the protection of the Warriewood escarpment and Ingleside when it was first threatened with overdevelopment in the late 90's. We have since been involved in many rallies and meetings. We currently belong to Avalon Preservation Association, Friends of Mona Vale and the newly formed Friends of Pittwater to protect our precious Pittwater area.
I have been forced out of retirement to stand as a candidate for local government as once again I am seeing developers hovering. Pittwater is such a beautiful place only because there has been a history of ongoing actions by our local community to preserve this pristine area over many years. We are now under threat from State government planning laws working for developers with the aim of forcing further population, hi-rise buildings and traffic density into our already full to capacity and congested environment. We have only one road in and one road out. Pittwater is a relaxation and rejuvenation destination for people from all over Sydney as well as International Tourists.
As residents we are the custodians of Pittwater and I believe we need to be constantly vigilant and knowledgeable of any developments that threaten this fragile environment. I believe that our community of residents knows what is best for our area and must have the final say in how the environment in which we live should be managed. There are many experienced, knowledgable and passionate people living in Pittwater who know best how to manage this pristine area. The State Government bureaucrats now dispensing planning laws designed to ensure our green spaces are filled up and profited from need to be disempowered. I want to make sure that as residents of Pittwater through our local government we have real and sincere consultation with the State Government about how our Pittwater is managed. I believe in sustainable development that enhances the life of all Pittwater residents and our visitors.
JENNY STONE
I have lived on the Northern Beaches for fifty seven years. For the last thirty years I have been a resident of Mona Vale.
I was educated at Narrabeen Girls High School, Sydney University and Sydney College of the Arts. I worked as a designer and art director in the publishing and advertising industries.
Over the years I have actively supported community groups such as Narrabeen Lagoon Committee, and more recently Friends of Mona Vale.
Concerned that the quality and character of life in Pittwater is now threatened by over-development. I seek to:
Limit building heights to no greater than four storeys in the

Pittwater Ward

Support the development of a community based alternative to

the Mona Vale "Place Plan"

Oppose any further development of Mona Vale Village Park,

Kitchener Park and other Crown Lands in Pittwater Ward

Support the campaign for the return of Pittwater Council

Reject any development in Pittwater's wildlife corridors,

including Bayview Golf Course

Support the retention of emergency, maternity and other

critical public facilities at Mona Vale Hospital

Support the campaign to re-establish Pittwater Council
I believe good councillors listen to and represent their community.
JOHN LETTOOF
I am sixty years of age. I have three daughters and two grand-sons. I've been a resident of Avalon for twenty-five years and of the Northern Beaches for thirty years. I am a graduate of Macquarie University with a degree in Education. I am an English high-school teacher with many years' commitment to my vocation, teacher-training and particularly, school-surfing. I have lectured at Sydney University.
I am a member of the NSW Teachers Federation and a life-member of the Manly-Warringah Teachers Association, having worked for many years as a Federation Representative at my school.
I trained and worked as a volunteer lifeguard at Bilgola SLSC. I am a member of Avalon Community Garden, a local voluntary organisation with a view to environmental sustainability.
My primary passion is the preservation of Pittwater's amenity against the potential rapacious ravages of unchecked, mass-scale, high-density development. I believe that with the collective wisdom and long-life experience of our local population, it is local representation that must be paramount in the policies and deliberations of our local council. Selfish, self-earning agenda must bow therefore to local concerns and consensus.