August 20 - 26, 2017: Issue 326

Mermaids

Of Palm Beach Pictures From The 2017 Variety The Children's Charity B To B
Beryl Driver and Elyse Cole have returned to Pittwater after this year's Variety the Children's Charity B to B Bash -
Viktorija is flying in from Darwin as this goes to press.
Viktorija McDonell has once again shared some great pictures from the road this year showing not only the long and winding road the Mermaids of Palm Beach have taken but also what Australia is like outside of where we live. Beautiful scenes of people and places captured by this devotee of children are why we share this page with our younger readership. Thank you Viktorija!
Just while we can sneak this out before the lady
McDonell spots it,
Viktorija McDonell is associated with the
Mermaids biggest supporter each year - she is Coordinator of Rehabilitation Cochlear Ltd. Eastern and Central Europe and is also involved in the development of Cochlear new rehabilitation resources, working as a consultant to Andrew Kendrick, the Cochlear Global Rehabilitation Manager in the Cochlear Head Office in Sydney. Professionally as a Teacher of the Deaf, Viktorija was Coordinator of Pediatric Habilitation in Cochlear Asia Pacific from 2000 – 2006.
This story goes back further than the present though - a testimony by her daughter:
'When I was 4 years old, I became profoundly deaf after contracting bacterial meningitis. 30 years ago today, I became the world's first commercial paediatric recipient of the Cochlear implant, the Australian technology invented by Professor Graeme Clark, with my surgery done by Professor Bill Gibson.
There are now hundreds of thousands of people worldwide who have benefited from this incredible technology. It is still extraordinary to me, even after so many years, that a profoundly deaf person like me can hear with the Cochlear implant, and I am forever grateful for this. I am so lucky to have had 30 amazing years (so far) of hearing with the Cochlear implant and I can only continue to offer my profound thanks to all those involved in my hearing journey. In particular, thank you to Professor Graeme Clark and others involved in the invention and development of the Cochlear implant including Jim Patrick, to Prof. Bill Gibson and the Sydney Children's Cochlear Implant Centre, and to Cochlear Limited which has become one of the most loved Australian companies and has been with me every step of the way as they continue to evolve the technology.
And thank you to my parents, to Viktorija McDonell, for having the foresight to make the decision to take a risk in the early days of the Cochlear implant, when everything was new and unknown, so her daughter could have a chance to live a hearing life. That was easily the best decision you ever made!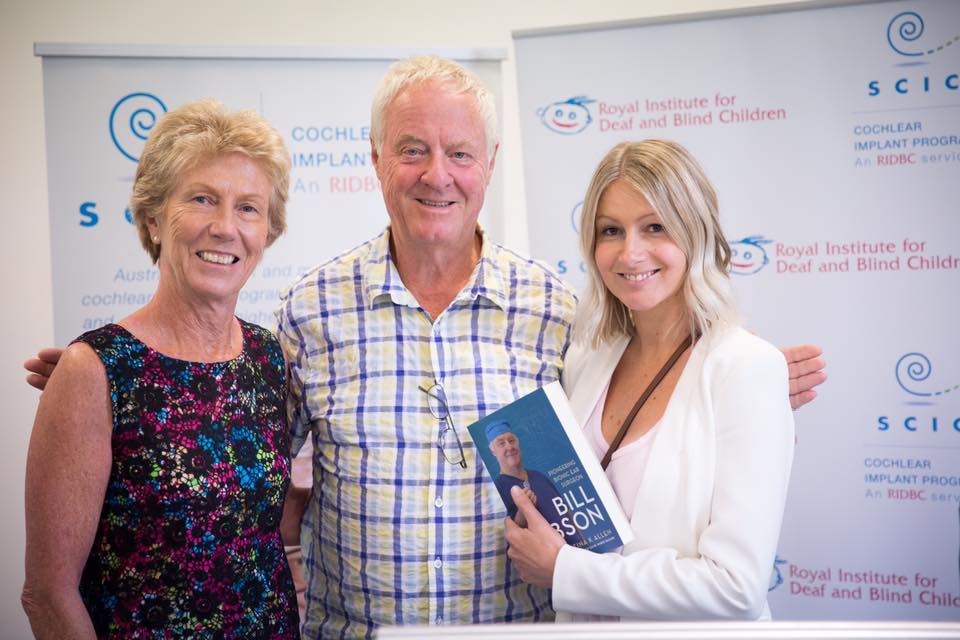 Viktorija McDonell,
Prof. Bill Gibson and Holy Taylor (photo pinched from Holly)
That was June 1987. That gives you a small insight into why this lady is so passionate about the children she meets along the way - especially one she caught up with this year.
When we spoke to Beryl Driver on Saturday, August 19th, the lady described the 2017 Variety the Children's Charity Bash, a mere
4871 kilometre journey in 11 days, as
;
"Long dusty days – the roads were very challenging."
On the many outfits the Mermaids donned this year… did they have a support car following them with their wardrobe?
"No, but the car was packed to the 'gills' – or rear mudflaps, whichever tail you prefer." and laughs.
What were the highlights for you this year Beryl?
"So many – a special one would be the disabled school we visited, just the best place, an outstanding school where most of the children are in wheelchairs or use walking frames. Variety had arranged for us to be there when what they had requested, these new type of bubblers (drinking fountains) in these great bright colours, were to be used for the first time. A local gentleman had installed them, for nix I might add.
We got to see them working. They are set up especially so the kids in wheelchairs can go under where the water comes out – the other type of bubbler people will know you need to lean over, but these are catered for these youngsters.
The delight and joy on their faces when they used them was just wonderful. That's what Variety does.
The school at Katherine was great, as was that on a property called Newcastle Waters Station – a very very big place.
Newcastle Waters Station is located about 777 kilometres (483 mi) north of Alice Springs and 705 kilometres (438 mi) south of Darwin in the Northern Territory. The nearest settlement is Elliot which is approximately 24 kilometres (15 mi) south east of the station. the Station occupies an area of 10,353 square kilometres (3,997 sq mi) of open plains, floodplain and wooded sandhills.
Super Hubert put on a wonderful magic show for the kids there, he had them in stiches. In fact, he had us all in stiches every time he entertained the children. We watch him every day during these trips and are still amazed – 'how does he do that?' we ask each other. He's always funny and kids just love it.
Every year we have a colour day – last year was purple but this year was Pink Day. this year we had Pink Day to honour Gordon Cooper, a gentle quit et man and one of our Bashers who was killed crossing the road just three weeks prior to this years Bash. He was only 66.
Pink was his favourite colour – and lycra! He used to come out in these terrible pink lycra costumes each year.
Everybody wore pink to honour him. All the men dressed up in their very best pink gear and there was lycra everywhere. Gordon's wife Kate flew up to Katherine, she had got three other boys to go ahead and take the car again this year, and we had a party for Gordon in the middle of nowhere at this broken down old hotel. We played cricket, danced – everybody made a huge effort this year for Gordon and for Kate.
The standout for me though was seeing Elyse Cole walk up on stage at the end of this years Bash and get her 10 year certificate.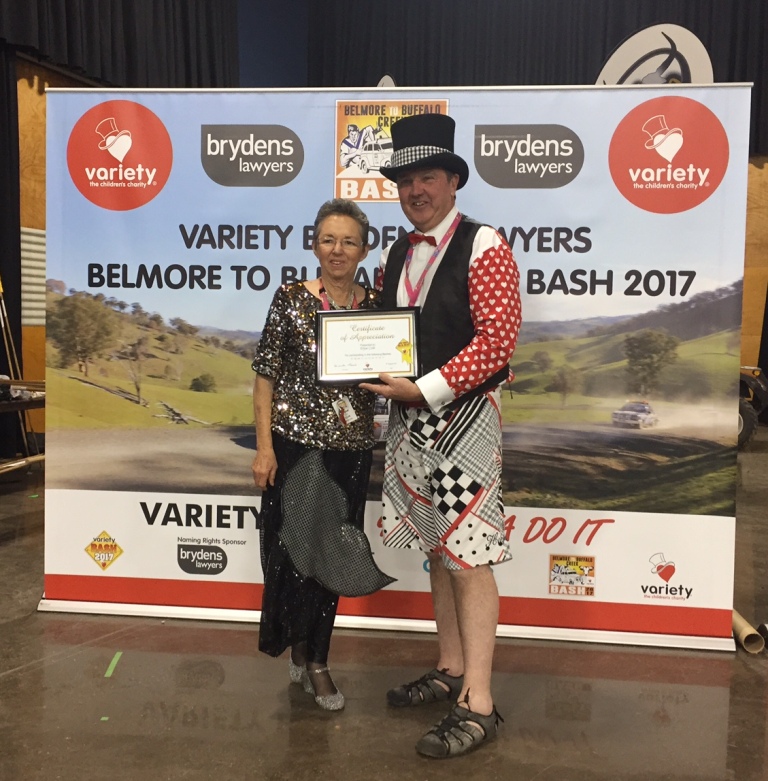 Elyse receiving her 10 Years Bash Certificate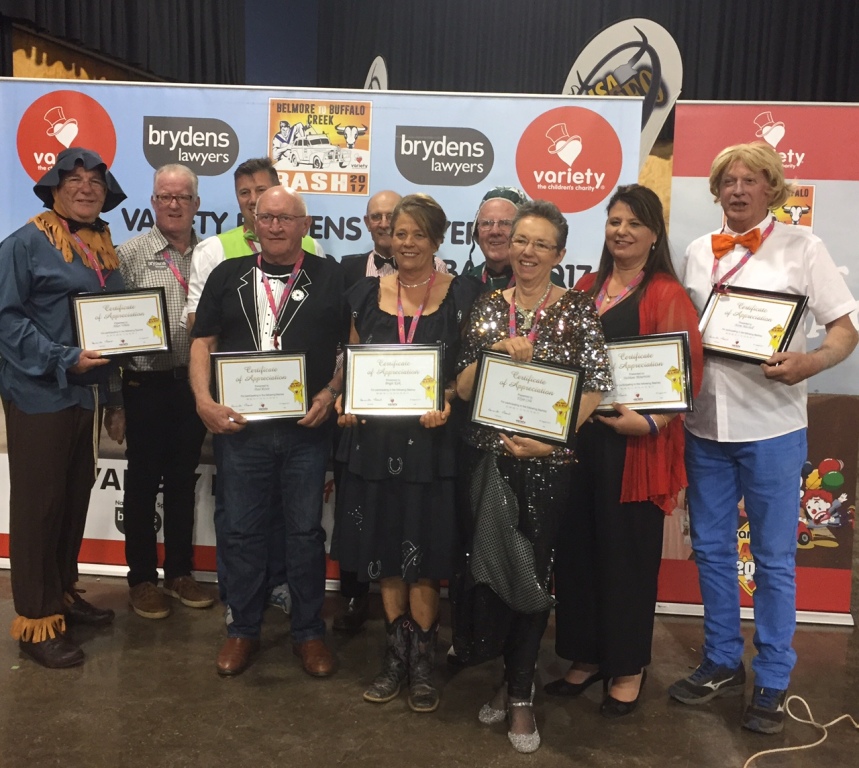 All recipients of 10 Year Bash Certificate in 2017
Elyse has battled cancer recently, and is recovering – we hope she stays cancer free. Seeing her be presented with her 10 Year Bash participant accreditation was it for me – and for Viktorija. After all this lady has been through in the past year or so, and how she has kept going with such kindness and grace, that was it – the standout, for me.
So, are you going again next year Beryl?
Of course! It will be my 20th Bash and I can't wait. Yes, I'm definitely going again next year.
Day 1.
Leaving from St Mary's, Sydney.
Beautiful send off by the Indigenous Choir.
First stop Wellington for lunch.
Then onward through rain and a sunshiny sunset to Bourke.
718kms done!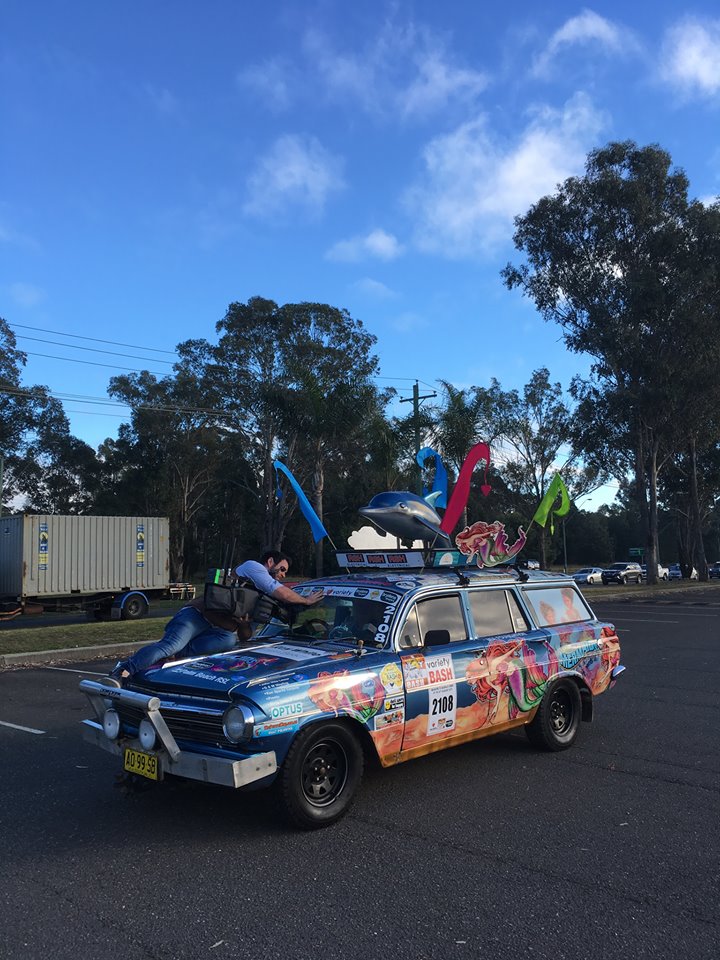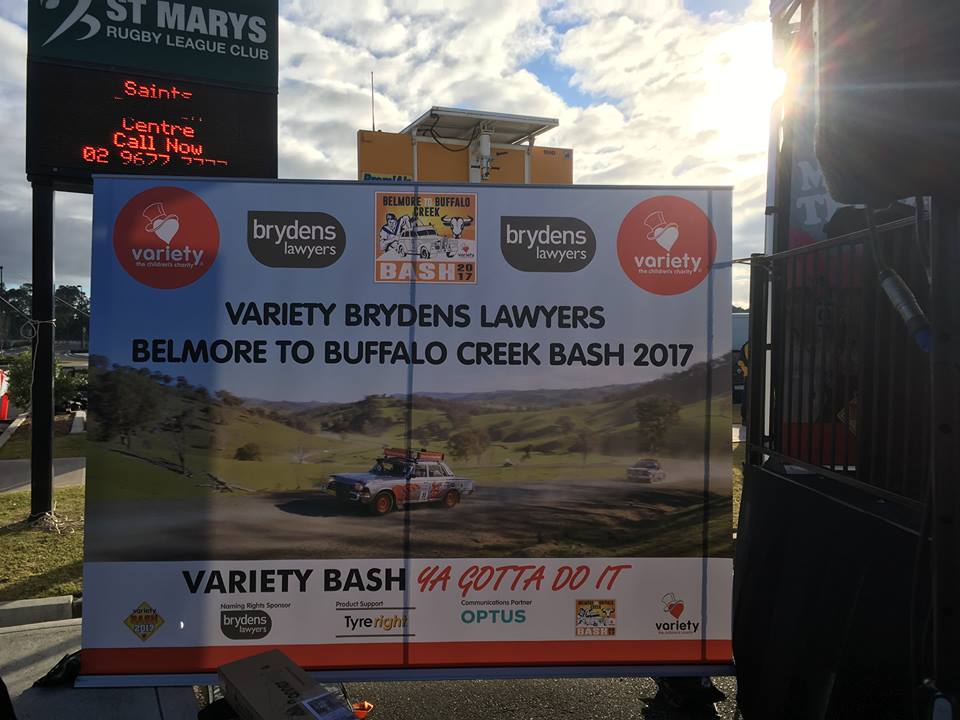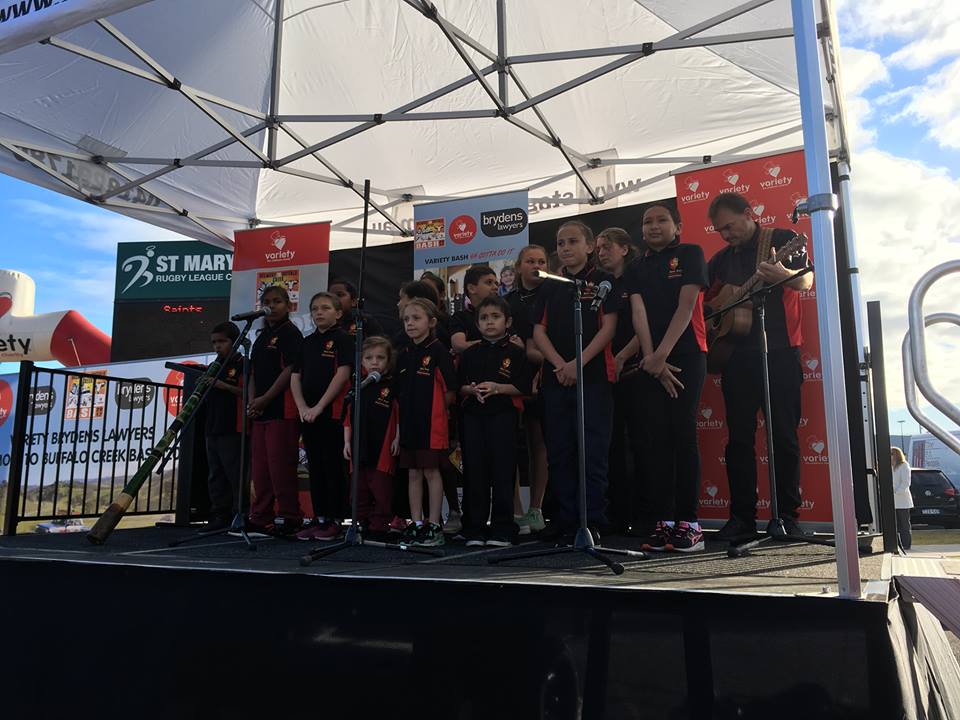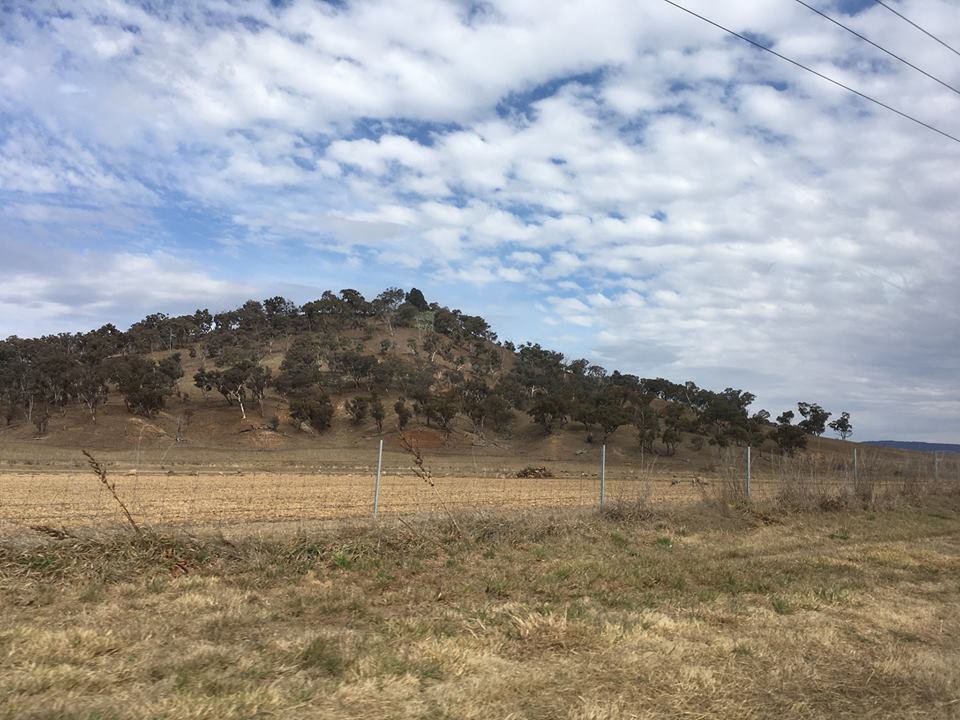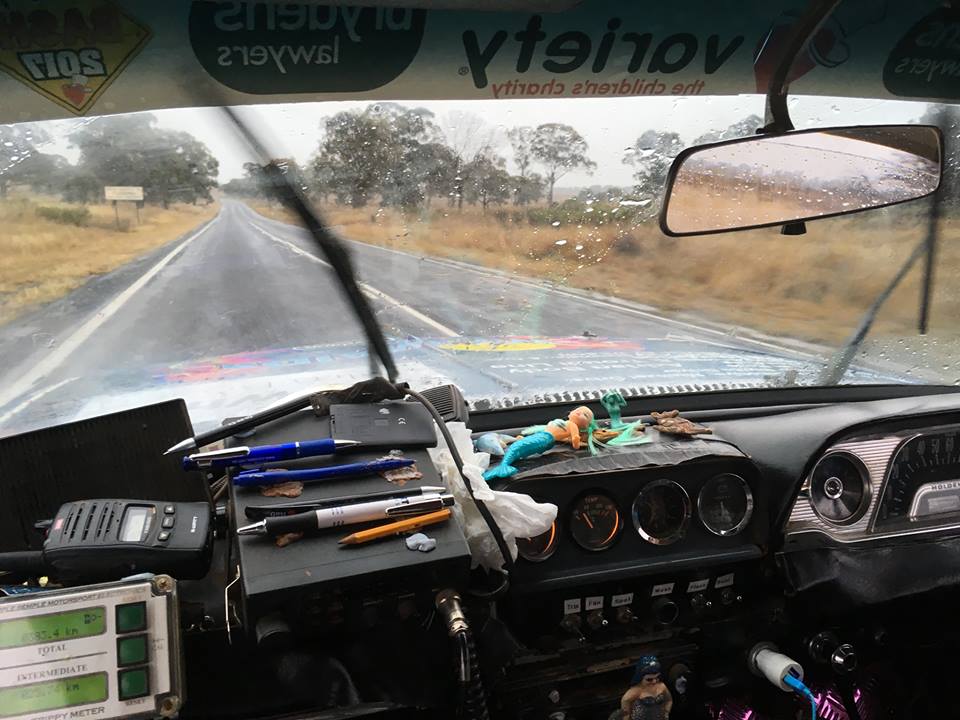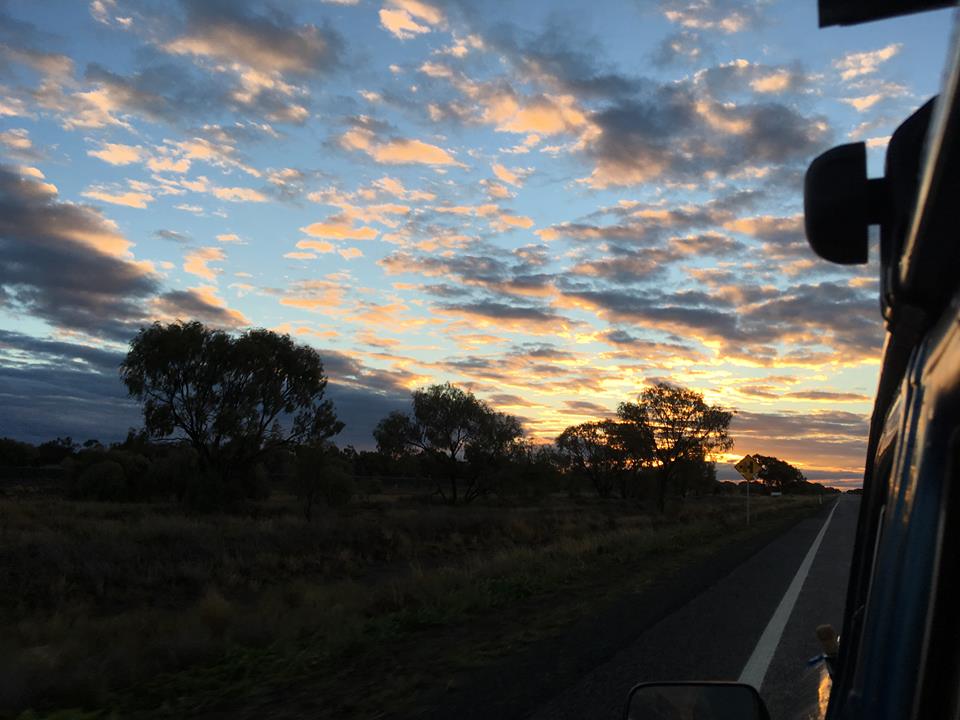 Day 2.
St Ignatius school at Bourke for breakfast, ready for tennis. Lots of happy kids and Bashers but Mermaid car having a few problems.
Late start but lots of help from MW4 .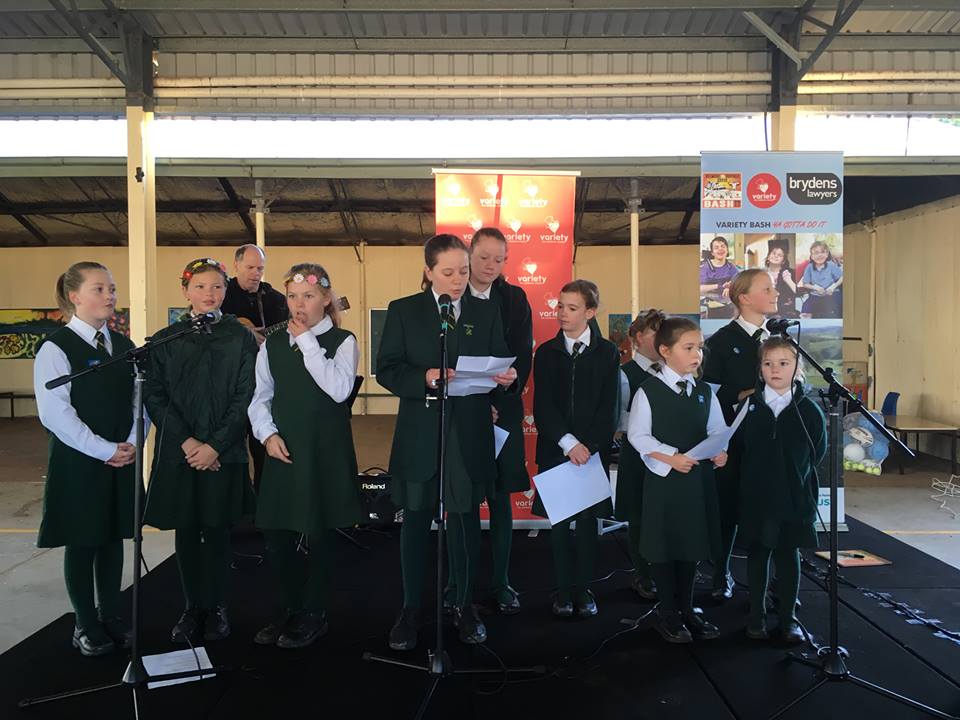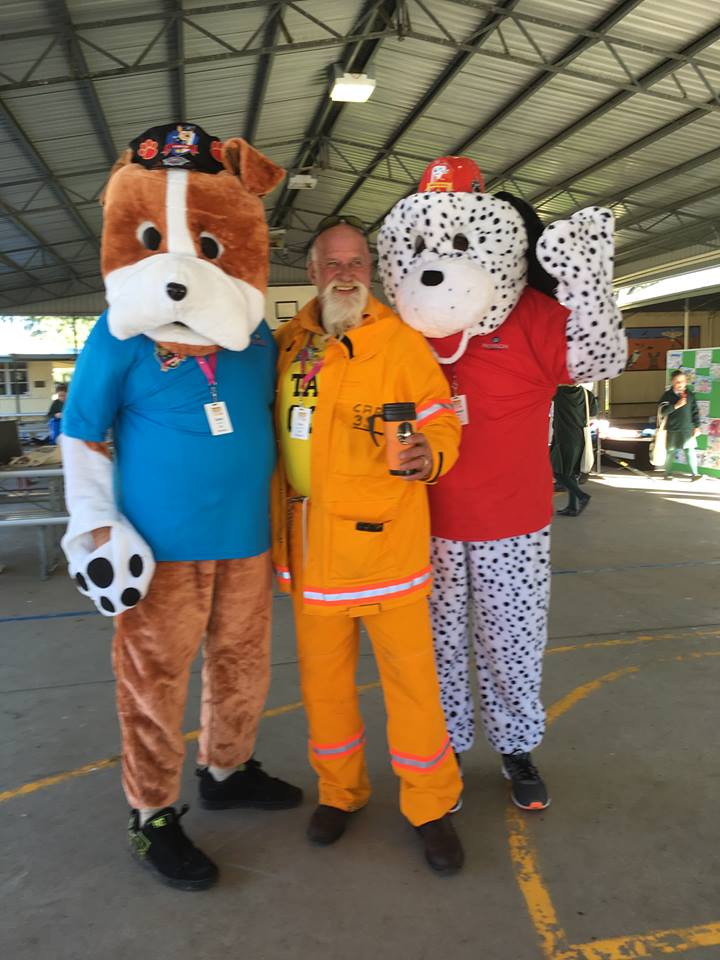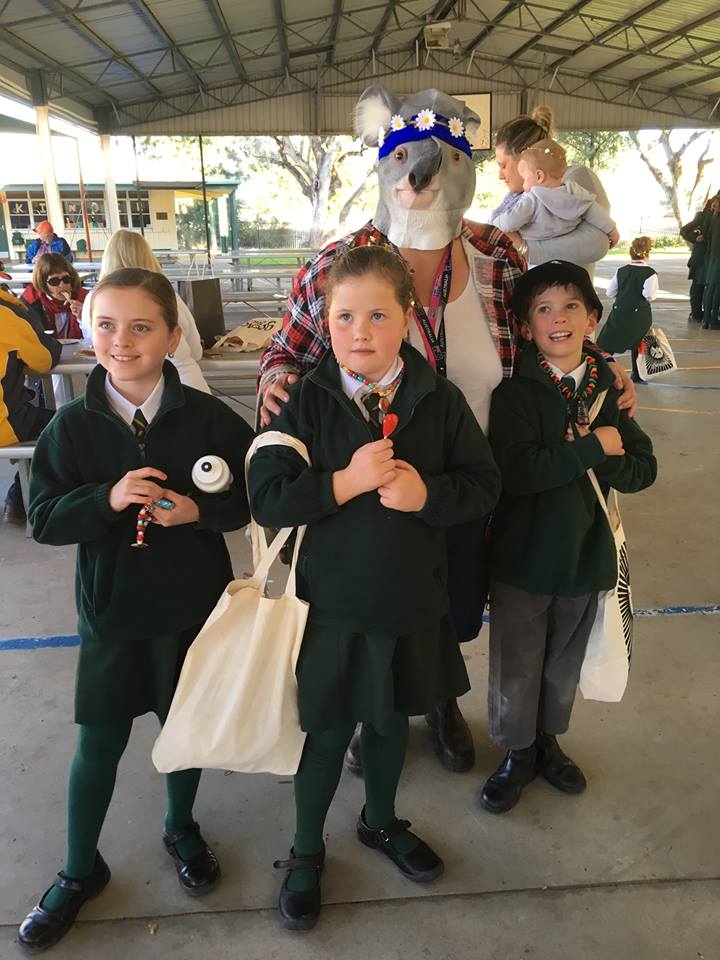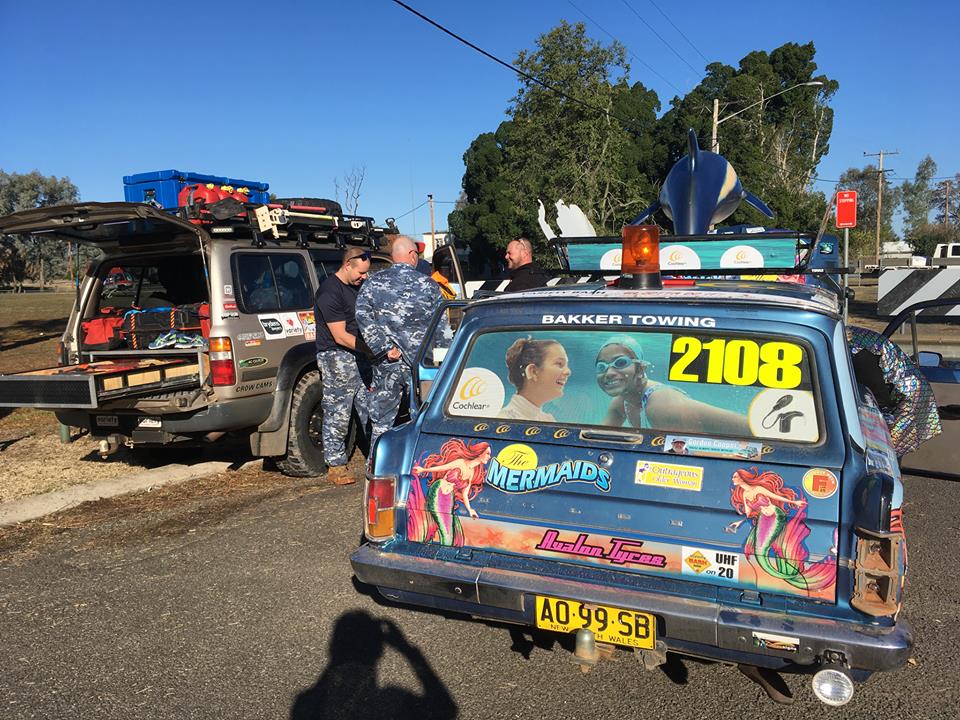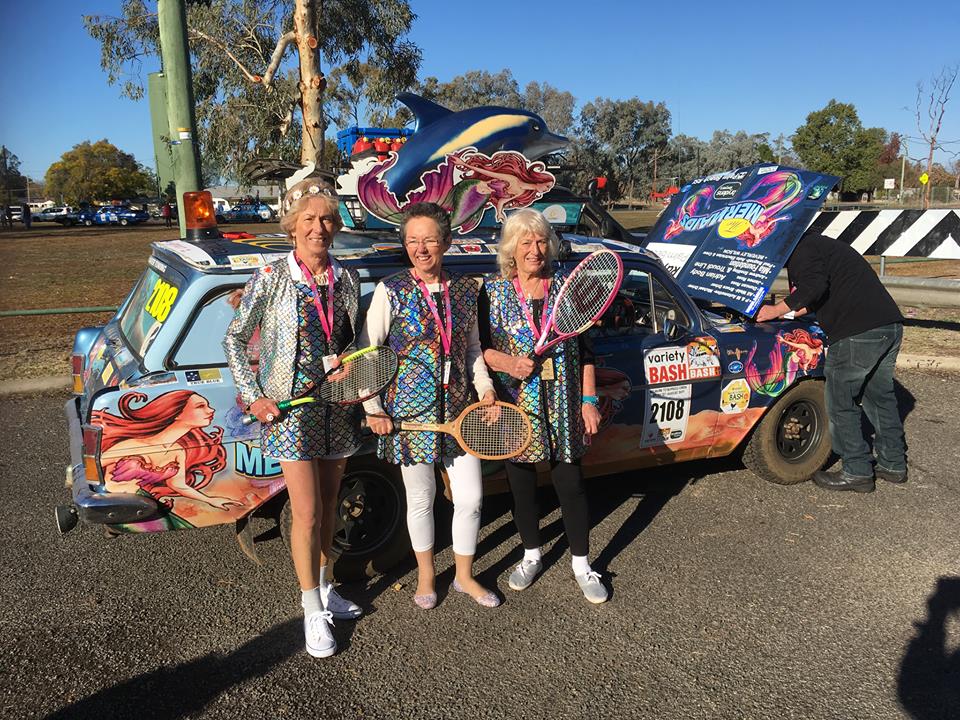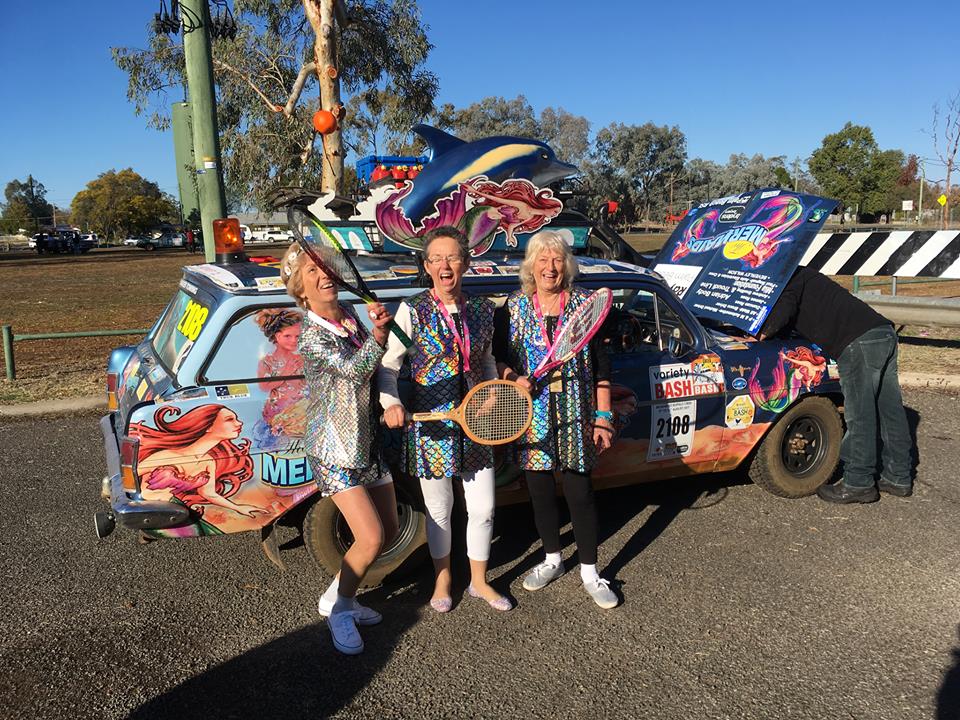 Day 2 Tennis Mermaids in action.

Day 3.
Leaving Thargomindah.
Thanks to policeman Vaughan and his lovely family for hosting us.
Then on to Quilpie, Adavale for lunch and finishing in Blackall for the annual Blackall Billycart race.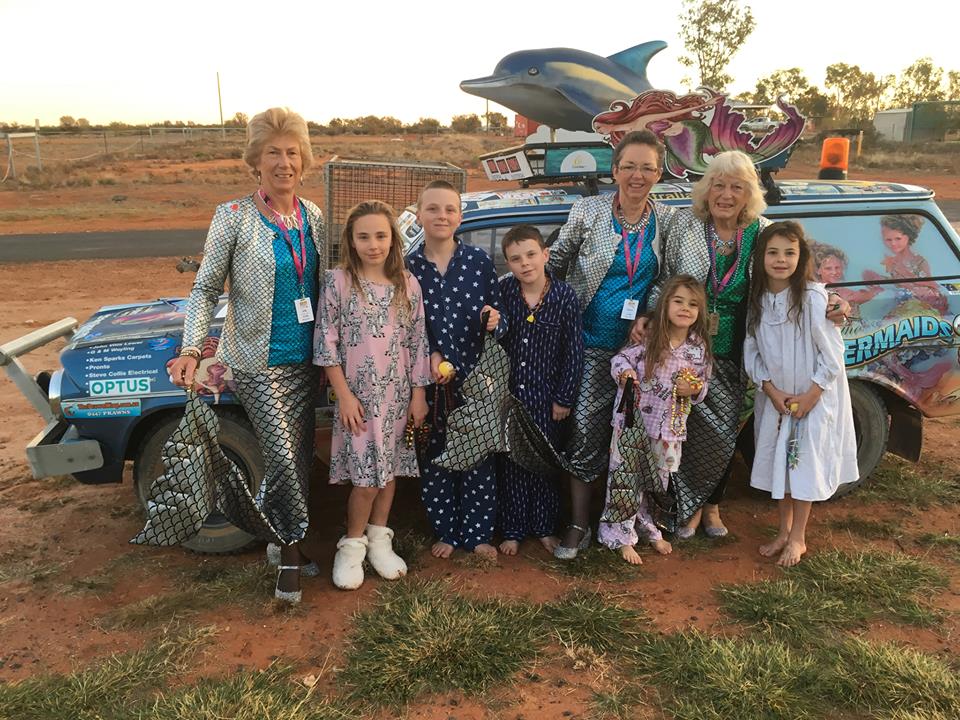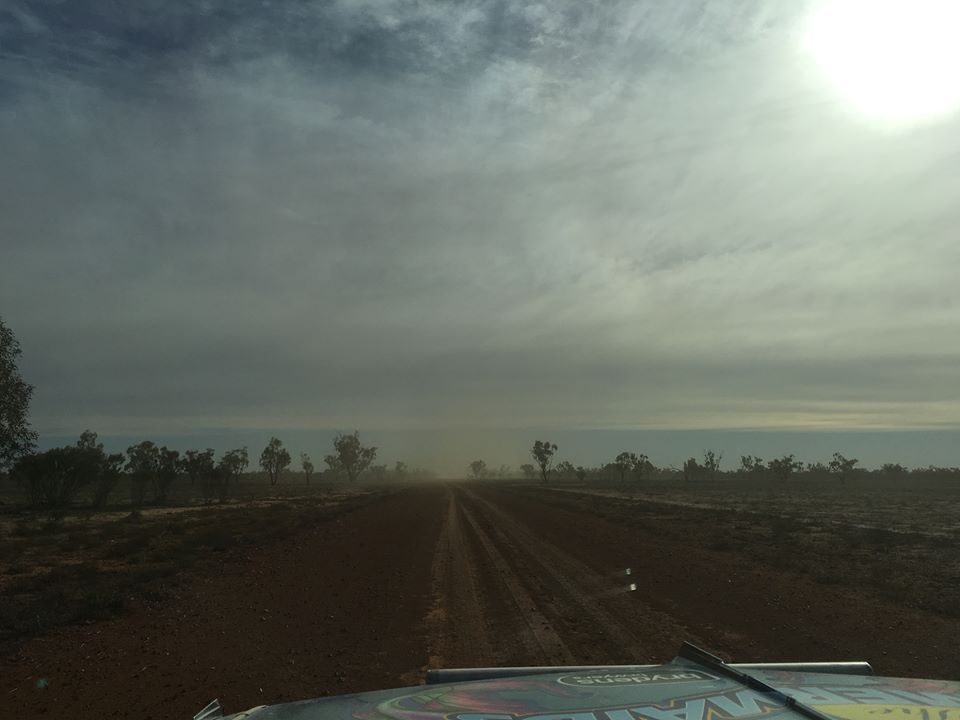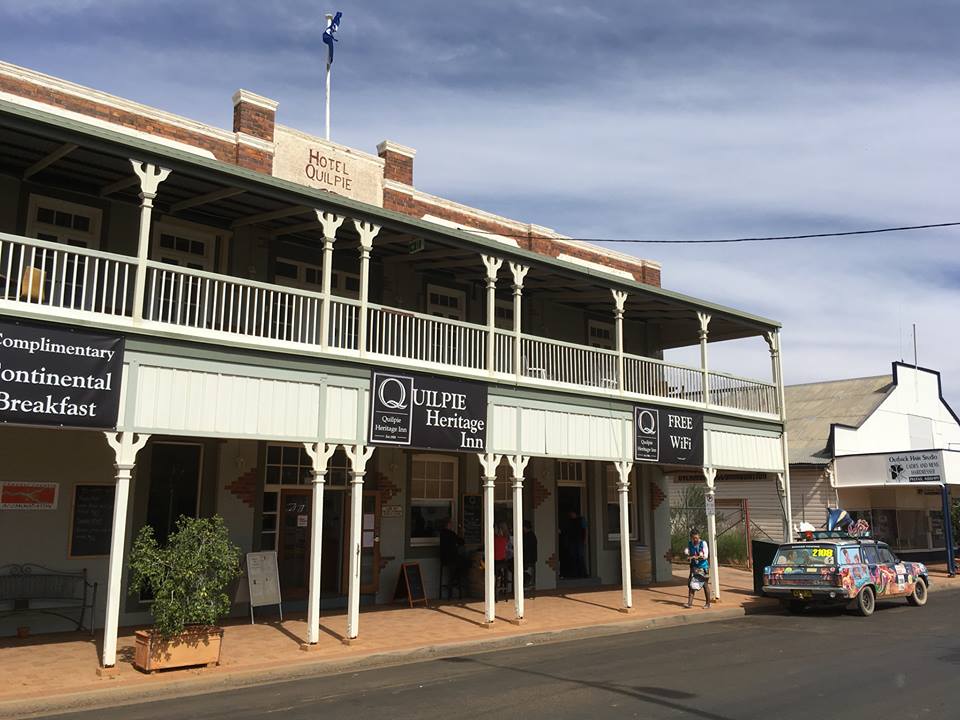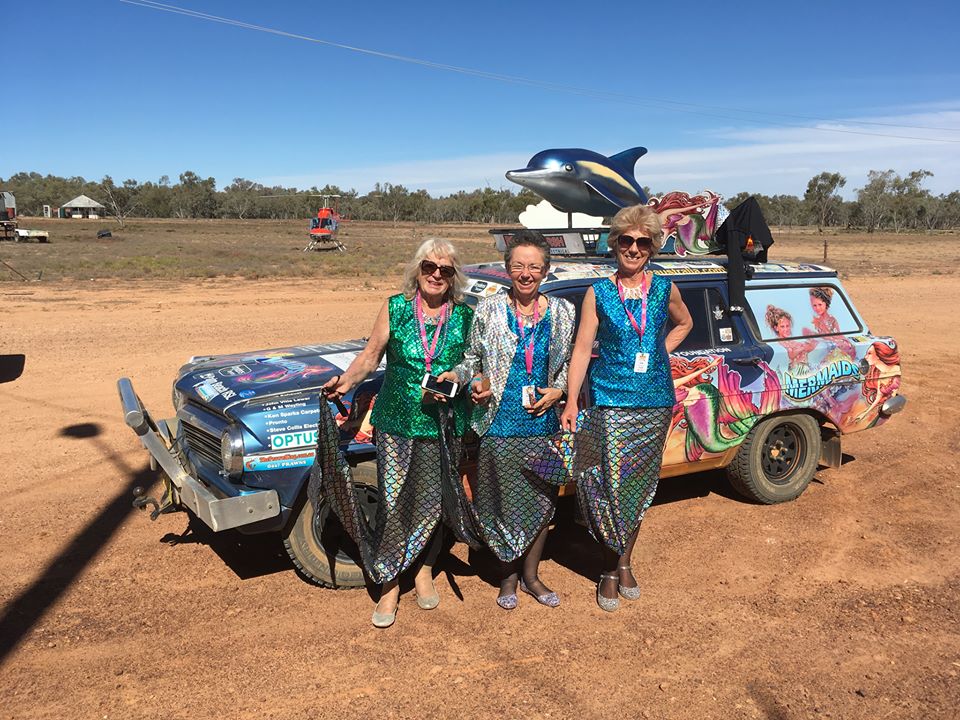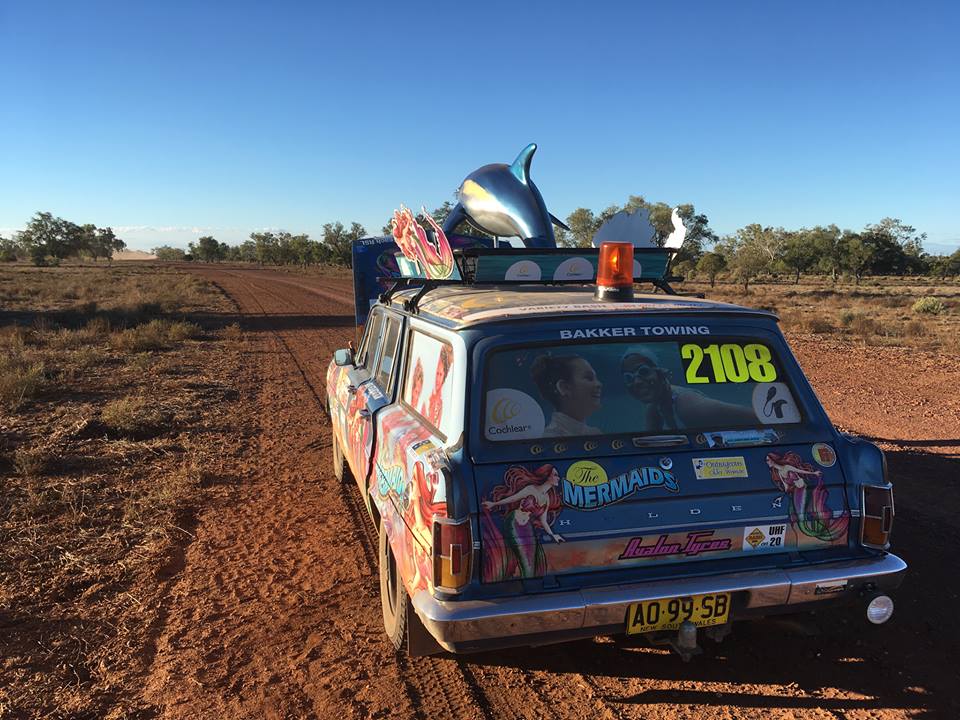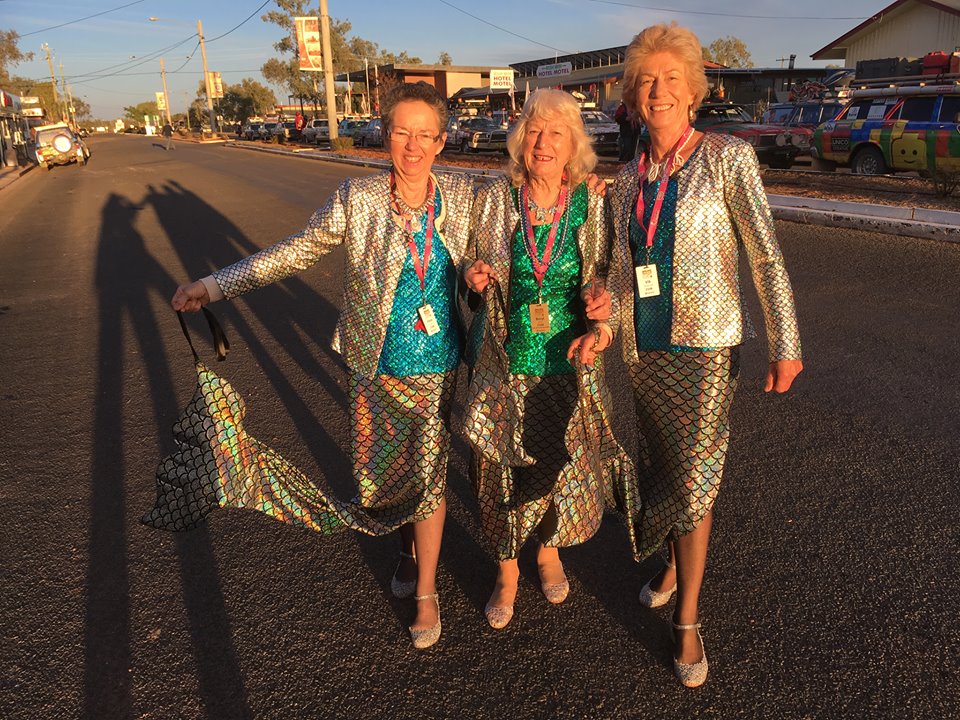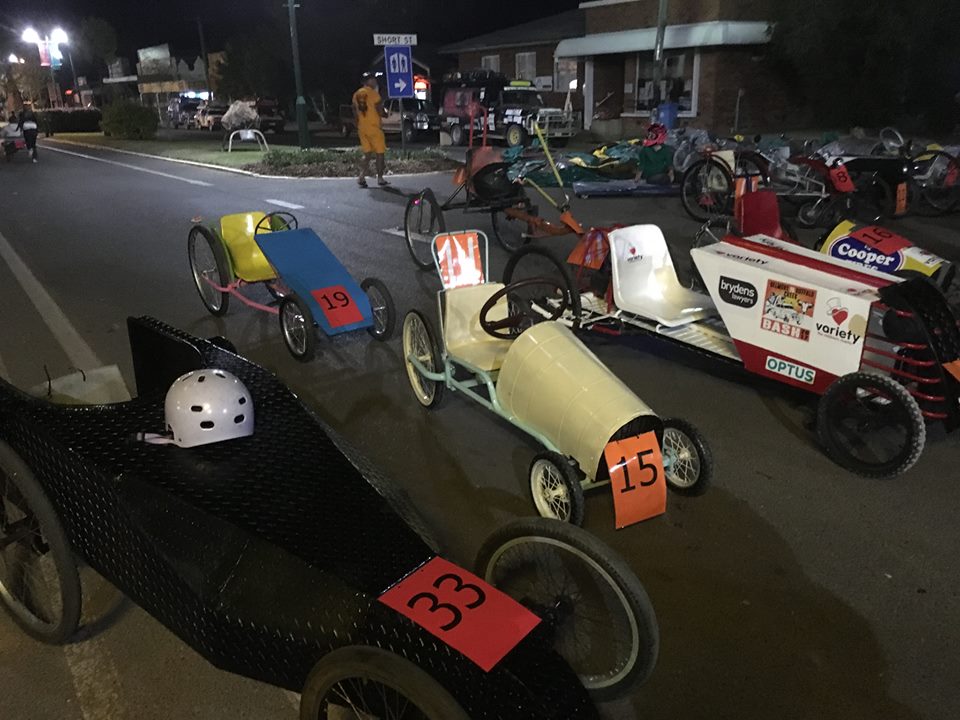 Day 4.
Breakfast at St Joseph's school in Blackall with Macca.
A very dusty day driving to Winton via Isisford, Quilpie and Stonehenge.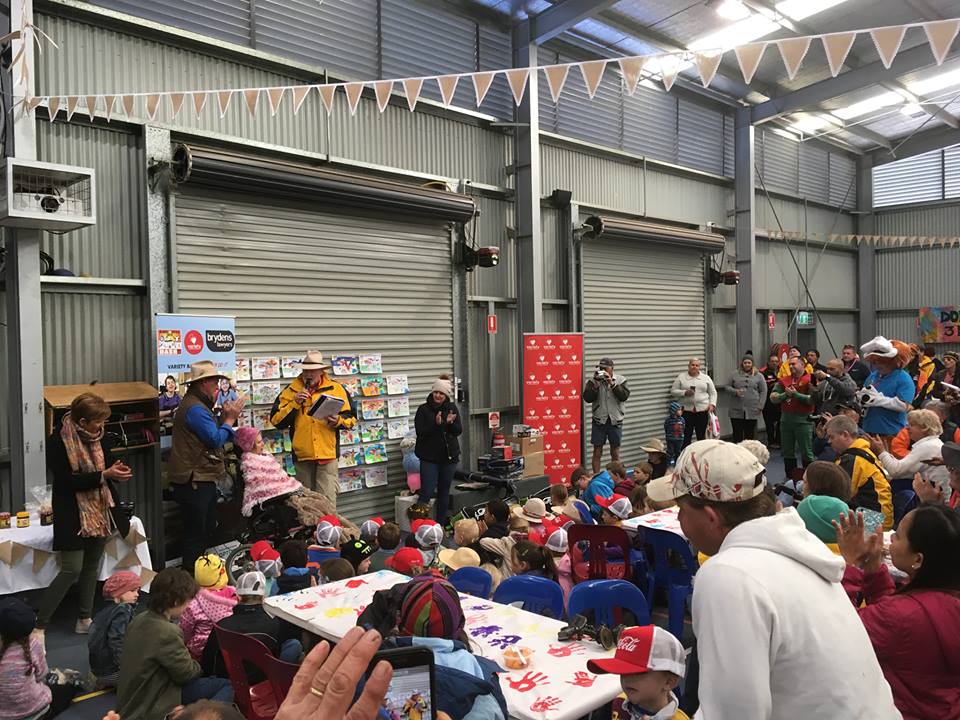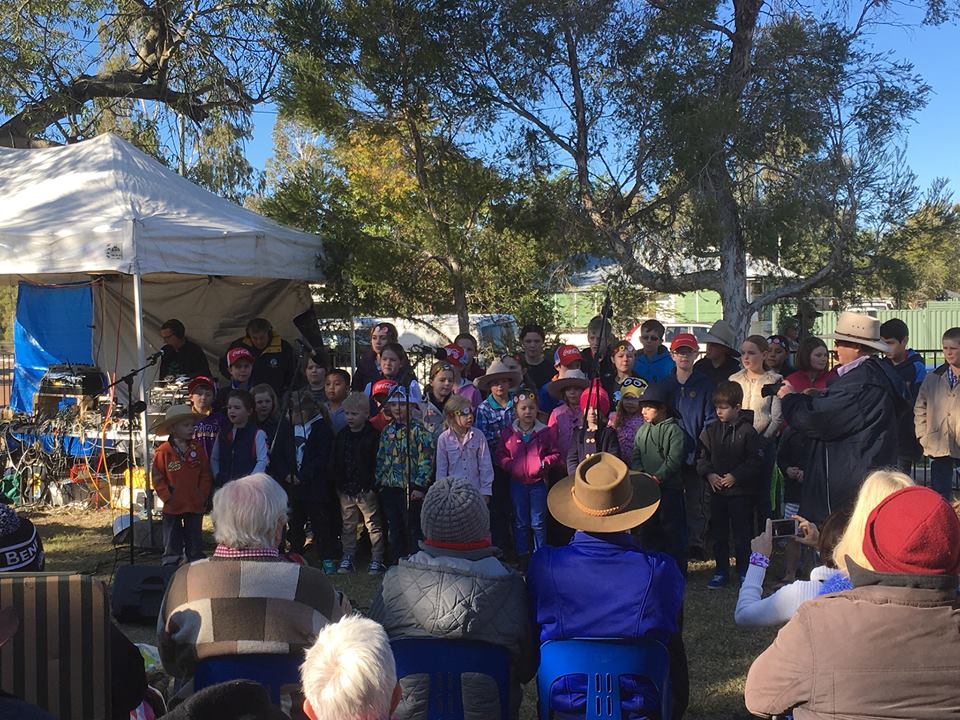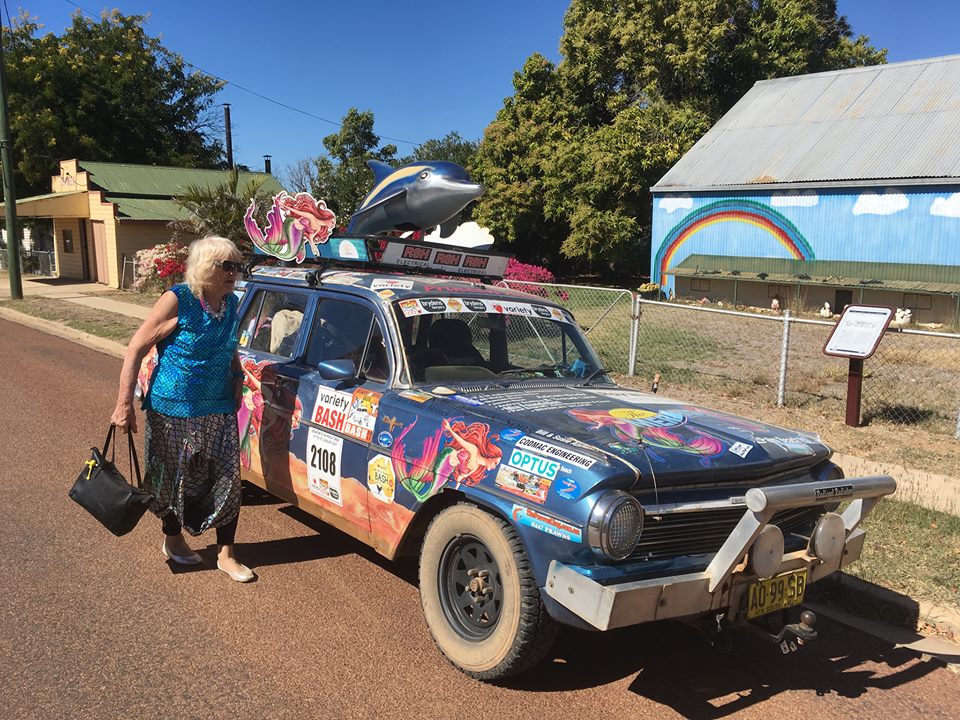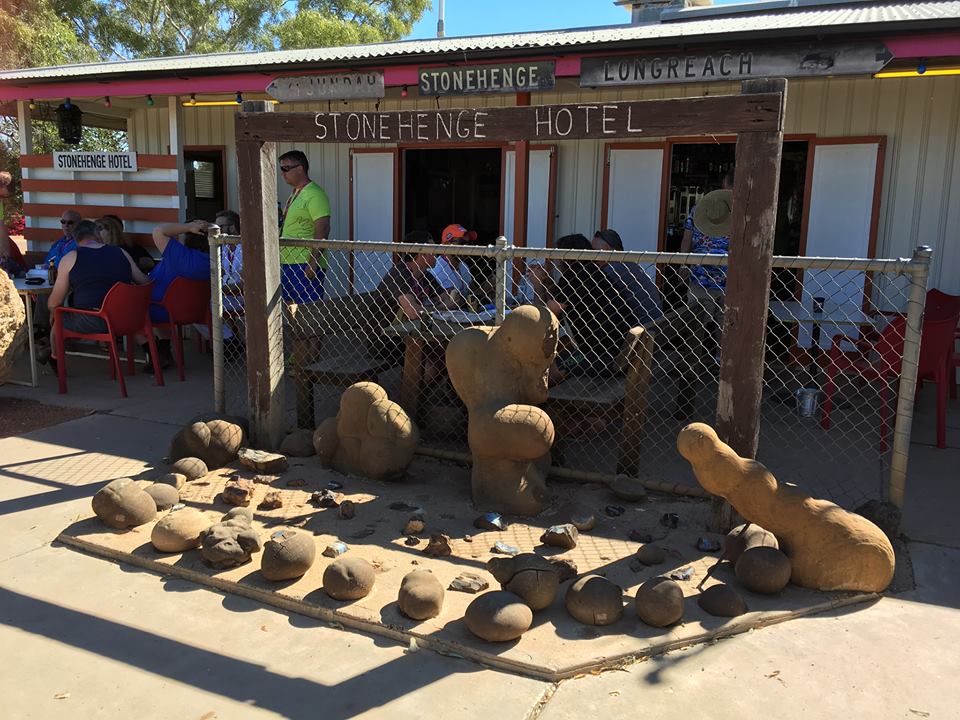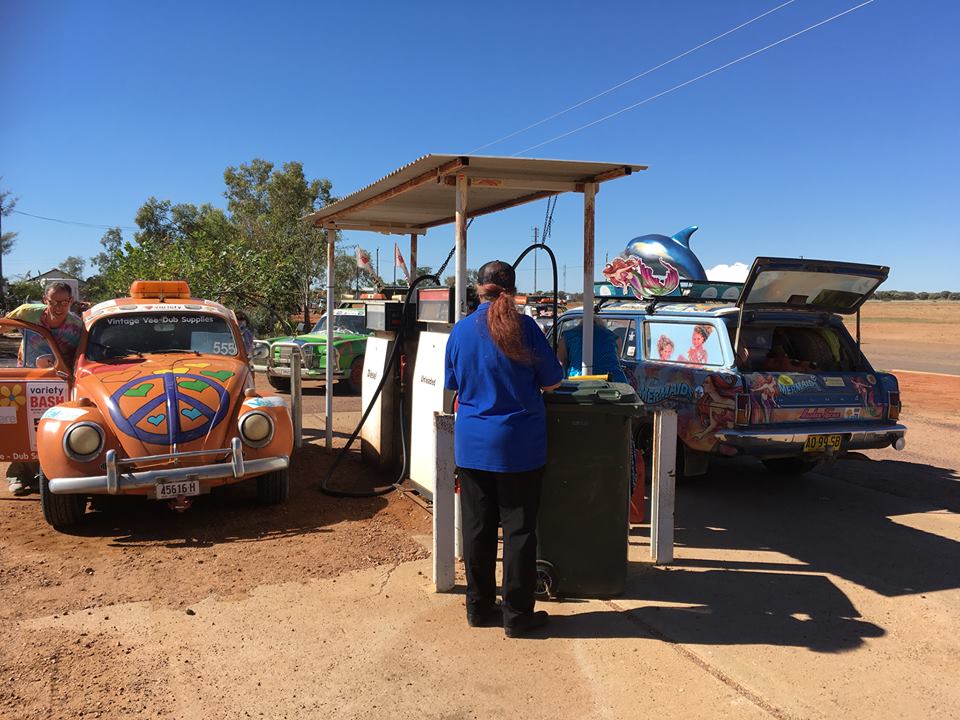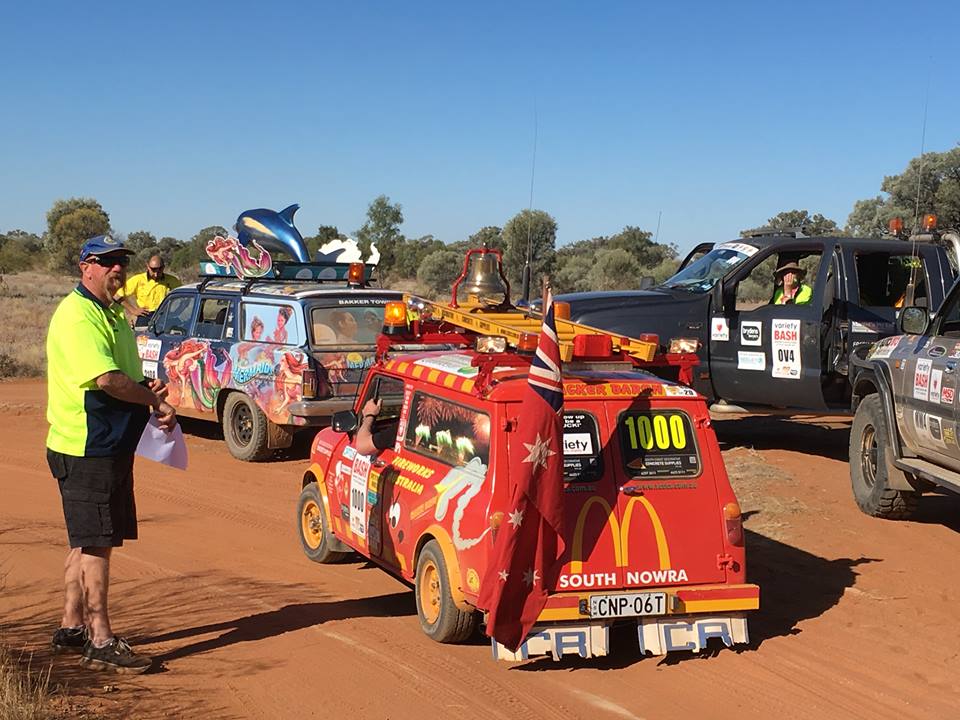 Evan MW4 tightening up the Mermaid car bash plate. Thank you for stopping one rattle!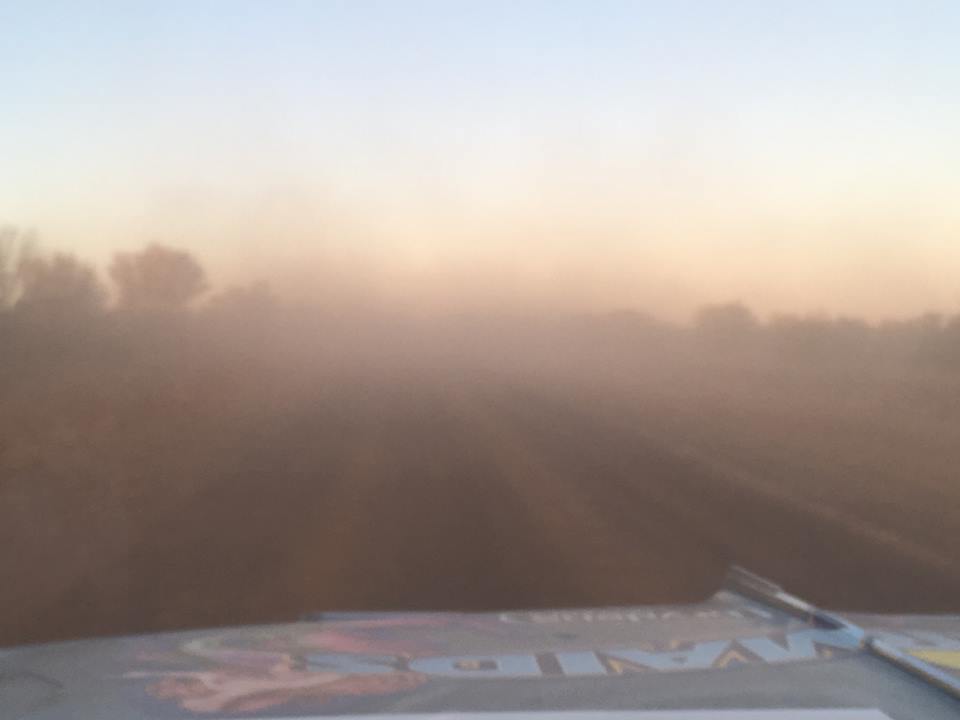 Day 5.
From Breakfast at Winton State school to Mt Isa with a great morning coffee and Bloody Mary stop thanks to K9 and NZ2.
Then fuel and pub stop at Middleton followed by lots of red dirt until Jack's part stop! Hurray!
Time for a dacquiri before last 20km into Mt Isa.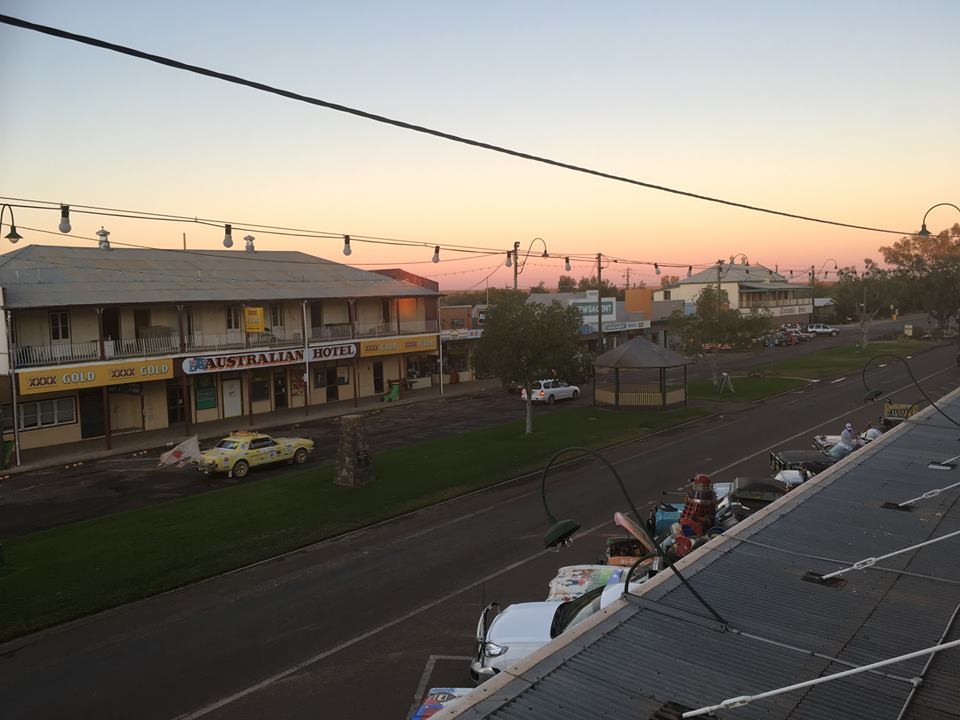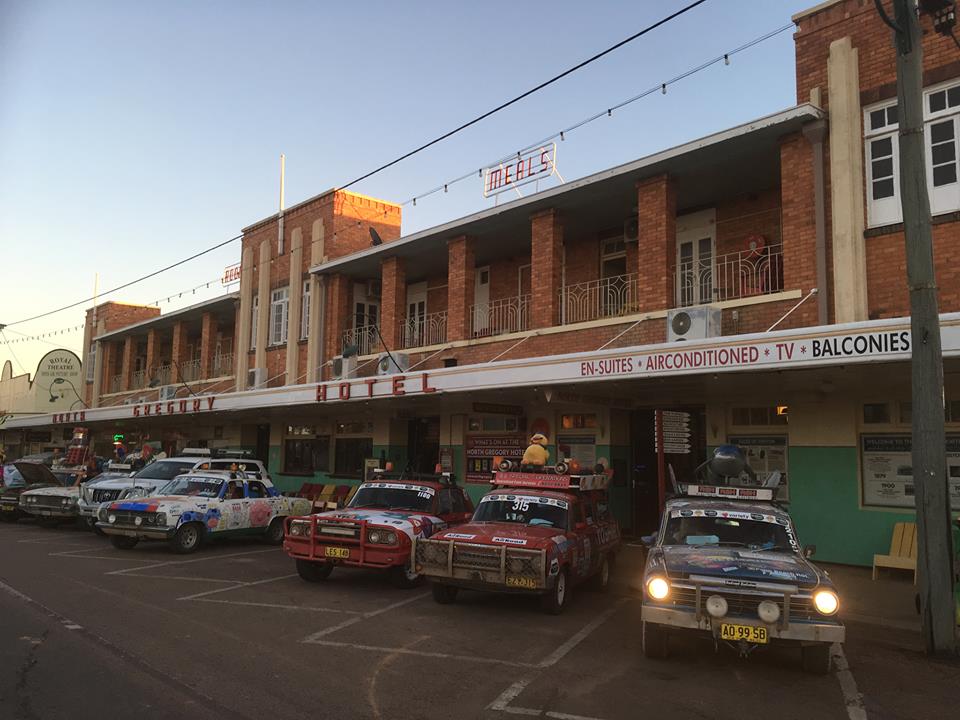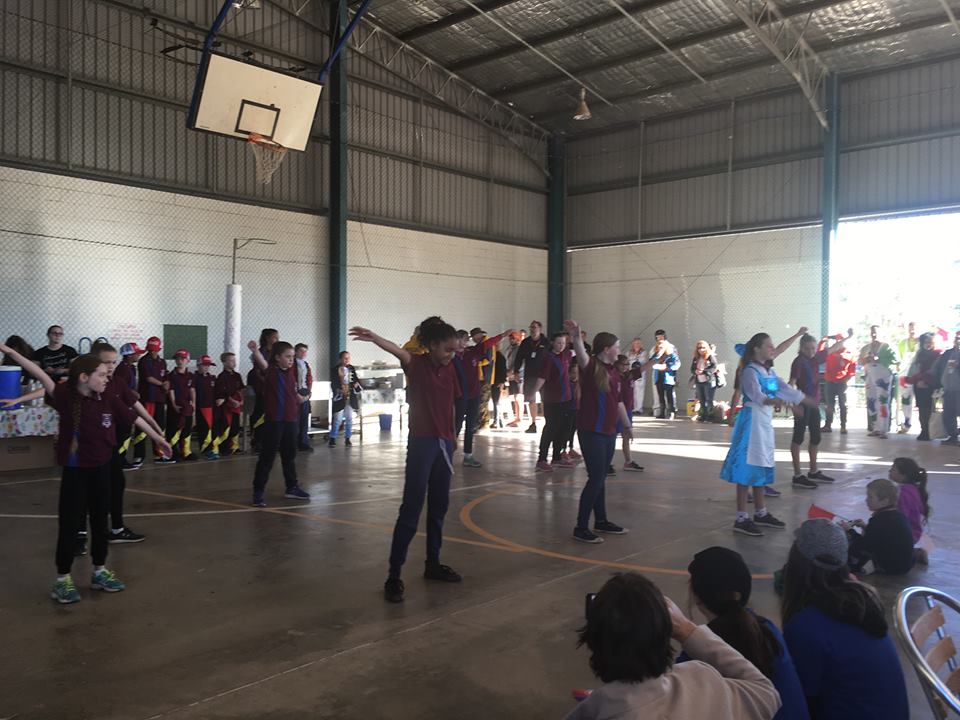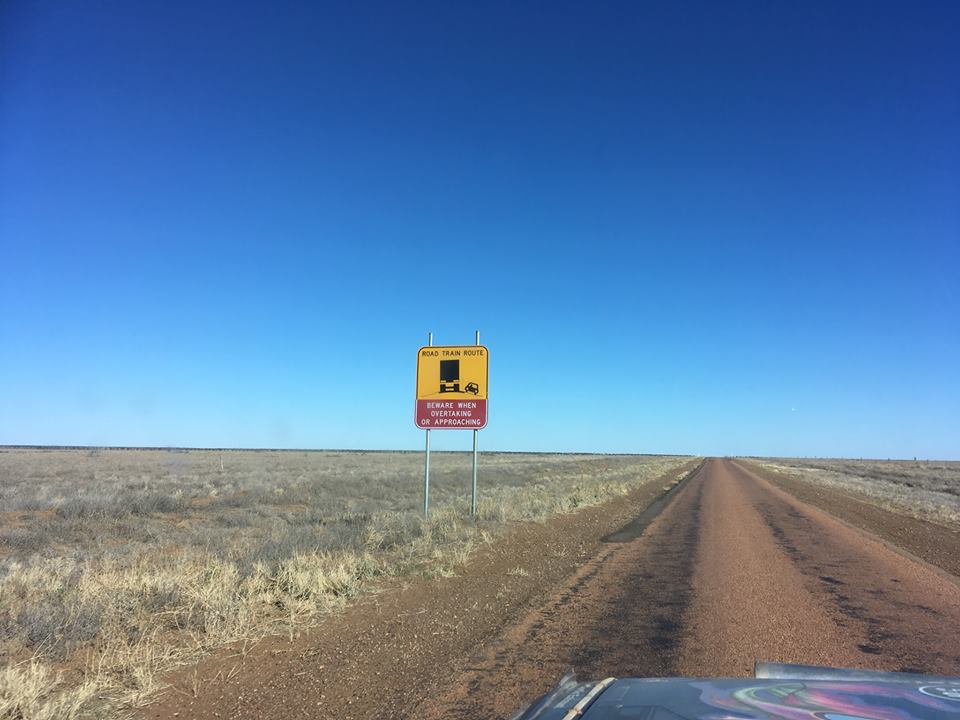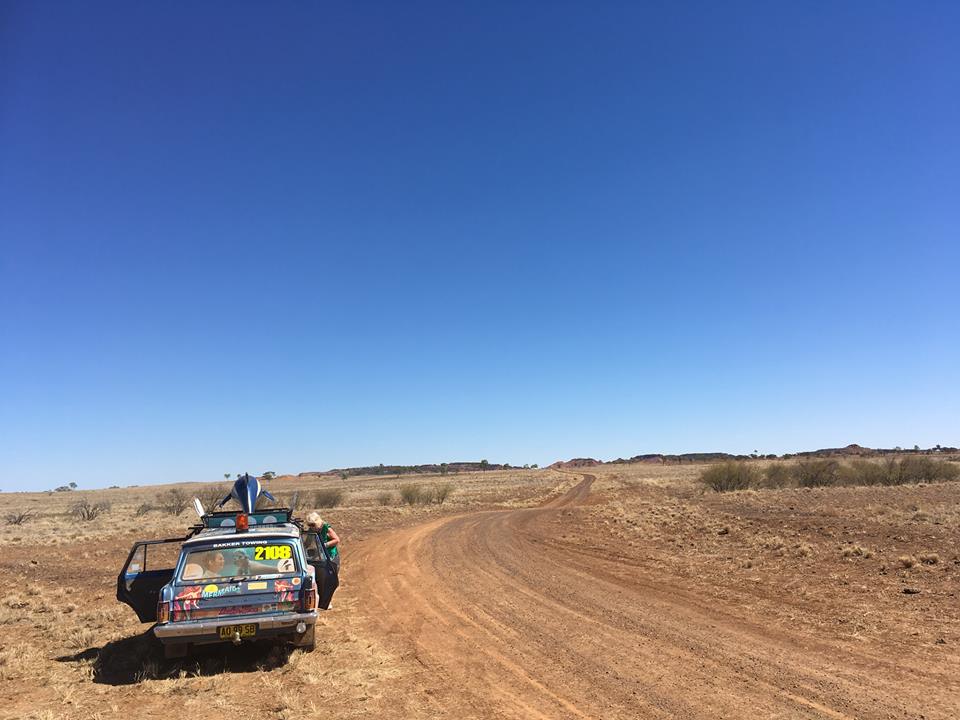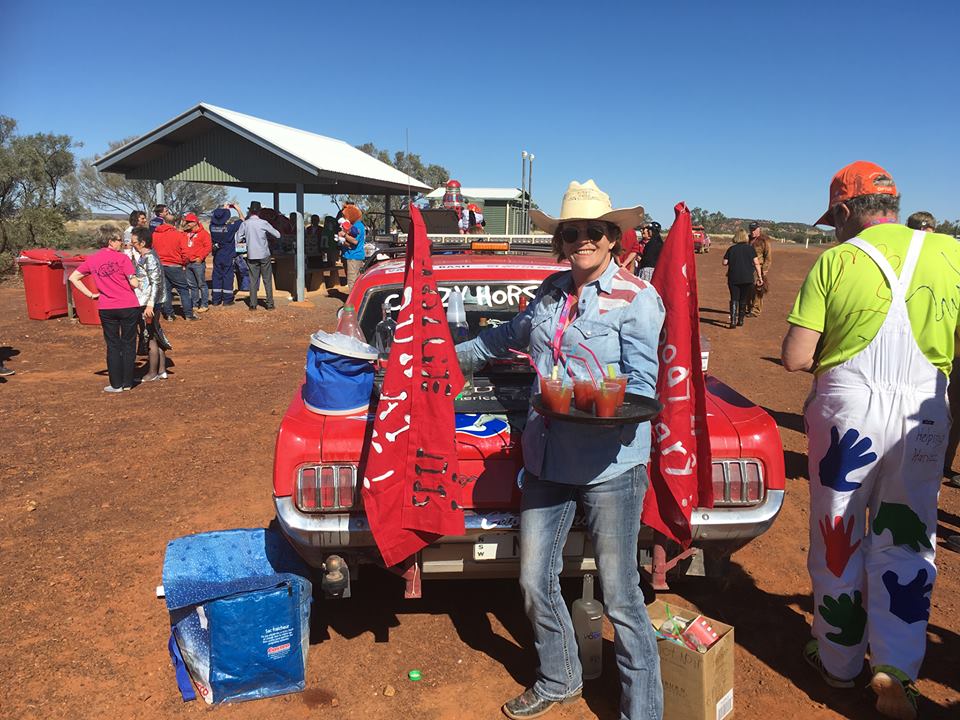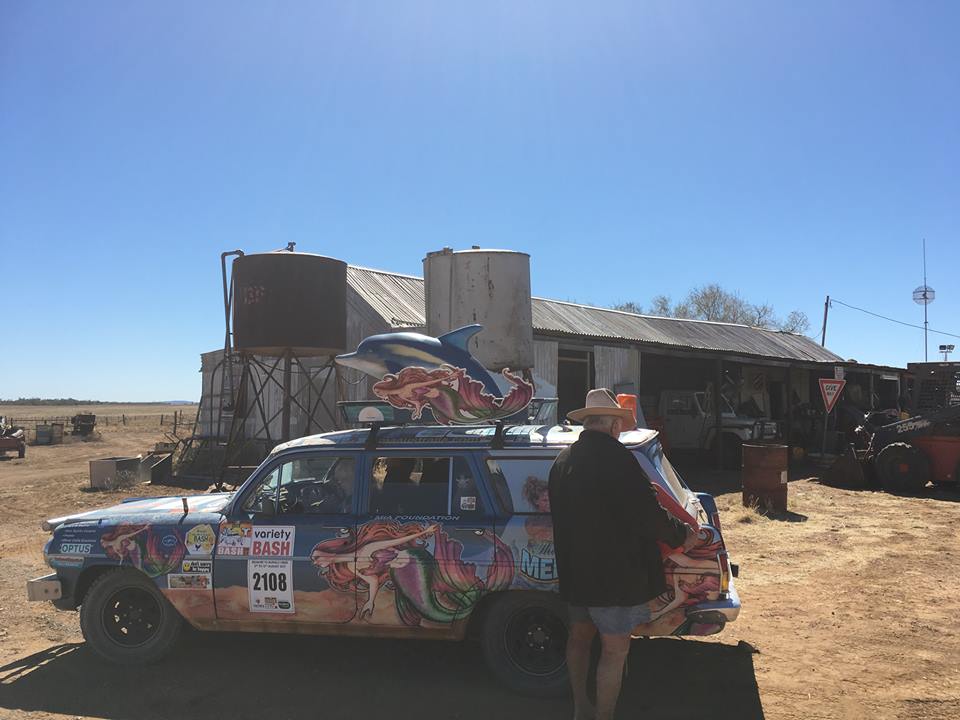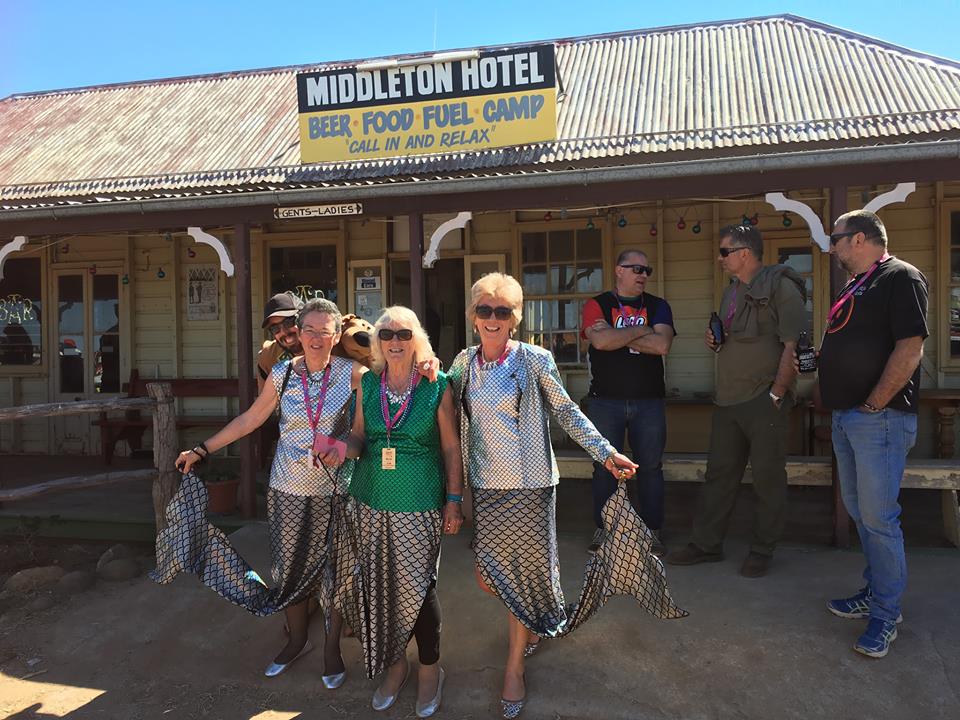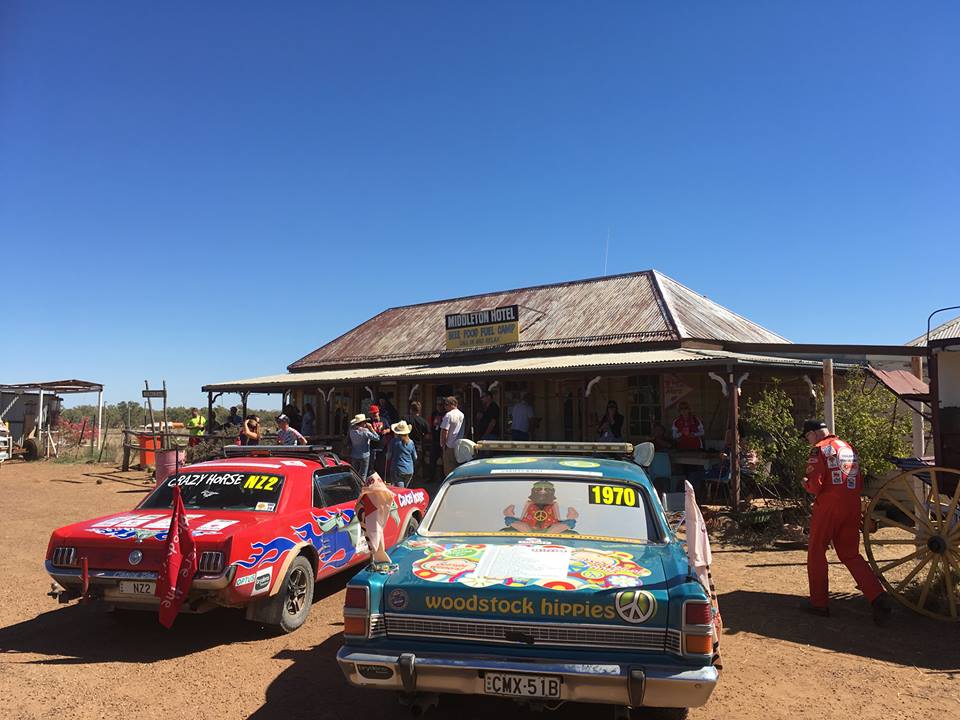 NZ2 and Hippies at Middleton pub in the middle of somewhere QLD.
Basher fun and chaos at the Black Tie dinner in Mt Isa.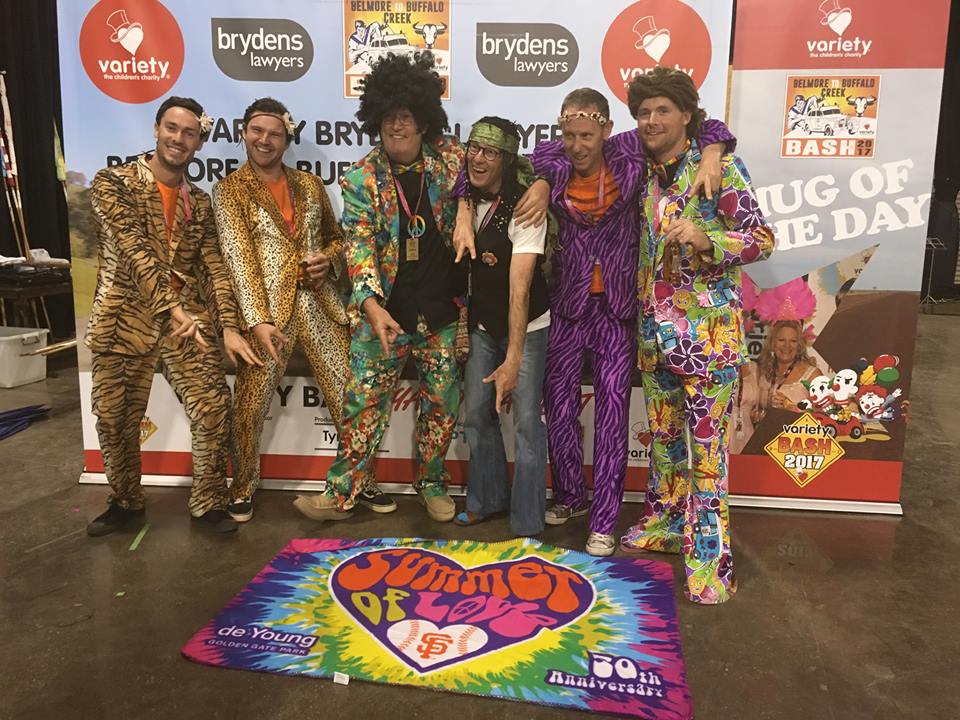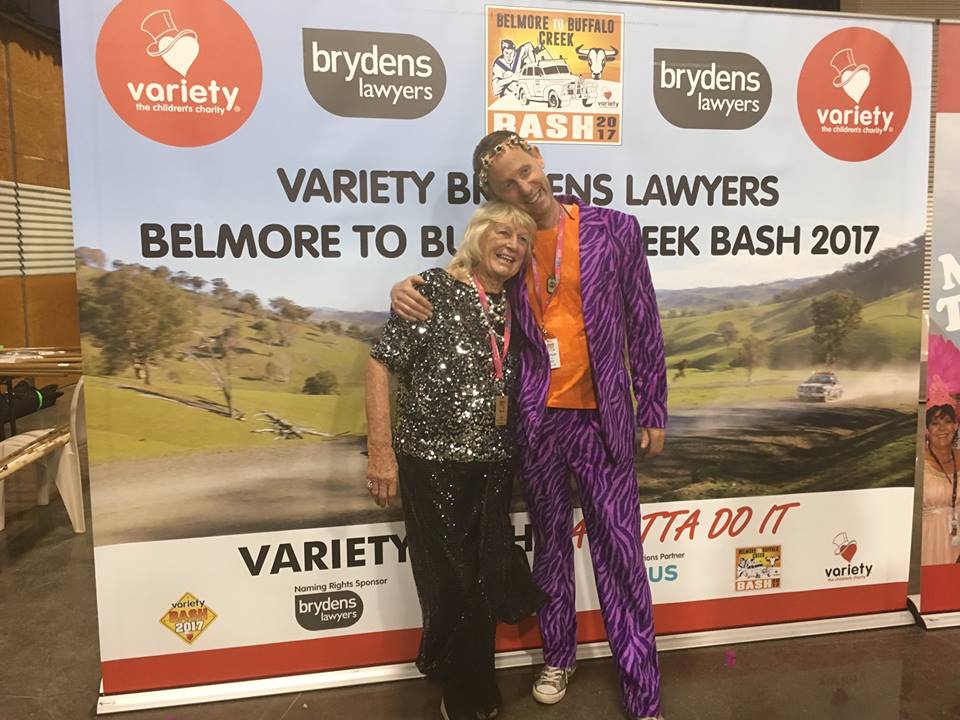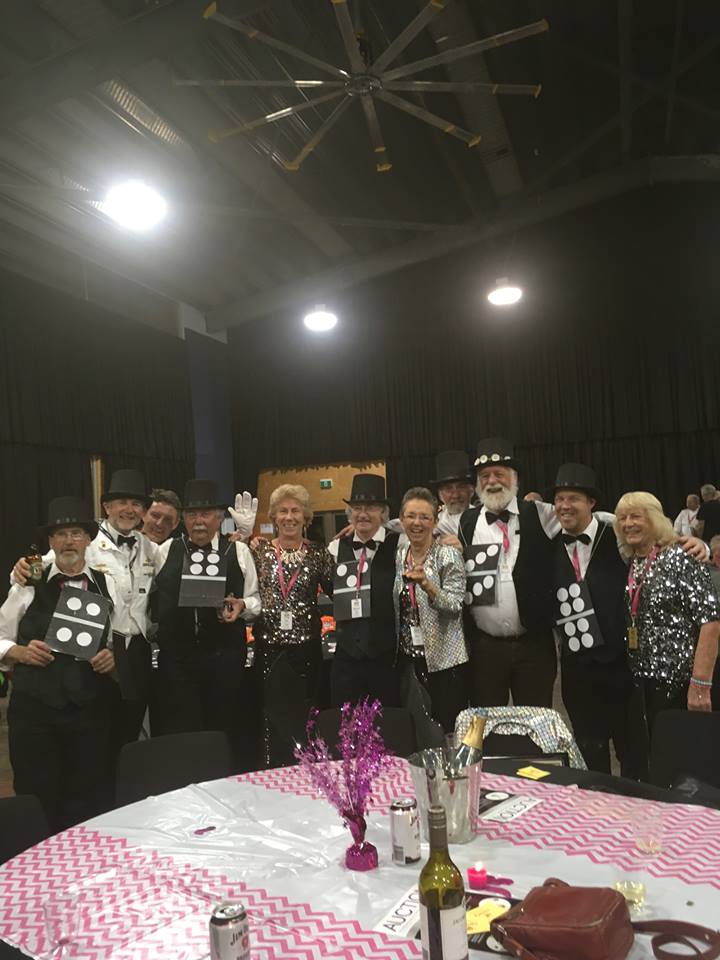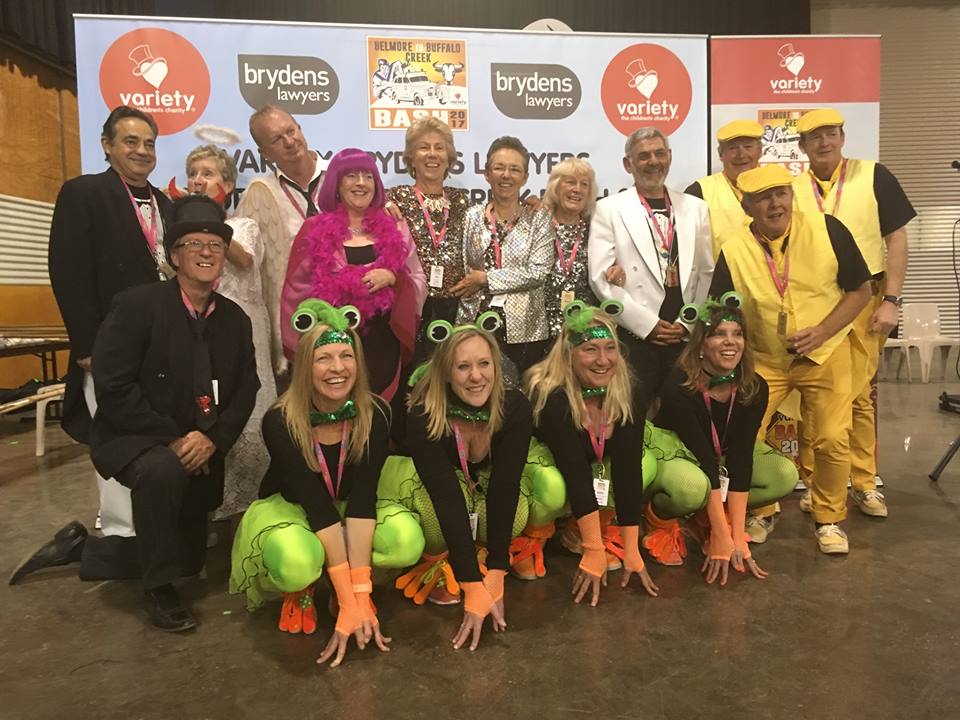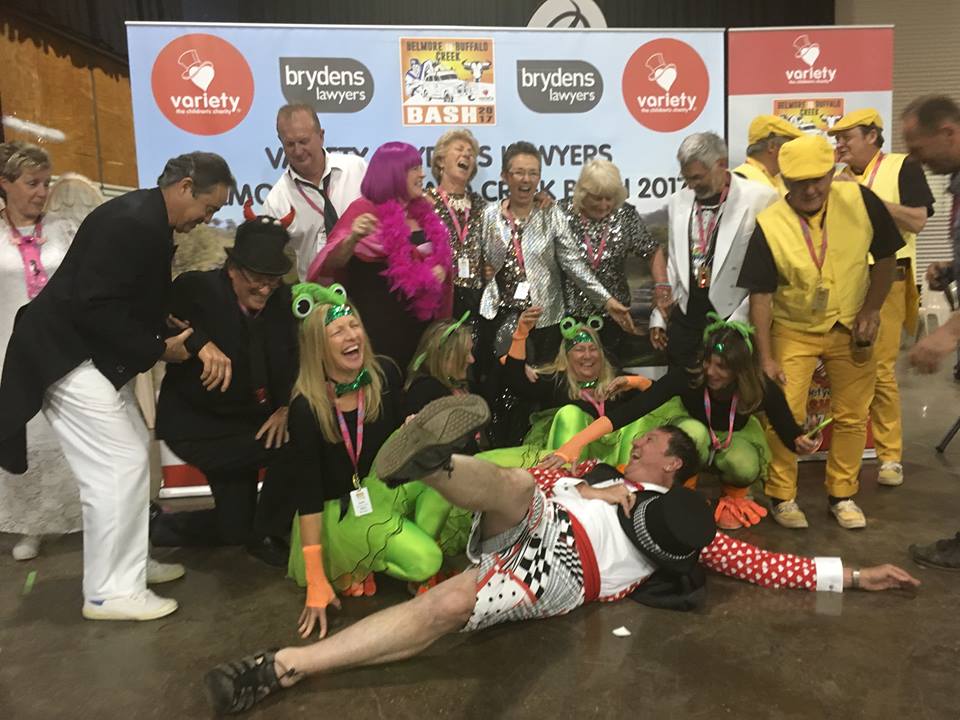 Day 7.
Breakfast at Barkly State school. Some amazing student performances and the principal with his whip! Shame the Leprechauns weren't there to see the Irish dancing.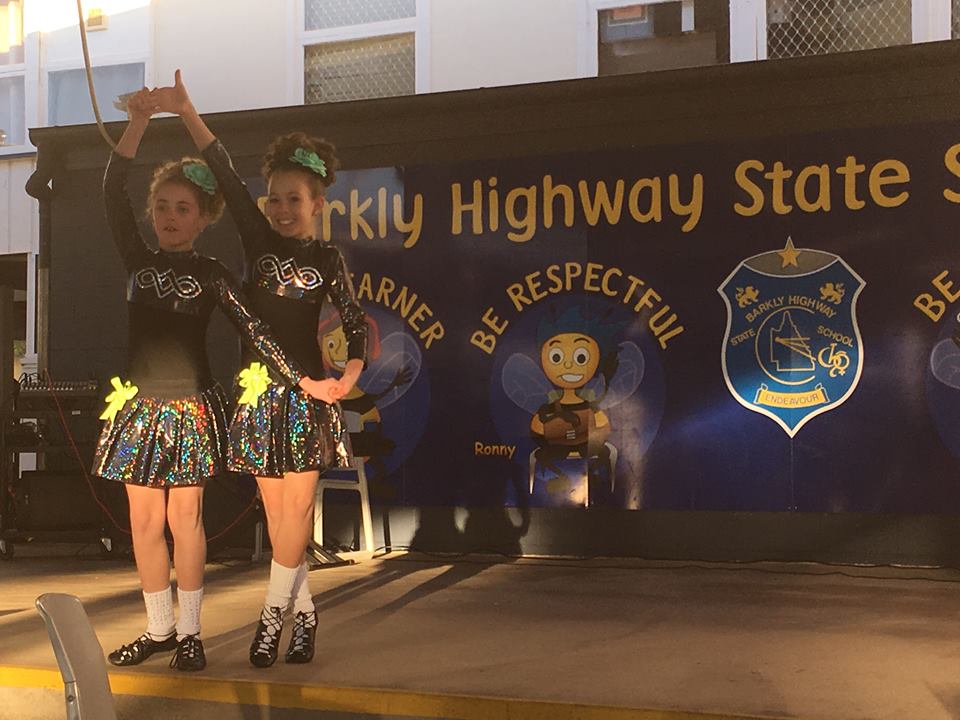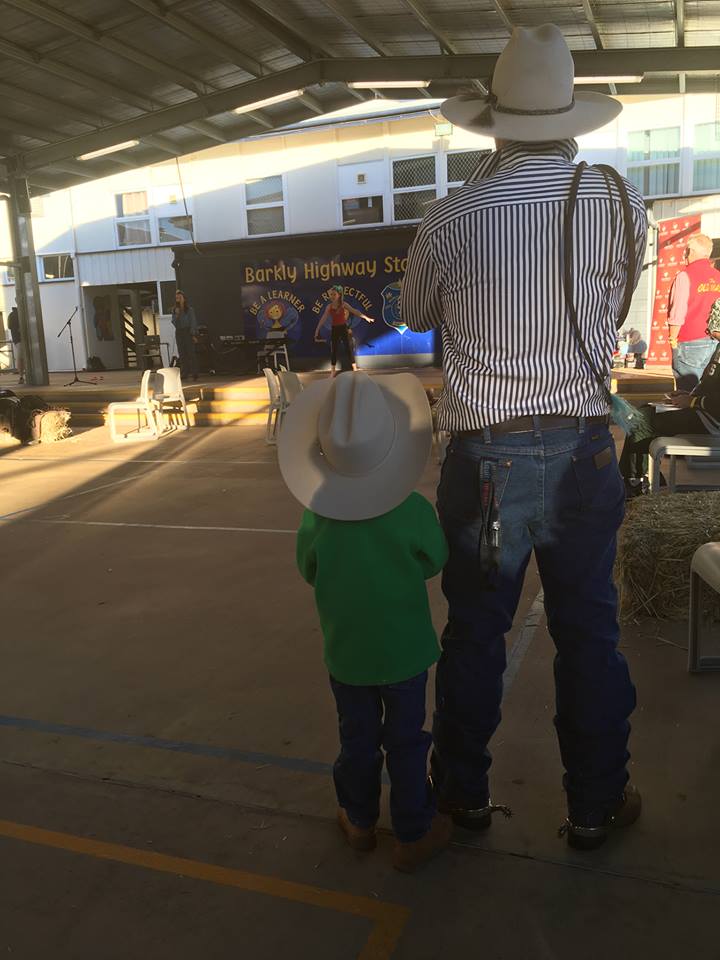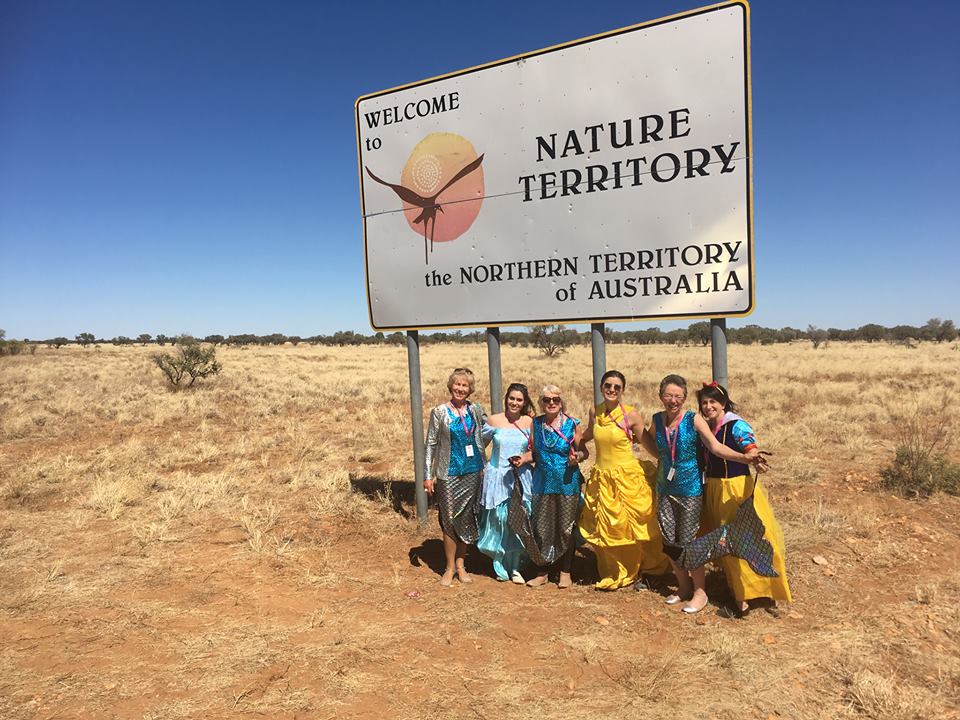 Mermaids and Snow White and princesses in NT.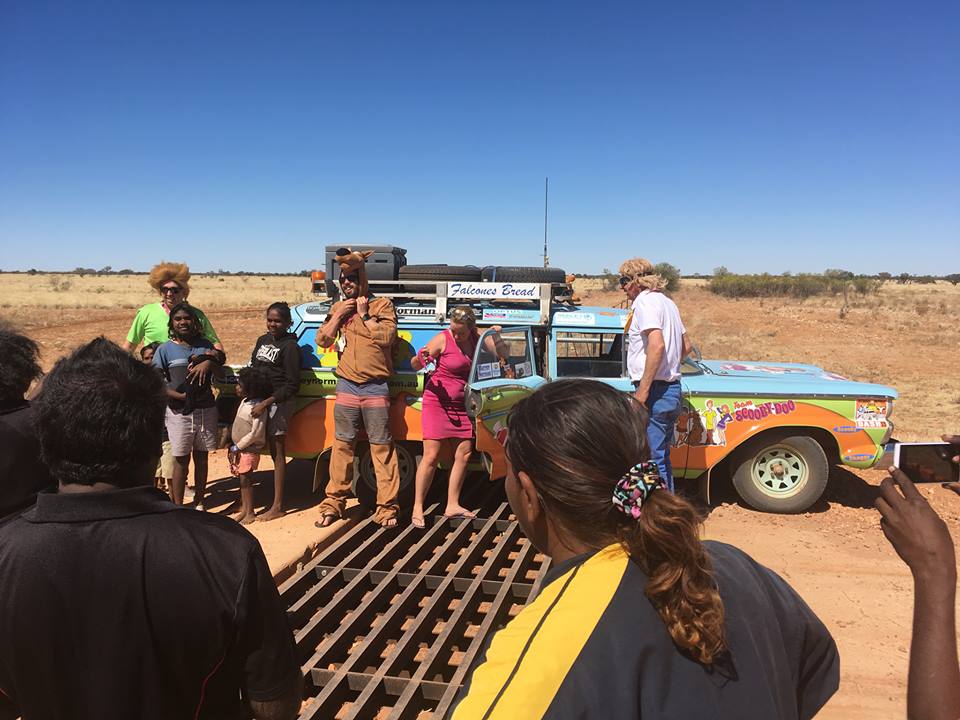 Scooby Doo stuck halfway between Queensland and NT.
Day 8.
Wonderful breakfast at Tennant Creek Primary School.
Super doing his magic at Spell Paddock Bore, and Elyse doing the gate thing, then Beryl doing her thing with our flat tyre.
A dip in Mataranka Spring to wash the dust off.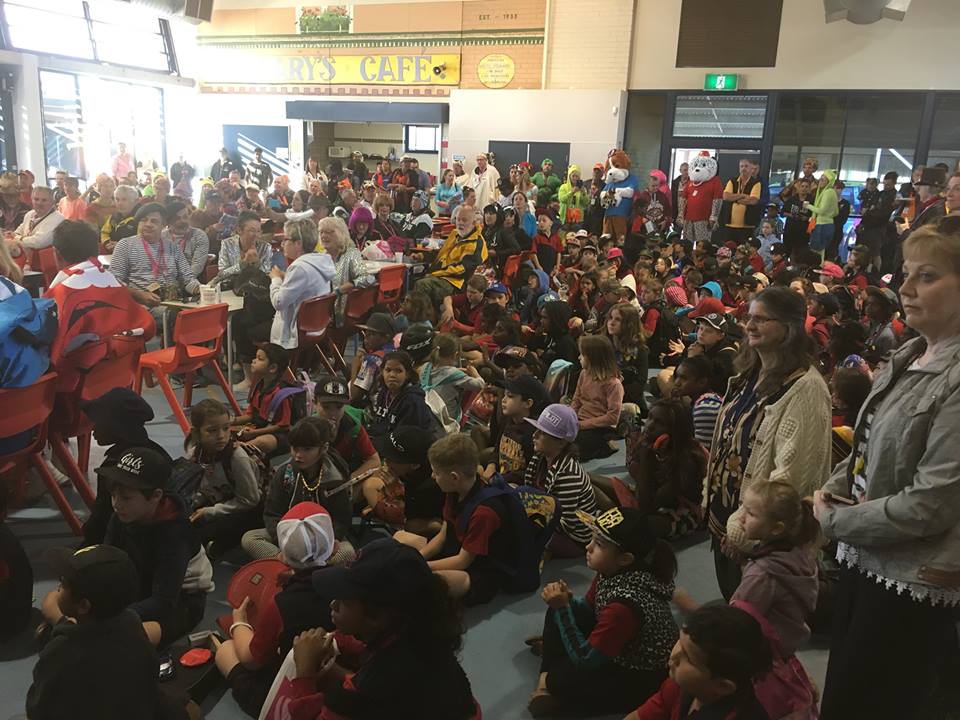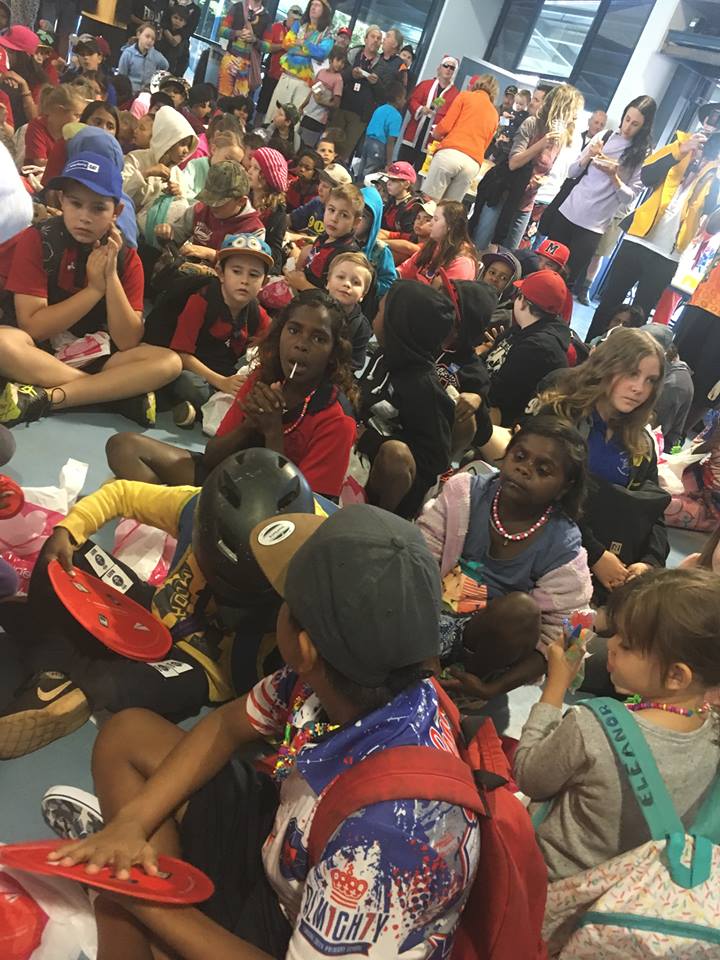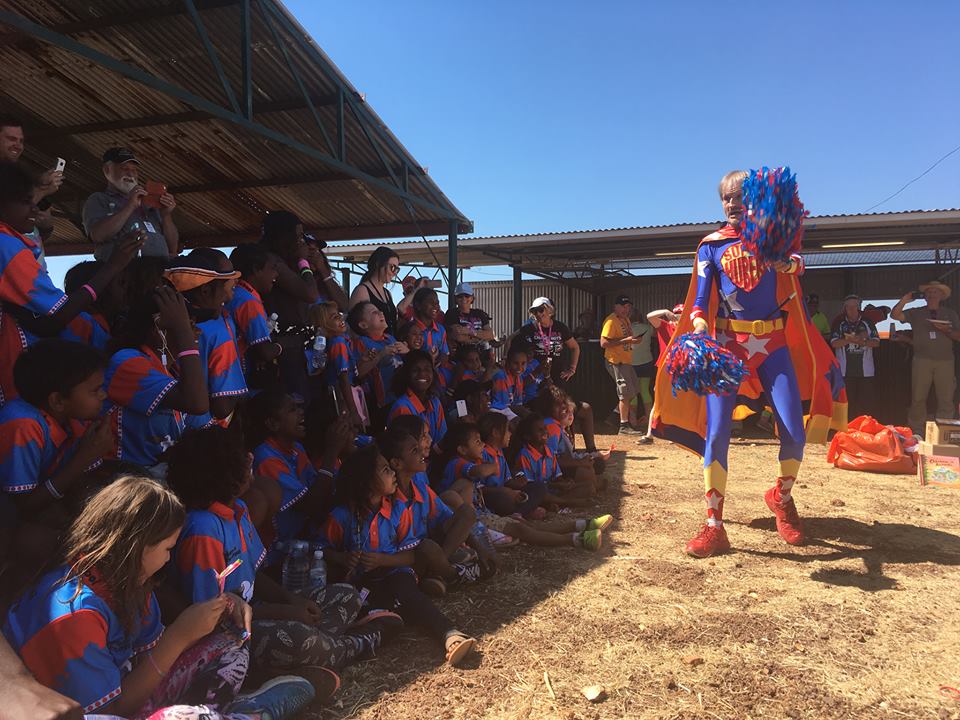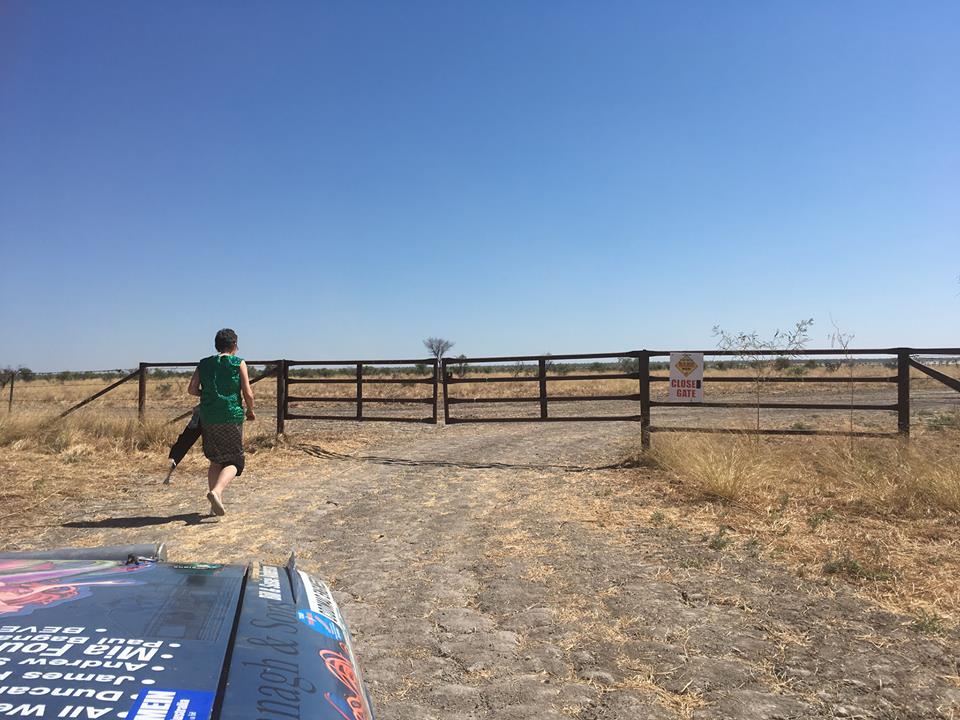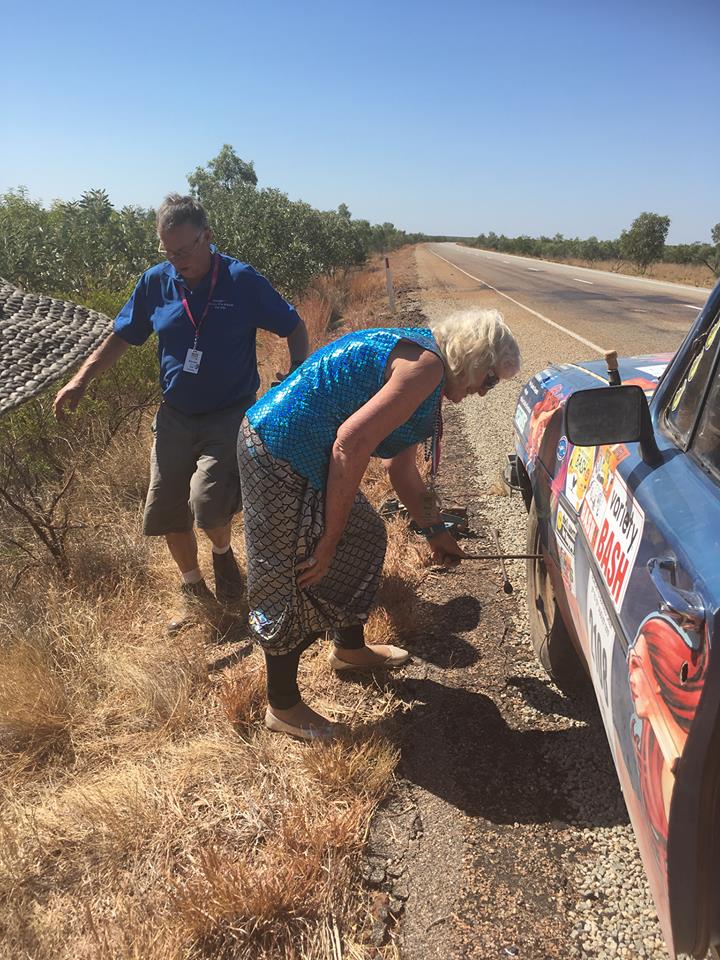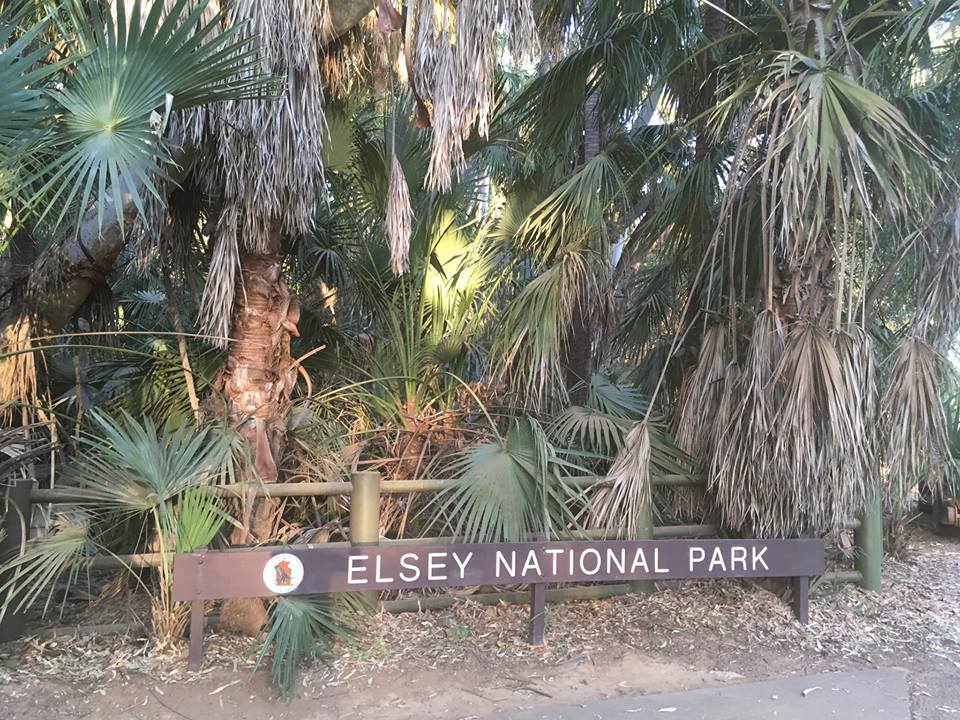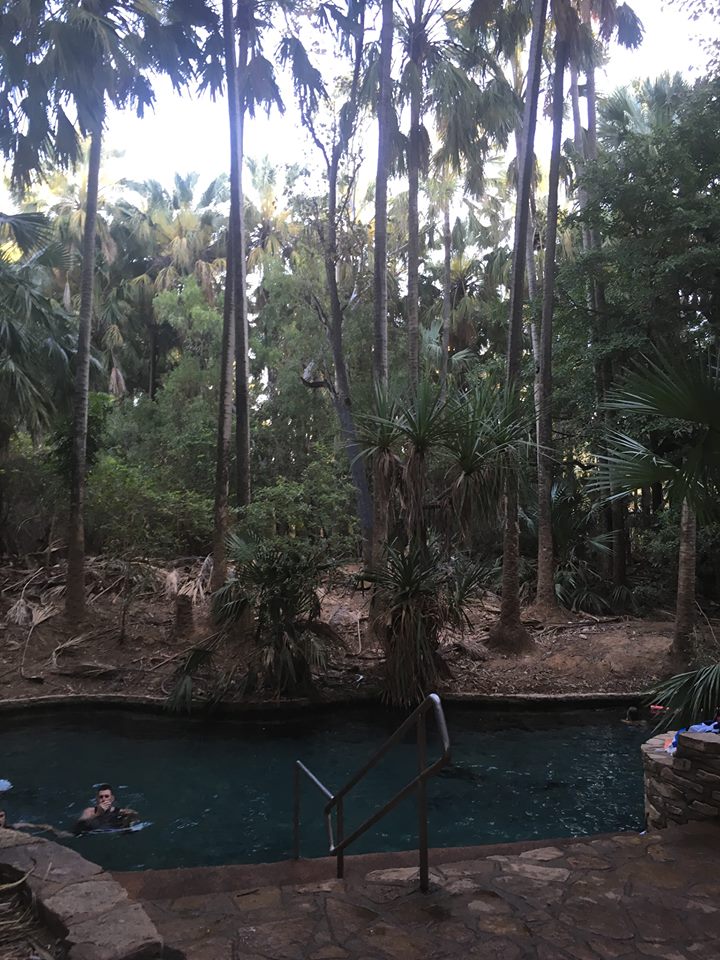 Day 9.
Pink Day and very pink it was from the breakfast start in Katherine. Scooby on the prowl. Pink cricket party stop for Gordon Cooper at Grove Hill Hotel. Many weird and wonderful characters!!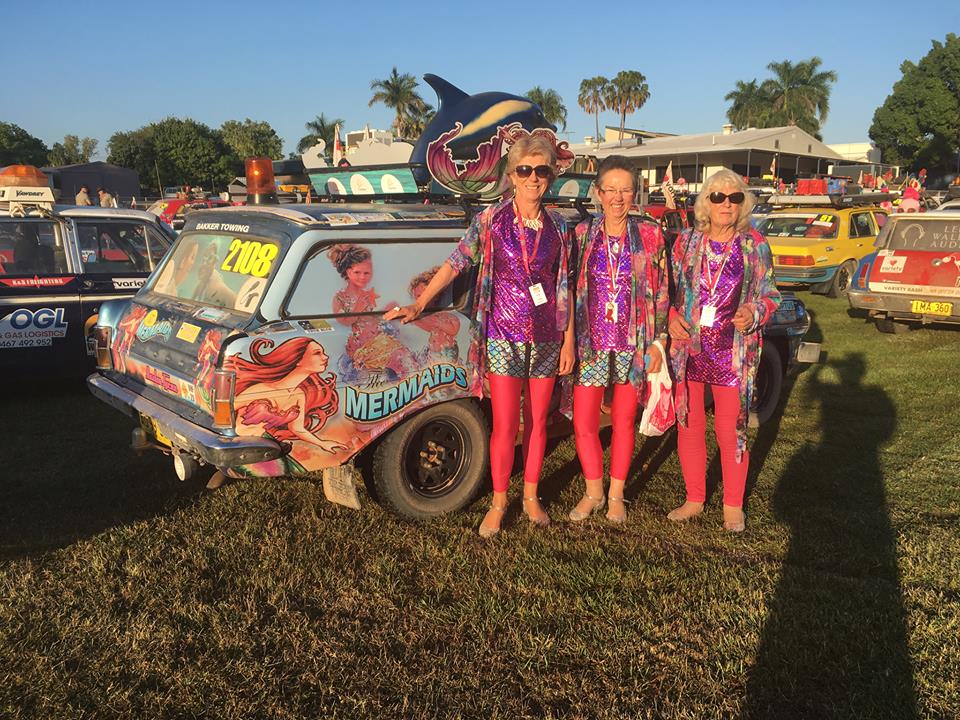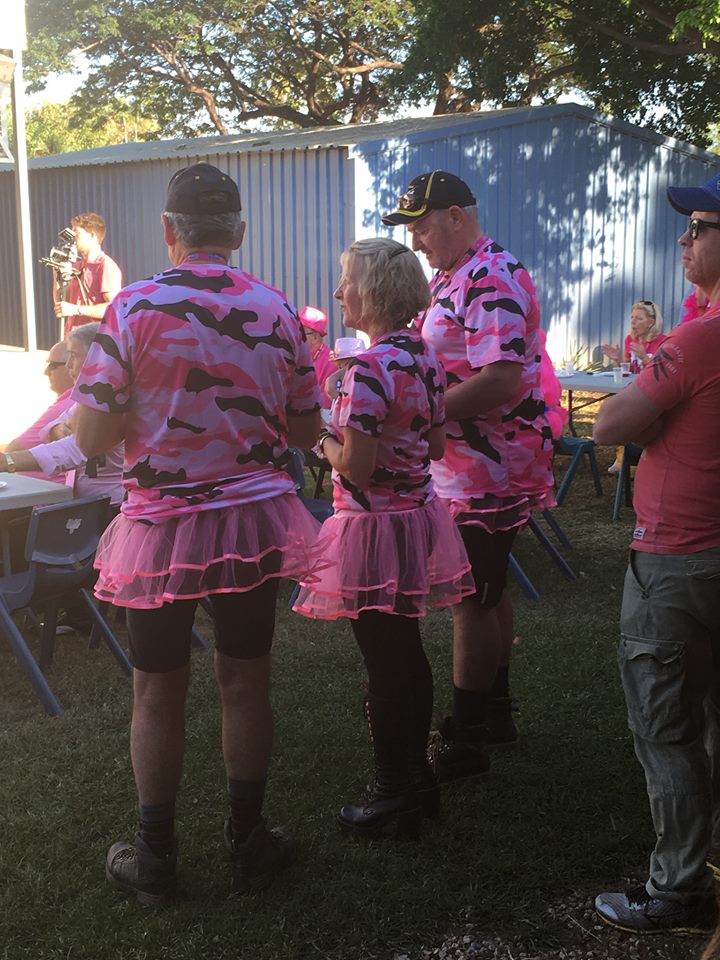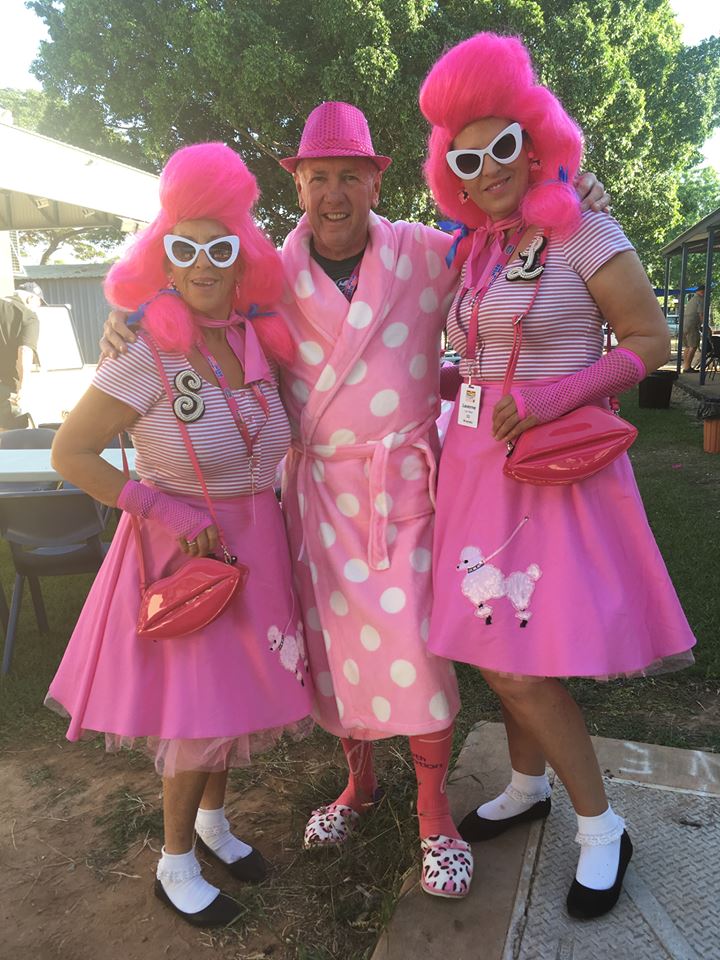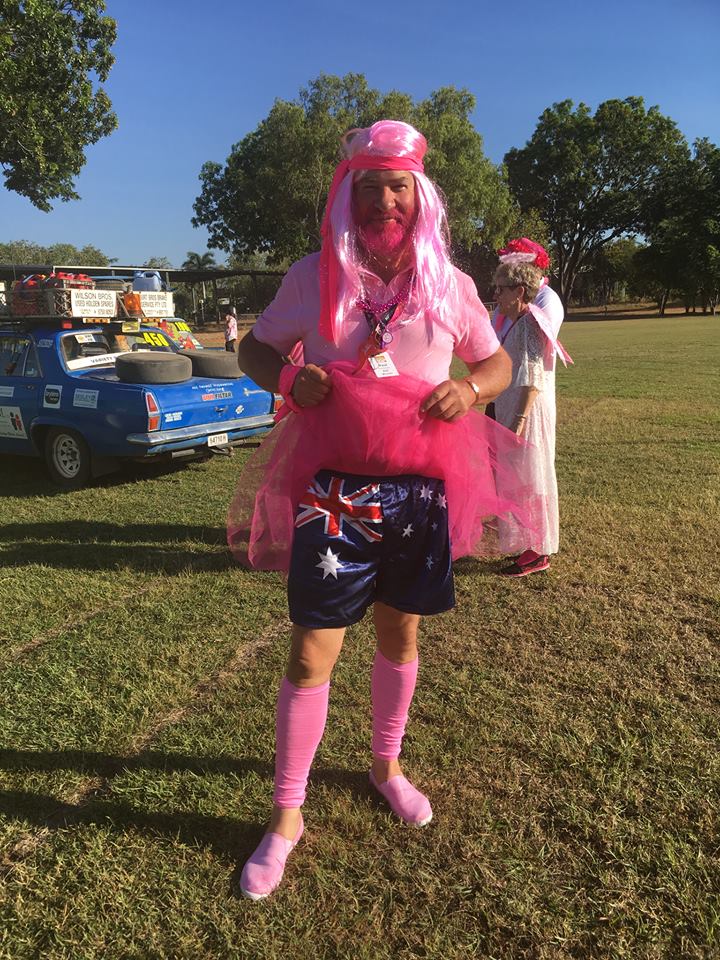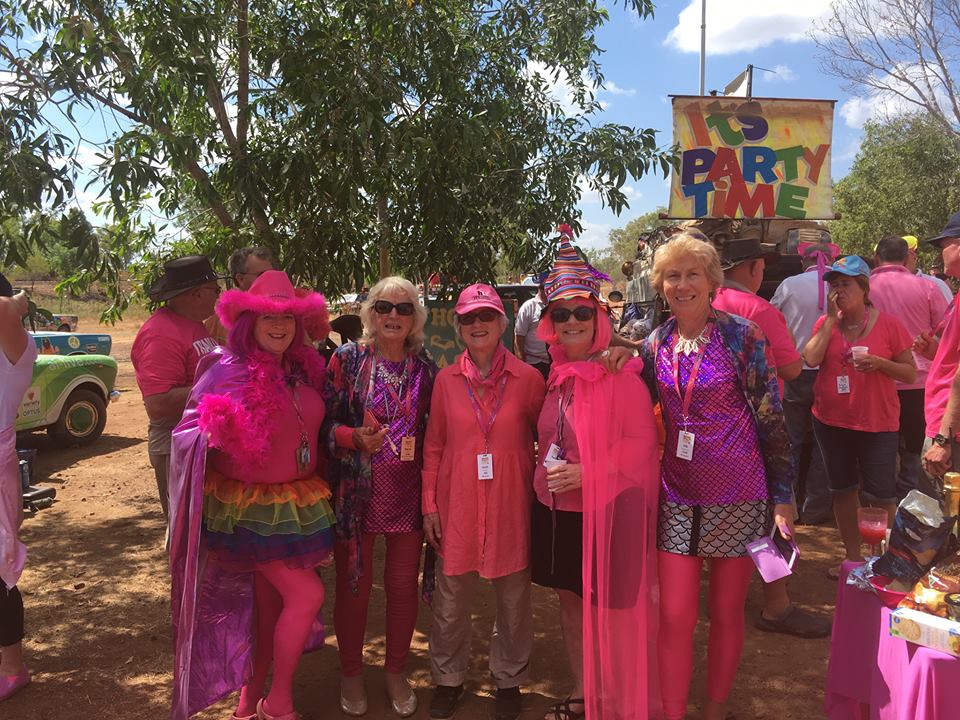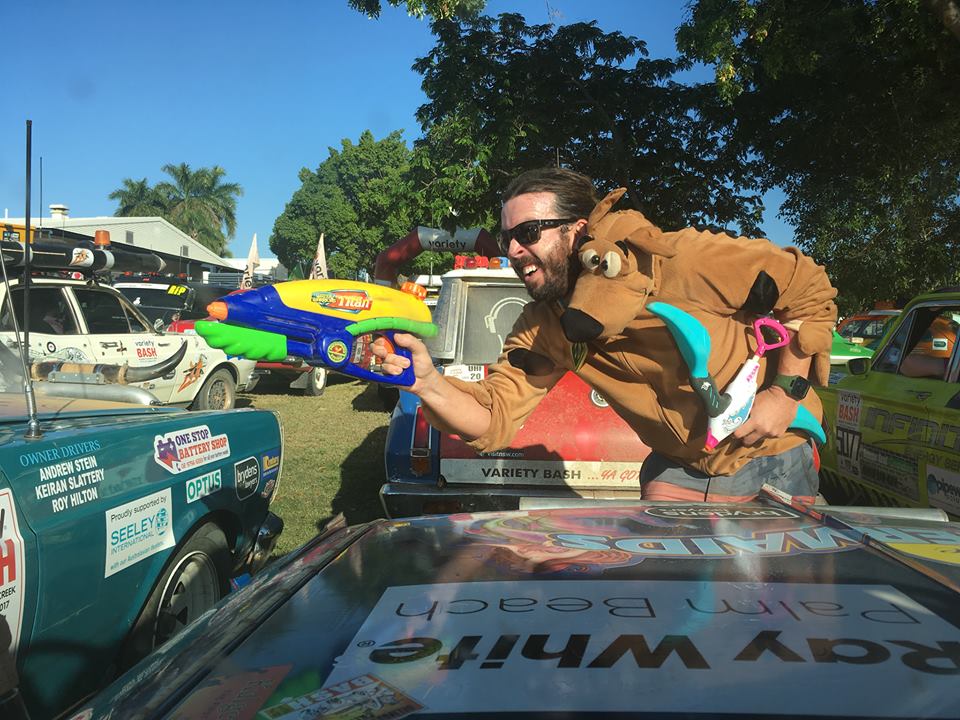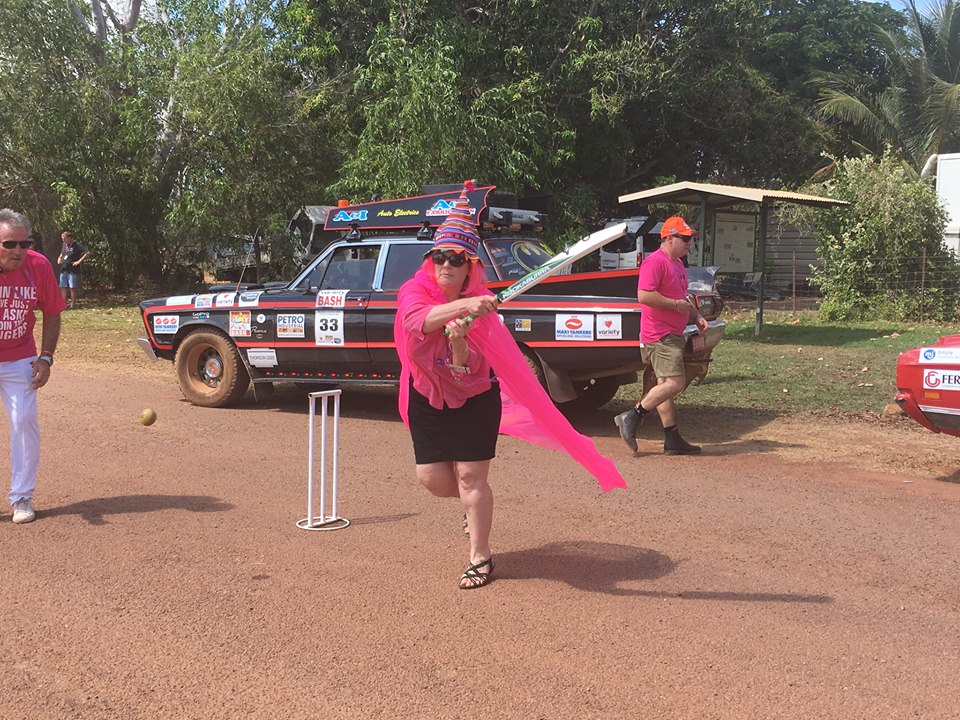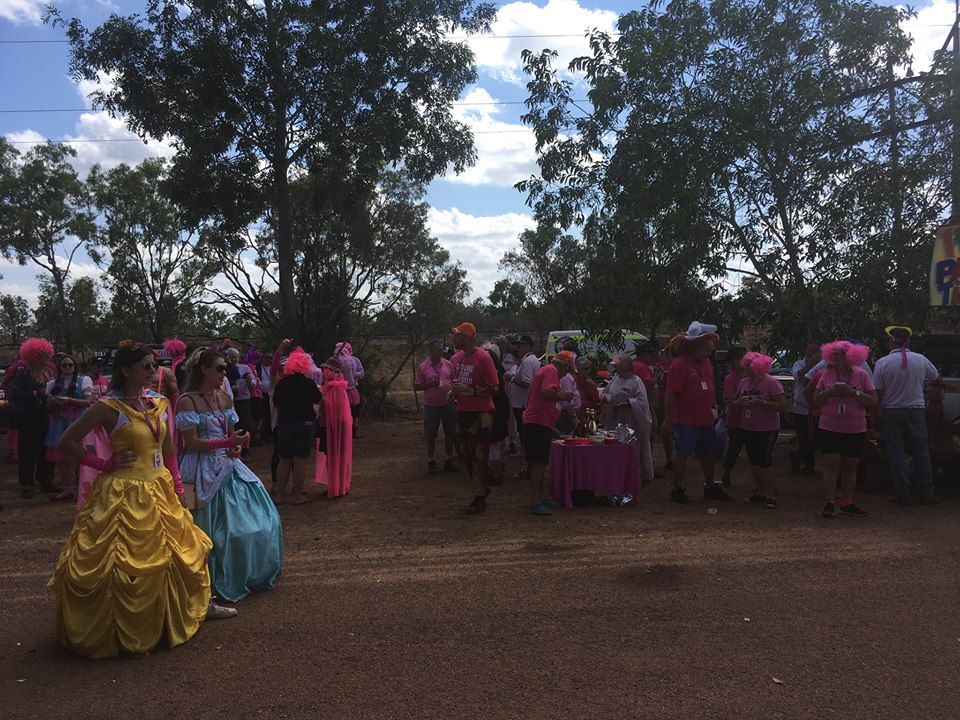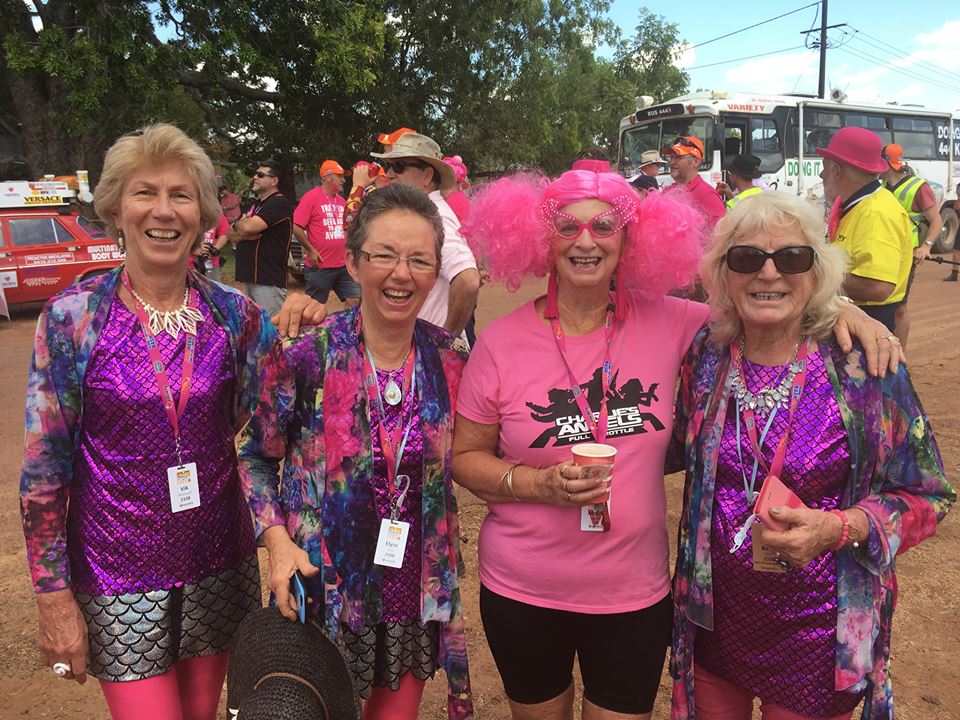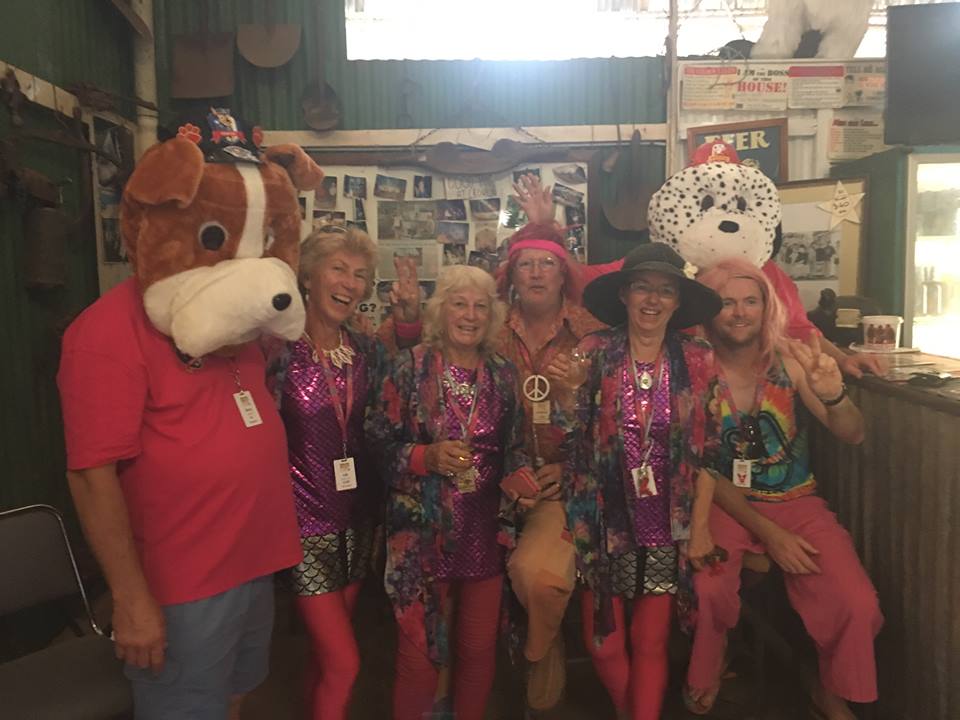 Met the Mobsbys at the Jabiru pool!
Stanley, almost 5, has had 2 Cochlear implants since 9 months and was very happily playing and swimming and hearing everything!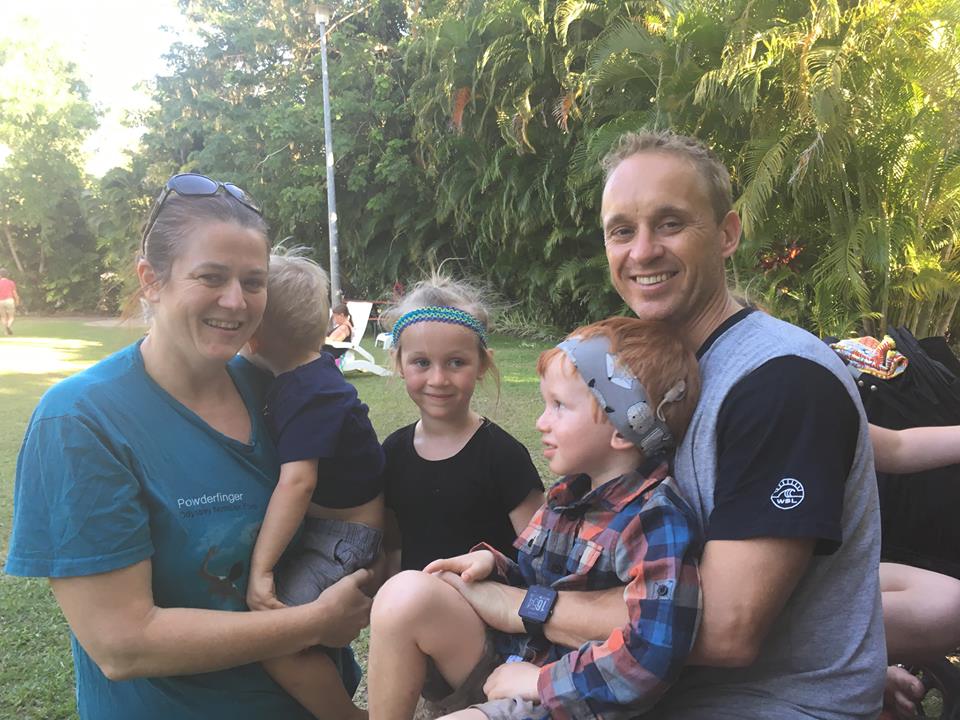 Parents Michaela and Stewart very happy.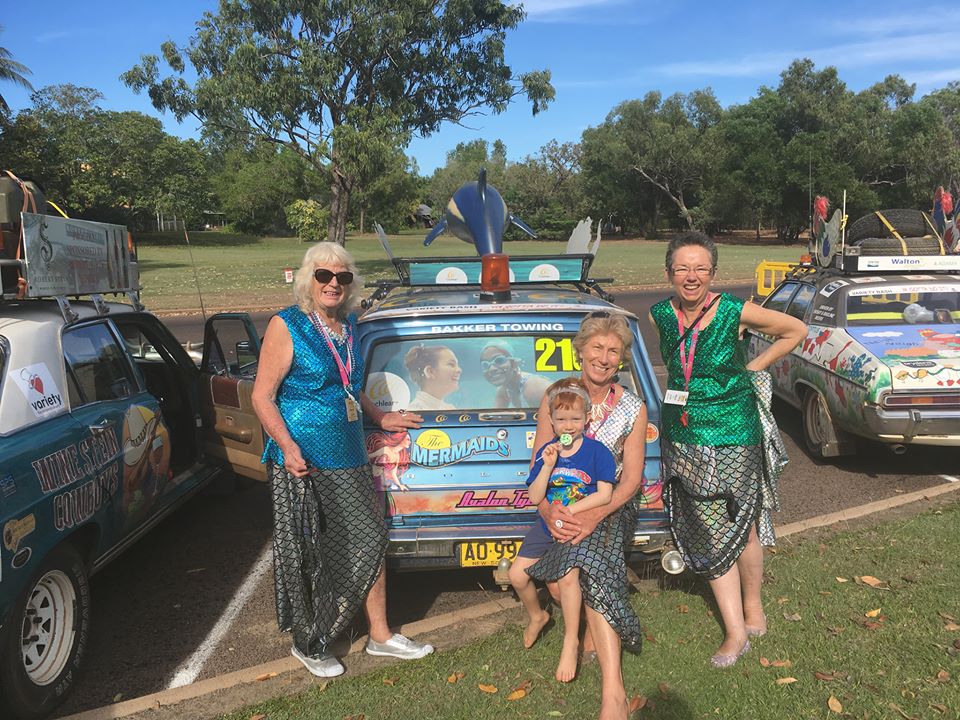 Mermaids with Stanley Mobsby by the Mermaid car.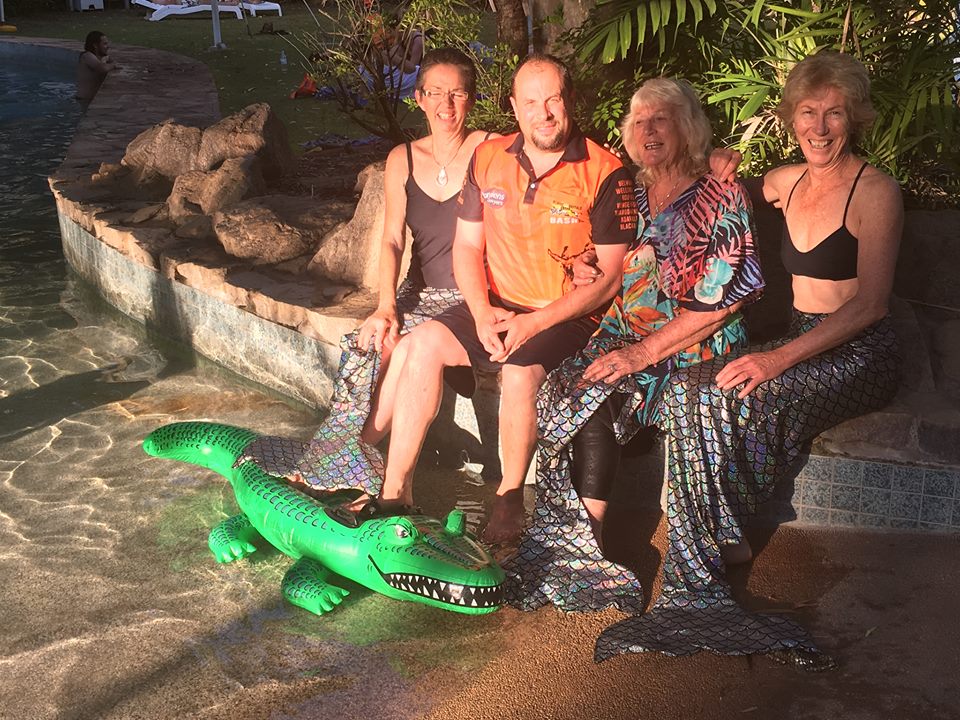 Mermaids finally find water! And Merman Joe Cautella!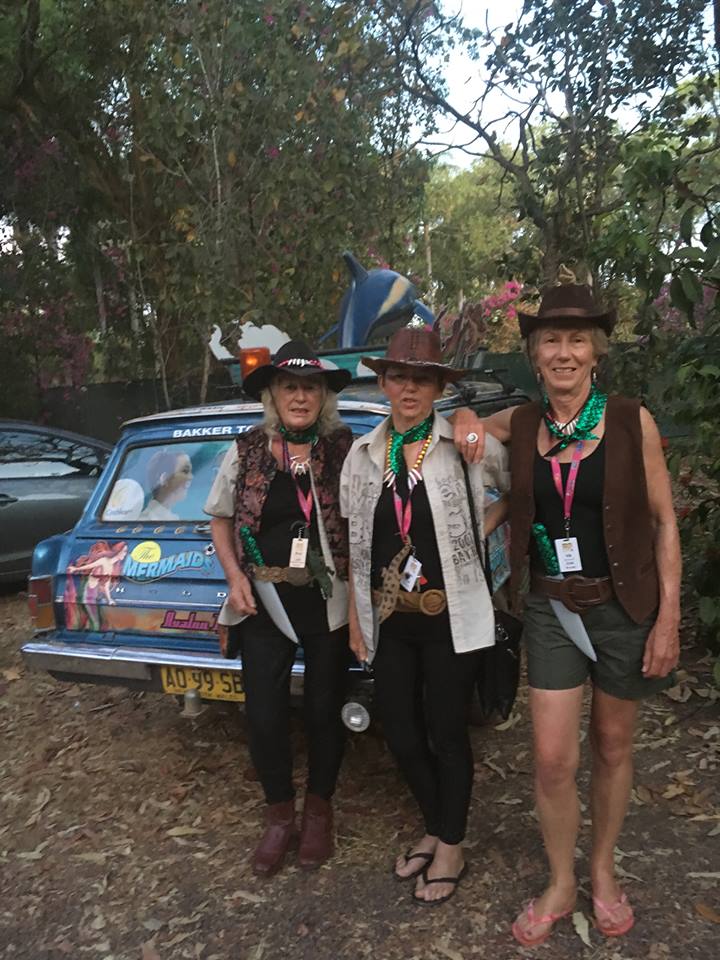 Crocodile Dundee Mermaids at Jabiru
Day 11
Start by the lake at Jabiru.
Thanks to Jabiru Area School for a wonderful breakfast and send off!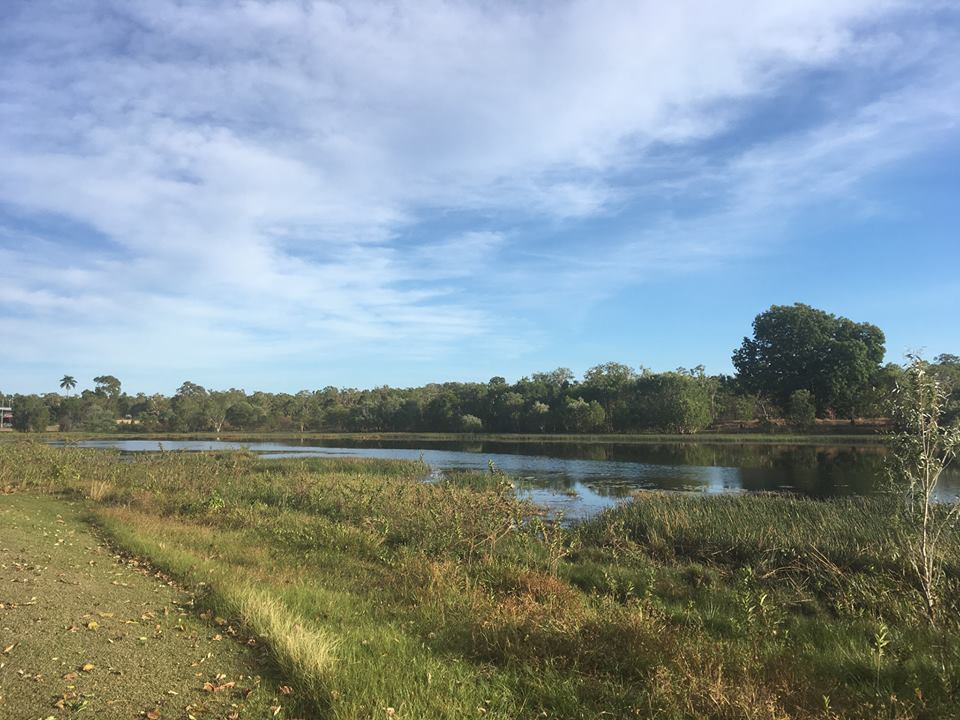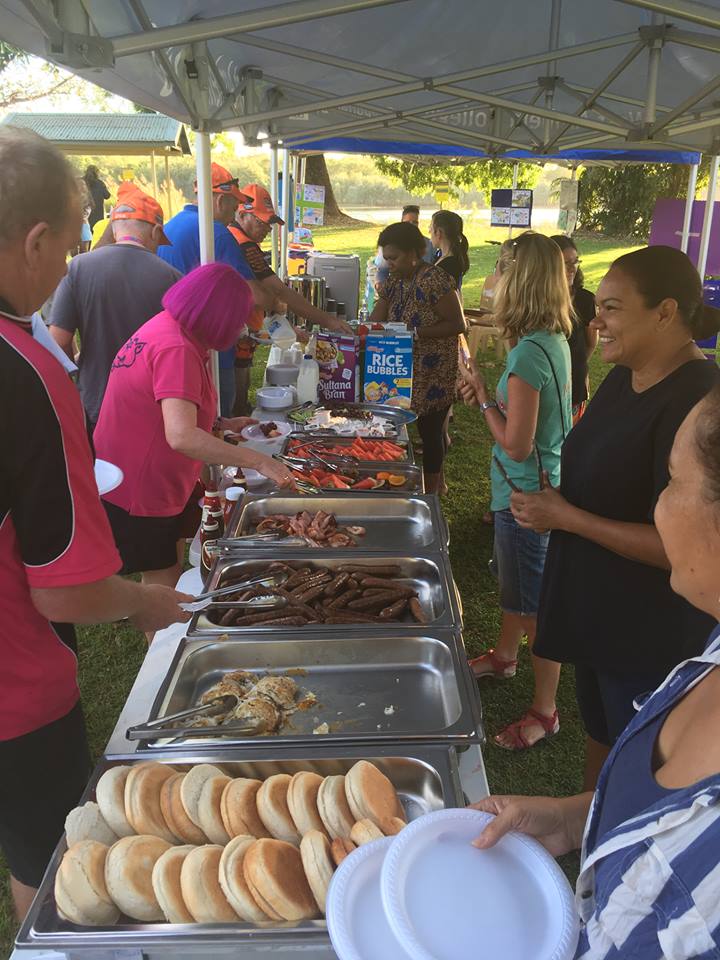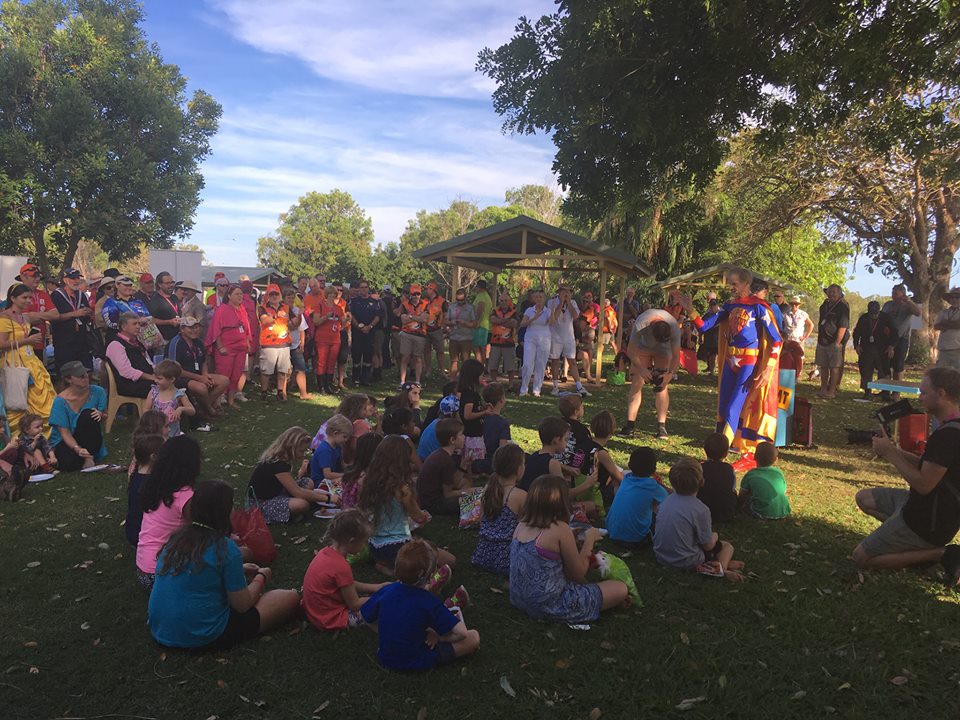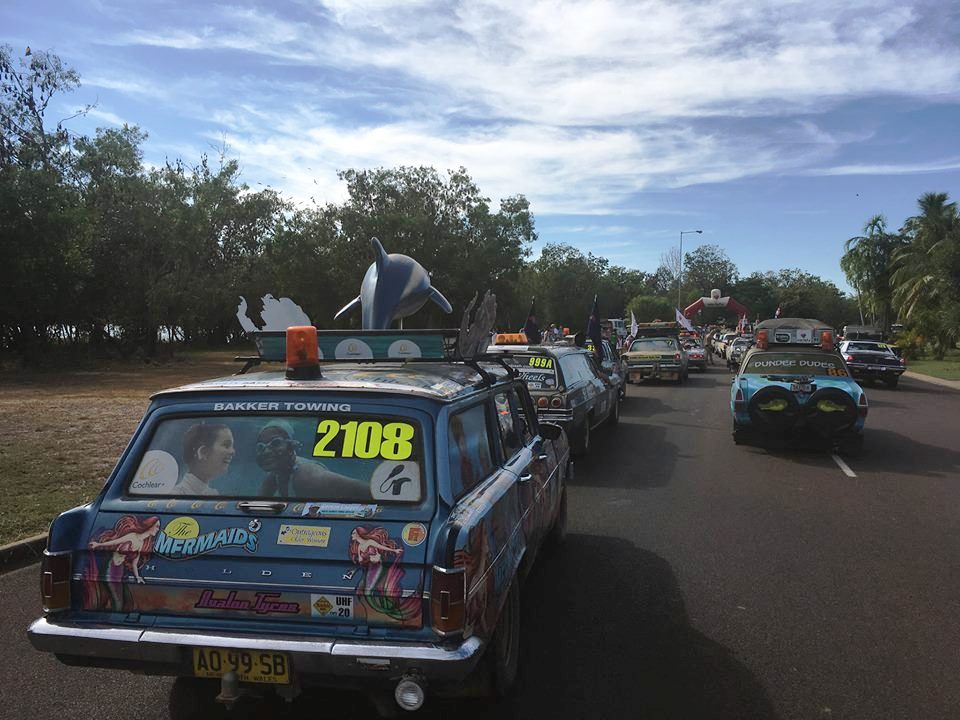 Day 11
from start in Jabiru to finish Buffalo Creek, Darwin.
Hurrah we made it though Mermaid motor pretty dusty!!
That's it for another wonderful Bash which raised over 1.8 million dollars for sick and disadvantaged children!
That's why we do it, though lots of fun had along the way!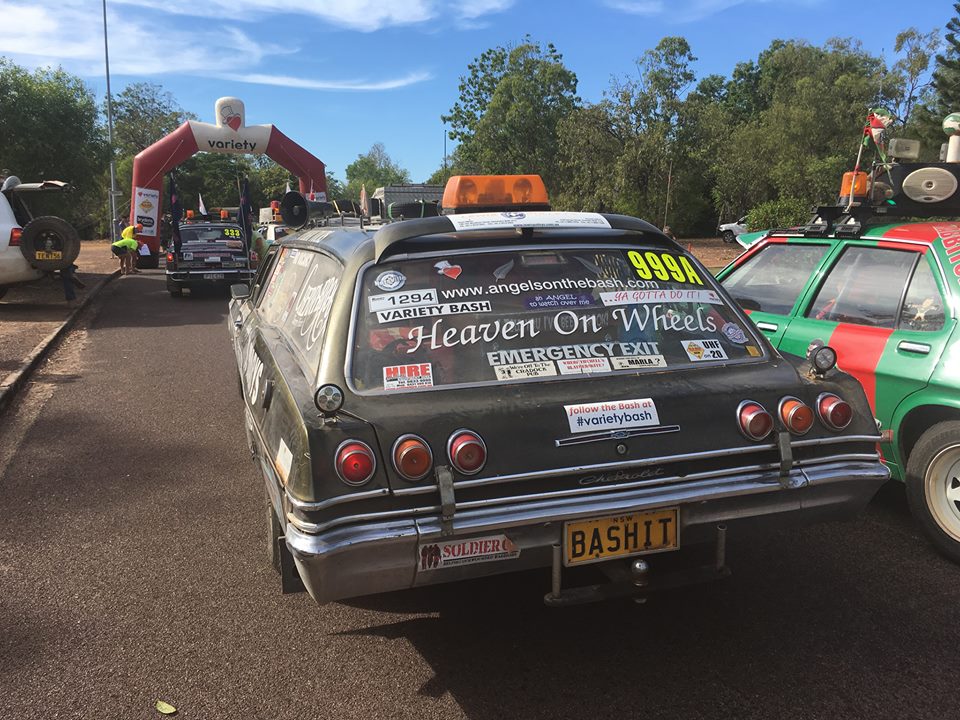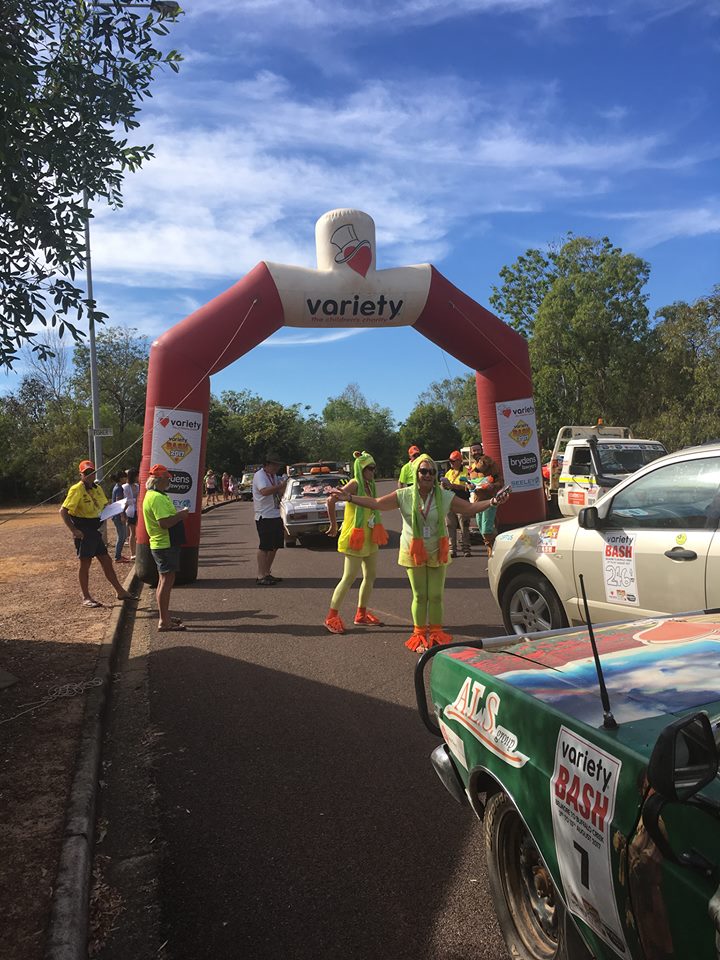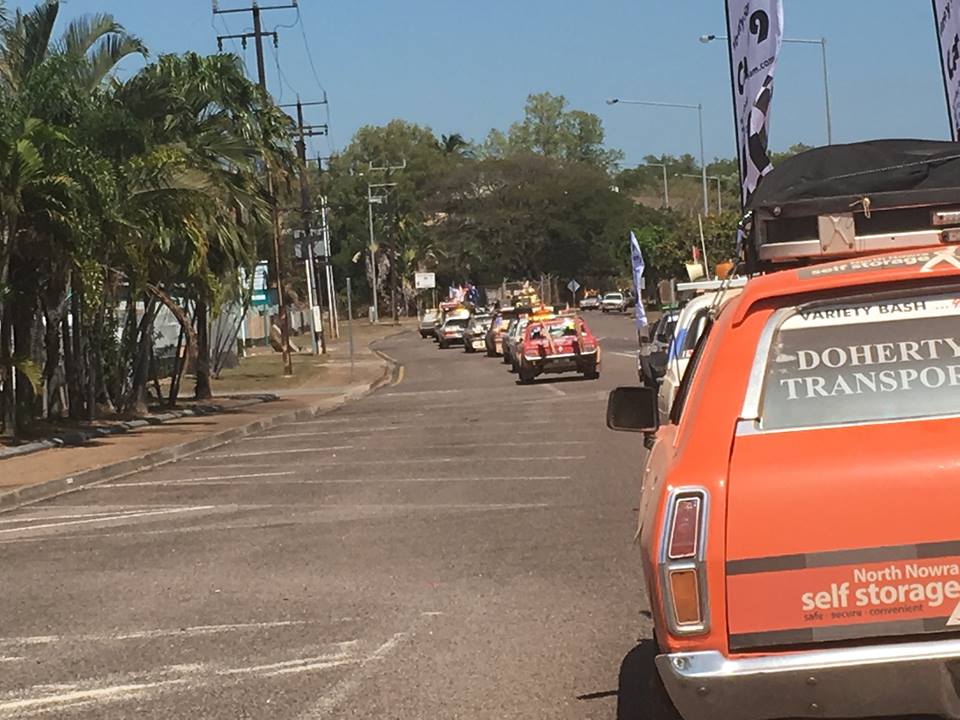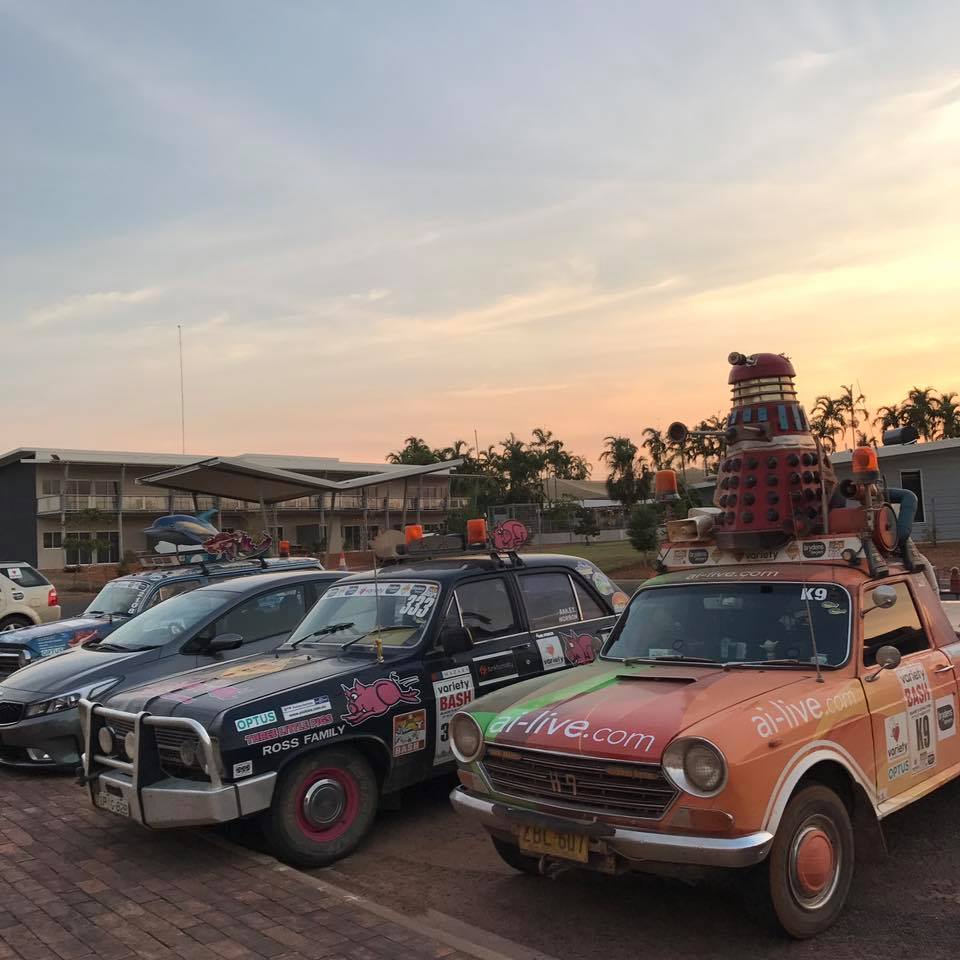 Buffalo Creek B2B Bash. by Sallymae Bailey (of the Little Pigs) - 7 Aussie Bashes!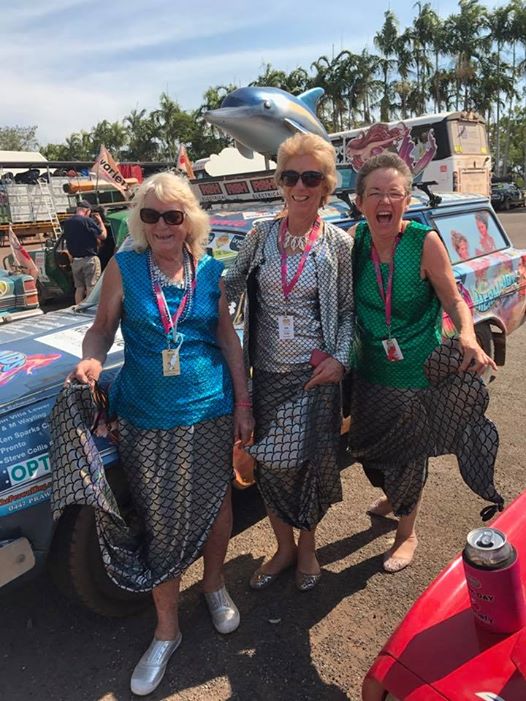 Happy Mermaids at the Bash finish!!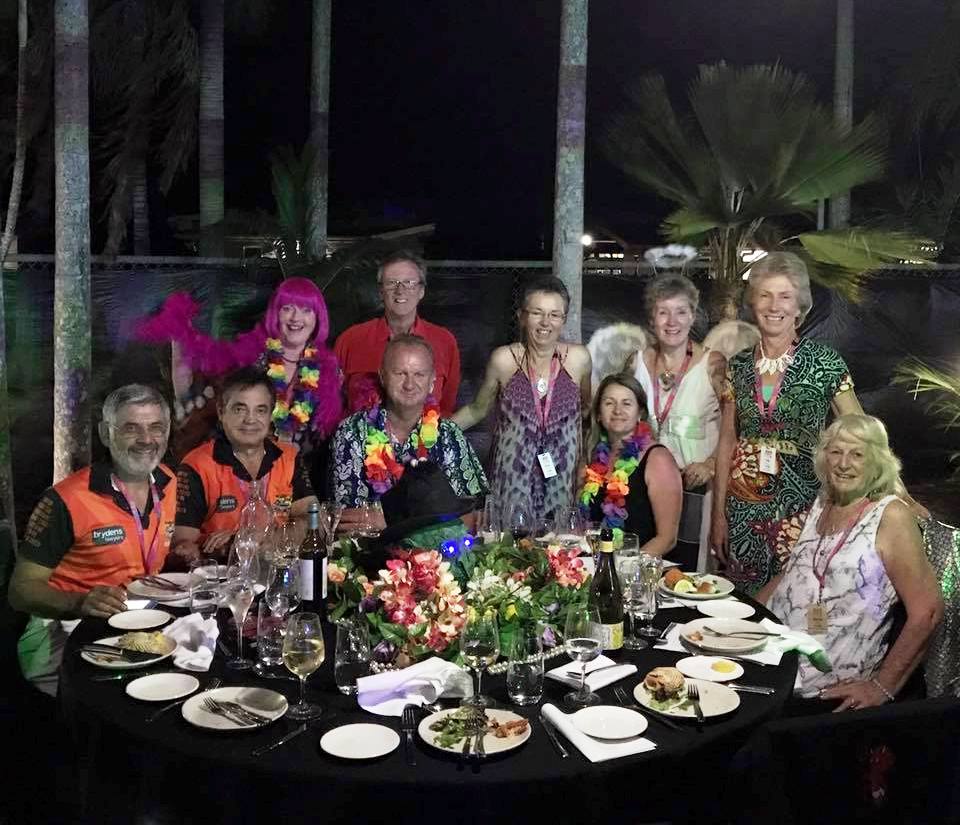 At Club Tropical Resort Darwin.

Report and Photos by
Viktorija McDonell - extra photos by
Sallymae Bailey - extra words by A J Guesdon.