August 20 - 26, 2017: Issue 326
Pittwater Greens Candidate Urges Rethink On Ingleside Plans, Calls for Council to Sign Climate Action Pledge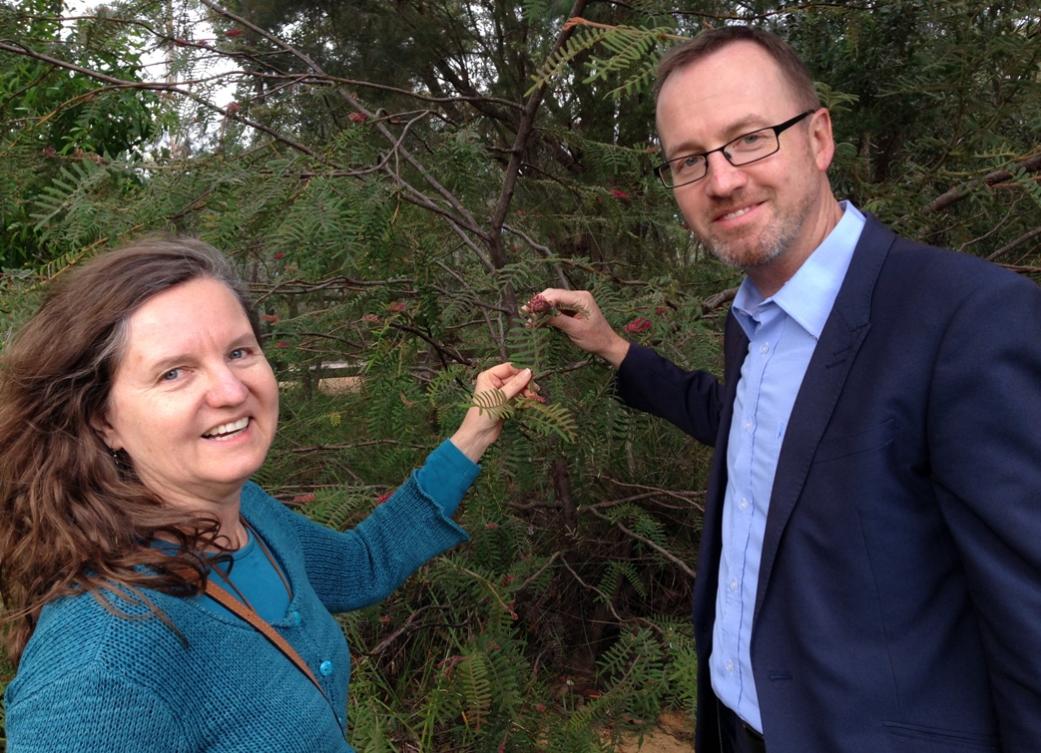 Miranda Korzy and
David Shoebridge with
Critically Endangered Grevillea caleyi.
Pittwater Greens Candidate Urges Rethink On Ingleside Plans
Northern Beaches Greens: Media Release - August 16, 2017
The NSW government must listen to locals and seriously revise its plans before pushing ahead with development at Ingleside, Pittwater Greens candidate Miranda Korzy said today.

Ms Korzy said local specialists in sustainable development had submitted a major review of the proposed plans, outlining a vision of Ingleside as a "lighthouse" development.

As such, the new suburb should set the standard across NSW for design aspects such as: renewable energy; water harvesting and usage; protection of habitat for endangered plant and animal species; safeguarding of creeks and coastal upland swamps from which water flows into Pittwater and the ocean; public transport and a walkable/cycling community.

"The current plan needs such significant alterations that it should be re-exhibited, showing that planners have taken on board the views and specialist knowledge of members of our community," Ms Korzy said.

"With Ingleside now earmarked as a Priority Precinct, the fear is the government will pay lip-service to any local input and push ahead with whatever brand of development it likes."

Ms Korzy was speaking after attending a meeting with members of the Sustainable Ingleside Advocacy Group and NSW Greens Planning spokesman David Shoebridge.

The NSW Planning department received 420 submissions from landowners, residents and other government agencies after it first revealed its proposal for Ingleside.

Transport, closely followed by biodiversity and environmental conservation topped the list of concerns in those submissions, with residential density and height in third place, the planning department found.

Mr Shoebridge, who toured the proposed development site with Ms Korzy today, said it is another example of the State government forcing overdevelopment on a local community with little regard to the environment or even basic transport and social infrastructure.

"The planning proposal has grossly inadequate wildlife corridors and puts at serious risk the critically endangered indigenous Grevillea Caleyi," Mr Shoebridge said.

"We are seeing these priority precincts being pushed all across Sydney, sidelining local councils and the Greater Sydney Commission, producing thousands of disconnected dwellings without the essential infrastructure to support them.

"I join with the local community who aren't saying 'no development' but are demanding respectful development with leading edge design to deliver a carbon neutral community, that protects nature and doesn't overwhelm the local road network."

Sustainable Ingleside Advocacy Group spokesman Graeme Jessup said the group would like to see another indicative plan exhibited before moving to the final statutory exhibition – when it is difficult to make fundamental adjustments.

"If they are seriously interested in what the community thinks, the planners should have changed their minds quite a bit in view of the community consultation," Mr Jessup said.

Ms Korzy said it is also disappointing that the Baha'i community – whose landmark temple will be in the centre of the development, has not been consulted.


Greens Candidate Calls for Council to Sign Climate Action Pledge
Northern Beaches Greens: Media Release - August 19, 2017
The Greens will push for the Northern Beaches Council to play its part in tackling climate change by signing a pledge to create a clean council, their Pittwater candidate Miranda Korzy said today.

Ms Korzy said she would call for the council to commit to reducing its carbon emissions by installing solar panels where possible, buying renewable energy, making its facilities energy efficient and divesting from fossil fuels.

A report from the Climate Council last month showed how local governments can take effective action and found that many are "leading state and federal governments on tackling climate change and capitalising on opportunities in renewable energy".

The Climate Council invited local governments to join its Cities Power Partnership program, which gives them access to resources, mentoring, networks and development opportunities.

Ms Korzy said Northern Beaches Council should join the other 35 councils already signed up to the partnership.

"This is a wonderful opportunity for the council to listen to the people of Pittwater and recognize that we care about our environment and want to do the best we can for it," Ms Korzy said.

"From solar powered street lighting to setting renewable energy benchmarks for new developments, this commitment would have a lasting benefit not only for Pittwater but the environment more broadly.

"We must get on board to benefit from the networks and support being offered."

Councils that join the partnership choose five key actions to implement from the areas of renewable energy, efficiency, transport and working together.

Northern Beaches Greens policies for local action on climate change include promoting renewable energy and public transport, divestment from fossil fuel industries, energy efficient design innovations and improvements in waste management – such as banning single use plastics.

"This report backs up our view that the new Northern Beaches Council must take a lead in this area, and it provides an incentive to take action now," she said.

"Climate change is a global issue but action at a local level can have a far-reaching effect."

The Climate Council report found that one in five councils surveyed across Australia are aiming for "100 per cent renewable energy" or "zero emissions", including Byron Shire, Lismore and Uralla.