August 20 - 26, 2017: Issue 326
Waratah And Flint & Steel Track Problems Quickly Addressed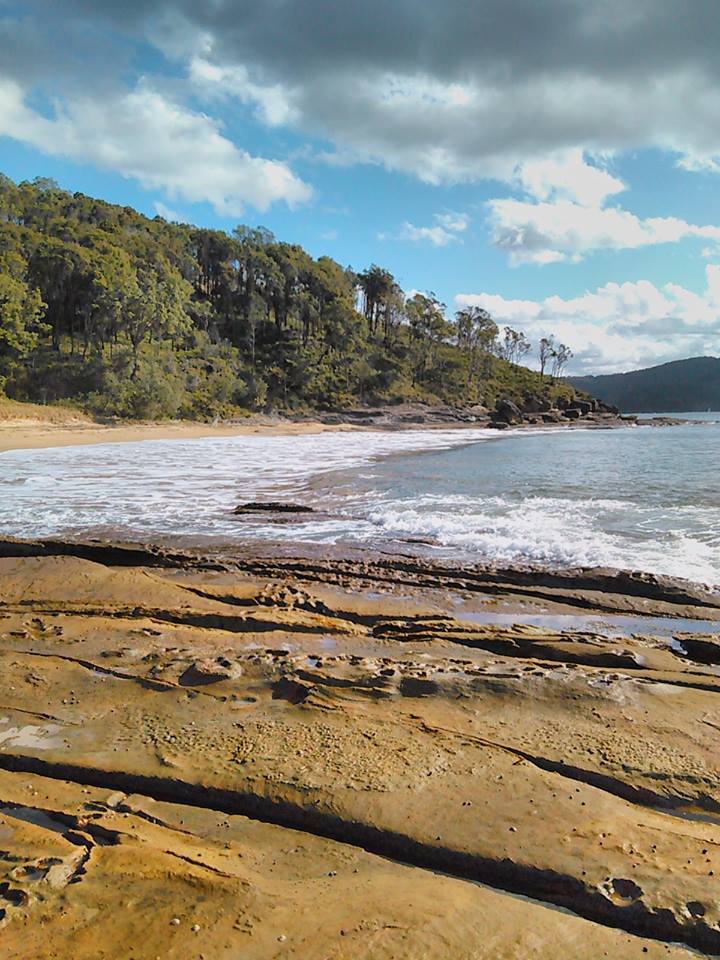 Flint and Steel Beach - photo by Paul Wheeler
Waratah and flint & steel Track Problems Quickly Addressed
Earlier this week Paul and Kerry Wheeler, who have shared insights and glorious photographs from all their hiking around Japan, contacted Pittwater Online about their most recent hike in Ku-ring-gai Chase National Park along the Waratah Track last weekend - a walk they have already done before.

Unfortunately on this occasion last Kerry slipped on the unbound surface, further bumped in places through being used by recreational cyclists, fell and cut her hand open on broken glass. Nine stitches later, plus painkillers and adding the cost of a
new iPhone screen
as the lady was taking photos of the masses of
wildflowers
out along the way, they wished to ensure others don't have the same experience.
"The problem was not really the composition of the landfill used, it was the completely unbound surface, if you look at the surface in that photograph and think of that in terms of steeper terrain you can see that getting a grip even with good shoes is unlikely." Paul explained
"
You see a lot of bikes on it because it's the only one that doesn't get broken in places.
There are
these artificial bumps about 2 or 3 ks in.
Personally I don't think that bikes and walkers mix well hence we have only done Narrabeen lagoon once.
T
here's no point in letting them on the tracks (at
Ku-ring-gai Chase)
because they just ride straight through the bush and flowers as fast as they can go, that's all they want to do and they can do that anywhere.
"
"The combination of loose large rubble and steep ups and downs is lethal. Even if you pick your way carefully in good shoes you will skid frequently but one false move descending and you are in trouble."
"The track is manifestly unsafe in parts and it needs to be fixed."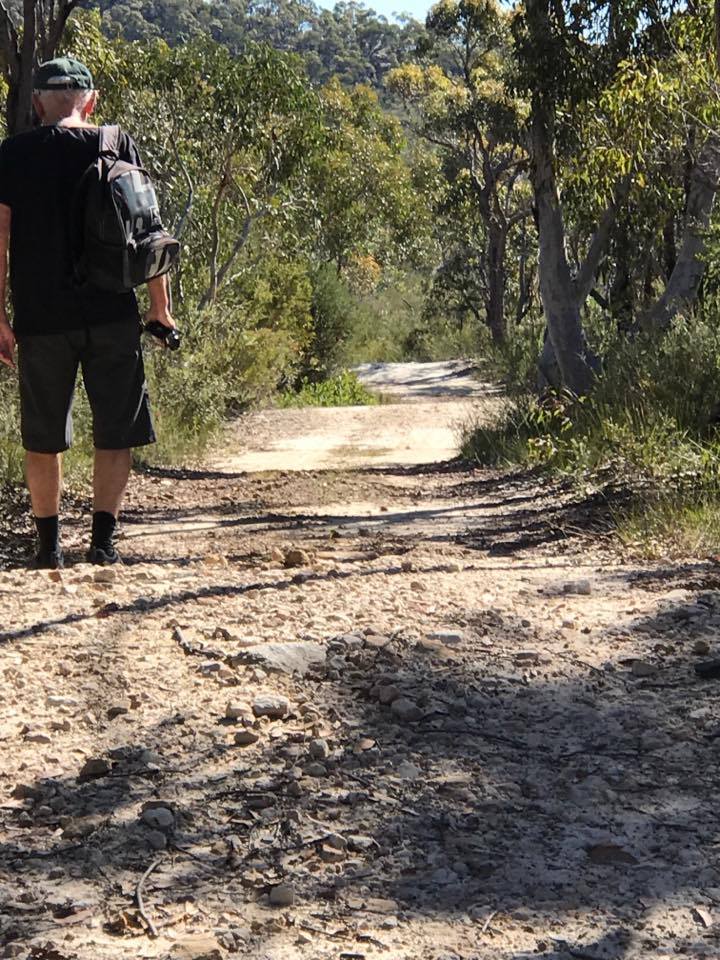 Photo of the surface as you descend at Waratah Track
Being regular hikers in Ku-ring-gai Chase National Park the Wheelers also wanted to let NPWS know
that the track to Flint and Steel bay is overgrown and "shot to bits".

After contacting NPWS they quickly responded and have already made plans, prior to last weekend, to fix the problems the Wheelers experienced.
"As part of routine operations, NPWS maintains and inspects trails within the national park, but due to such a vast network of track we welcome visitors reporting anything they see that needs fixing. Broken glass, for example, would be removed straight away once reported to NPWS staff." a spokesperson said
"While bike riding is permitted on the Waratah track as it is a fire trail, we ask that cyclists not ride when it has been raining heavily as this causes degradation to the track."
"Local NPWS staff have been working with two Green Army teams over recent months to rebuild the Flint and Steel track. A new, third Green Army team commences this week and will begin a 20 week program that will include working on the 100 metre section of track that is overgrown." the spokesperson said.
Ku-ring-gai Chase National Park,
Australia's second-oldest national park, is 14,882 hectares that stretches from Berowra to Brooklyn, to Hornsby and Pittwater and includes Barrenjoey Headland. The villages of Cottage Point, Appletree Bay, and Bobbin Head are located within park boundaries. There are several walking tracks within the park and a lot of area that requires not only NPWS staff but volunteer groups, such as Chase Alive, to loo after such a treasure.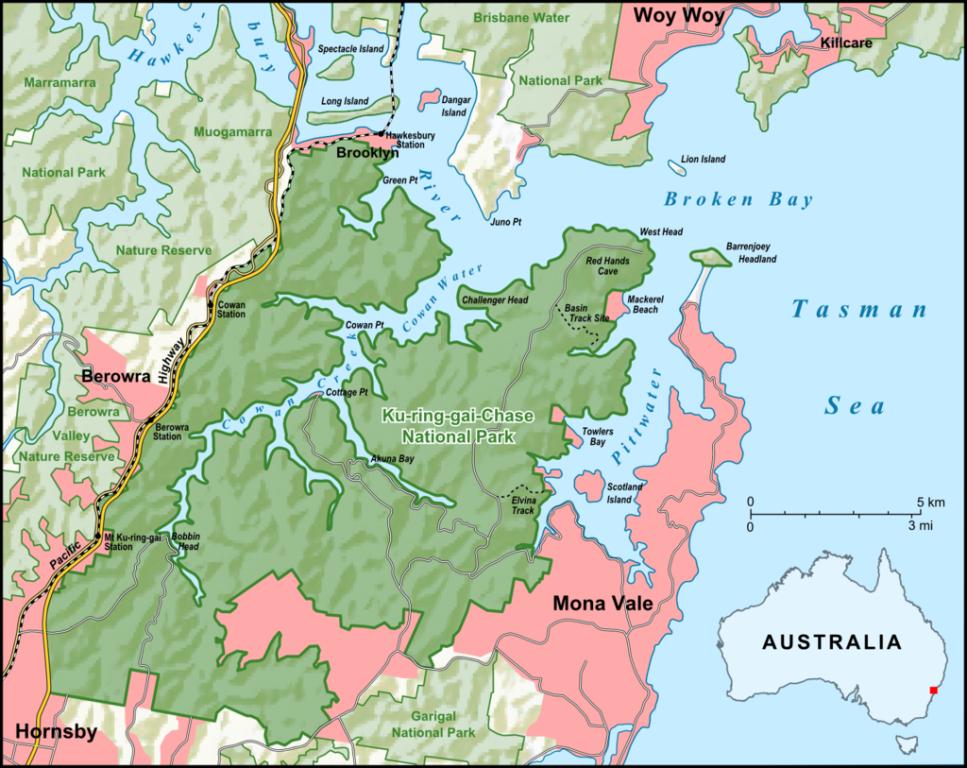 Map of Ku-ring-gai Chase National Park

Ku-ring-gai Chase National Park, Lion Island Nature Reserve, Spectacle Island Nature Reserve and Long Island Nature Reserve are managed together under one plan of management.

Mountain Biking in
Ku-ring-gai Chase National Park
Two good road rides through the park are popular, namely the out and back ride to West Head, and from Mt Colah to Turramurra via Bobbin Head. Offroad, the opportunities are more limited, as bikes cannot be ridden on walking only tracks. Despite this there are a number of tracks where bikes and walkers share. These include most of the Bobbin Head Track, the Long Track, Perimeter Track and Centre Track at Terrey Hills, and a number of the tracks off the Lambert Peninsula. For more information on these, ask at a visitor centre or ranger station.
http://bushwalkingnsw.com/park.php?nid=94
Waratah Track
Cycling is permitted on this track.
Waratah walking track takes in wildflowers and scenic water views over Akuna and Yeomens Bay in Ku-ring-gai Chase National Park.
A brilliant walk when the weather warms up, Waratah walking track delights with heady scents and a colourful display that's sure to put a spring in your step. This track takes in the western area off West Head Road through heathland, with lovely water views over Yeomens Bay in Ku-ring-gai Chase National Park.
Take a virtual tour of Waratah walking track captured with
Google Street View Trekker.
For directions, safety and practical information, see visitor info:
www.nationalparks.nsw.gov.au/things-to-do/walking-tracks/waratah-walking-track
If you do see broken glass in this park, or something else that will help NPWS maintain the safety of visitors to the park, please communicate what you've spotted to this service. National Parks and Wildlife Service (NPWS) manages more than 850 NSW national parks and reserves, covering over 7 million hectares of land.
You can
contact NPWS
via phone, email, Facebook, or visit your local park office.