August 6 - 12, 2017: Issue 324
2017 Youth Match Racing World Championship: RPAYC's All women Crew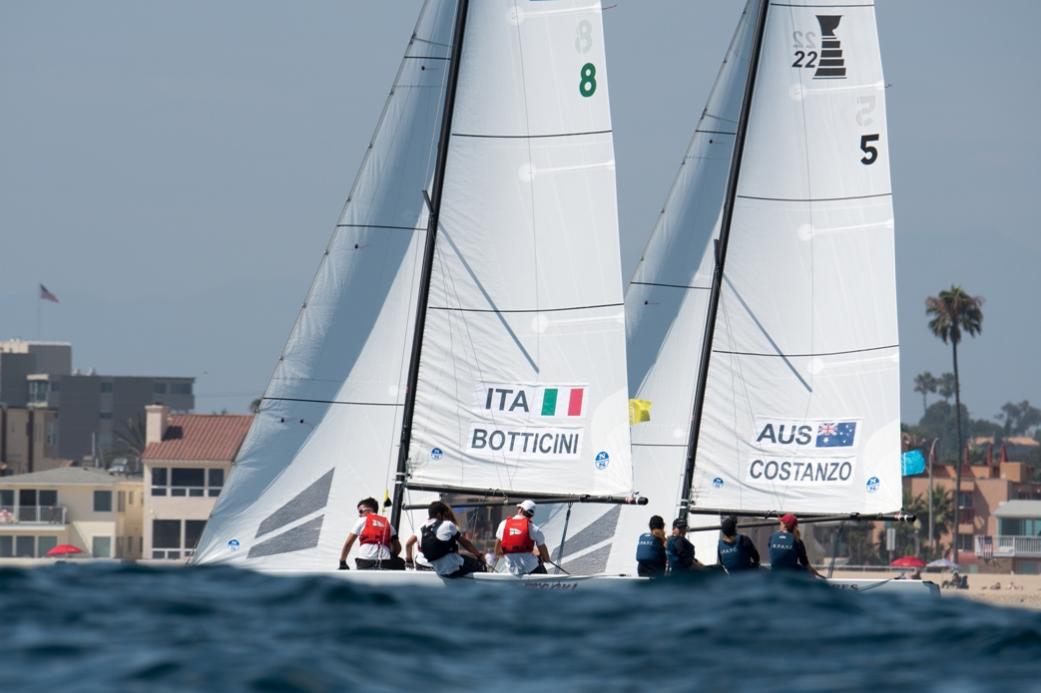 Clare Costanzo and her crew in action = On the water action photos of Day 1 the World Sailing Youth Match Racing Championships Match regatta hosted by Balboa Yacht Club | Photo by Tom Walker
Costanzo and team ready to take on the competition at the 2017 World Sailing Youth Match Racing Worlds
The 2017 World Sailing Youth Match Racing Worlds commenced on August 1st and ran until August 5th.
After promising signs from last weeks regatta, The Governors, where Clare Costanzo and her team of Jess Angus, Emma May and Hannah Lanz placed 6th place out of a strong international field of 13 competitors, the team are hungry to improve on this result as they get ready to compete in the Youth Match Racing World Championships.
The Balboa Yacht Club, who hosted the Governors Cup last week, will also host the 2017 Youth Match Racing World Championship.
The Royal Prince Alfred Yacht Club enjoyed success in this event previously when Youth Development squad members Will Dargaville, Josh Dawson, Sarah Parker and James Farquharson won the 2016 world championships, which was held in New Caledonia.
If there is any pressure pointed Clare's way, she certainly doesn't feel it.
"We feel really privileged to represent Australia as well as the RPAYC. I'm proud of the hard work that the team has put in to allow us to have a decent crack at the title. We have been very lucky to have Will Dargaville and other YD (Youth Development) squad members to put us through our paces before coming over to the USA. We have been juggling Work and Uni, getting out on the water at 0600 hrs, or pretty much when there was enough daylight!".
"We certainly wouldn't be here if it wasn't for the support of the RPAYC and our families. We would like to thank everyone for their support, and assure you that we will give it our all!" commented a determined Costanzo.
Also representing Australia is CYCA Harry Price, who goes in as the favourite, ranked #6 in the open Match Racing World Rankings.
There are a total of 9 nations and 12 competitors competing for the Championships.
The girls are also excited that there is another female skipper and all female team to compete against with Johanna Bergqvist representing Sweden, also sailing in a four up combination on the Gov Cup 22 keelboats designed by Allen Andrews.
The team has been enjoying the the wonderful hospitality provided by our wonderful host Don and Doris Stoughton, who are hosting the team for both events. The Stoughtons have hosted RPAYC teams at their lovely Corona Del Mar residence for over 25 years.
The team notched up some more on water time over the two practise days, as they keep building experience in the boats and the conditions off Newport Beach California.
Last night was the official opening ceremony. Clare had the honour of leading the opening parade and carrying the Australian flag, an emotional and proud moment for Clare and the team.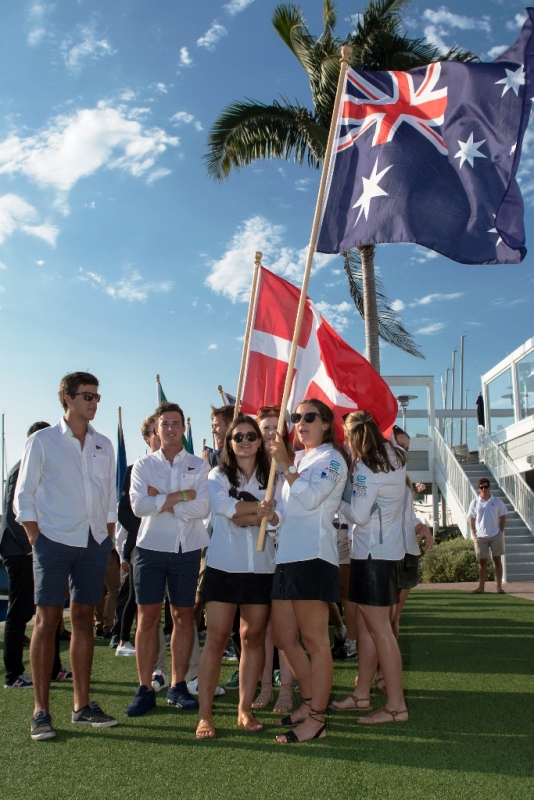 Opening Ceremonies 2017 Youth Match Racing Championships at Balboa Yacht Club
For those who want to re watch the opening ceremony. You can watch the replay along with pre race commentary here https://m.facebook.com/BalboaYachtClub/
Up to date results can be followed here (we are Australia 2): http://www.matchracingresults.com/2017/youth-world-championship/
Challenging weather for day 1 of the World Sailing Youth Match Racing championships off Newport Beach California
Clare Costanzo and her team of Jess Angus, Emma May and Hannah Lanz representing the RPAYC and Australia, started off the day versing the other all female team from Sweden. Clare had a dominating start with an easy lead in back to the start in the light south westerly, to take a comfortable win. The next two races saw losses against the Italian and United Kingdom teams. Both races saw a few strategic and tactical errors get exposed as well as boat speed out of tacks.
We managed to improve on the above points to take a win in the next race against the Danish team.
The last match of the day was against fellow Australian, and top ranked skipper Harry Price.
Everything was going to plan with Costanzo controlling almost all the prestart. At the last 30 seconds Price managed to get an overlap and forced Costanzo onto port. The girls tried to get back onto starboard but in doing so earned two penalties and an OSC off the start line!
One positive to take away was that Price's leading Margin was reduced on each leg of the course.
"Obviously we didn't sail a perfect day, however we are determined to learn from every loss and not repeat the same mistake twice! Being a World Championships, one mistake can mean the difference between winning and losing."
"We really enjoy the opportunity of sailing in a fleet of this calibre, and will come out tomorrow stronger." said a determined Costanzo.
With a thunderstorm approaching, it was called a day at 1730hrs.
Price (AUS), Anyon (NZL) and Botticini (ITA) lead Youth Match Racing Worlds
Day 1: Youth Match Racing World Championship
Balboa Yacht Club, Newport Beach, California
Harry Price (AUS), the #6 ranked open match racing skipper in the world, had a "typical day at the office" in finishing 5-0 on the opening day of the Youth Match Racing World Championship hosted by Balboa Yacht Club, Newport Beach, California.
Most observers expected Price to dominate the series despite his fourth-place finish in the 51st Governor's Cup, Balboa Yacht Club's Invitational Youth Match Racing Championship held two weeks ago.
When asked if he considered himself the favorite during the introduction of teams at Monday evening's Opening Ceremony, Price said, "Not sure about that, but it doesn't hurt that the three people that beat us in the GovCup aren't here."
He has had a crew change from his GovCup team, with Tara Blanc-Ramos joining the team on the bow, undoubtedly a good development since Blanc-Ramos sailed with Price in their 2015 Governor's Cup win.
Another veteran of this year's Governor's Cup, New Zealand's George Anyon, matched Price's 5-0 record today in dispatching much of the European sailors in winning races against the teams from Sweden, Great Britain, France and Switzerland. Anyon has yet to sail against Italy's Ettorre Botticini, who also ended the day with 5 wins.
World Sailing, the governing body of the sport, limits teams in the World Championship to no more than two from any country. While Botticini has already established a winning sailing record, he has not participated in the many youth match racing regattas held annually in Australia, New Zealand and the United States. Botticini had also never sailed in California before, but experience didn't seem to be a problem today.
He is sailing with a crew of four, including his younger sister. After the race, Botticini said, "We were pleased to do so well in the light conditions with four people when most of the crews sailed with three." The Governor's Cup 22 sloops provided to the competitors by BYC were designed to be sailed with either three or four crew, subject only to a crew weight limit of 579 pounds or 263 kilos.
The two teams from the United States, skippered by Newport Beach native Charlie Welsh and Floridian Greiner Hobbs, as well as Great Britain's Matt Whitfield, were close behind tied on three wins. Denmark's Felix Jacobsen and Australia's all-female team led by Clare Costanzo are tied on two wins.
Conditions in the Pacific Ocean off Newport Beach were challenging with wind speeds ranging from 4 to 10 knots, but the large sail area and masthead spinnakers on the GovCup 22s allowed racing to continue for most of the day after a mid-day postponement of 45 minutes due to light wind.
It is always good to start a match race series undefeated, but the Championship format includes a "double round robin" which pits each team sailing a match against every other team twice, with the winner of each match earning one point and the loser zero. The skippers finishing in the top four of the round robin series will sail in a knock out semi-final series on Friday, first to win three races. In turn the semi-final winners will sail for the World Championship in the finals on Saturday 5 August.
Report courtesy World Sailing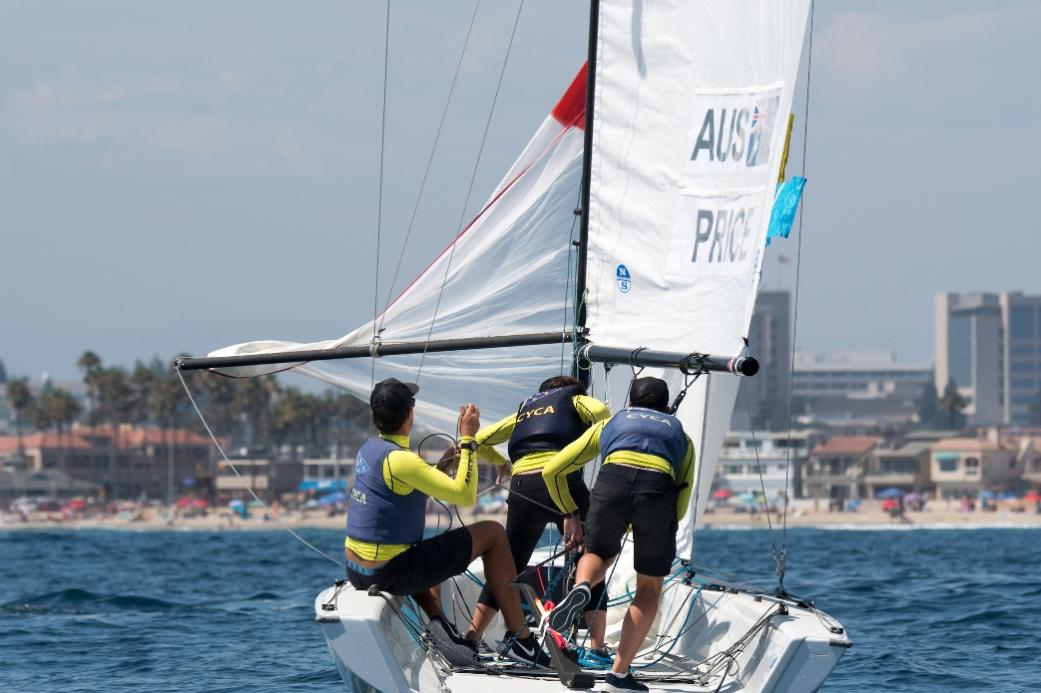 CYCA's Harry Price and crew in action On the water action photos of Day 1 the World Sailing Youth Match Racing Championships Match regatta hosted by Balboa Yacht Club | Photo Tom Walker
Tight finishes on Day 2 of the World Youth Match Racing Championship
Even though only two flights were completed today, the racing was intense.
The first race of the day was against New Zealand's George Anyon. With the strong current it made it very difficult for Clare as the pin end boat to enter and complete her tack onto starboard. Anyon used this advantage to the fullest forcing Clare to have to enter and immediately have to take avoiding action, forcing her to lose all her speed, and more importantly control. This lead to Anyon getting a big jump off the line and sail on to take the win.
The second match was against the Swiss team. A dominating start saw Costanzo and her team of Jess Angus, Emma May and Hannah Lanz take an early lead off the line. An inland thunderstorm played havoc with the wind, making it very shifty and light. Each leg there were multiple lead changes. As they approached the finish mark, Costanzo Gybed onto port as the Swiss team skipper by Cadei, came in fast on starboard. Costanzo however was able to get to the pin end zone and establish mark room on the mark. There was yelling and protest flags flying, and the umpires gave Cadei a penalty awarding Costanzo the win.
"It's cut throat racing. These shifty conditions really force you to have to try and stay with you opponent when you have the lead. Leverage can be your friend when you are behind, how ever it comes back to haunt you when you have the lead!" commented Costanzo.
Report courtesy RPAYC
Day 3 of the World Youth Match Racing Championship. Snakes and ladders!
Racing got underway in very light conditions off Newport, California for the RPAYC Youth Squad competing in the World Sailing Youth World Match Racing Championship 2017.
In the early stages of the Day Costanzo and her crew of Jess Angus, Emma May and Hannah Lanz, struggled to find straight line speed up wind and out of tacks in the light 3 knot south westerly winds. The team, however kept experimenting with their technique and sail trim to try and fix the issue. This never say die attitude was rewarded when after recording two losses, they scored 4 wins on the trot against New Zealand, Sweedan, Denmark and The United Kingdom. The team had a close loss to the Italians, who they lead up the first beat, but made the mistake of splitting sides on the upwind leg. Some great attacking downwind sailing saw Costanzo make a last burst for the finishing line.
After a short period of stronger (7 knots) breeze, the wind began to decrease, and a huge swell and short chop started to develop, making it very difficult to keep the boats moving.
The last start of the day was against fellow Aussie, Harry Price. The conditions had gotten worse and both boats were unable to make headway across the line. The race committee signaled the abandonment flag and sent the relieved sailors (and coaches) back home at around 1800hrs.
"Long day at the office" joked a mischievous Costanzo.
"We are getting more confident now in the lighter airs, working on the way we mode and sail the boat. We are 3 points off the top four, so we have a bit of work to do today".
3rd of August, 2017 Youth Match Racing Championships, July 31 to August 5, 2017, Balboa Yacht Club, Newport Bach, California, USA, Sailing GovCup 22 One Design Boats | photo by Tom Walker
Price remains perfect at Youth Match Racing World Championship
Augsut 4, 2017: USA time

Harry Price (AUS) ended the day undefeated and alone at the top of the leaderboard at the Youth Match Racing World Championship hosted by Balboa Yacht Club.
The day's key match-up was Price and George Anyon (NZL) at the end of Round Robin one.
Both had been undefeated through their first ten matches.
After a closely-contested pre-start, Anyon gained control on the final approach to the line and won the start cleanly.
Price had to tack away for clear air, but then Anyon became ensnared in dirty air from another match that was on their second upwind leg.
Price had clear air on the upwind right, and was helped, too, by a bit of a right shift.
He grabbed the lead and never looked back, winning by five boat lengths.
With a nice 7-8 knot late afternoon breeze, the Race Committee kept the sailors on the lumpy Pacific Ocean until nearly 1900 (7pm), completing four flights of Round Robin two.
Price continued his winning ways, taking all four of those matches to end the day undefeated on 15-0.
Certainly the upset of the day was the Anyon-Whitfield match in Round Robin two.
Matt Whitfield (GBR) has been coming on strong and handed Anyon his second defeat of the day.
Anyon led early, but Whitfield found some breeze on the second upwind leg to pull ahead. Despite the loss, Anyon still stands second overall on 13-2.
Ettore Botticini (ITA) lost an important match to American Greiner Hobbs (Tampa, FL), but won his other matches to end the day on 10-5. Hobbs had a stellar day, pulling his team even with Botticini on 10-5.
The two are tied for third overall.
Local favorite, American Charlie Welsh of Newport Beach, is also in the hunt for a semifinal berth, ending the day fifth overall on 8-7.
Round Robin racing for the twelve teams from nine nations (two from AUS, NZL and USA) continues tomorrow, with the top four teams advancing to the best-of-five knockout semifinals.
The semifinal winners will race head-to-head for the championship in a best-of-five finals on Saturday.
Report courtesy World Sailing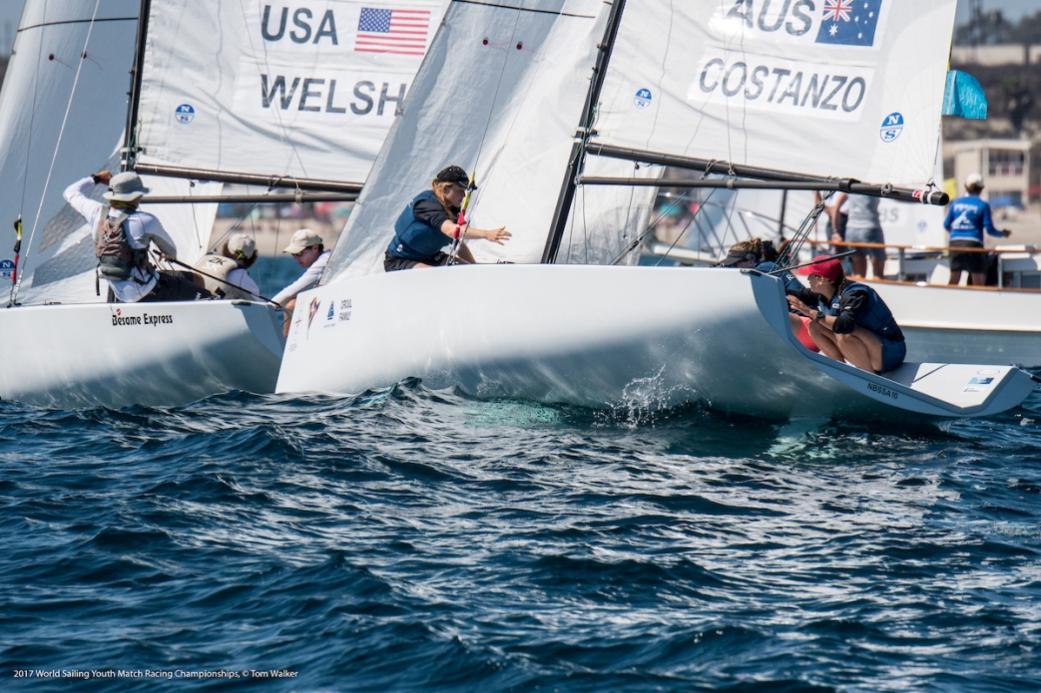 8/4/17 -2017 Youth Match Racing Championships, July 31 to August 5, 2017, Balboa Yacht Club, Newport Bach, California, USA, Sailing GovCup 22 One Design Boats | Tom Walker
4th of August, 2017 Youth Match Racing Championships, July 31 to August 5, 2017, Balboa Yacht Club, Newport Bach, California, USA, Sailing GovCup 22 One Design Boats | photo by Tom Walker
Harry Price (AUS) wins round robin stage, picks Greiner Hobbs (USA) as his semifinal opponent
August 5, 2017: 6.40 a.m. US time

George Anyon (NZL)will face Italy's Ettore Botticini in the other semifinal.
Harry Price (AUS), George Anyon (NZL), Ettore Botticini (ITA), and American Greiner Hobbs emerged from the field of 12 teams from nine countries to advance to Saturday's semifinals in the Youth Match Racing World Championship hosted by Balboa Yacht Club.
"It's not ever easy deciding who to pick," said Price at Friday evening's post-race press conference. "We're feeling confident after racing this week, so we just decided to choose someone that we have beaten twice."
Hobbs and Botticini began Friday tied for third with 10 wins behind Price and Anyon, with local favorite Charlie Welsh (USA) in fifth place, still having a fighting chance of advancing.
But Hobbs secured early wins to solidify his position in the semifinals. Botticini stumbled against a much-improved French team, skippered by Cyril Fortin. However, Welsh could not seal the deal, falling to Johanna Bergqvist (SWE).
Price entered the day with an unblemished record and advanced to the semifinals as the number one seed, with a record of 20-2. But it certainly was not a picnic cruise for the world #6 ranked match racer.
While Price's excellent boat speed shone during come-from-behind victories against the two American teams, his perfect record eventually fell to Felix Jacobsen of Denmark who has been near the bottom of the leaderboard all week. The Danes held on for a hard-earned two-boat length victory after a late onslaught of jibes from Price.
Price then lost a closely contested match to Botticini, so perhaps it is not a surprise he chose Hobbs over Botticini for his semifinal.
In the final race of the day, and the round robins, and with their respective semifinal spots secured, Price and second-seeded Anyon squared off in their second match of the Championship. Price had won the first. In this match, Price had the better of his opponent in an aggressive pre-start, starting clear ahead of Anyon.
In the steadily building afternoon breeze under typical Newport Beach bluebird sailing conditions, Price and his crew stretched their lead to win the four-leg, 20-minute match by four boat lengths.
The best-of-five semifinals will begin Saturday at 1130 PDT, followed by a best-of-five final.
Report courtesy World Sailing
Watch today (Saturday US Time) at 1130 PDT / 1430 EDT / 1830 UTC for livestream TV coverage of the semis and finals on
facebook.com/balboayachtclub
rom any phone, tablet or computer.
No Facebook account required, free of charge. A brief Pre-Race Show will air from 1000-1015.
Harry Price (AUS) wins Youth Match Racing Worlds
August 6th, 2017
Harry Price (AUS) came from behind to defeat Ettore Botticini (ITA) in the fifth and final match of the Youth Match Racing World Championships to claim gold.
In a close-fought final, Price and Ettore traded jabs throughout the best-of-five-race series, with Price coming from behind to seal it.
With excellent pre-starts and classic match race tactics, Botticini went up 2-1 - stunning the many Australian fans cheering for Price from spectator boats and on Balboa Yacht Club's livestream TV feed. Botticini was not without fans ­- a large contingent back home in Italy had been closely following their country's new match racing hero all week on social media and in the Italian yachting media.
Despite being down 2-1 with Botticini on match point, Price and his team from Sydney's Cruising Yacht Club of Australia remained cool, sailing a brilliant fourth race - a must win - that saw them lead from start to finish, evening the series at 2-2.
In the fifth and final match, Botticini made an unforced error at the start that ultimately cost them the championship. During the pre-start, the two teams jockeyed for position aggressively, reaching the starting line early. At the starting signal both teams were clearly over the starting line early, and were signaled by the race committee to return to restart. Each dipped back across the starting line, but Botticini turned up the course before getting his boat completely back to the pre-start side of the line, requiring a second return. In the meantime, Price cleared himself and was up the course with a five boat-length lead that he never relinquished.
Price, as the #6 ranked match racer in the world (of any age), was the pre-regatta favorite, and his team won the preliminary phase - losing only two matches of the 22 in the double round robin held Tuesday through Thursday. But one of those losses was to Botticini late in Round Robin 2, setting up the tense final.
Price had won his semifinal over the USA's Greiner Hobbs (Tampa, FL) 3-0, while Botticini took four matches to dispatch George Anyon of New Zealand 3-1.
In the best-of-three petit final (consolation series between the other semifinalists), Anyon defeated Hobbs 2-1 to finish third overall.
Report courtesy World Sailing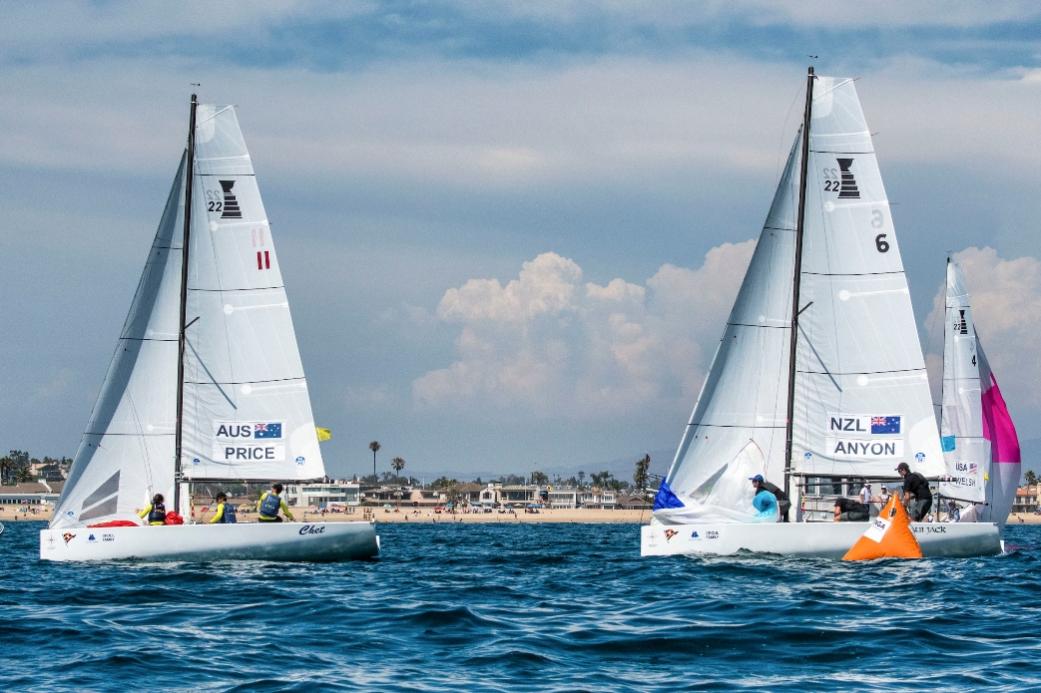 3rd of August, 2017 Youth Match Racing Championships, July 31 to August 5, 2017, Balboa Yacht Club, Newport Bach, California, USA, Sailing GovCup 22 One Design Boats | photo by Tom Walker