August 20 - 26, 2017: Issue 326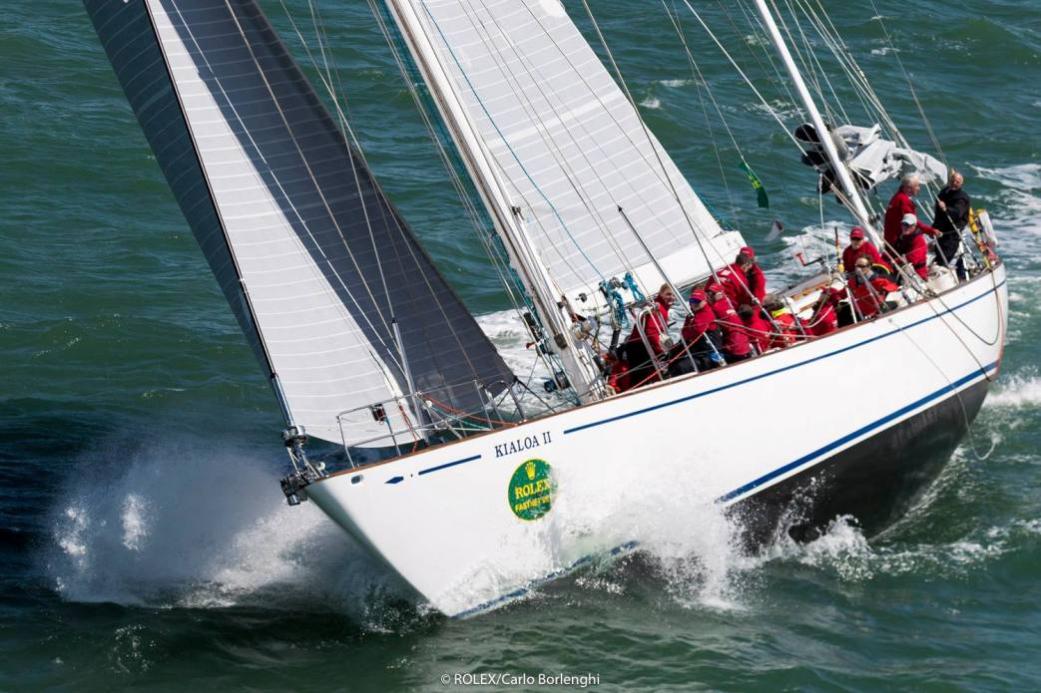 Kialoa II Rolex Fastnet Race 2017 - photoRolex/Carlo Borlenghi
Step two for Kialoa II
Kialoa II has completed the Rolex Fastnet Race and will soon hoist sails and head to Sydney, Australia, and the second major goal for the owners Patrick and Keith Broughton, the Rolex Sydney Hobart starting from Sydney Harbour on December 26, 2017.
The 73' S&S yawl will complete a delivery voyage of close to 13,000 nautical miles leaving Plymouth August 20 and heading for Sydney via the Canary Islands, Cape Town, Albany and Melbourne. The boat and delivery crew are expected to arrive mid-November, five weeks out from the Southern Hemisphere's equivalent of the Fastnet in terms of distance, rich history and reputation.
Built for ocean racing Guru Jim Kilroy in the 1960s, Kialoa II stood up well to the conditions of the Fastnet, the boat's first ocean race with significant international profile since the 1970s. Owners of what has been a luxury cruiser for the past four decades, the Broughton brothers Paddy and Keith, now have the delivery to expose anything else that needs upgrading before tackling what is one of the world's most difficult stretches of water.
Recounting their Fastnet Race and results of 144th overall in IRC and 37th in IRC One Paddy said: "We are pretty satisfied with our result. We were worried on the first day that it would be really light racing, as Kialoa weighs 45 tons, but when we got into the swing of it and the breeze kicked in things were better. We don't like too many manoeuvres, we like straight lines! As a whole the Fastnet experience was very good."
Yachting World's on board tour of Kialoa II
&
article post the Rolex Fastnet Race
.
There is a whole lot of history behind Kialoa II, and some very skilled people among the crew - a combined total of 162 Sydney Hobart races among seven and a further 25 Fastnet races under their collective belts.
Special crew achievements include navigator Lindsay May's (AUS) 44 consecutive Sydney to Hobart races, including three overall wins, and Patrick (AUS) rowing for Cambridge University in the Oxford Cambridge Boat Race and for Great Britain, plus rowing the 2,300 miles of the Mississippi River in 2014.
Speaking on their Rolex Fastnet crew Keith Broughton said: "They all gel really well. We have a mixture of Australian and British nationals sailing on the boat. A lot of the British crew did the qualifier to allow the Aussies to come to take part, and we are deeply indebted to them."
Kialoa II was built in 1963 and over the decades has undergone plenty of modifications, including a full refurbishment by the Broughtons to bring the boat up to modern day safety and competition standard. Of course like any boat, there are always plenty more things to spend money on.
"The winches are a bit small for the boat by the standards of modern winches and we were really noticing that especially with so much tacking in the Fastnet," Paddy said. "But as far as performance is concerned she is still very exciting to sail. We had a fantastic charge down towards the Scillies with four sails flying: mizzen, mizzen staysail, main and spinnaker.
"We could have done things the easy way on a modern boat, but we chose Kialoa. We think she is still in her prime."
Kilroy's original brief to Sparkman & Stephens was to design a boat that could win the maxi ocean racing category of the major ocean races of the time, which it did during a racing career spanning a decade. Career highlights included taking out the 1965 Transpac Race from Los Angeles to Honolulu in 9 days, 19 hours and winning the 1971 Sydney Hobart Yacht Race on line honours in 1971 in a time of 3 days 12 hours 46 minutes 21 seconds.
By Lisa Ratcliff & Marina Johnson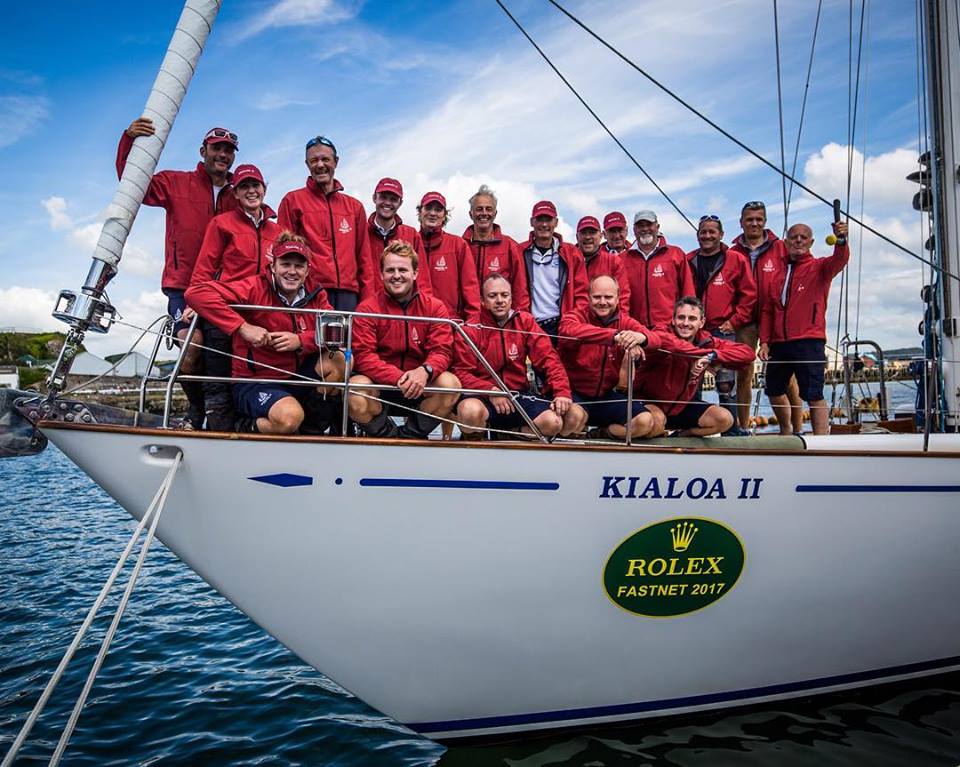 Patrick and Keith Broughton's 72ft S&S Kialoa II and her crew © ELWJ Photography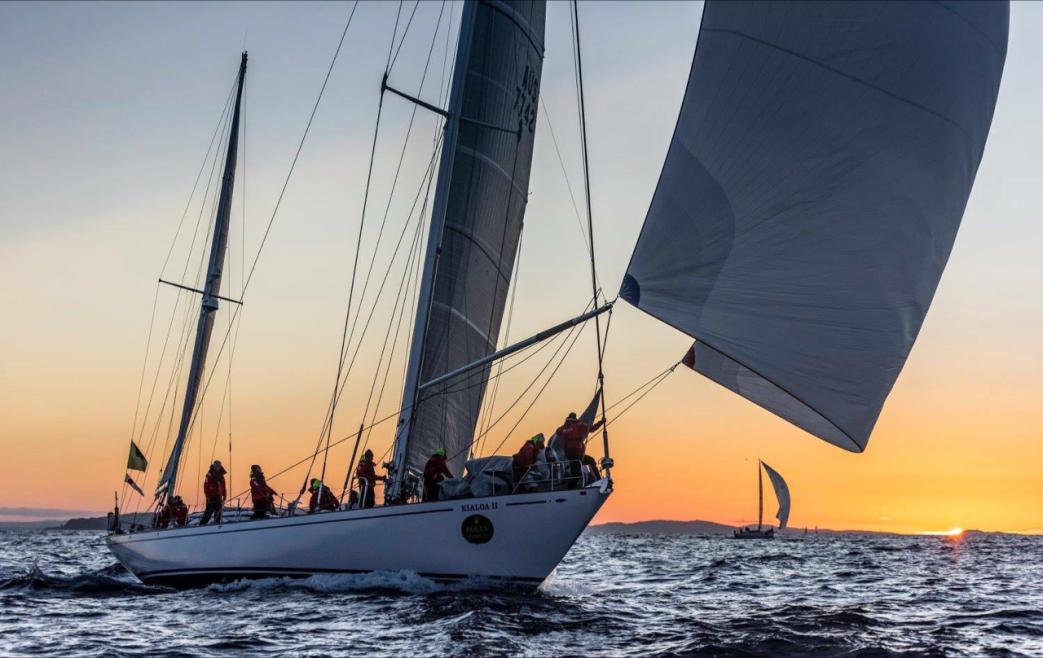 Kialoa II Rolex Fastnet Race 2017- photo Rolex'Kurt Arrigo