August 27 - September 2, 2017: Issue 327
Audi Hamilton Island Race Week 2017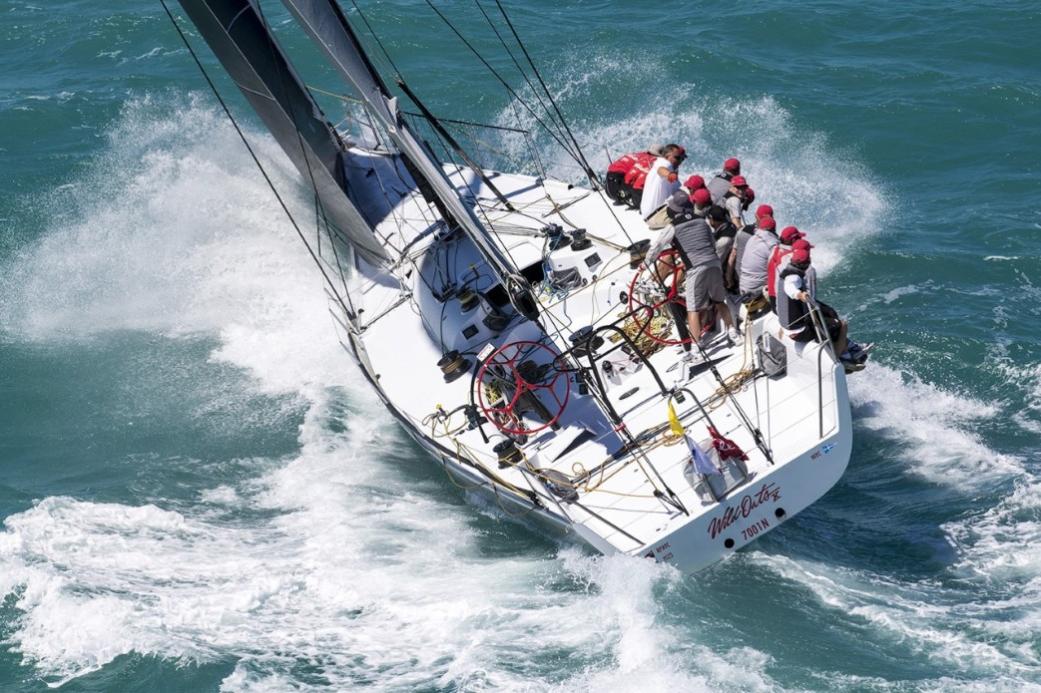 IRC Racing division went to the Crown Prince Frederik of Denmark skippered NANOQ, the Oatley's 66-footer and baby sister to supermaxi Wild Oats XI. -
photo by Andrea Francolini
Massive high closes out Audi Hamilton Island Race Week
26 August 2017

Close to 2,000 sailors racing in 15 different divisions at Audi Hamilton Island Race Week 2017 finished the series on a massive high regardless of whether they picked up a trophy in the Non-Spinnaker or IRC Racing division, or any trophy at all.
Crews from Tasmania to Western Australia to the American classic Dorade on a Southern Hemisphere odyssey used what was left in the tank in the sou'east tradewinds 15-18 knots to firm up a divisional placing, or just see out the series in spectacular North Queensland winter sailing conditions.
IRC Racing
The hard-fought IRC Racing division went to the Crown Prince Frederik of Denmark skippered NANOQ, the Oatley's 66-footer and baby sister to supermaxi Wild Oats XI.
"A win is a big thing for me," the Crown Prince said. "I knew I was going into something fantastic by word-of-mouth, but that was it. I know this part of the world a little but I didn't know the sailing conditions.
"Personally and statistically I did think I improved over the week. The first day was pretty wild; one of my top three sailing days ever. I have never steered such a big boat - I've steered 52s and 40-footers before. I had a brilliant crew; my friend Chris Meehan and Iain (Murray) put the team together."
So will he be back? "Certainly yes; if they (sistership Alive) come next year I'm happy to defend my title."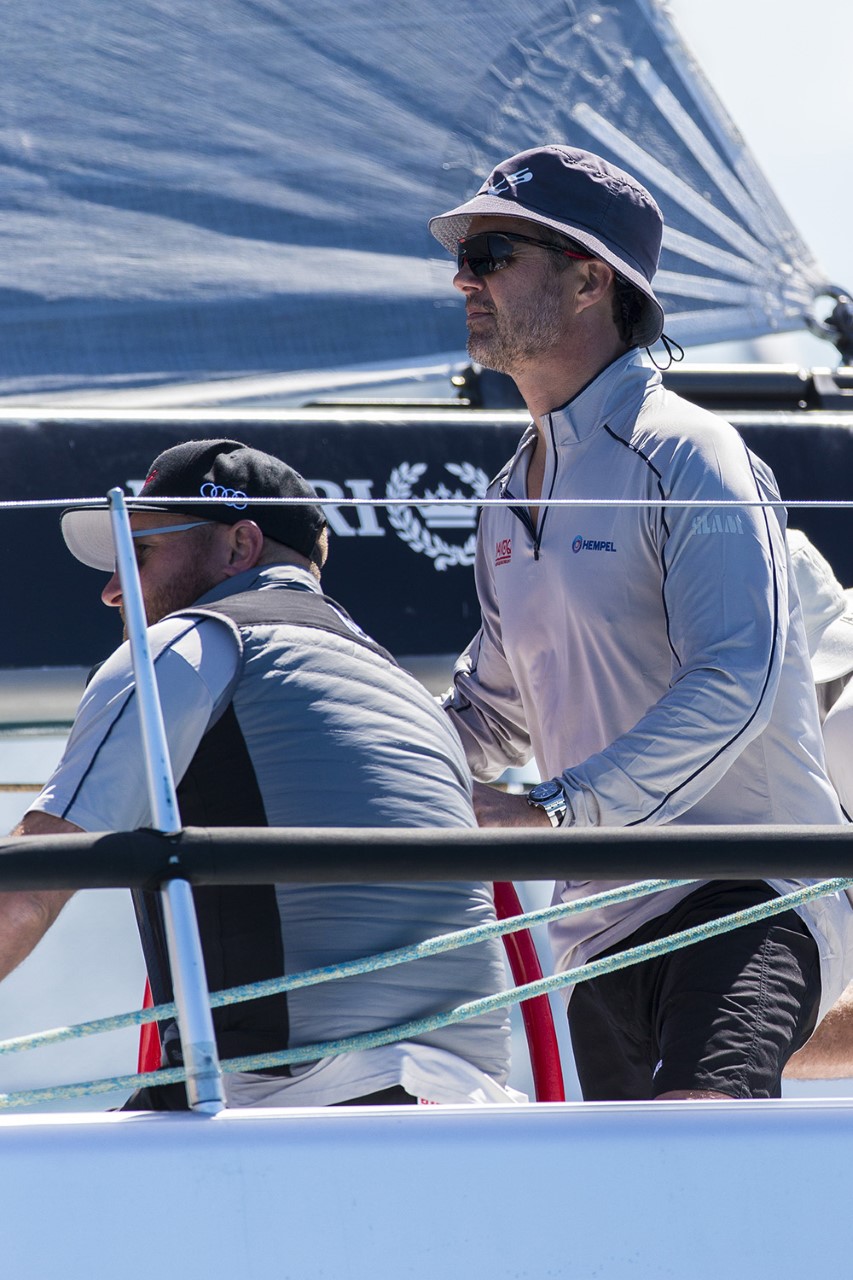 HRH Prince Frederik of Denmark at the helm of NANOQ photo by Andrea Francolini

Provisionally second on handicap by four points was Philip Turner's Alive, sailing for the Derwent Sailing Squadron in Hobart, Tasmania. Third on a countback was Brent Fowler's West Australian TP52 M3, on equal points with second place.
Counting Saturday's islands race, the Oatley family's 100-footer Wild Oats XI took the line honours tally to four from six starts, and gave Peter Harburg's newly formed Black Jack team plenty to think about between now and this year's Rolex Sydney Hobart Yacht Race.
Like Oats, Harburg has the big names among his crew - Tom Slingsby, Tom Addis, Chris Nicholson, Will McCarthy, Anthony Nossiter, Mark Bradford and others – now they need time on the water to gel and learn the new boat after stepping up from a Volvo 70 program.
"We are 500% on where we were at the beginning of the week," Harburg said positively at the island's marina after racing.
Skipper Mark Bradford added: "we're still trying to figure this thing out. We've got to be more aggressive in the trim set up and how we sail the boat. There's probably 40 people between two boats that are looking for ideas to improve, which is what yachting's about. Across both boats there's a bit of banter between the guys and a bit of 'have you seen this? There's people foxing and it's kinda good fun!"
IRC Passage
Steven Proud's Kernan 44 Swish's victory in IRC Passage 1 division was no surprise, the strong Sydney crew putting enough separation between themselves and second place on the penultimate day to just enjoy the sights of the Lindeman Race and deliberately stay out of everyone's way.
"We've stayed tight as a group for nearly three weeks now," Proud said. "The best thing we did was have a week at Airlie Beach Race Week first, to get properly set up. We were all tuned-in ready and the conditions were perfect for us, we are really strong in light air and 20 plus knots.
"Billy Sykes from Norths helped put the team together and did a great job on tactics, and we had a great navigator in Andy Green; the currents and breezes are really challenging to work out. It's fantastic here; I'd forgotten what a great place Hamilton Island is to come sailing."
Second was Gerry Hatton's Mat 12.45 Bushranger from the Royal Prince Alfred Yacht Club in Sydney and third was Ian Box's XP44, Toy Box, from Middle Harbour Yacht Club.
Ray Roberts enjoyed the same relaxed final outing as the Swish crew, his chartered Sydney 38 Team Hollywood a guaranteed winner of IRC Passage division 2. Second was the head-turning Dorade, Matt Brooks' elegant S & S 52, and third was Sandor Tornai's Farr 30 Skeeter.
Racer/Cruiser
All week the battle raged in the Racer/Cruiser division between Anthony Coleman's J133 Euphoria from the Royal Sydney Yacht Squadron and Adrian Walters' Little Nico from Middle Harbour. Then, on the final day, Matt Owen's Sydney 32 Onyx sailing for the ACT wedged itself in between the pair, finishing second overall thanks to a last-chance win.
"Little Nico is a seriously fast boat - it just disappeared over the horizon - but we managed to sail to our handicap and we are very happy with our result," said Coleman on Saturday afternoon. "The boat's been here once before, back in 2011. She's 13 years-old and we have a majority of women crew so we are probably a bit unusual in that respect. It does make us quite popular in the evenings.
"We had a really good range of conditions over the week. We only lost the one day with no wind and the rest of the time it was decent sea breezes."
Multihull Racing
The tiny trimaran Fury Road, George Owen's VPLP design, stole the show from the giants in the Multihull Racing fleet. With the results of the final race added in, they beat Drew Carruthers' Drew 15 Rushour and Ian Condor-Smith's Tag 60 by two points.
"We are the mosquito, we are out there to annoy all the big boats," Owen said drily. "Airlie Beach was the first time we've raced. I've got two young guys, Tod Bartlett from Goolwa, South Australia, and Dave Whitcroft from Philadelphia in the US, and I'm the crusty old person at the back with a bit of brawn and experience. Today it came down to the last race between Rushour, Star Dust and us; we just raced the clock."
Employing his dry sense of humour Owen added: "It's a boat that struggles in the light and windy and doesn't like rough water; apart from that it's great."
Trophies will be awarded at a gala function this evening at the island's Convention Centre.
All results for all divisions are available here
All information relating to the regatta is on the website: www.audihamiltonislandraceweek.com.au
By Lisa Ratcliff /AHIRW media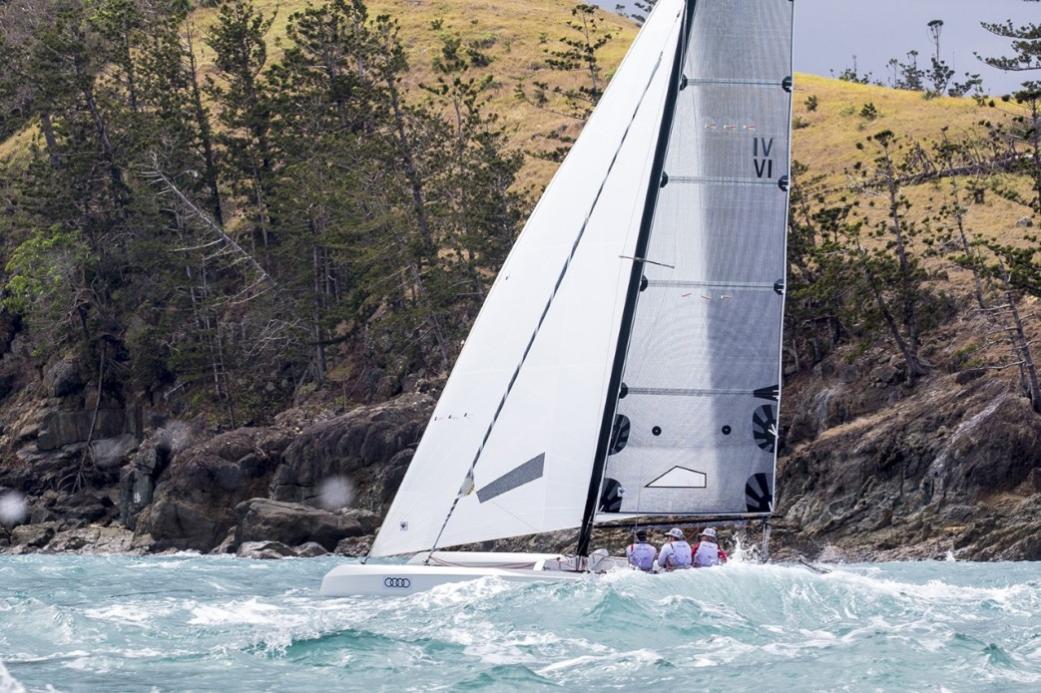 Fury Road the mozzie of Multihull Racing - photo by Andrea Francolini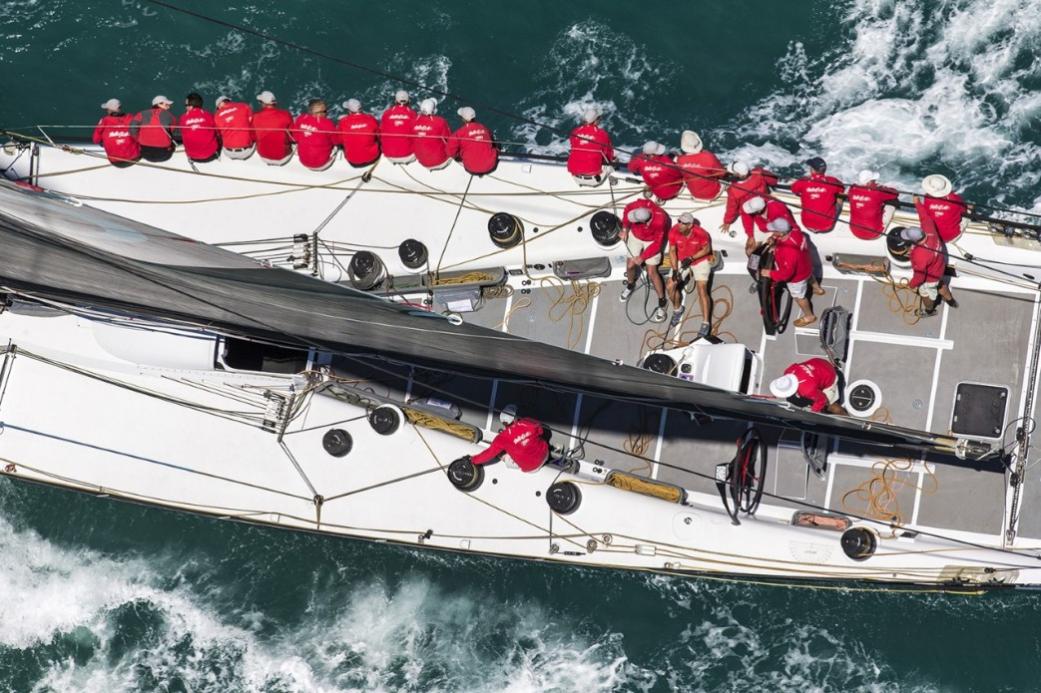 Wild Oats XI crew - photo by Andrea Francolini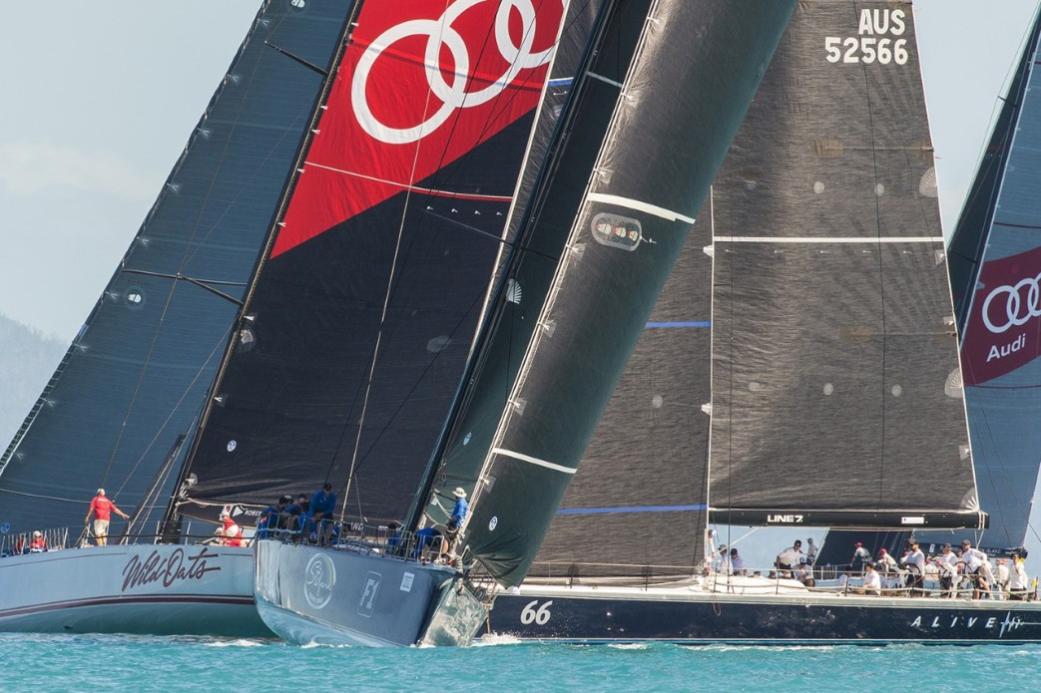 Black Jack with Wild Oats XI & Alive -photo by Andrea Francolini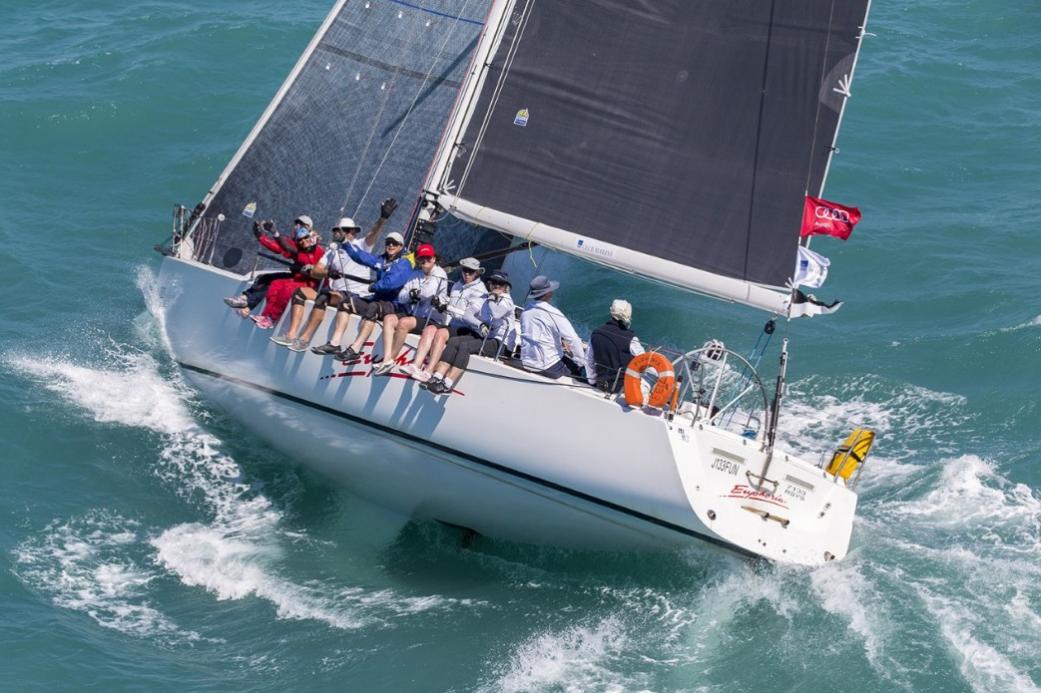 Euphoria Racer Cruiser division winner photo by Andrea Francolini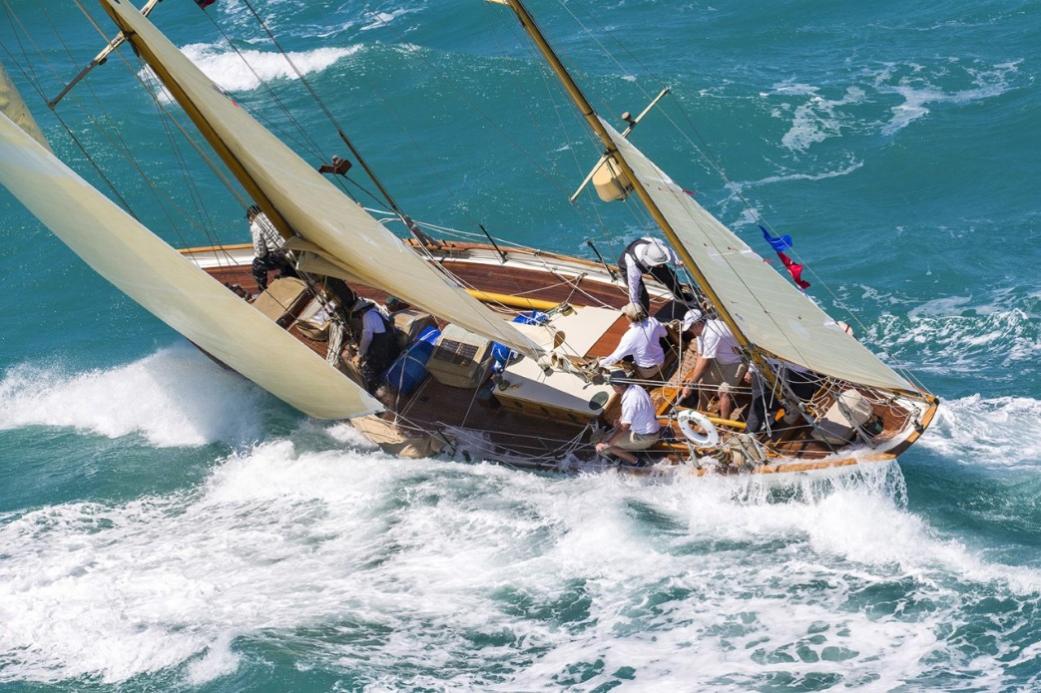 Dorade 2nd IRC Passage 2 - photo by Andrea Francolini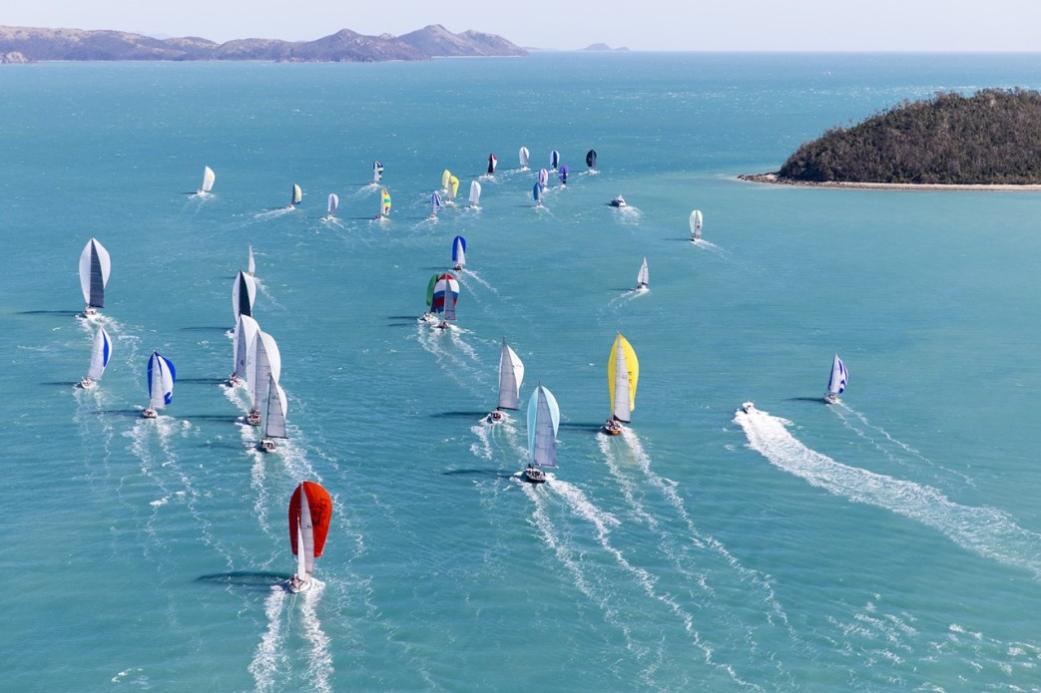 AudiHIRW 2017 fleet on the final day - photo by Andrea Francolini
Right royal wins at Audi Hamilton Island Race Week 2017
25 August 2017
The winter tradewinds returned to the Whitsundays and Audi Hamilton Island Race Week on the penultimate day of competition, allowing for an expanded schedule to make up for some races missed due to light winds mid-week.
Trailables, Multihull Cruising, Non-Spinnaker and most of the Cruising fleet crews took in the sights on various island courses, the occasional Humpback whale complementing the idyllic combination of warm winter sun and breeze all day. The remaining divisions stretched their legs in the afternoon after short course racing on a choppy course to the east of Hamilton Island.
IRC Racing
HRH Prince Frederik of Denmark at the helm of the 66-footer NANOQ he's chartered from the Oatley family and surrounded by a bevy of sailing superstars scored the double - wins in both the windward/leeward and islands course - to be IRC Racing pointscore leader by one point.
"Frederik steered the boat all day and did a great job," said tactician and co-helmsman Iain Murray. "He had a wonderful time; it doesn't get any better than that… beautiful breeze and a good combination of a shorter and longer course. It's all thumbs up on our boat today."
Supermaxi Wild Oats XI settled the score against Peter Harburg's same-sized Black Jack in the fresher breeze, skipper Mark Richards and his team now 3-2 in the line honours count.
"Oats is set up for (Sydney) Hobart mode and Black Jack is set up for light airs; it's amazing the cross-over….it's huge," Richards said. "One boat's so much faster in the light and the other is so much faster in breeze. Obviously there's a lot of work for both boats to do in their weak areas, and then see how we go on Boxing Day. The fortunate thing for us is I think we can improve our light air performance a lot.
"We started the regatta in breeze and we are finishing in breeze. Everyone's having a great time out there; the Prince took a win today, so he'll be pretty happy," Richards added.
Sailing well below the radar in the 66 and 100-foot dominated IRC Racing class this week has been Brent Fowler's TP52, M3. "It's hard being the only non-canting keel boat in the division; we're obviously a bit slower and the others like to beat up on us on the start line," said Fowler. "It's hard when your sails are half the size of the others."
Nonetheless M3 took a second in today's first race, and after a start line incident with Phil Turner's Alive in today's second race, M3's fifth place in race 5 is still provisional.
IRC Passage
Steven Proud's Kernan 44 Swish is undoubtedly in control of the IRC Passage 1 results with one race remaining. Despite the best efforts of Gerry Hatton's Bushranger crew from Sydney, scores of two seconds and three wins from five races mean Swish's crew can sleep peacefully tonight.
It's the same scenario in IRC Passage 2, the talent-heavy crew on Ray Roberts' chartered Sydney 38 Team Hollywood, including Softbank Team Japan America's Cup crew Ben Lamb, tactician Jamie Wilmot and navigator Lachie Paramor, delivering three wins and two seconds across a range of conditions.
"We were lucky to get Ben and also Lachie, who is a very accomplished navigator from Sydney," said Roberts dockside after day five of racing. "With the amount of current here you've got to be quite aggressive with your navigation and I was confident wherever he put us. Jamie Wilmot is on the tactics and the rest of the guys are terrific too.
"We sailed poorly this morning and extra smart this afternoon. You've really got to push the boat around to catch the waves. Being a displacement boat, in downwind pressure we've got to make sure the crew are exhausted and catching waves to surf as much as possible."
Racer/Cruiser
Adrian Walters' Shaw 11m Little Nico and Anthony Coleman's J133 Euphoria are on either side of the tug-o-war in the sexy Racer/Cruiser division. Walters had the edge thanks to a win in race four then in the afternoon passage race their fortunes changed dramatically, a 10th to Euphoria's first place moving them back into second overall by six points.
Multihull Racing is in the hands of Ian Condor-Smith's giant Tag 60 Stardust.
The race committee is considering their options for the final day of Audi Hamilton Island Race Week, on Saturday August 26. Given the forecast is again for 15-20 knots the traditional closing Lindeman Island Race looks set to wrap up the 34th series of Australia's pre-eminent keelboat regatta that has drawn 215 entries and close to 2,000 sailors from around the country and overseas.
All results for all divisions are available here
All information relating to the regatta is on the website: www.audihamiltonislandraceweek.com.au
By Lisa Ratcliff /AHIRW media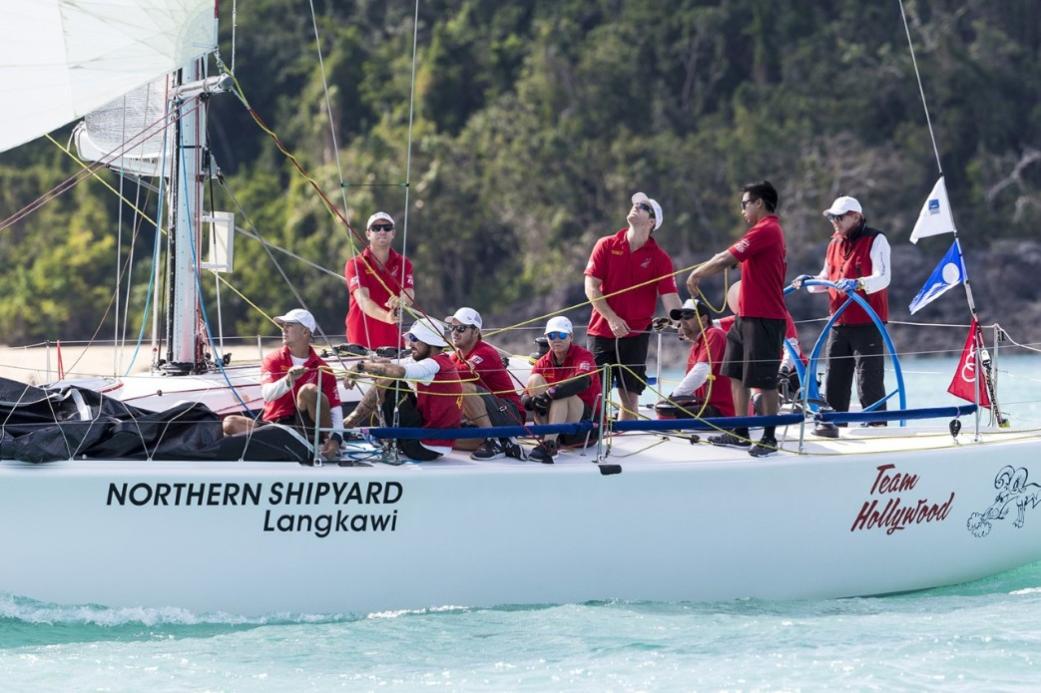 Team Hollywood Ray Roberts on the helm - photo by Andrea Francolin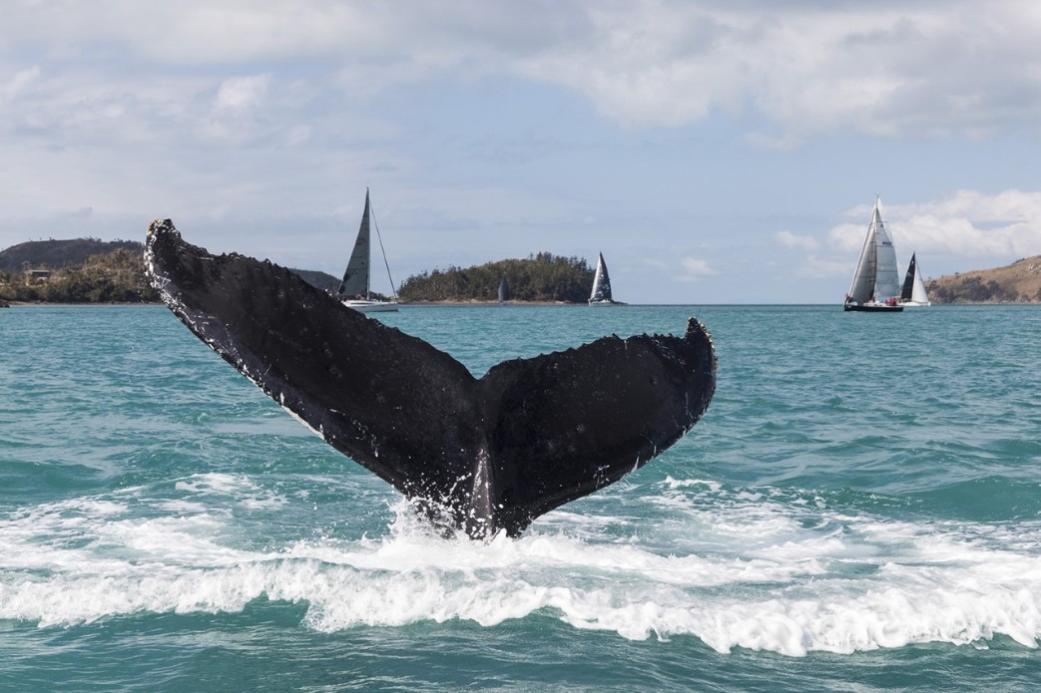 Whale in Dent Passage - photo by Andrea Francolini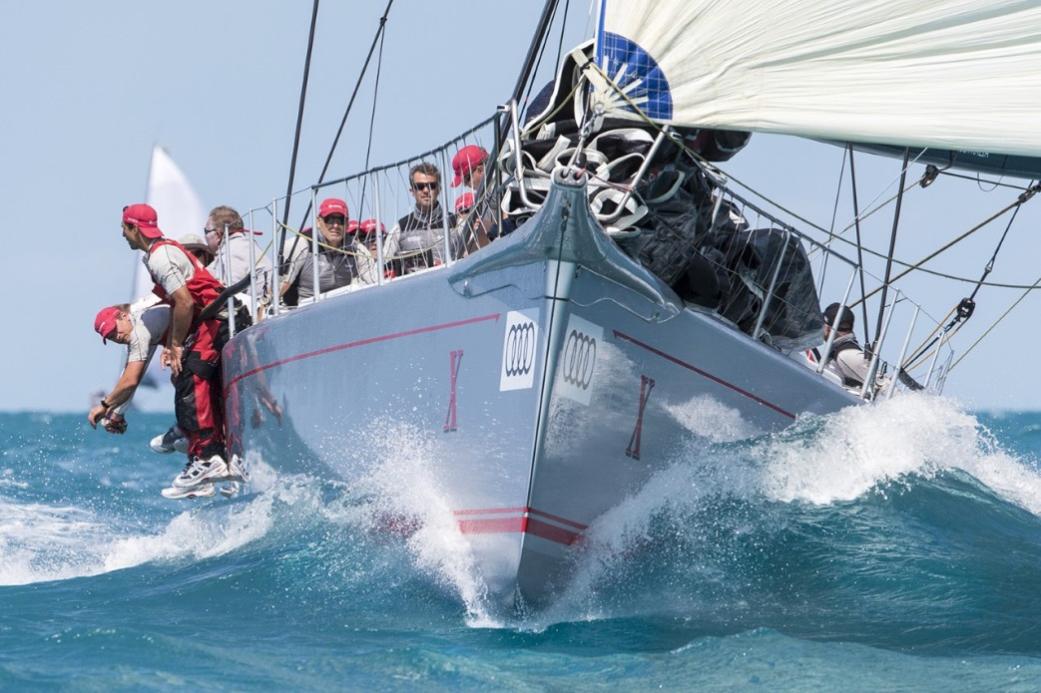 NANOQ with HRH Prince Frederik driving (sunglasses no hat) - photo by Andrea Francolini
Top Gun caught in Rushour at Audi Hamilton Island Race Week 2017
22 August 2017
Four hours after the original scheduled start and with the entire Audi Hamilton Island Race Week fleet moved to open water on the south western side of the island, the first start on day three got underway near Surprise Rock in a light south-east breeze.
The IRC Racing fleet led off, Peter Harburg's Black Jack 100 in control of the small but potent division from the outset, and rolling starts every five minutes saw the remaining divisions set off on their scenic island course.
In light winds and perfect Whitsunday winter sunshine an incident seemed unlikely, but two boats in the Multihull Racing division managed a port-starboard incident off Ann Island that holed Darren Drew's Sydney based Crowther 50 Top Gun. With a nasty crack in the port hull and taking on water, they lowered sails, started the engine and headed for Hamilton Island with the other multihull involved, Drew Carruthers' Rushour, escorting them.
Some hours later back at the marina Top Gun's crew was still trying to stop water entering the damaged hull using tape and buoyancy aids. They will use Wednesday's layday for repairs in the hope of returning to Thursday or Friday.
On their second line honours win from three starts Black Jack's tactician Tom Slingsby, part of Team ORACLE USA America's Cup who lost to the Kiwis in Bermuda in June, said: "It was a bit of a drag race at times; we got the better start and we were able to control them and in the end we sailed away to a pretty convincing win.
"The guys are sailing well and you wouldn't know this was a new team. We've got our wind conditions, which are lighter, and then once it gets windier they're (Wild Oats XI) definitely going to have legs on us, but hopefully we can take a race or two off them when it is windy too."
Audi Race Week is the second in a series of match-ups between the two 100-footers leading into the ultimate endurance contest, the Rolex Sydney Hobart Yacht Race.
Looking forward to December Slingsby added, "In the stronger conditions you can't match Comanche and you can't match Wild Oats XI so you've got to have your sweet spot. As it happens Wild Oats is trying to match Comanche a bit more in the breeze and it's left a pretty big opening for the light air performer. That's where these guys have optimised, and it's a good move."
Phil Turner's RP66 Alive leads the IRC series on handicap and Brent Fowler's TP52 M3 is second overall after Tuesday's corrected time win in their islands race. Alive's tactician Tim Somerville said, "I put it down to good crew work, the guys are scrambling really well and we are getting a bit lucky. With four races to go in the series, first is a good position to be in. Having to deal with two 100 footers and our sistership is tough, we just do a little bit of 100-footer management and try to get off the start line clean."
At the midway point in the series, IRC Passage division 1 is in the grip of Steven Proud's team on his Kernan 44 called Swish. In division 2, Ray Roberts' hand-picked crew, including Ben Lamb from the Softbank Team Japan AC team, on his Sydney 38 Team Hollywood are ahead by seven points thanks to 1,3,1 results. Matt Brooks' timber classic Dorade is running second in that division.
Anthony Coleman's J133 Euphoria from Sydney won at Race Week in 2011 and so far they are on track to repeat the success in the Racer/Cruiser division with 1,4,1 scores. Owner/driver Coleman says their results are down to a good crew and the boat being an all-rounder. "The boat performs in most conditions; it's happy in the strong winds and reasonable in the light stuff. Today was very pleasant, a 10 knot breeze and nice sunny skies. What more could you ask for?"
Points are tight in the Trailable division, Shannon Hart's Ross 7.8 High Tide sailing for Queensland just one point in front of Anthony Passmore's Melges 24 Planit from Sydney.
Wednesday is the layday at Race Week and the weather is looking great for a day at the world famous Whitehaven Beach, the Piper-Heidsieck lunch at qualia and Beachside Pool Party at the main pool throughout the afternoon.
Thursday's forecast is steering towards a similar day to Tuesday before the tradewinds make a return, potentially 10-15 knots on Friday and 15-20 knots on Saturday to tidy up the 34th edition of Race Week.
All results for all divisions are available here
All information relating to the regatta is on the website: www.audihamiltonislandraceweek.com.au
By Lisa Ratcliff /AHIRW media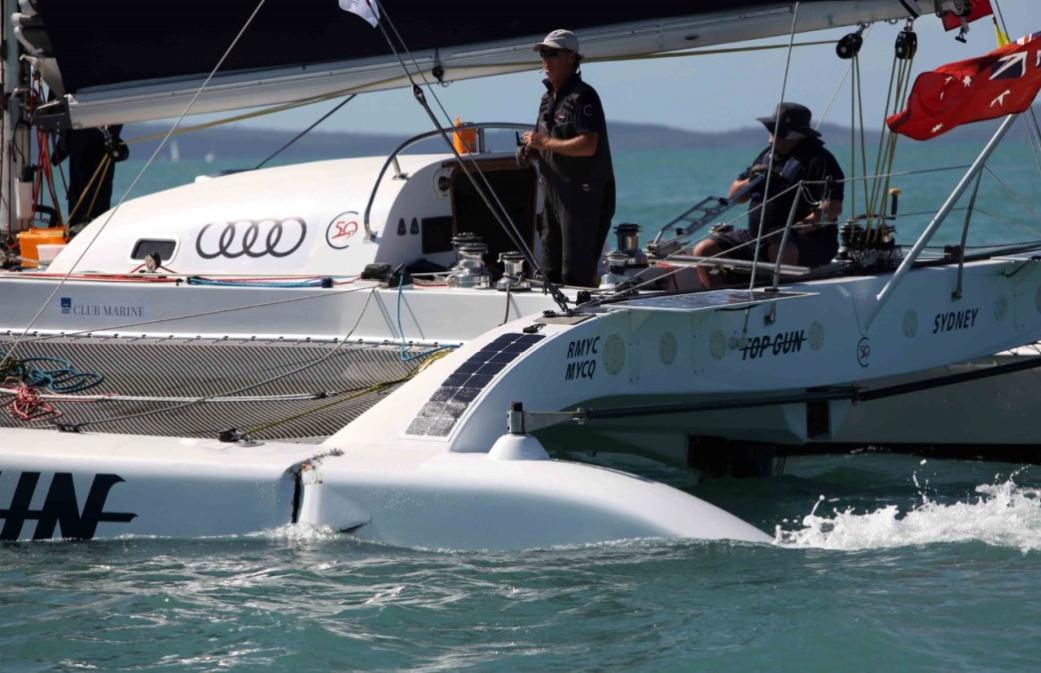 Top Gun damage on day 3 - photo by Crosbie Lorimer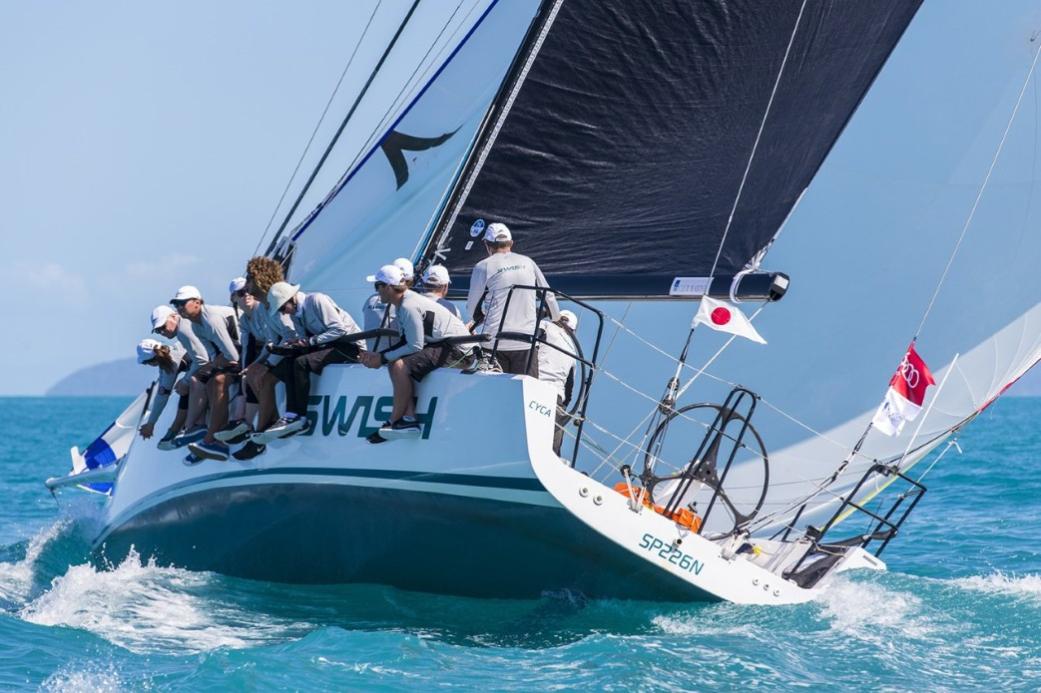 Steven Proud Swish day 3 - photo by Andrea Francolini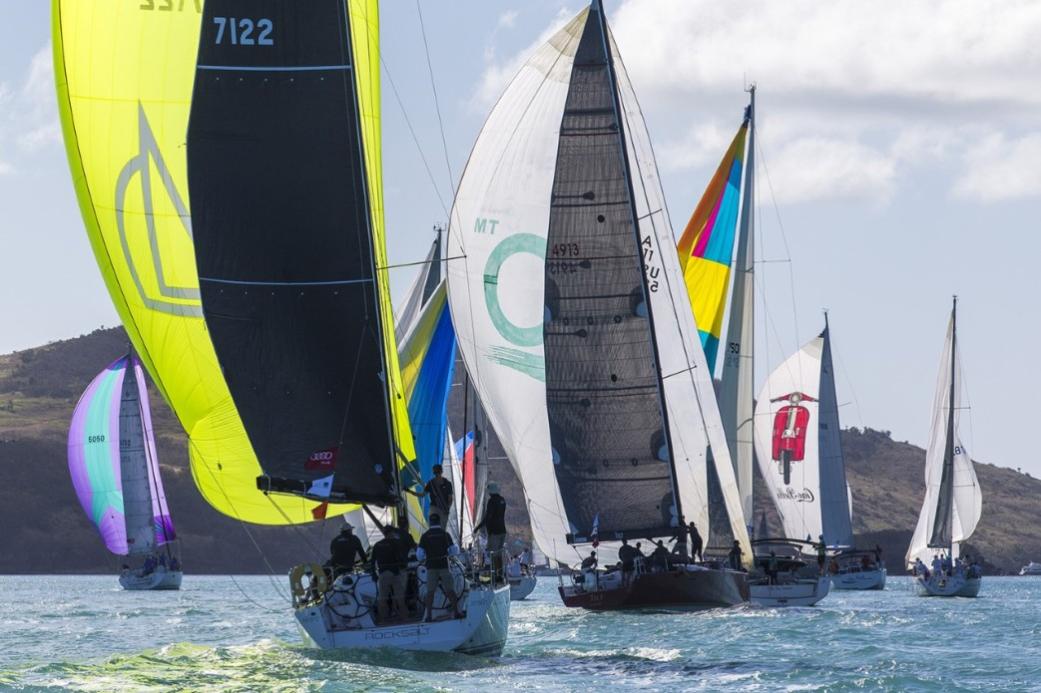 Cruising divisions on day 3 - photo by Andrea Francolini