August 27 - September 2, 2017: Issue 327
Residents Should Not Fear Demerger Costs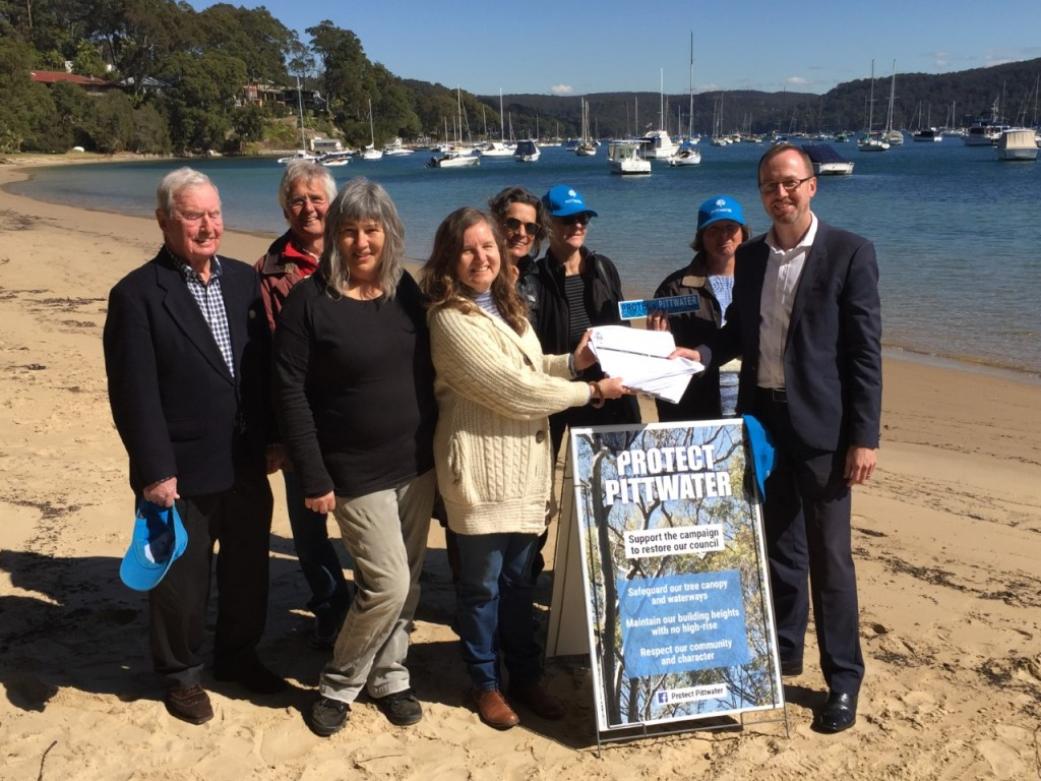 Protect Pittwater members and supporters including its President and former Pittwater Councillor Bob Grace with David Shoebridge.
Residents Should Not Fear Demerger Costs: Greens
Northern Beaches Greens
Media Release
August 26, 2017
Pittwater Residents should not worry about the cost of demerging from the Northern Beaches Council because many of the measures introduced could be utilized afterwards, a visiting Greens MLC said this week.
David Shoebridge, the Greens Local Government and Planning spokesman, was speaking to residents at a morning tea hosted by Greens council candidates for Pittwater Miranda Korzy, Pru Wawn and Andrew McIntosh, on Clareville Beach on Thursday.
Mr Shoebridge said there would probably be some useful things that were done with the amalgamation, such as a new computer system, and plenty of councils around the state shared HR and payroll systems.
"All of that can remain in place and you can just re-establish political control," he said.
"You're in charge of your rates, you're in charge of your local planning and you bring the staff back.
"Anyone who tells you: you can't do it, it's too expensive – it's actually much more expensive for Pittwater to be part of a dysfunctional large council."
Mr Shoebridge encouraged residents to keep heart in the campaign to recover Pittwater Council.
"I reckon we're going to get a non-Coalition majority in both houses at the 2019 election and every other political party has committed to a plebiscite," he said.
"But we need to maintain the campaign between now and then."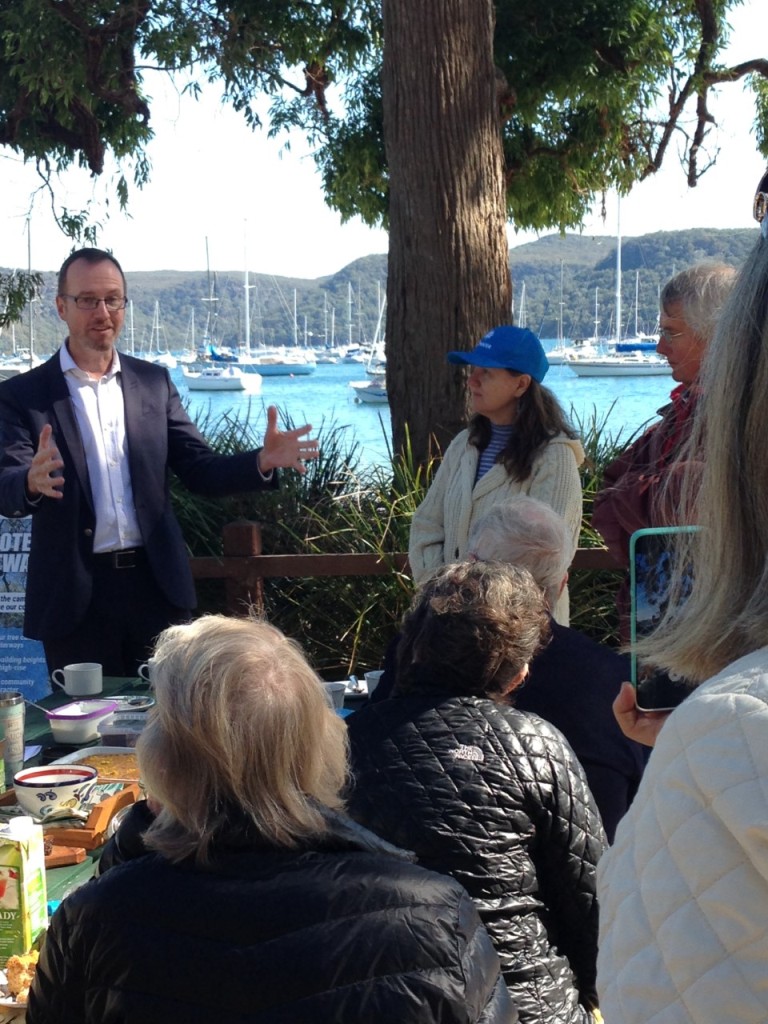 David Shoebridge speaking to residents during morning tea, hosted by Northern Beaches Greens at Clareville, with Greens candidate for Pittwater Miranda Korzy next to him (in cream jacket and blue Pittwater cap).

Ms Korzy, the Greens' lead candidate, said that as a founder of the Protect Pittwater Association - set up to enable legal action to recover the council - she was actively campaigning to recover Pittwater Council.
"I am committed to fighting to get Pittwater Council back and am extremely grateful that the community has the support of figures such as David Shoebridge in the campaign," she said.
Members of the Protect Pittwater Association at the morning tea showed Mr Shoebridge their petition with over 1,000 signatures, calling on the state government to reconstitute Pittwater Council within its former boundaries.
In another development, Mr Shoebridge said a de-amalgamation bill would come up in the NSW Parliament's Lower House next month, probably in the week beginning September 11.
The bill was introduced by the Shooters, Fishers and Farmers Party and passed with the support of all parties except those of the Coalition in the Upper House in June – although it is likely to fail in the Lower House because of the government's sizable majority.
However, he said that the Greens would continue to campaign over the next 18 months for a plebiscite to enable residents to recover Pittwater.
"Getting a couple of people on council who are committed to getting Pittwater back is a central element of the campaign," he said.
"My experience is, you get one really hardworking Greens councillor elected and they make a real difference.
"They ask the hard questions, they get the information, they connect the council with the community."
Bob Grace, another founder and President of Protect Pittwater stated the group was advancing in its steps to reinstate a council for Pittwater and for Pittwater to be reinstated along its original boundaries.
"Protect Pittwater is seeking further legal advice and the fact that we seceded 20-odd years ago has some significance," Mr Grace said.
"It's also pleasing to see David Shoebridge from the Greens supporting demergering, as is Miranda who's standing at the council election.
"But we still need more people signing the petition to give the government the message: we want our council back!"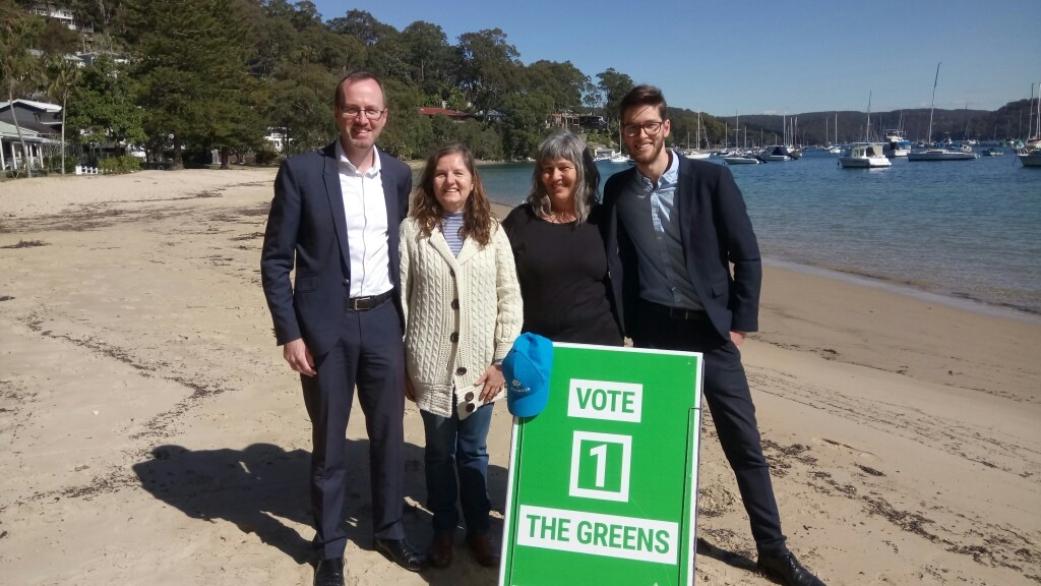 Greens MLC David Shoebridge with Greens candidates for Pittwater Miranda Korzy, Pru Wawn and Andrew McIntosh at Clareville Beach.