July 30 - August 5, 2017: Issue 323

Out And About: Winter 2017
It's been a busy week - local heroes just being themselves at littlies rugby games, the annual RMYC Vintage Car Show raising funds for Bear Cottage, a good swell for confident surfers, Palm Beach Mermaids raising funds for Variety the Children's Charity, Rob Stokes, our local MP recognising another outstanding Pittwater Volunteer and a local transport provider that clearly cares refreshing and relaunching courtesy of a gentleman held in high esteem on the peninsula - the NSW Governor.
Regular contributors share some insights into a quiet and busy place getting on with it:
Royal Motor Yacht Club Broken Bay (At Newport) 2017 Vintage Car Show
The car owners and the club raised over $2500 for Cure Cancer Australia and Bear Cottage.
Over 80 unique Vehicles of all sorts were on display including: vintage cars, classics, sports, hot rods and motorcycles.
The RMYC reports they had around 2000 visitors come through the gates on the day.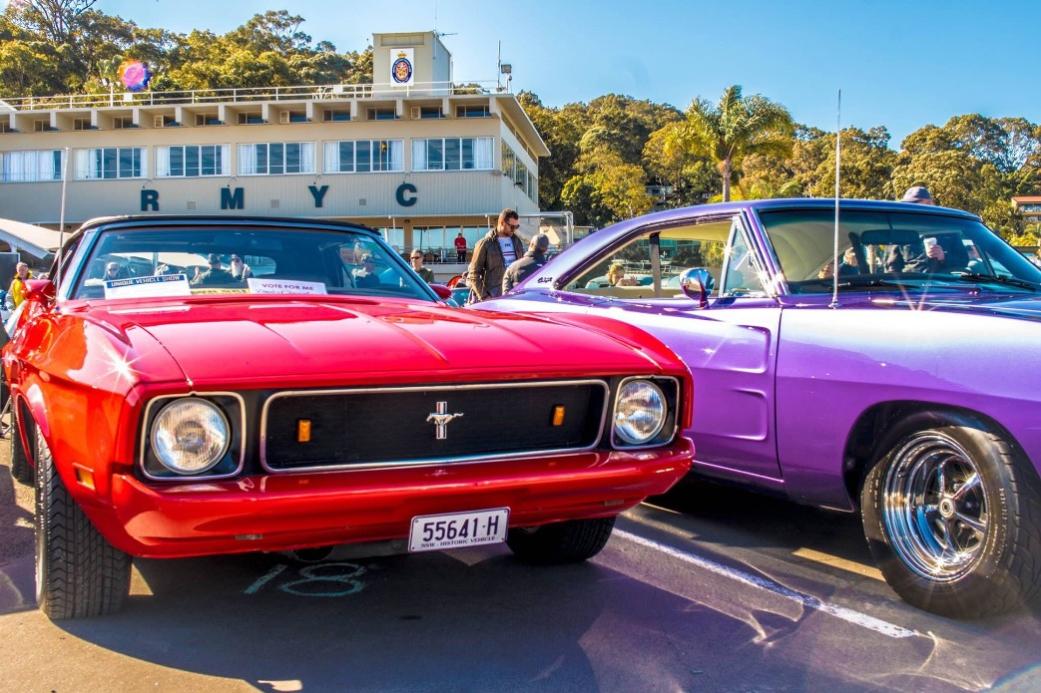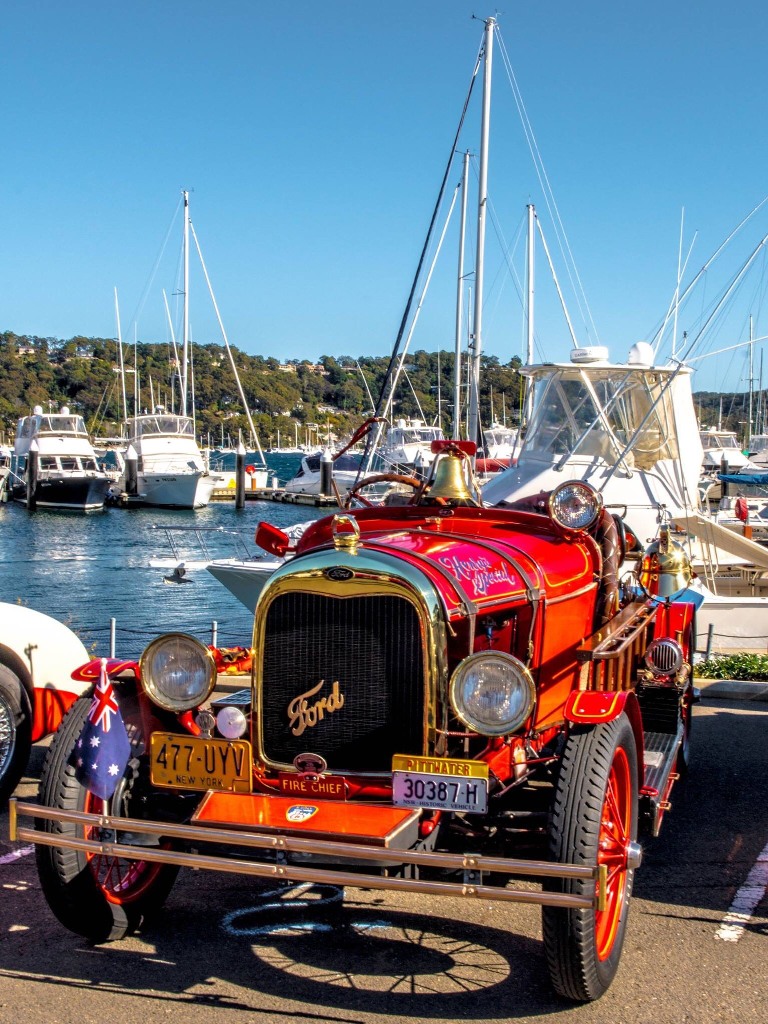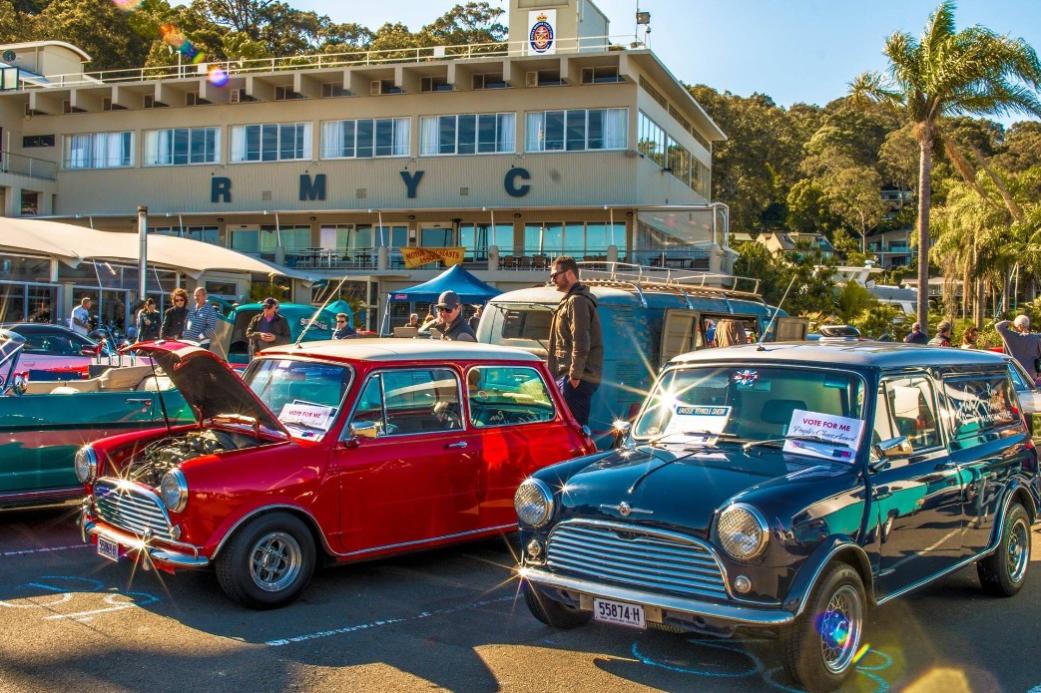 Mermaids Of Palm Beach Host A Great Night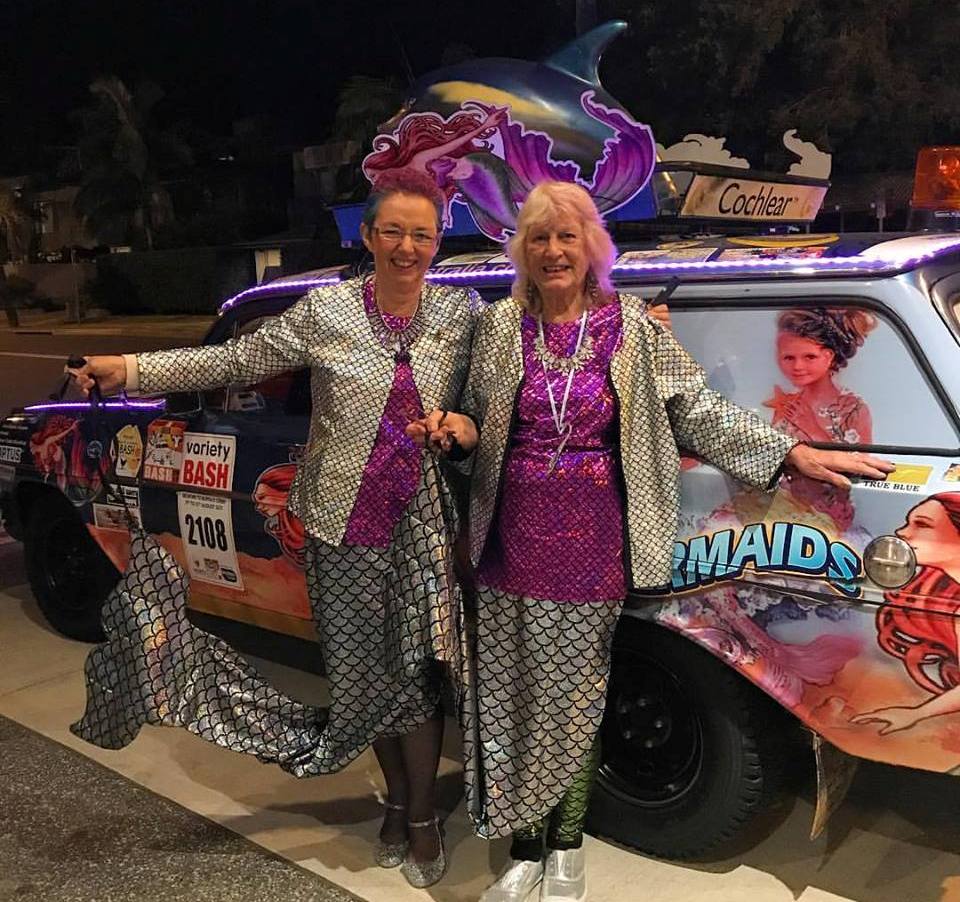 Beryl Driver, and Elyse Cole in Elyse's 2017 Mermaids of Palm Beach created costumes -
Viktorija McDonell had transport problems and didn't arrive until later on - which won't happen on the road of course! Photo courtesy Sallymae Bailey.
Monday July 24th, 2017
The Mermaids of Palm Beach hosted their annual fundraising dinner to Club Palm Beach (Palm Beach RSL) with attendees raving about what a great night the ladies put on again this year.
"One of the best nights ever had." seems to be the general consensus of guests.
The food was excellent, red and white Variety Balloons complemented the red and white cloths laid on by the club and set the scene for a party which this year included what Beryl dubs 'Wine Bowls' - not, this was not about a receptacle for placing fruit punch in...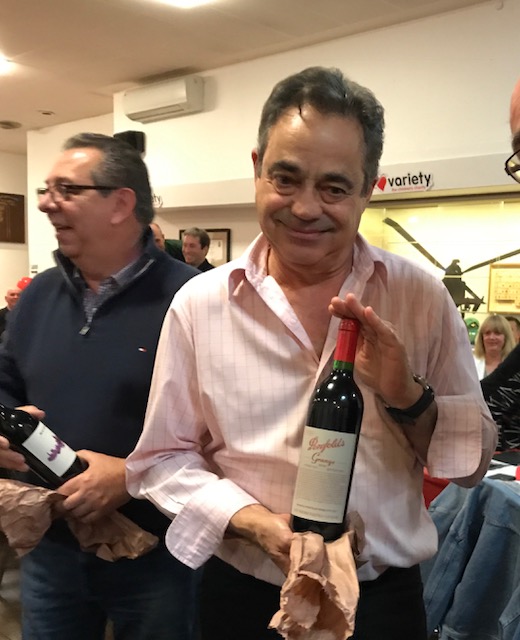 The 2017 B to B Bash commences this coming Thursday, August the 3rd , with Channel 7's Sunrise weather crosses coming from the start. Tune in and watch out for Beryl, who should be on around the 8 a.m. cross.
2017 marks Beryl's 19th Bash and she's determined to make it 20 – no mean feat for someone 84 years young.
NSW Governor Launches New Name For Easy Transport As
'Easylink' -
Transport With Care
Thursday 27 July 2017: Long Reef
Local community transport providers, Easy Transport, have relaunched as 'Easylink', and revealed recent research showing their positive social impact for thousands of northern beaches residents, with the help of the NSW Governor, their volunteers and customers.
His Excellency the Governor congratulated Easylink on the launch as an opportunity to build on their mission of empowering older people, people with disability and other disadvantaged residents through 'transport with care.'
"… it is important that everyone has the opportunity to be mobile, to stay connected with friends, families and essential services, and enjoy quality of life," said His Excellency, who is patron of the NSW community transport peak body.
More HERE - Photos by
Michael
Mannington, Volunteer Photography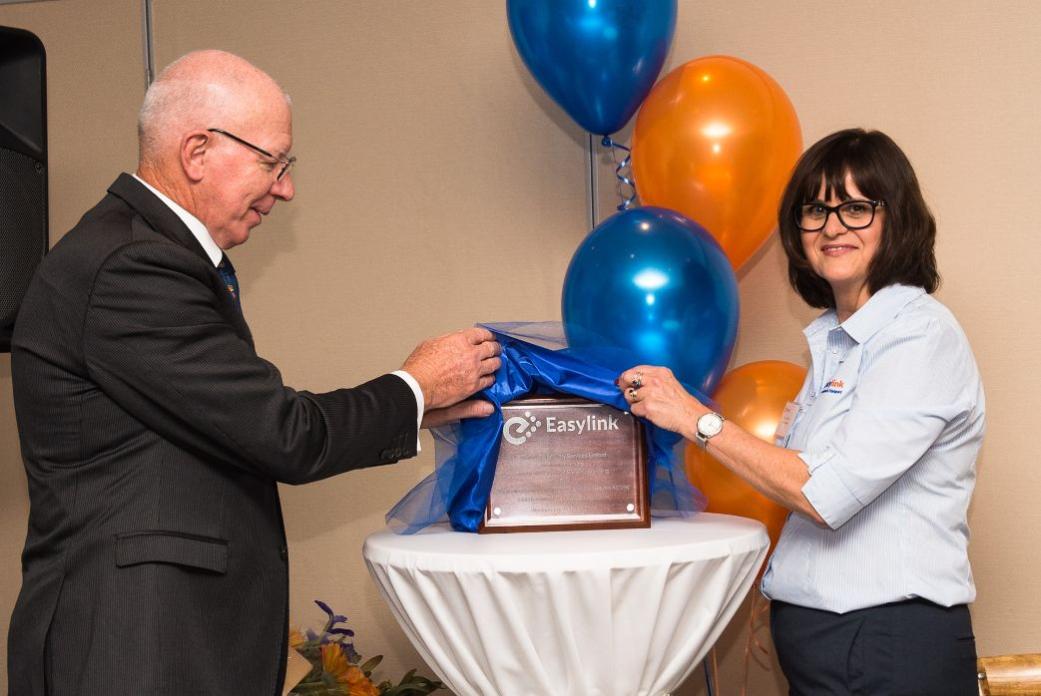 His Excellency General The Honourable David Hurley AC DSC (Ret'd), Governor of New South Wales,
and Angela Doolan, CEO of Easylink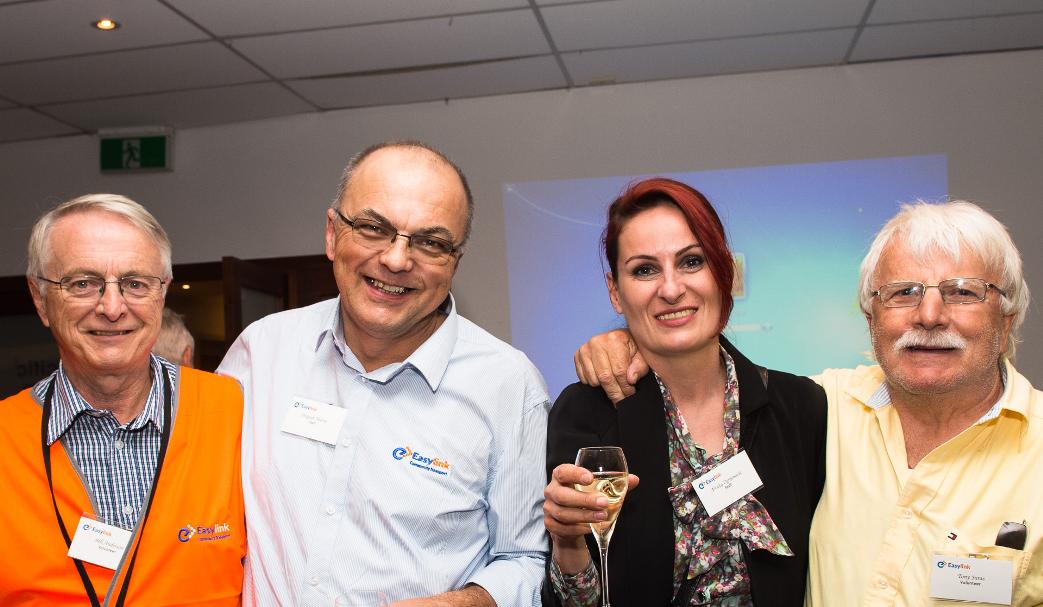 Bill Anderson, Dragan Miletec, Alenka Ognjenovic, Tony Duras - Easylink volunteers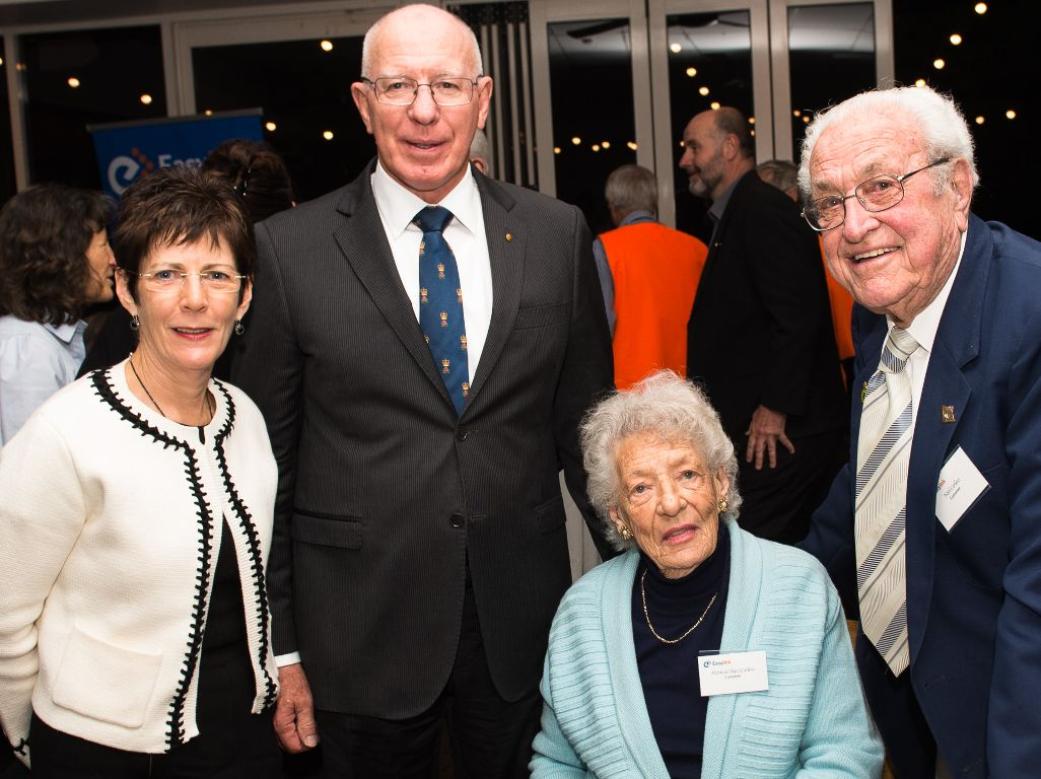 Mrs. Linda Hurley,
His Excellency General The Honourable David Hurley AC DSC (Ret'd), Governor of New South Wales,
Pat and Noel Carless, clients of Easylink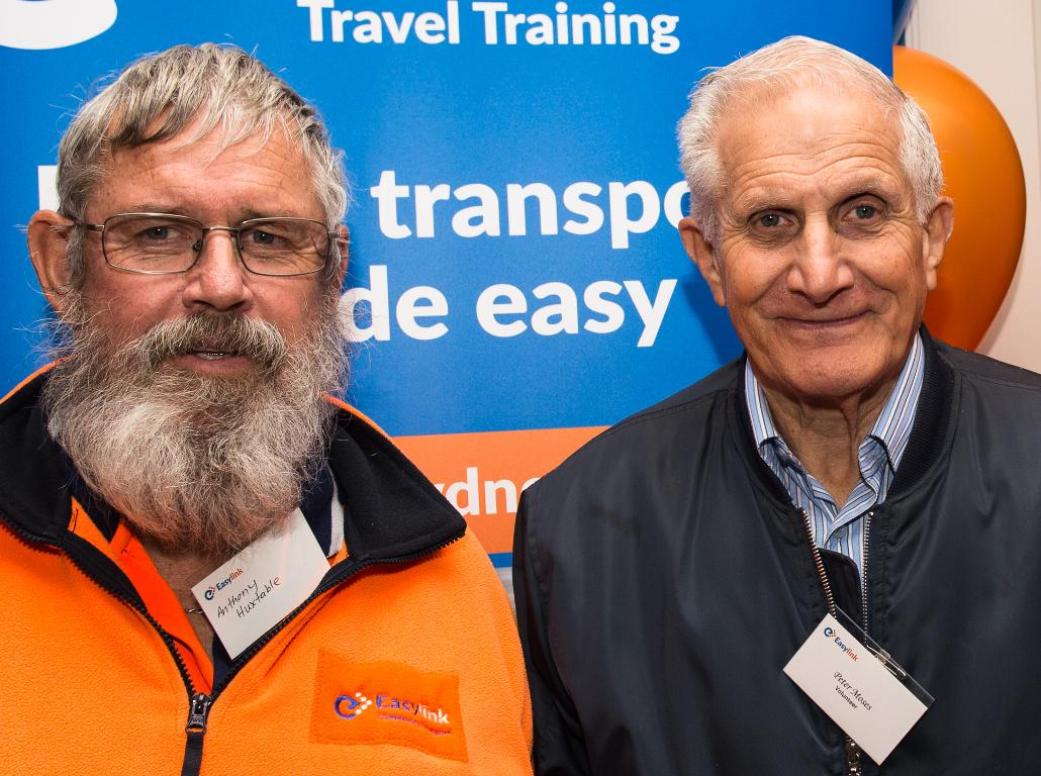 Anthony Huxtable and Peter Moses - Easylink volunteers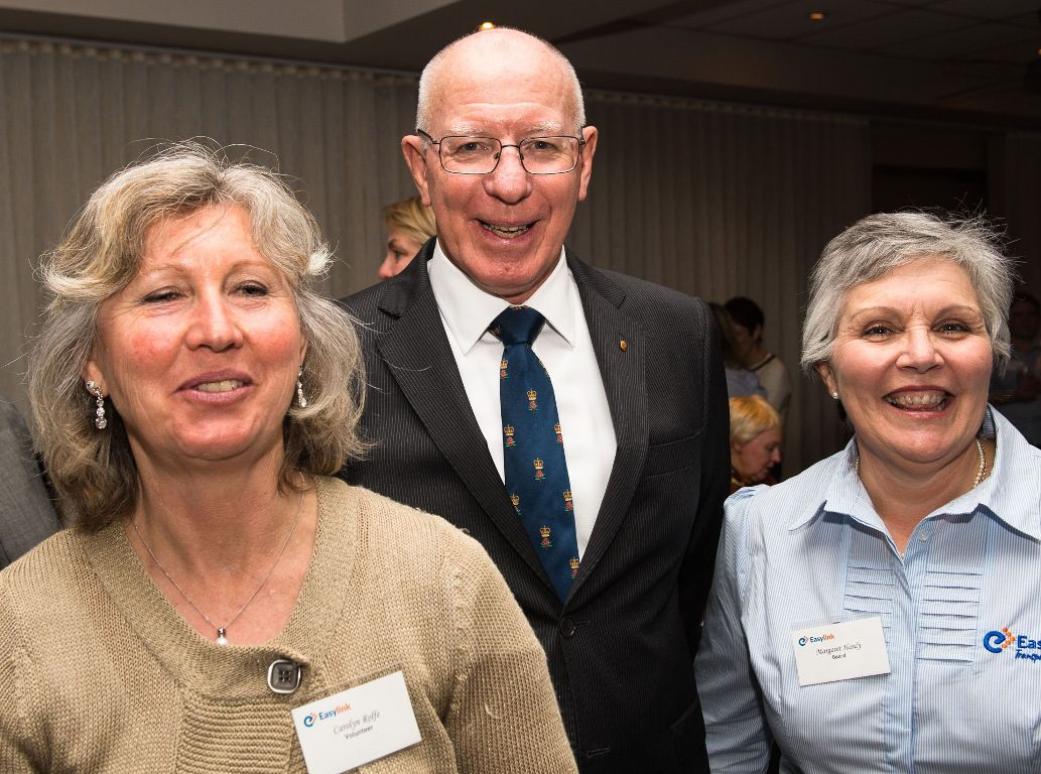 Easylink volunteer Carolyn Rolfe,
His Excellency General The Honourable David Hurley AC DSC (Ret'd), Governor of New South Wales,
and
Margaret Hardy, Board Member
2017 Pittwater Community Service Award
Thursday, 27th of July, 2017
Member for Pittwater Rob Stokes today announced environmental and heritage advocate Jenny Harris as the recipient of the NSW Government's 2017 Pittwater Community Service Award.
The award was presented at a community leader's reception at Mona Vale Golf Club and recognises outstanding voluntary service to the Pittwater community.
Jenny is actively involved in a variety of community groups including the Duffys Forest Residents Association, Friends of Narrabeen Lagoon Catchment and the Duffys Forest Rural Fire Service. Jenny was also integral in the recent listing of Waratah Park, the home of Skippy the Bush Kangaroo, on the State Heritage Register and coordinates regular bush regeneration events to help ensure this significant area of our community is preserved for future generations.
"Jenny has an amazing passion for our community, our environment and our local heritage," Rob Stokes said today.
"I'm continually impressed by the diversity of community initiatives and projects that Jenny is actively involved with.
"Jenny typifies many of our wonderful community volunteers who do an enormous amount of work behind the scenes – but seek no gratitude or recognition for their efforts.
"Without people such as Jenny who are willing to do the hard work and complete the mundane but necessary tasks – many of the opportunities we often take for granted simply wouldn't be possible.
"The natural areas surrounding Narrabeen Lagoon and Waratah Park help define our community and Jenny's ongoing efforts have contributed to their formal protection over recent years.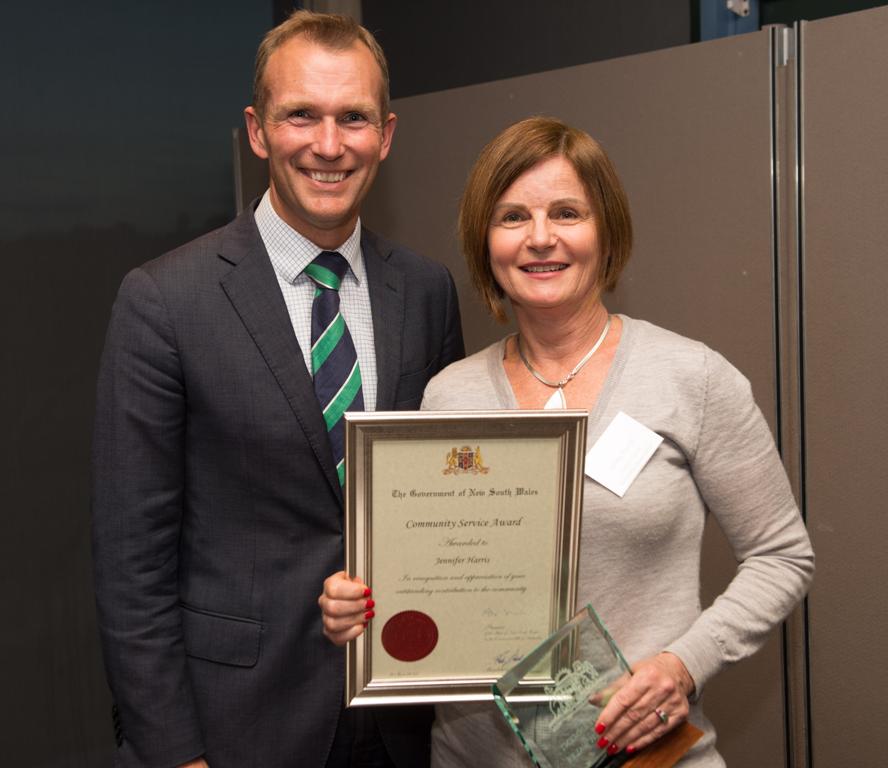 The Hon. Rob Stokes, MP for Pittwater with Jenny Harris - photo by

Michael

Mannington, Volunteer Photography
Local Heroes Visit Doggie Dome
Wee Waa met Avalon in the Under 12's annual footy match at the Doggy Dome last week. Former Mona Vale players, now in the Manly Sea Eagles Jake and Tom Trbojevic gave the Wee Waa lads an assistance as 'trainers' for the game and then presented the trophy to the victorious team.
What a wonderful display of footy and rugby league is alive and well with these two great ambassadors of the game. John and Melissa should be very proud of their offsprings who bring nothing but credit to our great game.
Still Coaching Juniors at Avalon Junior Rugby League Football Club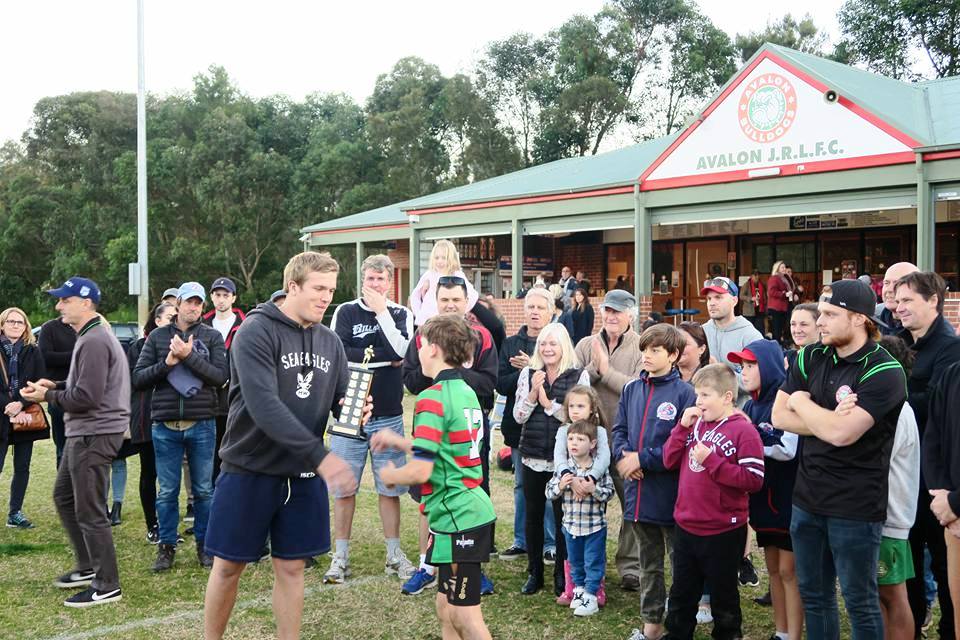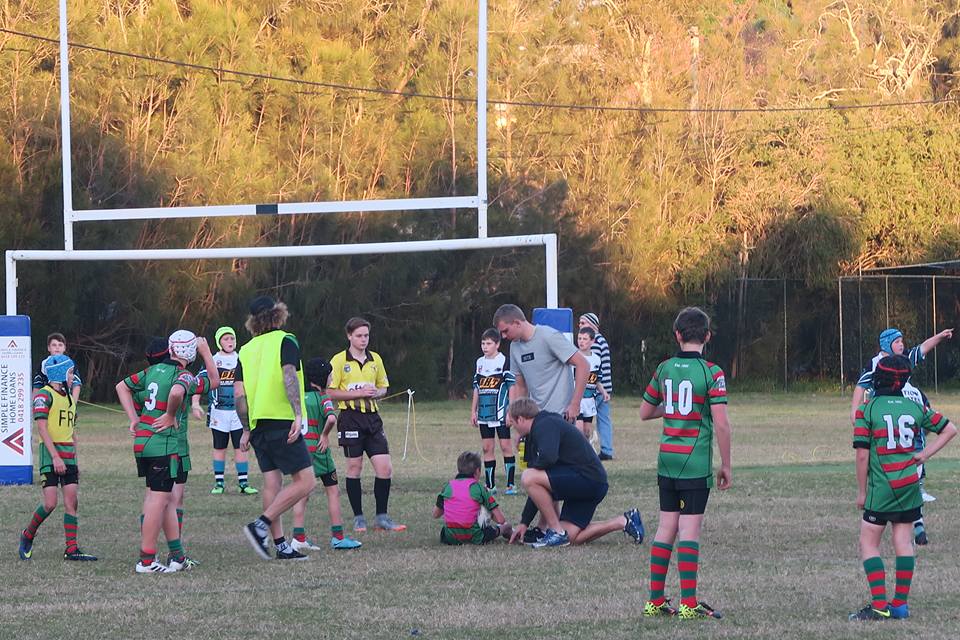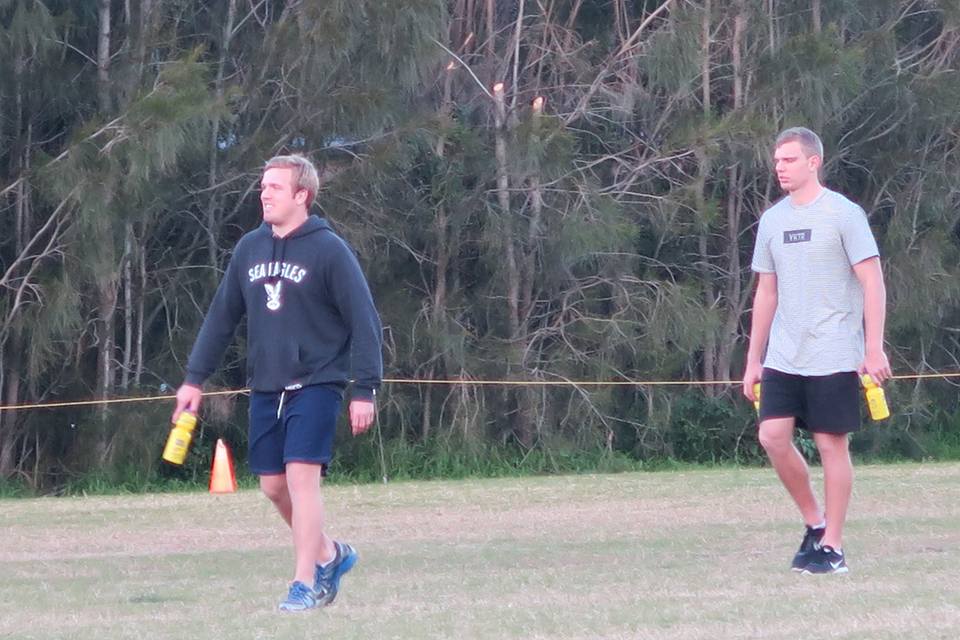 The Alf Side Of Friendly
Just while on Mr. OAM - stole this snap from his spacebook page - dated April 7th this year -
'The door was open so I put my hand up.'
he commented re this picture: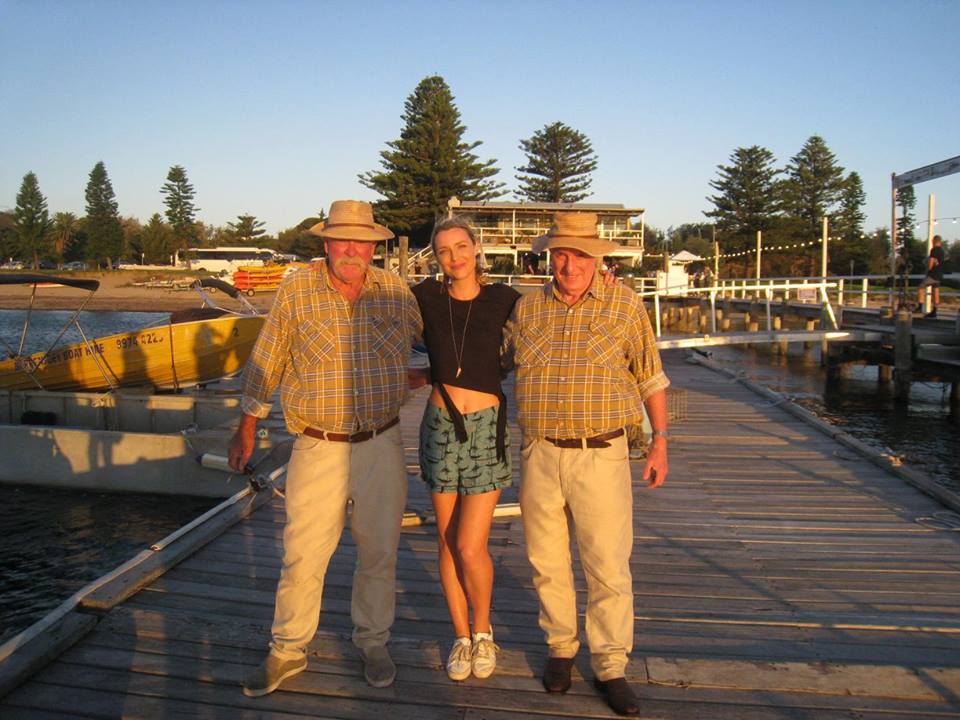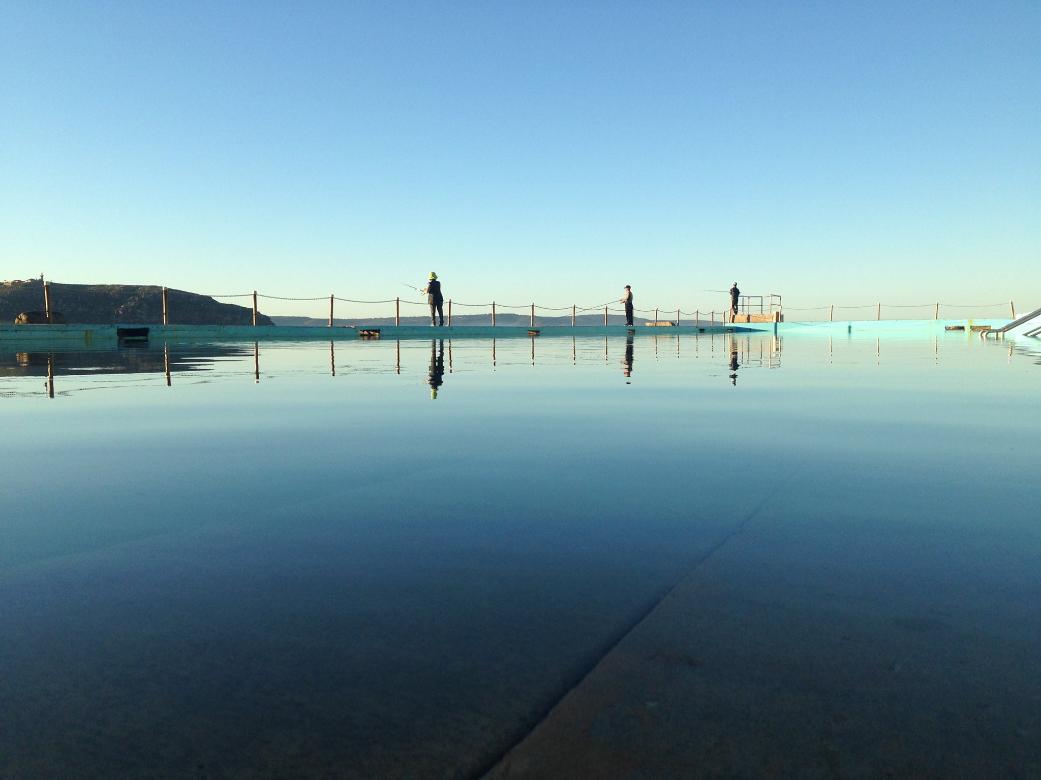 Winter Reflection by Adriaan van der Wallen, July 24th, 2017
Most people know Adriaan van der Wallen as a great surfer on short or long boards or logs, or even one of his numerous collectors boards inherited from legends such as Midget Farrelly or Jack McCoy, or as the gentleman who teaches their Nippers as a Member of Avalon Beach SLSC or a part of the Masters Team at Palm Beach SLSC, or as the teacher who educates their children.
Others will have seen his great photographic skills featured here as one of our regular contributors.
A brilliant photographer who likes the shots that capture 'energy, fire and life' or those beautiful 'quiet reflections' of this place, we've finally convinced him to share some of his favourites and own up to being an Artist too when exercising his capacity to capture the essence of here - or anything he turns his eye to for that matter.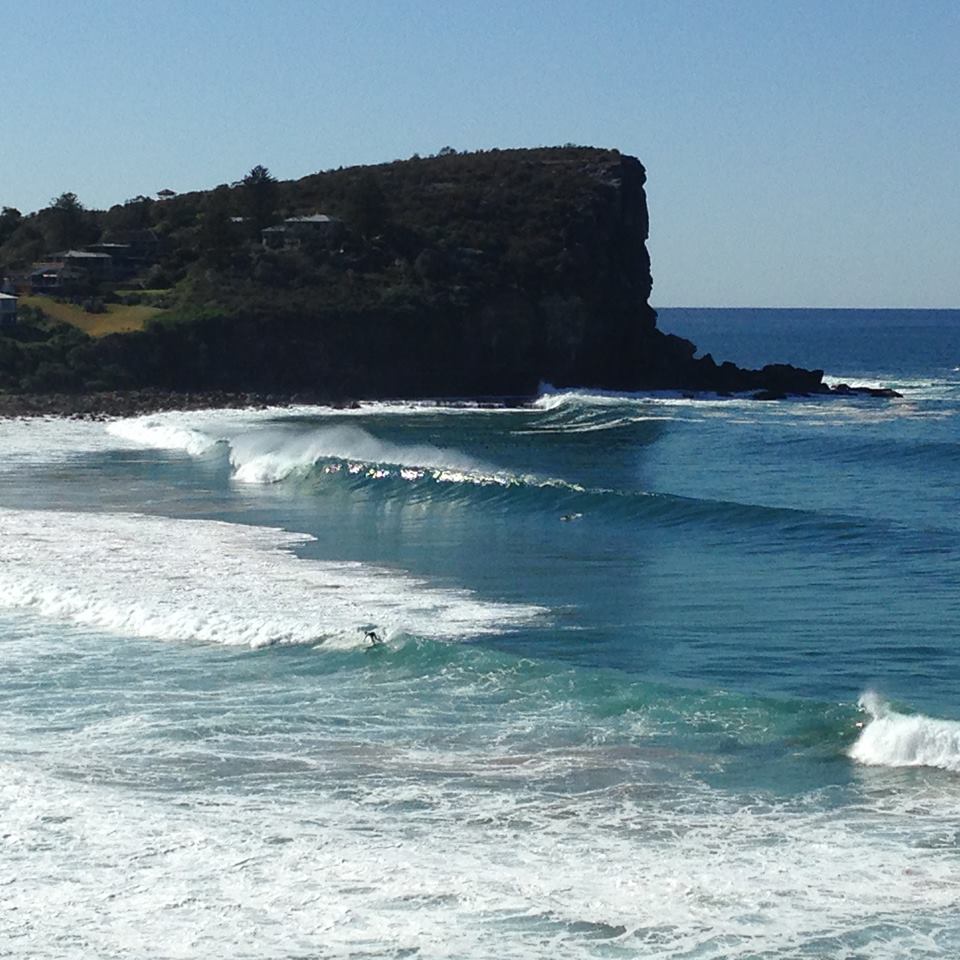 North Av. Winter Swell,July 23rd, 2017 -photo by Adriaan van der Wallen