August 6 - 12, 2017: Issue 324
108th Annual General Meeting for Newport Surf Life Saving Club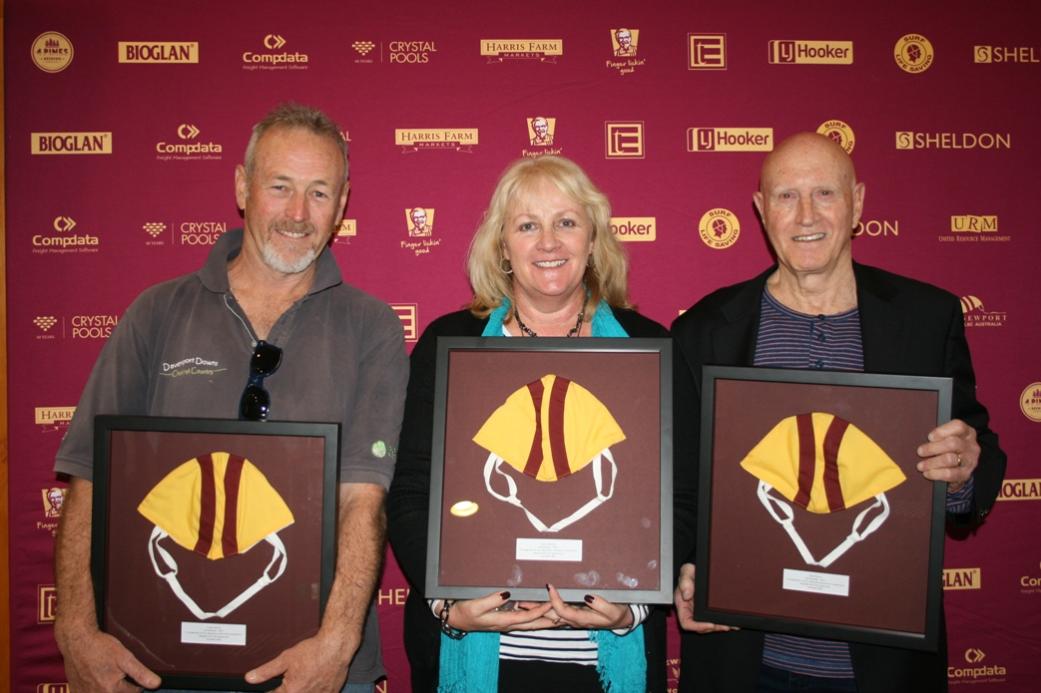 Newport SLSC new Life Members L to r:
Craig Holland,
Sandy Menzies and
John Guthrie
- photo by Julie Hegarty
The 108th Annual General Meeting for Newport Surf Life Saving Club Inc was held on Sunday, 30 July 2017 at 3pm, in the Robin Cale Clubroom at Newport Surf Club, Barrenjoey
Road Newport.
The Meeting included the induction of three new life members; Sandy Menzies, John Guthrie and Craig Holland.
Craig represents some Newport Surf Club history as his father John Holland Snr. receiving his L/M in 1986, his younger brother John Jnr (Jack) receiving his in 2001 and now Craig in 2017. Another family with club three Life Members are the late Bert King OAM, June King and Michael King.
Sandy Menzies also joins Doug as a Life Member(A family that Surf Clubs together stays together) which really shows that Newport are a family club.
Also in the Distinguished Service Member category this year's awardee was Leanne Budd who joins her husband Brett as a DSM of the Club. They also have adult children in the club being Lauren and Joel.
In the Outstanding Service Member category Newport have five new inductees; Alan Channells,Tom Kellaway, Rudi Valla as well as Jess and Kieran Menzies who are the adult children of Sandy and Doug Menzies.
Presidents Report - Newport SLSC 2016-2017
It is my pleasure to present the 2016-17 Annual Report of the Newport Surf Lifesaving Club,
our one hundred and eighth year of patrolling
Newport Beach.
A season that again has ensured through
our well attended and effective patrols we have
achieved our primary objective of "No Lives Lost"
at Newport Beach.
It has been another fantastic season for our club
and as a club we have excelled across all aspects of
Surf Life Saving.
Some of our season highlights include:
Under the guidance of our Club Captain Rob

Barkley, our patrolling strength and exceptional

standard of patrols remains in my opinion

the bench mark for Surf Life Saving. To

further support my claim that Newport is the

benchmark, Newport won the Lipton Ice Tea

Patrol Assessment Competition held across all

the clubs within the Sydney Northern Beaches

Branch. To all the Newport patrolling members,

thank you for your vigilance and service. Your patrolled have been outstanding.

Our instructors have done a magnificent job

again this season under the guidance of our

Chief Instructor Guyren Smith. This season

59 people successfully completed their bronze

medallions, which is a fantastic effort. Further

to this, 33 young members completed their Surf

Rescue certificate and have joined our patrols.

The continual improvement philosophy that runs

deep through the whole club, was sensationally

illustrated by Peter Euers whom created an

Inter Patrol competition and associated training

videos that were then implemented across all

our patrols. Congratulations to Patrol 6, the

inaugural winners of this coveted club patrol

award.
As a club, we had a busy year running events and
we successfully hosted the Pub2Pub Finish Line
Festival, the televised Summer of Surf carnival,
the Newport Surf Boat carnival, an episode of
My Kitchen Rules on Newport Beach, Newport Senior and Junior Water Carnival, the Barefoot
Ball fundraiser, our Sand Castle Competition
and the Pool2Peak Ocean swim, again a great
success.
We also hosted the Branch Championships for
the water events from Nippers through to open
competition, the Strokes that Matter event where
our Open Men's Ski team paddled their skis
from Victoria across the Bass Strait to Tasmania
raising money and awareness to target drowning
prevention and surf awareness and the Canapes
for a Cause fundraising event for our young First
aid and CPR instructors heading off the East
Timor to assist the village of Soibada with first
aid training.
Really a fantastic effort by a huge number of
Newport club members and volunteers to make this
all happen with such great success.
Significant congratulations this season must go to
Matt Halakas and his Junior Activities Committee,
age managers and volunteers. Our Nippers program
continues to be a great success and this season over
400 children joined Newport, having fun and most
importantly, learning about surf safety and surf life
saving each Sunday.
This year we also received acknowledgement that
Jill and John Kinghorn will continue to support the
Surf Racing Academy for a further seven years and
we are grateful beyond words for this very generous
and significant contribution to our club. The
commitment to future funding will see the club
continue to build on our magnificent competition
success and will continue to provide our young
members interested in competition the opportunity
to be the best that they can be. Thank you to Jill
and John Kinghorn for continuing to believe in and
invest in the Academy and our club members. We
sincerely appreciate your generosity.
As a club, we achieved again great success in
competition and some of the highlights included:
Georgia Miller, Jake Lynch and Dane Farrell -

selection to represent Australia and compete in

the World Championships in the Netherlands

and our beach coach Marty Lynch reappointed

the Australian Beach Coach. Club members

Isaac Smith and Charlie Brooks made the

Australian Youth Team and competed very

successfully in the Netherlands.

Fourteen Newport members were selected in the Sydney Northern Beaches Branch Competition

Team.

Six Newport Members were selected in in

the NSW Team including our own Hannah

Minogue as Captain.

Our Under 23 girls surf boat crew, the "Pistol

Shrimp" were selected to represent NSW and

then Australia in the Trans-Tasman Test held in

New Zealand.

Maddie Spencer achieved her debut selection in

the Nutri Grain Ironman series and joined our

superstars Georgia Miller and Max Brooks in the

series.

Newport achieved 1st place in the club point

score in the televised "Summer of Surf" series.

Newport achieved 1st place in the open point

score at the Branch Championships.

Newport achieved 1st place in the open point

score at State Championships, for the 4th year in

a row.

Newport achieved 4th place in the open point

score at the disrupted Australian Championships.

At the Junior State Championships Newport

finished in 15th place on overall point score, a

fabulous result for our junior program.

Additionally, at the Sydney Northern Beach's

Branch Awards presentation evening, Newport

SLSC won many awards including:

1st Place Lipton Ice Tea Patrol Assessment

Competition.

Sydney Northern Beaches U19 male surf boat

premiership.

Bennett Boards Overall Handicap Point score.




Jake Lynch was awarded the Speedo Sydney

Northern Beaches Competitor of the Year.

Adrian Hill was awarded the Bill Buckle Auto

Group – Facilitator of the Year.

Newport Life Member Martin Lynch's

contribution to surf lifesaving was acknowledged

with Martin receiving Life Membership of

Sydney Northern Beaches Branch.
Newport has become a large and successful club
with many fantastic volunteers. At the beginning of
this season we identified that as a club, with a big
heart and a lot to offer, we could do more beyond
our surf life saving commitments. I am proud of the
club's achievements outside of our surf life saving
focus including:
Highlighting of local charities in our Pub2Pub Finish Line

Festival.

Providing substantial and much needed funding

to Cystic Fibrosis through the Barefoot Ball and

Castles in the Sand events.

Assisting the Northern Beaches Interchange with

the running of their fundraising paddling event.

Raising funds and awareness for drowning

prevention education.

Involvement in the Suicide Prevention Australia

fundraiser event held at the club.

Partnering with the Pittwater Friends of Soibada,

Newport Surf Life Saving club introduced an

annual scholarship program for two young

Bronze Medallion Trainers & Assessors to travel

to East Timor with the Pittwater Friends of

Soibada to provide first aid training
I would also like to take the opportunity to
acknowledge this year's Newport SLSC award
winners, they are all wonderful club members who
have contributed significantly to our club's success
and are all well deserving of this recognition.
Michael Hill Memorial Trophy – Clubman of

the Year – Ben Matthews

Paul Stevens – Junior clubman of the Year –

Nathan Doyle

Hans Trumm OAM – Award for Patrolling

Excellence – Peter Euers

Peter Dawson – Best New Member –

Jeremy Paul

Tom Guthrie – Rookie of the Year – Melisse Cooper




John Holland Snr – Committee Member of the

Year – Kate Kilpatrick

Competitor of the Year –

Blake Drysdale/Jake Lynch

Tim Francis Junior Competitor of the Year –

Alex Lefevre
To the hard-working members of the
Management Committee, the Newport Kinghorn
Surf Racing Academy Board, Junior Activities
Committee, Building Committee, Bar Committee,
Sponsorship Committee, Board of Surf Sports, the
Life Membership and Honours Committee and
the Ocean Swim Committee, thank you for your
efforts in the management of our now large and
successful club.
So again, for the success of the season just past, I
congratulate and thank every one of our members
that spent time on patrol, represented our club
in competition, undertook an additional award,
nurtured our Nippers, trained new members,
coached our athletes, worked at a social function
or just bought a beer over the bar you have all
contributed to the success of our club It was a
fantastic year and the future is looking very bright
for our continued success.
Finally, on behalf of all the Newport SLSC
members, I would like to thank the generosity of all
our highly valued sponsors. Without their assistance
our club would not be the successful club we are
today.
Rob Emerson
President
Newport SLSC