inbox and

environment

news: Issue 563
November 20 - 26, 2022: Issue 563
The Ku-Ring-Gai GeoRegion UNESCO Proposal
In October 2018 Friends of Ku-ring-gai Environment (
FOKE
) resolved to commence a campaign to call for the UNESCO World Heritage listing of Ku-ring-gai Chase National Park (KCNP).
This has now developed into a proposal for the eventual listing of a potential Aspiring UNESCO Global Geopark resulting from the significance of the GeoRegion's outstanding geological features. The initial focus is the development of a designated 'GeoRegion', with geotrail development signage and promotion of its significance. To date the group have received strong support from key stakeholders within the three Councils; Ku-ring-gai, Hornsby and Northern Beaches, local politicians and several State Government Ministers, and the NSW Parks and Wildlife Service.
The proposal is of significance considering plans by the Council to change much of the rezoning of Pittwater from Conservation to Residential (R2). Dual occupancies, Manor houses and Multi dwelling housing are all permitted under R2 zoning. This would certainly see more proposals approved by council which fill whole blocks with concrete, raze every tree on those blocks, and see an incremental height rise in the buildings, along with the scale of these structures - recent approvals by the Council for large 'Seniors Housing' developments in Mona Vale on flood prone lands, or for 'flats' in Avalon Beach backstreets, slotted in between residential homes, are what is already occurring.
Pittwater's zonings have been critical to protecting this spectacular and precious area. Large swathes of our suburbs were classified as Environmental Zones - later redefined by the NSW government as Conservation zones. Much of Pittwater's residential areas are currently zoned C4 (Environmental Living).
Conservation zones, such as C4, are applied to properties with significant environmental values - which may be ecological, scientific or aesthetic - and to those potentially exposed to significant hazards such as bushfires, flooding and landslides. The zones help determine what owners are allowed to do on their land.
Northern Beaches Council is conducting a Conservation Zones Review, as part of its preparation for a harmonised LEP across the Northern Beaches. The review is on public exhibition until December 2, and comprises a complex set of documents and maps. The Council's proposal seeks to rezone 3,613 properties within the former Pittwater Local Government Area from C4 to residential zones.

Submissions close December 2nd, 2022.
The Ku-ring-gai GeoRegion Background Information
FOKE originally initiated this project with the objective of making a positive contribution to conservation based in and around Ku-ring-gai Chase National Park, by seeking recognition of the very significant natural and cultural heritage values. This is exemplified by a wide range of geologically significant features (i.e. geosites) that exist in this area, added to its strong biodiversity recognition.
Having conferred with a range of experts on the geology, geomorphology, natural and cultural heritage values of Ku-ring-Gai Chase National Park, it was decided to extend the area of geoheritage significance to embrace areas in the proximity of Ku-ring-gai Chase National Park.
Natural and Cultural Heritage of the 'Ku-ring-gai GeoRegion'
The special geosites chosen to profile exist in a broad area (with the working project name of 'Ku-ring-gai') and previously classified in 2002 as forming part of the Hornsby Plateau Landscape which includes:
Cliffs, beaches, and lagoons from Long Reef to Barrenjoey.
Ku-ring-gai Chase National Park.
Muogamarra Nature Reserve.
Northern Garigal National Park.
Berowra Valley National Park.
This outstanding 'GeoRegion' contains:
Numerous geological sites, including several sites of international significance. Currently more than 45 key geosites have been identified across the area.
Extensive rare and threatened flora and fauna
Ku-ring-gai Chase National Park was registered on the National Heritage List in 2006, with the following assessment:
'

Summary of Significance

: Ku-ring-gai Chase National Park and Long Island, Lion Island, and Spectacle Island Nature Reserves contain an exceptional representation of the Sydney region biota, a region which is recognised as a nationally outstanding centre of biodiversity. The place contains a complex pattern of 24 plant communities, including heathland, woodland, open forest, swamps and warm temperate rainforest, with a high native plant species richness of over 1000 species and an outstanding diversity of bird and other animal species. The place is an outstanding example of a centre of biodiversity.'
The area provides a vast array of Aboriginal heritage sites including rock engravings, cave art sites, grinding grooves, shell middens, occupational deposits, stone arrangements and burials. It is one of Australia's most dense areas for Aboriginal sites. Over 570 sites recorded, some with multiple site traits.
Of international geological significance:
The proposed 'Ku-ring-gai' GeoRegion reveals the best exposed geological section of early to mid-Triassic period (240 million years ago) sedimentary rocks in the Sydney Basin.
The sediments were deposited in Gondwana adjacent to a high latitude coast under a cold climate in fluvial, lacustrine, and shallow marine environments. Various rock units contain a diversity of fossils that inform us of past environments over nearly 50 million years.
The GeoRegion includes eight volcanic diatremes (pipes) and associated dykes with the Hornsby diatreme having perhaps the best known exposed geological section in NSW, if not in all Australia.
Of particular interest, the geomorphology comprising deep valleys, extensive estuaries, pocket beaches, headland cliffs and coastal lagoons was formed by post-glacial sea level rise.
Dr John Martyn, a member of the Steering Committee, has produced a 135 page book highlighting the importance of the features of the area. A sample of this book is
available here.
Geoparks have been established world-wide to create enhanced opportunities for the people who live within their boundaries and foster economic benefits for them, usually through the development of sustainable tourism. Geoparks stimulate economic activity and sustainable development through geotourism (holistic, nature-based and cultural tourism that focuses on an area's geology and landscape as the platform for providing visitor engagement, learning and enjoyment).
By attracting an increasing number of visitors, a Geopark fosters local socio-economic development through the promotion of a quality brand linked with the local natural and cultural heritage. A Geopark encourages the creation of local, innovative enterprises and cottage industries involved in geotourism and geological inspired products.
Geoparks also focus on community engagement and ownership. In Australia, national parks focus generally only on biodiversity and often with insufficient attention given to geological heritage.
Unlike World Heritage Areas and national parks, Geoparks can comprise both protected and non-protected areas and enable and celebrate sustainable development.
This Proposal aims to build on the existing recognised values of the area, its biodiversity, natural and cultural heritage, and highlight its foundation of nationally and internationally significant geology and geomorphology that has resulted in the development of these unique traits.
The plan is to re-invigorate and highlight the area's importance with the unifying aspects of a GeoRegion via the establishment of geosites and geotrails linking the various features and aspects of the area.
Many of the sites identified in the 'Ku-ring-gai GeoRegion' possess values that have recently been identified as being not only of local and national significance, but also of international significance.
Subject to the success of gaining and maintaining stakeholder support for the establishment of geosites and geotrails within this area, there is the future possibility of proposing further heritage listings for the most significant of the geosites through local, state and federal heritage legislation.
Once established and agreed by the various stakeholders an agreed area within the 'Ku-ring-gai GeoRegion', could be proposed for submission as an aspiring UNESCO Global Geopark.
This would be highly beneficial in raising awareness of the area both nationally and internationally through geotourism.
The Economic and Social Benefits of Geotourism
The pursuit of geotourism offers the potential for new industries and employment opportunities through the development of major projects within Australia.
Tourism Industry development benefits in the context of addressing the current COVID-19 pandemic can be realised through the holistic approach of geotourism which enhances the value of traditionally structured, nature-based tourism by generating new product development (i.e., including geology, landscape, flora and fauna, as well as cultural heritage attributes, both Indigenous and post European settlement).
Employment benefits through the adoption of a strategy to support and promote geotourism have the potential to significantly improve Indigenous employment, and more broadly, regional employment.
The Australian Geoscience Council (AGC) is currently implementing a National Geotourism Strategy (launched on 7th April 2021) designed to support the orderly development of major geotourism projects and activities in line with overseas trends and domestic regional development imperatives. The AGC considers that the 'Ku-ring-gai GeoRegion' project is an important pilot for geotourism development in Australia.

Linnean Society of NSW's 2022 field symposium on the Ku-ring-gai Chase National Park
The Linnean Society of NSW's 2022 field symposium was on the Ku-ring-gai Chase National Park north of Sydney and surrounding regions in the Northeastern Sydney Basin, bounded to the north by the Hunter River, the coastline to the east, Sydney Harbour to the south, and extending west as far as the Putty Road on the boundary of Yengo National Park. The Symposium was held over two days, November 17 and 18.
Much of the area lies within the distinctive lower Triassic Hawkesbury Sandstone outcrop with its spectacular geomorphology and characteristic floral communities, contrasting with those developed on the underlying lower Triassic Narrabeen Group and upper Permian rocks in the Hunter Valley. On the Central Coast large coastal lakes provide important freshwater and brackish water habitats.
Two days of scientific and general interest talks and presentations on current research into the geology and geodiversity, flora and fauna, and other aspects of the natural history of this extensive region were followed by a day-long field trip exploring aspects of Ku-ring-gai Chase National Park.
A wide variety of talks was scheduled (see listing below) on various scientific subjects relating to geology/ geomorphology, botany, zoology, anthropology and conservation science of the northeastern Sydney Basin.
The afternoon session was devoted to a themed session of talks on the outstanding natural and cultural heritage of Hornsby, Ku-ring-gai and Northern Beaches local government areas.
Last Glacial Maximum landscapes and vegetation on the continental shelf coastal plain off Sydney and impacts of its subsequent loss, as indicated by plant species distributions and disjunctions
Doug Benson
The age and origin of the Hawkesbury River of southeast Australia
Stephen J. Gale
Club and Coral Fungi: Diversity, Distribution and DNA
Michael Gillings and Vanessa McPherson
Fungal Biodiversity of the Lane Cove Valley
Vanessa McPherson and Michael Gillings
Genoplesium baueri, a floral gem of the Sydney Basin
Wendy A. Grimm
Vegetation patterns associated with volcanic dykes at West Head and Govett Ridge in Ku-Ring-Gai Chase National Park
Jonathan Sanders,
Initiating the Ku-ring-gai GeoRegion Project
Ursula Bonzol
The Ku-ring-gai GeoRegion of the Sydney Basin
Dr John Martyn
Droning on: Application of a UAV to interpretation of the coastal cliffs in the Ku-ring-gai GeoRegion
John Illingsworth and Dr Peter Mitchell
Soil landscapes of the Ku-ring-gai GeoRegion and their contribution to a revised pedology
Dr Peter Mitchell
Fauna of the Ku-ring-gai GeoRegion
Jayden Walsh
Connection to Country - Aboriginal Sites of the Ku-ring-gai GeoRegion
Bob Conroy
The Hornsby Diatreme: centrepiece of the new Hornsby Park
Ian G. Percival
Geotrail Development within the Ku-ring-gai GeoRegion
David Robson
The Ku-ring-gai GeoRegion and the National Geotourism Strategy
Angus M Robinson
Papers presented at the symposium are invited to be submitted (though this is not mandatory) for publication in the Proceedings of the Linnean Society of New South Wales, subject to editorial standards and peer review.
This journal, first published in 1874, is available online and is open access, and has no page charges (colour images and diagrams are free). A detailed set of Author Guidelines is available on the Linnean Society of NSW website. Deadline for submission of manuscripts will be April 30, 2023 with publication likely in mid to late 2023.
Accepted papers are published as soon as they are edited and proofed.
Below runs a great film put together by John Illingsworth, Pittwater Pathways, who also attended the
Linnean Society of NSW's 2022 field symposium on the Ku-ring-gai Chase National Park.
Ku-Ring-Gai GeoRegion: A New Concept In Landscape Conservation
JI: 'The northern area of Sydney roughly bounded by Berowra Creek, the Hawkesbury River and the coast, is a landscape dominated by the 245 million year old Hawkesbury Sandstone. The natural values of this landscape are conserved and managed in numerous conservation areas where the educational focus has primarily been on their biospheric elements.
Recognition of a GeoRegion, draws attention to the geologic and geomorphic framework of this special area and the idea is being promoted by the Friends of Ku-ring-gai Environment. Accessible geosites and geotrails are being identified which will be used to interpret the national and international significance of this geological environment with its special flora and fauna, and rich Aboriginal heritage.
The GeoRegion has been endorsed in principle by the Geological Survey of NSW, and is supported by Hornsby, Ku-ring-gai, and Northern Beaches Councils, as well as the National Parks and Wildlife Service. As trails are established and used it is anticipated that the GeoRegion will be approved by the NSW State Government for nomination as an Aspiring UNESCO Global Geopark. Over 170 Geoparks have been identified overseas and it is hoped that the Ku-ring-gai GeoRegion could become the first in Australia.
In November 2022 the Linnean Society of NSW presented a Symposium on the natural history of this area and the core papers presented at that event will form the basis of nomination documentation to be submitted to UNESCO assessors.'
Help Guide Future Decisions For Manly Dam
The Council are calling for expressions of interest from the community to sit on the advisory committee that will guide decisions about how Manly Dam is managed over the next four years.
Officially known as the Manly Warringah War Memorial State Park, we're seeking to appoint three community members to the Advisory Committee including:
an environment representative
a recreational representative
a community representative.
Manly Dam is a popular spot for enjoying picnics, bushwalking, mountain biking, swimming, and water-skiing. Loved by locals and visitors, this dedicated war memorial and State Park is home to a wide variety of significant ecological communities and flora and fauna.
This is your opportunity to have your say on how this beautiful park is managed over the next four years.
The Manly Warringah War Memorial State Park Advisory Committee includes three community members, and representatives from Council and the NSW Government.
If you're interested in a position, submit your expression of interest on the council website before 11 December 2022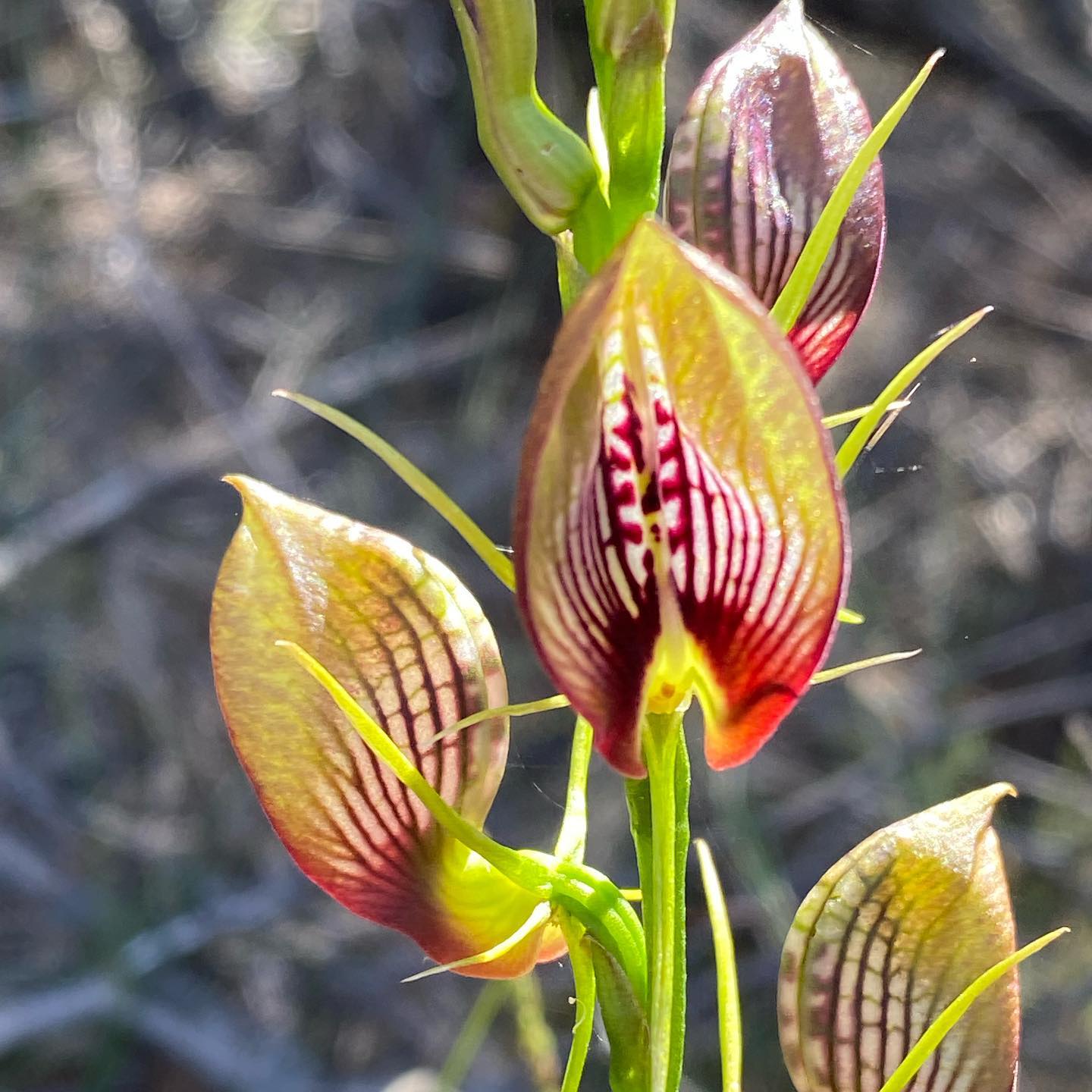 Orchid at Manly Dam. Photo: Selena Griffith
Flowering Now
The Pittwater Natural Heritage Association (PNHA) tell us Bottlebrushes are done, and now it's time for Melaleucas.
They have fluffy flowers because their many stamens grow five bundles on each flower. Photos; Small tree Snow in Summer aka Melaleuca linariifolia is white, flowers attracting lots of insects, in Warriewood Rd, and Etival St Avalon. Hillock Bush aka Melaleuca hypericifolia a sprawling shrub is dusty red.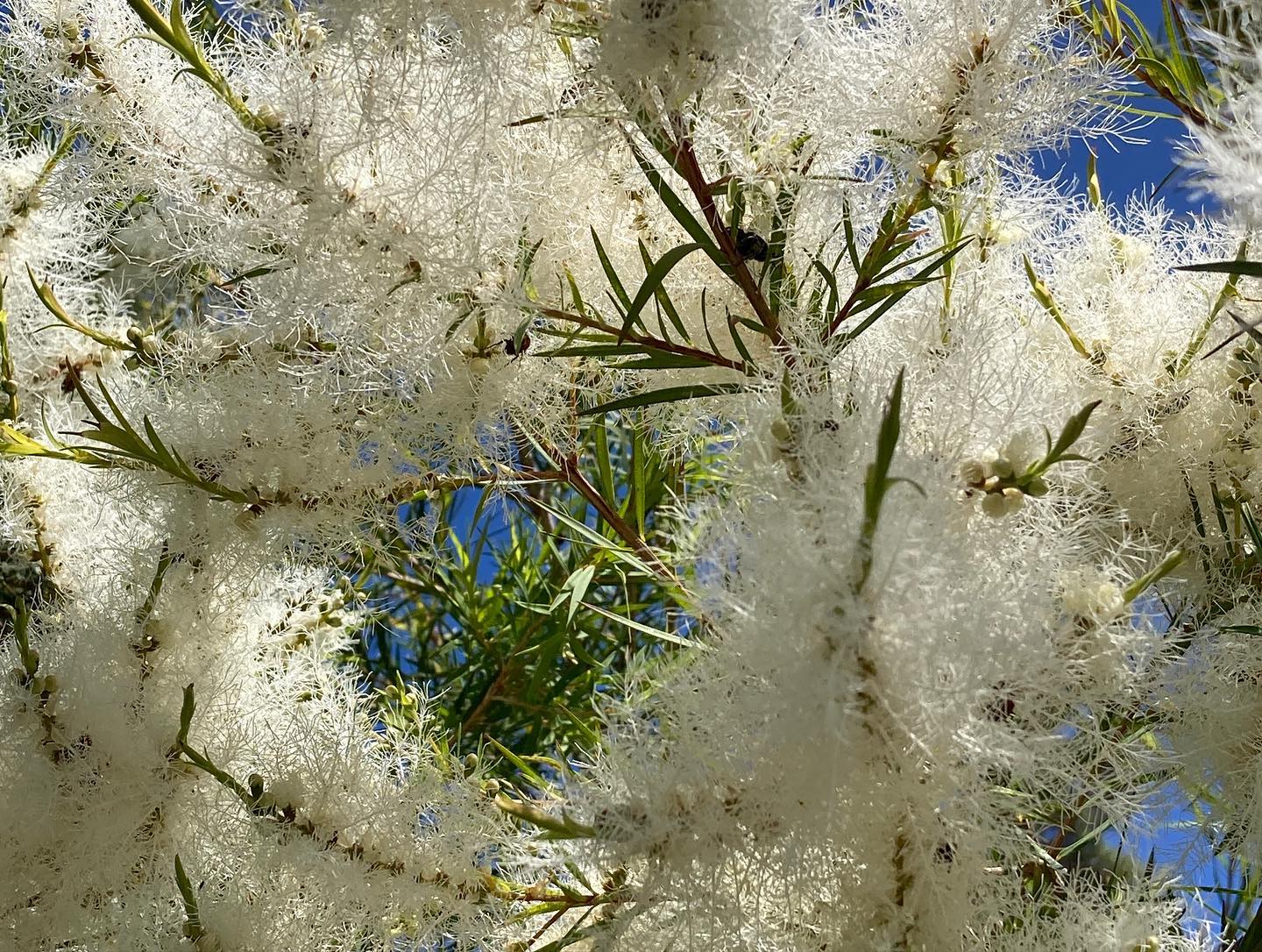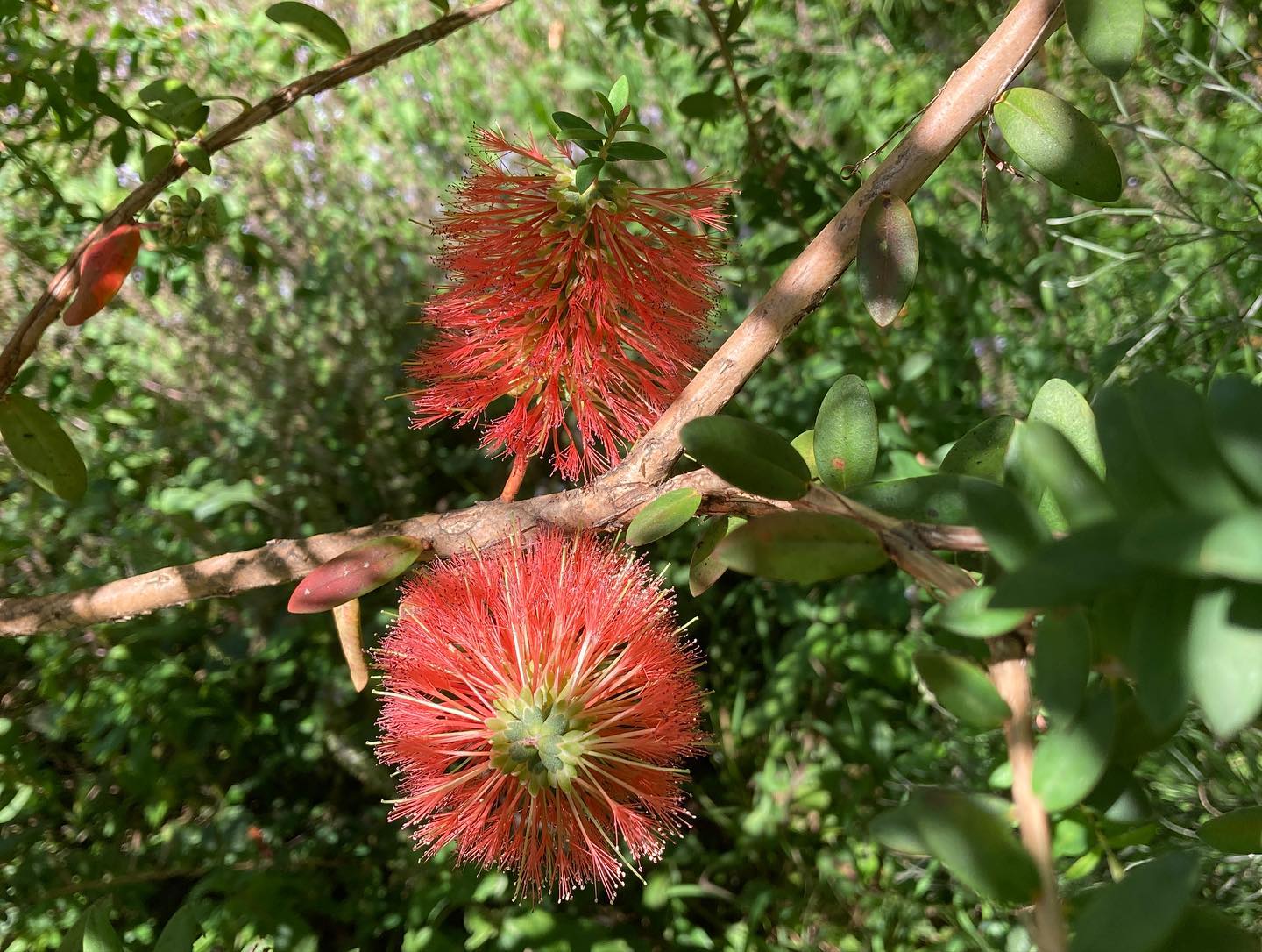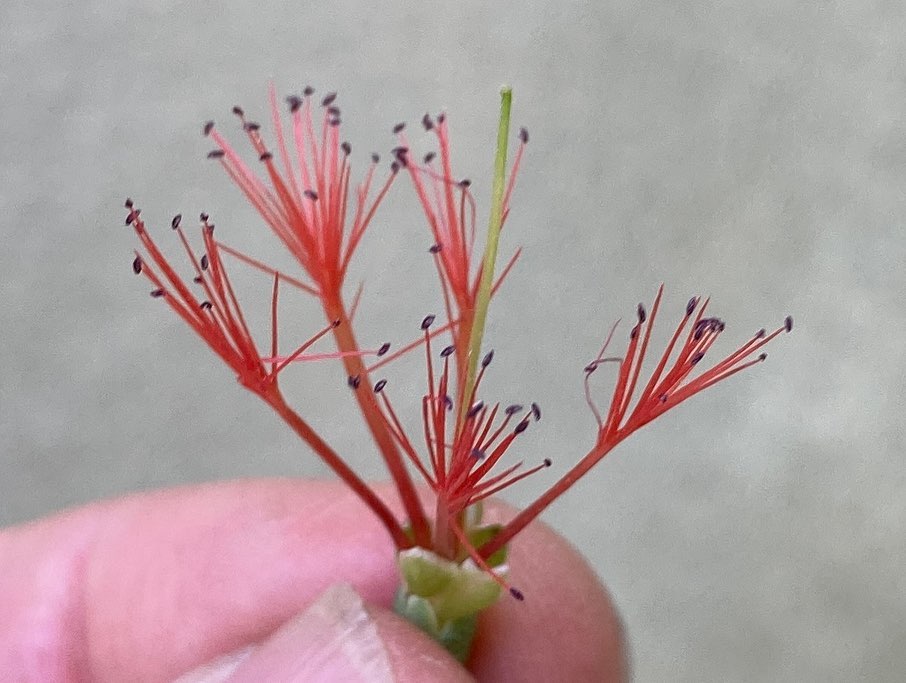 Also Flowering Now
PON staff photos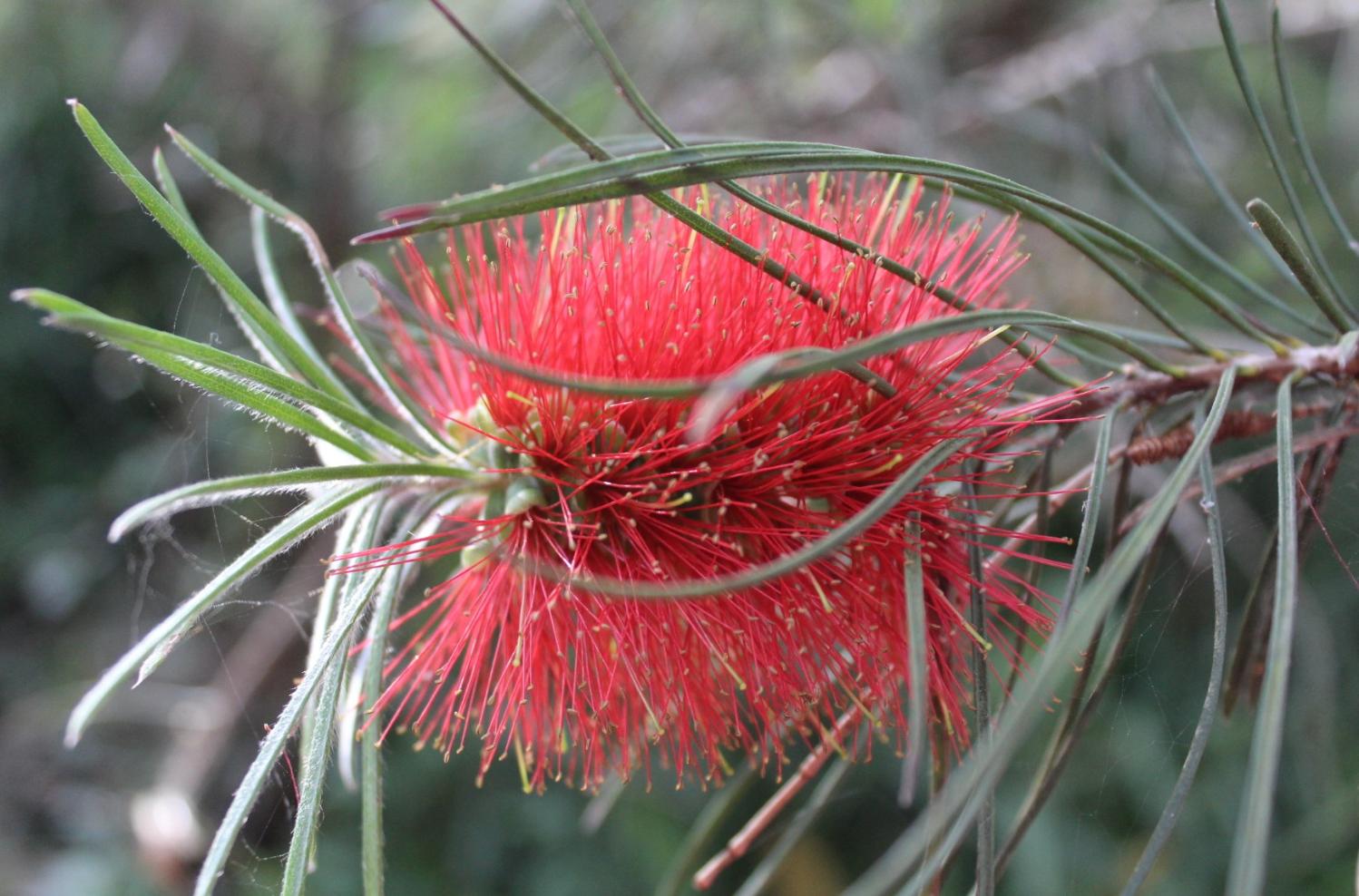 Melaleuca linearis, commonly known as narrow-leaved bottlebrush, is a plant in the myrtle family, Myrtaceae and is endemic to New South Wales and Queensland. It is a medium-sized shrub with narrow leaves with a rigid point, and red flower spikes that bloom in late Spring to early Summer.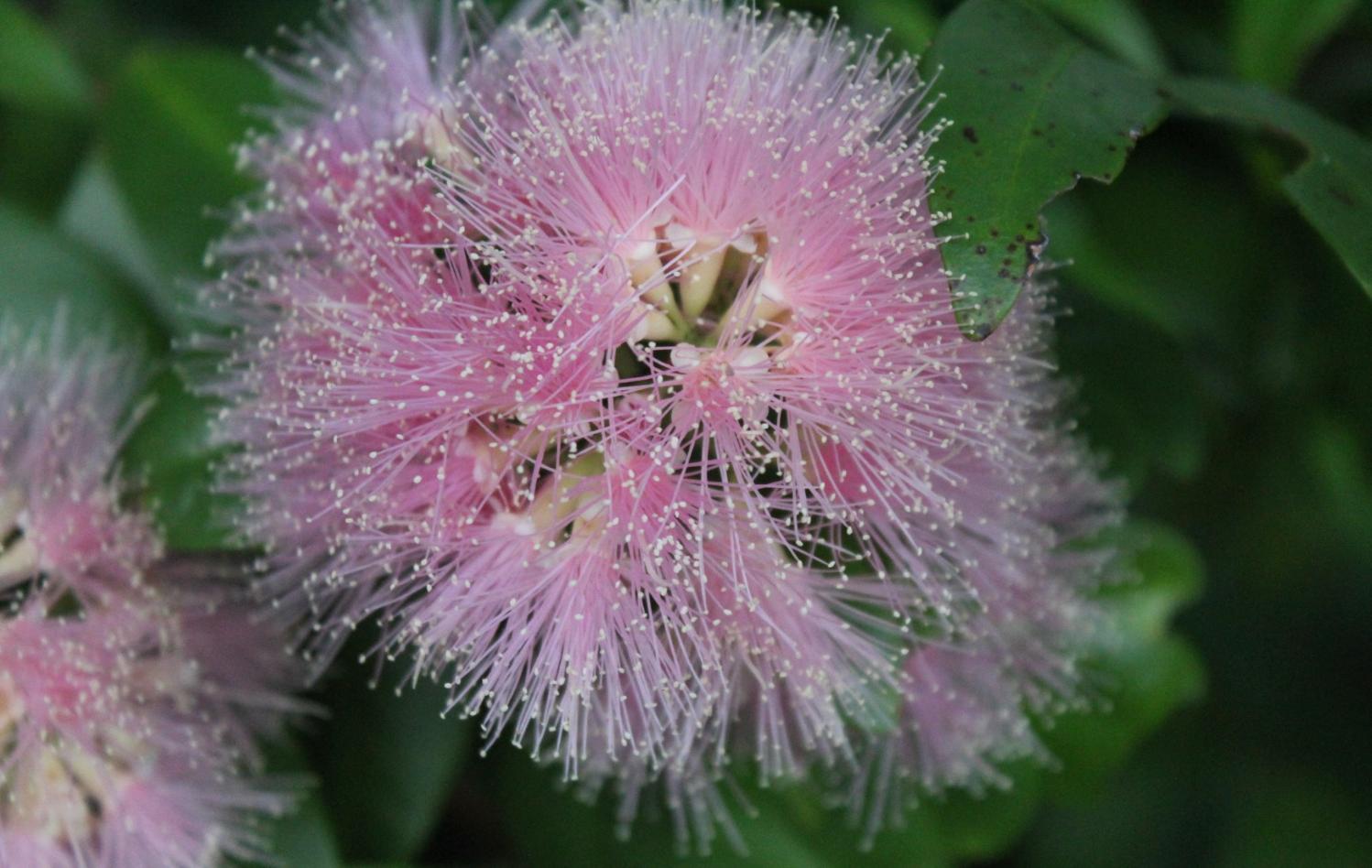 Syzygium luehmannii-x-wilsonii lilly pilly 'Cascade', flowers late Spring and into Summer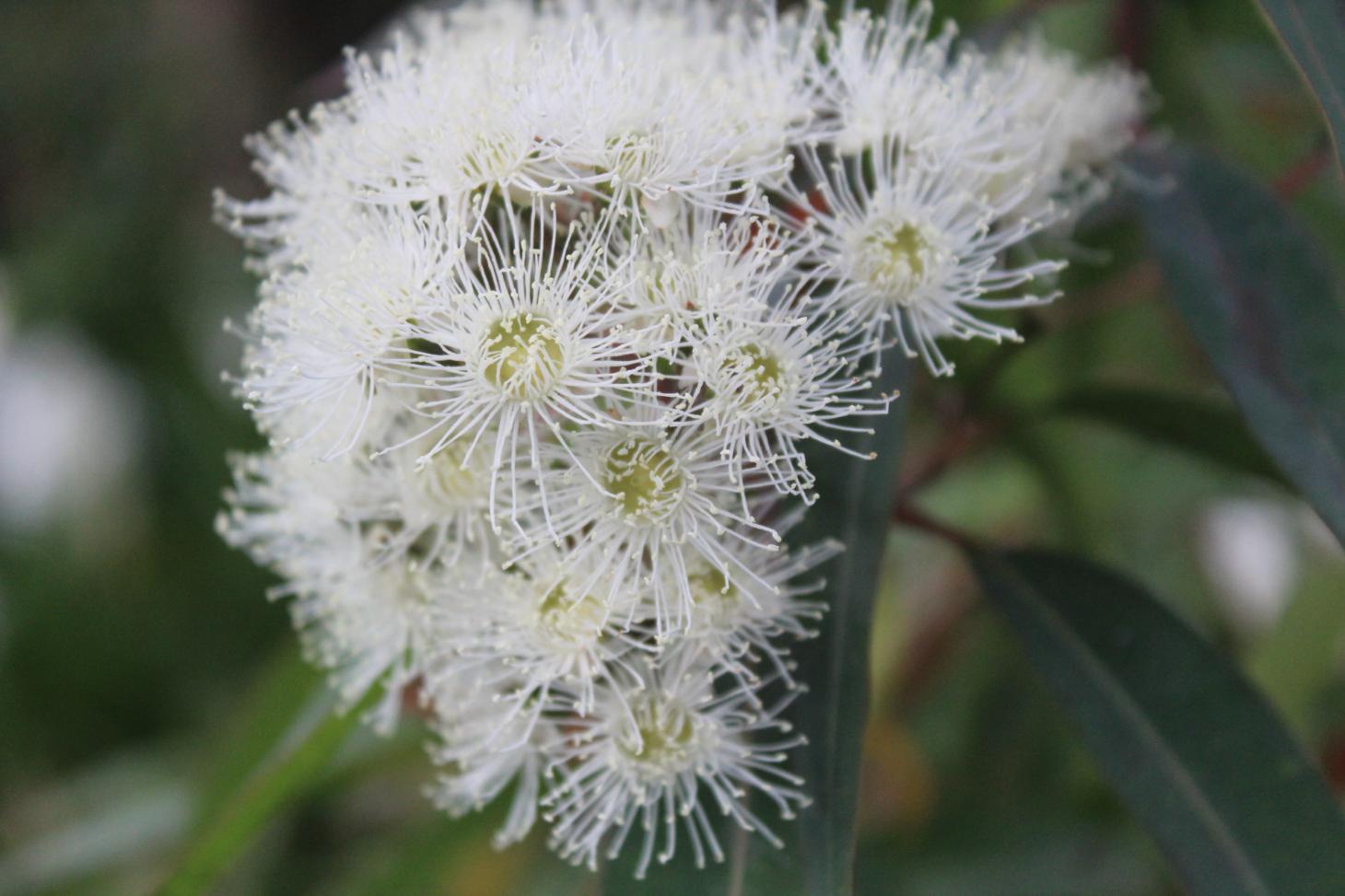 Angophora costata, the Sydney Red Gum, flowers in late spring to summer with creamy white blossoms, also the tie it sheds its old bark to show a salmon creamy pink trunk beneath.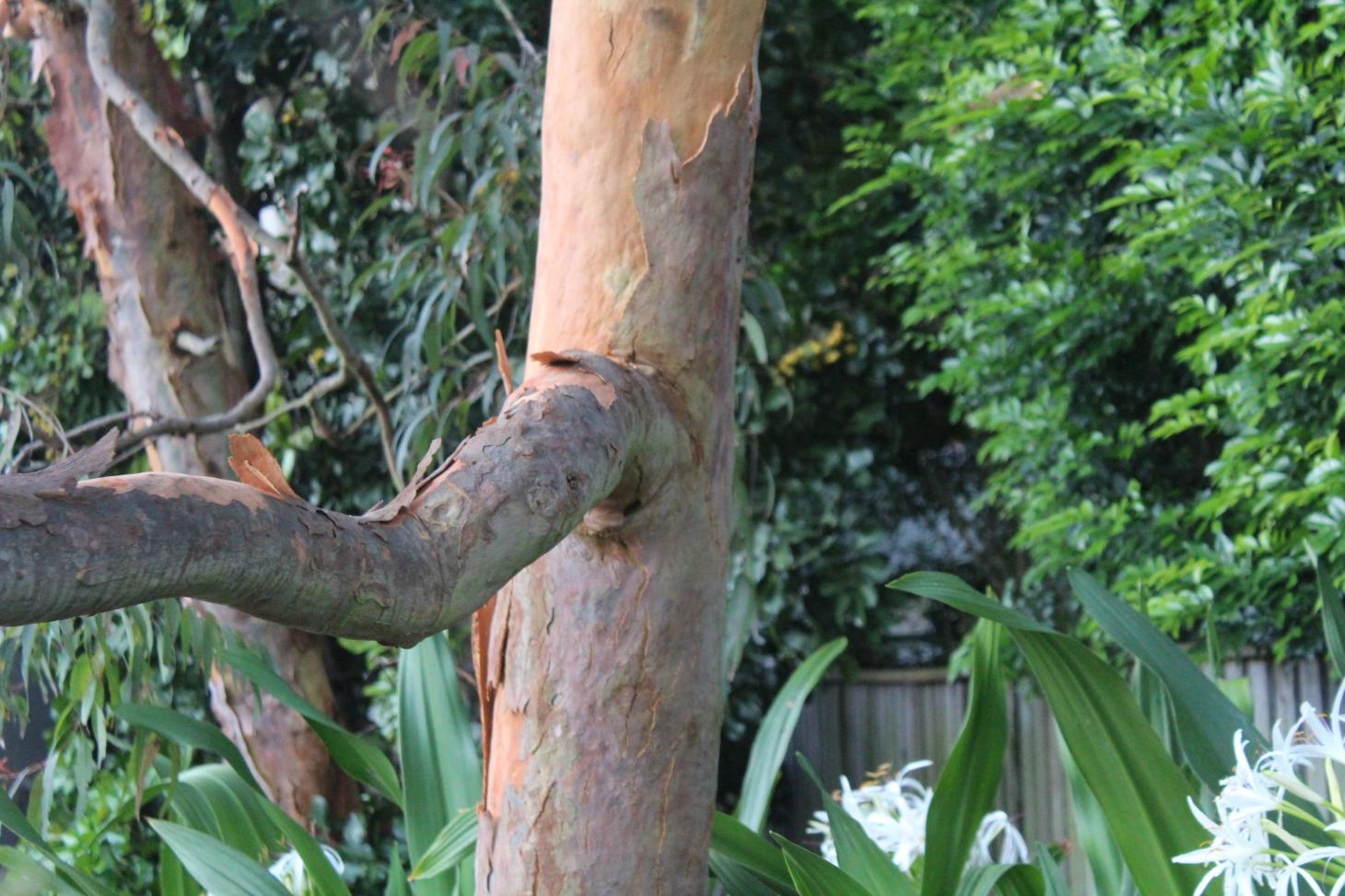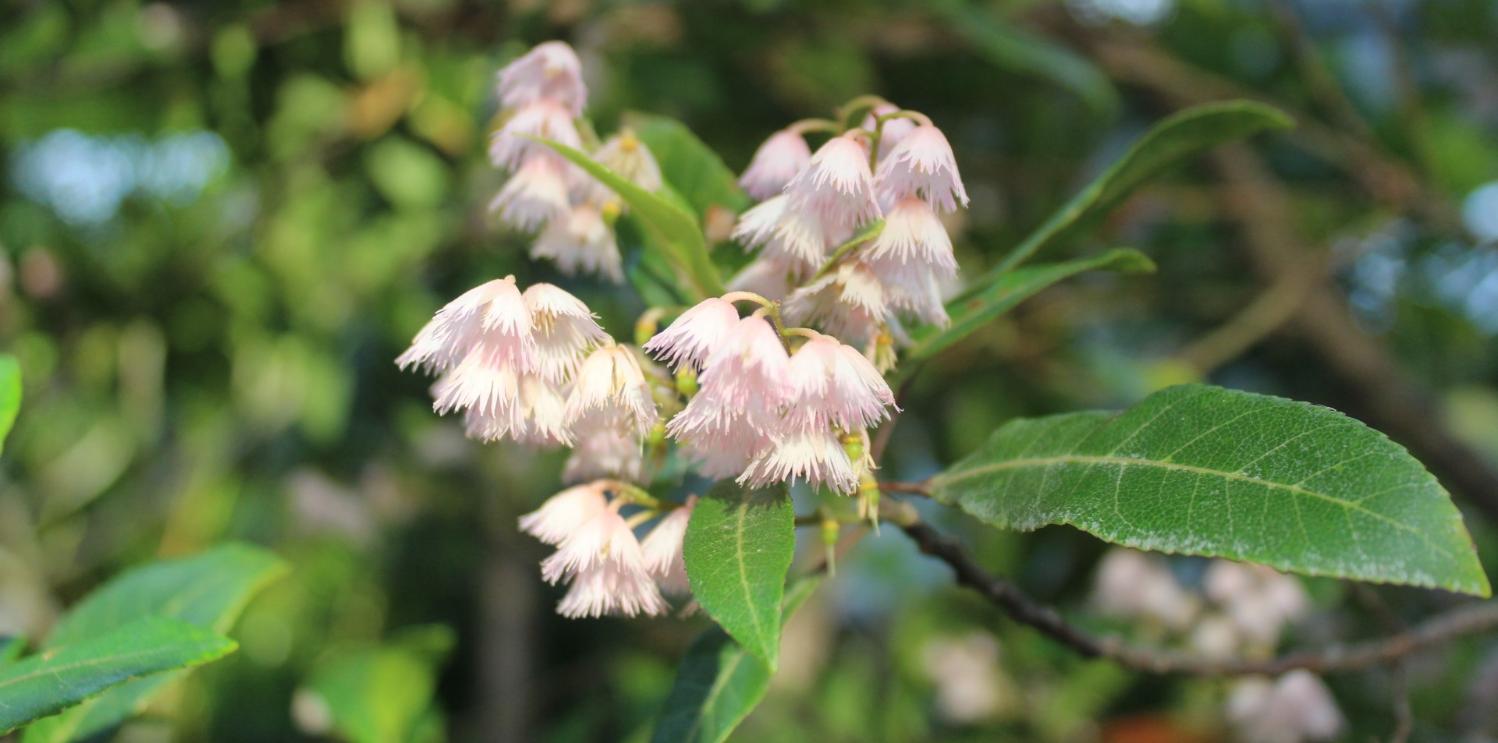 Elaeocarpus reticulatus, the Blueberry Ash, blooms Spring to early Summer
The extended fruiting season (April - October) can see the fruit remaining on this tree into the next flower season (October - January). This results in a long ornamental display of flowers, fruits or both together. The most commonly used name of Blueberry Ash is derived from these pretty fruits, which attract birds like the Regent Bowerbird that collect them for their blue colour. Other birds that eat these fruits are Wonga Pigeons, Crimson Rosellas, Figbirds, White Headed Pigeons and Olive-backed Orioles. This is an endemic Australian species, occurring all along the east coast from Fraser Island in Queensland to Flinders Island, Tasmania. The warmer temperate conditions along the coast suit this species.



Pittwater Spotted Gum Lorikeet Nest, PON yard, November 2022
Misty Morning At Turimetta Beach
photos taken by Joe Mills, Monday November 14th, 2022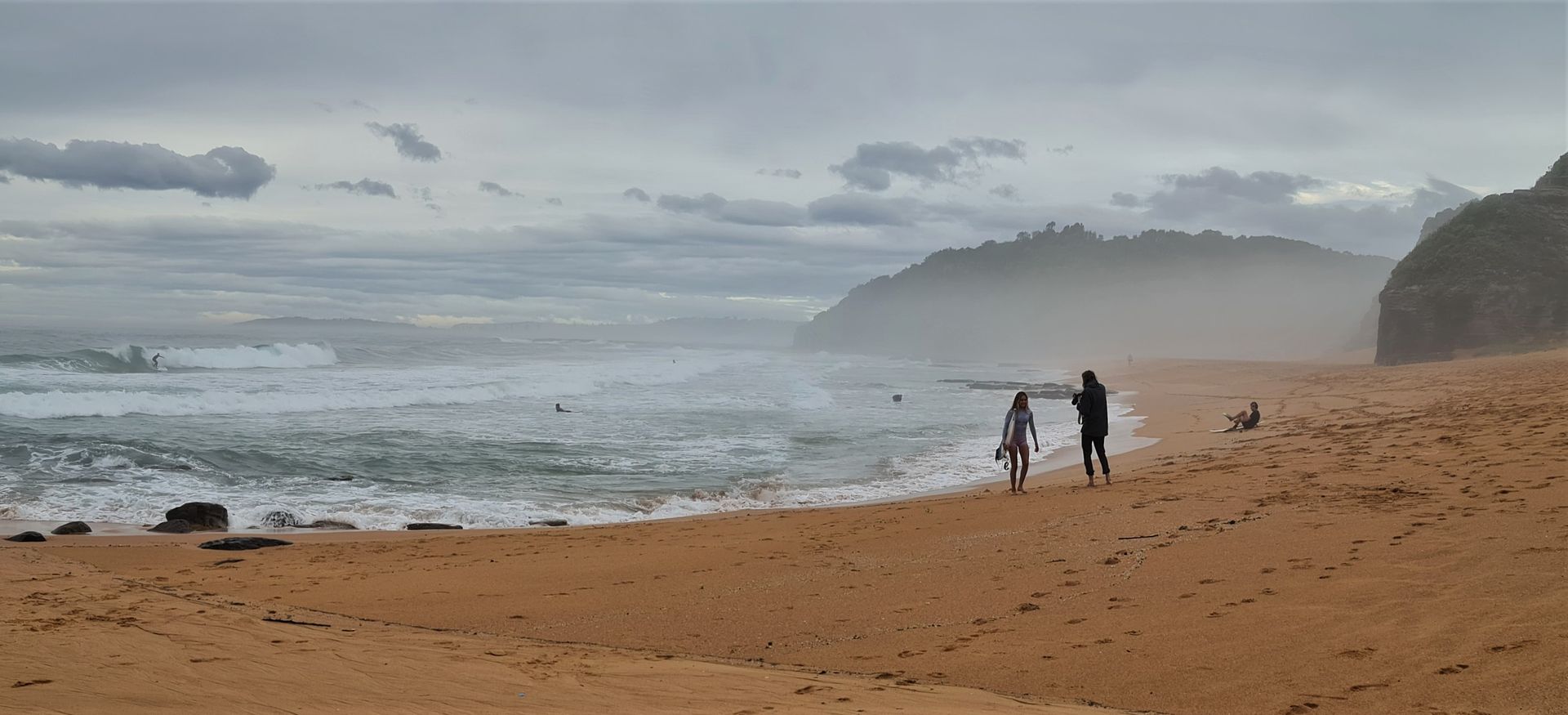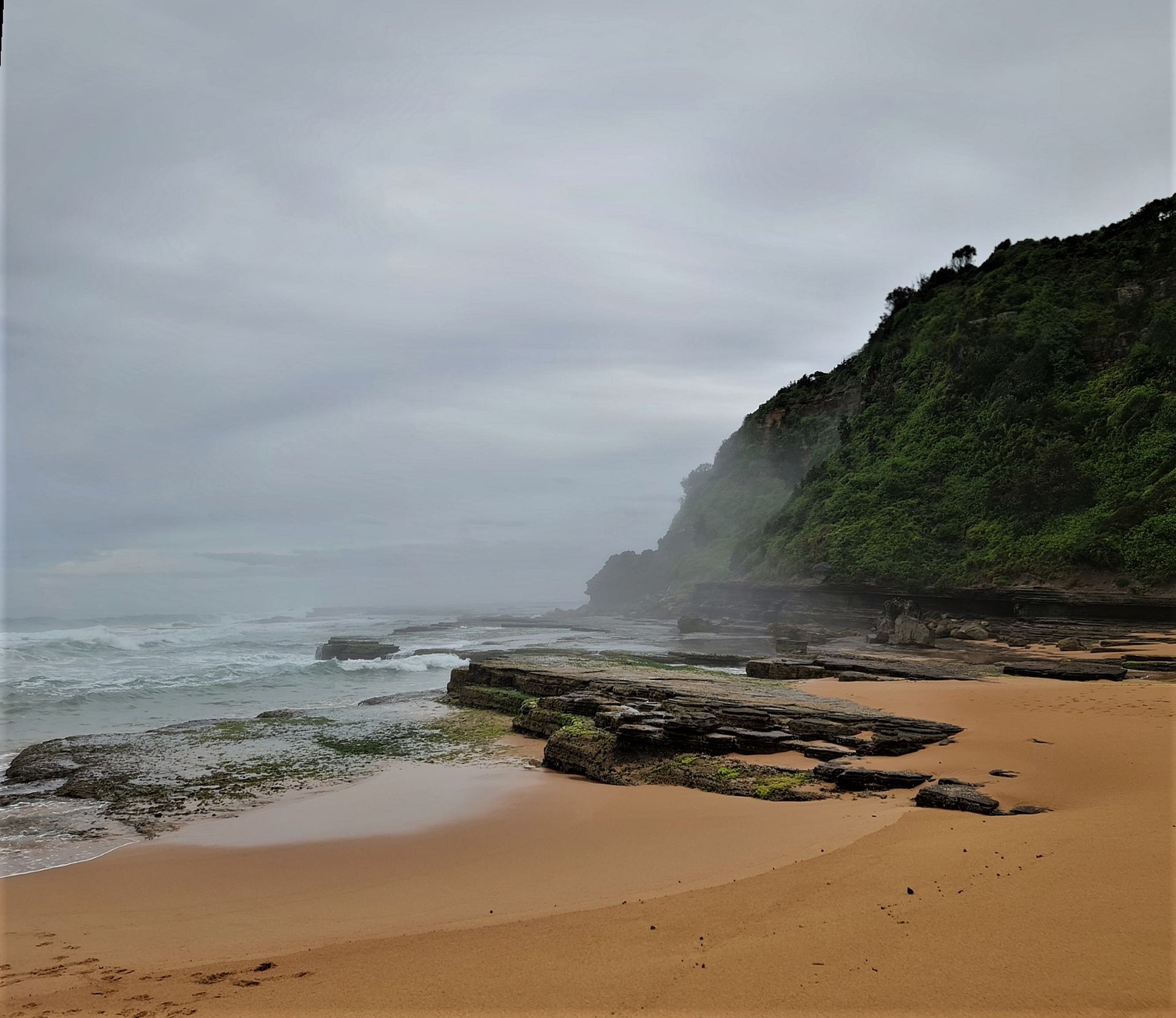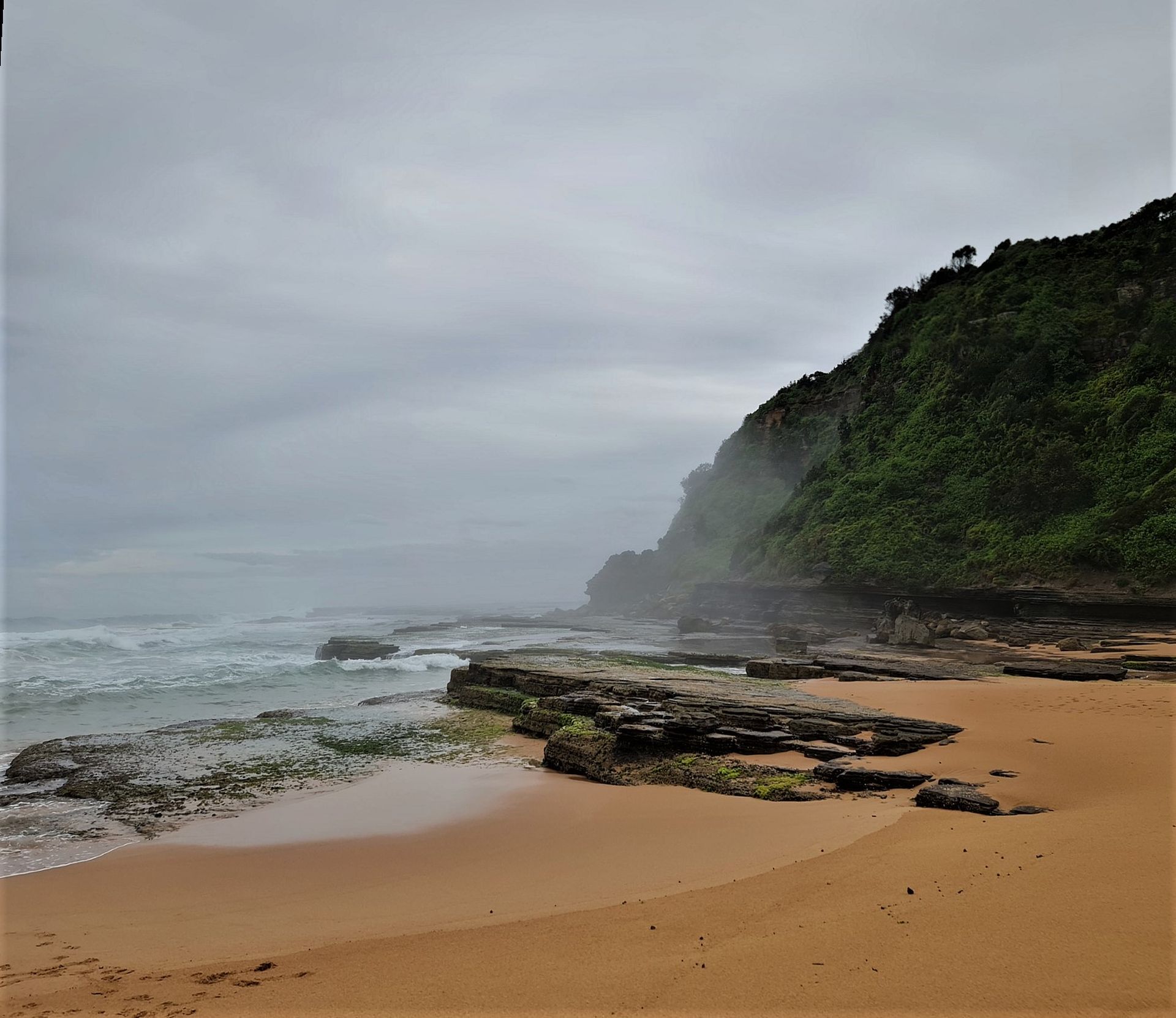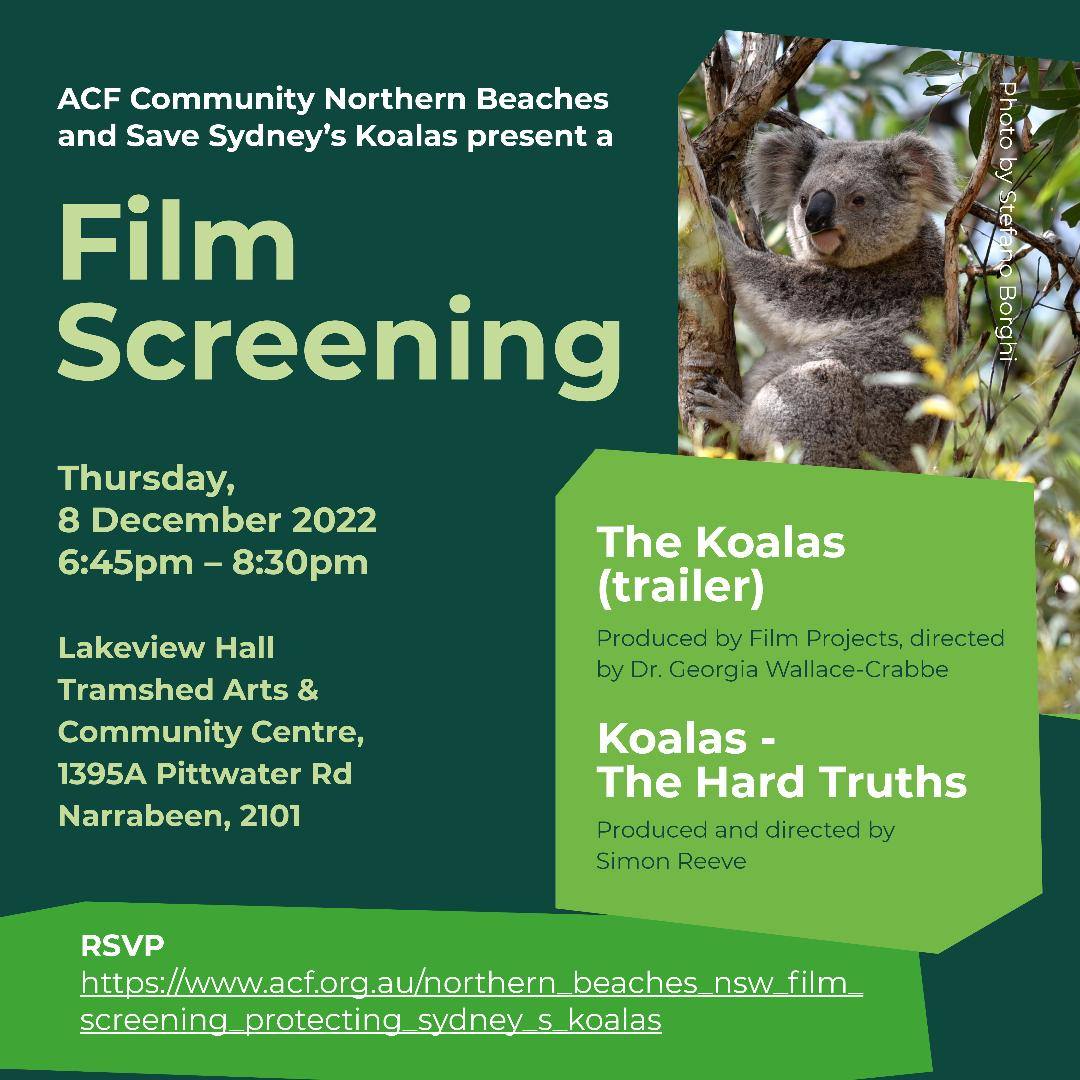 Invitation-Northern Beaches ACF and Save Sydney's Koalas
FREE Film Screening + Q&A of Simon Reeve documentary Koalas: The Hard Truths
Thursday 8 December at Narrabeen Tramshed 6.45 - 8.30pm Please click on below link to register:
Gardening With Brush Turkeys: November 24 At Narrabeen - PNB End Of Year Event
THURSDAY, 24 NOVEMBER 2022 FROM 19:30-21:00
Hosted by Permaculture Northern Beaches
At: Tramshed Arts and Community Centre
Spring is well and truly here and so are the brush turkeys. We are very lucky to have turkey expert, Dr Ann Goeth, author of "Mound Builders", deliver this month's PNB talk. Ann will provide her unique insights into the life of brush turkeys and help us uncover fascinating facts about their foraging habits, breeding, and why they build such large mounds. She will also give tips on how to deal with them in the garden.
Come and see and hear a different side of one of our most common garden visitors.
This is our last meeting for the year for PNB and we will be celebrating all that has gone before us in 2022 and welcoming in 2023. If you would like to bring some snacks and non-alcoholic drinks to share with other members on the night for our end-of-year gathering.
Entry is by donation to help pay for room hire.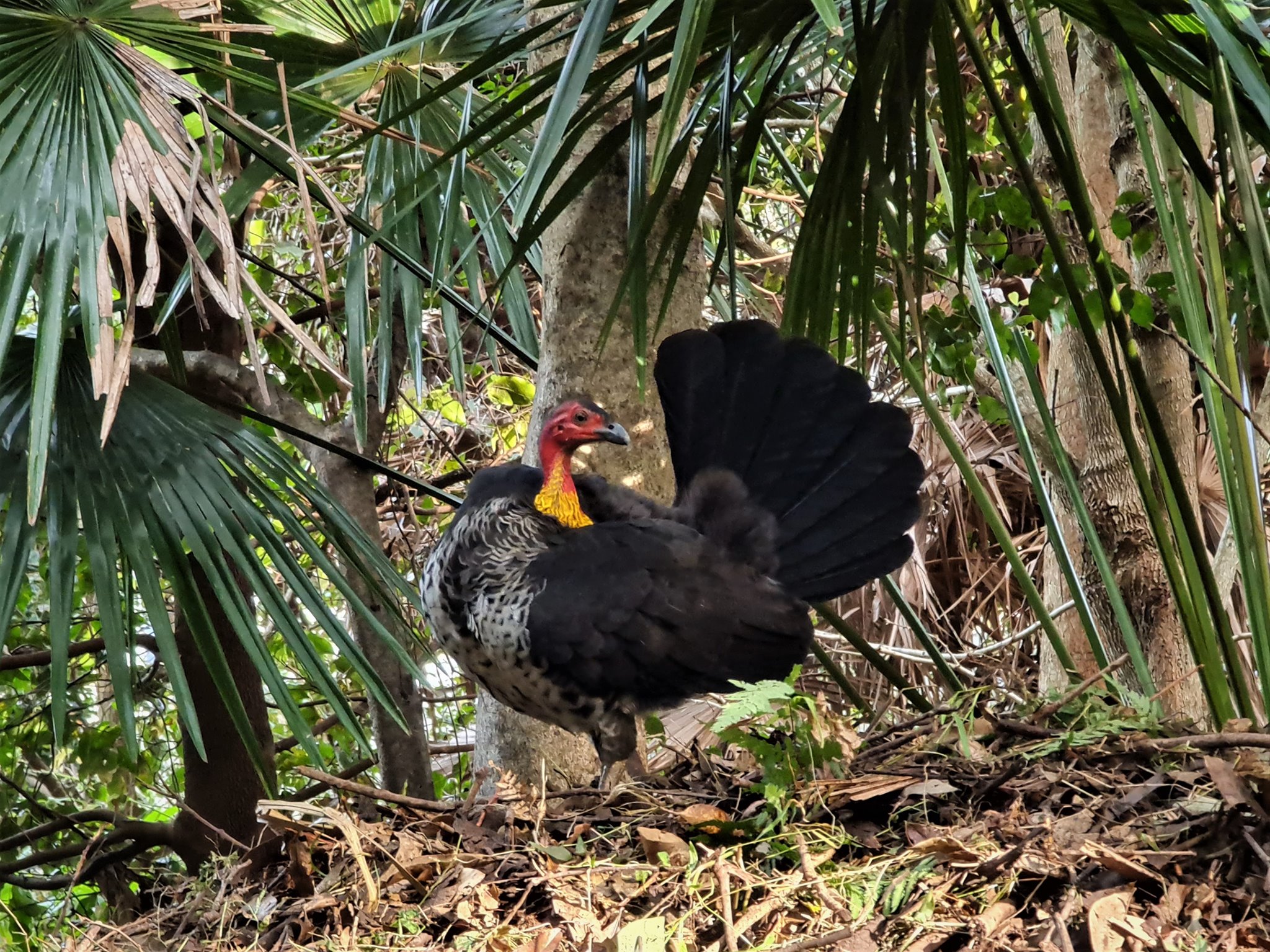 Photo: Joe Mills
Northern Beaches Clean Up Crew South Curl Curl Beach Clean Up: Sunday November 27
Northern Beaches Clean Up Crew, meets the last Sunday of every month at 10am on Sydney's northern beaches. We update our location every month. Come and join us for our South Curl Curl clean up. It will be our last clean up this year, because the last Sunday in December falls on Christmas Day. We'll meet in the grass area, close to the beach - see the map on our website or social media. For exact meeting point look at the map or type in "75 Carrington Parade, Curl Curl in NSW" - we'll be at opposite that address.
We have clean and washed gloves, bags and buckets. We'll clean up the surrounding area and the beach, to try and catch the litter before it hits the beach, trying to remove as much plastic, cigarette butts and rubbish as possible.
The ones in the crew that are certified wildlife rescuers will also look for an entangled seagull that has been reported needing help.
We're a friendly group of people and everyone is welcome to this family friendly event (just leave political, religious and business messages at home so everyone feel welcome). It's a nice community - make some new friends and do a good deed for the planet at the same time. Send us a message if you are lost - email or on our social media. Please invite family and friends and share this event.
We meet at 10am for a briefing. Then we generally clean between 60-90 minutes. After that, we sort and count the rubbish so we can contribute to litter research. We normally finish around 12.30 when we go to lunch together (at own cost). Please note, we completely understand if you cannot stay for the whole event. We are just grateful for any help we can get. No booking required. Just show up on the day. Looking forward to meeting you at South Curl Curl beach.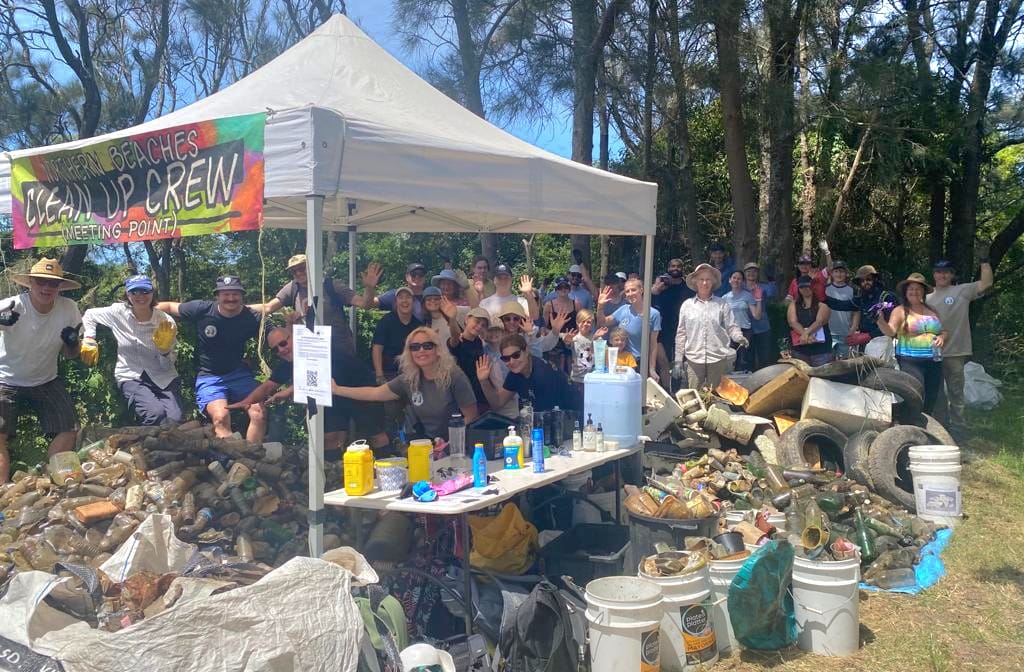 Help Needed To Save Sea Turtle Nests As Third La Nina Summer Looms
Those who recall Green Turtle Eggs being found at North Steyne in January 2020 will know our area is now part of where turtles may make nests. Crews found 144 of the white, ping pong ball sized eggs, their shells still soft and leathery. Although it was said then that incidents of turtles laying their eggs so far south are extremely rare, more recent studies have shown the shift of what was once north to the south in our oceans and what was once south moving north.
The NSW Department of Environment has stated on Monday October 17th, Beachgoers spotting and reporting sea turtle tracks and nests could save hundreds of baby turtles as sea turtle nesting season kicks off in November and a third La Nina summer looms.
Holly West from NSW TurtleWatch said that last year, reports and support from members of the public meant 4 nests were relocated to higher ground that would otherwise have been washed away during the summer storms.
"
Green and loggerhead sea turtles which nest on NSW beaches are both threatened species
, so it's vital we do everything we can to protect every nest and every egg during this critical breeding period," said Ms West.
"From the nests we successfully relocated last year, 376 baby turtles hatched and made their way to the ocean.
"That's almost 400 baby turtles saved by those members of the public who gave us a call.
"With another La Nina summer predicted, sea turtle nests will be in the firing line from increased storm activity.
"Nesting turtle tracks disappear from the beach very quickly, so the earlier we are notified about tracks or the location of a potential nest, the better.
"This allows us to monitor the nest from the get-go and act to save the eggs if the nest is at risk of being inundated by high tides or impacted by other threats, such as predators, erosion or light pollution," she said.
In 2021–22, 11 sea turtle nesting activities were recorded on NSW beaches.
"Each nesting season, in collaboration with NSW National Parks and Wildlife Service, we collect data on how many sea turtles are utilising the NSW coastline to nest," said Ms West.
"The more we understand about how, where and when marine turtles nest, the more we will be able to protect them," she said.
Female turtles typically come out of the water between dusk and dawn to lay their eggs so beachgoers should keep an eye out for tracks in the sand if they are on the beach early in the morning.
Sightings of nesting turtles, turtle tracks or nests should be reported to the NSW National Parks and Wildlife Service (NPWS) on 13000 PARKS or to NSW TurtleWatch on 0468 489 259.
NSW TurtleWatch is developed by Australian Seabird and Turtle Rescue and supported by the NSW Government through the Saving our Species program, the Marine Estate Management Strategy and NPWS.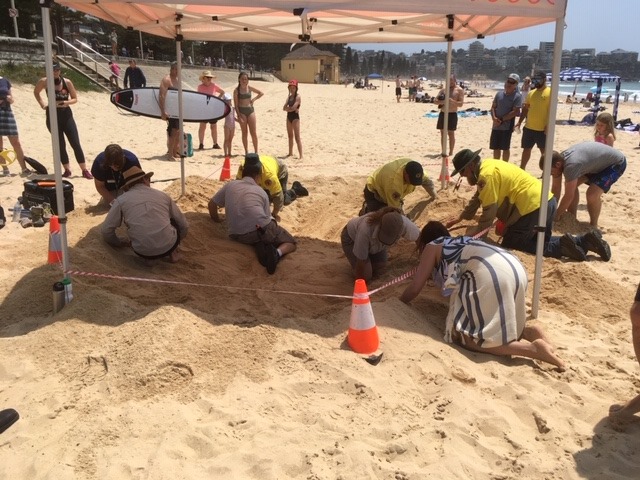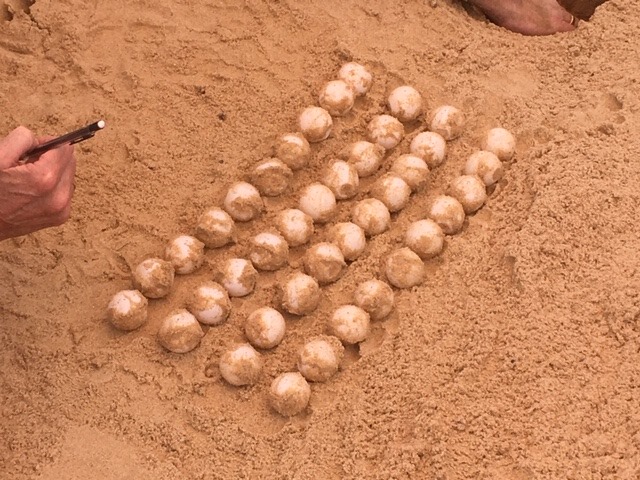 Photos: the eggs found in our area in 2020. Photos courtesy and from Northern Beaches Police Area Command Facebook page. Those eggs were carefully placed in sand at an undisclosed location near Coffs Harbour, where they were more likely to hatch.
Watch Out - Shorebirds About
Spring is here so watch your step because beach-nesting and estuary-nesting birds have started setting up home on our shores.
Did you know that Careel Bay and other spots throughout our area are part of the East Asian-Australasian Flyway Partnership (EAAFP)?
This flyway, and all of the stopping points along its way, are vital to ensure the survival of these Spring and Summer visitors. This is where they rest and feed on their journeys. For example, did you know that the bar-tailed godwit flies for 239 hours for 8,108 miles from Alaska to Australia?
Not only that, Shorebirds such as endangered oystercatchers and little terns lay their eggs in shallow scraped-out nests in the sand, NSW National Parks and Wildlife Service (NPWS) Threatened Species officer Ms Katherine Howard has said.
Even our regular residents such as seagulls are currently nesting to bear young.
What can you do to help them?
Known nest sites may be indicated by fencing or signs. The whole community can help protect shorebirds by keeping out of nesting areas marked by signs or fences and only taking your dog to designated dog offleash area.
Just remember WE are visitors to these areas. These birds LIVE there. This is their home.
Four simple steps to help keep beach-nesting birds safe:
1. Look out for bird nesting signs or fenced-off nesting areas on the beach, stay well clear of these areas and give the parent birds plenty of space.
2. Walk your dogs in designated dog-friendly areas only and always keep them on a leash over summer.
3. Stay out of nesting areas and follow all local rules.
4. Chicks are mobile and don't necessarily stay within fenced nesting areas. When you're near a nesting area, stick to the wet sand to avoid accidentally stepping on a chick.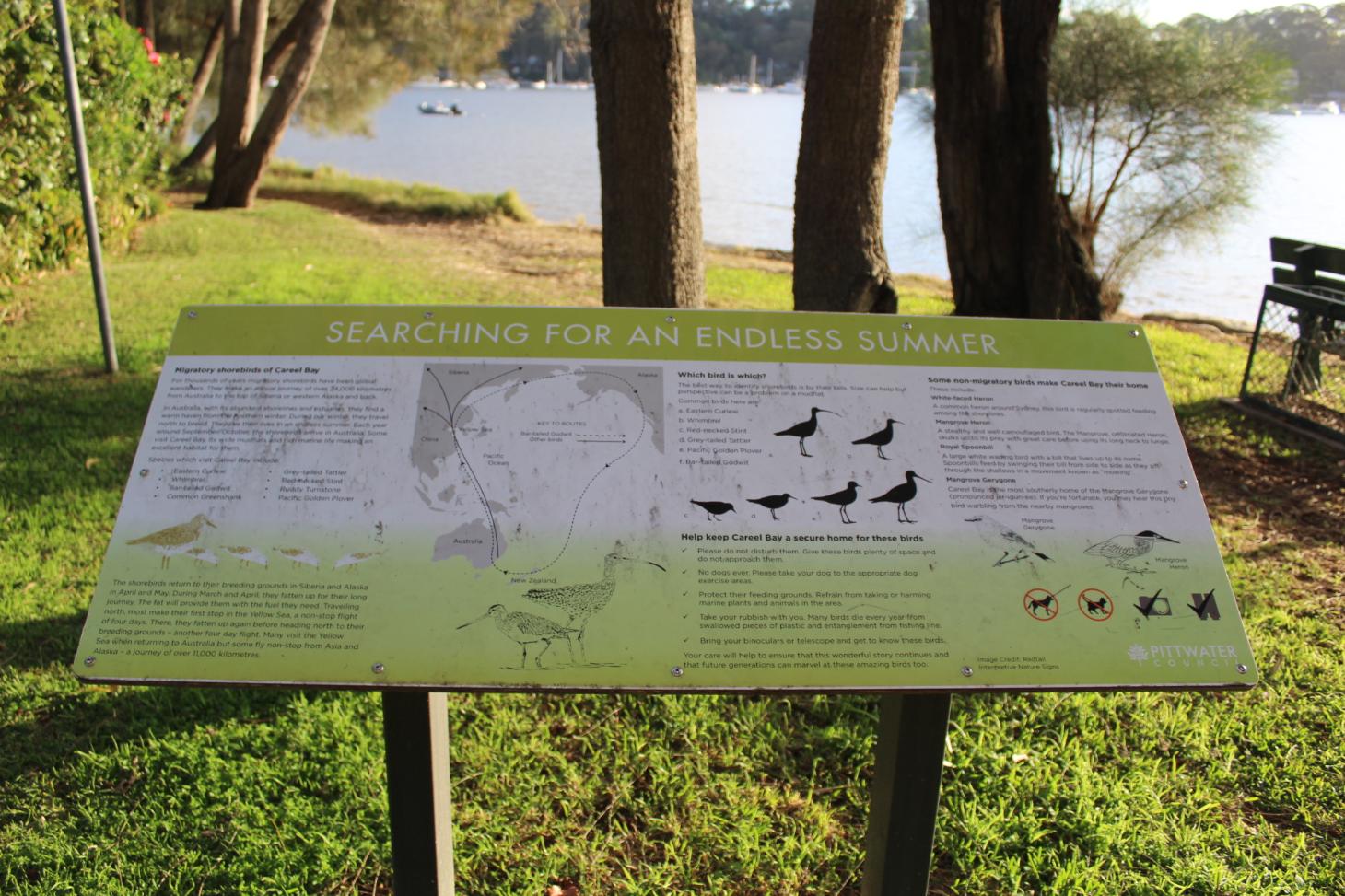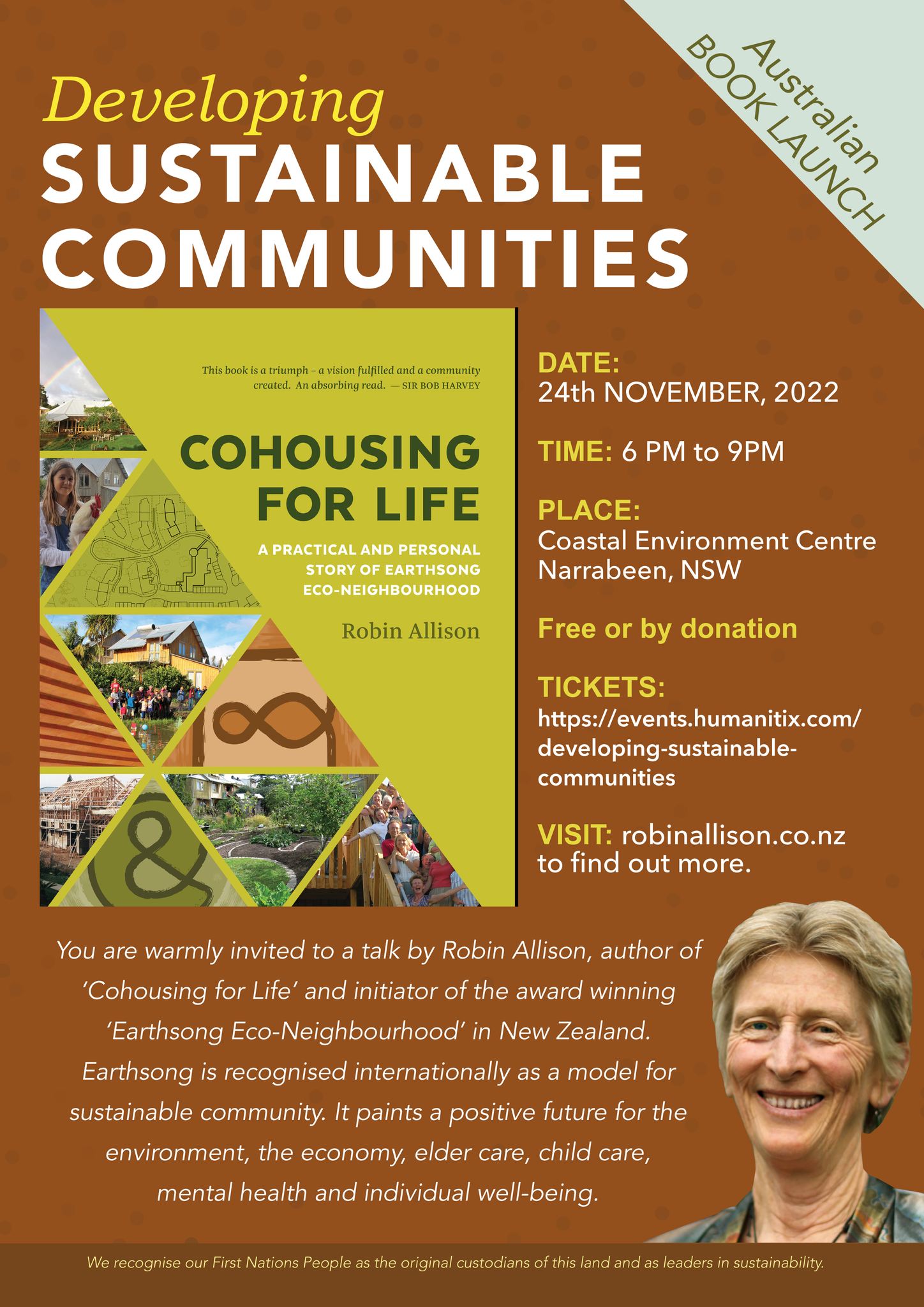 TALK & BOOK LAUNCH
Book Your Free Ticket To:
Developing Sustainable Communities
You are warmly invited to a talk by Robin Allison, author of 'Cohousing for Life' and initiator of the award winning 'Earthsong Eco-Neighbourhood' in New Zealand. Earthsong is recognised internationally as a model for sustainable community. It paints a positive future for the environment, the economy, elder care, child care, mental health and individual well-being. Robin's book will be for sale on the night.
DATE: 24th November, 2022
PLACE:

The Coastal Environment Centre,
Entrance Pelican Path, Lake Park Rd, North Narrabeen
We recognise our First Nations People as the original custodians of this land and as leaders in sustainability.
Wanted: Photos Of Flies Feeding On Frogs (For Frog Conservation)
Do you have any photos of frogs being bitten by flies? Submit them to our study to help in frog conservation.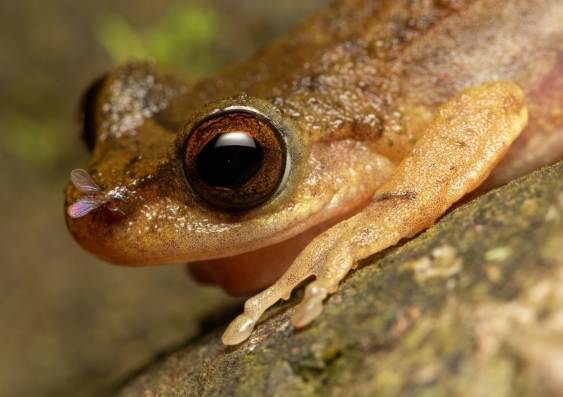 By sampling the blood of flies that bite frogs, researchers can determine the (sometimes difficult to spot) frogs in an environment. Common mist frog being fed on by a Sycorax fly. Photo: Jakub Hodáň
UNSW Science and the Australian Museum want your photos of frogs, specifically those being bitten by flies, for a new (and inventive) technique to detect and protect our threatened frog species.
You might not guess it, but biting flies – such as midges and mosquitoes – are excellent tools for science. The blood 'sampled' by these parasites contains precious genetic data about the animals they feed on (such as frogs), but first, researchers need to know which parasitic flies are biting which frogs. And this is why they need you to
submit your photos
.
"Rare frogs can be very hard to find during traditional scientific expeditions," says PhD student Timothy Cutajar, leading the project. "Species that are rare or cryptic [inconspicuous] can be easily missed, so it turns out the best way to detect some species might be through their parasites."
The technique is called 'iDNA', short for invertebrate-derived DNA, and researchers Mr Cutajar and Dr Jodi Rowley from UNSW Science and the Australian Museum were the first to harness its potential for detecting cryptic or threatened species of frogs.
The team first deployed this technique in 2018 by capturing frog-biting flies in habitats shared with frogs. Not unlike the premise of Michael Crichton's Jurassic Park, where the DNA of blood-meals past is contained in the bellies of the flies, Mr Cutajar was able to extract the drawn blood (and therefore DNA) and identify the species of amphibian the flies had recently fed on.
These initial trials uncovered the presence of rare frogs that traditional searching methods had missed.
"iDNA has the potential to become a standard frog survey technique," says Mr Cutajar. "[It could help] in the discovery of new species or even the rediscovery of species thought to be extinct, so I want to continue developing techniques for frog iDNA surveys. However, there is still so much we don't yet know about how frogs and flies interact."
In a bid to understand the varieties of parasites that feed on frogs – so Mr Cutajar and colleagues might lure and catch those most informative and prolific species – the team are looking to the public for their frog photos.
"If you've photographed frogs in Australia, I'd love for you to closely examine your pictures, looking for any frogs that have flies, midges or mosquitoes sitting on them. If you find flies, midges or mosquitoes in direct contact with frogs in any of your photos, please share them."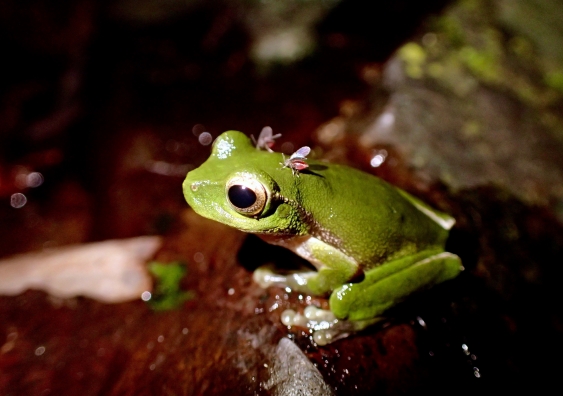 The submitted photos will be analysed for the frog and parasite species they contain, helping inform future iDNA research. Mountain Stream Tree Frog (Litoria barringtonensis) being bitten by Sycorax. Photo: Tim Cutajar/Australian Museum
"We'll be combing through photographs of frogs submitted through our survey," says Mr Cutajar, "homing in on the characteristics that make a frog species a likely target for frog-biting flies.
"It's unlikely that all frogs are equally parasitised. Some frogs have natural insect repellents, while others can swat flies away. The flies themselves can be choosy about the types of sounds they're attracted to, and probably aren't evenly abundant everywhere."
Already the new iDNA technique, championed in herpetology by Mr Cutajar, has shown great promise, and by refining its methodology with data submitted by the public – citizen scientists – our understanding of frog ecology and biodiversity can be broadened yet further.
"The power of collective action can be amazing for science," says Mr Cutajar, "and with your help, we can kickstart a new era of improved detection, and therefore conservation, of our amazing amphibian diversity."
Possums In Your Roof?: Do The Right Thing
Possums in your roof? Please do the right thing
On the weekend, one of our volunteers noticed a driver pull up, get out of their vehicle, open the boot, remove a trap and attempt to dump a possum on a bush track. Fortunately, our member intervened and saved the beautiful female brushtail and the baby in her pouch from certain death.
It is illegal to relocate a trapped possum more than 150 metres from the point of capture and substantial penalties apply. Urbanised possums are highly territorial and do not fare well in unfamiliar bushland. In fact, they may starve to death or be taken by predators.
While Sydney Wildlife Rescue does not provide a service to remove possums from your roof, we do offer this advice:
✅ Call us on (02) 9413 4300 and we will refer you to a reliable and trusted licenced contractor in the Sydney metropolitan area. For a small fee they will remove the possum, seal the entry to your roof and provide a suitable home for the possum - a box for a brushtail or drey for a ringtail.
✅ Do-it-yourself by following this advice from the Department of Planning and Environment:
❌ Do not under any circumstances relocate a possum more than 150 metres from the capture site.
Thank you for caring and doing the right thing.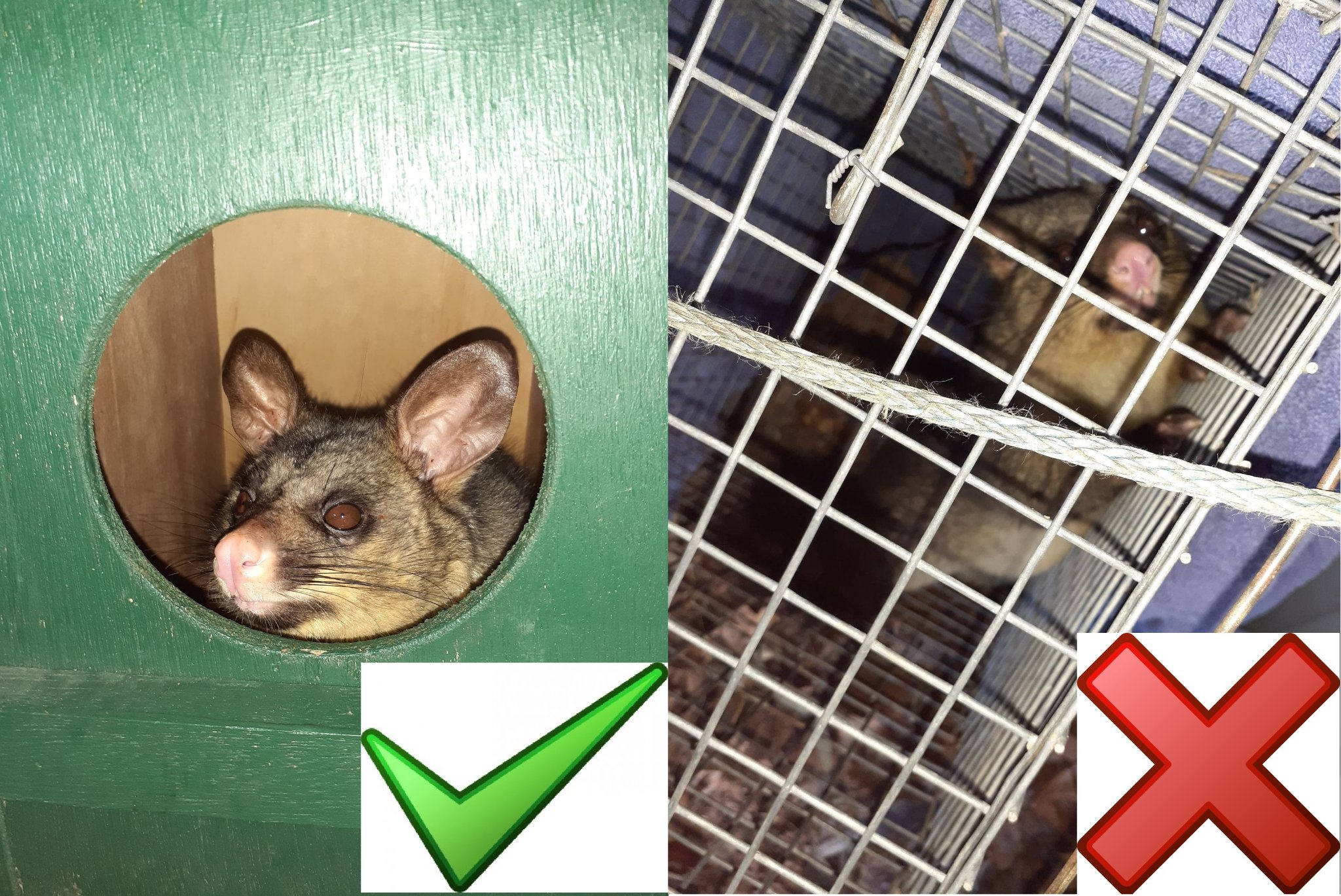 Sydney Wildlife photos
Local Wildlife Rescuers And Carers State That Ongoing Heavy Rains Are Tough For Us But Can Be Tougher For Our Wildlife:
Birds and possums can be washed out of trees, or the tree comes down, nests can disintegrate or hollows fill with water
Ground dwelling animals can be flooded out of their burrows or hiding places and they need to seek higher ground
They are at risk crossing roads as people can't see them and sudden braking causes accidents
The food may disappear - insects, seeds and pollens are washed away, nectar is diluted and animals can be starving
They are vulnerable in open areas to predators, including our pets
They can't dry out and may get hypothermia or pneumonia
Animals may seek shelter in your home or garage.
You can help by:
Keeping your pets indoors
Assessing for wounds or parasites
Putting out towels or shelters like boxes to provide a place to hide
Drive to conditions and call a rescue group if you see an animal hit (or do a pouch check or get to a vet if you can stop)
If you are concerned take a photo and talk to a rescue group or wildlife carer
There are 2 rescue groups in the Northern Beaches:
Sydney Wildlife: 9413 4300
WIRES: 1300 094 737
Please be patient as there could be a few enquiries regarding the wildlife.
Generally Sydney Wildlife do not recommend offering food but it may help in some cases. Please ensure you know what they generally eat and any offerings will not make them sick. You can read more on feeding wildlife here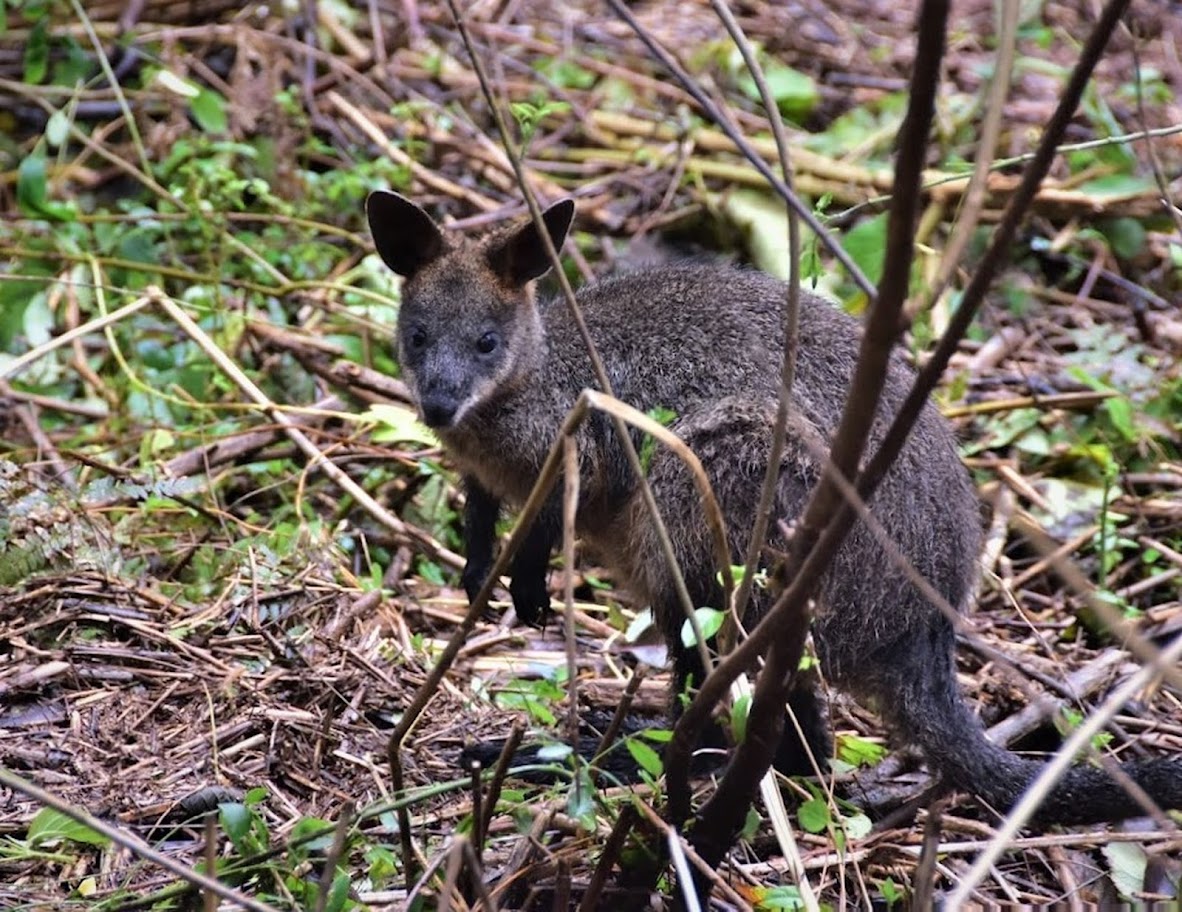 Information courtesy Ed Laginestra, Sydney Wildlife volunteer. Photo: Warriewood Wetlands Wallaby by Kevin Murray, March 2022.
Aviaries + Possum Release Sites Needed
Pittwater Online News has interviewed
Lynette Millett OAM
(WIRES Northern Beaches Branch)
needs more bird cages of all sizes for keeping the current huge amount of baby wildlife in care safe or 'homed' while they are healed/allowed to grow bigger to the point where they may be released back into their own home.
If you have an aviary or large bird cage you are getting rid of or don't need anymore, please email via the link provided above.
There is also a pressing need for release sites for brushtail possums - a species that is very territorial and where release into a site already lived in by one possum can result in serious problems and injury.
If you have a decent backyard and can help out, Lyn and husband Dave can supply you with a simple drey for a nest and food for their first weeks of adjustment.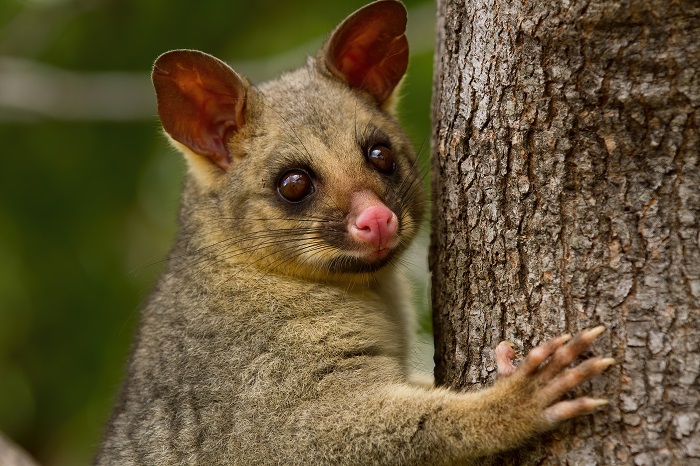 Sydney Wildlife Rescue: Helpers Needed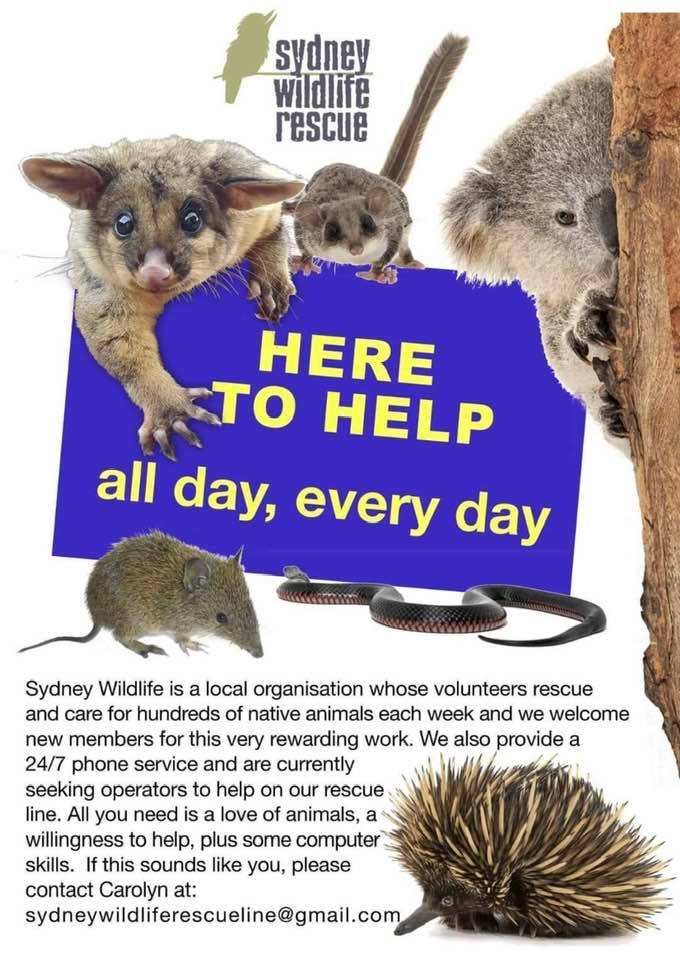 Bushcare In Pittwater
For further information or to confirm the meeting details for below groups, please contact Council's Bushcare Officer on 9970 1367 or visit Council's bushcare webpage to find out how you can get involved.
BUSHCARE SCHEDULES
Where we work Which day What time
Avalon
Angophora Reserve 3rd Sunday 8:30 - 11:30am
Avalon Dunes 1st Sunday 8:30 - 11:30am
Avalon Golf Course 2nd Wednesday 3 - 5:30pm
Careel Creek 4th Saturday 8:30 - 11:30am
Toongari Reserve 3rd Saturday 9 - 12noon (8 - 11am in summer)
Bangalley Headland 2nd Sunday 9 to 12noon
Bayview
Winnererremy Bay 4th Sunday 9 to 12noon
Bilgola
North Bilgola Beach 3rd Monday 9 - 12noon
Algona Reserve 1st Saturday 9 - 12noon
Plateau Park 1st Friday 8:30 - 11:30am
Church Point
Browns Bay Reserve 1st Tuesday 9 - 12noon
McCarrs Creek Reserve Contact Bushcare Officer To be confirmed
Clareville
Old Wharf Reserve 3rd Saturday 8 - 11am
Elanora
Kundibah Reserve 4th Sunday 8:30 - 11:30am
Mona Vale
Mona Vale Beach Basin 1st Saturday 8 - 11am
Mona Vale Dunes 2nd Saturday +3rd Thursday 8:30 - 11:30am
Newport
Bungan Beach 4th Sunday 9 - 12noon
Crescent Reserve 3rd Sunday 9 - 12noon
North Newport Beach 4th Saturday 8:30 - 11:30am
Porter Reserve 2nd Saturday 8 - 11am
North Narrabeen
Irrawong Reserve 2nd Saturday 2 - 5pm
Palm Beach
North Palm Beach Dunes 3rd Saturday 9 - 12noon
Scotland Island
Catherine Park 2nd Sunday 10 - 12:30pm
Elizabeth Park 1st Saturday 9 - 12noon
Pathilda Reserve 3rd Saturday 9 - 12noon
Warriewood
Warriewood Wetlands 1st Sunday 8:30 - 11:30am
Whale Beach
Norma Park 1st Friday 9 - 12noon
Western Foreshores
Coopers Point, Elvina Bay 2nd Sunday 10 - 1pm
Rocky Point, Elvina Bay 1st Monday 9 - 12noon
Friends Of Narrabeen Lagoon Catchment Activities

Bush Regeneration - Narrabeen Lagoon Catchment
This is a wonderful way to become connected to nature and contribute to the health of the environment. Over the weeks and months you can see positive changes as you give native species a better chance to thrive. Wildlife appreciate the improvement in their habitat.
Belrose area - Thursday mornings
Belrose area - Weekend mornings by arrangement
Contact: Phone or text Conny Harris on 0432 643 295
Wheeler Creek - Wednesday mornings 9-11am
Contact: Phone or text Judith Bennett on 0402 974 105
Gardens And Environment Groups And Organisations In Pittwater
New Shorebirds WingThing For Youngsters Available To Download
A Shorebirds WingThing educational brochure for kids (A5) helps children learn about shorebirds, their life and journey. The 2021 revised brochure version was published in February 2021 and is available now. You can download a file copy here.
If you would like a free print copy of this brochure, please send a self-addressed envelope with A$1.10 postage (or larger if you would like it unfolded) affixed to: BirdLife Australia, Shorebird WingThing Request, 2-05Shorebird WingThing/60 Leicester St, Carlton VIC 3053.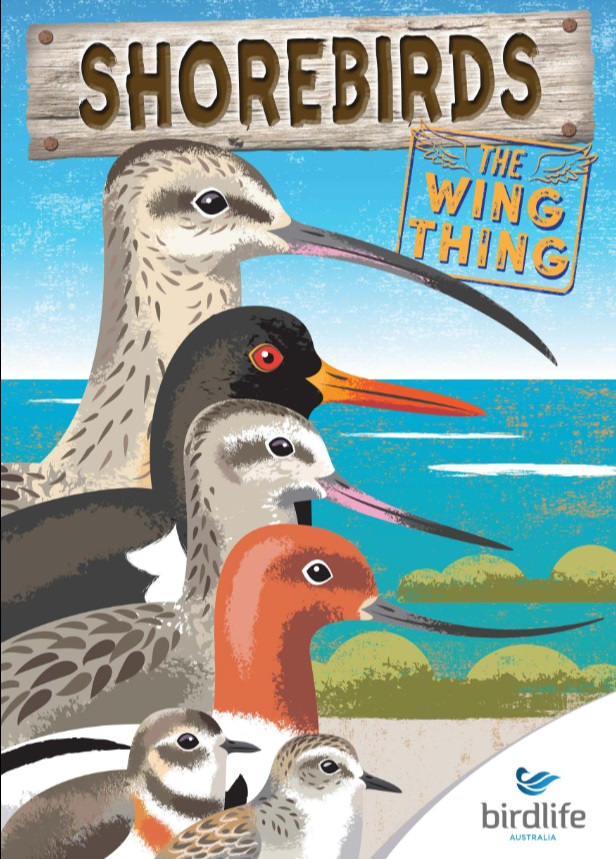 Shorebird Identification Booklet
The Migratory Shorebird Program has just released the third edition of its hugely popular Shorebird Identification Booklet. The team has thoroughly revised and updated this pocket-sized companion for all shorebird counters and interested birders, with lots of useful information on our most common shorebirds, key identification features, sighting distribution maps and short articles on some of BirdLife's shorebird activities.
The booklet can be downloaded here in PDF file format: http://www.birdlife.org.au/documents/Shorebird_ID_Booklet_V3.pdf
Paper copies can be ordered as well, see http://www.birdlife.org.au/projects/shorebirds-2020/counter-resources for details.
Download BirdLife Australia's children's education kit to help them learn more about our wading birdlife
Shorebirds are a group of wading birds that can be found feeding on swamps, tidal mudflats, estuaries, beaches and open country. For many people, shorebirds are just those brown birds feeding a long way out on the mud but they are actually a remarkably diverse collection of birds including stilts, sandpipers, snipe, curlews, godwits, plovers and oystercatchers. Each species is superbly adapted to suit its preferred habitat. The Red-necked Stint is as small as a sparrow, with relatively short legs and bill that it pecks food from the surface of the mud with, whereas the Eastern Curlew is over two feet long with a exceptionally long legs and a massively curved beak that it thrusts deep down into the mud to pull out crabs, worms and other creatures hidden below the surface.
Some shorebirds are fairly drab in plumage, especially when they are visiting Australia in their non-breeding season, but when they migrate to their Arctic nesting grounds, they develop a vibrant flush of bright colours to attract a mate. We have 37 types of shorebirds that annually migrate to Australia on some of the most lengthy and arduous journeys in the animal kingdom, but there are also 18 shorebirds that call Australia home all year round.
What all our shorebirds have in common—be they large or small, seasoned traveller or homebody, brightly coloured or in muted tones—is that each species needs adequate safe areas where they can successfully feed and breed.
The National Shorebird Monitoring Program is managed and supported by BirdLife Australia.

This project is supported by Glenelg Hopkins Catchment Management Authority and Hunter Local Land Services through funding from the Australian Government's National Landcare Program. Funding from Helen Macpherson Smith Trust and Port Phillip Bay Fund is acknowledged.
The National Shorebird Monitoring Program is made possible with the help of over 1,600 volunteers working in coastal and inland habitats all over Australia.
The National Shorebird Monitoring program (started as the Shorebirds 2020 project initiated to re-invigorate monitoring around Australia) is raising awareness of how incredible shorebirds are, and actively engaging the community to participate in gathering information needed to conserve shorebirds.
In the short term, the destruction of tidal ecosystems will need to be stopped, and our program is designed to strengthen the case for protecting these important habitats.
In the long term, there will be a need to mitigate against the likely effects of climate change on a species that travels across the entire range of latitudes where impacts are likely.
The identification and protection of critical areas for shorebirds will need to continue in order to guard against the potential threats associated with habitats in close proximity to nearly half the human population.
Here in Australia, the place where these birds grow up and spend most of their lives, continued monitoring is necessary to inform the best management practice to maintain shorebird populations.
BirdLife Australia believe that we can help secure a brighter future for these remarkable birds by educating stakeholders, gathering information on how and why shorebird populations are changing, and working to grow the community of people who care about shorebirds.

To find out more visit: http://www.birdlife.org.au/projects/shorebirds-2020/shorebirds-2020-program
Aussie Bread Tags Collection Points
Collecting bread tags enables us to provide wheelchairs that change the life of disabled people in need, as well as keeping the tags out of landfill to help to preserve the environment.
Bread Tags for Wheelchairs was started in South Africa in 2006 by Mary Honeybun. It is a community program where individuals and organisations collect bread tags, which are sold to recyclers. The money raised pays for wheelchairs for the less fortunate which are purchased through a local pharmacy. Currently about 500kg of bread tags are collected a month in South Africa, funding 2-3 wheelchairs.
We have been collecting bread tags nationally in Australia since September 2018 and now have more than 100 collection points across the country. In February 2019 we started local recycling through Transmutation - Reduce, Reuse and Recycle in Robe, SA, where our tags are recycled into products such as door knobs and bowls. Tags from some states are still sent to South Africa where a plastics company called Zibo recycles them into seedling trays.
These humble bits of polystyrene can make a real difference so get your friends, family, school, workplace and church involved. Ask school tuck shops and boarding school kitchens, child care centres, aged care facilities, hospitals, cafes and fast food outlets to collect for you - they get through a lot of bread!
All the information and signage for collecting or setting up a public collection point is
on our website
.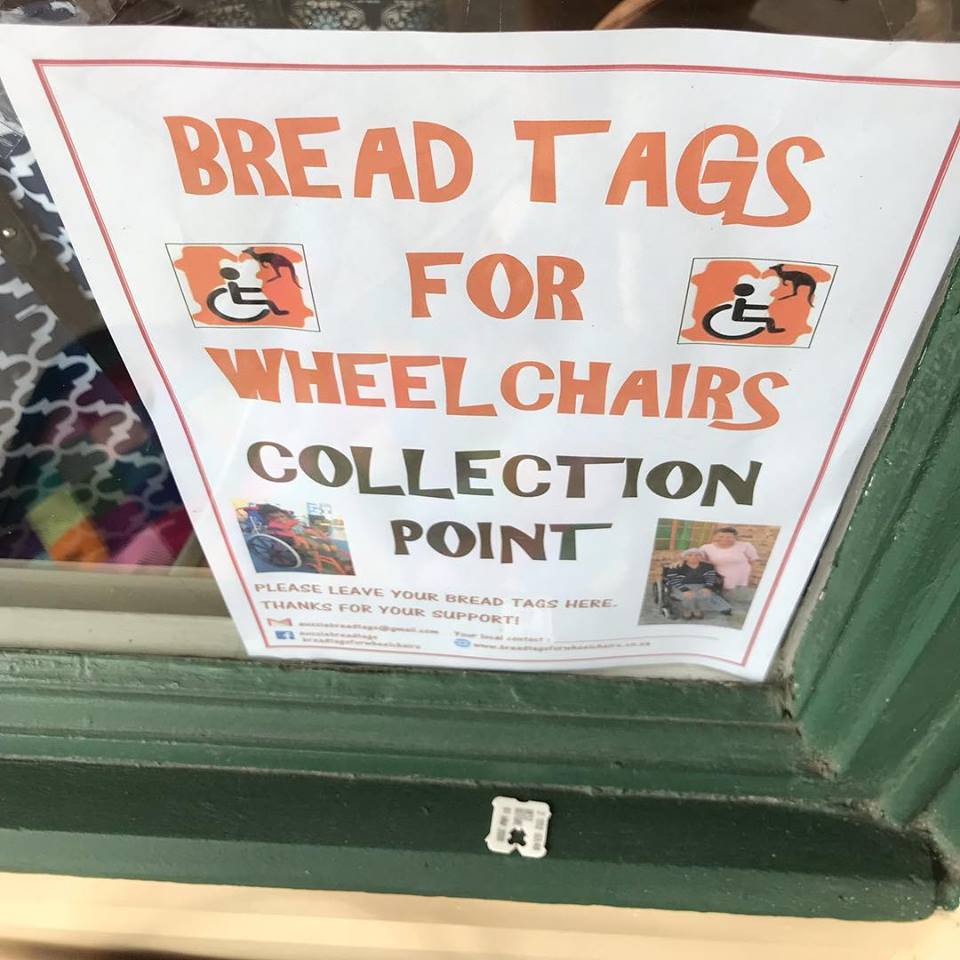 Staying Safe At Schoolies
Some of you may be heading off to Schoolies celebrations over the next few weeks, and if you are, we'd like to ask you to please look out for and after each other as you first rule for yourselves. This Issue we've compiled a few tips and ideas from experts to keep the emphasis on enjoying this well-earned break and making sure it's a time when you create great memories.
Before you start - p
lanning ahead helps you have a drama free time:
Leave a copy of your bank card details at home in case you lose it and have to cancel it, take your bank contact details with you so that you can report lost or stolen cards
Make sure you'll have enough money to cover all the essentials while you're away, including an emergency stash
Know where you're staying and how you will be getting there and home again
Have a safe place you can store any important documents or valuables while you're away - a lockable side pocket within a bag works best
Remember your phone charger and make sure you have plenty of credit/data, so that you can stay in touch with home or call for help if you need to - also remember to stop when packing to come home, look around you and make sure you pack that charger
When you've booked your accommodation make sure your parents or carers have a copy of the details – they will want to know where you are and that you are safe
You don't need to take EVERYTHING - you won't use it - you will cart it there and then cart it home! Just 2 x good dresses (one for day, one for evening) or shirts and jeans/pants will suffice - remember we're in the Season of change and it may be hot one day and cold the next - pack a jumper or a fold away waterproof jacket, just in case (Justin Case).
You will also need:
Your ID and Drivers Licence
Your phone charger
A decent hat, sunscreen and mozzie repellent
Some comfy shoes - closed in, as well as sandals/thongs - there be ants and spiders out there!
Basic First Aid kit – band aids, safety pins and paracetamol
Any medications you might need - leave the scripts at home so you don't lose them
Transportable food; muesli bars, instant noodles, cup-a-soups, a mix of dried fruits and nuts
Soap bag - deodorant, a cake of soap, shampoo, toothpaste and toothbrush, a comb, a shaver
Reusable water bottle - carrying around the non-reusable plastic pose version is NOT fashionable any longer
PLEASE make sure someone always knows where you are going and when to expect you back – ideally go out with a minimum of one other person or stick together as a group
Have a way of staying in touch with your parents and contacting them in an emergency - maybe decide before heading off that you will send them a text in the morning and check in via phone call at a certain time each afternoon/evening. Remember it's FREE to use public pay phones across Australia now. You could also give your parents contact details to a couple of your friends going away with you (and their parents too if you know them).
When you're out and about, stay with your friends and have a plan to meet up at a certain time and place if you lose each other in the crowd
Be careful about who you tell where you are staying – arrange to meet new friends in a public place rather than at your accommodation
Plan how you will get back to your accommodation and make sure you have enough money left at the end of the night to follow your plan
If you're walking around late at night please stick to well-lit areas
Don't leave your drinks unattended or accept drinks from strangers
Don't take drugs - the only way to stay safe around drugs at Schoolies is to not take them. There is no safe level of illicit drug use – taking drugs is always risky as no one can ever be sure of what they are really taking, but more importantly, you can never know how your body will react - effects can vary between people or can give different results for the same person on different occasions
Don't post 'stuff' to social media that you may regret having put out there the following day; keep some 'this is mine' stuff just for yourself; set profiles to 'private' or 'friends only' and only accept friend requests from people you know and trust or/and set an agreement with friends that consent must be given by all parties before uploading and/or tagging a photo and videos
Top ten points for the teen who chooses to drink alcohol at Schoolies (remember you don't have to drink to have a great time and that you may prefer to be bouncing around at dawn instead of dragging your feet):
it is illegal to drink alcohol at Schoolies under the age of 18
it's an offence to supply alcohol to someone under the age of 18 – you could face fines of up to $10,444
it is illegal to drink in public and to be drunk in a public place – no matter what their age - these are the laws for all of Queensland - not just during Schoolies
under 18's can't carry alcohol in public (even if you're holding it for a mate whilst he does up his shoe lace)
it's okay to say no – if you think you have had too much or don't want to drink at all, just say no
avoid mixing alcohol and medication (or any type of drug) - the side effects could be very serious
take it in turns to have one sober friend every night
give your body a break - just because it's Schoolies doesn't mean you have to drink every night (the human body is not designed to party for seven straight nights)
when out and about, if you (or a friend) have had too much to drink, they can always ask a Safer Schoolies volunteer for assistance
balconies can become very dangerous after drinking alcohol – stay well away from them if under the influence.
There's plenty of help around if you need it, so don't be afraid to ask police, security, emergency services, officials and volunteers - that's what they're there for - to help you
There's other tips about how to party safely and avoid potential dangers, plus what to do in an emergency
here
- if you're heading overseas, please check out these tips from
Smart Traveller
Also available:
Schoolies.com
– provides tips and advice regarding the practicalities of booking accommodation for Schoolies venues across the country. Schoolies.com is in its 34th year of operation with over 680,000 students having used their services in that time. They offer centralised, online (or telephone) booking services for over 140 properties in all popular Schoolies destinations nationally (QLD, NSW,VIC, WA) and internationally (Bali, Fiji). Packages offered to students include photo ID passes, 24-hour helpline for students/parents/property managers and additional security arrangements.
Red Frogs
– in 1997, Red Frogs Australia founder Andy Gourley hit Schoolies Week on the Gold Coast with his skateboarding mates and realised the need for a designated sober person. Over the next 20 years, Red Frogs grew to be the largest harm-prevention program in Australia for both Schoolies and universities. In situations such as Schoolies/Leavers Weeks, excessive consumption of alcohol and other substances means that things can often get out of hand and potentially alter the direction of a young person's future. The Red Frog crew act as the eyes and ears in accommodation venues and out on the streets, providing a positive peer presence to school leavers. Each year over 1500 Red Frog volunteers provide direct relief, safety and support to young people during Schoolies Week across 17 locations nationally and internationally.
Byron Bay Schoolies 2022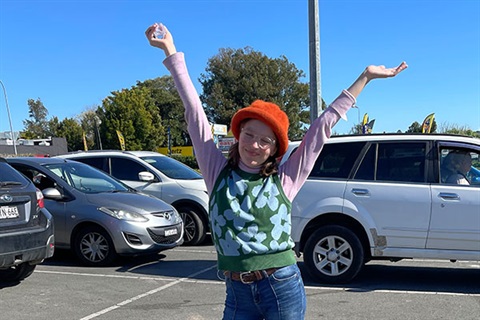 More than 6,000 school leavers are expected to celebrate the end of their formal education in Byron Bay over the Schoolies Week period which starts on 26 November 2022.
"It's such an exciting time for these young people who are all brimming with enthusiasm about not only finishing high school, but what the future holds in store for them," Byron Shire Mayor, Michael Lyon, said.
"My message to Schoolies is one of welcome but it's so important that they party responsibly, don't take risks, and look after each other," Mayor Lyon said.
Schoolies in Byron Bay is not an organised event, rather Byron Bay just happens to be the destination that people come to.
Council has no role in planning activities or promoting Schoolies Week, with the NSW Police taking the lead on community safety.
"Our local Police are prepared for the influx of school leavers and their aim will be to make sure that everyone has a great time but in the safest possible way," Mayor Lyon said.
Council staff work with the Police as well as other community organisations such as Red Frogs and the Byron Youth Service who will provide services during the Schoolies Week period.
Council has provided funding to the Red Frogs and Byron Youth Service to support their Schoolies Week programs.
The
Red Frog volunteers
will be there to talk to and support young people and
the Byron Youth Service will be operating the Street Cruise program
which is also aimed at reducing harm and connecting teenagers with information and services.
Much of Byron Bay's CBD is an alcohol-free zone and Council and Police enforce these zones year-round, including during Schoolies Week
.
"I still remember the incredible feeling of finishing school and I hope all the teenagers who come to Byron Bay go home with fond memories of a wonderful time," Mayor Lyon said.
"I do ask everyone to please respect our town, our residents, businesses and our natural environment while you are here," he said.
Schoolies Road Safety Tips
T
he countdown is on to the biggest celebration of high school – Schoolies.

Have you thought about how you're getting there and home safely?
RACQ's latest Young Drivers Survey found distraction (GPS and phone) and fatigue are among the most common safety issues for young drivers – and with the excitement of a week-long party with friends, these are likely to become even bigger concerns.
RACQ Education Manager Rhonda McKenzie said it was best to plan ahead to ensure they're getting to their destination safely.
"Leave the car at home and get dropped off by parent or guardian if that's an option," Ms McKenzie suggested.
"If you are carpooling with friends, make sure you 'set, forget, no regret'.
"Before you turn your car on,
set your phone up – give it to a friend in the car, set it to 'do not disturb' or put it away out of sight, then forget about it.
You don't want to be faced with a fine, loss of your licence, or more importantly harming yourself or friends by crashing your car due to distraction."
And don't forget the restrictions for red P-Platers.
"Remember, you must have a zero blood alcohol concentration to drive, even the morning after, and you're only allowed to have one passenger under 21 who isn't an immediate family between 11pm and 5am," she said.
"
When you're at Schoolies make sure you're looking out for your friends
.
"Before you go away, talk to your parents about the 'one phone call – no questions' strategy and think about who you would call for help if you found yourself in a bad situation.
"Don't let the fear of getting in trouble stop you from saving a life or helping a friend."
Wings Over Illawarra 2022
Joe Mills, who usually does a lot of the walks through our local reserves and bush areas with his mate Kevin Murray, went further afield over the weekend of November 12-13th 2022 - to the Wings over Illawarra airshow that happens at Shellharbour Airport, which is also home to the Historical Aircraft Restoration Society (HARS) Aviation Museum. The great people there are 'Dedicated to keeping Australian Aviation History "in the air" '.
Wings Over Illawarra is Australia's largest annual airshow and is held in the Illawarra on the NSW south coast just over an hour south of Sydney. Situated in a picturesque location with an amazing backdrop of the Illawarra escarpment, it is the only major airshow experience within easy reach of metropolitan Sydney and Canberra.
Its' diverse program includes ground displays and flying demonstrations of historic, military, modern and aerobatic aircraft as well as children's rides, students information sessions and other aviation and technology related exhibitions.
This year they had a great range of historical aircraft on display - a Kitty Hawke, a replica of the Southern Cross, possibly Australia's most famous aircraft, as it was used by aviation pioneer Sir Charles Kingsford Smith to fly from the United States to Australia in 1928. This replica of the old Fokker aircraft was built in the 1980s. There were also aircraft from all three arms of the Australian Defence Force, with air displays and static exhibits from the Royal Australian Air Force, Royal Australian Navy and Australian Army. There were Hornets, a Hercules and some great more 'modern' aircraft. What's more, you could get inside some of these and have a good look around.
We've put LOTS of Joe's photos in the Park Bench Philosopher's Page this Issue, along with some taken by LAC Chris Tsakisiris (LAC - means Leading Aircraftman) and some insights by Flight Lieutenant Nicholas O'Connor. Here are a few - including the flying display put on by the RAAF Roulettes to open the show on the Saturday.
Next Issue the Profile of the Week features an insight into the Australian Air Force Cadets - No 305 Squadron that meets at Dee Why each week - more 'up, up and away' information for those of us who love feathery birds and those built by hand!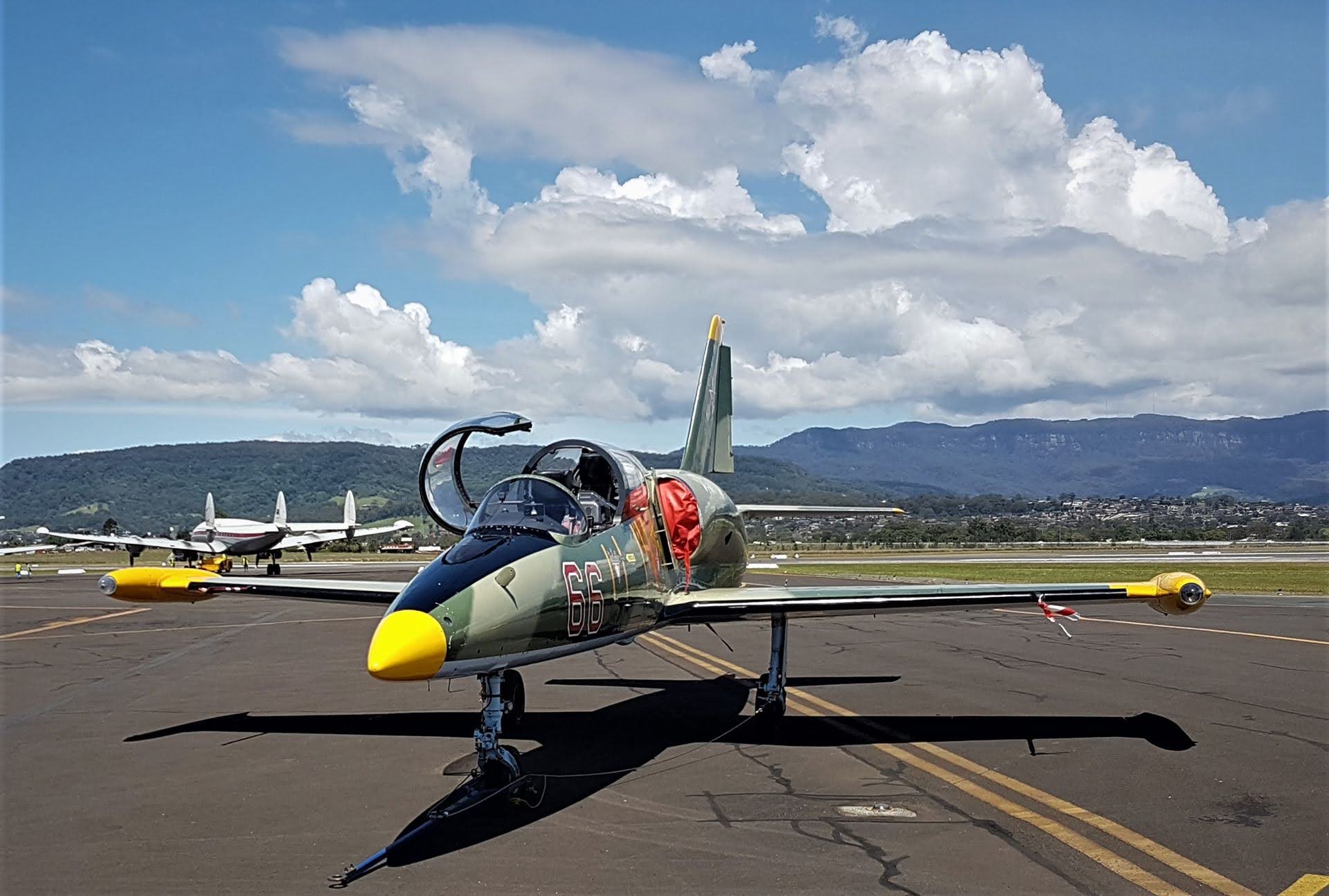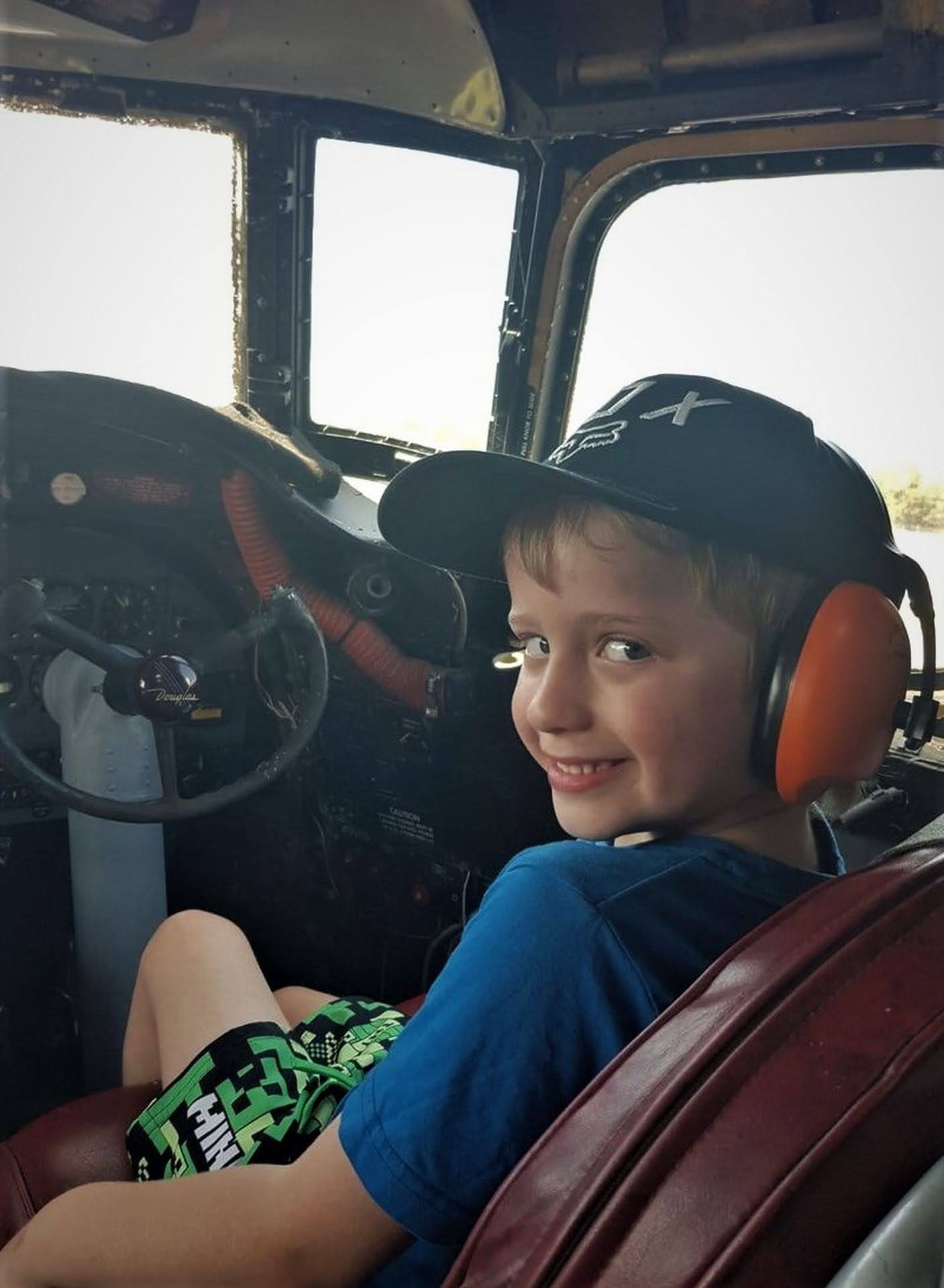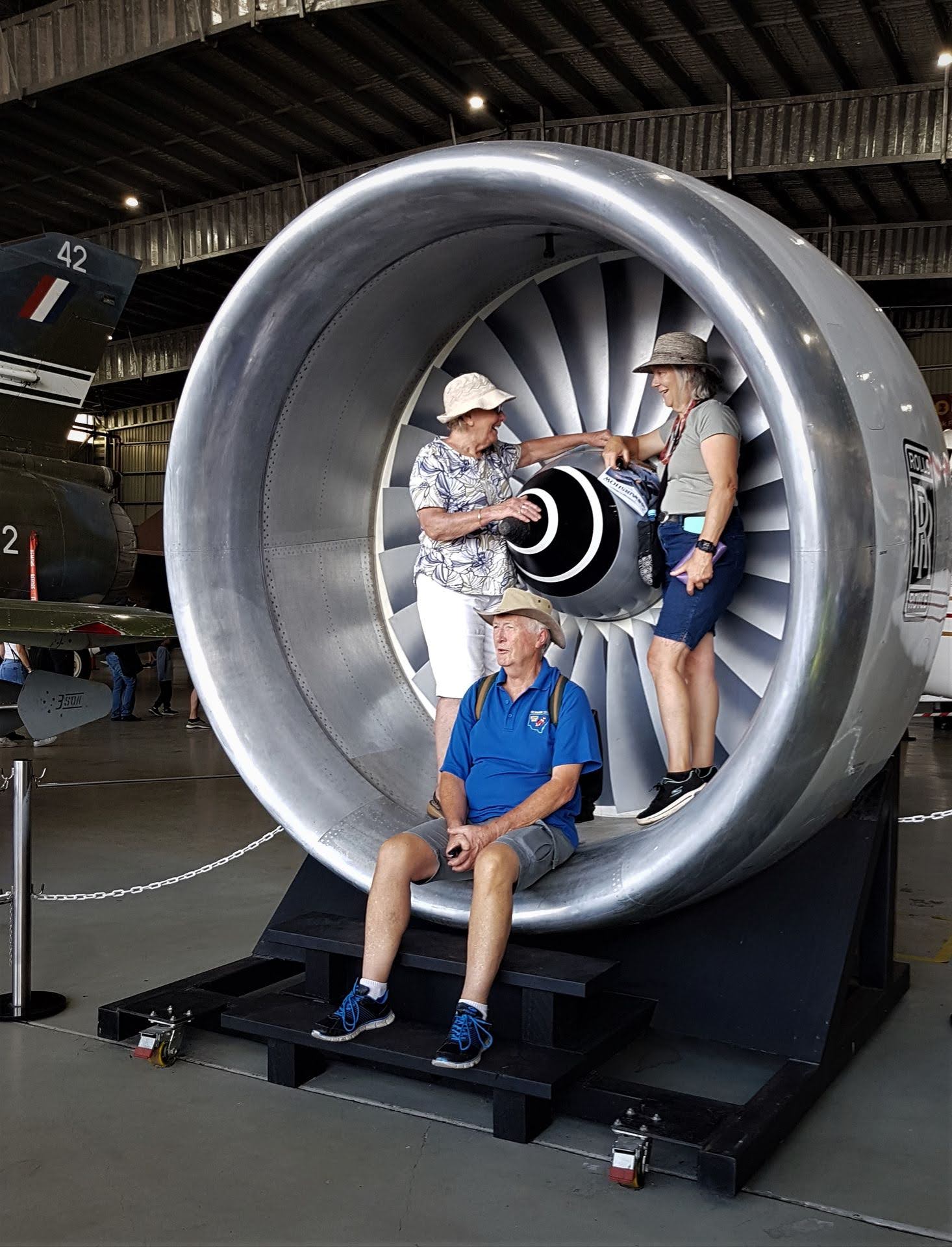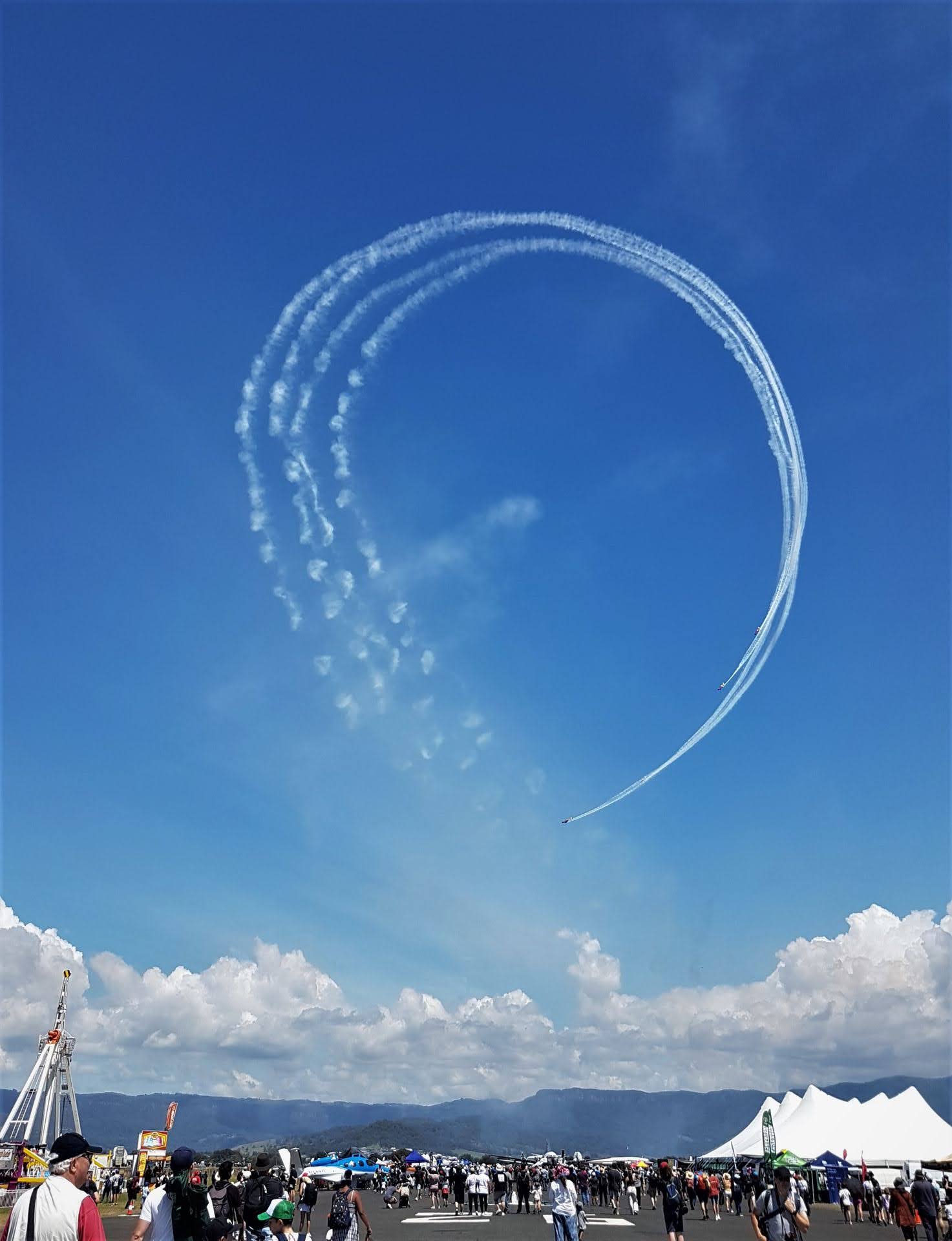 NASA's Webb Catches Fiery Hourglass As New Star Forms
Released Thursday, November 17, 2022
NASA's James Webb Space Telescope has revealed the once-hidden features of the protostar within the dark cloud L1527, providing insight into the beginnings of a new star. These blazing clouds within the Taurus star-forming region are only visible in infrared light, making it an ideal target for Webb's Near-Infrared Camera (NIRCam).
The protostar itself is hidden from view within the "neck" of this hourglass shape. An edge-on protoplanetary disk is seen as a dark line across the middle of the neck. Light from the protostar leaks above and below this disk, illuminating cavities within the surrounding gas and dust.
The region's most prevalent features, the clouds coloured blue and orange in this representative-colour infrared image, outline cavities created as material shoots away from the protostar and collides with surrounding matter. The colours themselves are due to layers of dust between Webb and the clouds. The blue areas are where the dust is thinnest. The thicker the layer of dust, the less blue light is able to escape, creating pockets of orange.
Webb also reveals filaments of molecular hydrogen that have been shocked as the protostar ejects material away from it. Shocks and turbulence inhibit the formation of new stars, which would otherwise form all throughout the cloud. As a result, the protostar dominates the space, taking much of the material for itself.
Despite the chaos that L1527 causes, it's only about 100,000 years old - a relatively young body. Given its age and its brightness in far-infrared light as observed by missions like the Infrared Astronomical Satellite, L1527 is considered a class 0 protostar, the earliest stage of star formation. Protostars like these, which are still cocooned in a dark cloud of dust and gas, have a long way to go before they become full-fledged stars. L1527 doesn't generate its own energy through nuclear fusion of hydrogen yet, an essential characteristic of stars. Its shape, while mostly spherical, is also unstable, taking the form of a small, hot, and puffy clump of gas somewhere between 20 and 40% the mass of our Sun.
As the protostar continues to gather mass, its core gradually compresses and gets closer to stable nuclear fusion. The scene shown in this image reveals L1527 doing just that. The surrounding molecular cloud is made up of dense dust and gas being drawn to the center, where the protostar resides. As the material falls in, it spirals around the center. This creates a dense disk of material, known as an accretion disk, which feeds material to the protostar. As it gains more mass and compresses further, the temperature of its core will rise, eventually reaching the threshold for nuclear fusion to begin.
The disk, seen in the image as a dark band in front of the bright center, is about the size of our solar system. Given the density, it's not unusual for much of this material to clump together - the beginnings of planets. Ultimately, this view of L1527 provides a window into what our Sun and solar system looked like in their infancy.
The James Webb Space Telescope is the world's premier space science observatory. Webb will solve mysteries in our solar system, look beyond to distant worlds around other stars, and probe the mysterious structures and origins of our universe and our place in it. Webb is an international program led by NASA with its partners, ESA (European Space Agency) and the Canadian Space Agency.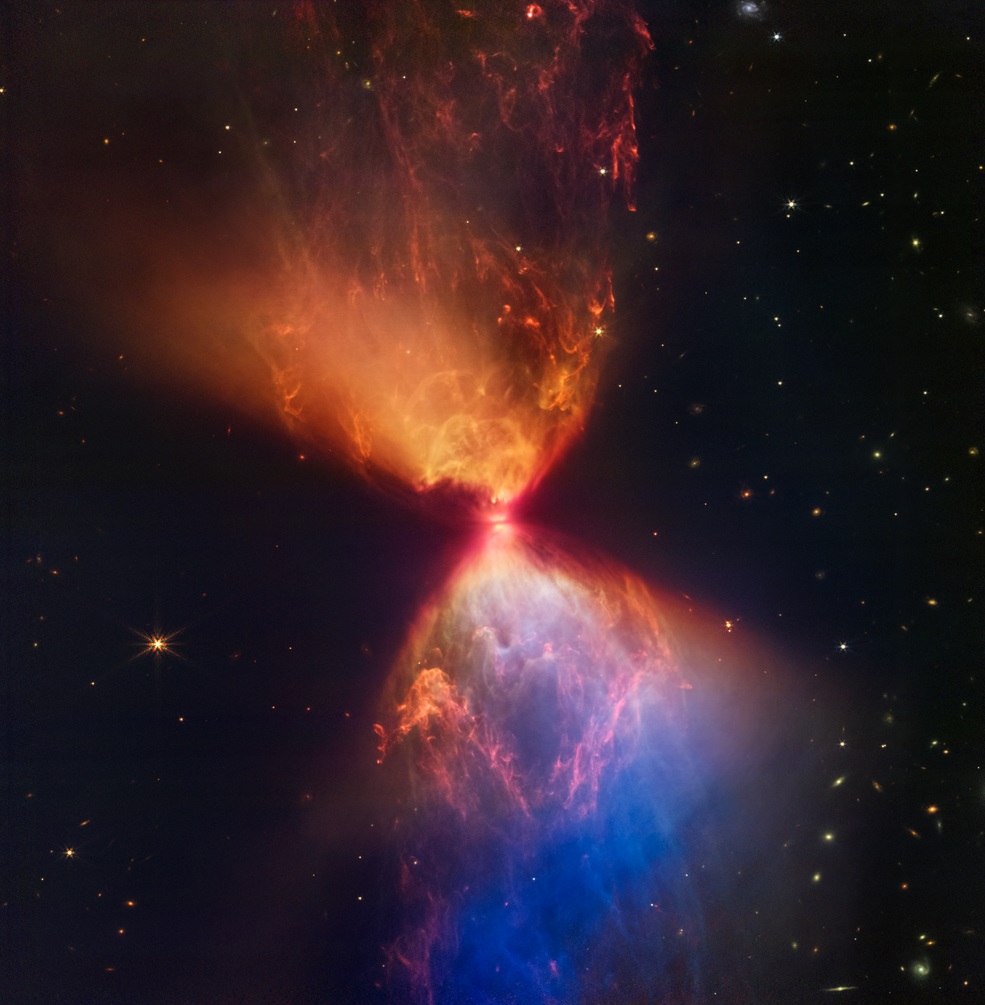 Image: The protostar within the dark cloud L1527, shown in this image from NASA's James Webb Space Telescope Near-Infrared Camera (NIRCam), is embedded within a cloud of material feeding its growth. Ejections from the star have cleared out cavities above and below it, whose boundaries glow orange and blue in this infrared view. The upper central region displays bubble-like shapes due to stellar "burps," or sporadic ejections. Credits: NASA, ESA, CSA, and STScI. Image processing: J. DePasquale, A. Pagan, and A. Koekemoer (STScI)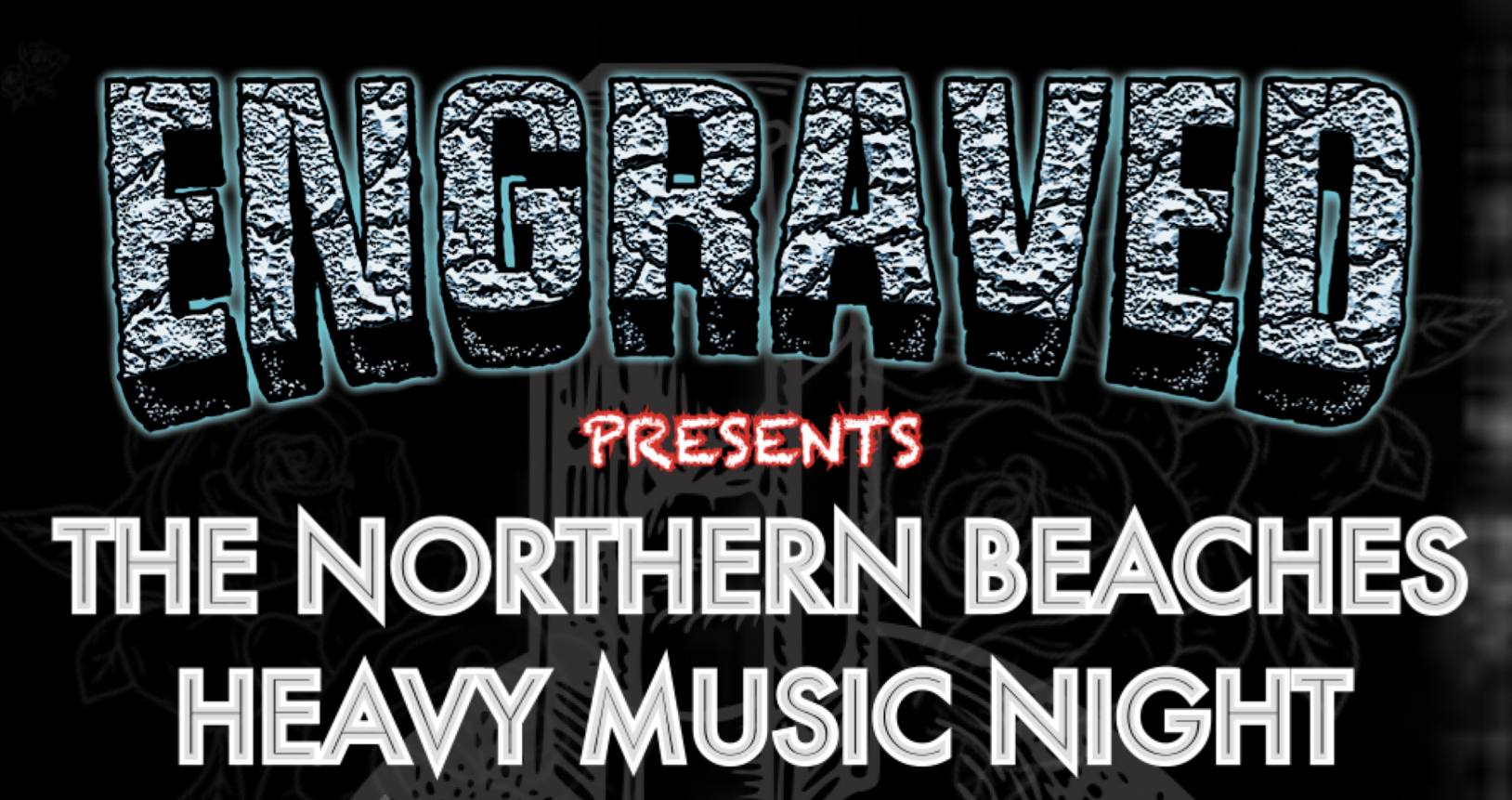 Northern Beaches Metal locals ENGRAVED are hosting the first ever ALL AGES Heavy Music Night! On Friday the 25th of November, a catalogue of talented artists come to together for a night of metal at Ararat Cultural Centre in Frenches Forest.
The line up includes: ENGRAVED with special guests; Russian Novel, Bridge Left To Burn, Inpha One, Ben Challenger and Huntsman.
Venue: Ararat Cultural Centre,
3 Grattan Cres, Frenches Forest, NSW 2086
Doors open at 5pm, bands start from 5:30.
Tickets: $5 online pre-sale, $10 at the door.
Food will be sold at the venue.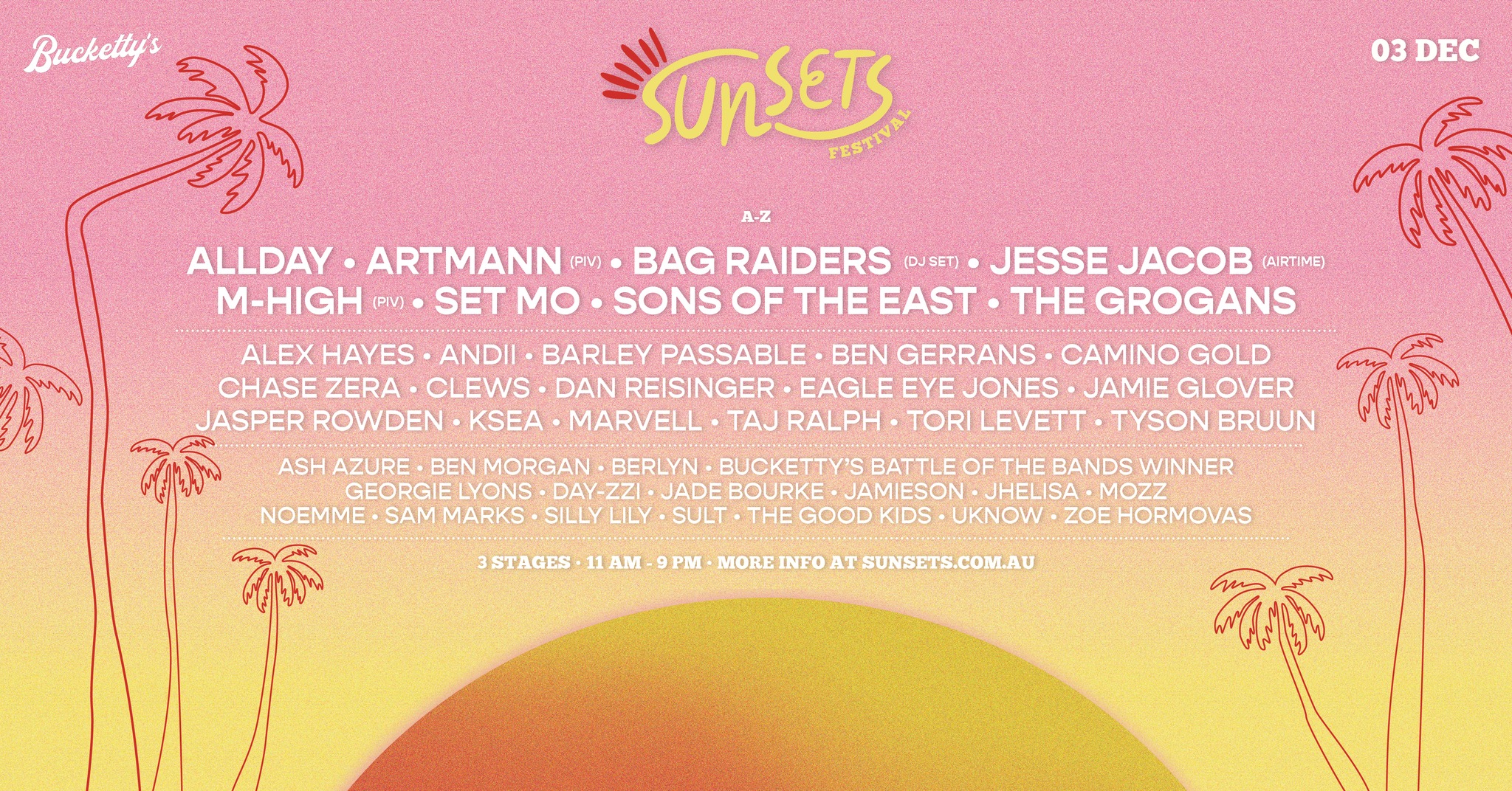 Celebrate summer's first Sun Set. 3 stages. 42+ artists. Making memories. Together
School Leavers Support
Explore the School Leavers Information Kit (SLIK) as your guide to education, training and work options in 2022;
As you prepare to finish your final year of school, the next phase of your journey will be full of interesting and exciting opportunities. You will discover new passions and develop new skills and knowledge.
We know that this transition can sometimes be challenging and the COVID-19 pandemic has presented some uncertainty. With changes to the education and workforce landscape, you might be wondering if your planned decisions are still a good option or what new alternatives are available and how to pursue them.
There are lots of options for education, training and work in 2022 to help you further your career. This information kit has been designed to help you understand what those options might be and assist you to choose the right one for you. Including:
Download or explore the SLIK here to help guide Your Career.
School Leavers Information Kit (PDF 5.2MB).
School Leavers Information Kit (DOCX 0.9MB).
The SLIK has also been translated into additional languages.
Download our information booklets if you are rural, regional and remote, Aboriginal or Torres Strait Islander, or living with disability.
Support for Regional, Rural and Remote School Leavers (PDF 2MB).
Support for Regional, Rural and Remote School Leavers (DOCX 0.9MB).
Support for Aboriginal and/or Torres Strait Islander School Leavers (PDF 2MB).
Support for Aboriginal and/or Torres Strait Islander School Leavers (DOCX 1.1MB).
Support for School Leavers with Disability (PDF 2MB).
Support for School Leavers with Disability (DOCX 0.9MB).
Download the Parents and Guardian's Guide for School Leavers, which summarises the resources and information available to help you explore all the education, training, and work options available to your young person.
School Leavers Information Service
Are you aged between 15 and 24 and looking for career guidance?
Call 1800 CAREER (1800 227 337).
SMS 'SLIS2022' to 0429 009 435.
Our information officers will help you:
navigate the School Leavers Information Kit (SLIK),
access and use the Your Career website and tools; and
find relevant support services if needed.
You may also be referred to a qualified career practitioner for a 45-minute personalised career guidance session. Our career practitioners will provide information, advice and assistance relating to a wide range of matters, such as career planning and management, training and studying, and looking for work.
You can call to book your session on 1800 CAREER (1800 227 337) Monday to Friday, from 9am to 7pm (AEST). Sessions with a career practitioner can be booked from Monday to Friday, 9am to 7pm.
This is a free service, however minimal call/text costs may apply.
Call 1800 CAREER (1800 227 337) or SMS SLIS2022 to 0429 009 435 to start a conversation about how the tools in Your Career can help you or to book a free session with a career practitioner.
An Epic Set Of Performers Announced For The 2022 ARIA Awards
The 2022 ARIA Awards will be live and dangerous showcasing the best that homegrown music has to offer with a rocking line-up of performers coming together to make the first live and in-person Awards since 2019 the biggest night of the year.
Australian music's night of nights returns with a bang dangerously
live from 7.30pm Thursday, 24 November
at The Hordern Pavilion on Gadigal land. Catch all of the action from the red carpet, premier show and main broadcast on Channel 9, 9Now and streaming internationally on YouTube.
Today entertainment reporter Brooke Boney will bring all the excitement ahead of the main event, hosting the Premier show to kick off proceedings.
The ARIA Awards official live broadcast from 7.30pm will be hosted by iconic artist and eight-time ARIA Award-winner Natalie Imbruglia alongside Australian singer, songwriter and drummer GFlip and ARIA Award winner Ruel.
Performing their hit songs from the past year before a live audience will be RÜFÜS DU SOL (seven nominations), Baker Boy (five nominations), Flume featuring MAY-A (six nominations), Amyl and The Sniffers (six nominations) and Vance Joy (five nominations). Peking Duk will also perform their new track Spend It Ft. Circa Waves live from the Red Rooster ARIA Fan Zone.
In addition to the nominated artist performances, a number of tribute performances will honour the Australian music greats and ARIA Hall of Famers who we sadly lost this year. Red carpet co-host and presenter Richard Wilkins will introduce the tribute performances to Judith Durham and Olivia Newton-John.
In what is set to be a standout ARIA moment, host Natalie Imbruglia will pay tribute to our beloved homegrown superstar Olivia Newton-John, joined by Peking Duk and ARIA Award-winning singer and musical director of the tribute, Tones And I, with a stunning performance of Hopelessly Devoted To You, Xanadu and fan favourite You're The One That I Want.
Tones And I said: "It's an honour to musically direct the Olivia Newton-John tribute for the ARIA Awards this year and it has been such a great experience working with executive producers John Leahy and Joel Farland."
Budjerah, Jessica Mauboy and Thelma Plum will honour Uncle Archie Roach with his nominated track, One Song, while Casey Donovan and Dami Im will each perform a solo to commemorate the career of Judith Durham with I'll Never Find Another You and The Carnival Is Over.
Throughout the evening, viewers will see their favourite artists present awards across the 27 categories, including Ayesha Madon, Becca Hatch, Briggs, Flex Mami, Genesis Owusu, Illy, Jerome Farah, Josh Teskey, Kye, Lime Cordiale, Matt Gudinski, Montaigne, Peking Duk, Peter Garrett, Richard Wilkins, Ruel, The Wiggles, Tones And I, Troy Cassar-Daley and Vera Blue.
ARIA CEO, Annabelle Herd, said: "We're so excited to have this group of incredible Australian artists showcasing their music on the ARIA Awards stage here and around the world. We are also honoured to celebrate the legacy of homegrown superstars Uncle Archie Roach, Judith Durham and Olivia Newton-John with moving and joyful tributes that will be nothing short of spectacular. One week to go!"
Model and reality TV star Christian Wilkins and Lucinda "Froomes" Price will chat with the stars and fans from the Red Rooster ARIA Fan Zone throughout the live broadcast. Guests in the Red Rooster ARIA Fan Zone will be able to watch the red carpet arrivals and live broadcast from the Entertainment Quarter at Moore Park. Tickets can be purchased here.
Tickets to the 2022 ARIA Awards event are now available to industry. Further information and links for ticket purchases can be found here.
The 2022 ARIA Awards in partnership with YouTube are proudly supported by the NSW Government through Destination NSW.
Be The Boss: I Want To Be A Video Game Designer
If you like playing video games or designing code you will be pleased to know that there is a growing demand for Video Game Designers and this is an Industry set to grow over the coming years that will also provide you with a living wage when you commence that will grow into a decent salary with more years working in this industry and more experience accumulated. There are jobs
available locally
and across Australia, including
those at entry level.
Being a Video game designer means working across a broad range of areas in creating games. The job title 'video game designer' can refer to a few different kinds of roles, depending on the studio. It can refer to a level designer, where you design individual levels. It can also refer to a video game developer, who writes the code, tests bugs, and does software development work on the game. A video game designer can also refer to the creative director for a game, where you work with a team to develop the art direction for an entire game, including the concept, story, gameplay, characters, and setting - although this is usually a position for when you have a few years under your belt - it is a senior leadership role that requires experience in both designing and development.

Pursuing this career can also lead you into parallel fields such as Software Development or Information Technology and the range of opportunities these fields encompasses - some eployers even offer
traineeships
to get you started.
To work as a Game Designer in Australia, you need a qualification in digital and interactive games, computer games design, animation or digital media technologies. It is also possible to become a game designer through a traineeship, but whichever career path is taken work experience and a portfolio of work is desirable from an employer's perspective.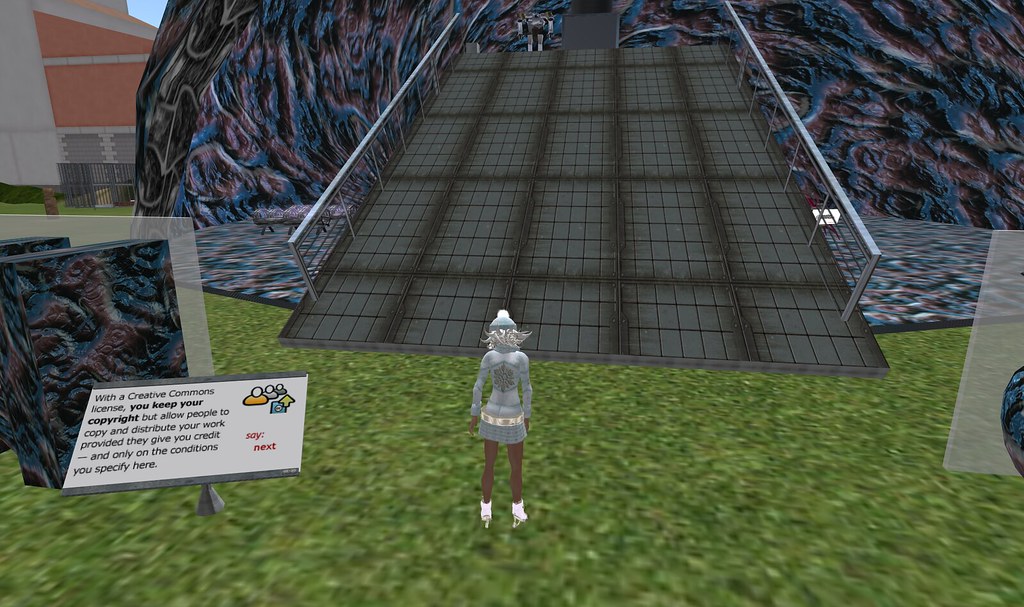 Summer Skills Fee Free Courses
Summer Skills is a fee-free* short course program to support school leavers, aged between 15 – 24 years, obtain job-ready skills over the summer months.
Whether you plan to attend TAFE NSW, university, have a gap year or are still undecided, we have a course that can give you the skills for a brighter future.
Priority industry areas have been identified under Skilling for Recovery and include short courses in Early Childhood Care, Aged Care, Disability, Hospitality, Construction, Agriculture, Business and Administration, IT and Digital, Retail, Transport and Logistics, Manufacturing/Engineering and Sport and Recreation.
For example - starting November 23, 2022 at Ryde: STATEMENT OF ATTAINMENT IN COMMERCIAL COOKERY BASICS
visit: https://www.tafensw.edu.au/course-areas/food-and-hospitality/courses/statement-of-attainment-in-commercial-cookery-basics--SG00007780
Or starting November 24th at Ryde: STATEMENT OF ATTAINMENT IN ESPRESSO COFFEE
Find out more at: https://www.tafensw.edu.au/summer-skills
Also Available:
Word Of The Week: School
Word of the Week returns in 2022 simply to throw some disruption in amongst the 'yeah-nah' mix.
Noun
1. an organisation that provides instruction: such as a college or university. 2. the process of teaching or learning especially at a school. 3. a source of knowledge. 4. a group of persons who hold a common doctrine or follow the same teacher (as in philosophy, theology, or medicine). 5. the regulations governing military drill of individuals or units.
Verb
1. to swim or feed in a school (of fish). 2. to teach or drill in a specific knowledge or skill. 3. to educate in an institution of learning.
From at least 12th century; Middle English scole, from Old English scōl, from Latin schola, from Greek scholē leisure, discussion, lecture, school.
The word school derives from Greek scholē, originally meaning "leisure" and also "that in which leisure is employed", but later "a group to whom lectures were given, school".
The concept of grouping students together in a centralized location for learning has existed since Classical antiquity. Formal schools have existed at least since ancient Greece (see Academy), ancient Rome (see Education in Ancient Rome) ancient India (see Gurukul), and ancient China (see History of education in China). The Byzantine Empire had an established schooling system beginning at the primary level.
According to Traditions and Encounters, the founding of the primary education system began in 425 AD and "... military personnel usually had at least a primary education ...". The sometimes efficient and often large government of the Empire meant that educated citizens were a must. Although Byzantium lost much of the grandeur of Roman culture and extravagance in the process of surviving, the Empire emphasized efficiency in its war manuals. The Byzantine education system continued until the empire's collapse in 1453 AD.
In Western Europe, a considerable number of cathedral schools were founded during the Early Middle Ages in order to teach future clergy and administrators, with the oldest still existing, and continuously operated, cathedral schools being The King's School, Canterbury (established 597 CE), King's School, Rochester (established 604 CE), St Peter's School, York (established 627 CE) and Thetford Grammar School (established 631 CE). Beginning in the 5th century CE, monastic schools were also established throughout Western Europe, teaching religious and secular subjects.
In Europe, universities emerged during the 12th century; here, scholasticism was an important tool, and the academicians were called schoolmen. During the Middle Ages and much of the Early Modern period, the main purpose of schools (as opposed to universities) was to teach the Latin language. This led to the term grammar school, which in the United States informally refers to a primary school, but in the United Kingdom means a school that selects entrants based on ability or aptitude. The school curriculum has gradually broadened to include literacy in the vernacular language and technical, artistic, scientific, and practical subjects.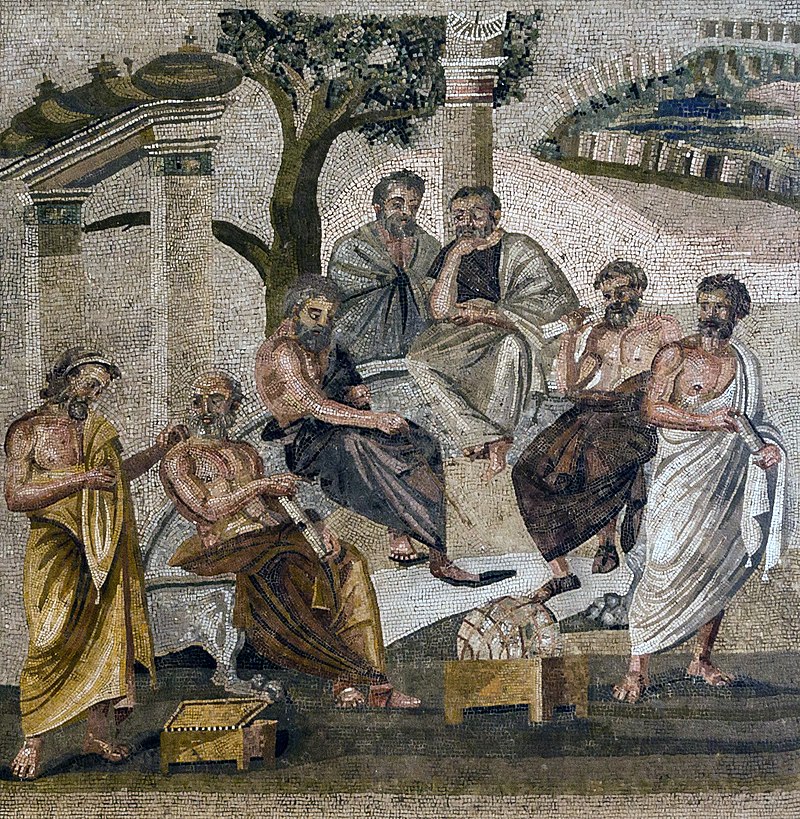 Plato's academy, mosaic from Pompeii

Som Sabadell Flashmob - BANCO SABADELL
Grease - Central Station Antwerp
Uptown Funk Flashmob In Sydney

Columbia, Bogota - AAINJALA 150 TAMBORES
In the indigenous Wuayuunaiki language of the region, AAINJAA means "to do, to elaborate, to manufacture, and to build."
Pierce County Sheriff's Department Dance Off!
Schoolies Flash Mob - Surfers Paradise, 2011
THE LION KING Australia: Cast Sings Circle Of Life On Flight Home From Brisbane

"Lean On Me" By The Purple Tunnel People
The Purple Tunnel of Doom was the name ascribed to the I-395 Third Street tunnel in downtown Washington, D.C., where thousands of holders of purple tickets lined up to witness the first inauguration of Barack Obama on January 20, 2009. Ticket colours corresponded to assigned viewing areas. Many were not admitted, despite having stood in line for hours.

U3A At Newport: Geoff Searl This Coming Tuesday 22nd
11 - 13 The Boulevard, Newport
The History of

Avalon Beach
Presenter: Geoff Searl OAM
Geoff has titled his talk - 'EARLY AVALON BEACH & BEFORE AVALON BEACH'.
Geoff has lived in Avalon Beach since 1947 when he was a 1 year old. In 1983 Geoff formed the Avalon Beach Historical Society (ABHS) which is affiliated with the Royal Australian Historical Society.
In 2000 he wrote and published the 75 years history of the Avalon Beach Surf Life Saving Club of which he is still an active patrol member. In 2019 he was awarded an OAM for 'service to the community of Avalon Beach'.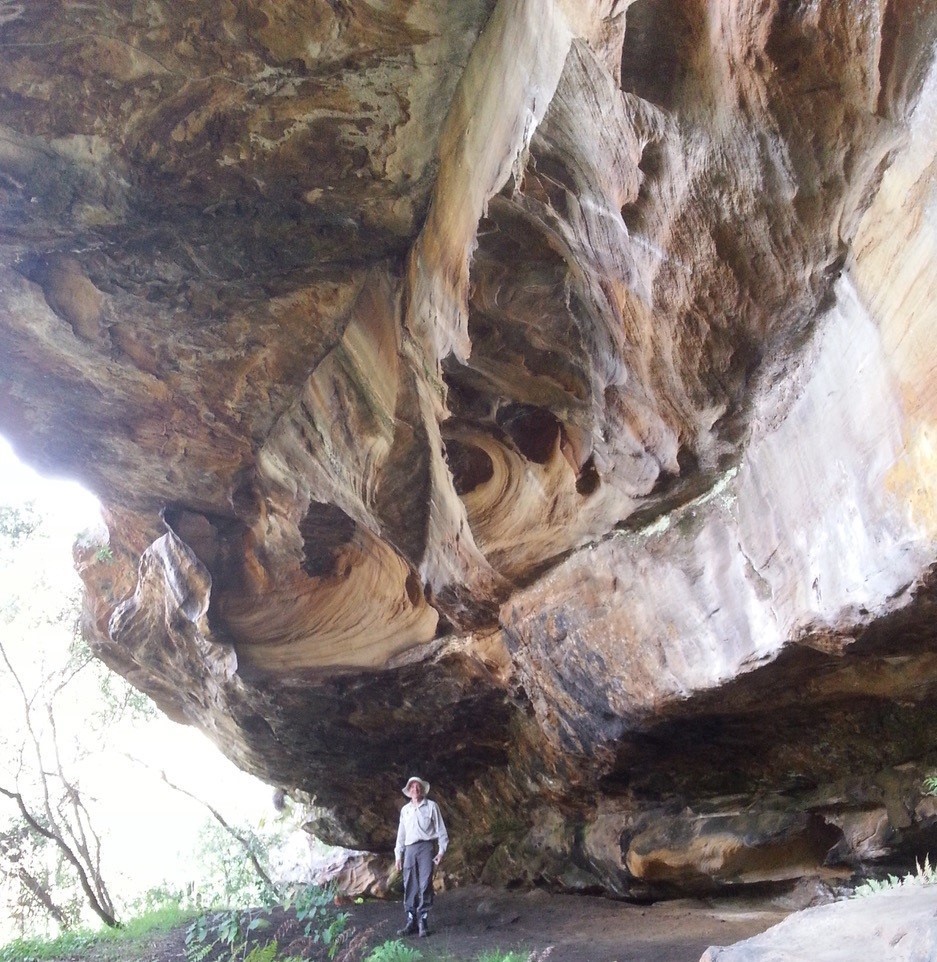 Geoff's talk will be richly illustrated by over 50 photographs from the ABHS archives. Geoff will talk about a rock shelter in Avalon Beach that has evidence of Indigenous Australian occupation dated to 2,500 years ago, right up to the contemporary period during which there were eight service stations operating in Avalon Beach.
All welcome - come along, b
ring a friend
Afternoon tea will be provided, please bring your own cup.
Home Care Pricing Caps A Win For Older Australians: COTA Australia
The Federal Government's announcement today that it will set a cap on administrative and management fees in the Home Care Packages Program is a win for older Australians, says Council on the Ageing (COTA) Australia – the peak body for older Australians.
COTA Australia Chief Executive, Ian Yates, said the cap will give older Australians and their families confidence their money is going directly where it should – to the care requirements of older Australians – by setting a cap on the maximum amount a provider can charge for overheads and care management, as essential as these are.
"Quality home care is vital for older Australians and this announcement is an important step in improving care and boosting accountability and transparency in the sector," Mr Yates said.
"Older Australians deserve to have their home care package funds going directly to the care they need and deserve – not being used up on things like higher than average profits or inefficient management and administration.
"Older Australian have long advocated for this improvement and it's fantastic that the Labor Government is delivering early on its election commitment to implement this practical reform.
Mr Yates said while the change is a big step forward, it is critical the government continues to monitor the system to ensure this reform is delivering on its aims.
"The issue isn't just about price gouging or excess profits, it's also about inefficiencies in how some providers operate. The government needs to be awake to this and make sure we're weeding out inefficient operators who refuse to move with the times.
"The government must also be alert to some providers trying to get around the caps by transferring fees to a loading on hourly service fees. We need full pricing transparency, and it must be compulsory for every provider, with penalties for non-compliance. Too many providers are still ignoring this obligation.
"The government must also ensure its pricing for services is adequate, with the assistance of the new Independent Health and Aged Care Pricing Authority, so providers are receiving the level of subsidy that's needed to deliver services that meet independently assessed needs."This reform won't solve all the problems overnight, but it will go a significant way to ensuring older Australian get more hours of the quality care they deserve."
The changes mean that from 1 January 2023:
care management prices will be capped at 20% of the package level
package management prices will be capped at 15% of the package level
providers cannot charge for package management in a calendar month where no services (other than care management) are delivered, except for the first month of care
providers cannot charge separately for third party services (including brokerage, handling and subcontracting charges)
providers cannot charge exit amounts.
Changes To Stop Home Care Overcharging
National Seniors Australia has welcomed the Federal Government announcement of the introduction of caps on home care administration costs and management fees from 1 January 2023.
Chief Executive, Professor John McCallum said, "Federal Government moves to reign in excessive charges is a first step to giving protection to older Australians as they wait for future reforms to set home care prices."
"The Royal Commission into Aged Care Quality and Safety found action was required to address home care charges, because some providers were overcharging.
"High demand means there is no incentive to keep costs competitive. Some older Australians have been paying up to 50 per cent of their Home Care Package as administration and management fees. That's not affordable or sustainable and is simply wrong.
"Under the changes that come into effect in January 2023, care management prices will be capped at 20% of the package level and package management prices will be capped at 15% of the package level.
"Excessive fees can restrict people's access to services which can not only compromise their wellbeing and safety at home but also lead to premature entry into residential aged care."
The caps set the maximum amount a provider can charge. They are not the target price for these services or an indicator of what is considered a 'reasonable' price. The government will consider the need for additional or lower caps as it monitors prices across the HCP sector in 2023.
The government is also clarifying that care management is a mandatory support service and that all prices must be reasonable.
In further changes, providers cannot charge for package management in a calendar month where no services (other than care management) are delivered – except for the first month of care, providers cannot charge separately for third party services, and they cannot charge exit fees.
Under changes to home care from 1 July 2024, the Federal Government will combine home care services into a new streamlined 'Support at Home' program. Under the proposed model, home care prices will be set by government.
"National Seniors Australia has been working with government to improve our aged care system and will continue to provide feedback throughout the reform process to ensure the new system benefits care recipients," said Professor McCallum.
More Ways For Seniors To Get Involved In 2023 NSW Seniors Festival
More than 80 community-led activities and programs are set to join the NSW Seniors Festival thanks to grant funding provided by the NSW Government.
Minister for Seniors Mark Coure said 85 community organisations from across the State have received a share in $200,000 to host activities during the festival.
"The NSW Seniors Festival is the largest celebration of seniors in the Southern Hemisphere and attracts up to 500,000 people every year," Mr Coure said.
"Each of these groups are helping make the festival even bigger, giving seniors more opportunities to get involved across the State."
The activities hosted by the community groups will take place during the NSW Seniors Festival, which is scheduled to run from 1-12 February 2023.
Among the grant recipients is Dance for Parkinson's Australia who will offer free creative workshops of African drumming and dance facilitated by professional local artists.
"Being involved in the Seniors Festival gives people a chance to see what we do and realise that dancing can help people in several ways," Gordon Coss from Dance for Parkinson's Australia said.
Other programs include The Dementia Inclusive Ballina Music Muster, which is a morning of music, dance and fun, while in Coogee there will be an English over-70s cricket team.
Organisations will host a series of local events and programs across the State to empower and support our seniors in leading happy, healthy and fulfilling lives.
Each of the 85 activities are to provide seniors an opportunity to get involved during the festival and connect them with their local community, no matter their background or abilities.
Friends of Ivanhoe Park Botanical Garden Inc., Manly - Walks and Talks in Ivanhoe Park Manly
RSL LifeCare Ltd., Pittwater - War Vets Art Exhibition & Workshops
Premier's Gala Concerts
Join us at these star-studded concerts showcasing some of our best talent. They're our thanks to seniors for contributing to NSW.
When Thursday 2 and Friday 3 February 2023
Where Aware Super Theatre, ICC Sydney
Time 11:00am and 2:45pm
Tickets

Available 9am Wednesday 30 November 2022 via Ticketek
The FREE star-studded Premier's Gala Concerts are back for 2023! For 2023 t
hey're held at the Aware Super Theatre, ICC Sydney in Darling Harbour on February 2 and 3, 2023
. There will be two concerts each day, one at 11:00am and the other at 2:45pm.
The Premier's Gala Concerts showcase some of Australia's greatest entertainers to celebrate NSW seniors. Audiences will enjoy performances from
Rodger Corser, Kate Ceberano, Ross Wilson, Harrison Craig and Prinnie Stevens.
The NSW Department of Communities and Justice presents the Premier's Gala Concerts to thank NSW seniors for their valued and ongoing contributions to their families and communities.
Tickets for the 2023 Premier's Gala Concerts will be available via Ticketek at 9am, Wednesday 30th November. Tickets will be available both online and over the phone.
Phone tickets: 02 9215 7500 (Mon – Fri 9am to 3pm)
U3A Activities
Previously known as Guringai country, the land of the Garigal or Caregal people, the Northern Beaches area stretches from Palm Beach to Manly. It is home to Manly Sea Eagles, Garigal and Kuring-Gai Chase National Parks, enviable beaches and a relaxed, carefree lifestyle.
Our
2022 Semester 2 Course Book
is now available and we are looking forward to seeing you at some of our exciting courses. In addition to face to face and Zoom courses this semester we also have three outings which may interest you:
A day trip to Mount Wilson on 5 October (details on page 9);
Our annual picnic on 20 October, this year at Clontarf Reserve (details on page 10); and
Tunnels and Gunners Tour, with a guide from the Sydney Harbour Trust, on 3 November (details on page 10.
Bookings are required for each of these events so please hurry to join in.
AvPals Training Term 4 2022 At Newport
Avpals are proud to present our training schedule for Term 4 at the Newport Community Centre. You can enroll online, make inquiries online, even pay online. Spaces are limited. We are complying with every aspect of Covid Care.
Avalon Computer Pals (AVPALS) help seniors learn and improve their computer and technology skills. Avpals is a not-for-profit organisation run by volunteers. Since 2000, we have helped thousands of seniors from complete beginners to people who need to improve or update their skills. We offer "one to one" personal tuition or special short courses. Small class workshops are run at the Newport Community Centre on Tuesday afternoons.
One-to-one training is provided at our rooms in Avalon, under the Maria Regina Catholic Church, 7 Central Road, Avalon.
The Term 4 timetable is below: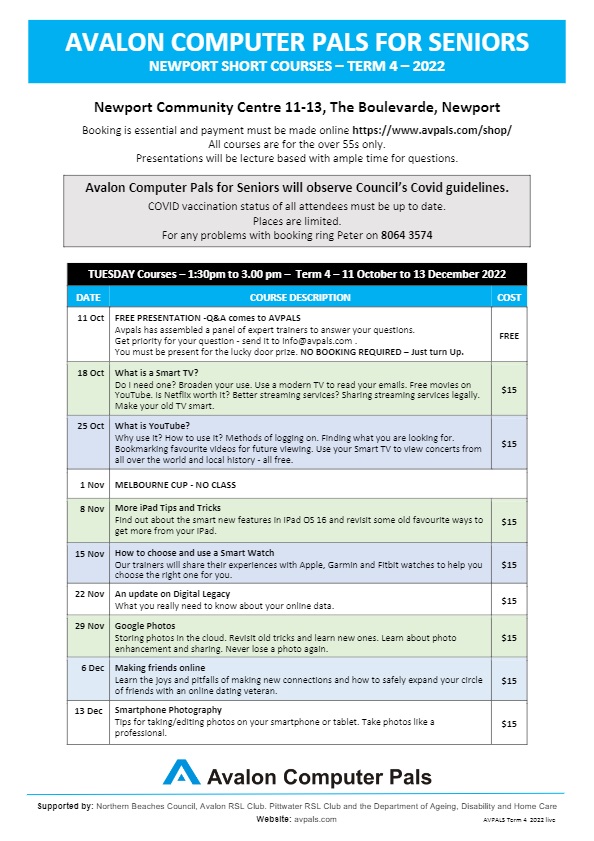 Dover Police DashCam Confessional
From 2015 - we've run this before but it remains a favourite, so we're running it again!
The clip shows Delaware Master Cpl. Jeff Davis, a then 19-year veteran with the Dover Police Department, driving a patrol car while lip-syncing and dancing to the popular 'Shake It Off' Taylor Swift song, replete with head rolls and finger-pointing.
The video was posted to the Dover Police Department's Facebook page and quickly amassed thousands of views in Australia, England, Germany and throughout the U.S. Just one day after the video was posted, the clip had 845,000 views on YouTube. Today it's over 45 million - proving we're not the only ones who like revisiting this great clip.
Wings Over Illawarra 2022: Some Brilliant New + Old Machines + Some History Of Pittwater's 'Aces' By Joe Mills And LAC Chris Tsakisiris
Joe Mills, who usually does a lot of the walks through our local reserves and bush areas with his mate Kevin Murray, went further afield over the weekend of November 12-13th 2022 - to the Wings over Illawarra airshow that happens at Shellharbour Airport, which is also home to the Historical Aircraft Restoration Society (HARS) Aviation Museum. The great people there are 'Dedicated to keeping Australian Aviation History "in the air" '.
Joe says it was a brilliant airshow, with something for all ages. As so many of us here are keen on all kinds of aircraft, we share some of Joes great photos, along with those taken by LAC Chris Tsakisiris (LAC - means Leading Aircraftman) and some insights by Flight Lieutenant Nicholas O'Connor.
That runs in this Issue's Park Bench Philosophers page - permanent page already set up at
HERE
ATAGI Update On Boosters Following COVID-19 Meeting
ATAGI has reviewed its booster dose advice (November 2022) for COVID-19 vaccines in the context of increasing case numbers in Australia and the emergence of the XBB and BQ.1 Omicron subvariants.
ATAGI wishes to provide the following updates:
ATAGI has made no new recommendations at this time, including no changes to the number of COVID-19 vaccine booster doses recommended.
ATAGI emphasises the importance of remaining up to date with recommended doses of COVID- 19 vaccines, especially for people aged 65 years and older and those at higher risk of severe COVID-19:

As of 9 November 2022, 5.5 million eligible people living in Australia (27.8% of the eligible population) had not received a first booster dose, and 3.2 million people aged 50 years and older (42.7%) had not received a second booster dose.1
Adults aged 30 to 49 years can consider a second booster dose, and 4.4 million people aged 30-49 years (84%) have not yet received one.1
Under-vaccinated people are at an increased risk of severe illness and death. Staying up to date with vaccine recommendations is an important way a person can protect themselves in the current context of increased COVID-19 cases.
ATAGI continues to recommend that all people defer COVID-19 vaccination for 3 months after a confirmed SARS-CoV-2 infection. The next scheduled dose should then be given as soon as possible.
Eligible individuals can receive either a bivalent or original COVID-19 vaccine, whichever is available to them. Both bivalent and original vaccines result in an improvement in the immune response against Omicron subvariants.

The increase in COVID-19 cases in Australia commenced a few weeks ago. It is unclear when the wave will peak or end. Any reduction in community transmission in Australia from an additional booster dose in people who are already up to date is likely to be minimal.
A recent wave of the XBB subvariant in Singapore was of short duration and of small size. Severe disease and death were rare in people who had received at least two doses of a COVID-19 vaccine.2
ATAGI notes the following measures recommended by health officials during the current increase in COVID-19 cases:

people are advised to use masks in indoor public places and crowded settings 3
people who test positive for COVID-19 or feel unwell should stay at home until symptoms resolve 3

People eligible for oral COVID-19 treatments, should speak with their doctor before they get sick to see if COVID-19 antivirals are right for them.4
ATAGI continues to actively review the role of booster doses in the COVID-19 vaccination program. New booster dose recommendations are anticipated in early 2023 in preparation for winter. Future recommendations will aim to provide ongoing clear guidance across all groups including time since last dose and definitions of eligibility.
Department of Health and Aged Care, Australian government. COVID-19 vaccine roll-out, 10 November 2022. Available from: COVID-19 vaccine rollout – 10 November 2022 (Accessed 13 November 2022)
Ministry of Health, Singapore. Update on COVID-19 situation and measures to protect healthcare capacity. 2022. Available from: Update On Covid-19 Situation and Measures to Protect Healthcare Capacity (Accessed 13 November 2022)
Department of Health and Aged Care, Australian government. New COVID-19 variant leads to increase in cases. 2022. Available from: New COVID-19 variant leads to increase in cases (Accessed 13 November 2022)
Department of Health and Aged Care, Australian government. Oral treatments for COVID-19. 2022. Available from: Oral treatments for COVID-19 (Accessed 13 November 2022)
More Caution In Health Services As Covid Cases Rise
NSW Health has upgraded its COVID-19 risk rating to amber requiring masks to be worn in all hospital areas and visitor numbers monitored to protect staff and patients.
NSW Health Deputy Secretary Deb Willcox said the requirements in all public hospitals and health facilities are due to increasing COVID-19 case numbers in the community.
"Implementing these changes now means that our staff and the community can look forward to the festive season with greater confidence," Ms Willcox said.
"Family and loved ones can still spend time with patients however, we do ask people to please limit the number of visitors coming to see patients at any one time.
"Visitors as well as staff will now also need to wear a mask in all areas of a hospital or health service, not just in the patient areas, as was previously the requirement."
There were 22,672 people across NSW diagnosed with COVID-19 in the week ending 12 November, an increase of nearly 52.8 per cent on figures from the previous week.
A significant factor in upgrading alert levels was the number of health staff unable to work due to positive COVID-19 status, and/or while awaiting a negative test result.
"As of 16 November, there were 1,089 health care workers in isolation up from 645 the previous week," Ms Willcox said.
"This is an important indicator for our health system that we need to find the right balance with simple measures that can help us avoid more significant changes,"
"I also want to acknowledge the NSW Health staff who continue make the very best decisions for our patients and community each day as we continue to navigate COVID-19."
People are reminded if you test positive or have any cold or flu symptoms, please stay home. If you do have to leave your house, wear a mask and avoid going to any high-risk settings, including hospitals, and aged and disability care facilities.
Make sure you are up to date with your vaccinations. For those over 50 this means four doses
, and if you are immunocompromised five doses. For those over 30, you have an option of a fourth dose. Vaccination is your best protection against severe illness and evidence from overseas is showing that vaccination reduces long COVID.
NSW Health again urges people to
wear a mask when indoors or in crowded places
. It gives you and any vulnerable people who may be near you an extra layer of protection.
In NSW there have been 27,869 total new positive tests reported in the past 7 days and 39 lives lost reported in the past 7 days (from November 11, 2022).

The Northern Sydney area is currently the highest new cases area across NSW, with 3,975 positive PCR and rapid antigen tests by local health district in the past 7 days. The Northern Sydney LHD has 5,472 cases (via PCR only with 1,444 cases in
the Northern Beaches LGA, as at Friday November 18, 2022.
There are currently 1,148 people in hospital due to Covid with 37 people in ICU.

Have Your Say On The Future Of Help At Home
The Australian Government is redesigning and improving in-home aged care. A new program will launch on 1 July 2024.
The Department of Health and Aged Care is seeking feedback throughout the development of this new program.
We are now inviting feedback on a
discussion paper
which provides a draft design for the future in-home aged care program. It takes in feedback from previous consultations on board.
Tell us your thoughts on in-home aged care
If you receive in-home aged care, care for someone who does or work in the sector we want to hear from you. We'd like to hear your views on draft design and questions raised in the
discussion paper
.
Our areas of focus are:
ensuring flexibility to respond to changing needs
care management and self-management
funding to cover the cost of care and provide value for money
increasing early support for independence at home.
If you'd like to provide feedback on the new in-home aged care program, the details are below:
Deadline:
Submissions are open until Friday, 25 November 2022.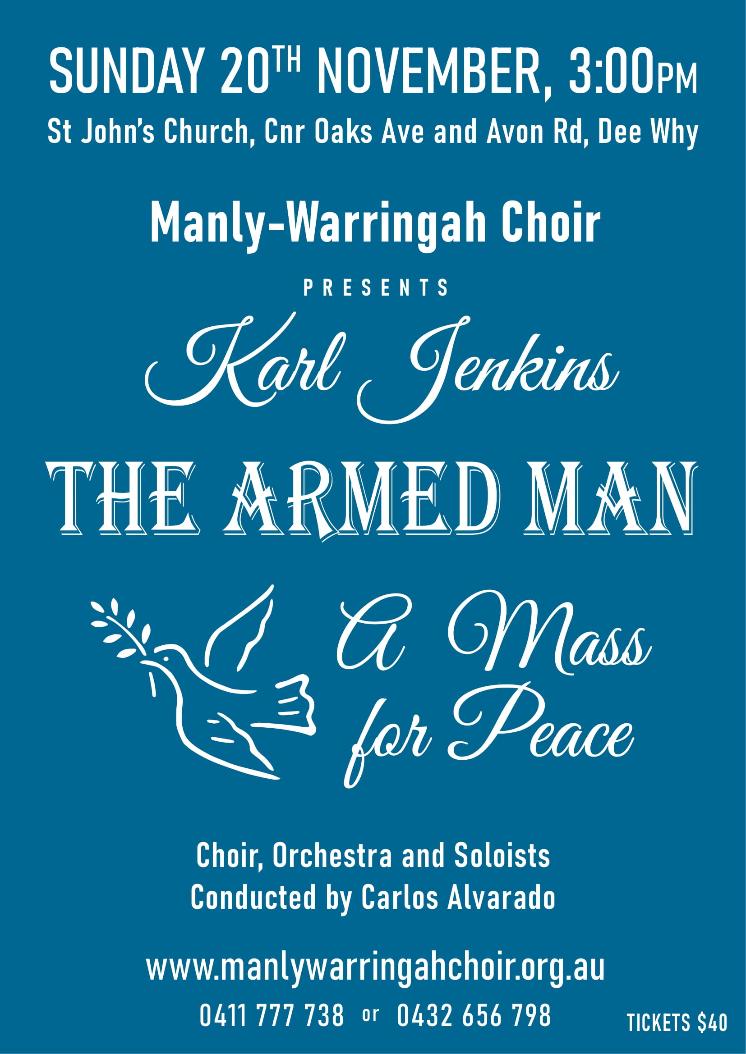 Bilgola Probus Club Commences
The Bilgola Probus Club had its inaugural meeting last month and the Committee is now on a membership drive to secure interested people to join our club. Membership is open to males and females who are currently retired or semi-retired.

We meet on the first Friday of each month at 10am at the Newport Bowling Club; 2 Palm Road Newport.
To find out more, please contact our President, Patricia Ryan on 0438 281 573.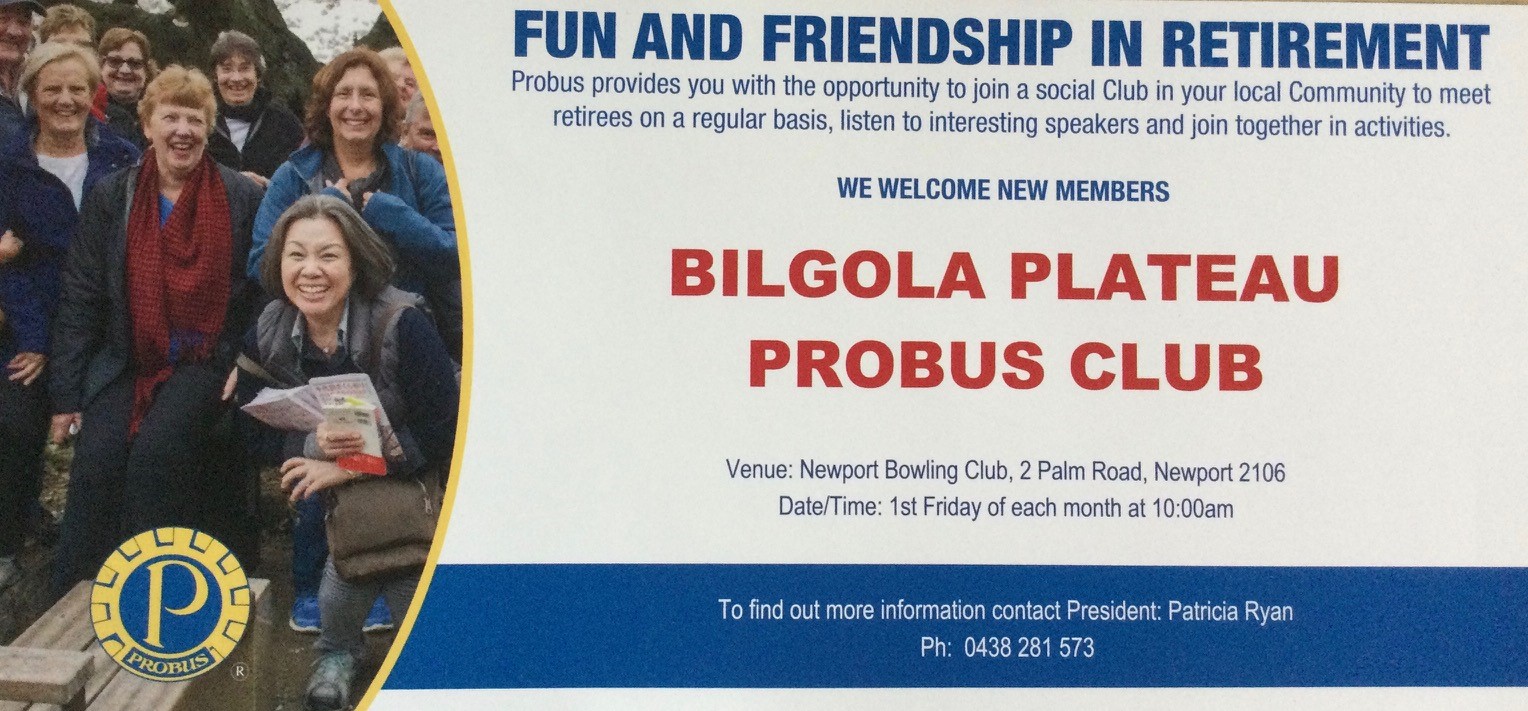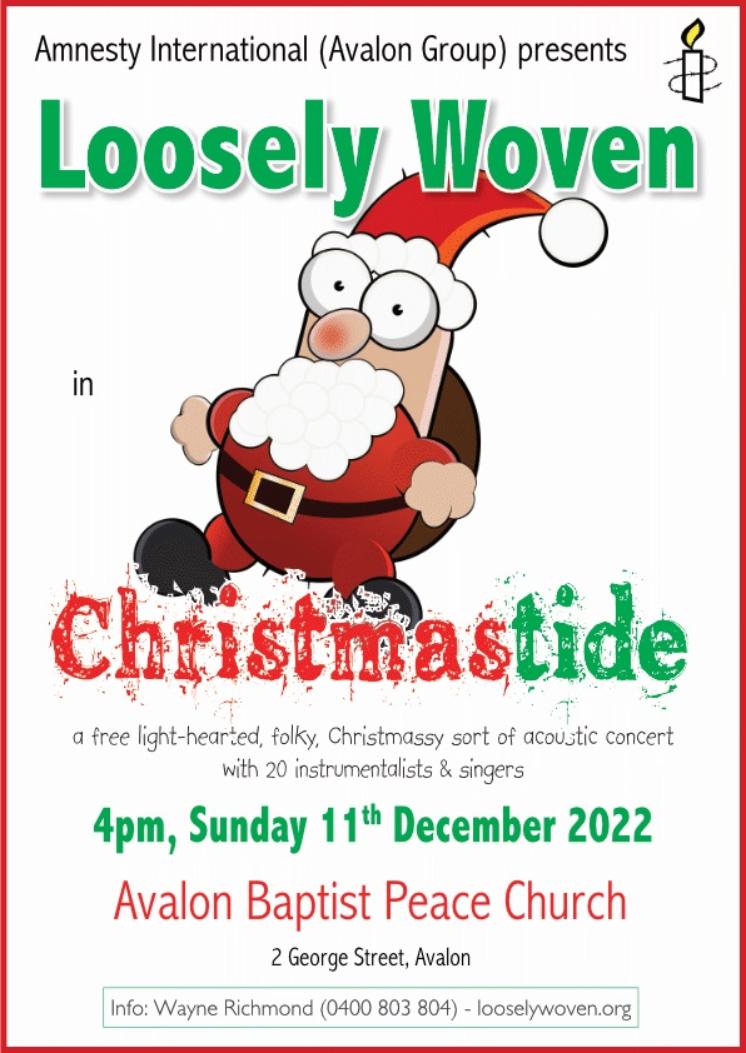 Pensioner's Concessions: Council Rates
Did you know that Pensioners are entitled to concessions on their Council Rates?
Concessions are available for eligible pensioners. To be an eligible pensioner you must receive a pension from either Centrelink or the Department of Veterans' Affairs, and be entitled to a pensioner concession card issued by the Commonwealth Government. You can only claim a concession on the property if it is the sole or principal place you live.
If you are eligible, you are entitled to:
Half of the total of your ordinary rates and domestic waste management service charge, up to a maximum of $250.

Half of your water rates or charges, up to a maximum of $87.50.

Half of your sewerage rates or charges, up to a maximum of $87.50

.
To apply, you need to complete a pensioner concession application form. You can obtain these forms from your council -
download our area's one HERE
New Analysis Of Australian COVID-19 Mortality Rates Released
New insights into the four waves of the COVID-19 pandemic are now available in the Provisional Mortality Statistics report, released today by the Australian Bureau of Statistics (ABS).
Lauren Moran, ABS Director of Health and Vital Statistics, said this analysis offers detailed information about how the pandemic has impacted people. While almost all COVID-related deaths (99%) in the first year of the pandemic had COVID-19 recorded as the underlying cause, this had fallen to 72% by August 2022. Nearly 80% of deaths from COVID-19 have occurred during the Omicron wave.
"COVID-19 mortality during the pandemic disproportionately affected older people, with deaths among people aged 80-89 accounting for the highest proportion of deaths across all waves."
The first wave and the Delta wave had a younger age distribution for mortality compared to the second wave and Omicron wave. Over half of the deaths during the Delta wave were among people aged under 80, with over a quarter aged under 70. By comparison, around 30 per cent were aged under 80 and 10 per cent were under 70 during the Omicron wave.
"During the Delta wave Australians born overseas had a rate of death close to 4 times higher than that of people born in Australia, with rates particularly high for those born in the Middle East, North Africa and South Eastern Europe," Ms Moran said.
"The disparity decreased during the Omicron wave, and since July 2022 the death rate of those born in Australia has been higher."
COVID-19 mortality rates across all waves have been highest among people from areas of greatest disadvantage, with the highest proportion during the Delta wave at around 40 per cent. This proportion has fallen to around 30 per cent during the Omicron wave.
Comprehensive data and analysis is available for download on the
ABS website
.
COVID-19 associated deaths during the pandemic
The Coronavirus Disease 2019 (COVID-19) is a respiratory infection caused by the coronavirus SARS-CoV-2. On 11 March 2020 the World Health Organization (WHO) declared COVID-19 to be a pandemic. Viruses can change and mutate, especially when there are large amounts of community transmission. When a mutation to the original virus strain occurs, this is known as a variant. Over the course of the pandemic a number of COVID-19 variants have circulated worldwide. The WHO is responsible for tracking variants and identifying variants of concern.
In Australia, apart from the main virus strain, variants of concern that have circulated have been Delta and the currently circulating Omicron variant. The Omicron variant has also had a number of sub-variants, for example BA.1, BA.2. As a new variant can affect changes in disease severity, clinical presentation and effectiveness and implementation of public health measures, analysis of COVID-19 by variant can provide important insights. When a variant circulates predominantly for a period of time in a community this is referred to as a "wave". This article presents information on COVID-19 by wave in Australia. As the variant of COVID-19 contributing to death is not listed on the death certificate (the source of COVID-19 mortality information for the ABS), waves are defined by time periods when the infectious variant was circulating predominantly in the community.
Waves are defined as the following:
Wave 1: as occurring between March and May 2020. The predominant variant during Wave 1 was the original virus strain.
Wave 2: as occurring between June and November 2020. Wave 2 predominantly occurred in Victoria. The variant during Wave 2 was the original virus strain.
Delta wave: as occurring between July and December 2021.
Omicron wave: as occurring during 2022 (until the end of September 2022). Due to the length of this wave and the higher number of deaths, analysis of this wave is presented by individual months in some sections. Individual months during the Omicron are analysed up until August 2022. September 2022 has not been analysed as an individual month as the number of deaths due to COVID-19 received by the ABS as occurring during this month are expected to be between 50-60%.
As waves are defined by time period there may be some deaths due to the Delta variant that occurred in 2022 and fall into the scope of the Omicron wave. Not all jurisdictions across Australia have experienced four waves of COVID-19. There are a small amount of deaths that occurred outside of the defined "wave" periods. These points should be considered when interpreting the analysis presented below. This article does not replace the COVID-19 Mortality in Australia output that is published regularly by the ABS, but instead complements the analysis that has already been released.
COVID-19 associated deaths by wave
There were 12,545 deaths of people who have died from or with COVID-19 during the pandemic, whose death was registered and lodged with the ABS by 30 September 2022. Of these people, 10,279 have been deaths "from COVID-19", where the underlying cause of death has been determined as COVID-19, and a further 2,266 deaths have been deaths "with COVID-19" where the underlying cause of death has been determined as something other than COVID-19 but the virus was a contributing factor.
By wave:
During Wave 1, nearly all of the deaths (99.1%) had COVID-19 recorded as the underlying cause of death.
Over 80% of deaths have occurred during the Omicron wave.
During the Omicron wave:
The largest number of deaths have occurred in January (1,828), July (1,759) and August (1,444).
Each of these months exceeded the 1,396 deaths recorded during the entire period of the Delta wave.
During the Omicron wave only 78.5% of the 10,228 deaths have been deaths "from COVID-19". This has not been constant during the wave, falling from 88.2% in January to 72.0% of the deaths in August.
Younger Generation Experienced Most Workplace Stress During COVID-19 Pandemic
A study undertaken by management experts at Kingston University's Business School and Maynooth University in Ireland has shown people in the early stages of their careers were more likely to be impacted by workplace stress during the Covid-19 pandemic than senior colleagues.
The pandemic had been widely reported to impact negatively on the mental health of whole populations, particularly younger people, researcher Dr Christina Butler, an associate professor from Kingston Business School, said. In response, the study aimed to understand how individuals at different stages of their lives and careers were affected and what resources had a positive impact on their wellbeing.
The research focused on people at five career stages -- from early on when they were finding themselves vocationally to pre-retirement, when there was less emphasis on career advancement. They found differences in how those groups reacted to the continued pandemic-related disruptions of 2020 and adjusted over time.
The researchers first surveyed people in 30 different countries in April 2020, shortly after the World Health Organisation declared Covid-19 to be a pandemic, then at fortnightly intervals for eight weeks.
The resulting paper, Covid-19 Pandemic Disruptions to Working Lives: A Multi-level Examination of Impacts across Career Stages, which has been published in the Journal of Vocational Behaviour, revealed that people at the start of their careers were most likely to feel stressed, Dr Butler said.
"Work and personal lives underwent enormous disruption during the pandemic, with people working from home experiencing increased loneliness and a range of mental health issues. Under normal circumstances, the younger generations of workers need additional support from their managers and that was exacerbated during the pandemic, when we saw that relative newcomers to the workforce did not cope as well under the pressures of remote working," Dr Butler said.
The research also revealed that early career workers were more likely to disengage during the pandemic. This could manifest as the employee showing a lack of interest and becoming cynical about work as a way of coping and distancing, Dr Butler explained. Meanwhile, mid-career workers -- categorised as those settled in a career and building on those foundations -- were prone to exhaustion during the pandemic. In some cases this was because of juggling other responsibilities, such as home schooling due to school closures.
"Employers faced even more of a challenge than usual in how to engage young people and keep them supported at work so they didn't burn out. Disengagement is a clear marker of burnout and exhaustion is the other," she said.
Becoming over-tired and disengaged could also have contributed to a national trend in which highly skilled employees in the over-50s were leaving their professions before retirement, Dr Butler said. "This group is in danger of leaving work prematurely in what is sometimes referred to as the great resignation or engaging in what is known as quiet quitting," she explained. "They have been reassessing their lives, particularly during the pandemic and, while they may not leave work completely, they may change career, move out of the city or work fewer hours, resulting in organisations losing a wealth of experience."
As well as examining the wellbeing of staff, the study also investigated factors that could mitigate stress or exhaustion, such as giving employees higher levels of autonomy at work.
The researchers found there appeared to be a shift in attitudes towards organisational support, which had traditionally been viewed as positive. "During the pandemic there was often a lot of organisational support that people could find interfering and tiring, such as having a large number of online meetings, which sometimes took people away from their work and led to lots of screen time," Dr Butler said. "When organisational support is positive it's seen as a resource that's helpful to manage work, but it might have felt like more of a demand placed on people during the pandemic."
As the world moved to living with Covid-19, and the likelihood of another pandemic rising due to globalisation, greater understanding of how pandemics affect the working lives and wellbeing of employees at different stages of life was needed, Dr Butler said.
"Organisations must pay attention to the types of support needed by employees to help them through a crisis," Dr Butler said. "Extra support is clearly needed to help the younger generation of employees, who don't cope as well under the new pressures, balance job demands while working remotely. More emphasis on this will help achieve a productive workforce through people having greater connectivity and a sense of wellbeing at work," she added.
Research project lead Professor Audra Mockaitis, an expert in international business at Maynooth University, agreed that, with the return to hybrid or in-person working, it was important to assess whether wellbeing improves for employees most affected. "The pandemic, and organisations' responses to it, affected working lives dramatically -- each person has their own story of pandemic trauma," she said.
"Unfortunately, poor organisational response and support means that the effects of the pandemic will linger for longer for many. Organisations must do better with respect to their employees at all career stages."
Audra I. Mockaitis, Christina L. Butler, Adegboyega Ojo.
COVID-19 pandemic disruptions to working lives: A multilevel examination of impacts across career stages.
Journal of Vocational Behavior, 2022; 138: 103768 DOI:
10.1016/j.jvb.2022.103768
Ray Of Hope: One Place Where Reef Manta Rays Are Thriving
In a rare piece of good news in the marine world, scientists have found one place where reef manta rays are thriving.

Over a decade, populations increased significantly in Raja Ampat archipelago in Indonesia, highlighting the importance of long-term conservation and management measures such as well-enforced Marine Protected Areas (MPAs) and fisheries regulations, says researcher Edy Setyawan, of the University of Auckland's Institute of Marine Science.
It is the first published evidence of reef manta ray populations increasing anywhere in the world, he says. "Despite the global decline in oceanic sharks and rays because of overfishing over the past 50 years, the reef manta rays in Raja Ampat have been recovering and thriving," Setyawan says.
The scientist and his colleagues studied reef manta rays (Mobula alfredi) in two of Raja Ampat's largest MPAs, Dampier Strait and South East Misool. They used sightings of rays, each individually identified by photograph, to assess population dynamics from 2009 to 2019. In Dampier Strait, the estimated population increased to 317, an annual compound gain of 3.9 percent, while South East Misool's estimated gain to 511 was 10.7 percent on the same basis.
The increased population sizes resulted from high survival rates (up to 93 percent of individuals in each group survived each year) and high rates of recruitment (typically groups got a 20 percent annual boost from new members). While conservation measures substantially reduced fishing pressures, another reason for the populations thriving was the El Niño Southern Oscillation climate cycle, which boosted plankton numbers. That lead to larger and more frequent aggregations of the manta rays for feeding, which in turn provided more opportunities for mating.
A watch-list for threatened species, the International Union for Conservation of Nature's "Red List," lists reef manta ray as a "vulnerable" species with declining populations throughout their range in the Indo-Pacific, based on an assessment in 2018.
Today, an estimated of 16,000 to 18,000 of the creatures may survive, with the Maldives hosting the biggest number, at least 5,000 individuals, followed by Indonesia with at least 3,500. "Unfortunately, reef manta rays are generally in decline, as in Mozambique where they have been continuously caught in targeted fisheries, or just holding steady, as in Australia and the Maldives," says Setyawan.
Around the world, more well-enforced MPAs are needed to protect the critical habitats of the creatures, along with strong commitments from governments to protect the species, and fishing gear restrictions such as bans on gillnets and longlines, he says. Manta rays are known for their intelligence, graceful swimming and traits such as somersault feeding, a technique for continuing to move while staying in the same spot to gorge on plankton or krill. Manta rays need to keep moving to stay alive.
The reef manta ray has a wingspan of up to five metres. This slow-growing species starts to mature at nine to 13 years of age (male) and 13 to 17 years of age (female). A mature female gives birth to only one pup every two to six years, after 12 to 13 months of pregnancy. Late maturation and low fecundity make the species especially vulnerable to population declines.
The research, published in Frontiers of Marine Science, was carried out with the help of researchers from the Raja Ampat MPA management authority, Konservasi Indonesia, Conservation International Aotearoa and Waipapa Taumata Rau, University of Auckland.
"Since the study ended, the reef manta rays seem to be doing well and the populations continue to grow," says Setyawan. "Large feeding aggregations have often been seen and reported. In the past three years, we have identified more than 300 new manta rays. Not to mention the new-borns and juveniles living in the Wayag lagoon and Fam Islands nursery areas we discovered recently."
Edy Setyawan, Ben C. Stevenson, Mark V. Erdmann, Abdi W. Hasan, Abraham B. Sianipar, Imanuel Mofu, Mochamad I. H. Putra, Muhamad Izuan, Orgenes Ambafen, Rachel M. Fewster, Robin Aldridge-Sutton, Ronald Mambrasar, Rochelle Constantine.
Population estimates of photo-identified individuals using a modified POPAN model reveal that Raja Ampat's reef manta rays are thriving
. Frontiers in Marine Science, 2022; 9 DOI:
10.3389/fmars.2022.1014791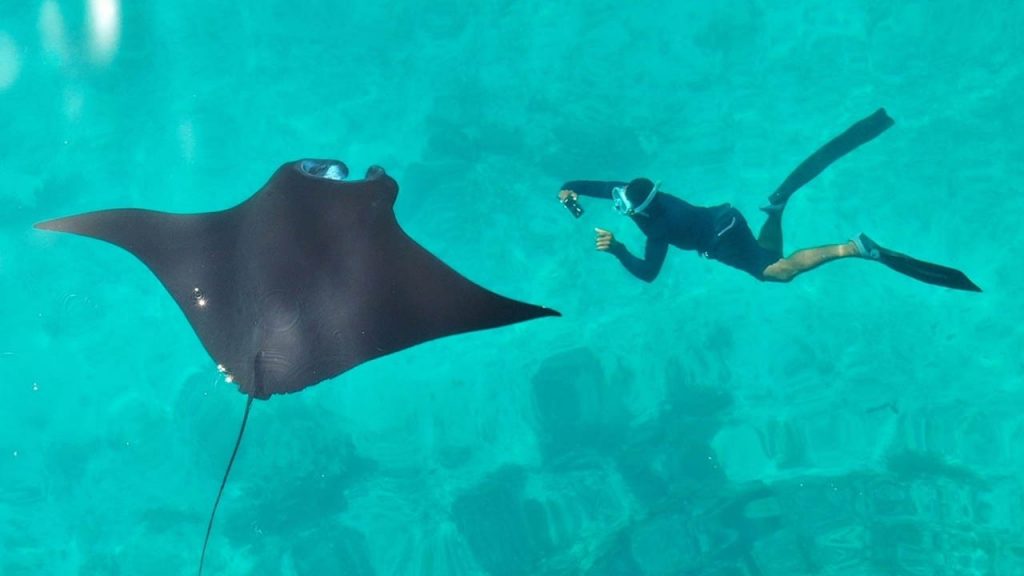 A free-diving researcher gets photo-ID of a reef manta ray (Photo: Edy Setyawan)

Tracing The Origin Of Kampo: Japan's Traditional Medicine
Traditional Chinese medicine (TCM) has been around for centuries. With a history of almost 3000 years dating back to the early Zhou Dynasty, it has been incorporated into China's present medical system. The traditional practice involves the use of plants, animals, and minerals. It works on the principle of maintaining the delicate balance between 'yin' and 'yang' -- the opposite but interconnected forces said to be at the core of all creation -- to prevent diseases and maintain health. Originating in China, TCM is practiced widely today, including in Japan.
It has long been considered that TCM was introduced in Japan by the monk, Jianzhen or Ganjin, who visited Japan in the 8th century to promote the teachings of Buddhism on the invitation of two Japanese clerics. Born in Yangzhou, the monk Jianzhen was well-versed in TCM and was proficient in Buddhism. When he arrived in Japan in 753 CE, it is said that he had with him 36 kinds of herbal medicines, each with different pharmacological effects and recipes for different combinations to treat a variety of diseases. Along with his Buddhist teachings, whether Jianzhen imparted his pharmacological and medical knowledge, thereby influencing existing traditional Japanese medicine, remains debated.
Now, researchers from Japan and China, led by Professor Toshihiko Matsuo of the Graduate School of Interdisciplinary Science and Engineering in Health Systems, Okayama University, have conducted an extensive review of available Chinese, Japanese, and English literature to shed light on this longstanding mystery. The team composed of Shihui Liu, former assistant professor in Okayama University, visiting research fellow Chie Matsuo, and senior assistant professor Takumi Abe, both from Okayama University. Their article, published on 18 October 2022 in the journal Compounds, offers interesting insights on the life of Jianzhen as seen through the lens of his ethnopharmacological knowledge.
On his trip to Japan, Jianzhen gathered and brought with him things he found on his way, things as insignificant as stalactites and Zixue (a TCM component), while also bringing traditional ingredients from China, including musk, agarwood, snail, rosin, dipterocarp, fragrant gall, benzoin, incense, dutchman's pipe root, Pistacia lentiscus, Piper longum, Terminalia chebula/haritaki, asafetida, sugar, sucrose, 10 bushels of honey, and 80 bunches of sugar cane. In their article, the researchers have reviewed the 36 herbal medicines and their therapeutic effects that were brought to Japan. Local lore suggests Jianzhen also had with him a book called Jianshangren (Holy Priest Jianzhen)'s Secret Prescription, which has been lost for centuries. The team also reports being successful in tracking down a copy of another book that holds the same prescriptions.
Most interestingly, their findings show that the prescriptions by Jianzhen form the basis of herbal medicinal practice in Japan, popular under the name of Kampo. The herbal medicinal practice is very much integrated into the fabric of Japan's current healthcare system. Kampo medicines are prescribed alongside Western medicine and modern drugs and is covered by the reimbursement of the national health insurance.
"People in Japan can buy Kampo medicines as over-the-counter drugs at pharmacies. This unique system in Japan has derived from a long history of systematic prescription of Kampo medicines and would have an origin in Jianzhen's prescription in the 8th century," observes Prof. Matsuo with much excitement.
He hopes for the spread of the use of Kampo medicine beyond Japan. "People in other countries also have a chance to use Kampo medicines in combination with Western medicines." His inspiration in saying so is possibly, Jianzhen, again. "Jianzhen is one of the first people to bring Chinese traditional medicine to Japan. He is considered an ancestor of Kampo medicine, who molded Chinese traditional medicine to suit the needs of Japanese people," reflects Prof. Matsuo.
In the age of globalization, the journey of traditional medical knowledge that took 11 years to reach Japan from China may be accomplished in less than 11 seconds with the click of a button.
Shihui Liu, Toshihiko Matsuo, Chie Matsuo, Takumi Abe.
Traditional Chinese Medicines and Prescriptions Brought from China to Japan by a Monk (Jianzhen, Japanese: Ganjin): A Historical Review.
Compounds, 2022; 2 (4): 267 DOI:
10.3390/compounds2040022
Genes To Potentially Diagnose Long-Term Lyme Disease Identified
Researchers at the Icahn School of Medicine at Mount Sinai in New York have identified 35 genes that are particularly highly expressed in people with long-term Lyme disease. These genes could potentially be used as biomarkers to diagnose patients with the condition, which is otherwise difficult to diagnose and treat.
The findings, published November 15 in the journal Cell Reports Medicine, may also lead to new therapeutic targets. The study is the first to use transcriptomics as a blood test to measure RNA levels in patients with long-term Lyme disease.
Lyme disease is a tick-borne illness that is not well understood. Approximately 30,000 diagnosed cases are reported to the CDC each year, but the estimated real number is closer to 476,000 cases, carrying an annual healthcare cost of about $1 billion in the United States. While most patients are diagnosed and treated with antibiotics at the earliest stages of Lyme disease, about 20 percent of the patients develop long-term complications, which could include arthritis, neurologic symptoms, and/or heart problems.
"We wanted to understand whether there is a specific immune response that can be detected in the blood of patients with long-term Lyme disease to develop better diagnostics for this debilitating disease. There still remains a critical unmet need, as this disease so often goes undiagnosed or misdiagnosed," said Avi Ma'ayan, PhD, Professor, Pharmacological Sciences, and Director of the Mount Sinai Center for Bioinformatics at Icahn Mount Sinai, and senior author of the paper. "Not enough is understood about the molecular mechanisms of long-term Lyme disease."
As part of the study, RNA sequencing was conducted using blood samples from 152 patients with symptoms of post-treatment Lyme disease to measure their immune response. Combined with RNA sequencing data from 72 patients with acute Lyme disease and 44 uninfected controls, the investigators observed differences in gene expression and found that most of the post-treatment Lyme disease patients had a distinctive inflammatory signature compared with the acute Lyme disease group.
In addition, by analysing the differentially expressed genes in this study along with genes that are differentially expressed due to other infections from other published studies, the researchers identified a subset of genes that were highly expressed, which have not been previously established for this Lyme-associated inflammatory response.
Using a type of artificial intelligence called machine learning, the researchers further reduced the group of genes to establish an mRNA biomarker set capable of distinguishing healthy patients from those with acute or post-treatment Lyme disease. A gene panel that measures the expression of the genes the investigators identified could be developed as a diagnostic to test for Lyme.
"We should not underestimate the value of using omics technologies, including transcriptomics, to measure RNA levels to detect the presence of many complex diseases, like Lyme disease. A diagnostic for Lyme disease may not be a panacea but could represent meaningful progress toward a more reliable diagnosis and, as a result, potentially better management of this disease," said Dr. Ma'ayan.
Next, the investigators plan to repeat the study using data from single-cell transcriptomics and whole blood, apply the machine learning approach to other complex diseases that are difficult to diagnose, and develop the diagnostic gene panel and test it on samples from patients.
The project was partially supported by funds from the Cohen Lyme & Tickborne Disease Initiative and National Institutes of Health grant P30AR070254.
Daniel J.B. Clarke, Alison W. Rebman, Jinshui Fan, Mark J. Soloski, John N. Aucott, Avi Ma'ayan.
Gene set predictor for post-treatment Lyme Disease.
Cell Reports Medicine, 2022 DOI: 10.1016/j.xcrm.2022.100816
Dam Safety: New Australian Study Indicates Probable Maximum Flood Events Will Significantly Increase Over Next 80 Years
The flood capacity of dams could be at greater risk of being exceeded, due to out-of-date modelling for potential maximum rainfall, according to industry-funded research by UNSW and the University of Melbourne.
The study, to be published in Water Resources Research, concludes that the rainfall model that engineers use to help design critical infrastructure such as large dams and nuclear power plants needs to be updated to account for climate change.
The paper calculates that estimates of the 'Probable Maximum Precipitation' (PMP) -- the greatest depth of rainfall possible -- for 546 large dams across Australia is expected to increase between 14 and 38 per cent on average due to atmospheric moisture.
The researchers say existing models of PMP have not been updated for at least 20 years, and more recent meteorological events already show that the climate is warming and making storms more intense and more frequent.
Lead author Johan Visser, from UNSW Sydney's Water Research Laboratory, said there are a lot of risks involved with dams, given the amount of water they are holding back.
"Some of the worst floods around the world have been due to extreme storms overwhelming a dam, causing it to fail and release a wall of water downstream," Mr Visser said.
"Engineers design dams to accommodate the largest flood event that could reasonably be expected to occur at a particular location, known as the Probable Maximum Flood (PMF). To work that out, you first need to calculate what is the greatest depth of rainfall meteorologically possible over that area in a certain amount of time, which we call the PMP. The problem is that PMP calculation is based solely on historical data, with no consideration for future climate conditions. This means that many large dams constructed decades ago were designed using information representative of a cooler climate.
"The purpose of this research was to analyse whether PMP estimates have changed over the past six decades and how these estimates might change in the future if we take into consideration a potential increase in atmospheric moisture due to known climate change."
The current PMP guidelines for various timeframes and locations across Australia is collated and published by the Bureau of Meteorology.
University of Melbourne lead collaborator Professor Rory Nathan said: "No country in the world has yet updated the operational procedures used to estimate PMPs to account for climate change, and this research provides the first evidence that these procedures need to be reviewed.
"Any increase in the PMP estimates will lead to a corresponding change in the PMF, but it will take some time to work out the best way of using these findings to better inform future decision-making. There are deep uncertainties involved in assessing the impacts of climate change and this research reinforces the need to consider adaptive management approaches so that we allocate resources progressively over time as our understanding of these increasing risks improve.
"We are facing a climate crisis and this research adds to the urgency with which we need to curb our carbon emissions."
The new research, which was funded by 10 of Australia's leading water providers and dam owners from across Australia, reanalysed existing meteorological records, added in more up-to-date data from the past 20 years that was not previously included, and then calculated potential changes in the future by incorporating the latest climate scenario modelling from the highly-respected Coupled Model Intercomparison Project Phase 6. These climate models are used to explore how a range of global socioeconomic choices over the next century will affect greenhouse gas emissions.
The researchers say they have shown the current method of calculating PMP is likely outdated and does not take into consideration the potential consequences of current changes in atmospheric conditions, let alone those predicted into the future.
UNSW's Professor Ashish Sharma, corresponding author of the paper, said: "This is an important piece of research, not just for Australia, but also across the world. The approach to PMP is developed and recommended by the World Meteorological Organisation and is used more or less consistently by countries around the globe. Anybody who is planning to build a large dam needs to think 50 to 100 years ahead, and this research makes clear that future planning now needs to consider the future impacts of climate change on the plausible upper limit of rainfall extreme.''
This research was supported by leading Australian water organisations including Hydro Tasmania, Melbourne Water, Murray-Darling Basin Authority, Queensland Department of Natural Resources Mines and Energy, Seqwater, Snowy Hydro, Sunwater, West Australian Water Corporation, and WaterNSW, and also by the Australian Research Council.

J.B. Visser, S. Kim, C. Wasko, R. Nathan, A. Sharma.
The impact of climate change on operational estimates of Probable Maximum Precipitation.
Water Resources Research, 2022; DOI:
10.1029/2022WR032247
Study Finds Feeling Poorer Than Your Friends In Early Adolescence Is Associated With Worse Mental Health
Young people who believe they come from poorer backgrounds than their friends are more likely to have lower self-esteem and be victims of bullying than those who feel financially equal to the rest of their peer group, according to a new study from psychologists at the University of Cambridge.
The team also found that those who think themselves poorer and those who believe they are richer were both more likely to perpetrate bullying. Overall, feeling a sense of economic equality among your friends had the best outcomes for mental health and social behaviour.
While economic disadvantage on a society-wide spectrum has long been linked to mental health and social problems in young people, the new study is one of the first to show that just feeling poorer compared to those in your immediate social sphere may be related to negative psychological outcomes.
According to researchers, judgments we make about ourselves via "social comparison" in early adolescence -- how popular or attractive we think we are, compared to others -- are central to our burgeoning sense of self, and perceived economic status may contribute to this development.
"Adolescence is an age of transitions, when we use social comparisons to make self-judgments and develop our sense of self," said study lead author Blanca Piera Pi-Sunyer, a Cambridge Gates Scholar and PhD candidate in the University's Department of Psychology.
"A sense of our economic position not just in wider society, but in our immediate environment, might be problematic for our sense of belonging," said Piera Pi-Sunyer. "Belonging is particularly important for well-being and psychosocial functioning during adolescence."
"Our research suggests that wealth comparisons with those around us might contribute to a sense of social and personal self-worth when we are young."
The latest study, published today in the Journal of Child Psychology and Psychiatry, was co-led by Piera Pi-Sunyer and Dr Jack Andrews of the University of New South Wales, as part of a research project conducted by Cambridge psychologist Prof Sarah-Jayne Blakemore.
The researchers analysed perceived economic inequality within friendship groups among 12,995 children in the UK at age 11.
Eleven-year-olds who believed themselves poorer than their friends scored 6-8% lower for self-esteem, and 11% lower in terms of wellbeing, than those who saw themselves as economically equal to friends.
Those who considered themselves less wealthy were also more likely to have "internalising difficulties" such as anxiety, as well as behavioural problems e.g. anger issues or hyperactivity.
Adolescents who see themselves as poorer than their friends were 17% more likely to report being bullied or picked on compared to those who feel financially the same as friends at age 11.
While reported levels of victimisation fell across the board by the time young people reached 14 years old, those who considered themselves poorer were still 8% more likely to be victimised than those who felt economically similar to friends.
Feeling both richer or poorer than peers was related to 3-5% higher rates of actually perpetrating bullying. "It may be that feeling different in any way at a time when belonging is important increases the risk of interpersonal difficulties such as bullying," said Piera Pi-Sunyer.
Part of Piera Pi-Sunyer's PhD research looks at the cognitive processes behind how we view ourselves. This includes how memorising and internalising self-judgements in our earlier years can guide how we come to think of ourselves -- sometimes known as "self-schema."
"Negative judgments about ourselves can bias us to pay attention to information that reinforces a lack of self-worth, which has implications for mental health. We see this may well include economic perceptions among some of our peer and friendship groups during adolescence," said Piera Pi-Sunyer.
The researchers used data collected as part of the Millennium Cohort Study (MCS), conducted with thousands of young people born between the years 2000 and 2002. The surveys gauged an array of mental states and social behaviours, and included questions on perceived economic status.
The majority of children felt they were as wealthy as their friends, but 4% and 8% perceived themselves as poorer or richer, respectively, than their friends (16% said they didn't know).
The MCS also gathered data on "objective family income," including a measure of weekly family disposable income, allowing researchers to discount the effects of actual parental wealth.
"Many studies suggest that, objectively, young people from disadvantaged backgrounds have more mental health difficulties. Our findings show that the subjective experience of disadvantage is also relevant," added Piera Pi-Sunyer.
"You do not have to be rich or poor to feel richer or poorer than your friends, and we can see this affects the mental health of young adolescents."
Blanca Piera Pi‐Sunyer, Jack L. Andrews, Amy Orben, Lydia G. Speyer, Sarah‐Jayne Blakemore.
The relationship between perceived income inequality, adverse mental health and interpersonal difficulties in UK adolescents
. Journal of Child Psychology and Psychiatry, 2022; DOI:
10.1111/jcpp.13719
Half Of Replanted Tropical Trees Don't Survive
On average, about half of trees planted in tropical and sub-tropical forest restoration efforts do not survive more than five years, but there is enormous variation in outcomes, new research has found.
The study analysed tree survival and growth data from 176 restoration sites in tropical and sub-tropical Asia, where natural forests have suffered degradation. The team found that, on average, 18% of planted saplings died within the first year, rising to 44% after five years. However, survival rates varied greatly amongst sites and species, with some sites seeing over 80% of trees still alive after five years, whereas at others, a similar percentage had died.
The findings are published today in the Philosophical Transactions of the Royal Society B: Biological Sciences.
Forest restoration is a powerful tool to tackle biodiversity loss and climate change, by locking away carbon and supporting important habitats. Reforestation projects are also used widely for carbon offsetting. While the main measurement used for many projects is the number of trees initially planted, the research shows that many of these trees are not surviving long-term. In some sites, survival rates were high, showing that with the right approach restoration has the potential to be successful.
About 15% of the world's tropical forests are found in Southeast Asia and they are amongst the most carbon-dense and species-rich in the world, providing habitat for tigers, primates and elephants. However, in recent decades the region has also seen major deforestation, with forest cover reducing by an estimated 32 million hectares between 1990 and 2010.
The region has therefore become an important focus for forest restoration projects. The research -- by an international team of scientists from 29 universities and research centres -- is the first to bring together data to evaluate the long-term outcomes of restoration projects.
Dr Lindsay Banin, co-lead author based at the UK Centre for Ecology & Hydrology, said: "The large variability in survival we found across sites could be for a number of reasons, including planting densities, the choice of species, the site conditions, extreme weather events or differences in management and maintenance. Local socio-economic factors may also be important. What's clear is that success is very site-dependent -- we need to understand what works and why and share that information, so we can bring all sites up to the level of the most successful and harness the full potential for restoration. There's likely no one-size-fits-all approach and restoration action should be tailored to local conditions. This will help ensure the scarce resources and land available to restoration are used to best effect."
The team found that, when an area had been fully deforested, reforestation efforts were less successful than in areas where some trees remained. Saplings planted in areas with existing mature trees had roughly 20% higher chance of survival. In more disturbed areas, more intensive measures for protection and maintenance may be needed.
The study also found some evidence that active restoration provides faster results than simply letting nature take its course. Sites which included tree planting activities gained forest cover more quickly than sites which were left to regenerate naturally. But many more studies tracked the fate of planted trees rather than structural properties of the whole community. The research team believes that collating both types of data in the same study areas will help to determine acceptable levels of mortality that will still deliver a return of forest cover. More experiments are needed to help hone the most appropriate and cost-effective methods of restoration across sites under different conditions.
Prof David Burslem, co-author based at the University of Aberdeen in the UK, said: "The sites where active restoration is most needed -- those that have already been cleared of trees -- are also those where restoration is most risky and prone to higher numbers of trees dying. We need to understand better how to improve the survival chances of saplings on these sites, to ensure restoration has positive outcomes. But the study also provides a warning, to protect our remaining forests as much as possible, both because restoration outcomes are uncertain and to provide the diverse seed sources needed for restoration activities."
Prof Robin Chazdon, a co-author based at the University of the Sunshine Coast, Queensland, Australia, said: "Replanting is only going to be an answer to excess carbon dioxide in the atmosphere if we can guarantee that carbon is being successfully drawn out of the atmosphere and locked away -- and be able to quantify the amounts and timescales involved. This is why assessing restoration outcomes over the long-term, and gathering information that helps to maximise success rates, are so important. We need the focus to shift away from simply planting trees toward growing them and helping our forests thrive."
The study was supported by UKRI Natural Environment Research Council funding.
Lindsay F. Banin, Elizabeth H. Raine, Lucy M. Rowland, Robin L. Chazdon, Stuart W. Smith, Nur Estya Binte Rahman, Adam Butler, Christopher Philipson, Grahame G. Applegate, E. Petter Axelsson, Sugeng Budiharta, Siew Chin Chua, Mark E. J. Cutler, Stephen Elliott, Elva Gemita, Elia Godoong, Laura L. B. Graham, Robin M. Hayward, Andy Hector, Ulrik Ilstedt, Joel Jensen, Srinivasan Kasinathan, Christopher J. Kettle, Daniel Lussetti, Benjapan Manohan, Colin Maycock, Kang Min Ngo, Michael J. O'Brien, Anand M. Osuri, Glen Reynolds, Yap Sauwai, Stefan Scheu, Mangarah Silalahi, Eleanor M. Slade, Tom Swinfield, David A. Wardle, Charlotte Wheeler, Kok Loong Yeong, David F. R. P. Burslem.
The road to recovery: a synthesis of outcomes from ecosystem restoration in tropical and sub-tropical Asian forests
. Philosophical Transactions of the Royal Society B: Biological Sciences, 2022; 378 (1867) DOI: 10.1098/rstb.2021.0090
A Chemical Reaction As Good As Gold
A new Australian-led stud finds gold atoms could be key to unlocking organic reactions.

Organic molecules are the building blocks for materials we use every day -- from our clothes and coffee cups to the screen displays of our phones. Controlling reactions of these organic molecules is the key to designing materials with functional properties.
Reactions targeting carbon-hydrogen (C-H) bonds have long been of scientific interest given that almost all organic molecules contain these bonds. Led by FLEET at Monash University, a new study (published this week in the Journal of the American Chemical Society) finds that individual gold atoms may provide a low energy route for reactions which can target specific C-H bonds.
The 'Holy Grail' of Chemical Reactions
"One of FLEET's goals is the development of materials whose electronic properties may be exploited in low-energy technologies," says corresponding author A/Prof Agustin Schiffrin.
Organic molecules may serve as useful building blocks for tuneable construction of these materials, provided reactions between molecules can be controlled at the atomic scale.
Carbon-hydrogen bonds are among the most common bonds in organic molecules. Because of this, the ability to target specific C-H bonds in chemical reactions has been described by some researchers as the "holy grail." Unfortunately, two big challenges stand in the way of C-H activation reactions:
Difficulty in targeting only one specific bond for reaction (poor selectivity).
A lot of energy is required to break these bonds (high activation energy).
The Monash researchers have found that single gold atoms may provide a route to C-H activation.
The researchers combined small numbers of individual gold atoms with organic 9,10-dicyanoanthracene (DCA) molecules on an atomically flat surface of silver, Ag(111).
"We used atomic-scale experimental techniques -- scanning tunnelling microscopy and atomic force microscopy -- to image and characterise the samples," explains lead author Benjamin Lowe, who is a FLEET PhD student at Monash. "These techniques revealed unusual covalent bonds between the carbon atoms of the DCA molecules and the gold atoms."
The formation of such covalent bonds suggested that specific C-H bonds had to have first been broken. Working with theoretical collaborators at the Czech Academy of Sciences, the researchers uncovered a reaction pathway which suggested that a metal-organic intermediate state formed by single gold atoms with pairs of DCA molecules could help such a reaction proceed.
Significantly, the reaction pathway uncovered can only explain C-H breaking of one specific C-H bond. The researchers found a dramatic decrease of the energy required to break this specific C-H bond (activation barrier), enabling the reaction at room temperature.
"This study directly addresses the two biggest challenges -- namely poor selectivity and high activation barrier -- that limit specific dissociation of C-H bonds in organic molecules," explains FLEET Chief Investigator Agustin Schiffrin. "Our approach can potentially open the door to the synthesis of novel organic and metal-organic nanomaterials, with properties useful for electronics, optoelectronics, sensing, catalysis, etc."
Given the broad interest in reactions of organic molecules across a range of fields, this promising reaction has many potential applications such as polymer fabrication and modification of pharmaceutical products.
At FLEET, the researchers hope to exploit this selective and efficient reaction to produce atomically thin materials with desirable electronic properties.
The study was led by the School of Physics and Astronomy, Monash University, with co-authors from the Institute of Physics, Academy of Sciences of the Czech Republic, and Palacký University, Czech Republic.
As well as support from the Australian Research Council (Centre of Excellence and Future Fellowship programs), the authors acknowledge support from the Czech Academy of Science and Czech Science Foundation (Praemium Academie), and from the Ministry of Education, Youth and Sports of the Czech Republic (e-Infrastruktura CZ).
Benjamin Lowe conducted the study in A/Prof Agustin Schiffrin's group at Monash University, which investigates the electronic properties of organic and metal-organic materials at the atomic scale.
Using state-of-the-art nanomaterial synthesis and scanning probe microscopy techniques at Monash University, the group works on the synthesis of novel materials that could be used in ultra-low energy electronic devices.
Benjamin Lowe, Jack Hellerstedt, Adam Matěj, Pingo Mutombo, Dhaneesh Kumar, Martin Ondráček, Pavel Jelinek, Agustin Schiffrin.
Selective Activation of Aromatic C–H Bonds Catalysed by Single Gold Atoms at Room Temperature.
Journal of the American Chemical Society, 2022; DOI:
10.1021/jacs.2c10154
Scientists Say Sea-Level Changes Formed Australia's K'Gari Sand Island: Great Barrier Reef
How did the world's largest sand island K'gari, the indigenous name for eastern Australia's Fraser Island, along with the Great Barrier Reef, the world's largest coral reef, come to be? Little is known about the formation of these UNESCO World Heritage-listed sites, which have been influenced by a stable, long-term tectonic history over the Quaternary period that began 2.6 million years ago.
But new findings by Utah State University geoscientist Tammy Rittenour and an international team of colleagues point to a modern-day concern that could have initiated the iconic landforms' beginnings some 800,000 years ago: sea-level rise.
Rittenour and researchers from the University of Queensland, Australian National University, Flinders University, the University of Western Australia, the University of Canterbury, Clarkson University and Stockholm University report the findings in the Nov. 14, 2022 issue of Nature Geoscience. The team's research was supported by an Australian Research Council grant.
"Our research provides evidence that the formation of K'gari and the Great Barrier Reef are linked to a change in the magnitude of sea-level rise and fall due to major climate feedback changes during the Middle Pleistocene Transition," says Rittenour, professor in USU's Department of Geosciences and the Ecology Center.
Using sediment samples from hand cores and beach bluffs, Rittenour, director of the USU Luminescence Laboratory, used optically stimulated luminescence dating to constrain the time of formation of the island's extensive, brightly hued sand dunes, as well as those from the adjacent Cooloola Sand Mass.
"We found that the sand island and dune fields first formed 1.2-0,7 million years ago, during a period of climate reconfiguration, when increasing global ice volume caused sea-level fluctuations that redistributed sediment previously stored on the continental shelf," Rittenour says. "The formation of K'gari prevented the transport of sand northward along the coast, into the areas that now host the Great Barrier Reef."
The outward-jutting orientation of the massive sand island created conditions for the crystal-clear water needed for coral growth, allowing the development of the Great Barrier Reef.
"These significant findings are changing the way we look at coastal sedimentary systems," Rittenour says. "This wholesale change in coastal conditions during the middle Pleistocene is probably not unique to eastern Australia's coast and should be investigated in other passive-margin coastlines around the world."
D. Ellerton, T. M. Rittenour, J. Shulmeister, A. P. Roberts, G. Miot da Silva, A. Gontz, P. A. Hesp, P. Moss, N. Patton, T. Santini, K. Welsh, X. Zhao.
Fraser Island (K'gari) and initiation of the Great Barrier Reef linked by Middle Pleistocene sea-level change
. Nature Geoscience, 2022; DOI:
10.1038/s41561-022-01062-6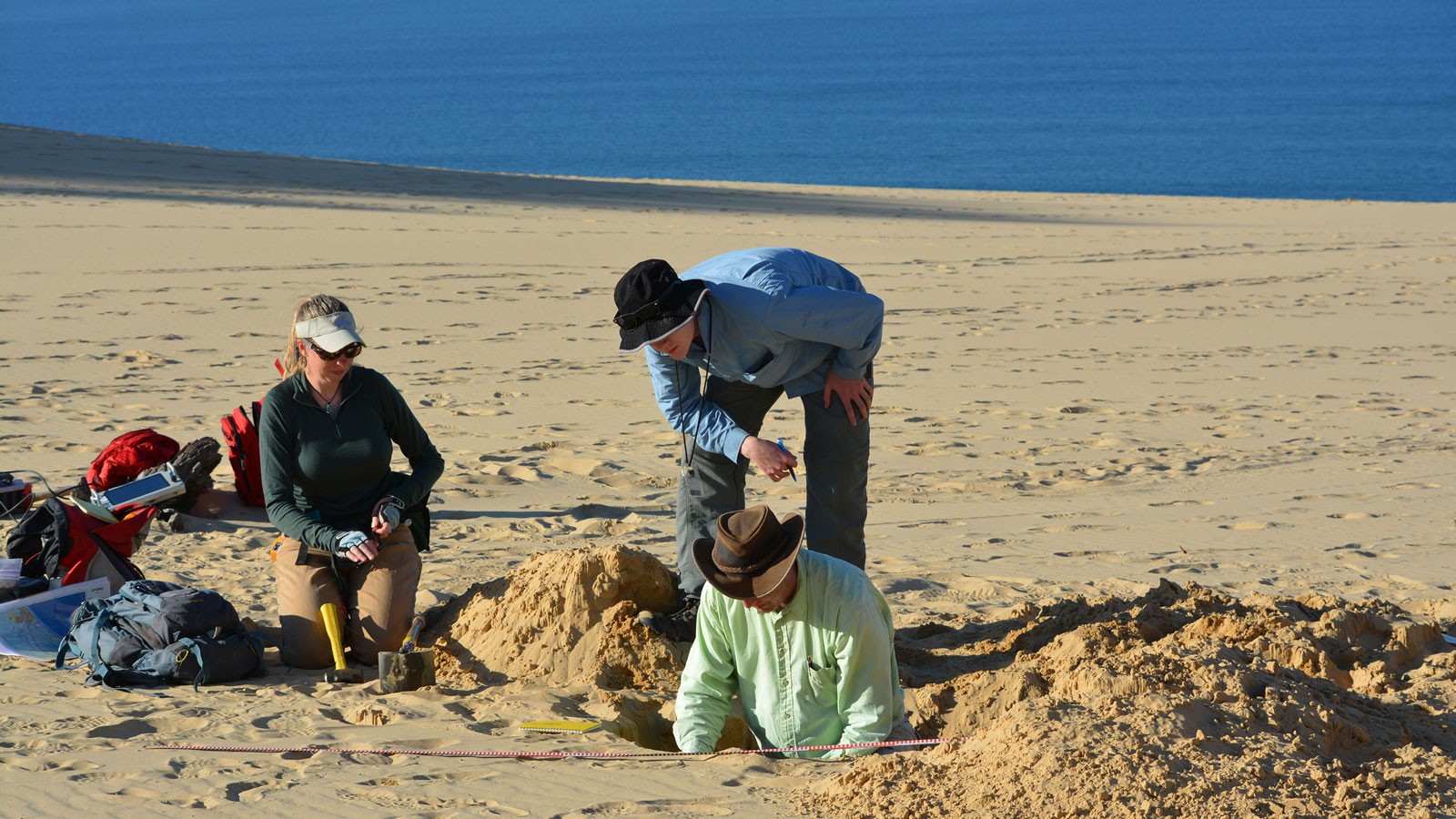 From left, USU geoscientist Tammy Rittenour and colleagues collect sediment samples from eastern Australia's K'gari, formerly known as Fraser Island. Their work sheds new light on the formation of the massive sand island, as well as the Great Barrier Reef. Photo: USU

Prehistoric Predator? Artificial Intelligence Says No
Artificial intelligence has revealed that prehistoric footprints thought to be made by a vicious dinosaur predator were in fact from a timid herbivore.
In an international collaboration, University of Queensland palaeontologist Dr Anthony Romilio used AI pattern recognition to re-analyse footprints from the Dinosaur Stampede National Monument, south-west of Winton in Central Queensland.
"Large dinosaur footprints were first discovered back in the 1970s at a track site called the Dinosaur Stampede National Monument, and for many years they were believed to be left by a predatory dinosaur, like Australovenator, with legs nearly two metres long," said Dr Romilio.
"The mysterious tracks were thought to be left during the mid-Cretaceous Period, around 93 million years ago.
"But working out what dino species made the footprints exactly -- especially from tens of millions of years ago -- can be a pretty difficult and confusing business.
"Particularly since these big tracks are surrounded by thousands of tiny dinosaur footprints, leading many to think that this predatory beast could have sparked a stampede of smaller dinosaurs.
"So, to crack the case, we decided to employ an AI program called Deep Convolutional Neural Networks."
It was trained with 1,500 dinosaur footprints, all of which were theropod or ornithopod in origin -- the groups of dinosaurs relevant to the Dinosaur Stampede National Monument prints.
The results were clear: the tracks had been made by a herbivorous ornithopod dinosaur.
Dr Jens Lallensack, lead author from Liverpool John Moores University in the UK, said that the computer assistance was vital, as the team was originally at an impasse.
"We were pretty stuck, so thank god for modern technology," Dr Lallensack said.
"In our research team of three, one person was pro-meat-eater, one person was undecided, and one was pro-plant-eater.
"So -- to really check our science -- we decided to go to five experts for clarification, plus use AI.
"The AI was the clear winner, outperforming all of the experts by a wide margin, with a margin of error of around 11 per cent.
"When we used the AI on the large tracks from the
Dinosaur Stampede National Monument
, all but one of these tracks was confidently classified as left by an ornithopod dinosaur -- our prehistoric 'predator'."
The team hopes to continue to add to the fossil dinosaur tracks database and conduct further AI investigations.
The research is published in the Journal of the Royal Society Interface and includes collaborations between Australian, German, and UK researchers.
A replica of the dinosaur trackway is on display at the Queensland Museum, Brisbane, and the track site can be visited near south-west of Winton, Queensland.
Jens N. Lallensack, Anthony Romilio, Peter L. Falkingham.
A machine learning approach for the discrimination of theropod and ornithischian dinosaur tracks.
Journal of The Royal Society Interface, 2022; 19 (196) DOI:
10.1098/rsif.2022.0588
The Dinosaur Stampede at Lark Quarry Conservation Park, is the site where over 3,300 dinosaur tracks mark the site of the only known dinosaur stampede on the planet.
In a remarkable piece of scientific detective work, scientists from the Queensland Museum have pieced together a dramatic tale of hunter and hunted from the footprints left behind.
About 95 million years ago, a herd of over three hundred dinosaurs, some as small as chickens (called Coelursaurs) and some about the size of an emus (called Ornithopods) were drinking on the muddy shore of a lake. The herd panicked and started a mad dash to escape when a large meat-eating dinosaur appeared close by.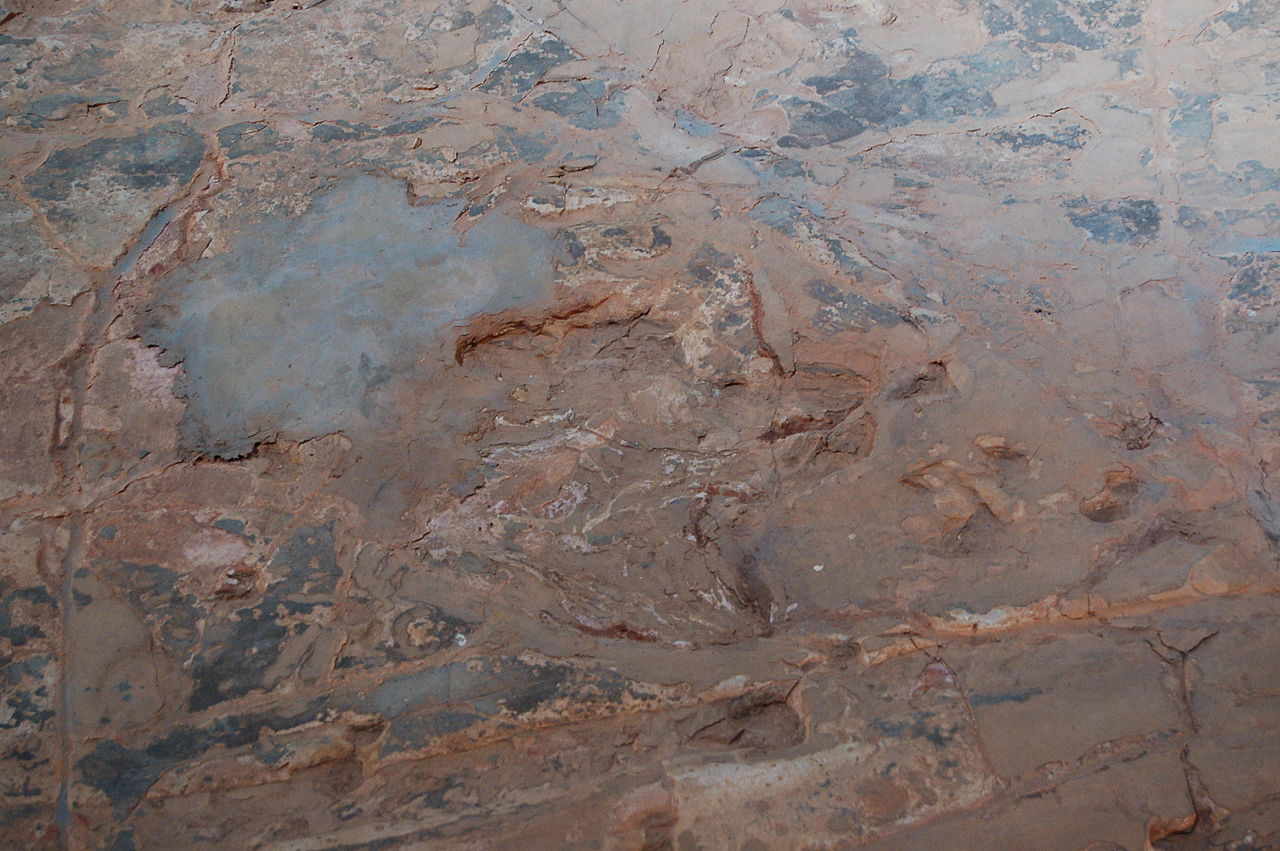 Close-up digital image of Dinosaur Tracks at Lark Quarry.
Disclaimer: These articles are not intended to provide medical advice, diagnosis or treatment. Views expressed here do not necessarily reflect those of Pittwater Online News or its staff.