Inbox and environment news: Issue 558
October 16 - 22, 2022: Issue 558
Profile (issue 557):
Youth Up Front
Website: youthupfront.org.au
Instagram: www.instagram.com/youthupfront
Facebook: www.facebook.com/BusinessEduNetwork
YouTube: www.youtube.com/user/NorthernBeachesBEN
Email: info@youthupfront.org.au
Telephone: 02 9986 3339
The Northern Beaches Business Education Network Inc., now renamed in 2022 as Youth Up Front, celebrates its 30th year in 2023. Residents may be familiar with the annual Careers Expo, the Work Placement Program for both Employers and Youth or even participate in the annual Golf Day fundraiser, but did you know Youth Up Front have also been running a Canine Assisted Learning Program?
The name change recognises what is at the core of this organisation - putting young peoples needs first.
Youth Up Front is a registered Australian charity that helps young people transition from adolescence to adulthood. Youth Up Front have inspired more than 100,000 students over more than two decades.
Youth Up Front improves the lives of children by providing outreach and vocational programmes, mentoring, case worker and personal development support.
This Issue we share an overview for our Youth and their Parents - and for all who want to invest in this charity so it is sustained into the future, whether by donation, exhibiting at the Careers Expo, or getting involved in the Work Placement Program or any of the activities on offer.
The Anne Kantor Young Women Environmentalist Fellowship 2023:
Applications Now Open
The Anne Kantor Young Women Environmentalists Fellowship program provides on-the-job training to equip and encourage new voices in Australia's future policy and democratic debates.
The Australia Institute runs two Fellowship programs: The Anne Kantor Fellowship (General) and the Anne Kantor Young Women Environmentalists Fellowship.
In 2023 there will be three Young Women Environmentalist Fellowships available. Two Fellowships will be with the Australia institute undertaking research and advocacy work in our Canberra office.
The third Fellowship is delivered in partnership with the Tasmanian Independent Science Council and located in our Tasmanian Office. This role provides secretariat duties for the Science Council in addition to the work of the Tasmanian branch of the Australia Institute. Our work in Tasmania focuses on democracy and accountability, marine governance, climate change, environmental and economic policy.
The objectives of the program are to:
provide Fellows with a unique opportunity to gain on the job training in research, advocacy, and media and communications with research, environmental, climate change or other advocacy-based organisations
create an experienced pool of Fellows with the skills and experience to effectively advocate for change
establish a pipeline of new voices to contribute to Australia's future policy and democratic debates
build relationships and drive future collaboration with partner organisations and other stakeholders
Applications for the 2023 Anne Kantor Young Women Environmentalist Fellowship program close on 31st October.
For further information on how to apply please visit annekantorfellowship.org.au.
Anne Kantor Fellows receive:
Support to develop skills and gain experience in public policy and advocacy at both the Australia Institute and/or at a partner organisation.
Mentoring from Australia Institute staff who will offer their knowledge and experience and provide advice to guide and support the Fellow during the program.
On the job training in areas such as economics, advocacy, media and communications, and NFP governance.
Networking opportunities and membership of the Australia Institute Alumni.
Applications for the 2023 Anne Kantor Young Women Environmentalist Fellowship are open until 31st October 2022. For further information on how to apply please visit annekantorfellowship.org.au.
The Anne Kantor Fellowship program will ensure Anne's legacy endures long into the future through the terrific young leaders supported by this program. ~ the Australia Institute team
School Leavers Support
Explore the School Leavers Information Kit (SLIK) as your guide to education, training and work options in 2022;
As you prepare to finish your final year of school, the next phase of your journey will be full of interesting and exciting opportunities. You will discover new passions and develop new skills and knowledge.
We know that this transition can sometimes be challenging and the COVID-19 pandemic has presented some uncertainty. With changes to the education and workforce landscape, you might be wondering if your planned decisions are still a good option or what new alternatives are available and how to pursue them.
There are lots of options for education, training and work in 2022 to help you further your career. This information kit has been designed to help you understand what those options might be and assist you to choose the right one for you. Including:
Download or explore the SLIK here to help guide Your Career.
School Leavers Information Kit (PDF 5.2MB).
School Leavers Information Kit (DOCX 0.9MB).
The SLIK has also been translated into additional languages.
Download our information booklets if you are rural, regional and remote, Aboriginal or Torres Strait Islander, or living with disability.
Support for Regional, Rural and Remote School Leavers (PDF 2MB).
Support for Regional, Rural and Remote School Leavers (DOCX 0.9MB).
Support for Aboriginal and/or Torres Strait Islander School Leavers (PDF 2MB).
Support for Aboriginal and/or Torres Strait Islander School Leavers (DOCX 1.1MB).
Support for School Leavers with Disability (PDF 2MB).
Support for School Leavers with Disability (DOCX 0.9MB).
Download the Parents and Guardian's Guide for School Leavers, which summarises the resources and information available to help you explore all the education, training, and work options available to your young person.
School Leavers Information Service
Are you aged between 15 and 24 and looking for career guidance?
Call 1800 CAREER (1800 227 337).
SMS 'SLIS2022' to 0429 009 435.
Our information officers will help you:
navigate the School Leavers Information Kit (SLIK),
access and use the Your Career website and tools; and
find relevant support services if needed.
You may also be referred to a qualified career practitioner for a 45-minute personalised career guidance session. Our career practitioners will provide information, advice and assistance relating to a wide range of matters, such as career planning and management, training and studying, and looking for work.
You can call to book your session on 1800 CAREER (1800 227 337) Monday to Friday, from 9am to 7pm (AEST). Sessions with a career practitioner can be booked from Monday to Friday, 9am to 7pm.
This is a free service, however minimal call/text costs may apply.
Call 1800 CAREER (1800 227 337) or SMS SLIS2022 to 0429 009 435 to start a conversation about how the tools in Your Career can help you or to book a free session with a career practitioner.
Local Students To Shine As Featured Artists In 2022 Schools Spectacular: 'Creating The Magic'!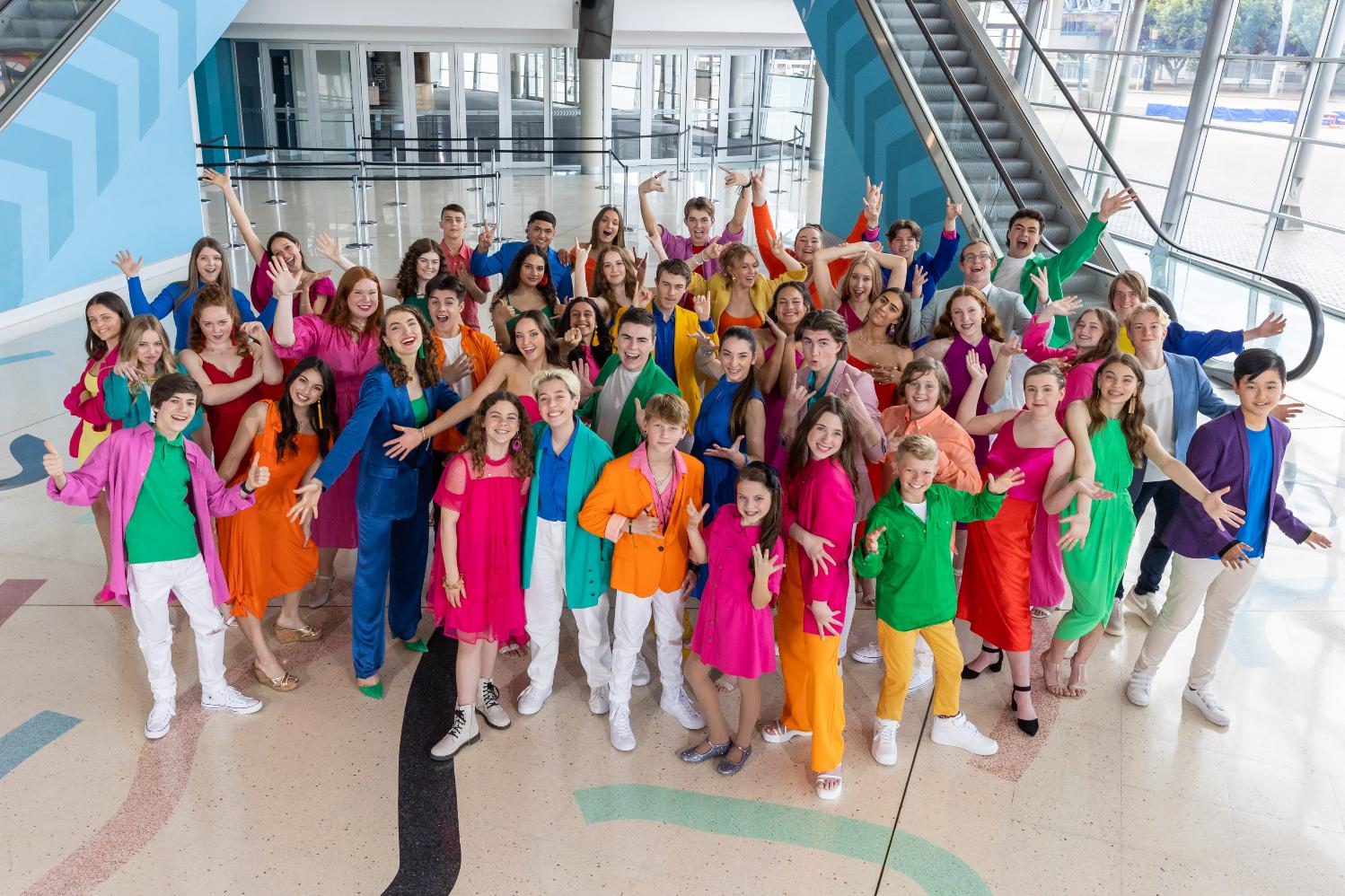 2022 Schools Spectacular Featured Artists
The 46 Featured Artists for this year's Schools Spectacular, 'Creating the Magic', have been announced and have started rehearsals for the Spec shows at Qudos Bank Arena in November. This includes local students Maddie Stead from Narrabeen and Billy Lowe from Beacon Hill. Billy is also the youngest of the Featured Artists in this year's Schools Spectacular.
Schools Spectacular Creative Director Sonja Sjolander said the young stars from NSW public schools created a buzz when they recently came together as a group for the first time.
"The excitement and anticipation among our young artists was absolutely palpable. They were bursting with energy and pride, and there is already much camaraderie between them," Ms Sjolander said.
Schools Spectacular is the largest variety event in the world and showcases the creative talents of NSW public school students. It is produced by the Arts Unit at the NSW Department of Education.
The Featured Artists range in age from 10 to 18 and will perform as singers, dancers and musicians alongside a 2,100-voice choir, 2,200 dancers, a 100-piece symphony orchestra, stage bands, a signing choir, specialist ensembles and vocational education and training crews. More than 600 teachers and school staff are involved in the coordination and rehearsals of the School Spec extravaganza.
The young stars come from all parts of NSW, including Abbotsford, Annandale, Beacon Hill, Beecroft, Bourkelands, Braefield, Bungendore, Burraneer Bay, Candelo, Carlingford, Earlwood, East Corrimal, East Maitland, Edensor Park, Grafton, Hamilton South, Harrington Park, Heathcote, Hornsby, Kurraba Point, Lane Cove, Lindfield, Long Jetty, Maraylya, Narrabeen, Penrith, Sapphire Beach, Shell Cove, Springwood, Strathfield South, Tallawong, Turramurra, Winmalee and Yass.
"These incredibly talented young people can't wait to perform in front of a large arena audience," Ms Sjolander said.
"For many of them, it's their first time stepping into the spotlight after the challenges of the past few years. A lot of work will be done to support them with their wellbeing and their confidence as well as their artistry. It will be a big moment for them".
All up 19 local schools are participating in the 2022 Schools Spectacular. Now in its 39th year, the Schools Spectacular is Australia's longest-running annual arena variety show. It's exciting this showcase will be back at the Qudos Bank Arena after two years of cancellations due to Covid can return to being live on stage.
With a 2022 theme of 'Creating the Magic', this remarkable annual event celebrates youth, education, culture, diversity and young Australian talent and will feature over 5,000 students from across New South Wales public schools.
This week a few insights from, about and by Maddie and Billy, Featured Artists!
MADDIE STEAD
D.O.B: 12/18/2004
School: Northern Beaches Secondary College Freshwater Senior Campus
Year: 12
For the last four years I have had the incredible opportunity to share my music with the community while getting paid by busking and performing gigs at various locations around the Northern Beaches and wider Sydney. Busking has had a profound impact on my development of personal musical style and performance, whilst building up a massive amount of resilience within my musical journey. Busking has shown me that people love music and has allowed me to connect with so many different and wonderful people.
I've been singing and playing piano at church since I was 7, which has immensely shaped my love for music. It's where I first saw the joy and connection music can bring. My mum is one of the main reasons for this. Whenever I watched her sing, I could see how deeply she felt about the words she was saying, and how she could share that feeling with others through her voice.
My parents have always been an incredible support system for me, driving me (sometimes for hours) to gigs, auditions, camps, performances and any opportunities that would allow me to develop and share my voice. When I was younger I used to do dance lessons, but I was always a singer. I still remember being sent to the back of the room in the middle of my jazz dance to 'Firework' by Katy Perry, because I was singing when I was supposed to be dancing. So naturally my parents decided to put me into musical theatre classes so that I could sing and dance without getting into trouble. I still love dance and the art of performance in any form, being part of ballet, jazz, hip-hop, character, and musical theatre dance classes has taught me the importance of putting on a show when performing, it showed me that you don't have to sing in order to connect to an audience.
Being part of school bands from year 3-10 playing the alto saxophone has also been an incredible experience. I would hear songs naturally progress, improving week by week, eventually into a masterpiece that would give me goosebumps as I played. This showed me the power and importance of dedication, passion and practice in crafting an emotionally moving performance.
Previous involvement in Schools Spectacular?
Yes In 2017, 2018 and 2019 I was part of the mass choir.
How do you feel about being involved in Schools Spectacular 2022?
I am so excited and honoured to have the opportunity to be a Featured Artist in School Spectacular 2022, Not only to perform in front of so many people, but also for the incredible learning experiences and friendships that this opportunity will bring.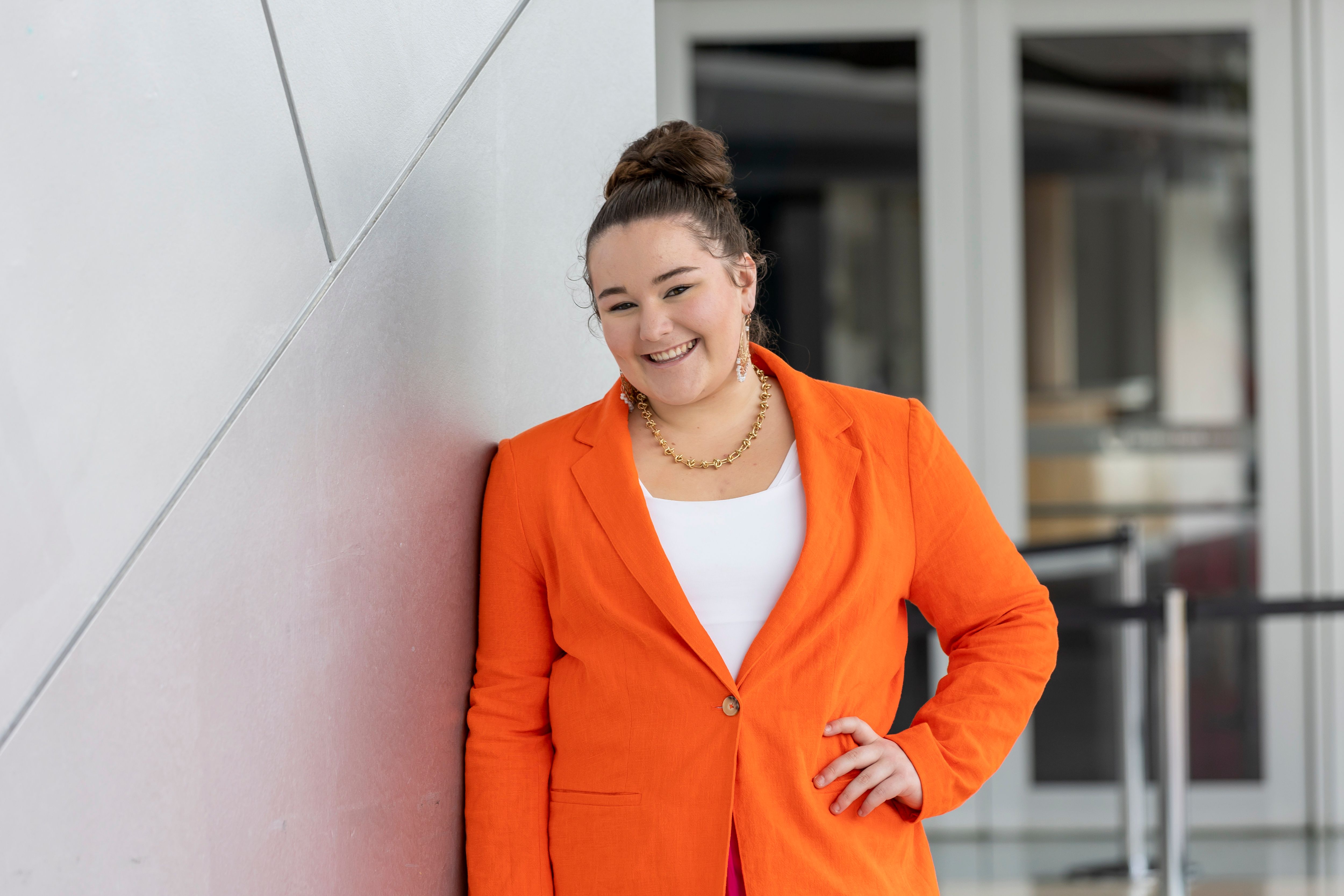 Maddie Stead
BILLY LOWE
D.O.B: 3/24/2011
School: Beacon Hill Public School
Year: 6
Performer biography:
Billy Lowe is a Year 6 student and Captain at Beacon Hill Public School on the Northern Beaches of Sydney. He has a big love of singing and music in general, playing piano since the age of 6, along with trombone in his school band. Billy has had considerable success with sport like touch, rugby, soccer and athletics but has recently had an opportunity to develop his passion for singing, which has led him to the stage of School Spectacular. He can't wait to join with the hundreds of performers in November to share some magic and celebrate the return of performing arts and audiences into schools.
Any shows you have performed in recently?
Arts Alive Choral Festival - Sydney Town Hall - Burrendong Concert - Tues 9th - solo - Giants in the Sky, Sydney North Dance Festival - Glen St Theatre - Beacon Hill Public, Beacon Hill Public School Arts Showcase - 6 band performances + Snr Dance.
School involvement including extra-curricular activities, sports, debating, leadership, academic etc.:
School Captain, Sydney North PSSA Touch team (captain), Syd Nth cross-country championships, Syd Nth rugby championships, Syd Nth athletics championships, Premiers Debating Challenge team, school bball team, school Eagle Tag in weekly PSSA comp (summer), school Rugby League team in weekly PSSA comp (winter).
Any hobbies, activities of interest or special skills?
Billy keeps himself pretty occupied with music/singing and sport (outside of school; Touch, Soccer, Rugby Union).
What does our theme 'Creating The Magic' mean to you?
We did talk about this and determined that the songs were selected to remind the performers and the audience that there are many kinds of magic and wonder and hope that we can seek, in our minds, in our interactions with others, in looking at the natural world around us, that can help lift us into hoping for more and becoming more. Covid hampered our ability to share our creativity with each other in the usual ways, so we are celebrating being reunited, but Covid also sparked new ways of sharing and forced us to find magic and wonder in the more mundane, so we are celebrating the resilience that a strong imagination provides too.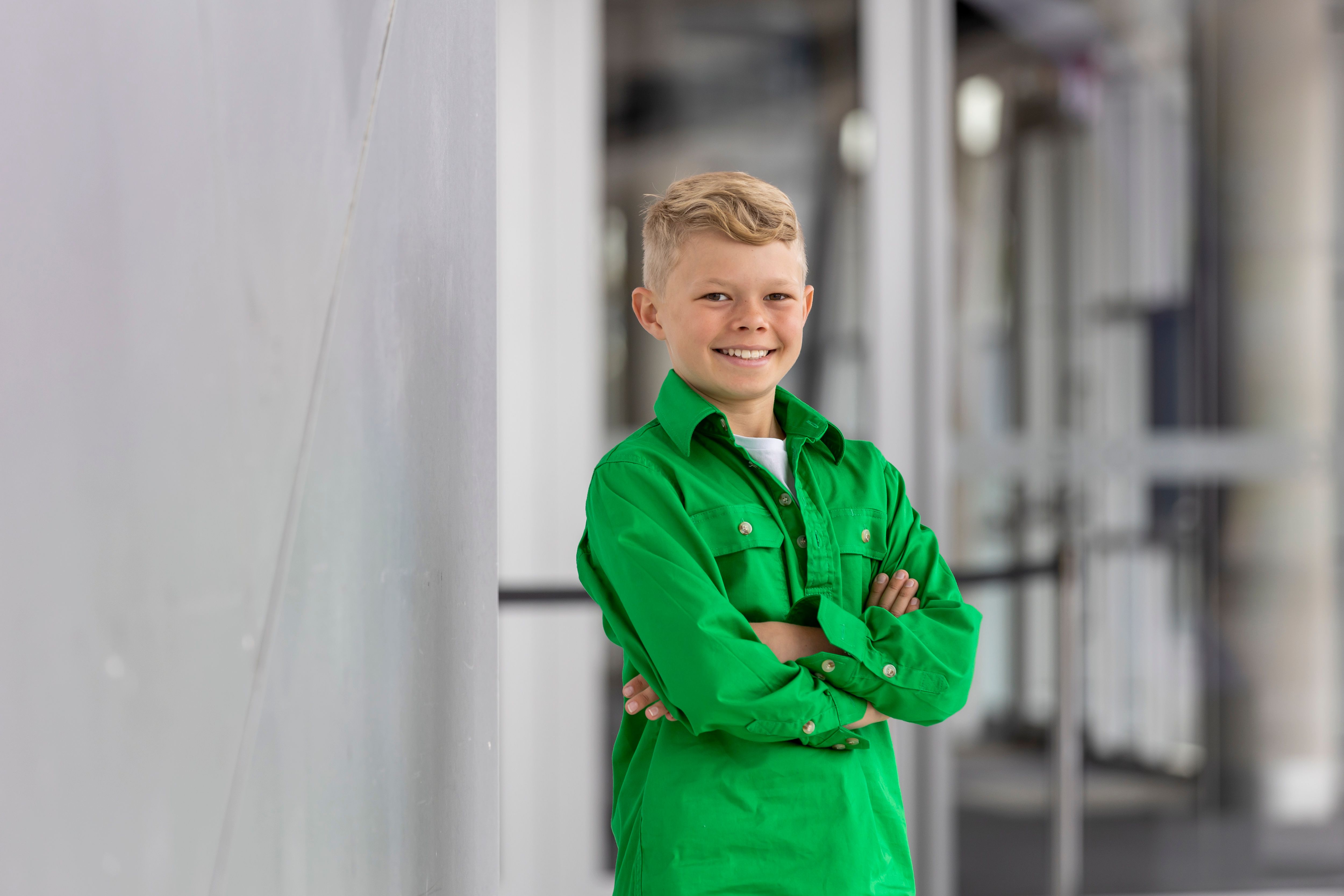 Schools Spectacular 2022 is proudly supported by Telstra, the NSW Teachers Federation, School Bytes, RØDE, Smartsalary, Teachers Health, ASM Global and the Seven Network.
2022 Schools Spectacular 'Creating the Magic'

Where: Qudos Bank Arena, Sydney Olympic Park
When: Friday 25 November 11:00am & 7:00pm & Saturday 26 November 1:00pm & 7:00pm

Prices: Platinum: Adults $60 | Concession $50
Family Pass (2 adults + 2 children) $186
Gold: Adults $46 | Concession $36
Family Pass (2 adults + 2 children) $131

Bookings: www.ticketek.com.au or phone 13 28 49

Website: www.schoolsspectacular.com.au
Facebook: www.facebook.com/schoolsspectacular
Instagram: @SchoolsSpec Twitter: @SchoolsSpec
2022 Schools Spectacular - Local Schools Participating
Students and staff participating in the 2022 Schools Spectacular are representing the following local NSW public schools:
Avalon Public School
Beacon Hill Public School

Belrose Arts Alive
Collaroy Plateau Public School
Curl Curl North Public School
Davidson High School
Elanora Heights Public School
Forestville Public School
Harbord Public School
Killarney Heights High School
Mona Vale Public School
Narrabeen Lakes Public School
Narrabeen Sports High School
Neutral Bay Public School
Northern Beaches Secondary College Cromer Campus
Northern Beaches Secondary College Freshwater Senior Campus
Northern Beaches Secondary College Mackellar Girls Campus
Northern Beaches Secondary College Manly Campus
Pittwater High School
Did you know that the Schools Spectacular is Australia's longest-running annual arena variety show?
The Schools Spectacular:
has taken place annually at Qantas Credit Union Arena (formerly known as the Sydney Entertainment Centre) since 1984, and in 2016 was held at the Qudos Bank Arena.
in 2016, set a new GUINNESS WORLD RECORDS TM for the Largest Amateur Variety Act with over 5,300 students performing in the show!
is an established and well-recognised event on the Sydney live entertainment calendar
showcases a cast of 2,300 dancers, a combined choir of 2,500, an 80-piece full symphony orchestra, and a 25-piece stage band
delivers outstanding, cutting-edge artistry in dance and musical performance
features state-of-the-art sound, lighting and staging
is televised nationally in prime-time on Channel 7.
The Schools Spectacular is a remarkable New South Wales success story proudly presented by the NSW Department of Education.
Now in its 39th year the 2022 edition will be back at the Qudos Bank Arena after two years live on stage. Good luck to all those taking part!
Dates: show week rehearsals – Monday 21 November to Thursday 24 November 2022, including final combined dance rehearsal, orchestra and stage band sound checks, mass choir rehearsal and dress rehearsal.
Performances: Friday, 25 November, and Saturday, 26 November 2022, including the schools' preview matinee, Friday evening, Saturday matinee and Saturday evening performances.
2018 Schools Specauclar. Photo: Anna Warr
National Bird Week + Aussie Bird Count 2022
National Bird Week 2022 will take place between Monday 17 October and Sunday 23 October
. The celebration of National Bird Week has its origins back in the early 1900s when 28 October was first designated by BirdLife Australia's predecessor, the Royal Australasian Ornithologists Union, as the first 'Bird Day'. BirdLife Australia organises and promotes Bird Week with the goal of inspiring Australians to take action and get involved in bird conservation efforts.
BirdLife Australia brings you the Aussie Bird Count, one of Australia's biggest citizen science events! Celebrate National Bird Week by taking part in the Aussie Bird Count — you will be joining thousands of people from across the country who will be heading out into their backyards, local parks or favourite outdoor spaces to take part.
To get involved all you need is 20 minutes, your favourite outdoor space (this can be your yard, local park, beach, or anywhere you can see birds), and some keen eyesight. And it doesn't matter if you're a novice or an expert — we will be there to help you out. Simply record the birds you know and look up those you don't on our 'Aussie Bird Count' app or our website. You'll instantly see live statistics and information on how many people are taking part near you and the number of birds and species counted in your neighbourhood and the whole of Australia. Not only will you get to know your feathered neighbours, but you'll be contributing to a vital pool of information from across the nation that will help us see how Australian birds are faring.
So get your friends and family together during National Bird Week, head into the great outdoors and start counting.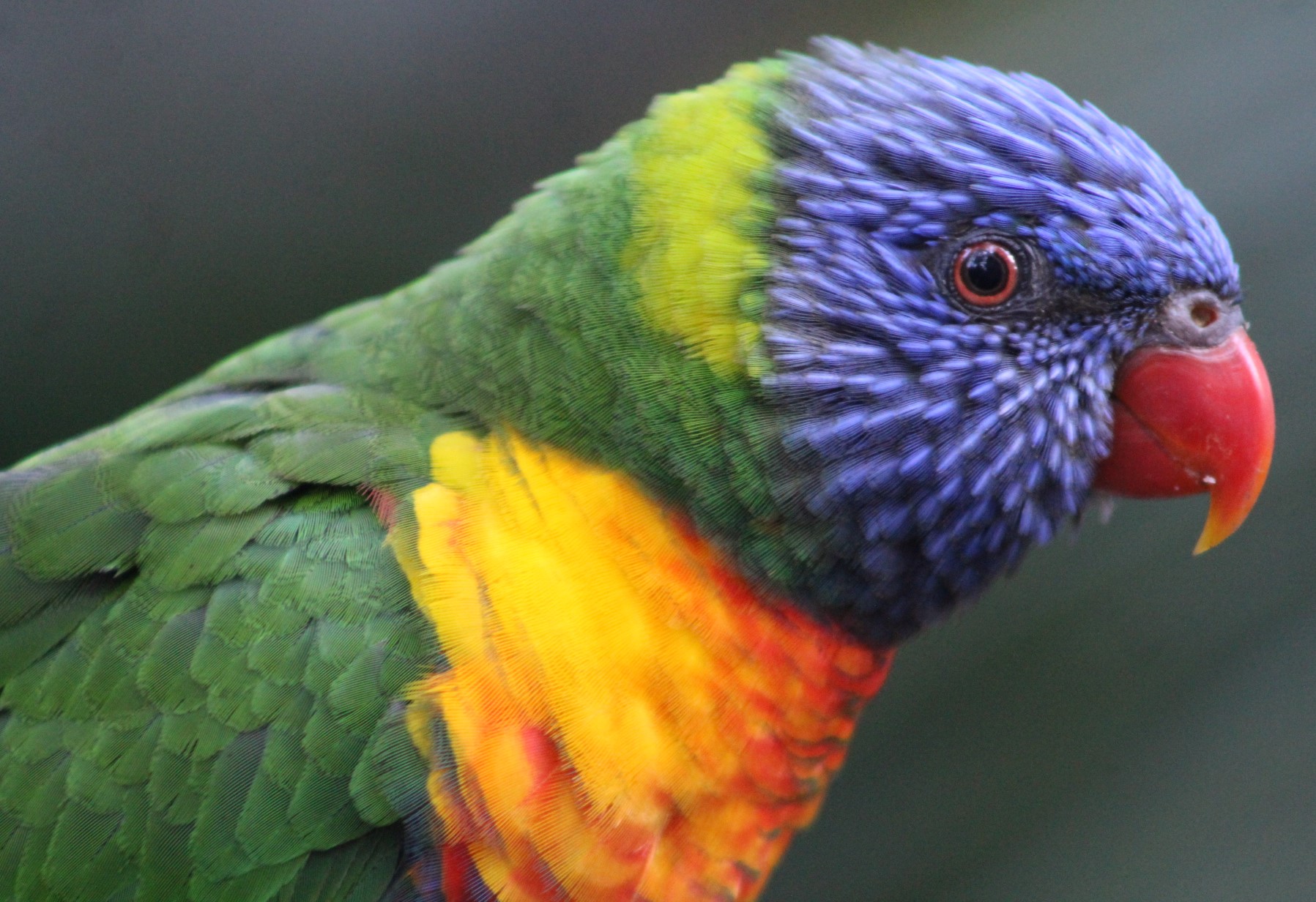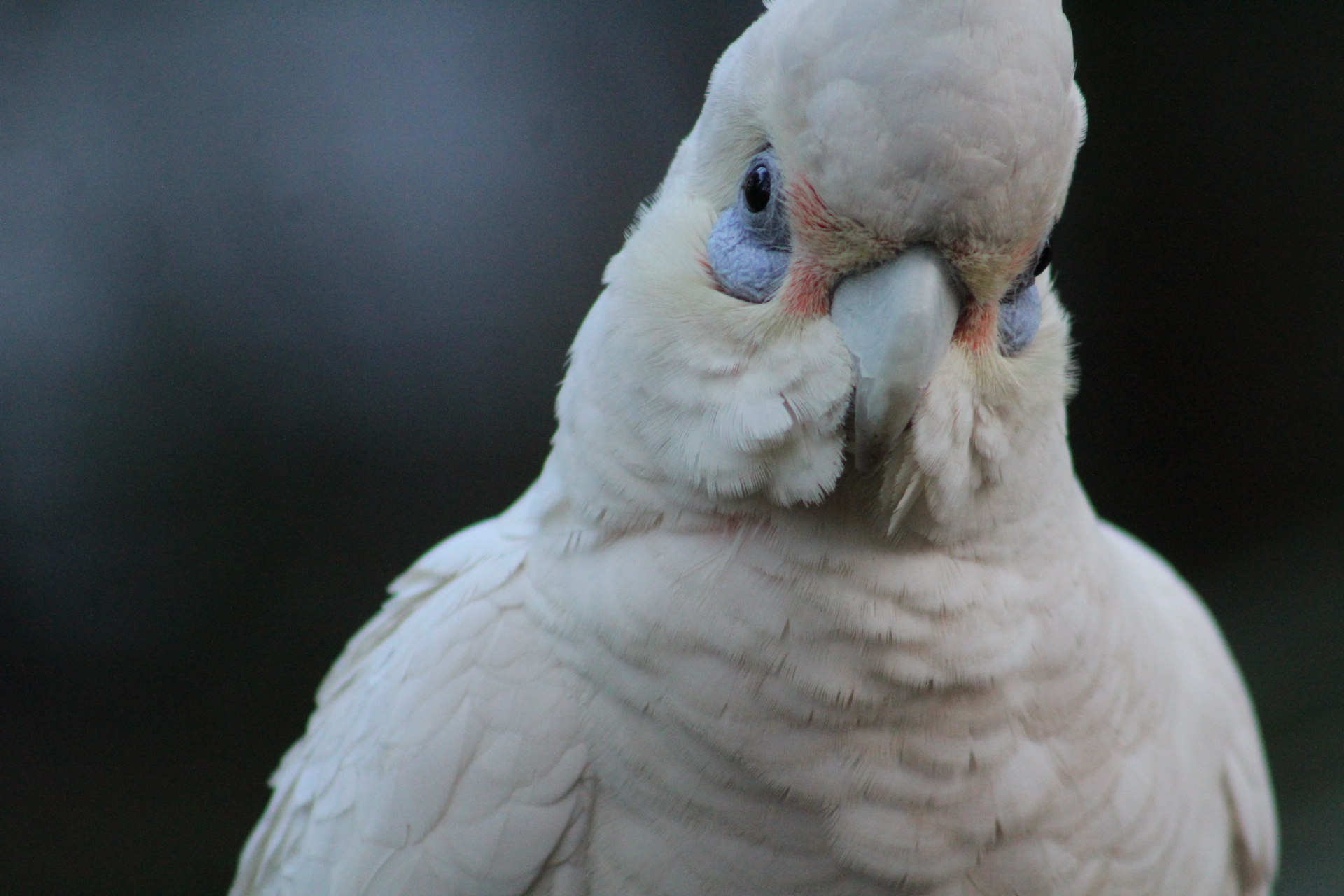 Photos: Rainbow Lorikeet and Little Corella in Pittwater on September 29, 2022. Photos taken by A J Guesdon.
Stay Healthy - Stay Active: HSC 2022
Stay active, keep connected and look after yourself during the HSC this year!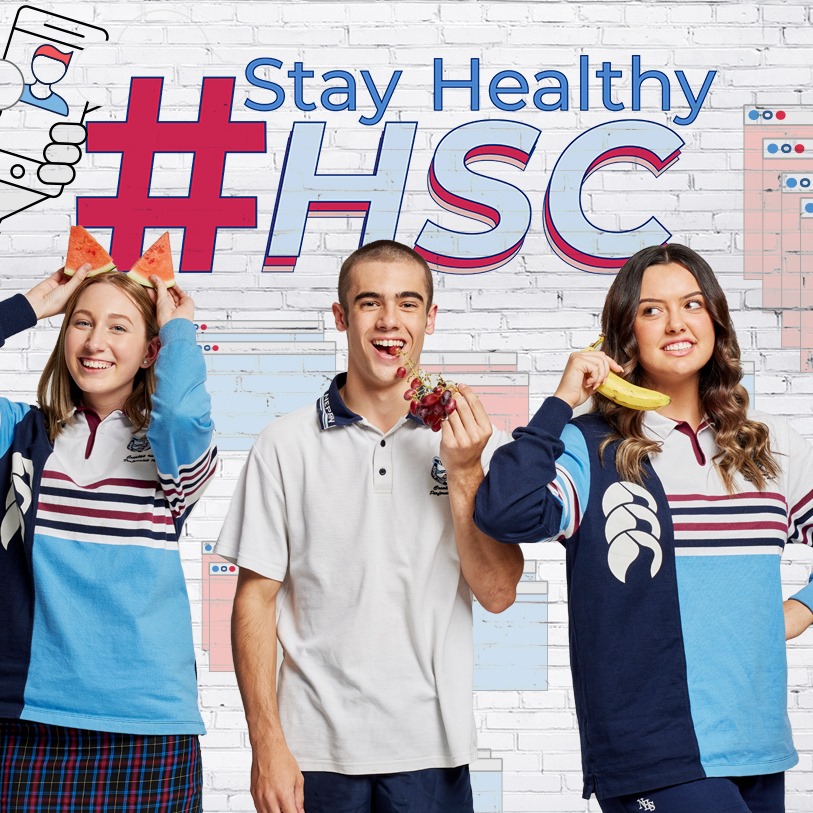 2023 Year 12 School Scholarship Program Now Open: DYRSL
Dee Why RSL is pleased to announce the 2023 School Scholarship Program, open to local students going into year 12 for the 2023 year of study.
A total of ten students will receive $2000 each, to assist them in achieving their utmost potential while completing the Higher School Certificate.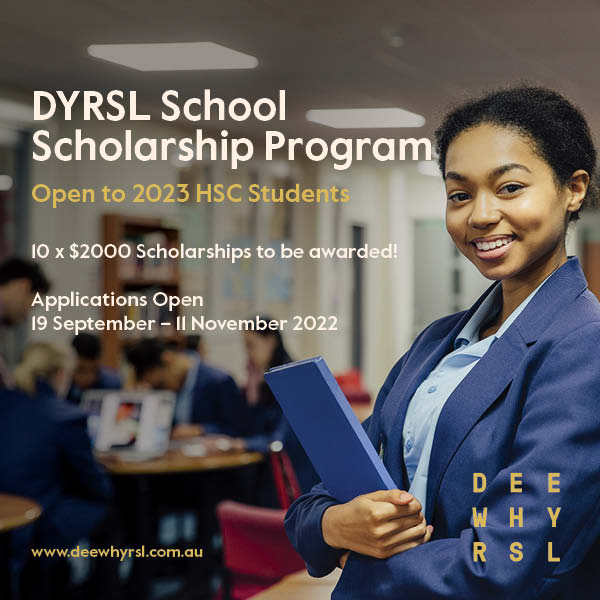 Securing A Brighter Future For Disadvantaged Youth
Eligible students from Years 10 to 12 or TAFE equivalent can now apply for a $1000 scholarship to help meet the cost of studying.
The future goals of some of the state's most vulnerable young people are a step closer to being achieved thanks to the NSW Government's Youth Development Scholarships program.
Minister for Families and Communities and Minister for Disability Services Natasha Maclaren-Jones is calling for eligible students from Years 10-12 or TAFE equivalent to apply for the $1000 scholarships.
"The scholarships aim to remove some of the financial burdens that students face so they can focus on achieving greater results and finish their studies," Mrs Maclaren-Jones said.
"From textbooks to internet access, the scholarships will ensure our young people are well-equipped to reach their full potential."
Minister for Education and Early Learning Sarah Mitchell said that a quality education is a strong foundation for a brighter future.
"The NSW Government wants to support our students in achieving their goals and these scholarships provide them with the necessary financial support to get them started," Ms Mitchell said.
"I know these scholarships will be greatly appreciated by our young people and will help them have a bright start in life."
To be eligible for the scholarship, students must be living in social housing or on the housing register, receiving private rental subsidy from DCJ, or living in supported accommodation or out-of-home care.
More than 4700 students have been supported by the scholarship program since it was established in 2017.
For new and returning high school students
, applications will close
Wednesday 30 November 2022 at 5:00pm.
For returning tertiary students
, applications will
close Friday 3 March 2023 at 5:00pm
.
Be The Boss: I Want To Be An Architect
Architects design building projects for clients. They often act as a trusted advisor to the client throughout the whole project's lifecycle, and manage the cohesion of the build. Architects work with Builders, Engineers, Surveyors, Lawyers, other professionals and tradespeople to achieve their vision.
Envisioning and drawing designs, both by hand and computer-aided design (CAD) applications.
Designing around constraining factors such as project budget, local council legislation, town planning and environmental impacts.
Conferring with builders about project feasibility.
Applying for planning permission.
Writing and presenting reports, applications, proposals and contracts.
Adapting plans based on local government feedback and resolving any issues that may arise throughout the build.
Advising clients throughout the build, and managing the project in conjunction with other professionals.
Travelling to the building site and different offices for meetings regularly.
To become an Architect in Australia, you need to complete an accredited masters degree, gain industry experience and pass a three-part assessment. Upon meeting these requirements, you can register with your local Architect Registration Board.
Complete a bachelor degree in architecture. This usually takes three years of full-time study.
Complete an accredited Master of Architecture. At some universities, students with prior experience in the field may be able to progress straight to a masters degree without a bachelor degree.
Complete two years of relevant work experience.
Pass a three-part competency assessment process called the Architectural Practice Examination. This includes the completion of a logbook, a written paper and an interview with current practising architects.
Register with your state or territory's Architect Registration Board.
This career is projected to grow by 17.5% over the next 5 years.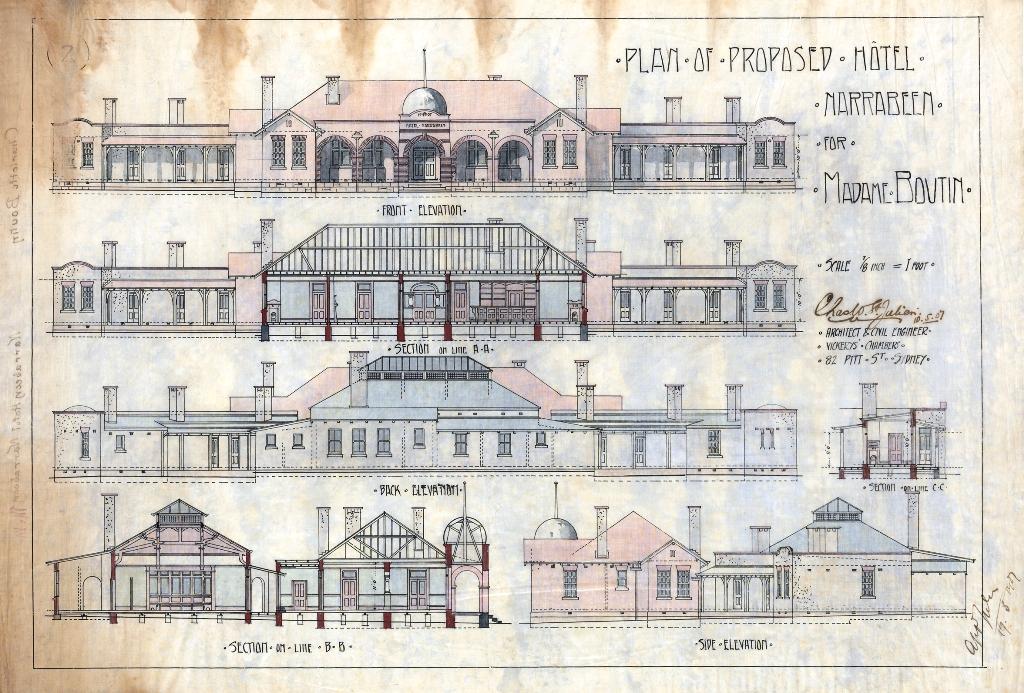 1907 plans by Charles Jakin- signed off 10.5.1907. Courtesy State Records of NSW.
Also Available:
Eastern Grey Kangaroo - An Urban Kangaroo: Spring School Holidays Wildlife Spotting
This week a few photos of an eastern grey kangaroo and joey taken during our school holidays. This pair were part of a female mob of around 20 mums and bubs that live in Western Sydney, on Cumberland Plain Woodlands and are what we at Pittwater Online News call 'Urban Kangaroos' because they live in the remaining patches of bushland in urban areas. Fortunately, where this pair live, hundreds of hectares have been permanently set aside by those who developed this housing estate to ensure they can continue to thrive.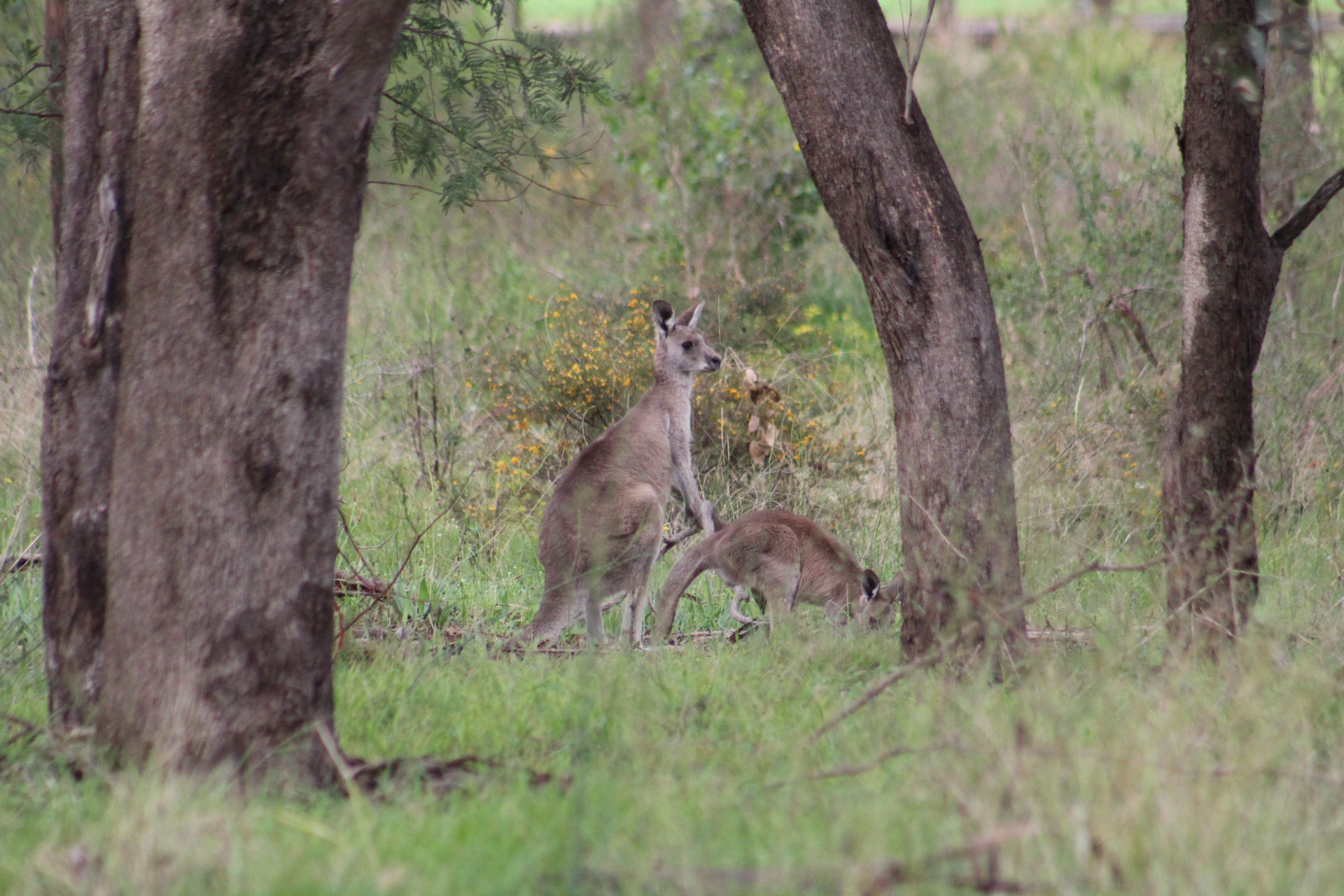 The eastern grey kangaroo (Macropus giganteus) is a marsupial found in the eastern third of Australia, with a population of several million. It is also known as the great grey kangaroo and the forester kangaroo.
The eastern grey kangaroo is the second largest and heaviest living marsupial and native land mammal in Australia. An adult male will commonly weigh around 50 to 66 kg (110 to 146 lb) whereas females commonly weigh around 17 to 40 kg (37 to 88 lb). They have a powerful tail that is over 1 m long in adult males. Large males of this species are more heavily built and muscled than the lankier red kangaroo and can occasionally exceed normal dimensions. One of these, shot in eastern Tasmania weighed 82 kg (181 lb), with a 2.64 m (8.7 ft) total length from nose to tail (possibly along the curves). The largest known specimen, examined by Lydekker, had a weight of 91 kg (201 lb) and measured 2.92 m (9.6 ft) along the curves. When the skin of this specimen was measured it had a "flat" length of 2.49 m (8.2 ft).
The eastern grey is easy to recognise: its soft grey coat is distinctive, and it is usually found in moister, more fertile areas than the red. Red kangaroos, though sometimes grey-blue in colour, have a totally different face than eastern grey kangaroos. Red kangaroos have distinctive markings in black and white beside their muzzles and along the sides of their face. Eastern grey kangaroos do not have these markings, and their eyes seem large and wide open.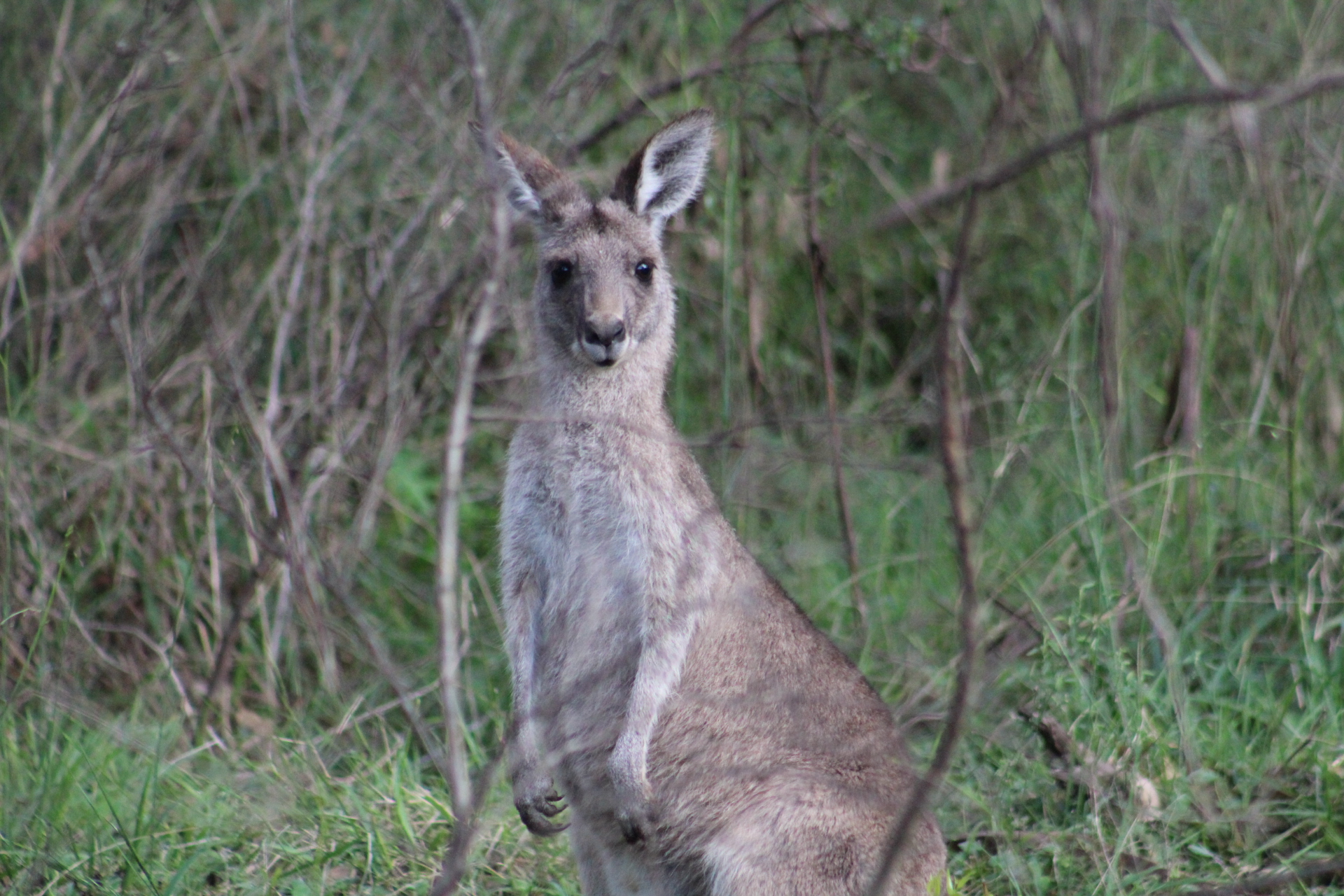 Where their ranges overlap, it is much more difficult to distinguish between eastern grey and western grey kangaroos, which are closely related. They have a very similar body and facial structure, and their muzzles are fully covered with fine hair (though that is not obvious at a distance, their noses do look noticeably different from the noses of reds and wallaroos). The eastern grey's colouration is a light-coloured grey or brownish-grey, with a lighter silver or cream, sometimes nearly white, belly. The western grey is a dark dusty brown colour, with more contrast especially around the head.
Indigenous Australian names include iyirrbir (Uw Oykangand and Uw Olkola) and kucha (Pakanh).
The highest ever recorded speed of any kangaroo was 64 kilometres per hour (40 mph) set by a large female eastern grey kangaroo. That's fast! These are the only known animals that move by bounding, or 'hopping'.
Sometimes, when out in the bush up on the north coast, you can hear a soft 'thump, thump, thump' as they bound across the grassy forest floor, even before you see them. This is a lovely sound.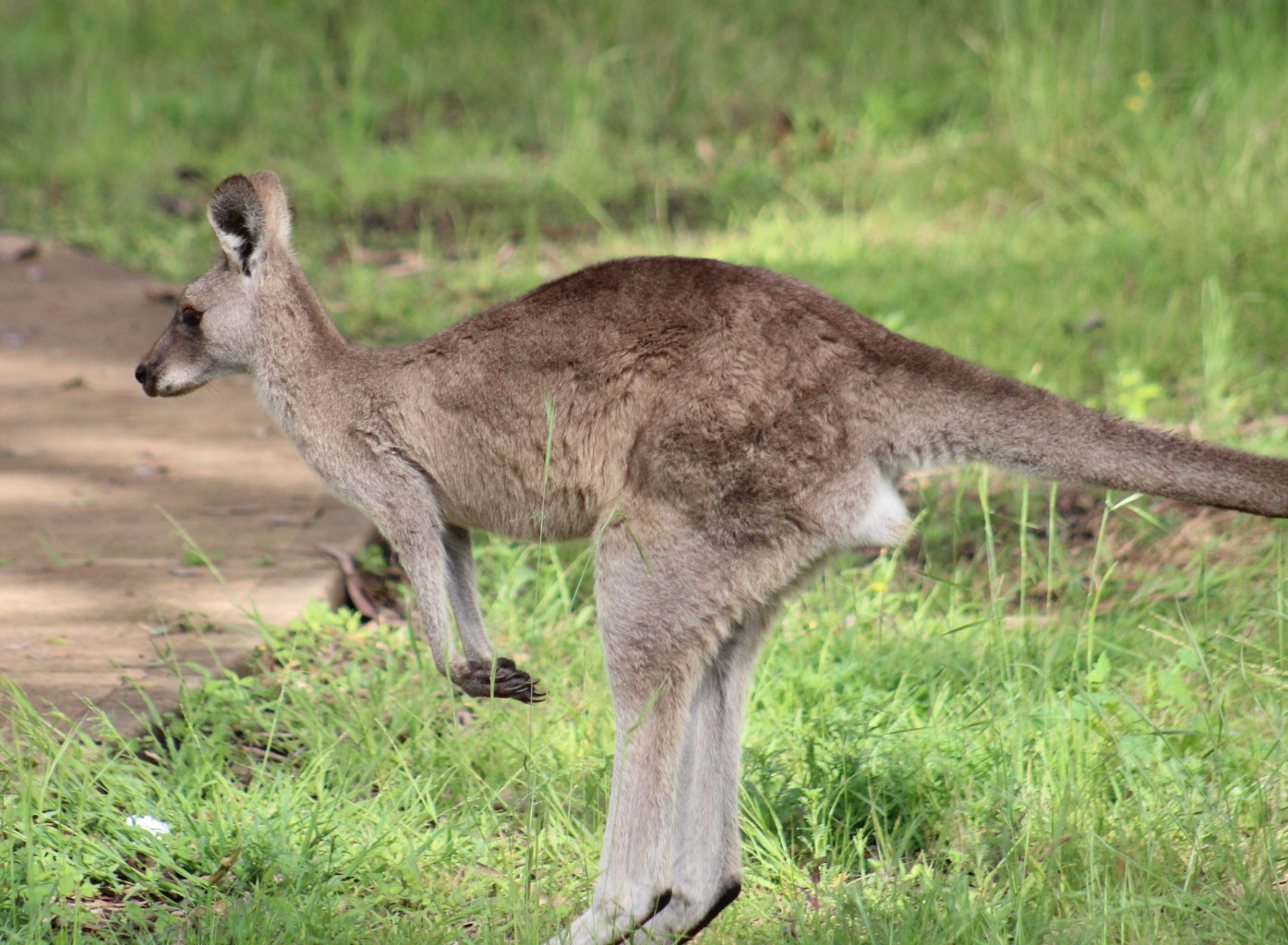 Although the red is better known, the eastern grey is the kangaroo most often encountered in Australia, due to its adaptability. It inhabits coastal areas, woodlands, sub-tropical forests, mountain forests, and inland scrubs. There are even some in our area.
Like all kangaroos, it is mainly nocturnal and is seen early in the morning, or as the light starts to fade in the evening. In the middle of the day, these kangaroos will rest in the cover of the woodlands and eat there but then come out in the open to feed on the grasslands in large numbers. The eastern grey kangaroo is predominantly a grazer, eating a wide variety of grasses, whereas some other species (e.g. the red kangaroo) include significant amounts of shrubs in their diet.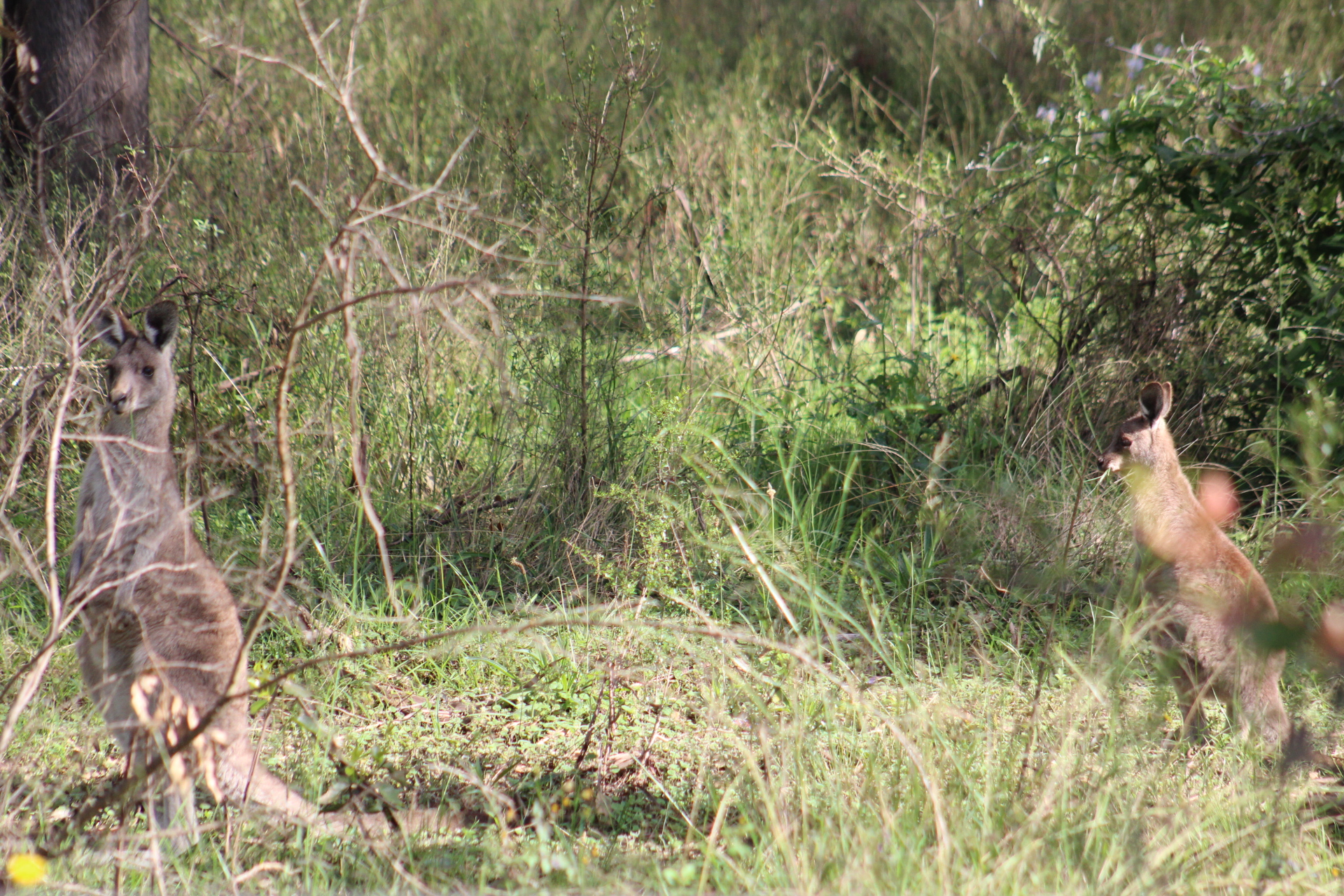 Eastern grey kangaroos are gregarious and form open-membership groups. The groups contain an average of three individuals. Smaller groups join together to graze in preferred foraging areas, and to rest in large groups around the middle of the day. They exist in a dominance hierarchy and the dominant individuals gain access to better sources of food and areas of shade. However, kangaroos are not territorial. Eastern grey kangaroos adjust their behaviour in relation to the risk of predation with reproductive females, individuals on the periphery of the group and individuals in groups far from cover being the most vigilant. Vigilance in individual kangaroos does not seem to significantly decrease when the size of the group increases. The open membership of the group allows more kangaroos to join and thus provide more buffers against predators.
Females may form strong kinship bonds with their relatives. Females with living female relatives have a greater chance of reproducing. Most kangaroo births occur during the summer. It's worth noting that Eastern grey kangaroos are obligate breeders in that they can only reproduce in one kind of habitat.
The female eastern grey kangaroo is usually permanently pregnant except on the day she gives birth; however, she has the ability to freeze the development of an embryo until the previous joey is able to leave the pouch. This is known as embryonic diapause, and will occur in times of drought and in areas with poor food sources.
The composition of the milk produced by the mother varies according to the needs of the joey. In addition, the mother is able to produce two different kinds of milk simultaneously for the newborn and the older joey still in the pouch. Unusually, during a dry period, males will not produce sperm, and females will only conceive if there has been enough rain to produce a large quantity of green vegetation.[14] Females take care of the young without any assistance from the males. The joeys are heavily reliant on their mothers for about 550 days, which is when they are weaned.
Where does the word 'kangaroo' come from?
In 1898, anthropologist Walter Roth wrote to the editors of The Australasian to set the record straight: "kangaroo," he said, is clearly derived from "gangurru," meaning "black kangaroo" in the language of the Guugu Yimidhirr people of north Queensland. It's their name for the eastern grey kangaroo. But lexicographers took no note of this until 1972, when linguistic anthropologist John Haviland began his work on Guugu Yimidhirr and was able to confirm the "gangurru" etymology.
Kangaroos are four marsupials from the family Macropodidae (macropods, meaning "large foot"). In common use the term is used to describe the largest species from this family, the red kangaroo, as well as the antilopine kangaroo, eastern grey kangaroo, and western grey kangaroo. Kangaroos are indigenous to Australia and New Guinea.

The kangaroo is a recognisable symbol of Australia. The kangaroo and emu feature on the Australian coat of arms. Kangaroos have also been featured on coins, most notably the five kangaroos on the Australian one dollar coin.

Kangaroos are well-known for their calm and peaceful nature and do not like to get involved in any fight unless they are threatened.

There have been lots of stories and poems written about kangaroos - this is one is short but sweet:
A SPRING POEM.
'Twas in the gloomy Winter, when I walked about the zoo.;
The creatures had the blues, except the leaping kangaroo.
"How can you be so cheerful at this dismal time?" I cried.
"It's always spring with me, my friend," the kangaroo replied.
A SPRING POEM. (1917, June 4). The Globe and Sunday Times War Pictorial (Sydney, NSW : 1914 - 1917), p. 6. Retrieved from http://nla.gov.au/nla.news-article102215327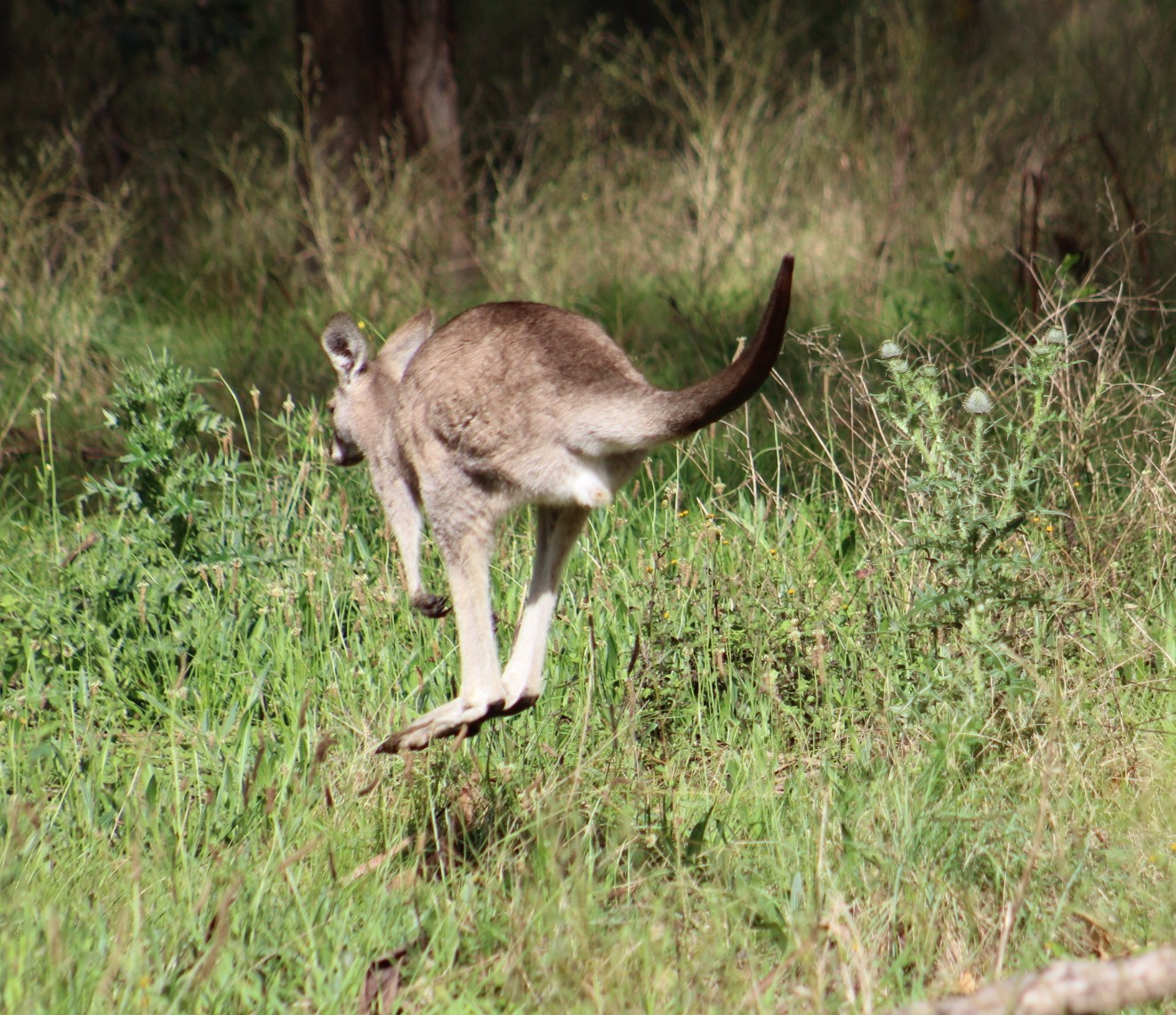 Word Of The Week: Fun
Word of the Week returns in 2022 simply to throw some disruption in amongst the 'yeah-nah' mix.
noun - enjoyment, amusement, or light-hearted pleasure.
adjective - amusing, entertaining, or enjoyable.
verb (informal - north America) - joke or tease
From "diversion, amusement, mirthful sport," 1727, earlier "a cheat, trick" (c. 1700), from verb fun (1680s) "to cheat, hoax," which is of uncertain origin, possibly a variant of Middle English fonnen "befool" (c. 1400; fond). Scantly recorded in 18c. Older senses are preserved in phrase to make fun of (1737) also: mid-15c., "foolish, silly;" 1846, "enjoyable," from fun (n.).

The Jacksons - Can You Feel It (Kirk Franklin Remix 2021 - Originally 1980)

Lifehouse - Hanging By A Moment (2004)
Powderfinger - Sunsets (2003)
Kool & The Gang - Celebration (1980)

New Zealand's Last Hippie Commune
Published September 22, 2022
AvPals Training Term 4 2022 At Newport
Avpals are proud to present our training schedule for Term 4 at the Newport Community Centre. You can enroll online, make inquiries online, even pay online. Spaces are limited. We are complying with every aspect of Covid Care.
Avalon Computer Pals (AVPALS) help seniors learn and improve their computer and technology skills. Avpals is a not-for-profit organisation run by volunteers. Since 2000, we have helped thousands of seniors from complete beginners to people who need to improve or update their skills. We offer "one to one" personal tuition or special short courses. Small class workshops are run at the Newport Community Centre on Tuesday afternoons.
One-to-one training is provided at our rooms in Avalon, under the Maria Regina Catholic Church, 7 Central Road, Avalon.
The Term 4 timetable is below: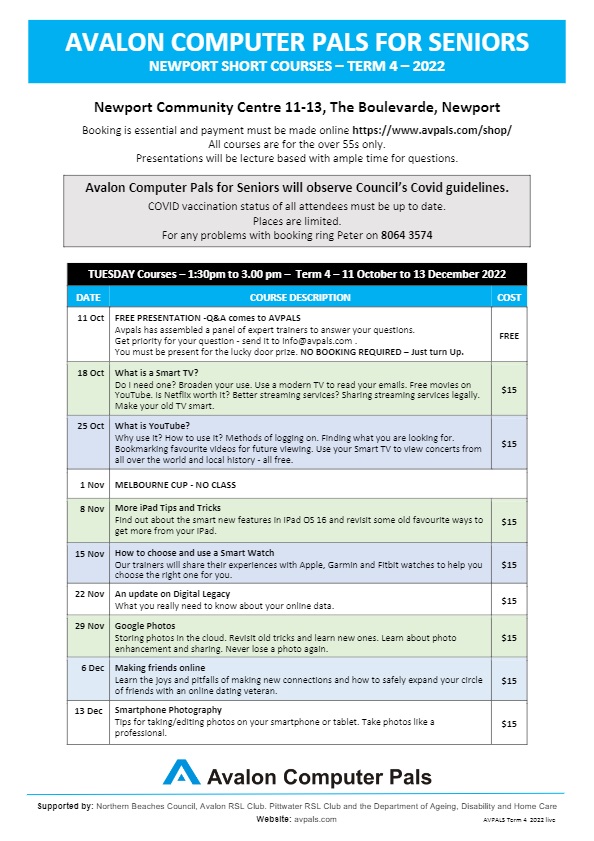 Tobias Breider & Grace Kim Perform Forgotten Romance
On Sunday 6th November at 4:00pm at OLGC Catholic Church, Sydney Symphony Orchestra's Principal Violist, Tobias Breider performs a captivating recital "Forgotten Romance", with acclaimed Sydney concert pianist, Grace Kim, for Wyvern Music Forestville.
The concert opens with the charming Romance by Max Bruch and ends with a Viola Da Gamba Sonata by JS Bach, with the well-known Rebecca Clarke Sonata, Franz Liszt's Romance Oublilée and Paul Hindemith's Trauermusik Suite as the central works of the program.
Tobias Breider, Principal Violist of the Sydney Symphony Orchestra since 2011, has established himself as one of Australia's most sought-after violists in chamber music. Winston Churchill Fellow, concert pianist, artistic director and music educator Grace Kim, believes that quality live music should be accessible to everyone with a desire to hear it. Ensuring that it is, her Sensory Concerts® and Mountain Concerts series are performed by her internationally-recognised peers.
When: Sunday 6th November at 4:00pm
Where: Our Lady of Good Counsel Catholic Church, 9 Currie Rd, Forestville
Tickets: Full: $25 Concession: $20 Students: $15 Children under 16 Free
Enquiries: Wyvern Music Forestville Tel: 9416 5234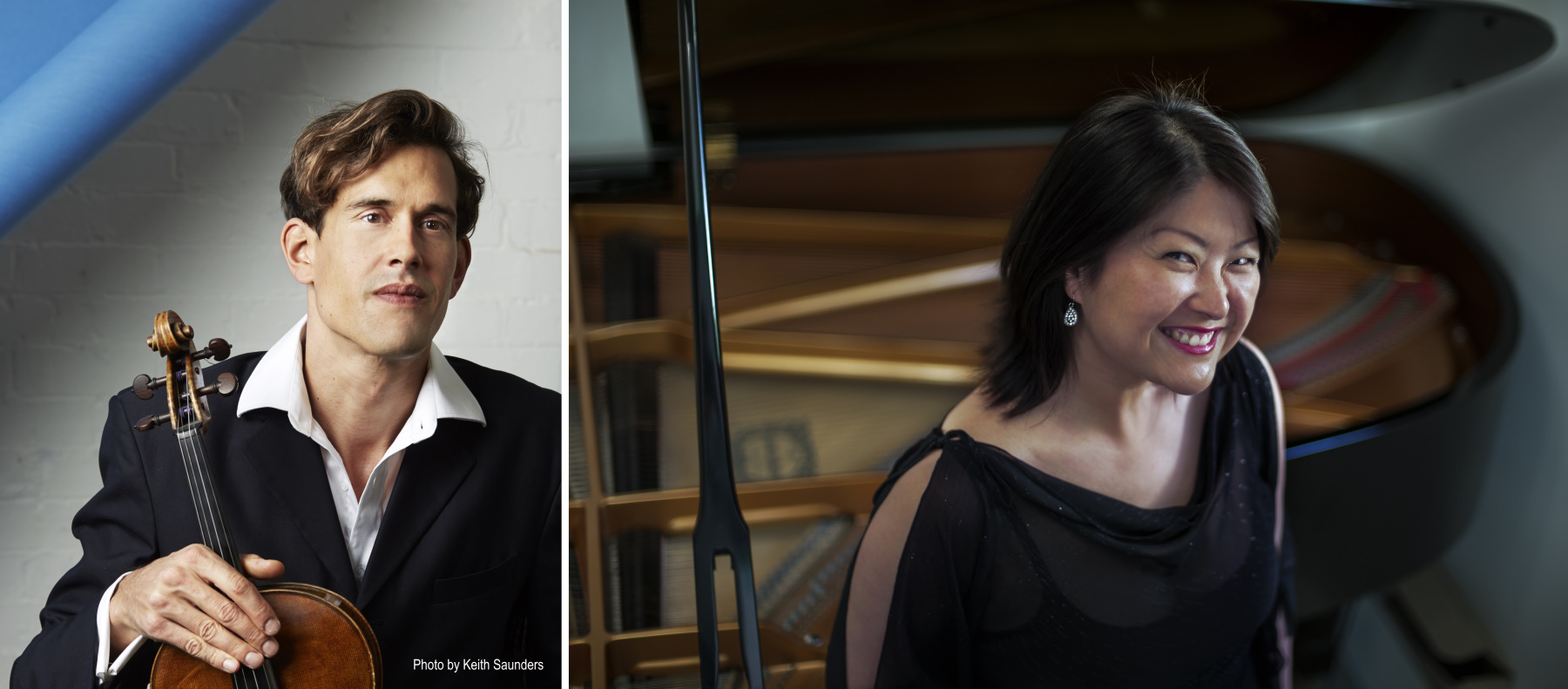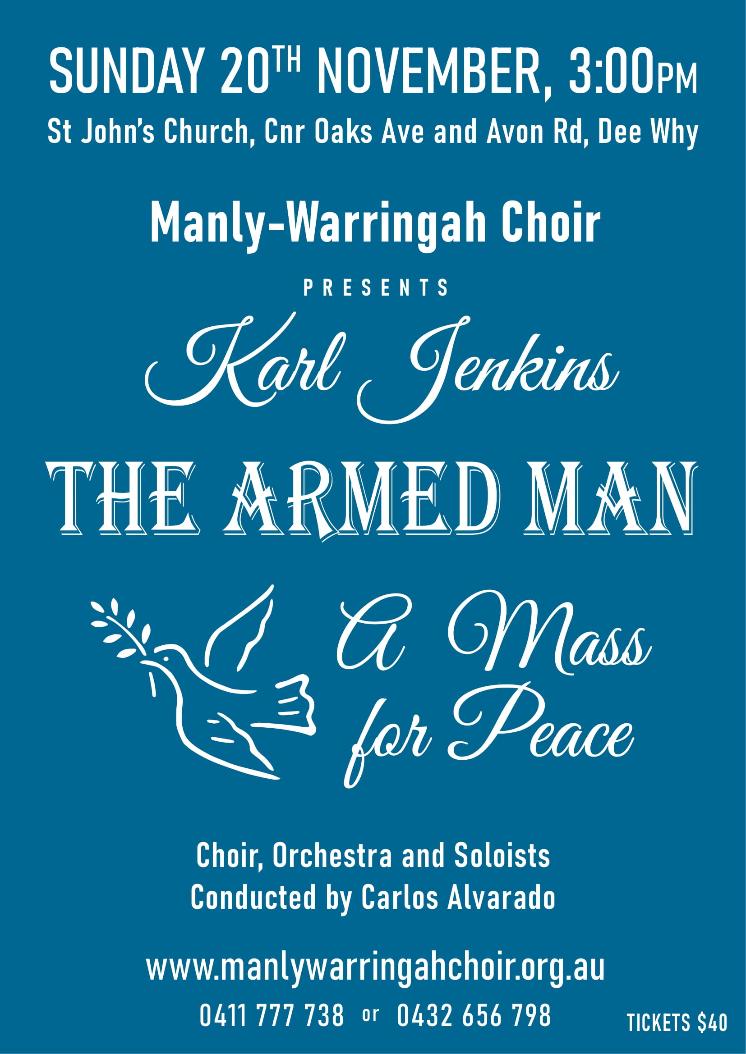 Bilgola Probus Club Commences
The Bilgola Probus Club had its inaugural meeting last month and the Committee is now on a membership drive to secure interested people to join our club. Membership is open to males and females who are currently retired or semi-retired.

We meet on the first Friday of each month at 10am at the Newport Bowling Club; 2 Palm Road Newport.
To find out more, please contact our President, Patricia Ryan on 0438 281 573.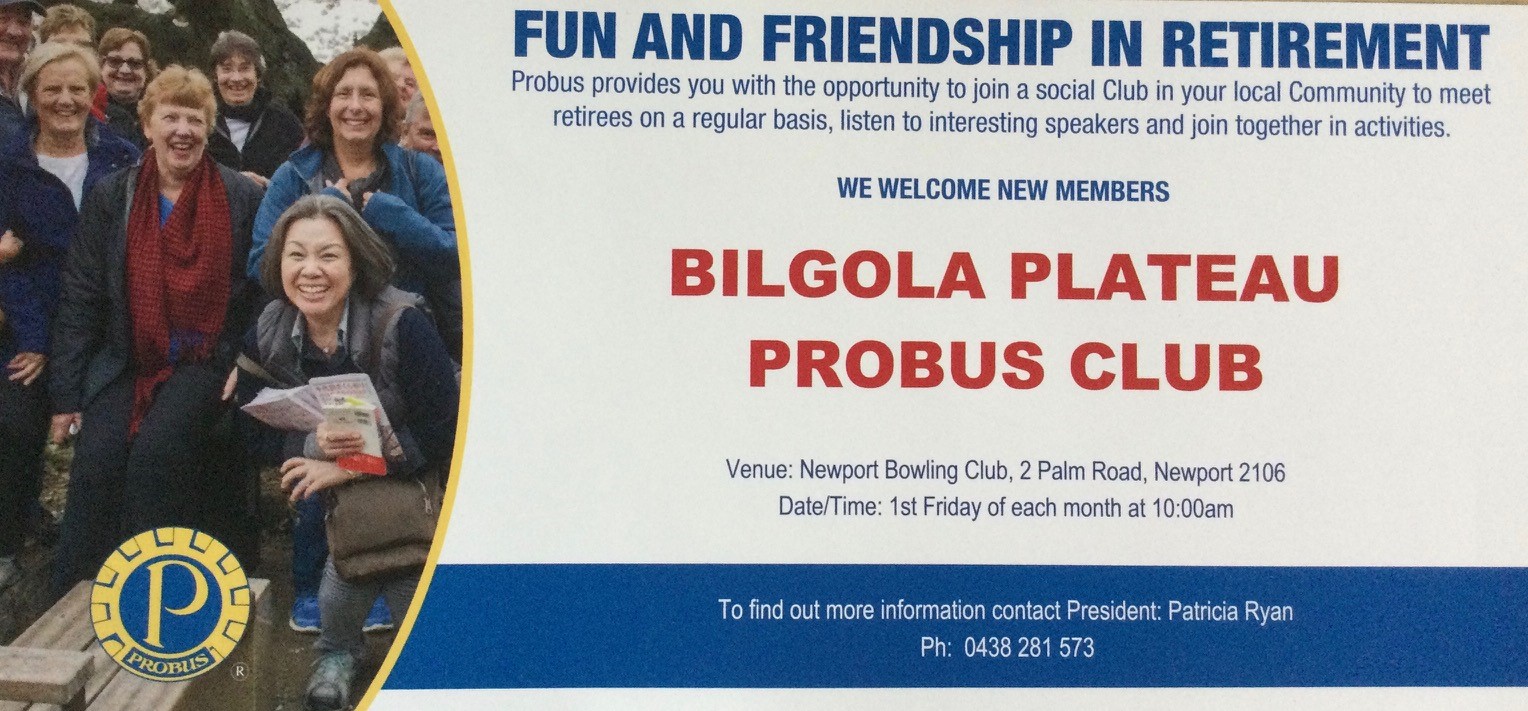 Keep On Dancing Is What The Science Says!
ABC Catalyst is presenting a 2 part special studying the many benefits of dance for the over 65s. Improvements in memory, movement and the creation of new neural pathways in the brain are some of the benefits found in recent studies.
Nia is a combination of 52 moves drawn from dance arts, martial arts and healing arts. Within one class we combine flexibility, agility, mobility, strength and stability (FAMMS) in order to improve balance and fitness. By incorporating FAMMS within the movements, Nia is an integrated way to condition the entire body. People who regularly practice Nia open to a new awareness of their bodies, their internal energies, and their feelings – all of which help them move more efficiently, effectively, and safely in their workouts and in life.
Come along and give it a try. There's no performance pressure.
Avalon Nia Classes are held at the Recreation Centre.
6pm Thursdays Classic Nia
9.30am Fridays Gentle Nia
Call or text Mandy Loveday 0411 645 389 - Profile
Nia's 9 movement forms embrace the 5 Sensations of Fitness:
Flexibility

Agility

Mobility

Strength

Stability
Dance for health. Avalon Recreation Centre Thursdays 6pm and Fridays 9.30am.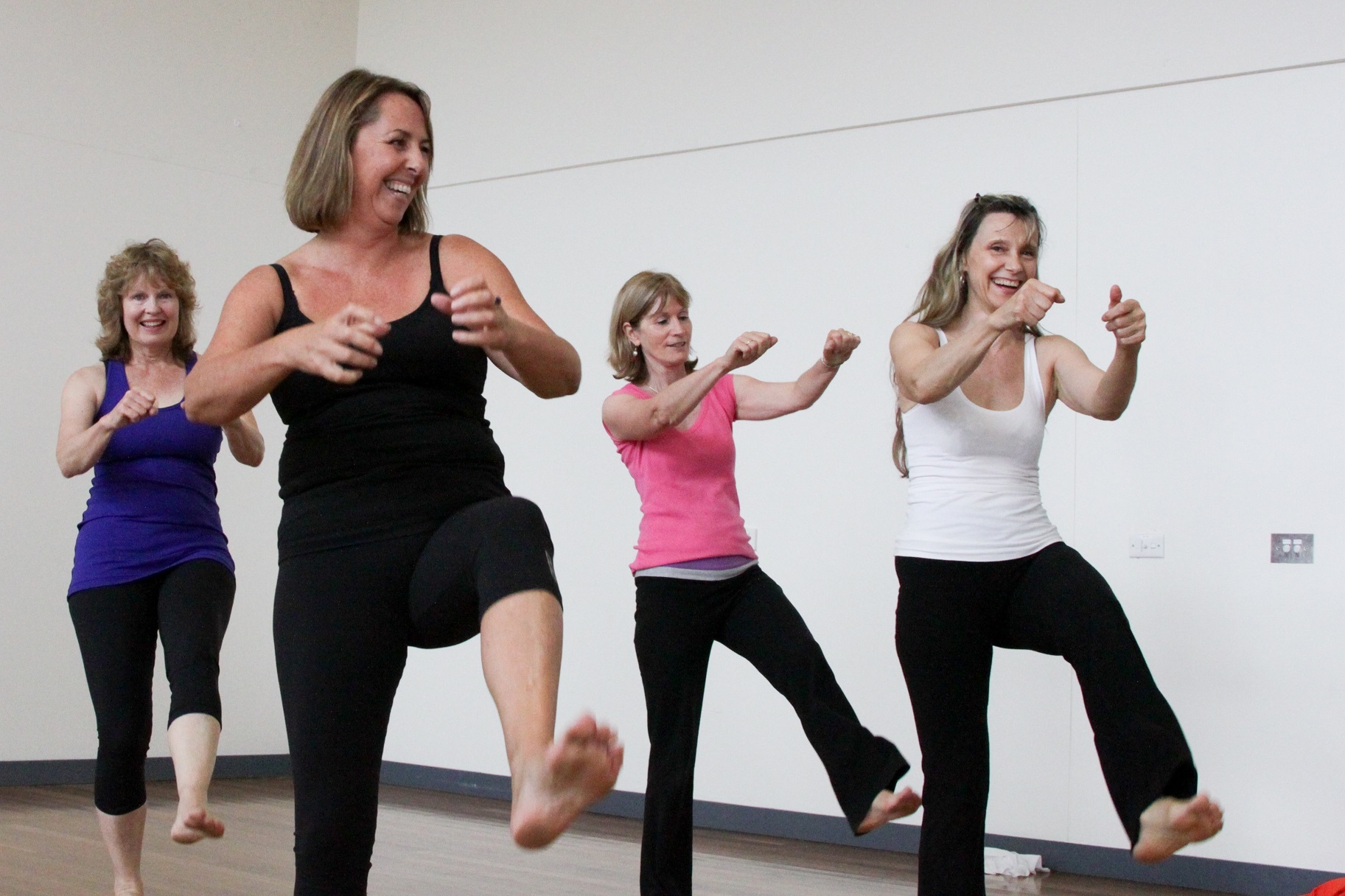 U3A Actvities
Previously known as Guringai country, the land of the Garigal or Caregal people, the Northern Beaches area stretches from Palm Beach to Manly. It is home to Manly Sea Eagles, Garigal and Kuring-Gai Chase National Parks, enviable beaches and a relaxed, carefree lifestyle.
Our
2022 Semester 2 Course Book
is now available and we are looking forward to seeing you at some of our exciting courses. In addition to face to face and Zoom courses this semester we also have three outings which may interest you:
A day trip to Mount Wilson on 5 October (details on page 9);
Our annual picnic on 20 October, this year at Clontarf Reserve (details on page 10); and
Tunnels and Gunners Tour, with a guide from the Sydney Harbour Trust, on 3 November (details on page 10.
Bookings are required for each of these events so please hurry to join in.
Home Instead Sydney North Shore & Northern Beaches
We are a provider of quality home care and companionship services for seniors in the Northern suburbs of Sydney.
To you, it's about finding trustworthy care for your ageing loved one. To us, it's about providing the highest-quality in-home care services to fit you and your family's needs.
To Us, It's Personal.
We provide services to all areas and suburbs in the North Shore and Northern Beaches of Sydney.
Telephone: (02) 9144 2322
Remember Lessons Learned As COVID-19 Isolation Ends State Government Says
NSW Health is urging the community to continue to look out for one another after mandatory isolation ends this Friday, 14 October by remembering lessons learned.
NSW Chief Health Officer Dr Kerry Chant said at the top of the list is staying home if you have cold or flu-like symptoms, get tested and if you must head out, wear a mask.
"We all know from experience what works best to protect one another from COVID-19 so please, continue to take those simple but important steps," Dr Chant said.
"In particular, we urge people to please stay at home if they have cold or flu-like symptoms such as a runny nose, sore throat, cough or fever and go and get tested.
"If you have COVID-19 you may be infectious for up to 10 days but you are most infectious in the two days before your symptoms start and while you have symptoms.
"If you have to leave the house while unwell, wear a mask when indoors and on public transport, avoid large gatherings and indoor crowded places, and don't visit high risk settings, such as hospitals, aged or disability care facilities for at least seven days."
Dr Chant said people should talk to their employer about when they can safely return to the workplace, with the risk to be managed under occupational health and safety frameworks.
High-risk settings such as hospitals, disability and aged care facilities have been advised by Dr Chant that staff should only return to these settings after seven days, subject to their own work, health, and safety assessment, and if symptom-free.
"It is important we continue to think of others, especially those most vulnerable and the best thing people of all ages can do to protect themselves remains to make sure they are up to date with their COVID-19 and influenza vaccinations," Dr Chant said.
While registration of a positive rapid antigen test (RAT) will also no longer be mandatory from Friday
, NSW Health asks people to continue the practice voluntarily.
"
Registering a positive RAT through Service NSW
allows us to connect people to medical care, particularly older people and the immunocompromised, and it also helps inform our ongoing public health response," Dr Chant said.
Close contacts of positive cases are most at risk of catching the virus so if you are a close contact, remember:
Monitor for symptoms. If you get sick, get tested and stay home.
Avoid visiting high-risk settings such as a hospital, aged or disability care facilities, or visiting anyone at high risk of severe illness for at least seven days, and then ensure you have a negative RAT before visiting.
Wear a mask when indoors and on public transport.
Frequent RATs may help identify infection early – this is particularly important if you are in contact with people at high risk of severe illness.
For more advice on how to stay safe and prevent the spread of respiratory viruses including COVID-19, visit nsw.gov.au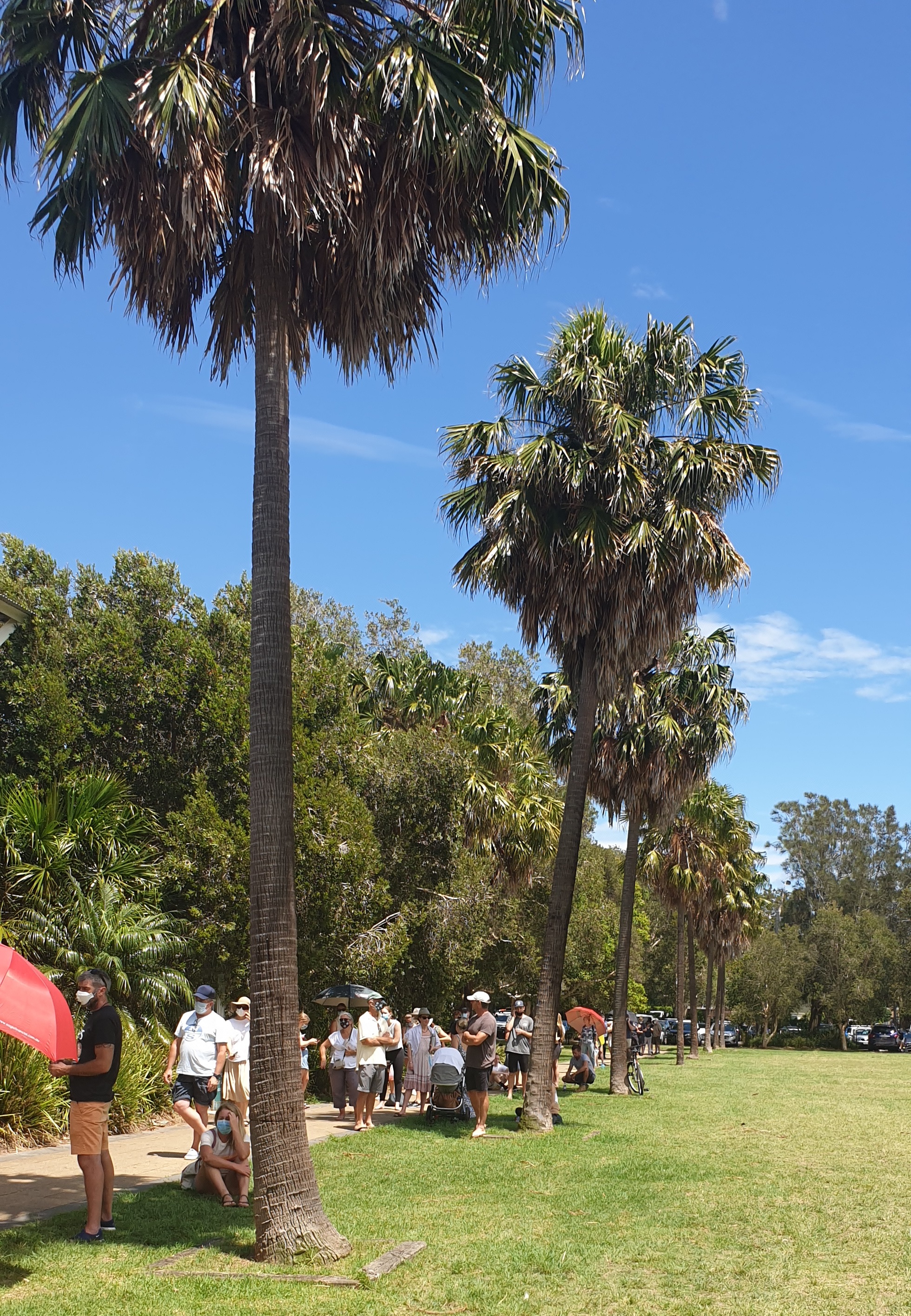 Photo: People queuing for Avalon Beach Recreation Centre pop-up clinic on Thursday December 17th, 2020 - photo by Roger Sayers OAM
Pharmacy Trial A Dangerous Experiment Undermining GPs' Valued Role
The AMA has expressed concern at reports the NSW Government is considering a trial to allow pharmacists to prescribe antibiotics for urinary tract infections, warning it would result in higher health care costs and poorer outcomes for patients.
The AMA has called for the New South Wales government to scrap any plans to allow pharmacists to prescribe medicines for patients.
AMA President Professor Stephen Robson said any consideration to allow pharmacists to prescribe antibiotics for urinary tract infections was a "dangerous experiment" that would result in poorer health outcomes for patients.
He was reacting to reports in the Sydney Morning Herald that the NSW health minister Brad Hazzard had asked his department to explore such a trial.
Professor Robson said it was frustrating that such a plan had been floated on the day of a General Practice Crisis Summit in Canberra.
"There are critical issues facing general practice with years of underfunding pushing significant numbers of GPs to retire early, while fewer doctors are choosing general practice as a specialty," he said.
"Governments need to come to the table with viable solutions to support general practice and build collaborative models — not changes that completely undervalue the quality of care that is provided through general practice and fragmented patient care.
"This dangerous experiment signals a lack of respect for general practice and the years of training, experience and knowledge required to properly diagnose and treat a medical condition. If implemented in NSW it will have dire consequences for the future of the workforce."
Professor Robson was also interviewed this week on the National Cabinet decision to scrap all mandatory COVID-19 isolation requirements, which he called a "let-it-rip" policy.
He told Channel 10 News First that there was a major upswing in cases in the Northern Hemisphere as Australia headed for the summer holiday season and it was "too early" to be relaxing restrictions while there were still more than 200 deaths a week from COVID.
Professor Robson said, "We know the vaccination rate in Australia and boosting has totally been bogged in the mud and we are very concerned that Australia is going into another very big wave just at a time we are recovering from another big wave."
Scams Awareness Week 2022
October 10, 2022: Scamwatch
Scams Awareness Week 2022 takes place 7-11 November. This Scams Awareness Week we're encouraging you to learn ways to identify scams and take the time to check whether an offer or contact is genuine before you act on it.
With scammers continually developing new ways to catch people out, we need to increase our vigilance in checking for those little clues that can alert us that something is a scam.
Scams cost Australian consumers, businesses, and the economy hundreds of millions of dollars each year and cause serious emotional harm to victims and their families.
In 2021 Australians made more than 286,600 reports to Scamwatch and reported losses of around $324 million. By the end of August this year, Australians had lost even more with reported losses of over $381 million.
As alarming as these numbers are, we know that around one third of people who are scammed never tell anyone, so the true numbers are probably much higher.
Visit
this page
during Scams Awareness Week for more information and tips on how to protect yourself from scams.
Scamwatch tools and resources
The Scamwatch and ACCC websites contain a range of tools and resources about scams.
Remote access scams try to convince you that you have a computer or internet problem and that you need to buy new software to fix the problem.
Attempts to gain your personal information
Scammers use all kinds of sneaky approaches to steal your personal details. Once obtained, they can use your identity to commit fraudulent activities such as using your credit card or opening a bank account.
Identity theft is a type of fraud that involves using someone else's identity to steal money or gain other benefits.
Phishing scams are attempts by scammers to trick you into giving out your personal information such as your bank account numbers, passwords and credit card numbers.
Hacking occurs when a scammer gains access to your personal information by using technology to break into your computer, mobile device or network.
Learn how to protect against scams
Being aware of scammers is necessary to avoid becoming the victim of one. Once you know their tricks, you are more likely to be able to spot a scam.
October is Cyber Security Awareness Month. The Australian Government's free Be Connected training program holds free online presentations to help you navigate the online world safely.
The online presentations help build your digital skills and keep you safer online. Presentation topics include how to protect yourself against scams and how to use smart home technology.
Topics include:
Protect yourself against scams
Online shopping and banking
Helpful apps for your smart device
How to use home smart technology
Selling safely online

Dozens Of New Businesses Offer Discounts To Seniors
Dozens of new businesses have signed up to the NSW Seniors Card program to offer seniors discounts on everything from retail to travel and health services.
NSW Treasurer Matt Kean said more than 140 new firms have joined the Seniors Card program, which will help ease cost of living pressures on seniors while providing a boost to many small businesses.
"This is one of several NSW Government initiatives to help seniors with cost of living pressures including toll relief and energy rebates," Mr Kean said.
"The Seniors Card for over-60s has thousands of discounts covering groceries, tradies, holidays, insurance and services such as accountants and medical care. Businesses signing up to the program get more people through the door so it's a win-win."
Among the new businesses joining the program are dental surgeries, pubs and hotels, health and wellness centres and home cleaning service providers.
Minister for Seniors Mark Coure said the over 140 new additions join more than 6,500 businesses already helping ease the cost of living for seniors across retail, food and beverage, travel, and professional services.
"Each and every one are offering a range of discounts to cardholders, some even up to 30 per cent. This means seniors are able to take some pressure off the household budget and keep more money in their back pocket," Mr Coure said.
"I encourage more businesses to sign up and open their door to more than 1.9 million seniors across NSW."
Minister for Customer Service and Digital Government Victor Dominello said that over 120,000 customers had already opted in for the Digital Seniors Card since its launch in April, with a customer satisfaction rate of about 90 per cent.
"Importantly, seniors will be able to make their dollar go further by accessing great discounts and savings, adding to the almost $7 billion NSW customers have already saved through the savings finder," Mr Dominello said.
"We are working to improve and uplift the experience for all seniors across NSW through the Digital Seniors Card program and we will have more to share next month."
For a full list of discounts available via the NSW Seniors Card, or for businesses to join the program, visit
seniorscard.nsw.gov.au
In addition to the NSW Seniors Card, there are more than 70 discounts and rebates available through the Savings Finder Program available on the Service NSW website. Those without internet access can make an appointment with a savings specialist at a Service NSW centre or by calling 13 77 88.
Commonwealth Seniors Health Card Update
October 13, 2022: National Seniors
As we know from the popularity of the National Seniors Concession Calculator, seniors strongly value the concessions offered to them via state, territory, local and federal governments.
One of the main concession cards in Australia is the Commonwealth Seniors Health Card (CSHC). This card is available to low-income self-funded retirees who meet income test eligibility rules.
During the recent election, the Coalition and Labor promised to increase the income test thresholds so that Commonwealth Seniors Health Card holders could access health care and other concessions.
Because this increase required legislative change, there was a delay. Increased income test thresholds have been delayed further because an unrelated amendment forced the legislation to be sent to the lower house.
Under current eligibility rules, you can access the CSHC if your income is below a certain threshold:
Singles: $61,284 a year
Couples (combined): $98,054 a year
Under the proposed changes, you will be able to earn up to the following thresholds:
Singles: $90,000 a year
Couples (combined): $144,000 a year
Assessable income under the CSHC income test includes a combination of actual income and deemed income from your assets.
Adjusted taxable income comprises of:
Taxable income
Target foreign income
Total net investment losses
Employer-provided benefits
Reportable superannuation contributions.
Deemed income from assets is only from account-based income streams (not from any other financial assets you own). An account-based income stream is purchased with superannuation money, commonly known as an allocated or transition to retirement pension.
While regular deeming rates are 0.25 per cent for the first $53,600 of your financial assets and 2.25 per cent for anything over $53,600, non-pensioners are deemed at a slightly different rate.
If you are a couple and neither gets a pension, your joint financial assets are deemed to earn 0.25 per cent up to $44,500. Anything over $44,500 is deemed to earn 2.25 per cent.
After the legislation was passed in the lower house using the government's majority, it was sent to the Senate for approval. It was here that an amendment to the legislation was put forward by the Coalition and supported by the crossbench.
The amendment included changes to the current Work Bonus limit to allow pensioners to earn double what they currently can without affecting their pension.
While National Seniors supports changes to income test rules, we were disappointed this has led to a delay in passing the CSHC changes.
We would prefer to see the original CSHC legislation passed at the beginning of the next sitting so eligible retirees access concessions as soon as possible.
Once changes to income test rules are passed, we would like to see Labor, the Coalition, and crossbench consider our proposal to trial an opt-in income test exemption. The opt-in income test exemption would be for pensioners who want to work in the Health and Social Assistance Sector as a first step in easing labour shortages.
The workforce crisis is growing, so we need to move fast to mobilise workers now.
The latest job figures show there are more than 74,000 vacancies in the care sector, so there is no time to lose. The Albanese government said it wants to put the care back into aged care, and there's now a way to do it.
COTA Calls For Action To Mark Ageism Awareness Day
Australians must take action to address the scourge of ageism and governments at all levels have key leadership roles to play, including the Federal Government at the national levels, says the Council on the Ageing (COTA) Australia, the peak body for older Australians.
The call marks Ageism Awareness Day (7 October 2022) – a day designed to draw attention to the widespread existence and impacts of ageism in Australia and globally.
COTA Australia Chief Executive, Ian Yates, said that while Australia has taken some steps in learning how to end ageism, there here is still a very long way to go.
"Ageism is endemic in Australia," Mr Yates said.
"The Australian Human Rights Commission last year found that 90 per cent of Australians agree that ageism exists in this country, yet we are still yet to see some of the simple, concrete measures that older Australians have been asking for put in place to address this critical issue.
Mr Yates said the new Federal Government has the opportunity to take a number of steps over the coming year to address ageism, including:
establishing a Productivity Commission inquiry into the prevalence and costs of ageism in Australia, including particular terms of reference in relation to workplaces and health services; and
introducing stronger age discrimination laws following a high priority inquiry by the Australian Law Reform Commission.
"Ageism is costing Australia dearly as a society, both from an economic and a social perspective. Conducting a broad reaching inquiry into the costs of ageism is an important starting point and something the Federal Government could then move on swiftly.
"Our Age Discrimination Laws are also failing to deliver, are not fit for purpose, and need major upscaling We need an inquiry conducted by the Australian Law Reform Commission into the barriers and solutions to tackling ageism and age discrimination and to recommend legislation for tackling this.
"For far too long ageism has been an accepted form of discrimination in Australia. It's time we stopped accepting ageism and negative messages about ageing and started taking proactive steps to address the problem.
"People of all ages, including older Australians, should be valued and respected and have their contributions acknowledged. Throughout their lives, from start to finish."
Doors Officially Opened On State-Of-The-Art Engineering Innovation Hub In Parramatta
Western Sydney University, Charter Hall and UNSW Sydney have celebrated the official opening of the $300 million world-class 'Engineering Innovation Hub' – a world-leading engineering and industry innovation precinct in the heart of Parramatta designed to blend state-of-the-art commercial and education facilities and deliver the next generation of engineers, architects and entrepreneurial leaders for Western Sydney and the nation.
Attending the opening ceremony to mark the major milestone on Thursday 6 October were:
NSW Premier, the Hon. Dominic Perrottet MP
Western Sydney University Vice-Chancellor, Professor Barney Glover AO
Charter Hall Managing Director & Group CEO, Mr David Harrison
Vice-President, Operations at UNSW Sydney, Mr Andrew Walters
General Manager Sydney and Major Projects at Richard Crookes Constructions, Mr Grant D'Arcy.
A major investment in the Western Sydney region, the 21-storey Engineering Innovation Hub is located at 6 Hassall Street and firmly embedded in the civic centre of the Parramatta CBD. Featuring state-of-the-art, digitally infused education, commercial, retail, and co-working facilities, the building has been specifically designed to promote knowledge sharing and to create meaningful connections between universities, industry, and the community.
Teaching programs offered at the new campus include a collaborative joint engineering degree, developed and delivered in partnership with UNSW, as well as courses in architecture, industrial design, and entrepreneurship. It is home to Western Sydney University's world-leading research programs such as the Urban Transformations Research Centre and the University's tech start-up incubator, LaunchPad.
Western Sydney University Vice-Chancellor, Professor Barney Glover AO, said the Engineering Innovation Hub is a milestone achievement – truly transformative infrastructure for Parramatta that fosters all-important innovation in the engineering sector and delivers positive outcomes for the whole community.
"The Engineering Innovation Hub is creating unparalleled opportunities to collaborate across disciplines and across industries – a world-class innovation precinct that is driving academic excellence and promoting economic growth across the whole western Sydney region," said Professor Glover.
"This campus provides an exceptional teaching and work-integrated learning environment for our students, with the chance to leverage knowledge-jobs and research and development opportunities arising from the large-scale infrastructure and engineering investments across the region, including the new airport at Bradfield, the Sydney West Metro, and the Parramatta Light Rail. It is also fostering important research collaborations with business and industry and developing an innovation ecosystem for Western Sydney."
Charter Hall Managing Director & Group CEO, Mr David Harrison, said, "We are proud of this outstanding investment in the heart of Parramatta, which Charter Hall will own long term after a successful joint venture development with Western Sydney University."
"In addition to expanding our continued partnership with Western Sydney University, we are pleased to welcome valued tenant customers in CBHS Health Fund, Pepper Money and Hitachi Construction Machinery Australia who will play a vital role in creating a future-ready and resilient precinct where commerce and learning collide to create the next generation of industry leaders in Western Sydney," said Mr Harrison.
UNSW Sydney's Vice-President Operations, Mr Andrew Walters said "UNSW and Western Sydney University are of the firm belief that we are well positioned to support the priorities and needs of the State Government and the people of Greater Western Sydney. And we relish the opportunity to be a driving force in this critical region's success."
With limited office space remaining, the A-grade building boasts Parramatta's highest level of tenant and academic amenities. The flexible and smart building was designed by joint venture architects Blight Rayner and Tzannes in conjunction with Richard Crookes Constructions as the construction partner and Hassell delivering the fitout for Western Sydney University.
Cutting-edge in both design and construction, the stunning campus comprises 29,000 square metres across 21 floors. A dramatic vertical steel stair connects through a triple height void from basement and ground through to level 6 of the building. Ultra-flexible spaces blur the lines between traditional university and commercial office environments – designed to promote creativity and encourage collaboration among students, researchers, industry partners, tenants and community.
A smart building in every sense, intuitive technology both now and into the future is at the heart of the future-ready precinct, including smartphone lift call capability; touchless smart bathroom amenities for a healthier work environment; cyber security integration; and electric vehicle charging stations.
With Western Sydney University recently named number one in the world for its social, ecological, and economic impact in the latest Times Higher Education (THE) University Impact Rankings, sustainability has been key, with all building elements designed to minimise embodied energy in their manufacture and selected with a whole-of-life approach in mind.
The Engineering Innovation Hub is Western Sydney University's second major campus in the Parramatta CBD after the Peter Shergold Building which was opened in 2017 in Parramatta Square and also developed in partnership with Charter Hall. The Engineering Innovation Hub is a part of the University's Western Growth strategy – an ambitious program that is co-creating cities and transformative educational infrastructure across Western Sydney, in partnership with industry and government.
Impact-driven research and innovation is a key feature of the $300 million Engineering Innovation Hub (EIH). Learn more about the University's world-leading research, innovation and engagement activities based at the campus
here
.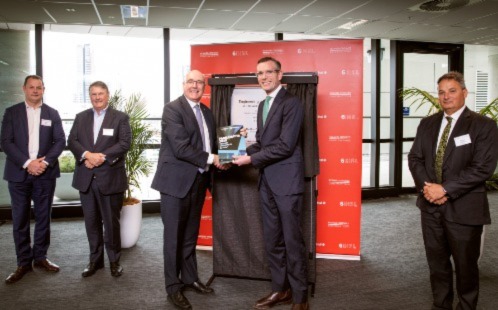 The NSW Premier, the Hon. Dominic Perrottet MP and Western Sydney University Vice-Chancellor, Professor Barney Glover AO officially open the $300 million 'Engineering Innovation Hub'.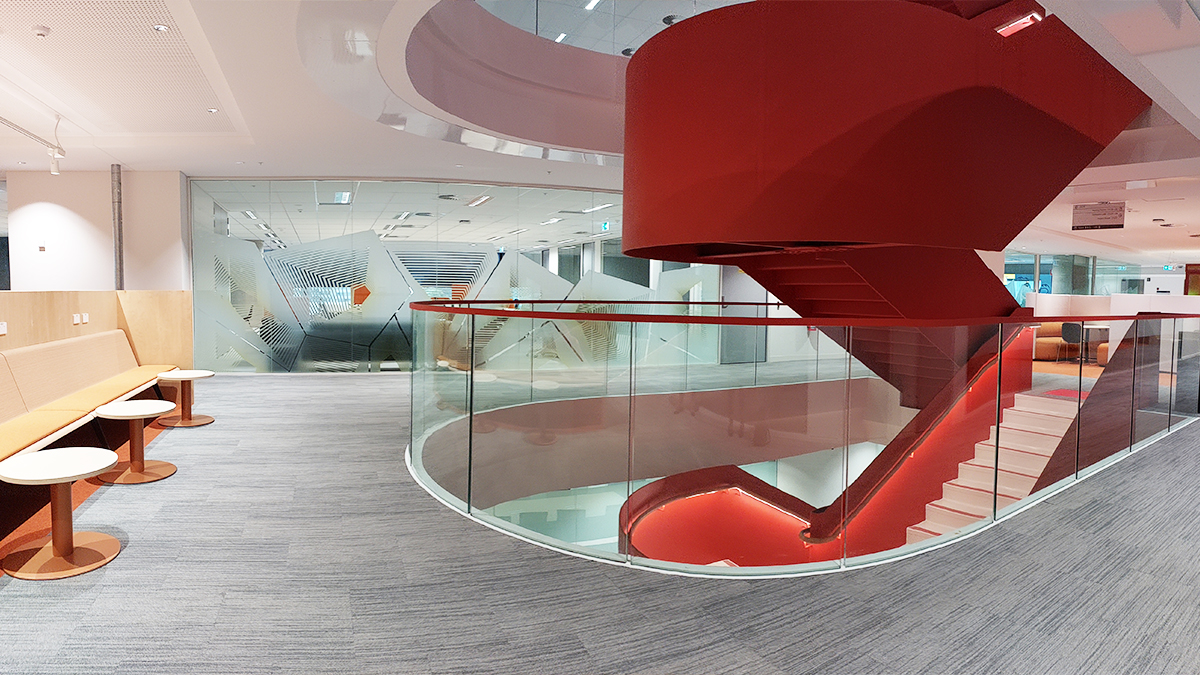 Frasers Property Awards 2022 Architecture Scholarship For Women
Frasers Property Australia has named university graduate Maryann Aziz the second recipient of its $60,000 scholarship designed to encourage more women to advance their careers in architecture.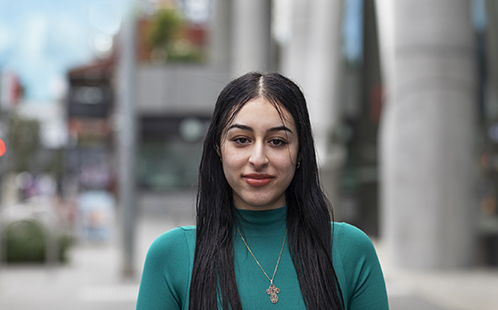 The Master of Architecture (Urban Transformation) Scholarship for Women is worth $30,000 per year across the two-year Master of Architecture (Urban Transformation) course at Western Sydney University and is open to both full-time and part-time students who have completed undergraduate studies in architecture.
"I'm the first woman in my immediate family to study architecture," Maryann says.
"Mum's uncle was one of the first architects in my home country, who established many buildings there. So, it's a huge honour to be doing this."
Maryann believes that architecture is different from most other disciplines in that it reflects human diversity and brings people together, citing the Green Square Library in inner Sydney as one such example.
"The forms are quite simple, but the way it draws people in and becomes a meeting place for the city, I think is so beautiful," Maryann says.
Following the completion of her studies, Maryann hopes to follow in the footsteps of her idol, British-Iraqi architect Dame Zaha Hadid, one of the first women to break the glass ceiling within the architecture industry worldwide.
"I really hope that in the coming years, the industry is celebrated as much for its diversity as it is for its creativity," she says.
It is a vision shared by Frasers Property Australia, explains Nicholle Sparkes, General Manager Delivery and Operations.
"Architecture, and the wider property industry, have long been male-dominated, which is why initiatives such as the Master of Architecture (Urban Transformation) Scholarship for Women are so important – to encourage and support more women into the field," says Ms Sparkes.
"Diversity enriches everything we do, from our daily working lives to the built environments we create for current and future generations.
"As a WGEA (Workplace Gender Equality Act) Employer of Choice, and one of the only property-related companies in Australia to achieve this citation, Frasers Property is proud to continue as a sponsor of the scholarship and encourage more talented women like Maryann to forge successful careers in our industry."
Dean of the School of Engineering, Design and Built Environment, Professor Mike Kagioglou, commended Frasers Property Australia for their ongoing commitment to the next generation of female architects and offered his congratulations to Maryann.
"Western Sydney University is incredibly proud to partner with Frasers Property Australia on the Master of Architecture (Urban Transformation) Scholarship for Women which is supporting a second talented student," says Professor Mike Kagioglou.
"The scholarship will connect Maryann to one of Australia's leading property developers with strong connections to Sydney's west, providing valuable support and professional development opportunities."
Maryann is the second recipient of the Frasers Property Master of Architecture (Urban Transformation) Scholarship for Women, after Sarah Abu Dareb was awarded the inaugural scholarship in October 2020.
Now in the final stages of her Masters degree, Sarah also congratulated Maryann and wished her all the best with her studies.
"The Master of Architecture (Urban Transformation) Scholarship for Women helped shape my academic development, provided me with an opportunity to embark on my career as an urban designer and heightened my confidence in the field," says Sarah.
"I have no doubt that Maryann, too, is able to use this wonderful opportunity for her academic growth and build her career in the design industry."
Western Sydney University's Master of Architecture (Urban Transformation), led jointly by Chair of Architecture, Professor Paul Sanders and Professor Peter Poulet, is the only course of its kind in western Sydney and offers students access to real-world learning opportunities, including Australia's once-in-a generation infrastructure projects underway such as the Aerotropolis that are set to transform the western Sydney region.
New Survey: 91% Of Parents Say Their Family Is Less Stressed When They Eat Together
Chronic, constant stress can increase lifetime risk of heart disease and stroke, but a new survey from the American Heart Association, a global force for longer, healthier lives for all, reveals regular mealtime with others could be a simple solution to help manage stress.
Of the 1,000 U.S. adults nationwide surveyed in September 2022 for the American Heart Association's Healthy for GoodTM movement by Wakefield Research, the vast majority (84%) say they wish they could share a meal more often with loved ones, and nearly all parents report lower levels of stress among their family when they regularly connect over a meal.
To make mealtime togetherness a little easier and help people claim the heart mind and body benefits that go with it, the American Heart Association will share practical and budget-friendly meal tips each Tuesday through December. People can follow #TogetherTuesday on social media or text 2gether to 51555 to get tips sent directly to their phone.
"Sharing meals with others is a great way to reduces stress, boost self-esteem and improve social connection, particularly for kids," said Erin Michos, M.D, M.H.S, American Heart Association volunteer, associate director of preventive cardiology at Johns Hopkins and a co-author of the American Heart Association's statement on Psychological Health, Well-being, and the Mind-Heart-Body Connection. "Chronic, constant stress can also increase your lifetime risk of heart disease and stroke, so it is important for people to find ways to reduce and manage stress as much as possible, as soon as possible."
Connecting with friends, family, coworkers and neighbors benefits people beyond stress relief. In fact, the survey found 67% of people say sharing a meal remind them of the importance of connecting with other people, and 54% say it reminds them to slow down and take a break.
Those surveyed say they are more likely (59%) to make healthier food choices when eating with other people but have difficulty aligning schedules with their friends or family to do so, according to the survey. Overall, respondents reported eating alone about half of the time.
"We know it's not always as easy as it sounds to get people together at mealtime. Like other healthy habits, give yourself permission to start small and build from there," Michos said. "Set a goal to gather friends, family or coworkers for one more meal together each week. If you can't get together in person, think about how you can share a meal together over the phone or a computer."
The American Heart Association's survey also identified the majority (65%) of adults say they are at least somewhat stressed and more than a quarter (27%) are extremely or very stressed. Nearly 7 in 10 (69%) of survey respondents who are employed full or part-time said they would feel less stressed at work if they had more time to take a break and share a meal with a co-worker.
Icare Announces New Claims Service Providers For Workers Compensation Scheme
The NSW Government has announced the selection of six Claim Service Providers to manage claims in the Nominal Insurer (NI) scheme.
The government states that following wide consultation on a new claims model and a comprehensive tender process, Allianz, Employers Mutual Limited (EML), DXC, Gallagher Bassett (GB), GIO, and QBE have been appointed to manage claims for the NSW NI workers compensation scheme.
Minister for Finance Damien Tudehope said this is a significant milestone in the program to improve workers compensation and the next step in a major reset of the scheme that will improve outcomes for injured workers, give employers greater choice, and increase financial sustainability over time.
"This new model is about improving performance and care for injured workers alongside greater support for employers," Mr Tudehope said.
"Appointing this mix of quality claims service providers builds new capability and capacity in the system and is a key step towards providing a more specialised response to the growing incidence of psychological injury."
Demonstrating the strong focus on psychological claims, icare is also exploring the future appointment of a dedicated psychological claims provider to deliver innovative and targeted psychological claims services. icare is also establishing an internal team that will develop and trial new approaches to psychological claims that can then be rolled out to all claim service providers.
icare CEO and Managing Director Richard Harding said improving outcomes for injured workers is the top priority for icare and highlighted the importance of addressing the growing number of psychological claims.
"When it comes to supporting those with psychological injuries it's important to understand the vastly different challenges they face," Mr Harding said.
"Four providers will provide specialist psychological claims capability as well as general injury claims capability. We'll also bolster our approach to psychological claims management with an internal team dedicated to improving psychological claims outcomes and potential additional appointments to our provider panel in the future.
"In addition to uplifting the management of psychological claims, the new contracts will also enable icare to drive better performance through competition via publicly reporting provider results and making it easier for businesses to choose a provider who can give their injured worker the best care."
Subject to contract execution, the changes will be progressively implemented from early 2023, with more details to be provided over coming months.
Contracts with current Claims Service Providers Allianz, EML, GIO, and QBE, will end on 31 December 2022 and the new contracts will commence on 1 January 2023.
The new contracts will be for 10 years, subject to provider performance. Further providers may be brought on to the panel at a future date.
Considering feedback from a range of stakeholders and lessons from past experience, the changes will be rolled out at a measured pace over the next two years to minimise the impact on injured workers and employers.
This implementation aligns with the measured and staged approach recommended by the McDougall Review.
The new claims model is part of an extensive improvement program underway at icare. It builds on actions that have already occurred including recruitment of more case managers to improve support, piloting a 'first response' service for small to medium employers that support early return to work planning, and launching of a Professional Standards Framework that provides case managers with learning and career pathways to further strengthen industry-wide capability, expertise and capacity.
New System Retrofits Diesel Engines To Run On 90 Per Cent Hydrogen
Team from UNSW Engine Research Laboratory develop new Hydrogen-Diesel Direct Injection Dual-Fuel System that significantly cuts carbon emissions.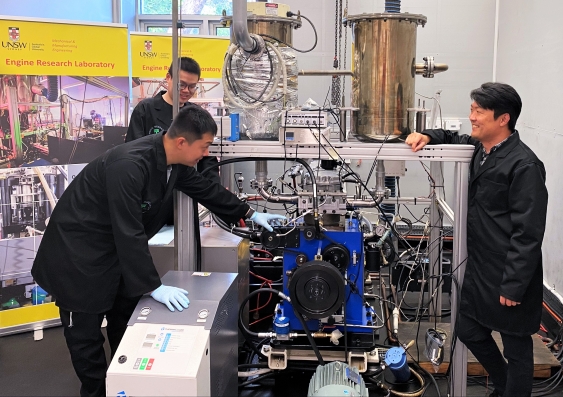 The Hydrogen-Diesel Direct Injection Dual-Fuel System has been developed by a team from the UNSW Engine Research Laboratory led by Professor Shawn Kook (right), and including Xinyu Liu (back left) and Jinxin Yang (front left). Photo from Prof. Shawn Kook
Engineers from UNSW Sydney have successfully converted a diesel engine to run as a hydrogen-diesel hybrid engine – reducing CO2 emissions by more than 85 per cent in the process.
The team, led by Professor Shawn Kook from the School of Mechanical and Manufacturing Engineering, spent around 18 months developing the Hydrogen-Diesel Direct Injection Dual-Fuel System that means existing diesel engines can run using 90 per cent hydrogen as fuel.
The researchers say that any diesel engine used in trucks and power equipment in the transportation, agriculture and mining industries could ultimately be retrofitted to the new hybrid system in just a couple of months.
Green hydrogen, which is produced using clean renewable energy sources such as wind and solar, is much more environmentally friendly than diesel.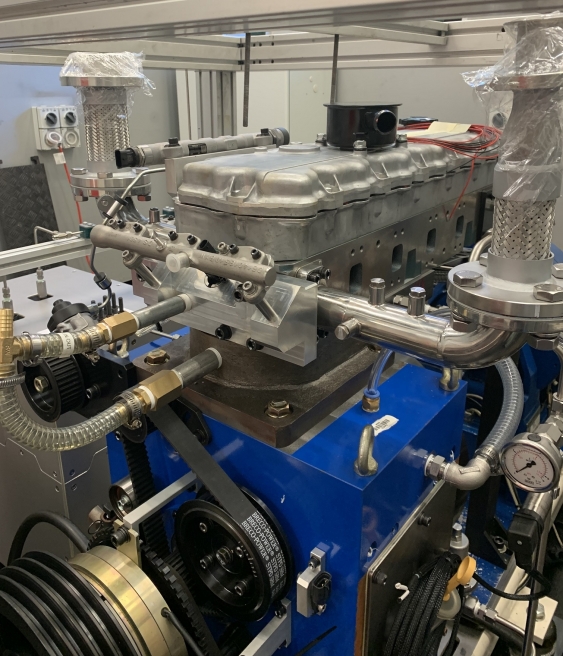 The Hydrogen-Diesel Direct Injection Dual-Fuel System developed at UNSW enables a traditional diesel engine to be retrofitted to run as a hydrogen-diesel hybrid engine. Photo by Prof. Shawn Kook
And in a
paper published
in the
International Journal of Hydrogen Energy
, Prof. Kook's team show that using their patented hydrogen injection system reduces CO2 emissions to just 90 g/kWh – 85.9 per cent below the amount produced by the diesel powered engine.
"This new technology significantly reduces CO2 emissions from existing diesel engines, so it could play a big part in making our carbon footprint much smaller, especially in Australia with all our mining, agriculture and other heavy industries where diesel engines are widely used," says Prof. Kook.
"We have shown that we can take those existing diesel engines and convert them into cleaner engines that burn hydrogen fuel.
"Being able to retrofit diesel engines that are already out there is much quicker than waiting for the development of completely new fuel cell systems that might not be commercially available at a larger scale for at least a decade.
"With the problem of carbon emissions and climate change, we need some more immediate solutions to deal with the issue of these many diesel engines currently in use."
High-pressure hydrogen direct injection
The UNSW team's solution to the problem maintains the original diesel injection into the engine, but adds a hydrogen fuel injection directly into the cylinder.
The collaborative research, performed with Dr Shaun Chan and Professor Evatt Hawkes, found that specifically timed hydrogen direct injection controls the mixture condition inside the cylinder of the engine, which resolves harmful nitrogen oxide emissions that have been a major hurdle for commercialisation of hydrogen engines.
"If you just put hydrogen into the engine and let it all mix together you will get a lot of nitrogen oxide (NOx) emissions, which is a significant cause of air pollution and acid rain," Prof. Kook says.
"But we have shown in our system if you make it stratified – that is in some areas there is more hydrogen and in others there is less hydrogen – then we can reduce the NOx emissions below that of a purely diesel engine."
Importantly, the new Hydrogen-Diesel Direct Injection Dual-Fuel System does not require extremely high purity hydrogen which must be used in alternative hydrogen fuel cell systems and is more expensive to produce.
And compared to existing diesel engines, an efficiency improvement of more than 26 per cent has been shown in the diesel-hydrogen hybrid.
That improved efficiency is achieved by independent control of hydrogen direct injection timing, as well as diesel injection timing, enabling full control of combustion modes – premixed or mixing-controlled hydrogen combustion.
The research team hope to be able to commercialise the new system in the next 12 to 24 months and are keen to consult with prospective investors.
They say the most immediate potential use for the new technology is in industrial locations where permanent hydrogen fuel supply lines are already in place.
That includes mining sites, where studies have shown that about 30 per cent of greenhouse-gas emissions are caused by the use of diesel engines, largely in mining vehicles and power generators.
And the Australian market for diesel-only power generators is currently estimated to be worth around $765 million.
"At mining sites, where hydrogen is piped in, we can convert the existing diesel engines that are used to generate power," says Prof. Kook.
"In terms of applications where the hydrogen fuel would need to be stored and moved around, for example in a truck engine that currently runs purely on diesel, then we would also need to implement a hydrogen storage system to be integrated into our injection system.
"I do think the general technology with regards to mobile hydrogen storage needs to be developed further because at the moment that is quite a challenge."
Report by Neil Martin, UNSW
Positive Childhood Experiences Of Blue Spaces Linked To Better Adult Well-Being
New research based on data from 18 countries concludes that adults with better mental health are more likely to report having spent time playing in and around coastal and inland waters, such as rivers and lakes (also known collectively as blue spaces) as children. The finding was replicated in each of the countries studied.
Mounting evidence shows that spending time in and around green spaces such as parks and woodlands in adulthood is associated with stress reduction and better mental health. However, we know far less about the benefits of blue spaces, or the role childhood contact has in these relationships in later life.
Data came from the BlueHealth International Survey (BIS), a cross-sectional survey co-ordinated by the University of Exeter's European Centre for Environment and Human Health. The current analysis used data from over 15,000 people across 14 European Countries and 4 other non-European countries/regions (Hong Kong, Canada,
Australia
and California).
Respondents were asked to recall their blue space experiences between the ages of 0-16 years including how local they were, how often they visited them, and how comfortable their parents/guardians were with them playing in these settings, as well as more recent contact with green and blue spaces over the last four weeks, and mental health over the last two weeks.
The research, published in the Journal of Environmental Psychology, found that individuals who recalled more childhood blue space experiences tended to place greater intrinsic value on natural settings in general, and to visit them more often as adults -- each of which, in turn, were associated with better mental wellbeing in adulthood.
Valeria Vitale, Lead author and PhD Candidate at Sapienza University of Rome, said: "In the context of an increasingly technological and industrialized world, it's important to understand how childhood nature experiences relate to wellbeing in later life.
"Our findings suggest that building familiarity and confidence in and around blue spaces during childhood may stimulate an inherent joy of nature and encourage people to seek out recreational nature experiences, with beneficial consequences for adult mental health."
Dr Leanne Martin, Co-author and Postdoctoral Research Associate at the University of Exeter's European Centre for Environment and Human Health, said: "Water settings can be dangerous for children, and parents are right to be cautious. This research suggests though that supporting children to feel comfortable in these settings and developing skills such as swimming at an early age can have previously unrecognised life-long benefits."
Dr Mathew White, Co-author and Senior Scientist at the University of Vienna, said: "The current study is adding to our growing awareness of the need for urban planners and local bodies responsible for managing our green and blue spaces to provide safe, accessible access to natural settings for the healthy mental and physical development of our children.
"If our findings are supported by longitudinal research that tracks people's exposures over the entire life-course, it would suggest that further work, policies and initiatives encouraging more blue space experiences during childhood may be a viable way to support the mental health of future generations."
Valeria Vitale, Leanne Martin, Mathew P. White, Lewis R. Elliott, Kayleigh J. Wyles, Matthew H.E.M. Browning, Sabine Pahl, Patricia Stehl, Simon Bell, Gregory N. Bratman, Mireia Gascon, James Grellier, Maria L. Lima, Mare Lõhmus, Mark Nieuwenhuijsen, Ann Ojala, Jane Taylor, Matilda van den Bosch, Netta Weinstein, Lora E. Fleming.
Mechanisms underlying childhood exposure to blue spaces and adult subjective well-being: An 18-country analysis.
Journal of Environmental Psychology, 2022; 101876 DOI:
10.1016/j.jenvp.2022.101876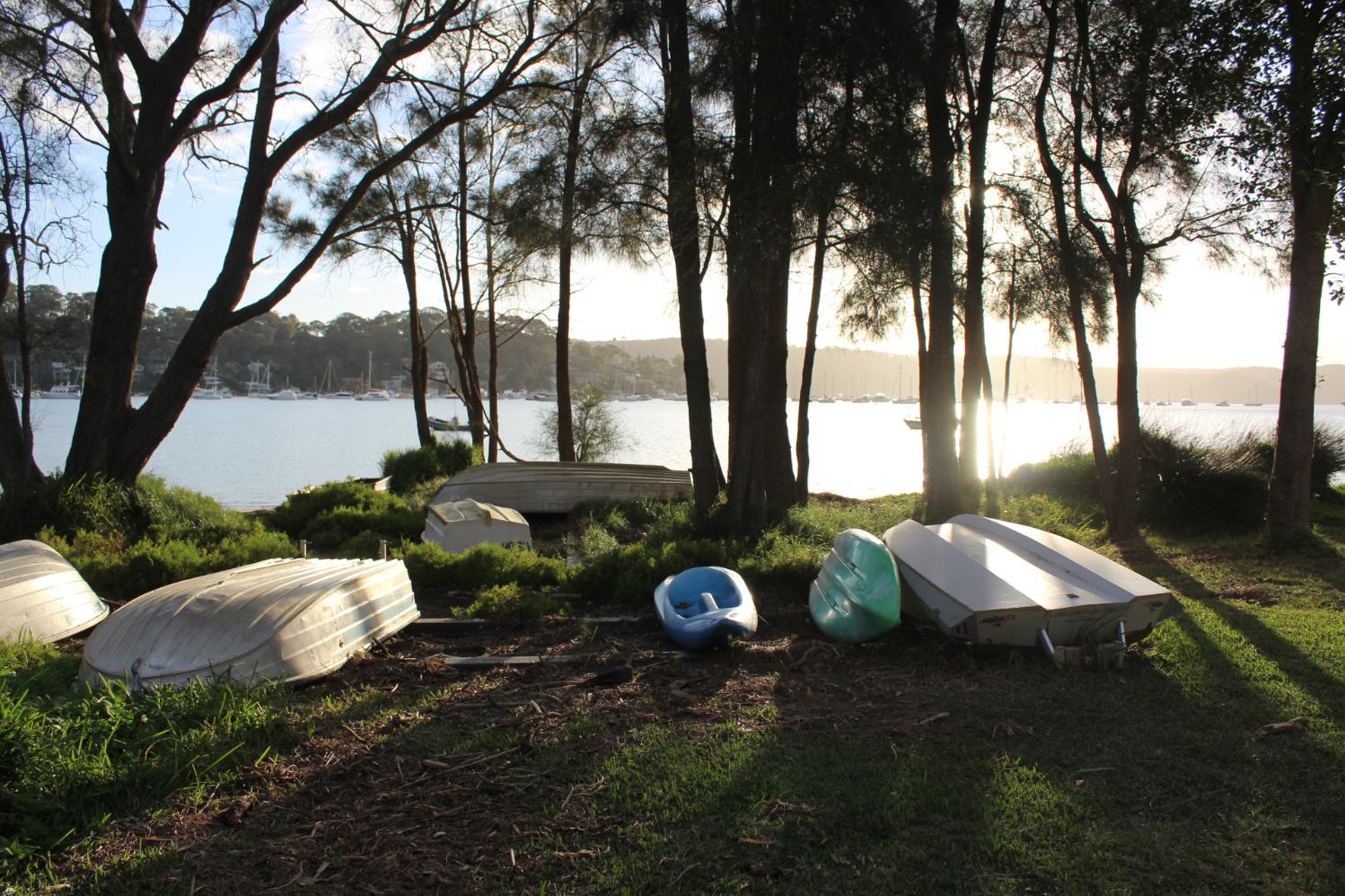 Why Some Countries Are Leading The Shift To Green Energy
Oil and gas prices skyrocketed following the Russian invasion of Ukraine in spring 2022, creating a global energy crisis similar to the oil crisis of the 1970s. While some countries used the price shock to accelerate the transition to cleaner sources of energy, such as wind, solar and geothermal, others have responded by expanding the production of fossil fuels.
A new study appearing this week in the journal Science identifies the political factors that allow some countries to take the lead in adopting cleaner sources of energy while others lag behind. The findings offer important lessons as many governments around the world race to reduce greenhouse gas emissions and limit the devastating impacts of climate change.
"We are really interested in understanding how national differences mediate the responses of countries to the same kind of energy challenge," said study lead author Jonas Meckling, an associate professor of energy and environmental policy at the University of California, Berkeley. "We found that the political institutions of countries shape how much they can absorb costly policies of all kinds, including costly energy policies."
By analysing how different countries responded to the current energy crisis and to the oil crisis of the 1970s, the study reveals how the structure of political institutions can help or hinder the shift to clean energy. Meckling carried out the analysis in collaboration with study co-authors Phillip Y. Lipscy of the University of Toronto, Jared J. Finnegan of University College London, and Florence Metz of the University of Twente, in the Netherlands.
Because policies that promote the transition to cleaner energy technologies are often costly in the short-term, they can garner significant political pushback from constituents, including consumers and corporations. The analysis found that the countries that were most successful at pioneering cleaner energy technologies had political institutions that helped absorb some of this pushback -- either by insulating policymakers from political opposition or by compensating consumers and corporations for the extra costs associated with adopting new technologies.
For example, Meckling said, many countries in continental and northern Europe have created institutions that allow policymakers to insulate themselves from pushback by voters or lobbyists or to pay off constituencies impacted by the transition. As a result, many of these countries have been more successful at absorbing the costs associated with transitioning to a clean energy system, such as investing in greater wind capacity or upgrading transmission grids.
Meanwhile, countries that lack such institutions, such as the U.S., Australia and Canada, often follow market-driven transitions, waiting for the price of new technologies to drop before adopting them.
"We can expect that countries that can pursue the insulation or compensation path will be early public investors in these very costly technologies that we need for decarbonization, such as hydrogen fuel cells and carbon removal technologies," Meckling said. "But once these new technologies become cost competitive in the market, then countries like the U.S. can respond relatively rapidly because they are so sensitive to price signals."
One way to help insulate policymakers from political pushback is to hand over regulatory power to independent agencies that are less subject to the demands of voters or lobbyists. The California Air Resources Board (CARB), a relatively autonomous agency that has been tasked with implementing many of California's climate goals, is a prime example of such an institution. Thanks in part to CARB, California is often considered a global leader in limiting greenhouse gas emissions, despite being a state within the U.S.
Germany, another global climate leader, is instead using compensation to achieve its ambitious climate goals. For example, the Coal Compromise brought together disparate groups -- including environmentalists, coal executives, trade unions and leaders from coal mining regions -- to agree on a plan to phase out coal by the year 2038. To achieve this goal, the country will provide economic support to workers and regional economies that are dependent on coal, while bolstering the job market in other industries.
"We want to show that it's not just resource endowments that shape how countries respond to energy crises, it's also politics," Meckling said.
The U.S., as a whole, does not have strong institutions in place to absorb political opposition to costly energy policies. However, Meckling said that policymakers can still drive the energy transition forward by leveraging the leadership of states like California by focusing on policies that have more dispersed costs and less political opposition -- such as support for energy research and development -- and by clearing the way for the market to adopt new technologies once the cost has gone done.
"Countries like the U.S. that do not have these institutions should at least focus on removing barriers once these clean technologies become cost competitive," Meckling said. "What they can do is reduce the cost for market actors."
Jonas Meckling Phillip Y. LipscyJared J. Finnegan and Florence Metz.
Why nations lead or lag in energy transitions Policy-driven change hinges on institutions that support insulation or compensation
. Science, 2022 DOI:
10.1126/science.adc9973
Promising Medication For Sleep Apnoea
Targeting a condition suffered by nearly a billion people worldwide, a new study from Flinders University has shown a drug previously used to treat depression can reduce obstructive sleep apnoea (OSA) severity.
While not yet identifying a cure, the authors say the study opens up further avenues for the development of future drug treatments targeted at the huge number of people unable to tolerate current sleep apnoea therapies, such as continuous positive airway pressure (CPAP) machines.
"Obstructive sleep apnoea can be a debilitating disease, causing poor quality sleep at night and sleepiness during the day," says study lead author Dr Thomas Altree from FHRMI: Sleep Health (formerly the Adelaide Institute for Sleep Health).
"It affects millions of Australians and causes major impacts on health and productivity.
"Recent research found a combination of the medicines reboxetine and oxybutynin, which were both previously used for unrelated conditions, could be an effective treatment for obstructive sleep apnoea but can cause side effects.
"We wanted to see if reboxetine on its own could be effective and assess exactly how it changes breathing during sleep."
The team ran a double blind, placebo controlled, randomised, multicentre cross-over trial with collaborators at the Woolcock Institute in Sydney (following a gold standard for drug trials) with 16 people who had OSA. They tested single doses of reboxetine compared to a combination of reboxetine and oxybutynin or placebo.
"Our results showed that reboxetine on its own can reduce sleep apnoea severity," says Dr Altree.
"We found the drug reduced the number of sleep apnoea events per hour and also improved oxygen levels, while the addition of oxybutynin didn't cause additional improvements.
"We also used a state-of-the-art computing method to determine how the drug stabilises breathing during sleep, which allows us to identify which patients might benefit most from the drug in the future."
The team's findings present the first evidence that reboxetine alone reduces OSA severity, and provides further insight into the role of norepinephrine reuptake inhibitors on upper airway stability during sleep.
"The current gold-standard treatment of sleep apnoea is with a CPAP device during sleep. But this one-size-fits-all approach doesn't address the fact that there are different causes for sleep apnoea. In addition, many people can't tolerate CPAP in the long term," says Dr Altree.
"It's therefore important we discover other avenues to assist people, and this study provides an important step for future drug development."
Sleep clinician Dr Tom Altree at Flinders Sleep Health, Bedford Park. Photo: Flinders University

Thomas J. Altree, Atqiya Aishah, Kelly A. Loffler, Ronald R. Grunstein, Danny J. Eckert.
The norepinephrine reuptake inhibitor reboxetine alone reduces obstructive sleep apnoea severity: a double blind, placebo controlled, randomized, cross-over trial.
Journal of Clinical Sleep Medicine, 2022; DOI:
10.5664/jcsm.10256
Sound Reveals Giant Blue Whales Dance With The Wind To Find Food
A study by MBARI researchers and their collaborators published today in Ecology Letters sheds new light on the movements of mysterious, endangered blue whales. The research team used a directional hydrophone on MBARI's underwater observatory, integrated with other advanced technologies, to listen for the booming vocalizations of blue whales. They used these sounds to track the movements of blue whales and learned that these ocean giants respond to changes in the wind.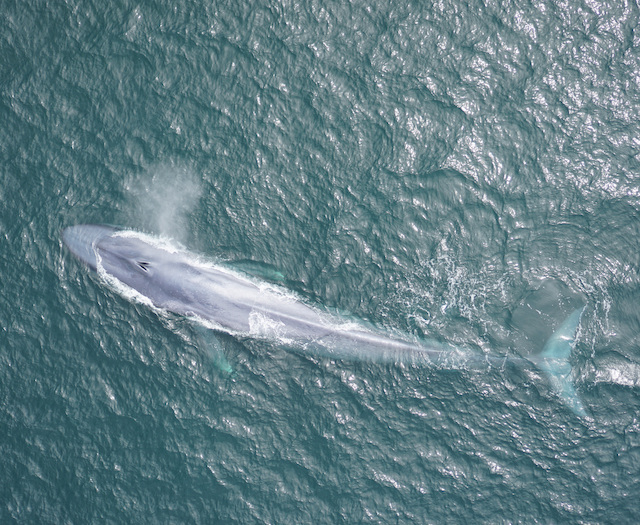 Along California's Central Coast, spring and summer bring coastal upwelling. From March through July, seasonal winds push the top layer of water out to sea, allowing the cold water below to rise to the surface. The cooler, nutrient-rich water fuels blooms of tiny phytoplankton, jumpstarting the food web in Monterey Bay, from small shrimp-like krill all the way to giant whales. When the winds create an upwelling event, blue whales seek out the plumes of cooler water, where krill are most abundant. When upwelling stops, the whales move offshore into habitat that is transected by shipping lanes.
"This research and its underlying technologies are opening new windows into the complex, and beautiful, ecology of these endangered whales," said John Ryan, a biological oceanographer at MBARI and lead author of this study. "These findings demonstrate a new resource for managers seeking ways to better protect blue whales and other species."
The directional hydrophone is a specialized underwater microphone that records sounds and identifies the direction from which they originate. To use this technology to study blue whale movements, researchers needed to confirm that the hydrophone reliably tracked whales. This meant matching the acoustic bearings to a calling whale that was being tracked by GPS. With confidence in the acoustic methods established, the research team examined two years of acoustic tracking of the regional blue whale population.
This study built upon previous research led by MBARI Senior Scientist Kelly Benoit-Bird, which revealed that swarms of forage species -- anchovies and krill -- reacted to coastal upwelling. This time, researchers combined satellite and mooring data of upwelling conditions and echosounder data on krill aggregations with the acoustic tracks of foraging blue whales logged by the directional hydrophone.
"Previous work by the MBARI team found that when coastal upwelling was strongest, anchovies and krill formed dense swarms within upwelling plumes. Now, we've learned that blue whales track these dynamic plumes, where abundant food resources are available," explained Ryan.
Blue whales recognise when the wind is changing their habitat and identify places where upwelling aggregates their essential food -- krill. For a massive animal weighing up to 150 tonnes (165 tons), finding these dense aggregations is a matter of survival.
While scientists have long recognised that blue whales seasonally occupy Monterey Bay during the upwelling season, this research has revealed that the whales closely track the upwelling process on a very fine scale of both space (kilometres) and time (days to weeks).
"Tracking many individual wild animals simultaneously is challenging in any ecosystem. This is especially difficult in the open ocean, which is often opaque to us as human observers," said William Oestreich, previously a graduate student at Stanford University's Hopkins Marine Station and now a postdoctoral fellow at MBARI. "Integration of technologies to measure these whales' sounds enabled this important discovery about how groups of predators find food in a dynamic ocean. We're excited about the future discoveries we can make by eavesdropping on blue whales and other noisy ocean animals."
Blue whales (Balaenoptera musculus) are the largest animals on Earth, but despite their large size, scientists still have many unanswered questions about their biology and ecology. These gentle giants seasonally gather in the Monterey Bay region to feed on small shrimp-like crustaceans called krill.
Blue whales are elusive animals. They can travel large distances underwater very quickly, making them challenging to track. MBARI researchers and collaborators employed a novel technique for tracking blue whales -- sound.
MBARI's MARS (Monterey Accelerated Research System) observatory offers a platform for studying the ocean in new ways. Funded by the National Science Foundation, the cabled observatory provides continuous power and data connectivity to support a variety of instruments for scientific experiments.
In 2015, MBARI researchers installed a hydrophone, or underwater microphone, on the observatory. The trove of acoustic data from the hydrophone has provided important insights into the ocean soundscape, from the migratory and feeding behaviors of blue whales to the impact of noise from human activities.
In 2019, MBARI and the Naval Postgraduate School installed a second hydrophone on the observatory. The directional hydrophone gives the direction from which a sound originated. This information can reveal spatial patterns for sounds underwater, identifying where sounds came from. By tracking the blue whales' B call -- the most powerful and prevalent vocalization among the regional blue whale population -- researchers could follow the movements of individual whales as they foraged within the region.
Researchers compared the directional hydrophone's recordings to data logged by tags that scientists from Stanford University had previously deployed on blue whales. Validating this new acoustic tracking method opens new opportunities for simultaneously logging the movements of multiple whales. It may also enable animal-borne tag research by helping researchers find whales to tag. "The integrated suite of technologies demonstrated in this paper represents a transformative tool kit for interdisciplinary research and mesoscale ecosystem monitoring that can be deployed at scale throughout protected marine habitats. This is a game changer and brings both cetacean biology and biological oceanography to the next level," said Jeremy Goldbogen, an associate professor at Stanford University's Hopkins Marine Station and a coauthor of the study.
This new methodology has implications not only for understanding how whales interact with their environment and one another but also for advancing management and conservation.
Despite protections, blue whales remain endangered, primarily from the risk of collisions with ships. This study showed that blue whales in Monterey Bay National Marine Sanctuary regularly occupy habitat transected by shipping lanes. Acoustic tracking of whales may provide real-time information for resource managers to mitigate risk, for example, through vessel speed reduction or rerouting during critical periods. "These kinds of integrated tools could allow us to spatially and temporally monitor, and eventually even predict, ephemeral biological hotspots. This promises to be a watershed advancement in the adaptive management of risks for protected and endangered species," said Brandon Southall, president and senior scientist for Southall Environmental Associates Inc. and a coauthor of the research study.
Support for this research was provided by the David and Lucile Packard Foundation. The National Science Foundation funded the installation and maintenance of the MARS cabled observatory through awards 0739828 and 1114794. Directional acoustic processing work was supported by the Office of Naval Research, Code 32. Tag work was funded in part by the National Science Foundation (IOS-1656676), the Office of Naval Research (N000141612477), and a Terman Fellowship from Stanford University.
John P. Ryan, Kelly J. Benoit‐Bird, William K. Oestreich, Paul Leary, Kevin B. Smith, Chad M. Waluk, David E. Cade, James A. Fahlbusch, Brandon L. Southall, John E. Joseph, Tetyana Margolina, John Calambokidis, Andrew DeVogelaere, Jeremy A. Goldbogen.
Oceanic giants dance to atmospheric rhythms: Ephemeral wind‐driven resource tracking by blue whales.
Ecology Letters, 2022; DOI:
10.1111/ele.14116
In text image: MBARI researchers and their collaborators have gained important insight into the feeding habits of blue whales. The gentle giants follow wind-driven upwelling to find rich patches of food. Image: Goldbogen Lab/Duke Marine Robotics and Remote Sensing Lab (NMFS Permit 16111)
Disclaimer: These articles are not intended to provide medical advice, diagnosis or treatment. Views expressed here do not necessarily reflect those of Pittwater Online News or its staff.