October 2 - 15, 2022: Issue 557
Conservation Zones Review has potential to facilitate medium density in previously 'Environmental Living' zones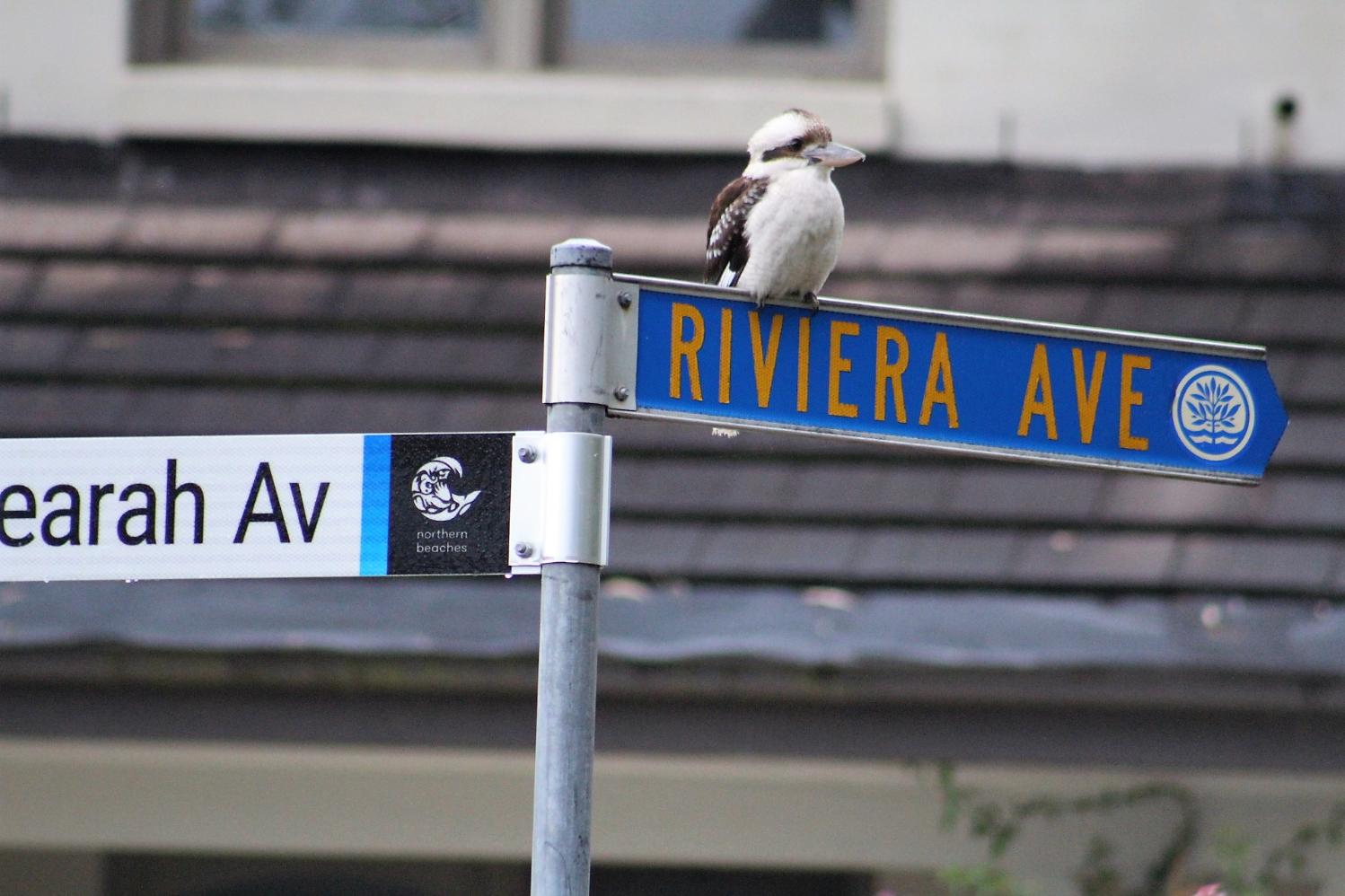 One of the most important issues for this council term came up at the August 23, 2022 Northern Beaches Council meeting: its Review of Conservation Zones, which is now on public exhibition for feedback.
While there will be an overall increase in the number of conservation zonings on the Northern Beaches under this proposal, more than 2,000 properties in the former Pittwater Local Government Area will lose these zonings. Many sites formerly zoned E4 and now C4 (for land with special environmental value) will now become R2 (low density residential).

For example, in Pittwater, the C4 zone currently allows low impact developments (generally single dwellings) in areas with special ecological, scientific or aesthetic value while in Manly, blocks of flats are allowed in the C4 zone.
Planners have told councillors they currently estimate that in the former Pittwater LGA, 3,613 properties will move from a C zone to an R (residential) zone, and 1,328 from an R zone to a C zone, resulting in an overall loss of 2,285 properties from C zones. That compares to an overall gain of 847 C zone properties across the LGA.
The former Manly LGA will lose 54 properties from the C zone and former Warringah will lose 1.
Experts who have reviewed the Biodiversity Planning Review paper state it should be opposed as such a huge potential loss of conservation zones represents the most serious incursion into the existing Pittwater LEP/DCP rules. These guidelines have contributed to the protection of Pittwater's character, landscape, and scenic quality to date.

In total, the former Pittwater would have 7,447 properties zoned C3 or C4 and 9,347 properties in residential zones.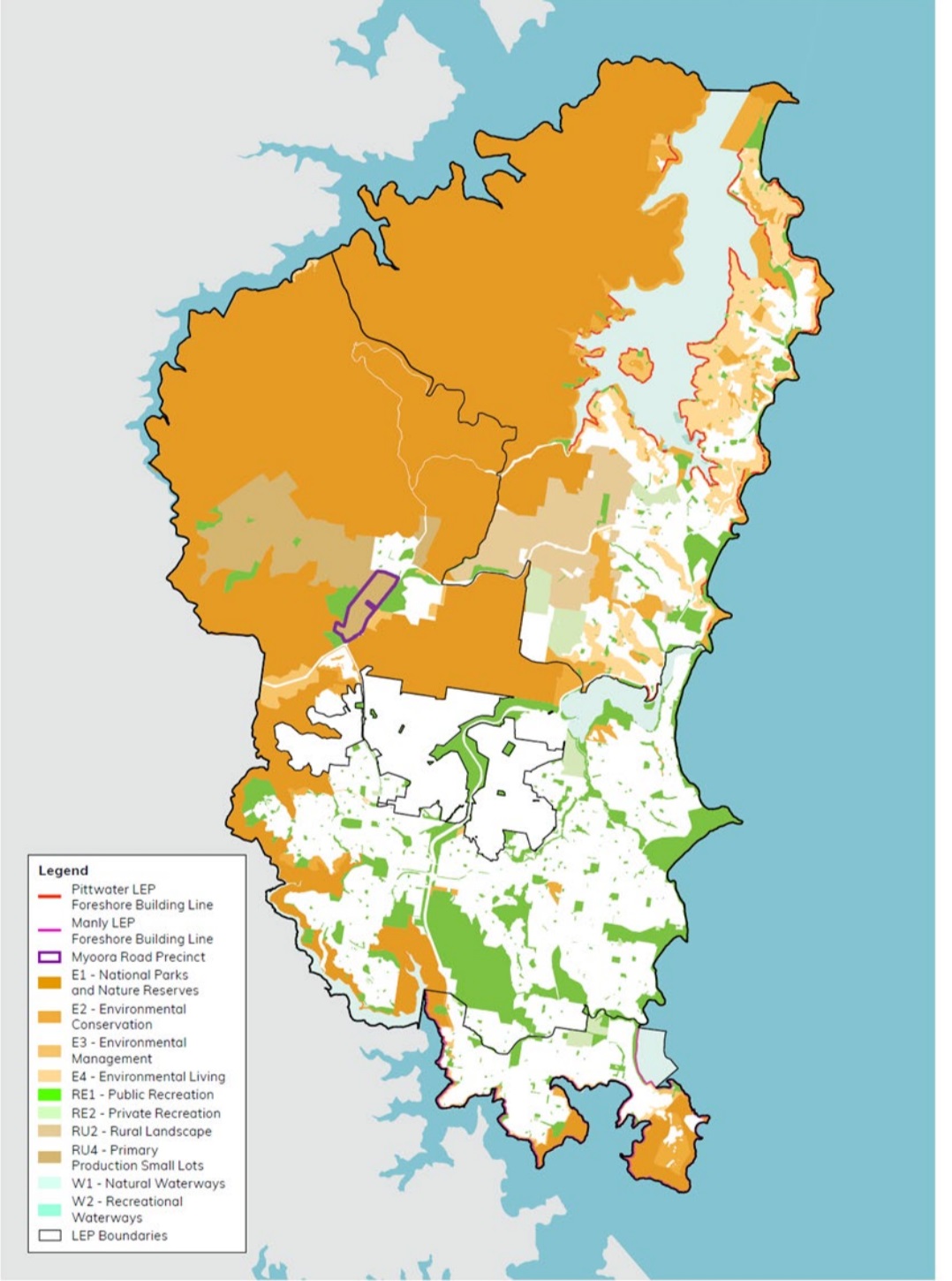 Map showing existing zones under review in the Northern Beaches Local Government area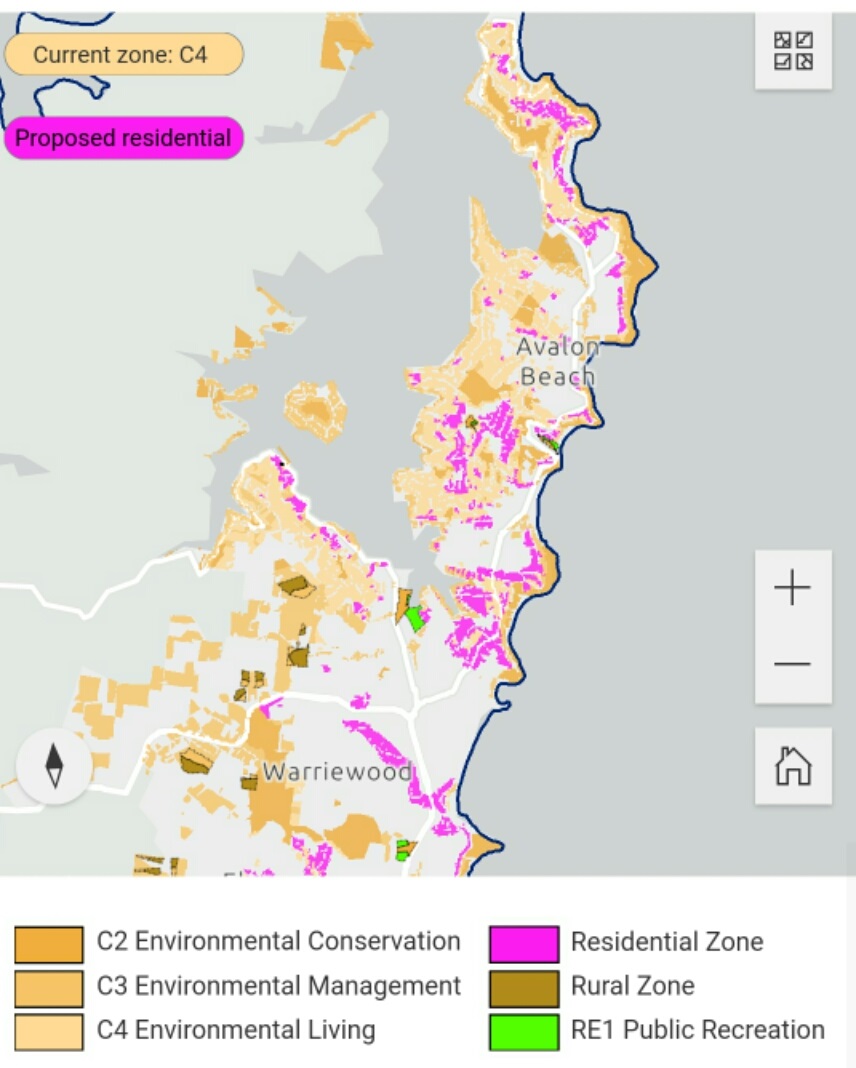 Council's proposed rezoning of Conservation C4 lands to Residential zoning
The move from C4 to Residential would result in more development in these areas and a huge loss of natural landscapes including canopy. The rezoning from C4 to Residential would also trigger the application of the July 1st 2022 amended NSW Housing SEPP to the newly created Residential zones.
Under the changes made to the State Environmental Planning Policy (Housing) 2021 all seniors living, including independent living unit developments, will be allowed in R2 Low Density Residential zones. The building height will also change, allowing up to 9 metres, excluding any basement works.
It's also worth noting that under the Council's Local Housing Strategy the NSW Department of Planning has told the Council it must proceed with planning work that will lead to rezoning of one or more of the following as outlined in its LHS to compensate for housing not delivered by the Ingleside precinct:
One of the following Centre Investigation Areas for Brookvale, Dee Why, Manly Vale or Narrabeen;
Two or more of the Housing Diversity Areas centres; and/ or
other proposed rezonings in the LGA that have arisen since the preparation of the LHS that will enable delivery of substantive and new housing supply.
The planning proposals for one or more of these alternatives are required to be submitted to the NSW Planning Department for Gateway determination by or before December 2022.

Further, the Council is required to submit proposal(s) for two or more of the Centre Investigations Area are to the Planning Department for Gateway determination to facilitate dwelling delivery within the 2021 to 2026 period.
Council is also required to expedite the following LHS actions under Priorities 2 and 5 to ensure housing supply, diversity and affordability outcomes are secured before 2026:
Planning analysis and LEP updates for Brookvale, Dee Why, Mona Vale, Manly Vale and Narrabeen that do not reduce the permissibility or density of existing permissible uses.
Annual reporting of development by centre to track yields and housing mix.
Adoption of a social and affordable housing target.
Continue to implement council's affordable housing contribution scheme

(AHCS).

Review and seek lower parking requirements for boarding houses for R3, R4 and B4 sites in centre investigation areas.
Council's LHS Centre investigation areas identified Brookvale, Dee Why, Mona Vale, Manly Vale and Narrabeen along the existing B-Line as centre investigation areas in the medium term, and Forestville and Beacon Hill in the longer term, subject to a future B-Line route (future B-Lines along Warringah and Mona Vale Roads).
Housing diversity areas identified through the Council's LHS were Avalon, Newport, Warriewood, Belrose, Freshwater, Balgowlah and Manly as areas to support housing diversity in the form of dual occupancies, seniors housing and boarding houses.
In July 2018 the NSW Government introduced new planning controls through the Low-Rise Medium Diversity Housing Code (the Code) under State Environmental Planning Policy (Exempt and Complying Development), which also applies to this LGA.
The Code allows for the development and subdivision of dual occupancies; multi-dwelling houses (including terraces), manor homes under a fast track complying development approval process where those land uses were currently permitted with development consent from Council.
This approval can be issued by a private certifier within 20 days if the application complies with requirements in the Code.
Residents already know the former Pittwater LGA is under increasing environmental pressure. This trend has seen people building way over their 60 percent of land area, needlessly removing trees and exceeding existing height limits with variations being permitted.
There have also been a number of proposed developments out of keeping with Pittwater. One still before the Land and Environment court, with hearing dates set for later in October, seeks to build flats and develop the whole block in an area where this would ruin the local amenity at Palm Beach.
This week there have been renewed calls for a Heritage Listing for the whole of Pittwater.
Professor Richard West AM, President of the Palm Beach-Whale Beach Association, which has as its main aim to preserve the unique environment in which we live, has echoed other residents associations which state these changes represent a threat to Pittwater.
Prof. West told Pittwater Online this week that 'special consideration should be made to preserve these qualities'.
These zonings will feed into the upcoming, single Northern Beaches Local Environment Plan, which will regulate development for the whole council area. So for those wanting to protect the scenic bushland habitat, it will be important to read the multiple documents now made available and let the Council know what you think.
The Council want to know if you agree with the approach and criteria used in the review to identify and map core habitat areas, biodiversity corridor areas, threatened ecological communities, and threatened flora and fauna species habitat.
Conservation zones, previously called Environmental zones in the former Pittwater LEP, "are used to protect and conserve areas with special environmental values or where there are known hazards eg bushfire, (and) coastal inundation", planning staff noted in their motion to place the draft on exhibition.
The four conservation zones in the new LEP align with those identified by the NSW Department of Planning and Environment and are as follows:
C1 National Parks and Nature Reserves - existing and newly proposed national parks, nature reserves and conservation areas - as identified and agreed by the NSW government.
C2 Environmental Conservation - for areas of high ecological, scientific or cultural values.
C3 Environmental Management - Special ecological, scientific, cultural or aesthetic attributes or environmental hazards/processes.
C4 Environmental Living - special environmental or scenic values; low impact residential development.
The challenge for Council staff has been that four LEPs are currently operational across the Northern Beaches Council area and the state government requires that they be 'harmonised' after the forced amalgamation of the former Manly, Warringah and Pittwater councils. (ie Pittwater's LEP; Manly's; Warringah's; and a second one in that former council area for land where zoning was never finalised by the NSW government).
Alike the Rates Harmonisation of the forcibly amalgamated former Councils and saw an increase for Manly and Pittwater implemented from July 1st 2022, and a reduction for the former Warringah area, despite an amendment to the Local Government Amendment Bill 2021 which allowed up to eight-years to harmonise rates for councils that were amalgamated in 2016, and which had been preceded by Warringah Council's seeking approval from IPART in 2014 for a cumulative increase of 26.2 per cent over four years and was instead allowed an increase at 19.7 per cent, the former council area that will be impacted most by this latest required 'harmonisation' will be Pittwater.
Council CEO Ray Brownlee accepted that some of the proposed zonings might change. "We're not going to get this right in the first go. That's what this process is all about," Mr Brownlee told the August 2022 Council meeting.
However, Pittwater Liberal Councillor Rory Amon stated he did not want to delay the process. "If we get a Labor government next year, what that means for locations like Mona Vale will be high rise as far as the eye can see," Mr Amon said.
The NSW Labor party have made no statements regarding their housing policy as yet. The only commitments opposition leader Chris Minns has announced so far have been there will be no more privatisation under a NSW Labor Government and plans to fix problems in public hospitals. Their 2022 NSW State Conference will take place Saturday 15 and Sunday 16 October 2022.
Under the current State Government high rises as far as the eye can see, the NB Council's required rezoning of one or more areas for densification of housing due by December 2022, what can now be built locally under the low rise housing diversity code, the razing of koala habitat in southern Sydney, and the 2022 proposal for tourist accommodation in Barrenjoey Lighthouse cottages, all need to be 'approved' prior to the March 23rd 2023 state election just in case a new government commences rolling back or dismantling the same.
Council Staff expect the LEP will be ready to present to council in early 2023, before it goes to the incumbent State Government for approval.
The documents are available at: yoursay.northernbeaches.nsw.gov.au/planning-ezones and open for feedback until October 30.
Given the amount of papers to be read, and the Spring school holidays break in the middle of the feedback period, an extension of two weeks for feedback is anticipated.
Community groups are having a planning forum to point out all the problems with the Conservation Zone study on October 16th, 4 - 6 pm at Mona Vale Memorial Hall - Notice in full below.

PROPOSED COUNCIL CONSERVATION ZONINGS
CHANGES ARE COMING - CAN YOU LIVE WITH THEM?
To find out more, attend the community planning forum on:
Sunday October 16
4pm
Mona Vale Memorial Hall
Northern Beaches Council is proposing to rezone around 3,600 properties in the former Pittwater LGA from the existing Conservation C4 (Environmental Living) zone to Residential (R) Zones.
Is this a good strategy for the protection of our area? Or could this mean:
a risk of inappropriate development with additional uses permissible in the R zones including medium density housing, townhouses and senior housing development.
a possibility that the state's housing policy applies to the new R zones.
neighborhood scenic value disrupted on a bigger scale.
intrusion into green space and habitat corridors – without enough consideration of buffer size.
loss of tree canopy and habitat.
loss of residential amenity.
loss of environmental quality.
an increase in land slip issues, one of the identified natural hazards of Pittwater. Has this and other hazards been considered widely enough in the rezoning?
a mismatch between landscape and zoning criteria due to insufficient physical inspections.
a compromise in the preservation of our green corridors, which is not aligned with council's own local strategy "Towards 2040". Many affected properties back onto or are too near reserves, parks, waterways and lagoons.
Should much of Pittwater be preserved in the Conservation Zone?
We believe there is a strong argument for an increase in conservation zoned land and want to see all existing conservation C4 lands retained along with establishing a foreshore scenic protection area from the shoreline, including lagoons and waterways to ridge.
LET'S BE GOOD CARETAKERS AND KEEP THE NORTHERN BEACHES BEAUTIFUL FOR OUR GRANDCHILDREN TO SEE
Attend the forum, make a submission.
See: https://yoursay.northernbeaches.nsw.gov.au/planning-ezones
Forum organised and supported by a number of Pittwater residents and community groups, including Clareville and Bilgola Plateau Residents Association, Mona Vale Residents Association, and Pittwater Natural Heritage Association. For more information please email: cabpra@gmail.com