inbox and environment news: Issue 554
September 11 - 17, 2022: Issue 554
THE KING PARROT
When the wattle curls are browning,
When the blackwood's bloom is done,
When the gloom of Winter's frowning,
Flees before the waxing sun.
When the forest's tears have ended.
Regally arrayed and splendid.
Come I, like a gem afloat
In my Royal scarlet trousers
And my green tail-coat
Few among the singing gentry
Note my royal presence there.
Quietly I make my entry
With an unassuming air;
Till, on some hot noonday dreaming
'Mid the ripening grasses gleaming.
With surprised delight you note
My official scarlet trousers
And my green tail-coat
When the royal feast is over —
Kingly fare in bounty spread,
'Mid the cocksfoot and the clover —
I would seek the royal bed,
Then, my retinue attending,
Thro' the gums I flash, ascending
To my trumpet's piercing note,
In my gorgeous scarlet trousers
And my green tail-coat
— From 'The Singing Garden,' by C. J. Dennis.
THE KING PARROT (1936, August 20). Maryborough Chronicle, Wide Bay and Burnett Advertiser (Qld. : 1860 - 1947), p. 3. Retrieved from http://nla.gov.au/nla.news-article149994009
A window to the brain: the retina gives away signs of Alzheimer's disease and could help with early detection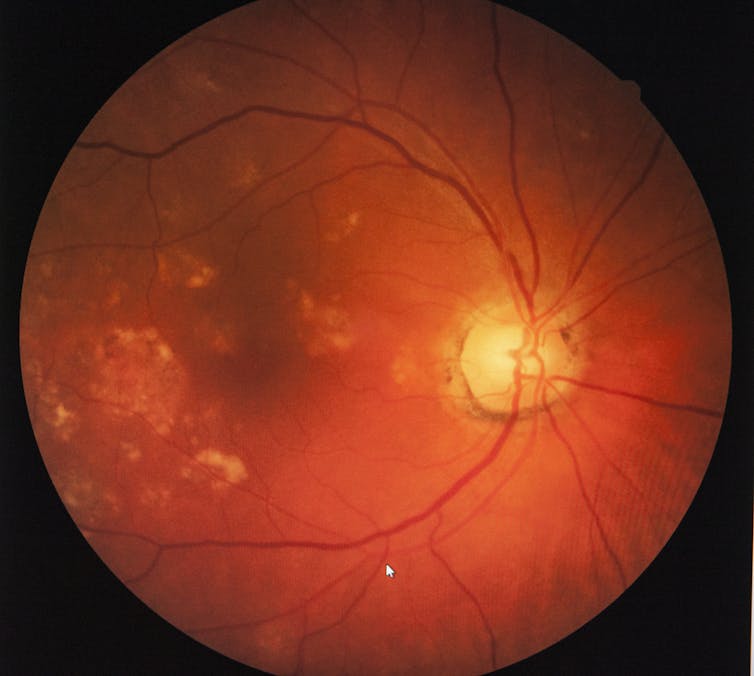 Ashleigh Barrett-Young, University of Otago
The retina has long been poeticised as the window to the soul, but research now shows it could be a window to the brain and act as an early warning system for cognitive decline.
A growing body of research suggests the retina is thinner in people with Alzheimer's disease, reflecting the cell loss that is a hallmark of the neurodegenerative disease.
We investigated a group of middle-aged people who are part of the Dunedin Study, a comprehensive longitudinal project that has continued for five decades. We found people with thinner retinal nerve fibre layers (one of the cell layers in the retina) had slower mental processing speed. This is one of the first cognitive processes to decline in Alzheimer's disease.
The people in our study were 45 years old, which is young for investigating age-related neurological diseases like Alzheimer's. But treatments and interventions are most effective when administered during the earliest stages of Alzheimer's and it is crucial to find ways of identifying people's risk as early as possible. Easy risk identification will also help with clinical trials for Alzheimer's disease treatments.
Why The Retina Is A Good Biomarker For The Brain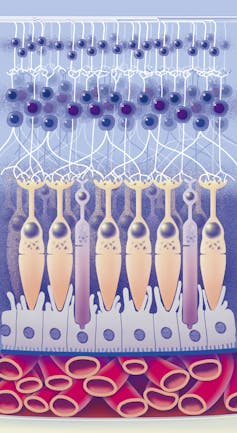 The retina (the back of your eye) is part of the central nervous system, and some of its cells connect directly to the brain.
Many of the processes that happen in the brain also occur in retinal ganglion cells, another layer of cells that make up the retina. This includes some of the abnormal processes common in Alzheimer's disease, such as the abnormal deposition of amyloid beta protein and cell loss.
Retinal imaging has many advantages over other imaging technologies. It's fast, with each scan taking only a few seconds, non-invasive, painless and relatively cheap.
It's also already widely available. In Aotearoa, every hospital eye department has an optical coherence tomography (OCT) device for imaging the retina, and these devices are increasingly available in primary care clinics and retail optometrists.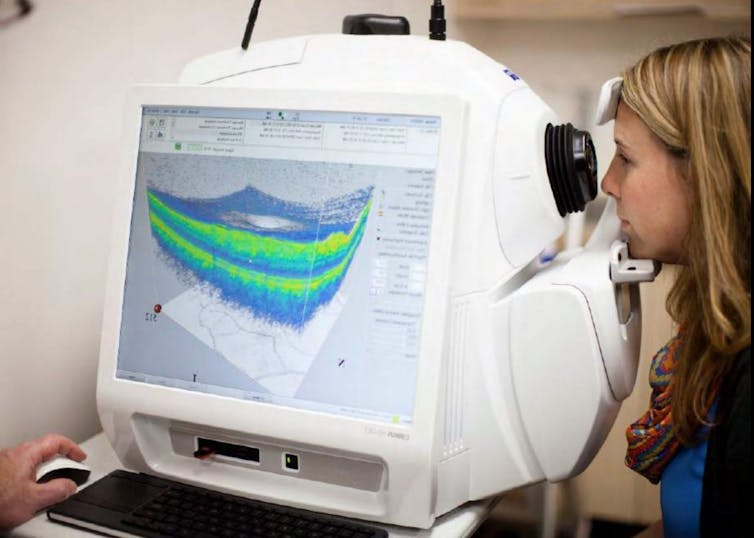 Retinal imaging also lends itself to being interpreted by artificial intelligence applications. This means assessment of Alzheimer's disease risk from the retina could be quick, easy and widely available.
For these reasons, researchers are beginning to investigate how early the retina starts to thin in Alzheimer's disease. The disease has an insidious onset, with a gradual decline in cognitive processes such as memory, but the underlying pathology tends to be fairly far along by the time people notice the symptoms and seek medical treatment.
If we can detect retinal thinning before the symptoms become apparent, it could be possible to identify people who are in the earliest stages of Alzheimer's disease.
Retinal Thinning And Cognitive Decline In Middle Age
The people we studied are all part of the unique Dunedin Study, which tracked the development of a thousand babies born in Ōtepoti Dunedin between April 1972 and March 1973.
They've been assessed repeatedly every few years since, on a wide range of topics including mental health, risk-taking behaviours, respiratory and cardiovascular function, social support and dental health, among others.
They've also repeatedly undergone cognitive tests since they were children, each time using similar formats and standardised tests. This means we can compare their cognitive performance in middle age with their own results from childhood.
Most cognitive tests used in Alzheimer's studies are blunt tools designed to detect large drops in cognition. But the detailed cognitive data we have allow us to detect even small cognitive changes.
Using statistical techniques, we used each person's cognitive scores in childhood to predict what we'd expect their cognitive score to be at age 45, and measured how far away they were from what we'd predicted.
A number of study members' scores were substantially lower than what we'd expect, indicating they were experiencing cognitive decline, even in middle age.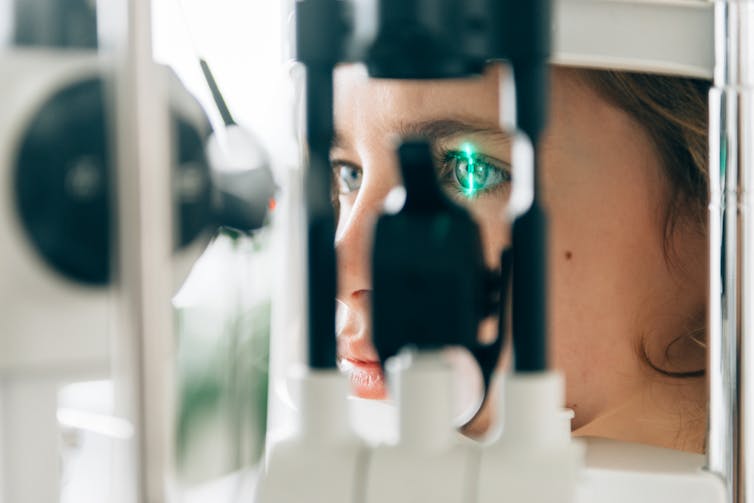 Why This Matters
While there are a number of potential causes of cognitive decline, papers from our research group are building up a picture of the factors associated with this outcome. We found people experiencing cognitive decline by 45 have older looking brains and more tiny bleeds and lesions, known as hyperintensities, in their white matter (measured using MRI).
Our research found people with thinner retinas had older looking brains and other structural brain abnormalities. This suggests cognitive decline, detected in its earliest stages, is associated with cell loss in the brain and the retina.
To investigate this question even further, we are now focusing on measuring study members' levels of a specific type of protein (phosphorylated tau pTau181) which is abundant in neurons and deposited in cells in several neurodegenerative diseases. This is thought to be one of the earliest indicators of Alzheimer's disease, and it will help us to understand whether the changes we are observing are specific to Alzheimer's disease and how early they can be detected.
Developing treatments for advanced stages of Alzheimer's disease has been ineffective so far, and it seems likely future pharmaceutical treatments will be most effective in the earliest stages of the disease.
Also, lifestyle-based interventions may help to mitigate symptomatic cognitive decline. This makes early identification of people who would benefit from these interventions extremely important.
Ashleigh Barrett-Young, Postdoctoral Fellow in Psychology, University of Otago
This article is republished from The Conversation under a Creative Commons license. Read the original article.
4.7 Million Australians To Receive Government Payment Increases
More than 4.7 million Australians will receive a much-needed boost to their social security payments from this month to help ease cost of living pressures.
Minister for Social Services, Amanda Rishworth, said the Albanese Labor Government was announcing the largest indexation increase to payments in more than 30 years for allowances and 12 years for pensions.
"We want to ensure Australia has a strong social security safety net to protect our most disadvantaged," Minister Rishworth said.
"Our guiding principles as a Government are ensuring no one is left behind and no one is held back and this indexation increase will help those on Government payments keep up with the cost of living."
Age Pension, Disability Support Pension and Carer Payment are all set to rise by $38.90 a fortnight for singles and $58.80 a fortnight for couples.
The maximum rate of pension will increase to $1026.50 a fortnight for singles and $773.80 for each member of a pensioner couple or $1547.60 per couple (including Pension Supplement and Energy Supplement).
JobSeeker Payment, Parenting Payment, ABSTUDY and Rent Assistance will also increase.
The rate of JobSeeker Payment for singles without children will increase by $25.70 a fortnight to $677.20 including Energy Supplement, while Parenting Payment Single will increase by $35.20 per fortnight to $927.40 including Pension Supplement and Energy Supplement.
The rate for partnered JobSeeker Payment and Parenting Payment recipients will increase by $23.40 a fortnight to $616.60 including Energy Supplement.
The pension raise was driven by increases in the Consumer Price Index which exceeded the increase in the Pensioner and Beneficiary Living Cost Index.
Some income and asset limits will also change as a result of the payment rate indexation to ensure people are not disadvantaged.
Payments will increase from 20 September.
The move follows the Albanese Labor Government's announcement at the Jobs and Skills Summit that recipients of the Age Pension and Service Pension would be able to earn more without having their payments reduced.
COTA Australia Mature Workforce Survey
Thanks to all who responded to the recent Mature Workforce survey. In addition to answering set questions, more than 75 percent of respondents provided personal comments and stories. Plus, 45 percent of participants expressed a willingness to consider related engagement activities we plan to offer over the coming months.
The main survey comprised 6 multiple choice and one open-ended question. Respondents were also invited to provide further comment (views, concerns, suggestions) to several multiple-choice questions. This opportunity was readily accepted with an average of 204 personal commentaries appended to each of these questions.
According to most respondents:
ageist attitudes and behaviour are entrenched in many Australian workplaces
discrimination based on age can profoundly impact on whether and to what extent people aged 45 years and over participate in paid employment and/or be invited to participate in upskilling opportunities
workplaces should be free of age-based stereotypes – a person's age shouldn't determine their employment status
One of the best summaries of the research was provided by a respondent who said "Now I know. It's hard to land yourself a decent job when you fall on the other side of 40. 53 and redundant! No exactly how I wanted my career to pan out. Plus, receiving this news on a Friday afternoon … left me devastated."
COTA Australia will be releasing a full report on our findings soon.
New Safe Haven For Vulnerable Older Women In East Gosford
A disused aged care facility in East Gosford has been transformed into a 14-room transitional housing facility for displaced older women under an innovative partnership between the NSW government, Pacific Link Housing and Women's Community Shelters.
Minister for Women's Safety and the Prevention of Domestic and Sexual Violence Natalie Ward said the vacant site had been given a new lease of life while providing much needed housing for vulnerable older women.
"Rather than remaining vacant and unused, this site has been transformed into a new facility that will provide wrap-around support for women aged 55-years and older who are escaping domestic and family violence or who are at risk of homelessness," Mrs Ward said.
Minister for Families and Communities Natasha Maclaren-Jones said this facility will provide transitional accommodation for women for up to 36 months while more permanent housing was being secured for the occupants.
"This initiative is a great example of how unused private buildings can be put to good use to benefit vulnerable people at risk of homelessness and provide DFV escapees with a safe place to heal as they begin to rebuild their lives," Mrs Maclaren-Jones said.
The NSW Government provided $300,000 to develop the facility as part of the Domestic and Family Violence National Partnership Agreement 2021-23.
Spearheaded by the Sydney based Women's Community Shelters (WCS), the partnership agreement allows for the premises to be used as a women's shelter for up to three years.
WCS COO Simone Parsons said there is a high number of older women experiencing homelessness and at risk of homelessness in NSW.
"Affordable and stable housing is important to help women re-establish their lives post violence, especially for older women," Ms Parsons said.
"Through this partnership additional housing is being supplied. WCS will also provide residents with case management support and coordinate community engagement and wellbeing activities as well on-site support services."
Pacific Link CEO Ian Lynch said his organisation was proud to partner with like-minded organisations who were willing to take an innovative approach to support women escaping domestic and family violence.
"Now that refurbishment work is complete, the first group of new tenants are readying to move in," he said. "Each tenant will receive their own refurbished studio apartment and the site has also been fitted out with communal lounges, kitchens, laundry facilities and gardens."
For confidential advice, support and referrals, contact: 1800 RESPECT (1800 737 732), The NSW Domestic Violence Line (1800 65 64 63) or Men's Referral Service (1300 766 491).
Men's Sheds Grants And Movember Improving Men's Health
The Australian Government is providing much needed funds to our men's sheds.
A total of $500,000 will be provided through the latest round of National Men's Sheds Programme (NSDP) funding.
Across Australia, 153 men's sheds will receive up to $10,000.
Funds will be used to buy computers, host health and wellbeing events, make shed improvements, or purchase tools to use in the shed.
Men's sheds seeking funding to purchase a defibrillator will also be able to apply at any time under a special category.
The Government is also providing $400,000 over the next 18 months to charity organisation Movember to conduct a targeted review of health professional education on male health issues.
Movember will lead a group of subject matter experts to identify gaps and improvement opportunities for the education of clinicians. This work will assist in removing barriers for men in accessing timely and appropriate health care.
This work will assist in remove barriers for men in accessing timely and appropriate health care.
Applications for the next round of NSDP open on Friday 19 August,
with interested sheds encouraged to
apply by Tuesday 27 September
.
Health and Aged Care Minister Mark Butler said;
"Men's sheds across Australia create a place of belonging for over a thousand local communities.
"The Albanese Government is providing this funding to men's sheds so they can continue their important work.
"Movember is synonymous with highlighting men's health issues.
"The Movember review continues efforts to realise improved health outcomes for Australian males through the implementation of the National Men's Health Strategy 2020-2030."
COVID-19 Oral Antiviral Treatment For Older Australians In Residential Aged Care
COVID-19 remains prevalent in many communities and continues to pose major risks for those living in residential aged care. Frail older people are especially vulnerable to severe illness, hospitalisation or death from COVID-19 even when vaccinated.
There is now compelling evidence that rapid access to oral antiviral medication can materially reduce the impact of COVID-19 on residents. Of all the treatment measures available to people in the community and in nursing homes, rapid access to oral antivirals could make the biggest difference to older people if they become infected with COVID-19.Lagevrio® and Paxlovid® are oral antiviral treatments which can be used for residents in nursing homes who have tested positive to COVID-19 infection. Both medications are Schedule 4 Prescription Only Medicine, which means they have to be prescribed by a doctor. That is because they can have some serious side effects and can interact with other medicines.
In line with the latest evidence, people aged 70 years or older can be prescribed COVID-19 antiviral treatments when they test positive, regardless of whether they have other risk factors or even have any symptoms. People aged 50 years or older can also access these treatments when they reside in residential aged care. Medical assessment by a doctor is a prerequisite for any prescription of an antiviral medication.
Where clinically appropriate, the antiviral treatment should be offered to every resident within 24 hours of a positive test for COVID-19. The treatment should be commenced as soon as possible after a diagnosis of COVID-19 and at latest within 5 days of the onset of symptoms or a diagnosis.
People receiving oral antiviral treatments should be closely monitored for medication side effects.
While substantial advice has been provided to the aged care providers on proactive steps that a provider should take to ensure their readiness to respond to a COVID-19 outbreak, the Aged Care Quality and Safety Commission continues to find services that are underprepared. Among other negative impacts, this is compromising rapid access to treatment for affected residents.
It is imperative that any barriers to COVID-positive residents accessing oral antivirals as quickly as possible are identified and addressed by individual residential aged care providers without delay. Preparatory steps that providers should be taking now include:
seeking advance consent from residents or their representatives for antiviral treatment in the event of contracting COVID-19
lining up General Practitioners to assess positive residents at short notice for the purposes of prescribing an antiviral oral treatment
confirming there is a supply of oral antivirals held at the service
The Aged Care Quality and Safety Commission has produced a Fact Sheet, on which this article is based. It sets out provider obligations in relation to facilitating early access to antiviral treatment for COVID-positive residents.
The Fact Sheet is available at
Use it to discuss your nursing home's preparedness if they have not already advised you.
Biggest Increase To Age Pension In 12 Years But Timing Is Everything
National Seniors Australia welcomes the Federal Government's announcement of the largest pension increase in 12 years, on the back of extraordinary inflationary pressures over the past 6 months.
The maximum rate of the single age pension will rise by $38.90 per fortnight (taking the single age pension from $987.60 to $1026.5) and for couples, by $58.80 per fortnight (taking their payment from $1488.80 to $1547.60 combined).
Mr Henschke said the new rates will start from 20 September but given how quickly living costs are increasing, government should consider indexing payments quarterly rather than twice- yearly.
"Waiting for an increase when living costs have been high for six months is playing catch up the hard way," Mr Henschke said.
"National Seniors Australia would like to see government consider indexing payments in June and December when inflation is extremely high."
Under the new measures, other payments will also increase. The Disability Support Pension and Carer Payment will also rise by $38.90 a fortnight for singles and $58.80 a fortnight for couples.
Some income and asset limits will also change due to indexation to ensure people are not disadvantaged.
The new figures, which include the pension and energy supplements will benefit more than 4.7 million Australians including those on JobSeeker Payment, Parenting Payment and ABSTUDY.
"While National Seniors Australia welcomes the increases, the rising cost of living has only exacerbated an already dire situation. For pensioners barely having enough to cover the necessities, including housing, the amount is important but so too is frequency," Mr Henschke said.
"We also want a two-year trial for pensioners who want to work and work more. We need an NZ style system that eliminates Centrelink reporting and requires pensioners to pay an agreed rate of income tax. We suggest 32.5 cents in the dollar. It's simple, fair and will help solve the workforce shortage.
Driving Your Pension Dollar Further
September is shaping up to deliver record cost of living relief for pensioners as federal pension payments rise and savings are delivered through the NSW Budget.
For the first time pensioners are eligible for cash back on their tolls and are now accumulating toll savings that will be delivered into their bank accounts in January.
In addition, NSW Treasurer Matt Kean said the state has more than 70 discounts and rebates available through the Savings Finder program, with a range of them specifically designed to assist pensioners drive their pension dollar further.
"Our pensioners have worked hard, they've paid their dues and we want to make sure that they're getting all the financial help they are entitled to," Mr Kean said.
"From council rate rebates to free glasses, free rego, free driver's licences, nearly $300 off energy bills and more than $100 off gas, the NSW Government wants to ensure pensioners get a boost to their budget at the end of the week.
"For the first time, pensioners can also access up to $750 a year in toll relief from January, in addition to the Gold Opal that caps public transport costs at $2.50 a day."
The Energy Bill Buster program, announced in the Budget, allows pensioners to swap out 10 years of energy rebates for a free solar system or energy efficient appliances valued at up to $4000 that will deliver ongoing energy savings of up to $600 a year.
Minister for Seniors Mark Coure encouraged pensioners not to leave a single dollar on the table and claim everything they can.
"These rebates and concessions available are of course in addition to the discounts that are available at over 6,500 businesses and service providers through the Seniors Card," Mr Coure said.
"The Savings Finder tool via the Service NSW website also makes it really easy to see what help is available. If pensioners don't have access to the website, they can make an appointment with a savings specialist at a Service NSW centre or they can do it over the phone by calling 13 77 88."
Here are 10 ways for NSW pensioners to save:
Council rate rebates:

Pensioners are entitled to up to $250 a year off their council rates. But depending on where you live, you can get an even bigger discount.

Electricity rebate:

The Low Income Household Rebate will shave up to $285 a year off your electricity bill for households with a retail provider.

Gas rebate:

This rebate will give you a discount of up to $110 a year.

Water rates:

Eligible pensioners can access a quarterly rebate, shaving hundreds of dollars a year off a typical household bill.

Gold Opal:

Unlimited travel for no more than $2.50 a day on public transport across Sydney, the Blue Mountains, Central Coast, Hunter, Illawarra and Southern Highlands.

Toll relief:

For the first time, pensioners can access toll relief from January thanks to the recent NSW Budget which delivers up to $750 a year cash back. Pensioners need to spend a minimum of $375 a year on tolls to be eligible for cash back.

Travel vouchers:

Pensioners are entitled to four Pensioner Travel Vouchers each calendar year. They can be used for two return or four single trips, giving access to free or discounted travel in economy class on NSW TrainLink Regional services within regional NSW.

Free car rego:

Pensioners in NSW don't pay registration fees or motor vehicle tax on one of their cars. They also receive free driver's licences, free driving tests and concessions on the cost of Mobility Parking Scheme permits.

Free glasses:

You can get yourself one pair of single vision glasses or one pair of bifocal glasses in a two-year period under the NSW Spectacles Program.

Seniors Card:

The NSW Seniors Card is packed with discounts for thousands of retailers and services across the state from groceries to tradespeople and insurance.
Dementia Action Week
19 – 25 September 2022
Dementia impacts close to half a million Australians and almost 1.6 million Australians are involved in their care. The number of people living with dementia is set to double in the next 25 years. With so many people impacted now and into the future, it is vital we clear up some of the prevailing misconceptions about dementia.
People living with dementia can live active and fulfilling lives many years after diagnosis. Despite this, they often experience discrimination. In a Dementia Australia survey, more than 70 per cent of people believed discrimination towards people with dementia is common or very common.
The concept for Dementia Action Week was developed in consultation with Dementia Advocates, who have a lived experience of dementia. The 'A little support makes a big difference' campaign demonstrates that many people living with dementia can continue to live well for many years after their diagnosis. In 2021, the focus was also on supporting and celebrating carers of people living with dementia.
The campaign provides information and tips to encourage all Australians to increase their understanding of dementia and learn how they can make a difference to the lives of people around them who are impacted – and to help eliminate discrimination. These include simple and practical tips to:
Give a little support to a person living with dementia.
Give a little support to a carer, friend or family member of a person living with dementia.
Help healthcare professionals make their practice more dementia-friendly.
This awareness-raising campaign continues to lead the discussion about discrimination, which we know has a big impact on people living with dementia, their families and carers. The good news is, there is a lot that can be done to improve their experiences. To find out how you can make a difference please visit our campaign site by clicking the link below:
We encourage community organisations, partners and supporters to
register your interest
to receive further information about Dementia Action Week 2022, discrimination and dementia.
Celebrities Combine Forces And Voices To Support People Impacted By Dementia + National Dementia Helpline Now 24/7
Celebrity supporters, Ambassadors, Patron Ita Buttrose AC OBE and a person living with dementia have combined forces and lent their voices to an audiobook version of Dementia Australia's Dementia Guide.
"
The Dementia Guide
is the go-to online resource for any person impacted by any form of dementia, of any age, in any location across Australia," Ms Buttrose said.
"Speaking for the voices team, I know we have all been thrilled to contribute to The Dementia Guide Audiobook to increase the accessibility to vital information about dementia and the support available.
"Each person who has shared their voice has had an experience of dementia in their family and we have done this to raise awareness and help others to know they are not alone and that there is support available."
Dementia Australia Ambassadors and voices Natarsha Belling, Stephanie Bendixsen, Takaya Honda, Mark Seymour, Denis Walter OAM, Pat Welsh and celebrity supporters Rhonda Burchmore OAM and Geraldine Hickey wholeheartedly echo Ita's words and have enthusiastically backed the project.
Not just for people living with dementia, The Dementia Guide is also for friends, families and carers, and talks to the impact dementia may have on a person, the treatment, support and services they may need, and how loved ones can provide support. 
Stephanie Bendixsen, video game critic and television presenter, said she added her voice to the audiobook as she sees the value in a more accessible resource for families, such as hers, who need to navigate life with dementia.
"My mother passed away from Alzheimer's disease in 2018, and we really knew so little about dementia when she was diagnosed," Ms Bendixsen said.
"This made it difficult to understand why certain things were happening with her behaviourally, and we struggled to understand what was truly going on inside her brain, how her physicality was affected and how best we could support her and my Dad, her main carer, as a family.
"Resources like this are so very valuable, and their accessibility even more so. Even though I consider myself a big reader - finding the time to sit down and read a book can be tricky when you have a busy lifestyle. I switched to audiobooks years ago so that I can absorb books while I'm driving, walking the dog, doing chores - it's been life-changing. An easily accessible resource like this would have made a wonderful difference to me and my family when we were coming to terms with how Mum's - and our lives - would change."  
The audiobook includes a welcome from Dementia Australia CEO Maree McCabe AM and a chapter recorded by Ann Pietsch, who is a Dementia Advocate and lives with dementia. 
"I was invited to read one of the chapters and I personally think that The Dementia Guide is a valuable resource, making it available as an audio book is a great idea as it will now be easily available to more people living with dementia, carers, and families and the wider public," Mrs Pietsch said.
Ann speaks to the value of The Dementia Guide in her own personal circumstances when she was first diagnosed with dementia.
"I would have been able to effortlessly pass on the details of the audiobook to my children and family and friends, so they could learn about dementia and my specific dementia, and the issues I might face whilst living with dementia. Then in their own time they could have chosen to listen to reliable dementia information and used any of the resources."
Dementia Australia CEO Maree McCabe AM said The Dementia Guide Audiobook is an important addition to our suite of support services and resources ensuring more people are able to access the support they need at a time that suits them.
"Dementia Australia exists to empower people living with dementia, their families and carers to understand dementia and to manage their diagnosis on their terms," Ms McCabe said.
"We are committed to increasing accessibility to our services and
the National Dementia Helpline,

1800 100 500

, operated by Dementia Australia, is now available 24 hours a day, seven days a week, 365 days a year.
If someone has a diagnosis of dementia, or mild cognitive impairment, or is concerned about changes to their or a loved one's cognition, Dementia Australia is here for them. 
"There is no reason too small, no issue too big and no time too late. This is a gamechanger because no one should have to face dementia alone at any time of day or night.
"The National Dementia Helpline and
The Dementia Guide
are both invaluable and much-needed resources, especially as the number of people living with dementia is expected to grow from half a million Australians today, to more than one million by 2058."
Ms Bendixsen said sometimes there are scenarios that don't warrant an emergency or doctor response or there are moments when we need to reach out and feel we don't want to burden others – through the night, the early morning, or times when family is busy or unavailable.
"I think when carers or people living with dementia find themselves in a moment of panic, or indecision, or confusion - it's so hard to know where to turn first. A dementia diagnosis can be a frightening, lonely road for many people - and this Helpline will serve as a lantern in the fog. This Helpline is an invaluable resource and for many people even just knowing it is there will mean the world," she said.
Dementia Australia provides support and information to all Australians, of any age, impacted by all forms of dementia, including mild cognitive impairment, in any location across Australia. Ongoing support and information is available at every stage from pre, during and post-diagnosis. This includes support for people with concerns about changes in memory and thinking.
The National Dementia Helpline, staffed by a highly-trained team, is a free 24/7 telephone service which provides information and support to people living with dementia, people concerned about changes to memory and thinking, people living with mild cognitive impairment (MCI), family, friends and carers of people living with dementia and people who work in health and aged care.
By contacting Dementia Australia, you will have access to timely, reliable and expert information, advice and a wide range of programs to support you and your family and friends to live well with dementia. The National Dementia Helpline 24/7 service is available by phone, email or through our online chat function.
Listen to and download The Dementia Guide free at dementia.org.au/resources/the-dementia-guide.
Dementia Australia is the source of trusted information, education and services for the estimated half a million Australians living with dementia, and the almost 1.6 million people involved in their care. We advocate for positive change and support vital research. We are here to support people impacted by dementia, and to enable them to live as well as possible. No matter how you are impacted by dementia or who you are, we are here for you.
For support, please contact the National Dementia Helpline on 1800 100 500. An interpreter service is available
. The National Dementia Helpline is funded by the Australian Government. People looking for information can also visit dementia.org.au
Schools Celebrate Excellence + Innovation: Local Recipients Of 2022 Awards
The best of the public education system was on display for the Minister's and Secretary's awards on Tuesday September 3rd.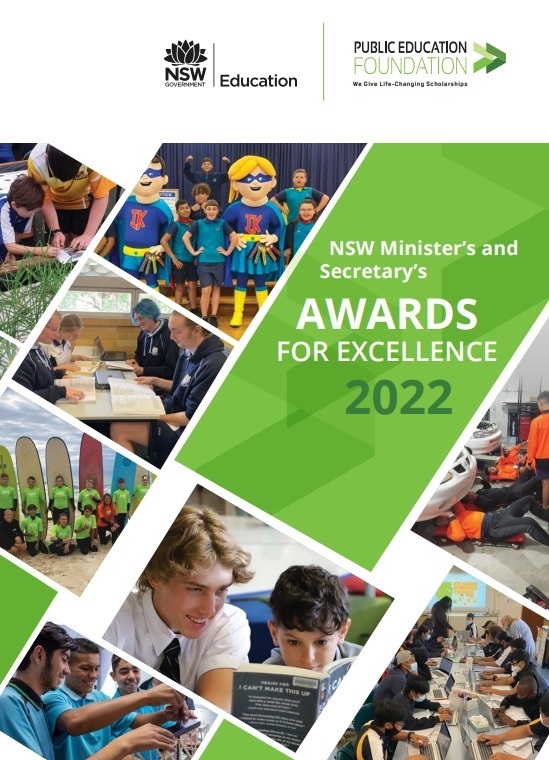 Students, teachers and parents have been acknowledged for their outstanding achievements, resilience and contribution to public education at the 2022 NSW Minister's and Secretary's Awards for Excellence.
Minister for Education and Early Learning Sarah Mitchell said the 128 awards showcased schools with innovative programs for literacy, numeracy, science, student wellbeing and community partnerships, including a combined award for the 12 primary and secondary schools involved in the Rivers Academy of STEM Excellence in the flood-affected Northern Rivers region.
"It is such a privilege to celebrate so many positive and diverse achievements right across the State that highlight the excellence in our public schools," Ms Mitchell said.
Forty Year 12 students received Minister's Awards for Excellence in Student Achievement for their efforts in academic, sporting, cultural and leadership fields, commitment to their school community and personal values.  
"These students, along with their teachers and families, have faced many challenges this year and have achieved against the odds. They are remarkable role models," Ms Mitchell said.
NSW Department of Education Secretary Georgina Harrisson said the awards provided a snapshot of the outstanding initiatives occurring across the entire NSW public education system.
"The awards reveal an ecosystem of innovative and collaborative teaching and learning," Ms Harrisson said.
"Many of the award winners learn and work in partnership with other public schools and their wider communities to lift outcomes for our students and ensure our schools and staff are also improving every year."
The winners were selected in the following categories:  
Minister's Award for Excellence in Student Achievement 
Minister's Award for Excellence in Teaching 
Secretary's Award for Excellent Service 
Secretary's Award for an Outstanding School Initiative 
Secretary's School Achievement Award 
Public School Parent of the Year 
Those named in the 2022
NSW Minister's and Secretary's Awards for Excellence are:
Minister's Award for Excellence in Student Achievement
NBSC MACKELLAR GIRLS CAMPUS
Rosie Brennan has distinguished herself and demonstrated a commitment to excellence in every aspect of her school life. As School Captain, Rosie consistently displays the strongest leadership, integrity and responsibility, and is always a proactive and productive individual with a keen sense of the welfare of others and supporting them. Rosie has distinguished herself academically. Her highest level achievements at National Canoeing and her State Soccer and Surf Lifesaving further evidence Rosie's commitment to excellence and broad talent.
Rosie's exceptionally high personal standards and her contributions to the community make her an outstanding role model.
NBSC - MACKELLAR GIRLS CAMPUS
Stefanie Fejes has distinguished herself in every aspect of her school life. As school Vice Captain, Stefanie has been exemplary; she is the consummate role model with strong leadership capabilities matched with a most caring, positive manner. She has consistently displayed proactive leadership, integrity and responsibility, and is always a proactive and productive individual. Stefanie has distinguished herself academically and in her sport at international level. Her exceptionally high standards and contributions to the community make her an outstanding role model. Her talent is further evidenced by her varied cultural and community achievements and her prolific fundraising for charity.
Public School Parent of the Year Award
NBSC – MANLY SELECTIVE CAMPUS
Margaret Martin can truly be called the extraordinary
parent face of the NBSC Manly Campus, dedicating
countless hours, in many roles across numerous
activities. She has worked tirelessly to support the
school and has made outstanding contributions.
Margaret has been the P&C President from 2018
- 2022 and the Coordinator of the Second-Hand
Uniform Shop from 2015 - 2019. She has coordinated,
welcomed and attended information evenings and
parent and teacher interview evenings and has
provided a parent perspective, speaking at many
events across the school including Open Days,
Year 7 Orientation, Year 12 Farewells and Presentation
Evenings. She is a most worthy recipient of this award.
Canberra's Top Sites On Offer At The Click Of A Mouse
Students from across Australia will be able to visit Canberra without leaving home next week through a program of online excursions starting on Monday, September 12.
The free online excursions and learning program is in its second year after it was developed to support schools during the COVID pandemic.
The initiative is run by the NSW Department of Education's DART (Distance and Rural Technology) Learning team, a regionally based education provider, located in Dubbo, that primarily supports regional and remote teachers and students.
Ten national museums and organisations including the Australian War Memorial, Questacon, Royal Australian Mint and Museum of Australian Democracy are taking part in this year's event.
DART Learning manager Bonnie Tratt said the virtual events and live excursions were available to teachers, parents and students from anywhere across Australia.
Ms Tratt said last year more than 350,000 students logged in to the program, which includes education-packed events exploring art, science, culture and the inner workings of democracy.
"DART Learning's online excursions have been provided with leading experts from 10 different institutions to deliver engaging learning about the best science, art, culture and history our nation's capital has on offer," she said.
The virtual excursion can be accessed via YouTube or Zoom with bookings available at the
DART Learning site
.
DART Learning has also created a series of podcasts with T4L and three of the Canberra Institutes – Museum of Australian Democracy, Parliament NSW and The Australian War Memorial. They can be found at
T4L's Virtual Staffroom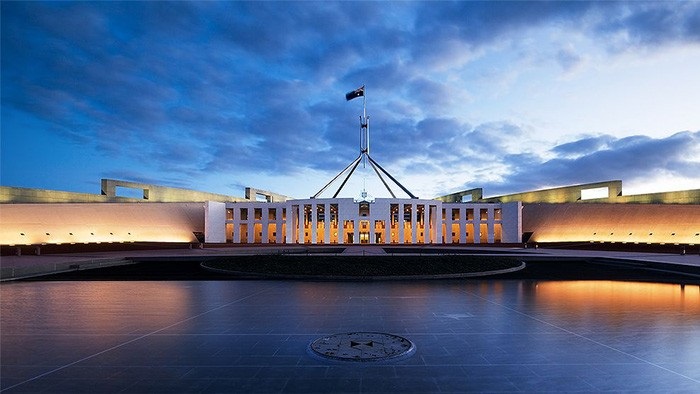 State Athletics Championship Back At Olympic Park
One of state schools' biggest sporting events is back in business with the Sydney Athletic Centre hosting the NSW Combined High Schools Sports Association (NSWCHSSA) Secondary Athletics Championship.
The marquee fixture got underway on Wednesday September 7th at Olympic Park after two years interrupted by COVID-19.
The championship features approximately 1,800 students (including 58 multi-class athletes), 120 staff and 4,000 spectators competing over three days.
A launching pad for some of the country's finest athletes such as 2018 Commonwealth Games gold medallist Brandon Starc (The Hills Sports High School), the NSWCHSSA Secondary Athletics Championship showcases participants across 265 events in track and field.
"It is such a positive to have state athletics happening again after the past two years of COVID disruption," NSWCHSSA Executive Officer Jacky Patrick said.
"School athletics carnivals are such a strong part of the culture for many schools. Students can feel a real sense of connection and belonging when they are selected to represent and progress through the pathway at school, zone, association, state and national level competition.
"It is particularly exciting that we have also seen so many Australians perform extremely well in athletics at the recent Commonwealth Games."
While the event will inevitably shape some future champions, there are also plenty of other heart-warming stories of those who have had to battle just to make it to Sydney.
Thirteen-year-old Year 7 student Scarlett Nowlan, from Lawson High School in Grenfell in the Central West of NSW, spends a day's worth of time in buses every week just to get to her school.
Living in a remote farm more than 50km away from Lawson High School, she still finds time to run for 3-5km every day at her property or the surrounding dirt roads.
After state representation in swimming and cross country, Scarlett tried her luck on the track and took out the 800m event at the Western Region carnival in Dubbo by almost two seconds to book her ticket to Sydney.
Report: NSW Department of Education.
Securing A Brighter Future For Disadvantaged Youth
Eligible students from Years 10 to 12 or TAFE equivalent can now apply for a $1000 scholarship to help meet the cost of studying.
The future goals of some of the state's most vulnerable young people are a step closer to being achieved thanks to the NSW Government's Youth Development Scholarships program.
Minister for Families and Communities and Minister for Disability Services Natasha Maclaren-Jones is calling for eligible students from Years 10-12 or TAFE equivalent to apply for the $1000 scholarships.
"The scholarships aim to remove some of the financial burdens that students face so they can focus on achieving greater results and finish their studies," Mrs Maclaren-Jones said.
"From textbooks to internet access, the scholarships will ensure our young people are well-equipped to reach their full potential."
Minister for Education and Early Learning Sarah Mitchell said that a quality education is a strong foundation for a brighter future.
"The NSW Government wants to support our students in achieving their goals and these scholarships provide them with the necessary financial support to get them started," Ms Mitchell said.
"I know these scholarships will be greatly appreciated by our young people and will help them have a bright start in life."
To be eligible for the scholarship, students must be living in social housing or on the housing register, receiving private rental subsidy from DCJ, or living in supported accommodation or out-of-home care.
More than 4700 students have been supported by the scholarship program since it was established in 2017.
For new and returning high school students
, applications will close
Wednesday 30 November 2022 at 5:00pm.
For returning tertiary students
, applications will
close Friday 3 March 2023 at 5:00pm
.
Stay Healthy - Stay Active: HSC 2022
Stay active, keep connected and look after yourself during the HSC this year!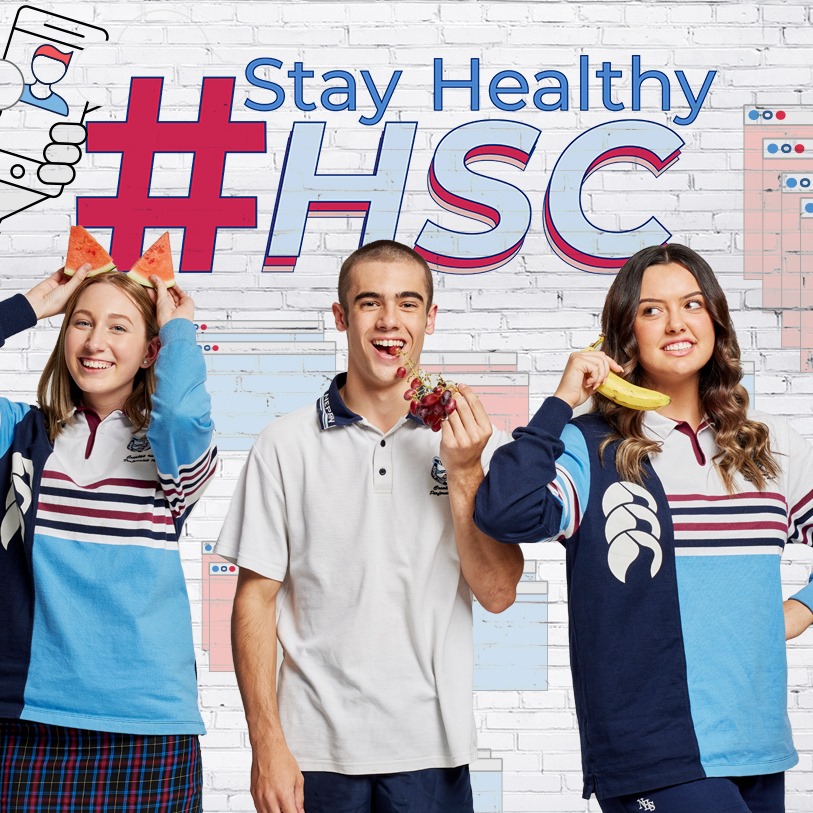 Woy Woy The Venice Of Australia
From the National Collection. NFSA Title number 9474.
Made by Pacific Productions in 1936.
Directed by Claude Flemming. A couple (director-narrator Claude Flemming and his niece) take a trip to Woy-Woy by train and visit the various attractions, such as the Bowling club, Memorial Park, and Ettalong Beach. Also shown is the wonderful scenery, beaches, mountains, fishing, surfing, the surf life savers and horse riding. The narrator tells a little of the history of the area and recommends the location as an ideal holiday destination. The Hawkesbury River Bridge, and the scenic beauties of Patonga, Ocean Beach, Pearl Beach, Broken Bay are seen.
Be The Boss: I Want To Be A Cabinet Maker
If you have always loved making great pieces of furniture for use than doing this for a living may be worth looking into. Beautiful cabinets, a guitar stand, a wonderful table are all not only useful and functional they can also extend into the artisan realm to become pieces of art.
Today this is called becoming a Cabinet Maker.
Cabinet Makers are specialised woodworkers who make cabinetry and furniture, often creating the internal infrastructure that makes a house a home.
To become a cabinetmaker you usually have to complete an apprenticeship. Entry requirements may vary, but employers generally require Year 10.
Ranging from full kitchens to bespoke pieces of fine furniture, Cabinet Makers take orders from customers and fulfil them with a creative approach and an eye for detail.
Similar but slightly different to Carpenters, Cabinet Makers take their woodwork one step further to look at the finer details of a piece of furniture.
Cabinet Makers are craftspeople who need good hand-eye coordination, clear communication skills and spend a lot of their day standing up.
Duties and Tasks of a Cabinetmaker:
Communicate with clients to determine specific job requirements
Match furnishing styles and materials to clients' needs
Deliver and monitor service to clients
Estimate job costs
Measure and draw site layouts for manufactured furniture
Read and interpret work documents in order to prepare accurate cutting lists for jobs
Program and control computer-aided design (CAD) and computer numerical control (CNC) machines
Understand and select timber and timber products for furniture production
Fabricate custom furniture
Prepare and assemble cabinets for installation
Select and install hardware to furnishings, such as handles and hinges
Perform on-site repairs and adjustments of cabinets
Clean and maintain work areas, including machinery and tools, to ensure a safe working environment.
Tasks:
Making frames for chairs and couches.
Fitting hinges, locks, catches, drawers and shelves.
May repair and refurbish furniture and antiques.
Selecting and working with materials such as timber, veneers, particle board and synthetic wood.
Marking out, cutting and shaping wood.
Assembling parts to form sections of furniture and completed articles.
Working from drawings and specifications to make furniture.
Making fittings for boats, caravans and other items where fine detail is required.
Examining drawings, work orders and sample parts to determine specifications.
Employment Opportunities for a Cabinetmaker
Most cabinetmakers are employed by firms that manufacture kitchens, bathrooms, furniture and prefabricated wooden components. These firms are often small businesses that make custom-made items or undertake repairs and restoration, or larger companies that manufacture and install fixed or free-standing furniture for commercial and residential projects. Depending on personal qualities and knowledge of the trade, opportunities are available for promotion to the position of supervisor or manager. With experience, start-up funds and business training, competent cabinetmakers may also establish their own business.
Specialisations
Cabinetmakers make, repair or install furniture (both free-standing and fixed) using solid timber, flat-panel or timber-based products and a wide range of laminates and other materials.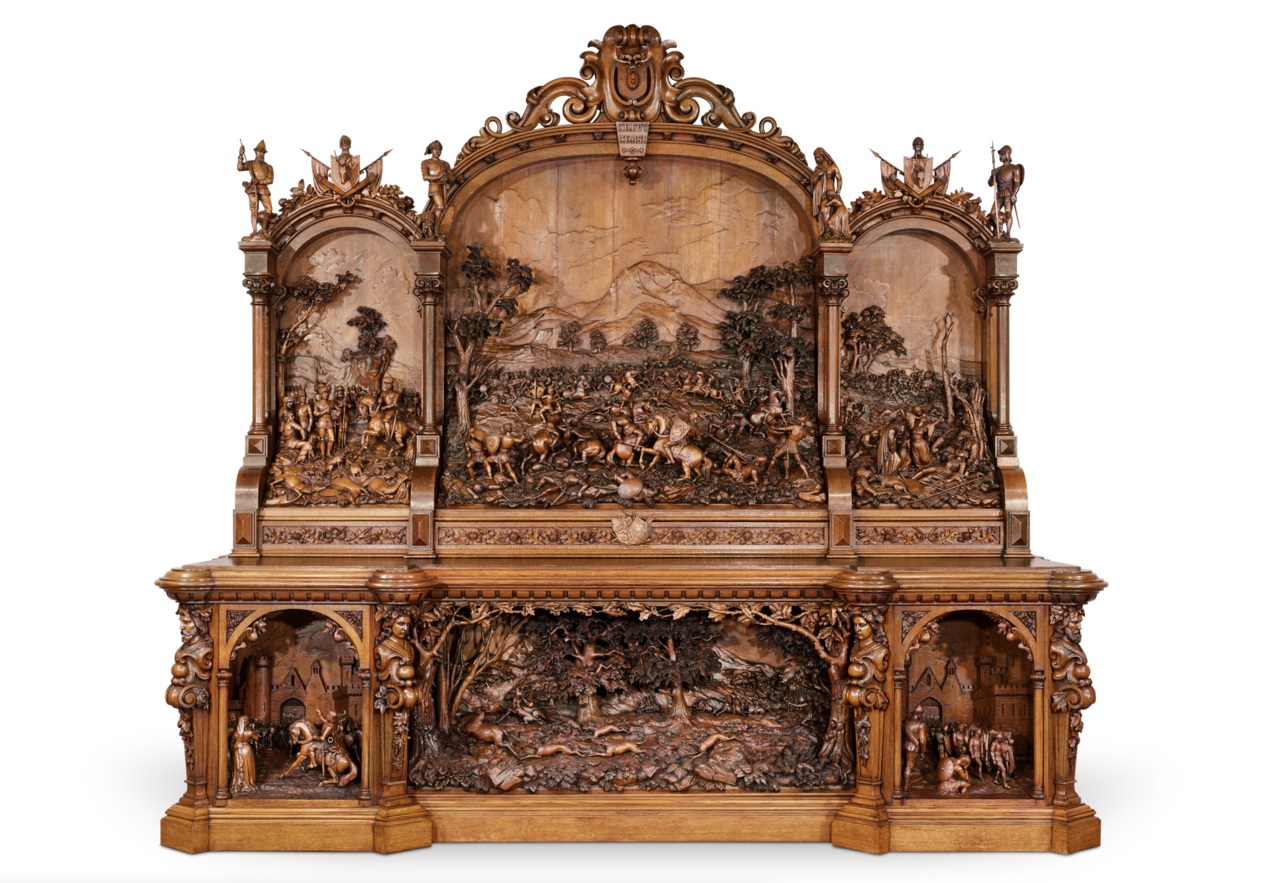 The Chevy Chase Sideboard by Gerrard Robinson. Often considered to be one of the finest furniture pieces of the 19th century and an icon of Victorian furniture. Photo: Catcut.

Also Available:
The Queen In Australia - Trailer
Published September 9, 2022 by NFSA
From the Film Australia Collection. Made by the national Film Board 1954. Directed by Colin Dean.
A trailer for the official, feature-length documentary covering Queen Elizabeth's 1954 tour of Australia. This award winning film was the the first colour full-length documentary made in Australia. It is the official recording of this momentous event.
Word Of The Week: Queen
Word of the Week returns in 2022 simply to throw some disruption in amongst the 'yeah-nah' mix.
noun
1. the female ruler of an independent state, especially one who inherits the position by right of birth. 2. the most powerful chess piece that each player has, able to move in any direction along a rank, file, or diagonal on which it stands. 3. the wife or widow of a king, the wife or widow of a tribal chief. 4. a female monarch. 5. a female chieftain. 6. a woman eminent in rank, power, skills or attractions; 'a movie queen'. 7. a goddess or a thing personified as female and having supremacy in a specified realm. 8. playing card marked with a stylized figure of a queen. 9. the fertile fully developed female of social bees, wasps, ants, and termites whose function is to lay eggs. 10. a mature female cat kept especially for breeding. 11. a drag queen.
From 12th century Middle English quene, from Old English cwēn woman, wife, queen; akin to Goth qens wife, Greek gynē woman, Sanskrit jani
Queen Elizabeth II's top ten favourite songs were
Oklahoma - Howard Keel
Anything You Can Do (Annie Get Your Gun) - Dolores Gray and Bill Johnson
Sing - Gary Barlow and the Commonwealth Band featuring the Military Wives
Cheek To Cheek- Fred Astaire
The White Cliffs Of Dover - Vera Lynn
Leaning On A Lamppost - George Formby
Praise, My Soul, The King Of Heaven
The Lord Is My Shepherd
Lester Lanin Medley
Regimental March "Milanollo"
The late Queen Elizabeth II's affinity for the "Oklahoma!" musical soundtrack apparently goes back to a London opening night performance of the Broadway hit during her 1947 courtship with the late Prince Philip. "Oklahoma!," the popular debut musical by Richard Rodgers and Oscar Hammerstein, first played at the Drury Lane theatre in London's West End on April 30th, 1947. Hotly anticipated, "Oklahoma!" was the first Broadway musical to reach London after World War II, with hundreds of performances selling out repeatedly.
The royal family, which included 21-year-old then-Princess Elizabeth, were the guests of honour on opening night, and Prince Philip was also accompanying them, according to TIME magazine. The two had first met as children in 1934, before reconnecting in 1939, after which Elizabeth fell in love with Philip while exchanging letters during his wartime service for the Royal Navy.
In a special 2016 BBC 2 radio programme 'Our Queen: 90 Musical Years', broadcast on June 12th 2016 it was reported that the monarch's correspondence secretary once asked whether, as head of the Armed Forces and head of the Church of England, it was appropriate for her to say yes to becoming President of the George Formby Appreciation Society.
The Queen was said to have replied, "Well, I do see that, but you see I love George Formby... I know all his songs and I can sing them."
According to the website of the same society Her Majesty did not become President of the George Formby Appreciation Society, although it was a well-known fact that George Formby visited the Royal family to give a private performance when the Queen was a child.
The Queen's cousin Lady Elizabeth Anson told that 2016 programme: "We did a lot of singing at Kensington Palace.
"Nobody thought it was odd after dinner if we put on a record and all sang Doing The Lambeth Walk, so music has always been part of her life.
"The Queen loves the theatre and musicals like Showboat, Oklahoma! and Annie Get Your Gun... The Queen is a fantastic dancer. She's got great rhythm."
"Leaning on a Lamp-post" is a popular song written by Noel Gay and best known in the version by George Formby. Formby recorded the song for Regal Zonophone Records on 5 September 1937, and it became one of his most popular and best-remembered songs.
George Formby, OBE (born George Hoy Booth; 26 May 1904 – 6 March 1961) was an English actor, singer-songwriter and comedian who became known to a worldwide audience through his films of the 1930s and 1940s. On stage, screen and record he sang light, comical songs, usually playing the ukulele or banjolele, and became the United Kingdom's highest-paid entertainer. During the Second World War he worked extensively for the Entertainments National Service Association (ENSA), and entertained civilians and troops. By 1946 it was estimated that he had performed in front of three million service personnel.
Shortly after Formby's death a small group of fans formed the George Formby Society, which had its inaugural meeting at the Imperial Hotel Blackpool. George Harrison was a fan of Formby, a member of the Society and an advocate of the ukulele. The rest of the Beatles were also fans—they improvised with ukuleles during the recording breaks on Let It Be—and Formby's influence can be heard in the song "Her Majesty".
In 2011 the society celebrated its 50th anniversary, and today it has more than 1,200 members worldwide. On April 21st 2018, the Society played at the Royal Albert Hall at The Queen's Birthday Party with guest artists Frank Skinner, Ed Balls and Harry Hill.
George Formby - Leaning On A Lampost
Her Majesty - The Beatles
Pollution Exposure In Infancy Alters Gut Microorganisms; May Boost Disease Risk
Exposure to air pollution in the first six months of life impacts a child's inner world of gut bacteria, or microbiome, in ways that could increase risk of allergies, obesity and diabetes, and even influence brain development, suggests new CU Boulder research.
The study, published this month in the journal Gut Microbes, is the first to show a link between inhaled pollutants -- such as those from traffic, wildfires and industry -- and changes in infant microbial health during this critical window of development.
Previous research by the same group found similar results in young adults.
"This study adds to the growing body of literature showing that air pollution exposure, even during infancy, may alter the gut microbiome, with important implications for growth and development," said senior author Tanya Alderete, assistant professor of Integrative Physiology at CU Boulder.
At birth, an infant hosts little resident bacteria. Over the first two to three years of life, exposure to mother's milk, solid food, antibiotics and other environmental influences shape which microorganisms take hold. Those microbes, and the metabolites, or by-products, they produce when they break down food or chemicals in the gut, influence a host of bodily systems that shape appetite, insulin sensitivity, immunity, mood and cognition. While many are beneficial, some microbiome compositions have been associated with Chrohn's disease, asthma, type 2 diabetes, and other chronic illnesses.
"The microbiome plays a role in nearly every physiological process in the body, and the environment that develops in those first few years of life sticks with you," said first author Maximilian Bailey, who graduated in May with a master's in Integrative Physiology and is now a medical student at Stanford University.
For the study, the researchers obtained faecal samples from 103 healthy, primarily breast-fed Latino infants enrolled in the Southern California Mother's Milk Study and used genetic sequencing to analyze them.
Using their street addresses and data from the U.S. Environmental Protection Agency's Air Quality System, which records hourly data from monitoring systems, they estimated exposure to PM2.5 and PM10 (fine inhalable particles from things like factories, wildfires and construction sites) and Nitrogen Dioxide (NO2), a gas largely emitted from cars.
"Overall, we saw that ambient air pollution exposure was associated with a more inflammatory gut-microbial profile, which may contribute to a whole host of future adverse health outcomes," said Alderete.
For instance, infants with the highest exposure to PM2.5 had 60% less Phascolarctobacterium, a beneficial bacterium known to decrease inflammation, support gastrointestinal health and aid in neurodevelopment. Those with the highest exposure to PM10 had 85% more of the microorganism Dialister, which is associated with inflammation.
In a previous study, Alderete found that pregnant Latino women exposed to higher levels of air pollution during pregnancy have babies who grow unusually fast in the first month after birth, putting them at risk for obesity and related diseases later in life.
Infants are particularly vulnerable to the health hazards of air pollution because they breathe faster and their gut microbiome is just taking shape.
"This makes early life a critical window where exposure to air pollution may have disproportionately deleterious health effects," they write.
Racial minorities at higher risk
Racial minorities and low-income communities, who tend to work, live and attend school in regions closer to busy highways or factories, are at even greater risk. One 2018 Environmental Protection Agency study found that communities of color are exposed to as much as 1.5 times more airborne pollutants than their white counterparts.
"Our findings highlight the importance of addressing the impact of pollution on disadvantaged communities and point to additional steps all families can take to protect their health," said Alderete, who hopes her research will influence policymakers to move schools and affordable housing projects away from pollution sources.
The authors caution that more research is needed to determine whether changes in the gut in infancy have lasting impacts, and just what those are. More studies are underway.
Meantime, Alderete advises everyone to take these steps to reduce their exposure to both indoor and outdoor pollutants:
Avoid walking outdoors in high-traffic zones
Consider a low-cost air-filtration system, particularly for rooms children spend a lot of time in
If you are cooking, open the windows
And for new moms, breastfeed for as long as possible
"Breast milk is a fantastic way to develop a healthy microbiome and may help offset some of the adverse effects from environmental exposures," Alderete said.
Maximilian J. Bailey, Elizabeth A. Holzhausen, Zachariah E. M. Morgan, Noopur Naik, Justin P. Shaffer, Donghai Liang, Howard H. Chang, Jeremy Sarnat, Shan Sun, Paige K. Berger, Kelsey A. Schmidt, Frederick Lurmann, Michael I. Goran, Tanya L. Alderete.
Postnatal exposure to ambient air pollutants is associated with the composition of the infant gut microbiota at 6-months of age.
Gut Microbes, 2022; 14 (1) DOI:
10.1080/19490976.2022.2105096
Multicultural Health Week Highlights Cancer Screening To Save Lives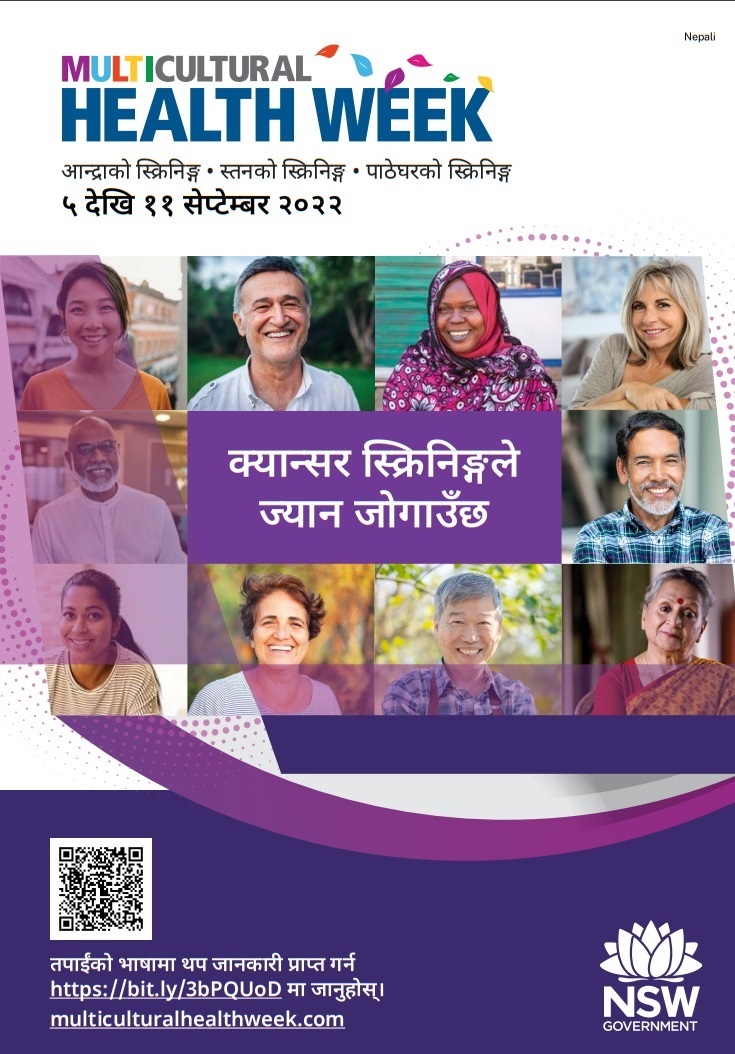 The importance of cancer screening for culturally and linguistically diverse (CALD) communities is the key focus of this year's Multicultural Health Week.
Health Minister Brad Hazzard today launched an awareness campaign, 'Cancer screening saves lives', aimed at increasing screening rates among CALD communities of breast, cervical and bowel cancer.
"The NSW Government is committed to continuing to improve cancer outcomes, and in April released the fifth NSW Cancer Plan, which has an increased focus on improving equity for CALD and other priority populations," Mr Hazzard said.
"Screening for cancer and catching it early is the best chance of survival and I encourage everyone who is eligible, particularly those in CALD communities, to get screened. The tests are free, easy to access and save lives.
"In 2022-23 the NSW Government will provide about $175 million through the Cancer Institute NSW to reduce the impact of cancer and improve outcomes for patients."
The NSW Multicultural Health Communication Service, in partnership with the Cancer Institute NSW, has produced new in-language resources about cancer screening to encourage more people to screen for cancers.
Professor Tracey O'Brien, Chief Cancer Officer NSW and CEO of the Cancer Institute NSW said that it was important to address the barriers that are preventing people from CALD communities from screening for cancers.
"We know that there are specific barriers for CALD communities participating in screening. These include low awareness, language barriers, differing beliefs around cancer and stigma associated with cancer," Professor O'Brien said.
"We are really proud to partner with NSW Multicultural Health Communication Service, with the support of SBS and multicultural media, together with community groups, to start to break down these barriers and improve cancer outcomes for CALD communities."
Lisa Woodland, Director of the NSW Multicultural Health Communication Service, said that significant effort has been invested in making cancer information available in multiple languages with the support from Cancer Institute NSW.
"This process included extensive testing with key stakeholders, and health literacy principles were incorporated throughout the development and translation phases," Ms Woodland said.
This year, to also encourage participation in screening programs, the Multicultural Health Week 2022 Community Grants Program provided small grants of $1,500 to 21 organisations (local health districts, non-government and community organisations) to support community engagement and educational activities in multiple languages in local and regional areas.
A series of multilingual cancer screening resources were launched for Multicultural for Health Week 2022, including:
A one-minute video to promote Multicultural Health Week 2022 with a focus on the three cancer screening programs in Arabic, Cantonese, Korean, Mandarin, Vietnamese and English
A 45-second radio advertisement in 20 languages
"What is cancer screening?" factsheet, available in 38 languages
Multicultural Health Week Poster and social media assets in 38 languages.
New Strategy Targets Obesity Rates In NSW
NSW Health has today launched the NSW Healthy Eating and Active Living Strategy 2022-2032 to boost the health of children and adults across the state over the next decade.
Acting Chief Health Officer Dr Marianne Gale said the strategy aims to reduce overweight and obesity in children and young people by five per cent and to reverse the trend of obesity in adults by 2030.
"We're continuing to invest in the prevention of overweight and obesity in NSW by supporting people of all ages and working alongside parents and families to support them to live their healthiest lives through eating well and being active," Dr Gale said.
"Improvement in overweight and obesity rates will require a truly collaborative effort over the next decade from across government, business and the community."
The NSW Healthy Eating and Active Living Strategy 2022-2032 aims to address overweight and obesity across the community by focusing on:
Prevention programs and services to support healthy eating and active living
Routine advice on healthy eating and active living as part of clinical care
Social marketing to support behavioural change towards healthy eating and active living
Healthy food and built environments to support healthy eating and active living.
More than one in two adults (56.8 per cent) and one in five children (19.3 per cent) are above a healthy weight in NSW.
"People should be able to have an open conversation with their healthcare provider about their wellbeing and weight so they can access advice that helps them make long-term lifestyle changes," Dr Gale said.
"The underlying causes of obesity are complex. We want to create environments that support healthy choices and ensure people are connected to the right support services.
"Some people face significant barriers to adopting healthy eating and active living behaviours. The strategy focuses on supporting those in our community who need it most."
NSW Health currently invests more than $30 million in healthy eating and active living initiatives to address overweight and obesity annually.
Frequency Of Premenstrual Anxiety, Mood Swings A Public Health Issue
Premenstrual mood swings and anxiety are so common -- experienced by more than 64% of women -- that they represent a "key public health issue globally," according to a new UVA Health study.
The UVA Health study found that most women have premenstrual symptoms every menstrual cycle, and those symptoms regularly affect their day-to-day lives. One of the most common symptoms, regardless of age, is mood swings or anxiety, the researchers found. At least 61% of women in all age groups surveyed reported mood-related symptoms every menstrual cycle, which the researchers say suggests "that premenstrual mood symptoms are a key public health issue globally."
"Our study demonstrates that premenstrual mood symptoms are incredibly common worldwide," said Jennifer L. Payne, MD, the study's senior author and director of the Reproductive Psychiatry Research Program at the University of Virginia School of Medicine. "More important, a majority of women reported that their premenstrual symptoms interfered with their everyday life at least some of the time."
Better Understanding Premenstrual Symptoms
To better understand the type of premenstrual symptoms women experience and how those symptoms affect their daily lives, the researchers analyzed more than 238,000 survey responses from women ages 18-55 from 140 countries on the Flo app, which helps women track their menstrual cycle or track their mood or physical symptoms during and after pregnancy.
The most common symptoms reported were food cravings, experienced by 85.28% of the women surveyed, followed by mood swings or anxiety (64.18%) and fatigue (57.3%), according to researchers from the UVA School of Medicine, Johns Hopkins University and Flo Health. Among the study respondents, 28.61% said their premenstrual symptoms interfered with their everyday life during every menstrual cycle, while an additional 34.84% said their premenstrual symptoms interfered with their everyday life sometimes.
"The incidence of reported premenstrual mood and anxiety symptoms varied significantly by country from a low of 35.1% in Congo to a high of 68.6% in Egypt," Payne said. "Understanding whether differences in biology or culture underlie the country level rates will be an important future research direction."
A group of symptoms -- absentmindedness, low libido, sleep changes, gastrointestinal symptoms, weight gain, headaches, sweating or hot flashes, fatigue, hair changes, rashes and swelling -- was significantly more frequent among older survey respondents, the researchers found. The increase in physical symptoms among older survey respondents "makes sense," the researchers said, as many of these symptoms are associated with perimenopause, a transition period to menopause marked by irregular menstrual cycles.
Payne is hopeful that this survey data will help women get better care by making healthcare providers more aware of how frequently these symptoms -- especially anxiety and mood-related symptoms -- occur.
"There are a number of treatment strategies that are available to treat premenstrual symptoms that interfere with a woman's every day functioning," she said. "Increasing awareness of how common these symptoms are, and that if they impact functioning that there are treatments available, will help women improve their quality of life."
Liisa Hantsoo, Shivani Rangaswamy, Kristin Voegtline, Rodion Salimgaraev, Liudmila Zhaunova, Jennifer L. Payne.
Premenstrual symptoms across the lifespan in an international sample: data from a mobile application
. Archives of Women's Mental Health, 2022; DOI:
10.1007/s00737-022-01261-5
How Does Nature Nurture The Brain?
Living in a city is a well-known risk factor for developing a mental disorder, while living close to nature is largely beneficial for mental health and the brain. A central brain region involved in stress processing, the amygdala, has been shown to be less activated during stress in people who live in rural areas, compared to those who live in cities, hinting at the potential benefits of nature.
"But so far the hen-and-egg problem could not be disentangled, namely whether nature actually caused the effects in the brain or whether the particular individuals chose to live in rural or urban regions," says Sonja Sudimac, predoctoral fellow in the Lise Meitner Group for Environmental Neuroscience and lead author of the study.
To achieve causal evidence, the researchers from the Lise Meitner Group for Environmental Neuroscience examined brain activity in regions involved in stress processing in 63 healthy volunteers before and after a one-hour walk in Grunewald forest or a shopping street with traffic in Berlin using functional magnetic resonance imaging (fMRI). The results of the study revealed that activity in the amygdala decreased after the walk in nature, suggesting that nature elicits beneficial effects on brain regions related to stress.
"The results support the previously assumed positive relationship between nature and brain health, but this is the first study to prove the causal link. Interestingly, the brain activity after the urban walk in these regions remained stable and did not show increases, which argues against a commonly held view that urban exposure causes additional stress," explains Simone Kühn, head of the Lise Meitner Group for Environmental Neuroscience.
The authors show that nature has a positive impact on brain regions involved in stress processing and that it can already be observed after a one-hour walk. This contributes to the understanding of how our physical living environment affects brain and mental health. Even a short exposure to nature decreases amygdala activity, suggesting that a walk in nature could serve as a preventive measure against developing mental health problems and buffering the potentially disadvantageous impact of the city on the brain.
The results go in line with a previous study (2017, Scientific Reports) which showed that city dwellers who lived close to the forest had a physiologically healthier amygdala structure and were therefore presumably better able to cope with stress. This new study again confirms the importance for urban design policies to create more accessible green areas in cities in order to enhance citizens' mental health and well-being.
In order to investigate benedicial effects of nature in different populations and age groups, the researchers are currently working on a study examining how a one-hour walk in natural versus urban environments impacts stress in mothers and their babies.
Sonja Sudimac, Vera Sale, Simone Kühn.
How nature nurtures: Amygdala activity decreases as the result of a one-hour walk in nature
. Molecular Psychiatry, 2022; DOI:
10.1038/s41380-022-01720-6
Neolithic Culinary Traditions Uncovered
A team of scientists, led by the University of Bristol, has uncovered intriguing new insights into the diet of people living in Neolithic Britain and found evidence that cereals, including wheat, were cooked in pots.
Using chemical analysis of ancient, and incredibly well-preserved pottery found in the waters surrounding small artificial islands called crannogs in Scotland, the team were able to discern that cereals were cooked in pots and mixed with dairy products and occasionally meat, probably to create early forms of gruel and stew. They also discovered that the people visiting these crannogs used smaller pots to cook cereals with milk and larger pots for meat-based dishes.
The findings are reported today in the journal Nature Communications.
Cereal cultivation in Britain dates back to around 4000 BCE was probably introduced by migrant farmers from continental Europe. This is evidenced by some, often sparse and sporadic, recovery of preserved cereal grains and other debris found at Neolithic sites.
At this time pottery was also introduced into Britain and there is widespread evidence for domesticated products like milk products in molecular lipid fingerprints extracted from the fabric of these pots. However, with exception for millet, it has not yet been possible to detect molecular traces of accompanying cereals in these lipid signatures, although these went on to become a major staple that dominates the global subsistence economy today.
Previously published analysis of Roman pottery from Vindolanda [Hadrian's Wall] demonstrated that specific lipid markers for cereals can survive absorbed in archaeological pottery preserved in waterlogged conditions and be detectable through a high-sensitivity approach but, importantly this was 'only' 2,000 years old and from contexts where cereals were well-known to have been present. The new findings reported now show that cereal biomarkers can be preserved for thousands of years longer under favourable conditions.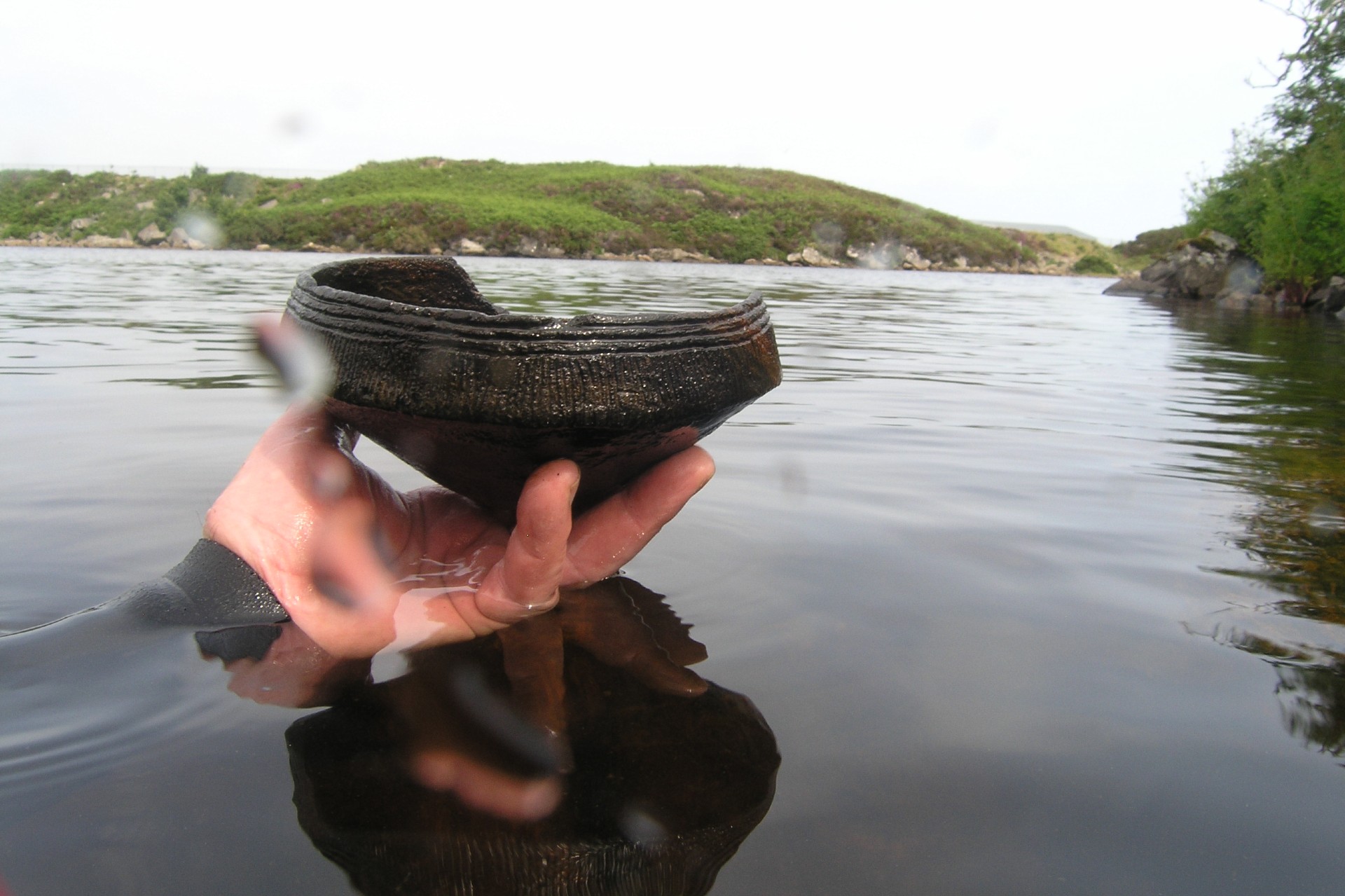 One of the first pots to be discovered, an Unstan Bowl from Loch Arnish. Previously published in: Garrow, D., & Sturt, F. (2019). Neolithic crannogs: Rethinking settlement, monumentality and deposition in the Outer Hebrides and beyond. Antiquity, 93(369), 664-684. doi:10.15184/aqy.2019.41. Image credit: Chris Murray
Another fascinating element of this research was the fact that many of the pots analysed were intact and decorated which could suggest they may have had some sort of ceremonial purpose. Since the actual function of the crannogs themselves is also not fully understood yet (with some being far too small for permanent occupation) the research provides new insights into possible ways these constructions were used.
During analysis, cereal biomarkers were widely detected (one third of pots), providing the earliest biomolecular evidence for cereals in absorbed pottery residues in this region.
The findings indicate that wheat was being cooked in pots, despite the fact that the limited evidence from charred plant parts in this region of Atlantic Scotland points mainly to barley. This could be because wheat is under-represented in charred plant remains as it can be prepared differently (e.g., boiled as part of stews), so not as regularly charred or because of more unusual cooking practices.
Cereal markers were strongly associated with lipid residues for dairy products in pots, suggesting they may have been cooked together as a milk-based gruel.
The research was led by Drs Simon Hammann* and Lucy Cramp at the University of Bristol's Department of Anthropology and Archaeology.
Dr Hammann said: "It's very exciting to see that cereal biomarkers in pots can actually survive under favourable conditions in samples from the time when cereals (and pottery) were introduced in Britain. Our lipid-based molecular method can complement archaeobotanical methods to investigate the introduction and spread of cereal agriculture."
Dr Cramp added: "This research gives us a window into the culinary traditions of early farmers living at the northwestern edge of Europe, whose lifeways are little understood. It gives us the first glimpse of the sorts of practices that were associated with these enigmatic islet locations."
Crannog sites in the Outer Hebrides are currently the focus of the four-year Arts and Humanities Research Council-funded 'Islands of Stone' project, directed by two of the papers' authors (Duncan Garrow from the University of Reading and Fraser Sturt from the University of Southampton) along with Angela Gannon, Historic Environment Scotland.
Professor Garrow said: "This research, undertaken by our colleagues at the University of Bristol, has hugely improved our knowledge of these sites in many exciting ways. We very much look forward to developing this collaborative research going forwards."
The next stage of the research at the University of Bristol is an exploration of the relationship between these islets and other Neolithic occupation sites in the Hebridean region and beyond as well as more extensive comparative study of the use of different vessel forms through surviving lipid residues. These questions form part of an on-going Arts and Humanities Research Council/South-West and Wales Doctoral Training Partnership-funded PhD studentship.
* Dr Hammann is now based at the Friedrich-Alexander-Universität Erlangen-Nürnberg in Erlangen, Germany.
Simon Hammann, Rosie R. Bishop, Mike Copper, Duncan Garrow, Caitlin Greenwood, Lanah Hewson, Alison Sheridan, Fraser Sturt, Helen L. Whelton, Lucy J. E. Cramp.
Neolithic culinary traditions revealed by cereal, milk and meat lipids in pottery from Scottish crannogs.
Nature Communications, 2022; 13 (1) DOI:
10.1038/s41467-022-32286-0
Study Calls For Change In Guidance About Eating Fish During Pregnancy
A woman's mercury level during pregnancy is unlikely to have an adverse effect on the development of the child provided that the mother eats fish, according to a new study.
The findings, which drew together analyses on over 4,131 pregnant mothers from the Children of the 90s study in the UK, with similar detailed studies in the Seychelles, are published in NeuroToxicology.
Importantly, the researchers also found that it does not appear to matter which types of fish are eaten because the essential nutrients in the fish could be protective against the mercury content of the fish. The more important factor was whether the woman ate fish or not. This contrasts with current advice warning pregnant women not to eat certain types of fish that have relatively high levels of mercury.
Although there are several studies that have considered this question, this research has looked at two contrasting studies of populations with mercury levels measured during pregnancy where the children were followed up at frequent intervals during their childhood.
The first is a study focused on a population in the Seychelles, where almost all pregnant women are fish eaters. The second study considered analyses of data from the University of Bristol's Children of the 90s study (also known as the Avon Longitudinal Study of Parents and Children (ALSPAC)), based in a relatively industrialised area in south-west England where fish are consumed far less frequently. No summary of the findings from this study has been published before.
Although it has been known for some time that the children of women who eat fish in pregnancy are likely to benefit in various ways in regard to their eyesight and intellectual abilities, official advice has included the warning not to eat certain types of fish that have relatively high levels of mercury. As a result, there is the possibility that some women will stop eating any fish 'to be on the safe side'.
Dr Caroline Taylor, Senior Research Fellow and co-author of the study, said: "We found that the mother's mercury level during pregnancy is likely to have no adverse effect on the development of the child provided that the mother eats fish. If she did not eat fish, then there was some evidence that her mercury level could have a harmful effect on the child. This could be because of the benefits from the mix of essential nutrients that fish provides, including long-chain fatty acids, iodine, vitamin D and selenium."
Professor Jean Golding, co-author and Emeritus Professor of Paediatric and Perinatal Epidemiology at the University of Bristol, said: "It is important that advisories from health professionals revise their advice warning against eating certain species of fish. There is no evidence of harm from these fish, but there is evidence from different countries that such advice can cause confusion in pregnant women. The guidance for pregnancy should highlight 'Eat at least two portions of fish a week, one of which should be oily' -- and omit all warnings that certain fish should not be eaten."
The current study is funded via core support for ALSPAC by the UK Medical Research Council and the UK Wellcome Trust.
Jean Golding, Caroline Taylor, Yasmin Iles-Caven, Steven Gregory.
The benefits of fish intake: Results concerning prenatal mercury exposure and child outcomes from the ALSPAC prebirth cohort.
NeuroToxicology, 2022; 91: 22 DOI:
10.1016/j.neuro.2022.04.012
Bees Use Patterns -- Not Just Colours -- To Find Flowers
Honeybees rely heavily on flower patterns -- not just colours -- when searching for food, new research shows.
A team led by the University of Exeter tested bee behaviour and built bee's-eye-view simulations to work out how they see flowers.
Honeybees have low-resolution vision (about 100 times lower than human vision), so they can only see a flower's pattern clearly when they are within few centimetres.
However, the new study shows bees can very effectively distinguish between different flowers by using a combination of colour and pattern.
In a series of tests, bees rarely ignored pattern -- suggesting colour alone does not lead them to flowers.
This may help to explain why some colours that are visible to bees are rarely produced by flowers in nature.
"We analysed a large amount of data on plants and bee behaviour," said Professor Natalie Hempel de Ibarra, from Exeter's Centre for Research in Animal Behaviour.
"By training and testing bees using artificial patterns of shape and colour, we found they relied flexibly on their ability to see both of these elements.
"Showing how insects see colour and learn colour patterns is important to understand how pollinators may, or may not, create evolutionary 'pressures' on the colours and patterns that flowers have evolved.
"Our findings suggest that flowers don't need to evolve too many different petal colours, because they can use patterns to diversify their displays so bees can tell them apart from other flowers."
One consistent feature identified in the study is that the outside edges of flowers usually contrast strongly with the plant's foliage -- while the centre of the flower does not have such a strong contrast with the foliage colour.
This could help bees quickly identify colour differences and navigate to flowers.
While flowers may be beautiful to humans, Professor Hempel de Ibarra stressed that understanding more about bees -- and the threats they face -- meant we need to see the world "through the eyes of a bee and the mind of a bee."
The research, by a team including the Free University of Berlin and the University of Auckland, was funded by the Biotechnology and Biological Sciences Research Council (BBSRC).
Natalie Hempel de Ibarra, Susanne Holtze, Cornelia Bäucker, Philipp Sprau, Misha Vorobyev.
The role of colour patterns for the recognition of flowers by bees.
Philosophical Transactions of the Royal Society B: Biological Sciences, 2022; 377 (1862) DOI:
10.1098/rstb.2021.0284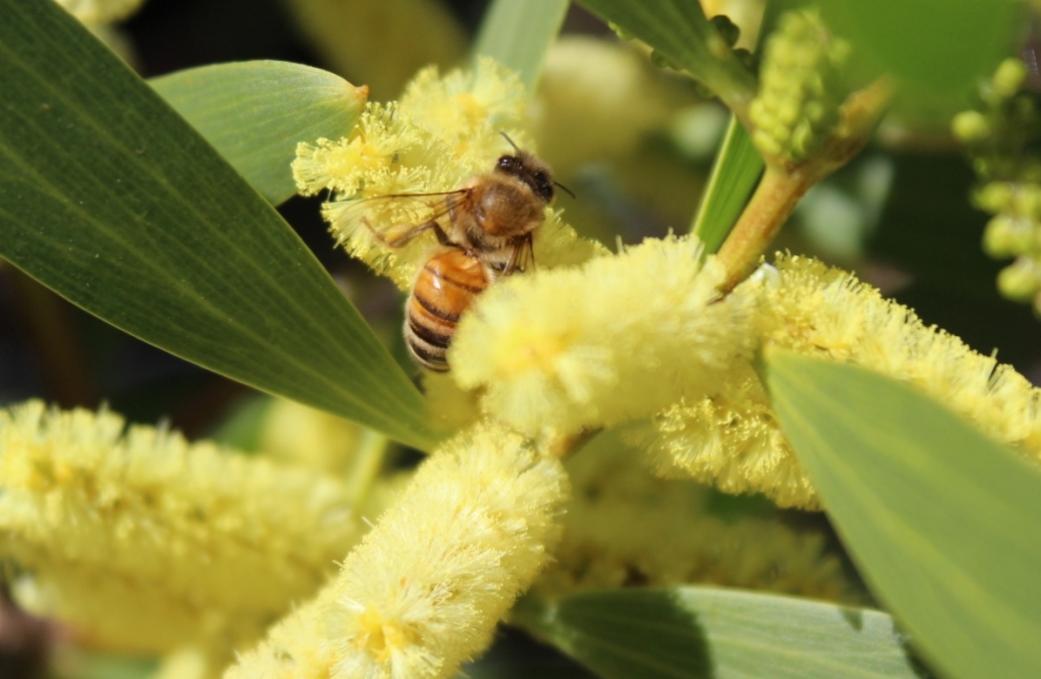 How Tardigrades Bear Dehydration
Some species of tardigrades, or water bears as the tiny aquatic creatures are also known, can survive in different environments often hostile or even fatal to most forms of life. For the first time, researchers describe a new mechanism that explains how some tardigrades can endure extreme dehydration without dying. They explored proteins that form a gel during cellular dehydration. This gel stiffens to support and protect the cells from mechanical stress that would otherwise kill them. These proteins have also been shown to work in insect cells and even show limited functionality in human cultured cells.
Tardigrades often draw attention to themselves, despite being so tiny. Their uncanny ability to survive in situations that would kill most organisms has captured the public's imagination. One could easily imagine that by decoding their secrets, we could apply the knowledge to ourselves to make humans more resilient to extreme temperatures, pressures, and even dehydration. This is just science fiction for now, but nevertheless, researchers, also captivated by the microscopic creatures, seek to understand the mechanisms responsible for their robustness, as this could bring other benefits too.
"Although water is essential to all life we know of, some tardigrades can live without it potentially for decades. The trick is in how their cells deal with this stress during the process of dehydration," said Associate Professor Takekazu Kunieda from the University of Tokyo's Department of Biological Sciences. "It's thought that as water leaves a cell, some kind of protein must help the cell maintain physical strength to avoid collapsing in on itself. After testing several different kinds, we have found that cytoplasmic-abundant heat soluble (CAHS) proteins, unique to tardigrades, are responsible for protecting their cells against dehydration."
Recent research into CAHS proteins reveals that they can sense when the cell encapsulating them becomes dehydrated, and that's when they kick into action. CAHS proteins form gel-like filaments as they dry out. These form networks that support the shape of the cell as it loses its water. The process is reversible, so as the tardigrade cells become rehydrated, the filaments recede at a rate that doesn't cause undue stress on the cell. Interestingly though, the proteins exhibited the same kind of action even when isolated from tardigrade cells.
"Trying to see how CAHS proteins behaved in insect and human cells presented some interesting challenges," said lead author Akihiro Tanaka, a graduate student in the lab. "For one thing, in order to visualize the proteins, we needed to stain them so they show up under our microscopes. However, the typical staining method requires solutions containing water, which obviously confounds any experiment where water concentration is a factor one seeks to control for. So we turned to a methanol-based solution to get around this problem."
Research on mechanisms related to dry preservation of cells or organisms could have many future applications. Kunieda and his team hope that through this new knowledge, researchers might find ways to improve the preservation of cell materials and biomolecules in a dry state. This could extend the shelf life of materials used for research, medicines with short expiry dates, or maybe even whole organs needed for transplants.
"Everything about tardigrades is fascinating. The extreme range of environments some species can survive leads us to explore never-before-seen mechanisms and structures. For a biologist, this field is a gold mine," said Kunieda. "I'll never forget New Year's Day 2019, when I received an email from Tomomi Nakano, another author of the paper. She had been working late trying to see the condensation of CAHS proteins and observed the first CAHS filament networks in human cultured cells. I was astonished at seeing such clearly defined microscopic images of these. It was the first time I had seen such a thing. It was a very happy new year indeed!"
Knowing how to isolate and activate these special proteins, though, is just the beginning. Kunieda and his team plan to sift through more than 300 other kinds of proteins, some of which likely play a role in the incredible life-preserving ability of these tiny water bears.
Akihiro Tanaka, Tomomi Nakano, Kento Watanabe, Kazutoshi Masuda, Gen Honda, Shuichi Kamata, Reitaro Yasui, Hiroko Kozuka-Hata, Chiho Watanabe, Takumi Chinen, Daiju Kitagawa, Satoshi Sawai, Masaaki Oyama, Miho Yanagisawa, Takekazu Kunieda.
Stress-dependent cell stiffening by tardigrade tolerance proteins that reversibly form a filamentous network and gel.
PLOS Biology, 2022 DOI:
10.1371/journal.pbio.3001780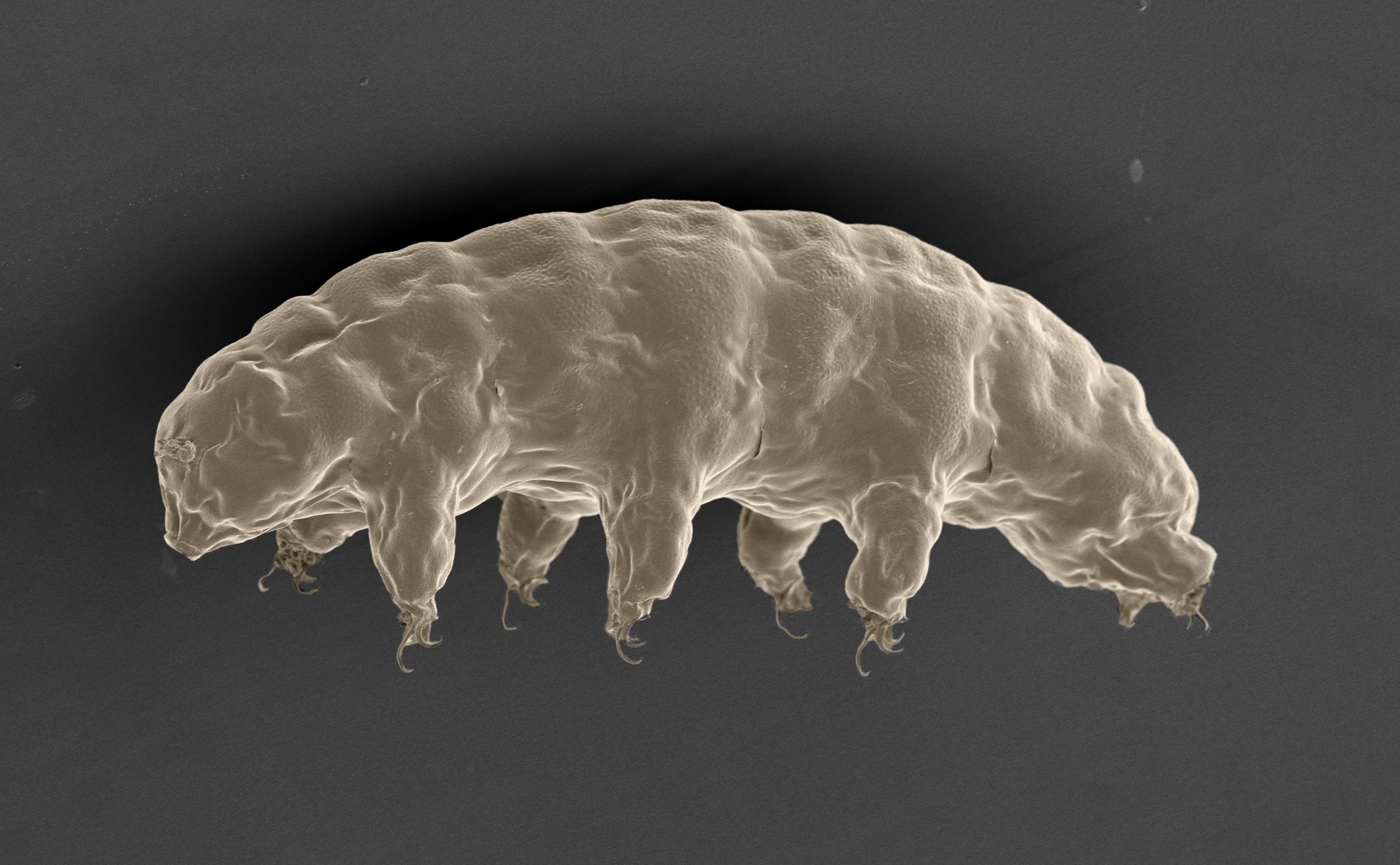 Water bear. Here is a tardigrade captured by an electron microscope. Despite their minuscule size, they contain a bounty of biological secrets. ©2022 S Tanaka, H Sagara, T Kunieda.

Disclaimer: These articles are not intended to provide medical advice, diagnosis or treatment. Views expressed here do not necessarily reflect those of Pittwater Online News or its staff.