inbox and environment news: Issue 553
September 4 - 10, 2022: Issue 553
2022 NSW Volunteer Of The Year Awards
The local 2022 NSW Volunteer of the Year Awards winners were announced on Friday September 2nd 2022 at Dee Why RSL.
Unfortunately our area, and those winners announced for the North Shore, show no award in the 'Young' section this year. Elsewhere there have been Young winners announced.
Along with the winners, certificates were issued to a variety of local volunteer organisations who have served the community, including the NSW SES Warringah / Pittwater Unit and NSW SES Manly Unit, Harbord Strikers Football and Narrabeen Lakes Swimming Club and Collaroy Amateur Swimming Club recognised.
The 2022 NSW Volunteer of the Year Award recipients for the here are:
Adult Volunteer of the Year – Dr Bo Zhou from Manly
Dr Zhou has been volunteering for more than 25 years at CASS, an organisation that services Chinese, Korean, Indonesian and other CALD communities. He began assisting with the Academy of Arts and has since provided a range of professional support including financial, corporate governance and translation services.
He has been a prolific supporter of fundraising activities which have helped to build residential aged care facilities catering for CALD communities.
Senior Volunteer of the Year – Norman Nolan from Bilgola Beach
At 80 years of age, Norm has been a dedicated figure in the Street Walk program for the past decade. The Youth off the Streets program provides support for homeless and vulnerable young people in the Sydney CBD and Inner West areas.
Volunteers work from 7pm to midnight four nights a week, providing meals and a trusted night time presence for young people who are at risk of harm.
Volunteer Team of the Year – One Meal Northern Beaches Co-op volunteers
The 180 volunteer team members at One Meal Northern Beaches Co-Op provide healthy, fresh cooked meals and food to over 1,500 homeless, vulnerable, and at-risk people across the Northern Beaches each week.
The vital community service was established in 2019 and now delivers the equivalent of 6,000 meals per week via 16 community organisation referrals. One Meal also provides breakfast packs and meals to over 80 disadvantaged students referred by school and community organisations each month.
Regional finalists for the awards are announced at 25 ceremonies throughout NSW and are invited to the Gala State Ceremony for the announcement of the 2022 NSW Volunteer of the Year.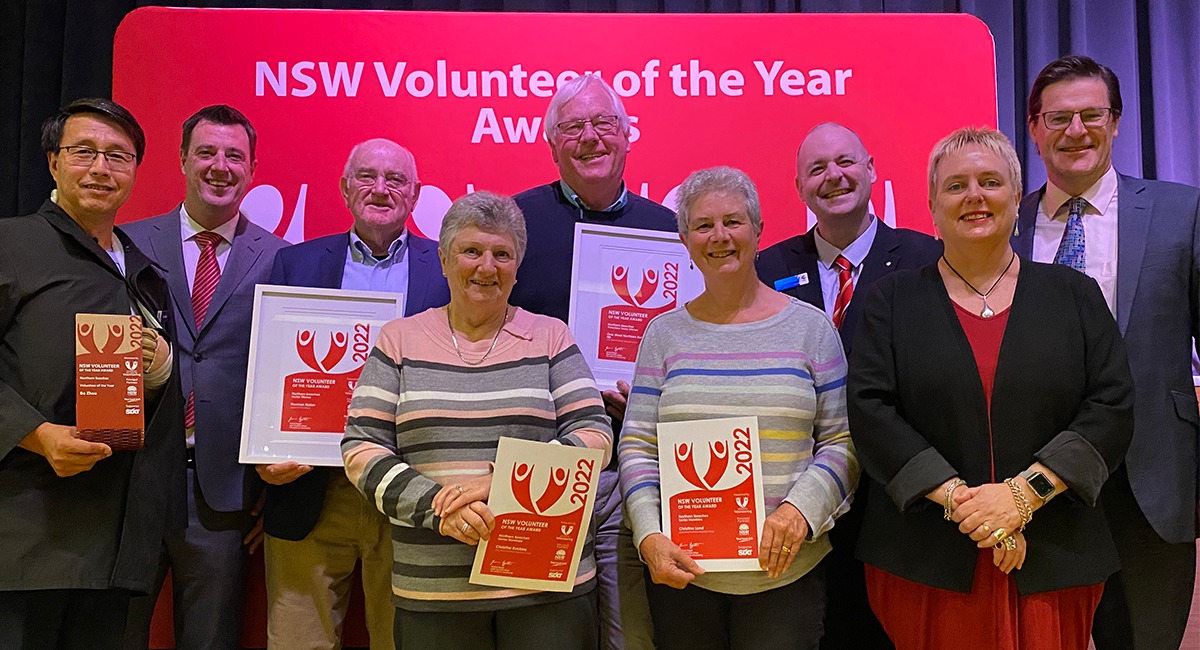 2022 winners and presenters. Photo: The Centre for Volunteering

Giving Older Australians The Option To Work And Earn More
By Prime Minister, Minister for Social Services
Age and Veterans Pensioners will be able to earn an additional $4000 over this financial year without losing any of their pension due to the Albanese Labor Government providing a one-off income credit designed to give older Australians the option to work and keep more of their money.
Following the successful Jobs and Skills Summit in Canberra, an immediate $4000 income credit will be added to the income banks of Age Pensioners from December to be used this financial year.
The temporary income bank top up will increase the amount pensioners can earn from $7800 to $11,800 this year, before their pension is reduced.
The measure is designed to enable pensioners who want to work to immediately boost the supply of labour to help meet shortages.
Pensioners will be able to do so without losing their pension, either in short stints or over the course of a year.
The $4000 temporary credit will be available until June 30, 2023, subject to the passage of legislation.
The Government will also look to strengthen legislation to ensure pensioners who are working don't get unnecessarily kicked out of the social security system.
The Government will expedite legislation to ensure pensioners don't have to reapply for payments for up to two years if their employment income exceeds the income limit. Currently their connection to social security is cancelled after 12 weeks of exceeding the income limit.
Pensioners will also retain access to their Pensioner Concession Card and associated benefits for two years.
These changes will give older Australians the option to take up work if they wish to do so.
This is an important measure to ensure older Australians have the option to remain in the workforce if they wish to without losing access to their pension and benefits.
It will mean if they wish to work for short periods of time they can also, broadening their choices.
Celebrities Combine Forces And Voices To Support People Impacted By Dementia + National Dementia Helpline Now 24/7
Celebrity supporters, Ambassadors, Patron Ita Buttrose AC OBE and a person living with dementia have combined forces and lent their voices to an audiobook version of Dementia Australia's Dementia Guide.
"
The Dementia Guide
is the go-to online resource for any person impacted by any form of dementia, of any age, in any location across Australia," Ms Buttrose said.
"Speaking for the voices team, I know we have all been thrilled to contribute to The Dementia Guide Audiobook to increase the accessibility to vital information about dementia and the support available.
"Each person who has shared their voice has had an experience of dementia in their family and we have done this to raise awareness and help others to know they are not alone and that there is support available."
Dementia Australia Ambassadors and voices Natarsha Belling, Stephanie Bendixsen, Takaya Honda, Mark Seymour, Denis Walter OAM, Pat Welsh and celebrity supporters Rhonda Burchmore OAM and Geraldine Hickey wholeheartedly echo Ita's words and have enthusiastically backed the project.
Not just for people living with dementia, The Dementia Guide is also for friends, families and carers, and talks to the impact dementia may have on a person, the treatment, support and services they may need, and how loved ones can provide support. 
Stephanie Bendixsen, video game critic and television presenter, said she added her voice to the audiobook as she sees the value in a more accessible resource for families, such as hers, who need to navigate life with dementia.
"My mother passed away from Alzheimer's disease in 2018, and we really knew so little about dementia when she was diagnosed," Ms Bendixsen said.
"This made it difficult to understand why certain things were happening with her behaviourally, and we struggled to understand what was truly going on inside her brain, how her physicality was affected and how best we could support her and my Dad, her main carer, as a family.
"Resources like this are so very valuable, and their accessibility even more so. Even though I consider myself a big reader - finding the time to sit down and read a book can be tricky when you have a busy lifestyle. I switched to audiobooks years ago so that I can absorb books while I'm driving, walking the dog, doing chores - it's been life-changing. An easily accessible resource like this would have made a wonderful difference to me and my family when we were coming to terms with how Mum's - and our lives - would change."  
The audiobook includes a welcome from Dementia Australia CEO Maree McCabe AM and a chapter recorded by Ann Pietsch, who is a Dementia Advocate and lives with dementia. 
"I was invited to read one of the chapters and I personally think that The Dementia Guide is a valuable resource, making it available as an audio book is a great idea as it will now be easily available to more people living with dementia, carers, and families and the wider public," Mrs Pietsch said.
Ann speaks to the value of The Dementia Guide in her own personal circumstances when she was first diagnosed with dementia.
"I would have been able to effortlessly pass on the details of the audiobook to my children and family and friends, so they could learn about dementia and my specific dementia, and the issues I might face whilst living with dementia. Then in their own time they could have chosen to listen to reliable dementia information and used any of the resources."
Dementia Australia CEO Maree McCabe AM said The Dementia Guide Audiobook is an important addition to our suite of support services and resources ensuring more people are able to access the support they need at a time that suits them.
"Dementia Australia exists to empower people living with dementia, their families and carers to understand dementia and to manage their diagnosis on their terms," Ms McCabe said.
"We are committed to increasing accessibility to our services and
the National Dementia Helpline,

1800 100 500

, operated by Dementia Australia, is now available 24 hours a day, seven days a week, 365 days a year.
If someone has a diagnosis of dementia, or mild cognitive impairment, or is concerned about changes to their or a loved one's cognition, Dementia Australia is here for them. 
"There is no reason too small, no issue too big and no time too late. This is a gamechanger because no one should have to face dementia alone at any time of day or night.
"The National Dementia Helpline and
The Dementia Guide
are both invaluable and much-needed resources, especially as the number of people living with dementia is expected to grow from half a million Australians today, to more than one million by 2058."
Ms Bendixsen said sometimes there are scenarios that don't warrant an emergency or doctor response or there are moments when we need to reach out and feel we don't want to burden others – through the night, the early morning, or times when family is busy or unavailable.
"I think when carers or people living with dementia find themselves in a moment of panic, or indecision, or confusion - it's so hard to know where to turn first. A dementia diagnosis can be a frightening, lonely road for many people - and this Helpline will serve as a lantern in the fog. This Helpline is an invaluable resource and for many people even just knowing it is there will mean the world," she said.
Dementia Australia provides support and information to all Australians, of any age, impacted by all forms of dementia, including mild cognitive impairment, in any location across Australia. Ongoing support and information is available at every stage from pre, during and post-diagnosis. This includes support for people with concerns about changes in memory and thinking.
The National Dementia Helpline, staffed by a highly-trained team, is a free 24/7 telephone service which provides information and support to people living with dementia, people concerned about changes to memory and thinking, people living with mild cognitive impairment (MCI), family, friends and carers of people living with dementia and people who work in health and aged care.
By contacting Dementia Australia, you will have access to timely, reliable and expert information, advice and a wide range of programs to support you and your family and friends to live well with dementia. The National Dementia Helpline 24/7 service is available by phone, email or through our online chat function.
Listen to and download The Dementia Guide free at dementia.org.au/resources/the-dementia-guide.
Dementia Australia is the source of trusted information, education and services for the estimated half a million Australians living with dementia, and the almost 1.6 million people involved in their care. We advocate for positive change and support vital research. We are here to support people impacted by dementia, and to enable them to live as well as possible. No matter how you are impacted by dementia or who you are, we are here for you.
For support, please contact the National Dementia Helpline on 1800 100 500. An interpreter service is available
. The National Dementia Helpline is funded by the Australian Government. People looking for information can also visit dementia.org.au
Summit Pensioner Income Credit A Good Start
National Seniors Australia has welcomed the announcement of a $4,000 income credit by the federal government at the end of the Jobs and Skills Summit, describing it as an important first step in addressing the jobs and skills shortages in the workforce.
It means pensioners are now able to go from earning $300 per fortnight under the current work bonus to now earning up to around $450 per fortnight.
However, Australia's peak organisation for older Australians believes more should be done to simplify our complicated pension system.
National Seniors Chief Advocate Ian Henschke says one of the biggest disincentives for aged pensioners and veterans to get back into the workforce, is the onerous reporting of any income earned by aged pensioners to Centrelink and the fear of losing their pension if they get it wrong.
"We are very happy to see the Jobs and Skills Summit take seriously our campaign to let pensioners work as a means of addressing the jobs and skills shortage," he said.
"However, this new 'income credit' still puts the onus on aged pensioners to report their income to Centrelink which is a major disincentive for pensioners to return to work.
"It's akin to them being audited every fortnight," Mr Henschke said.
"We are grateful that pensioners can earn more and hope pensioners will respond to this move. However, we will continue to work with the government, opposition and cross bench parties and MPs to further reform the pension system."
Mr Henschke says the New Zealand system where pensioners can work as much as they want without losing their pension remains the benchmark.
"It speaks volumes that in New Zealand 25 per cent of people aged 65 and over are still engaged in work, while here in Australia it is just 15 per cent," said Mr Henschke.
Men's Sheds Grants And Movember Improving Men's Health
The Australian Government is providing much needed funds to our men's sheds.
A total of $500,000 will be provided through the latest round of National Men's Sheds Programme (NSDP) funding.
Across Australia, 153 men's sheds will receive up to $10,000.
Funds will be used to buy computers, host health and wellbeing events, make shed improvements, or purchase tools to use in the shed.
Men's sheds seeking funding to purchase a defibrillator will also be able to apply at any time under a special category.
The Government is also providing $400,000 over the next 18 months to charity organisation Movember to conduct a targeted review of health professional education on male health issues.
Movember will lead a group of subject matter experts to identify gaps and improvement opportunities for the education of clinicians. This work will assist in removing barriers for men in accessing timely and appropriate health care.
This work will assist in remove barriers for men in accessing timely and appropriate health care.
Applications for the next round of NSDP open on Friday 19 August,
with interested sheds encouraged to
apply by Tuesday 27 September
.
Health and Aged Care Minister Mark Butler said;
"Men's sheds across Australia create a place of belonging for over a thousand local communities.
"The Albanese Government is providing this funding to men's sheds so they can continue their important work.
"Movember is synonymous with highlighting men's health issues.
"The Movember review continues efforts to realise improved health outcomes for Australian males through the implementation of the National Men's Health Strategy 2020-2030."
Dementia Action Week
19 – 25 September 2022
Dementia impacts close to half a million Australians and almost 1.6 million Australians are involved in their care. The number of people living with dementia is set to double in the next 25 years. With so many people impacted now and into the future, it is vital we clear up some of the prevailing misconceptions about dementia.
People living with dementia can live active and fulfilling lives many years after diagnosis. Despite this, they often experience discrimination. In a Dementia Australia survey, more than 70 per cent of people believed discrimination towards people with dementia is common or very common.
The concept for Dementia Action Week was developed in consultation with Dementia Advocates, who have a lived experience of dementia. The 'A little support makes a big difference' campaign demonstrates that many people living with dementia can continue to live well for many years after their diagnosis. In 2021, the focus was also on supporting and celebrating carers of people living with dementia.
The campaign provides information and tips to encourage all Australians to increase their understanding of dementia and learn how they can make a difference to the lives of people around them who are impacted – and to help eliminate discrimination. These include simple and practical tips to:
Give a little support to a person living with dementia.
Give a little support to a carer, friend or family member of a person living with dementia.
Help healthcare professionals make their practice more dementia-friendly.
This awareness-raising campaign continues to lead the discussion about discrimination, which we know has a big impact on people living with dementia, their families and carers. The good news is, there is a lot that can be done to improve their experiences. To find out how you can make a difference please visit our campaign site by clicking the link below:
We encourage community organisations, partners and supporters to
register your interest
to receive further information about Dementia Action Week 2022, discrimination and dementia.
2022 Australian Museum Eureka Entry On Crayweed For Sleek Geeks Highly Commended
A microscope slide that can diagnose cancer, mapping how what we eat affects the environment, and a volunteer effort tracking bushfire damage. These were just a few of the scientific projects recognised at the 2022 Australian Museum Eureka Prizes, announced in Sydney this week.
The prizes have been awarded each year since 1990 to recognise contributions to science and the public understanding of science.
Sponsored by the University of Sydney, the Sleek Geeks Science Eureka Prize encourages students to explore a scientific concept, discovery or invention, or test their own scientific hypothesis in a short film. Students can work individually or in teams of up to six people, and there is a prize pool of $10,000 to be shared between the winners and their schools.
The 2022 theme was 'Change'.
In late July 2022 the Finalists were announced and among these were the lists of Sleek Geeks Science Highly Commended - Secondary School with Crayweed Restoration, Talia S., Pittwater House, NSW being named.
The full list of 2022 Australian Museum Eureka Prize winners runs below but here is a great insight into a local project.
Congratulations Talia - this year's entries took hundreds of hours to go through, so to be Highly Commended is no small thing!
Stay Healthy - Stay Active: HSC 2022
Stay active, keep connected and look after yourself during the HSC this year!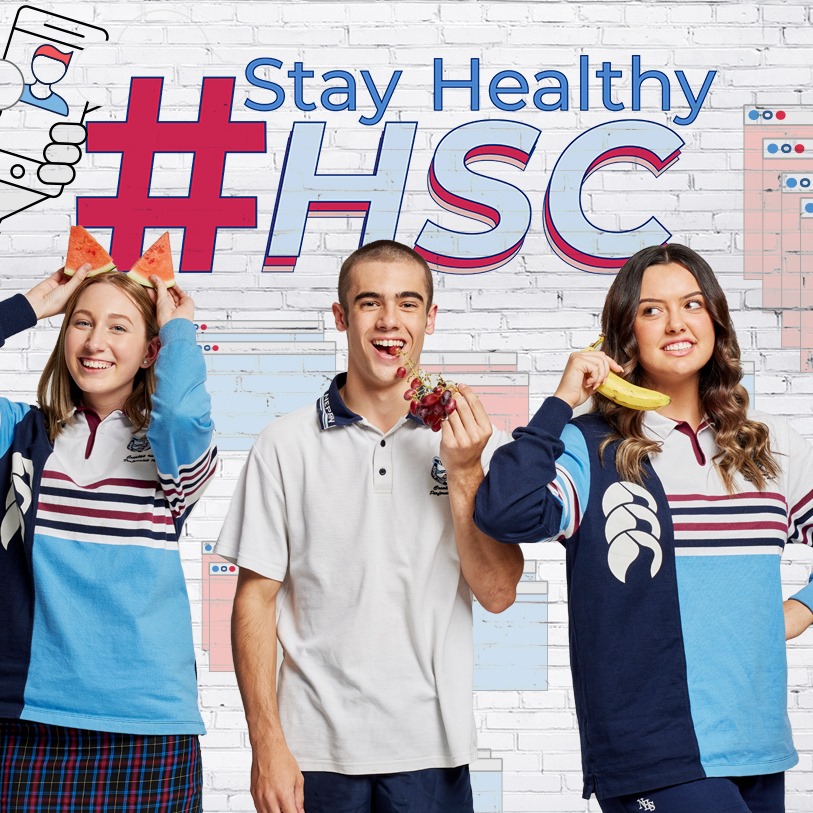 Radio Northern Beaches Offers Free Broadcast Training: 14 Spots
Radio Northern Beaches is offering a free broadcast training course to local people who are facing financial or disability challenges. The training course begins with a one-day workshop on Saturday 10th September at the Terrey Hills studio followed by weekly evening sessions.
It is aimed at adults on the Northern Beaches who are interested in broadcasting and who wish to be part of a community-orientated volunteer organisation.
Andrew Goodman-Jones, Chair of Radio Northern Beaches, said, "We hope to attract people who would like to join us, but are put off by the cost of training and membership, particularly young adults and seniors on low incomes, people with disabilities, and others for whom the cost is a deterrent."
The course, which is funded by a Government grant, can accommodate up to fourteen people. The normal cost of training and annual membership of Radio Northern Beaches is $300.
For more information, call Andrew Goodman-Jones on 9451 4887.
The Radio skills Workshop is a fun and engaging introduction to a wide range of radio broadcasting skills, presented by your local community radio station, Radio Northern Beaches.
The radio course is aimed at people who are interested in potentially presenting their own weekly show at Radio Northern Beaches, people interested in broadcast media as a career, anyone interested in volunteering at Radio Northern Beaches, or anyone looking for a fun and challenging experience!
You will get to meet a few of RNB's radio high profile presenters and learn tips and tricks first hand. Network with other aspiring radio presenters.
The day is an excellent first step into the world of radio.
Topics include:
• Introduction to radio
• Interviewing techniques
• Preparing a program
• Microphone technique
• Media Law
• Technical operation (introduction to studio operation, recording, mixing, editing)
• The day culminates in a live to air broadcast
The one-day workshop is suited to people wanting to present their own program or volunteering with Radio Northern Beaches.
After the workshop, you are welcome to make a regular radio program or be involved in other aspects of the station. Training is provided 1 night a week for 4 weeks after the Radio Skills Workshop.
The workshop includes morning tea and lunch.
------------------
Applicants must be a citizen or permanent resident of Australia.
Applicants who live in Northern Beaches are given priority.
Applicants must be aged 15 and above at the time of the application. Participants aged under 18 must be accompanied by a parent or guardian.
Applicants must have medium to expert proficiency in English as the workshop is
delivered in English. People who speak English as second language are
welcomed to apply.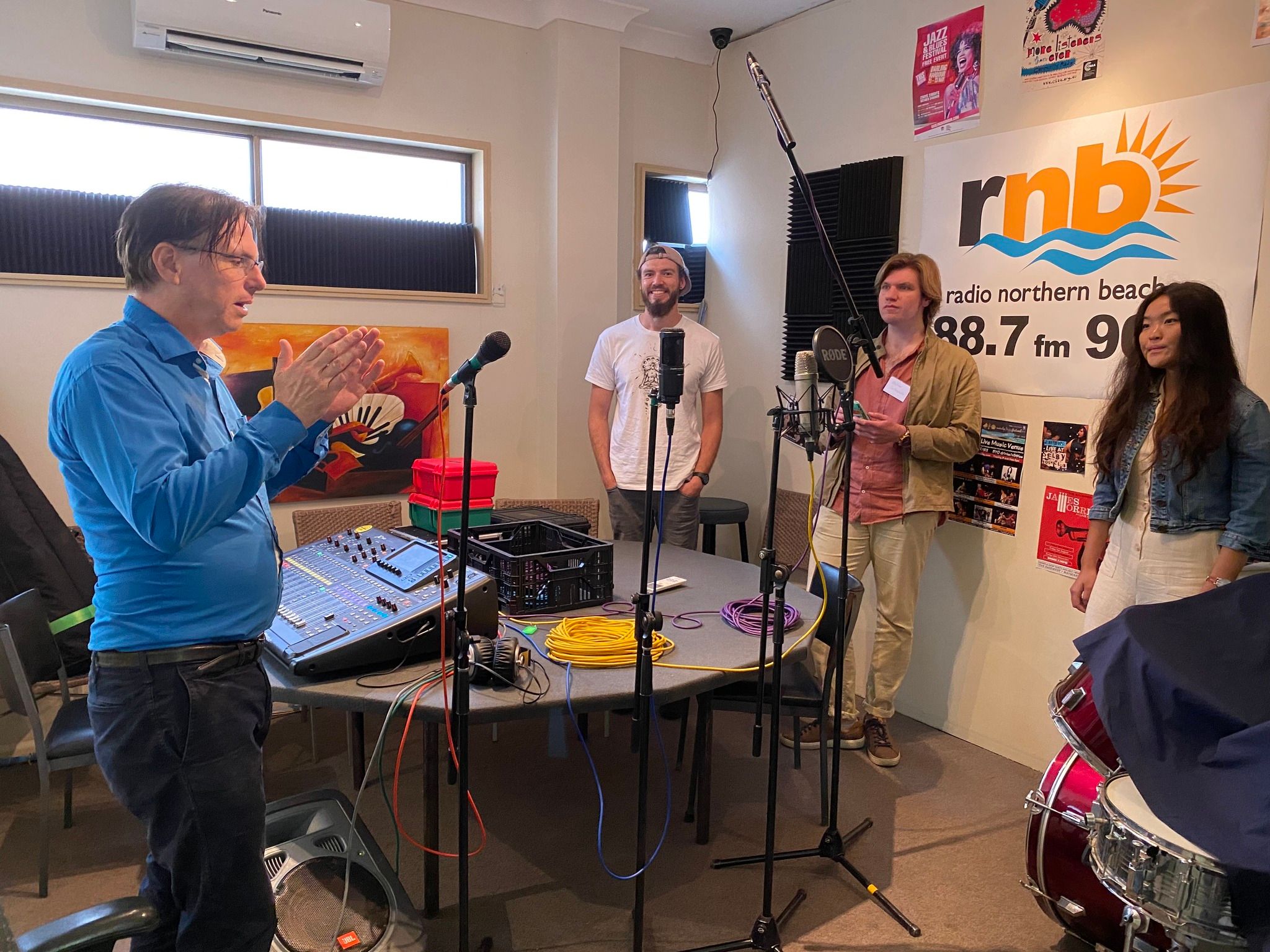 75th

Anniversary

Coin

On 1 September 2022, the Royal Australian Mint released a limited edition 50 cent commemorative coin to celebrate the Australian Signals Directorate's (ASD) 75th anniversary. Fifty thousand coins will be produced and available for purchase by coin collectors and the Australian public.




The 50 cent coin marks 75 years of ASD, reflecting on their mission defending Australia from global threats. It commemorates the ASD's historical roots in World War II, harnessing and mastering technology to reveal foreign secrets and protect Australia's own.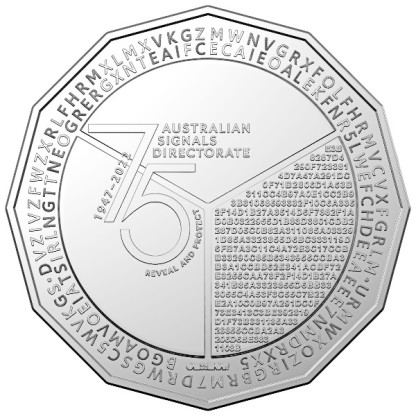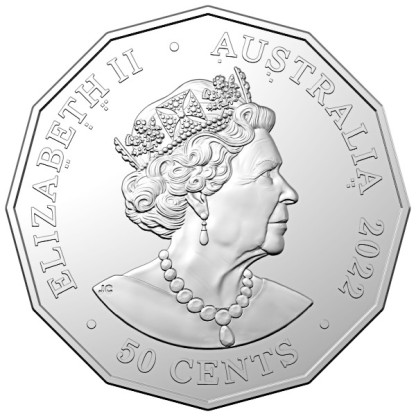 In tribute to the importance of code breaking and evolution of signals intelligence, multiple layers of cryptographic code have been included in the design of the coin. ASD cryptographic experts collaborated with the Royal Australian Mint to design the coins unique and enigmatic code.
A hidden message will be revealed once each layer of code has been cracked. All that is needed is a pen, paper, Wikipedia and brainpower. If you think you can decipher their coded messages,
contact them
and submit your answers. They will reveal whether your answers are correct at the end of September 2022.
ASD would like to thank the Royal Australian Mint for collaborating with them in celebration of their 75th anniversary.
Coins will be available for purchase from September 1st. If you would like to purchase a coin, you can visit the Royal Australian Mint's
eShop website
.
Be The Boss: I Want To Be An Automotive Mechanic
If you have always loved tinkering with vehicles then becoming a Mechanic may be the perfect job-for-life for you. Although you will have to do an Apprenticeship, once you have completed that you will be able to work in the motor vehicle and associated industries, while this is, once again, work where you will have a certain degree of autonomy, whether you set up in business as a sole trader or even when working for someone else.
A Mechanic is a tradesperson who uses tools to build and repair machinery. Most Mechanics specialise in a particular field, such as motor mechanics, air-conditioning and refrigeration, or bicycle mechanics.
For the purposes of this week's 'I want to be the Boss' we focus on Automotive Mechanics.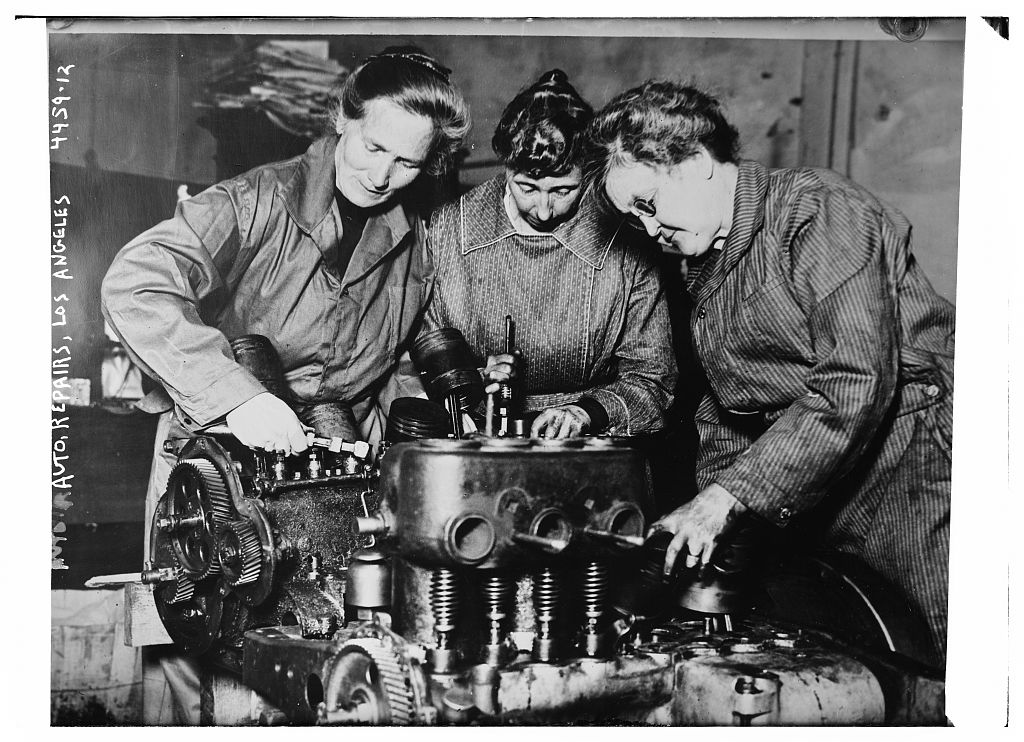 Automobile mechanics at work, USA, 1910s

Automotive Mechanics (also known as Auto Mechanics) are qualified to maintain, test and repair petrol engines and the mechanical parts of motor vehicles. This may include identifying faults and ensuring the smooth function of transmissions, suspension, steering and brakes.
To become an Automotive Mechanic you need to complete an apprenticeship and some formal training. If you want to specialise in automotive air-conditioning or be certified to give roadworthy assessments you'll require additional licensing and need to complete further study.
When looking to start your apprenticeship, an Apprenticeship Network provider or Group Training Organisation in your area can help you find a host employer. Or get out there and ASK - there are plenty of local businesses looking for someone to start a Mechanic apprenticeship - or use a search function platform such as
Indeed
or
Seek
to find one in your area.
While completing your apprenticeship, there are a number of formal training options to supplement your on-the-job training. The Certificate III in Light Vehicle Mechanical Technology (AUR30616) has a particular focus on light vehicles.
In order to give roadworthy assessments you need to function as a Licenced Vehicle Tester (LVT), which requires you to complete further accredited training.
TAFE Automotive Repair and Maintenance courses will set you up for a wide range of careers, from painting, repairs or motor mechanics with any automotive organisation.
TAFE specialist facilities, industry events and relationships, and courses for everyone from high school students to tradespeople, put you in pole position in this area of skills shortage.
TAFE automotive courses equip you with the practical and theoretical knowledge you need to become qualified as a car mechanic, motor mechanic, or automotive specialist.
You'll learn mechanical and electrical fundamentals including servicing, diagnostic and repairs on things like the engine, steering, suspension, driveline, brakes, body control and vehicle communication systems.
You'll also use your communication skills and attention to detail to learn how to successfully run your own business and create safe work environments in the automotive industry.
Cars, trucks, and agricultural machinery are the backbone of Australia, with 19.5 million vehicles being registered at the beginning on 2019. Evolving industries, sustainable environmental standards and automotive technology advancements mean that you need to be skilled to meet what the future has in store with 23,000 job openings until 2024. There's no better time to get into gear with a TAFE NSW automotive qualification.
Whether you want to restore a vintage vehicle, work on modern SUVs or get out in the agriculture field, there are many exciting opportunities in the automotive industry, including:
Automotive electrician
Automotive mechanic
Automotive salesperson
Car mechanic
Heavy vehicle mechanic
Light vehicle mechanic
Marine trimming technician
Mobile plant mechanic
Motorcycle mechanic
Vehicle refinishing technician
Vehicle spray painter
Start with a foundational Certificate II in Automotive Vocational Preparation, kick-start your career as a qualified car mechanic with a Certificate III in Light Vehicle Mechanical Technology, and then rev it up with a Certificate IV in Automotive Mechanical Diagnosis.
In Australia, the average weekly salary for a motor mechanic is $1,436 per week. Requirements of a mechanic include the completion of an apprenticeship and relevant qualifications, such as the Certificate II in Automotive Body Repair Technology, or the Certificate III in Light Vehicle Mechanical Technology.
TAFE NSW courses in this area are offered in various specialties, such as:
Automotive Body Repair Technology
Automotive Servicing Technology
Light Vehicle Mechanical Technology
Automotive Electrical Technology, Engineering (Mechanical)
Mobile Plant Technology
Heavy Commercial Vehicle Mechanical Technology
Also Available:
More Opportunities To Get Skilled For Free
NSW residents who want to get skilled for a first job, a new job or a better job will have more opportunities to access fee-free training, with the NSW Government extending funding through to the end of the 2022-23 financial year.
The joint NSW - Federal Government funded JobTrainer program, providing fee-free training in response to the impact of COVID-19, is due to end in December, but the NSW Government will step in to ensure more people can access training so they can get jobs in priority industries.
Minister for Skills and Training Alister Henskens announced the funding extension to mark the commencement of National Skills Week, which will remove barriers to training and help people get the skills they need for the jobs they want.
"We want people to get skilled, find in-demand jobs, grow the economy and deliver a brighter future for their families," Mr Henskens said.
"When it comes to investing in skills and training, NSW has led the nation. Despite the Commonwealth's funding for fee-free training ceasing at the end of this year, the NSW Government will extend funding for fee-free courses through to July 2023.
"The funding will target the in-demand industries such as community services, including aged care and disability support, hospitality, agriculture and digital technology.
"On top of our unprecedented investment in fee-free training, the NSW Government is also delivering revolutionary new programs and projects, such as our Institutes of Applied Technology and the New Education Training Model."
Business NSW CEO Daniel Hunter welcomed the investment which will help train more workers for jobs in critical industries.
"The number one issue facing businesses right now is access to skilled workers. Every person that gets skilled up and into a job under this program is a success story for local communities and businesses across NSW," Mr Hunter said.
For more information on eligibility and locations of the fee-free training courses across NSW including online,
visit this website.
Girls In Engineering Club
The UNSW Girls in Engineering Club is a fun, inspiring community for high school girls interested in a career in engineering.
We provide opportunities to explore the diverse fields of engineering where you can connect and share ideas with fellow high school girls. You'll hear from inspiring role models such as UNSW Engineering students and female engineers who are already making their mark on the world.
The Girls in Engineering Club is free to join – sign up today to receive our monthly newsletters packed with inspiring content and activities!
GIE Club members get…
Exclusive invitations to Girls in Engineering Club events​.
Monthly inspo delivered to your email, featuring profiles of female engineers, study tips and more!​
Opportunities to be mentored by female engineering students. ​
Access to a closed Facebook community to connect with likeminded girls​.
Regular workshops and challenges.
Power-Sharing For Nature-Based Solutions To Climate Change : Fiona Nunan At TEDxWarwick
Published by TEDx Talks September 1, 2022
Professor Fiona Nunan explains why we need to put people at the centre of nature-based solutions rather than let private companies be in change - which often leads to fake action such as 'greenwashing'. Instead, she demonstrates why people living in or close to ecosystems are best able to protect, restore and manage nature. The importance of nature is often overlooked and so is the vital role of indigenous people for the future of our planet. Dr Fiona Nunan is a Professor of Environment and Development at the University of Birmingham. Her interests and experience focus on natural resource governance and management in developing country settings, particularly within inland fisheries and coastal locations in East and Southern Africa, and on exploring the links between poverty and the environment. This talk was given at a TEDx event using the TED conference format but independently organized by a local community. Learn more at https://www.ted.com/tedx
Alternative Math: Short Film
A well meaning math teacher finds herself 'trumped' by a post-fact America... or does she?
Published in 2017 by Ideaman
Word Of The Week: Catapult
Word of the Week returns in 2022 simply to throw some disruption in amongst the 'yeah-nah' mix.
Noun
1 : an ancient military device for hurling missiles. 2 : a device for launching an airplane at flying speed (as from an aircraft carrier).

Verb
1. to throw someone or something with great force. 2. to suddenly experience a particular state, such as being famous or infamous.
The word 'catapult' comes from the Latin 'catapulta', which in turn comes from the Greek Ancient Greek: (katapeltēs), itself from κατά (kata), "downwards" and (pallō), "to toss, to hurl". Catapults were invented by the ancient Greeks and in ancient India where they were used by the Magadhan Emperor Ajatashatru around the early to mid 5th century BC.

A catapult is a device used to launch a projectile a great distance without the aid of gunpowder or other propellants – particularly various types of ancient and medieval siege engines. A catapult uses the sudden release of stored potential energy to propel its payload. Most convert tension or torsion energy that was more slowly and manually built up within the device before release, via springs, bows, twisted rope, elastic, or any of numerous other materials and mechanisms.
The earliest catapults date to at least the 7th century BC, with King Uzziah, of Judah, recorded as equipping the walls of Jerusalem with machines that shot great stones. In the 5th century BC the mangonel appeared in ancient China, a type of traction trebuchet and catapult. Early uses were also attributed to Ajatashatru of Magadha in his, 5th century BC, war against the Licchavis. Greek catapults were invented in the early 4th century BC, being attested by Diodorus Siculus as part of the equipment of a Greek army in 399 BC, and subsequently used at the siege of Motya in 397 BC.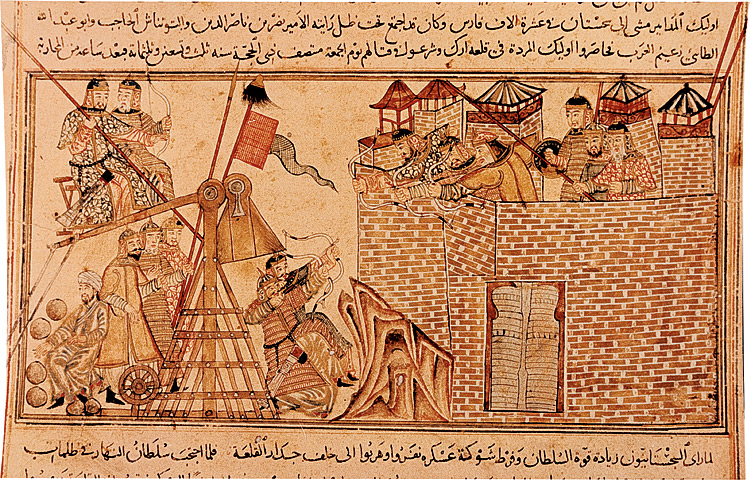 Mongol warriors using trebuchet to besiege a city - 13th century.

Some Father's Day Music
Because we all Love our Dad; even when arguing with him, a few songs to make you think about dad this week! Just remember YOU are his Dream Come True!
And for those of you who like us, have lost their dads, treasure every memory and go spend a little time in
his favourite places
when you miss him too much, the Ed. xxx
"When I was a boy of fourteen, my father was so ignorant I could hardly stand to have the old man around. But when I got to be twenty-one, I was astonished at how much he had learned in seven years."--Mark Twain.
Father and Son - by Yusuf/Cat Stevens (with Lyrics)

Rod Stewart - Rhythm of My Heart
Mike + The Mechanics - The Living Years
Indigenous Ecological Knowledge Kept Alive Through New Language Exchange
A project celebrating Indigenous scientific knowledge that has added 2,500 native plant and animal names to the Atlas of Living Australia (ALA) was launched On September 1st at Ngukurr Primary School in South-East Arnhem Land.
The ALA, hosted by Australia's national science agency, CSIRO, worked with Yugul Mangi Rangers in South-East Arnhem Land and Macquarie University on the project, adding language words in eight local languages and descriptions for 295 species to the ALA.
ALA Indigenous Ecological Knowledge (IEK) Program Lead Nat Raisbeck-Brown said the new Indigenous names and transcriptions would increase data accessibility and strengthen researchers' and Australians' connection to Traditional Owner knowledge and language.
"This project is a wonderful celebration of Indigenous scientific knowledge, highlighting the importance of Australia's first scientists in understanding biodiversity, and supporting biodiversity management and conservation efforts," Ms Raisbeck-Brown said.
"The newly updated species names are now searchable in the ALA, both by their Indigenous language name and western names (Latin and common). By having species names discoverable in Indigenous languages, we benefit from and encourage more Indigenous content to be contributed to the project," she said.
The project celebrates the Kriol, Marra, Ritharrηu/Wӓgliak, Ngandi, Wubuy, Ngalakgan, Alawa and Rembarrnga languages which are now included in the ALA.
Yugul Mangi Assistant Ranger Coordinator Julie Roy, who speaks Ngalakgan and Ngandi languages, said the work not only offered shared scientific benefits but also helped support keeping local languages alive.
"It was very interesting for me to learn both the scientific names and local language names for the species and it's also good for the kids to be able to search these species online to learn more about local languages," Ms Roy said.
In 2020, the Ngukurr Language Centre published this knowledge in a book titled The Cross-cultural guide to some animals and plants of South East Arnhem Land.
Macquarie University project lead Emilie Ens said working with local communities reinforced the long-standing traditions and knowledge of First Nations Peoples in effective environmental management.
"This knowledge, often encoded in language, is an important part of Australia's natural and cultural heritage," Ms Ens said.
"By showcasing these names and knowledge in the ALA, we are recognising the deep traditions of Australia's First Nations Peoples which is long overdue yet is increasingly seen as essential for effective management of Australia's environments," she said.
The ALA's IEK project is a collaborative effort with Traditional Owners across Australia to preserve and provide access to Indigenous cultural and environmental knowledge and language.
The ALA, Australia's national biodiversity data infrastructure, is funded by the National Collaborative Research Infrastructure Strategy (NCRIS) and is hosted by Australia's national science agency, CSIRO.
Find out more about Indigenous ecological knowledge by visiting this website: https://www.ala.org.au/indigenous-ecological-knowledge/
Magpie Goose or Anseranas semipalmata, 'Langgurna' in Marra language, via iNaturalist. Credit: gillbsydney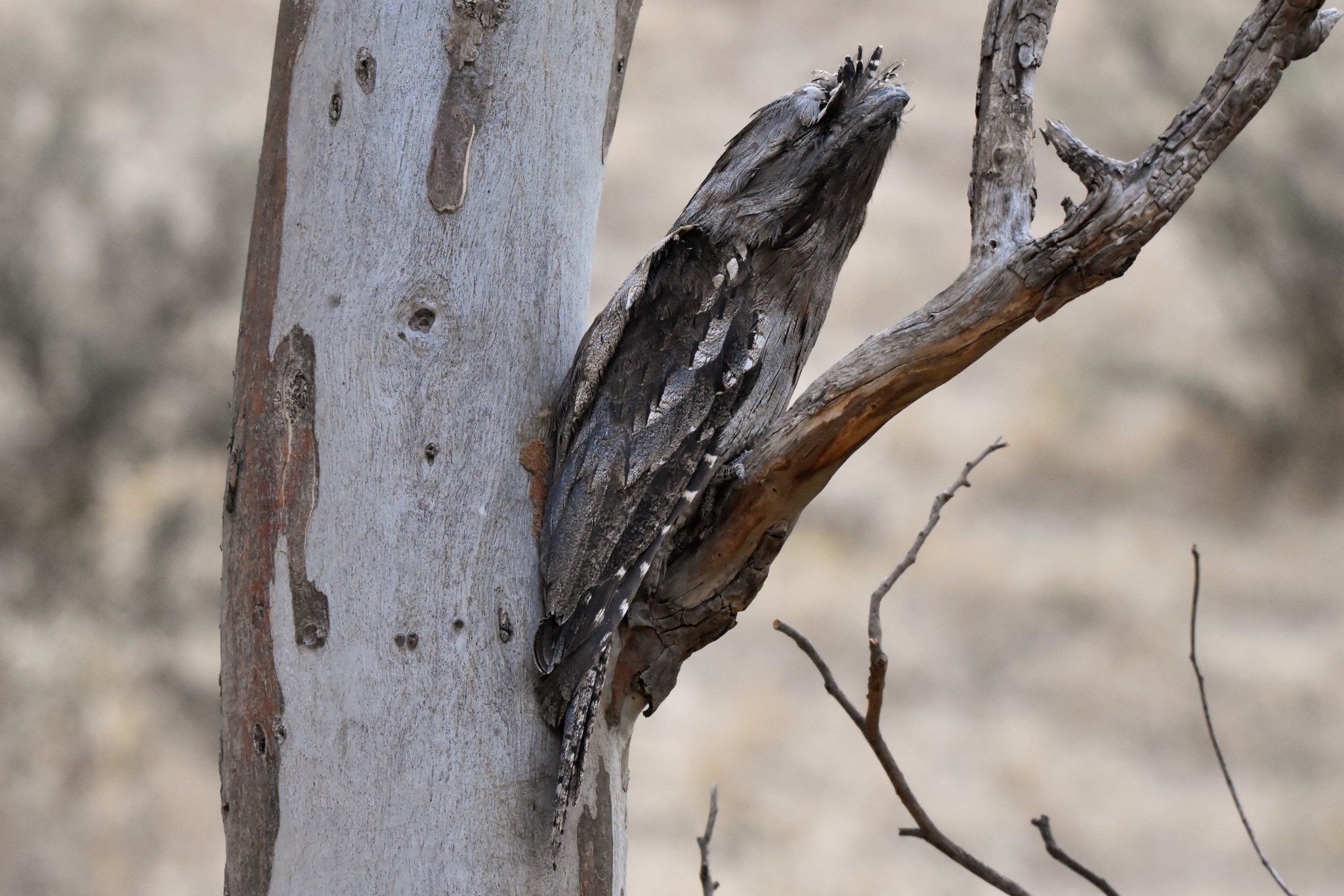 The Tawny Frogmouth or Podargus strigoides, 'Aguluykuluy' in Ngandi language, via iNaturalist. Credit: Owen Gal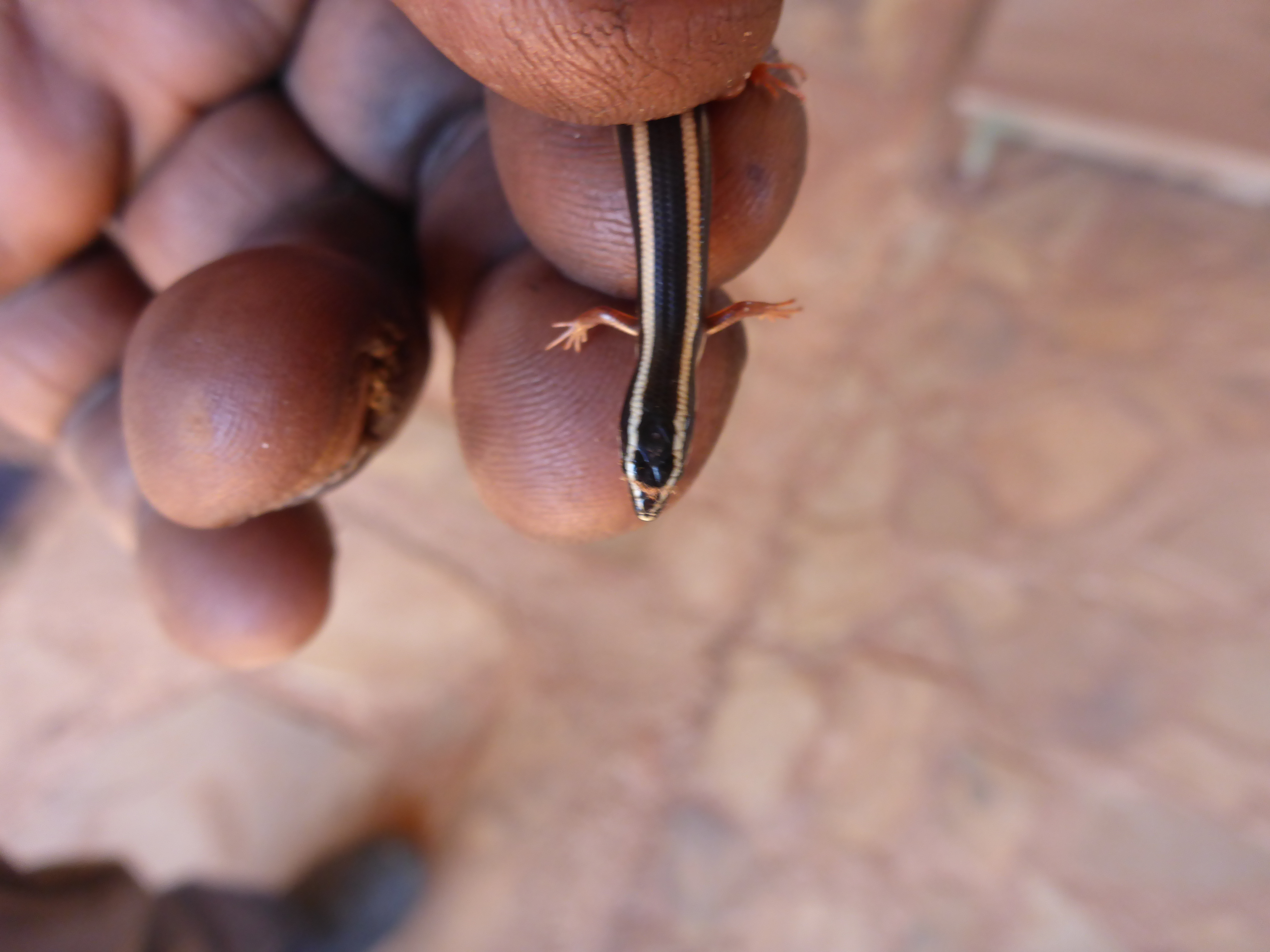 Yugul Mangi Ranger Simon Ponto holding a Lined Firetail Skink or Morethia ruficauda, 'Rlokrlok' in Ngalakgan language, on a fauna survey in 2014 at Mission Gorge, South-East Arnhem Land. Photo: Emilie Ens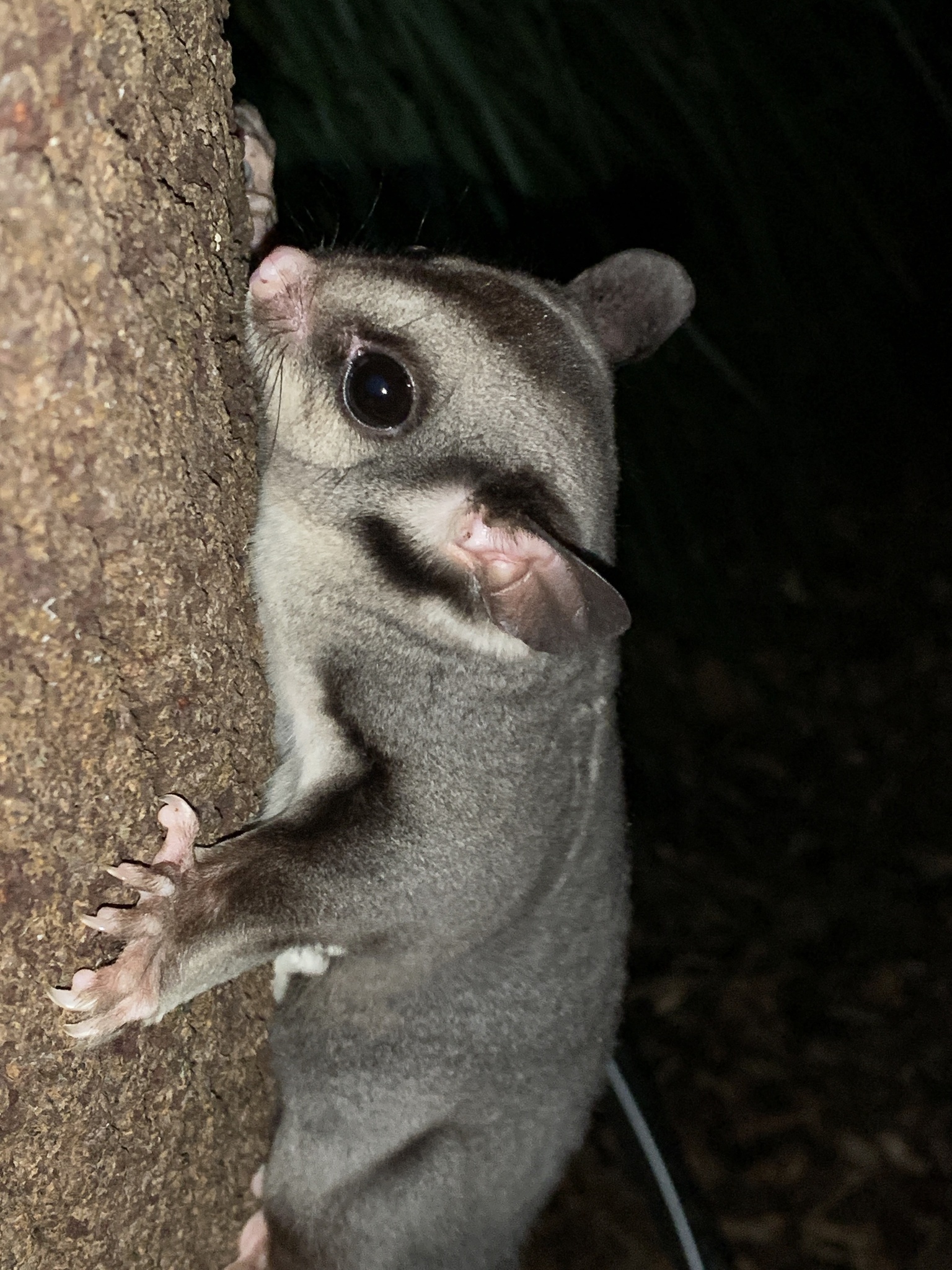 Sugar Glider or Petaurus breviceps, 'Lambalk' in Rembrrnga language, via iNaturalist. Credit: Nimzee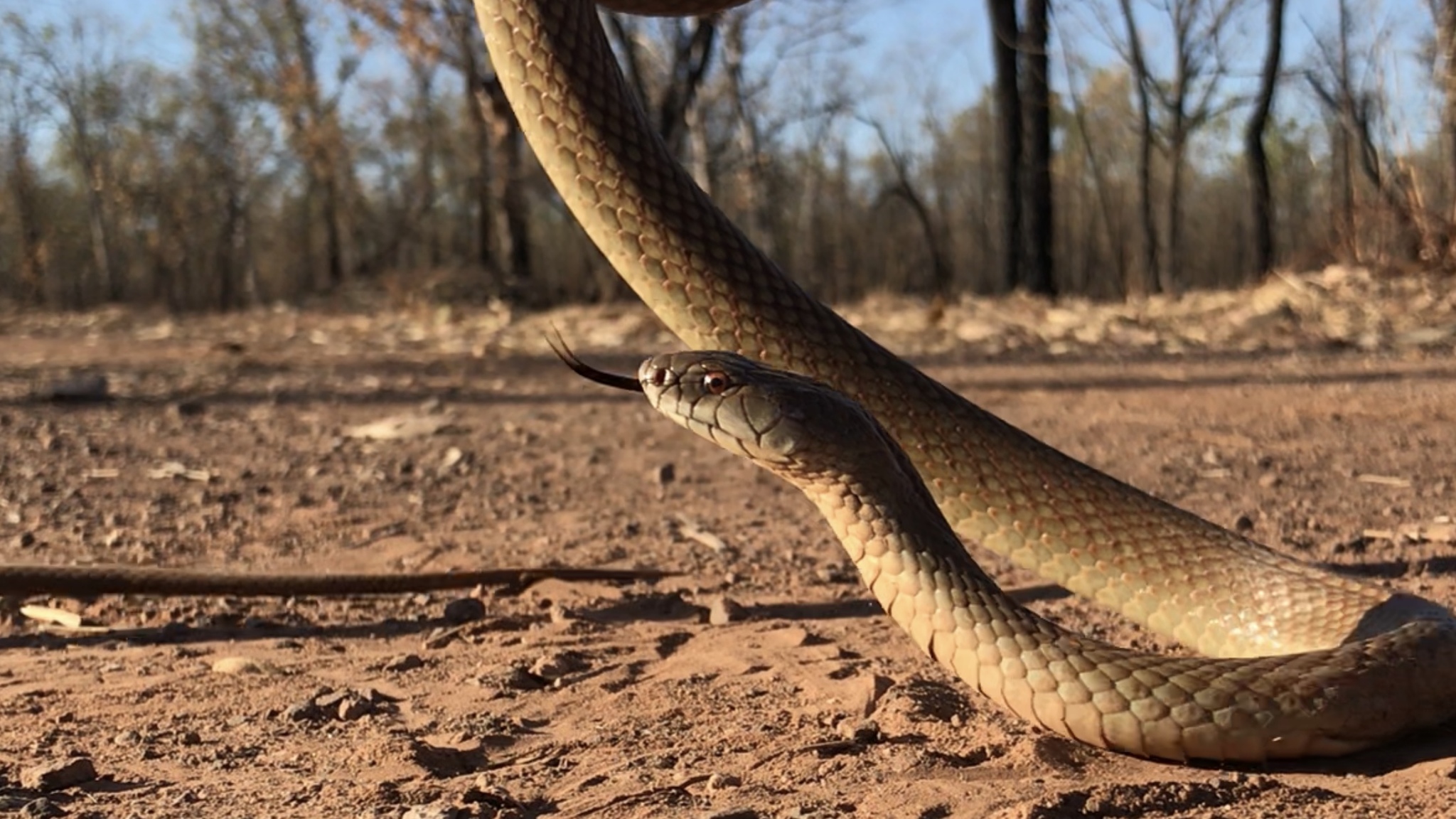 Mulga Snake or Pseudechis australis, 'Bandiyan' in Kriol language, via iNaturalist. Credit: pratty90
Australian-First Cyber Centre To Safeguard NSW Police Network
A new $25.3 million Cyber Security Operations Centre will safeguard NSW Police Force systems from terrorists, organised criminal networks and hackers.
In a joint project led by the NSW Police Force and Cyber Security NSW, the Australian-first operations centre will be made up of a frontline tactical team of 15 analysts and engineers working seven days a week.
Deputy Premier and Minister for Police Paul Toole said the Cyber Security Operations Centre would strengthen the Force's cyber security defences by identifying and blocking threats in real time.
"The NSW Police Force holds a significant amount of sensitive data relating to local, national and international criminal investigations, and we know there are criminals who want to get their hands on this information," Mr Toole said.
"Analysts in the Cyber Security Operations Centre Command respond to and prevent threats of disruption to the police network every day.
"These threats often come from organised crime networks or cyber criminals – and our investment in this Australian-first operations centre is about ensuring our analysts are equipped to stop them in their tracks.
"By protecting police systems, we are fundamentally protecting the people of NSW by allowing the Force to function securely and effectively, and ensure criminal investigations proceed unthwarted."
Minister for Customer Service and Digital Government Victor Dominello said it was vital NSW continued to push ahead with its vision to be a world leader in cyber security to protect and advance its digital economy.
"Now more than ever before, governments, people and businesses are at risk from ongoing cyber security threats and Cyber Security NSW is committed to working with government agencies to improve cyber resilience and ensure they are prepared," Mr Dominello said.
"We are committed to developing an Australian-based cyber security workforce that is world-leading when it comes to taking on increasingly sophisticated cyber-attacks."
Since June 2020 the NSW Government has invested $315 million through the Digital Restart Fund to bolster the Government's cyber security capability and grow the local cyber industry.
Track Laying Complete On The Next Stage Of Sydney Metro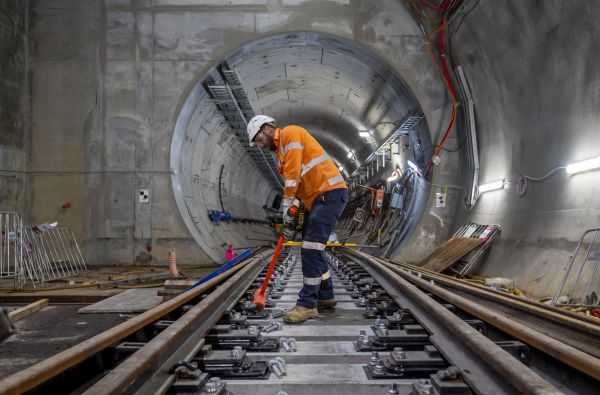 The final track has officially been laid on the NSW Government's flagship public transport development, the Sydney Metro City and Southwest project.
Premier Dominic Perrottet and Minister for Transport, Veterans and Western Sydney David Elliott visited Martin Place Station today to inspect progress and secure the final piece of track into place, marking the completion of trackwork in the 15.5 kilometre twin tunnels between Chatswood and Sydenham.
Premier Dominic Perrottet said the NSW Government was now one step closer to delivering another ground-breaking transport project that will better connect Sydney.
"This project will slash travel times for commuters and transform the way people travel across Sydney," Mr Perrottet said.
"We're delivering a world-class metro system that will not only benefit people who live in Sydney but also the millions of tourists who visit our city each year.
"Our Government's multi-billion dollar investment in this revolutionary project will mean commuters have access to fast and reliable metro services and 7 new metro railway stations including beneath the CBD at Martin Place, Pitt Street Waterloo and Barangaroo."
Minister for Transport, Veterans and Western Sydney David Elliott said the new metro railway line will have a target capacity of an incredible 40,000 customers per hour, similar to other metro systems worldwide.
"Sydney Metro trains will make history as we complete the first railway crossing deep below Sydney Harbour, with the trip between Victoria Cross in the city's north to Barangaroo a fast three-minute journey."
"It will be a real game-changer for commuters when turn-up-and-go services start running under Sydney Harbour and through the CBD, with services every four minutes in peak.
"Furthermore, this has been a boost for the economy and local jobs with more than 5,000 people currently working on the City and Southwest project; and close to 50,000 people by the time it is complete. Undoubtedly the benefits of this project will be felt for generations to come."
In recent months, progress at Martin Place has seen all platform screen doors installed on station platforms and finishes are now underway.
A new 65-metre-long pedestrian link tunnel is also complete. It will provide the public with all-weather access to areas and alternative transport connections around the station and also link directly to Hunter Street and to the future Sydney Metro Hunter Street Station.
The two new commercial buildings at the station – a 39-storey building above the northern entrance to the station and a 28-storey office building above the southern entrance – are rising rapidly, reaching a new level every one to two weeks.
Connection of the new Sydney Metro City and Southwest Line with the existing Metro North West Line will occur later this year, ready for train testing to start along the new alignment in 2023 ahead of passenger services starting in 2024.
Eco-Glue Can Replace Harmful Adhesives In Wood Construction
Researchers at Aalto University have developed a bio-based adhesive that can replace formaldehyde-containing adhesives in wood construction. The main raw material in the new adhesive is lignin, a structural component of wood and a by-product of the pulp industry that is usually burned after wood is processed. As an alternative to formaldehyde, lignin offers a healthier and more carbon-friendly way to use wood in construction.
The carbon footprint of timber construction is significantly lower than concrete construction, and timber construction has often been viewed as better for the health of human occupants as well. However, wood panels still use adhesives made from fossil raw materials. They contain formaldehyde, which can be harmful to health, especially for those working in the adhesive manufacturing process. People living in or visiting buildings can also be exposed to toxic formaldehyde from wood panels.
Lignin, on the other hand, comes from wood itself. It binds cellulose and hemicellulose together and gives wood its tough, strong structure. Lignin accounts for about a quarter of the weight of wood and is produced in huge quantities in the pulp and bioprocessing industry. Only two to five percent of the lignin produced is used, and the rest is burned in factories for energy.
Previously, lengthy and chemical-intensive pre-treatments have been necessary to use lignin in formaldehyde-free adhesives. The adhesive developed by Aalto University researchers can use purified kraft lignin and the chemical reaction to make the adhesive takes a few minutes instead of up to 10 hours. No additional heating of the raw material is needed, which reduces energy consumption. The only by-products of the process are salt and sodium hydroxide, or lye.
Monika Österberg, professor at the Aalto University School of Chemical Engineering, stresses that this is an important development for both the environment and industry. 'Using lignin as a material can reduce carbon dioxide emissions and increase the processing value of forests. This is why research on lignin is an important priority for us at Aalto University.'
Doctoral researcher Alexander Henn explains that glued wood panels such as plywood and chipboard are increasingly used for walls, ceilings and flooring. 'Therefore, it is important to overcome the disadvantages of wood-based panel adhesives and develop the new innovation into a commercial product. This would enable a shift towards more wood-based construction, as a strong and heat-resistant adhesive made from natural materials makes construction truly ecological and safe.'
The innovation is a major step forward for the forestry and glue industries, as the lignin content of previous adhesives has been relatively low (around 20-50 percent), while the new Aalto University innovation has a lignin content of over 90 percent. The adhesive is strong and non-toxic, and protects surfaces from fire, so it can even be used as a flame retardant.
According to the researchers, lignin can also be used as a raw material for applications such as coatings and composites. Research work will continue in the laboratory, and various commercialization opportunities are likely to be explored in collaboration with LignoSphere Oy, a spin-off from Aalto University.
K. Alexander Henn, Susanna Forssell, Antti Pietiläinen, Nina Forsman, Ira Smal, Paula Nousiainen, Rahul Prasad Bangalore Ashok, Pekka Oinas, Monika Österberg.
Interfacial catalysis and lignin nanoparticles for strong fire- and water-resistant composite adhesives
. Green Chemistry, 2022; 24 (17): 6487 DOI:
10.1039/D2GC01637K
Positive Neighbour Involvement Important If Teens Don't Develop Mother-Child Bond
Teens who live in neighbourhoods with trusted, engaged adults can still develop critical social skills that were not nurtured early in life, according to a new University of Michigan study.
Previous studies have shown the importance of early mother-child bonding that contributes to teens having social skills, such as positive behaviours that optimise relationships with others, solid academic performance and self-management of emotions.
But what happens when that connection isn't formed? Social cohesion -- or the trust and bonds among neighbours -- can benefit the adolescents, researchers said.
The study focused on social skills among 15-year-olds as a function of early attachment between mothers -- also considered primary caregivers -- and their 3-year-old kids, as well as neighbourhood social cohesion.
Data from 1,883 children ages 1, 3 and 15 came from the Fragile Families and Child Wellbeing Study, a nationally representative study of children born in 20 U.S. cities between 1998 and 2000.
The present study asked 39 questions to determine the children's attachment, such as "is easily comforted by contact or interaction with mother when crying or otherwise distressed." A higher score indicated a greater level of security in the child's attachment with the mother.
To measure adolescent social skills, behaviour questions were asked of the 15-year-old participants. High scores in child attachment were positively correlated with increased adolescent social skills, the study showed.
At age 3, some of the traits reflecting closeness would be "hugs or cuddles with mother without being asked to do so," "responds positively to helpful hints from mother," and "when a mother says follow, child does so willingly."
High scores in neighbourhood social cohesion at age 3 were positively correlated with increased adolescent social skills. And when the bond between the mother-child wasn't strong, the impact neighbours had on kids' social skills was important, the research indicated.
"Children who live in neighbourhoods with a high degree of social cohesion may have more opportunities to engage within their community and interact with other trusted adults, as well as form friendships with children," said study lead author Sunghyun Hong, a doctoral student of social work and psychology.
These connections with other sources of support may be the driving force behind the buffering impact of social cohesion on social skills for children who had insecure attachments to their caregivers
"This underscores the value of children having access to supportive and loving relationships with the mother and the surrounding community, even from early childhood," Hong said.
The data was collected in the late 90s to early 20s, in which mothers were frequently the primary caregivers. However, in recent decades, the definition of primary caregivers has been expanding with families having diverse forms, including more fathers who are engaged in co-parenting and are the sole primary caregiver. Thus, if the research involved father, the study's results would be similar, Hong said.
The findings, which appear in the Journal of Social and Personal Relationships, show that living in a neighbourhood with high social cohesion is as important as having high attachment security to the mother," she said.
"This means that when we think about policies and programs to empower our children in the community, we must consider directly supporting the family relations and investing in their surrounding community relations," Hong said.
The study's co-authors were U-M psychology graduate student Felicia Hardi and Kathryn Maguire-Jack, associate professor of social work.
Sunghyun Hong, Felicia Hardi, Kathryn Maguire-Jack.
The moderating role of neighborhood social cohesion on the relationship between early mother-child attachment security and adolescent social skills: Brief report.
Journal of Social and Personal Relationships, 2022; 026540752211180 DOI:
10.1177/02654075221118096
Discovery And Naming Of Africa's Oldest Known Dinosaur
An international team of palaeontologists led by Virginia Tech has discovered and named a new, early dinosaur. The skeleton -- incredibly, mostly intact -- was first found by a graduate student in the Virginia Tech Department of Geosciences and other palaeontologists over the course of two digs, in 2017 and 2019.
The findings of this new sauropodomorph -- a long-necked dinosaur -- newly named
Mbiresaurus raathi
were been published today in the journal
Nature
. The skeleton is, thus far, the oldest dinosaur skeleton ever found in Africa. The animal is estimated to have been 6 feet long with a long tail. It weighed anywhere from 20 to 65 pounds. The skeleton, missing only some of the hand and portions of the skull, was found in northern Zimbabwe.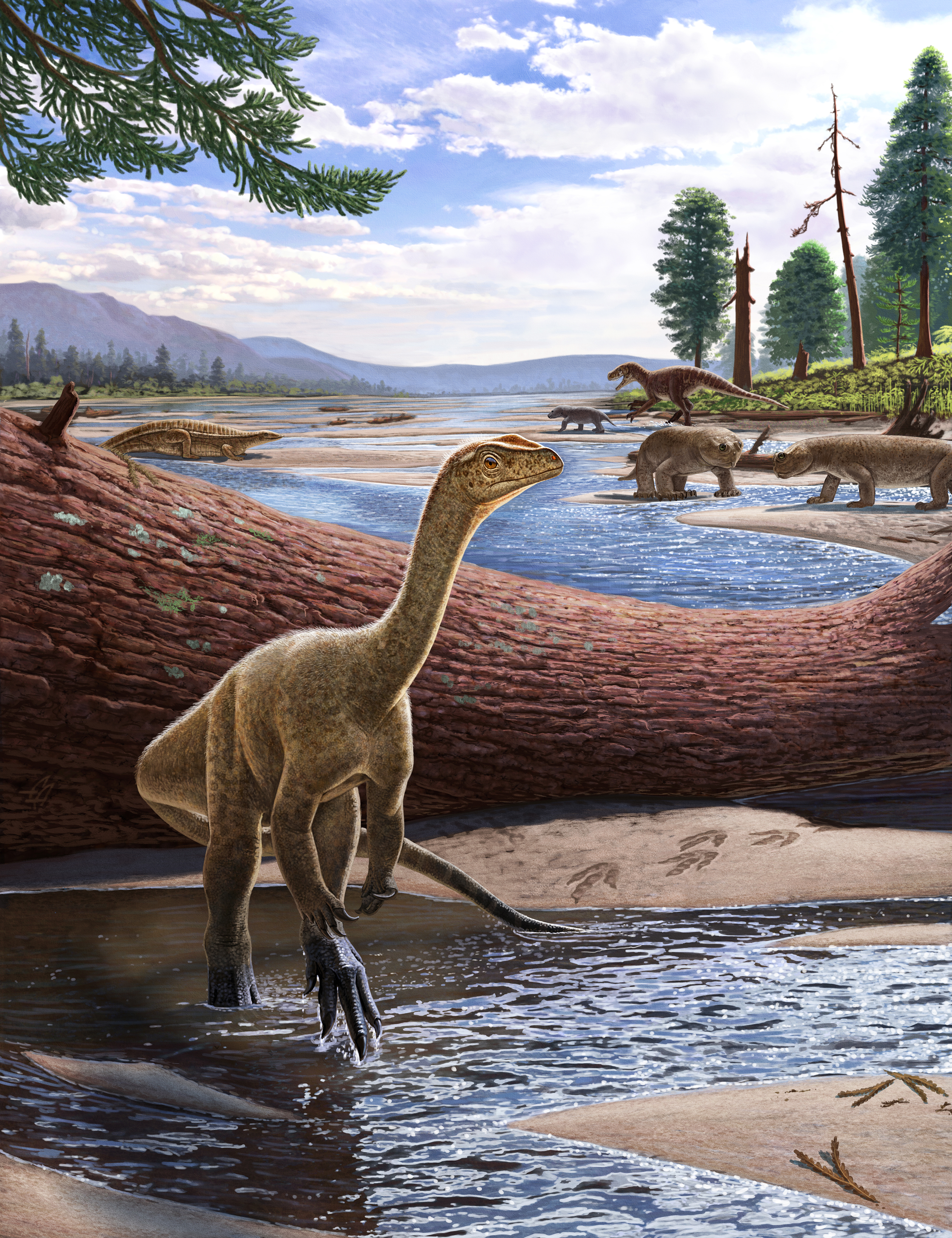 Artistic reconstruction of Mbiresaurus raathi (in the foreground) with the rest of the Zimbabwean animal assemblage in the background. It includes two rhynchosaurs (at front right), an aetosaur (at left), and a herrerasaurid dinosaur chasing a cynodont (at back right). Illustration courtesy of Andrey Atuchin.

"The discovery of Mbiresaurus raathi fills in a critical geographic gap in the fossil record of the oldest dinosaurs and shows the power of hypothesis-driven fieldwork for testing predictions about the ancient past," said Christopher Griffin, who graduated in 2020 with a Ph.D. in geosciences from the Virginia Tech College of Science.
Griffin added, "These are Africa's oldest-known definitive dinosaurs, roughly equivalent in age to the oldest dinosaurs found anywhere in the world. The oldest known dinosaurs -- from roughly 230 million years ago, the Carnian Stage of the Late Triassic period -- are extremely rare and have been recovered from only a few places worldwide, mainly northern Argentina, southern Brazil, and India."
Sterling Nesbitt, associate professor of geosciences, also is an author on the study. "Early dinosaurs like Mbiresaurus raathi show that the early evolution of dinosaurs is still being written with each new find and the rise of dinosaurs was far more complicated than previously predicted," he said.
The international team at the heart of this discovery include palaeontologists from the National Museums and Monuments of Zimbabwe, the Natural History Museum of Zimbabwe, and Universidade de São Paulo, São Paulo, Brazil.
Finding Mbiresaurus raathi and other fossils
Found alongside Mbiresaurus were an assortment of Carnian-aged fossils, including a herrerasaurid dinosaur, early mammal relatives such as cynodonts, armored crocodylian relatives such as aetosaurs, and, in Griffin's description, "bizarre, archaic reptiles" known as rhynchosaurs, again typically found in South America and India from this same time period.
(Mbiresaurus is derived from Shona and ancient Greek roots. "Mbire" is the name of the district where the animal was found and also is the name of an historic Shona dynasty that ruled the region. The name "raathi" is in honor of Michael Raath, a paleontologist who first reported fossils in northern Zimbabwe.)
From their findings, Mbiresaurus stood on two legs and its head was relatively small head like its dinosaur relatives. It sported small, serrated, triangle-shaped teeth, suggesting that it was an herbivore or potentially omnivore.
Part of the 2019 expedition team in Harare, capital of Zimbabwe, before fieldwork. Left to right: Kudzie Madzana, Edward Mbambo, Sterling Nesbitt, George Malunga, Christopher Griffin, Darlington Munyikwa.
"We never expected to find such a complete and well-preserved dinosaur skeleton," said Griffin, now a post-doctorate researcher at Yale University. "When I found the femur of Mbiresaurus, I immediately recognized it as belonging to a dinosaur and I knew I was holding the oldest dinosaur ever found in Africa. When I kept digging and found the left hip bone right next to the left thigh bone, I had to stop and take a breath -- I knew that a lot of the skeleton was probably there, still articulated together in life position."
Nesbitt, who is a member of the Virginia Tech Global Change Center, part of the Fralin Life Sciences Institute, added, "Chris did an outstanding job figuring out a place to test his ideas about early dinosaur evolution, went there, found incredible fossils, and put it all together in a fantastic collaboration that he initiated."
A theory on dinosaur dispersal
In addition to the discovery of Mbiresaurus, the group of researchers also have a new theory on dinosaur migration, including the when and where.
Africa, like all continents, was once part of the supercontinent called Pangea. The climate across Pangea is thought to have been divided into strong humid and arid latitudinal belts, with more temperate belts spanning higher latitudes and intense deserts across the lower tropics of Pangea. Scientists previously believed that these climate belts influenced and constrained animal distribution across Pangea, said Griffin.
"Because dinosaurs initially dispersed under this climatic pattern, the early dispersal of dinosaurs should therefore have been controlled by latitude," Griffin said. "The oldest dinosaurs are known from roughly the same ancient latitudes along the southern temperate climate belt what was at the time, approximately 50 degrees south."
Griffin and others from the Paleobiology and Geobiology Research Group at Virginia Tech purposefully targeted northern Zimbabwe as the country fell along this same climate belt, bridging a geographic gap between southern Brazil and India during the Late Triassic Age.
More so, these earliest dinosaurs were restricted by climatic bands to southern Pangea, and only later in their history dispersed worldwide. To bolster this claim, the research team developed a novel data method of testing this hypothesis of climatic dispersal barriers based on ancient geography and the dinosaurian family tree. The breakdown of these barriers, and a wave of northward dispersal, coincided with a period of intense worldwide humidity, or the Carnian Pluvial Event.
After this, barriers returned, mooring the now-worldwide dinosaurs in their distinct provinces across Pangea for the remainder of the Triassic Period, according to the team. "This two-pronged approach combines hypothesis-driven predictive fieldwork with statistical methods to independently support the hypothesis that the earliest dinosaurs were restricted by climate to just a few areas of the globe," Griffin said.
Brenen Wynd, also a doctoral graduate of the Department of Geosciences, helped build the data model. "The early history of dinosaurs was a critical group for this kind of problem. Not only do we have a multitude of physical data from fossils, but also geochemical data that previously gave a really good idea of when major deserts were present," he said. "This is the first time where those geochemical and fossil data have been supported using only evolutionary history and the relationships between different dinosaur species, which is very exciting."
A boon for Zimbabwe and Virginia Tech palaeontology
The unearthing of one of the earliest dinosaurs ever found -- and most of it fully intact -- is a major win for the Natural History Museum of Zimbabwe. "The discovery of the Mbiresaurus is an exciting and special find for Zimbabwe and the entire paleontological field," said Michel Zondo,a curator and fossil preparer at the museum. "The fact that the Mbiresaurus skeleton is almost complete, makes it a perfect reference material for further finds. It is the first sauropodomorph find of its size from Zimbabwe, otherwise most of our sauropodomorph finds from here are usually of medium- to large-sized animals."
Darlington Munyikwa, deputy executive director of the National Museums and Monuments of Zimbabwe, added,"The unfolding fossil assemblage from the Pebbly Arkose Formation in the Cabora Bassa Basin, which was hitherto known for paucity of animal fossils, is exciting. A number of fossil sites [are] waiting for future exploration were recorded, highlighting the potential of the area to add more valuable scientific material."
Much of the Mbiresaurus specimen is being kept in Virginia Tech's Derring Hall as the skeleton is cleaned and studied. All of the Mbiresaurus skeleton and the additional found fossilswill be permanently kept at Natural History Museum of Zimbabwe in Bulawayo, Zimbabwe.
"This is such an exciting and important dinosaur find for Zimbabwe, and we have been watching the scientific process unfold with great pride,"saidMoira Fitzpatrick, the museum's director. She was not involved in the study. "It has been a pleasure to work with Dr. Griffin,and we hope the relationship will continue well into the future."
The discovery of Mbiresaurus also marks another highpoint for the Paleobiology and Geobiology Research Group. In 2019, Nesbitt authored a paper detailing the newly named tyrannosauroid dinosaur Suskityrannus hazelae. Incredibly, Nesbitt discovered the fossil at age 16 as a high school student participating in a dig expedition in New Mexico in 1998.
"Our group seeks out equal partnerships and collaborations all over the world and this project demonstrates a highly successful and valued collaboration," Nesbitt said. "We will continue studying the many fossils from the same areas as where the new dinosaur came from and explore the fossil beds further."
Funding for the dig and follow-up research came from several sources, including National Geographic Society, the U.S. National Science Foundation, Geological Society of America, Paleontological Society, Virginia Tech Graduate School, Virginia Tech Department of Geosciences, and the Fundação de Amparo à Pesquisa do Estado de São Paulo in Brazil.
Christopher T. Griffin, Brenen M. Wynd, Darlington Munyikwa, Tim J. Broderick, Michel Zondo, Stephen Tolan, Max C. Langer, Sterling J. Nesbitt, Hazel R. Taruvinga.
Africa's oldest dinosaurs reveal early suppression of dinosaur distribution
. Nature, 2022; DOI:
10.1038/s41586-022-05133-x
High Folic Acid Supplementation Associated With Higher Rates Of COVID-19 Infections And Mortality
People in the United Kingdom with folic acid prescriptions were 1.5 times more likely to get COVID-19. They were also 2.6 times more likely to die from COVID-19 compared to the control group. Those are the findings of a new study from UC Davis Health and the University of Alabama at Birmingham.
The research, published in the journal BMJ Open, also found that having a prescription for the antifolate drug methotrexate mitigated the negative impact of folic acid on COVID-19 when folic acid and methotrexate were given together.
The research team studied a large cohort of patients enrolled in the UK BioBank, a major biomedical database containing health information from half a million people.
"We examined whether COVID-19 diagnosis and death were related to the large doses of folic acid -- five times the safe upper limit -- prescribed to patients for a variety of medically approved indications. We found that the risk of becoming infected and dying from COVID-19 was significantly greater in the group treated with folic acid," said Ralph Green, an expert on B vitamins. Green is a distinguished professor in the UC Davis Department of Pathology and Laboratory Medicine and co-senior author of the study.
Folic acid is a synthetic form of vitamin B9, also known as folate. Low levels of B9 are associated with health conditions such as an increased risk of heart disease, stroke and birth defects.
Folic acid is prescribed for several conditions, including sickle cell disease, high-risk pregnancies, and people receiving anti-seizure medications. Folic acid is also prescribed to help offset some side effects for patients taking methotrexate.
Methotrexate is used to treat certain types of cancer and some autoimmune diseases. The drug is an "antifolate," meaning it interferes with folate, which cancer cells require for proliferation.
Green was inspired by research published last year in Nature Communications that suggested the SARS-CoV-2 virus, which causes COVID-19, hijacks the host's folate for viral replication. This suggests that the virus might be sensitive to both folate and folate inhibitors like
To find out if folic acid was associated with an increased risk of COVID-19 and if methotrexate was associated with a decreased risk, the researchers looked at folic acid and methotrexate prescription data from 2019 to 2021 in 380,380 participants in the UK Biobank.
They identified 26,033 individuals with COVID-19, of whom 820 died from COVID-19. People with a methotrexate prescription were diagnosed with COVID-19 at a similar rate to the general study population.
However, people with a folic acid prescription were diagnosed with COVID-19 infections at a higher rate (5.99%) and had a much higher COVID-19 mortality rate (15.97%) than the control group.
"Our findings could have implications for patients who take supplementary folate to prevent complications of other pharmacological therapies," said Angelo L. Gaffo, co-senior author and an associate professor of medicine in the Division of Rheumatology at the University of Alabama at Birmingham. "Although taking folate in these cases is clearly indicated, clinicians should be cautious about excessive folate intake. Of course, our results will require replication."
The researchers note that due to the makeup of the UK BioBank data, the current findings are limited to people 45 years of age and older who are predominantly from White European ethnicities of the UK population.
The study did not look at the serum folate levels of the participants. They note that further investigations are needed to explore the impact of folate status and folic acid intake on susceptibility to SARS-CoV-2 infection and its fatal complications.
"The defined safe upper limit of folic acid is one milligram. Until we have more information, it would be prudent to avoid extremely high doses of folic acid unless it is medically indicated. High folic acid would be of greater concern in unvaccinated individuals," Green said.
Additional co-authors include Ruth K. Topless of University of Otago, Sarah L. Morgan of University of Alabama at Birmingham, Philip C. Robinson of University of Queensland, Tony R. Merriman of the University of Otago and University of Alabama at Birmingham.
Ruth Topless, Ralph Green, Sarah L Morgan, Philip Robinson, Tony Merriman, Angelo L Gaffo.
Folic acid and methotrexate use and their association with COVID-19 diagnosis and mortality: a case–control analysis from the UK Biobank.
BMJ Open, 2022; 12 (8): e062945 DOI:
10.1136/bmjopen-2022-062945
Dolphins Form Largest Alliance Network Outside Humans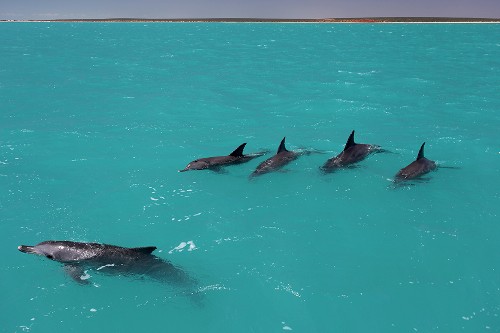 Male bottlenose dolphins form the largest known multi-level alliance network outside humans, an international team led by researchers at the University of Bristol have shown. These cooperative relationships between groups increase male access to a contested resource.
The scientists, with colleagues from the University of Zurich and University of Massachusetts, analysed association and consortship data to model the structure of alliances between 121 adult male Indo-Pacific bottlenose dolphins
at Shark Bay in Western Australia.
Their findings have been published today in
The Proceedings of the National Academy of Sciences
(PNAS).
Male dolphins in Shark Bay form first-order alliances of two-three males to cooperatively pursue consortships with individual females. Second-order alliances of four-14 unrelated males compete with other alliances over access to female dolphins and third-order alliances occur between cooperating second-order alliances.
Co-lead author Dr Stephanie King, Associate Professor from Bristol's School of BiologicalSciences explained: "Cooperation between allies is widespread in human societies and one of the hallmarks of our success. Our capacity to build strategic, cooperative relationships at multiple social levels, such as trade or military alliances both nationally and internationally, was once thought unique to our species.
"Not only have we shown that male bottlenose dolphins form the largest known multilevel alliance network outside humans, but that cooperative relationships between groups, rather than simply alliance size, allows males to spend more time with females, thereby increasing their reproductive success."
Dr Simon Allen, Senior Lecturer at Bristol's School of Biological Sciences, who contributed to the study, said "We show that the duration over which these teams of male dolphins consort females is dependent upon being well-connected with third-order allies, that is, social ties between alliances leads to long-term benefits for these males."
Intergroup cooperation in humans was thought to be unique and dependent upon two other features that distinguish humans from our common ancestor with chimpanzees, the evolution of pair bonds and parental care by males. "However, our results show that intergroup alliances can emerge without these features, from a social and mating system that is more chimpanzee like" noted Richard Connor, Professor Emeritus at the University of Massachusetts and now affiliated with Florida International University, who co-led the study with Dr King.
The publication of the importance of third level or intergroup alliances in dolphins in 2022 holds special significance as the team celebrate the 40th anniversary of the start of Shark Bay dolphin research in 1982 and the 30th anniversary of the publication in 1992 of their discovery of two levels of male alliance formation, also published in The Proceedings of the National Academy of Sciences.
Professor Dr. Michael Krützen, an author on the study and Head of the Anthropology Institute at the University of Zurich, added; "It is rare for non-primate research to be conducted from an anthropology department, but our study shows that important insights about the evolution of characteristics previously thought to be uniquely human can be gained by examining other highly social, large-brained taxa."
Dr King concluded: "Our work highlights that dolphin societies, as well as those of nonhuman primates, are valuable model systems for understanding human social and cognitive evolution."
Richard C. Connor, Michael Krützen, Simon J. Allen, William B. Sherwin, Stephanie L. King.
Strategic intergroup alliances increase access to a contested resource in male bottlenose dolphins
. Proceedings of the National Academy of Sciences, 2022; 119 (36) DOI:
10.1073/pnas.2121723119
Photo: Four male allies and a female. Images: Dr Simon Allen
New Way Found To Turn Number Seven Plastic Into Valuable Products
A method to convert a commonly thrown-away plastic to a resin used in 3D-printing could allow for making better use of plastic waste.
A team of Washington State University researchers developed a simple and efficient way to convert polylactic acid (PLA), a bio-based plastic used in products such as filament, plastic silverware and food packaging to a high-quality resin.
"We found a way to immediately turn this into something that's stronger and better, and we hope that will provide people the incentive to upcycle this stuff instead of just toss it away," said Yu-Chung Chang, a postdoctoral researcher in the WSU School of Mechanical and Materials Engineering and a co-corresponding author on the work. "We made stronger materials just straight out of trash. We believe this could be a great opportunity."
About 300,000 tons of PLA are produced annually, and its use is increasing dramatically.
Although it's bio-based, PLA, which is categorized as a number seven plastic, doesn't break down easily. It can float in fresh or salt water for a year without degrading. It is also rarely recycled because like many plastics, when it's melted down and re-formed, it doesn't perform as well as the original version and becomes less valuable.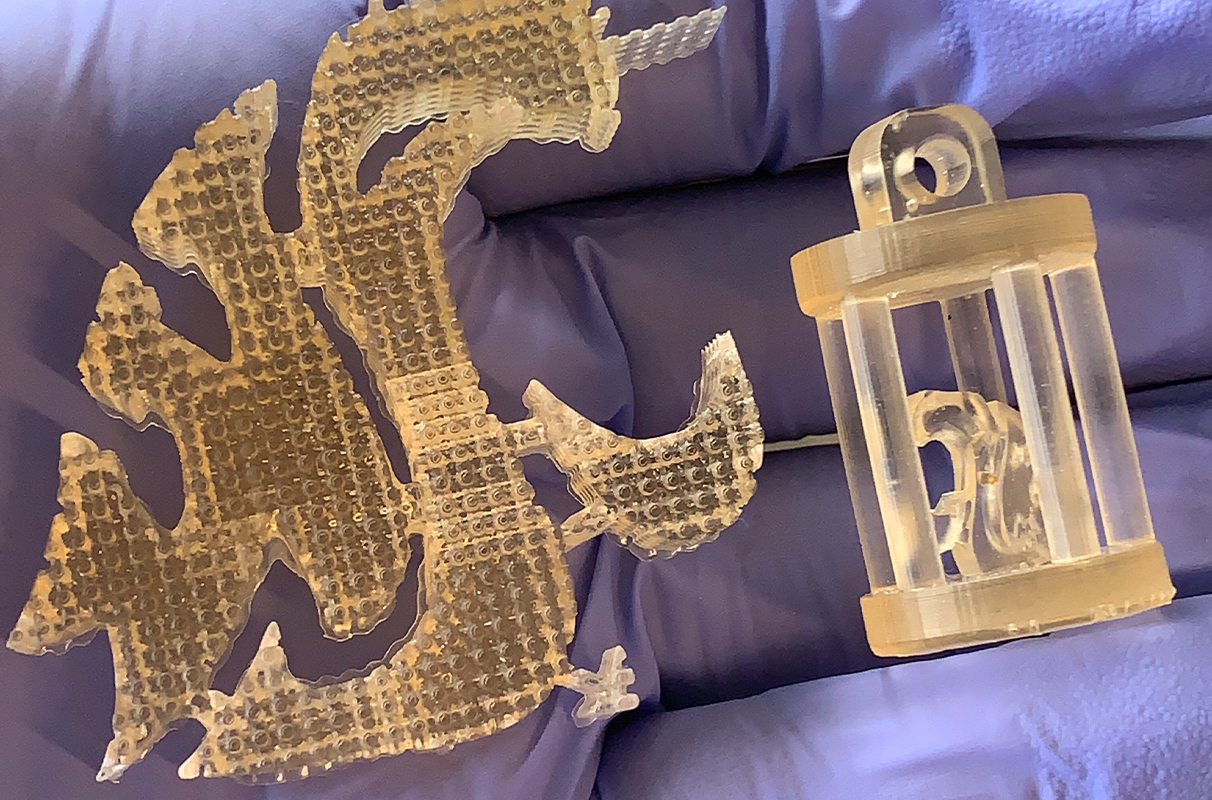 The WSU research team, including postdoctoral researcher Yu-Chung Chang, used PLA plastic waste to create a high-quality resin for 3D printing.

"It's biodegradable and compostable, but once you look into it, it turns out that it can take up to 100 years for it to decompose in a landfill," Chang said. "In reality, it still creates a lot of pollution. We want to make sure that when we do start producing PLA on the million-tons scale, we will know how to deal with it."
In their study, published in the journal, Green Chemistry, the researchers, led by Professor Jinwen Zhang in the School of Mechanical and Materials Engineering, developed a fast and catalyst-free method to recycle the PLA, breaking the long chain of molecules down into simple monomers -- the building blocks for many plastics. The entire chemical process can be done at mild temperatures in about two days. The chemical they used to break down the PLA, aminoethanol, is also inexpensive.
"If you want to rebuild a Lego castle into a car, you have to break it down brick by brick," Chang said. "That's what we did. The aminoethanol precision-cut the PLA back to a monomer, and once it's back to a monomer, the sky's the limit because you can re-polymerize it into something stronger."
Once the PLA was broken down to its basic building blocks, the researchers rebuilt the plastic and created a type of photo-curable liquid resin that is commonly used as printing "ink" for 3D printers. When it was used in a 3D printer and cured into plastic pieces, the product showed equal or better mechanical and thermal properties than commercially available resins.
While the researchers focused on PLA for the study, they hope to apply the work to polyethylene terephthalate (PET), which is more common than PLA, has a similar chemical structure and presents a bigger waste problem.
They have filed a provisional patent and are working to further optimize the process. The researchers are also looking into other applications for the upcycling method.
Lin Shao, Yu-Chung Chang, Cheng Hao, Ming-en Fei, Baoming Zhao, Brian J. Bliss, Jinwen Zhang.
A chemical approach for the future of PLA upcycling: from plastic wastes to new 3D printing materials.
Green Chemistry, 2022; DOI:
10.1039/D2GC01745H
Team Developing Oral Insulin Tablet Sees Breakthrough Results
A team of University of British Columbia researchers working on developing oral insulin tablets as a replacement for daily insulin injections have made a game-changing discovery.
Researchers have discovered that insulin from the latest version of their oral tablets is absorbed by rats in the same way that injected insulin is.
"These exciting results show that we are on the right track in developing an insulin formulation that will no longer need to be injected before every meal, improving the quality of life, as well as mental health, of more than nine million Type 1 diabetics around the world." says professor Dr. Anubhav Pratap-Singh (he/him), the principal investigator from the faculty of land and food systems.
He explains the inspiration behind the search for a non-injectable insulin comes from his diabetic father who has been injecting insulin 3-4 times a day for the past 15 years.
According to Dr. Alberto Baldelli (he/him), a senior fellow in Dr. Pratap-Singh's lab, they are now seeing nearly 100 per cent of the insulin from their tablets go straight into the liver. In previous attempts to develop a drinkable insulin, most of the insulin would accumulate in the stomach.
"Even after two hours of delivery, we did not find any insulin in the stomachs of the rats we tested. It was all in the liver and this is the ideal target for insulin -- it's really what we wanted to see," says Yigong Guo (he/him), first author of the study and a PhD candidate working closely on the project.
Changing the mode of delivery
When it comes to insulin delivery, injections are not the most comfortable or convenient for diabetes patients. But with several other oral insulin alternatives also being tested and developed, the UBC team worked to solve where and how to facilitate a higher absorption rate.
Dr. Pratap-Singh's team developed a different kind of tablet that isn't made for swallowing, but instead dissolves when placed between the gum and cheek.
This method makes use of the thin membrane found within the lining of the inner cheek and back of the lips (also known as the buccal mucosa). It delivered all the insulin to the liver without wasting or decomposing any insulin along the way.
"For injected insulin we usually need 100iu per shot. Other swallowed tablets being developed that go to the stomach might need 500iu of insulin, which is mostly wasted, and that's a major problem we have been trying to work around," Yigong says.
Most swallowed insulin tablets in development tend to release insulin slowly over two to four hours, while fast-release injected insulin can be fully released in 30-120 minutes.
"Similar to the rapid-acting insulin injection, our oral delivery tablet absorbs after half an hour and can last for about two to four hours long," says Dr. Baldelli.
The study is yet to go into human trials, and for this to happen Dr. Pratap-Singh says they will require more time, funding and collaborators. But beyond the clear potential benefits to diabetics, he says the tablet they are developing could also be more sustainable, cost-effective and accessible.
"More than 300,000 Canadians have to inject insulin multiple times per day," Dr. Pratap-Singh says. "That is a lot of environmental waste from the needles and plastic from the syringe that might not be recycled and go to landfill, which wouldn't be a problem with an oral tablet."
He explains that their hope is to reduce the cost of insulin per dose since their oral alternative could be cheaper and easier to make. Transporting the tablets would be easier for diabetics, who currently have to think about keeping their doses cool.
Yigong Guo, Alberto Baldelli, Anika Singh, Farahnaz Fathordoobady, David Kitts, Anubhav Pratap-Singh.
Production of high loading insulin nanoparticles suitable for oral delivery by spray drying and freeze drying techniques.
Scientific Reports, 2022; 12 (1) DOI:
10.1038/s41598-022-13092-6
Disclaimer: These articles are not intended to provide medical advice, diagnosis or treatment. Views expressed here do not necessarily reflect those of Pittwater Online News or its staff.