inbox and environment news: Issue 552
August 28 - September 3, 2022: Issue 552
Protecting The Night Sky From Light Pollution: Why Does It Matter? Mariya Lyubenova
Published August 19, 2022 by TEDx talks
As an active researcher in the area of galaxies, black holes, and globular clusters, Mariya talks about the importance of the protection of the dark sky. Light pollution from cities, and even satellites.
Video produced and edited by: Nikolay Shopov Mariya is a driven researcher who thrives at the intersections of fields, disciplines, and sectors in society. She is a firm believer in the need for open communication in a nurturing environment for the successful transfer and advancement of knowledge.
Mariya holds an MSc in physics from Sofia University in Bulgaria and a Ph.D. in astronomy from the University of Munich in Germany. She currently works at the European Southern Observatory (ESO), where she is head of media relations, science advisor to the Department of Communication, and editor of ESO's science & technology journal.
She also appreciates mentoring women and gender minorities interested in pursuing a career in STEM fields. Her professional expertise, complemented by volunteering for social causes, enables her to successfully share her knowledge with people coming from various backgrounds. This talk was given at a TEDx event using the TED conference format but independently organized by a local community. Learn more at https://www.ted.com/tedx
Be The Boss: I Want To Be A Biotechnologist
Biotechnologists study plants, animals, biological systems and processes to develop new products or solve problems in areas such as pharmaceutical manufacture, agriculture, environmental protection, and improving industrial processes. Their work may incorporate the use of small molecule technologies, nanotechnology, bioinformatics and synthetic biology.
As a biotechnologist, you would:
determine the objectives and methods of research
collect and analyse data
prepare reports based on your findings
present the findings or publish reports
keep administrative records.
Biotechnologists might work in developing new products or improved processes in areas such as:
new vaccines to treat diseases
genetically modified plants with resistance to pests
improved detection of diseases
treatments for human infertility
bacteria capable of cleaning up oil spills or polluted land
creating biological dyes or biodegradeable plastics
environmentally friendly biofuels.
To become a biotechnologist, you would need:
a strong interest in science
good technical scientific research skills
an enquiring mind and good problem-solving skills
a high level of accuracy and attention to detail
the ability to analyse statistical and technical data
good computer skills
good written communication skills.
Working hours and conditions
You would usually work a standard number of hours during the week. This might include nights and weekends if you are involved in research which needs continuous monitoring.
You would mainly work in a laboratory, often in sterile conditions. You would normally wear protective clothing such as a lab coat and safety glasses.
How to become an Biotechnologist?
To become a biotechnologist you usually have to complete a degree in biology, biotechnology, biochemistry or a degree in science with a major in one of these areas. You can also become a biotechnologist by completing a degree in chemical engineering with a major in biological engineering. To get into these courses you usually need to gain your senior secondary school certificate or equivalent. English, mathematics, chemistry, biology, earth and environmental science, and physics would be appropriate subjects to study prior to university.
Employment of biotechnologists is projected to grow about as fast as the average for all occupations. Greater demand for biotechnology research is expected to increase the need for these workers.
Biotechnologists will be needed to help scientists develop new treatments for diseases, such as cancer and Alzheimer's disease. In agriculture, biotechnologists will continue research into genetically engineered crops and improved livestock yields. In addition, biotechnologists will be needed to help develop alternative sources of energy, such as biofuels, and to find new and improved ways to clean up and preserve the natural environment.
Bachelor of Advanced Science (Environmental Biotechnology)
Bachelor of Advanced Science students explore and specialise in advanced scientific thinking in a specialist field of their choice. Offering advanced courses and an honours year this course is designed innovative and advanced scientific practice. -
​UNIVERSITY OF TECHNOLOGY SYDNEY
Bachelor of Advanced Science (Honours - Biology)
Bachelor of Advanced Science students explore and specialise in advanced scientific thinking in a specialist field of their choice. Offering advanced courses and an honours year this course is designed innovative and advanced scientific practice. -
​UNIVERSITY OF QUEENSLAND
Bachelor of Biomedicine (Biotechnology)
Bachelor of Biomedical Science students prepare for a role in the rapidly changing industry of healthcare, disease and medical research. Courses often provide a base education with the possibility to specialise. -
UNIVERSITY OF MELBOURNE
Bachelor of Bionanotechnology (Honours)
Bachelor of Bionanotechnology students immerse themselves in scientific principles from biology, physics, chemistry, and mathematics in order to explore biological processes at the molecular level. This course provides a pathway into a range of industries including biotechnology, pharmacology, biomedical research, government policy, patent law and other fields. -
​UNIVERSITY OF WOLLONGONG
Bachelor of Biotechnology
Bachelor of Biotechnology students explore biology and the processes behind it in order to develop technologies and products ranging from biofuels, breeding programs or bionic limbs. -
​UNIVERSITY OF NEWCASTLE
Bachelor of Biotechnology -
AUSTRALIAN NATIONAL UNIVERSITY
Bachelor of Biotechnology (Computational Biotechnology)
Bachelor of Biotechnology students explore biology and the processes behind it in order to develop technologies and products ranging from biofuels, breeding programs or bionic limbs. -
​UNIVERSITY OF TECHNOLOGY SYDNEY
Bachelor of Biotechnology (Environmental Biotechnology)
Bachelor of Biotechnology students explore biology and the processes behind it in order to develop technologies and products ranging from biofuels, breeding programs or bionic limbs. -
​UNIVERSITY OF TECHNOLOGY SYDNEY
Bachelor of Biotechnology (Honours - Bioinformatics)
Bachelor of Biotechnology students explore biology and the processes behind it in order to develop technologies and products ranging from biofuels, breeding programs or bionic limbs. -
​UNIVERSITY OF QUEENSLAND
Bachelor of Biotechnology (Honours - Bioprocess Technology)
Bachelor of Biotechnology students explore biology and the processes behind it in order to develop technologies and products ranging from biofuels, breeding programs or bionic limbs. -
​UNIVERSITY OF QUEENSLAND
Although not normally what first comes to mind, many forms of human-derived agriculture clearly fit the broad definition of "'utilising a biotechnological system to make products". Indeed, the cultivation of plants may be viewed as the earliest biotechnological enterprise.
Agriculture has been theorized to have become the dominant way of producing food since the Neolithic Revolution. Through early biotechnology, the earliest farmers selected and bred the best-suited crops, having the highest yields, to produce enough food to support a growing population. As crops and fields became increasingly large and difficult to maintain, it was discovered that specific organisms and their by-products could effectively fertilize, restore nitrogen, and control pests. Throughout the history of agriculture, farmers have inadvertently altered the genetics of their crops through introducing them to new environments and breeding them with other plants — one of the first forms of biotechnology.
These processes also were included in early fermentation of beer. These processes were introduced in early Mesopotamia, Egypt, China and India, and still use the same basic biological methods. In brewing, malted grains (containing enzymes) convert starch from grains into sugar and then adding specific yeasts to produce beer. In this process, carbohydrates in the grains broke down into alcohols, such as ethanol.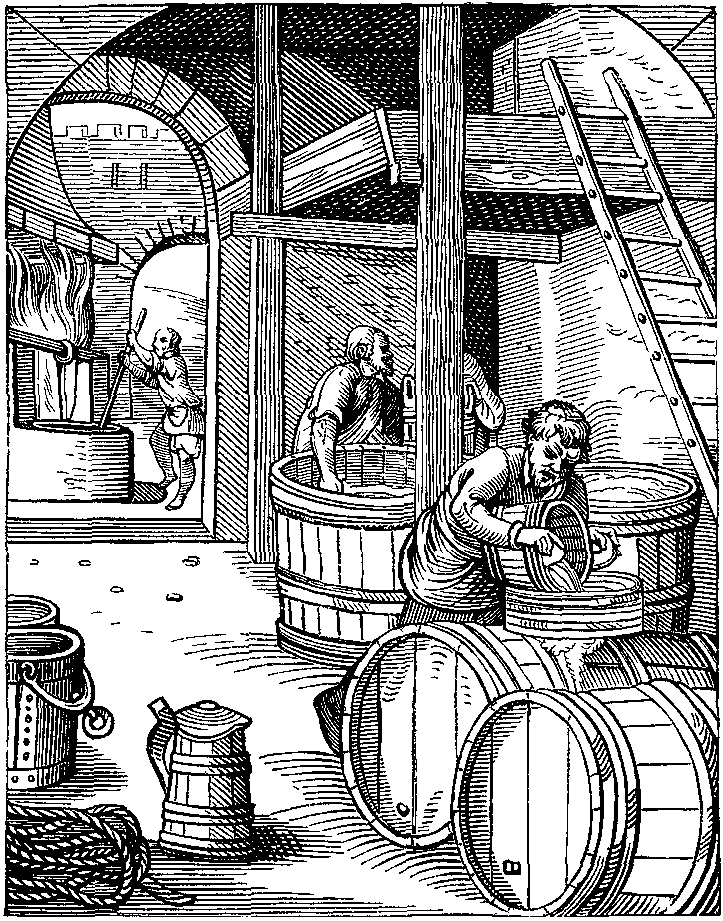 Brewing was an early application of biotechnology. Image: The Brewer designed and engraved in the Sixteenth Century by J. Amman

Later, other cultures produced the process of lactic acid fermentation, which produced other preserved foods, such as soy sauce. Fermentation was also used in this time period to produce leavened bread. Although the process of fermentation was not fully understood until Louis Pasteur's work in 1857, it is still the first use of biotechnology to convert a food source into another form.
Before the time of Charles Darwin's work and life, animal and plant scientists had already used selective breeding. Darwin added to that body of work with his scientific observations about the ability of science to change species. These accounts contributed to Darwin's theory of natural selection.
A series of derived terms have been coined to identify several branches of biotechnology, for example:
Bioinformatics

(also called "gold biotechnology") is an interdisciplinary field that addresses biological problems using computational techniques, and makes the rapid organization as well as analysis of biological data possible. The field may also be referred to as computational biology, and can be defined as, "conceptualizing biology in terms of molecules and then applying informatics techniques to understand and organize the information associated with these molecules, on a large scale". Bioinformatics plays a key role in various areas, such as functional genomics, structural genomics, and proteomics, and forms a key component in the biotechnology and pharmaceutical sector.

Blue biotechnology

is based on the exploitation of sea resources to create products and industrial applications. This branch of biotechnology is the most used for the industries of refining and combustion principally on the production of bio-oils with photosynthetic micro-algae.

Green biotechnology

is biotechnology applied to agricultural processes. An example would be the selection and domestication of plants via micropropagation. Another example is the designing of transgenic plants to grow under specific environments in the presence (or absence) of chemicals. One hope is that green biotechnology might produce more environmentally friendly solutions than traditional industrial agriculture. An example of this is the engineering of a plant to express a pesticide, thereby ending the need of external application of pesticides. An example of this would be Bt corn. Whether or not green biotechnology products such as this are ultimately more environmentally friendly is a topic of considerable debate. It is commonly considered as the next phase of green revolution, which can be seen as a platform to eradicate world hunger by using technologies which enable the production of more fertile and resistant, towards biotic and abiotic stress, plants and ensures application of environmentally friendly fertilizers and the use of biopesticides, it is mainly focused on the development of agriculture. On the other hand, some of the uses of green biotechnology involve microorganisms to clean and reduce waste.

Red biotechnology

is the use of biotechnology in the medical and pharmaceutical industries, and health preservation. This branch involves the production of vaccines and antibiotics, regenerative therapies, creation of artificial organs and new diagnostics of diseases. As well as the development of hormones, stem cells, antibodies, siRNA and diagnostic tests.

White biotechnology

, also known as industrial biotechnology, is biotechnology applied to industrial processes. An example is the designing of an organism to produce a useful chemical. Another example is the using of enzymes as industrial catalysts to either produce valuable chemicals or destroy hazardous/polluting chemicals. White biotechnology tends to consume less in resources than traditional processes used to produce industrial goods.

Yellow biotechnology

refers to the use of biotechnology in food production (food industry), for example in making wine (winemaking), cheese (cheesemaking), and beer (brewing) by fermentation. It has also been used to refer to biotechnology applied to insects. This includes biotechnology-based approaches for the control of harmful insects, the characterisation and utilisation of active ingredients or genes of insects for research, or application in agriculture and medicine and various other approaches.

Grey biotechnology

is dedicated to environmental applications, and focused on the maintenance of biodiversity and the remotion of pollutants.

Brown biotechnology

is related to the management of arid lands and deserts. One application is the creation of enhanced seeds that resist extreme environmental conditions of arid regions, which is related to the innovation, creation of agriculture techniques and management of resources.

Violet biotechnology

is related to law, ethical and philosophical issues around biotechnology.

Dark biotechnology

is the colour associated with bioterrorism or biological weapons and biowarfare which uses microorganisms, and toxins to cause diseases and death in humans, livestock and crops.
In medicine, modern biotechnology has many applications in areas such as pharmaceutical drug discoveries and production, pharmacogenomics, and genetic testing (or genetic screening).
DNA microarray chip – some can do as many as a million blood tests at once.
Pharmacogenomics (a combination of pharmacology and genomics) is the technology that analyses how genetic makeup affects an individual's response to drugs. Researchers in the field investigate the influence of genetic variation on drug responses in patients by correlating gene expression or single-nucleotide polymorphisms with a drug's efficacy or toxicity. The purpose of pharmacogenomics is to develop rational means to optimize drug therapy, with respect to the patients' genotype, to ensure maximum efficacy with minimal adverse effects. Such approaches promise the advent of "personalized medicine"; in which drugs and drug combinations are optimized for each individual's unique genetic makeup.
Biotechnology has contributed to the discovery and manufacturing of traditional small molecule pharmaceutical drugs as well as drugs that are the product of biotechnology – biopharmaceutics. Modern biotechnology can be used to manufacture existing medicines relatively easily and cheaply. The first genetically engineered products were medicines designed to treat human diseases. To cite one example, in 1978 Genentech developed synthetic humanized insulin by joining its gene with a plasmid vector inserted into the bacterium Escherichia coli. Insulin, widely used for the treatment of diabetes, was previously extracted from the pancreas of abattoir animals (cattle or pigs). The genetically engineered bacteria are able to produce large quantities of synthetic human insulin at relatively low cost. Biotechnology has also enabled emerging therapeutics like gene therapy. The application of biotechnology to basic science (for example through the Human Genome Project) has also dramatically improved our understanding of biology and as our scientific knowledge of normal and disease biology has increased, our ability to develop new medicines to treat previously untreatable diseases has increased as well.
Genetic testing allows the genetic diagnosis of vulnerabilities to inherited diseases, and can also be used to determine a child's parentage (genetic mother and father) or in general a person's ancestry. In addition to studying chromosomes to the level of individual genes, genetic testing in a broader sense includes biochemical tests for the possible presence of genetic diseases, or mutant forms of genes associated with increased risk of developing genetic disorders. Genetic testing identifies changes in chromosomes, genes, or proteins. Most of the time, testing is used to find changes that are associated with inherited disorders. The results of a genetic test can confirm or rule out a suspected genetic condition or help determine a person's chance of developing or passing on a genetic disorder. As of 2011 several hundred genetic tests were in use. Since genetic testing may open up ethical or psychological problems, genetic testing is often accompanied by genetic counselling.
Genetically modified crops ("GM crops", or "biotech crops") are plants used in agriculture, the DNA of which has been modified with genetic engineering techniques. In most cases, the main aim is to introduce a new trait that does not occur naturally in the species. Biotechnology firms can contribute to future food security by improving the nutrition and viability of urban agriculture. Furthermore, the protection of intellectual property rights encourages private sector investment in agrobiotechnology.
Examples in food crops include resistance to certain pests, diseases, stressful environmental conditions, resistance to chemical treatments (e.g. resistance to a herbicide), reduction of spoilage, or improving the nutrient profile of the crop. Examples in non-food crops include production of pharmaceutical agents, biofuels, and other industrially useful goods, as well as for bioremediation.
Farmers have widely adopted GM technology. Between 1996 and 2011, the total surface area of land cultivated with GM crops had increased by a factor of 94, from 17,000 square kilometres (4,200,000 acres) to 1,600,000 km2 (395 million acres). 10% of the world's crop lands were planted with GM crops in 2010. As of 2011, 11 different transgenic crops were grown commercially on 395 million acres (160 million hectares) in 29 countries such as the US, Brazil, Argentina, India, Canada, China, Paraguay, Pakistan, South Africa, Uruguay, Bolivia, Australia, Philippines, Myanmar, Burkina Faso, Mexico and Spain.
Genetically modified foods are foods produced from organisms that have had specific changes introduced into their DNA with the methods of genetic engineering. These techniques have allowed for the introduction of new crop traits as well as a far greater control over a food's genetic structure than previously afforded by methods such as selective breeding and mutation breeding. Commercial sale of genetically modified foods began in 1994, when Calgene first marketed its Flavr Savr delayed ripening tomato. To date most genetic modification of foods have primarily focused on cash crops in high demand by farmers such as soybean, corn, canola, and cotton seed oil. These have been engineered for resistance to pathogens and herbicides and better nutrient profiles. GM livestock have also been experimentally developed; in November 2013 none were available on the market, but in 2015 the FDA approved the first GM salmon for commercial production and consumption.
There is a scientific consensus that currently available food derived from GM crops poses no greater risk to human health than conventional food, but that each GM food needs to be tested on a case-by-case basis before introduction. Nonetheless, members of the public are much less likely than scientists to perceive GM foods as safe. The legal and regulatory status of GM foods varies by country, with some nations banning or restricting them, and others permitting them with widely differing degrees of regulation.
GM crops also provide a number of ecological benefits, if not used in excess. However, opponents have objected to GM crops per sae on several grounds, including environmental concerns, whether food produced from GM crops is safe, whether GM crops are needed to address the world's food needs, and economic concerns raised by the fact these organisms are subject to intellectual property law.
Industrial biotechnology (known mainly in Europe as white biotechnology) is the application of biotechnology for industrial purposes, including industrial fermentation. It includes the practice of using cells such as microorganisms, or components of cells like enzymes, to generate industrially useful products in sectors such as chemicals, food and feed, detergents, paper and pulp, textiles and biofuels. In the current decades, significant progress has been done in creating genetically modified organisms (GMOs) that enhance the diversity of applications and economical viability of industrial biotechnology. By using renewable raw materials to produce a variety of chemicals and fuels, industrial biotechnology is actively advancing towards lowering greenhouse gas emissions and moving away from a petrochemical-based economy.
Synthetic biology is considered one of the essential cornerstones in industrial biotechnology due to its financial and sustainable contribution to the manufacturing sector. Jointly biotechnology and synthetic biology play a crucial role in generating cost-effective products with nature-friendly features by using bio-based production instead of fossil-based.[83] Synthetic biology can be used to engineer model microorganisms, such as Escherichia coli, by genome editing tools to enhance their ability to produce bio-based products, such as bioproduction of medicines and biofuels. For instance, E. coli and Saccharomyces cerevisiae in a consortium could be used as industrial microbes to produce precursors of the chemotherapeutic agent paclitaxel by applying the metabolic engineering in a co-culture approach to exploit the benefits from the two microbes.
Another example of synthetic biology applications in industrial biotechnology is the re-engineering of the metabolic pathways of E. coli by CRISPR and CRISPRi systems toward the production of a chemical known as 1,4-butanediol, which is used in fiber manufacturing. In order to produce 1,4-butanediol, the authors alter the metabolic regulation of the Escherichia coli by CRISPR to induce point mutation in the gltA gene, knockout of the sad gene, and knock-in six genes (cat1, sucD, 4hbd, cat2, bld, and bdh). Whereas CRISPRi system used to knockdown the three competing genes (gabD, ybgC, and tesB) that affect the biosynthesis pathway of 1,4-butanediol. Consequently, the yield of 1,4-butanediol significantly increased from 0.9 to 1.8 g/L.
Environmental biotechnology includes various disciplines that play an essential role in reducing environmental waste and providing environmentally safe processes, such as biofiltration and biodegradation. The environment can be affected by biotechnologies, both positively and adversely. Vallero and others have argued that the difference between beneficial biotechnology (e.g., bioremediation is to clean up an oil spill or hazard chemical leak) versus the adverse effects stemming from biotechnological enterprises (e.g., flow of genetic material from transgenic organisms into wild strains) can be seen as applications and implications, respectively. Cleaning up environmental wastes is an example of an application of environmental biotechnology; whereas loss of biodiversity or loss of containment of a harmful microbe are examples of environmental implications of biotechnology.
- Background Notes sourced from Wikipedia.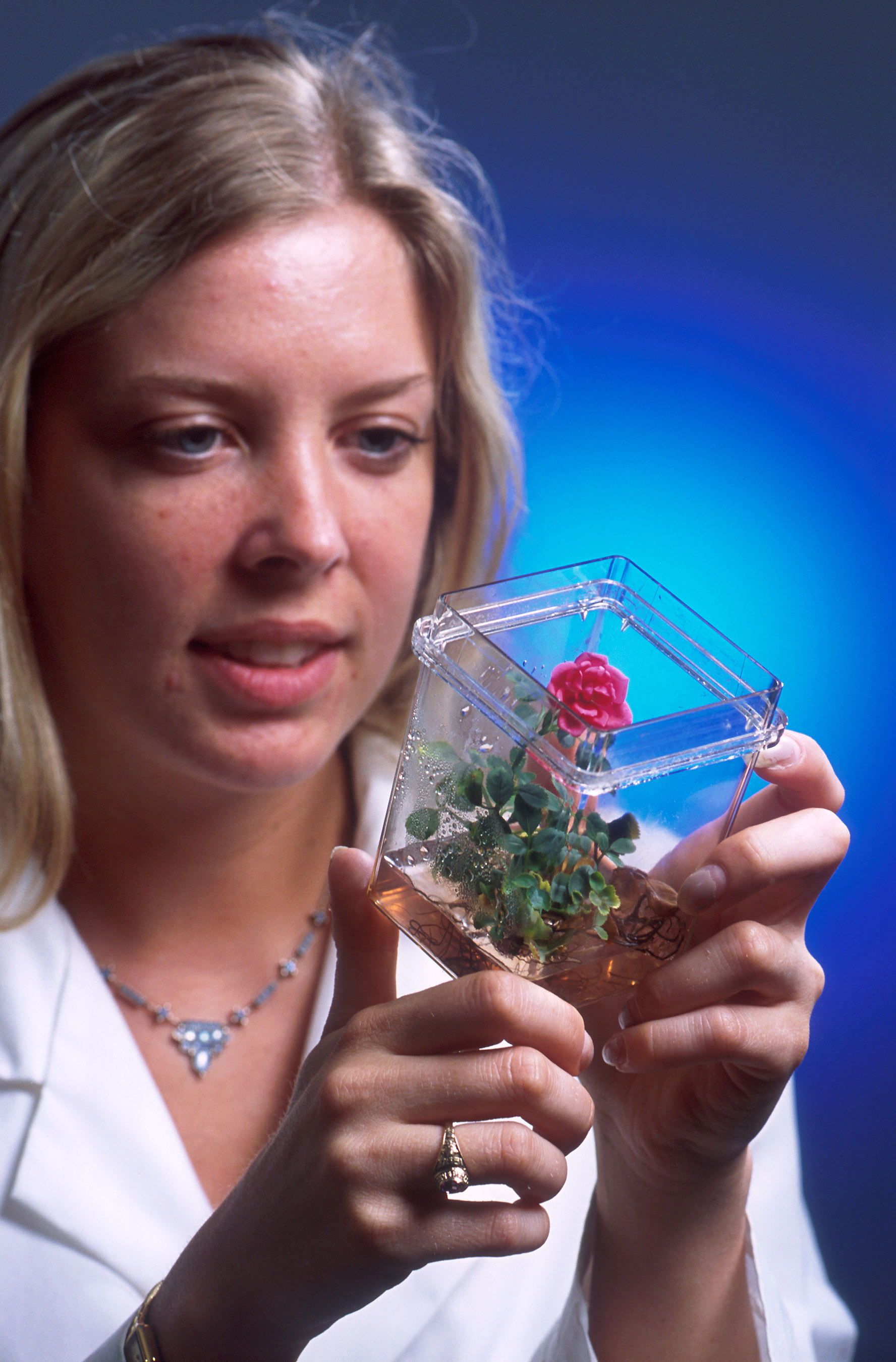 Technician Brandy Jones examines a rose plant that began as cells grown in a tissue culture. Image: This image was released by the Agricultural Research Service, the research agency of the United States Department of Agriculture, with the ID K9608-1
Also Available:
The Rite Of Holmgang (Viking Short Film)
A young warrior must overcome both sword and shield as well as the rage behind them, when he takes his father's place in a duel.
A short film in the Old Norse Language
Original score composed by Luke Standridge: https://soundcloud.com/lukestandridge
Featuring the song 'Trisahion' by Cappella Romana: https://cappellaromana.org
Follow us on Facebook at: https://www.facebook.com/thebrosrobin...
Filmed in Tasmania, Australia on a budget of zero dollars
Cinematography/camera by Andrew Walton: http://andrewwaltonfilm.com
Sound recording by Bent Eared Records: https://www.bentearedrecords.com
Sound design by Mahoney Audio Post: http://www.mahoneyaudiopost.co.uk
Follow The Brothers Robinson on Facebook: https://www.facebook.com/thebrosrobinson
More Opportunities To Get Skilled For Free
NSW residents who want to get skilled for a first job, a new job or a better job will have more opportunities to access fee-free training, with the NSW Government extending funding through to the end of the 2022-23 financial year.
The joint NSW - Federal Government funded JobTrainer program, providing fee-free training in response to the impact of COVID-19, is due to end in December, but the NSW Government will step in to ensure more people can access training so they can get jobs in priority industries.
Minister for Skills and Training Alister Henskens announced the funding extension to mark the commencement of National Skills Week, which will remove barriers to training and help people get the skills they need for the jobs they want.
"We want people to get skilled, find in-demand jobs, grow the economy and deliver a brighter future for their families," Mr Henskens said.
"When it comes to investing in skills and training, NSW has led the nation. Despite the Commonwealth's funding for fee-free training ceasing at the end of this year, the NSW Government will extend funding for fee-free courses through to July 2023.
"The funding will target the in-demand industries such as community services, including aged care and disability support, hospitality, agriculture and digital technology.
"On top of our unprecedented investment in fee-free training, the NSW Government is also delivering revolutionary new programs and projects, such as our Institutes of Applied Technology and the New Education Training Model."
Business NSW CEO Daniel Hunter welcomed the investment which will help train more workers for jobs in critical industries.
"The number one issue facing businesses right now is access to skilled workers. Every person that gets skilled up and into a job under this program is a success story for local communities and businesses across NSW," Mr Hunter said.
For more information on eligibility and locations of the fee-free training courses across NSW including online,
visit this website.
Art Competition To Remember Our ANZACS
Students across NSW are encouraged to get creative as the NSW Government together with RSL NSW launches an art competition to commemorate the 70th anniversary of the RSL and Schools Remember ANZAC Commemoration next year.
Minister for Education and Early Learning Sarah Mitchell is encouraging students to speak to their school and submit a design that will feature on the 2023 program and at an exhibition at the Anzac Memorial in Hyde Park.
"The NSW Government and the Department of Education has co-hosted this service with RSL NSW for 70 years, and we want to acknowledge this anniversary with a commemorative program to which the students in New South Wales can contribute," Ms Mitchell said.
"I invite any student across all three education sectors to participate and have the opportunity to be selected to have their artwork featured on the 2023 service program."
Minister for Transport and Veterans David Elliott said the annual commemoration at the Anzac Memorial in Hyde Park aims to educate and encourage younger Australians to learn about Australia's military history, whilst paying respect to the service and sacrifice of servicemen and servicewomen.
"This art competition is a great way for students in New South Wales to learn about our military history and design an artwork that reflects what it means to them. It could be about a family member who served in World War One, or a symbol of their service to our nation," Mr Elliott said.
"The annual RSL and Schools Remember ANZAC proceedings are incomparable, as they're delivered entirely by school students including the Master of Ceremonies, keynote address, readings, and musical accompaniment."
RSL NSW President Ray James said it was critical for the RSL to work with the Department of Education to ensure school students understood why Australians commemorated the service and sacrifice of those who have served in the Australian Defence Force.
"Commemorating significant moments in our military history is vital to Australia, as a people, a community, and a nation. RSL NSW takes this responsibility incredibly seriously as the custodians of the Anzac spirit. Future generations should never forget that the freedom they enjoy in Australia has been protected by the men and women who served in our armed and allied forces." Mr James said.
The RSL and Schools Remember ANZAC Commemoration was first held in 1953, co-hosted by RSL NSW and the Department of Education. Over the years the service has expanded to Catholic Schools NSW and the Association of Independent Schools NSW.
16 September 2022: Submissions close
Word Of The Week: Hippie
Word of the Week returns in 2022 simply to throw some disruption in amongst the 'yeah-nah' mix.
Noun
(especially in the 1960s) a person of unconventional appearance, typically having long hair, associated with a subculture involving a rejection of conventional values

A hippie, also spelled hippy, especially in British English, is someone associated with the counterculture of the 1960s, originally a youth movement that began in the United States during the mid-1960s and spread to different countries around the world. The word hippie came from hipster and was used to describe beatniks who moved into New York City's Greenwich Village, San Francisco's Haight-Ashbury district, and Chicago's Old Town community. The term hippie was used in print by San Francisco writer Michael Fallon, helping popularize use of the term in the media, although the tag was seen elsewhere earlier.
The origins of the terms hip and hep are uncertain. By the 1940s, both had become part of African American jive slang and meant "sophisticated; currently fashionable; fully up-to-date". The Beats adopted the term hip, and early hippies inherited the language and countercultural values of the Beat Generation.
Lexicographer Jesse Sheidlower, the principal American editor of the Oxford English Dictionary, argues that the terms hipster and hippie are derived from the word hip, whose origins are unknown. The word hip in the sense of "aware, in the know" is first attested in a 1902 cartoon by Tad Dorgan, and first appeared in prose in a 1904 novel by George Vere Hobart (1867–1926), Jim Hickey: A Story of the One-Night Stands, where an African-American character uses the slang phrase "Are you hip?"
The term hipster was coined by Harry Gibson in 1944. By the 1940s, the terms hip, hep and hepcat were popular in Harlem jazz slang, although hep eventually came to denote an inferior status to hip.
In Greenwich Village in the early 1960s, New York City, young counterculture advocates were named hips because they were considered "in the know" or "cool", as opposed to being square, meaning conventional and old-fashioned. In the April 27, 1961 issue of The Village Voice, "An open letter to JFK & Fidel Castro", Norman Mailer utilizes the term hippies, in questioning JFK's behavior. In a 1961 essay, Kenneth Rexroth used both the terms hipster and hippies to refer to young people participating in black American or Beatnik nightlife. According to Malcolm X's 1964 autobiography, the word hippie in 1940s Harlem had been used to describe a specific type of white man who "acted more Negro than Negroes".
Hippies tended to travel light, and could pick up and go wherever the action was at any time. Whether at a "love-in" on Mount Tamalpais near San Francisco, a demonstration against the Vietnam War in Berkeley, or one of Ken Kesey's "Acid Tests", if the "vibe" wasn't right and a change of scene was desired, hippies were mobile at a moment's notice. Planning was eschewed, as hippies were happy to put a few clothes in a backpack, stick out their thumbs and hitchhike anywhere. Hippies seldom worried whether they had money, hotel reservations or any of the other standard accoutrements of travel. Hippie households welcomed overnight guests on an impromptu basis, and the reciprocal nature of the lifestyle permitted greater freedom of movement. People generally cooperated to meet each other's needs in ways that became less common after the early 1970s. This way of life is still seen among Rainbow Family groups, new age travellers and New Zealand's housetruckers.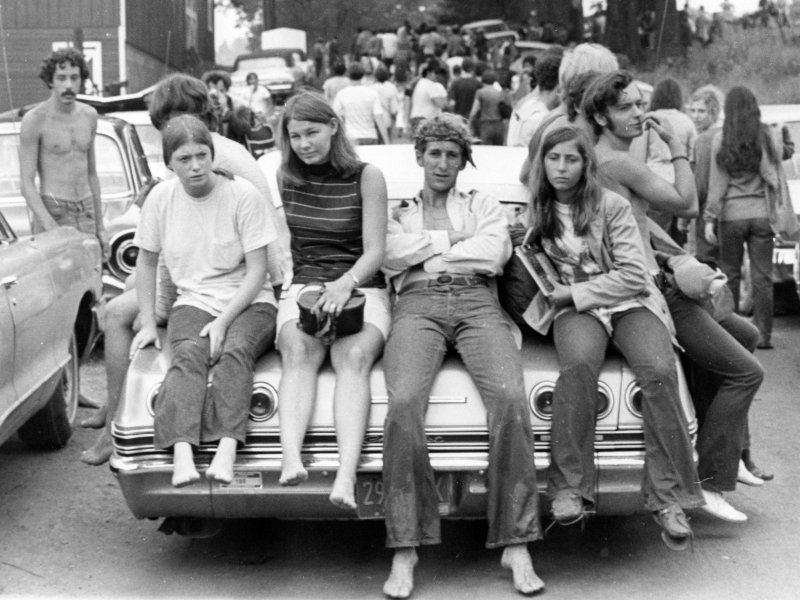 Young people near the Woodstock music festival in August 1969

The legacy of the hippie movement continues to permeate Western society. In general, unmarried couples of all ages feel free to travel and live together without societal disapproval. Frankness regarding sexual matters has become more common, and the rights of homosexual, bisexual and transgender people, as well as people who choose not to categorize themselves at all, have expanded. Religious and cultural diversity has gained greater acceptance.
Co-operative business enterprises and creative community living arrangements are more accepted than before. Some of the little hippie health food stores of the 1960s and 1970s are now large-scale, profitable businesses, due to greater interest in natural foods, herbal remedies, vitamins and other nutritional supplements. It has been suggested that 1960s and 1970s counterculture embraced certain types of "groovy" science and technology. Examples include surfboard design, renewable energy, aquaculture and client-centered approaches to midwifery, childbirth, and women's health. Authors Stewart Brand and John Markoff argue that the development and popularization of personal computers and the Internet find one of their primary roots in the anti-authoritarian ethos promoted by hippie culture.
Distinct appearance and clothing was one of the immediate legacies of hippies worldwide. During the 1960s and 1970s, moustaches, beards and long hair became more commonplace and colourful, while multi-ethnic clothing dominated the fashion world. Since that time, a wide range of personal appearance options and clothing styles, including nudity, have become more widely acceptable, all of which was uncommon before the hippie era. Hippies also inspired the decline in popularity of the necktie and other business clothing, which had been unavoidable for men during the 1950s and early 1960s. Additionally, hippie fashion itself has been commonplace in the years since the 1960s in clothing and accessories, particularly the peace symbol. Astrology, including everything from serious study to whimsical amusement regarding personal traits, was integral to hippie culture. The generation of the 1970s became influenced by the hippie and the 1960s countercultural legacy. As such in New York City musicians and audiences from the female, homosexual, Black, and Latino communities adopted several traits from the hippies and psychedelia. They included overpowering sound, free-form dancing, multi-coloured, pulsating lighting, colourful costumes, and hallucinogens. 1960s Psychedelic soul groups like the Chambers Brothers and especially Sly and The Family Stone influenced George Clinton, P-funk and the Temptations. In addition, the perceived positivity, lack of irony, and earnestness of the hippies informed proto-disco music like M.F.S.B.'s album Love Is the Message.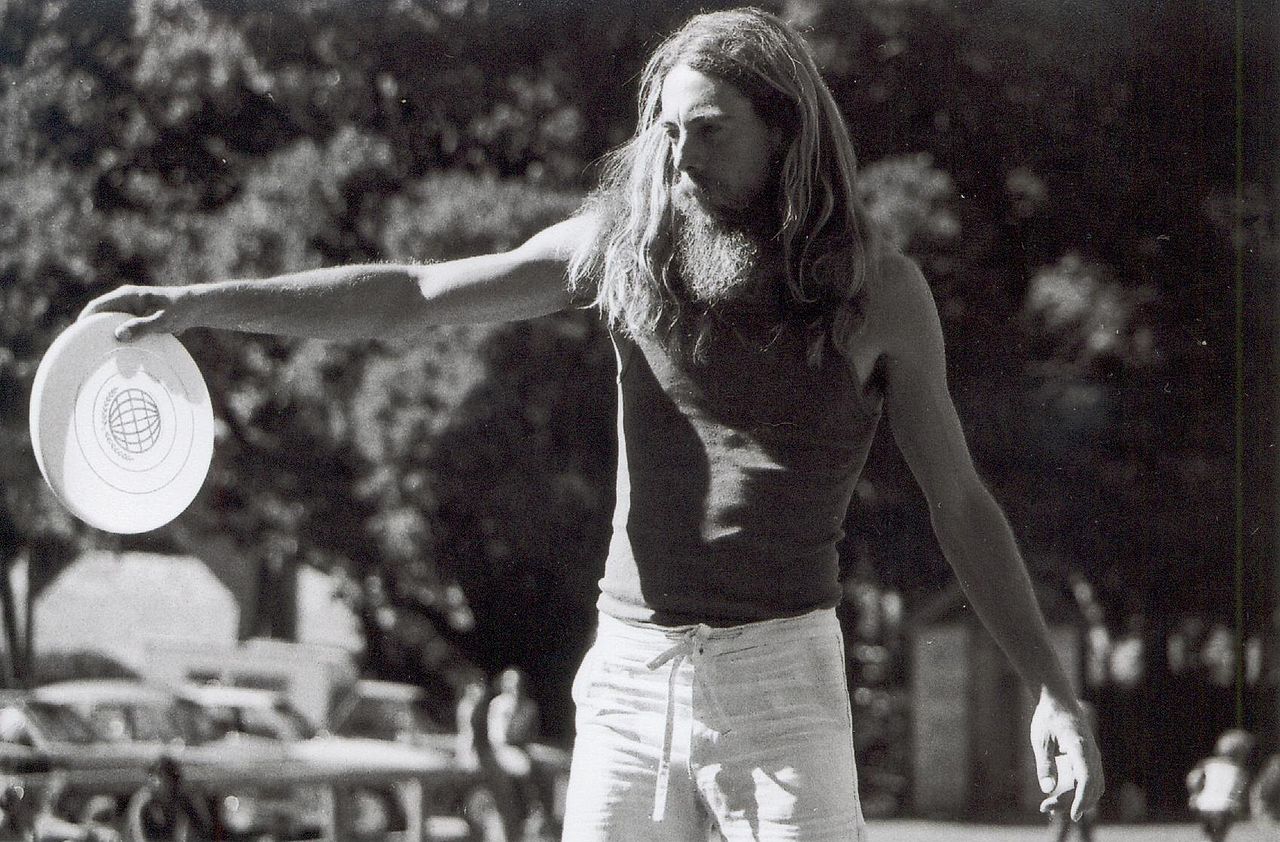 As a hippie, Ken Westerfield helped to popularize the alternative sport of Frisbee in the 1960s–70s, that has become today's disc sports

Info from Wikipedia.
Fossils Of Giant Sea Lizard That Ruled The Oceans 66 Million Years Ago Discovered
Researchers have discovered a huge new mosasaur from Morocco, named Thalassotitan atrox, which filled the apex predator niche. With massive jaws and teeth like those of killer whales, Thalassotitan hunted other marine reptiles -- plesiosaurs, sea turtles, and other mosasaurs.
At the end of the Cretaceous period, 66 million years ago, sea monsters really existed. While dinosaurs flourished on land, the seas were ruled by the mosasaurs, giant marine reptiles.
Mosasaurs weren't dinosaurs, but enormous marine lizards growing up to 12 metres (40 feet) in length. They were distant relatives of modern iguanas and monitor lizards.
Mosasaurs looked like a Komodo dragon with flippers instead of legs, and a shark-like tail fin. Mosasaurs became larger and more specialised in the last 25 million years of the Cretaceous, taking niches once filled by marine reptiles like plesiosaurs and ichthyosaurs. Some evolved to eat small prey like fish and squid. Others crushed ammonites and clams. The new mosasaur, named Thalassotitan atrox, evolved to prey on all the other marine reptiles.
The remains of the new species were dug up in Morocco, about an hour outside Casablanca. Here, near the end of the Cretaceous, the Atlantic flooded northern Africa. Nutrient rich waters upwelling from the depths fed blooms of plankton. Those fed small fish, feeding larger fish, which fed mosasaurs and plesiosaurs -- and so on, with these marine reptiles becoming food for the giant, carnivorous Thalassotitan.
Thalassotitan, had an enormous skull measuring 1.4 metres (5 feet long), and grew to nearly 30 feet (9 metres) long, the size of a killer whale. While most mosasaurs had long jaws and slender teeth for catching fish, Thalassotitan had a short, wide muzzle and massive, conical teeth like those of an orca. These let it seize and rip apart huge prey. These adaptations suggest Thalassotitan was an apex predator, sitting at the top of the food chain. The giant mosasaur occupied the same ecological niche as today's killer whales and great white sharks.
Thalassotitan's teeth are often broken and worn, however eating fish wouldn't have produced this sort of tooth wear. Instead, this suggests that the giant mosasaur attacked other marine reptiles, chipping, breaking, and grinding its teeth as it bit into their bones and tore them apart. Some teeth are so heavily damaged they have been almost ground down to the root.
Fossilised remains of prey
Remarkably, possible remains of Thalassotitan's victims have been discovered. Fossils from the same beds show damage from acids, with teeth and bone eaten away. Fossils with this peculiar damage include large predatory fish, a sea turtle, a half-meter long plesiosaur head, and jaws and skulls of at least three different mosasaur species. They would have been digested in Thalassotitan's stomach before it spat out their bones.
"It's circumstantial evidence," said Dr Nick Longrich, Senior Lecturer from the Milner Centre for Evolution at the University of Bath and lead author on the study, published in Cretaceous Research.
"We can't say for certain which species of animal ate all these other mosasaurs. But we have the bones of marine reptiles killed and eaten by a large predator.
"And in the same location, we find Thalassotitan, a species that fits the profile of the killer -- it's a mosasaur specialised to prey on other marine reptiles. That's probably not a coincidence."
Thalassotitan was a threat to everything in the oceans -- including other Thalassotitan. The huge mosasaurs bear injuries sustained in violent combat with other mosasaurs, with injuries to their face and jaws sustained in fights. Other mosasaurs show similar injuries, but in Thalassotitan these wounds were exceptionally common, suggesting frequent, intense fights over feeding grounds or mates.
"Thalassotitan was an amazing, terrifying animal," said Dr Nick Longrich, who led the study. "Imagine a Komodo Dragon crossed with a great white shark crossed with a T. rex crossed with a killer whale."
The new mosasaur lived in the final million years of the Age of Dinosaurs, a contemporary of animals like T. rex and Triceratops. Along with recent discoveries of mosasaurs from Morocco, it suggests that mosasaurs weren't in decline before the asteroid impact that drove the Cretaceous mass extinction. Instead, they flourished.
Professor Nour-Eddine Jalil, a co-author on the paper from the Museum of Natural History in Paris, said: "The phosphate fossils of Morocco offer an unparalleled window on the paleobiodiversity at the end of Cretaceous.
"They tell us how life was rich and diversified just before the end of the 'dinosaur era', where animals had to specialise to have a place in their ecosystems. Thalassotitan completes the picture by taking on the role of the megapredator at the top of the food chain."
"There's so much more to be done," said Longrich. "Morocco has one of the richest and most diverse marine faunas known from the Cretaceous. We're just getting started understanding the diversity and the biology of the mosasaurs."
Nicholas R. Longrich, Nour-Eddine Jalil, Fatima Khaldoune, Oussama Khadiri Yazami, Xabier Pereda-Suberbiola, Nathalie Bardet.
Thalassotitan atrox, a giant predatory mosasaurid (Squamata) from the Upper Maastrichtian Phosphates of Morocco
. Cretaceous Research, 2022; 105315 DOI:
10.1016/j.cretres.2022.105315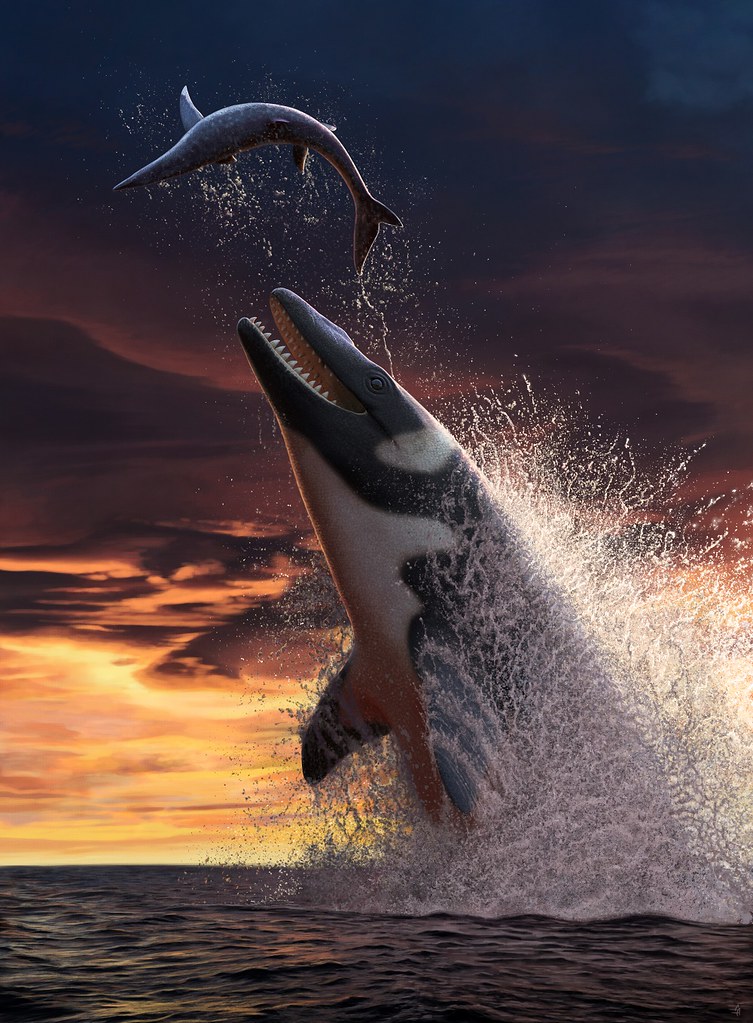 Thalassotitan was a threat to everything in the oceans - including other Thalassotitan. The huge mosasaurs bear injuries sustained in violent combat with other mosasaurs, with injuries to their face and jaws sustained in fights. Other mosasaurs show similar injuries, but in Thalassotitan these wounds were exceptionally common, suggesting frequent, intense fights over feeding grounds or mates.

Establishment Of The Royal Commission Into Robodebt
By: Prime Minister, Minister for Social Services, Minister for the National Disability Insurance Scheme, Minister for Government Services, Attorney-General
The Governor-General His Excellency General the Honourable David Hurley AC DSC (Retd) has issued Letters Patent establishing a Royal Commission into the former debt assessment and recovery scheme commonly known as Robodebt.
The inquiry will examine, among other things:
The establishment, design and implementation of the scheme; who was responsible for it; why they considered Robodebt necessary; and, any concerns raised regarding the legality and fairness;
The handling of concerns raised about the scheme, including adverse decisions made by the Administrative Appeals Tribunal;
The outcomes of the scheme, including the harm to vulnerable individuals and the total financial cost to government; and
Measures needed to prevent similar failures in public administration.
The Royal Commission's focus will be on decisions made by those in positions of seniority. The full scope of the inquiry is outlined in the Royal Commission's Terms of Reference.
Commonwealth agencies will work to respond expeditiously to requests made by the Royal Commission.
The Royal Commissioner is Catherine Holmes AC SC. The Commissioner is a former Chief Justice of the Supreme Court of Queensland and brings vast experience from a distinguished legal career.
The Commissioner led the Queensland Floods Commission of Inquiry following the 2010-11 floods and acted as counsel assisting the Commission of Inquiry into Abuse of Children in Queensland Institutions in 1998-99.
The Government has allocated $30 million for the Royal Commission and the final report will be delivered to the Governor-General
by 18 April 2023
.
The headquarters of the Royal Commission will be in Brisbane and information about hearing dates and how to participate will be provided in the coming weeks.
A legal financial assistance scheme will be available to people requested to formally engage with the Royal Commission, for example, to appear as a witness.
Hold The Phone: You Don't Have To Spend Big On A New One
Here are some tips on extending the life of your old smartphone, courtesy of National Seniors
It's that time of the year when the big mobile phone companies roll out their latest models, and usually big prices too.
But the devices they sold us last year or years before are still good for your wallet and the environment.
Most newer models, even less expensive ones, are water resistant. Larger batteries provide longer life, and the display glass is stronger.
Unless you want one of the new folding phones, the improvements and new features of a new model can be only incremental.
Of course, there are good reasons to upgrade. If your phone is in bad shape, running an out-of-date operating system or struggles to store apps, which seem to take up more and more space, or can't be updated.
But experts are saying if your phone is less than five years old and still kicking, you can improve its speed and extend its longevity. And that seems to be borne out by the latest sales figures, which show the sale of new phones is down.
Here are some easy ways to extend the life of your smartphone.
There's no shortage of phone repair shops, so try a few and compare quotes.
A new battery is the most effective way to breathe new life into an older smartphone. Batteries have charge cycles. One cycle from fully charged to fully discharged. As it runs through these cycles, the battery becomes less efficient at delivering charge.
Changing the battery every two years helps with the longevity of the device. Getting the battery replaced at a repair shop is a straightforward task.
Along with the battery, a smartphone screen is a component most likely to fail and one of the pricier ones to repair. Expect to shell out upwards of $250 for iPhone or Galaxy screens at authorized repair centres.
Otherwise, invest in a transparent screen cover or a shock-absorbing case for your phone and a screen protector instead.
4. Repair damage immediately
If you end up cracking the screen, repair it as soon as possible, even if you can still see the display to go about your daily business. It's not just a cosmetic issue. The longer you wait to repair, the more dirt, oil, and debris can work into the cracks and compromise your phone's internal components.
Speediness also applies to other damage, such as dropping a phone that's not water-resistant into water. While you might be able to make your phone operational by drying it out in a bowl of uncooked rice, water vapour can remain, causing damage down the road. Repair shops can take your phone apart and dry and clean it.
The charging port is one common area that attracts dirt that could compromise device operation. If you keep your phone in your pocket, the charging port can become clogged by lint. Clean the debris with a toothpick. Use a soft-bristled brush to clean out your phone's speaker grilles.
The same goes for dirt or sand getting into your smartphone case – remove your phone from its case every so often and wipe it down. You can use a microfiber cloth lightly dampened with a 50/50 mix of water and distilled white vinegar to remove grease and smudges.
6. Pay attention to storage
If your smartphone has started slowing down, the first thing to troubleshoot is the amount of storage you have available. To keep your phone running smoothly, keep about 20 per cent of your storage free.
Should clearing out your smartphone fail to restore its performance, its software may be corrupted, perhaps through downloaded apps. Try factory reset that erases all content – including passwords and accounts. A reset helps by allowing you to reinstall the operating system fresh, giving it a nearly out-of-the-box speed and slickness. Back up your phone first to ensure you don't lose any data.
For iPhones, you can find the total reset option under Settings > General > Reset > Erase All Content and Settings.
For Android phones, head to Settings > System > Advanced > Reset options > Erase all data (factory reset). For Samsung phones, heat to Settings > General management > Reset > Factory data reset.
National Head To Health Phone Service Goes Live
The Australian Government is proud to announce the official launch of the new Head to Health phone service which will help Australians access mental health support in their own communities.
Every Australian, no matter where they live, can now make a free phone call to the national Head to Health support line where they will receive advice, assessment, and referral to mental health services that best suit their needs.
This will help people, their friends and family, and their carers to seek the support they need when they need it.
You can contact Head to Health on 1800 595 212 from 8:30am to 5pm weekdays to find the right mental health service for yourself or someone you care for.
After entering their postcode, the caller will then be connected to a trained intake worker who understands the mental health services in their region.
The national phone service will operate alongside physical Head to Health centres, satellites, and the
Head to Health website
, giving Australians several ways to receive timely advice, assessment, and treatment.
Anyone in need of information and advice on the best mental health supports available to them or someone they know, can reach out to Head to Health.
Assistant Minister, Emma McBride said:
"The Head to Health phone service is an important expansion of the national Head to Health service, which now includes a network of adult mental health centres and satellite services.
"The phone service is free and easy to access and will connect people to mental health services in their community that best suits their needs.
"The mental health and wellbeing of all Australians is a top priority for the Albanese Government and we believe it's vital that everyone has access to the care they need when they need it, no matter where they live."
Men's Sheds Grants And Movember Improving Men's Health
The Australian Government is providing much needed funds to our men's sheds.
A total of $500,000 will be provided through the latest round of National Men's Sheds Programme (NSDP) funding.
Across Australia, 153 men's sheds will receive up to $10,000.
Funds will be used to buy computers, host health and wellbeing events, make shed improvements, or purchase tools to use in the shed.
Men's sheds seeking funding to purchase a defibrillator will also be able to apply at any time under a special category.
The Government is also providing $400,000 over the next 18 months to charity organisation Movember to conduct a targeted review of health professional education on male health issues.
Movember will lead a group of subject matter experts to identify gaps and improvement opportunities for the education of clinicians. This work will assist in removing barriers for men in accessing timely and appropriate health care.
This work will assist in remove barriers for men in accessing timely and appropriate health care.
Applications for the next round of NSDP open on Friday 19 August,
with interested sheds encouraged to
apply by Tuesday 27 September
.
Health and Aged Care Minister Mark Butler said;
"Men's sheds across Australia create a place of belonging for over a thousand local communities.
"The Albanese Government is providing this funding to men's sheds so they can continue their important work.
"Movember is synonymous with highlighting men's health issues.
"The Movember review continues efforts to realise improved health outcomes for Australian males through the implementation of the National Men's Health Strategy 2020-2030."
Celebrities Combine Forces And Voices To Support People Impacted By Dementia + National Dementia Helpline Now 24/7
Celebrity supporters, Ambassadors, Patron Ita Buttrose AC OBE and a person living with dementia have combined forces and lent their voices to an audiobook version of Dementia Australia's Dementia Guide.
"
The Dementia Guide
is the go-to online resource for any person impacted by any form of dementia, of any age, in any location across Australia," Ms Buttrose said.
"Speaking for the voices team, I know we have all been thrilled to contribute to The Dementia Guide Audiobook to increase the accessibility to vital information about dementia and the support available.
"Each person who has shared their voice has had an experience of dementia in their family and we have done this to raise awareness and help others to know they are not alone and that there is support available."
Dementia Australia Ambassadors and voices Natarsha Belling, Stephanie Bendixsen, Takaya Honda, Mark Seymour, Denis Walter OAM, Pat Welsh and celebrity supporters Rhonda Burchmore OAM and Geraldine Hickey wholeheartedly echo Ita's words and have enthusiastically backed the project.
Not just for people living with dementia, The Dementia Guide is also for friends, families and carers, and talks to the impact dementia may have on a person, the treatment, support and services they may need, and how loved ones can provide support. 
Stephanie Bendixsen, video game critic and television presenter, said she added her voice to the audiobook as she sees the value in a more accessible resource for families, such as hers, who need to navigate life with dementia.
"My mother passed away from Alzheimer's disease in 2018, and we really knew so little about dementia when she was diagnosed," Ms Bendixsen said.
"This made it difficult to understand why certain things were happening with her behaviourally, and we struggled to understand what was truly going on inside her brain, how her physicality was affected and how best we could support her and my Dad, her main carer, as a family.
"Resources like this are so very valuable, and their accessibility even more so. Even though I consider myself a big reader - finding the time to sit down and read a book can be tricky when you have a busy lifestyle. I switched to audiobooks years ago so that I can absorb books while I'm driving, walking the dog, doing chores - it's been life-changing. An easily accessible resource like this would have made a wonderful difference to me and my family when we were coming to terms with how Mum's - and our lives - would change."  
The audiobook includes a welcome from Dementia Australia CEO Maree McCabe AM and a chapter recorded by Ann Pietsch, who is a Dementia Advocate and lives with dementia. 
"I was invited to read one of the chapters and I personally think that The Dementia Guide is a valuable resource, making it available as an audio book is a great idea as it will now be easily available to more people living with dementia, carers, and families and the wider public," Mrs Pietsch said.
Ann speaks to the value of The Dementia Guide in her own personal circumstances when she was first diagnosed with dementia.
"I would have been able to effortlessly pass on the details of the audiobook to my children and family and friends, so they could learn about dementia and my specific dementia, and the issues I might face whilst living with dementia. Then in their own time they could have chosen to listen to reliable dementia information and used any of the resources."
Dementia Australia CEO Maree McCabe AM said The Dementia Guide Audiobook is an important addition to our suite of support services and resources ensuring more people are able to access the support they need at a time that suits them.
"Dementia Australia exists to empower people living with dementia, their families and carers to understand dementia and to manage their diagnosis on their terms," Ms McCabe said.
"We are committed to increasing accessibility to our services and
the National Dementia Helpline,

1800 100 500

, operated by Dementia Australia, is now available 24 hours a day, seven days a week, 365 days a year.
If someone has a diagnosis of dementia, or mild cognitive impairment, or is concerned about changes to their or a loved one's cognition, Dementia Australia is here for them. 
"There is no reason too small, no issue too big and no time too late. This is a gamechanger because no one should have to face dementia alone at any time of day or night.
"The National Dementia Helpline and
The Dementia Guide
are both invaluable and much-needed resources, especially as the number of people living with dementia is expected to grow from half a million Australians today, to more than one million by 2058."
Ms Bendixsen said sometimes there are scenarios that don't warrant an emergency or doctor response or there are moments when we need to reach out and feel we don't want to burden others – through the night, the early morning, or times when family is busy or unavailable.
"I think when carers or people living with dementia find themselves in a moment of panic, or indecision, or confusion - it's so hard to know where to turn first. A dementia diagnosis can be a frightening, lonely road for many people - and this Helpline will serve as a lantern in the fog. This Helpline is an invaluable resource and for many people even just knowing it is there will mean the world," she said.
Dementia Australia provides support and information to all Australians, of any age, impacted by all forms of dementia, including mild cognitive impairment, in any location across Australia. Ongoing support and information is available at every stage from pre, during and post-diagnosis. This includes support for people with concerns about changes in memory and thinking.
The National Dementia Helpline, staffed by a highly-trained team, is a free 24/7 telephone service which provides information and support to people living with dementia, people concerned about changes to memory and thinking, people living with mild cognitive impairment (MCI), family, friends and carers of people living with dementia and people who work in health and aged care.
By contacting Dementia Australia, you will have access to timely, reliable and expert information, advice and a wide range of programs to support you and your family and friends to live well with dementia. The National Dementia Helpline 24/7 service is available by phone, email or through our online chat function.
Listen to and download The Dementia Guide free at dementia.org.au/resources/the-dementia-guide.
Dementia Australia is the source of trusted information, education and services for the estimated half a million Australians living with dementia, and the almost 1.6 million people involved in their care. We advocate for positive change and support vital research. We are here to support people impacted by dementia, and to enable them to live as well as possible. No matter how you are impacted by dementia or who you are, we are here for you.
For support, please contact the National Dementia Helpline on 1800 100 500. An interpreter service is available
. The National Dementia Helpline is funded by the Australian Government. People looking for information can also visit dementia.org.au
Preparing Multicultural Communities For NSW Plastics Ban
Support and education has been delivered to more than 23,000 businesses and retailers around the state ahead of the upcoming 1 November single use plastic bans in NSW, with information delivered in 15 different languages.
Minister for Environment James Griffin said to ensure small businesses are primed for more changes this year, the NSW Government engaged the National Retail Association (NRA) to deliver a massive retailer education campaign.
"Single-use plastic is an environmental disaster, which is why we're banning some of the most problematic plastics such as bags and straws in NSW," Mr Griffin said.
"Single-use plastic items and packaging make up 60 per cent of all litter in NSW, and the bans will prevent almost 2.7 billion items of plastic litter from entering the environment in NSW over the next 20 years.
"These bans require businesses, many of which are in hospitality and retail, to change their supply chains, and I'm pleased to see so many have already moved away from plastic items well before the additional bans come into place in November.
"These single-use plastic bans are just the beginning of a major move away from plastic in NSW, and we're making sure businesses have the information they need to stop using plastics and start using environmentally friendly options."
From November, the NSW Government is banning single-use items including:
plastic straws, stirrers, cutlery, plates, bowls and cotton buds
food ware and cups made from expanded polystyrene
rinse-off personal care products containing plastic microbeads.
This comes after lightweight single-use plastic bags were banned in NSW from 1 June.
On behalf of the NSW Government, the NRA has already delivered support about the single-use plastic bans to more than half of the 40,000 target businesses, and visited more than 560 retail precincts of the 650 target around the state since February.
Minister for Multiculturalism Mark Coure said the NSW Government is ensuring everyone, especially small business owners in diverse communities, are ready when the change comes into effect.
"Small businesses are the backbone of our state's economy, and we want to ensure everyone knows what they need to do so they are set up for success," Mr Coure said.
"We also know that many business owners in diverse areas play an integral role in helping inform their broader community about what is happening and what actions they need to take.
"That's why we're assisting business owners with in-language services about the single-use plastic bans in 15 different languages, so they know what to do and can also support their communities through this important change."
Of the 15 languages materials will be available in, include Arabic, Mandarin and Punjabi.
The NRA has launched a free hotline (1800 844 946) to offer businesses and community organisations advice on the single-use plastic bans.
Mental Health Resources Become Accessible For Diverse Communities In NSW
A range of new resources has been launched today as part of a trial program to provide better mental health support to people from diverse communities.
The digital mindfulness resources, which have been developed after identifying a need within Arabic, Bangla, Mandarin, Nepali, Greek and Spanish speaking communities, aim to help people improve their wellbeing and reduce psychological distress through six mindfulness exercises.
Minister for Mental Health Bronnie Taylor said the new resources will make a real difference to the lives of people from these communities.
"COVID has had a significant impact on the mental health of many people from culturally and linguistically diverse communities, due to feeling less safe, disruptions in social support activities, challenges in finding work, and other impacts on daily life," Mrs Taylor said.
"Studies have shown that programs based in mindfulness are effective in reducing depression, anxiety and stress, and improve overall general wellbeing. These resources have been adapted from mindfulness programs that have been found to produce significant improvements in mental health and reductions in psychological distress.
"Mindfulness can be practised by anyone from any faith irrespective of their cultural or spiritual beliefs."
Arabic and Bangla were the first two languages the resources were developed in, and represented the first time nationally or internationally there has been a translation of an evidence-based mindfulness program into these languages.
Minister for Multiculturalism Mark Coure said the programs help speak directly to people in their language.
"Just like we need to be treating mental health as part of our holistic health and wellbeing, so too do we need to ensure everyone across NSW can access the help they need no matter their cultural background or language," Mr Coure said.
"This trial program reflects the ongoing commitment of the NSW Government to ensure no one is left behind in our rich multicultural society.
"While the resources are in-language, they are also developed with awareness of these communities' respective cultures to ensure they are speaking directly to people in a way they will understand and can relate to.
"The programs are free and can be accessed without a referral, so I encourage anyone from these communities needing support with their mental wellbeing to look to these resources for help."
Director of the NSW Multicultural Health Communication Service and Priority Populations in South Eastern Sydney Local Health District, Lisa Woodland, said the resources were co-developed by bilingual health professionals, accredited translators and community members, to ensure the integrity of the evidence-based program and cultural acceptability.
"The multicultural mindfulness resources are now available online for community members, community organisations, bilingual mental health professionals and community workers," Ms Woodland said.
NSW Government Builds On Housing Taskforce Response
The NSW Government will accept all 15 recommendations put forward by the Regional Housing Taskforce to help deliver improved housing supply and affordability in regional NSW.
The comprehensive suite of measures includes more homes for key workers, accelerating development assessments, and identifying options to use Government land for more social and affordable housing.
Deputy Premier and Minister for Regional NSW Paul Toole said the acceptance of all 15 recommendations, as well as investing $2.8 billion in housing as part of the NSW Budget, demonstrates the State Government's commitment to addressing housing challenges.
"We are getting on with the job of easing housing pressures in the regions, both now and for the future," Mr Toole said.
"We've listened to the recommendations of the Regional Housing Taskforce and put together a comprehensive, multi-pronged plan to unlock land and drive the supply of new and affordable homes.
"It builds on the investment we've made through the NSW Budget to improve housing supply and ensure locals and key workers moving to the regions have a place to call home."
Minister for Planning and Minister for Homes Anthony Roberts said regional councils will benefit from a share of $12 million to help them plan for housing that is affordable, diverse, and resilient to natural hazards.
"The councils can apply for up to $250,000 each through the Regional Housing Strategic Planning Fund, to help them undertake the up-front planning work needed to speed up housing delivery," Mr Roberts said.
"The grants will help councils deliver strategic plans, housing policies and technical studies that pave the way for new homes needed to support growing communities.
"Our initial $30 million Regional Housing Fund is already helping 21 regional councils in high-growth areas deliver 25 new projects to provide services, open space and connections to fast-track a pipeline of new homes."
The Government's response also includes:
Delivering around 270 more homes for key frontline workers in the regions;
Expanding the Urban Development Program to more high-growth regional areas, to improve infrastructure coordination and delivery;
Improving data by auditing residential land, identifying infrastructure gaps and environmental constraints, to establish a clearer housing supply pipeline;
Identifying opportunities to use suitable Crown land for social and affordable housing development;
Working with local government to improve assessment timeframes for new housing through the Faster Local Assessment Grant program;
Investigating the introduction of standardised planning pathways for certain types of temporary accommodation, to address spikes in housing demand; and
Preparing Regional Housing Delivery Plans in targeted economic areas.
Councils have until 30 September 2022 to submit their applications for the Regional Housing Strategic Planning Fund.
Ocean Cooling Over Millennia Led To Larger Fish
Earth's geological history is characterized by many dynamic climate shifts that are often associated with large changes in temperature. These environmental shifts can lead to trait changes, such as body size, that can be directly observed using the fossil record.
To investigate whether temperature shifts that occurred before direct measurements were recorded, called paleoclimatology, are correlated with body size changes, several members of the University of Oklahoma's Fish Evolution Lab decided to test their hypothesis using tetraodontiform fishes as a model group. Tetradontiform fishes are primarily tropical marine fishes, and include pufferfish, boxfishes and filefish, among others.
The study was led by Dahiana Arcila, assistant professor of biology and assistant curator at the Sam Noble Museum of Natural History, with Ricardo Betancur, assistant professor of biology, along with biology graduate student Emily Troyer, and involved collaborators from the Smithsonian Institution, University of Chicago, and George Washington University in the United States, as well as University of Turin in Italy, University of Lyon in France, and CSIRO Australia.
The researchers discovered that the body sizes of these fishes have grown larger over the past hundred million years in conjunction with the gradual cooling of ocean temperatures.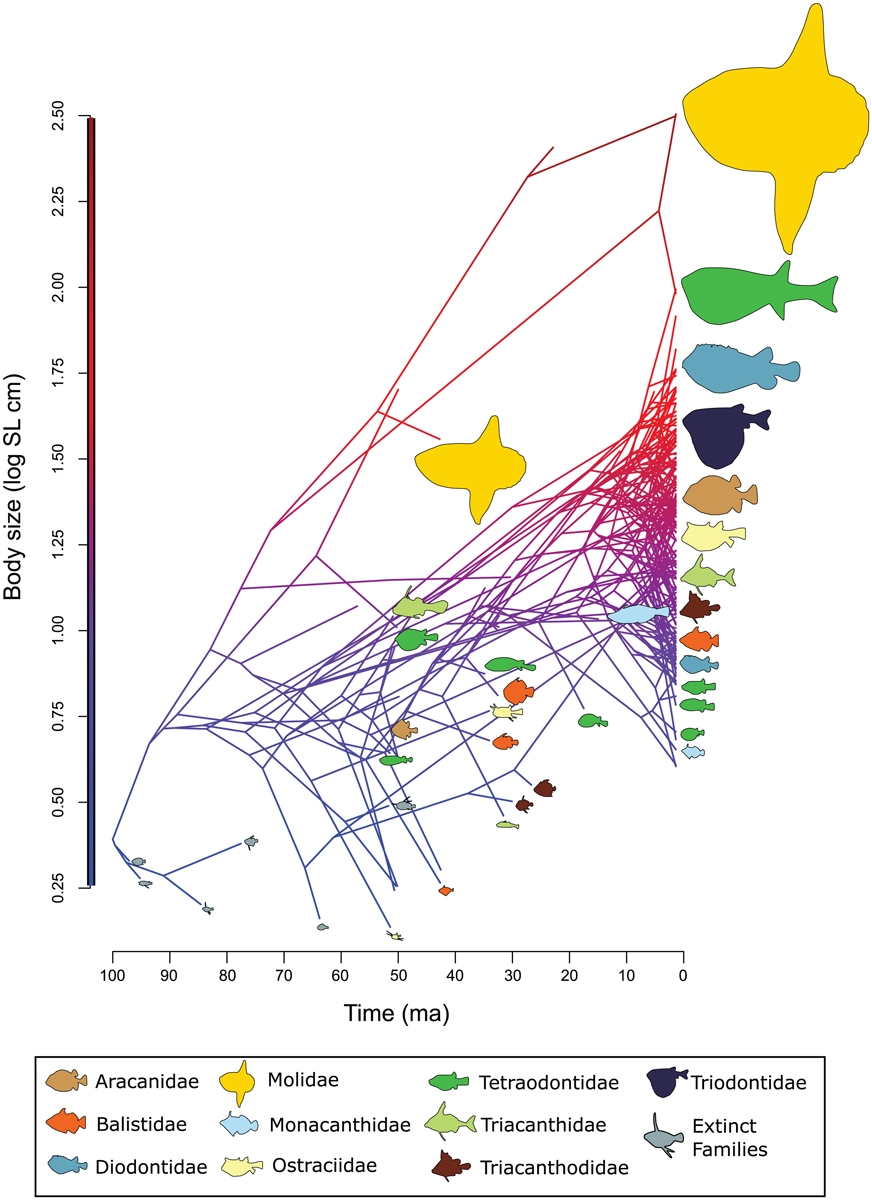 Fig 2 showing the evolution of tetraodontiform body size over time.

Their finding adheres to two well-known rules of evolutionary trends, Cope's rule which states that organismal body sizes tend to increase over evolutionary time, and Bergmann's rule which states that species reach larger sizes in cooler environments and smaller sizes in warmer environments. What was less understood, however, was how these rules relate to ectotherms, organisms that can't regulate their internal body temperatures and are dependent on their external or environmental climates.
"Cope's and Bergmann's rules are fairly well-supported for endotherms, or warm-blooded species, such as birds and mammals," Troyer said. "However, among ectothermic species, especially vertebrates, these rules tend to have mixed findings."
A challenge of studying ancient fish is that there are very few fossil records. To supplement that missing information, the researchers combined genomic data of living fish with fossil data.
"When you look across different groups in the tree of life, then you will notice that there are a limited number of groups that actually have a good fossil record, but the larger marine fish group (known as Tetraodontiformes)that includes the popular pufferfish, ocean sunfish and boxfish, is remarkable in that it has a spectacular paleontological record," Arcila said. "So, by integrating those two fields, genomics and paleontology, then we're actually able to bring into the picture new results that you won't be able to obtain using just one data type."
The genomic and fossil data was then combined with data on ocean temperatures, that demonstrated that the gradual climate cooling over the past 100 million years is associated with increased body size of tetraodontiform fishes.
"Based on fossil data, we're showing that these fish started very small, but you can see that living species are much larger, and those changes are associated with the cooling temperature of the ocean over this very long period of time," Arcila said.
While the evolution of tetraodontiform fishes appears to conform to Cope's and Bergmann's hypotheses, the authors add a caveat that many more factors could play a role in fish body size evolution.
"It's really exciting to see support for these two biological rules in Tetraodontiformes, as these trends are less studied among marine fishes compared with terrestrial species," Troyer said. "Undoubtedly we will discover more about their body size evolution in the future."
Emily M. Troyer, Ricardo Betancur-R, Lily C. Hughes, Mark Westneat, Giorgio Carnevale, William T. White, John J. Pogonoski, James C. Tyler, Carole C. Baldwin, Guillermo Ortí, Andrew Brinkworth, Julien Clavel, Dahiana Arcila.
The impact of paleoclimatic changes on body size evolution in marine fishes.
Proceedings of the National Academy of Sciences, 2022; 119 (29) DOI:
10.1073/pnas.2122486119
New Curtin Institute To Tackle The Transition To Sustainable Energy
The Curtin Institute for Energy Transition, led by inaugural Director Professor Claus Otto, brings together experts from a wide array of schools and faculties to conduct multi-disciplinary research and outreach activities to support the energy transition and embrace sources such as wind, solar, ocean, geothermal and bioenergy.
Professor Otto said transitioning towards clean and sustainable energy is one of humanity's greatest challenges and the new Institute is committed to supporting this change to ensure a better, more sustainable future for all.
"Becoming sustainable requires more than replacing combustion engines with batteries. It means living together differently, and our role is to figure out what this different reality looks like, and to help create it," Professor Otto said.
"To ensure the transition to sustainable energy remains at the forefront, we need to generate new questions and answers to challenge what we think we know about sustainable energy. Our team at the Curtin Institute for Energy Transition is committed to finding innovative solutions to tackle this problem through research, teaching and community outreach."
Professor Otto said the Institute will not only provide a shared platform for research, learning and teaching, but it will also challenge and educate future energy leaders who are trying to make breakthroughs in this space.
"Conducting research is important, but we also need to train future leaders and educate the community about their role in the energy transition," Professor Otto said.
"With the goal of empowering people to be part of the new energy future and a new way of living, the Institute brings together artists and writers, biologists and geologists, engineers and physicists, and philosophers and social scientists – to learn from each other and look at energy in a new way."
Deputy Vice-Chancellor Research Professor Chris Moran said Curtin is a leader in sustainability and energy research and this new Institute will strengthen the University's commitment to achieving a sustainable future for all.
"This Institute will help to promote sustainability and support Australia's energy transition, while also supporting the growth of innovative SMEs and supply chains," Professor Moran said.
"The team at the Curtin Institute for Energy Transition will work with researchers across different disciplines to generate creative ideas, solutions and insights that support energy transition, while also connecting with industry, government, and the local community."
The Institute is hosted by WASM: Minerals, Energy and Chemical Engineering at Curtin University.
Comet Impacts Formed Continents When Solar System Entered Arms Of Milky Way
New Curtin research has found evidence that Earth's early continents resulted from being hit by comets as our Solar System passed into and out of the spiral arms of the Milky Way Galaxy, turning traditional thinking about our planet's formation on its head.
The new research, published in Geology, challenges the existing theory that Earth's crust was solely formed by processes inside our planet, casting a new light on the formative history of Earth and our place in the cosmos.
Lead researcher Professor Chris Kirkland, from the Timescales of Mineral Systems Group within Curtin's School of Earth and Planetary Sciences, said studying minerals in the Earth's crust revealed a rhythm of crust production every 200 million years or so that matched our Solar System's transit through areas of the galaxy with a higher density of stars.
"The Solar System orbits around the Milky Way, passing between the spiral arms of the galaxy approximately every 200 million years," Professor Kirkland said.
"From looking at the age and isotopic signature of minerals from both the Pilbara Craton in Western Australia and North Atlantic Craton in Greenland, we see a similar rhythm of crust production, which coincides with periods during which the Solar System journeyed through areas of the galaxy most heavily populated by stars."
"When passing through regions of higher star density, comets would have been dislodged from the most distant reaches of the Solar System, some of which impacted Earth.
"Increased comet impact on Earth would have led to greater melting of the Earth's surface to produce the buoyant nuclei of the early continents."
Professor Kirkland said the findings challenged the existing theory that crust production was entirely related to processes internal to the Earth.
"Our study reveals an exciting link between geological processes on Earth and the movement of the Solar System in our galaxy," Professor Kirkland said.
"Linking the formation of continents, the landmasses on which we all live and where we find the majority of our mineral resources, to the passage of the Solar System through the Milky Way casts a whole new light on the formative history of our planet and its place in the cosmos."
Professor Kirkland is affiliated with The Institute for Geoscience Research (TIGeR), Curtin's flagship Earth Sciences research institute.
Also contributing to the study were researchers from the University of Lincoln, the Astromaterials Research and Exploration Science Division within NASA's Johnson Space Center and the Geological Survey of Western Australia.
C.L. Kirkland, P.J. Sutton, T. Erickson, T.E. Johnson, M.I.H. Hartnady, H. Smithies, M. Prause.
Did transit through the galactic spiral arms seed crust production on the early Earth?
Geology, 2022; DOI:
10.1130/G50513.1
Safeguarding Against 'Shadow Government' Appointments And Strengthening Australia's Democracy
August 23, 2022: Prime Minister of Australia, The Hon. Anthony Albanese
Yesterday, I received the Solicitor-General's opinion in the matter of the validity of the appointment of Mr Morrison to administer the Department of Industry, Science, Energy and Resources (SG No.12 of 2022).
In summary, the Solicitor-General has concluded that Mr Morrison was validly appointed to administer that department under the Constitution.
However, the Solicitor-General has also said that the fact that the Parliament, the public and other ministers were not informed about this appointment, was inconsistent with the conventions and practices of responsible government which are critical to our constitutional democracy.
The Solicitor-General's conclusions are relevant to the circumstances of Mr Morrison's appointments to administer four other portfolios during 2020 and 2021, which followed the same process.
Importantly, the Solicitor-General considers that the existing practices by which appointments such as this are notified to the Parliament and the public are deficient.
I agree.
He has proposed various mechanisms by which those practices could be improved.
I have directed the Department of the Prime Minister and Cabinet to work with the Office of the Official Secretary to the Governor-General to adopt a practice of publishing in the Commonwealth Gazette future appointments of ministers to administer departments.
I will also give consideration to whether any further immediate changes are required.
Cabinet has agreed there will be an inquiry into these events and will now consider what form that inquiry will take.
My government is seeking to restore the Australian public's faith in our institutions and put an end to the culture of secrecy.
Our democracy is precious and we are committed to strengthening it.
Solicitor-General Opinion - In the matter of the validity of the appointment of Mr Morrison to administer the Department of Industry, Science, Energy and Resources
Solicitor-General's opinion
On 22 August 2022, the Prime Minister received the Solicitor-General's opinion (SG No 12 of 2022) – In the matter of the validity of the appointment of Mr Morrison to administer the Department of Industry, Science, Energy and Resources PDF 945KB.
Disclaimer: These articles are not intended to provide medical advice, diagnosis or treatment. Views expressed here do not necessarily reflect those of Pittwater Online News or its staff.