Inbox and Environment News: Issue 594
August 13 - 19, 2023: Issue 594
Pictures From The Past: Bilgola-Newport-Manly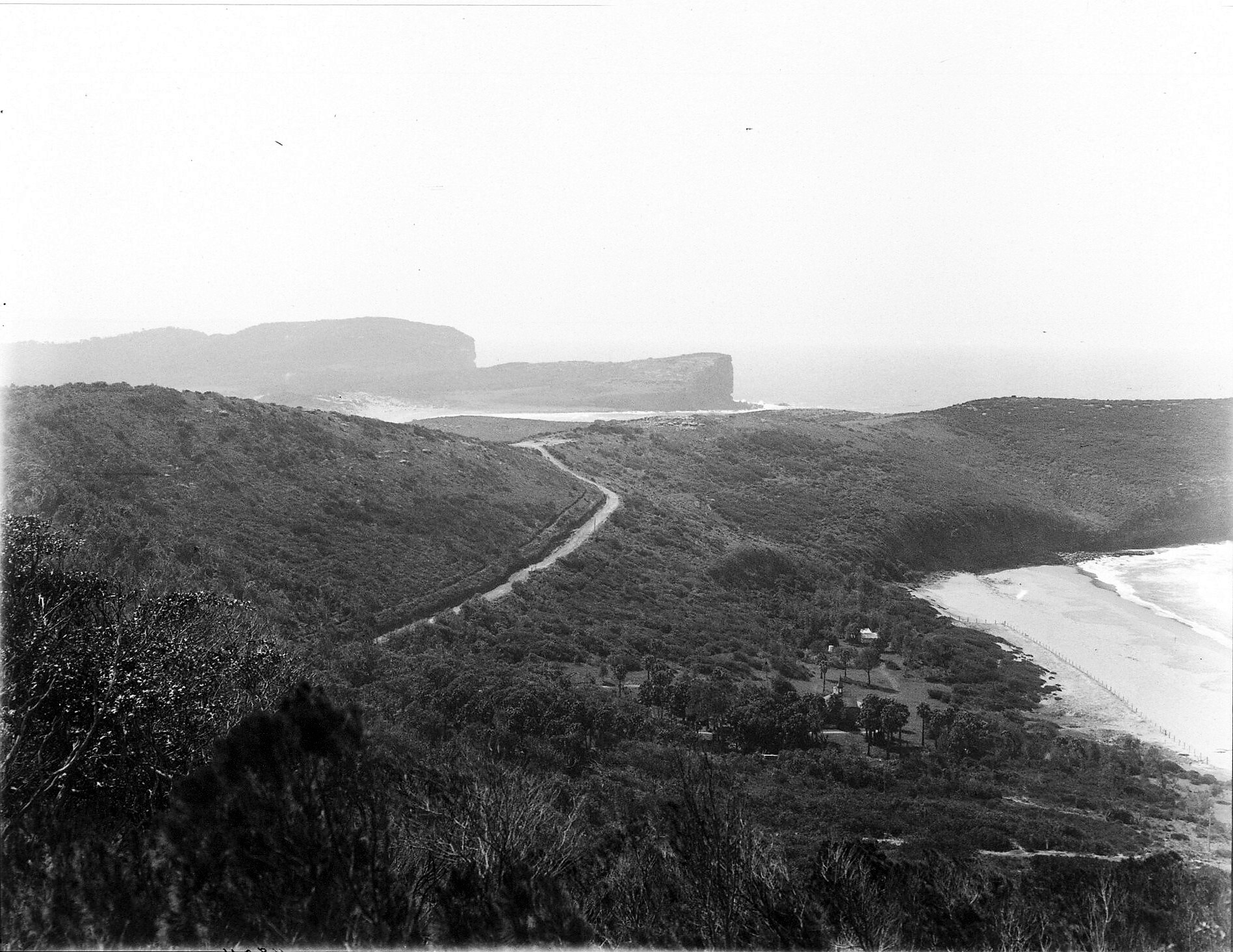 Bilgola in 1912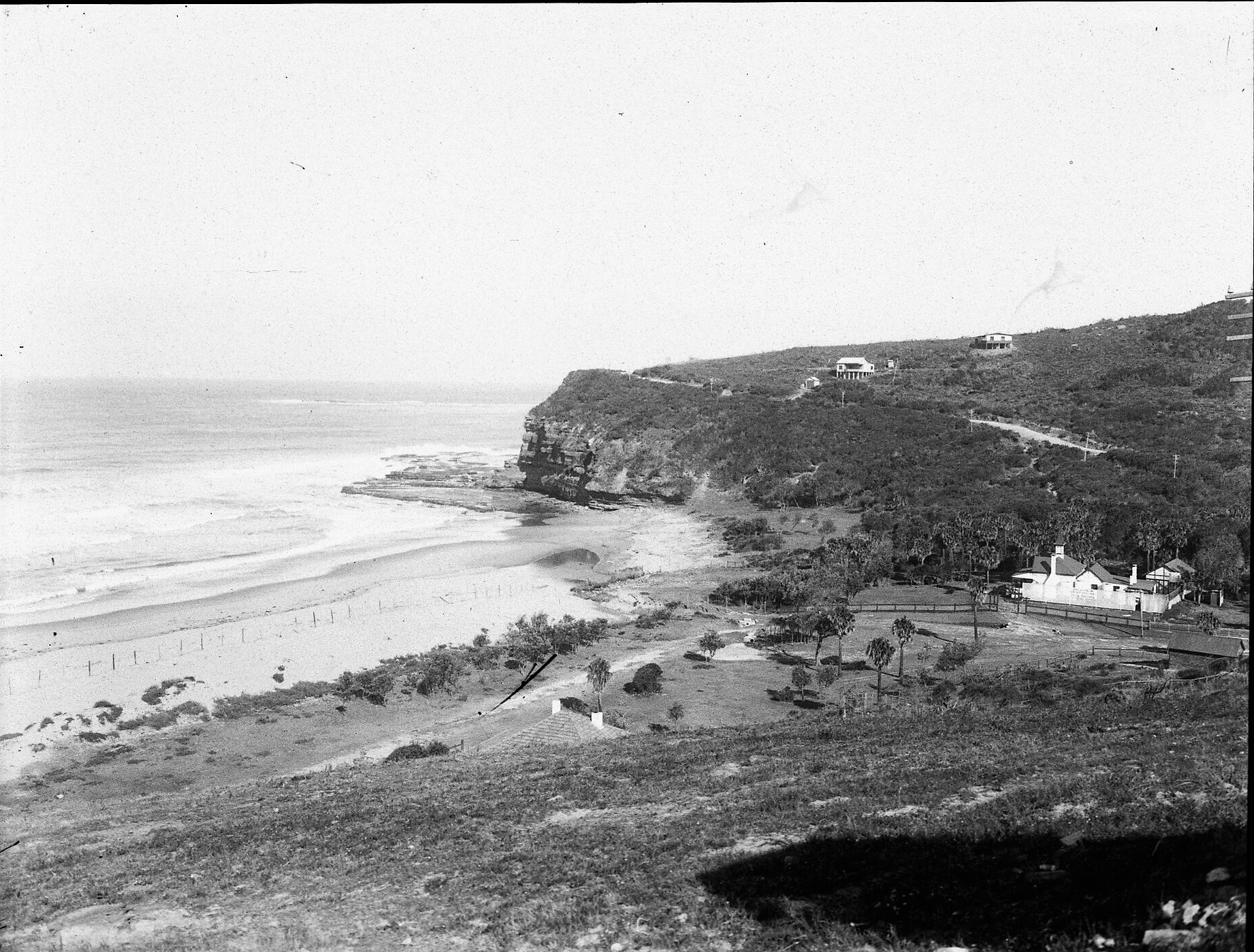 Bilgola in 1925 - photos courtesy NSW Records and Archives
Newport in 1912 - above and below - photos courtesy NSW Records and Archives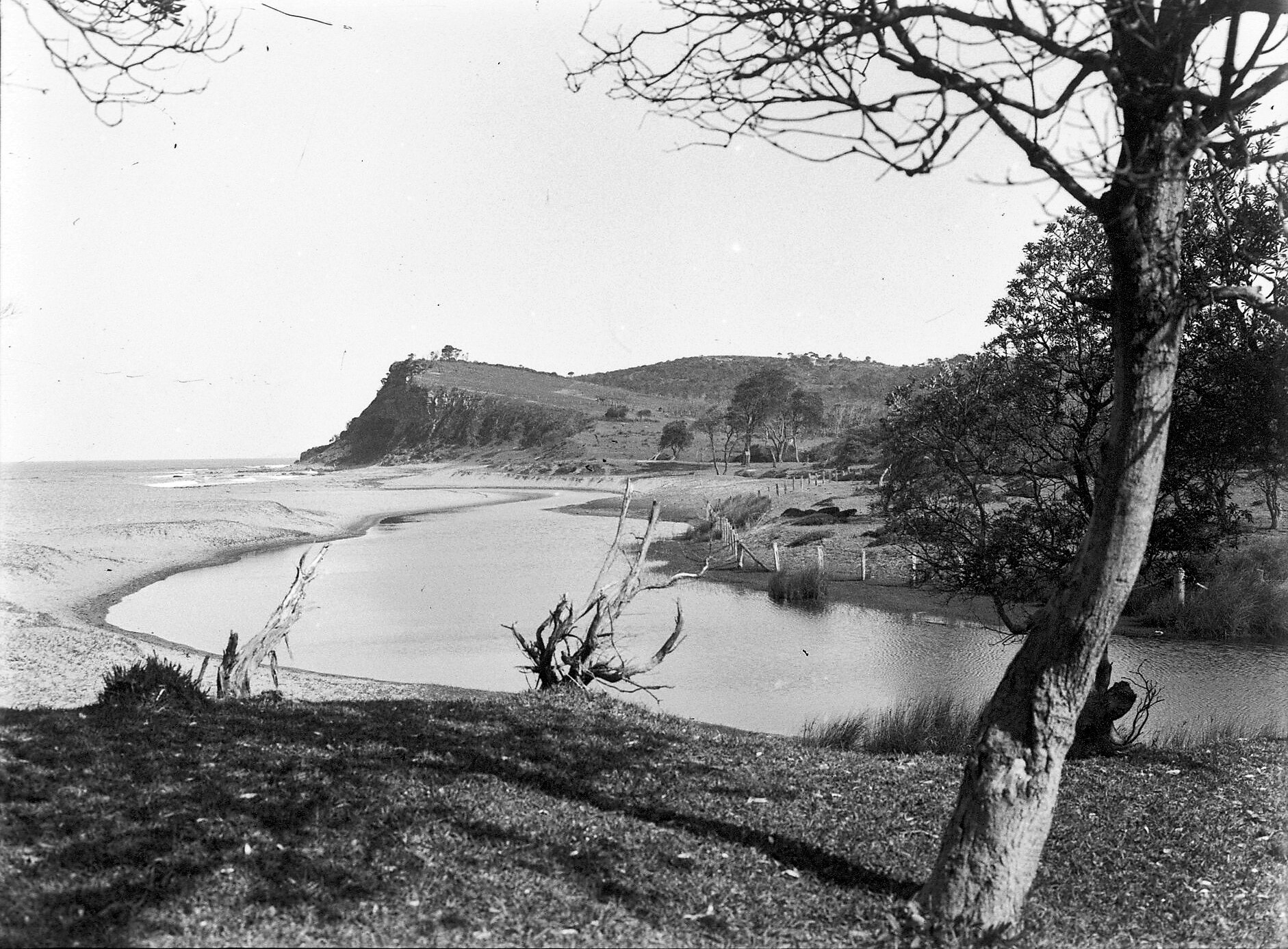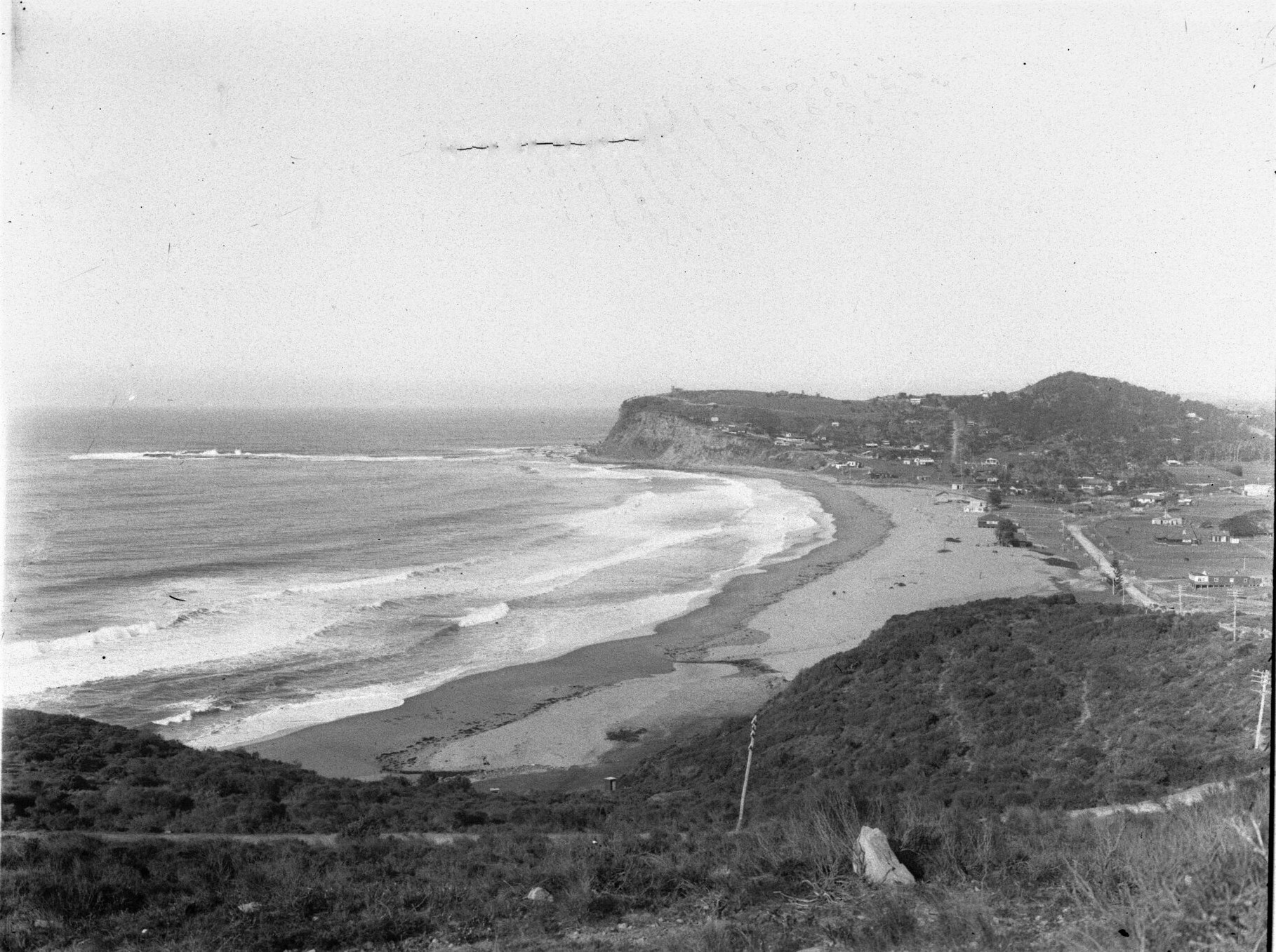 Newport in 1925 - above and below - photos courtesy NSW Records and Archives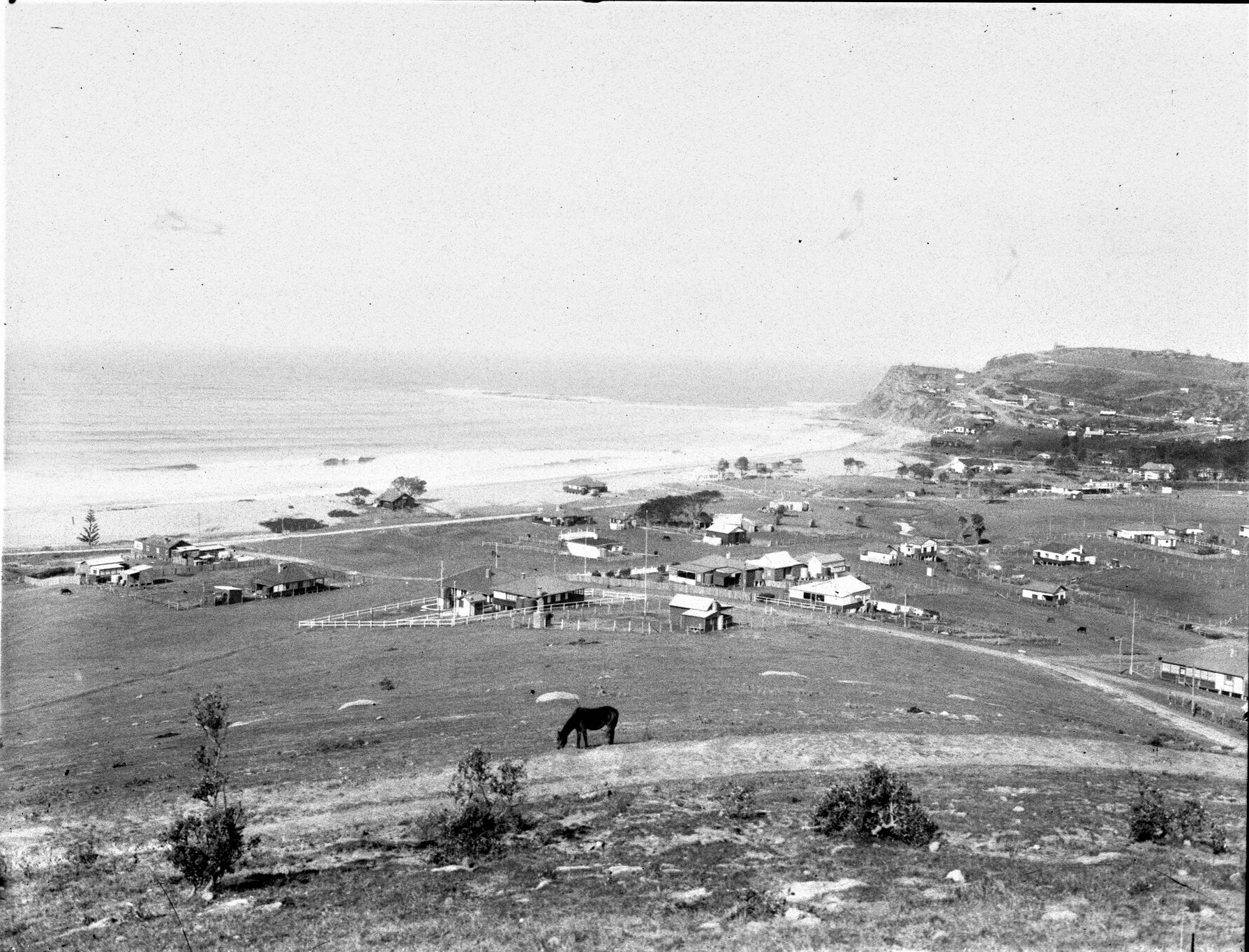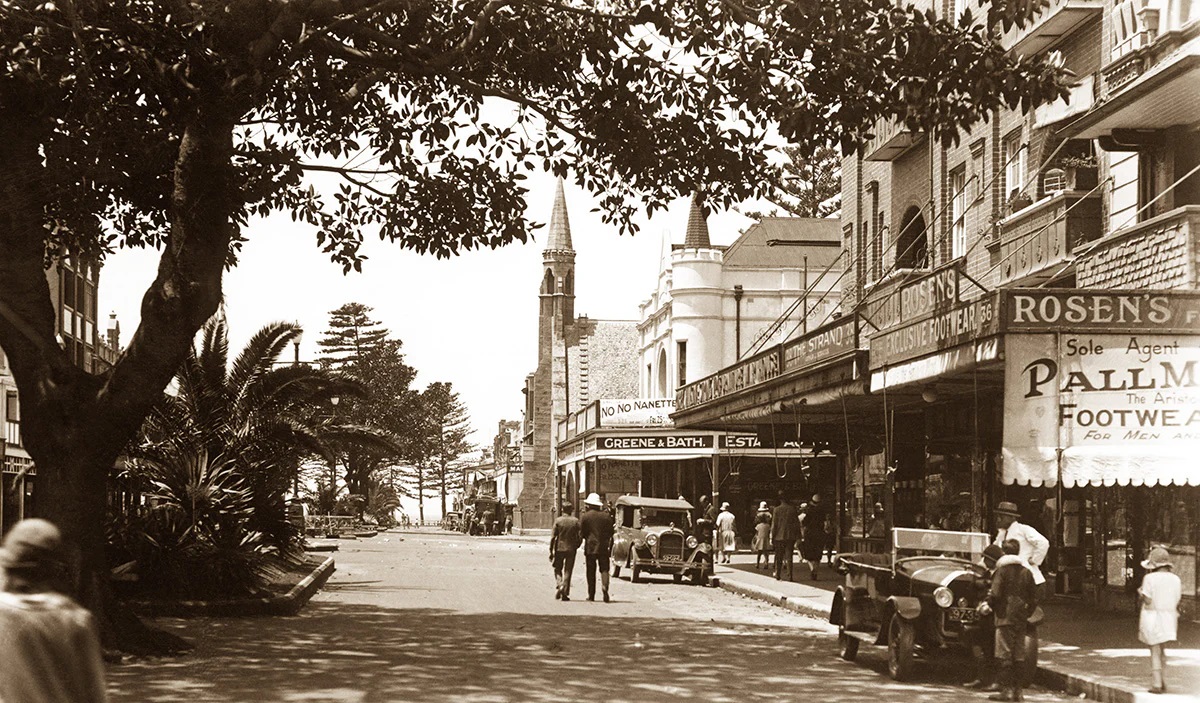 Manly Corso circa 1927. Photo courtesy State Library of NSW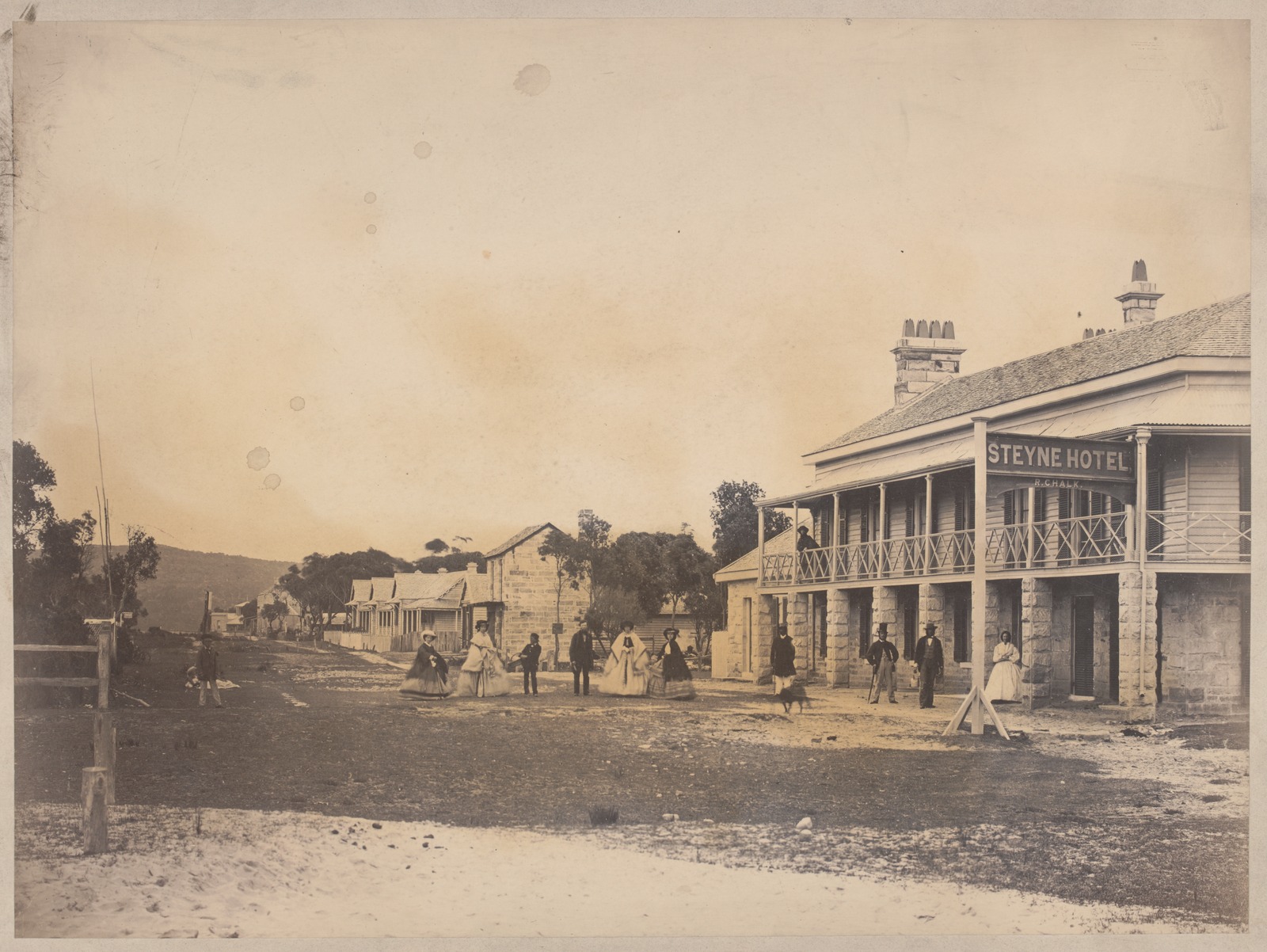 Manly Beach; site of to come Corso - circa 1860 - courtesy State Library of Victoria - Image No.: H3671.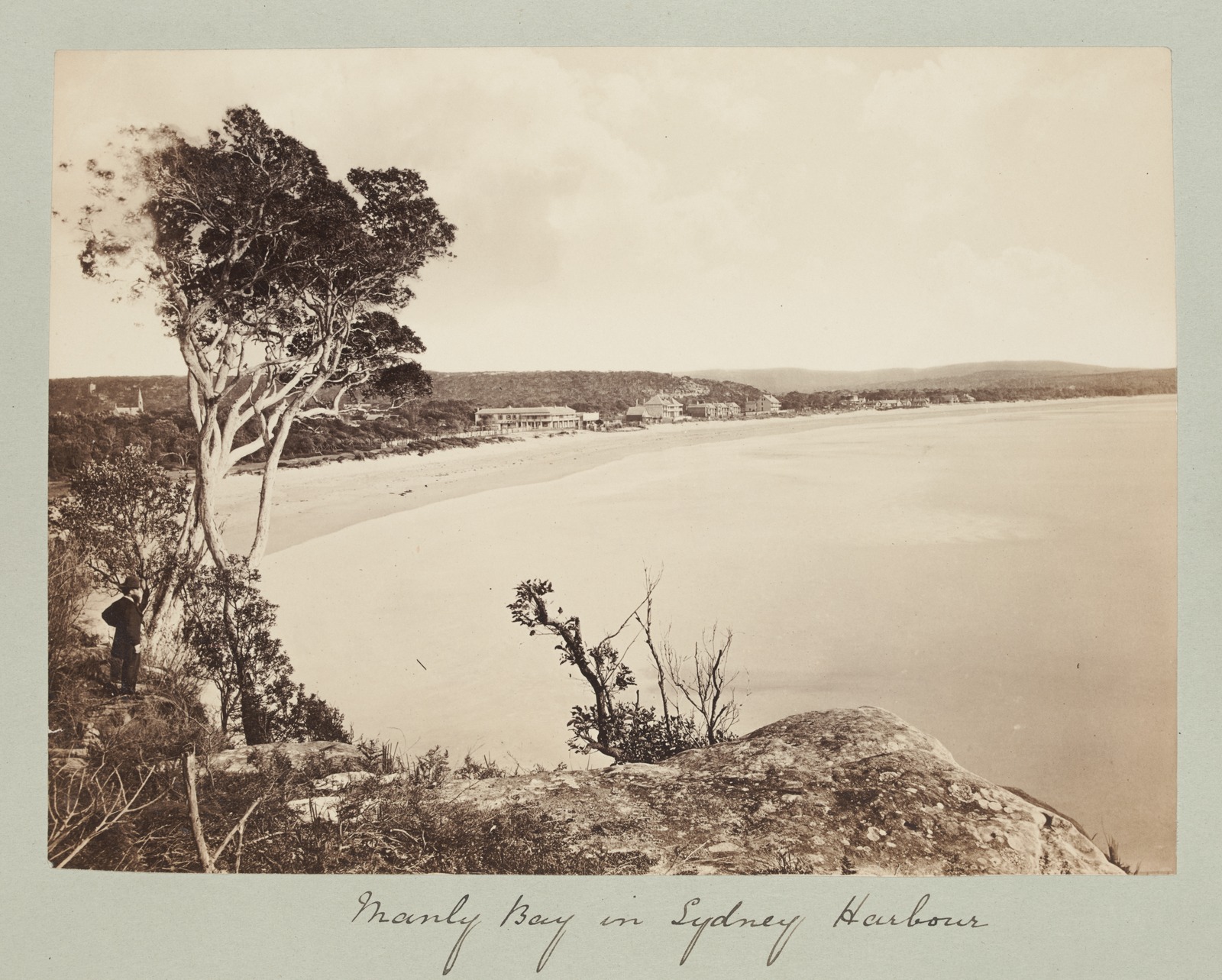 'Manly Bay in Sydney Harbour' circa 1860-1870, courtesy State Library of Victoria Item: FL16409129

Sydney Scientists Name New Species Of Giant Amphibian Found In Retaining Wall
August 9, 2023
Arenaerpeton supinatus was discovered in rocks cut from a nearby quarry that were intended for the building of a garden wall.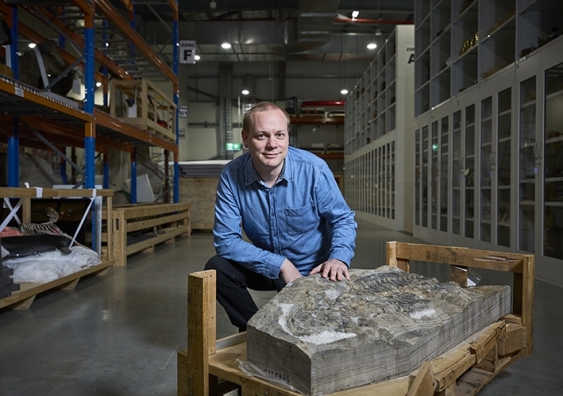 Lachlan Hart says the fossil is a unique example of a group of extinct animals known as temnospondyls, which lived before and during the time of the dinosaurs. Photo: UNSW Sydney/Richard Freeman
A 240-million-year-old fossil of an amphibian that was found in a retaining wall in the 1990s has been formally named and described by scientists at UNSW Sydney and the Australian Museum.
The fossil was originally found by a retired chicken farmer in rocks obtained from a local quarry intended for use in the construction of a garden retaining wall and was subsequently donated to the Australian Museum in Sydney.
Palaeontologist Lachlan Hart, who holds joint roles with UNSW Science and the Australian Museum, says the fossil – named Arenaerpeton supinatus, meaning 'supine sand creeper' – shows nearly the entire skeleton, and remarkably, the outlines of its skin.
"This fossil is a unique example of a group of extinct animals known as temnospondyls, which lived before and during the time of the dinosaurs," says Mr Hart, a PhD candidate in the School of Biological, Earth and Environmental Sciences (BEES) at UNSW.
"We don't often find skeletons with the head and body still attached, and the soft tissue preservation is an even rarer occurrence."
Arenaerpeton inhabited freshwater rivers in what is now known as the Sydney Basin during the Triassic period, 240 million years ago. Mr Hart says it most likely hunted other ancient fish such as Cleithrolepis, but apart from that, there is not much evidence that tells us about the other animals that Arenaerpeton shared the land and waters with.
"Superficially, Arenaerpeton looks a lot like the modern Chinese Giant Salamander, especially in the shape of its head," Mr Hart says.
"However, from the size of the ribs and the soft tissue outline preserved on the fossil we can see that it was considerably more heavyset than its living descendants. It also had some pretty gnarly teeth, including a pair of fang-like tusks on the roof of its mouth."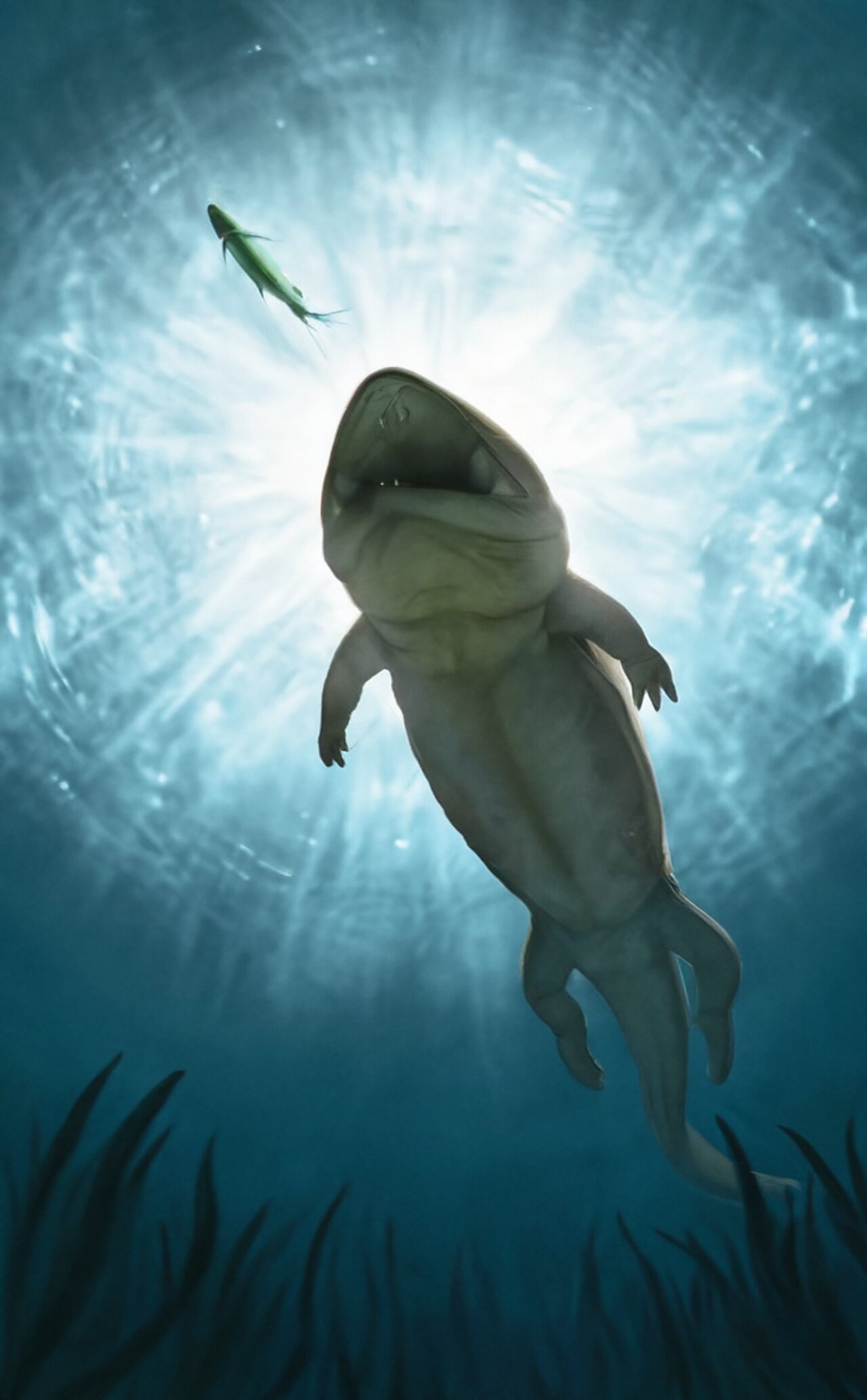 An artist's impression of Arenaerpeton supinatus, the ancestor of today's Chinese Giant Salamander. Credit: Jose Vitor Silva
Mr Hart says what is exciting about the discovery is that Arenaerpeton is large – estimated to be about 1.2m from head to tail – when most other closely related animals that lived at the same time were small.
"The last of the temnospondyls were in Australia 120 million years after Arenaerpeton, and some grew to massive sizes. The fossil record of temnospondyls spans across two mass extinction events, so perhaps this evolution of increased size aided in their longevity."
Dr Matthew McCurry, Senior Lecturer in UNSW's School of BEES and Curator of Palaeontology at the Australian Museum says the fossil is a significant find in Australian paleo history.
"This is one of the most important fossils found in New South Wales in the past 30 years, so it is exciting to formally describe it," says Dr McCurry, who is also a co-author on the study. "It represents a key part of Australia's fossil heritage."
The study has been published in the Journal of Vertebrate Paleontology, and the fossil will be on display at the Australian Museum, Sydney, later this year.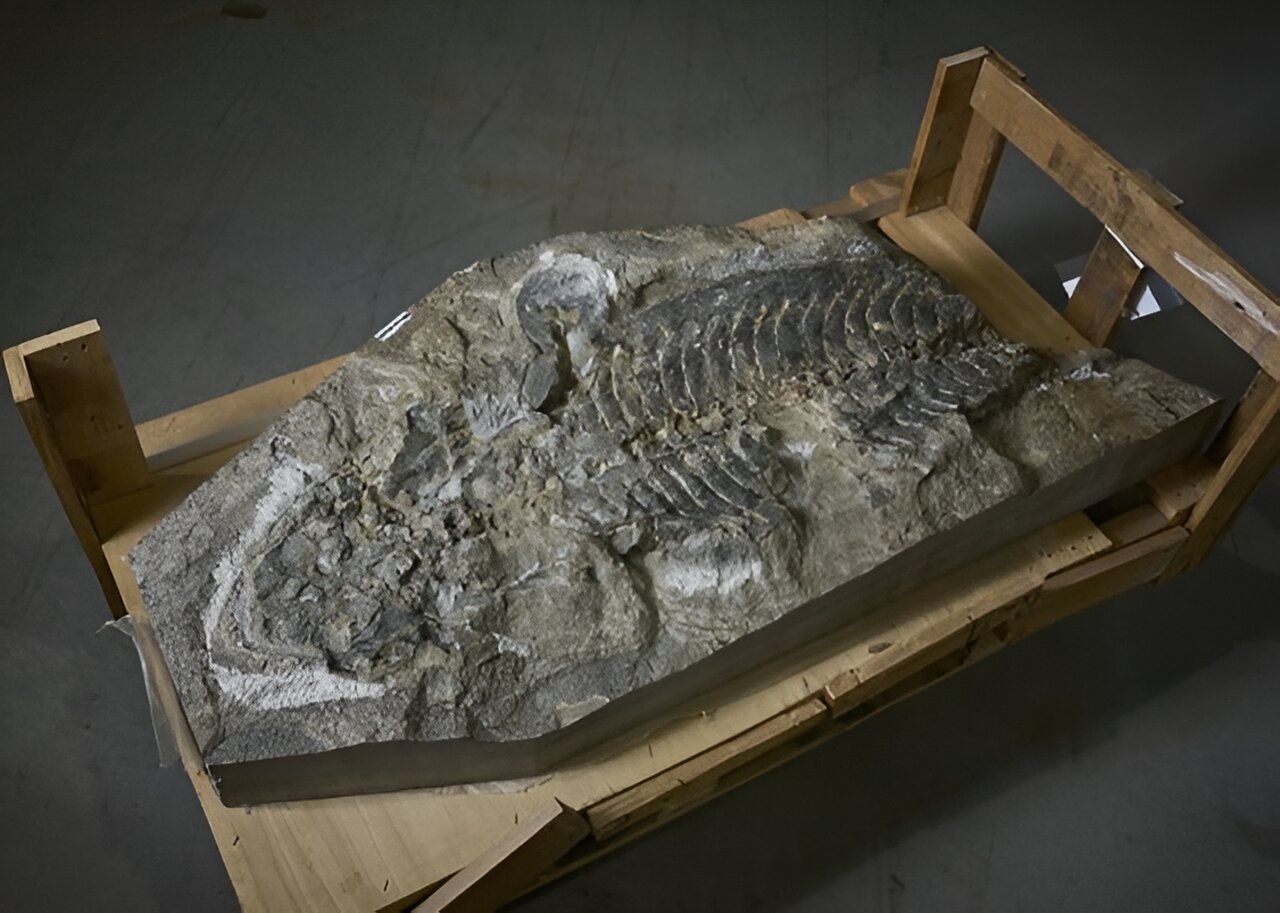 Arenaerpeton looks a lot like the modern Chinese Giant Salamander. Credit: UNSW Sydney/Richard Freeman
Lachlan J. Hart et al, A new chigutisaurid (Brachyopoidea, Temnospondyli) with soft tissue preservation from the Triassic Sydney Basin, New South Wales, Australia. Journal of Vertebrate Paleontology (2023). DOI: 10.1080/02724634.2023.2232829

Remember When Pittwater Online Ran ''WRITTEN IN STONE: A 245 Million Year Old Mass Breeding Event?'' In 2022??
Published 4 Aug 2022 by Pittwater Pathways
Paul Cronk's discovery of fossil trackways at Turimetta indicates a mass breeding event took place there about 245 million years ago. In this video scientists from the Australian Museum and Macquarie University are examining the fossils. Their discussion and reasoning makes a fascinating record of the scientific process in action.
Lachlan Hart is a vertebrate palaeontologist currently undertaking his PhD at the University of New South Wales and the Australian Museum. His research focuses on the evolution, systematics and palaeobiology of Mesozoic tetrapods, including temnospondyl amphibians, crocodyliformes and dinosaurs. Lachlan is particularly interested in exploring what can be learnt about extinct animals from studying their living descendants
Dr Patrick Smith is a taxonomist and biostratigrapher researching the Cambrian and Ordovician of Australia and New Zealand. He primarily has worked on fossil arthropods (trilobites and their close relatives). However, he's also occasionally worked on other fossil groups, including brachiopods, gastropods and echinoderms. Patrick is particularly interested in using fossils as key time markers to correlate sequences of rocks on a regional, national, and global scale.
Prof Glenn Brock, palaeobiologist, Macquarie University.
My research activities focus on elucidating the evolution, phylogeny, biodiversity, ecology and biostratigraphy of the earliest (stem group) bilaterian animals that arose during the Cambrian Explosion. My work focuses on studying exceptionally preserved macro- and microfossils from a variety of localities in Australasia and Antarctica. I am particularly interested in the phylogenetic, ecological and biostratigraphic significance of early Cambrian "Small Shelly Fossils" (SSF).
Dr Peter Mitchell OAM is one of Australia's most respected and experienced geomorphologists.

Texting While Walking Makes College Students More Likely To Fall
August 9, 2023
When it comes to college-aged adults who are glued to their smartphones, experts argue over whether texting while walking increases the risk of an accident. Some studies have shown that texting pedestrians are more likely to walk into oncoming traffic, while other studies suggest that young adults have mastered the art of multitasking and are able to text accurately while navigating obstacles. However, few studies have measured how texters respond to unpredictable hazard conditions. By simulating an environment with random slipping threats, researchers report in the journal Heliyon on August 8th that texting increases the risk of falling in response to walkway hazards.
"On any day it seems as many as 80% of people, both younger and older, may be head down and texting. I wondered: is this safe?" says senior author Matthew A. Brodie, a neuroscientist and engineer at the University of New South Wales (UNSW) Graduate School of Biomedical Engineering.
"This has made me want to investigate the dangers of texting while walking. I wanted to know if these dangers are real or imagined and to measure the risk in a repeatable way."
The team recruited 50 UNSW undergraduate students from his "Mechanics of the Human Body" course for this experiment. Brodie and co-author Yoshiro Okubo invented a tiled hazard walkway at Neuroscience Research Australia's gait laboratory, which halfway through had a tile that could be adjusted to slide out of place, so anyone who stepped on it would slip as if on a banana peel. Students wore a safety harness -- preventing any slip from becoming a fall -- and sensors that collected their motion data. They then were asked to go along the walkway either without texting or while typing "The quick brown fox jumps over the lazy dog."
To better simulate the uncertainty of real life, students were only told that they may or may not slip. This allowed the researchers to study how texting pedestrians might anticipate and try to prevent a potential slip, such as by leaning forward.
"What surprised me is how differently people responded to the threat of slipping," says Brodie. "Some slowed down and took a more cautious approach. Others sped up in anticipation of slipping. Such different approaches reinforce how no two people are the same, and to better prevent accidents from texting while walking, multiple strategies may be needed."
Despite motion data showing that texting participants tried to be more cautious in response to a threat, this did not counteract their risk of falling. When participants went from leaning forwards (such as over a phone) to slipping backwards, their motion sensors showed an increase in the range of their "trunk angle." Researchers used this number to measure whether the texting condition was making students more likely to fall, and they found that the average trunk angle range during a fall significantly increased if a student was texting.
Walking also caused the texters' accuracy to decrease. The highest texting accuracy occurred when participants were seated, but accuracy decreased even as walking participants were cautioned about a potential slip that did not occur. The lowest accuracy, however, occurred in conditions where participants did slip.
The researchers note that young people may be more likely to take risks even if they are aware that texting and walking could increase their likelihood of falling. For that reason, the authors suggest that educational initiatives such as signs might be less effective in reaching this population. In addition to education, the researchers also suggest that phones could implement locking technology similar to what is used when users are driving. The technology could detect walking activity and activate a screen lock to prevent texting during that time. In future research, the team plans on looking into the effectiveness of this intervention.
Paulo H.S. Pelicioni, Lloyd LY. Chan, Shuotong Shi, Kenny Wong, Lauren Kark, Yoshiro Okubo, Matthew A. Brodie. Impact of mobile phone use on accidental falls risk in young adult pedestrians. Heliyon, 2023; e18366 DOI: 10.1016/j.heliyon.2023.e18366
ACCC: Record Penalties Of $438m Ordered Against Phoenix Institute And CTI For Acting Unconscionably And Misleading Students
The Federal Court has today (July 28, 2023) imposed record penalties of $438m against former vocational college Phoenix Institute of Australia Pty Ltd (Phoenix) and its marketing arm Community Training Initiatives Pty Ltd (CTI) in proceedings brought by the ACCC and the Commonwealth.
The Court had previously found that Phoenix and CTI had acted unconscionably and misled students into thinking the vocational courses they were enrolling in were free and that they would receive "free" laptops when this was not the case.
Phoenix was also found to have failed to properly assess language, literacy, numeracy and computer skills of its many vulnerable and disadvantaged students to determine if they were suitable for the courses.
Most students were enrolled in two courses at the same time, leading to significant debts. On average, students incurred a debt of about $37,000 each, totalling more than $350 million in debts under the former VET FEE-HELP scheme.
Phoenix received more than $106 million in Commonwealth funding under the VET FEE-HELP scheme, and claimed an additional $250 million for students enrolled in its courses between January and November 2015.
The Court found the vast majority of students had no reasonable prospect of completing the courses. Only nine of Phoenix's over 11,000 students completed a course, and none completed two courses.
"This case involved cynical and calculated systemic unconscionable conduct towards disadvantaged individuals, on an industrial scale," ACCC Chair Gina Cass-Gottlieb said.
"The recruitment of vulnerable students by Phoenix and CTI caused significant harm to the students, who were left with large government debts for courses they were unlikely to be able to complete."
"The size of penalty reflects the total financial benefit obtained as well as the further amount claimed by Phoenix from the Commonwealth, involving hundreds of millions of taxpayers' dollars. This record penalty should send a strong deterrence message to all businesses that rorting government funded schemes by taking advantage of vulnerable consumers is unacceptable and will attract very substantial penalties to remove any financial incentive for such conduct," Ms Cass-Gottlieb said.
The penalties imposed comprise $400 million for Phoenix and $37 million for CTI for their roles in the systemic unconscionable conduct, and $1 million for Phoenix for contraventions involving four individual consumers. In setting penalties for the conduct impacting those individual consumers, her Honour considered "the exploitation of, and predation upon, the vulnerability and disadvantage" of each of them. Her Honour also noted that "[t]he deliberateness with which the contraventions throughout the relevant period were undertaken by the...controlling minds of the respondents, highlights the morally abhorrent nature of the contraventions".
In addition to the penalties, Phoenix will be ordered to repay all government funding it had received in relation to the conduct. While Phoenix and CTI are in liquidation, these orders ensure that Phoenix cannot receive the $250 million in government funding it claimed but which was not paid.
The Commonwealth has cancelled the debts of eligible students enrolled by Phoenix using the VET FEE-HELP Student Redress measures.
"Consumers who incurred debts as a result of inappropriate conduct by other vocational colleges should contact the VET Student Loans Ombudsman (VSLO) as soon as possible, so that the VSLO can investigate and seek to resolve their complaint," Ms Cass-Gottlieb said.
The Court also made orders in relation to costs and redress.
The ACCC commenced proceedings against Phoenix and CTI in conjunction with the Commonwealth Department of Education in November 2015 after a joint investigation with NSW Fair Trading.
In August 2021, the Federal Court found Phoenix and CTI had acted unconscionably and misled students about Phoenix's online courses.
Phoenix was a provider of online VET FEE-HELP diploma courses, including in subjects such as business, management and early childhood education and care costing $18,000 to $21,000. Like CTI, Phoenix is a subsidiary of Australian Careers Network Limited, which purchased Phoenix in January 2015.
Phoenix and CTI went into administration after the ACCC and the Commonwealth commenced proceedings, and are now in liquidation.
The ACCC was successful in court action against Acquire Learning for conduct involving the VET FEE-HELP scheme. The ACCC also successfully took action, with the Commonwealth, against Unique International College, Cornerstone Investment Aust Pty Ltd (trading as Empower Institute), and Australian Institute of Professional Education in respect of conduct involving the VET FEE-HELP scheme.
The ACCC brought proceedings against Productivity Partners Pty Ltd trading as Captain Cook College in which the Federal Court found Captain Cook College made false or misleading representations and engaged in a system of unconscionable conduct. The Full Federal Court recently dismissed appeals from this judgment. Captain Cook, its holding company Site Group and Site's former Chief Operating Officer Blake Wills have applied for special leave to appeal to the High Court.
The VET FEE-HELP Student Redress Measures came into effect on 1 January 2019, and are due to expire at the end of 2023. The measures provide a remedy for eligible students who, due to the inappropriate conduct of their VET provider, incurred debts under the VET FEE-HELP loan scheme for units of study they did not complete.
If the Ombudsman finds that you meet the legislative criteria, they may make a recommendation to a delegate of the Secretary of the Department of Employment and Workplace Relations that your VET FEE-HELP debt be cancelled.
Around $3.4 billion in VET FEE-HELP debt has been re-credited to over 185,000 students since 2016, the majority through the VET FEE-HELP Student Redress Measures, including $425.4 million to former Phoenix students.
The Federal Court has made orders annulling the debts of Phoenix students who were ineligible for relief under the scheme, but who nonetheless may have been subject to the unconscionable conduct.
Kickstart Your Dreams With A $3,000 Grant To Follow Your Inspiration
Calling all young Aussies – want to take a shot at making your dreams come true? This FIFA Women's World Cup 2023™ there are 64 games live on Optus Sport with 64 opportunities for epic inspiration.
To celebrate, Optus are going to help you say yes to achieving your dreams by awarding 64 Optus Inspiration Grants – each grant will be $3,000. The program is open to anyone aged 13-19, and recipients will be picked from all over the country.
The grants are open for Australians aged 13 to 19 to ignite their passion across all disciplines – sports, science, arts, and beyond.

Simply tell Optus in 100 words or less 'What future goal are you inspired to say yes to, and how would this grant help you achieve this goal?'
This FIFA Women's World Cup 2023™, inspiration starts with yes.
Applications close 20 August 2023. T&Cs apply.
Visit: www.optus.com.au/connected/topic/sport/grants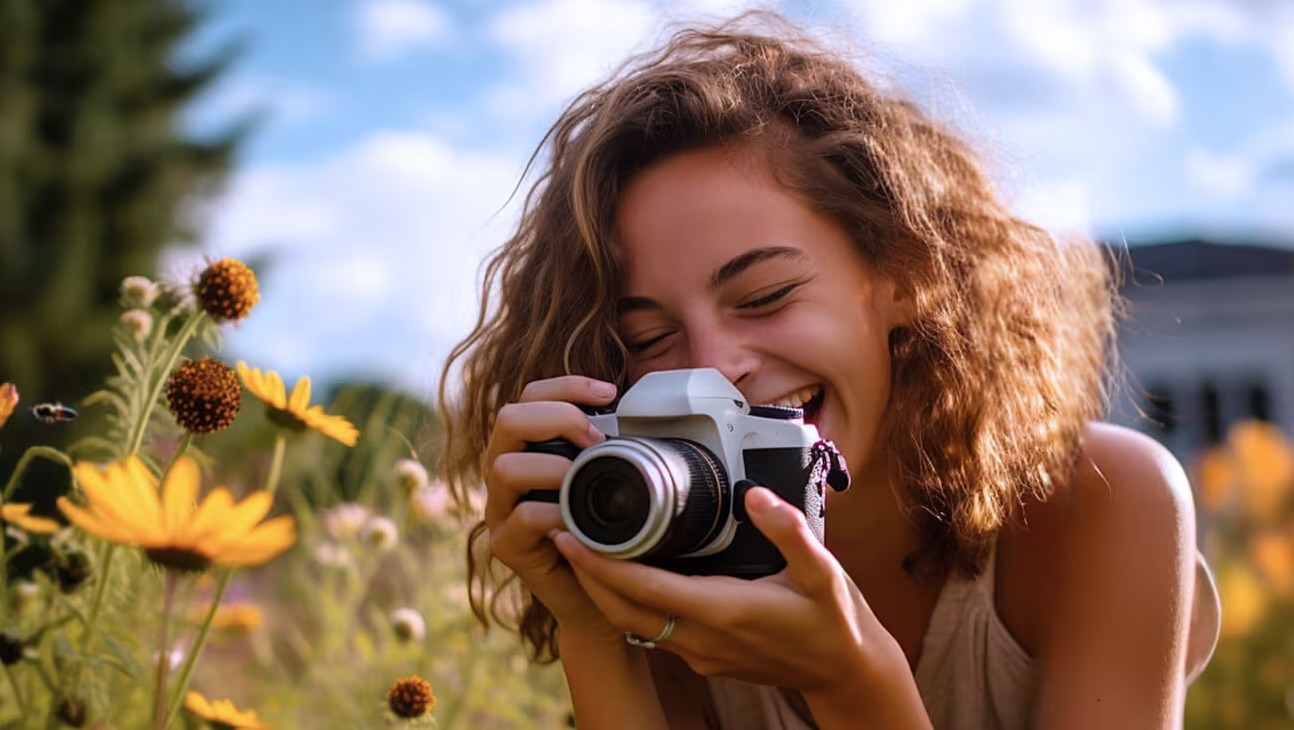 Best And Brightest To Help Build Schools For The Future
August 8, 2023
University graduates can get a head start on their careers thanks to an innovative new School Infrastructure NSW program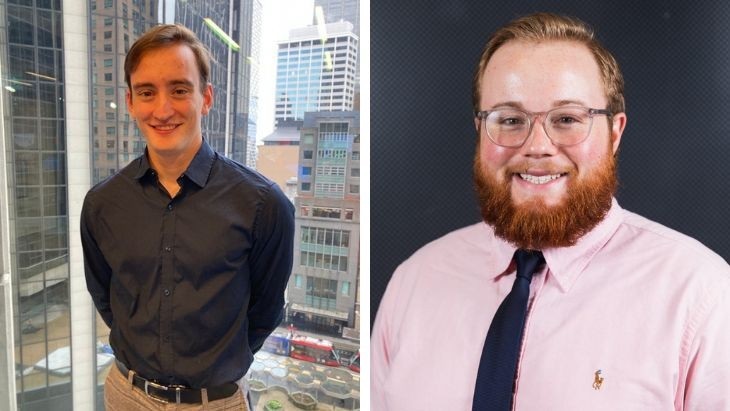 Left, Myles Pymble is a SINSW cadet, and right, James Cavallaro recently completed the Traineeship Program and now has a full-time job with SINSW, working in IT support.
Recent university graduates are being offered the chance to get a head start on their career in School Infrastructure NSW (SINSW), contributing to the building of new or upgraded schools across NSW.
SINSW has launched its Graduate Program in August 2023, available in metropolitan Sydney for people who've completed a diploma or degree qualification in Engineering, Property, Project Management, Information Technology/Computer Science, Sustainability, Procurement, Planning, Business or similar areas.
The School Infrastructure Graduate Program is the third level of the Educational Development Program, following on from the NSW Infrastructure Traineeship for Year 12 school leavers and the School Infrastructure Cadetship aimed at tertiary students in their last year of a diploma or the second last year of a bachelor degree.  
James Cavallaro recently completed the Traineeship Program and now has a full-time job with SINSW, working in IT support.
"It introduced me to an awesome network of people that helped me grow and helped me learn from being a student with no knowledge to someone with a pretty good sense of what the industry means and what it can do," he said.
The SINSW Graduate Program offers recent graduates a two-year opportunity to gain on-the-job experience in their area of expertise within the infrastructure industry.
Graduates will contribute to the planning, delivery and maintenance of new and upgraded schools across NSW.
Anthony Manning, the Chief Executive of SINSW, said the program will tap into the most talented graduates across the state.
"As a key organisation in the build of major infrastructure across NSW, SINSW is constantly searching for talent to fill the various opportunities in its workforce," he said.
"Graduates will engage in work that has a positive impact on NSW communities."
SINSW is delivering new school buildings, major upgrades and maintenance strategies to ensure every school-aged child has access to high-quality education facilities at their local public school.
Tiana Riley is one of the current trainees.
"I'm learning a lot of skills and applying them in the workplace which brings it all together in a practical environment," she said.
Myles Pymble is a cadet and is thoroughly enjoying the experience.
"It offers challenges outside of my comfort zone, with real stakes that offered problem solving and innovative thinking."
The Educational Development Program will enable School Infrastructure to deliver against the NSW Government Action Plan: A Ten-point Commitment to the Construction Sector for government-procured infrastructure.
Find out more about the SINSW Graduate Program, SINSW Cadet Program and Infrastructure Traineeship Program.
Call Of The Surf
Published by NFSA
From the National Collection. Directed by Jack Fletcher 1932. Shot famous Bondi Beach the film reflects on the prominence of beach culture in Australia. It includes demonstrations of surf lifesaving and carnivals as well as recreational pastimes such as body surfing, or "body shooting" as it is referred to here, rubber surf mats and early wooden surf boards with reference to their Hawaiian origins. Another unusual pastime is that of "duck diving" where the the participant hurls themselves on the hard, wet sand and slides along on their stomach.
The opening shows scenes of Avalon and Bilgola from that year are interesting - bare hills and empty beaches.
School Leavers Support
Explore the School Leavers Information Kit (SLIK) as your guide to education, training and work options in 2022;
As you prepare to finish your final year of school, the next phase of your journey will be full of interesting and exciting opportunities. You will discover new passions and develop new skills and knowledge.
We know that this transition can sometimes be challenging and the COVID-19 pandemic has presented some uncertainty. With changes to the education and workforce landscape, you might be wondering if your planned decisions are still a good option or what new alternatives are available and how to pursue them.
There are lots of options for education, training and work in 2022 to help you further your career. This information kit has been designed to help you understand what those options might be and assist you to choose the right one for you. Including:
Download or explore the SLIK here to help guide Your Career.
School Leavers Information Kit (PDF 5.2MB).
School Leavers Information Kit (DOCX 0.9MB).
The SLIK has also been translated into additional languages.
Download our information booklets if you are rural, regional and remote, Aboriginal or Torres Strait Islander, or living with disability.
Support for Regional, Rural and Remote School Leavers (PDF 2MB).
Support for Regional, Rural and Remote School Leavers (DOCX 0.9MB).
Support for Aboriginal and/or Torres Strait Islander School Leavers (PDF 2MB).
Support for Aboriginal and/or Torres Strait Islander School Leavers (DOCX 1.1MB).
Support for School Leavers with Disability (PDF 2MB).
Support for School Leavers with Disability (DOCX 0.9MB).
Download the Parents and Guardian's Guide for School Leavers, which summarises the resources and information available to help you explore all the education, training, and work options available to your young person.
School Leavers Information Service
Are you aged between 15 and 24 and looking for career guidance?
Call 1800 CAREER (1800 227 337).
SMS 'SLIS2022' to 0429 009 435.
Our information officers will help you:
navigate the School Leavers Information Kit (SLIK),
access and use the Your Career website and tools; and
find relevant support services if needed.
You may also be referred to a qualified career practitioner for a 45-minute personalised career guidance session. Our career practitioners will provide information, advice and assistance relating to a wide range of matters, such as career planning and management, training and studying, and looking for work.
You can call to book your session on 1800 CAREER (1800 227 337) Monday to Friday, from 9am to 7pm (AEST). Sessions with a career practitioner can be booked from Monday to Friday, 9am to 7pm.
This is a free service, however minimal call/text costs may apply.
Call 1800 CAREER (1800 227 337) or SMS SLIS2022 to 0429 009 435 to start a conversation about how the tools in Your Career can help you or to book a free session with a career practitioner.
Word Of The Week: Surf
Word of the Week returns in 2023 simply to throw some disruption in amongst the 'yeah-nah' mix.
Noun
1. the mass or line of foam formed by waves breaking on a seashore or reef. 2. a spell of surfing.
Verb
1. stand or lie on a surfboard and ride on a wave towards the shore. 2. to go surf bathing (catch a wave while swimming). 3. move from page to page or site to site on (the World Wide Web).
From - noun; 1680s, possibly from earlier suffe (1590s), of uncertain origin. Originally used in reference to the coast of India, hence perhaps of Indic origin. Or perhaps a phonological respelling of sough, which meant "a rushing sound." or surge. verb; "ride the crest of a wave," 1917, from surf (n.). NB: Surfboards or Paipo boards, similar to a bodyboard/boogie board were first encountered by Europeans in the Pacific from the late 1700's on. These boards date back to 400 A.D. in some researchers thesis. The Paipo developed as small wooden prone board, used thoughout the Pacific Islands primarily as juvenile sport. In Tahiti and Hawaii the boards were ridden prone, kneeling and, occasionally, standing. Other Pacific Islands were restricted to prone riding only. Related: Surfed; surfing. In the internet sense, is attested by 1993.
More on the Paipo in ths histroy page - Alrema's father and her self witnessed and took part in surfboard riding in Tahiti decades before the first Hawaiian style surfboards began appearing here:
Early Pittwater Surfers: Alrema Becke Queen of Palm Beach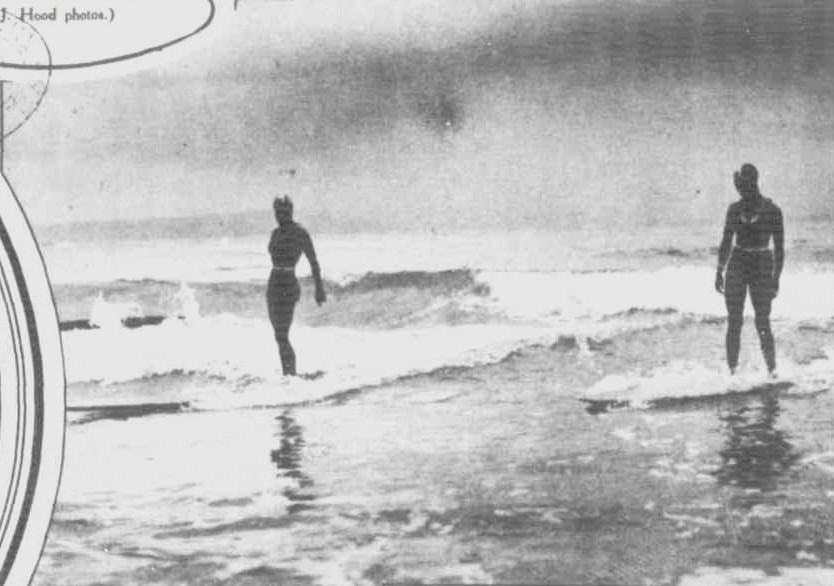 From Left.-Mrs. Alrema Samuels and Miss Norah Mc Auliffe. SYDNEY TOPICS – photos by S J Hood. (1930, January 11). The Australasian(Melbourne, Vic. : 1864 - 1946), p. 61 Edition: METROPOLITAN EDITION. Retrieved from http://nla.gov.au/nla.news-article141425116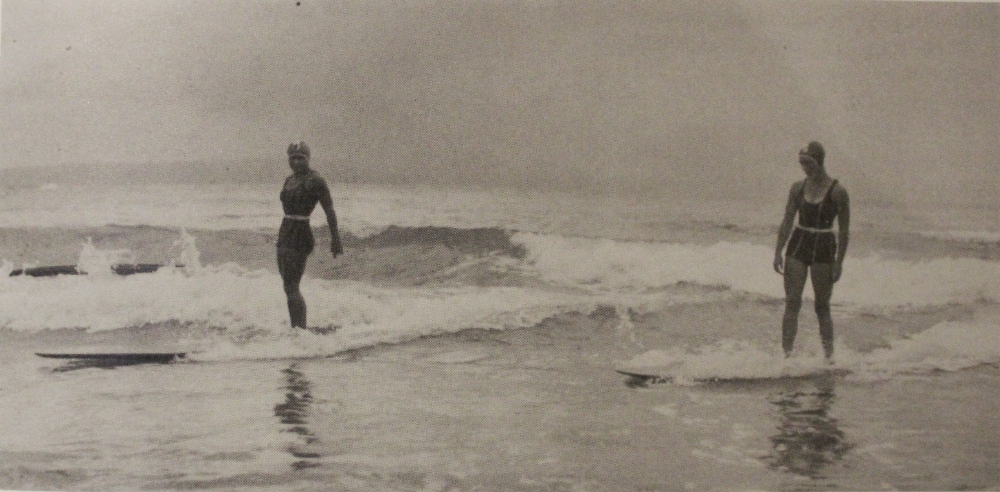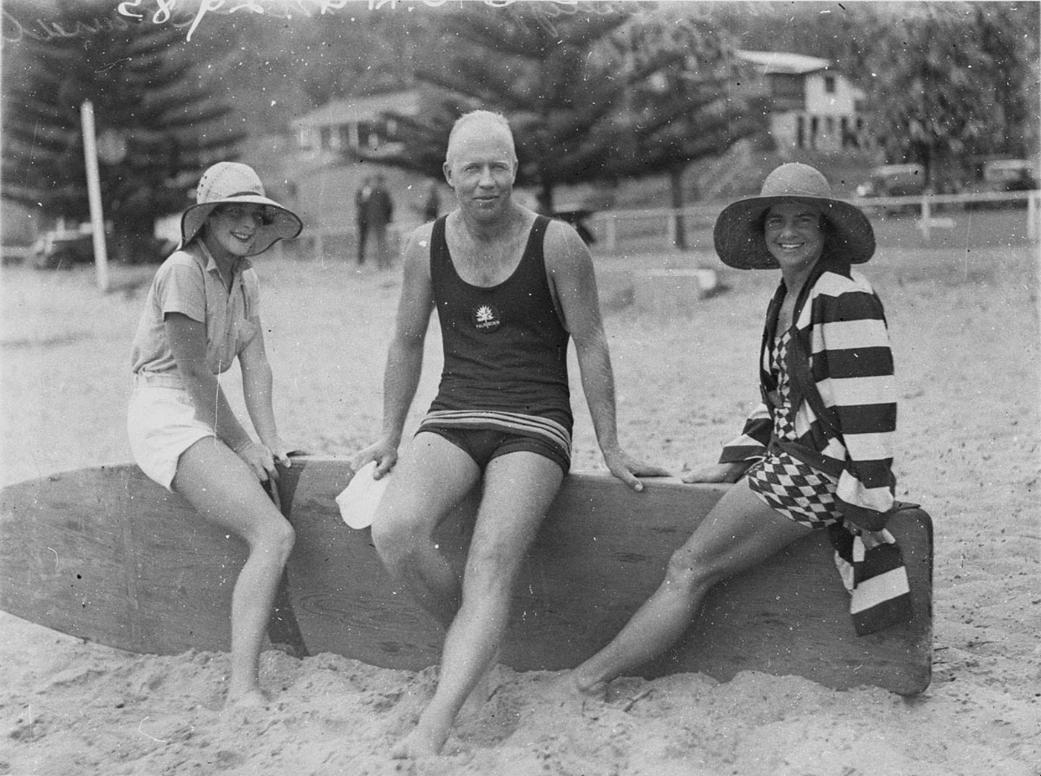 Left to right. Miss Sue Russell,
John (Jack) Ralston
PBSLSC with Alrema Samuels on right circa 1934-36 with 9 foot surfboard. Image No.: hood_02985,
and below: hood_02978h. Titled 'Man and woman with 9 foot wooden surfboard' - Jack and Alrema again. Both
courtesy State Library of NSW.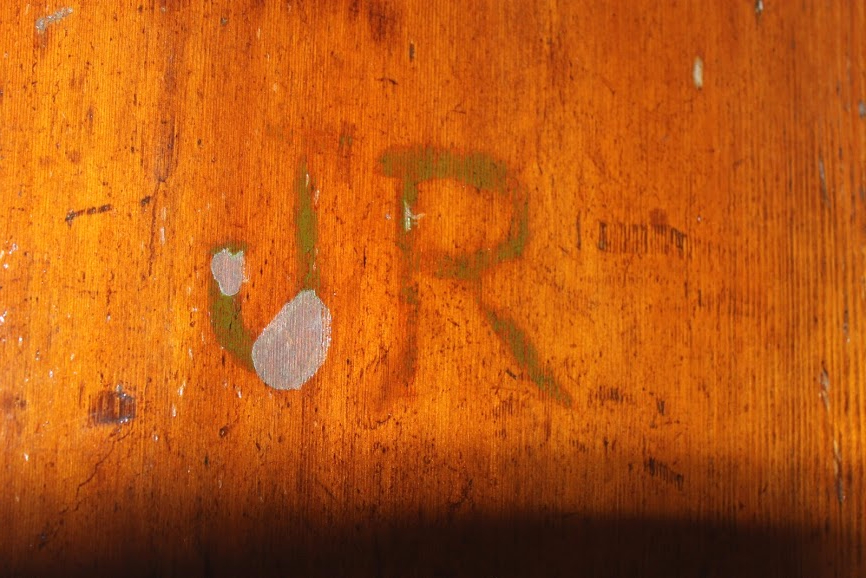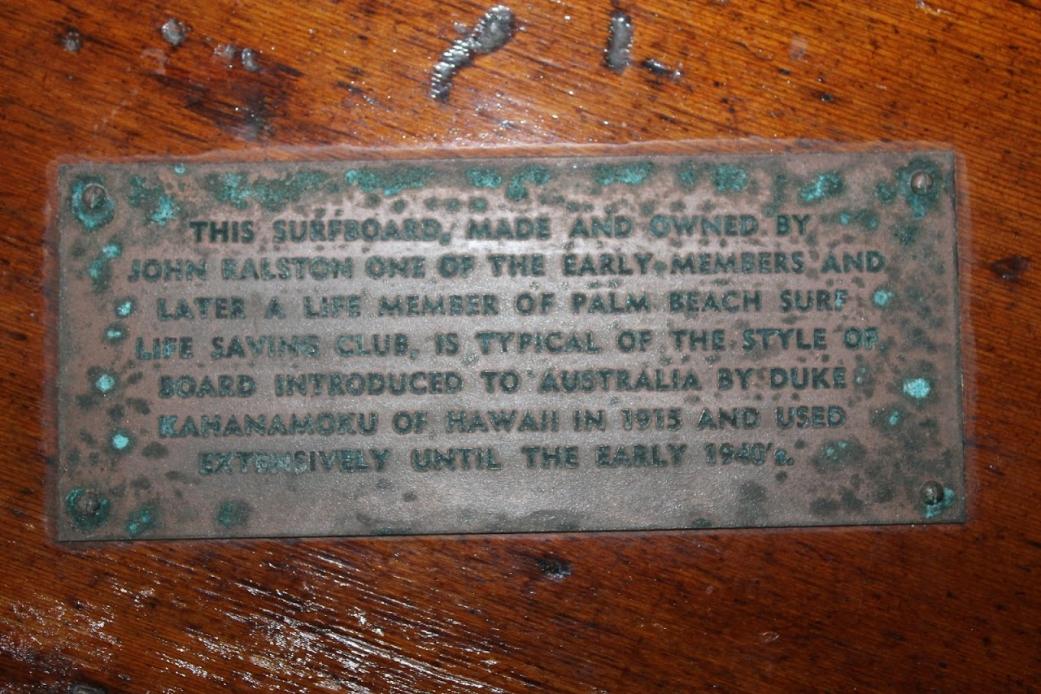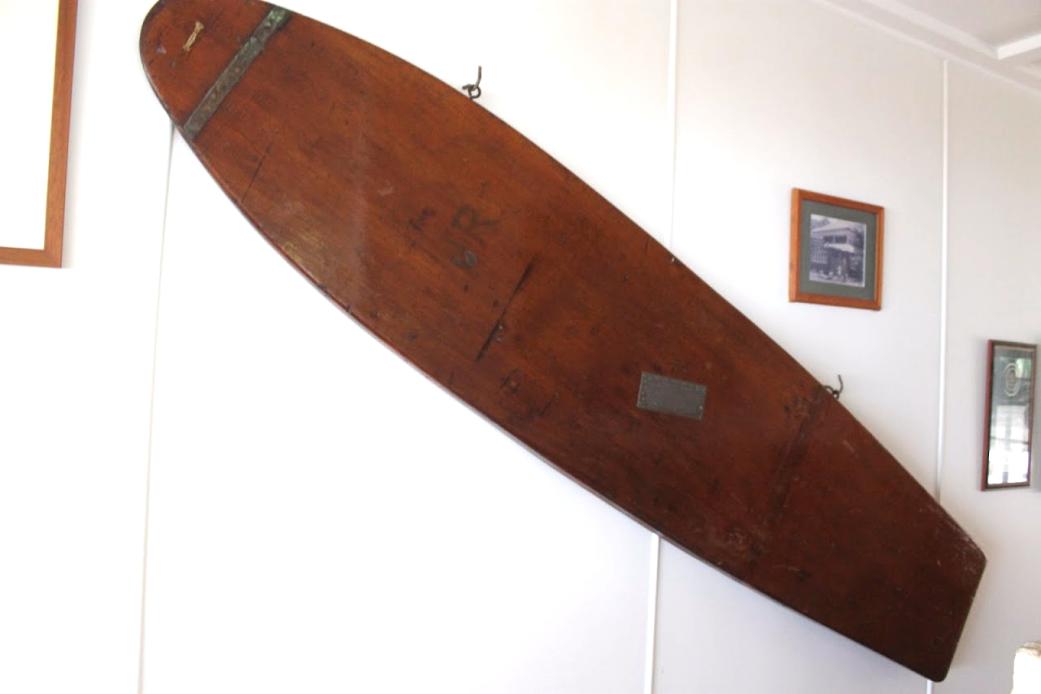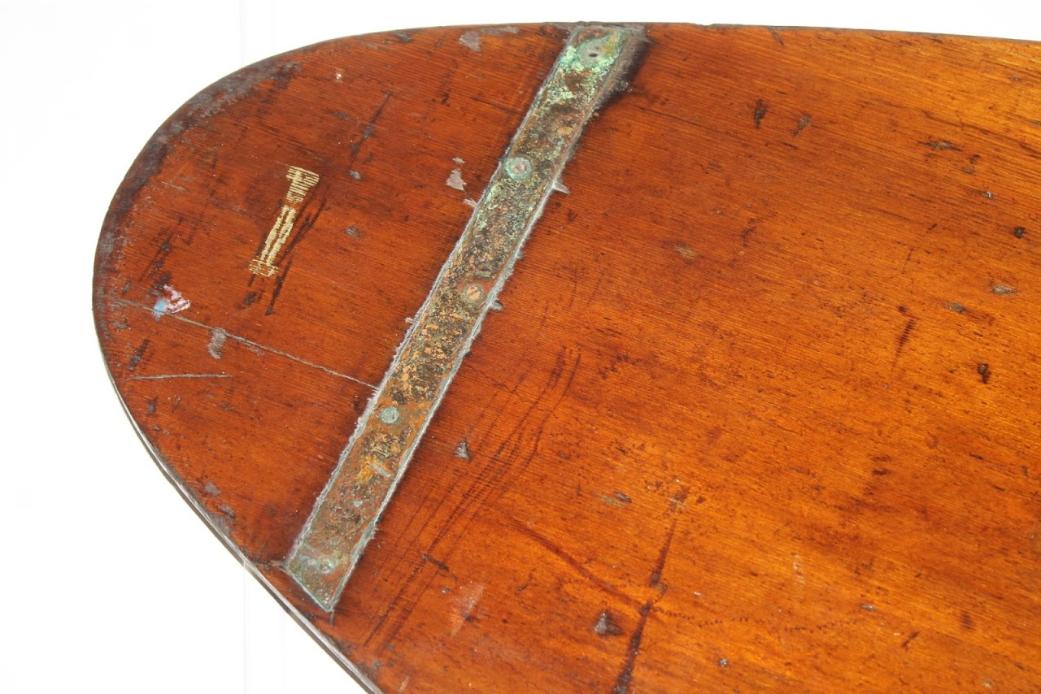 Book Of The Month - August + September 2023: Australia Circumnavigated : The Voyage Of Matthew Flinders In HMS Investigator, 1801-1803
by Flinders, Matthew, 1774-1814, author of Volumes I and II
As this is actually two books it will stay up for the first month of Spring 2023 too - enjoy!
This two-volume work provides the first edited publication of Matthew Flinders' journals from the circumnavigation of Australia in 1801-1803 in HMS Investigator, and of the 'Memoir' he wrote to accompany his journals and charts. These are among the most important primary texts in Australian maritime history and European voyaging in the Pacific. Flinders was the first explorer to circumnavigate Australia. He was also largely responsible for giving Australia its name.
His voyage was supported by the Admiralty, the Navy Board, the East India Company and the patronage of Sir Joseph Banks, President of the Royal Society. Banks ensured that the Investigator expedition included scientific gentlemen to document Australia's flora, fauna, geology and landscape features. The botanist Robert Brown, botanical painter Ferdinand Bauer, landscape artist William Westall, Pittwater and Broken Bay indigenous man Bungaree and the gardener Peter Good were all members of the voyage.
On this long voyage Bungaree used his knowledge of Aboriginal protocol to negotiate peaceful meetings with local Indigenous people.

Years later, in A Voyage to Terra Australis (1814), Flinders wrote that Bungaree's "good disposition and open and manly conduct had attracted my esteem". Flinders described the affectionate relationship between Bungaree and the cat Trim who sailed on Flinder's ships: 'If he [Trim] had occasion to drink, he mewed to Bongaree and leapt up onto the water cask; if to eat he called him down below and went straight to his kid, where there was generally a remnant of a black swan. In short, Bongaree was his great resource, and his kindness was repaid with caresses.'

After landfall at Cape Leeuwin, Flinders sailed anti-clockwise round the whole continent, returning to Port Jackson when the ship became unseaworthy.
After a series of misfortunes, including a shipwreck and a long detention at the Ile de France (now Mauritius), Flinders returned to England in 1810. He devoted the last four years of his life to preparing A Voyage to Terra Australis, published in two volumes, and an atlas. Flinders died on 19 July 1814 at the age of forty. The journals, edited, comprise a daily log with full nautical information and 'remarks' on the coastal landscape, the achievements of previous navigators in Australian waters, encounters with Aborigines and Macassan trepangers, naval routines, scientific findings, and Flinders' surveying and charting. The journals also include instructions for the voyage and some additional correspondence. The 'Memoir' explains Flinders' methodology in compiling his journals and charts and the purpose and content of his surveys.
A Few Extras From The Pages Of The Past
SHIP NEWS.
On Thursday arrived His Majesty's Ship INVESTIGATOR, Captain MATTHEW FLINDERS; she sailed from hence in July last, to continue the survey of the coasts of New Holland. After being entangled among the reefs, and having grounded, owing to Capt. Flinders's anxiety not to leave any material part unexamined: He surveyed the East coast, as far as Cape Palmerston, and found two harbours, which the distance that Capt. Cook passed along that part did not allow him to observe.
The Investigator afterwards found a practicable and expeditious passage through the Strait between New Holland and New Guinea (for an account of which see the preceding Column); and then surveyed the Gulph of Carpentaria very minutely, finding many Islands and good harbours there. The decayed state of the ship obliged the Commander to return to this Port sooner than he otherwise intended; and after an unsuccessful search for the Trial Rocks, he passed on the South side of King's Island, through Bass's Straits, on the 1st instant.
The Officers and Ship's Company have generally been very healthy, until a short time before their arrival, when getting into cold weather, after being so many months in the Torrid Zone, they were generally attacked with a Dysentery, which we are sorry to say carried off Mr. Charles Douglass, Boatswain, a very good Officer; Serjeant James Greenhugh of the Royal Marine Forces, a very valuable Non-Commissioned Officer; W. Hilner and John Draper, Quartermasters; and C. Smith, a seaman; the loss of whom is much lamented by Capt. Flinders. Twelve sick seamen were landed on her arrival, of whose recovery there is every hope.
Capt. Flinders having thus far ascertained the existence of a safe passage for Ships through Torris' Straits, (which he performed in three days), will greatly facilitate and shorten the intercourse between this Colony and our Possessions in India: He is very particular in his cautions respecting the war-like disposition of the inhabitants of the Islands lying in these Straits, which will require vessels going this passage, to be in some measure armed and prepared for any hostile attacks.
We are sorry to add, that the future advantages expected from Capt. Flinders's Perseverance and Activity in his pursuits, are likely to suffer a delay, owing to the state of the Investigator's hull, which will be surveyed as soon as possible. His Excellency having given Captain Flinders Permission to take Eleven Seamen, Prisoners, on a Provisional Emancipation, we are happy to state, from Captain Flinders's authority, that their conduct has given him and his Officers great satisfaction; especially that of Francis Smith, who received a Free Pardon on the ship's anchoring in the Cove.
At day-light yesterday morning sailed His Majesty's armed Tender Lady Nelson, Lieut. Courtoys Commander, for Risdon Cove, Van Diemen's Land. On board that Vessel were embarked, John Bowen, Esq. appointed to command and superintend the settlement in-tended to be formed at that place; also, Mr. Jacob Mountgarrett, appointed Surgeon, with Three Privates, Ten Male, and Six Female Prisoners. The Porpoise was also to sail on the same service, with the remainder of the Soldiers, Settlers, Prison-ers, Provisions, and Stores; but the decayed state of the Investigator requires the Commander of the Porpoise being on the survey of that ship, which, when completed, the Porpoise will sail for the above destination.
SHIP NEWS. (1803, June 12 - Sunday). The Sydney Gazette and New South Wales Advertiser (NSW : 1803 - 1842), p. 4. Retrieved from http://nla.gov.au/nla.news-article625626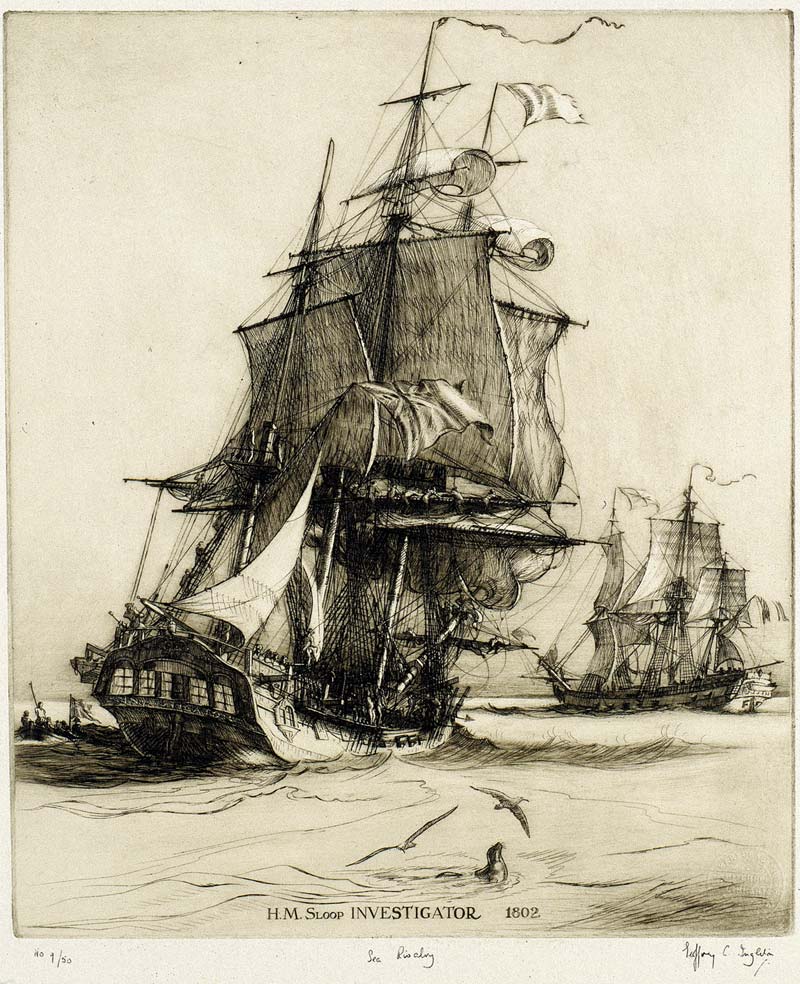 HM Sloop Investigator: etching by Geoffrey Ingleton, 1937, courtesy State Library of New South Wales

COPY of a LETTER FROM MATTHEW FLINDERS, ESQ
COMMANDER OF HIS MAJESTY'S SLOOP INVESTIGATOR, TO HIS EXCELLENCY THE GOVERNOR.
" H. M. S. INVESTIGATOR,
June 10, 1803.
" SIR,
"Judging that it may be very useful to Ships bound to India from this Port to know that the TORRES' STRAIT is both practicable, and may be expeditiously made, I have to inform Your EXCELLENCY, that in His Majesty's Sloop under my Command I safely passed from the South Sea to the Indian Ocean by it in Three days, lying at anchor each night, in Tolerable safety. It is not in my power at present to furnish Your Excellency with a Survey, or with so much Information concerning this important Passage as I hope hereafter to do; but judging that such Information as we have collected may be of some immediate advantage, I inclose the heads of it under the form of Directions to a Vessel wishing to try the Passage and I have the honour to be
"Your Excellency's most obedient Servant,
" MATTHEW FLINDERS."
HIS EXCELLENCY GOVERNOR KING, &c. &c,
SOME DIRECTIONS FOR SAILING THROUGH TORRES' STRAITS.
Small reefs having been seen and many others probably lying some distance to the eastward of the Strait, it is necessary to run cautiously from the eastward for a day or two, before making the body of the reefs. Enter them by a Passage in latitude 9° 18' South, and longitude 145° 6' East; and which, according to the Pandora's Chart, is 3 leagues wide. Steer for Murray's Island, which lies in 9° 53' South, and 144° 18' East, and may be seen at from 6 to 10 leagues distance ; but as there is a Reef to the East-ward of the Island, it will be necessary to go round this. The Investigator passed to the North side, approaching the island from the North-East ; but it would be more direct to pass on the south side of the Reef, should it be equally free from danger. Pass on the North side of Murray's Island, and steer as straight for the North-eastern most of the Prince of Wales Islands in 10° 31' South, as the Reefs will allow ; a ship will, however, be obliged to run four or five leagues on a more Westerly course before this can be done, sometimes over strong ripplings of tide, and through Passages of not more than a mile in width. We were at first very cautious of these ripplings, but afterwards paid them little attention when the water was not dis-coloured. On making the Prince of Wales Islands, pass close to their North ends in 10° 31' leaving a Reef which is dry at low water, on the starboard hand ; Booby Isle, which is low and white will then be seen to the W. S. W. ; and except the two Reefs in Captain Cook's Chart, lying to the North-westward, I know of nothing afterwards to prevent a ship from steering directly towards Timor.
During the passage through the Strait, a trusty Officer at the mast-head should direct the ship's course ; the lead should be kept going, and in the first part of the passage a boat should go ahead with sounding signals, the ship following at an easy rate. At least two hours before dark, look out for an Island or Reef, under the lee of which the ship may be each night at anchor ; Murray's Island will usually be one of these, but it is necessary to be guarded against the Natives who appear to be numerous and warlike.
With these precautions I judge that a ship will pass from the South Sea, through Torres' Strait in Two, Three, or Four days, any time between the first of April and the end of October ; and it is likely she might pass the contrary way in as short a time, from the middle of November to the end February; but for this I know of precedent.
MATTHEW FLINDERS.
H.M.S. INVESTIGATOR,
JUNE 10, 1803.
SOME DIRECTIONS FOR SAILING THROUGH TORRES' STRAITS. (1803, June 12). The Sydney Gazette and New South Wales Advertiser (NSW : 1803 - 1842), p. 4. Retrieved from http://nla.gov.au/nla.news-article625625
On Wednesday last His Majesty's Ship Porpoise hauled along-side the Investigator at the New Moorings, when Mr. SCOTT was Superseded at his own Request in the Command of the Porpoise; and Lieut. FOWLER, of the Investigator, was appointed to command her. Captain MATTHEW FLINDERS put the Investigator out of Commission, by discharging most of that Ship's Crew into the Porpoise, for whom room was made by the greater part of the Porpoise's People being Discharged the Service at their own Request ; Seventeen of whom immediately shipped on board the Bridgewater ; and Five of those who come from England in the Porpoise were allowed to become Settlers, on the same Conditions as the Reduced Soldiers of the New South Wales Corps.
The Porpoise is now Fitting for her Voyage to England, and will probably sail about the 5th of next Month.
Dr. BROWN, Naturalist; Mr. BAUER, Natural History Painter; and Mr. ALLEN, Miner to the Voyage of Discovery the Investigator was employed on, remain in the Colony, until it is determined whether another Ship is sent to complete the Object of the Investigator's Voyage. SYDNEY. (1803, July 24). The Sydney Gazette and New South Wales Advertiser (NSW : 1803 - 1842), p. 2. Retrieved from http://nla.gov.au/nla.news-article625689
POSTSCRIPT.
CAPTAIN FLINDERS, late Commander of His Majesty's Sloop Investigator, and Mr. PARK, Commander of the Ship Cato, arrived at Government House at half past 3 in the Afternoon of the 8th Instant, with the following disgreeable Intelligence, as communicated in the following LETTER to His EXCELLENCY.
Sydney, New South Wales,
Sept. 9, 1803.
"SIR,
"I have to inform you of my arrival here yesterday, in a Six-oar'd Cutter belonging to His Majesty's Armed Vessel PORPOISE, commanded by Lieut. FOWLER; which Ship, I am sorry to state to Your Excellency, I left on shore upon a Coral Reef, without any prospect of her being saved, in Latitude 22° 11' South, and Longitude 155° 13' East, being 196 miles to the N. 38° E. from Sandy Cape, and 729 miles from this Port : The Ship CATO, which was in Company, is entirely lost upon the same Reef, and broken to pieces without any thing having been saved from her ; but the crew, with the exception of Three, are with the Whole of the Officers, Crew, and Passengers of the Porpoise, upon a small Sand bank near the Wrecks, with sufficient Provisions and Water saved from the Porpoise to subsist the whole, amounting to 80 Men, for Three Months.
"Accompanied by the Commander of the Cato, Mr. JOHN PARK, and Twelve Men, I left Wreck Reef in the Cutter with Three Weeks' Provisions, on Friday, August 26th, in the morning, and on the 28th in the evening made the Land near Indian Head ; from whence I kept the coast on board to this place.
I cannot state the Extent of Wreck Reef to the Eastward, but a Bank is visible in that direction six or seven miles from the Wrecks. In a West direction we rowed along the Reef twelve miles, but saw no other dangers in the Passage towards Sandy Cape.---There are several Passages through the Reef, and Anchorage in from 15 to 22 fathoms upon a sandy bottom, the Flag-staff upon Wreck-reef Bank bearing South-East to South-South-West, distant from three quarters to one-and-quarter mile.
"After the above Statement it is unnecessary for me to make Application to Your Excellency to furnish me with the means of Relieving the Crews of the two Ships from the precarious situation in which they are placed, since your Humanity and former un-remitting Attention to the Investigator and Porpoise are Sureties that the earliest and most effectual means will be taken, either to bring them back to this Port, or to send them and myself onward towards England.
"I inclose to Your Excellency a Letter from Lieut. Fowler upon the occasion ; and as he refers to me for the Particulars of the Wreck, an Account thereof is also inclosed.
I think it proper to notice to Your Excellency, that the great exertions of Lieut. Fowler and his Officers and Company, as well the Passengers belonging to the Investigator in saving His Majesty's Stores, have been very praiseworthy; and I judge that the precautions that were taken will exonerate the Commander of the Porpoise from the blame that might otherwise be attached to the Loss of His Majesty's Armed Vessel.
I have the honour to be
Your Excellency's Obedient humble Servant,
"MATTHEW FLINDERS."
*** We hope to state the Particulars of this untoward Event in our next Week's Paper.
POSTSCRIPT. (1803, September 11). The Sydney Gazette and New South Wales Advertiser (NSW : 1803 - 1842), p. 4. Retrieved from http://nla.gov.au/nla.news-article625779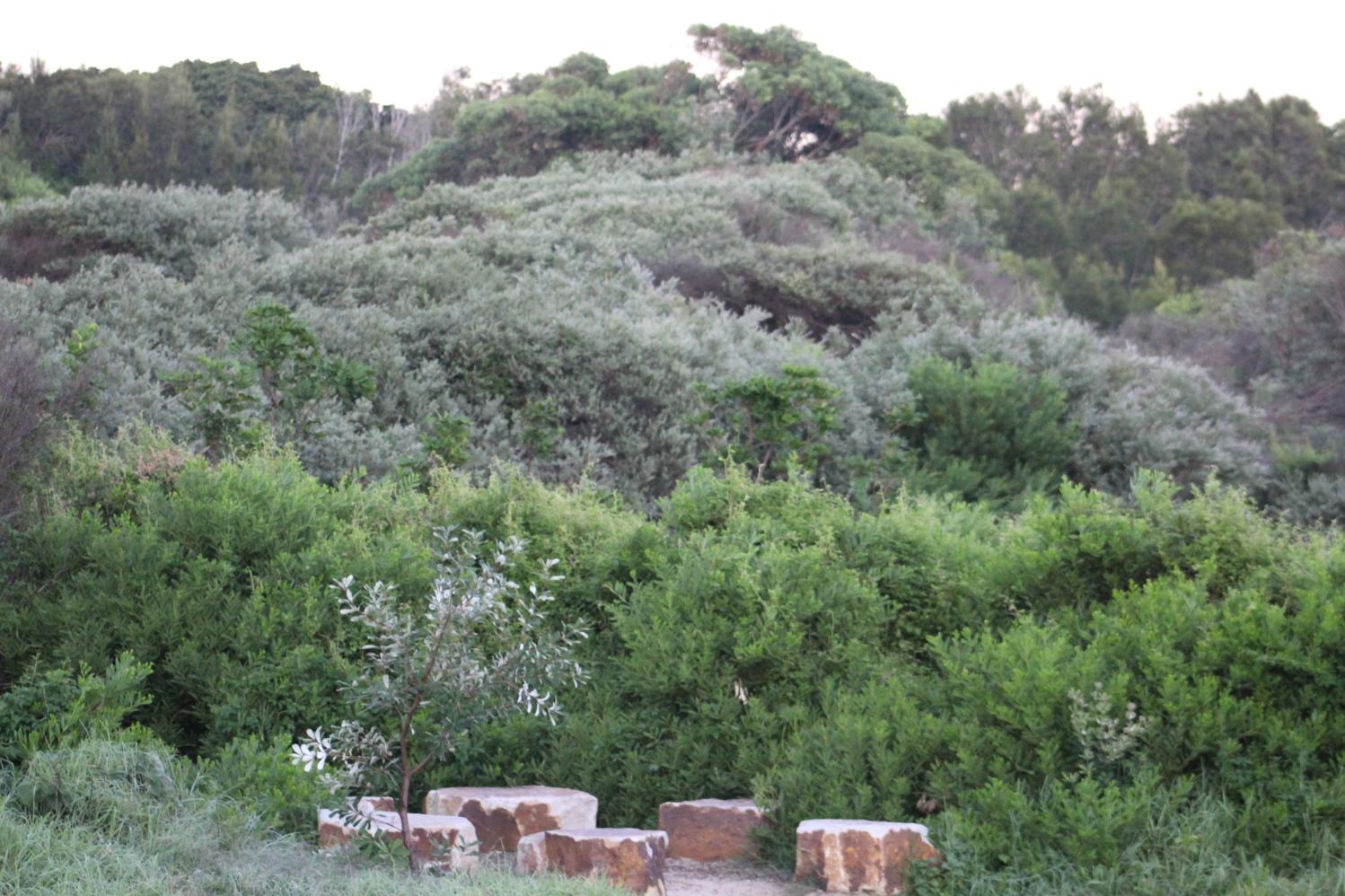 Dear Lord,
Keep us from being like porridge,
slow to boil and hard to stir
And make us like corn flakes
Always prepared and ready to serve
sent in by H M Guesdon, from her Girl Guide journals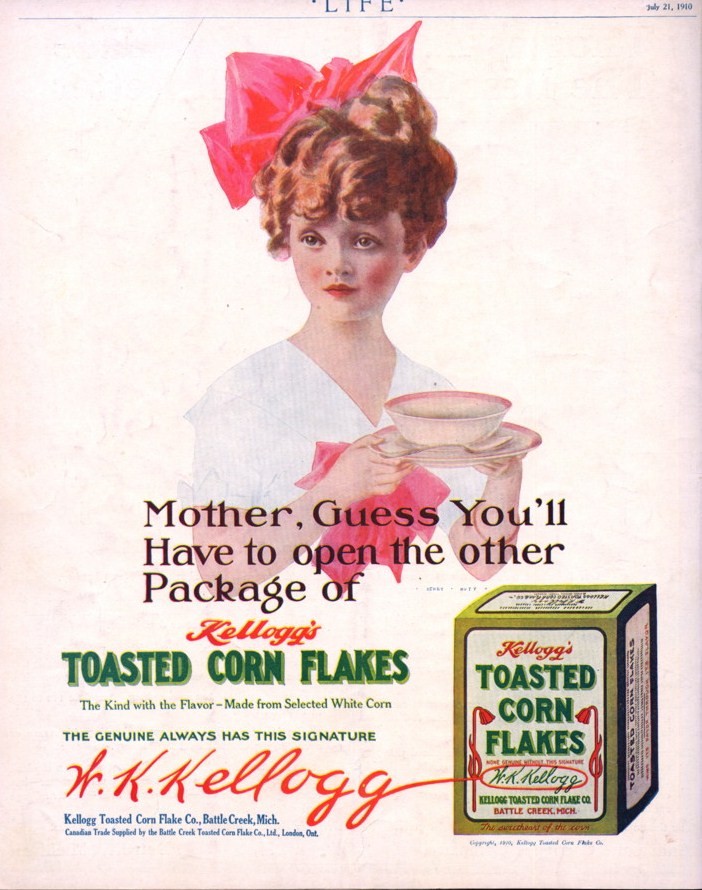 Advertisement for Kellogg's "Toasted Corn Flakes" in Life magazine, July 21, 1910, issue

VP Day + Vietnam Veterans Day (Northern): 2023 Services
Avalon Beach RSL Sub-Branch VP Day Service
Service: Tuesday 15th 11.30 am - RSL Cenotaph
Palm Beach RSL sub-Branch Vietnam Veterans Day (Northern)
Sunday August 20, 2023: 10.45 am
Muster at Iluka (north end) for March to Cenotaph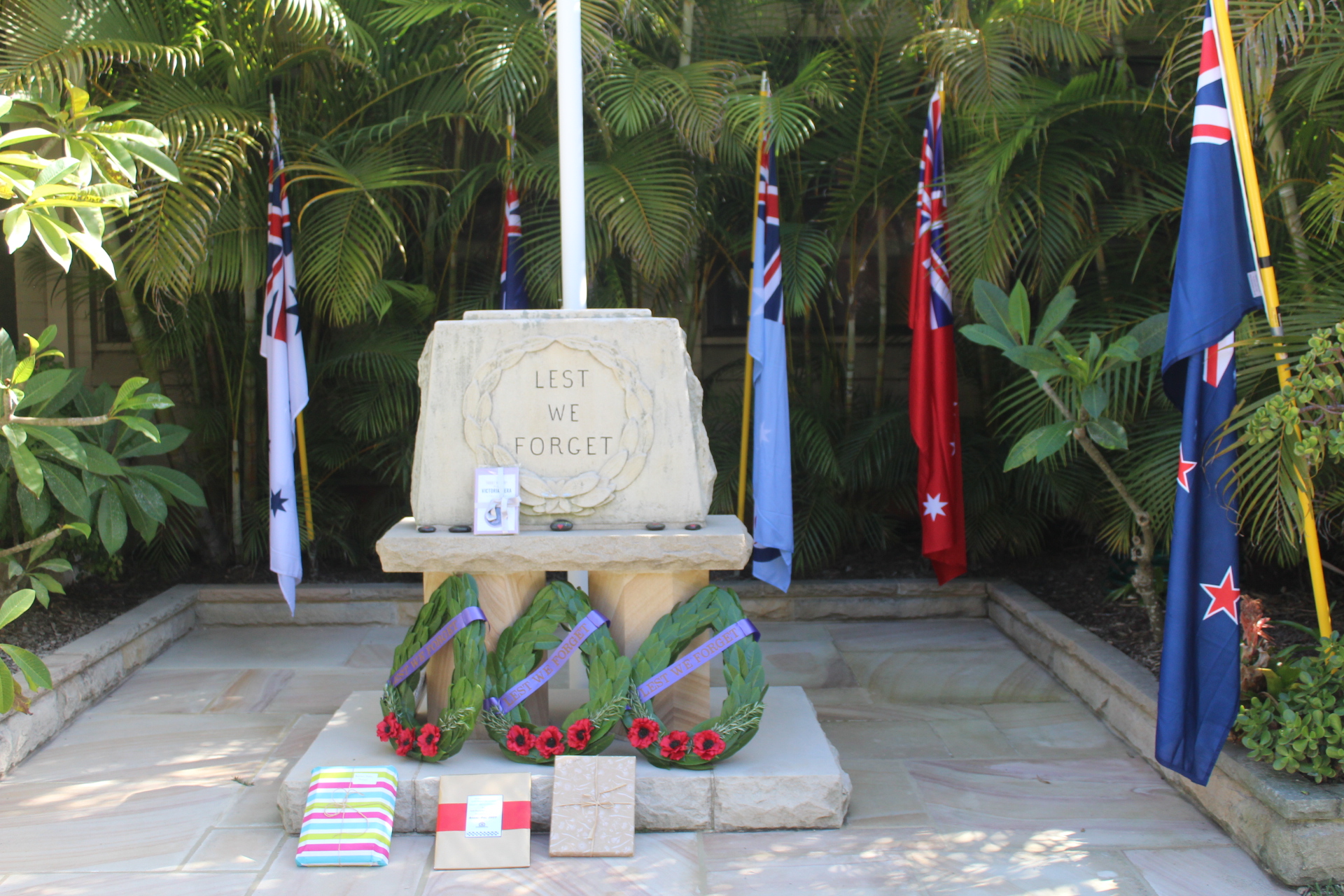 Call Of The Surf: 1932
From the National Collection. Directed by Jack Fletcher 1932. Shot famous Bondi Beach the film reflects on the prominence of beach culture in Australia. It includes demonstrations of surf lifesaving and carnivals as well as recreational pastimes such as body surfing, or "body shooting" as it is referred to here, rubber surf mats and early wooden surf boards with reference to their Hawaiian origins. Another unusual pastime is that of "duck diving" where the the participant hurls themselves on the hard, wet sand and slides along on their stomach.
There are some images of Avalon and Bilgola Beaches at the beginning of this little film.
AMA Welcomes Successful 60-Day Dispensing Vote
In just a matter of weeks, millions of Australian patients will be able to access half-price medicines after the Senate passed the federal government's 60-day dispensing policy today.
The AMA thoroughly welcomes this outcome, ending the years-long wait for this policy to become a reality.
AMA President Professor Steve Robson thanked the Senate for ensuring that patients, from 1 September, can access cheaper medicines while making fewer trips to the pharmacy to refill scripts.
"We thank not only the government, but all the senators who stared down the negative scare campaign against this policy," Professor Robson said.
"This is an important day for Australian patients, who have been desperately waiting for much-needed financial relief amid this cost-of-living crisis.
"The carrot had been dangled in front of patients for far too long. The former Coalition government decided not to implement this measure in 2019, disregarding the Pharmaceutical Benefits Advisory Committee recommendations in 2018."
Professor Robson said the final Senate vote followed years of advocacy by the AMA and other health and consumer groups.
"The AMA this morning stood on the top floor of Parliament House and called for Australia's Senate to prioritise health policy that puts patients first, allowing them to access half-price medicines under the 60-day dispensing policy.
"I have been in the parliament today, where I was able to watch the vote that was finally successful in ensuring that this important change will now take effect.
"The AMA reignited the call for this policy in February this year and we have advocated for it every day since.
"Today, as it came down to the wire in the Senate, we were there to help ensure that it was successful."
Professor Robson thanked the many doctor, health and consumer groups that helped get 60-day dispensing over the line — including the Royal Australian College of General Practitioners, Consumers Health Forum, National Aboriginal Community Controlled Health Organisation, Asthma Australia, Breast Cancer Network Australia and many more.
"In just a matter of weeks, affordable medication will be available to every single Australian, and I am so pleased that the Parliament did not miss this crucial opportunity to help patients keep well," Professor Robson said.
Aged care facilities are responsible and funded by the federal government to package up the medicine of an aged care resident. They are specifically prohibited from charging residents for that.
When a PBS medicine can be prescribed for 60-days patients can save:
up to $180 a year, per medicine for general patients
up to $43.80 a year, per medicine for concession card holders.
Everyone buying a PBS medicine on a 60-day prescription will save money. Patients are expected to save more than $1.6 billion over the next 4 years through the introduction of 60-day prescriptions, with some patients halving their annual PBS medicine costs. A patient taking only medicines that have a 60-day prescription can halve their number of trips to the doctor and pharmacist to fill a script for that medicine. This will free up millions of GP visits and make it easier to see a doctor.
The PBS Safety Net will continue to support general patients that spend more than $1,563.50 on PBS medicines in a year. Concession card holders can apply for the Safety Net when they spend more than $262.80.
With a 60-day prescription, many patients will save so much on their medicines that they won't need the Safety Net. Others will reach the safety net later in the year, having spread their medicines costs over a longer period. Importantly, medicines will be cheaper for all patients on 60-day prescriptions.
The benefit for patients is that their total annual medicines cost will be spread out over a greater period of time, resulting in a lower monthly medicines cost.
Those patients that hit the threshold later in the year won't pay more.
Concession card holders will pay the same as they usually do: $262.80 for 2023, before receiving the rest of their prescriptions for free for the remainder of the year.
Even if a concession card holder still reaches the threshold, they will benefit from cheaper medicines, because they won't have to wait until they hit the threshold to save money on medicine and will get help with their cost of living sooner, rather than later.
Someone with a Medicare card who does not hold a concession card will pay for fewer prescriptions each year and continue to benefit from the PBS Safety Net of $1,563.50, paying the concessional rate for any remaining prescriptions above this amount for the year.
Stage one – from 1 September 2023
The first stage of medicines eligible for 60-day prescriptions will support patients who are stable on their current treatment and living with ongoing health conditions including:
cardiovascular disease
Crohn disease
gout
heart failure
high cholesterol
hypertension
osteoporosis
ulcerative colitis.
Stage one includes 92 medicines (256 PBS items) and represents roughly one third of all the medicines eligible for 60-day prescriptions. The 256 PBS items include the different forms (strength and presentation) of the stage one medicines.
See the list of the
stage one medicines
. The order of medicines to be made available in stage 2 and 3 is still being finalised.
Moving to 60-day prescriptions won't cause medicine shortages. While eligible patients will be able to buy double the medication on a single prescription, overall demand for medicines will remain unchanged.
These changes mean eligible Australians will buy the same amount of medicine overall, with fewer trips to the pharmacy.
As of 21 June 2023, no sponsors have notified the Therapeutic Goods Administration (TGA) of anticipated supply disruptions as a result of the announced PBS 60-day prescription policy.
Of the more than 300 medicines PBAC recommended for 60-day prescription, the vast majority have no shortage of supply in Australia.
Medicine shortages can occur for various reasons, such as shortages of raw material, transport issues, factory quality control issues, temporary factory closures and natural disasters.
Most shortages are short-term, temporary disruptions and are often limited to some brands, strengths or formulations.
Implementing 60-day prescriptions in 3 phases over 12 months, along with the likelihood that eligible patients will exhaust their existing prescriptions first, will minimise the disruption to pharmacies and allow supply chains to adapt.
Reinvestments into pharmacy services
The Government is committed to supporting a thriving community pharmacy sector.
Every single dollar saved by the Government from a reduction in fees paid to the pharmacy for supplying medication to patients will be reinvested into community pharmacy. This is to support the ongoing vital role of the pharmacy sector and provide new opportunities for expanding pharmacists scope of practice.
Regional Pharmacy Transition Allowance (RPTA)
The Regional Pharmacy Transition Allowance (RPTA) will provide an additional $148.2 million over 4 years in support to pharmacies in Modified Monash model 2–7 locations across Australia to transition their business arrangements to account for the new 60-day prescriptions.
The new RPTA will mean that in addition to the already doubled total budget for RPMA ($39.8m per year), eligible pharmacies dispensing 50,000 scripts may receive an extra $52,030 over four years in a large regional centre; $396,909, $344,697 and $338,477 respectively for a pharmacy in a large, medium or small rural town; $213,391 in a remote community; and $198,263 in a very remote community.
To be eligible to apply for RPTA, pharmacies must:
Be receiving RPMA (for pharmacies in Modified Monash Model 3–7), or
Be open at least 20 hours per week with a registered pharmacist on site for 48 weeks of the year (for pharmacies in Modified Monash Model 2), and
Have script volumes in the prior year of less than the relevant cut-off per MM classification.
When both the RPMA and RPTA are taken into account, all pharmacies that receive RPMA payments and have script volumes below the relevant RPTA threshold are unlikely to have net negative remuneration in year one of the policy.
Eligible pharmacies in Modified Monash Model 3–7 will receive funding that, based on average script volumes across 2022, will offset the expected dispensing related revenue loss in full for 2023–24, reducing to 60% by 2026–27.
Eligible pharmacies in Modified Monash Model 2 will receive nearly $12,500 in
2023–24, and more than $13,100 from 2024–25 to 2026–27.
Read the
fact sheet
for more information about the allowance.
Pittwater's Warmest Welcome!
Over no less than 85 years Newport Bowling Club has thrived as the Peninsula's most friendly social venue and sporting club, renowned for extending a warm welcome to residents and community groups from across the Northern Beaches. Nothing pleases them more than seeing local community members socialising in the Clubhouse and having a great time on the greens!
"One really shouldn't judge bowls until you try it," says John Eustace who recently joined the club.
"Lawn Bowls is widely misconstrued as an older person's sport when in reality it is among the very few participation sports suitable for people of all ages, abilities, and fitness levels. It doesn't take long to understand the game's basics, and bowls can become quite addictive once you start developing your abilities", Eustace concludes.
Joining the Newport Bowling Club brings a host of social benefits, members can take part in a range of activities and playing formats. The community and sport's foremost highlight is its extremely social element. However, for those with a competitive streak, you can hone your tactics in club competitions and then even prove your skills at inter-club tournaments.
Many other sports rely on speed and athleticism, while Lawn Bowls removes reliance on athleticism, creating an even playing field for all abilities regardless of age and gender. Bowling is an enjoyable low-impact outdoor exercise renowned for maintaining balance, coordination, core strength, and bone health.
The Newport Club also offers visitors the inexpensive less-competitive option of barefoot bowling; ideal for team building, corporate events, and special occasions where men, women, and children can compete on an equal footing.
Senior club members take immense pleasure in helping newcomers understand and play the game in a fun environment. Newport Barefoot bowling sessions include equipment and are terrific fun for groups of friends that want to catch up and try something new.
The club's friendly membership invites you and yours down to the Newport Bowlo any Wednesday or Saturday to meet our welcoming bunch of friendly locals who thrive in Newport's sunshine and fresh sea air.
Until you try it, you can't know just how enjoyable bowls can be. So why not make a booking for any time you like, call 9999 1661 email
newportbowling@bigpond.com
or just drop by and introduce yourself.
Newport Bowling Club, Cnr. Barrenjoey & Palm Roads, Newport.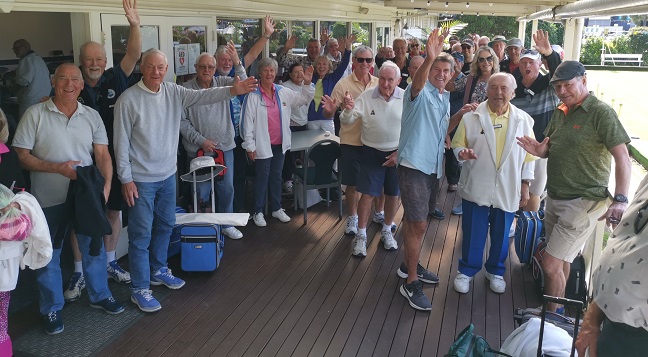 Aged Care Taskforce Principles Welcomed
National Seniors Australia has stated it welcomes the announcement of the Aged Care Taskforce draft aged care principles.
Chief Advocate Ian Henschke said these guiding principles will help drive the much-needed reforms and reflect what our members and the wider community have been telling us for years.
"Older people tell us they want to stay in their own home and not go into an aged care home, so we're pleased this is one of the key priorities," Mr Henschke said.
"We also have long called for a simpler, fairer, more transparent system. This is now listed as a key part of the way forward. Most importantly, accountability for all funding received is now enshrined, so taxpayers and recipients of care can have confidence in the system they pay for.
"These principles are a good way to start the funding reform process, along with the commitment to community consultation. Older people, their families and the community should have their faith restored in aged care, which is a fundamental part of Australia's health care system."
Principle 1
– The aged care system should enable and encourage participants to remain in their home for as long as they wish and can do so.
Principle 2
– Aged care funding arrangements and their outcomes should be fair, simple, transparent and sustainable.
Principle 3
– Government is and will continue to be the major funder of aged care. Government funding should be focused on care costs. Personal contributions should be focused on accommodation and everyday living costs with a sufficient safety net.
Principle 4
– Government and participant contributions should be sufficient to provide quality and appropriate care delivered by a skilled workforce, allowing and encouraging innovation by the health, hospital and aged care systems.
Principle 5
– There should be accountability for funding received from government and participants, how it is spent, and the quality of the services provided.
Principle 6
– The residential sector should have access to sufficient, and new, capital to encourage the development of new accommodation and upgrades to existing accommodation.
Pharmacy UTI Prescribing Clinical Trial Misses The Mark For Quality Care: NSW AMA
AMA (NSW) acknowledges the extension of the clinical trial into NSW Pharmacy UTI prescribing starting today but says anything other than GP-led prescribing and treatment is a lesser and dangerous option.
AMA (NSW) President, Dr Michael Bonning said the NSW Government's choice to proceed with the pharmacy prescribing scheme as a clinical trial, as opposed to what is taking place interstate, is simply a slight improvement on bad policy.
Dr Bonning has urged those conducting the trial, which has been extended from around 100 to around 1000 pharmacies, to include vital measures to ensure safety, avoid adverse reactions, and achieve the best possible outcomes for patients.
AMA (NSW) encourages the trial to focus on whether
there is an increase in antibiotic use amongst patients
patients accessing the trial would have otherwise accessed an emergency department
patients would simply have managed the condition themselves
a patient's GP will receive notification regarding what has been prescribed by a pharmacist to ensure safe prescribing practices in future as well as an opportunity to investigate underlying health issues
this is an appropriate use of resources
Dr Bonning said the main concern is an increase in the use of antibiotics.
"The trials are already demonstrating that most patients receive antibiotics and are not given other management options," Dr Bonning said.
"It is recognised that antimicrobial resistance is one of the biggest challenges facing our health system.
"A lifelong overreliance on antibiotics can have significant unintended consequences including allergic reactions, harder to treat bacterial infections, yeast infections and dangerous infections of the large intestine.
"Governments across the country are announcing access to extended prescribing for UTIs because they might think it's popular with voters.
"But the question should be: is it safe for patients?
"As a GP, I know from working closely with my patients and monitoring their health that UTIs are painful, embarrassing and often occur at difficult times.
"I also know that, as a society, we are exhausted by dealing with COVID, flu and other illnesses and often find it difficult to take time off work to recover.
"For all these reasons, the appeal of a quick fix might seem like a good idea at the time – but it is not good health policy.
"It's not a good model for patients and ultimately it's bad for the health system to fragment care and expose patients to long term consequences."
Dr Bonning said the NSW health system is currently reeling from more than 30 years of governments taking the easy way out on health, particularly by avoiding or delaying the preventative health strategies we need.
"Governments for decades have relied on the skills of doctors and advances in medications to keep our populations healthier for longer," Dr Bonning said.
"The evidence shows that doctor-led care delivers the best health outcomes for patients, the community, and the health system.
"AMA (NSW) welcomes innovative solutions to the vast issues besetting the health system, but patients would be better served by having greater access to their GPs, not quick fix short-term alternatives.
"Put the patients first. Invest more in general practice."
First Fuel Discount Helps Seniors Across NSW Fill Up For Less
NSW Seniors Card and Senior Savers Card members across the state can now save 4 cents per litre on every fuel purchase at participating United service stations, using a digital or physical fuel discount card.
Minister for Seniors Jodie Harrison said cost of living can be a challenge for older people and every dollar counts.
"This brand new discount has been added to the wealth of Seniors Card savings to help keep more money in seniors' pockets and ease price pressure at the pump," Minister Harrison said.
"We want our Seniors Card and Senior Savers Card holders to get the best possible benefits, discounts, and special offers, and we're excited to launch the program's first fuel discount with United Petroleum, an Australian-owned business offering discounts to members at the bowser."
Head of Loyalty at United Petroleum Judith Russell said Seniors Card and Senior Savers Card members simply need to sign up for a United digital or plastic fuel discount card online to save 4 cents per litre.
"Members then need to show and scan this United fuel discount card at the time of purchase at participating United service stations to save the 4 cents per litre," Ms Russell said.
"The discount can be used once a day for a purchase to a maximum of 150L in a single transaction."
If seniors choose a digital card, this can be used straight away, while the plastic card will be delivered within 5 to 15 business days.
The NSW Seniors Card and Senior Savers Card are the largest programs of its kind in Australia and have been running for 31 years. Current discounts available on both cards include several to ease the cost of living:
Woolworths: 5% off WISH e-gift cards
IGA: 5% off gift cards
AGL: up to $200 in sign up credits when switching to the AGL Seniors Saver plan. That's $100 for electricity and $100 for gas. Offer available to new and moving customers only
Energy Australia: exclusive guaranteed 12% off electricity and 10% off gas rates
Insure and Go: 15% off Insure and Go travel insurance policies
Norton: 56% off Norton 360 Deluxe (first year subscription)
RSPCA: 50% senior pet adoption + 10% off RSPCA veterinary services
ACCC Denies Authorisation For ANZ To Acquire Suncorp Bank
The ACCC has decided not to grant merger authorisation for ANZ Banking Group (ASX:ANZ) to acquire Suncorp Group's (ASX:SUN) banking arm.
Under the statutory test, the ACCC must not grant authorisation unless it is satisfied in all the circumstances that the proposed acquisition would not be likely to substantially lessen competition, or that the likely public benefits would outweigh the likely public detriments.
"We are not satisfied that the acquisition is not likely to substantially lessen competition in the supply of home loans nationally, small to medium enterprise banking in Queensland, and agribusiness banking in Queensland," ACCC Deputy Chair Mick Keogh said.
"These banking markets are critical for many homeowners and for Queensland businesses and farmers in particular. Competition being lessened in these markets will lead to customers getting a worse deal."
"Second-tier banks such as Suncorp Bank are important competitors against the major banks, especially because barriers to new entry at scale into banking are very high. Evidence we obtained strongly indicates that the major banks consider the second-tier banks to be a competitive threat," Mr Keogh said.
"The proposed acquisition of Suncorp Bank by ANZ would further entrench an oligopoly market structure that is concentrated, with the four major banks dominating. It also limits the options for second-tier banks to combine and strengthen in a way that would create a greater competitive threat to the major banks."
Increased likelihood of coordination in Australian home loans market
"We are not satisfied that the acquisition is not likely to substantially lessen competition in the supply of home loans to Australian consumers," Mr Keogh said.
"We consider there is an increased likelihood of coordination between the four major banks in the supply of home loans should Suncorp Bank become part of ANZ. Coordinated market outcomes mean competition is muted at best, to the detriment of customers."
"A substantial lessening of competition in home loans would have major flow-on impacts to Australians with a mortgage. More than a third of Australian households have a mortgage, with loans totalling around two trillion dollars, illustrating how critical it is that competition in this market is not substantially lessened," Mr Keogh said.
"The proposed acquisition increases the likelihood that the major banks adopt a 'live and let live' approach to each other, aimed at maintaining or protecting their existing market shares. This is instead of competing strongly on price, innovation and the quality of their service and products to win customers."
The ACCC considers the Australian home loans market is already at risk of coordination between the major banks for a number of reasons, including banks' ability to price signal, the similarities of the major banks in terms of size and structure, the stability of the existing market structure and high barriers to entry.
"While there is evidence of increased competition in the home loans market recently, including in the form of cash-back offers to consumers, we are not persuaded that this level of competition will continue," Mr Keogh said.
"We note recent commentary by bank chief executives that they are stepping back from aggressive promotions. If this market was truly competitive, we would not expect to see banks publicly flagging plans to reduce the competitiveness of their offerings."
The acquisition of Suncorp Bank would boost ANZ's market share in home loans to be above NAB, and closer to the Commonwealth Bank and Westpac. Increased symmetry between competitors can increase the likelihood of coordination, as there is less incentive to upset the status quo and try to win market share by aggressively competing for customers.
"If ANZ doesn't acquire Suncorp Bank it will remain the smallest of the major banks, giving it a stronger incentive to disrupt any coordination in the market," Mr Keogh said.
"The acquisition by ANZ would also remove the potential for a Bendigo and Adelaide Bank deal with Suncorp Bank. That potential combination would likely strengthen and diversify the competitive power of second-tier banks, reducing the likelihood of coordination."
Small and medium business banking in Queensland
"Our assessment found that the supply of small to medium enterprise banking services in Queensland is already concentrated. The acquisition would significantly increase ANZ's market share," Mr Keogh said.
"We are not satisfied there would not be a likely substantial lessening of competition in small to medium-sized business banking in Queensland."
"Suncorp Bank is an important competitor for business customers in Queensland. It offers a differentiated product with a strong focus on customer relationships and smaller businesses. That differentiated offer, and the competitive benefits it brings for Queensland businesses, will not be available if ANZ acquires Suncorp Bank," Mr Keogh said.
Agribusiness banking in Queensland
"We found agribusiness banking to have a strong local focus, with bankers typically visiting farmers and developing a detailed understanding of their requirements. We found agribusiness customers value specialised banking services with local knowledge and industry expertise," Mr Keogh said.
"Suncorp Bank is a vigorous agribusiness banking competitor in many local areas of Queensland, and in particular competes strongly and directly against ANZ in areas such as Ayr, Bundaberg, Cairns, Dalby, Emerald, Mackay, Rockhampton, Roma, Goondiwindi, Townsville, and Toowoomba."
"Agribusiness banking services in Queensland are already concentrated. Removing Suncorp Bank's independent presence will likely lead to worse offerings being made to Queensland farmers," Mr Keogh said.
The ACCC is not satisfied there would not be a likely substantial lessening of competition in agribusiness banking in Queensland.
The potential of Suncorp Bank combining with Bendigo and Adelaide Bank
In order to assess the competitive impact of a proposed acquisition, the ACCC considers the likely future state of competition with and without the proposed acquisition.
"In considering the likely outcomes if ANZ does not acquire Suncorp Bank, the ACCC considers there are two commercially realistic potential scenarios; that Suncorp Bank largely continues as it is now or that it merges with or is acquired by a second-tier bank, specifically Bendigo and Adelaide Bank," Mr Keogh said.
"Suncorp Group's own documents show that these were the two options that it considered as alternatives to the proposed sale of its banking arm to ANZ."
Whether or not Suncorp Bank would combine with Bendigo and Adelaide Bank if the ANZ transaction does not go ahead was keenly contested by a range of stakeholders during the ACCC's assessment.
The ACCC assessed the issue of a potential Suncorp Bank deal with Bendigo and Adelaide Bank very closely, and considered many witness statements, expert reports and internal emails and documents and questioned bank executives under oath.
"After undertaking this intensive assessment, the ACCC considers that there is a realistic prospect of a Suncorp Bank transaction with Bendigo and Adelaide Bank. We know Suncorp has extensively considered the option of a transaction with Bendigo and Adelaide in particular," Mr Keogh said.
"While we are not saying such a merger between Suncorp Bank and Bendigo and Adelaide Bank will definitely occur if the ANZ deal does not proceed, we consider it is sufficiently likely that it is necessary to consider this scenario as part of the ACCC's assessment."
The ACCC accepts that ANZ would benefit from cost savings from the proposed acquisition and that Suncorp Group would benefit from being able to focus on its insurance business. There may also be prudential benefits from the transaction.
However the ACCC considers that those benefits do not outweigh the likely detriments, particularly competitive detriments likely to result from the proposed acquisition.
ANZ has also claimed benefits to Queensland's economy through establishing a Brisbane tech hub and through increased lending to businesses in Queensland, including lending to support renewable energy targets and new energy projects.
"Based on a recent determination from the Australian Competition Tribunal, it may not be appropriate for us to take the claimed Queensland benefits into account. However, even when taken into account they are insufficient to offset the competitive harm," Mr Keogh said.
"After taking into account all of the claimed benefits we are not satisfied they are enough to outweigh the likely significant detriments to competition in banking markets that have the potential to impact many Australian households and businesses."
Under the Competition and Consumer Act, the legal test the ACCC must apply in an application for merger authorisation is different to the informal merger review process, which is the most common avenue merger parties use to seek the ACCC's views on a proposed acquisition.
Under the statutory test for authorisation, the ACCC must not grant authorisation unless it is satisfied in all the circumstances that the proposed acquisition would not be likely to substantially lessen competition, or that the likely public benefits would outweigh the likely public detriments.
On 2 December 2022, the ACCC received an application for merger authorisation from ANZ in relation to its proposal to acquire Suncorp Bank.
The ACCC issued a statement of preliminary views on 4 April 2023.
The proposed acquisition involves ANZ acquiring the banking arm of Suncorp Group. Suncorp Group also owns and operates insurance businesses in Australia and New Zealand. Those insurance businesses do not form part of the proposed acquisition and will continue to be operated by Suncorp Group.
The ACCC sought the views of a range of interested parties including providers of banking and financial services, consumer organisations, and brokers and aggregators.
Submissions and expert reports are available on the ACCC's public register, except if information has been excluded for confidentiality or other reasons.
In addition to the ACCC's review, the proposed acquisition is subject to Federal Treasurer approval under the Financial Sector (Shareholdings) Act and Queensland legislative amendments.
Study Highlights Importance Of Mineral Iron In Ocean Ecosystems
New research published today in Nature has revealed the importance of mineral forms of iron in regulating the cycling of this bio-essential nutrient in the ocean.

The findings pave the way for new work on the relationship between the iron and carbon cycles and how changing ocean oxygen levels may interact.
The study, led by the University of Liverpool and involving collaborators in the United States, Australia and France, addresses a knowledge gap in ocean research.
Principal Investigator Professor Alessandro Tagliabue said: "To date we have not fully appreciated the role that mineral forms of iron have played in driving the distributions and temporal dynamics of iron in the ocean"
The ocean of the early earth was low in oxygen and rich in iron, which was incorporated as a catalyst in many biological reactions. These include photosynthesis, which via its proliferation oxygenated the earth system. As iron is less soluble in well oxygenated seawater, precipitation and sinking of iron oxides led to iron levels declining. Consequently, iron now plays a critical role in regulating ocean productivity and hence ecosystems across the contemporary ocean.
It is thought that iron levels are largely regulated above their soluble thresholds by organic molecules called ligands, which bind iron. This view has underpinned the representation of the marine iron cycle in global models used to explore how changes in climate affect levels of biological productivity in the future.
However, oceanographers have been puzzled as to why there seemed to be a much larger loss of iron due to insolubility from the ocean than expected from the measured high levels of ligands. The ocean models built according to the expected pattern have generally performed poorly in reproducing observations.
This project, which was a process study contribution to the international GEOTRACES effort was jointly funded by the US National Science Foundation and the UK Natural Environment Research Council and examined the processes driving the cycling of iron over an annual cycle for the first time.
It revealed that iron was largely cycling independently of ligands in the upper ocean and instead controlled by the clustering of iron oxide colloids to form so-called 'authigenic' particles that are lost from the upper ocean.
The authors developed a new numerical model to both explain their results and extrapolate their findings across the ocean. The new model performed markedly better in reproducing other independent observations and highlighted that this new process was important in around 40% of upper ocean waters.
A key implication is that this process occurs via the co-aggregation of iron oxides and carbon, which has implications for the global carbon cycle and may be sensitive to future trends of ocean oxygen loss.
"These findings will cause us to reassess our understanding of the iron cycle and its sensitivity to changing environmental conditions," said Professor Tagliabue.
The University of Liverpool-led study also involved researchers from the University of South Florida, Oregon State University, Bigelow Laboratory for Ocean Sciences, Sorbonne Université,
University of Tasmania
, University of Leeds, the Bermuda Institute of Ocean Sciences, University of Georgia, and Old Dominion University.
Professor Tagliabue said: "Our work was only possible thanks to the efforts to measure multiple different forms of iron in seawater over the annual cycle at the Bermuda Atlantic Time Series site."
Alessandro Tagliabue, Kristen N. Buck, Laura E. Sofen, Benjamin S. Twining, Olivier Aumont, Philip W. Boyd, Salvatore Caprara, William B. Homoky, Rod Johnson, Daniela König, Daniel C. Ohnemus, Bettina Sohst, Peter Sedwick.
Authigenic mineral phases as a driver of the upper-ocean iron cycle.
Nature, 2023; 620 (7972): 104 DOI:
10.1038/s41586-023-06210-5
State-Of-The-Art Technology Arrives At New Nepean Hospital Pathology Laboratory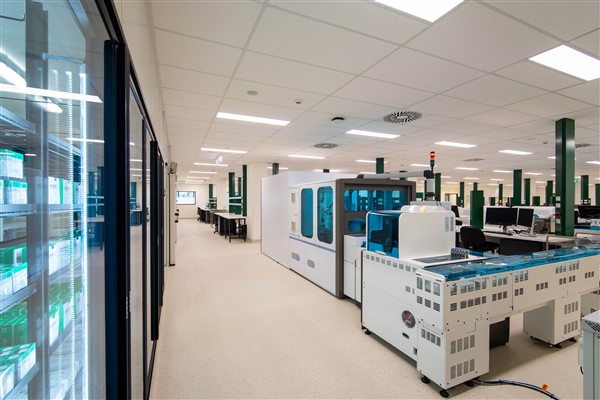 The latest in cutting-edge medical technology is being rolled out in a new state-of-the-art pathology laboratory at Nepean Hospital, as part of a $29 million investment in NSW Health Pathology laboratories across western Sydney and regional NSW, the state government has announced.
NSW Health Minister Ryan Park marked the official opening of the hospital's new Pathology Laboratory, a key feature of Nepean Hospital's $1 billion redevelopment.
Mr Park said the new facility is one of the first NSW Health Pathology laboratories to be fitted with advanced new chemical pathology analysers, and will provide a range of common tests such as liver and kidney function tests and diabetes monitoring.
"Nepean is one of the first laboratories in NSW to receive this state-of the-art diagnostic equipment, which will enhance the services and facilities available to patients treated at the hospital," Mr Park said.
"The expanded Pathology Laboratory is 1.5 times larger than the previous lab and features the latest equipment, which will revolutionise the way staff work and carry out testing.
"Pathology is a crucial tool in detecting, diagnosing and treating disease, as well as an important aspect of managing long-term medical conditions."
Auburn, Blacktown, Blue Mountains, Mount Druitt, Nepean and Westmead Hospitals will receive new chemical pathology analysers as part of the $29 million program roll out.
NSW Health Pathology is investing in the latest automation technology, which will further improve efficiencies around the movement and processing of samples in larger laboratories, like Nepean.
Member for Penrith Karen McKeown said she was thrilled to mark the opening of the new pathology laboratory.
"This hospital has been at the heart of this community for more than 150 years and will give the communities of Penrith and the Blue Mountains access to world-class diagnostic health care," Ms McKeown said.
"During stage 1 of the redevelopment, more than 3700 contractors were employed to work on this major project, with 73% of them living in Western Sydney, and thousands of more jobs will be supported during the stage 2 development."
The pathology laboratory was fast-tracked as part of stage 2 development of the $1 billion Nepean Hospital redevelopment.
The completion of the pathology laboratory will enable construction to start on the hospital's new stage 2 building, which will include:
a new adult intensive care unit
renal services
medical imaging
more than 100 inpatient beds.
The Nepean Redevelopment is being delivered in 2 stages – with stage 1 of the $1 billion redevelopment opening to patients and staff in 2022.
The new stage 2 building will seamlessly connect to the 14-storey Stage 1 tower and construction is being carefully staged to minimise disruption to patients, visitors and staff, and to maintain hospital services at all times.
Construction for stage 2 of the Nepean Redevelopment is currently underway and is scheduled for completion in 2026.
Whale-Like Filter-Feeding Discovered In Prehistoric Marine Reptile
A remarkable new fossil from China reveals for the first time that a group of reptiles were already using whale-like filter feeding 250 million years ago.
New research by a team from China and the UK has shown details of the skull of an early marine reptile called 'Hupehsuchus' that indicate it had soft structures such as an expanding throat region to allow it to engulf great masses of water containing shrimp-like prey, and baleen whale-like structures to filter food items as it swam forward.
The team also found that the Hupehsuchus skulls show the same grooves and notches along the edges of its jaws similar to baleen whales, which have keratin strips instead of teeth.
"We were amazed to discover these adaptations in such an early marine reptile," said Zichen Fang of the Wuhan Center of China Geological Survey, who led the research. "The hupehsuchians were a unique group in China, close relatives of the ichthyosaurs, and known for 50 years, but their mode of life was not fully understood."
"The hupesuchians lived in the Early Triassic, about 248 million years ago, in China and they were part of a huge and rapid re-population of the oceans," said Professor Michael Benton, a collaborator at the University of Bristol's School of Earth Sciences. "This was a time of turmoil, only three million years after the huge end-Permian mass extinction which had wiped out most of life. It's been amazing to discover how fast these large marine reptiles came on the scene and entirely changed marine ecosystems of the time."
"We discovered two new hupehsuchian skulls," said Professor Long Cheng, also of the Wuhan Center of China Geological Survey, who directed the project. "These were more complete than earlier finds and showed that the long snout was composed of unfused, straplike bones, with a long space between them running the length of the snout. This construction is only seen otherwise in modern baleen whales where the loose structure of the snout and lower jaws allows them to support a huge throat region that balloons out enormously as they swim forward, engulfing small prey."
Li Tian, a collaborator from the University of Geosciences Wuhan, added: "The other clue came in the teeth… or the absence of teeth," a collaborator from the University of Geosciences Wuhan. "Modern baleen whales have no teeth, unlike the toothed whales such as dolphins and orcas. Baleen whales have grooves along the jaws to support curtains of baleen, long thin strips of keratin, the protein that makes hair, feathers and fingernails. Hupehsuchus had just the same grooves and notches along the edges of its jaws, and we suggest it had independently evolved into some form of baleen."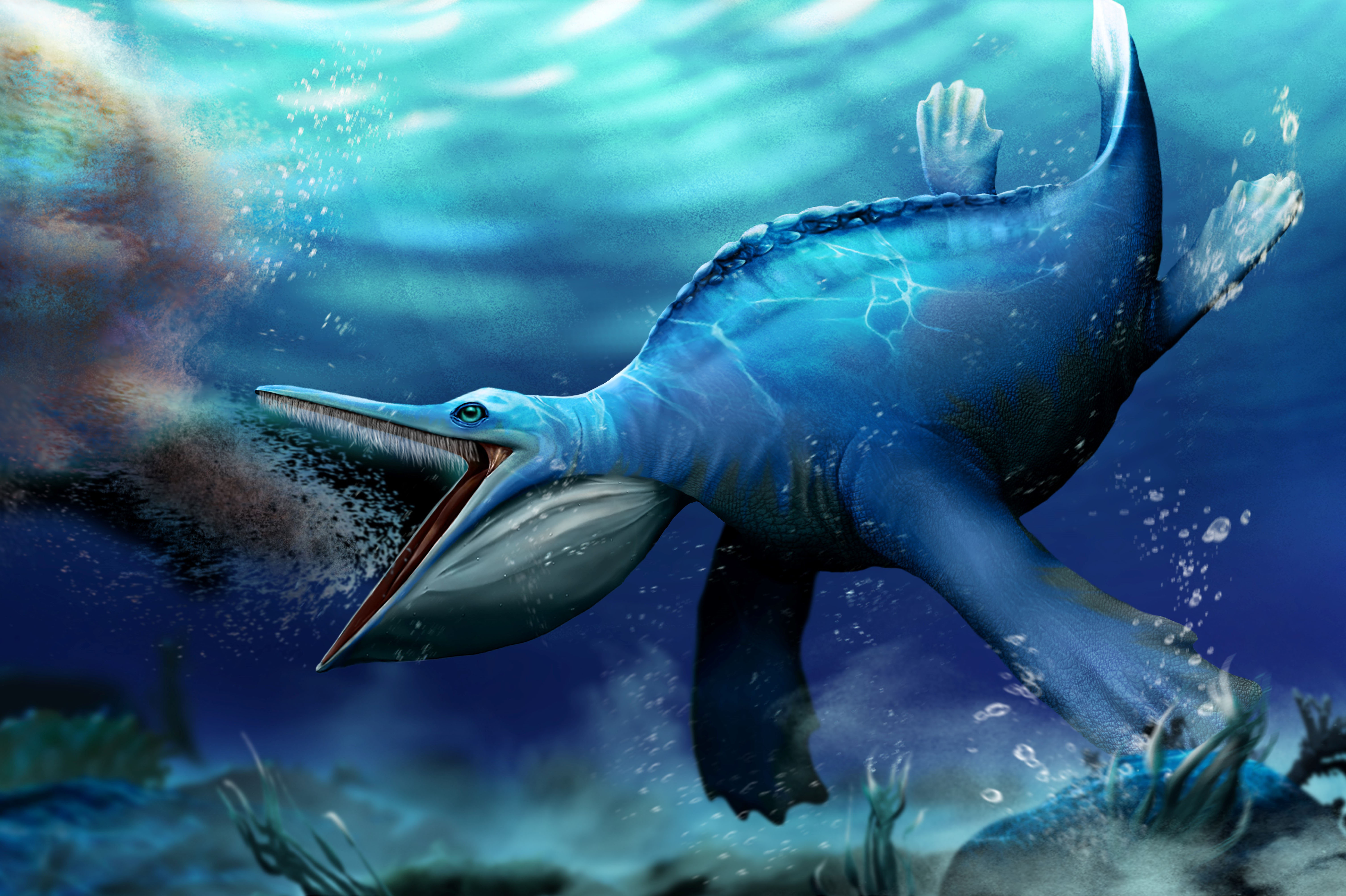 Reconstruction of Hupehsuchus about to engulf a shoal of shrimps. Image credit: Artwork by Shunyi Shu, © Long Cheng, Wuhan Center of China Geological Survey.

Zi-Chen Fang, Jiang-Li Li, Chun-Bo Yan, Ya-Rui Zou, Li Tian, Bi Zhao, Michael J. Benton, Long Cheng, Xu-Long Lai.
First filter feeding in the Early Triassic: cranial morphological convergence between Hupehsuchus and baleen whales
. BMC Ecology and Evolution, 2023; 23 (1) DOI:
10.1186/s12862-023-02143-9
Australia's First Purpose-Built Cystic Fibrosis Specialist Service Ward Opens At Westmead Hospital
Adults living with cystic fibrosis can now access state-of-the-art care in Australia's first dedicated Cystic Fibrosis Specialist Service ward at Westmead Hospital, in western Sydney.
NSW Health Minister Ryan Park was joined by Member for Parramatta Donna Davis to mark the official opening of the $65 million facility, which was fully funded by the Commonwealth Government.
Federal Minister for Health Mark Butler said the purpose-built ward in the Westmead Health Precinct will provide essential support and treatment for people living with this common genetic disorder, which impacts approximately 3,600 Australians.
"This dedicated facility will provide highly specialised care and treatment for adults living with cystic fibrosis," Mr Butler said.
"There is no cure for cystic fibrosis but treatment has come a long way, and with an improvement in treatment comes an increase in the life expectancy of people living with the condition.
"On average, a person with cystic fibrosis needs to be admitted to hospital once a year which requires a high level of multidisciplinary care from doctors, nurses, physiotherapists and dietitians.
"This service will make a big difference to patients and their families."
Mr Park said the new facility will provide more pathways for patients with cystic fibrosis to receive specialised treatment for this complex condition.
"This facility will go a long way in improving treatment outcomes for those in our community with cystic fibrosis," Mr Park said.
"The 16-bed inpatient unit has four airborne infection isolation rooms and a specialised outpatient unit which will make a world of difference to patients and their families, with expert staff focused on cystic fibrosis able to deliver more personalised care.
"This will also provide us with opportunities to enhance our research capabilities to better understand and treat the disease in future for those living with the condition."
The contemporary outpatient unit features 10 consultation rooms, four single rooms for day-stay patients, a procedural room and a dedicated research area for clinical trials and diagnostic services.
Western Sydney Local Health District Chief Executive Graeme Loy said the Cystic Fibrosis Specialist Service is another great example of health innovation within the Westmead Health Precinct.
"People with cystic fibrosis are now living longer than ever before thanks to massive improvements in treatment and care," Mr Loy said.
"This new facility offers an exciting opportunity to carry out new research and clinical trials and offer patients world-leading treatments for this disease."
A commemorative plaque in honour of 27-year-old Sydney doctor, Malay Rana, who died in 2015 following complications from cystic fibrosis, was also unveiled at the facility.
"There are still many like Dr Malay Rana, who lost his life at just 27 years old, who need specialised services and continued research to provide quality and quantity of life," Mr Loy said.
"Dr Malay was a strong advocate for people living with cystic fibrosis and was dedicated to raising community awareness and campaigning for improved speciality services within NSW and now here we are today, opening this facility in his honour."
Dr Malay's family were involved throughout the planning and design stages of the project and valuable insights were provided, creating person-centred inpatient and outpatient services tailored to the needs of cystic fibrosis consumers.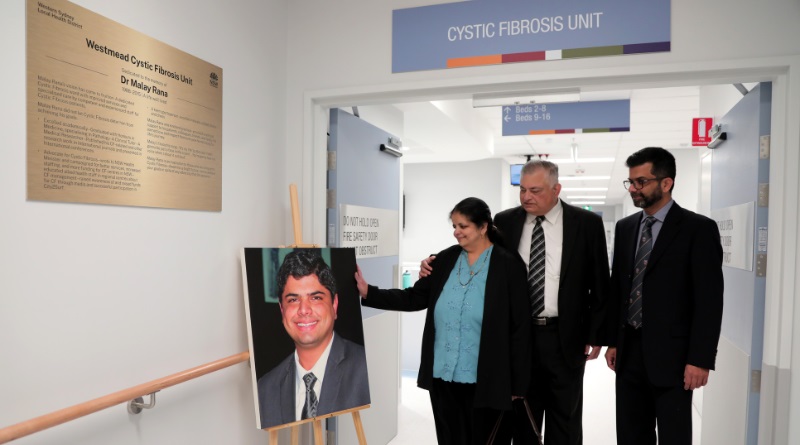 Dr Malay Rana, a Westmead Hospital patient and doctor, was honoured with a plaque at the entrance to the CF unit. Pictured are his parents and uncle at the opening of the unit. Photo: NSW Government/Westmead Hospital

Member for Parramatta Donna Davis said the ward will enhance the already extensive suite of healthcare services that are available at Westmead.
"I'm really excited about the opportunity this specialist service brings to those living with cystic fibrosis across the region," Ms Davis said.
"This purpose-built ward will build further on what the incredible Westmead Health Precinct already offers as a major centre for education, research, innovation and jobs."
Cystic fibrosis is a genetic condition affecting the lungs and digestive systems because of a break down in the exocrine system that is responsible for producing saliva, sweat, tears and mucus.
The Westmead Health Precinct is one of the largest health, education, research and innovation precincts in Australia and is a key provider of jobs for the greater Parramatta and western Sydney region.
The NSW Government stated that more than $3 billion has been committed by government and their precinct partners to upgrade and expand the Precinct's health services, education, research and innovation facilities over the coming years.
$2 Million To Support Motor Neurone Disease Research In NSW
The NSW Government has announced it will invest $2 million to support research into Motor Neurone Disease (MND) in NSW, including in the state's Riverina.
Premier Chris Minns announced funding for the research has now been approved and said it will go a long way in helping to better understand the incidence of MND across NSW.
"This $2 million investment delivers on our election commitment to fund research on MND in the Riverina," Mr Minns said.
"It's estimated that Motor Neurone Disease affects around eight per 100,000 people in Australia, and we know around 90 per cent of cases occur sporadically, without any apparent reason or family link.
"The NSW Government has committed this funding to support people affected by MND and to better understand the causes of the condition."
"The funding will be allocated using a merit-based assessment and in close consultation with key academic groups."
NSW Health Minister Ryan Park said the $2 million commitment arose as a result of community concerns of potential MND clusters in parts of NSW.
"MND is a rare, progressive neurological disorder which causes rapid degeneration of muscle activity and can impair walking, talking, breathing and general functioning," Mr Park said.
"That's why this research is so important, so we can better understand the causes and, hopefully, improve treatment and outcomes."
Minister for Medical Research David Harris said there are many theories about the causes of sporadic cases of MND and there is extensive and ongoing international research in the space.
"With this funding, we will put NSW at the forefront of MND research – working with industry partners to better understand the occurrence of MND," Mr Harris said.
"NSW Health will liaise with key academic groups and implement a merit-based process to deliver the NSW Government's commitment to MND research."
NSW Health monitors the rate and distribution of MND cases through routinely collected hospital admission and mortality data.
Out With The Life Coach- In With The Chatbot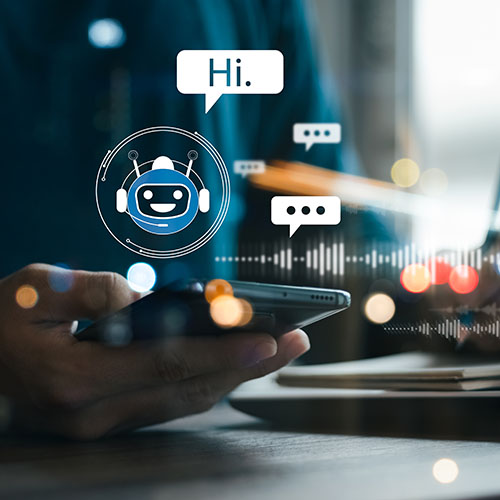 As we start to edge out of winter, improving our diet and boosting our exercise start to appear on our agenda. But, when it comes to encouraging a healthier lifestyle, it may surprise you that artificial intelligence could be your best friend.
Now, in a first systematic review and meta-analysis of its kind, researchers at the University of South Australia show that chatbots are an effective tool to significantly improve physical activity, diet and sleep, in a step to get ready for the warmer months ahead.
Published in Nature Digital Medicine, the study found that chatbots -- otherwise known as conversational agents or virtual assistants -- can quickly and capably support you to increase your daily steps, add extra fruits and vegetables to your diet, and even improve sleep duration and quality.
Specifically, chatbots led to:
An extra 735 steps per day,
one additional serving of fruit and vegetables per day, and
An additional 45 mins of sleep per night.
Insufficient physical activity, excessive sedentary behaviour, poor diet and poor sleep are major global health issues and are among the leading modifiable causes of depression, anxiety and chronic diseases including type 2 diabetes, cardiovascular disease, obesity, cancers and increased mortality.
Lead researcher, UniSA's Dr Ben Singh says the findings highlight the potential of artificial intelligence to revolutionise healthcare delivery.
"When we think of chatbots, we often think of simple applications such as daily news notifications or Uber orders. But in recent years, this technology has advanced to the point where it can sometimes be hard to determine whether you are chatting to a machine, or a real person," Dr Singh says.
"For health, this capability presents tremendous opportunities for chatbots to promote effective interventions that support wellbeing and a healthy lifestyle.
"Their appeal lies in the way that they can generate immediate, appealing, and personalised responses, which prompt users to make better decisions about their everyday movement, eating habits and sleep.
"Interestingly, we found that text-based chatbots are more effective than speech or voice-based AI, which suggests that, at least for the time being, text-based communication is more conducive to achieving positive outcomes in health-related interventions.
Our study found chatbots were effective across different age groups, dispelling the notion that they are useful only for younger, tech-savvy users."
Senior researcher, UniSA's Professor Carol Maher, emphasises that while chatbots present an innovative approach to lifestyle-related health issues, a blended approach of chatbots and human coaching could be the most beneficial.
"Chatbots offer personalised and interactive lifestyle support, that may be more engaging and meaningful to users than other tech-based lifestyle tools." Prof Maher says.
"They adapt to individual user's needs, tailoring their advice based on the user's responses, habits and preferences. The level of personalisation may lead to more effective motivation and advice."
However, caution is also needed.
"This field of research is young, and there is potential for chatbots to give inappropriate advice. For now, using chatbots to supplement human coaching, could be the best solution, offering the best of both worlds -- retaining the unique value of a human coach, combined with round-the-clock support from a chatbot.
"While more research is needed, this study suggests that chatbots could help address certain modifiable factors in lifestyle diseases, such as obesity, alleviating pressure on our health system."
Ben Singh, Timothy Olds, Jacinta Brinsley, Dot Dumuid, Rosa Virgara, Lisa Matricciani, Amanda Watson, Kimberley Szeto, Emily Eglitis, Aaron Miatke, Catherine E. M. Simpson, Corneel Vandelanotte, Carol Maher.
Systematic review and meta-analysis of the effectiveness of chatbots on lifestyle behaviours
. npj Digital Medicine, 2023; 6 (1) DOI:
10.1038/s41746-023-00856-1
Disclaimer: These articles are not intended to provide medical advice, diagnosis or treatment. Views expressed here do not necessarily reflect those of Pittwater Online News or its staff.