July 24 - 30, 2022: Issue 547
The 1957 Girl Guides Centenary World Camp at Windsor: a 65th anniversary celebration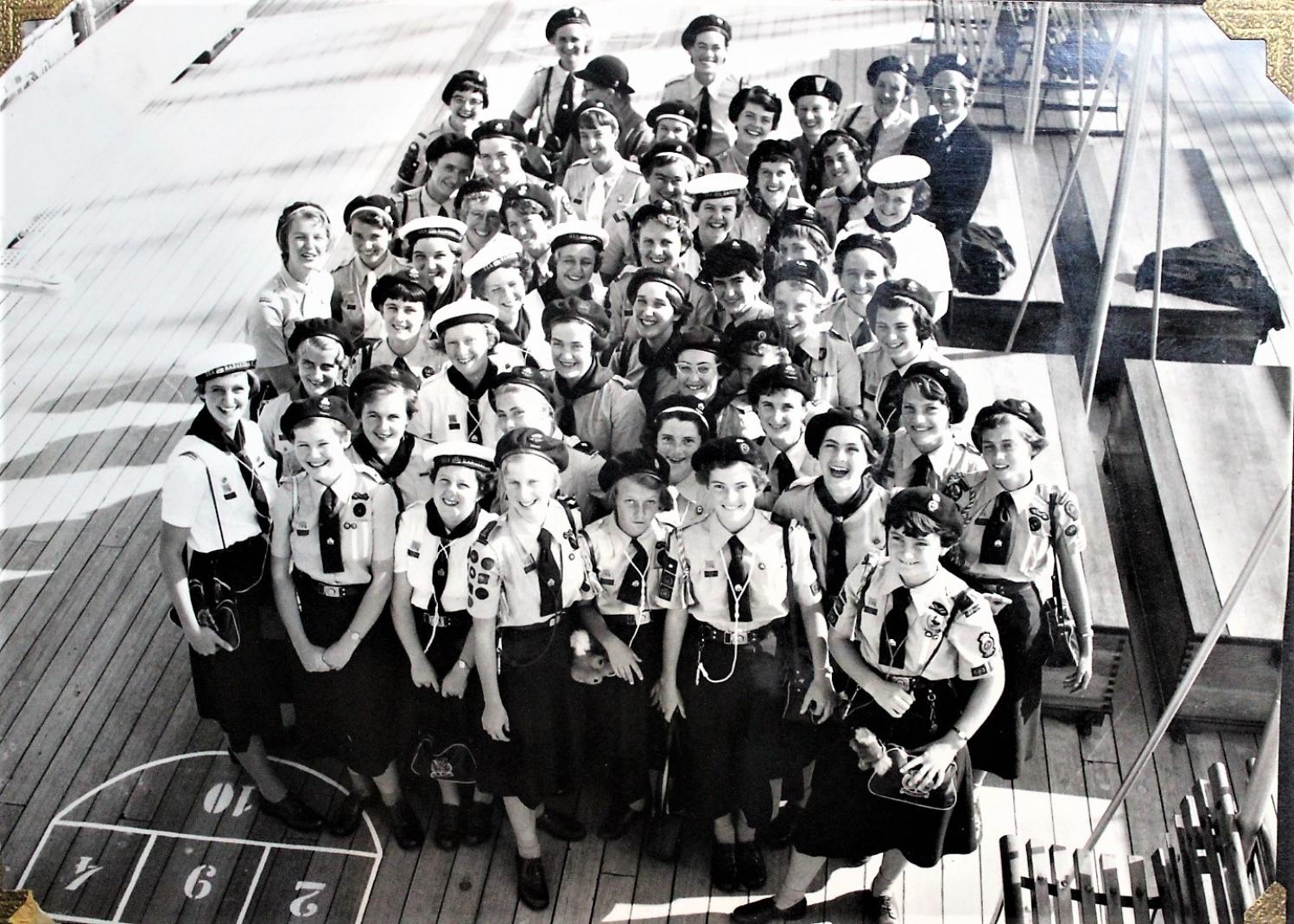 The Australian BP Contingent of Girl Guides which travelled overseas to attend the World Guide Camp at Windsor in 1957.
At the 15th World Conference of the World Association of Girl Guides and Girl Scouts it was decided to mark the centenary of the birth of Lord Baden-Powell, the founder of Guiding, by holding a World Camp in four locations. These were the Philippines, Switzerland, the United Kingdom and Canada.
The Windsor World Camp was held at The Windsor Great Park, England was held from July 26th to August 8th, which means Tuesday this week will be the 65th anniversary of this event.
This was the first time Australia sent a contingent of Girl Guides to Europe to attend a World Camp. These Australian girls would also visit Switzerland when the 3rd World Ranger Week was in session and this too was a first for Australia, being the inaugural time our country had been represented at a World Ranger Week. The 8 Sea Rangers that were part of the Australian girls group were in Switzerland from the 15th to the 26th of September along with all members of the Contingent who relished the opportunity of visiting and staying at "Our Chalet', in Switzerland.
All up 4,000 Girl Guides and Girl Scouts from 64 countries attended the Windsor World camp, including: Aden, Antigua, Austria, Australia, Bahamas, Bahrain, Barbados, Belgium, British Guiana, British Honduras, Canada, Ceylon, Cyprus, Denmark, Finland, France, Gambia, Germany, Ghana, Gibraltar, Grenada, Great Britain, Hong Kong, Iceland, India, Ireland, Israel, Italy, Kenya, Lebanon, Leichtenstein, Liberia, Lithuanian Guides in Exile, Luxembourg, Malaya, Malta, Mauritius, Mexico, Netherlands, New Zealand, Nigeria. Northern Rhodesia, Norway, Nyasaland, Pakistan, Philippines, Polish Guides in Exile, Portugal, St. Helena, St. Lucia, St. Vincent, Sierra Leone, Singapore, Spain, South Africa, Southern Rhodesia, Sweden, Tanganyika, Trinidad, Uganda, the United States of America and Zanzibar.
The camp was divided into ten sections, with each section split into eight groups. Each group name had a connection with BP. Each camper wore a disc which was two thirds section colour and one third group colour. The Camp was officially opened on Tuesday 30th July by the World Chief Guide Lady Baden-Powell. H.M. The Queen and H.R.H. The Princess Royal visited the Camp on Sunday August 4th.
These photos are from the albums of Helen Ross who was part of the Tasmanian contingent. Helen is a second cousin of Errol Flynn, who came to Careel Bay in the 1930's, married Andrew Guesdon in the early 1960's, who came to Palm Beach in the 1940's and 1950's, and would run down through Wilshire Reserve to go surfing, and became great and lifelong friends with Rosemary "Joy" Stacy, the NSW Leader of the Australian Contingent to attend a Girl Guide World Camp in England. Joy would visit Helen's Sydney home for Guide Functions for decades after their tour. As 'Mrs. Guesdon' Helen Ross became the much-loved mother of the editor of Pittwater Online News, and has visited Pittwater on several occasions during the past four decades, watching leaping dolphins at Whale Beach being among her fondest memories.
As Miss Ross, and 17 years of age in 1957, she went as a Sea Ranger to the Windsor World Camp after years as a Girl Guide, and later would become a Guide Leader herself.
In Tasmania the Girl Peace Scouts were formed as early as 1909 as the first Girl Guides for that state:
GIRL SCOUTS.
In her march of progress woman has invaded another sphere which the stronger sex might have deemed peculiarly its own. Steps are being taken to form an organisation of "Girl Scouts" on the same lines as the existing organisation of "Boy Scouts." The girls will learn tracking, nature-craft, signalling, and camp cooking in the same way as their brothers. They will be organised in patrols under "scout mistresses." A smart and workmanlike uniform has been adopted for the girl scouts on the following lines:--Soft scarlet biret hat; navy blue blouse, with two military patch pockets, and coloured scarf; navy blue pleated skirt. Belts, haversacks, staves, and mess tins will be of the ordinary '"boy scout" pattern. GIRL SCOUTS. (1909, October 2). Examiner (Launceston, Tas. : 1900 - 1954), p. 3 (DAILY). Retrieved from http://nla.gov.au/nla.news-article50387168
The final Girl Peace Scouts troop in Lindisfarne Tasmania ceased operating in 1935 and later became 1st Lindisfarne Girl Guides, which Helen Ross, later Guesdon, joined. The 2nd Lindisfarne Girl Guides, where Mrs. Helen Guesdon was the Leader, 'giving back' after her earlier years as a Girl Guide and then a Sea Ranger, was also formed as there were a lot of young girls wanting to become Girl Guides. Like her cousin, she has had a lifelong passion for boats and sailing, was hard to keep away from regattas, and has never missed watching the start of the Sydney to Hobart or taking us, as youngsters, to look at the yachts at Constitution Dock, Hobart.
In 1920 a parallel group of older girls of Girl Guides became Sea Guides, with activities and badges geared to their specialised interests. Sea Guides were renamed Sea Rangers in 1927. Sea Rangers in Australia were often given further education and training as part of the Girl Guides - Boy Scouts movement after they ceased to be Girl Guides in the hope that they would become Leaders.
A search for information on the 1957 Windsor World Camp has shown there are attendees sharing memories around the globe but few photographs and postcards from that event remain. People are asking for them on all forums where this camp is fondly discussed. As Miss Ross was an avid taker of photos, including all the Australian state contingents, as well as purchasing postcards and photos available throughout this tour, along with being a great journal writer, those shared here may be of interest to all those who were part of that 1957 celebration as well as to our younger readers who are part of the movement or looking around for something positive to get involved in that will also be self-empowering.
Girl Guides and Boy Scouts then, as now, is ultimately about doing something that is good for you, in learning skills that will set you up for life and can be used everywhere; First Aid or bushcraft for example, is good for the planet, as an organisation that early on had a focus on looking after the environment, and good for humankind, in having at its core caring about and caring for each other and doing for others when and where you can.
As we'd like our younger readers to actually read this page, it is kept mainly about the images - H M Ross' lengthy journal from that trip will be added in at a later stage for our older readership. Her photo albums contain great descriptions anyway.
But first; thank you very much mum for finally letting me run some of this wonderful celebration of the 1957 Windsor World Camp for a 65th Anniversary Celebration.
This page is a follow on from June 2022's Celebration of 100 Years Of Girl Guides In Manly + Some Current Local Units and December 2020's Celebration of Boy Scouts - The Pre-Nippers Life Savers: Some Notes On Local Troops From 1909. Yes; life saving was also part of what you learnt about in Boy Scouts and Girl Guides - and is carried forward today in our Bayview Sea Scouts.
Worth noting is that a the Kani-Karrung Jamboree, a large-scale, week-long Girl Guide event with hundreds of girls from across Australia camping in tents, all made possible through volunteer Leaders and community organisations, will take place 15-21 January 2023 at Victoria Park, Ballarat, Victoria. Kani-Karrung means 'women camping together' in the local indigenous language of the Ballarat area, the Wadawurrung language.
This was also a part of Girl Guides from early on.
The three Guide Leaders who took these young women to England all had camp names from local indigenous languages. Joy Stacy was 'Imonga' (meaning 'echo'), 'Jinki' was Peggy from Melbourne and Sally from Adelaide was 'Canara'. These were also used as their Troop Names within their own home Girl Guide Units.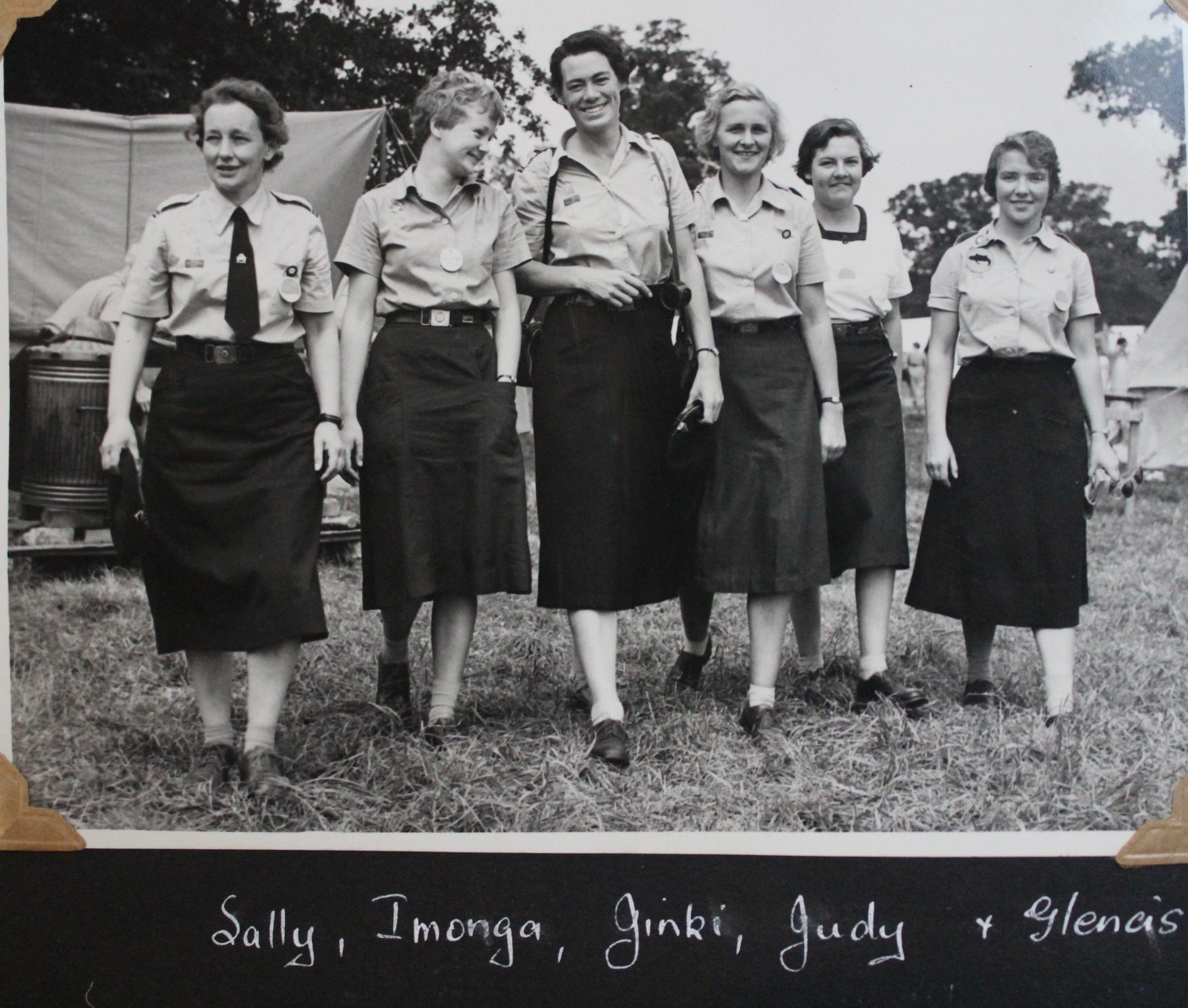 Lady at far left is Jean Tucker from Adelaide, Sally, Joy Stacy from Sydney, 'Jinki' was Peggy Barr from Melbourne, Judy is Judy Barber from Scottsdale, Tasmania and Glencis is Glencis Phillips from South Australia. The three Guide Leaders who took the Australian Contingent to Europe are the slightly older looking girls - they were in their 30's and one was in her 40's.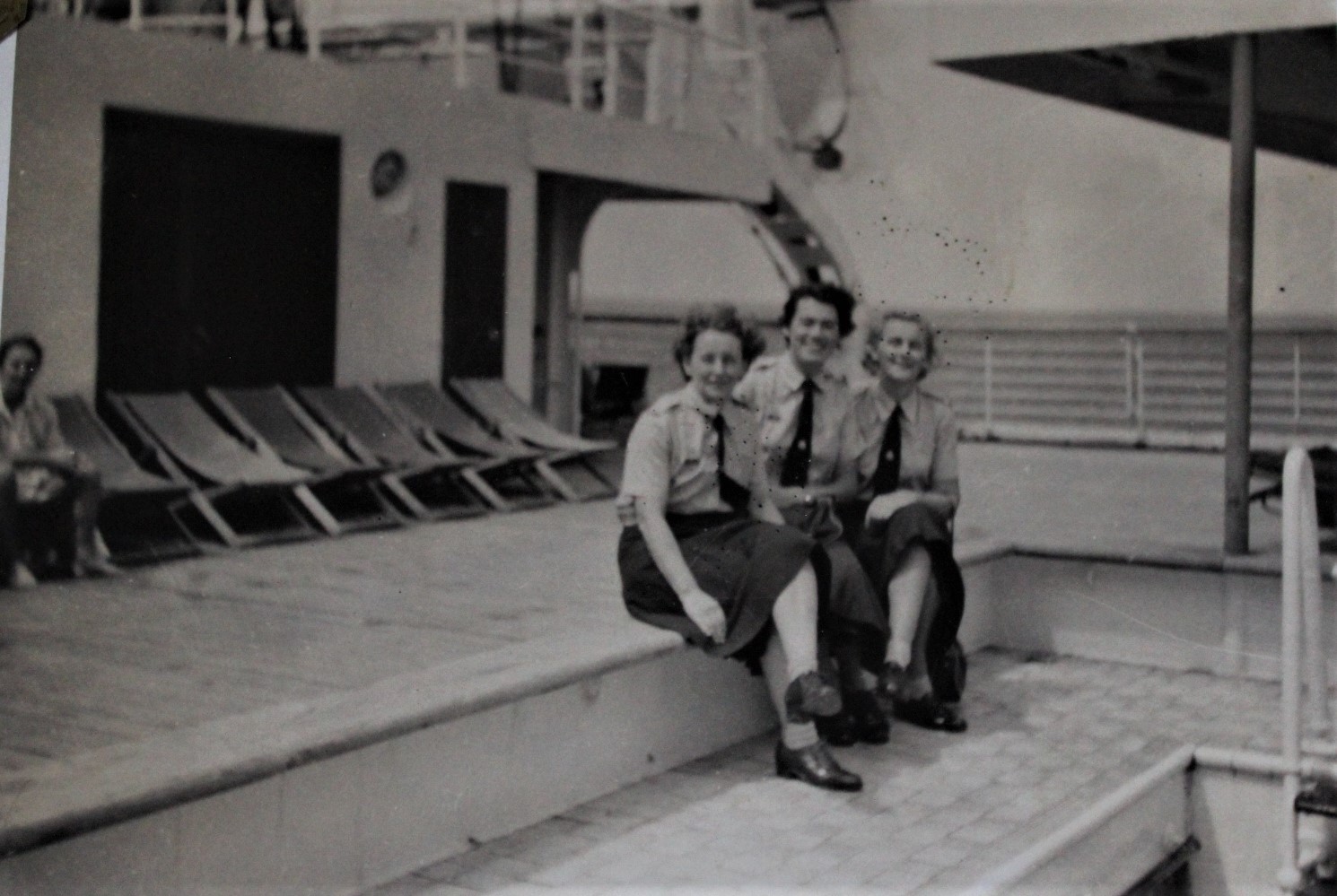 The three Australian Guide Leaders on the boat home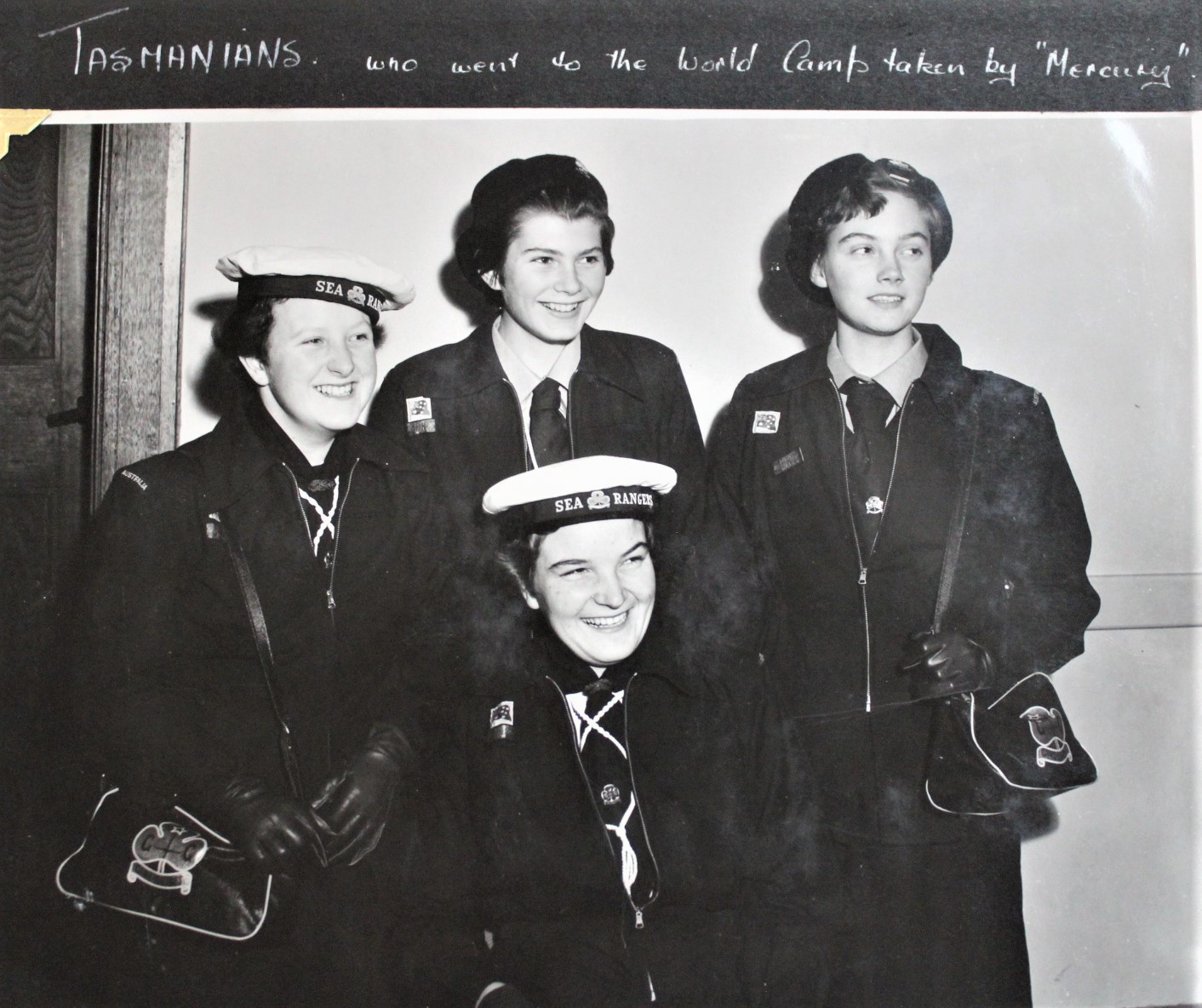 Tasmanian Contingent left to right: Ailsa McDougall, Sheena Nicholls, Anne Gaingell, front: Helen Ross (*missing is Judy Barber as she couldn't make it to 'town', Hobart, for this photo taken by The Mercury to run an article on the Tassie girls going to the 1957 World Camp at Windsor). Cadburys Tasmania provided all the uniforms for the Tasmanian girls and paid in full for one lass to go - so not just good for great chocolate made from Tasmanian milk and cream! Mum paid for herself by working hard on coming home, although she had already been working and saving prior to going. The cost was initially going to be £400 although this increased to £500 when the Suez Canal was reopened. The girls also bought items while they were away; wonderful English, Scottish and Irish tweed outfits which is still being worn when it's snowy.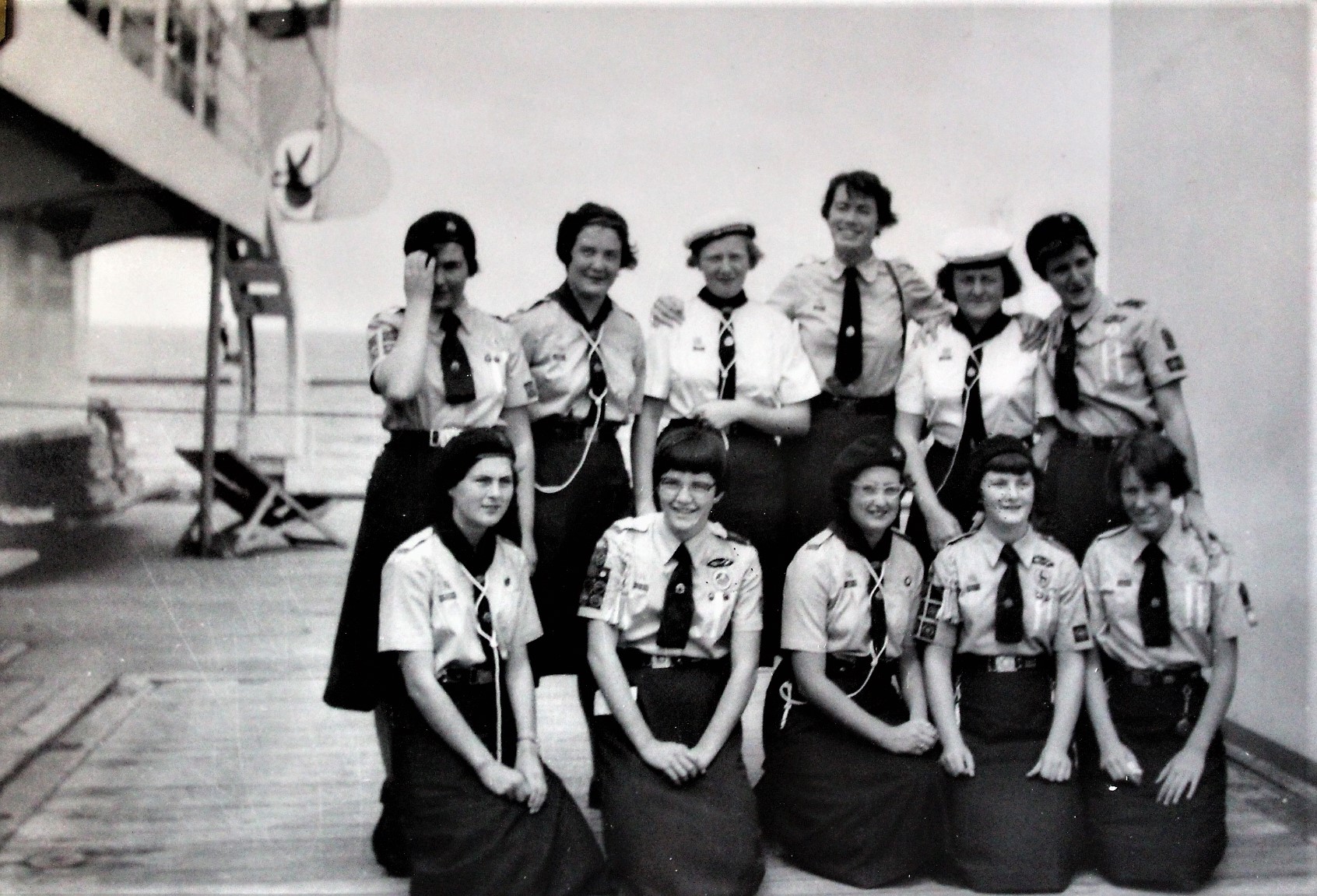 The NSW girls contingent - Joy Stacy is the tall dark haired lady at the back. Jenny Copp is the Sea Ranger to her left hand side.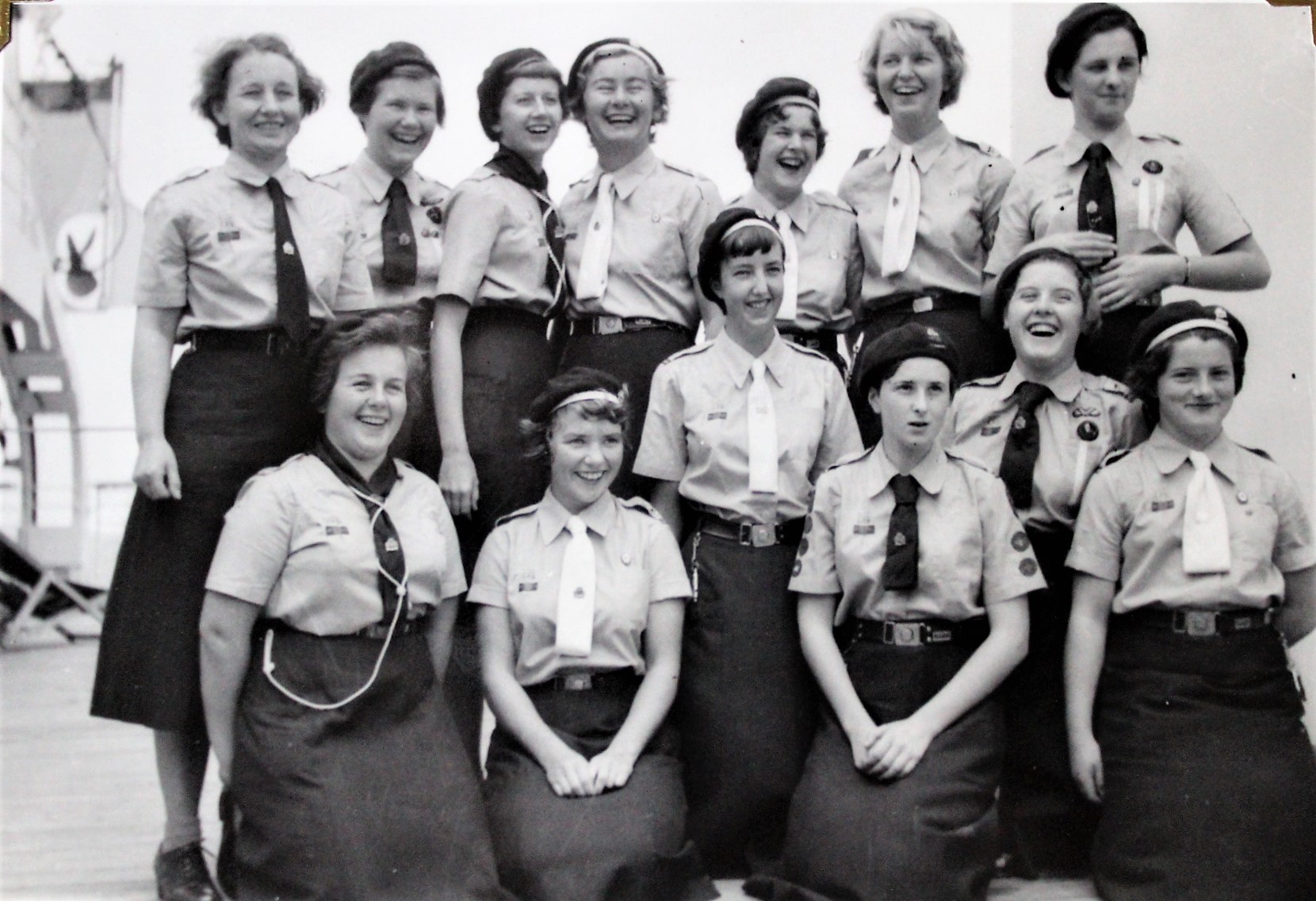 South Australian girls contingent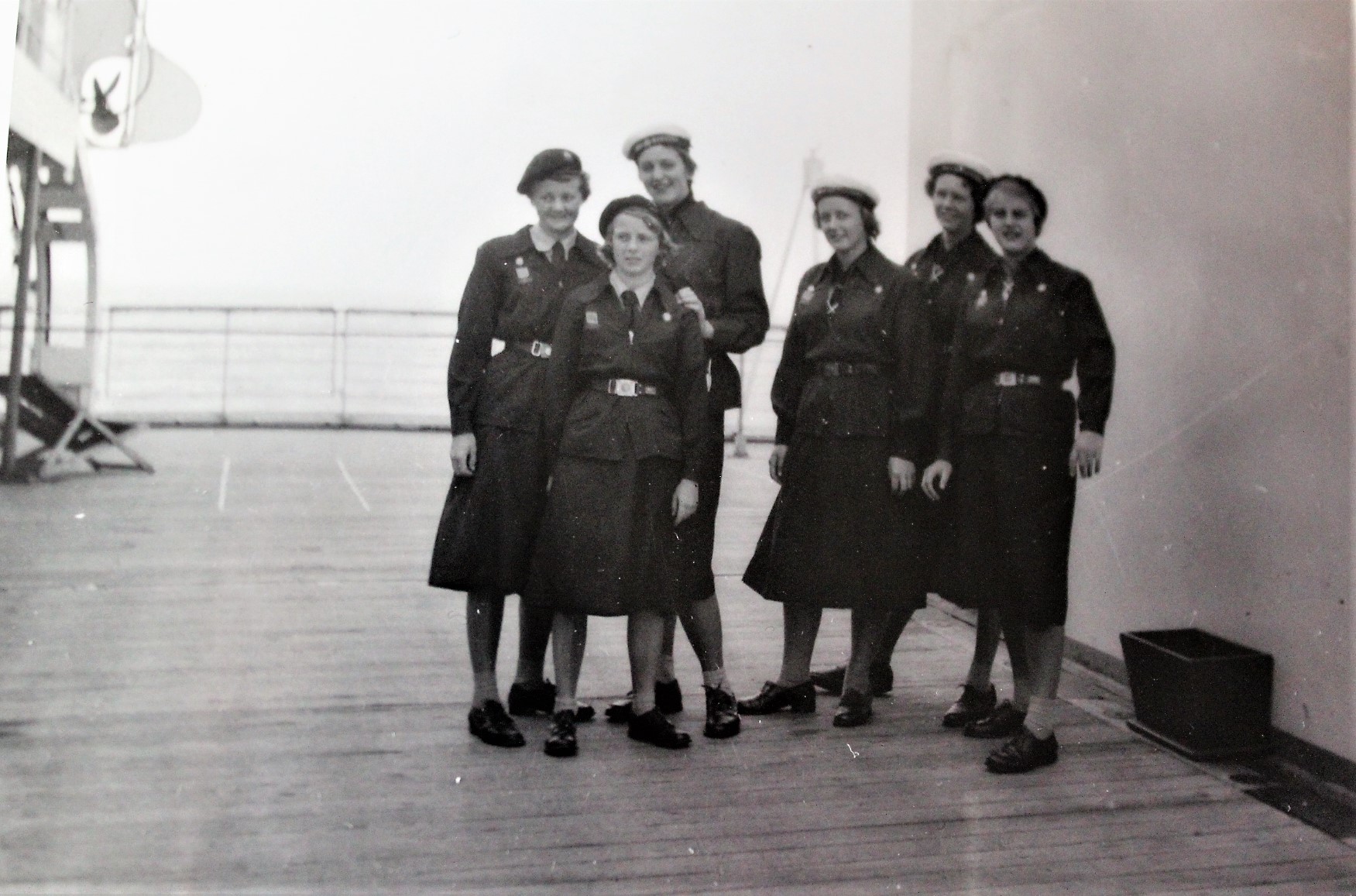 Queensland girls contingent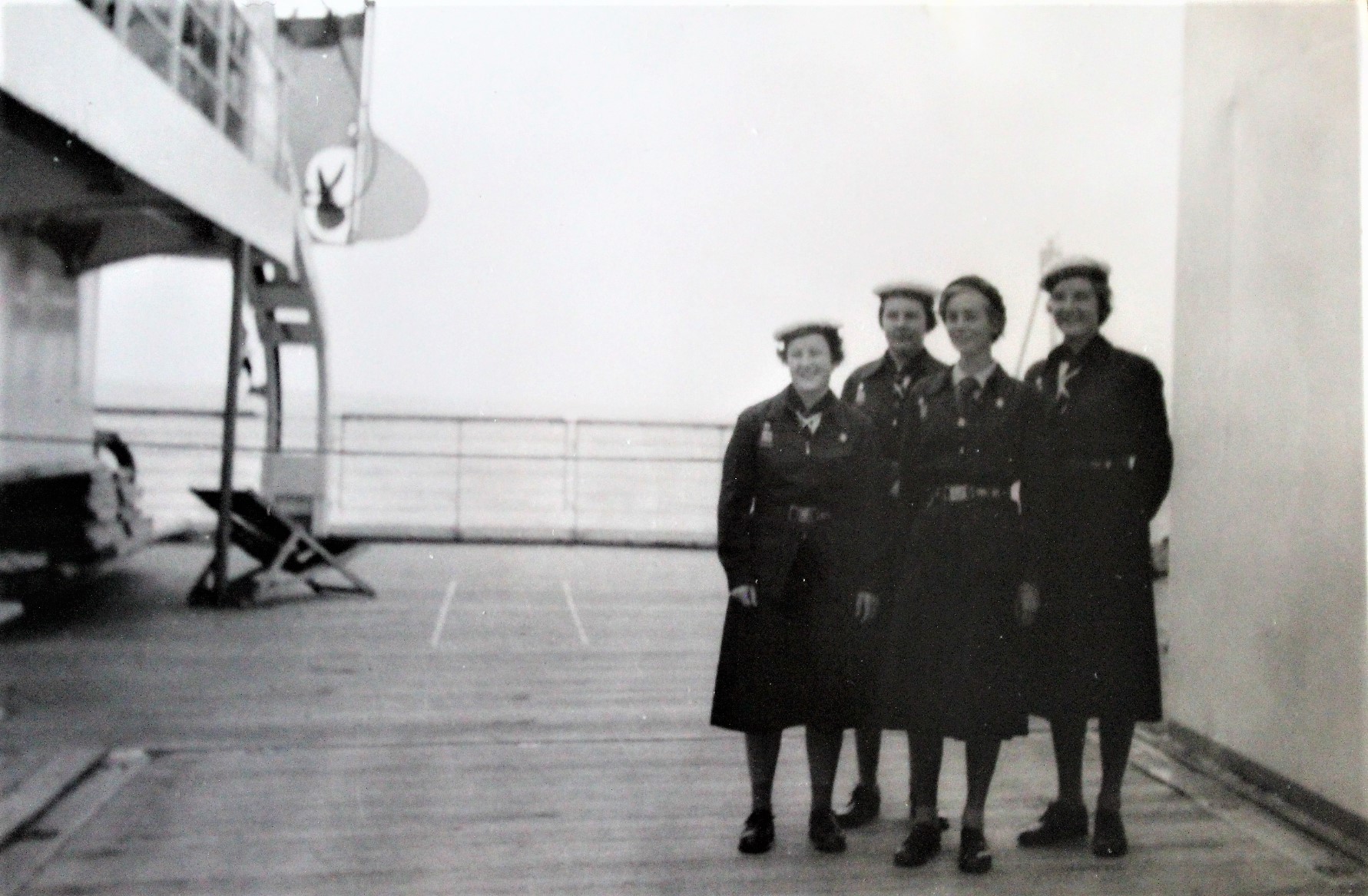 Tasmanian girls contingent
The girls all remained great friends as well throughput the decades that followed. For instance, one of the NSW Contingent, Jenny (Jennifer) Copp, travelled to the 1958 Reunion in Queensland, as did mum, and the 1960 Reunion of the Australian Contingent in Tasmania. Jenny married Hugh Gore in 1963. Sir Hugh Frederick Corbet Gore, 15th Bt. was born on 31 December 1934, the son of Frederick Dundas Corbet Gore and Ella Maud Sydney-Jones. He married Jennifer Mary Copp, daughter of Milton Gordon Copp, on 12 July 12th 1963. They lived in 2003 at 7 Romney Road, St. Ives. He succeeded as the 15th Baronet Gore, of Magherabegg, co. Donegal [I., 1622] on September 23rd 2008.
Wendy Harvey, another NSW girl, is among these pictures - her photo taken by mum on the ship home.

While a Brisbane girl was visited in 1958 and again in 1961, was the first to make modern 'bikinis' in that state - you can probably guess who brought one home to Tasmania, and it only fell to bits a few years ago. These were made at Surfers Paradise.
There are photos taken of all the Australian state contingents amongst these albums; Western Australia (who only had one girl attending), South Australia, Victoria, New South Wales, Queensland and Tasmania.
Coincidentally mum's younger sister Annette travelled to the big State Corroboree Camp held for Girl Guides at St Ives in August that same year, just up the road from Pittwater at the St. Ives Showgrounds.
Girls likely to be hungry !
Food on order includes about 1,700 lbs, meat and 700 feet of sausages; 165 do/., eggs; 90 lbs. cheese; 110 lbs. butter; 20 oases tomatoes; 720 bananas; 250 lbs S.R. flour, 182 tins jam, 700 loaves bread, 850 gallons milk, 100 lbs. rice, 50 lbs common salt, 10 bags potatoes, 500 lettuce, 1,000 lbs. various vegetables. Apart from this there will be a tuck shop and a canteen.
The occasion will be the Australian Girl Guides Corroboree Camp to be held at St. Ives Showground, on August 29 next. The Governor-General, Sir William Slim, who will be accompanied by Lady Slim, will open the camp. Some guides from Penrith district will be going. Miss Joyce McColl, Penrith, has been chosen as treasurer for the whole camp. Girls likely to be hungry! (1957, August 15). Nepean Times (Penrith, NSW : 1882 - 1962), p. 8. Retrieved from http://nla.gov.au/nla.news-article101363791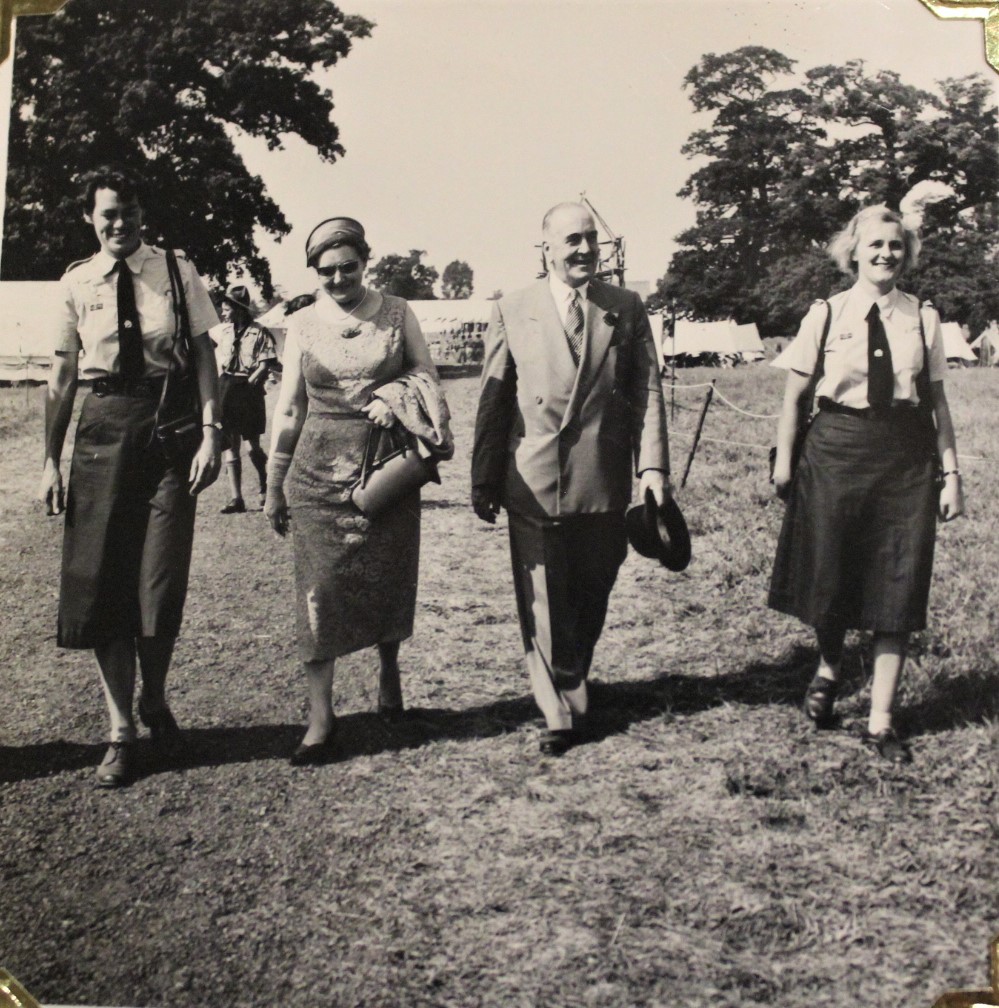 Sir William and Lady Slim at the World Camp at Windsor with Imonga, Joy Stacy on left and Jinki Peggy Barr from Melbourne. Sir Slim was sworn in as Governor General of Australia on May 8th 1953
For the Windsor World Camp local newspapers made mention of the upcoming event, while the Australian Women's Weekly recorded:
Worth Reporting
AUSTRALIA'S first contingent of Girl Guides to visit Europe left Melbourne aboard the liner Fairsea last weekend. The 46 girls, taking gifts and souvenirs for Guides and friends overseas, will attend a world Guide camp in England's Windsor Great Park.
The camp opens on July 29 and lasts until August 7. It is one of four world meetings being held this year, and commemorates the birth of Lord Baden-Powell, founder of the Scout and Guide movement.
Four thousand Guides will attend the Windsor camp, which the Queen will visit.
The Australian girls are in the charge of Guider Miss Joy Stacy, of Sydney, Miss Peg Barr, of Melbourne, and Miss J. Tucker, of Adelaide.
They will tour England and Scotland and spend a fortnight at an International Guide House in Switzerland.
The first world camp this year was held in the Philippines. Australia sent 30 Guides. The other two camps will be held in Canada and Switzerland next August. Worth Reporting (1957, May 22). The Australian Women's Weekly (1933 - 1982), p. 30. Retrieved from http://nla.gov.au/nla.news-article47248132
Miss M Barr was actually the Victorian Leader and assistant of Joy Stacy, Contingent Leader.
The 46 girls were aged between 15 and 17, with 14 Queens Guides and 32 1st Class Guides - 8 girls were Sea Rangers by the time they travelled. The MV Fairsea was meant to depart on May 5th but had engine problems and we didn't end up leaving Melbourne until May 13th.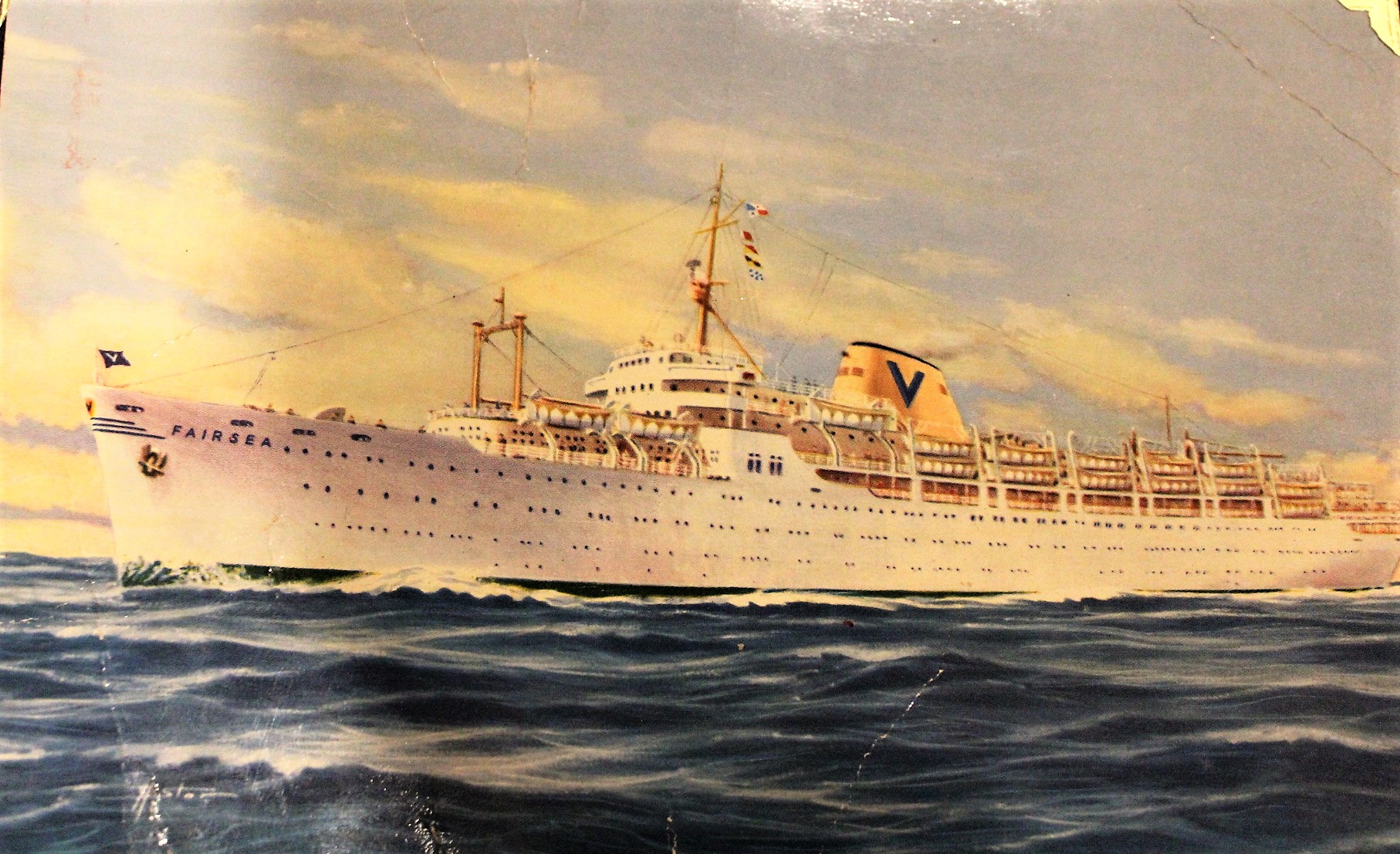 There were 12 girls to a cabin. We were busy while aboard, employing the Baden-Powell patrol system starting with prayers every morning, then sessions on Australian history followed by how to give thank-you speeches and how to prepare menus.

After a rough crossing of the Australian Bight and lots of sea sick passengers the ship had a calm crossing of the Indian Ocean.
The ship had engine problems again before reaching Aden. At one stage the ship seemed to be merely drifting in the ocean and we were delayed in reaching port as a result.
The Suez Canal had only been re-opened in April 1957 after being closed in late 1956 following nationalisation by Egypt when ships were blown up to block passage through the canal. We saw some of the debris from damaged ships on the side of the canal as well as a strong military presence by the Egyptian national forces.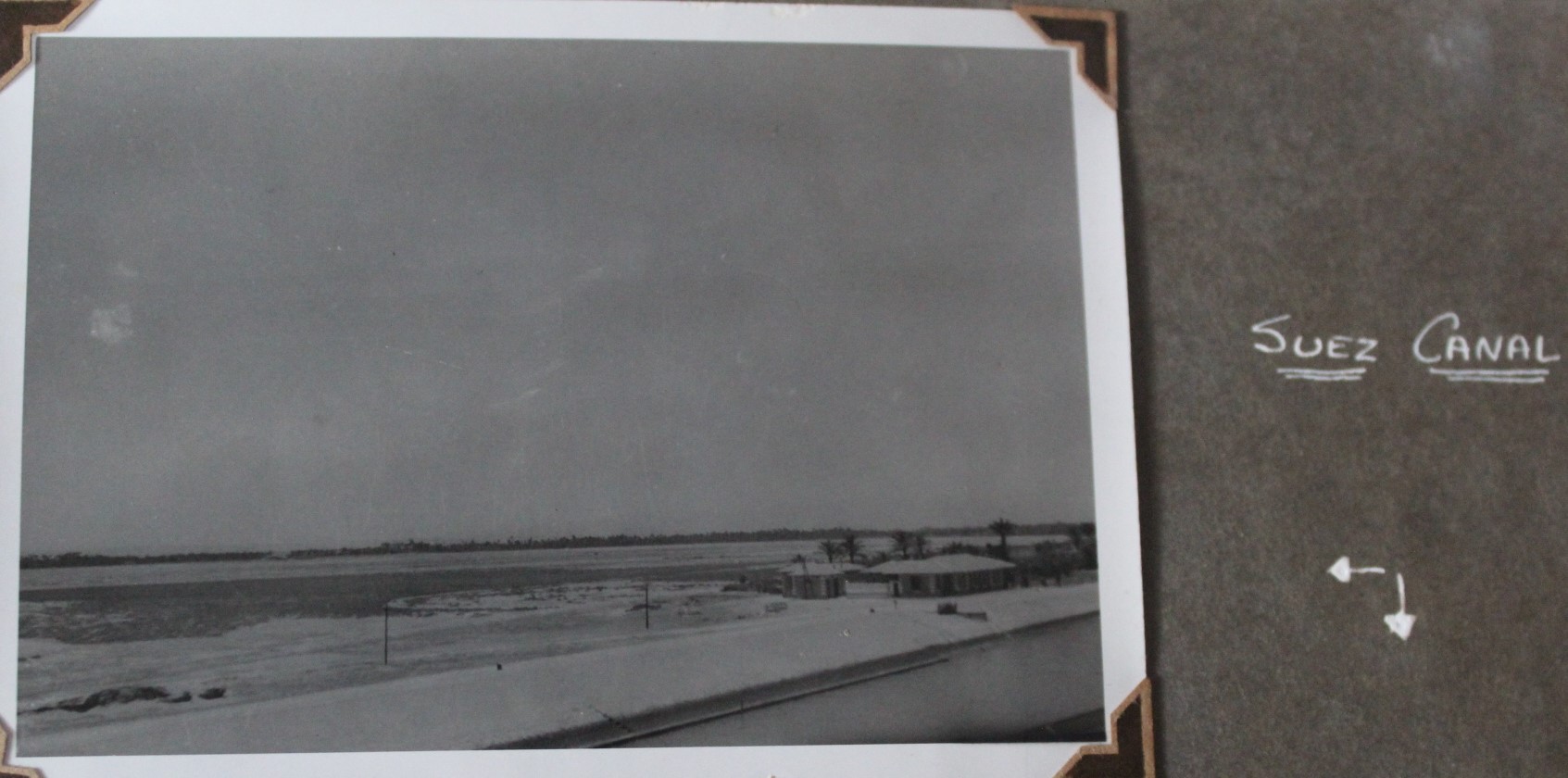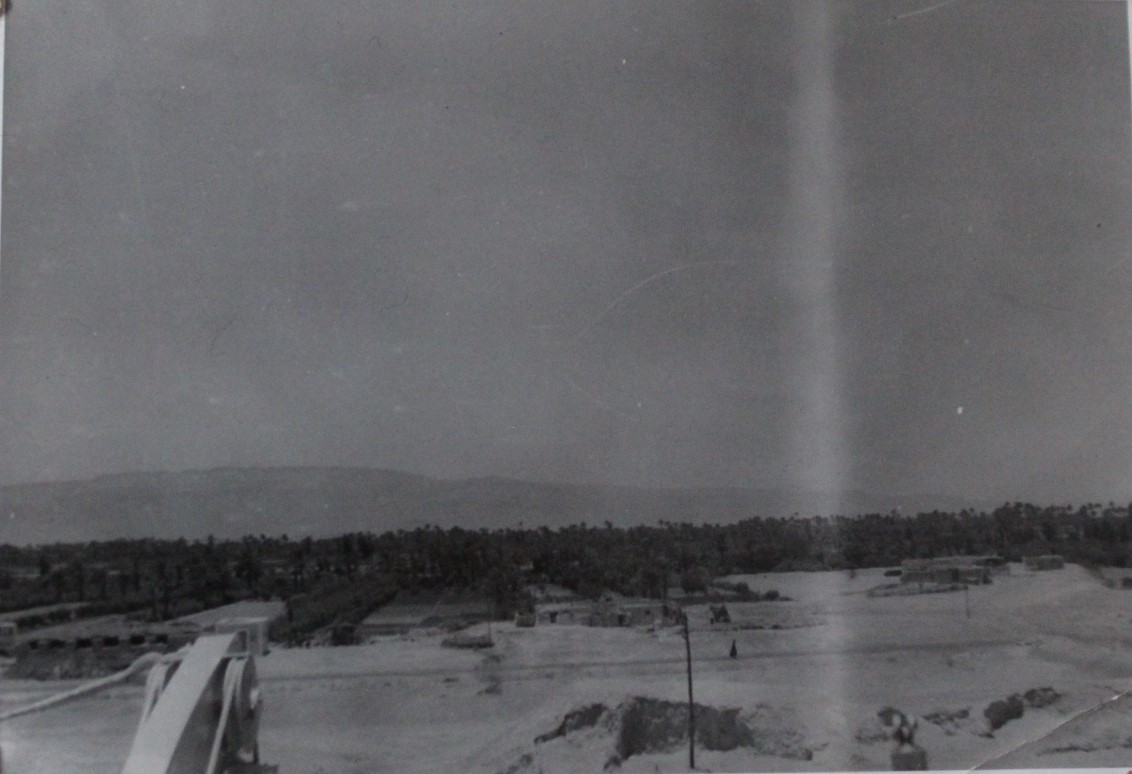 We arrived in Port Said quite late in the evening and as we arrived the town seemed to come alive with all the lights being turned on around the commercial area. We were warned about not straying from the main commercial streets if we went ashore.
We travelled on to Southampton.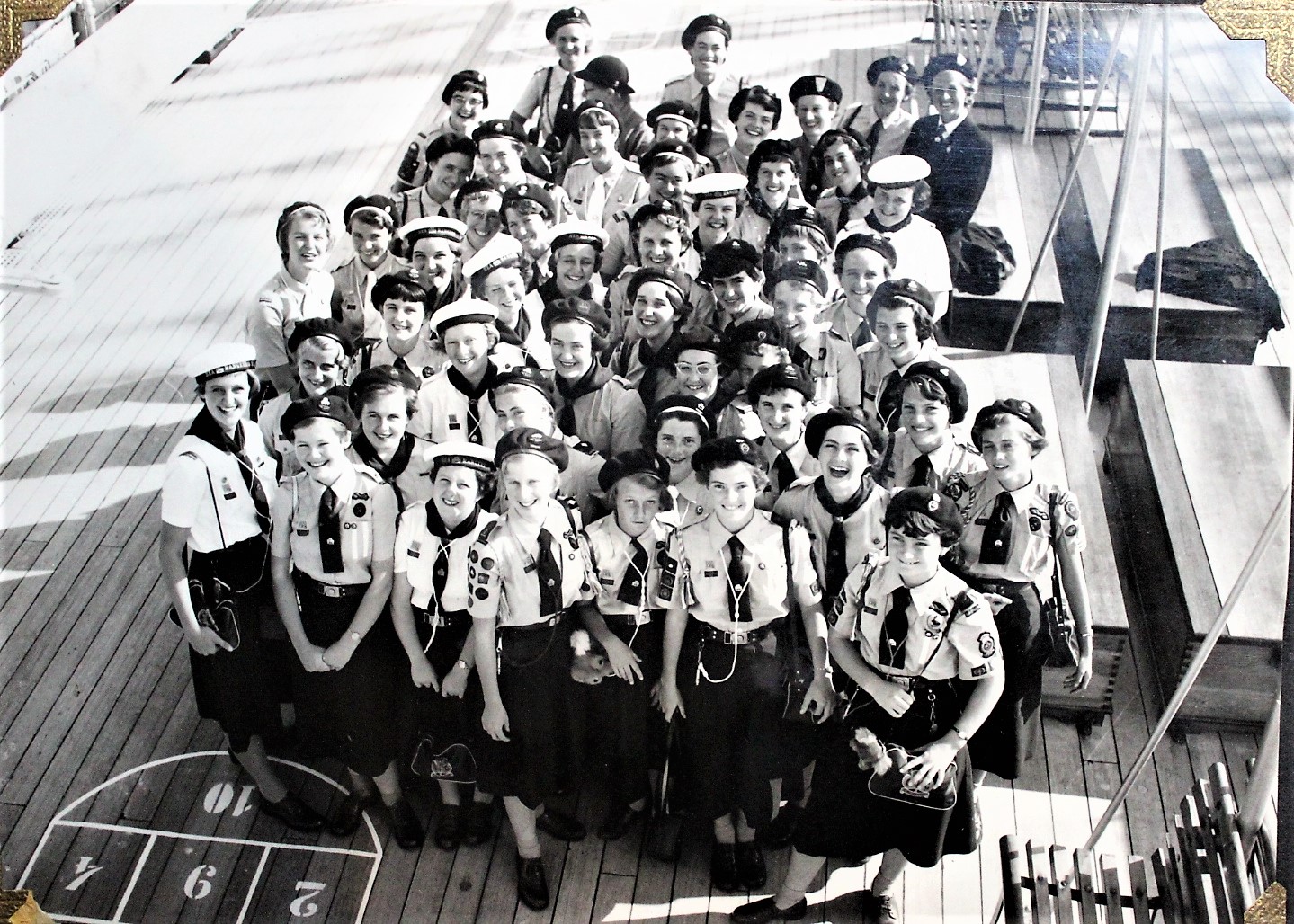 Australian contingent on board the MV Fairsea when arriving at Southampton, June 16th, 1957. This photo was used in a local paper after we arrived. At the back right hand side of this group you can see some of the ladies who met and greeted us on arrival in the U.K.
Back in Australia this snippet and photo appeared a few weeks later and lists some more of the NSW girls, who came from across the state, not just Sydney:
AUSTRALIAN GIRL GUIDES ARRIVE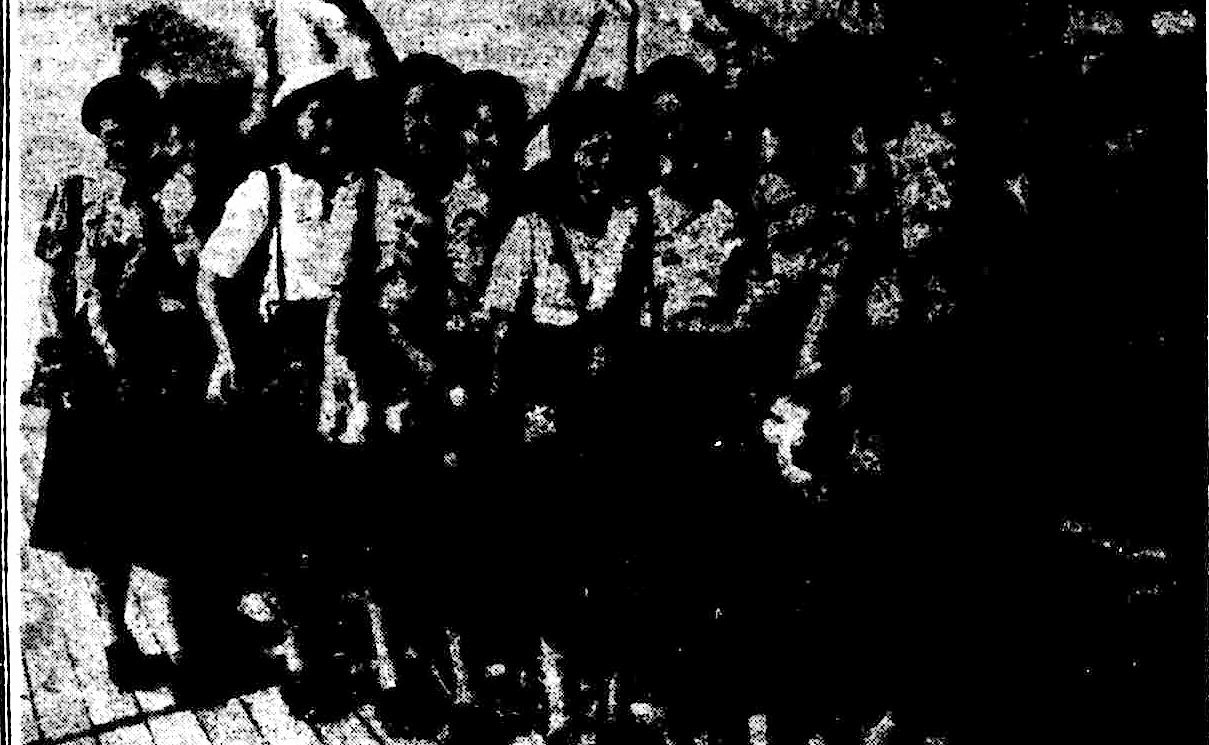 A line of Australian Girl Guides - part of a group of 49 – stand aboard the liner Fairsea when docking at South Hampton. Right to left: Margaret Harry, 16; Beverley Fisher, 18; Pamela Ward, 17, Jane Goninan, 17; Helen Morrison, 16; Roslyn Bradfield, 16; Jennifer Copp, 16; Jill McAsh, 15; and Fay Walker, 15. AUSTRALIAN GIRL GUIDES ARRIVE (1957, June 27). The Canberra Times (ACT : 1926 - 1995), p. 10. Retrieved from http://nla.gov.au/nla.news-article91592137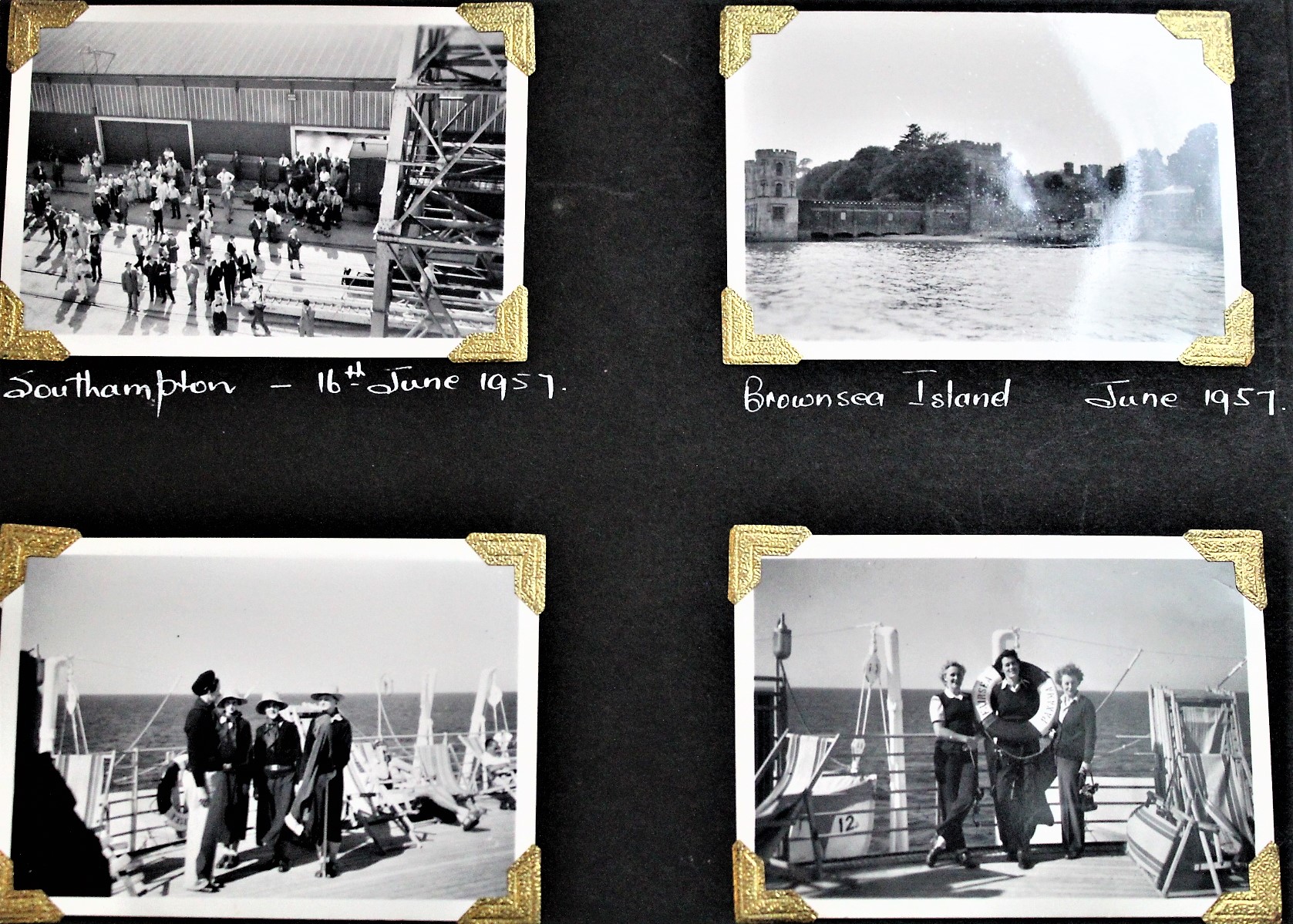 On reaching England the Australian contingent was split into 3 Groups for a series of camps and tours, and this would reflect on our different experiences and memories of our tour. I was in Group 3 and we went to camp at Foxlease. Owned by the Girl Guides since 1922, Foxlease is a white-walled Georgian manor on the edge of Lyndhurst, and set in 65 acres of beautiful land in the heart of the New Forest in Hampshire. This place is indicative of the sixth law of Girl Guiding: 'to respect all living things and take care of the world around you'.
The older lady in this photo was our host and had just had her cottage rethatched, as seen in the background. This photo was used in the local paper. The girl 3rd from the left at top was the Western Australian girl, Fay.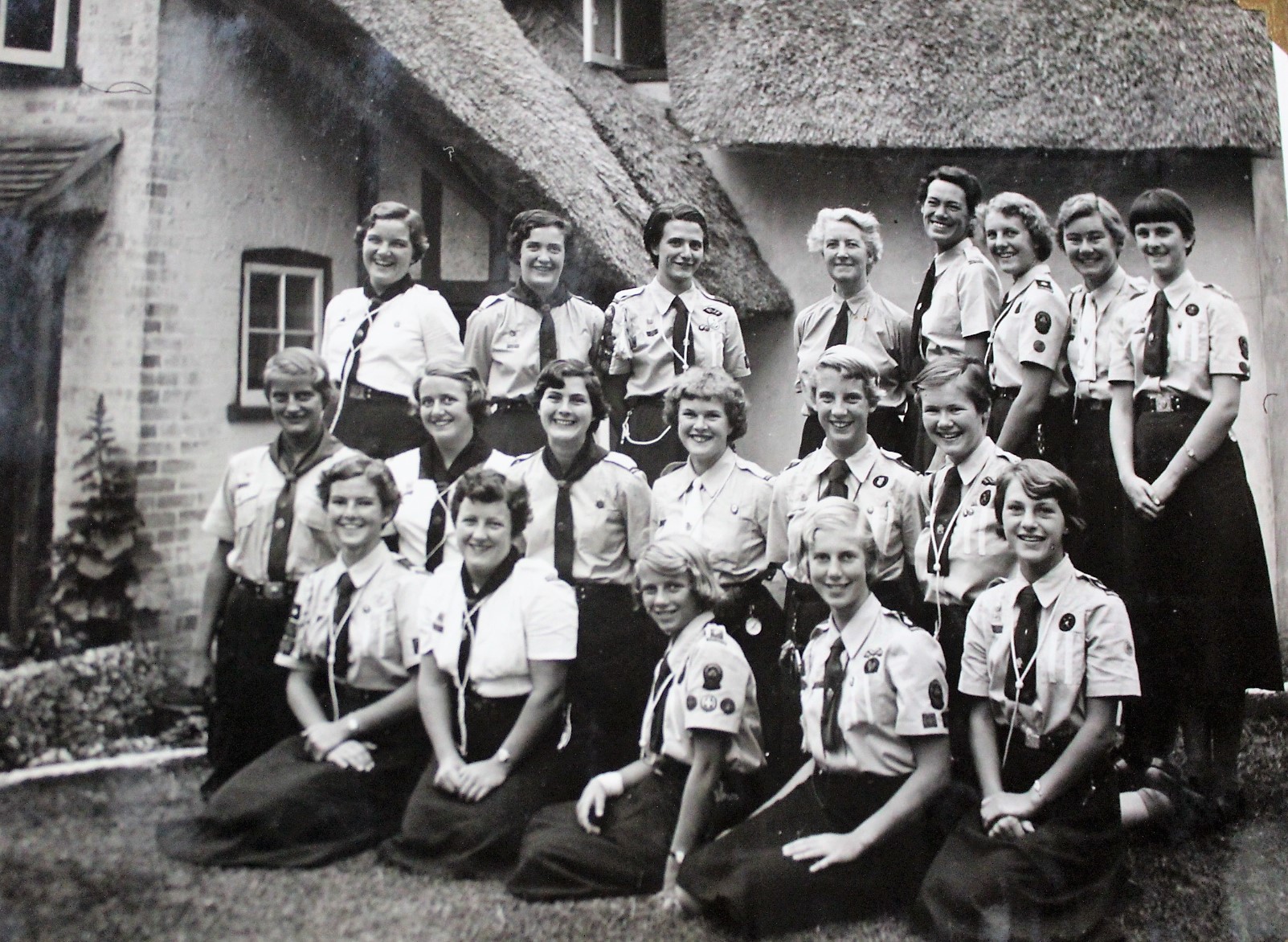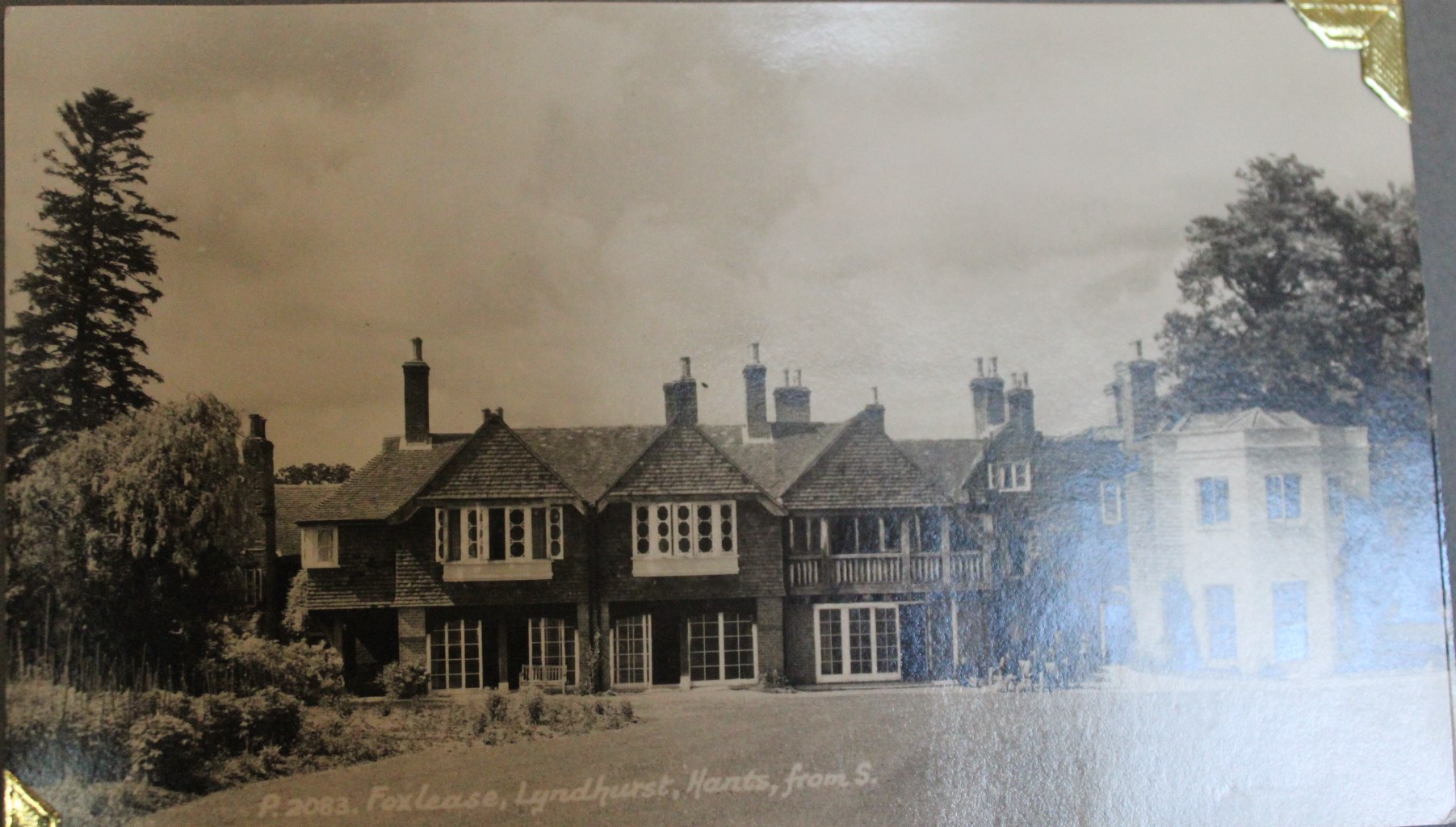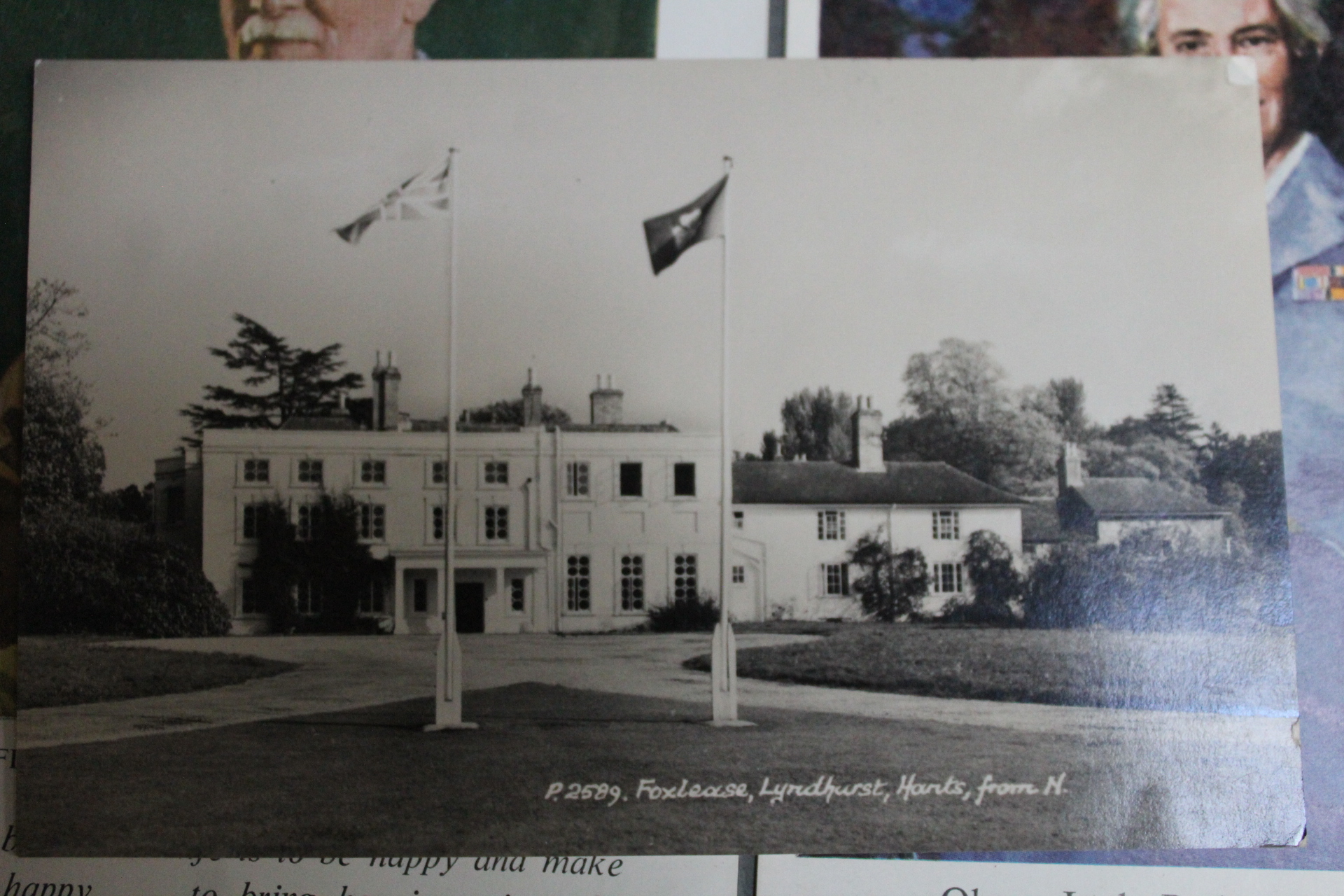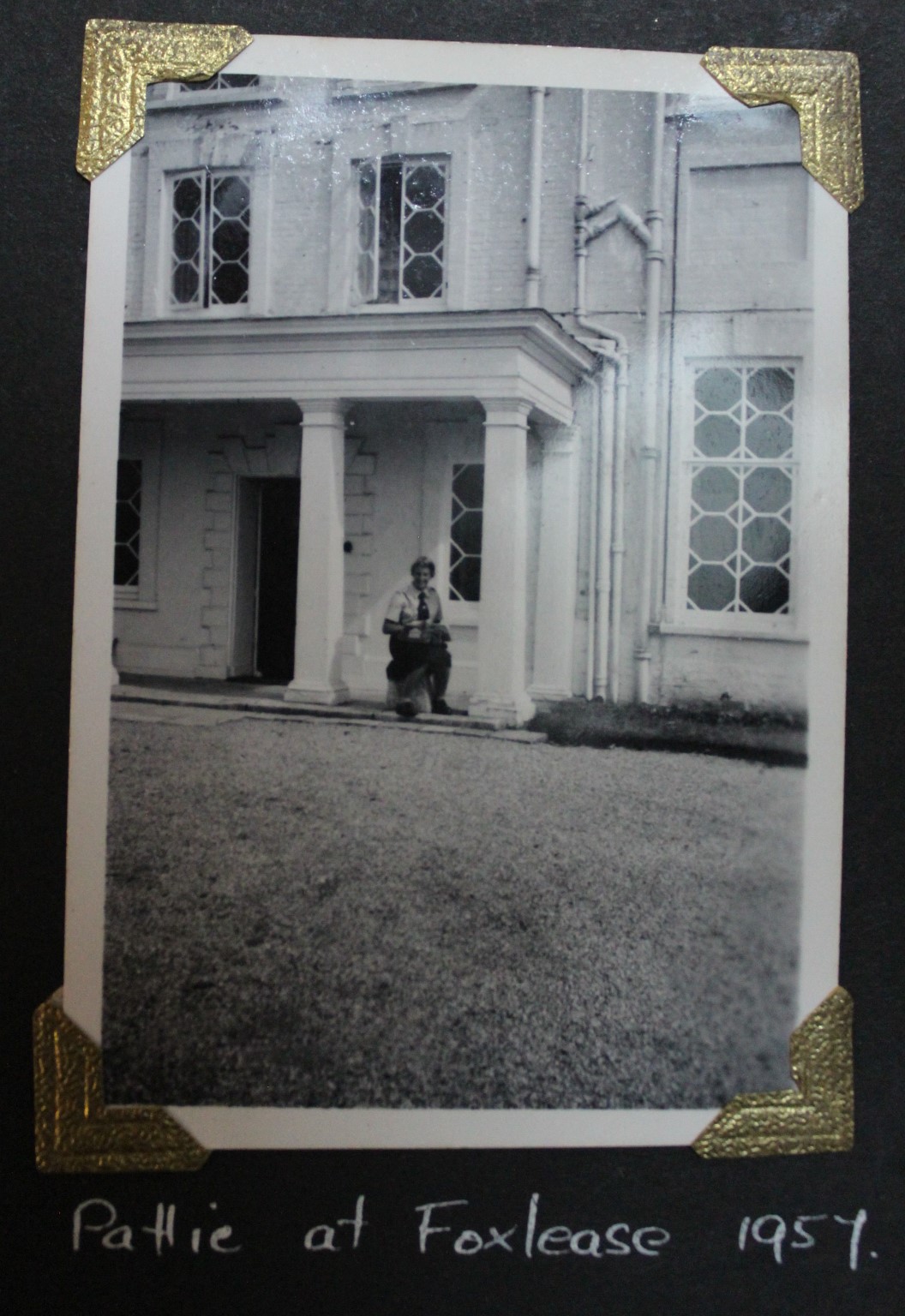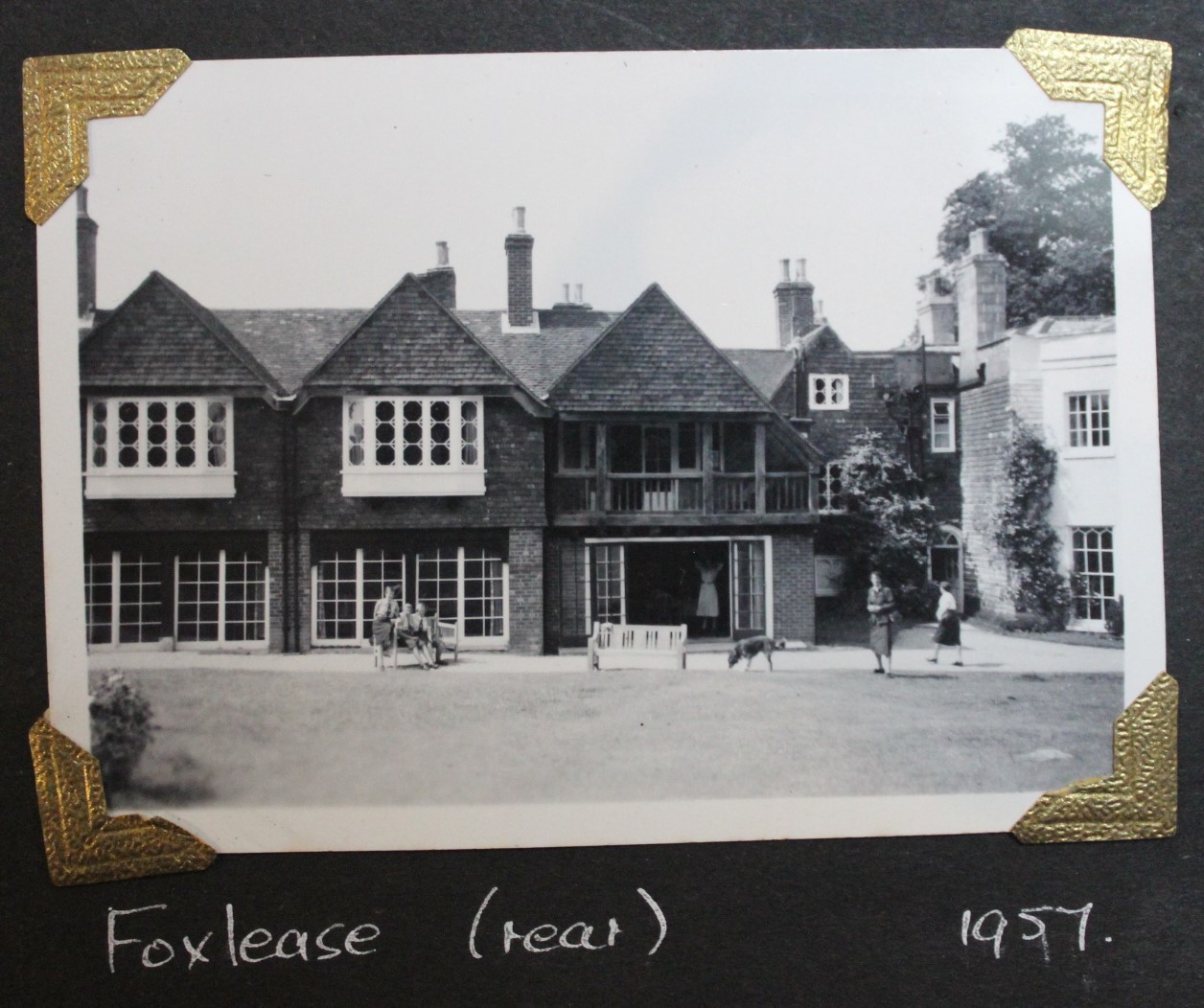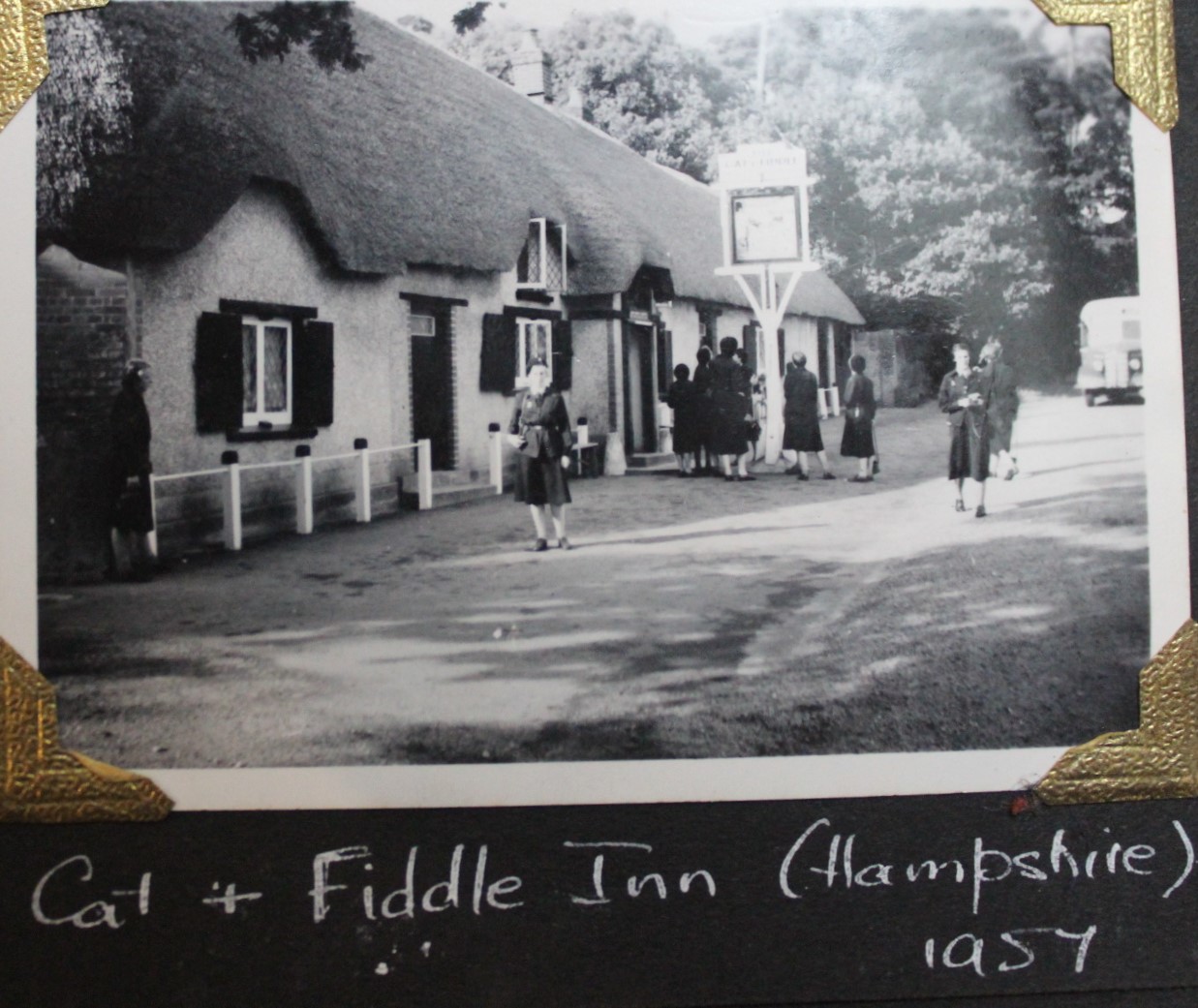 We also had a few billets with local hosting families and an opportunity to explore many places that would be well-known to Australians along with places that are important to the Boy Scouts and Girl Guides.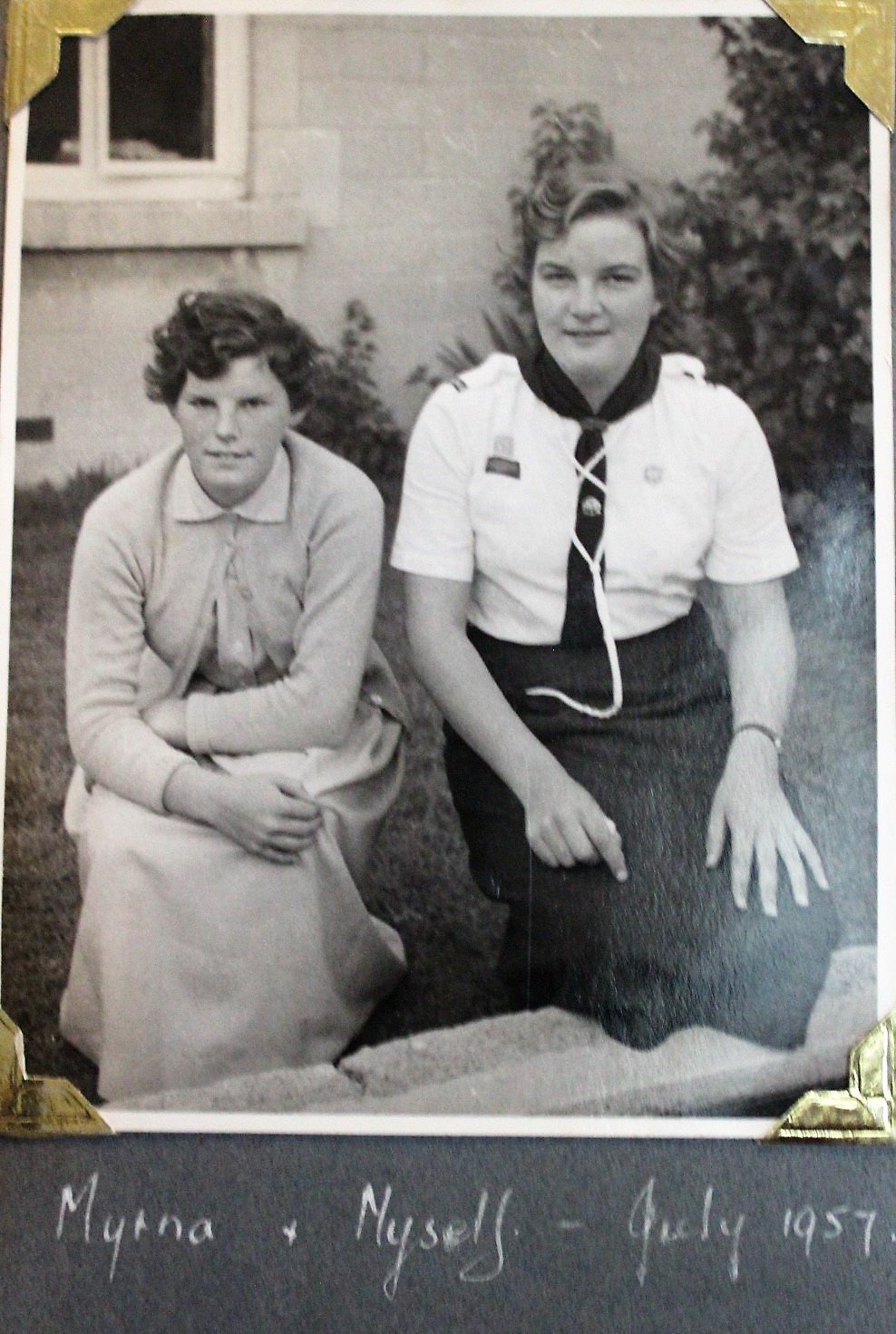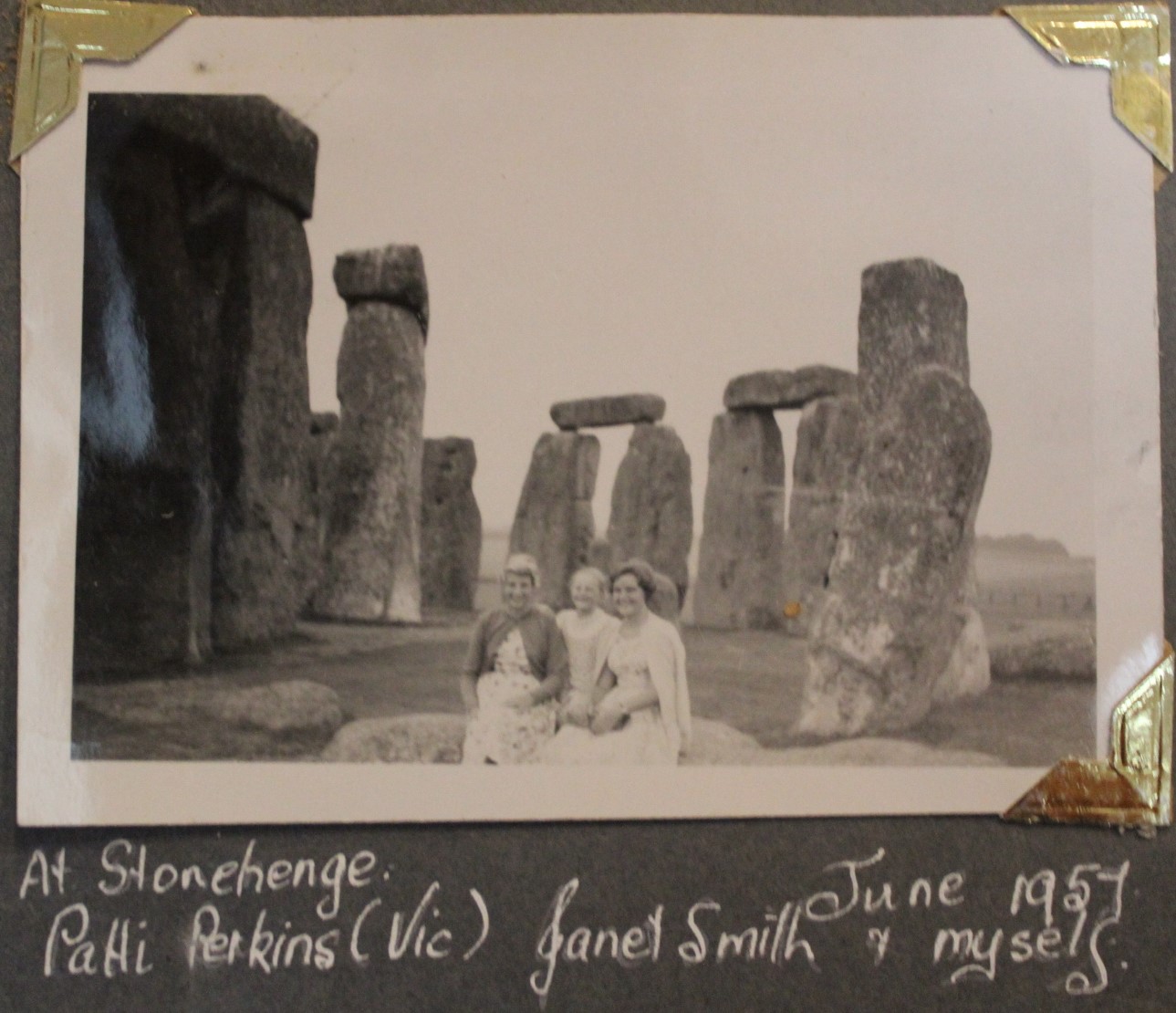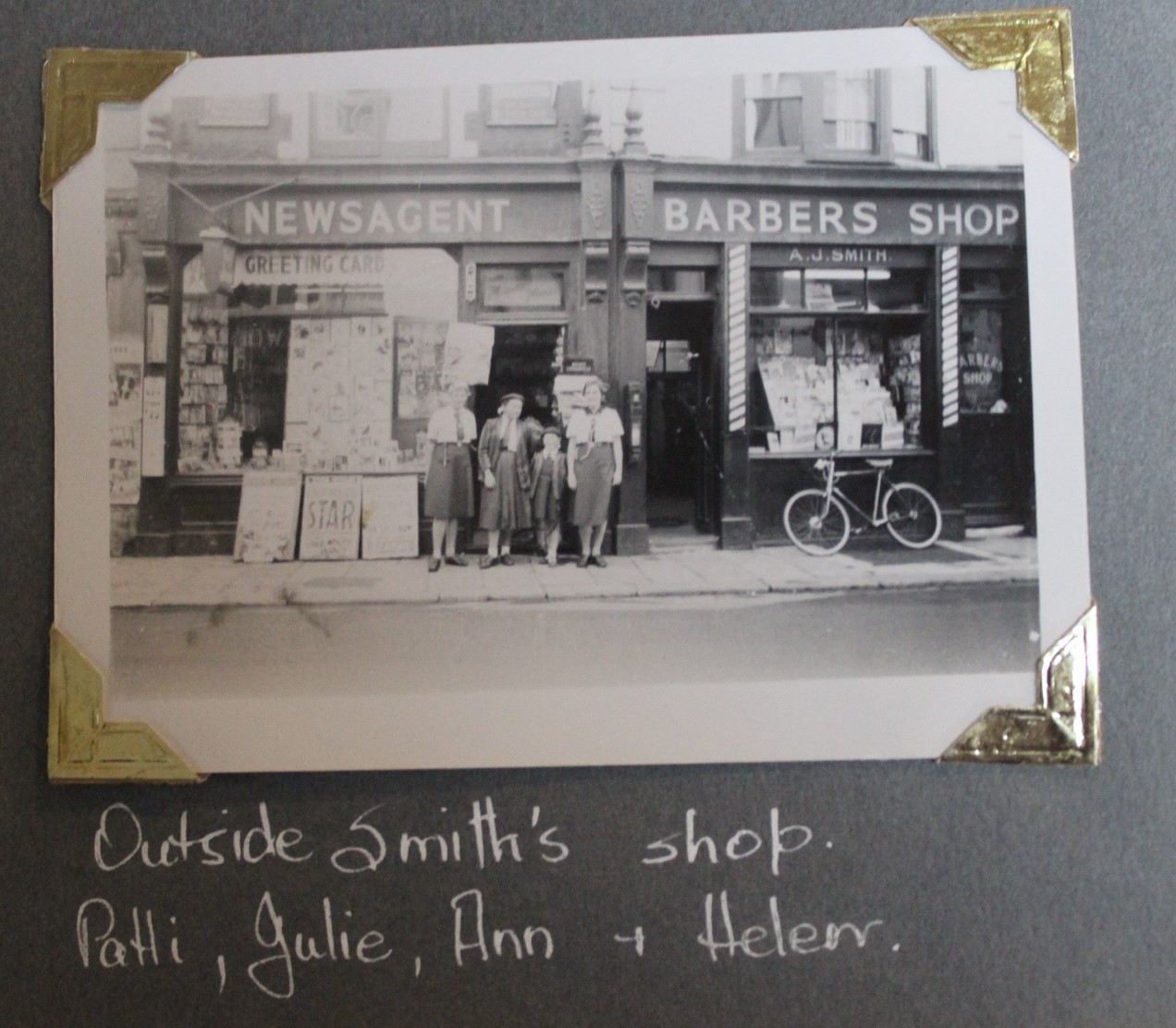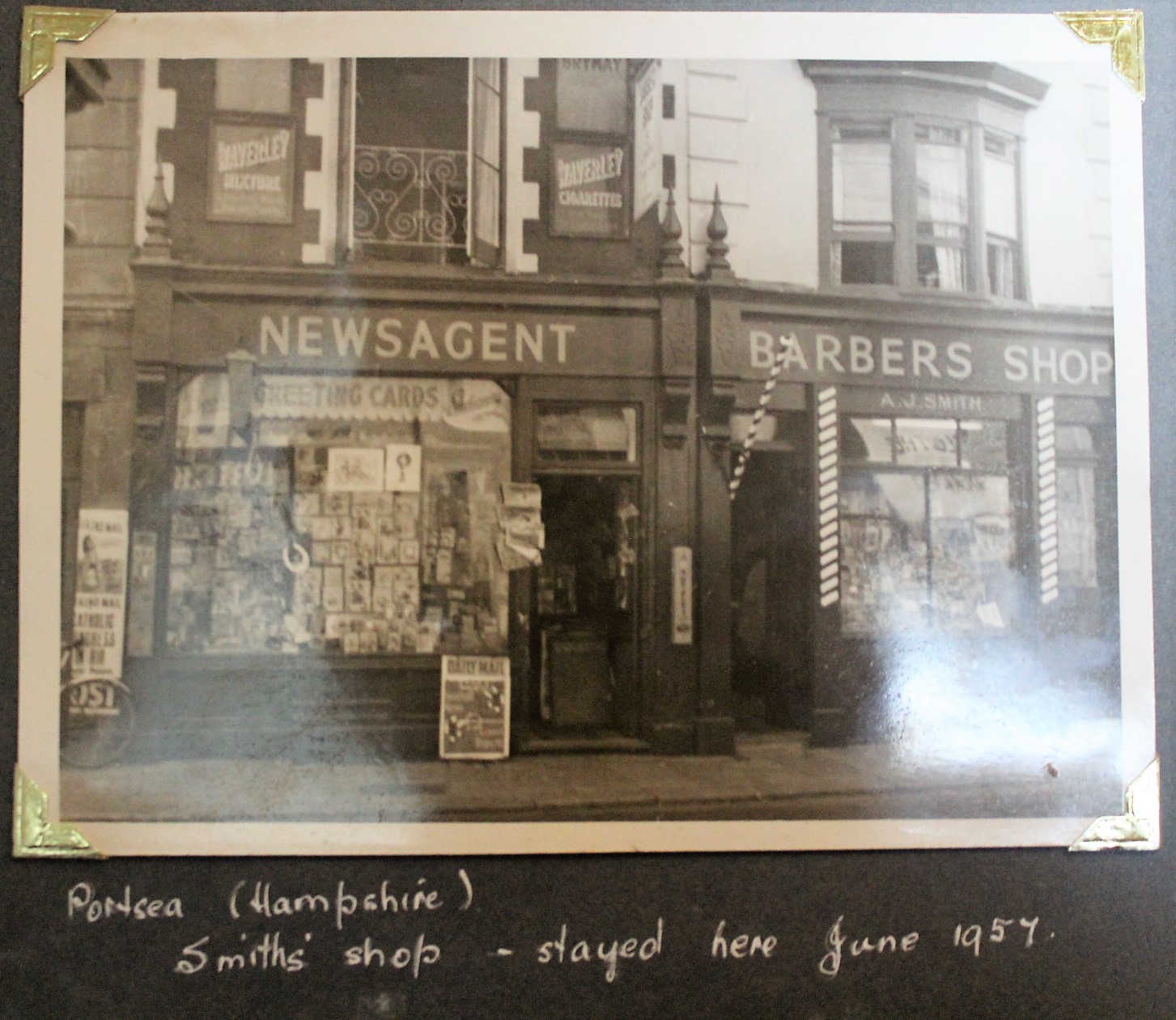 They lived upstairs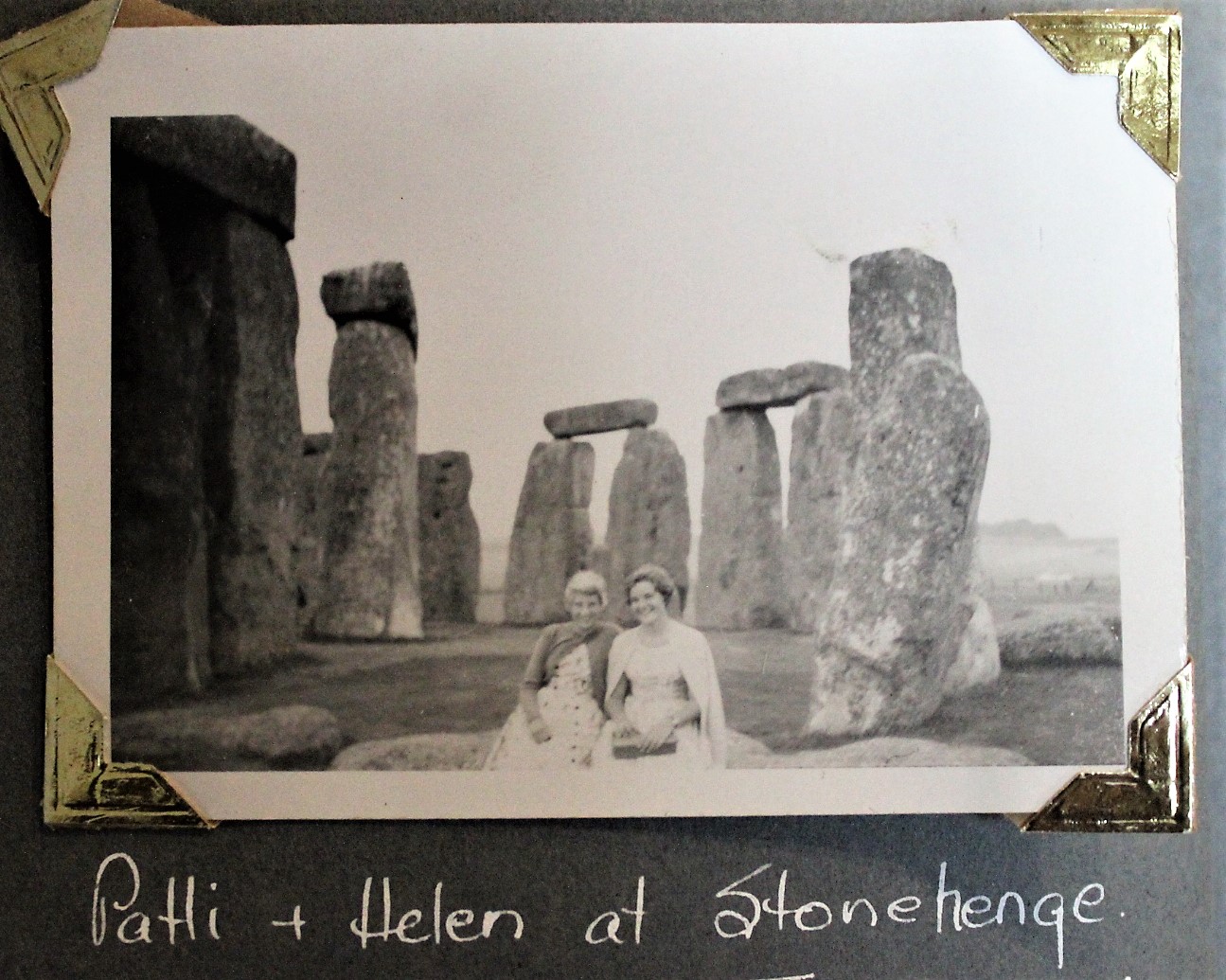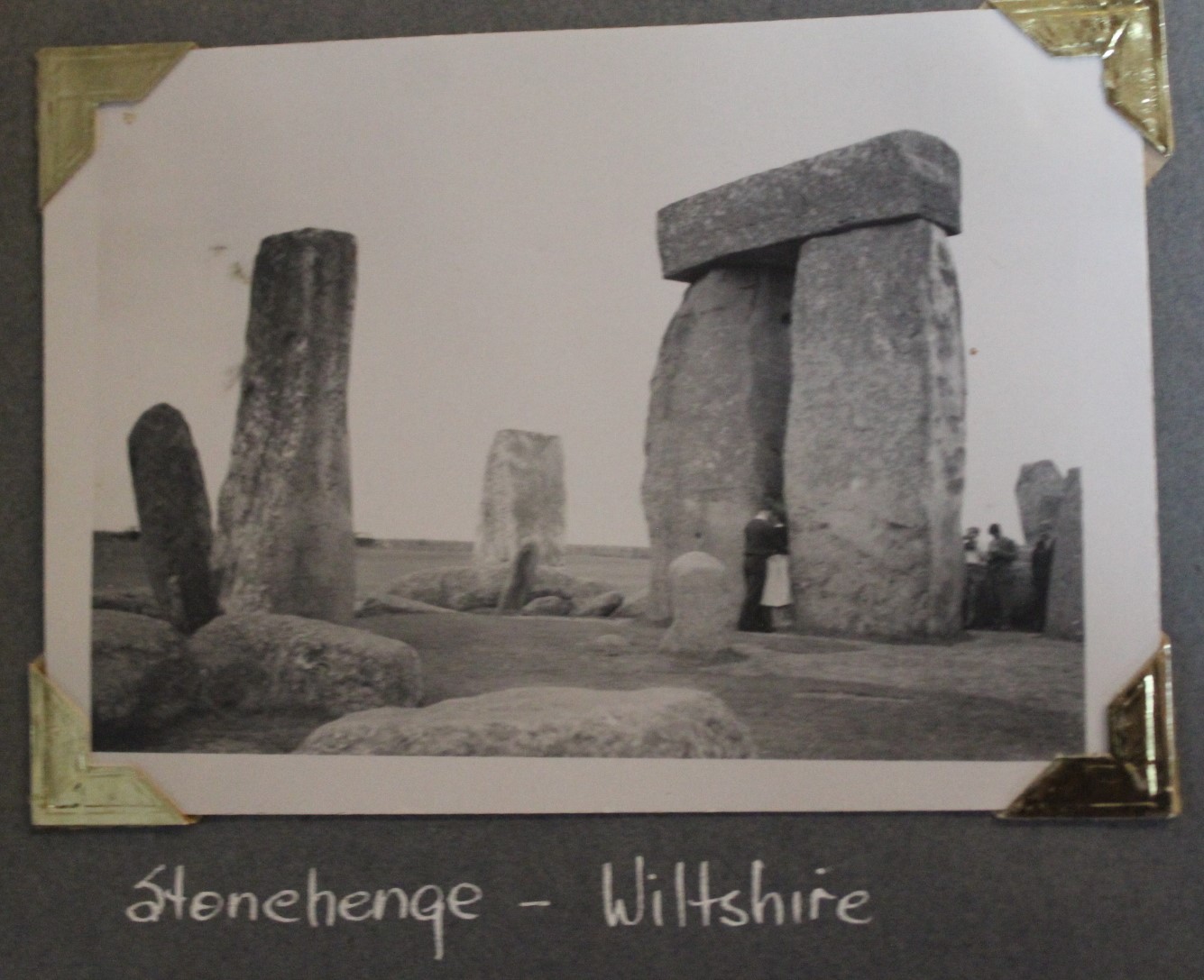 The Brownsea Island Scout camp was the site of a boys' camping event on Brownsea Island in Poole Harbour, southern England, organised by Lieutenant-General Baden-Powell to test his ideas for the book Scouting for Boys. Boys from different social backgrounds participated from 1 to 8 August 1907 in activities around camping, observation, woodcraft, chivalry, lifesaving and patriotism. The event is regarded as the origin of the worldwide Scout movement.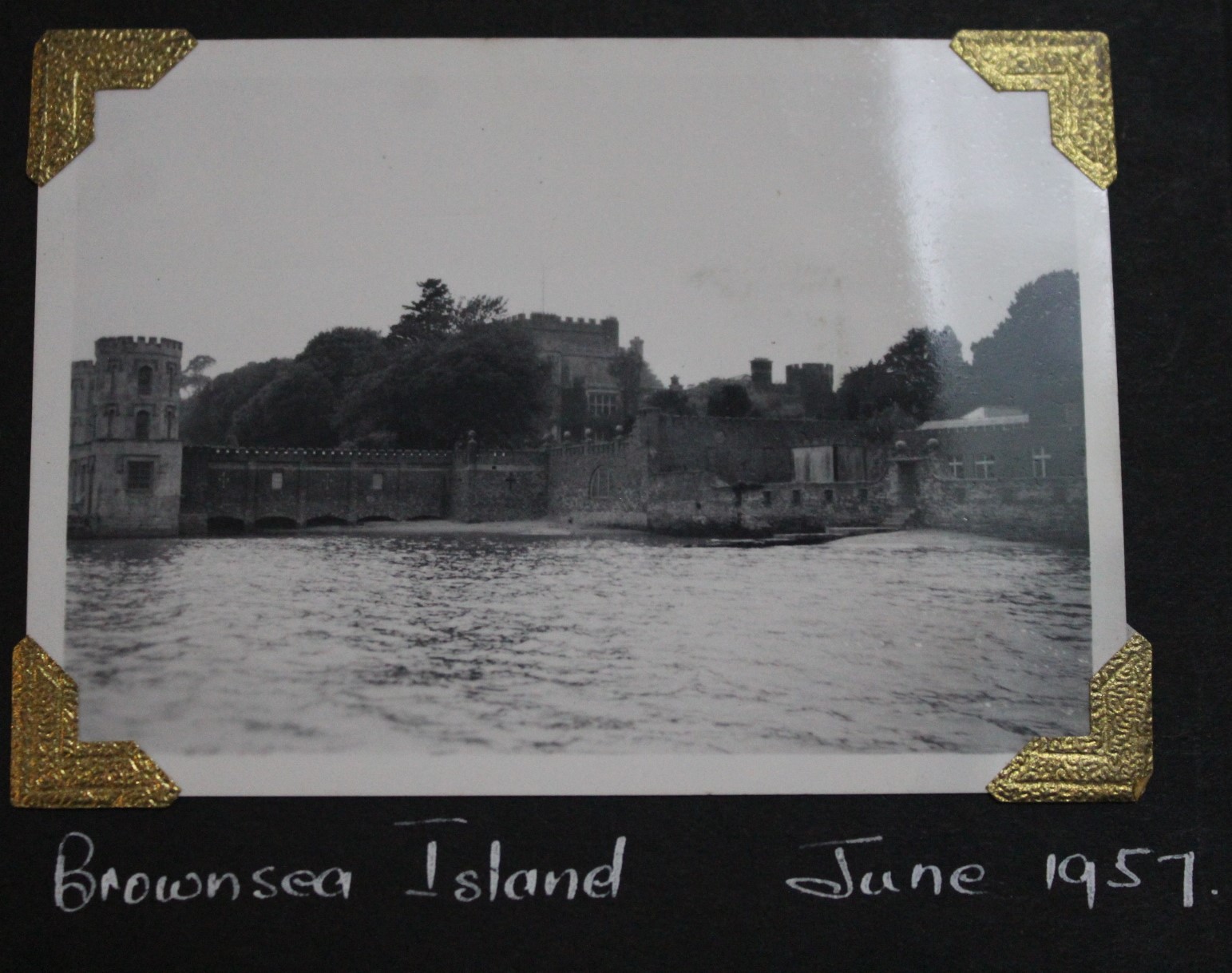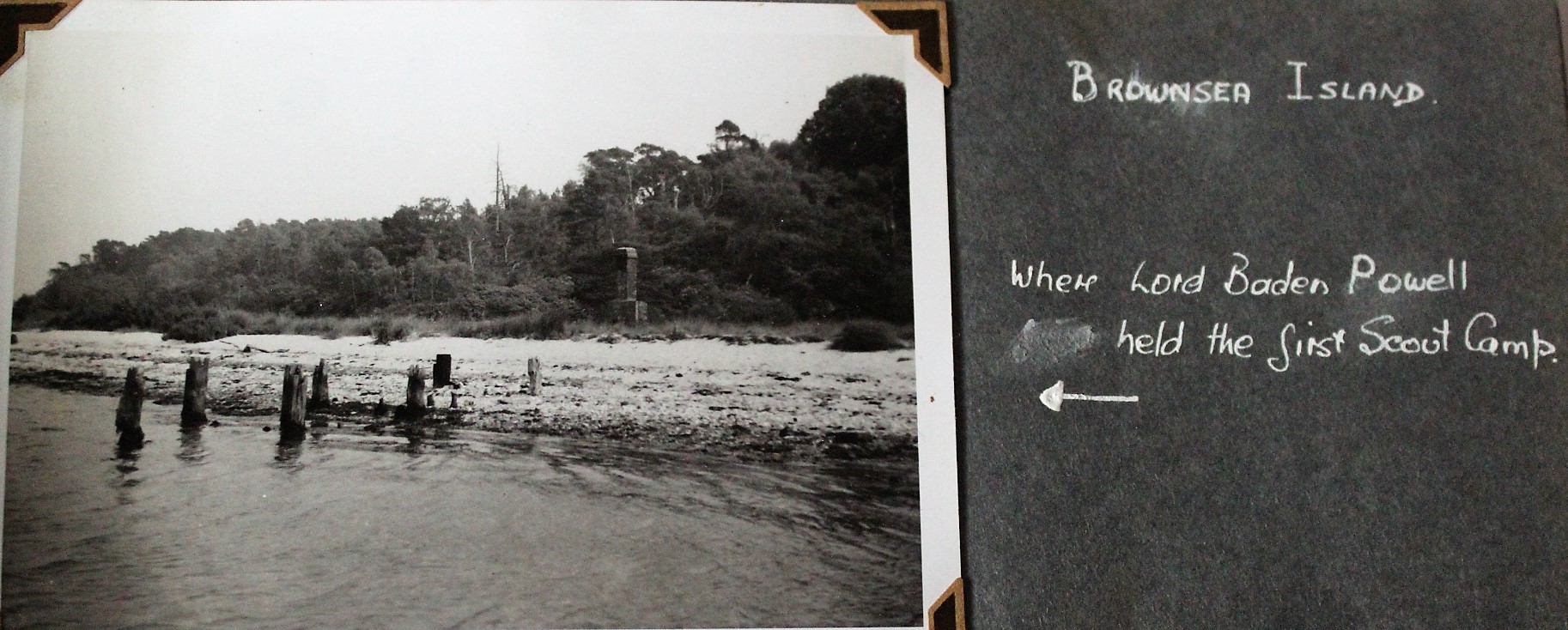 Up to the early 1930s, Boy Scouts continued to camp on Brownsea Island. In 1963, a formal 50-acre (20 ha) Scout campsite was opened by Olave Baden-Powell when the island became a nature conservation area owned by the National Trust.
Another camp was at Dudsbury - here we camped down by the water at a former Roman campsite: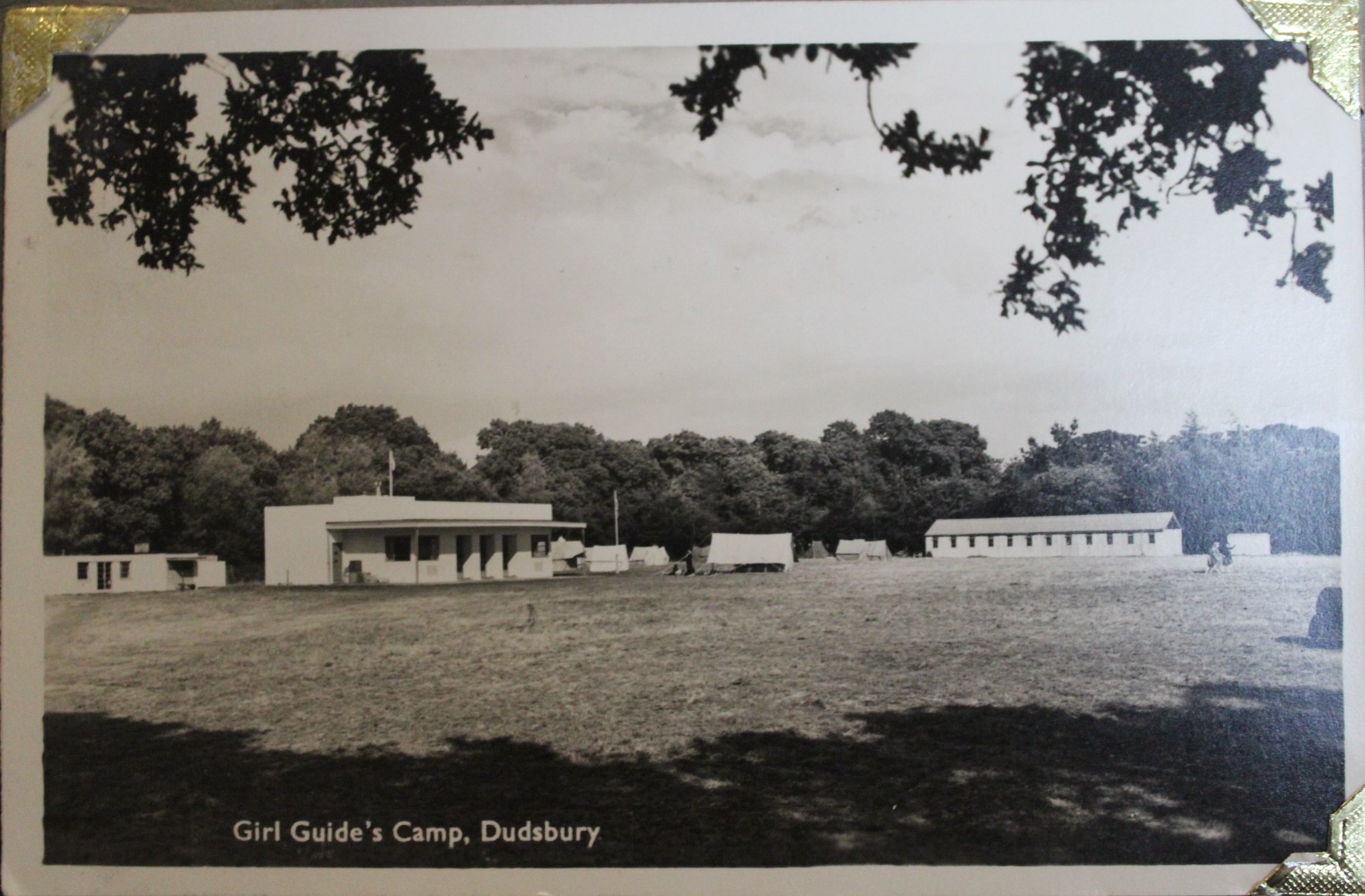 Windsor World Camp - Windsor Great Park, England
26th July – 8th August
Of course the BIG one the girls were looking forward to was held in the Windsor Great Park. Windsor Great Park is a Royal Park of 2,020 hectares (5,000 acres), including a deer park, to the south of the town of Windsor on the border of Berkshire and Surrey in England. It is adjacent to the private 265 hectares (650 acres) Home Park, which is nearer the castle. The park was, for many centuries, the private hunting ground of Windsor Castle and dates primarily from the mid-13th century. Historically the park covered an area many times the current size known as Windsor Forest, Windsor Royal Park or its current name. The only royal park not managed by The Royal Parks, the park is managed and funded by the Crown Estate.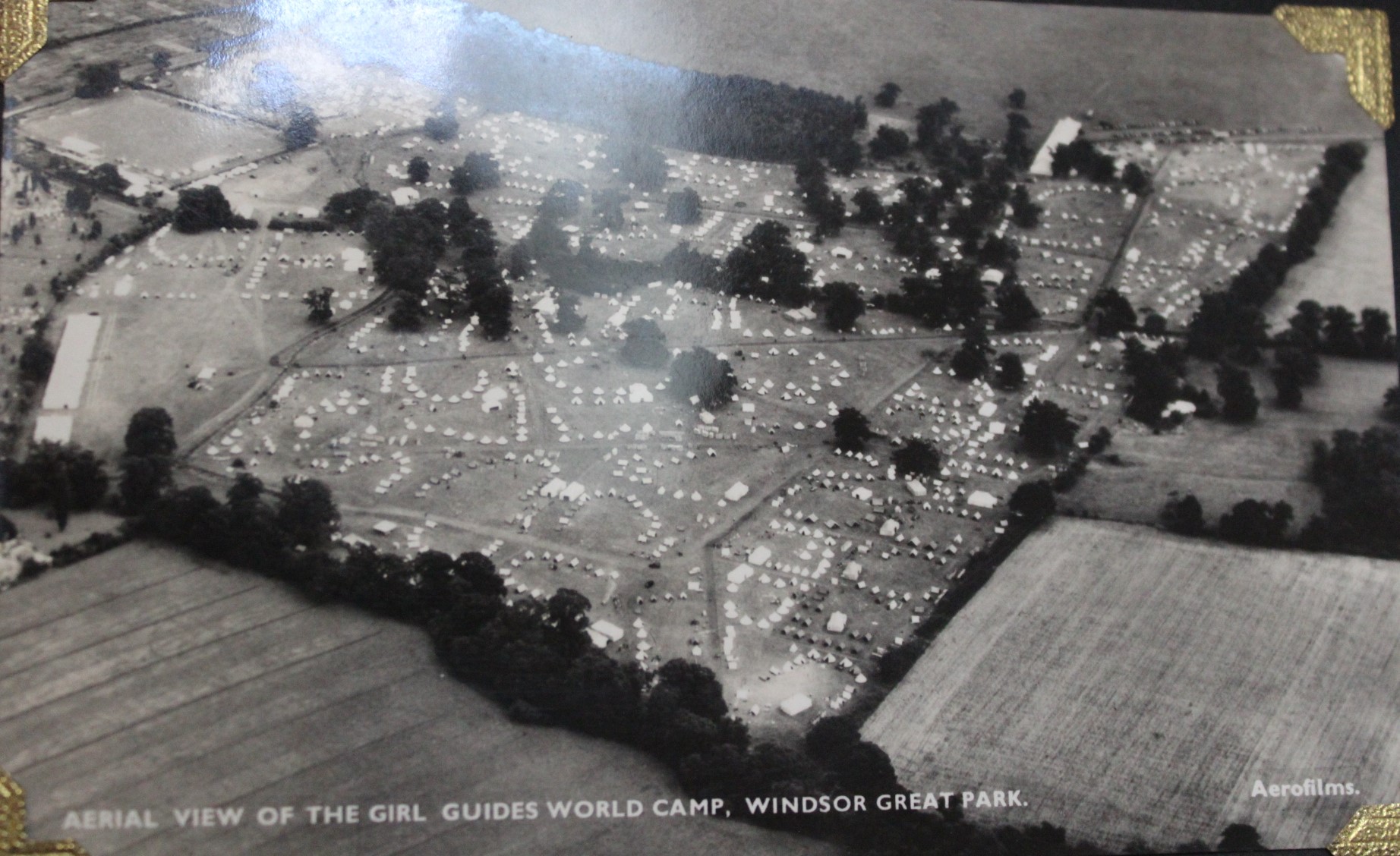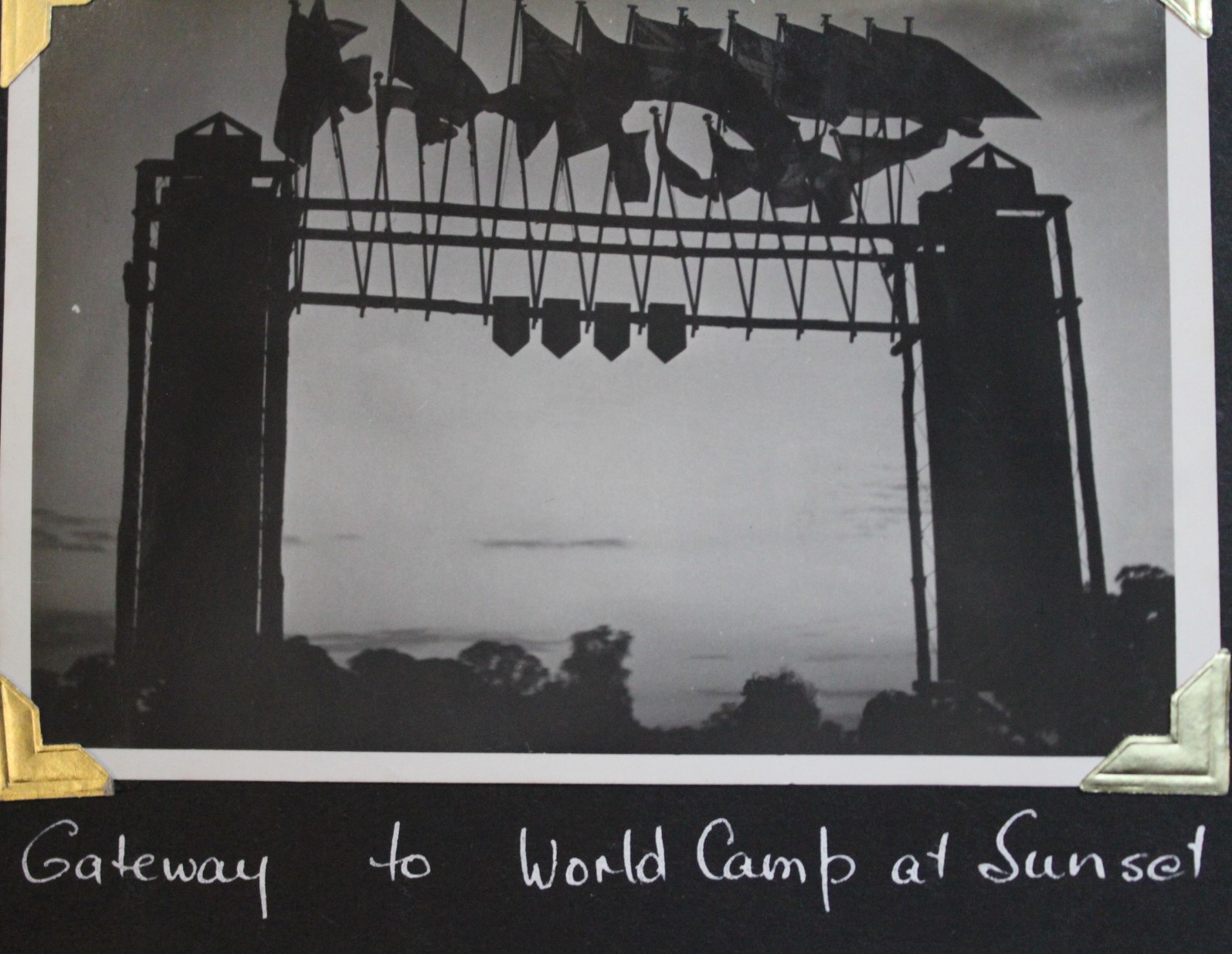 The above arches were made by the English girls prior to our arrival; around 2000 of these host nation Girl Guides set up the camp for their guests.
Lady Baden-Powell opened the camp with Princess Mary (the Princess Royal) visiting too. Her Majesty Queen Elizabeth II attended our church service on the Eton playing fields. It was there we all renewed our Guide's Promise in our own language. There were 20,000 people present on the final night.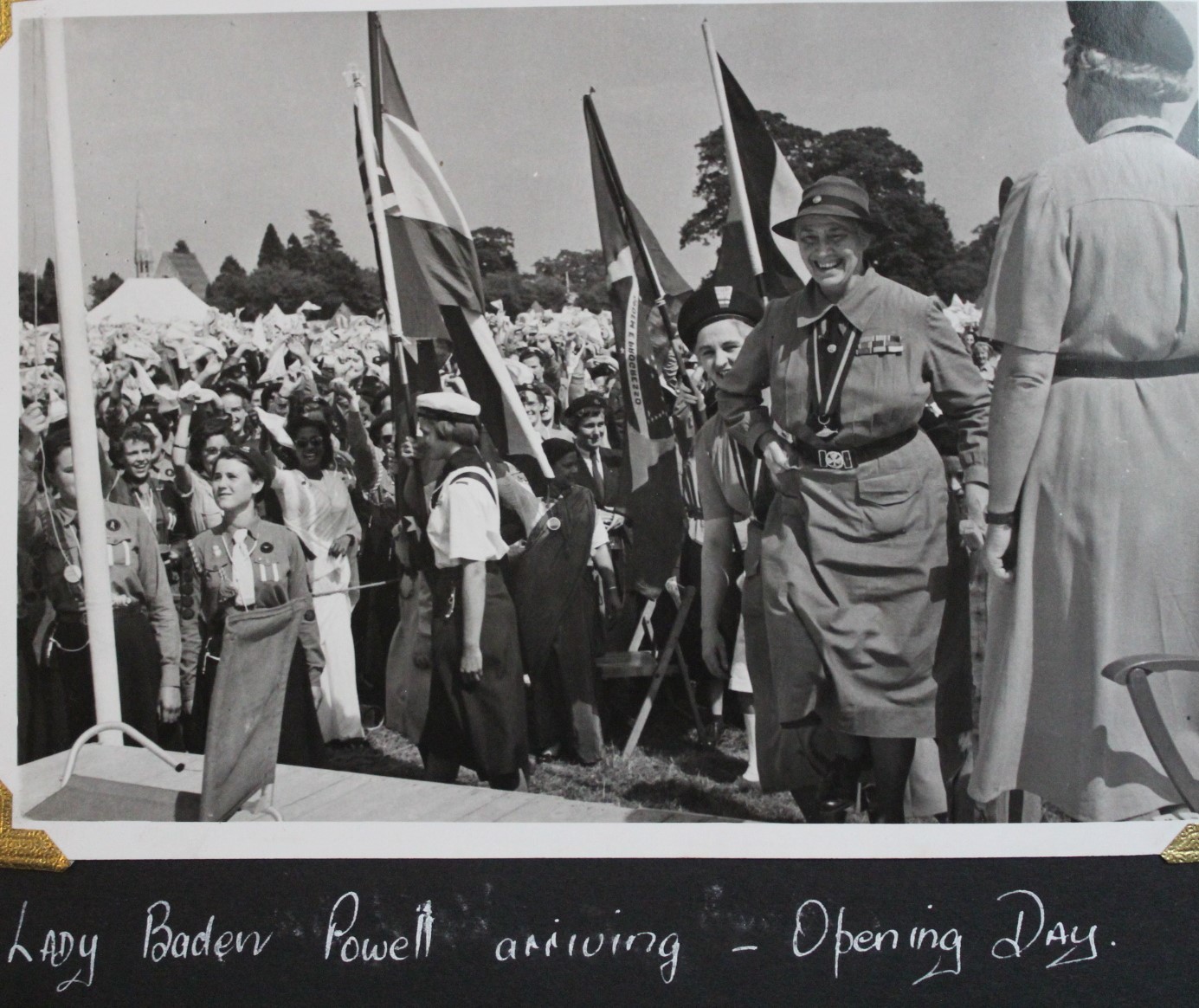 Mrs. Guesdon has a nice slide of herself and Lady BP presenting her with an award among the family slide collection - yes, 2 cameras taken to the U.K. This will converted to a digital format soon.
WORLD GUIDE CAMP OPENS
LONDON, Wednesday (A.A.P.-Reuter): A sea of white hankies, waved by 4,000 cheering Girl Guides, greeted World Chief Guide Lady Baden Powell as she walked between the flags of more than 70 nations to open the World Guide Camp in Windsor Great Park yesterday.
Scouts are holding a similar camp near Birmingham from August 1.
Both camps celebrate the centenary of the birth of the late Lord Baden Powell. WORLD GUIDE CAMP OPENS (1957, August 1). The Canberra Times (ACT : 1926 - 1995), p. 2. Retrieved from http://nla.gov.au/nla.news-article91594847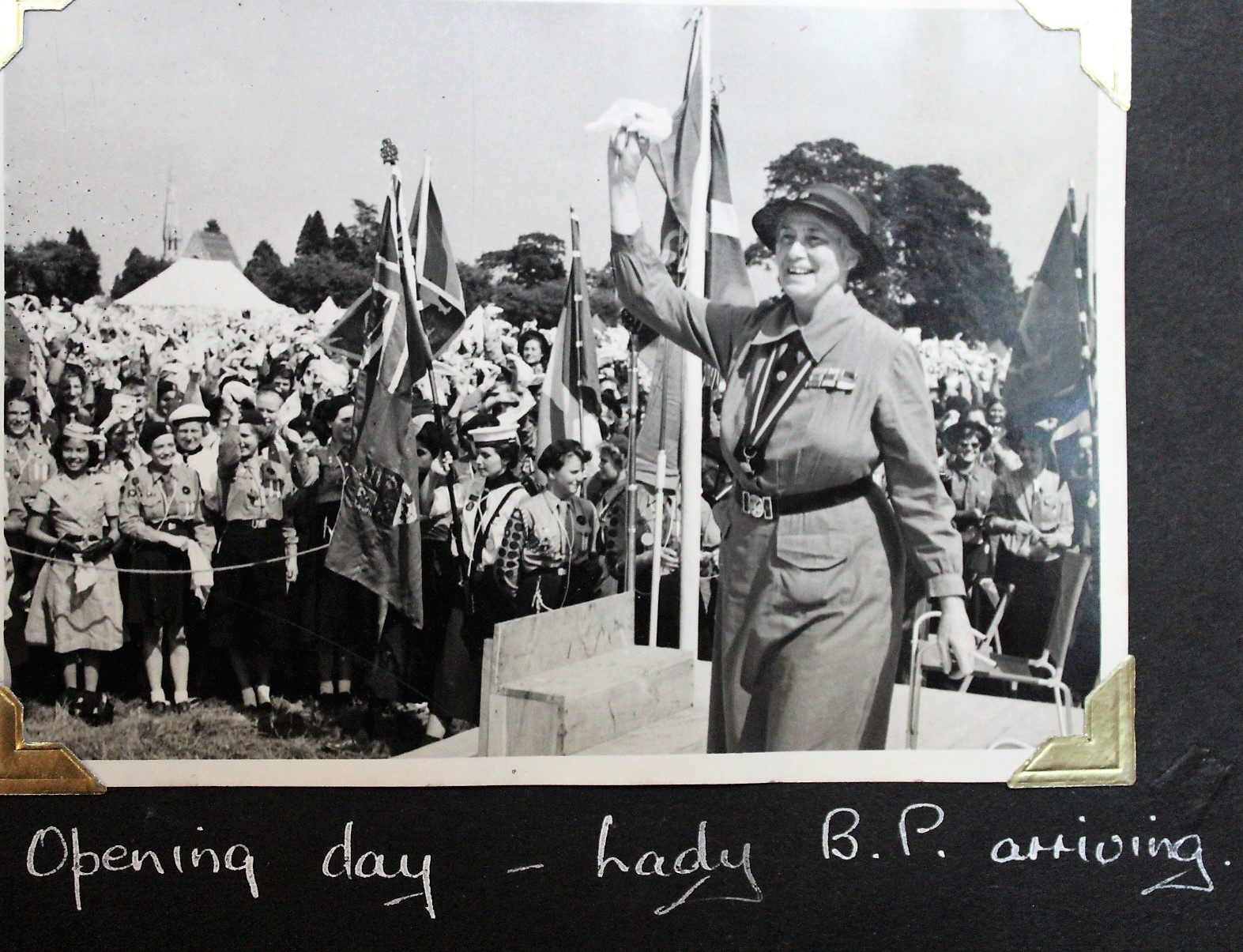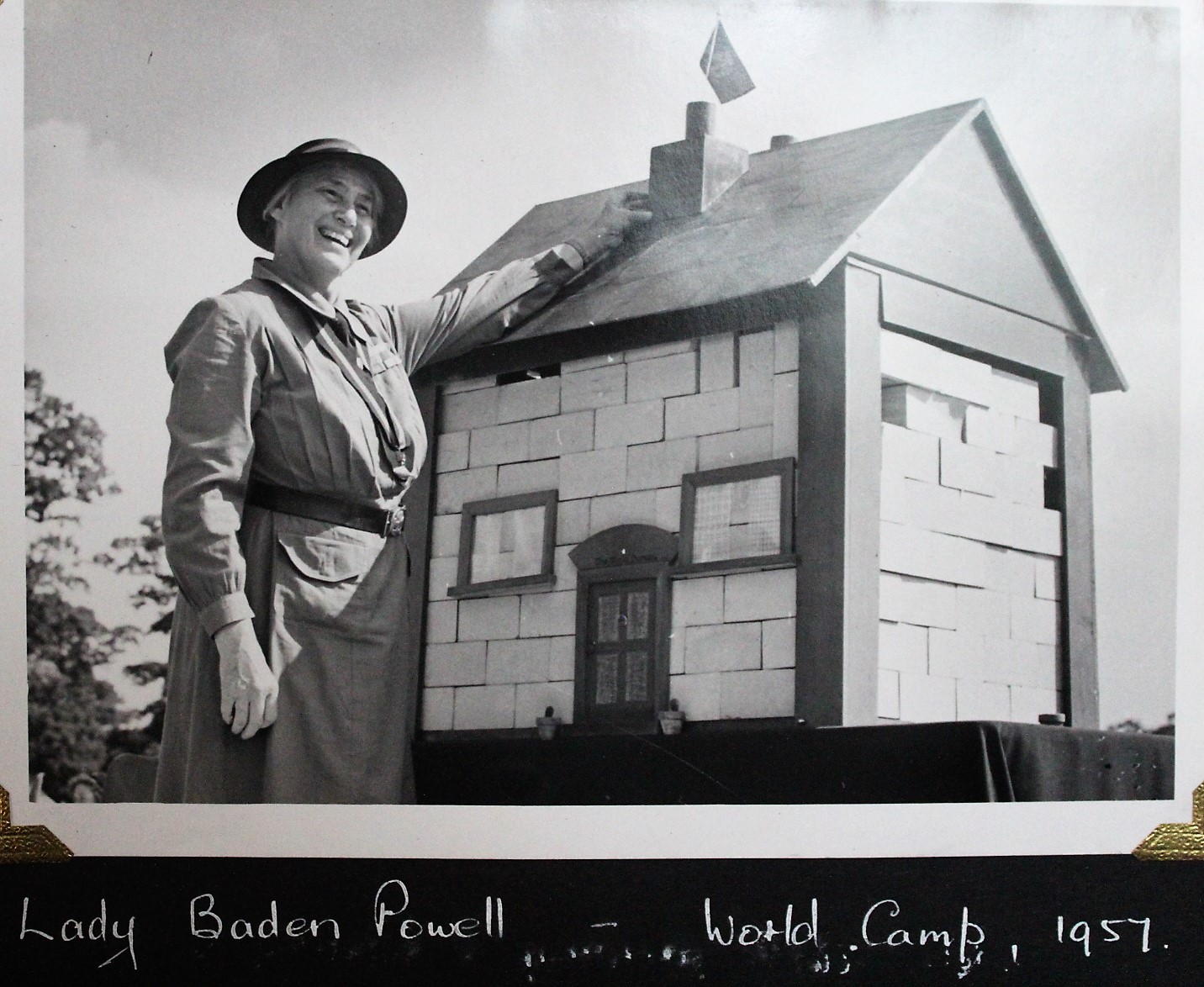 Each country built one of these houses.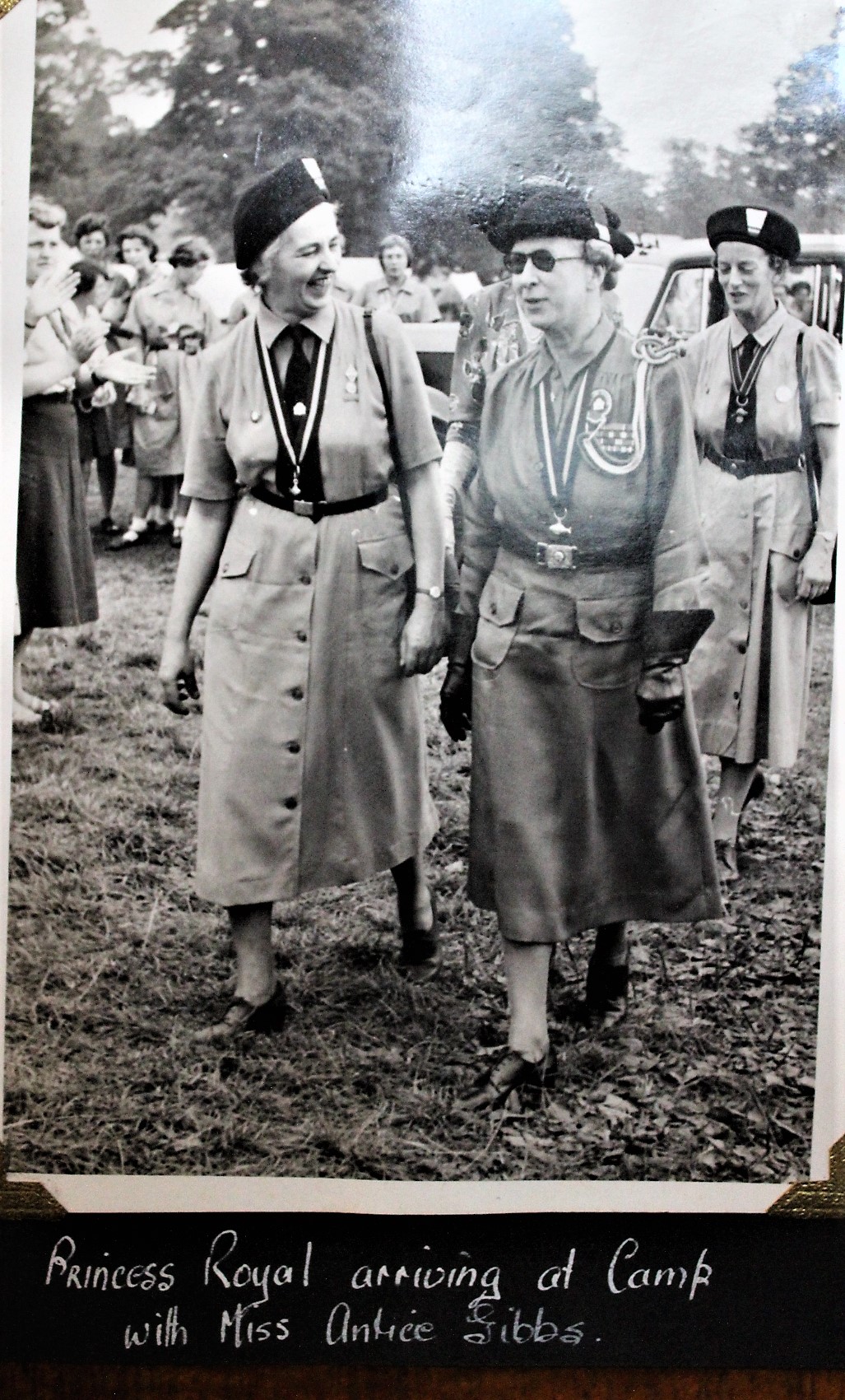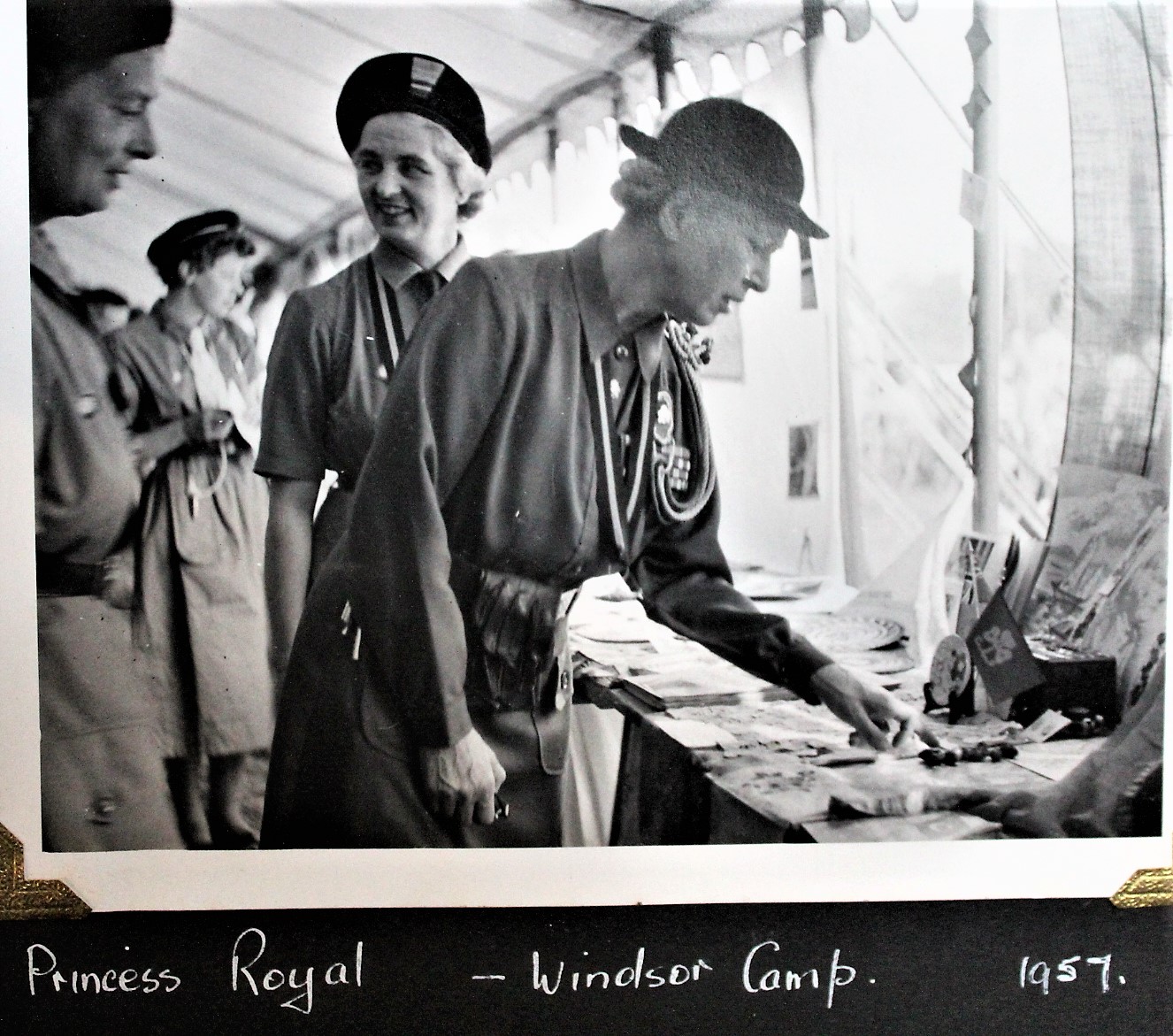 Mary, Princess Royal and Countess of Harewood (Victoria Alexandra Alice Mary; 25 April 1897 – 28 March 1965), was the only daughter of King George V and Queen Mary. She was the sister of Kings Edward VIII and George VI, and aunt of the current British monarch, Queen Elizabeth II. Princess Mary's public duties reflected her concerns with nursing, the Girl Guide movement, and the Women's Services. In the period leading up to her marriage, girls and women in the British Empire called Mary and its variants (including Marie, May and Miriam) banded together to form "The Marys of the Empire," and donated money toward a wedding present. She presented this fund to the Girl Guides Association for the purchase of the estate of Foxlease, and following the exhibition of her wedding presents, also contributed half the proceeds to the same cause, for upkeep, a total of £10,000, which enabled the project to go ahead. Mary, Princess Royal became honorary president of the British Girl Guide Association in 1920, a position held until she passed away.

Dame Anstice Gibbs, DCVO, CBE (b. Hertfordshire, 2 January 1905, d. Hampshire, 7th February 1978) was the Chief Commissioner of the Girl Guides Association in the UK for ten years, and vice-chair of the World Association of Girl Guides and Girl Scouts (WAGGGS) from 1957 to 1960. She visited Girl Guides in Sri Lanka, Pakistan and Australia in 1956 and returned in 1964. Her final role in Guiding was as Chair of the UK's Planning Committee for WAGGGS' 22nd World Conference held in Sussex in 1975. Dame Gibbs spent more than 70 years as part of the Girl Guide movement.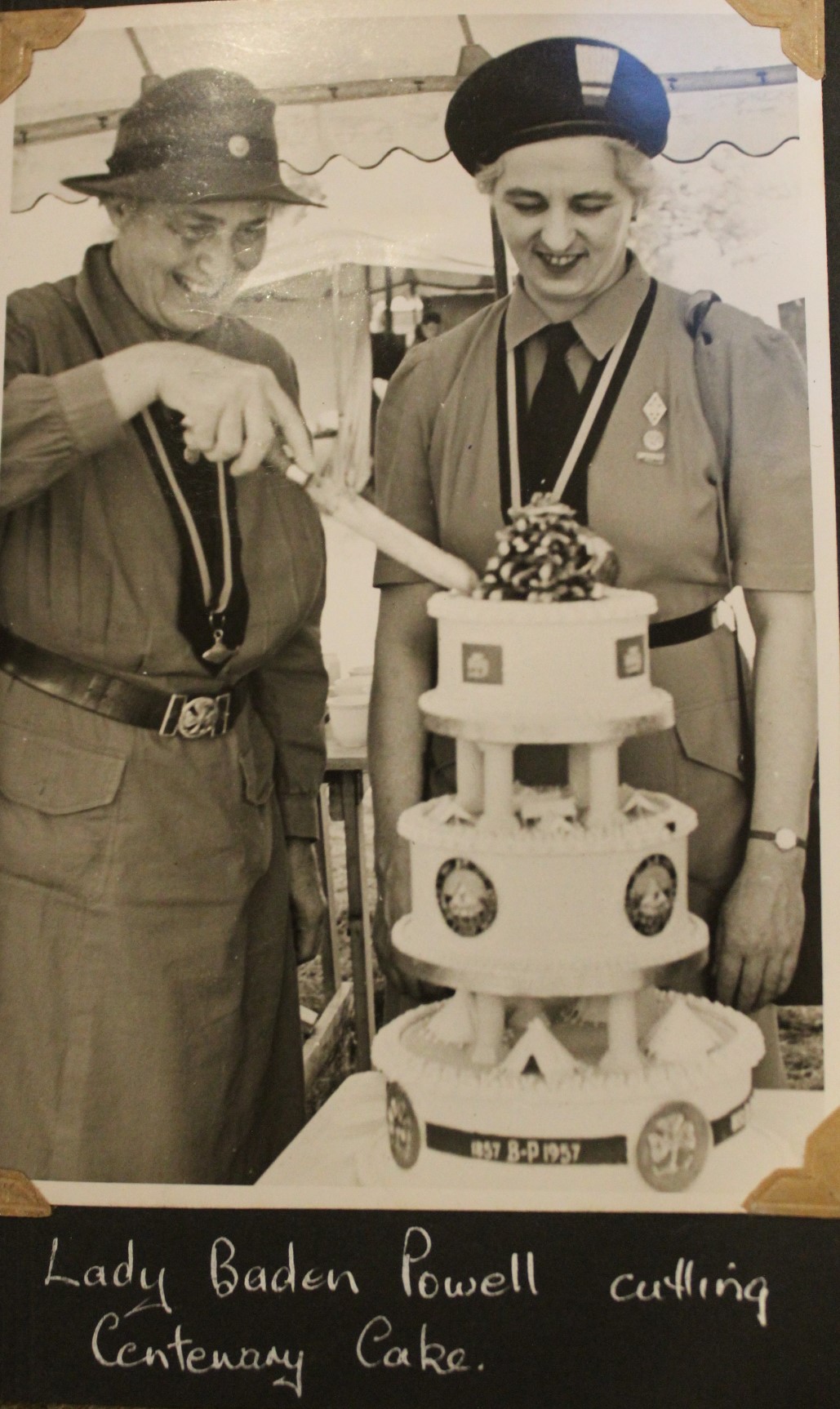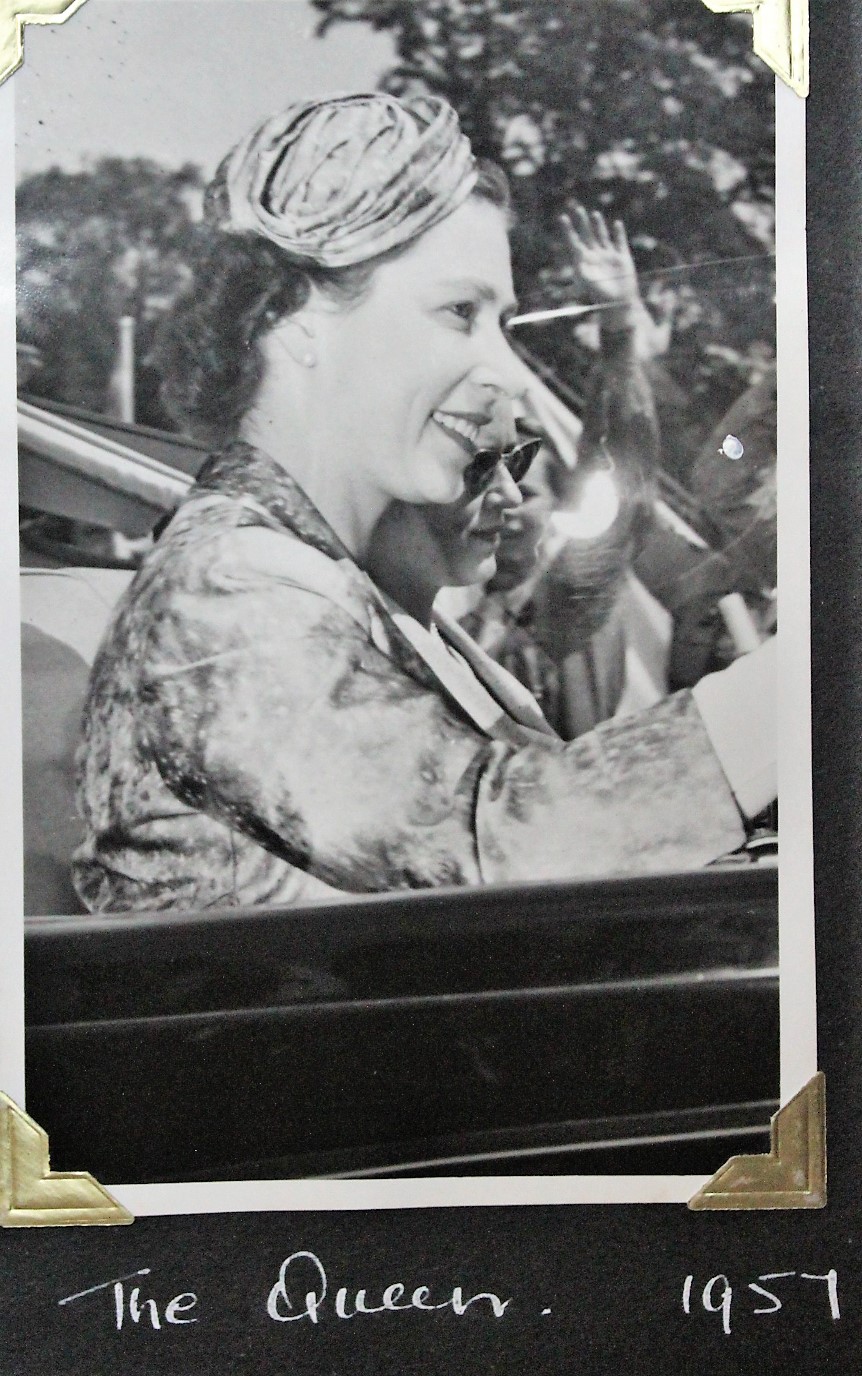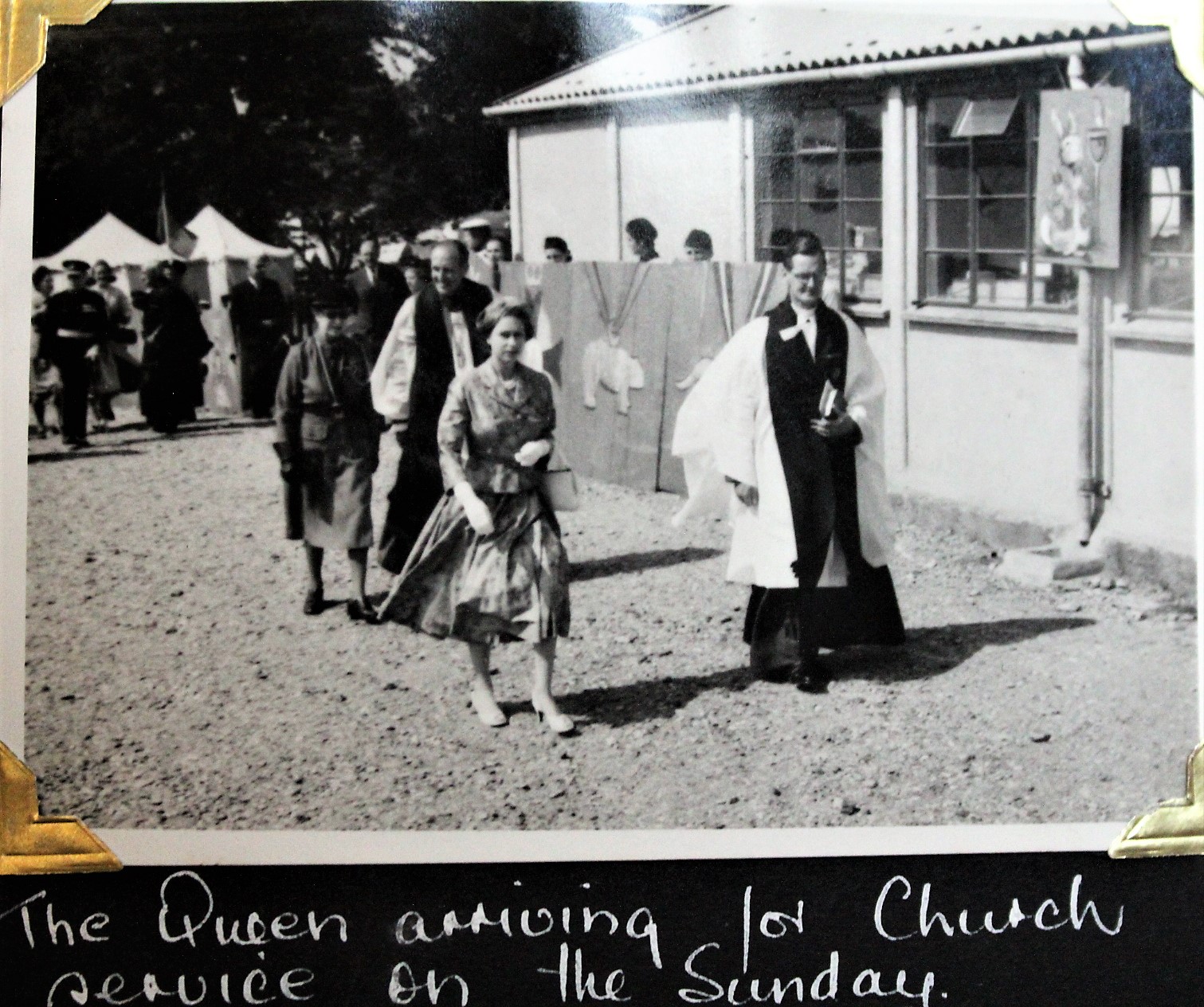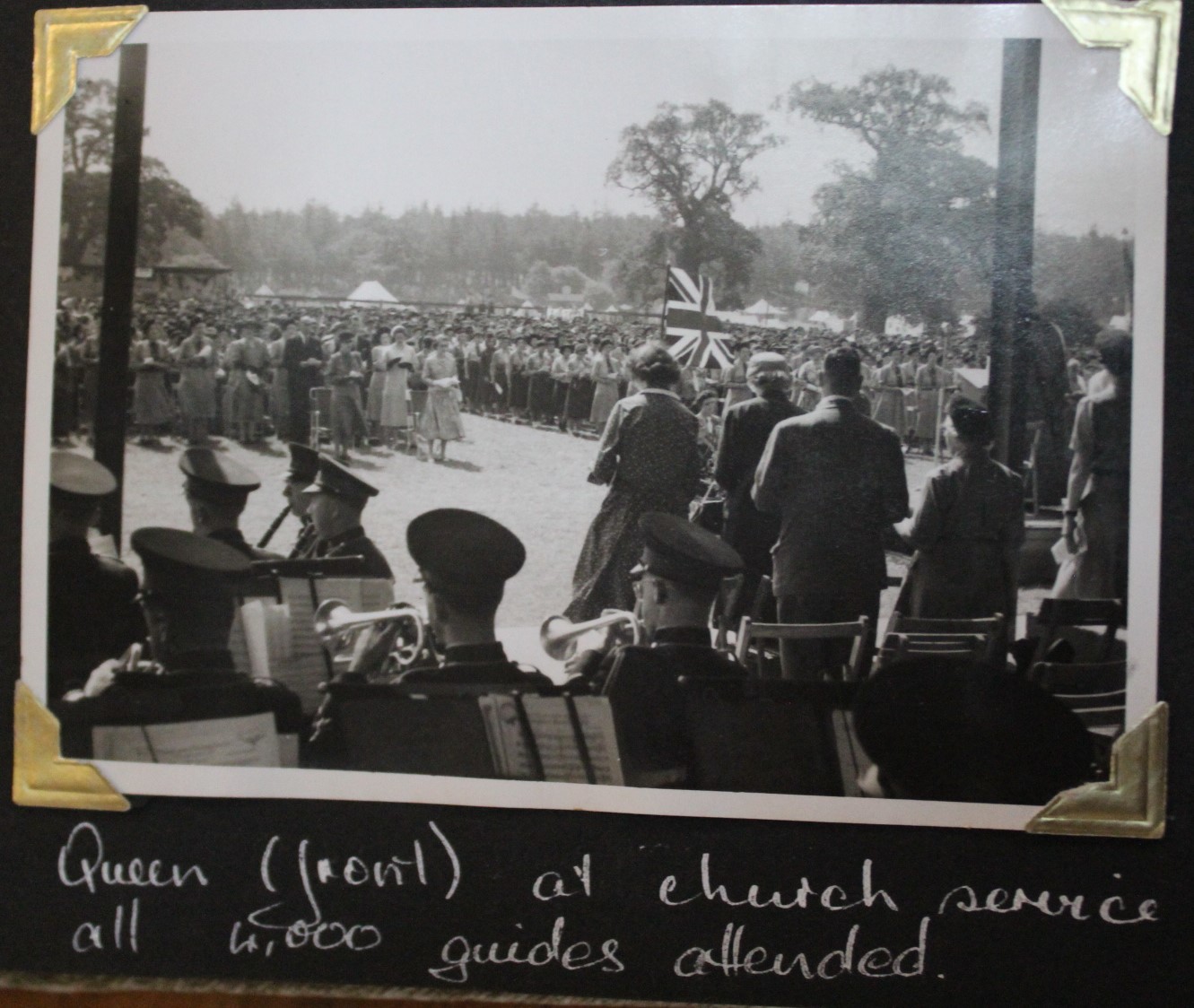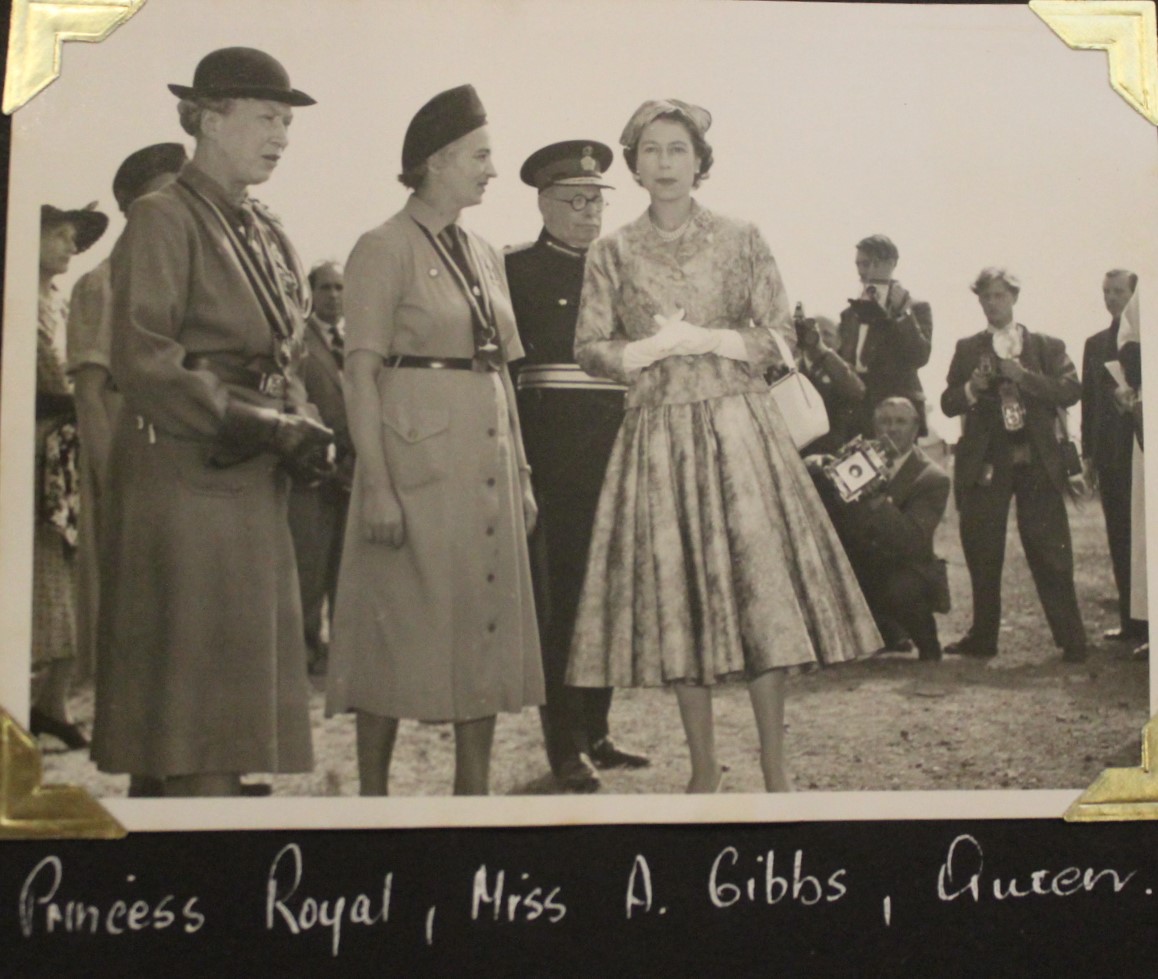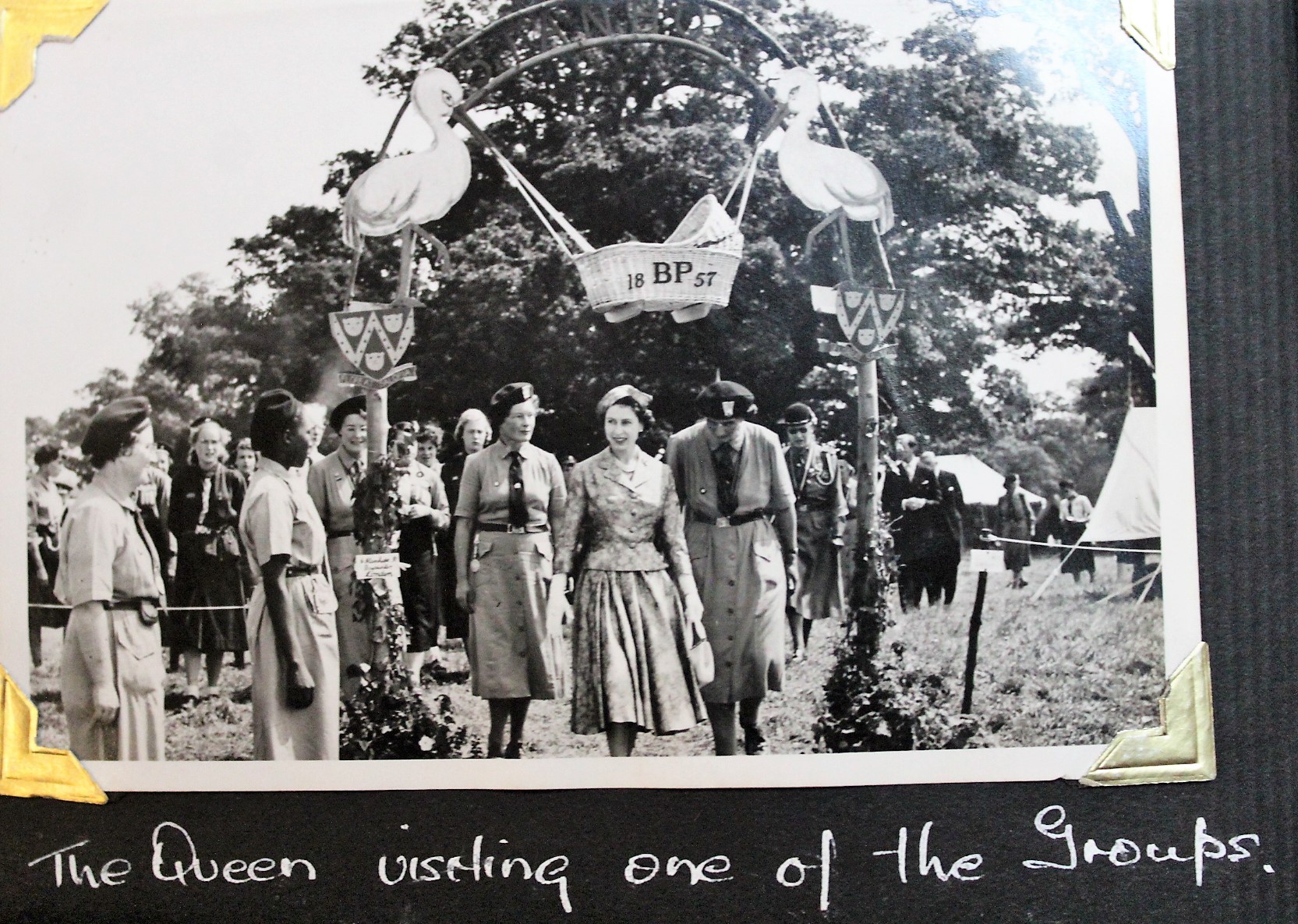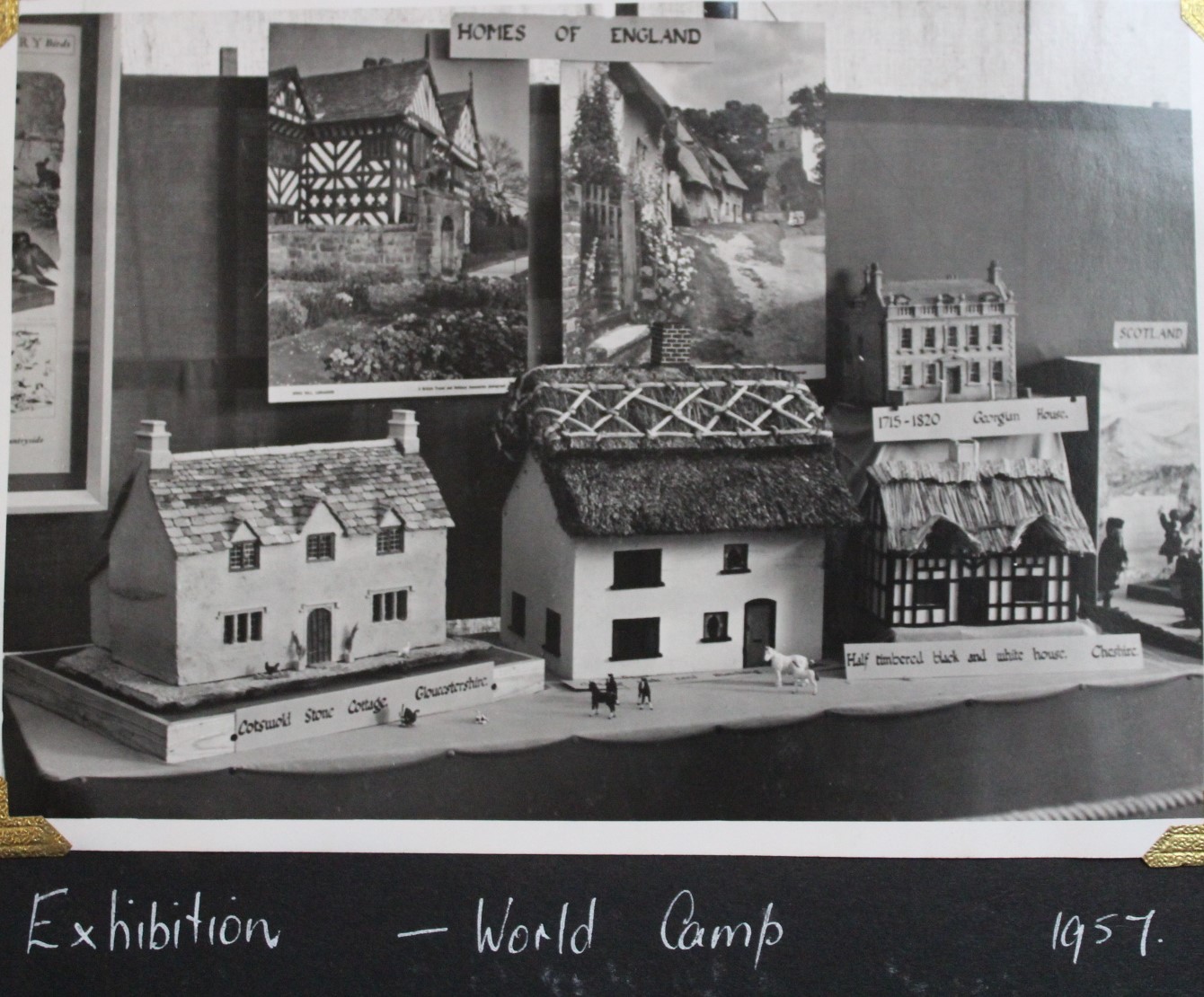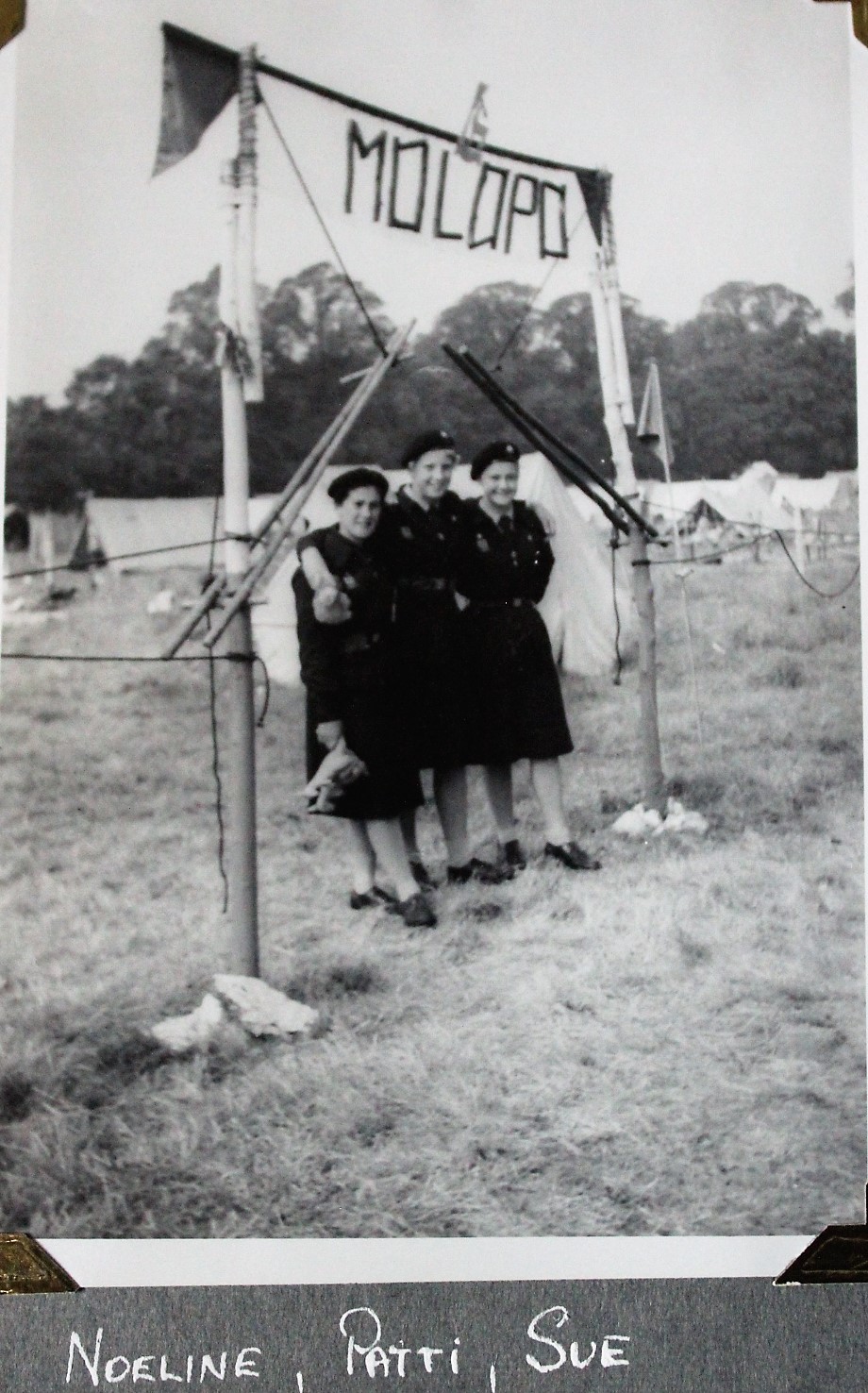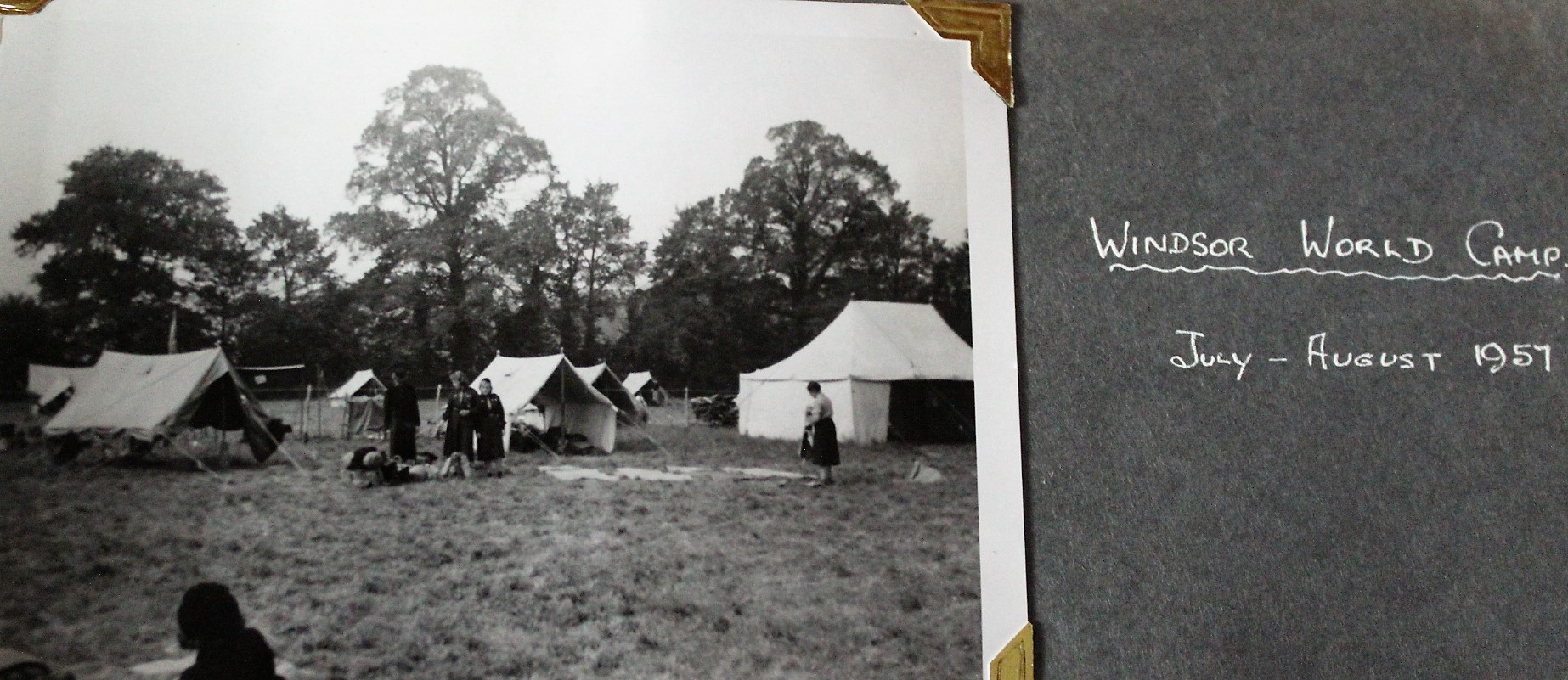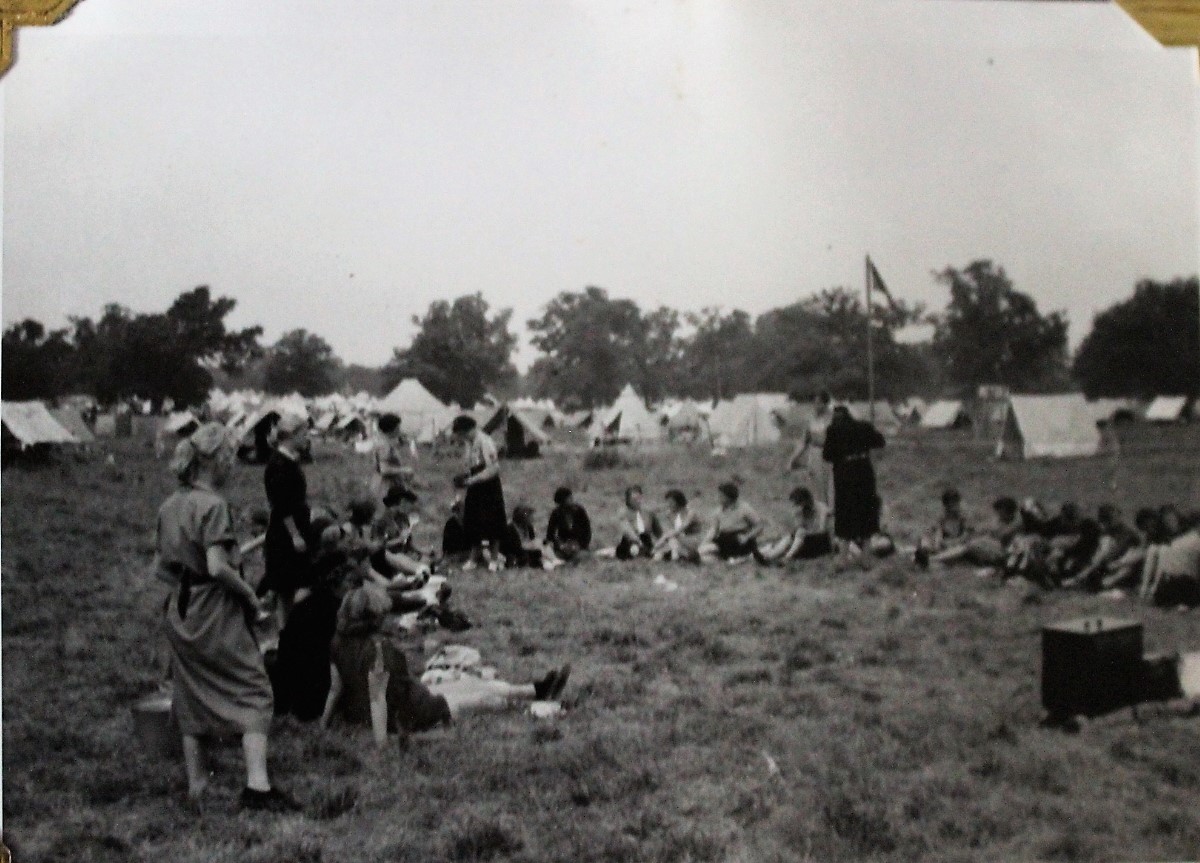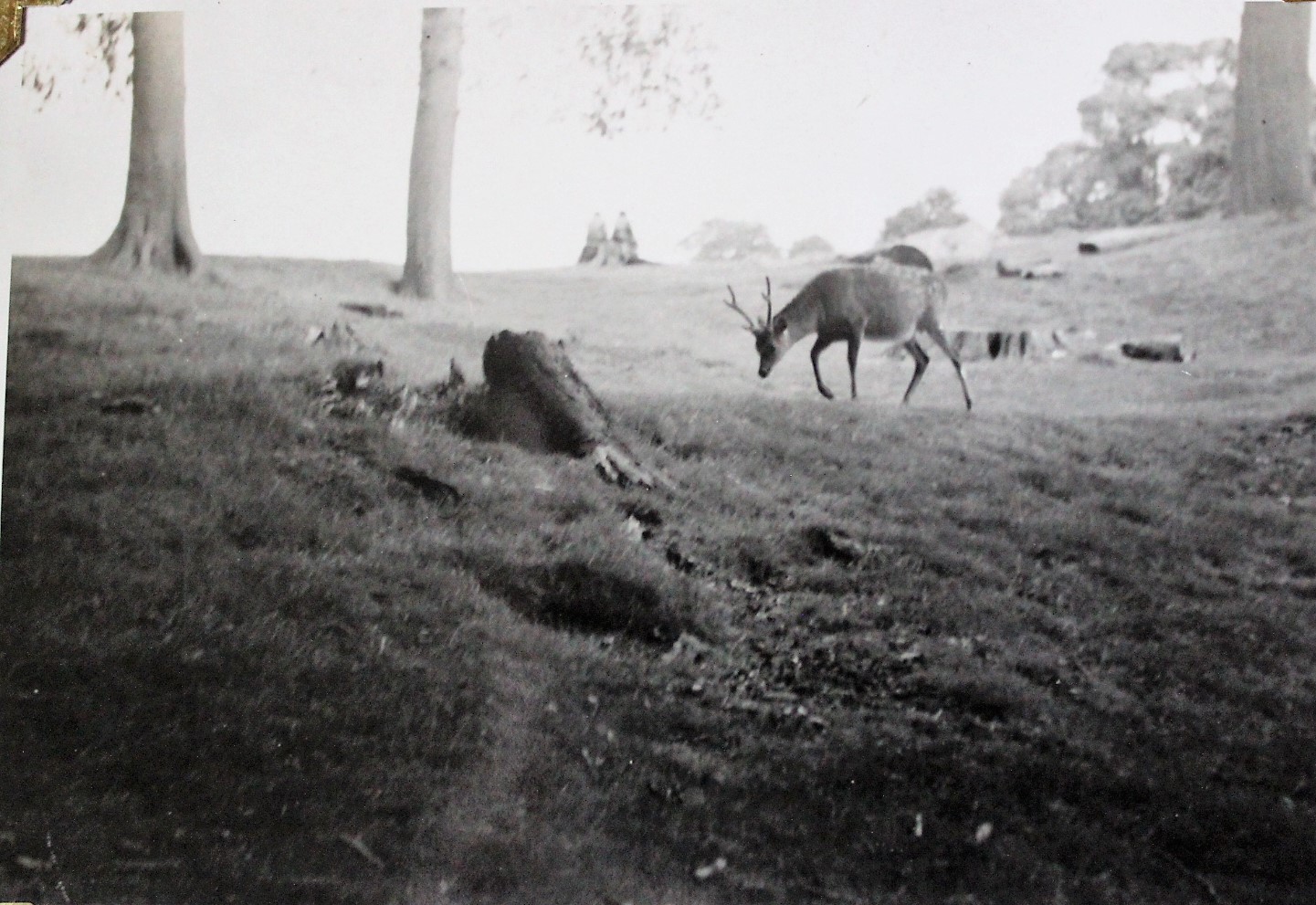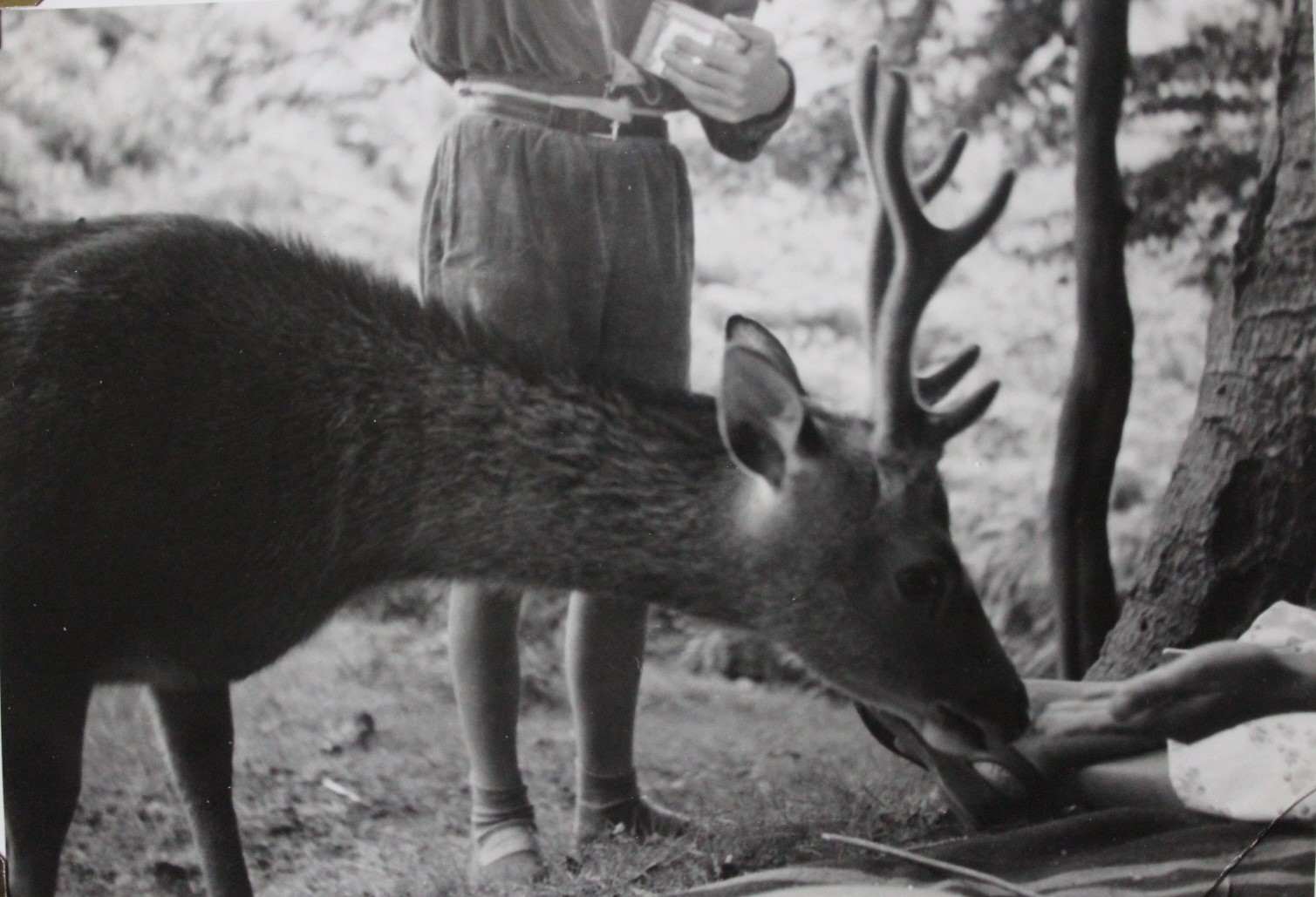 WORLD GUIDE CAMP AT WINDSOR GREAT PARK.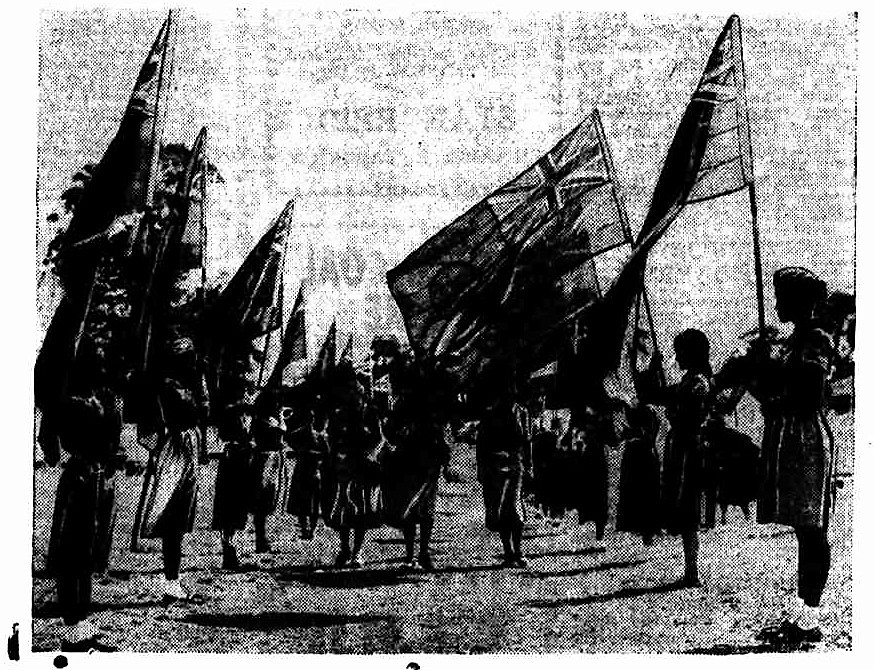 Olave, Lady Baden-Powell, the World Chief Guide and widow of the founder of the Boy Scout Movement, is seen (centre) walking through an avenue of "Flags of the Nations' when she arrived to open the World Guide Camp at Windsor Great Park recently. On the left is Miss Anstice Gibbs, the Chief Commissioner, and (right) is Miss Elizabeth Severidge, the Camp Commandant.
Attending the camp, which was held to commemorate the centenary of the birth of the founder of the Boy Scout and Girl Guide movements, were over 4000 Girl Guides from more than 50 countries. A highlight of the Camp was the visit of Her Majesty the Queen, who toured parts of the camp, talked with Guides of many nationalities, and attended a United Service of Campers, as well as watching displays of dancing by overseas guides. The vast international gathering of Girl Guides at Windsor ended with a huge camp fire when the Guides of all countries assembled at the arena to sing together their guiding songs. WORLD GUIDE CAMP AT WINDSOR GREAT PARK. (1957, November 27). The Biz (Fairfield, NSW : 1928 - 1972), p. 34. Retrieved from http://nla.gov.au/nla.news-article189945636
Afterwards the Australian girls visited London for a few days: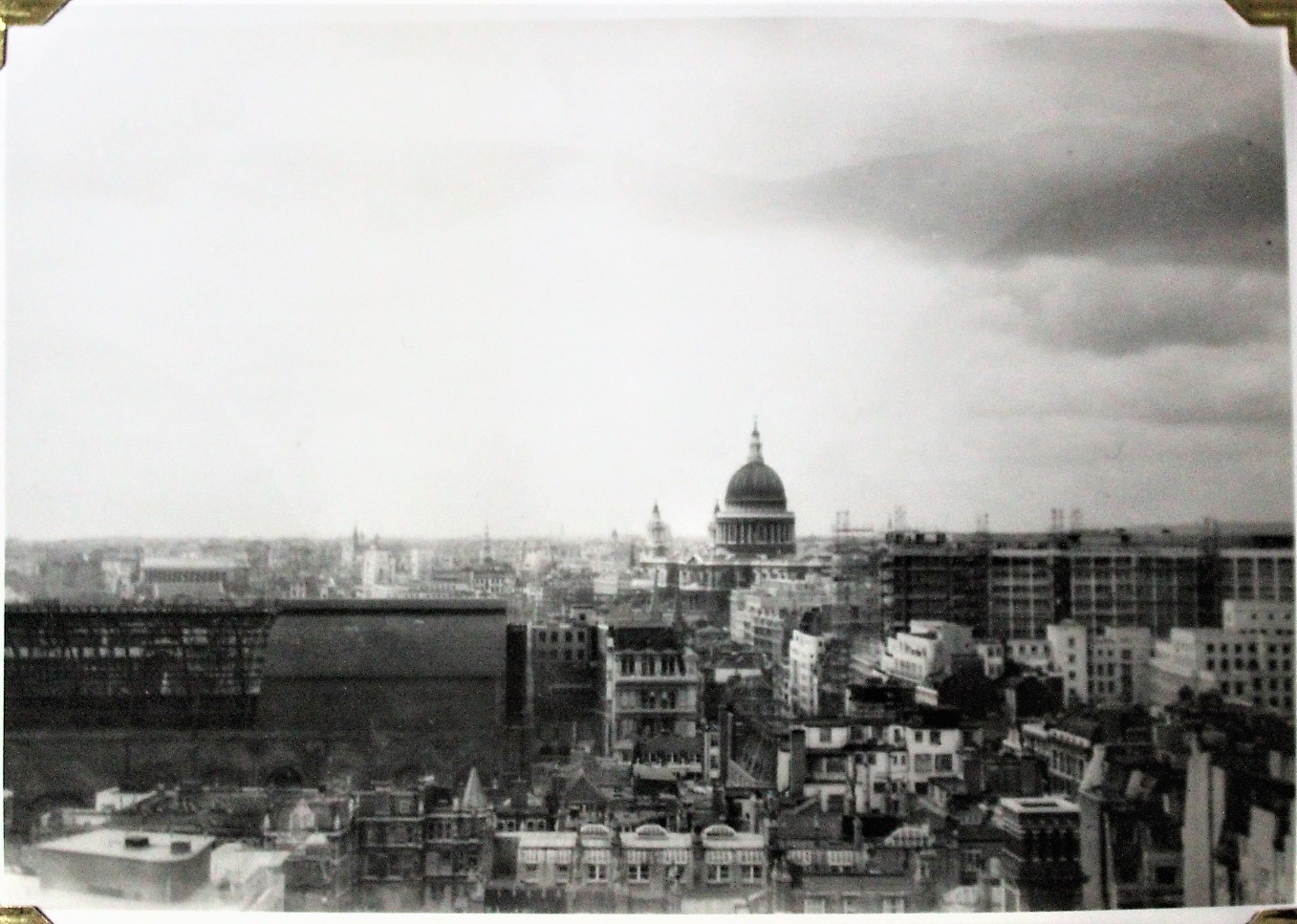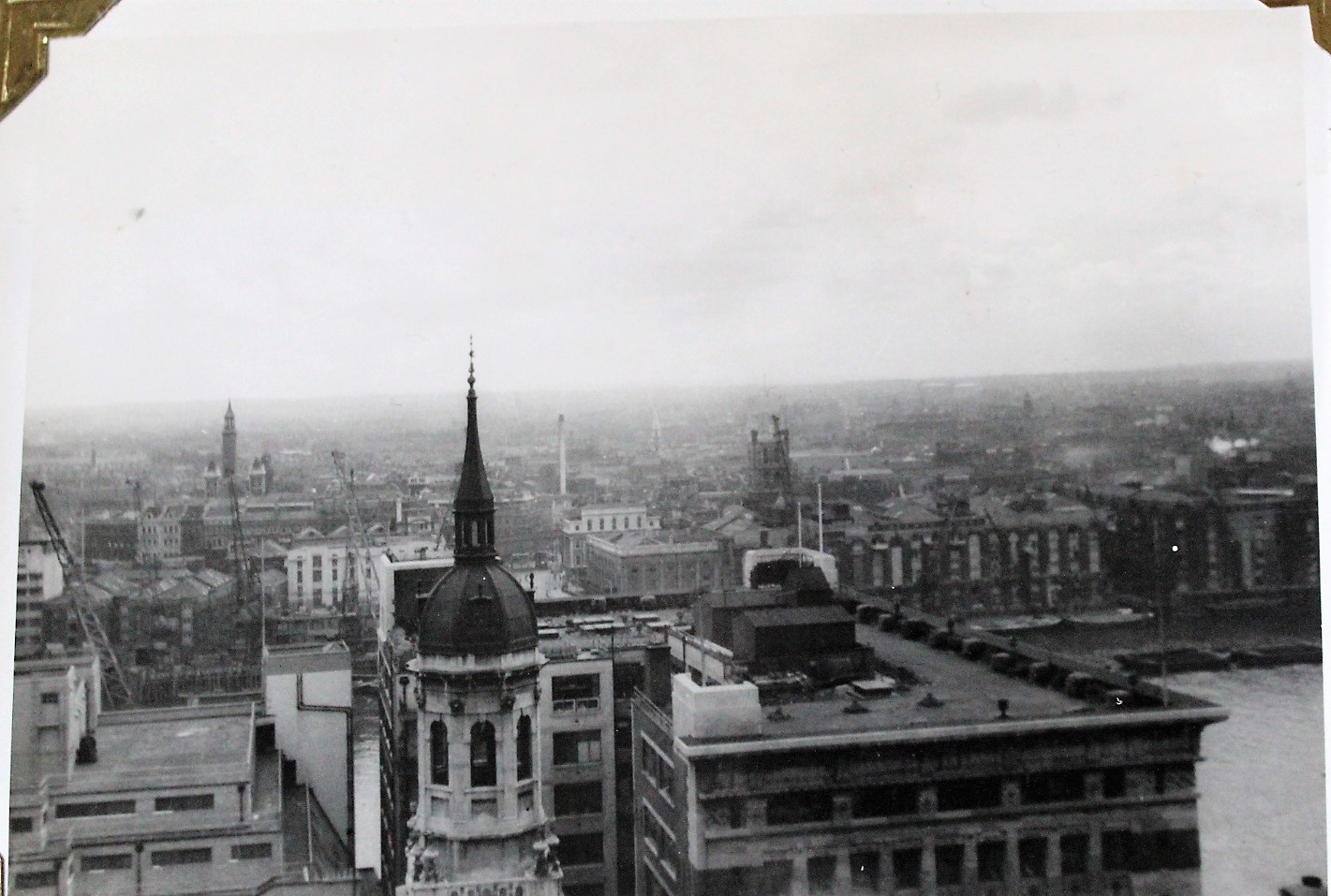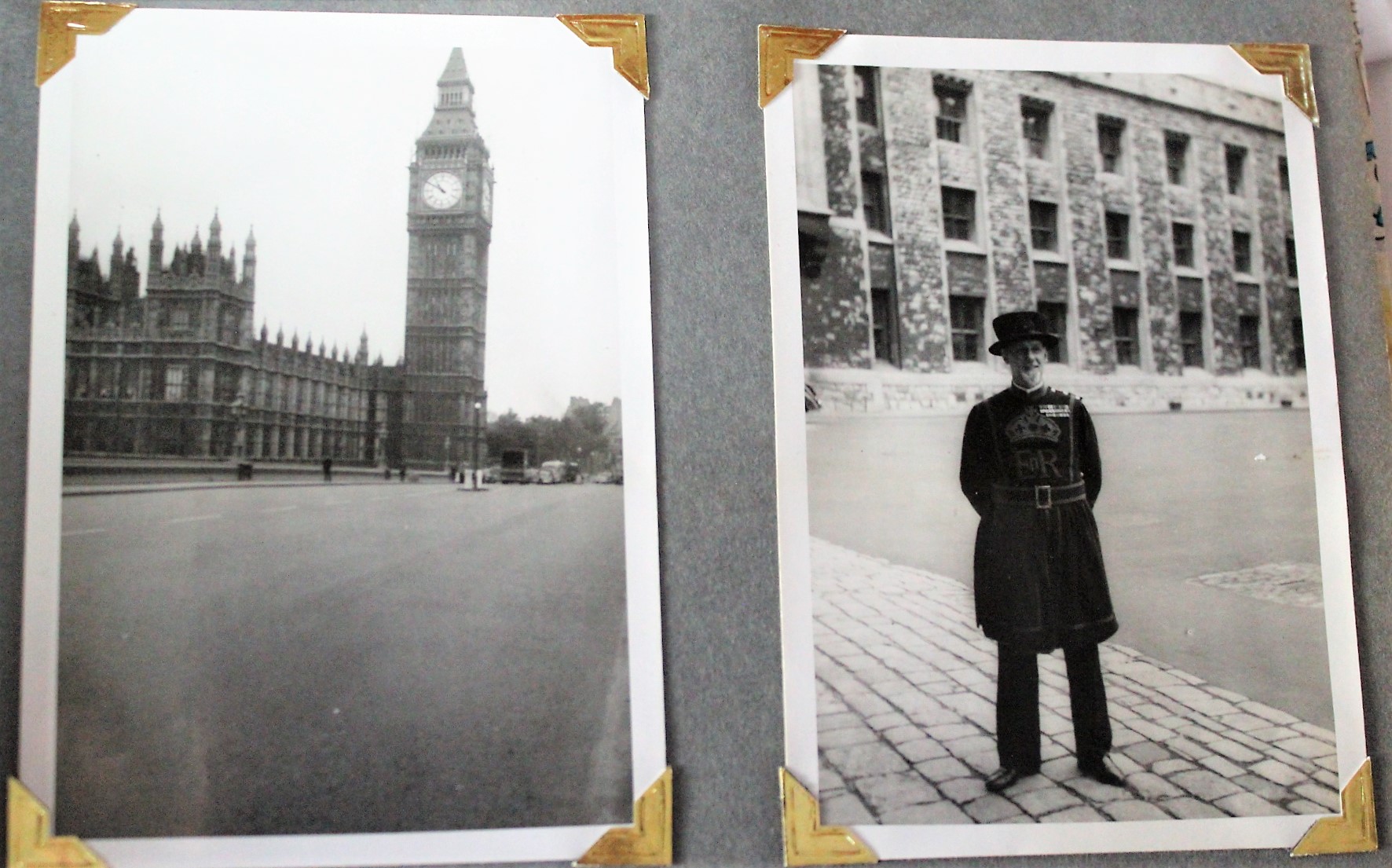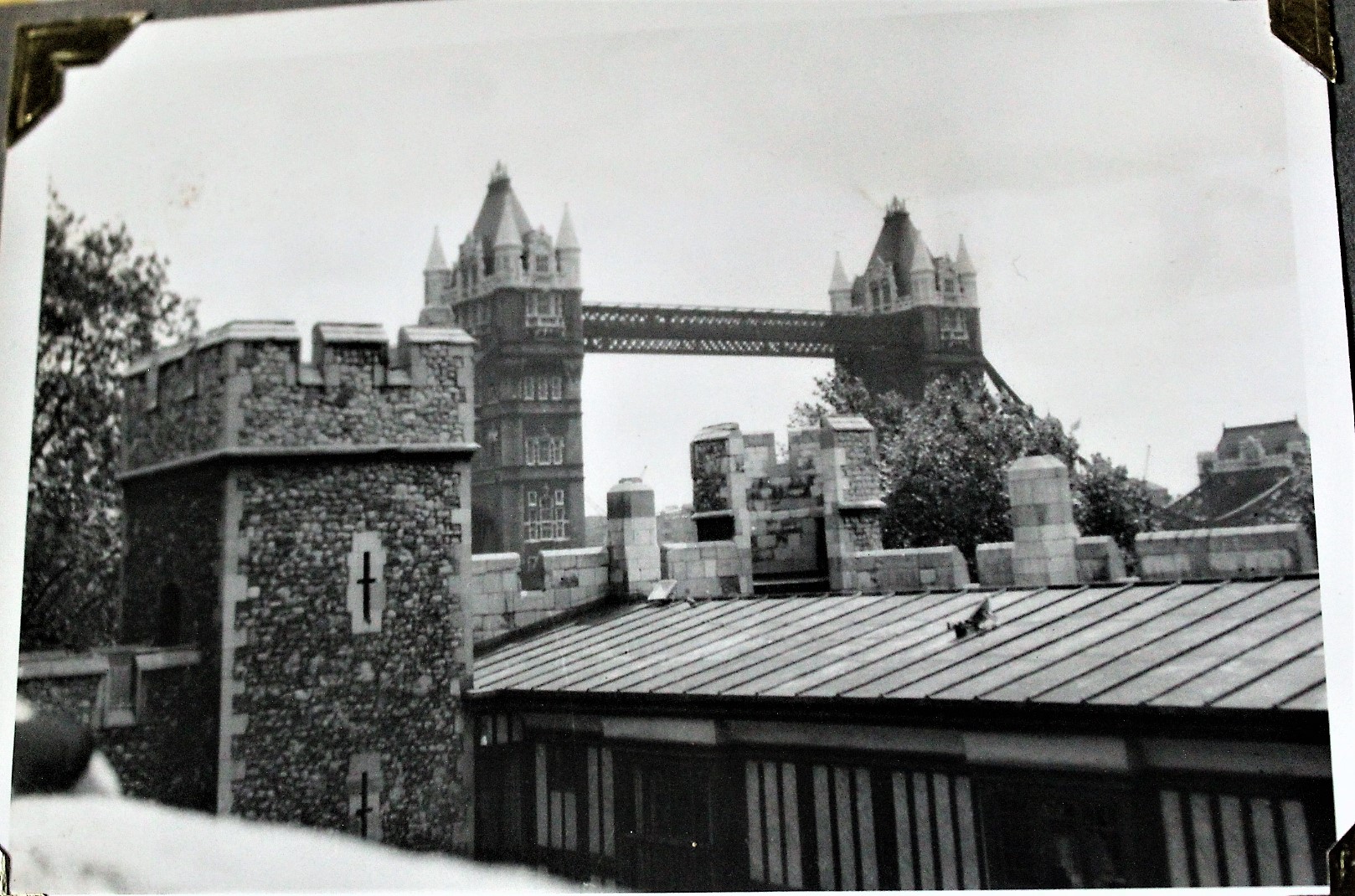 They then went on to other camps - some to Scotland while the Sea Rangers had a special experience at Dartmouth: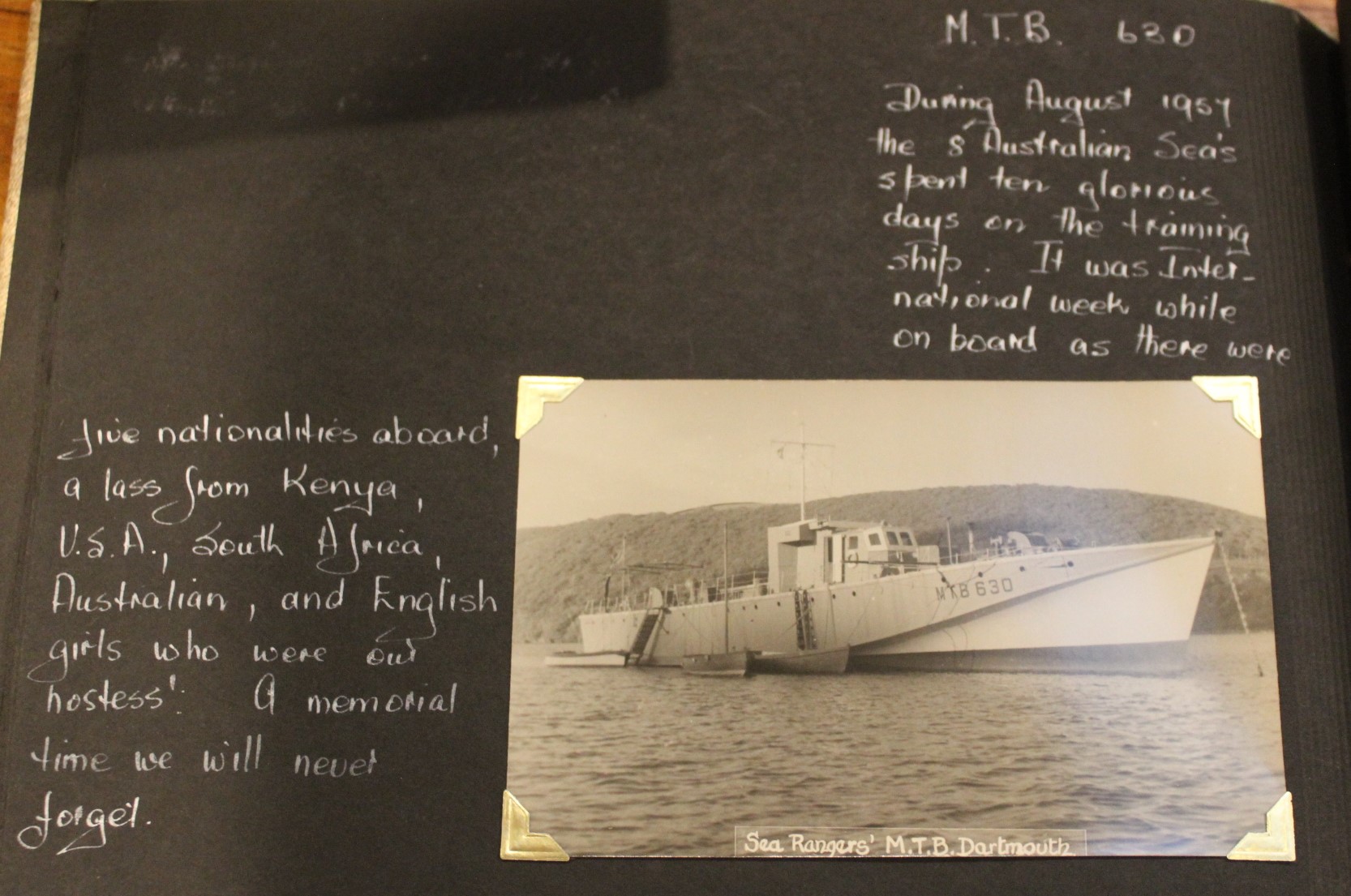 Heartease Girl Guide House and grounds are situated in their own secluded woodland grounds in the West Wickham area: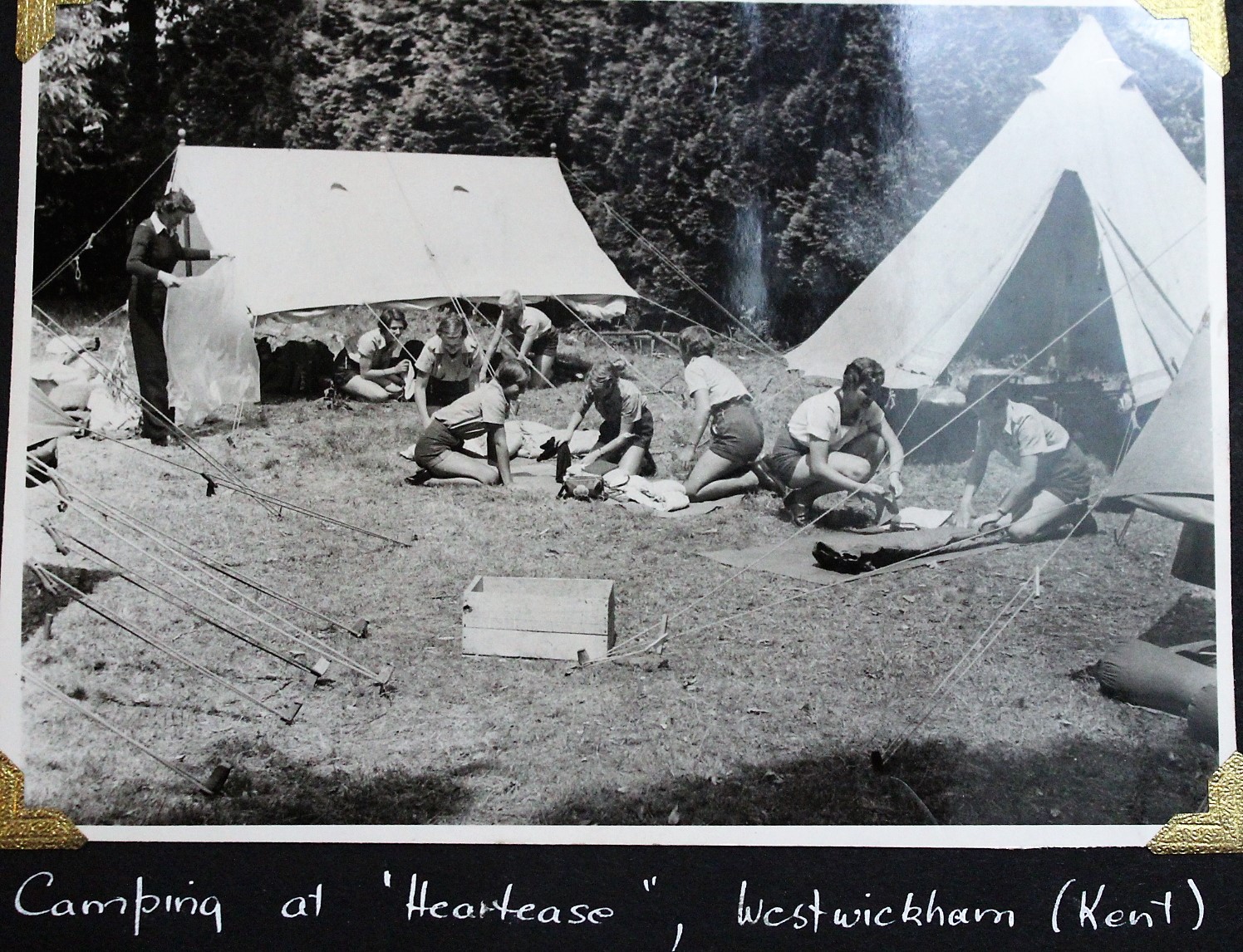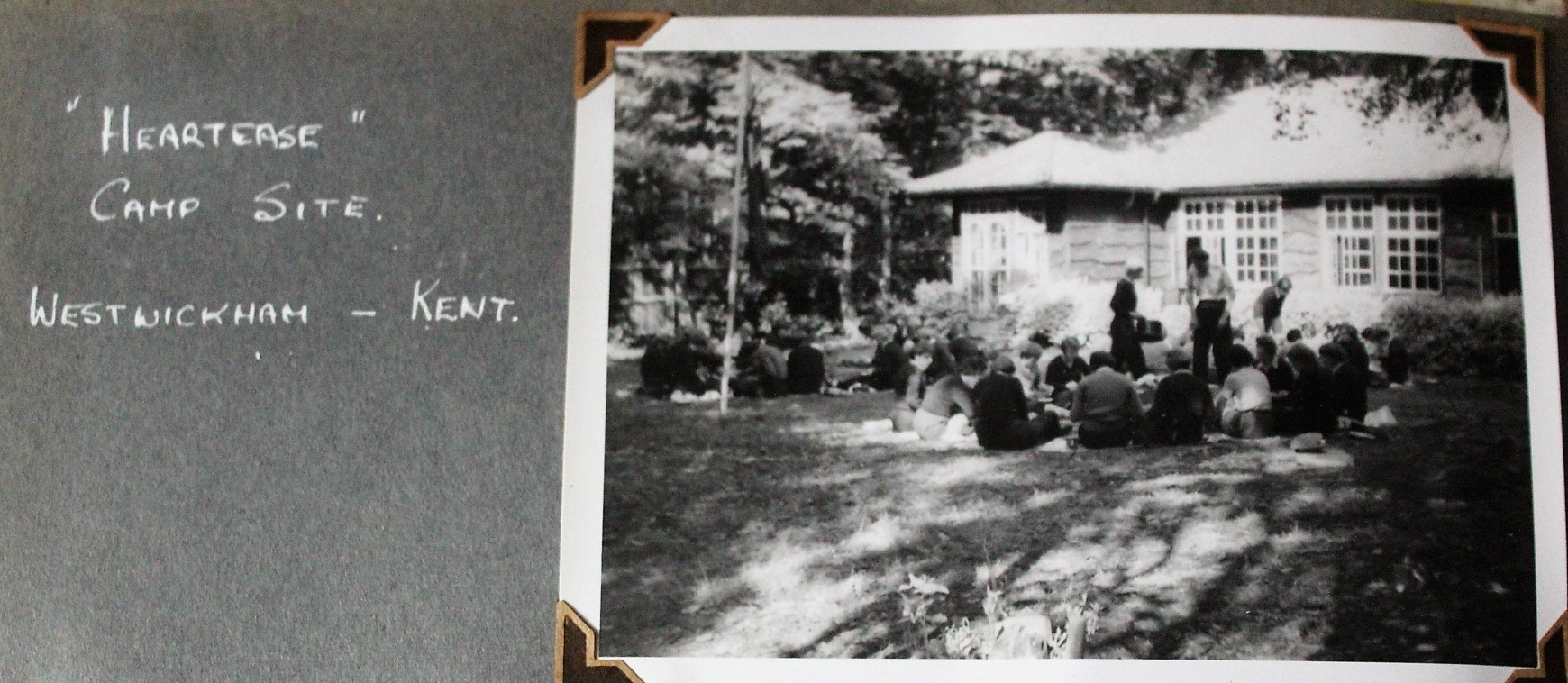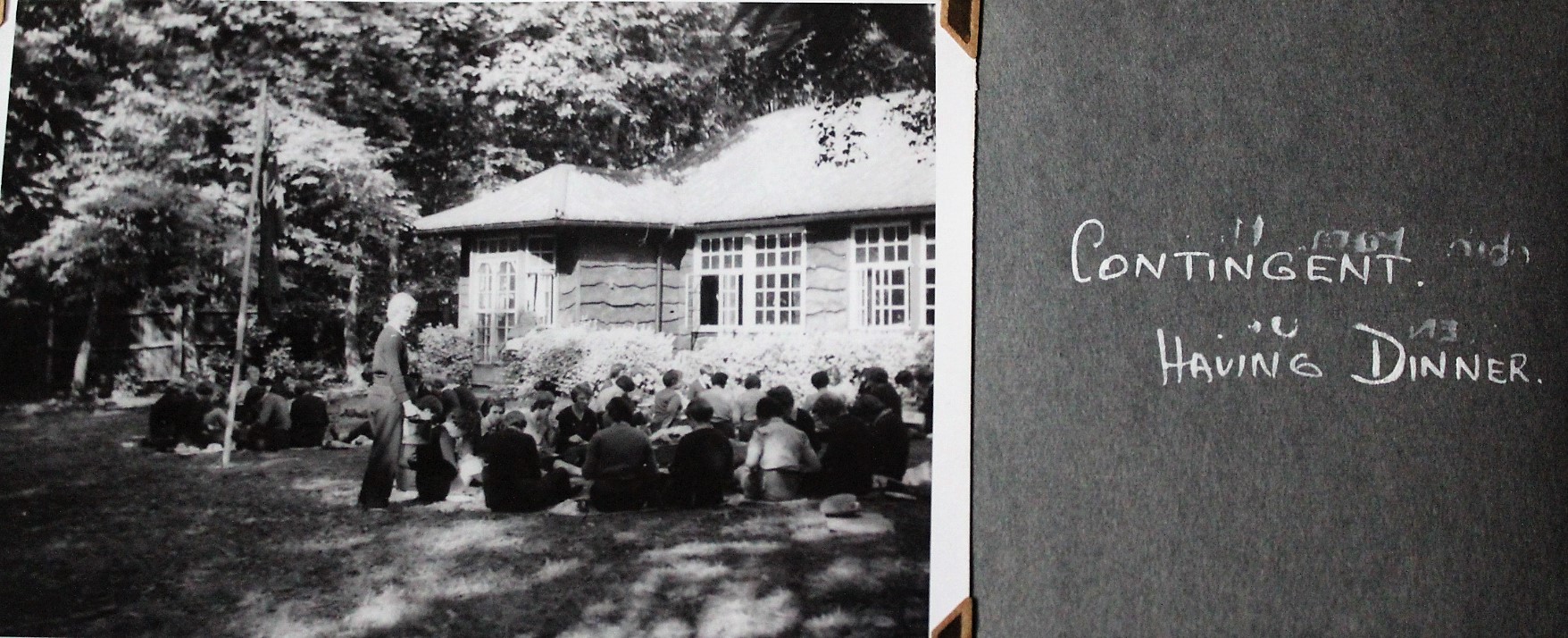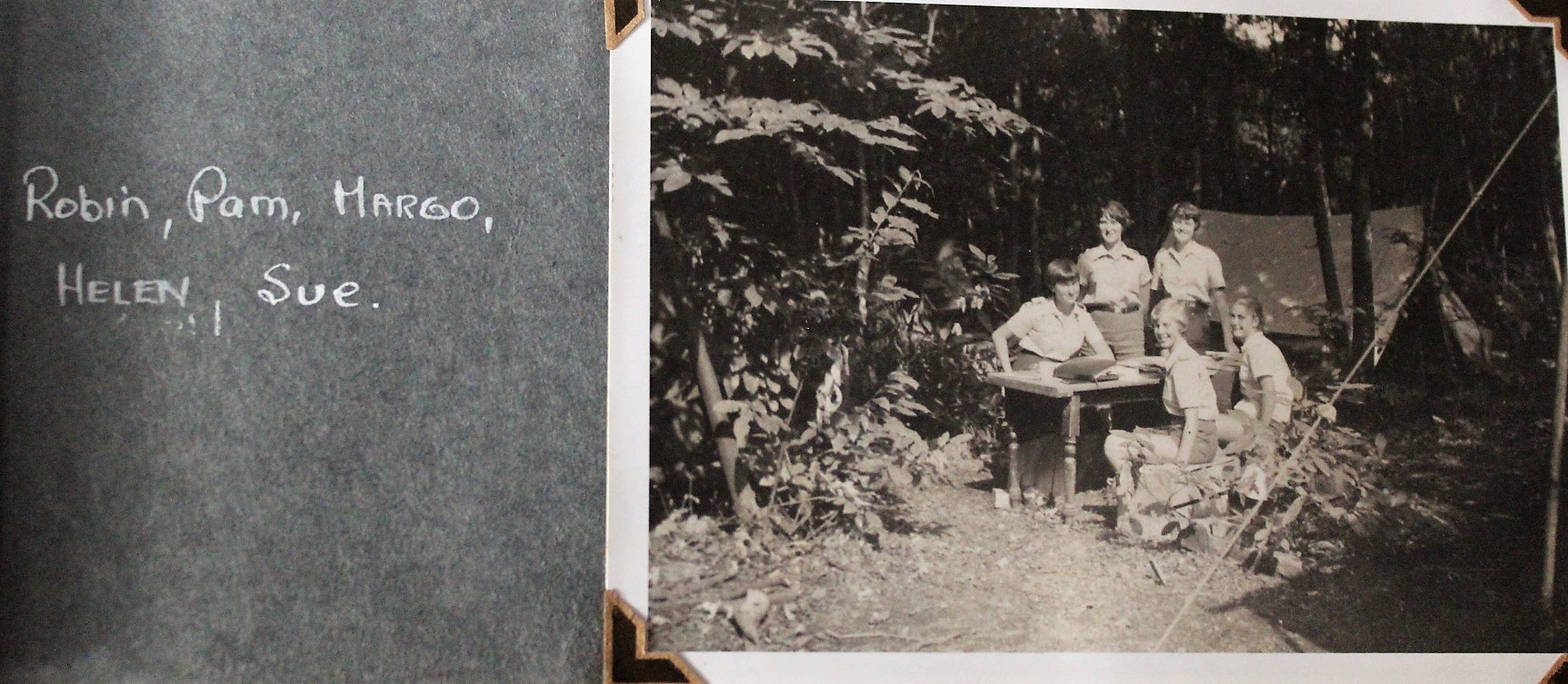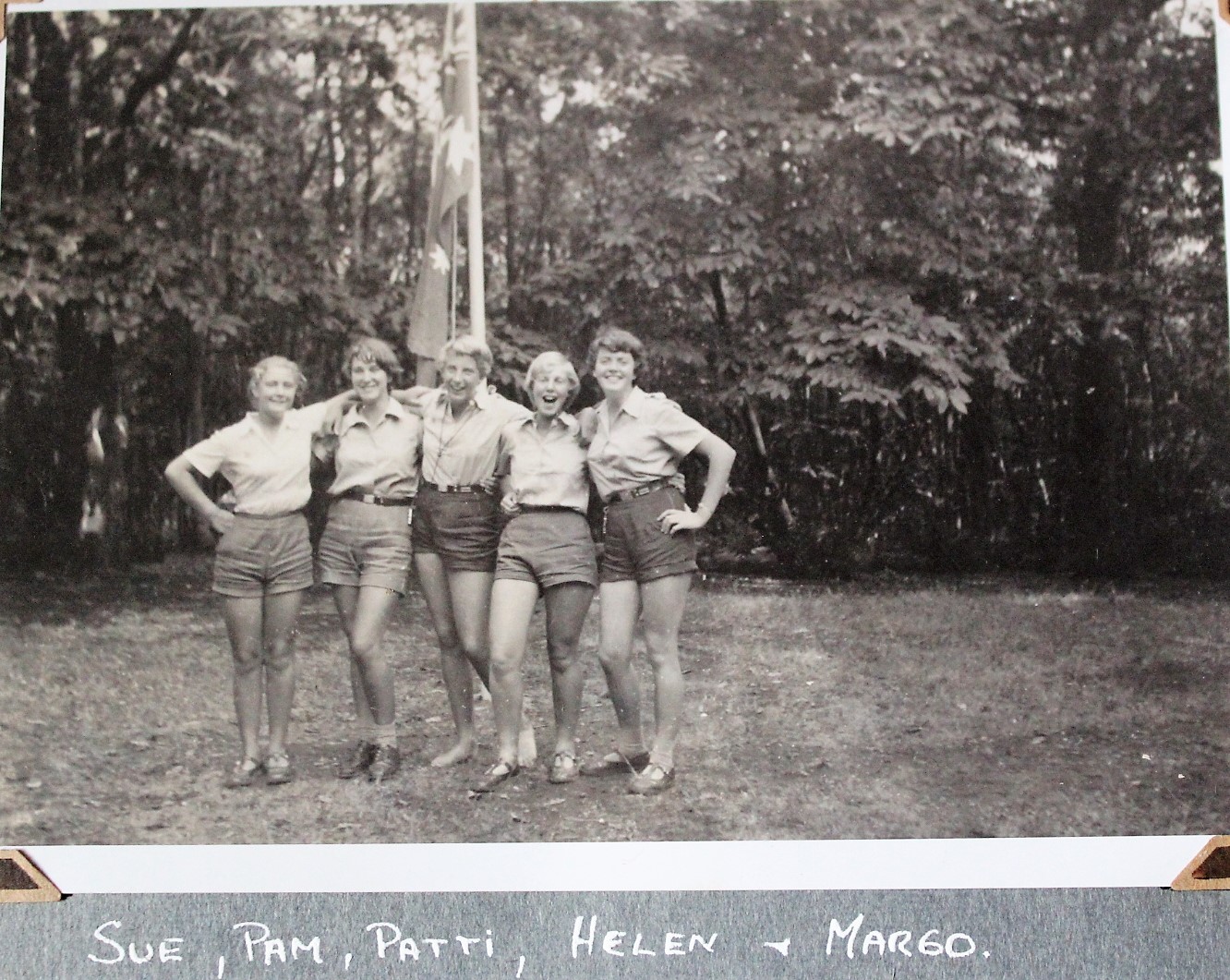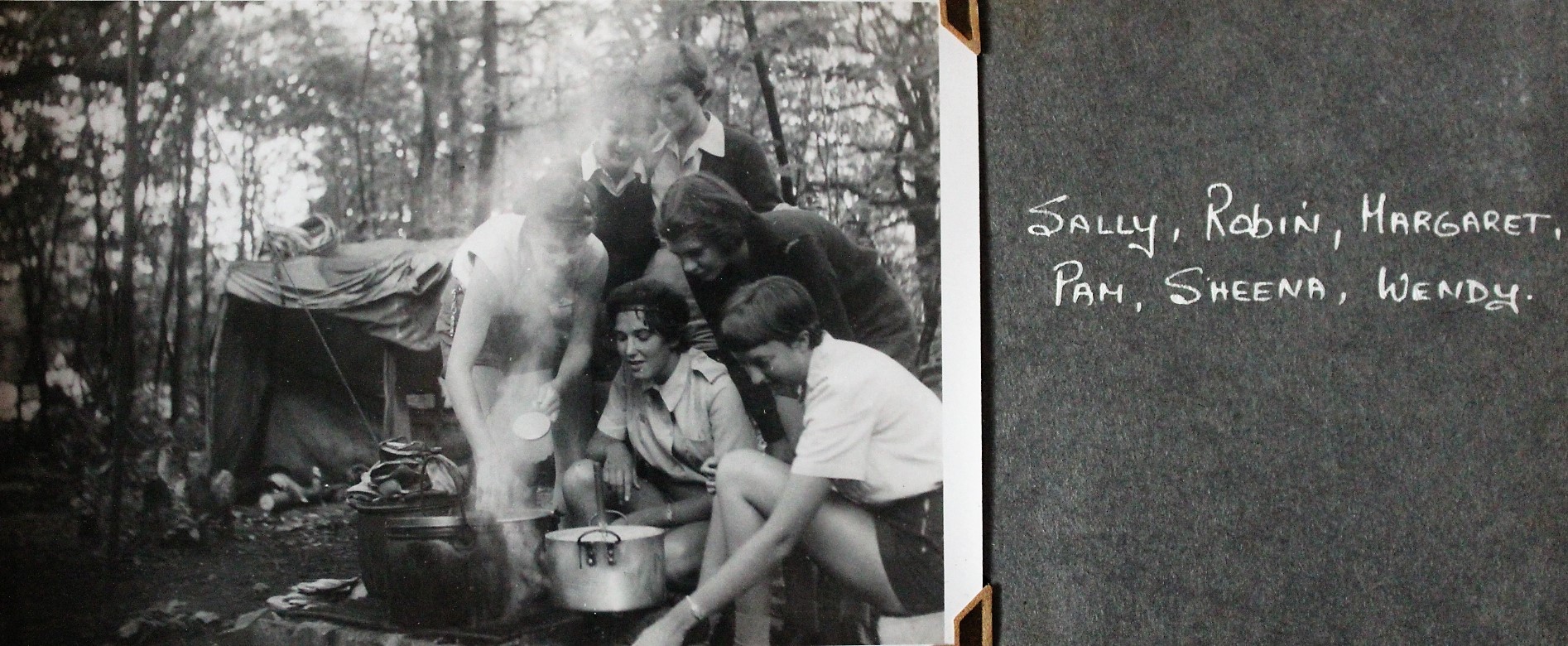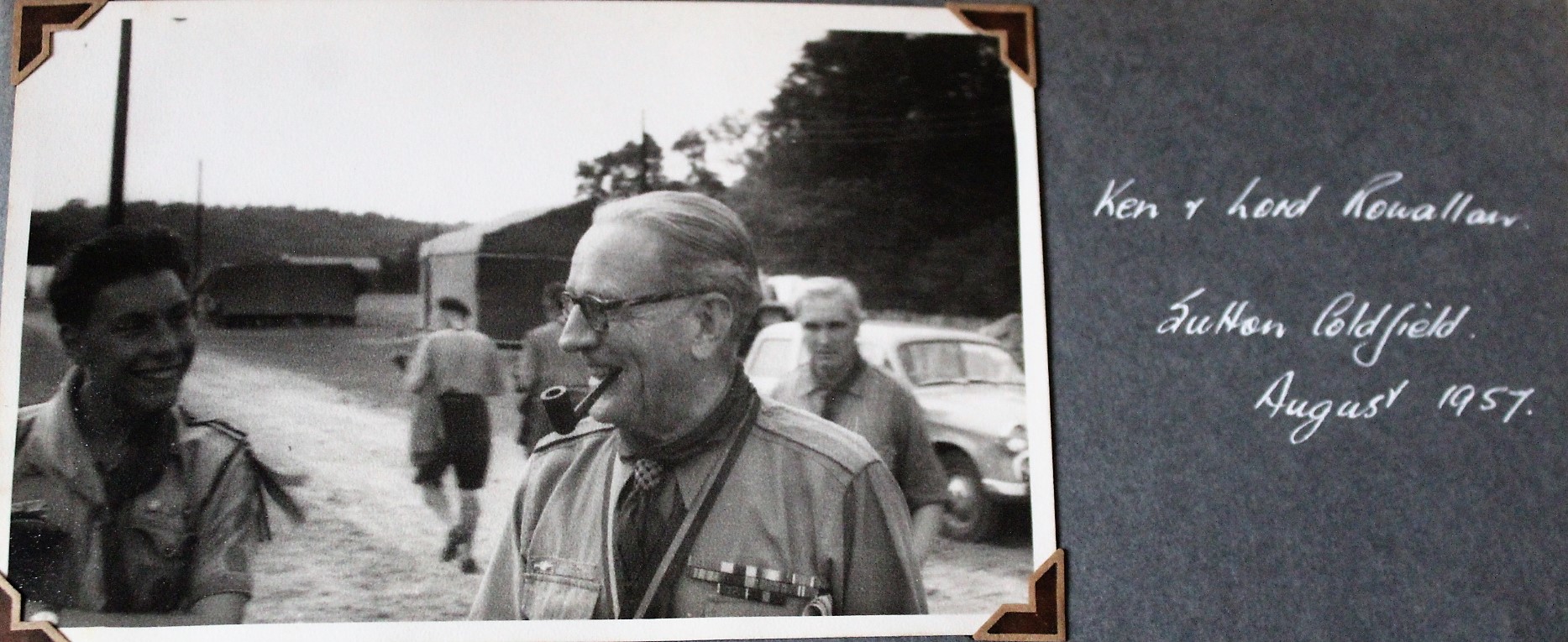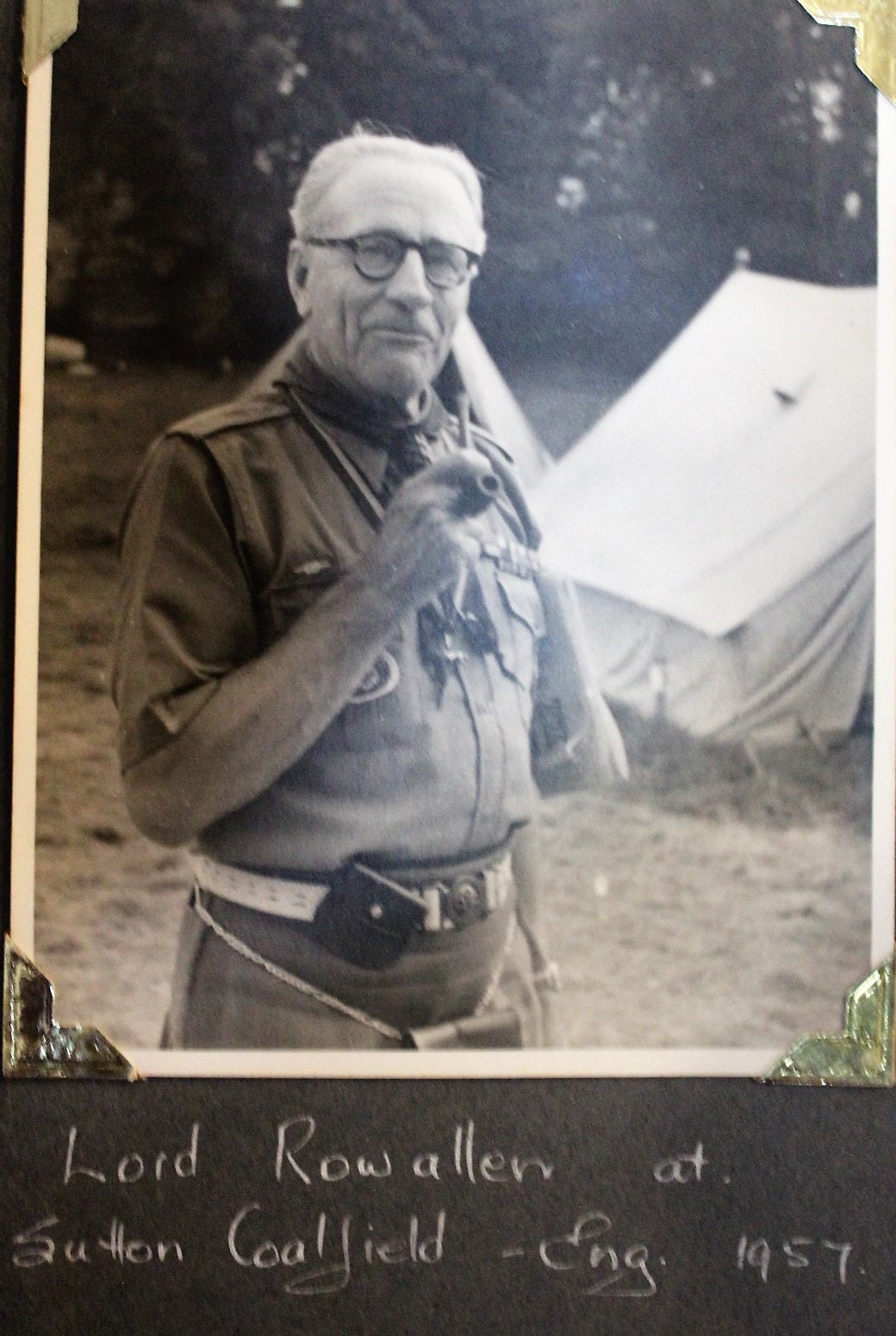 Thomas Godfrey Polson Corbett, 2nd Baron Rowallan, KT, KBE, MC, TD (19 December 1895 – 30 November 1977), had a distinguished military career in the British Army and was Governor of Tasmania from 1959 to 1963. The Boy Scouts Association appointed him as its Chief Scout of the British Commonwealth and Empire from 1945 to 1959.

Ken was a member of one of the families Helen Ross was billeted with, the Oatley family who lived in Erneston Crescent, Corsham, Wiltshire and was also a member of the Skiffle Group, 'The Moonrakers' that won the West of England Skiffle Championships a few years later - Ken sending these photos to Tassie.
Friendships made through Girl Guides and Boy Scouts or these big jamborees last a lifetime - the Australian Contingent girls continued to have Reunions around the nation until recently, when many of them, now in their 80's, cannot travel as far as they once clearly did.
Skiffle is a genre of folk music with influences from blues, jazz, and American folk music, generally performed with a mixture of manufactured and homemade or improvised instruments.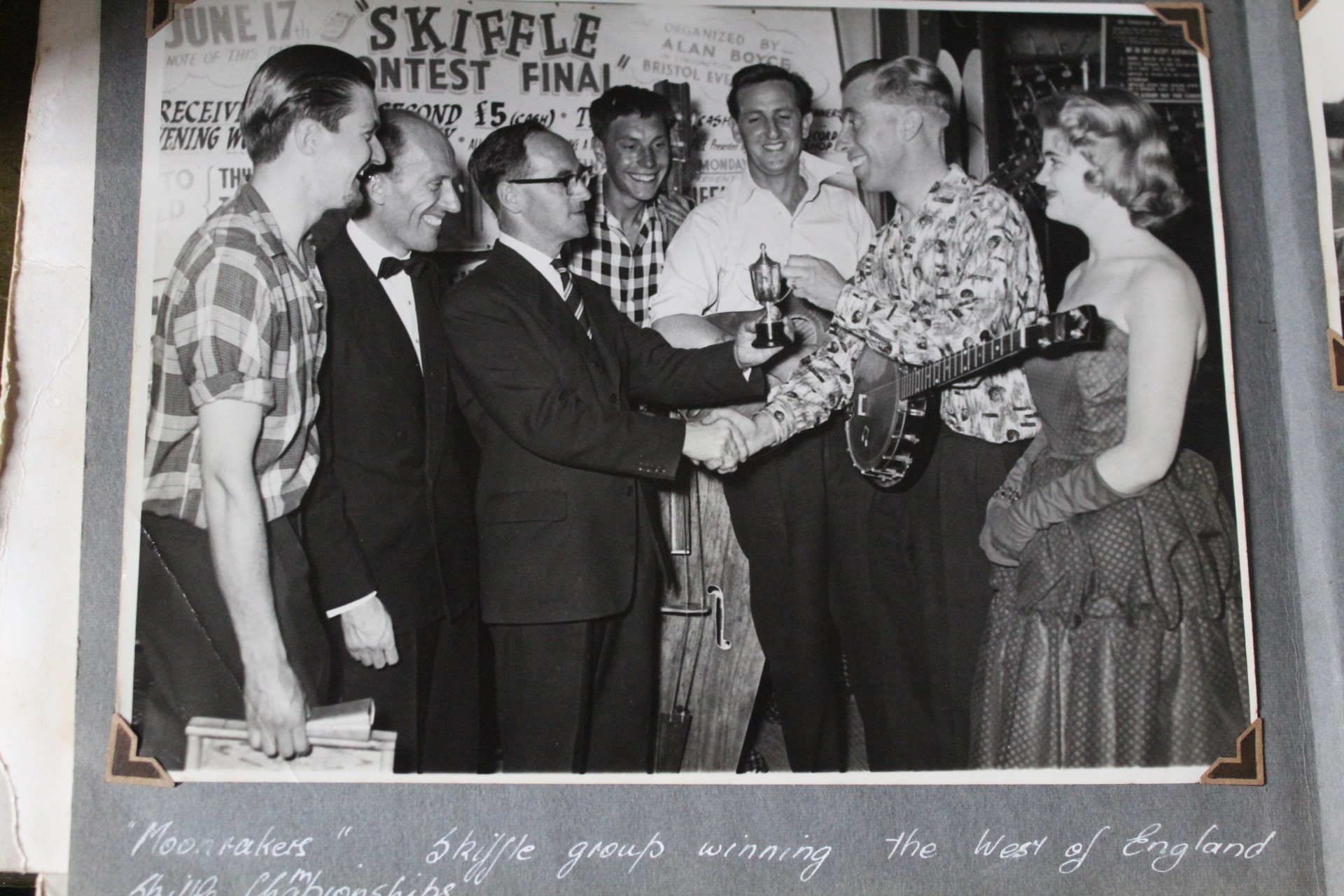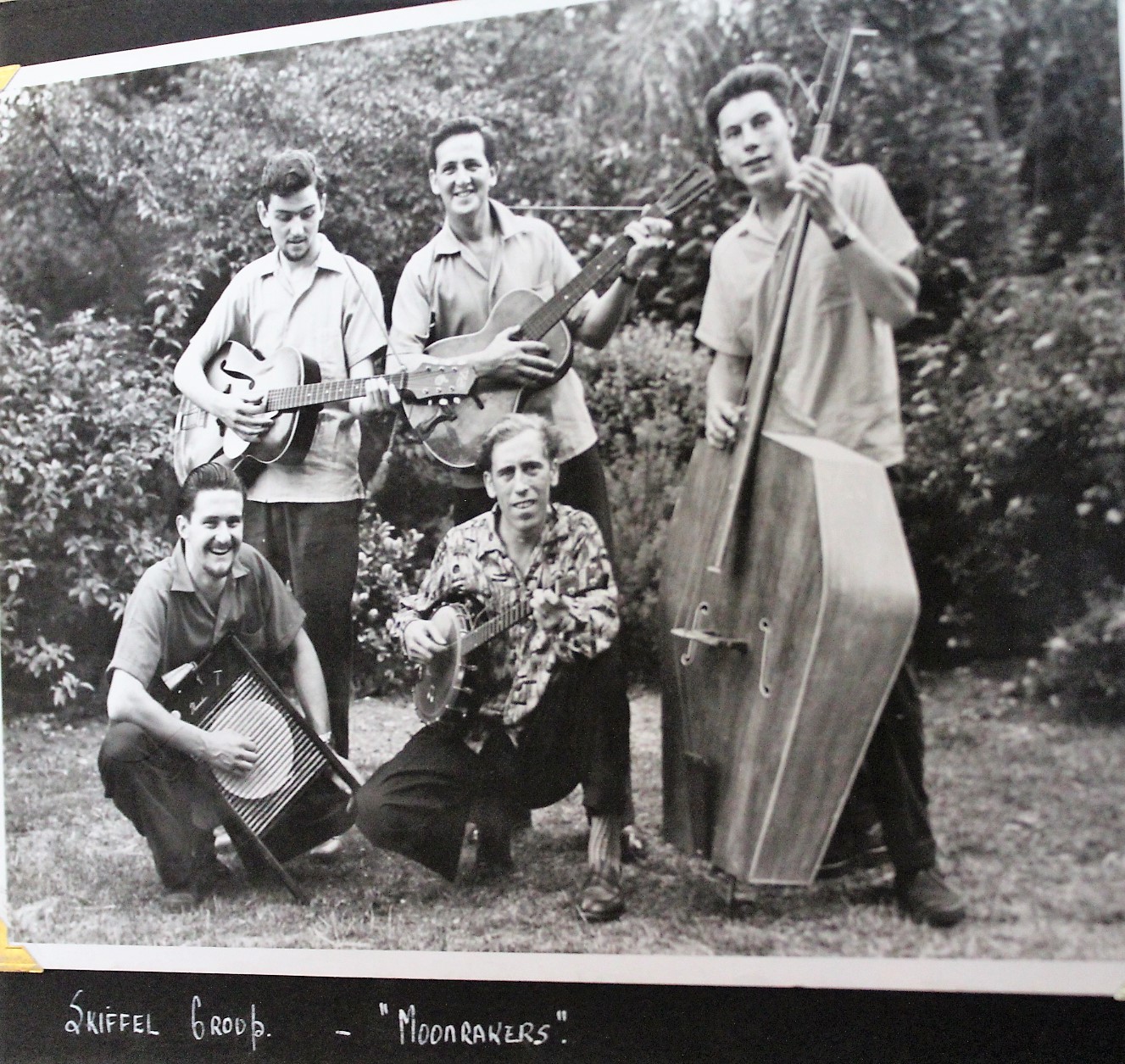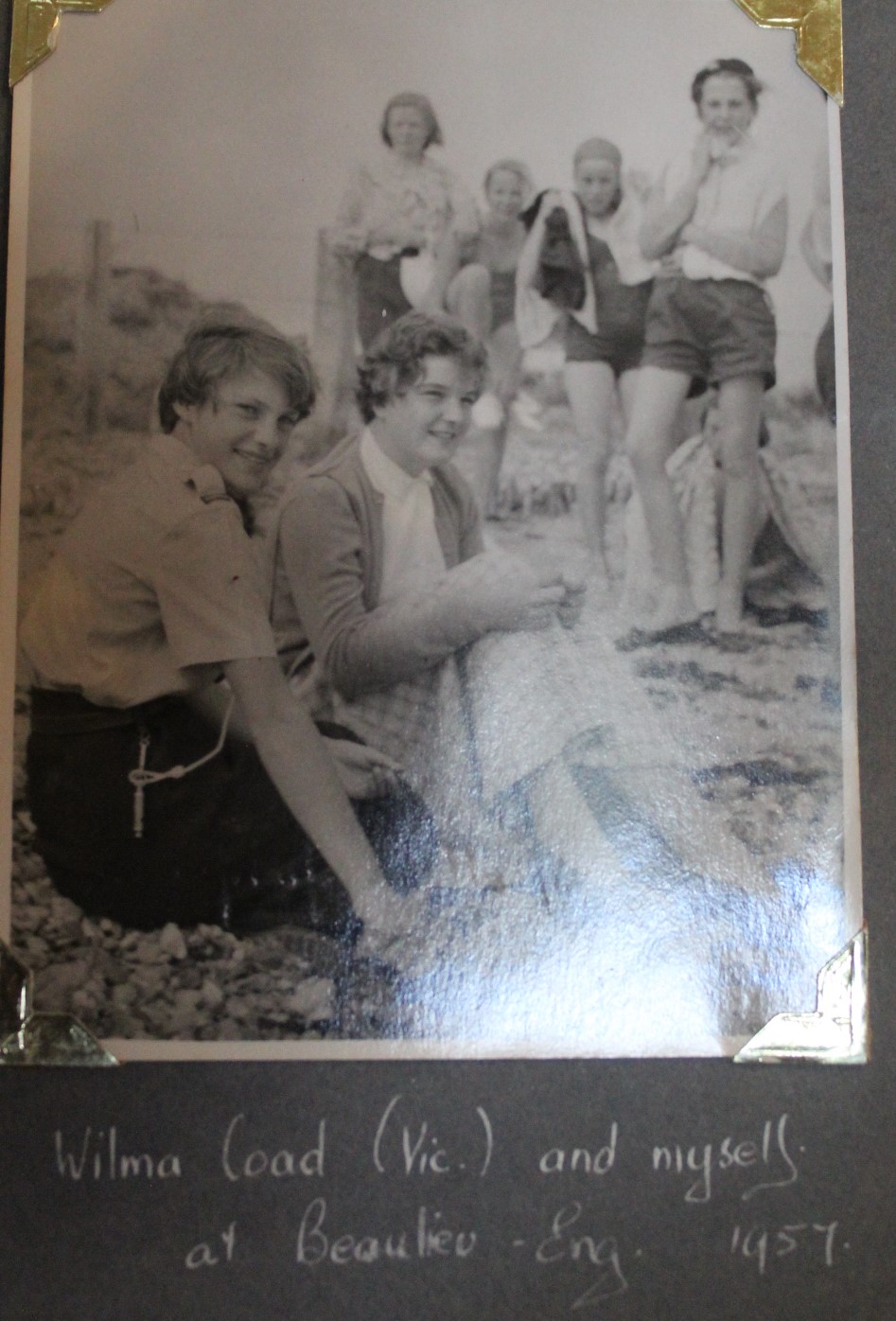 In September they headed to Switzerland to stay at the Girl Guides 'Our Chalet'. Sea Ranger Ross bought postcards of the interior and exterior and took photos and slides of her own: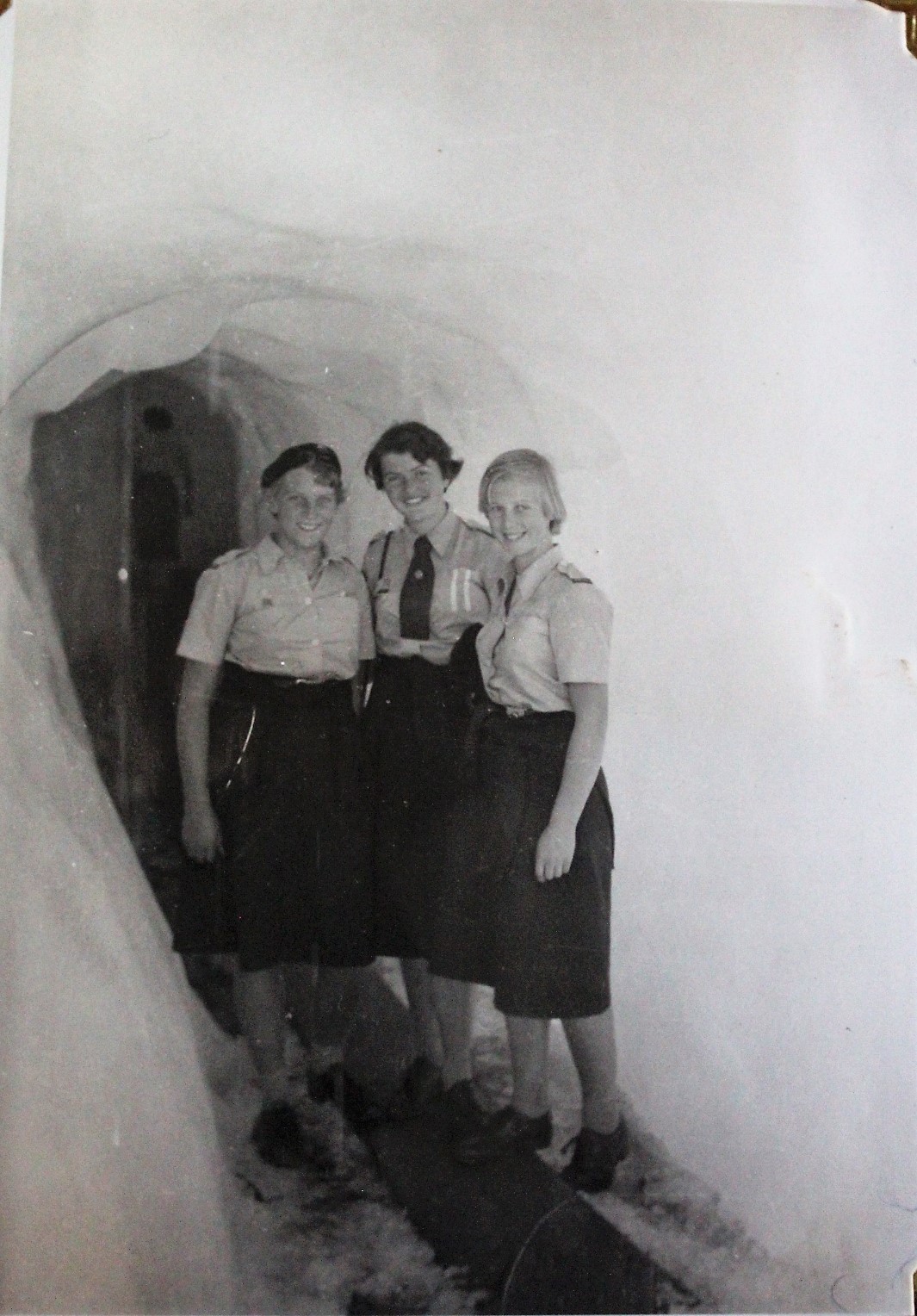 This is an ice tunnel and Switzerland we walked through - you are inside a glacier. This is Patti, Margo and Helen - Helen now lives in the USA.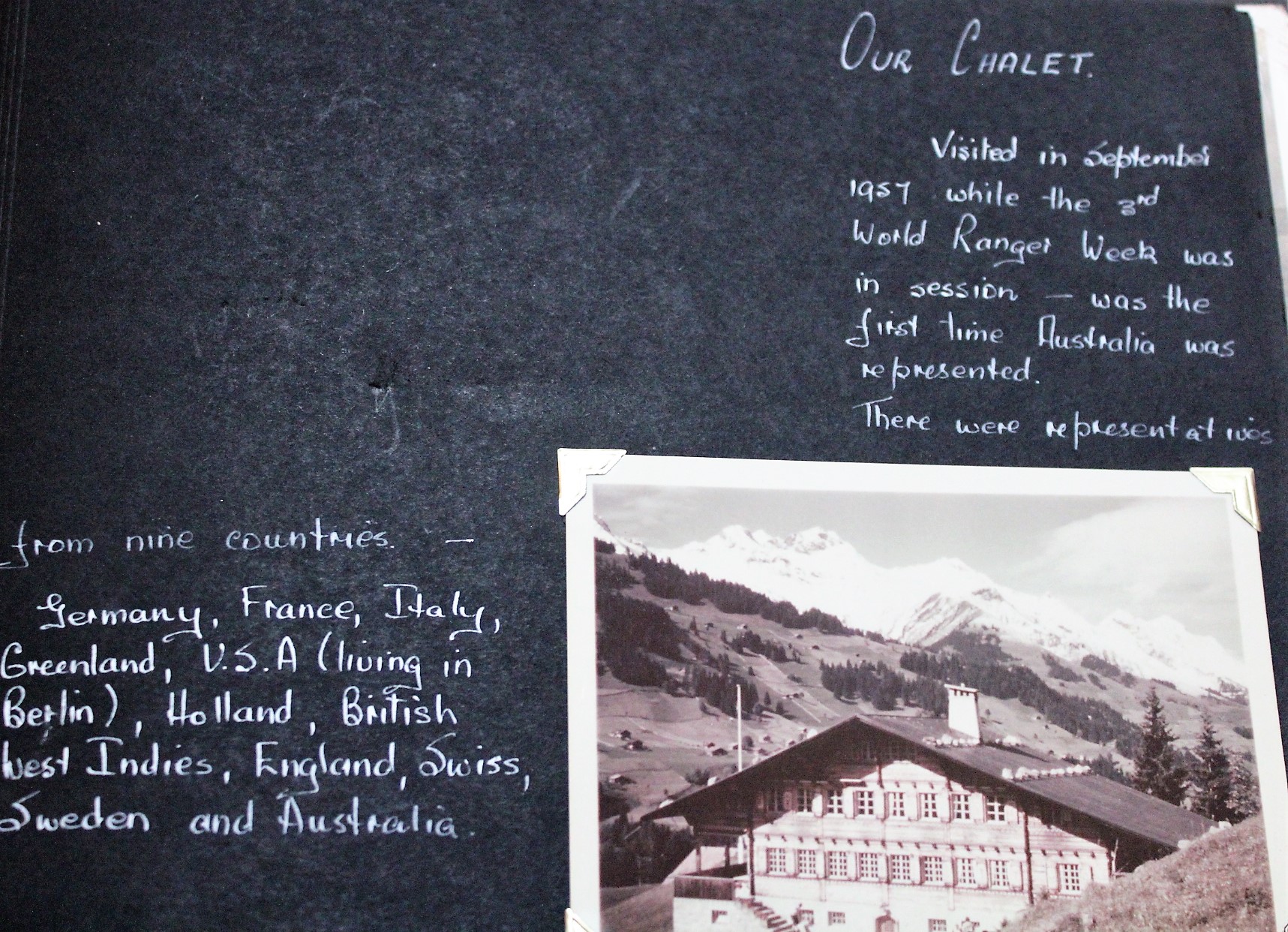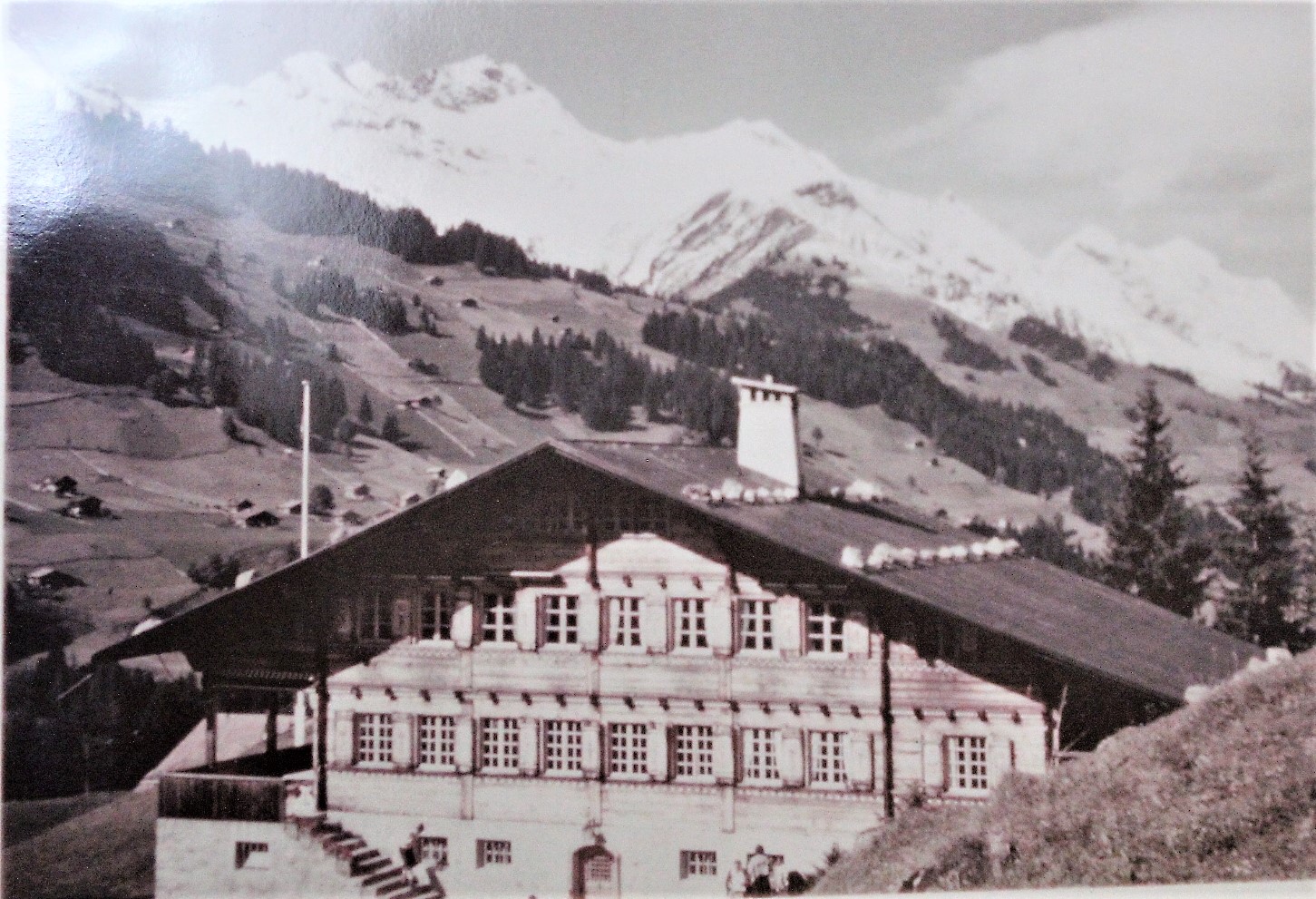 Our Chalet is an international Girl Guide/Girl Scout centre and one of five World Centres of the World Association of Girl Guides and Girl Scouts (WAGGGS). The others are Our Cabaña, Sangam, Kusafiri and Pax Lodge. Our Chalet is just outside Adelboden, in the Bernese Oberland of Switzerland. Located in the Bernese Alps, it is 1,350 metres (4,430 ft) above sea level.
Our Chalet, founded by American Girl Scout Leader Helen Storrow, who agreed to fund the build and first four years of operation, opened in 1932. Our Chalet offers year-round activities, special events, and conferences for Girl Guides, Girl Scouts, and leaders from around the world. In the time since it opened, the centre has been expanded and now includes several buildings. It has only been closed to the public twice, once during World War II when it was used as a military training and refugee centre and more recently due to COVID-19.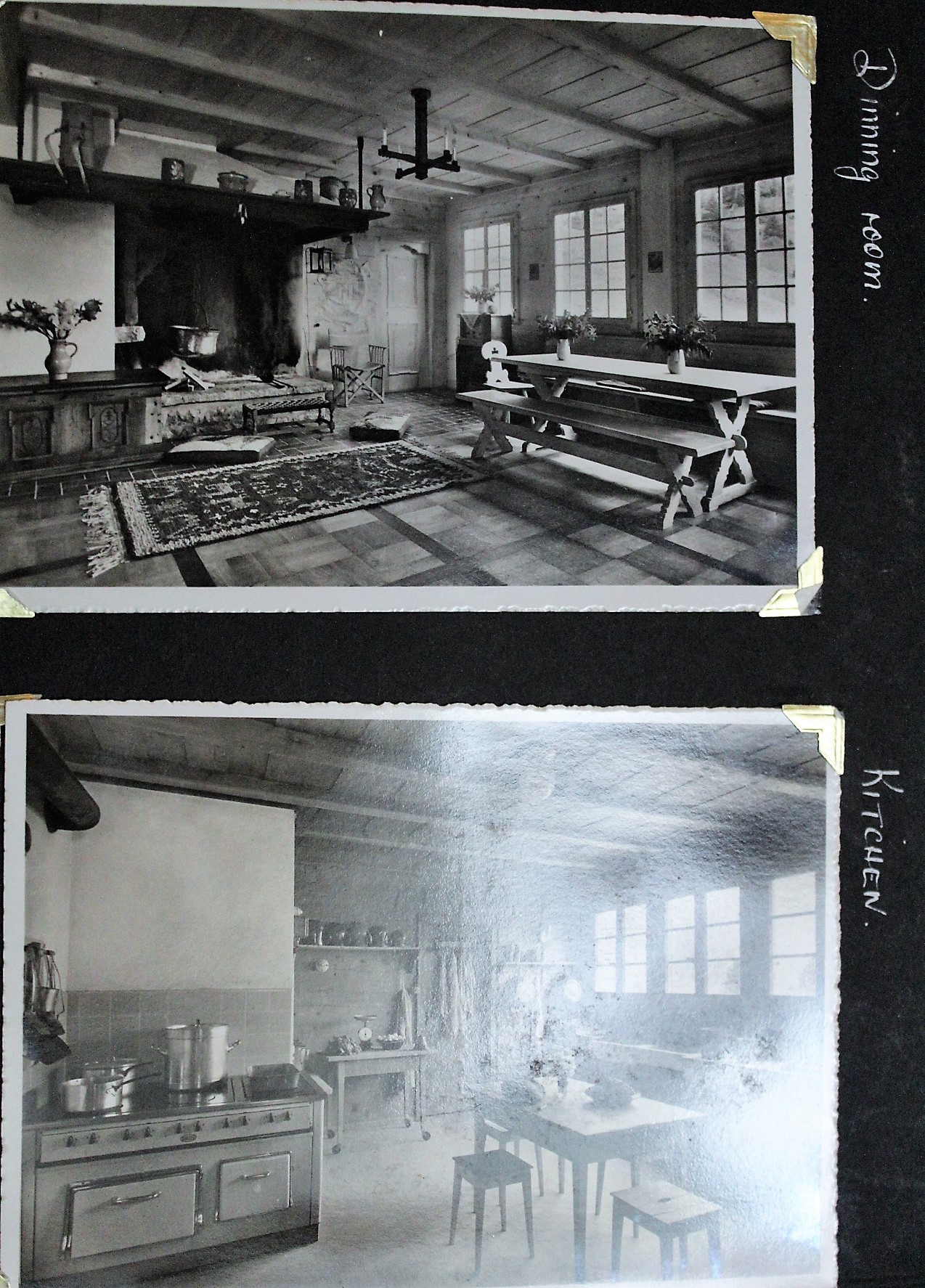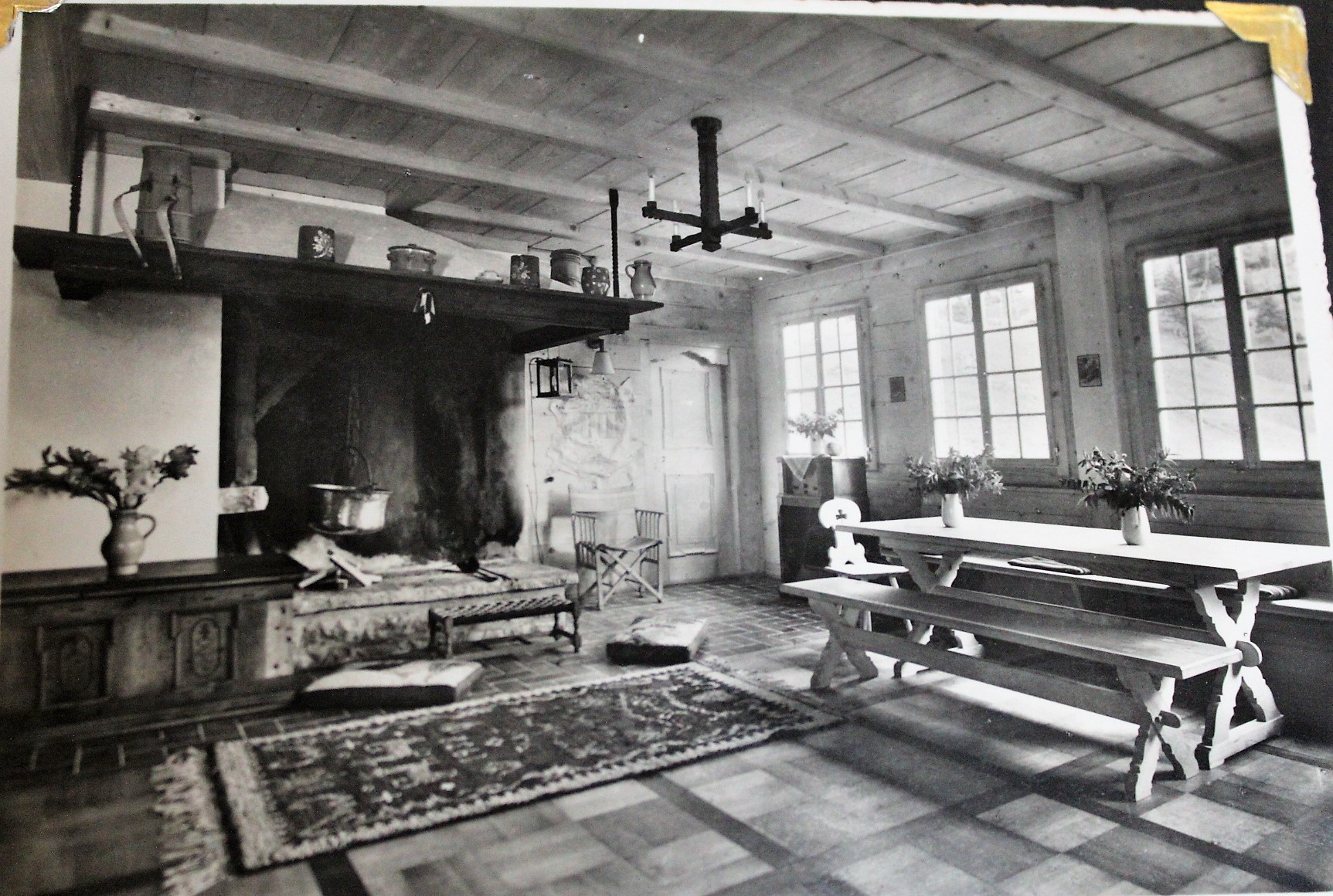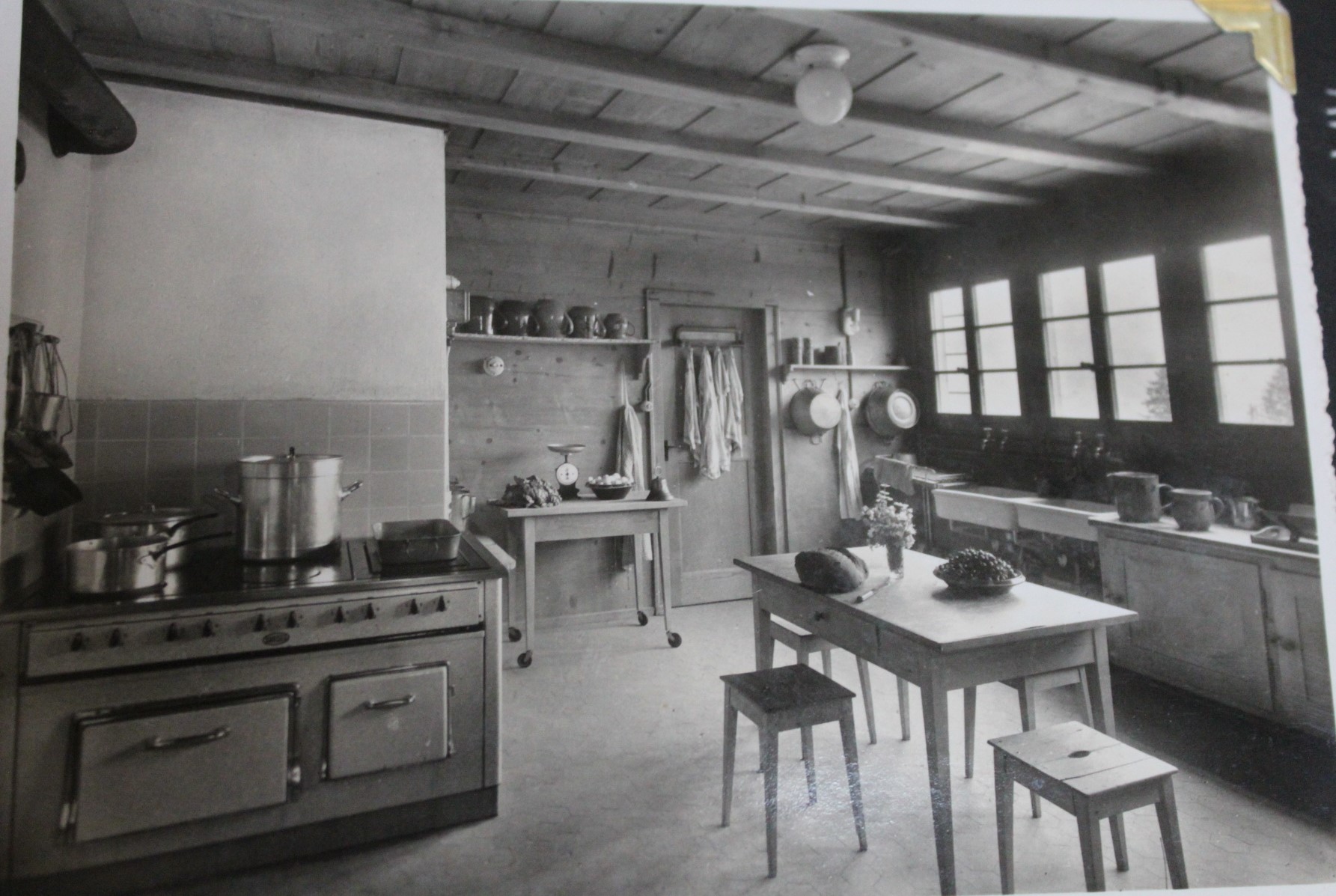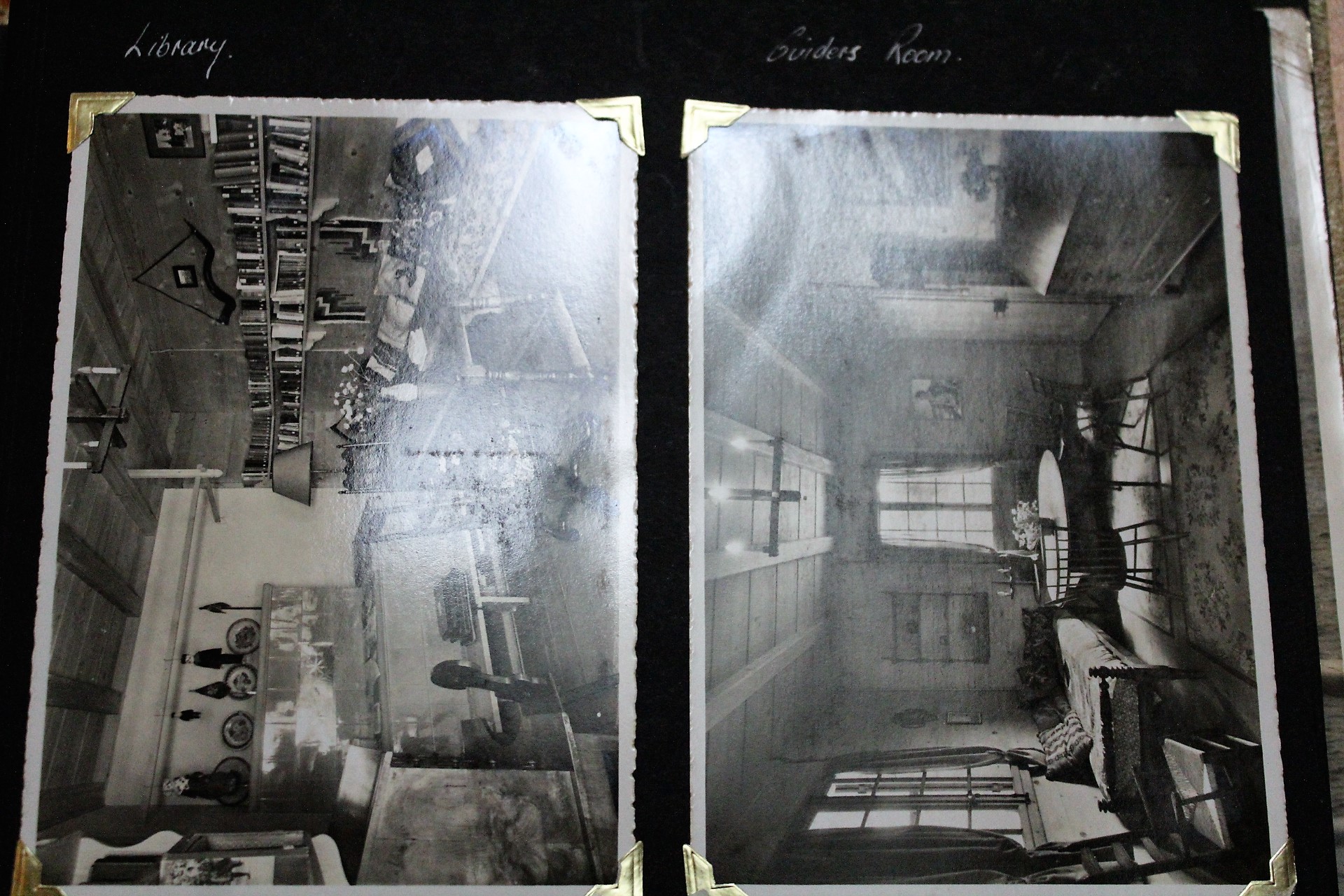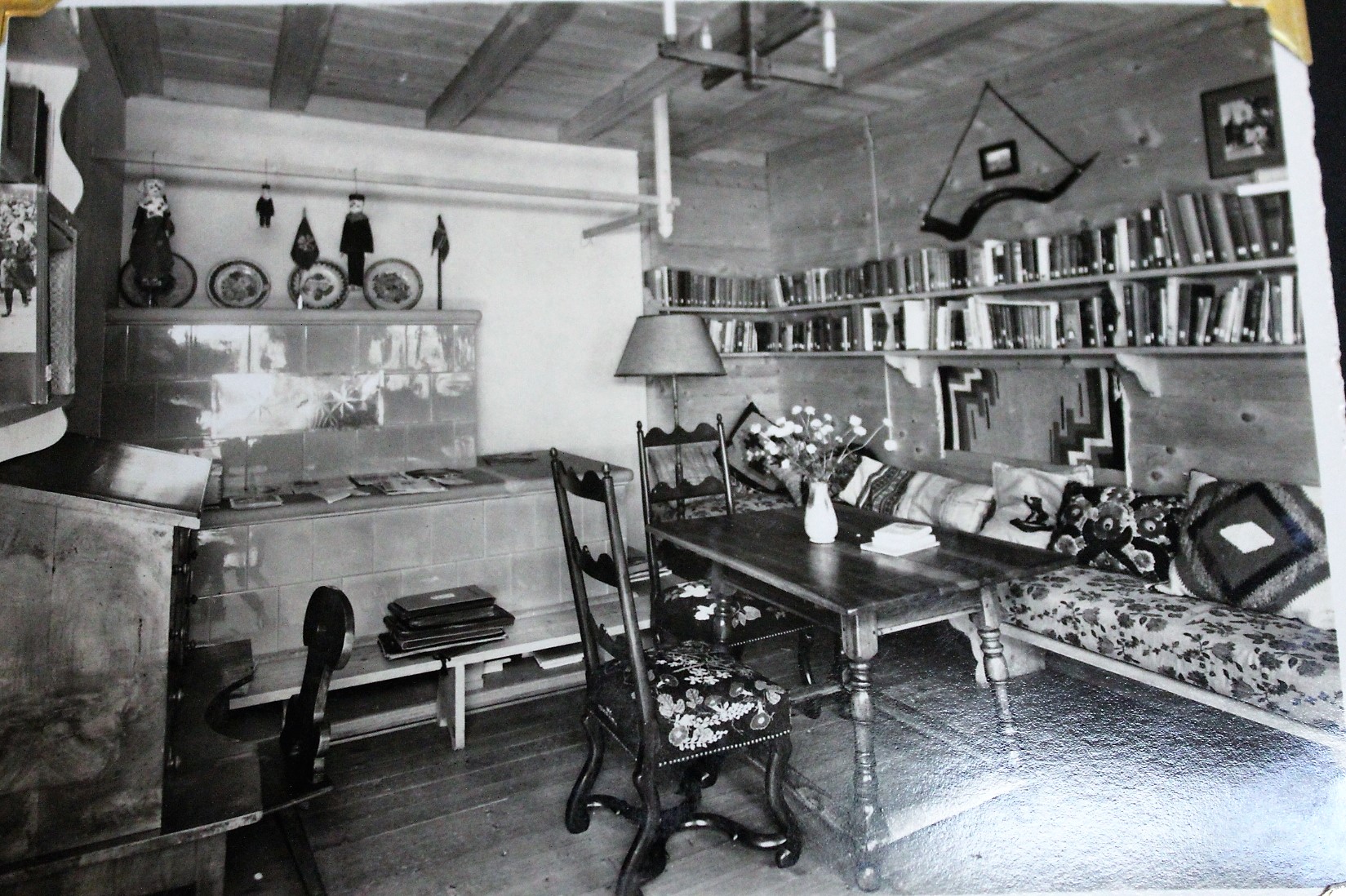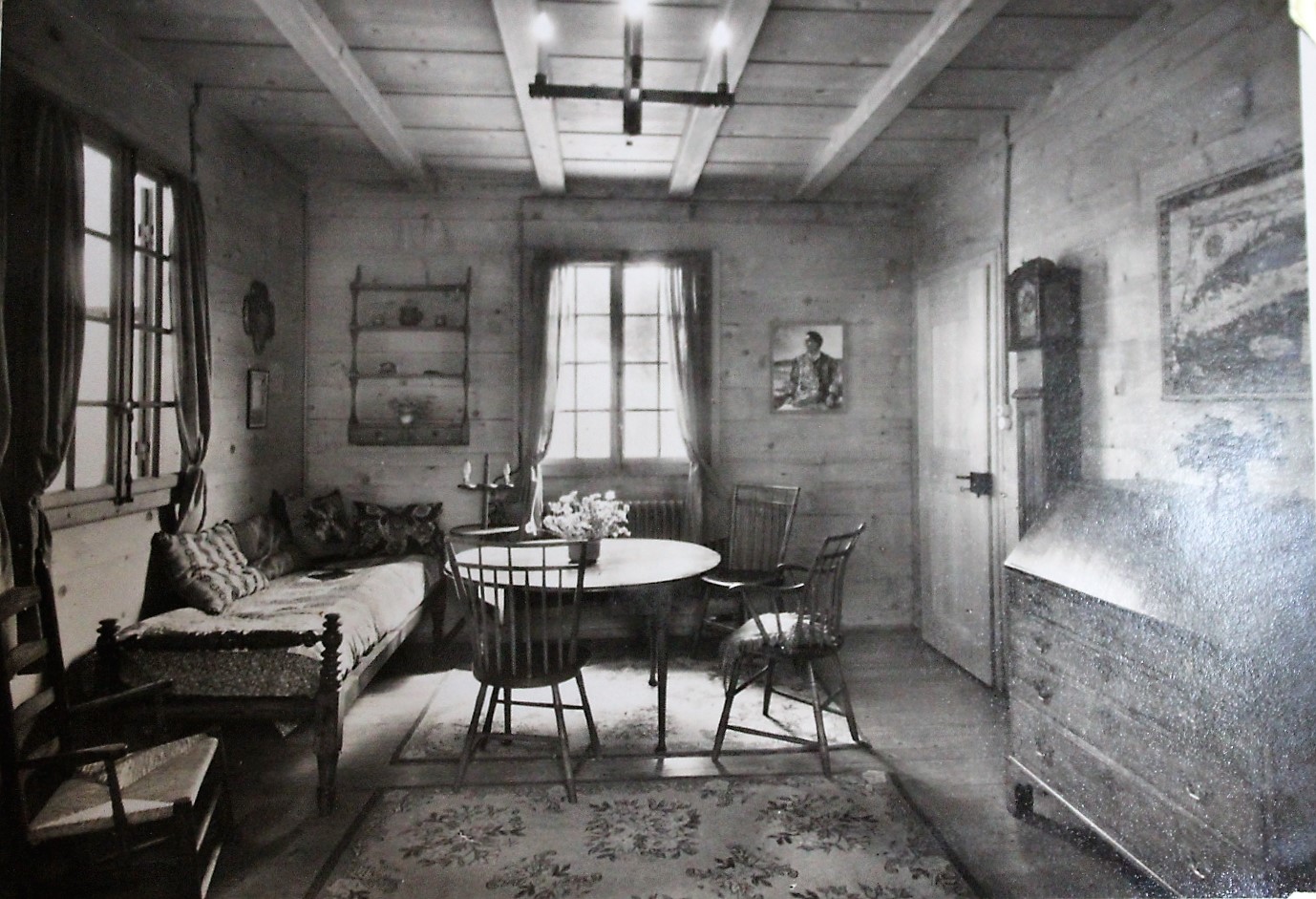 The Australian Contingent of Girl Guides to the World Camp at Windsor in 1957 sailed aboard the S.S. Oronsay on October 13th, 1957, arriving in Melbourne on November 9th, 1957, having been away from home for six months. The Tasmanian girls arrived home the next day.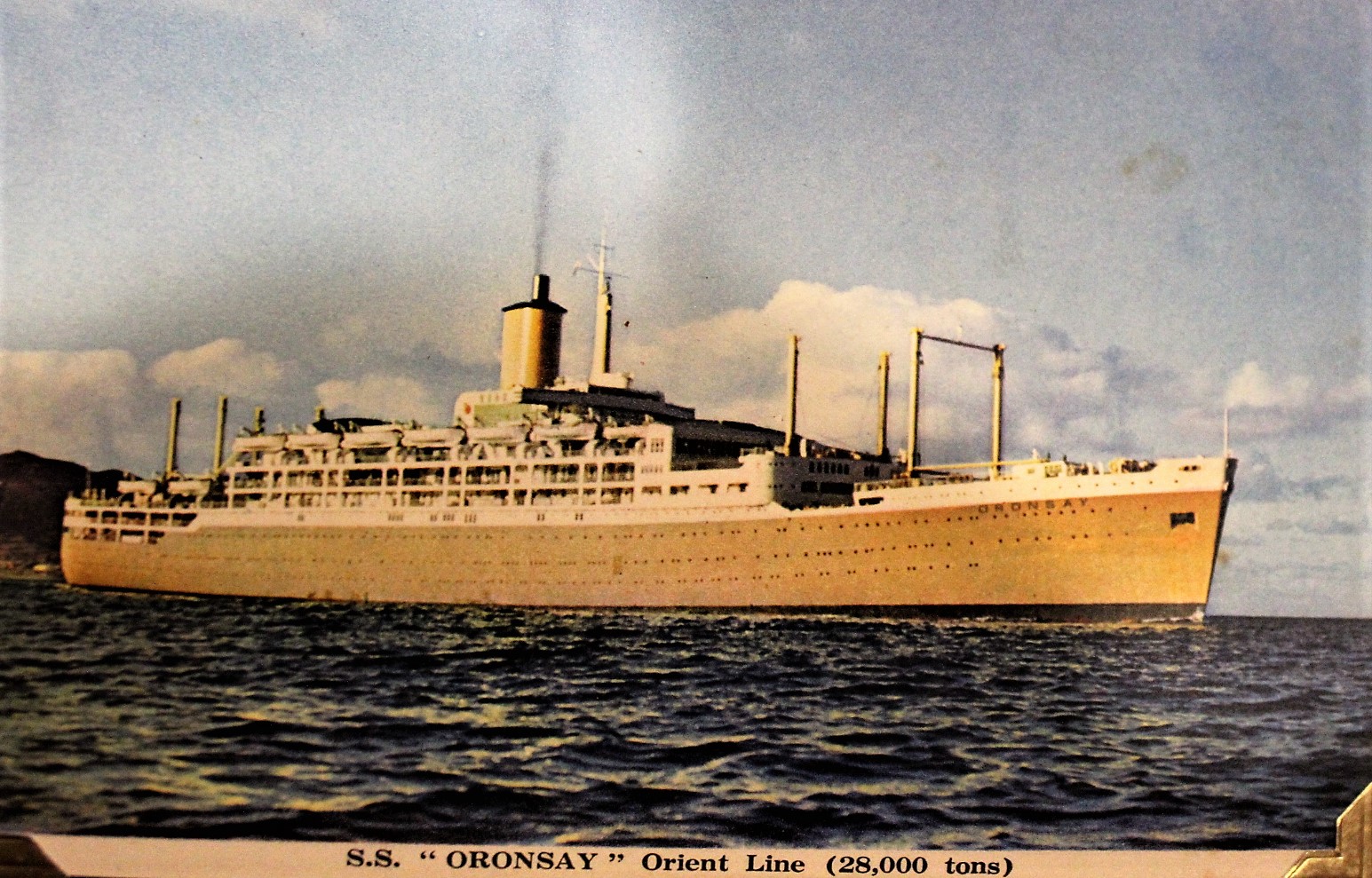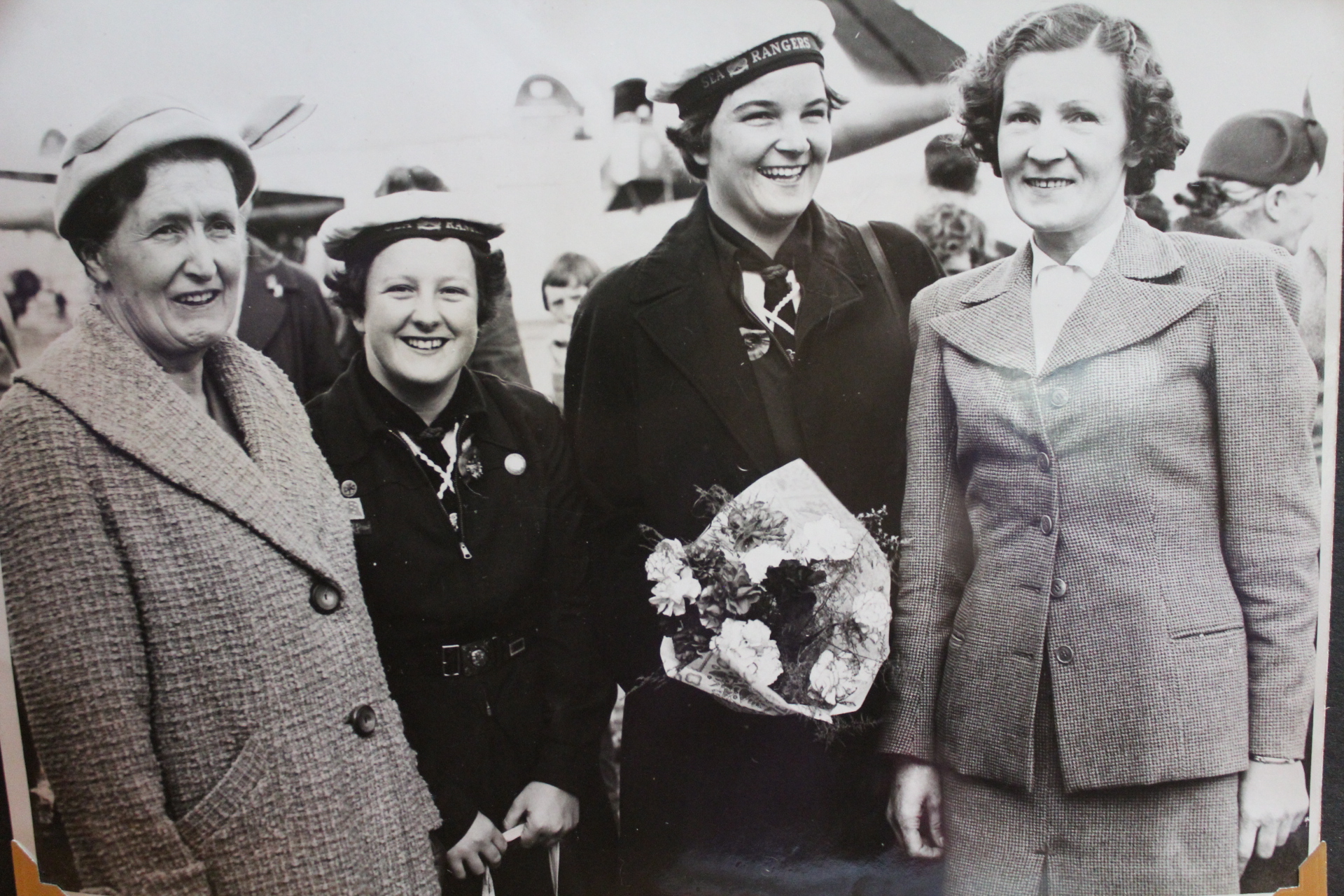 Home again: this is another The Mercury photograph the family bought a copy of. When they ran this image they cropped it so just Ailsa and mum were shown in what was published.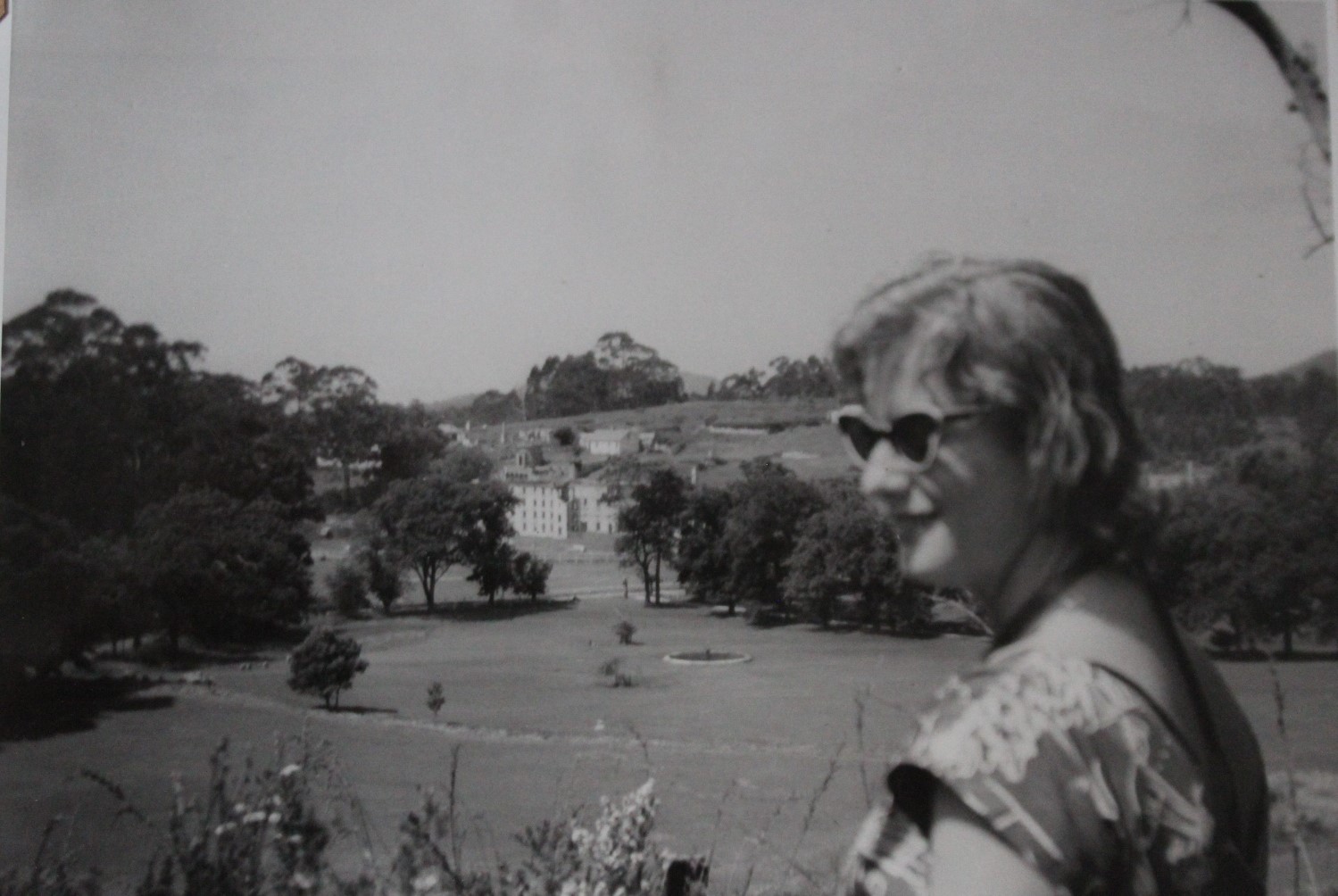 NSW Sea Ranger Jenny Copp being taken by mum and her mum for a tour of Port Arthur in 1960 during the 1960 Reunion in Tasmania
Lady Baden Powell would return to Australia later in 1957, touring all states and visiting many Brownies, Scouts and Girl Guides throughout our nation, including that often forgotten other Tasmanian island - King Island:
Lady Baden Powell To Visit King Island
Advice has been received that Lady Baden Powell will be visiting King Island on the 16th December this year. Lady Baden Powell, who will be accompanied by the Hon. Gwenollian Phillips, Chief Commissioner of Sea Rangers, Wales, will be calling at King Island on the return trip from Tasmania to Victoria. Lady Baden Powell To Visit King Island (1957, May 15). King Island News (Currie, King Island : 1912 - 1986, p. 5. Retrieved from http://nla.gov.au/nla.news-article264773865
World Chief Guide Visits King Is.
Enthusiastic Reception by Guides, Scouts and Adults during Half-hour at 'Drome
HISTORY was made for King Island guiding and scouting movements on Monday, when the World Chief Guide, Lady Baden-Powell, returning from her fortnight's visit to Tasmania, spent an all-too-brief half hour with the girls and boys during the plane's stop at the local aerodrome.
270 FORM GUARD OF HONOUR
King Island District Commissioner for Girl Guides (Mrs John Dolman) and the District Scout Commissioner (Mr E. E- Bond) met Lady Baden-Powell as she stepped from the plane, and she was then introduced to the Warden (Cr. H. P- Crowe) and Mrs Crowe. The party then moved through a guard of honour of the 270 guides, scouts, brownies and cubs, and the World Chief Guide's friendly disposition immediately became manifest as she proceeded to shake bauds and speak with every member of that guard-of honor. A handshake and a word — with at all times a friendly smile —immediately endear ed herself both to the youngsters and the large crowd of adults present (in which members of Local Associations and Groups predominated). Then, in one of her introductions, to Akela A, J. Thompson, leader of the Currie Cub Pack, she was particularly pleased to meet one who as a member of the King Island contingent attended the Frankston World Jamboree in 1934 and there met her late husband, Lord Robert Baden-Powell. The guides, scouts, brownies and cubs in . turn each gave their welcome to the World Chief Guide as a horse shoe was formed around the official party.
THIS GREAT GAME OF GUIDING AND SCOUTING
In expressing thanks for what she described as a lovely surprise welcome, Lady Baden-Powell said she was thrilled to be on King Island an island she had learned about many years ago. Even though it was only for a few brief minutes, she was very glad to say "How Do' and shake hands, and thus know each other. She noticed that there were some fairly new members in the different groups, but as World Chief Guide she assured them that by climbing the different steps of the guiding and scouting ladders they would be doing a really fine job in the community, and fitting themselves much better- for their allotted tasks in the life ahead. Lady Baden Powell offered her congratulations to those starting on this great game of guiding and scouting, and urged them to go right on and make a complete success of it; they would be carrying out the ideas of the movement by being ever ready to help others at all times.
Many important people, filling major posts, right up to the top of world affairs' and management, attributed what they had learned in their initial training as guides and scouts as fitting them to render a much better service in these important posts later in their lives. She appreciated her welcome very much, and, in wishing one and all the very best, led the girls and boys in three hearty cheers to the big roll-up of adults there that day.
The two commissioners escorted Lady Baden-Powell to the waiting plane, and all present participated spontaneously in waving departure to the World Chief Guide, who held her right hand in the guide salute and waved vigorously with the other.
THE LIVING INITIALS WERE VERY APPROPRIATE
As the plane took off and circled over the 'drome, the guides, scouts, brownies and cubs formed the letters "K.I.-B. P.," so that the last glimpse the World Chief Guide had of King Island as she left were the living initials of King Island and herself*
AN EXCELLENT PARADE BY GUIDES AND SCOUTS
The girls and boys conducted themselves in admirable fashion throughout the proceedings, clearly reflecting the training that the commissioners and guide and scout leaders had imparted to them. Group Scoutmaster N. F. O'Neill, of the Grassy troop, did a particularly fine job in charge of the parade. World Chief Guide Visits King Is. (1957, December 18). King Island News (Currie, King Island : 1912 - 1986, p. 3 (SUPPLEMENT.). Retrieved from http://nla.gov.au/nla.news-article264775684
We hope you have enjoyed these few insights into the Australian Contingent to the 1957 Girl Guides World Camp at Windsor, whether you remember those times, are or know people who were involved, or are looking around to see what's available to get involved in that will bring you new skills, new friends and a broader outlook. A 65th Anniversary of this kind should be celebrated, if only to remind us that you could do worse then learning how to keep looking out for and caring for others even when it can be challenging, could do worse than learning skills that will set you up for life, for having fun.
This is seen in volunteer organisations alike those you saw going out to help people in western Sydney just a few weeks ago and on standby, 24/7, to use those self-empowering skills to help out again.

Either way, just remember; We're not here to tear each other down – we're here to lift each other up.
Be Prepared.
And be prepared to give yourself and others a good go.
The 1957 Girl Guides Centenary World Camp At Windsor: A 65th Anniversary Celebration - by H. M. Guesdon and A J Guesdon, 2022
References - Extras
Long chats with Mrs. H M Guesdon (nee Ross)
Girl Guides Australia
Girl Guides Tasmania
Girl Guides NSW
TROVE - National Library of Australia
Wikipedia
U.K. Girl Guides
Rosemary Joy Stacy

'Imonga' - Rosemary 'Joy' Stacy OAM - was a charter member of Zonta Club of Sydney and a member of the Guide International Service who "specialised in the impossible". A highly intelligent lady, she who also had a great sense of humour that never left her:
DOONE SCHOOL.
The Governor and Lady Game accompanied by Miss Crowly Lieutenant Commander Gifford and Mr H Budge were present at the Playbox Theatre, when the breaking-up party of Doone School took place. The Vice Regal party was received by Miss Cheriton principal of the school. An entertainment consisting of dances ballets French songs and short one act plays was given by the pupils of both the Junior and finishing schools
The prizes won by the Junior school pupils were presented by Lady Game. The prize winners were - Form V Audrey Biles (French) form IV Robin Eakin (French) Rosemary Game (special essay prize) Rosemary Budge (Latin) Robin Eakin (arithmetic algebra and geometry) Rosemary Game (French conversation) Robin Eakin (highest overage for the year) form III Norman Roth (highest average for the year! Norman Roth (arithmetic and geometry) June Mills (music) Pamela Lloyd Jones (English) Pamela Lloyd Jones (good conduct) June Mills (tennis and swimming) Georgina Cohen (general Improvement) Nancy Broughton (study work) form II Ruth Stacy (highest In examination) Joy Stacy (reading and dictation) Pamela Marks (English) Ruth Stacy (drawing) Joy Stacy (arithmetic) Pamela Marks (reading) form I Annette Evans (first prize for reading and arithmetic) Tony Cohen (second prize) David Gunning (spelling and dictation) Annette Evans (special prize special classes) Sydney Evans (arithmetic and reading) Owen Broughton (reading and spelling!)Emmeline Orridge (writing) George Vasey (good conduct) Tony Pye (writing and spclllngl Emmeline Orridge (special prize) DOONE SCHOOL. (1930, December 18). The Sydney Morning Herald (NSW : 1842 - 1954), p. 17. Retrieved from http://nla.gov.au/nla.news-article16739579
BILL Y: What Is the best thing to put into a good pie?
Tom: Your teeth.
(Orange Certificate to Rosemary Joy Stacy, 23 Kent-road, Rose Bay.) Fun Corner (1937, May 30). The Sun (Sydney, NSW : 1910 - 1954), p. 2 (SUNBEAMS SUPPLEMENT). Retrieved from http://nla.gov.au/nla.news-article229403048
Joy was the second daughter and one of three children of Bertie Vandeleur Stacy (1886-1971), soldier and judge, and Mary Graham Lloyd:
STACY.-May 28 at Carinya Clement street Rushcutter Bay the wife of B. V. Stacy-a daughter. Family Notices (1922, May 30). The Sydney Morning Herald (NSW : 1842 - 1954), p. 6. Retrieved from http://nla.gov.au/nla.news-article16005198
STACY.-August 29, at Carinya, Clement-street, Rushcutter Bay, the wife of B. V. Stacy-a daughter. Family Notices (1923, September 4). The Sydney Morning Herald (NSW : 1842 - 1954), p. 8. Retrieved from http://nla.gov.au/nla.news-article16091076
STACY. - January 17, at Carinya, Clement-street, Rushcutter Bay, the wife of B.V. Stacy - a son. Family Notices (1927, January 18). The Sydney Morning Herald (NSW : 1842 - 1954), p. 10. Retrieved from http://nla.gov.au/nla.news-article16348297
Her father's listing in the Australian Dictionary of Biography states:
Bertie Stacy began his military career as a sergeant in the School Cadets 4th Rifle Corps at Mudgee. He joined the Commercial Banking Co. of Sydney in 1903 and worked until 1909 at various city and country branches. In 1908-09 he also studied arts at the University of Sydney, becoming a full-time student in 1910 and graduating B.A. in 1911. He was then articled to Dibbs, Parker & Parker; in 1914 he graduated LL.B. and was admitted as a solicitor. On the outbreak of World War I he joined the A.I.F. as a private on 6 August 1914 and was commissioned second lieutenant, 4th Battalion, on 14 September.

The 4th Battalion took part in the Gallipoli landing on 25 April 1915 and Stacy, who was promoted lieutenant on 25 May, was wounded in action on 11 July. Resuming duty, he was promoted temporary captain on 17 October and confirmed in rank in January 1916; promotion to major followed in March. In France he remained with the 4th Battalion through the 1916 fighting on the Somme and until March 1917 when he was promoted lieutenant-colonel commanding the 1st Battalion, a post he held until the end of the war. On 4 October 1917, at Broodseinde, Belgium, he was wounded by a bomb thrown from a blockhouse and was out of action until early November. In 1915-19 he was mentioned in dispatches six times, awarded the Distinguished Service Order and Bar, and appointed C.M.G. Part of the citation for his Bar illustrates his soldiering style: 'for conspicuous bravery in the attack on Chuignolles and Chuignes on 23 August 1918. He established his head quarters close behind the fighting troops … By personal reconnaissance he was able to direct the fire of the heavy artillery on the numerous field-guns and machine-guns which were causing casualties. Owing to his splendid leadership his battalion made an advance of nearly three miles and captured several hundred prisoners'.

He returned to Australia in July 1919 and his A.I.F. appointment ended in September. While his apparent austerity and dogged determination to see a task through had sometimes made him unpopular, he was certainly respected by his troops. During World War II he commanded the Sydney University Regiment.

On 31 October 1919 Stacy had been admitted to the New South Wales Bar. He practised as a barrister, mainly in common law, until 1925 when he became a crown prosecutor. Appointed to the District Court bench in 1939, he retired in 1956.

As a judge, he was noted for his strictness of procedure and behaviour. A man of vigour and strength, he saw that his court was run with dignity, precision and punctuality. He disliked flowery speech and over-subtle argument, and would tolerate no nonsense. His lithe and agile figure, penetrating voice and piercing eyes gave him a commanding presence. Predeceased by his wife and survived by his children, he died at Darlinghurst, Sydney, on 6 December 1971 and was cremated. - Merrilyn Lincoln and D. E. Lloyd, 'Stacy, Bertie Vandeleur (1886–1971)', Australian Dictionary of Biography, National Centre of Biography, Australian National University, https://adb.anu.edu.au/biography/stacy-bertie-vandeleur-9235/text15051
Her mother, her sister and herself: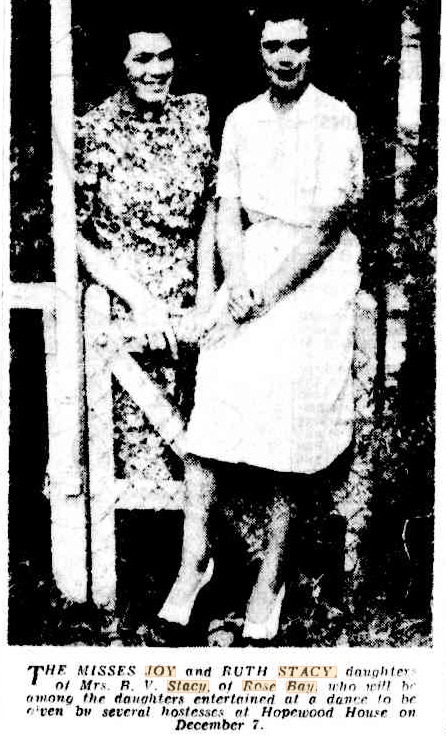 DANCES IN DECEMBER ARE PLANNED FOR THESE YOUNG GIRLS. (1940, November 28). The Sydney Morning Herald (NSW : 1842 - 1954), p. 13. Retrieved from http://nla.gov.au/nla.news-article17716404

THE GIRL GUIDES' ASSOCIATION
(N.S.W. BRANCH.) Appointment of State Commissioner:
Mrs. B. V. Stacy. whose appointment as State Commissioner (in succession to Lady Julius) has now been confirmed by cable from Imperial Headquarters, London, became actively Interested in the movement as a parent when her daughters Ruth and Joy joined 1st Darling Point Company about 15 years ago.
After being Hon. Secretary of the Darling Point Guides' Parents' Association and Inter Hon. Treasurer of the Vaucluse-Woollahra District Local Association, Mrs. Stacy became a delegate to the Council, next u member of the General Council, was elected to the Executive Committee during the war years — becoming Chairman of that Committee in 1947.
Mrs. Stacy, a Director of "Silver-waves" Children's Holiday Home, Cronulla; Vice-President Ladles' Golf Union; President Rose Bay Branch of St. Luke's Hospital: and with a war service record as a V.A. in World War I. a driver, C.E.N.E.F. Canteen worker and President of 2/1st Battalion Comforts Fund during World War II.; has, as one can see, several other interests.
Miss Ruth Stacy, a trained Red Cross Handcraft worker who has been teaching at the Red Cross Soldier's Homes, is now on leave of absence and enjoying a holiday in Great Britain and Europe.
News has been received from Miss Joy Stacy of her acceptance as a volunteer worker with the Guide International Service in Germany. Joy, who has signed on for six months, in response to an appeal made whilst she was In England, is already in the field and writes:
"It is 16 degrees below, the roofs of the houses are white with snow and they say It Is too cold to snow any more now. We had to scrape inches of frost off the windscreen of our car before we could set out to work to-day. I had of my warm boots, for which I paid £8, but they are a great comfort and I am glad I bought them. I do not feel the cold as much as the others.

"There are eight in our Team which is in charge of the 18 camps of varying sizes containing the 10,000 displaced persons in the Hanover area.
Mrs. Stacy's successor as Chairman of the Executive Committee is Mrs. G. S. Mackinnon who was elected to the Committee 1949. THE GIRL GUIDES' ASSOCIATION (1950, March 3). The St George Call (Kogarah, NSW : 1904 - 1957), p. 12. Retrieved from http://nla.gov.au/nla.news-article235308975
12 Years Worker For Guides
The State Commissioner of the Girl Guides' Association (Mrs. B. V. Stacy, of Rose Bay), who will open the Girl Guide rally in Mitchell Park on Saturday afternoon, has been connected with guiding for about 12 years. Mrs. Stacy was Chairman of the Executive Committee of the Girl Guides' Association for three years before she became State Commissioner about 18 months ago.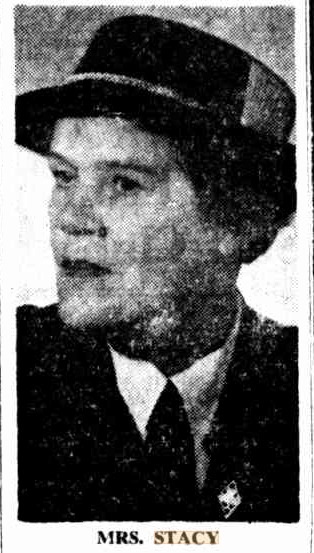 MRS. STACY
A daughter, Miss Joy Stacy, is with the Guide International Service and I.R.O. in Germany, mainly helping displaced persons. Mrs. Stacy recently attended the Jubilee Girl Guide camp at Narrabeen-more than 500 guides attended, including some from the United States and Pacific Islands. The Deputy State Commissioner (Miss E. Manning), who will accompany Mrs. Stacy, was commandant of the camp. Mrs. Stacy is the wife of Judge Stacy, of Sydney. 12 Years Worker For Guides (1951, September 20). Newcastle Morning Herald and Miners' Advocate (NSW : 1876 - 1954), p. 5. Retrieved from http://nla.gov.au/nla.news-article140327053 - Visit: 100 Years Of Girl Guides In Manly + Some History Of Local Units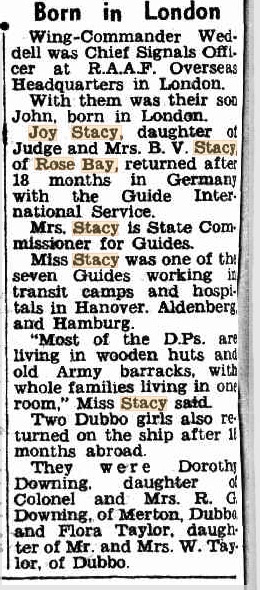 News for Women (1951, December 14). The Daily Telegraph (Sydney, NSW : 1931 - 1954), p. 14. Retrieved from http://nla.gov.au/nla.news-article248701666
Guides Can Do Anything - The Guide International Service 1942 to 1954 (G.I.S.) (2017 - PDF) - Did you know there were over 9 million displaced persons in Germany at the end of the war all in urgent need of food, clothing and medical help?
AFTER 2 ½ years in Europe, Joy Stacy, daughter of Judge and Mrs. B. V. Stacy, arrived back in Sydney on Thursday. Joy spent 18 months in Germany in the Girl Guide movement and was a splendid ambassadress for Australia. In TOWN and Out (1951, December 16). Truth (Sydney, NSW : 1894 - 1954), p. 32. Retrieved from http://nla.gov.au/nla.news-article167972641
JUDGE and MRS. B. V. STACY and Miss Joy Stacy will leave Sydney on February 27 in the Oronsay for a six months' holiday abroad. During Mrs. Stacy's absence, the Deputy State Commissioner for the Girl Guides' Association, Miss Eleanor Manning, will be the Acting State Commissioner, and Mrs. W. C. Wentworth will be the Deputy State Commissioner. Social News And Gossip (1953, November 26). The Sydney Morning Herald (NSW : 1842 - 1954), p. 8 (Women's Section). Retrieved from http://nla.gov.au/nla.news-article18398130
Girl Guiders Two-Day Bushcraft Camp
MISS DOROTHY LLEWELLYN, M.Ec, who teaches at Fort Street Girls' High School, uses a grass rope made by guide is to climb a tree at the week-end camp arranged by the N.S.W. Girl Guide Headquarters.
GUIDERS MARGARET HAYES - WILLIAMS (Sydney), NANCY KEMP (Manly), and GENE COLES (Forbes), check the time on a camp sun clock which they constructed at Waterfall during the Guiders' bushcraft week-end. The clock gives accurate time and the same diagram may be used as an accurate compass.
Guiders constructing a rope from grass which they used to climb trees. They are MISSES NANCY LIGHT (Manly), NANCY KEMP (Manly), PATRICIA RUSSELL (Lindfield), and MARGARET HAYES-WILLIAMS.
Their instructor is MR. GERALD LAWRENCE.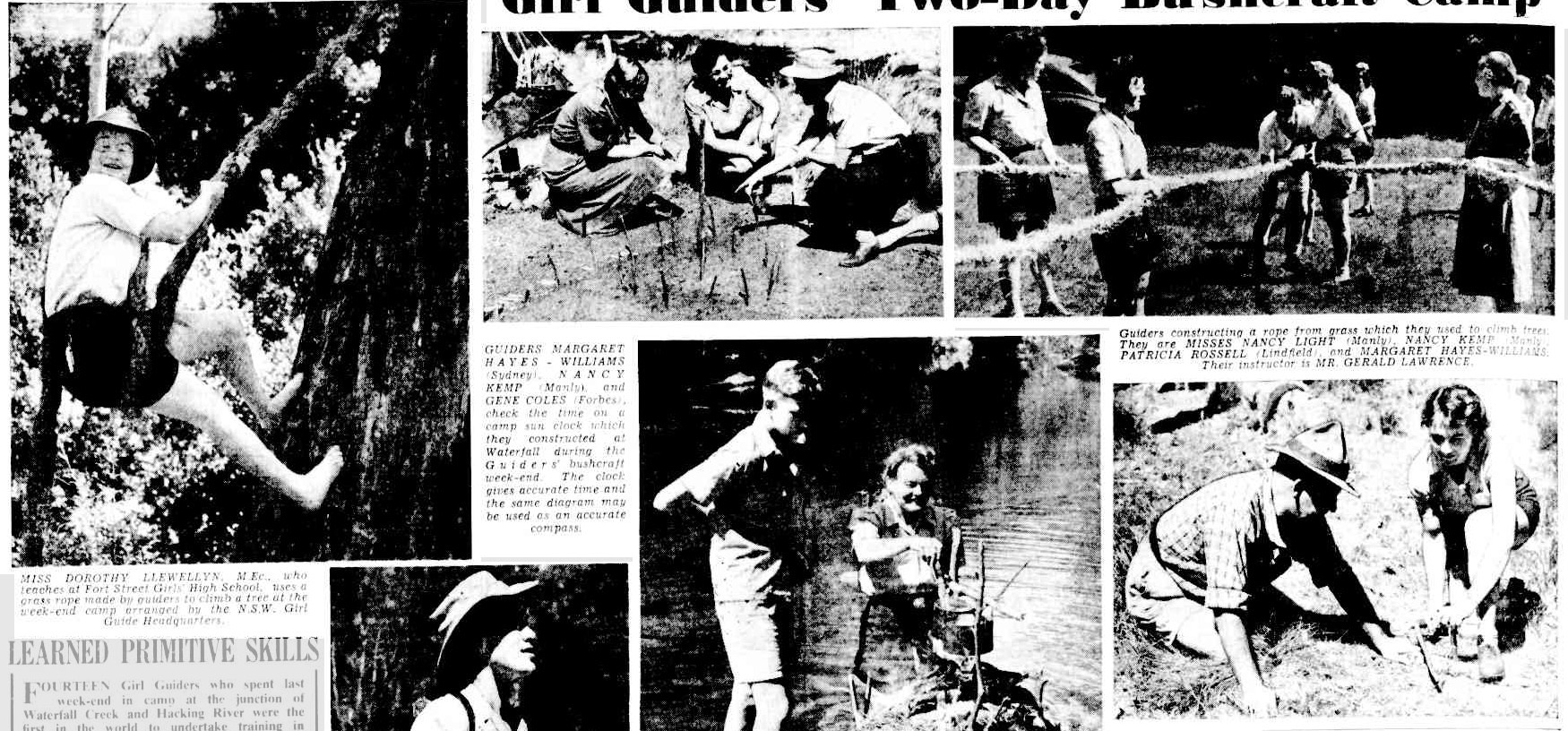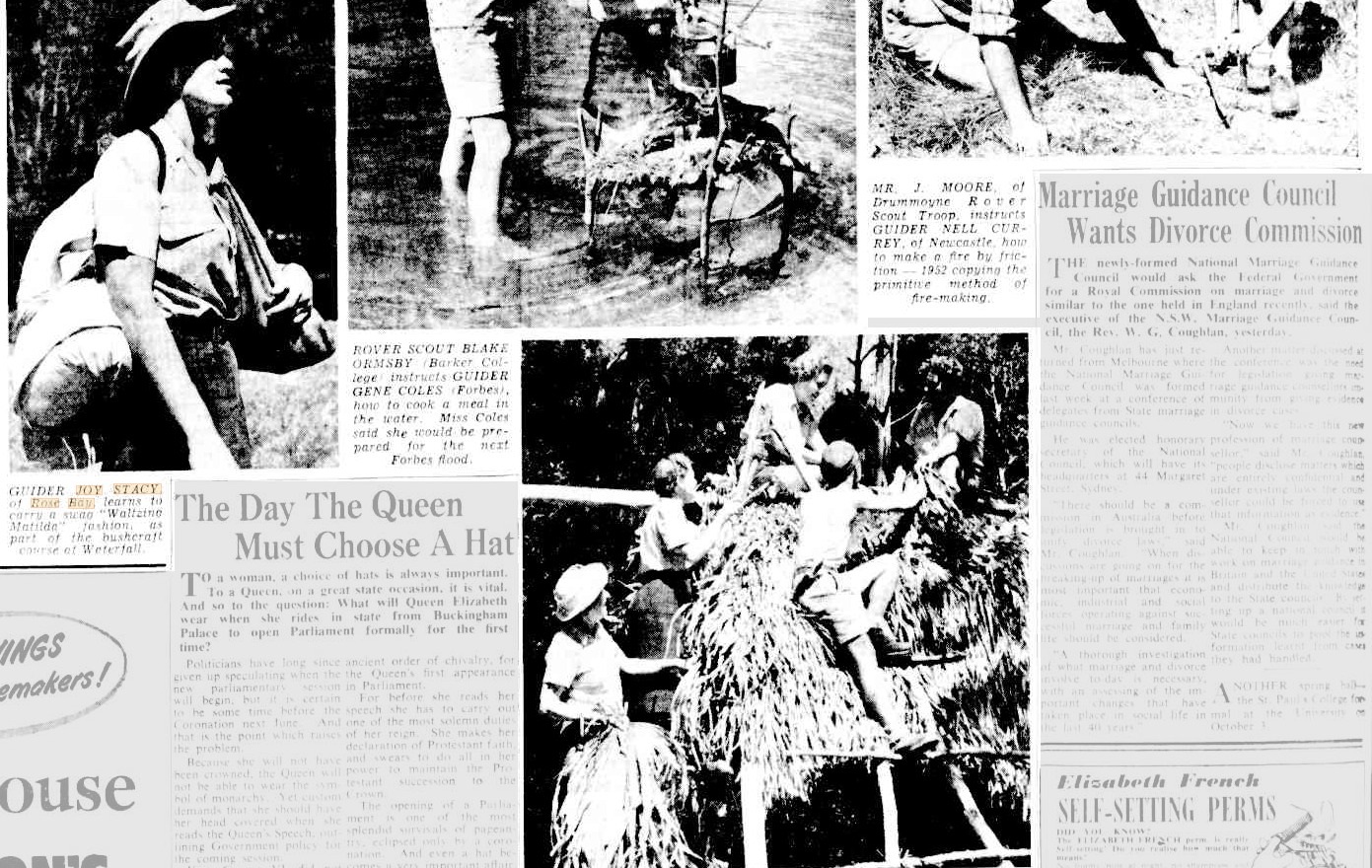 GUIDER JOY STACY, of Rose Bay, learns to carry a swag "Waltzing Matilda" fashion, as part of the bushcraft course at Waterfall.
ROVER SCOUT BLAKE ORMSBY (Barker College) instructs GUIDER GENE COLES (Forbes), how to cook a meal in the water. Miss Coles said she would be pre-pared for the next Forbes flood.
MR. J. MOORE, of Drummoyne Rover Scout Troop, instructs GUIDER NELL CURREY, of Newcastle, how to make a fire by friction - 1952 copying the primitive method of fire-making.
MR E COCKER instructs guides on how to thatch a hut They are MISSES JOAN STEVENSON (Waverley), GENE COLES (Forbes), PATRICIA RUSSELL (Lindfield), and NANCY LIGHT (Manly). Girl Guiders' Two-Day Bushcraft Camp (1952, September 25). The Sydney Morning Herald (NSW : 1842 - 1954), p. 4 (Women's section). Retrieved from http://nla.gov.au/nla.news-article18283438
APPOINTMENTS
Chief Secretary's Department
THE Governor-in-Council has approved of the under mentioned persons being appointed to the Commission of the Peace for the State of New South Wales, viz.: Stacy, Rosemary Joy, 26 Salisbury Road, Rose Bay, N.S.W. APPOINTMENTS (1967, December 1). Government Gazette of the State of New South Wales (Sydney, NSW : 1901 - 2001), p. 4442. Retrieved from http://nla.gov.au/nla.news-article220058780
Rosemary "Joy" Stacy was awarded her Medal of the Order of Australia in 1984 ''For services to the Girl Guides Association''.
Joy was the State Secretary of the Girl Guides Association (NSW) from 1963 to 1988 when she retired. The Zonta Club of Sydney has a long association with Girl Guides Australia, with other members including Charter Member Aline Fenwick OBE, Joan Stevenson, Barbara Horsfield OAM, Lady Angela Carrick and Jill Kemp all holding executive positions in the organisation (with both Lady Carrick and Barbara Horsfield being Chief Commissioner).
Joy joined the WAAF in 1942 and spent four years as a telegraphist. In 1949 she travelled overseas as many of her peers did, touring England and Scotland by bicycle for two months with her sister.
She also spent one and a half years as a member of the Guide International Service and was based at Hanover, Oldenburg and Hamburg in German. The GIS teams were responsible for "displaced" persons, which covered many nationalities – Poles, Hungarians, Ukrainians and others. It was said that Mrs Alison Fox stated "Enrol only those who are prepared to specialise in the impossible".
On her return to Australia, Joy joined the staff of the Australian Council of Churches service for Refugees, working with them for 8 years helping thousands of refugees and disadvantaged migrants to come to Australia.
Throughout this period she also took leave of absence in 1957 to act as Leader of an Australian contingent to attend a Girl Guide World Camp in England. They took 2 months at sea and 4 months in England and Switzerland.
Within Zonta, Joy has held positions including Secretary and Director. She was also on the Committee for Zonta International Convention in Sydney in 1984. She was a member of the Zonta Club of Sydney for 34 years.
Retrieved from: zontaclubsydney.com/2020/11/01/charter-member-joy-stacy-oam
____________________________________________________________________________________
Centenary Celebration
To celebrate the 100th Anniversary of the birth of the late Lord Baden-Powell, founder of the Scout and Girl Guide Movements, a Centenary Service will be held on Thinking Day, February 22, which is also the birthday of Lady Baden-Powell.
The service to mark the opening of Centenary year, will be held in the gardens of Government House, Perth, at 6 p.m. A procession of Scouts and Guides carrying banners depicting the flags of countries in which scouting and guiding are active, will enter the gardens. The service will begin with the breaking of the Australian flag, followed by an address given by the Right Rev. Dr. C. L Riley, formerly Bishop of Bendigo.
Many international celebrations of these world wide movements will take place during 1957. The 9th World Jamboree will be held at Sutton, Coldfield, England. A world camp for Guides is to be held in Windsor Park, in July. Later in the year camps are to be held in Switzerland, Norway and Canada. To mark this special year, Scouts throughout the world will carry out projects to conserve the natural resources and beauty of their own countries, and other forms of community services, as their good turns. Centenary Celebration (1957, February 14). The Beverley Times (WA : 1905 - 1977), p. 2 (Supplement). Retrieved from http://nla.gov.au/nla.news-article207882754
Girl Guides and Scouts In Need Of Leaders
It is becoming increasingly difficult to train adequately all the girls desiring to join the Girl Guide movement, a spokesman for the Girl Guide Association said yesterday.
The present Guide officers are doing splendid work but are badly in need of assistants. Opportunities for service exist in all sections of the Guide movement, particularly as assistants in the Brownie and Guide sections.
Plans are under discussion regarding the formation of a Ranger Company for girls from 16 upwards and a suitable leader is needed. It is hoped later to start Guides at Yarralumla, where already a Brownie Pack has been started. Interested persons should contact Mrs. M. de Plater (J2577) or Mrs. G. H. Fetherston (X2778).
A similar need for leaders is felt by the Boy Scouts' Association. In each of the Canberra Districts there is a number of vacancies which prevent the organisation from operating to its capacity, and thus deprives a number of boys of the advantages of membership.
The lack of Cubmasters is particularly acute. These are leaders of the junior section (8 to 11 years) of the Scout movement. Second Canberra, 6th Canberra (Yarralumla), 8th Canberra (St. Christopher's), and 14th Canberra (St. Paul's), on the south side of the city, and 7th Canberra (Corrobboree Park), 9th Canberra (St. Patrick's) and 11th Canberra St. Columba's), on the north side, are all seriously understaffed in this section. The ages for warrant as Cubmaster or Assistant Cubmaster range from 18 upwards.
The position in other sections is not quite so acute, but 12th Canberra (Duntroon), 2nd Canberra, and the two Catholic groups, 8th and 9th Canberra, all need Scoutmasters or Assistant Scoutmasters, while there are vacancies for leaders of senior Scout troops (15-17 years) and Rover Crews (18-24 years).
Any young men or women who can spare some of their time to help with the work of the movement will be welcomed. Previous experience of Scouting is useful, but not essential, as training courses are arranged as required. Interested parties are invited to contact Mr. E. H. Harry (J1225) or Mr. J. S. Anderson (J2941) to get further information. Girl Guides And Scouts In Need Of Leaders (1957, May 3). The Canberra Times (ACT : 1926 - 1995), p. 8. Retrieved from http://nla.gov.au/nla.news-article91587575
Earlier family links with Lindisfarne - later ones would come too:
JUBILEE OF INSTITUTION
Victoria Convalescent Home's 50 Years Of Service
THE Victoria Convalescent Home at Lindisfarne, which will celebrate tomorrow. Its jubilee anniversary has a proud record of 50 years community service Its doors have been open to rich and poor alike for those patients who cannot afford to pay even the modest fees of the home are admit-ted under various funds the chief of which are the Samaritan (Royal Hobart Hospital) fund and the Queen s fund Amid beautiful surroundings and in a comfortable home convalescents needing care and attention those persons who require rest in order to regain their health and those who need nursing may recuperate.
The Victoria Convalescent Home is ideally situated In about 15 acres of ground at Lindisfarne with a fine view of the harbour and rising bushland in the background Pure air and peaceful surroundings make the site eminently suitable for convalescents. Though the home is a large old-fashioned two-storey house there have been many additions and alterations. In recent years and it is equipped with all modern conveniences. Several of the wards and private rooms were provided as a result of gifts and bequests and the Interior is bright and comfortably furnished throughout Floors of each room are rugged or carpeted and there are eider-downs on every bed The efficiency with which the home is conducted the attention and care which patients receive and scrupulous cleanliness throughout may be attributed to the capable management of Matron R M Weller a fully qualified nurse.
Some years ago the proceeds from the sale of vegetables grown In the grounds of the home enabled the committee to purchase a preserving outfit and the matron undertakes the preserving of fruit and vegetables to meet the needs of the home throughout the year.
For some time the same co-operated with the Tasmanian Society for the Care of Crippled Children. Until the after-care home Wingfield House was built a maximum number of 12 children were accommodated at a time at the Convalescent Home It was at this period that eight rooms were added to the house Other notable improvements to the home Include the provision of a sun lounge and the enclosing of upstairs balconies Patients are given the best possible care and menus are carefully planned for the health of convalescents Patients sometimes include mothers with young babies just out of hospital and needing an extra fortnight of rest before returning to domestic work.
The present home was originally the property of the late Mr Frank Bond. In 1899 a portion of the Guesdon bequest was allotted for the purchase of the property for use as a convalescent home. The early history of the home Is linked with the work of Lady Hamilton wife of the State Governor of 50 years ago. The first movement for the establishment of the home was made in 1891 when the late Mr Hughes lent a property Ardiles at Granton for the purposes of a convalescent home. Lady Hamilton was the first patroness and Miss F M Butler now president of the home and associated with the work for the past 50 years became the first secretary The late Mrs Henry Dobson a foundation member was president for 40 years. The Granton home which was essentially for women and children was later moved to Moonah Following a serious outbreak of typhoid fever the committee realised the necessity for accommodating men as well as women and the Bungalow on the Browns River Rd was taken over for this purpose. Later more accommodation was required and the move to Lindisfarne was made.
A minute book still preserved contains the record of the first committee meeting held in September 1891 at the Macquarie St home of the late Dr Bright.
Like many other Institutions the home has encountered war time difficulties and a few months ago the committee was com polled to close a portion of the house the mens wing and upstairs wards. It is hoped that this will be only a temporary measure Many financial difficulties have been met and overcome during the history of the institution for It relies for maintenance on patients fees legacies and bequests subscriptions and donations and special efforts on the part of the committee There is no Government subsidy attached to the home Each year more than £150 must be raised in order to enable the committee to carry on the work The committee and staff are deserving of the highest praise for their determination and enthusiasm in the face of financial obstacles to carry on.
It would be lamentable if such a fine and valuable institution as the Victoria Convalescent Home were to close Its doors after 50 years of service and particularly in view of the fact that its Importance to the community may become even greater In the future than it has been in the past. Tomorrow the jubilee will be celebrated by a gala carnival at the home which will be attended by Lady Clark (patroness).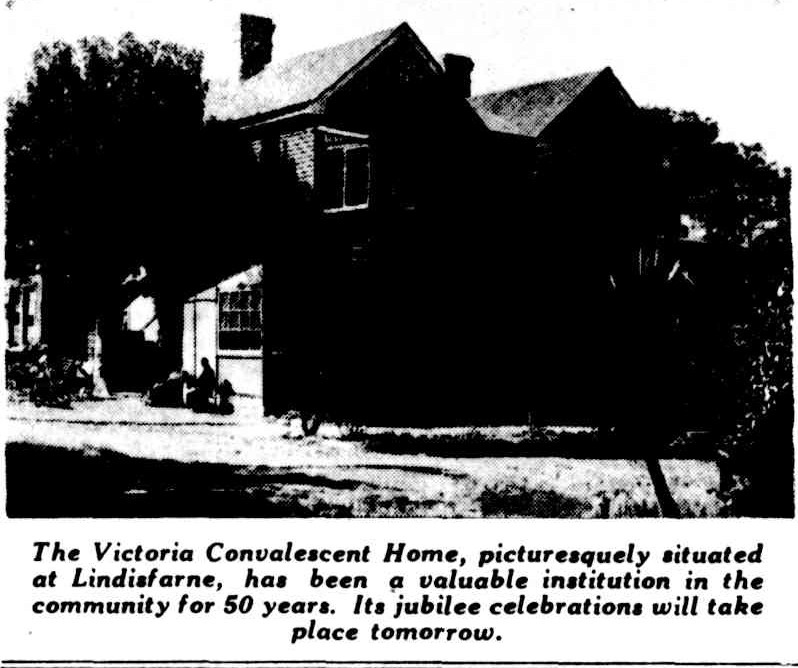 The Victoria Convalescent Home, picturesquely situated at Lindisfarne, has been a valuable institution in the community for 50 years. Its jubilee celebrations will take place tomorrow. JUBILEE OF INSTITUTION (1941, September 26). The Mercury (Hobart, Tas. : 1860 - 1954), p. 4. Retrieved from http://nla.gov.au/nla.news-article25882978
FEES ALWAYS FIXED AT VICTORIA HOME
MR G. S. CARRUTHERS statement that the Victoria Convalescent Home, Lindisfarne, originally was free for the poor and 10/ a week for those who could afford to pay, is incorrect the chairman of the home's board (Archdeacon Barrett) said yesterday.
IN the first constitution drawn up on February 22, 1892, section 18 read: "Fees shall be 10/, 15/, and 25/ per week respectively, according to accommodation required." Reductions or remissions of fees whenever made were provided out of the resources of the home, or made available by friends. ' Fees of £2/2/ and £3/3/ 56 years later were not excessive, said Archdeacon Barrett.
"Mr Carruthers is wrong again when he says that 'the clause that only interest on investments could .be used to lower fees' was added to the constitution in 1945," he said.
"In the constitution adopted on August 21, 1935, it was provided that: bequests should be invested in a capital fund, which, subject to any special conditions, could be spent on alterations or extensions to the home buildings of a permanent 'Character, or the income might be applied in the general maintenance and upkeep of the home.
"This principle was embodied in the revised constitution of September 26, 1945, in almost identical words. How far it goes back beyond 1935 I do not know, but any institution which used capital for working expenses would face speedy bankruptcy."
No Refusal
The board had not refused to disclose information about its bequests, and he had done so personally at three meetings, said Archdeacon Barrett.
The Guesdon and Elizabeth Fry bequests were held by their trustees, and the income paid to the board for general purposes. The interest on the Queen's Fund was for helping women in distress. There were a number of small legacies and money invested in Commonwealth stock. There were no special conditions attached, and, the board used the income for working expenses.
"Mr Carruthers is wrong, too, in his argument, or inference, that as the Guesdon Bequest is for 'Christian, philanthropic, and non-sectarian purposes,' therefore our share of it cannot be limited to a convalescent home.
"The fact is that Mr Justice Romer (in England) made an order as to the 'philanthropic and charitable' purposes intended under the will of the late William Andrew Guesdon, by which he set aside £2,500 for the benefit of the 'institution known as The Convalescent Home,' and Mr Justice A. Inglis Clark authorised the purchase of the property out of the £2,500, to be vested in the Guesdon Trustees for the 'said Convalescent Home.'
"It is the constitution of the home that governs the bequest and not the general conditions of the Guesdon Trust," he said. FEES ALWAYS FIXED AT VICTORIA HOME (1948, October 8). The Mercury (Hobart, Tas. : 1860 - 1954), p. 6. Retrieved from http://nla.gov.au/nla.news-article27767990