inbox and environment news: Issue 574
March 5 - 11 2023: Issue 574
Express Yourself 2023
Manly Art Gallery & Museum is proud to present Express Yourself from March 3 – April 16 2023.
Express Yourself is comprised of over 50 artworks by HSC Visual Arts students, selected from the 20 secondary schools across our area.
At its core, the exhibition displays the voice of our youth – raw and authentic and presents young artists as commentators and advocates, who are questioning the status quo, and opening minds and conversations to help us imagine new futures.
Mayor Michael Regan said the exhibition has been an important part of the Gallery's program since 1995 and demonstrates Council's continuing commitment to supporting visual arts education.
"Express Yourself provides a chance every year to connect with the artists emerging from secondary schools across the region. It's a loved centrepiece of the annual program and an exhibition that brings new life and ideas into the Gallery to be celebrated and exposed to new audiences.
"I'd like to congratulate each and every artist selected to take part in 2023 and to acknowledge the tremendous work they have put in to be included," Mayor Regan said.
The works by 2022 HSC students show incredible diversity, depth and skill.
Featuring a broad range of expressive artforms, the high technical and artistic calibre of the works reflect the continuum of creativity in our region, and helps to reveal the quality of teaching and learning in Visual Arts at this level.
Some artworks reflect very personal themes of family and relationships, or draw on their cultural heritage; some explore the environmental crisis, and our connection to the land and to place; while others reflect on all that it is to be human in an ever-changing world.
Now in its 29th year, Express Yourself is presented by MAG&M and the Council in partnership with local secondary schools and the MAG&M Society.
To learn more about the programmed events, awards and to view a catalogue
click here
.
Express Yourself 2023 events
Meet The Artists:

From 2-5pm on Sunday, 26 March 2023
RSVP here
Express Yourself 2023 offers a unique opportunity to Meet the Artists and enjoy some Live Music and Performance. Here visitors can engage with selected Express Yourself 2023 artists as they move through the gallery, listening to stories of inspiration and the creative process (2-3pm) and are then invited to sit back and enjoy live performances by top young local musicians and performers (3-5pm).
Manly Art Gallery & Museum West Esplanade Reserve, Manly NSW 2095
Open Tue – Sun, 10am – 5pm (closed Mondays & Public Holidays)
Free entry
T: 02 9976 1421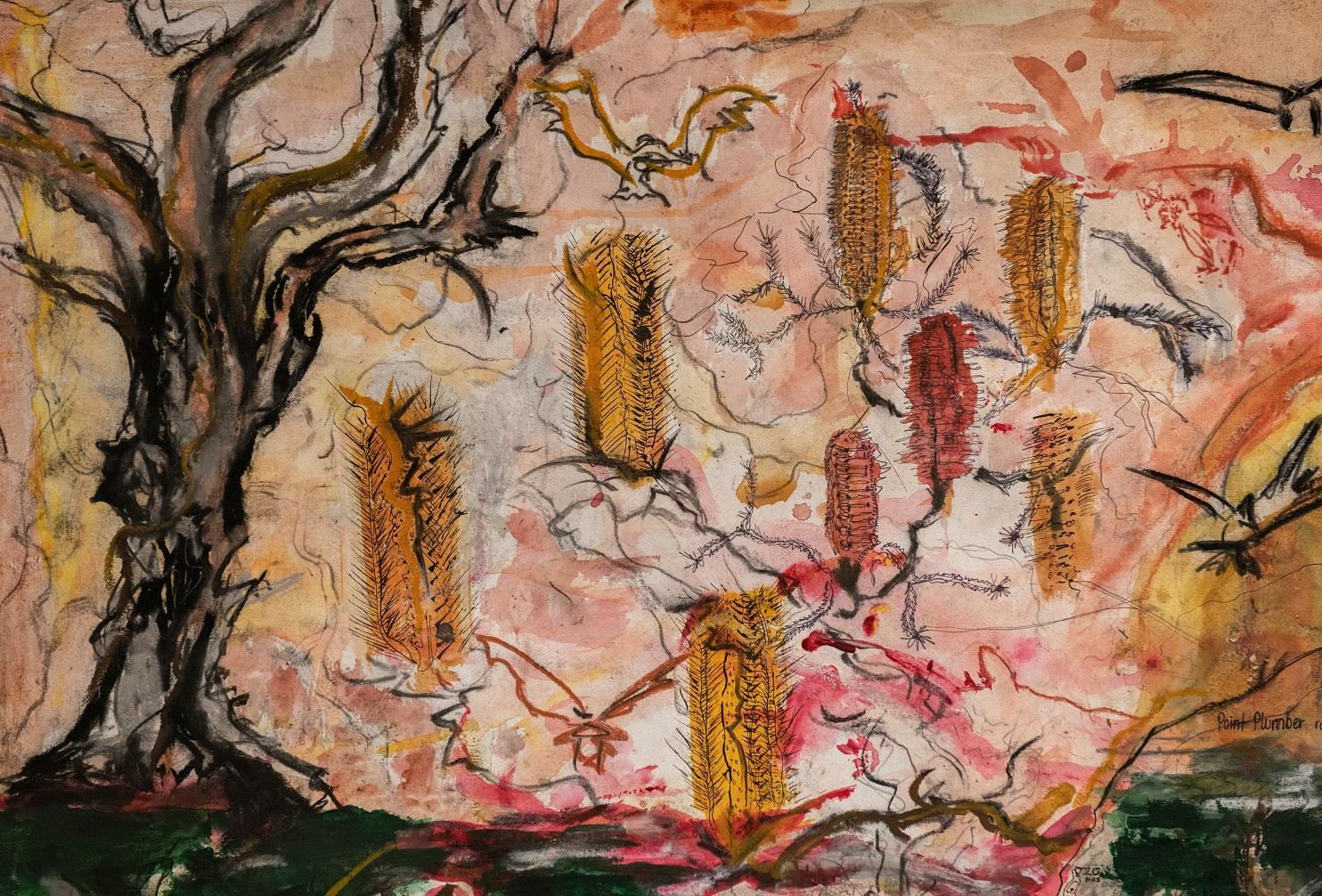 Joe Boaler, The land is ours; this land owns me, Barrenjoey High School
Surf Patrol: Manly In 1950
Surf Patrol shows the work of the volunteer life-savers who patrol Australia's dangerous surf beaches, saving hundreds of lives each year.
Australia's beaches, ringed as they are by dangerous surf, call for vigilance by even the best swimmers. The film stresses that these men and women, who devote their energies to this, give up much of their leisure to equip themselves for the task. As well as being expert swimmers and qualifying for swimming awards, they spend as many as two or three evenings a week studying life-saving methods and human physiology. How they man life-boats which fight huge seas, how with belt and line they brave heavy seas to rescue the unfortunate and unwary, and how they apply the most efficient methods of resuscitation to the apparently drowned, makes a highly exciting and interesting film. 1950; Directed by Jack S. Allan. Produced by National Film Board. Locations: Manly Beach and Surf Club
Pittwater High School: 60 Years Young In 2023
Did you know that Pittwater High School was officially opened on November 22nd 1963?
In 1963 Pittwater operated with 200 students and 20 staff out of one building built on flood land resumed in 1961 with Stage I costing; Pittwater High, new school, £279,644; Nearly £12 Million on Schools (1963, September 6). Western Herald (Bourke, NSW : 1887 - 1970), p. 13. Retrieved from http://nla.gov.au/nla.news-article142315720
Named after Pittwater, the estuary, the school has always had a good focus on aquatic sports and the arts, including launching some great musicians and the Diamond class yacht launched and built at the school through the work of Wal Wardle and Harold Vaughan, the Kalori, which also went on to become the name for the school magazine. Roughly translated it means 'message stick'.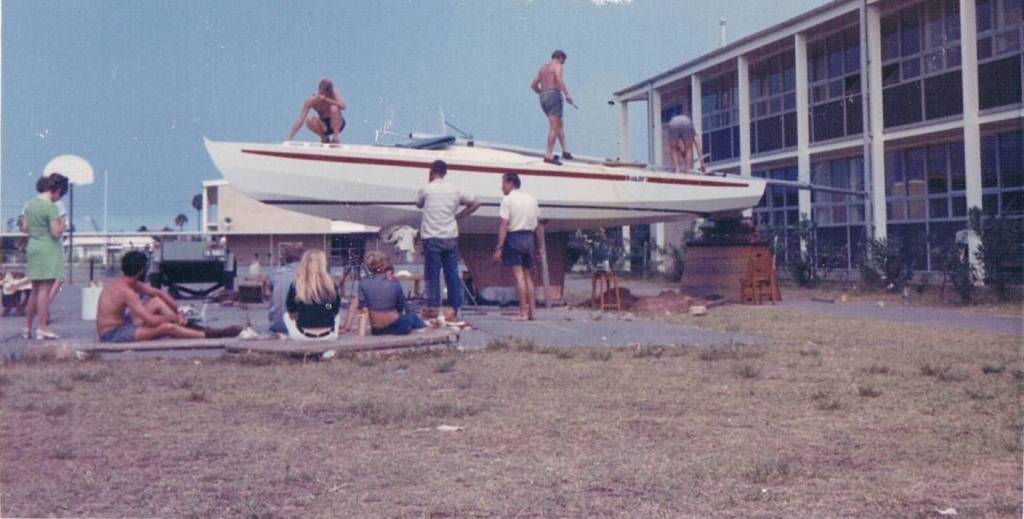 The Kalori being built in the school grounds
The school has also seen some of Australia's premier sailors as students go on to GREAT things - for example, this little insight from 1998:
Pittwater team to represent Australia Sailing
PITTWATER High School sailing team captain Ben Bianco praised the competitiveness shown by the other teams at last week's Secondary Schools Team Racing Championships on Boston Bay. The Pittwater team, representing New South Wales, staved off gallant efforts from Western Australia and South Australia to take out the prestigious title. Ben said the competition was good, with all teams putting up an excellent fight. South Australia was represented by the Port Lincoln High School team. The High School side has been very successful in the past, winning a number of titles. Team captain Tiffany Evans said this year's side showed lot of promise for the future. "They are a young team, and they are also the lightest team we have ever had," Miss Evans said. "When the conditions are rough like they were over the weekend then the heavier teams have an ! advantage. "I think we will be a force in the future." The Pittwater team will now represent; Australia at the interdominion against New Zealand team Keri Keri in September.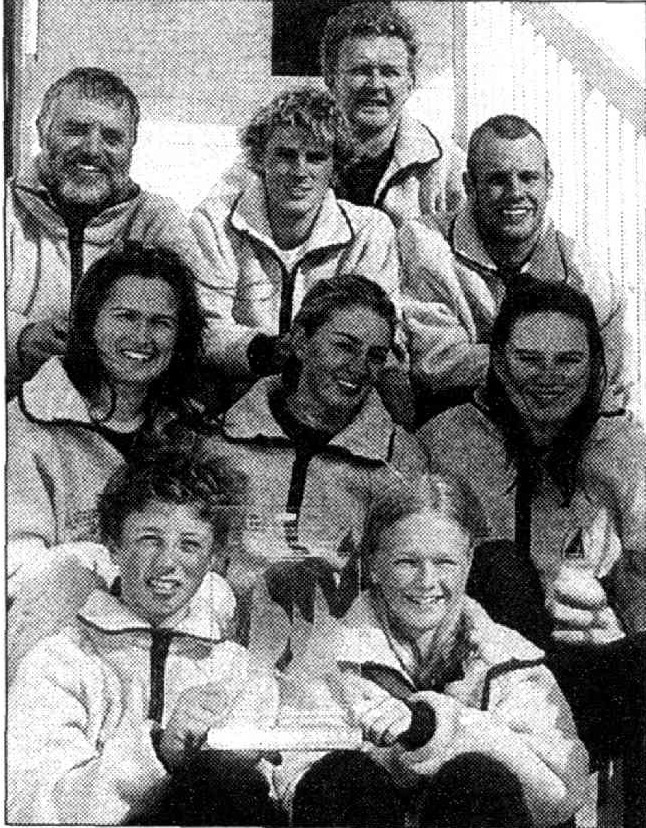 The victorious Pittwater High School team was made up of (back) Angus Gordon (coach), Ben Bianco (captain), Peter Mullholland (manager) Nick Garland (skipper), (middle) Nadine MacCaurin, Lauren Bianco, Katie Spithill, Murray Gordon and Emily MacCaurin. Pittwater team to represent Australia (1998, July 16). Port Lincoln Times (SA : 1927 - 1965; 1992 - 2002), p. 39. Retrieved from http://nla.gov.au/nla.news-article267204325
Land resumed Notice:
NOTIFICATION OF RESUMPTION OF LAND UNDER THE PUBLIC WORKS ACT, 1912, AS AMENDED
IT is hereby notified and declared by His Excellency the Governor, acting with the advice of the Executive Council, that so much of the land described in the Schedule hereto as is Crown land is hereby appropriated, and so much of the said land as is private property is hereby resumed, under the Public Works Act, 1912, as amended, for the following public purpose, namely a High School at MONA VALE, and that the said land is vested in the Minister for Education as Constructing Authority on behalf of Her Majesty the Queen.
Dated this twenty-fifth day of October, one thousand nine hundred and sixty-one.
E. W. WOODWARD, Governor. By His Excellency's Command,
ERN. WETHERELL, Minister for Education.
The Schedule
All that piece or parcel of land situate in the Shire of Warringah, parish of Narrabeen and county of Cumberland, being part of the land comprised in Real Property Application 20,799, part of the land firstly described in Deed Registered Book 733, No. 445, and part of the land described in Deed Registered Book 2,038, No. 592: Commencing at the intersection of the north-western side of Mona-street with the north-eastern side of Pitt water-road; and bounded thence on the south-west by the said north-eastern side of Pittwater-road bearing 324 degrees 5 minutes 264 feet 101 inches to the westernmost corner of the land comprised in Certificate of Title, volume 4,215, folio 27; on the north-west by part of the north-western boundary of that land bearing 30 degrees 38 minutes 30 seconds 164 feet; again, on the south-west by a line bearing 326 degrees 9 minutes 10 seconds 404 feet li inches to the north-western boundary of the land comprised in Certificate of Title, volume 4,360, folio 148; on the south-east by part of that boundary bearing 210 degrees 20 minutes 176 feet 4 inches to the said north-eastern side of Pittwater-road; again on the south-west by that side of that road bearing successively 330 degrees 36 minutes 40 seconds 96 feet, 334 degrees 57 minutes 40 seconds 96 feet 31 inches, 339 degrees 19 minutes 5 seconds 96 feet 31 inches, 343 degrees 40 minutes 30 seconds 96 feet 3£ inches and 348 degrees 1 minute 55 seconds 64 feet 101 inches to the northwestern boundary of the said land firstly described in Deed Registered Book 733, No. 445; again on the north-west by part of that boundary bearing 30 degrees 33 minutes 678 feet i inch to the northernmost corner of that land; on the northeast by the north-eastern boundary of that land bearing 143 degrees 57 minutes 380 feet 1 inch; again on the south-east by part of a south-eastern boundary of that land bearing 210 degrees 20 minutes 5 feet 8 inches to the northernmost corner of the said land comprised in Real Property Application 20,799; and again on the north-east and south-east by the north-eastern and south-eastern boundaries of that land bearing successively 143 degrees 58 minutes 15 seconds 659 feet 6£ inches, 220 degrees 29 minutes 2 feet 3 inches and 210 degrees 13 minutes 30 seconds 801 feet 7i inches to the point of commencement,—having an area of 15 acres 3 roods 5 1/2 perches or thereabouts, and said to be in the possession of Phyllis E. John and others. NOTIFICATION OF RESUMPTION OF LAND UNDER THE PUBLIC WORKS ACT, 1912, AS AMENDED (1961, November 10). Government Gazette of the State of New South Wales (Sydney, NSW : 1901 - 2001), p. 3588. Retrieved from http://nla.gov.au/nla.news-article220286558
More later this year!
Northern Composure Band Competition 2023
Due to the pandemic, Council have had the 20th anniversary on hold but pleased to say that the competition is open and running again.
Northern Composure is the largest and longest-running youth band competition in the area and offers musicians local exposure as well as invaluable stage experience. Bands compete in heats, semi finals and the grand final for a total prize pool of over $15,000.
Over the past 20 years we have had many success stories and now is your chance to join bands such as:
Ocean Alley
Lime Cordiale
Dear Seattle
What So Not
The Rions
Winston Surfshirt
Crocodylus
And even a Triple J announcer plus a wide range of industry professionals
About the Competition
In 2023, the comp looks a little different.
All bands are invited to enter our heats which will be exclusively run online and voted on by your peers and community by registering below and uploading a video of one song of your choice. (if you are doing a cover, please make sure to credit the original band) We are counting on you to spread the word and get your friends, family, teachers voting for you!
The top 8-12 bands will move on through to our live semi finals with a winner from each moving on to the grand final held during National Youth Week. Not only that but we have raised the age range from 19 to 21 for all those musicians who may have missed out over the past two years.
Key dates
Voting open for heats: Mon 13 Feb – Sun 26 Feb

Band Briefing: Mon 6 March, Dee Why PCYC
Semi 1: Sat 18 March Mona Vale Memorial Hall
Semi 2: Sat 25 March, YOYOs, Frenchs Forest
Grand Final: Fri 28 April, Dee Why PCYC
For more information contact Youth Development at youth@northernbeaches.nsw.gov.au or call 8495 5104
Stay in the loop and follow Northern Composure Unplugged on KALOF Facebook.
School Leavers Support
Explore the School Leavers Information Kit (SLIK) as your guide to education, training and work options in 2022;
As you prepare to finish your final year of school, the next phase of your journey will be full of interesting and exciting opportunities. You will discover new passions and develop new skills and knowledge.
We know that this transition can sometimes be challenging and the COVID-19 pandemic has presented some uncertainty. With changes to the education and workforce landscape, you might be wondering if your planned decisions are still a good option or what new alternatives are available and how to pursue them.
There are lots of options for education, training and work in 2022 to help you further your career. This information kit has been designed to help you understand what those options might be and assist you to choose the right one for you. Including:
Download or explore the SLIK here to help guide Your Career.
School Leavers Information Kit (PDF 5.2MB).
School Leavers Information Kit (DOCX 0.9MB).
The SLIK has also been translated into additional languages.
Download our information booklets if you are rural, regional and remote, Aboriginal or Torres Strait Islander, or living with disability.
Support for Regional, Rural and Remote School Leavers (PDF 2MB).
Support for Regional, Rural and Remote School Leavers (DOCX 0.9MB).
Support for Aboriginal and/or Torres Strait Islander School Leavers (PDF 2MB).
Support for Aboriginal and/or Torres Strait Islander School Leavers (DOCX 1.1MB).
Support for School Leavers with Disability (PDF 2MB).
Support for School Leavers with Disability (DOCX 0.9MB).
Download the Parents and Guardian's Guide for School Leavers, which summarises the resources and information available to help you explore all the education, training, and work options available to your young person.
School Leavers Information Service
Are you aged between 15 and 24 and looking for career guidance?
Call 1800 CAREER (1800 227 337).
SMS 'SLIS2022' to 0429 009 435.
Our information officers will help you:
navigate the School Leavers Information Kit (SLIK),
access and use the Your Career website and tools; and
find relevant support services if needed.
You may also be referred to a qualified career practitioner for a 45-minute personalised career guidance session. Our career practitioners will provide information, advice and assistance relating to a wide range of matters, such as career planning and management, training and studying, and looking for work.
You can call to book your session on 1800 CAREER (1800 227 337) Monday to Friday, from 9am to 7pm (AEST). Sessions with a career practitioner can be booked from Monday to Friday, 9am to 7pm.
This is a free service, however minimal call/text costs may apply.
Call 1800 CAREER (1800 227 337) or SMS SLIS2022 to 0429 009 435 to start a conversation about how the tools in Your Career can help you or to book a free session with a career practitioner.
Word Of The Week: Ponder
Word of the Week returns in 2023 simply to throw some disruption in amongst the 'yeah-nah' mix.
Verb
1. To wonder, think of deeply. 2. To consider (something) carefully and thoroughly. 3. (obsolete) To weigh.
From Middle English ponderen, from Old French ponderer ("to weigh, balance, ponder") from Latin ponderare ("to weigh, ponder"), from pondus ("weight"), from pendere ("to weigh")
Exercise is even more effective than counselling or medication for depression. But how much do you need?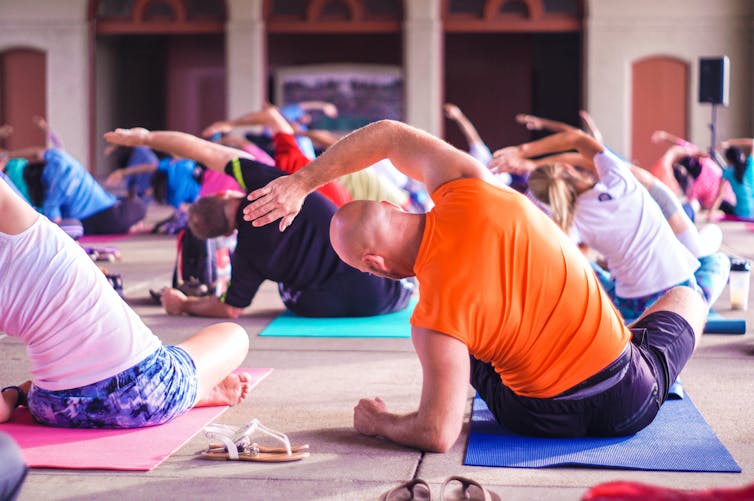 Ben Singh, University of South Australia; Carol Maher, University of South Australia, and Jacinta Brinsley, University of South Australia
The world is currently grappling with a mental health crisis, with millions of people reporting depression, anxiety, and other mental health conditions. According to recent estimates, nearly half of all Australians will experience a mental health disorder at some point in their lifetime.
Mental health disorders come at great cost to both the individual and society, with depression and anxiety being among the leading causes of health-related disease burden. The COVID pandemic is exacerbating the situation, with a significant rise in rates of psychological distress affecting one third of people.
While traditional treatments such as therapy and medication can be effective, our new research highlights the importance of exercise in managing these conditions.
Our recent study published in the British Journal of Sports Medicine reviewed more than 1,000 research trials examining the effects of physical activity on depression, anxiety, and psychological distress. It showed exercise is an effective way to treat mental health issues – and can be even more effective than medication or counselling.
Harder, Faster, Stronger
We reviewed 97 review papers, which involved 1,039 trials and 128,119 participants. We found doing 150 minutes each week of various types of physical activity (such as brisk walking, lifting weights and yoga) significantly reduces depression, anxiety, and psychological distress, compared to usual care (such as medications).
The largest improvements (as self-reported by the participants) were seen in people with depression, HIV, kidney disease, in pregnant and postpartum women, and in healthy individuals, though clear benefits were seen for all populations.
We found the higher the intensity of exercise, the more beneficial it is. For example, walking at a brisk pace, instead of walking at usual pace. And exercising for six to 12 weeks has the greatest benefits, rather than shorter periods. Longer-term exercise is important for maintaining mental health improvements.
How Much More Effective?
When comparing the size of the benefits of exercise to other common treatments for mental health conditions from previous systematic reviews, our findings suggest exercise is around 1.5 times more effective than either medication or cognitive behaviour therapy.
Furthermore, exercise has additional benefits compared to medications, such as reduced cost, fewer side effects and offering bonus gains for physical health, such as healthier body weight, improved cardiovascular and bone health, and cognitive benefits.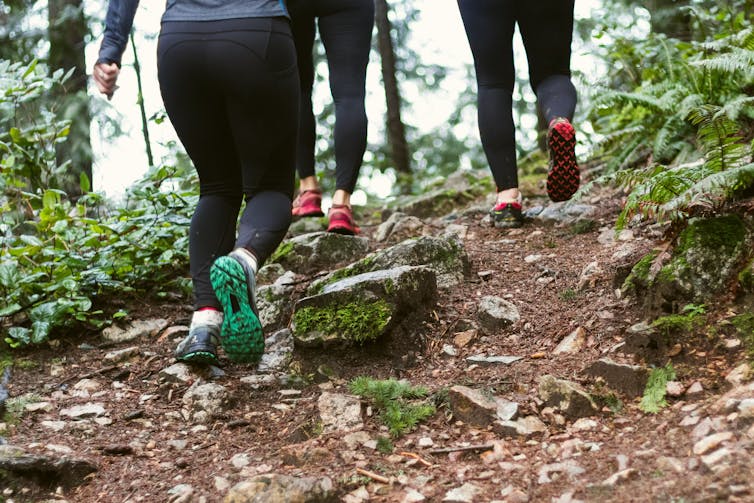 Why It Works
Exercise is believed to impact mental health through multiple pathways, and with short and long-term effects. Immediately after exercise, endorphins and dopamine are released in the brain.
In the short term, this helps boost mood and buffer stress. Long term, the release of neurotransmitters in response to exercise promotes changes in the brain that help with mood and cognition, decrease inflammation, and boost immune function, which all influence our brain function and mental health.
Regular exercise can lead to improved sleep, which plays a critical role in depression and anxiety. It also has psychological benefits, such as increased self-esteem and a sense of accomplishment, all of which are beneficial for people struggling with depression.
Not Such An 'Alternative' Treatment
The findings underscore the crucial role of exercise for managing depression, anxiety and psychological distress.
Some clinical guidelines already acknowledge the role of exercise – for example, the Australian and New Zealand Clinical Guidelines, suggest medication, psychotherapy and lifestyle changes such as exercise.
However, other leading bodies, such as the American Psychological Association Clinical Practice Guidelines, emphasise medication and psychotherapy alone, and list exercise as an "alternative" treatment – in the same category as treatments such as acupuncture. While the label "alternative" can mean many things when it comes to treatment, it tends to suggest it sits outside conventional medicine, or does not have a clear evidence base. Neither of these things are true in the case of exercise for mental health.
Even in Australia, medication and psychotherapy tend to be more commonly prescribed than exercise. This may be because exercise is hard to prescribe and monitor in clinical settings. And patients may be resistant because they feel low in energy or motivation.
But Don't 'Go It Alone'
It is important to note that while exercise can be an effective tool for managing mental health conditions, people with a mental health condition should work with a health professional to develop a comprehensive treatment plan – rather than going it alone with a new exercise regime.
A treatment plan may include a combination of lifestyle approaches, such as exercising regularly, eating a balanced diet, and socialising, alongside treatments such as psychotherapy and medication.
But exercise shouldn't be viewed as a "nice to have" option. It is a powerful and accessible tool for managing mental health conditions – and the best part is, it's free and comes with plenty of additional health benefits.

Ben Singh, Research fellow, University of South Australia; Carol Maher, Professor, Medical Research Future Fund Emerging Leader, University of South Australia, and Jacinta Brinsley, Postdoctoral research fellow, University of South Australia
This article is republished from The Conversation under a Creative Commons license. Read the original article.
Applications Now Open For Inaugural $10,000 Military History Prize
Applications are now open for the inaugural $10,000 Anzac Memorial Trustees Military History Prize – a new annual award within the prestigious NSW Premier's History Awards.
Minister for Transport, Veterans and Western Sydney David Elliott said the establishment of the award highlighted the importance of recording our military history to honour and remember our veterans.
"Capturing our military history is vital in ensuring future generations are educated on the service and sacrifice of Australians in armed conflicts," Mr Elliott said.
"This prize is not only an important acknowledgement of the work which is already being done to record the events and stories of those who served in conflict and peacekeeping missions but also provides an avenue for that work to be shared more widely.
"This is another step in ensuring the sacrifices of all those who have served in the defence forces and military operations continue to be profiled as part of the nation's military history, so our veterans will not be forgotten.
"I encourage all historians with an interest in our military history to apply for this award as it will help future generations learn about and understand the bravery, dedication and legacy of our veterans," Mr Elliott said.
The Military History Prize is for a work of non-fiction on the involvement of Australians in wars, campaigns, battles and/or peacekeeping operations which are represented in the Anzac Memorial's Hall of Service. The Hall of Service displays 100 international sites of military significance for NSW service personnel from the 19th Century to more recent military operations.
COTA Australia Welcomes Super Clarity; Calls For Retirement Income Certainty
The Council on the Ageing (COTA) Australia, the peak body for older Australians, has welcomed the announcement of the Federal Government's position on superannuation changes today and says older Australians need certainty and stability around their retirement income.
COTA Australia Chief Executive Officer, Patricia Sparrow, says legislating superannuation's purpose as being for retirement will protect retirement incomes for the future.
"The wellbeing of older Australians should always be at the centre of any debate about superannuation reform and that means we need to realise that certainty is incredibly important for people planning, entering or in retirement," Ms Sparrow says.
"The Treasurer has said the changes will be made after the next election, which is good because it will give everyone a chance to assess the impact of the changes and enable the Australian population to be the final arbiter.
"People need certainty and forewarning in order to plan for their retirement. Threats of sudden changes can be distressing for people, particularly older Australians in retirement or about to retire.
"All older Australians deserve the assurance that they can retire with dignity. We need to make sure people have the housing and income to live comfortably in retirement."
Ms Sparrow said that having a clear timeline for the implementation of the changes will be important.
"Long termism and stability are crucial when we're talking about life-changing issues such as superannuation."
Minister For Aged Care - Op-Ed
Read The Hon Anika Wells MP, Minister for Aged Care, op-ed reflecting on the final report of the Royal Commission into Aged Care Quality and Safety.
March 1 marks two years since the Royal Commission into Aged Care Quality and Safety's shocking final report was tabled in Parliament.
The Royal Commission was a damning assessment of an aged care system in crisis.
After years of ignorance, the final report was a call to action to put people back in the centre of aged care.
The two-year anniversary allows us the opportunity to reflect on what we have achieved and understand the work we must now focus our attention on.
Since coming into government, we have directly addressed 37 recommendations of the Royal Commission into Aged Care Quality and Safety.
From July 1, older people in residential aged care will have access to a registered nurse 24 hours, 7 days a week.
Mandatory average care times for residents will be increased to 200 minutes from 1 October 2023, and 215 minutes from 1 October 2024.
From this year, we will deliver a pay rise of at least 15 per cent for aged care workers on the minimum award.
For many, it will be the first time they receive more than $30 an hour for their work.
Some our other achievements include:
Creating the Star Ratings system to increase choice, accountability and transparency. Implementing the inaugural code of conduct for providers and workers to protect older people.
Capping homecare charges and exit fees to stop the rorting.
Appointing an interim inspector general to be an independent champion for the sector. Enhancing safeguards for restrictive practices.
Passing two aged care Acts through Parliament to keep reform moving
I have visited more than 20 aged care homes since being sworn in as Minister, talking with residents and workers about how our reforms are impacting their daily lives.
I have witnessed exceptional care being delivered, have seen problems that still need to be addressed and issues that clearly need improvement.
This is just the start of our reform mission.
What we are working on right now is bedding in our current reforms while addressing more Royal Commission recommendations.
We are drilling into ways to boost the numbers of aged care workers, helping aged care providers recruit and train thousands of personal care workers to care for older people at home or in residential facilities, reforming in-home aged care and working on the National Dementia Action Plan.
I am determined to make people the beating heart of a strengthened aged care system that replaces fear with trust.
Older people helped build this country. The very least we can provide them is quality care.
We have critical reforms to tackle over the next 12 months and are working hard to ensure they not only address current issues but set the sector up for long term success.
I am ambitious for aged care. We will continue to pursue the issues to make sure older Australians are treated with the respect, care and dignity they deserve.
Get Boostered! No Room For COVID Complacency As Winter Wave Threatens
The AMA is encouraging people to check their eligibility and get a COVID-19 booster to protect themselves for the onset of winter and future waves of COVID-19. Vaccines reduce transmission, reduce the severity of illness and there is emerging evidence that vaccination reduces the chance you will develop long Covid.
AMA President Professor Steve Robson said anyone aged over 18 years who has not had a COVID-19 booster or a confirmed COVID infection in the past six months is eligible for another booster.
The Government in early February accepted advice of the Australian Technical Advisory Group on Immunisation (ATAGI), which particularly recommended that those over 65 years and adults aged 18-64 years with complex health needs get a 2023 booster if their last COVID-19 vaccine dose or confirmed infection (whichever is the most recent) was 6 months ago or longer, regardless of the number of prior doses received.
Professor Robson said people needed to prepare for the "next wave" of COVID-19 or the next variant to emerge.
"With the COVID-19 virus very capable of mutating it's inevitable there will be further variants and new waves in the community, and with winter just around the corner, we really want to encourage people to get their booster shot if they are eligible.
"It's natural over time that we tend to become complacent with the risks associated with COVID-19, however, last year there were 8,800 deaths due to COVID-19 and there has been an increase in people dying with COVID-19 as the pandemic has progressed.
"Clearly there is no room for complacency. The AMA's strong advice is for eligible people to get their booster shot.
"We know that fewer than three quarters of Australians have had a third dose and fewer than half of eligible Australians actually got a fourth booster.
"The new boosters will cover the original COVID and the newer Omicron strains.
"We'd like to see every Australian who is eligible, getting their vaccine booster because immunity will have waned and we still need protection against severe infection from COVID-19. The best way to protect yourself and your loved ones is to make sure you're up to date with vaccines.
"Boosters lower the chance of getting COVID-19 and reduce the severity of illness if people contract the virus."
"We encourage people to talk to their GP or other vaccine provider about their options, what vaccines are available and which vaccine might be the best one for them," Professor Robson said.
The new Pfizer bivalent vaccine will be available from March 6 and this week the Government announced that a new COVID-19 vaccine from Moderna targeting Omicron variants BA.4 and BA.5 is expected to be available in Australia from April.
Banks Looking To Dump The Cheque Book
The end of the once-ubiquitous cheque book is at hand – and that is upsetting many seniors who don't have access to alternatives.
One National Seniors Australia member told the organisation, "The non-use of cheques will adversely affect many older people who do not want to use, or do not have the facilities to use, internet banking.
"Many of these people will find it difficult to make payments without cheques, and this will cause stress.
"They will need to rely on other people to do their transactions or, make transactions in cash, neither of which are safe methods," the member wrote.
On its website, the Commonwealth Bank of Australia is telling customers:
From June 2023, we're making changes to the way our customers order cheques.
Some new accounts will no longer have access to a chequebook facility.
Existing accounts will no longer have replacement cheque books issued automatically.
From 3 June 2023, for existing accounts, from the list above:
If a cheque book was issued to your account before 3 June 2023, your chequebook facility will remain open for that account.
If a cheque book was not issued for your account before 3 June 2023, cheque access to that account won't be available.
The following accounts (both new and existing) will continue to have cheque book access available:
Cheque Account Bearing Interest
Society Cheque Account
Department of Finance Account
All Statutory Trust Accounts
AUD Nostro Account
While replacement cheque books will no longer be issued automatically, they are still available if you contact us or visit a branch.
Why are we phasing-out cheques?
CommBank already offers safer, faster and more reliable payment alternatives. As Australia's payment landscape changes, there is a need for the Bank to support the payments system to manage the declining use of cheques.
The move away from cheque accounts has been laid at the door of the Reserve Bank of Australia, whose Governor, Philip Lowe, is reported to have told a Parliamentary economic committee that ditching the cheque book was in the "national interest".
He added that "at some point though, collectively, I think it's in the national interest that we close the cheque system". Mr Lowe acknowledged some people did rely on cheques, particularly in regional Australia, and alternatives needed to be provided.
"Over time, technology will solve this problem but probably not just yet," he said.
Paralympics Australia Releases Landmark Sporting And Social Masterplan: Strategy For Australian Paralympic Sport To Brisbane And Beyond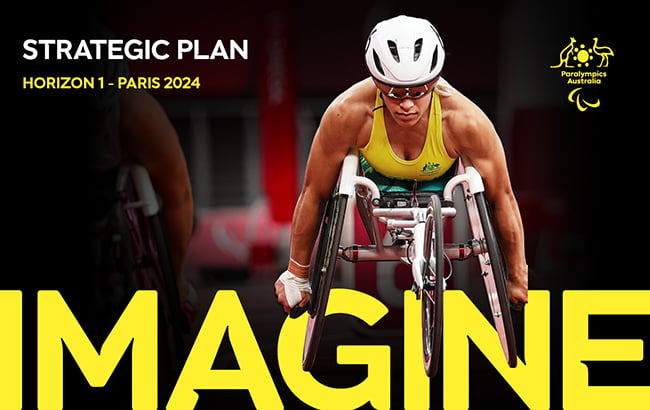 Australian Paralympic movement's unmatched potential to unite, inspire and drive social change will be fully mobilised under a comprehensive and bold strategy announced by Paralympics Australia in Sydney on Wednesday, March 1st 2023.
The release of the Strategy for Australian Paralympic Sport to Brisbane and Beyond by the nation's preeminent sporting organisation for people with a disability signals the start of a new era in Paralympic sport, seizing the once-in-a-generation opportunity presented by the Brisbane 2032 Paralympic and Olympic Games.
The Strategy outlines how Paralympics Australia will lead the delivery of a fair and sustainable sporting system that facilitates world's-best athletic performance and creates clear and available sport participation pathways for the 4.3 million Australians who live with a disability.
Crucially, the Strategy finally addresses the injustices that emerged from the Sydney 2000 Games – which provided greater financial security for the Australian Olympic Committee and left the Paralympic movement struggling for survival – and re-models Paralympic sport's revenue structure by explaining its unique return-on-investment for all Australians.
"We are confident we will achieve these goals because this is much more than just a strategy about sport," Paralympics Australia President Jock O'Callaghan said.
"This is a blueprint for harnessing the power of the Paralympic movement to make Australia a better place. It explains how in the years leading up to Brisbane 2032 we will unleash the full potential of Paralympic athletes, the Para-sport system and Paralympics Australia to deliver benefits that no other sporting environment or organisation can.
"It's a model for upending stereotypes and discrimination and driving previously unthinkable outcomes through health, education, employment and infrastructure. It clearly explains why investment in Para-sport pathways makes good economic sense. Perhaps above all, this is a strategy that is deep-rooted in the Australian value of a fair go – for everyone."
Paralympics Australia began its strategic planning process last April. Over the ensuing months it drew from the knowledge, experience and ideas of 190 contributors, including athletes, National Sporting Organisations, State Institutes and Academies of Sport, Government agencies and corporate partners.
The product was an innovative new structure built around five pillars: sustainability, ecosystem, athletes, fans and social impact. Under each pillar are lists of priorities, initiatives and measures.
"The Paralympic movement holds an exclusive place in Australian sport," Paralympics Australia Chief Executive Catherine Clark said.
"We are not the Olympics and, with respect, our athletes don't wish to be Olympians. We're not a traditional code like the AFL, NRL or cricket. We don't have weekly ticketing income, rivers of merchandising gold or billion-dollar broadcast deals – yet.
"Instead, we are a deep emotional connection that exists nowhere else on the sporting landscape. We're a representation of what Australia aspires to be – a nation where people work hard, overcome adversity and make the most of their lives.
"We're a social movement as much as a sporting movement. We have the capacity to solve problems for governments, boost the reputation of businesses and inspire communities in a truly unique way.
"Our athletes are honest and passionate and each has an incredible story that evokes the best of what it means to be Australian. I believe this strategy does justice to them, the athletes who preceded them, and the millions of people with a disability whose lives could be transformed through the power of sport.
"Our responsibility now is to ensure we create the most successful generation in Australian Paralympic sport and leave a powerful legacy for generations to come."
O'Callaghan and Clark delivered impassioned addresses at Wednesday's event at Allianz Stadium to more than 100 guests from Australian sport, politics, business and the media.
Leading Paralympic athletes shared insights and experiences, including Australian Steelers wheelchair rugby captain Chris Bond, swimmer Katja Dedekind and reigning Paralympic champions Madison de Rozario (athletics), Curtis McGrath (canoe), Rowan Crothers (swimming).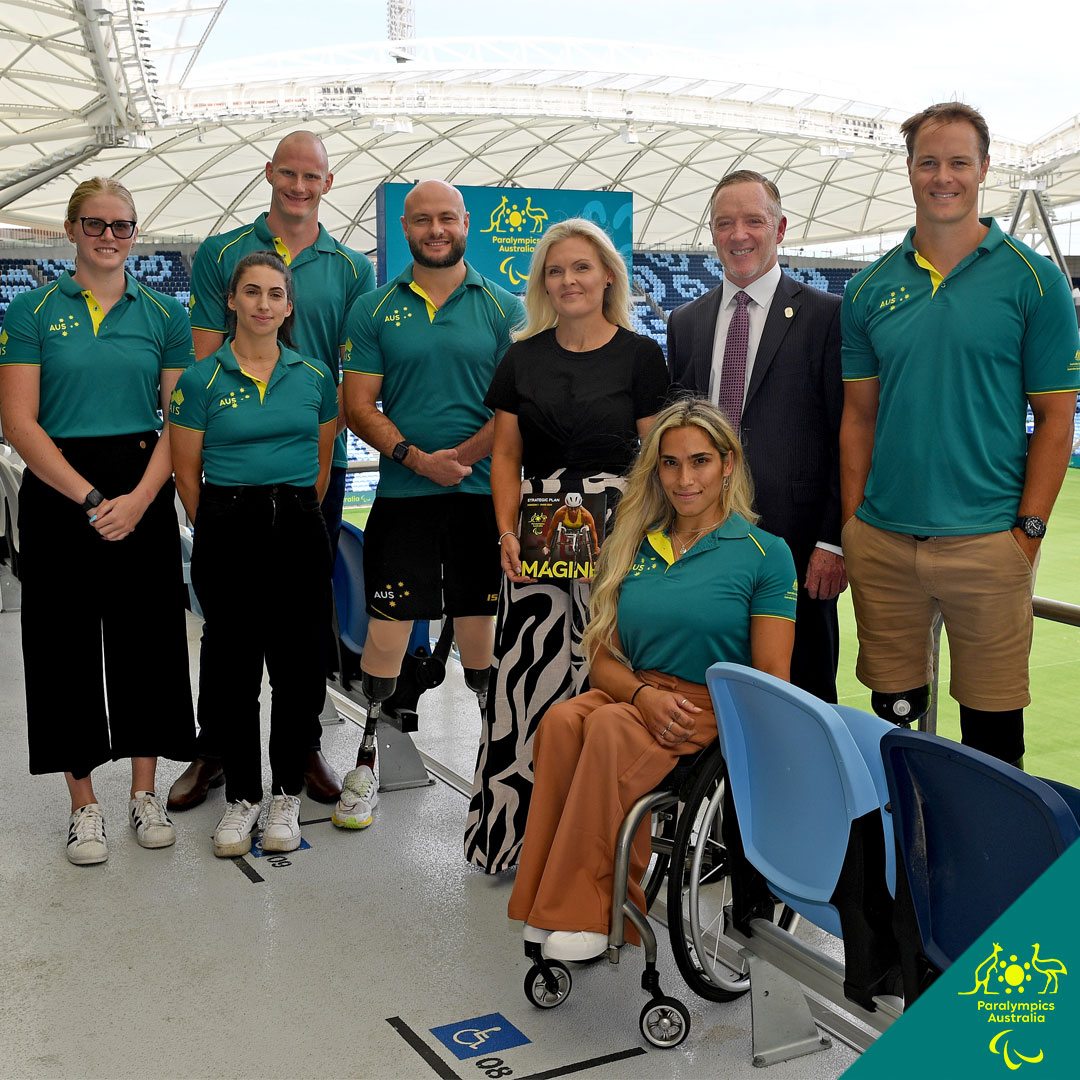 The event concluded with the unveiling of Paralympics Australia's new brand identity, including a redesigned logo which portrays the story of the organisation as told by First Nations Artist, Uncle Paul Calcott.
By: David Sygall, Paralympics Australia
Alcohol Delivery Services Used To Extend Australian Drinking Sessions: Study
Services that deliver alcohol directly to the doorstep in as little as 30 minutes can prolong drinking sessions that would have otherwise ended, according to new research.
A team led by UNSW Sydney surveyed 1158 Australian adults who used online alcohol delivery services to investigate purchasing patterns, consumer motivations and age verification practices. Participants were recruited through social media, and sampling was used to roughly reflect the age and gender proportions of the wider population.
They found one in five survey participants had used an online delivery service to extend a home drinking session because they had run out of alcohol, with a third indicating they would have stopped if the option wasn't available. Furthermore, those who had used a fast same-day service to continue drinking were six times more likely to drink at hazardous levels than those who had never used a service this way.
"Increased access to rapid delivery of low-cost liquor from the comfort of the home could be impacting purchasing and drinking behaviours," says Stephanie Colbert, lead author of the study and PhD candidate from the School of Population Health at UNSW Medicine & Health.
"As we saw in this study, some would drink less if the service wasn't available."
Expansion in the home delivery sector
While alcohol home delivery services have been around for a while, sales have risen significantly in recent years. Now, more online retailers are offering to bring alcohol direct-to-door in under two hours than ever before to meet the demand.
"More than a quarter of survey participants had never purchased alcohol online for delivery before the pandemic. Of the remaining who had, 44 per cent had increased their use in that time," Ms Colbert says.
Convenience, followed by cost, were the most common reasons for purchasing alcohol online for delivery. Most participants also used an online promotion, such a multi-buy deal, which was associated with buying more alcohol.
"Over half of those surveyed said they had participated in an online promotion in their latest purchase, and they bought, on average, 22 more standard drinks than those who did not participate, which is a substantial amount," Ms Colbert says.
Some countries, such as Scotland and Ireland, have moved to restrict promotions encouraging people to buy more alcohol than they otherwise would have. Similar restrictions in Australia may reduce the incentive for increased alcohol purchasing, Ms Colbert says.
"The concern is that increased availability of alcohol in the community, which these services enable, may lead to increases in alcohol consumption and harm without having strong regulations in place and enforced."
Consistent regulations are needed
The study also found poorer age verification practices for home delivery amongst adults under 25. They were significantly more likely to report never having their ID checked when receiving an alcohol delivery at the door compared to in-person at a bottle shop.
"Given the harms associated with the early consumption of alcohol, such as an increased risk of developing an alcohol use disorder in adulthood, it is important that appropriate age verification controls are in place for home delivery," Ms Colbert says. "Having identity verification by accredited identity service providers at the point of sale, which is set to be introduced for all same-day delivery services soon in NSW, would help to address this."
In general, alcohol delivery regulations in most Australian jurisdictions have weaker standards than physical liquor stores across the board. For example, delivery drivers in many states aren't required to hold a Responsible Service of Alcohol (RSA) certification, despite being mandatory for bottle shop servers.
"An RSA clearly outlines the legal obligations of selling and serving alcohol, such as underage drinking laws, checking photo identification and recognising the signs of intoxication," Ms Colbert says. "It's something all delivery drivers should have at a minimum to bring these services up to the same standards we have for brick-and-mortar stores."
In NSW, same-day delivery drivers are required by law to have an RSA and check identification for any same-day delivery, though not for next-day delivery, which can be left unattended.
"Strong policy is the lever we have to help manage the risks posed by these services while enabling consumer access," Ms Colbert says.
"If we have a two-tiered system of regulation that can be exploited, there's a chance it will be."
Loneliness Is Central To Perinatal Depression
Loneliness can often contribute to depression in expectant and new mothers, finds a new review of evidence led by UCL researchers.
The researchers say people working with expectant mothers, such as in antenatal classes or consultations, should be aware of the importance of loneliness and the value of encouraging new mothers to develop and maintain good social connections. The findings suggest that increased support from family and healthcare professionals can be helpful in reducing the mental health impacts of loneliness.
Published in BMC Psychiatry, the meta-synthesis (an evidence review using a systematic method) of qualitative research pulled together accounts from 537 women, from 27 research papers on four continents.
Lead author Dr Katherine Adlington (UCL Psychiatry and East London NHS Foundation Trust) said: "We found that loneliness was central to the experiences of expectant and new mothers with depression. We know that depression and loneliness are often interconnected -- each one can lead to the other -- and this may be particularly true for perinatal depression.
"Having a baby is a period of huge transition and upheaval, that can involve losing touch with people and existing networks, such as work colleagues. This research suggests that loneliness is a major risk for mental health problems during pregnancy and for new mothers."
Depression is common during the perinatal period, affecting one in six pregnant women and one in five women during the first three months after birth, and can significantly affect new parents' quality of life and can have long-term adverse impacts on their child's cognitive and emotional development.
For this review of evidence, the authors found that while very little research has been conducted specifically investigating loneliness in perinatal depression, loneliness came through prominently across the studies as a key contributing factor.
Some of the causes of loneliness included stigma, self-isolation, emotional disconnection and not receiving enough support. Many women reported a fear of judgement as a 'bad mother', and both perceived and experienced mental health stigma, which contributed to them hiding symptoms of mental ill-health and often led to self-isolation and withdrawal.
Many women also reported a sudden sense of emotional disconnection after birth, from their previous lives before getting pregnant, from other mothers, and from the baby. Others also reported a mismatch between expected and actual support provided by their partner, their family, and their community more broadly. The researchers also identified a double burden faced by mothers from disadvantaged communities, due to increased stigma and decreased social support, highlighting the need for more targeted support that is culturally appropriate and without language barriers.
The review also shed light on potential solutions. Many women reported that validation and understanding from healthcare professionals was helpful and may alleviate their loneliness, suggesting that clinical staff may have a greater than expected impact on reducing loneliness.
Peer support from other mothers with experience of perinatal depression was also helpful -- but only if those mothers had similar stories to share, as speaking to mothers who appeared to be doing well could in fact make loneliness worse.
Senior author Professor Sonia Johnson (UCL Psychiatry and Camden and Islington NHS Foundation Trust), who co-leads the Loneliness and Social Isolation in Mental Health Network at UCL, said: "Helping women to understand early on in pregnancy how common loneliness is, and how it can lead to mental health problems, and that it's okay to feel such feelings, could be an important way to reduce the impact of perinatal mental ill health.
"We found that healthcare professionals also have an important role to play in helping women to feel heard and validated in their experiences of loneliness, so we would suggest that asking expectant and new mothers about potential feelings of loneliness could be highly beneficial, in addition to signposting them to peer support.
"Peer, social and family support are likely to be crucial in reducing perinatal depression; this study helps understand the importance of social connection at this time, but there is a lot more to be done to understand why loneliness is so important in the perinatal period, and to develop effective ways of preventing or reducing it."
Katherine Adlington, Cristina Vasquez, Eiluned Pearce, Claire A. Wilson, Rebecca Nowland, Billie Lever Taylor, Sarah Spring, Sonia Johnson.
'Just snap out of it' – the experience of loneliness in women with perinatal depression: a Meta-synthesis of qualitative studies
. BMC Psychiatry, 2023; 23 (1) DOI:
10.1186/s12888-023-04532-2
Wastewater Sector Emits Nearly Twice As Much Methane As Previously Thought
Municipal wastewater treatment plants emit nearly double the amount of methane into the atmosphere than scientists previously believed, according to new research from Princeton University. And since methane warms the planet over 80 times more powerfully than carbon dioxide over 20 years, that could be a big problem.
"The waste sector is one of the largest anthropogenic sources of methane in the world," said Mark Zondlo, professor of civil and environmental engineering and associated faculty at the Andlinger Center for Energy and the Environment. "As cities continue to urbanize and develop net-zero plans, they can't ignore the liquid wastewater treatment sector."
Zondlo led one of two new studies on the subject, both reported in papers published in Environmental Science & Technology. One study performed on-the-ground methane emissions measurements at 63 wastewater treatment plants in the United States; the other used machine learning methods to analyse published literature data from methane monitoring studies of various wastewater collection and treatment processes around the globe.
"Not many people have studied the methane emissions associated with wastewater infrastructure, even though we know that it's a hotspot for methane production," said Z. Jason Ren, who led the second study. Ren is a professor of civil and environmental engineering and the Andlinger Center for Energy and the Environment.
The Intergovernmental Panel on Climate Change (IPCC) has established guidelines that allow researchers and institutions like the U.S. Environmental Protection Agency (EPA) to estimate methane emissions from wastewater treatment plants based on their specific treatment processes. However, those guidelines were developed from limited measurements at a relatively small number of wastewater treatment plants.
And when the researchers used the Princeton Atmospheric Chemistry Experiment (PACE) Mobile Laboratory to quantify plant-wide emissions by measuring the plumes of 63 treatment plants on the east coast and in California, they found that the IPCC guidelines consistently underestimated treatment plants of all sizes and treatment processes.
If the results from those 63 plants are representative, actual methane emissions from wastewater treatment facilities across the U.S. would be about 1.9 times greater than emissions estimates that use existing IPCC and EPA guidelines, meaning that those guidelines underestimate methane emissions equivalent to 5.3 million metric tons of carbon dioxide.
Interestingly, the research team who performed the second independent study to analyse literature data on methane emissions came to a similar conclusion: estimated methane emissions from municipal wastewater treatment in the U.S. were around double of what existing guidelines would predict.
"We were able to show, using two different approaches, that methane emissions are a much bigger issue for the wastewater sector than previously thought," Ren said.
The usual suspects in wastewater methane emissions
The researchers believe that since the IPCC guidelines were developed from limited measurements at a small number of wastewater treatment plants, they might not accurately represent the variation in emissions that exists between facilities.
"The guidelines assume a certain level of efficiency in these wastewater treatment systems that may not exist on a plant-to-plant basis," said Daniel Moore, first author of the direct measurement study and a graduate student in civil and environmental engineering. He pointed to leaks and inefficient equipment that may go undetected at wastewater treatment plants but could lead to significant greenhouse gas emissions.
Cuihong Song, first author of the critical review and a postdoctoral researcher in civil and environmental engineering at Princeton, said that treatment plants equipped with anaerobic digesters were among the biggest methane leakers.
Anaerobic digesters are airtight vessels containing anaerobic microbes that work without oxygen to break down wastewater sludge or solid waste and produce methane-rich biogas in the process. That methane can be used to generate heat or electricity to power other aspects of the treatment process.
But when anaerobic digesters operate inefficiently, leaks and pressure build-ups can allow methane to escape as fugitive emissions. "If the digester is not gas-tight, you can end up with high methane emissions," Song said. The researchers found that plants with anaerobic digesters emitted more than three times the methane than plants without digesters.
Higher emissions from anaerobic digesters could be a serious problem: while wastewater treatment plants equipped with anaerobic digesters account for less than 10% of all treatment plants in the U.S., most of those plants are large facilities that, combined, treat around 55% of the wastewater in the country.
"A lot of money is going into decreasing emissions by implementing these digesters, because, in theory, they're closed systems. When they're working correctly, you can centralize the methane into one location," Moore added. "It's the inefficiencies and leakages that cause many of the problems."
Along with anaerobic digesters, the critical review found that methane emissions from sewer systems contribute significantly to nationwide methane emissions. However, current guidelines largely do not account for fugitive methane emissions from sewers, which the researchers said are important to account for in future greenhouse gas inventories.
"We have more than a million miles of sewers in the U.S., filled with rich organic matter that may be causing methane emissions, but we have very little understanding of their scope," Ren said.
Better monitoring, better guidelines
The researchers are now working with partners to build an inventory and methodology that would allow managers to easily monitor their methane emissions. By identifying the sources in the wastewater treatment process that release the most methane emissions, their work can also inform efforts to mitigate fugitive emissions.
"Methane has a short lifetime in the atmosphere, so if we're able to cut off the spout of emissions across the country, methane's contribution to warming will quickly diminish," said Moore. "Ten years from now, we wouldn't have to worry so much about methane."
Ren added that the methane produced from processes like anaerobic digestion also serves as a valuable energy source. "By identifying and mitigating fugitive methane emissions, we would see double benefits," he said. "We would reduce greenhouse gas emissions in the near term, and we would maximize the amount of methane we can recover from the wastewater treatment process."
Still, more work is needed to monitor methane emissions at various timescales from treatment plants and sewer networks of different sizes and treatment processes.
For example, few studies have performed long-term, continuous monitoring of methane emissions from wastewater treatment plants, even though the emissions rate can vary daily or even seasonally, being generally higher in the spring and summer than in the winter.
"Ultimately, we need to have a full accounting of the emissions from plants across many timescales," Zondlo said. He added that preliminary analyses of subsequent measurements from additional plants at various times of the year have highlighted the importance of understanding seasonal variation in emissions.
At the same time, researchers will need to develop better sampling methods to understand emissions from hard-to-reach areas like sewers, since the diffuse nature of sewer networks along with their high humidity levels make it difficult to capture an accurate picture of emissions with existing methodologies.
By overcoming those hurdles and continuing their monitoring efforts, the researchers could contribute to a wider effort to create updated guidelines that better estimate methane emissions from the wastewater sector.
"Many agencies are recognizing that methane emissions from wastewater sector are important to study," Ren said. "This research is not just reporting our own findings. We're echoing what the broader research community has observed and identified as a significant gap of knowledge."
Support for the research projects was provided by the Energy and Environment Program at the Alfred P. Sloan Foundation (awarded alongside fellow project lead Francesca Hopkins of the University of California, Riverside), the High Meadow Environmental Institute via the Clear Water Challenge, and the Water Research Foundation via the Paul L. Busch Award.
Daniel P. Moore, Nathan P. Li, Lars P. Wendt, Sierra R. Castañeda, Mark M. Falinski, Jun-Jie Zhu, Cuihong Song, Zhiyong Jason Ren, Mark A. Zondlo.

Underestimation of Sector-Wide Methane Emissions from United States Wastewater Treatment.

Environmental Science & Technology, 2023; DOI: 10.1021/acs.est.2c05373
Cuihong Song, Jun-Jie Zhu, John L. Willis, Daniel P. Moore, Mark A. Zondlo, Zhiyong Jason Ren.

Methane Emissions from Municipal Wastewater Collection and Treatment Systems.

Environmental Science & Technology, 2023; 57 (6): 2248 DOI: 10.1021/acs.est.2c04388
Tiny Environmental Plastic Particles In Mum's Food Reach Unborn Children
Nanoscale plastic particles like those that permeate most food and water pass from pregnant rats to their unborn children and may impair foetal development, according to a Rutgers study that suggests the same process happens in humans.
"Much remains unknown, but this is certainly cause for concern and follow-up study," said Philip Demokritou, the Henry Rutgers Chair and professor in nanoscience and environmental bioengineering at the Rutgers School of Public Health.
Erosion chips microscopic particles off the billions of tons of plastics that are exposed to the elements in the environment. These particles mix with the food we eat and the air we breathe. A typical person ingests a credit card's worth of them every week, Demokritou said.
Previous studies in pregnant laboratory animals have found adding these plastics to food impairs their offspring in numerous ways, but those studies didn't determine whether mothers passed the plastics to their children in utero.
The study provided specially marked nanoscale plastics to five pregnant rats. Subsequent imaging found that these nanoplastic particles permeated not only their placentas but also the livers, kidneys, hearts, lungs and brains of their offspring.
These findings demonstrate that ingested nanoscale polystyrene plastics can breach the intestinal barrier of pregnant mammals, the maternal-foetal barrier of the placenta and all fetal tissues. Future studies will investigate how different types of plastics cross cell barriers, how plastic particle size affects the process and how plastics harm foetal development, the researchers said.
"The use of plastics has exploded since the 1940s due to their low cost and versatile properties. From 9 billion metric tons produced over the last 60 years, 80 percent ended up in the environment, and only 10 percent were recycled," said Demokritou, who also holds appointments at Rutgers' School of Engineering and directs the Nanoscience and Advanced Materials Research Center at the Environmental and Occupational Health Sciences Institute.
"Petroleum-based plastics are not biodegradable, but weathering and photooxidation break them tiny fragments. These tiny fragments, called micro-nano-plastics, are found in human lungs, placentas and blood, raising human health concerns. As public health researchers, we are trying to assess the health risks from such an emerging contaminant to inform policymakers and develop mitigation strategies. The goal is also to increase the reuse and recycling of plastics and even replace them with biodegradable, biopolymer-based plastics. This is part of our bigger societal goal towards sustainability."
Feeding pregnant lab animals nanoscale plastics -- a nanometer is one billionth of a meter, so the particles are far too small to be seen -- has been shown to restrict the growth of their offspring and to harm the development of their brains, livers, testicles, immune systems and metabolisms.
It hasn't been shown yet that the amounts of nanoscale plastics that pregnant humans unavoidably ingest do the same thing to their children, though some studies suggest plastics affect human embryonic development, Demokritou said.
Chelsea M. Cary, Glen M. DeLoid, Zhenning Yang, Dimitrios Bitounis, Marianne Polunas, Michael J. Goedken, Brian Buckley, Byron Cheatham, Phoebe A. Stapleton, Philip Demokritou.
Ingested Polystyrene Nanospheres Translocate to Placenta and Foetal Tissues in Pregnant Rats: Potential Health Implications.
Nanomaterials, 2023; 13 (4): 720 DOI:
10.3390/nano13040720
Disclaimer: These articles are not intended to provide medical advice, diagnosis or treatment. Views expressed here do not necessarily reflect those of Pittwater Online News or its staff.